We are excited to announce that for the first ever Traverse Creator Awards Ceremony held in Trentino, Italy in June 2019 we were nominated for two awards among our peers and colleagues in the travel industry one of which we were humbled and honored to take home the winning title!
While we couldn't be there in person, sadly we had scheduling conflicts, we had many friends in person who were able to keep us posted and even accept our award for us! (looking at you Cailin, thanks!)
The award ceremony had several categories showcasing some incredible work by different creators in the industry.
The two awards our nominations were shortlisted for were the Best All Around Social Campaign Award for our work in the Czech Republic highlighting the incredible destinations in the country beyond Prague and the Innovation Award for our hyperflow videos, specifically our Budapest In Motion film we did with Budapest Tourism blending our visual storytelling through hyper flow video and advertising their Budapest Card and what it's like traveling through the city using this card.
Here's a recap of both of those campaigns we worked on in the Fall of 2018.
Czech Tourism x Bobo & Chichi: Traveling the Czech Republic Beyond Prague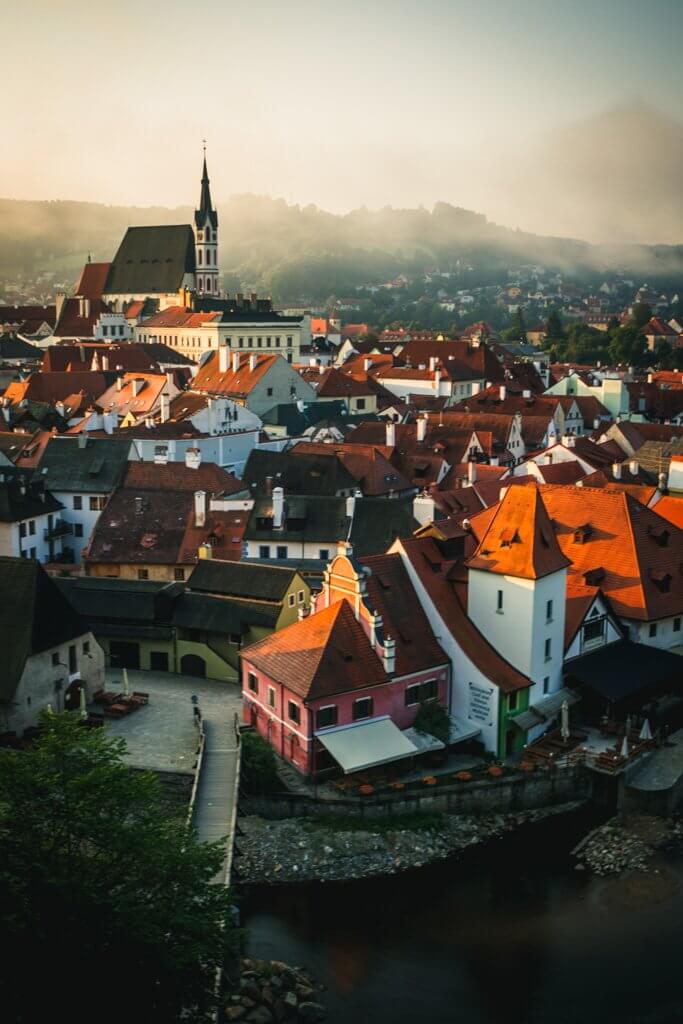 This was our second year in a row working with Czech Tourism promoting incredible destinations beyond Prague. For those of you who remember, our first visit (as bloggers) was a 35-day road trip where we traveled extensively through this incredible country.
I think our love of the Czech Republic is reflected through our work, we have 26 articles on our website just about this country alone and spent close to 4 months there in the past two years total.
I won't go into as many details on our first work with Czech Tourism because it was 35 days and we produced a TON of content and the nominations for the awards were for work we did in 2018.
Our 2018 campaign with Czech Tourism focused on a road trip through the Czech Republic starting in Prague and encouraging visitors to leave and continue exploring the country before moving on.
Did you know that 10 million visitors per year come a year to see the beauty of this country, however of those visitors over 88% visit only Prague?
We get it, Prague is amazing and straight out of a fairy tale.
But, what the 88% of visitors who visit the Czech Republic and only go to Prague miss out on so much more. The country is literally filled to the brim with castles, chateaus, storybook villages, National Parks, and sweeping landscape.
That's where we came in. We produced multiple articles, this one is one of my favorites as it doesn't need alot of explaining, the photos are able to showcase HOW gorgeous this country is.
And we produced this video below, a road trip through the Czech Republic.
We are extremely proud of this campaign and building a long term relationship with Czech Tourism, we really do love this country and feel that beyond Prague it is often overlooked as a Europe vacation.
Budapest Tourism x Bobo & Chichi: Budapest in Motion
This was our first visit to Budapest and we only had a week here, we ended up extending a few days to wrap up shots for the hyperflow film as these are VERY time consuming to make. To give you an idea, here is the breakdown of how long it took us to make our Cesky Krumlov hyperflow in 2017.
We did a TON of research before visiting, planning out most of the locations we'd be filming at and squeezing in sightseeing for the rest of our editorial and social media content.
We fell in love with Budapest, but I'll be completely transparent that both of us suffered from severe burn out and each had to do mental health checks on eachother during this campaign. To give a bit of a background on what led to this was that we had overbooked ourselves for 3 straight months.
We were putting in LONG days and while on social media it looked like we were living the dream, we were sleep deprived and working around the clock to deliver the quality of content we strive for across our channels, not to mention much of these travels were in partnership with tourism boards and brands so we didn't want to let them down, we wanted to overdeliver for each and every one of them. It was all too much at once and we learned an extremely valuable lesson to not overdo it like that again no matter how ambitious we are.
Back to Budapest, we loved it, we could have easily spent months here. This city is just so full of beauty and there's so much more I want to learn about this city from the history and diving deeper into the local culture.
A majority of our time was spent filming, and what was great about filming in Budapest is that their tourism board representative we were working with really went above and beyond to get us access at locations and help us plan a great schedule to get all the shots we wanted and needed.
Our objective here was to tie in the Budapest Card, a tourist card you can during your visit that gets you into many attractions and provides public transportation for the number of days you're visiting, through our tour of the city in the video. We highlighted the activities you could do with the Budapest card from going to the famous Budapest baths, enjoying a tuk tuk tour of the city, to riding the public transport to name a few.
Because this city is SO beautiful it really made the imagery of the video even that more amazing. This ended up being our favorite video we did of the year.
We both look back on this video and it takes us back to those moments we were filming or exploring the city – it really holds a special place in our hearts.
This video was actually nominated for the Best Timelapse of the Year with the Timelapse Network as well as a nomination in the Finisterra Arrábida Film Art & Tourism Festival. We didn't win either but were honored to be nominated among so many talented people.
Traverse Creator Awards 2019
We were extremely excited to be short listed among so many talented creators for both the Innovation Award & The Best All Around Social Campaign Award. And as mentioned before we were sad we couldn't be there in person to not only meet more creators but catch up with all our friends in the industry.
We love attending these industry events because its a great place to connect with like-minded and super talented and creative people. We always learn something and leave with a few more new friends we stay in touch with when we are online or randomly cross paths with again when we are traveling.
Here are the short lists for the other creators for the two different awards we were nominated for. Be sure to check out all these incredible creators and their work! We are honored to be featured alongside all of them.
Best All Around Social Campaign
The Winner: Sandy Breitmeier of Sandy Makes Sense
Innovation Award
I don't have the information yet on what each individual was judged on, I will update that as soon as it is released!
Megan Indoe & Scott Herder – Bobo & Chichi
The Winner: Bobo & Chichi
---
We really are grateful to all of our friends in the industry who sent us an outpour of love on social media even though we couldn't be there.
We are also so thankful for all our fans and loyal readers for sticking around with us and supporting the content we create! Without you, we wouldn't be here. Thankyou!
And of course, we thank our love and support from our friends and family.
We look forward to attending a future Traverse event! We have heard nothing but incredible feedback from this event and others.
Thanks again!
Xoxo, Scott (bobo) & Megan (chichi)