We love our camera gear and are constantly checking out the photography and videography space for new items to add to our go to gear for when we travel and create content.
It's no secret that Scott is our ace and master of photography and videography. I have been wanting to do more with photography myself but find myself always going back to my trusty iPhone where I do all the social media, emails, trip planning, note taking, and photos on the go.
I have been wanting a tripod for my phone for some time, something small and light that I could easily throw in my purse, and just haven't ever bit the bullet and made a purchase. So when JOBY reached out to us to see if we were interested in trying out their GorillaPod Mobile Rig it was a no brainer.
For those of you who aren't familiar with JOBY they are the top of the market for their GorillaPod brand tripods. These versatile tripods are a favorite for vloggers and content creators who are always on the go, like us!
Their tripods are awesome! Not only are they small and lightweight but they are flexible designed with legs that bend and can wrap around objects and can fit in places that traditional tripods just can't.
After having our GorillaPod Mobile Rig for a week here are my first impressions on this product.
Shop the JOBY GorillaPod Mobile rig here.
JOBY GorillaPod Mobile Rig Features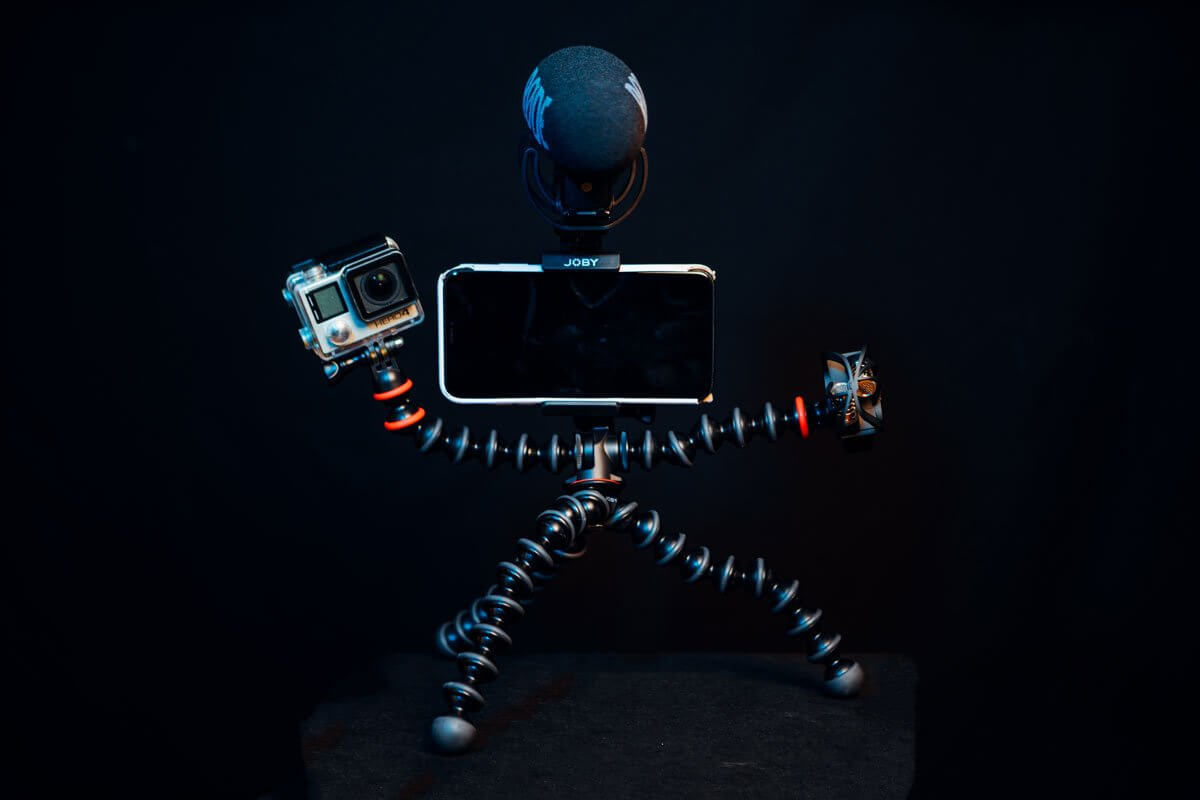 Removeable Cold Shoe Pro Mount – perfect addition if you want to add an audio source or light to your GorillaPod Mobile Rig.
Grip Tight Pro 2 phone mount – secure your smartphone on the phone mount to the tripod for the perfect quick and easy on the go shooting in both portrait and landscape mode.
GorillaPod 6 socket arms with 1/4″-20 connections
GoPro pin joint mount – attach your favorite GoPro camera as an additional device on the JOBY GorillaPod Mobile Rig.
Flexible wrapping legs – Wrap it on something, stand it, or grip the tripod for the perfect shot!
Rubberized ring and foot grips – Made of quality materials built to endure some wear and tear.
Shop the JOBY GorillaPod Mobile rig here.
Our JOBY GorillaPod Mobile Rig Review
I am pretty impressed with the compact size and versatility of this mobile rig and smartphone tripod. I can hold it if I want to film a scene for a vlog or set it up in a stationary spot whether it be used as a traditional smartphone tripod or if I need to wrap it around something.
I love that I have two extra arm options to attach a light, audio, GoPro, or combination of these in addition to my iPhone.
I have been looking for a product like this where I can take advantage of the timelapse feature on my iPhone without having to find the perfect leaning location somewhere.
I also really like how portable this product is. Since I am not our main photographer or videographer I don't usually wear a backpack on sightseeing days, this mobile rig tripod fits easily into my purse or bag without weighing it down or taking up too much space.
The price point is also great retailing at just around $100 for a quality smartphone tripod.
This is also great for whenever we want to do a live stream on social media or take the extra time to create Instagram stories in vertical mode.
You can tell that this product was designed in mind for content creators.
My only issues I could see with this product would be that this isn't obviously ideal for DSLR cameras. The legs just wouldn't be able to support the weight, you'd have to have a more heavy duty GorillaPod made by JOBY if you want to connect up your bigger cameras, for example their 1k, 3k, or 5k models.
The only other feature that I can see that could be tricky if I am not being extra cautions would be the dual action knob for the smartphone mount. This knob lets you resize where you put in your smartphone as well as flip your phone from portrait to landscape mode. However, if you untighten the knob too much the phone could fall off the set up and depending on where you are it could be a big enough fall to damage your phone.
This can be easily avoided with extra caution, but in the heat of the moment when you're trying to quickly set up for the perfect shot you could accidentally have a phone accident.
Last, I wish the 6 socket arms that you can add the extra devices on were a bit longer. When we connected our GoPro you didn't have as much control over adjusting it and it was crooked instead of being straight. While there aren't many situations we would be running both cameras at once, if I'd like this option I'd like to be able to have a bit longer arm.
Overall, I recommend this product. It's one of their great vlogging tripods and products to choose from and great for people who primarily use their iPhone or smartphone for all their content creating, like me. It's an affordable set up with your smartphone helping everyone have access to creating professional quality content or to help you take your content to the next level without a huge investment.
Pros:
Great affordable price point
Lightweight, portable, and travel friendly
Versatile
Ability to change to both landscape and portrait mode
Can hold 3 devices
Cons:
Not ideal for DSLR cameras
The extra 6 socket arms could be a bit longer
Shop the JOBY GorillaPod Mobile rig here.
---
Found this post on the JOBY GorillaPod Mobile rig review helpful? Bookmark for later or share the love below on Pinterest.