When picking out pants for travel, it can be tricky! For me, choosing a pair that looks great and are also lightweight enough to take as little luggage space as possible and are functional enough to ensure maximum comfort while traveling. Plus aesthetics are important, I don't want to look sloppy on long travel days but still be comfortable.
The best travel pants for ladies are ones that are capable of being dressed up or down and be capable of being active or sitting all day on a long flight to swapping tops and being able to wear going out for evening drinks or sightseeing.
This best travel pants for women guide brings together some of the best travel pants from the athletic manufacturer, Lululemon, most of which I have tried and tested myself!
Why Lululemon Makes the Best Travel Pants For Women
Okay, I am the first person to admit that I refused to even try Lululemon pants because of their price tag. I was blinded by the price for the longest time. Everyone always told me that I just have to try them and it will change my mind.
Well, it took a few years but I did try them on and my whole world changed. I drank the Kool-Aid and I am now officially a Lululemon advocate. I even got Scott on the bandwagon and he owns 2 pairs of pants from them and 2 pairs of shorts.
Okay, so what's the big fuss and why are these pants worth so much money and why should I consider these as my go to travel pants for ladies?
Their pants are SOFT as a baby bunny. Ok, this sounds nuts but really. The materials they use are incredibly soft and allow for easy movement and flexibility and perfect for those long haul travel days which is why I highly recommend these as travel pants for women.
Their clothing has RAVING reviews and last for years. You're paying a premium for a product that lasts from a company who prides itself on its great reputation for quality.
Their leggings have some uplifting shaping magic that makes you feel confident and svelt.
If by rare chance you get a defective item you can take it into Lululemon and have them check the warranty of the product or have it repaired at no cost to you by their seamstress.
The pants are lightweight enough they can be worn on hot days in places you need to be covered up.
Although Lululemon makes clothing for athletics, their clothes are also very popular when used as travel pants women wear regularly. Here are our picks for the best Lululemon travel pants women can try for themselves that have style and comfort in mind!
Align Pant
The Align pants are the most comfortable travel pants women can wear without actually being naked. These buttery soft leggings are irreconcilably comfortable. Designed to be worn for a balance resetting yoga session, they are also appropriate to wear just about anywhere for any reason.
The light material of these travel pants for women holds on tight from waist to ankles and has some magical shaping wizardry that makes you feel amazing. There's actually quite a funny twitter conversation about these pants and their magical ability to make women feel amazing by the way they look in them.
This is beneficial for long journeys where you find it hard to move for long periods of time. Beyond comfort, the Align pants are made with added lycra to keep the shape of the pants perfect and have very minimal seam lines which give them a polished appearance.
A small pocket is fitted into the waistband of these travel pants for women which can be used to store single keys, some loose cash, ID or debit cards when you are traveling light.
Shop the Align Pant on Lululemon.com
Wanderer Jogger
This is one of my favorite pair of pants not only for travel but just in general. Whether I'm going out of the house to run errands or flying, these lightweight travel pants are a godsend.
Wanderer joggers are travel pants for ladies that offer simple but essential comfort when on the go. They are made to have a relaxed fit that allows for free movement and supreme comfort. Designed for everyday wear, they are nevertheless suitable for long travel days and trips.
The fabric is ultra-lightweight and stretches in all directions for full mobility without feeling restricted. The medium-rise waist provides cover for when you have to reach up to a cabin or bend over to pick up luggage, and also keeps the jogger snug around your waist. I also like this because it covers the area of my body I am most self-conscious about, love those higher waists!
Ultimately, the wanderer joggers are the perfect travel pants women who want to wear clothes that look suitable for business class without having to sacrifice comfort.
Shop the Wanderer Jogger on Lululemon.com
Align Jogger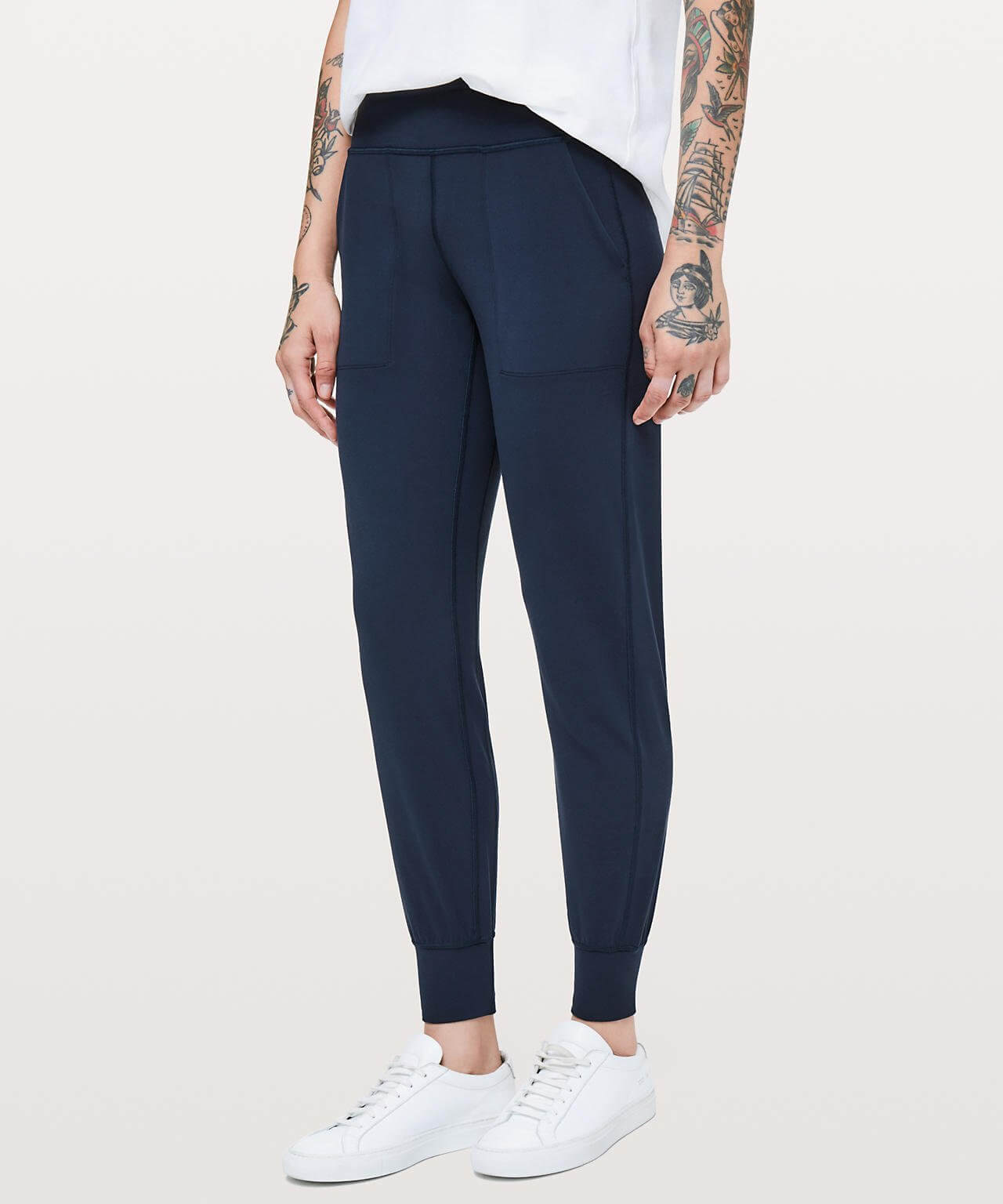 Who's ready for another awesome pair of joggers perfect to use as travel pants for ladies!? The Align joggers are travel pants for women who want a pair of pants that look super stylish, give comfort and breathing room to run, as well as the freedom of movement to go unhindered through a yoga flow.
The lightweight, butter-soft material wicks sweat efficiently and stretches in all directions. The stretch factor does not cause the pants to lose shape as they are made with lycra fabric to prevent shape loss.
The high-rise design and waistband keep the jogger in place without cutting into your skin. Not only are these joggers suitable to be used as travel pants for ladies, but they are also suitable to be dressed up with a different top and shoes.
For extra utility, the align jogger has multiple pockets to store all essentials like a cellphone, keys and ID cards.
Shop the Align Jogger on Lululemon.com
Ready to Rulu Pant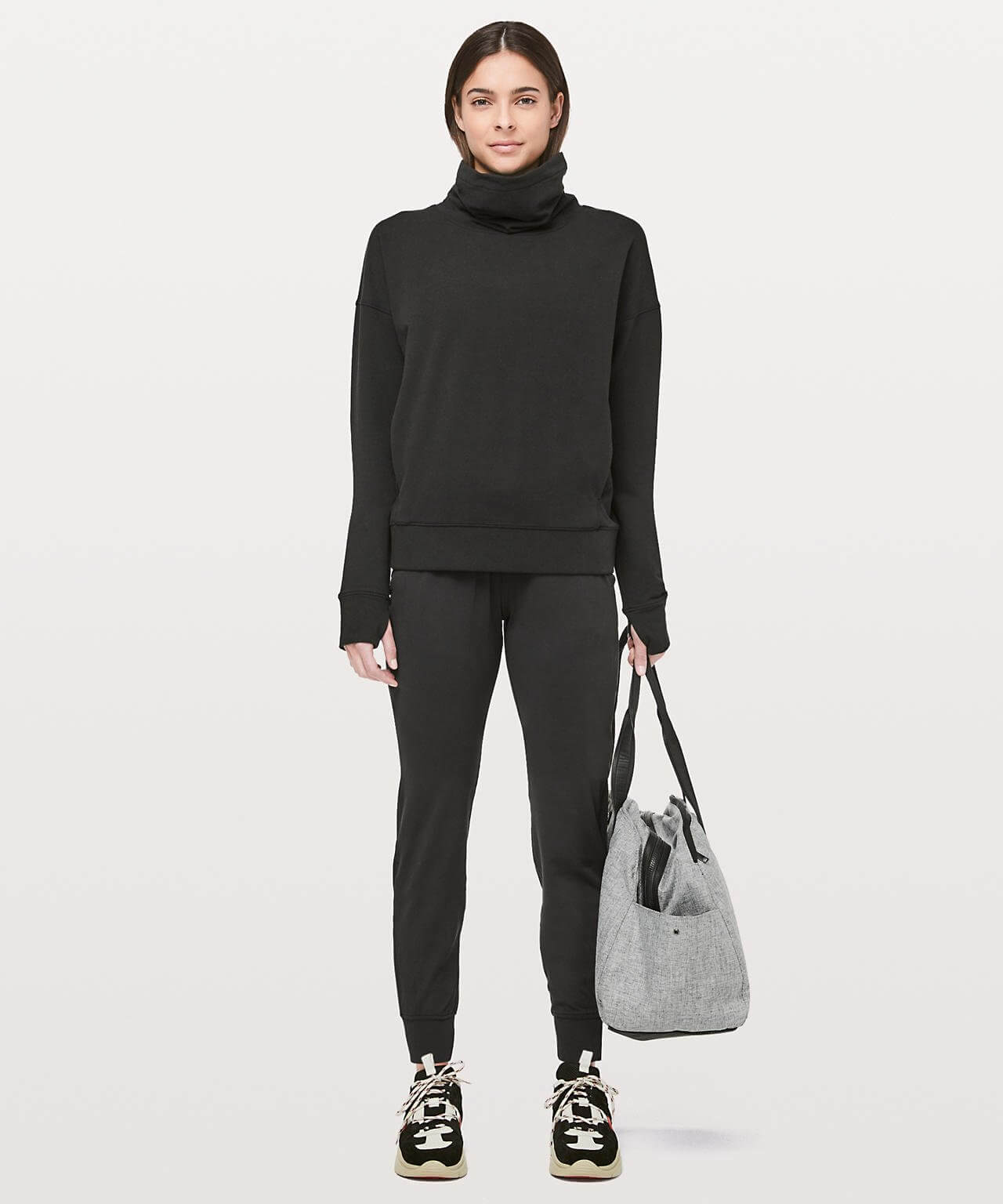 These awesome travel pants for ladies are the perfect choice for the lower-bod whether you are about to take a flight across the world or simply just going out for the day. This is another pair of stylish jogger pants, can you tell I love these yet? They are the perfect athletic leisure look that can be dressed up or down.
The high-rise design keeps your midriff covered, and gives a more secure feel and the drawcord emphasizes that secure feel as you can manually adjust the fit.
Made from the special Rulu material which stretches naturally, wicks sweat efficiently and allows the skin to breathe, the Ready to Rulu pants gives life to the legs in all situations; be it a CrossFit workout, a power yoga flow, picking the kids up from school, or just a nap on an easy day.
Other features of these travel pants women like are their pockets, which ensure that essential items need not be left behind even if you do not wish to carry a handbag or hand-luggage around.
Shop the Ready to Rulu on Lululemon.com
Reykur Pant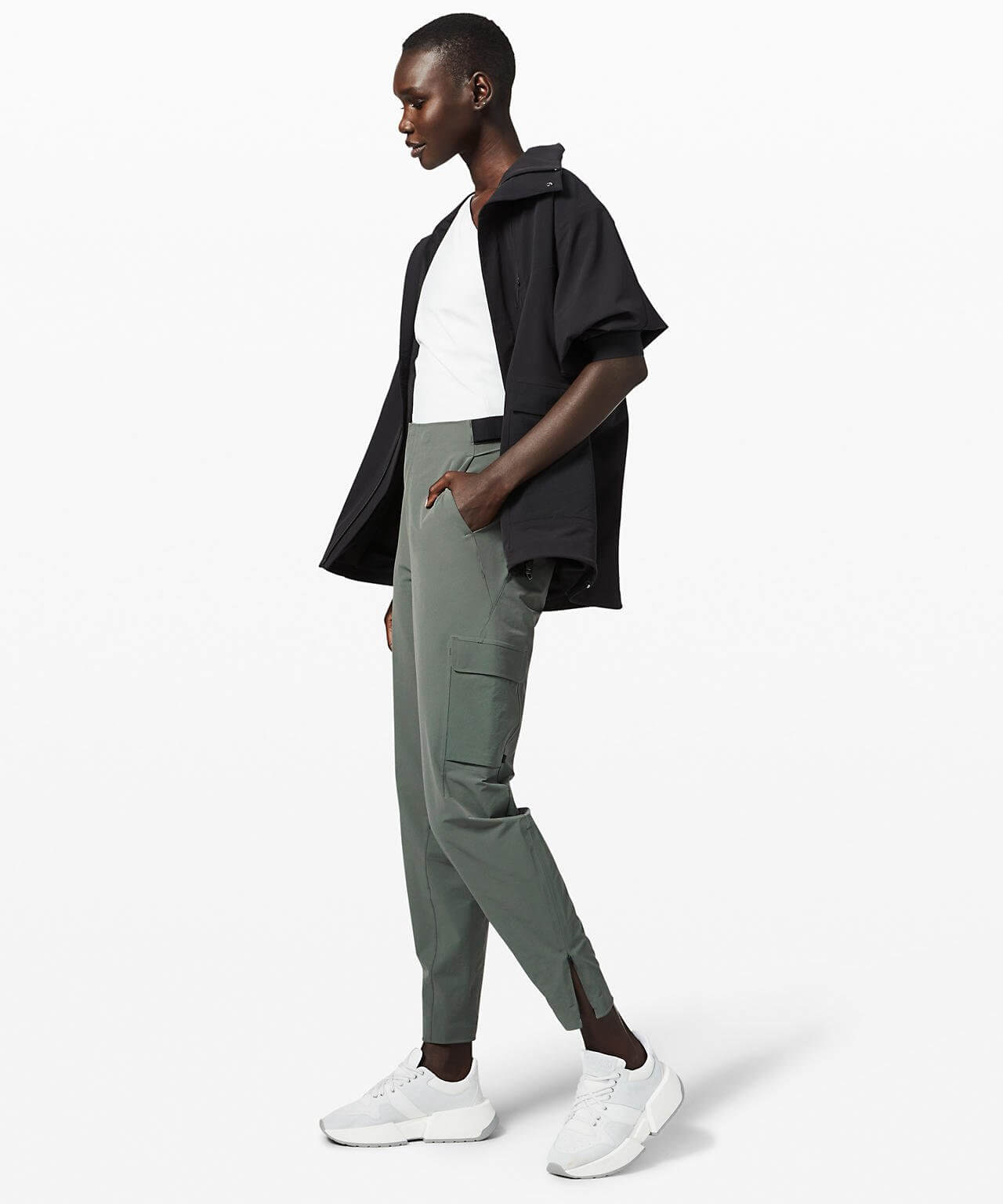 The Lululemon Reykur are travel pants for women with more modern fashion sensibilities. They were designed with a focus on comfort while being strikingly stylish. Any fashion-savvy lady can wear these to stay cozy while still looking extremely fashion-forward.
Made to rise high on the waist for added coverage and comfort, these pants are also fitted properly to achieve a sleek look from waist to ankles.
They can be worn regularly if your lifestyle is one that involves an everyday office commute or worn any time you're traveling for ultimate comfort without sacrificing style.
These are also great for any or a casual daytime look, swap out to a more dressy top and you can even wear these out at night.
The adjustable waistband allows you to choose what fit is most comfortable and the ankle zippers let you take your pants off without having to remove your shoes.
These travel pants for ladies also sport regular and cargo pockets to allow you to carry important items without needing a purse or any other sort of carrier bag. And if you have trouble fitting everything in your carry on luggage you can use any pockets you can take to bring on a few extra items!
Speaking of carry on luggage, check out our guide to the best hand luggage toiletries to help you plan and take all your favorite beauty products for your next trip.
Shop the Reykur Pant on Lululemon.com
Morning Light High Rise Tight
Another take on the classic legging look, the Morning Light High Rise Tight is not only completely comfortable but these are perfect for dressing up or down even on the longest and most uncomfortable travel days and make the perfect pair of travel pants for ladies.
The high rising waist keeps you fully covered whether transitioning through poses or reaching across the carousel for your luggage. The material is ultra-soft, yet grips your skin tightly in a way that is absolutely convenient.
These travel pants for women are super comfortable and the perfect athleisure apparel, women who wear these own multiple pairs. Don't believe me? Just read the reviews on the product.
Shop the Morning Light High Rise on Lululemon.com
---
Need anymore reason to try out these amazing styles as travel pants for women? If you have a Lululemon store try them on, you'll see what all the fuss is about. Lululemon makes great pants for yoga and running, but their clothes are also functional and can serve as awesome travel pants for ladies. Pick one or all of them the next time you are planning to travel.
Liked this post about the best travel pants for women? Bookmark for later or share the love below on Pinterest! Happy travels!