Who doesn't love a good cocktail from time to time? What about cocktails that aren't made with your run of the mill grocery store brand liqueur? Being admirers of a good craft beer, we never really considered craft spirits as an option before we visited Nova Scotia.
During our Nova Scotia road trip in August we landed ourselves in the town of Lunenburg for a unique immersive tour like one we've never done before called Lunenburg Distilled where we learned the history of this maritime UNESCO World Heritage Site town and its history of rum-running during the prohibition while dressed up as rum runners aboard a boat, sampling local spirits, and eating an incredible course meal aboard a historic schooner in the harbor.
This experience opened our eyes and taste buds to the world of craft spirits. This tour partnered with IronWorks Distillery, local to Lunenburg, Nova Scotia. Where Pierre and Lynne, the owners of IronWorks, introduced us to a world we had no idea existed and a place of no return.
Once you have sampled your way around quality craft spirits there's no returning. Well, that might be dramatic, but honestly tasting the unique and quality flavors of small-batch liqueurs and spirits that are so smooth you can sip straight it's hard going back to your grocery store big label brands.
We ending up going home with 3 bottles of their rum that I managed to pack away in my carry on size roller suitcase (that I now had to check) including a their signature Rum Boat Rum that is aged on a rocking boat off the shore of Lunenburg in wood barrels just like it did in yesteryear which helps create a unique flavor as the motion of the rocking boat in the sea waters provide that a storehouse on land just can't provide. Do a taste test and comparison, you'll notice a difference.
IronWorks even just launched a special rum that's aged while traveling around the world in a boat sailing 30,000 nautical miles and visiting 28 ports in 21 countries aboard the Picton Castle, a gorgeous tall sail ship.
This is when we discovered that there's a whole world of craft spirits not only in Nova Scotia but all over. But because we discovered the art of craft spirits in Nova Scotia we were eager to see what the Spirited Away Festival of craft spirits which takes place here had to offer.
Held annually every October in the charming town of Lunenburg, the Spirited Away Festival hosts different distilleries from all over Nova Scotia and inviting bartenders from all over Canada to showcase the world of craft spirits, amazing cocktails, hands-on workshops, and educational experiences all in the quaint seaside village and UNESCO World Heritage Site of Lunenburg, Nova Scotia.
We attended and were blown away by how many other distilleries, besides IronWorks in Lunenburg, had something special to offer in this unique, one of a kind festival.
We had the time of our lives and since we already fell in love with Nova Scotia we are always looking for an excuse to come back. Learn more about this unique festival and what it has to offer in our 5 reasons why the Spirited Away Festival in Nova Scotia should be on your radar and why we think this is the perfect excuse for a fall getaway!
The Spirited Away Festival Takes Place in Lunenburg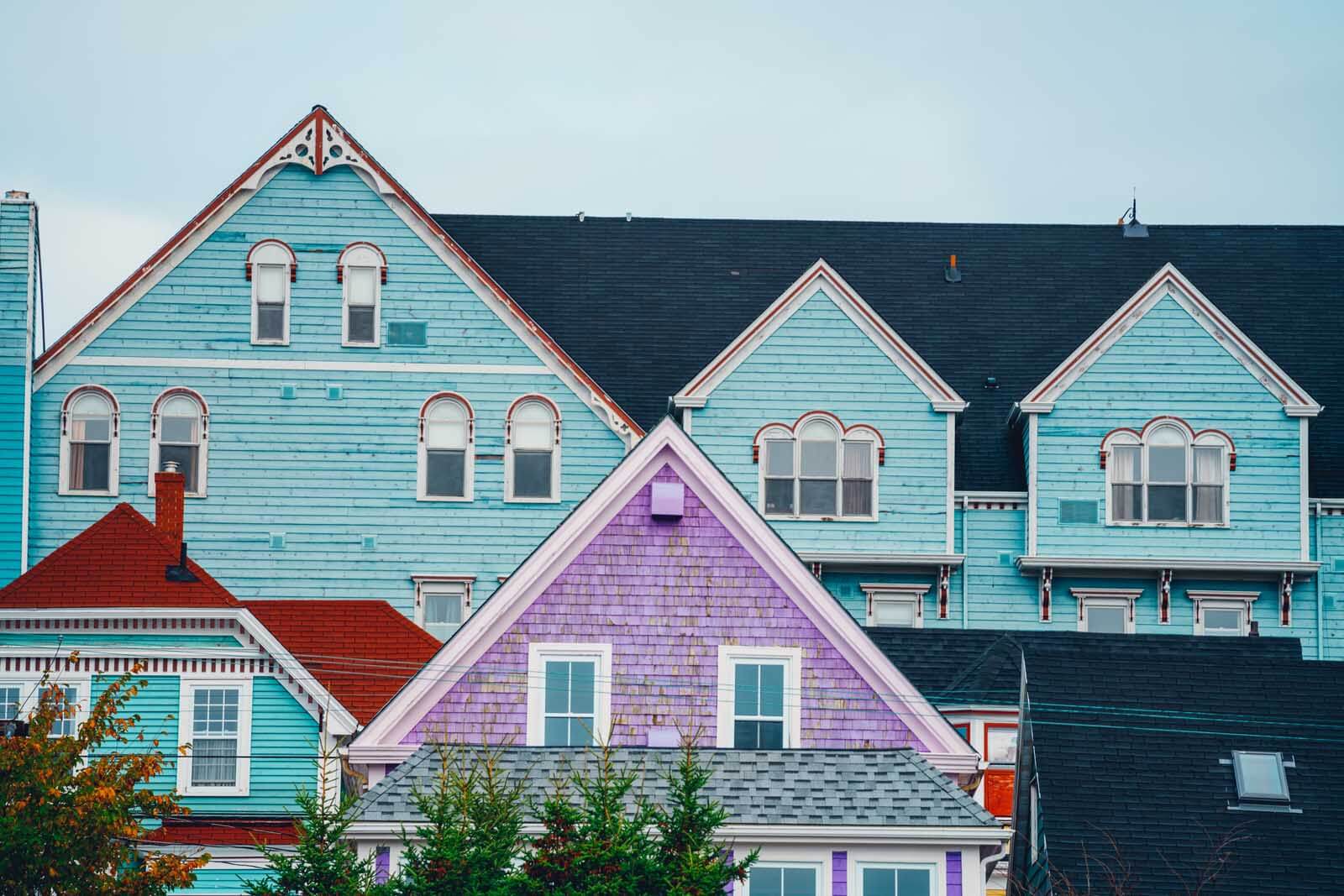 Easily one of the best reasons or excuses to go to the Spirited Away Festival is because of its location! Lunenburg is easily one of the most charming and beautiful seaside fishing communities on the shores of Nova Scotia.
Besides being a UNESCO World Heritage Site, Lunenburg is home to tons of great sites to explore, a fascinating history intertwined with the sea and rum-running during the prohibition, and colorful Victorian homes that make you feel like you're visiting a real-life storybook village!
Since you'll be spending a few days here during the Spirited Away Festival you can stroll through the streets lined with colorful homes with the famous 'Lunenburg Bump' and pastel and vibrant colors.
You may just fall in love at first sight like we did.
Not to mention there are plenty of incredible shops and restaurants to fill your festival weekend!
Learn the History of Rum-Running & Spirits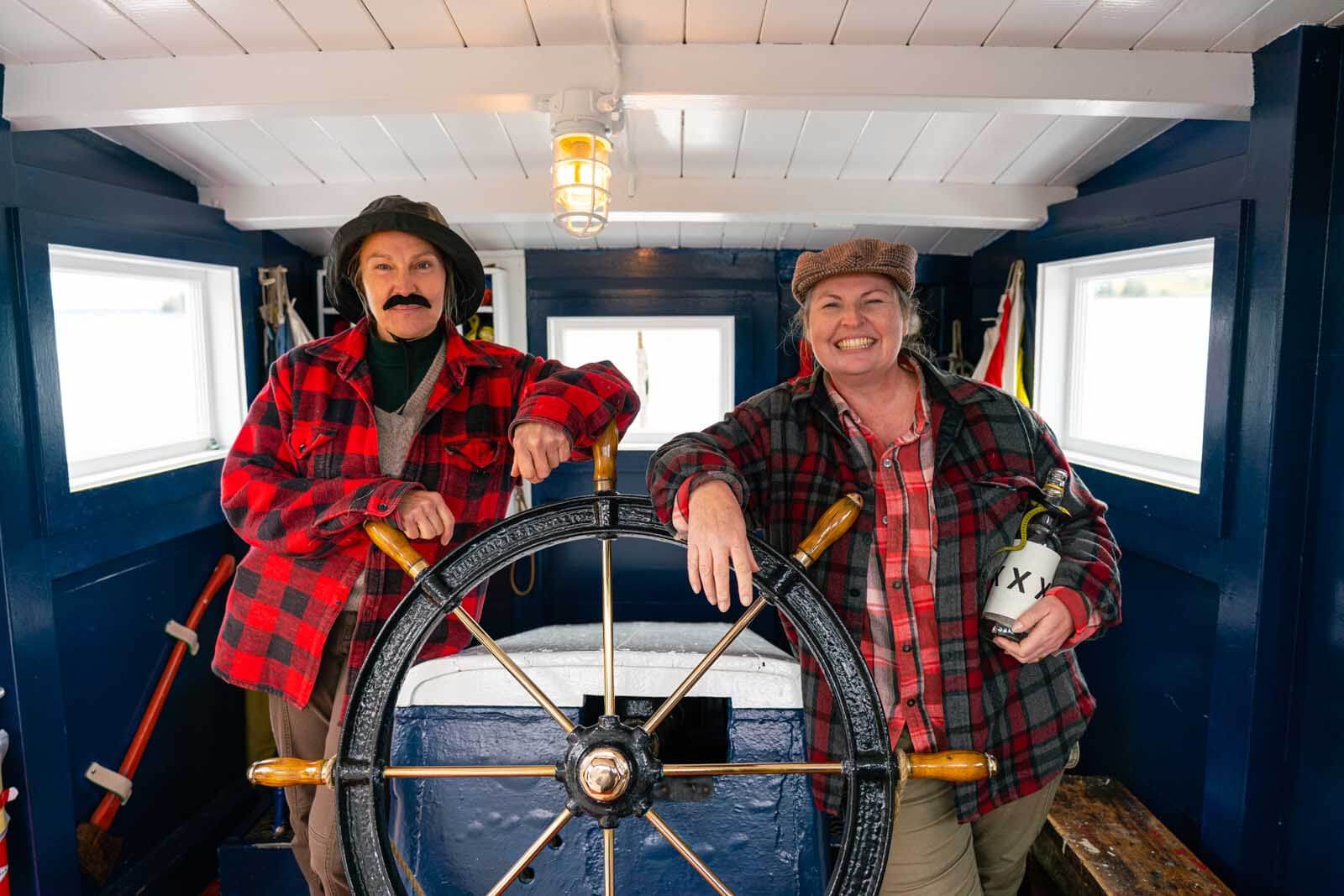 While Lunenburg is definitely known for its fishing community and its economy historically has been heavily centered around it, that's not the only way this community has made a living. During the prohibition, fishermen filled the demand of spirits to thirsty Americans by smuggling rum in their fishing boats.
Fishing was a dangerous occupation, so the risk of running rum for a much larger profit came as a no brainer to many of these opportunists as they were already risking their lives every time they went out to sea to catch a fish.
The rum-running in Lunenburg and Nova Scotia was so prosperous it is said it actually helped the economy after the World War in maritime Atlantic Canada.
But even before the prohibition, rum history in Nova Scotia dates back to the 1700s with pirates!
The history of rum and it impacts on not only the local community but of all Nova Scotia and the US is just one of the topics you can learn about at the Spirited Away Festival, during the Cocktails and Colonies workshop we also learned about the origins of gin as a medicine for the Navy, the life-changing preservation of lime by Rose's, and more.
Not only do you get to drink spirits and cocktails but you can learn about the very origins of those spirits and impress your friends with your new-found knowledge at your next party.
Try Amazing Cocktails From Some of the Best Bartenders in the World
Another perk attending the Spirited Away in Lunenburg NS Craft Spirits Festival is that you will be surrounded by some of the best cocktails you'll ever try prepared by some of the best bartenders not only in Nova Scotia but Canada and if I do say so myself, some of the best in the world.
We went to an event in Halifax the night before the festival started in Lunenburg where there was a battle of the bartenders including a bartender from the West Coast of Canada and a local bartender from here in Halifax who was originally from Newfoundland.
Each round of the competition had a different theme including the best-blended drink, the best take on an original cocktail with a twist, and each bartender's signature drink using local ingredients from their region.
Needless to say, the event was REALLY FUN and delicious.
We realized this was just the beginning of a tasty and boozy weekend ahead with more samples and cocktails.
Another fun event is the Sip N Dash event the first night of the Spirited Away in Lunenburg NS Craft Spirits Festival. This event was sold out – luckily we had our tickets – as this is in hot demand. You split up in designated groups and have a guide who takes you to 8 different spots around Lunenburg where you will try different craft spirit cocktails prepared by different incredible bartenders from Canada.
Besides being delicious the stops are hosted in cool venues throughout the city including a historic Dory boat workshop, the local distiller and one of our favorites – IronWorks Distillery, and more.
This was a really fun way to not only explore Lunenburg on foot but also get to know the people who will be attending the Spirited Away in Lunenburg NS Craft Spirits Festival with you while getting tipsy.
And finally, there is tasting throughout the workshops, the Distillers Market Place, and the closing event.
Learn in the Immersive Workshops
Another great reason, if you didn't already need anymore, to attend the Spirited Away in Lunenburg NS Craft Spirits Festival are the incredible workshops. Day 2 of the Spirited Away Festival has tons of workshops you can sign up for from historical storytelling of the history of alcohol and spirits while sipping on amazing cocktails prepared by famous bartenders, learning how to make some of the best cocktails in a Bartending 101 workshop led by a famous bartender, to making your own flavor-infused bottle of gin and more.
Besides enjoying amazing craft cocktails and spirits, the workshops offered at the Spirited Away Festival are really what sets this festival apart from any we've ever heard of.
Learn how to create your own cocktails, mixers, or if you're a history buff you can explore the past of rum-running and how some liqueurs and cocktails came to be as we know it today while sipping on great cocktails aboard a historic schooner in the Lunenburg waterfront.
You'll want to sign up for these workshops early as they do seem to be popular and sell out. They were really fun, educational, and delicious – so you don't want to miss out!
The Spirited Away in Lunenburg NS Craft Spirits Festival is Unique
Besides all the amazing reasons to visit the Spirited Away in Lunenburg NS Craft Spirits Festival already mentioned, overall this festival is really unique and one of a kind.
Hosted in the historic and UNESCO World Heritage Site of Lunenburg you have a small, walkable city that is just dreamy to stay in and experience this hands-on and immersive craft spirit festival.
Besides getting to sip on some of the most amazing craft spirits from all different local distillers you can also try and even learn how to make some of the most incredible cocktails from world-renowned bartenders from all across the province and Canada.
In between events and workshops, you get to stay and explore the colorful and charming seaside streets and alleys of this historic treasure of a town. If you're like us you'll fall in love at first sight, because what's not to love here.
We've been to drinking festivities all over the world and there's nothing like the Spirited Away Festival in Lunenburg out there – even if something similar is around it's not in Lunenburg.
And finally, it's no secret we love Nova Scotia and every stop we made on our road trip. This is the perfect excuse to launch or end a road trip throughout the province where you can find one adorable seaside fishing village after another along the South Shores, explore all the best things to do in Halifax, and even visit the Bay of Fundy which is one of North America's seven natural wonders.
Since this festival is in fall, you'll be missing out on tourist season which flock to the area in the summer means you'll have a lot of these places and experiences all to yourself which is the perfect excuse to make a Nova Scotia road trip out of your visit to the Spirited Away in Lunenburg NS Craft Spirits Festival.
---
The Spirited Away in Lunenburg NS Craft Spirits Festival takes place every October towards the end of the month. Be sure to check their website to plan your trip and keep this incredible festival on your radar so you don't miss out at a really fun, boozy, delicious, and educational time!
Cheers!