One of the most incredible ways to see the last frontier is by car and the drive from Anchorage to Denali is full of spectacular stops with majestic views of mountains, lakes, glaciers, and wildlife.
We've picked out the 10 best stops on the Anchorage to Denali drive that you don't want to miss on this unforgettable driving in Alaska journey from the city of Anchorage all the way up to Denali National Park.
The entire drive is just under 4 hours without stops, but trust us, once you see the beauty of the mountains and the sweeping scenery you will want to stop.
Check out our picks for the most beautiful stops along the Anchorage and Denali drive.
Read Next: Amazing Things to do in Girdwood, Alaska
Beautiful Stops on the Anchorage to Denali Drive
Tony Knowles Coastal Trail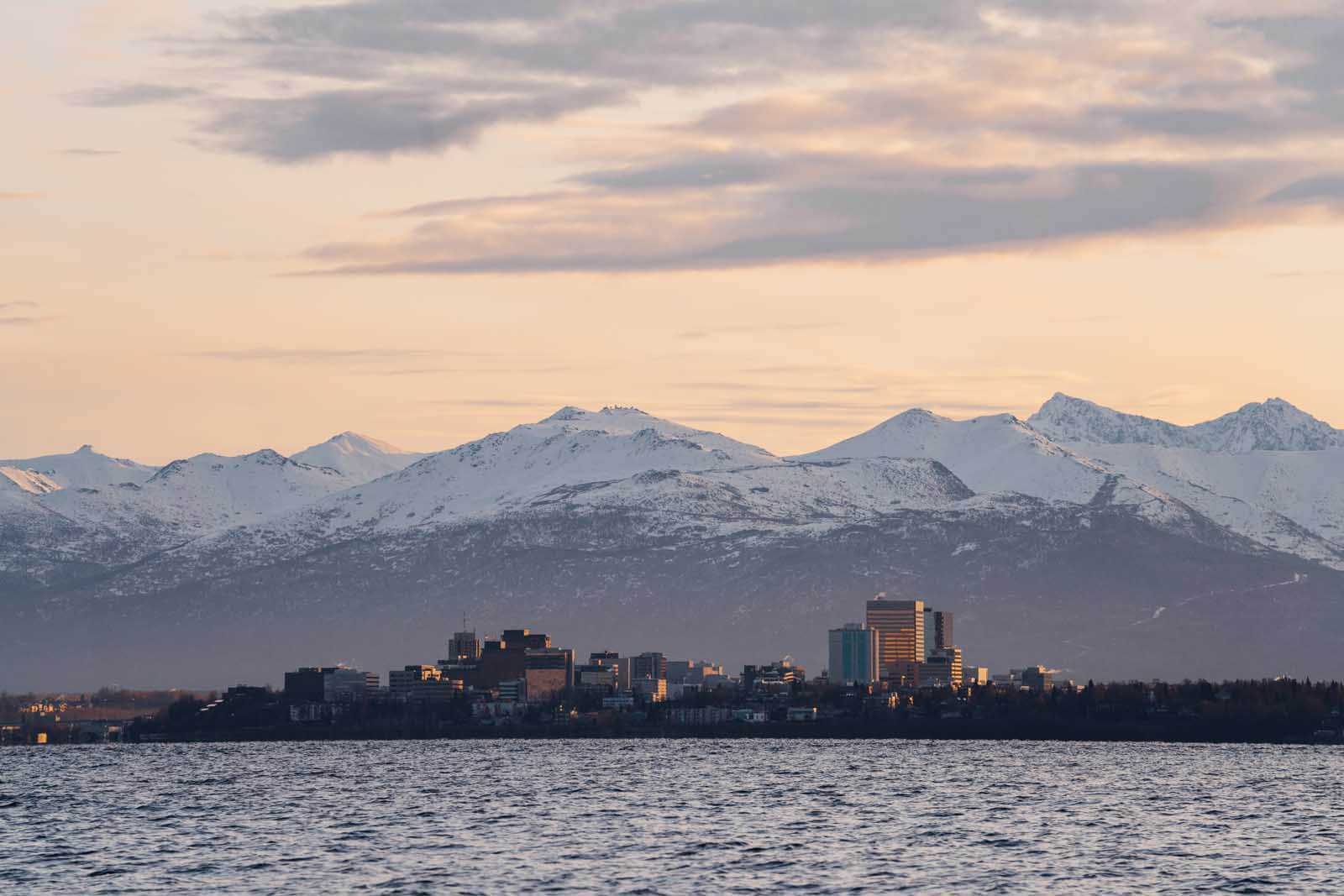 Gently winding down the coast for 11 miles that begin downtown and end at the Kincaid Park, the Tony Knowles Coastal Trail is among the most scenic coastal trails in the United States.
This accessible trail is great for multiple activities like biking, cross country skiing, running and rollerblading. This city treasure is worth making a stop before you embark on the drive from Anchorage to Denali.
Walk along the coastal trails and forests keeping an eye out for wild animals like elk, moose, and even beluga whales. You can also walk around the famous faultline formed in the 1964 earthquake. On a clear day, you might even catch a glimpse of Denali Mountain!
While driving in Alaska you can get access to the trail from multiple spots between the two end entrances including the northeast end of West 2nd Avenue, close to the railroad depot and the other end of the trail at the southwest end at Kincaid Chalet.
Mirror Lake
Another amazing stop on the Anchorage to Denali drive is Mirror Lake. While driving in Alaska, especially from Anchorage to Denali you will come to realize that Denali National Park is surrounded by many magnificent lakes.
The first lake you come across on your drive from Anchorage to Denali is Mirror Lake, which is a brief 30-minute drive away from Anchorage and very close to the highway.
A look into the waters of the lake gives an impeccable reflection of the mountains behind it and all the beautiful wilderness around it.
For those who want to do more than just look at the water, you can get in a canoe or an inflatable raft and go fishing or floating.
There are also picnic tables if you want to stop for a bite to eat with a packed lunch or go hiking on the trails around Mirror Lake.
Thunderbird Falls
Located less than 10 minutes away from Mirror Lake in your Anchorage to Denali drive is Thunderbird Falls. Thunderbird Falls is a spectacular 200-foot waterfall located in Chugach State Park.
The trail to Thunderbird Falls runs for about one mile, going through beautiful birch trees and along the Eklutna River Canyon until you get to the recently refurbished viewing deck which has the most amazing view of the falling water.
If you are feeling adventurous and want a more thrill-seeking but rewarding view, take the side trail and into the canyon. You can find your way upstream until you are at the base of the falls where you can feel the ice-cold water misting on your skin.
Eklutna Lake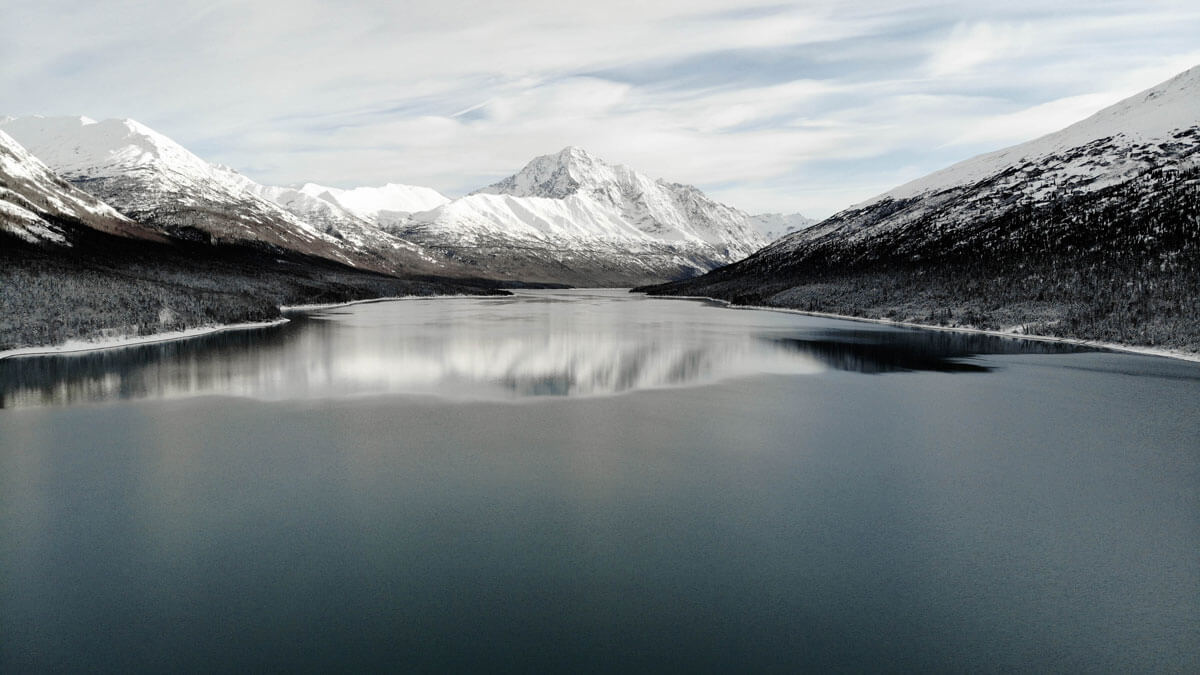 Close to Thunderbird Falls and also on the drive from Anchorage to Denali sits Eklutna Lake, another of the many pristine lakes that you can reach before Denali National Park. While this stop on the Anchorage to Denali drive is a little bit out of the way as you do have to drive 16 miles off AK-1 towards Eklutna, but don't let that discourage you, this glacier water fed lake is stunning.
Connected to and fed by Eklutna Glacier, Ekluna Lake is one of the most popular places near Anchorage to go kayaking and you can even rent your own kayak on site.
Being able to stop at Eklutna Lake is one of the things that makes driving in Alaska a lot of fun with some of the most pristine blue glacial water.
Besides kayaking, you can take a hike or ride a bicycle down the long trail that is on the northeast end of Eklutna Lake. The lake is located in Chugach State Park and you can also visit Eklutna Historical Park.
Reflections Lake
Another one of the beautiful lakes you come across on an Anchorage to Denali drive along AK-1 is Reflections Lake. Poignantly named for its magically still waters and the beautiful views of nature that are reflected off it, this lake is a popular spot for fishing and some of the best views.
Around the lake is an easy one-mile trail that is accessible for walking from spring through fall. In the winter you can cross country ski or snowshoe.
If you do not wish to fish or hike, you can simply sit and listen to the singing birds or look at the wildflowers that grow here, or watch out wildlife.
Talkeetna
One of our favorite stops on the Anchorage to Denali drive is in Talkeetna which is about 2 hours away from Anchorage if you're driving straight through. To stop here while driving in Alaska you'll have to leave AK-3 on Talkeetna Spur Road for about 14 miles.
Don't let this slight detour make you even consider not stopping here. This charming town is not only picturesque but has a cat as a mayor! Talkeetna's first feline mayor was Stubbs for 19 years after his passing a friendly little kitty by the name of Denali has replaced the seat as mayor.
The town is situated at the base of Denali, from Talkeetna, you can enjoy the most expansive views of the Alaska Range from multiple spots.
Wander through the little town and enjoy all the exciting 'Alaska' things it has to offer from outdoor activities like flightseeing to riverboat tours, hiking, or mountain climbing.
Or just have a quick stop here for lunch, we recommend Denali Brewpub and stopping at Nagley's General Store.
Denali Viewpoint South
As you are driving in Alaska, making the drive from Anchorage to Denali, you will need a few places where you can pull off to the side of the road, stretch your legs, and get a spectacular view of the destination you are heading towards.
Or maybe you just want a pull off on your long Anchorage to Denali drive to just see some of the amazing views. As you get this far into your journey you'll have realized there are tons of amazing views.
Luckily, there are stop-offs and pullovers so you can actually stop and take it all in and not have to worry about paying attention to the road.
One of the best views of Denali is from the pull-off Denali View Point South. Located south of Denali National Park and within the boundaries of Denali State Park, this pit stop gives a view, not only of the Denali but also of the Susitna River.
The parking lot is large and overlooks this majestic view and on a clear day you can see some more mountains further away.
There is a trail here that you can enjoy more different views from if you're looking for a little more activity before getting back in the car or just want to enjoy more vantage points.
There is also a small camping spot here if you're feeling extra adventurous on your Anchorage to Denali drive.
Denali Viewpoint North
As you continue northward on your Anchorage to Denali drive, you will come to Denali Viewpoint North which is another pull off viewpoint and a campground.
Just like the Viewpoint South, this spot gives great views of Denali and the surrounding mountains driving in Alaska.
It is well equipped for the traveler, having up to twenty campsites, all equipped with picnic areas and restroom facilities.
This viewpoint is in the southern part of Denali National Park, you're now closer to the mountains than you were before.
Cantwell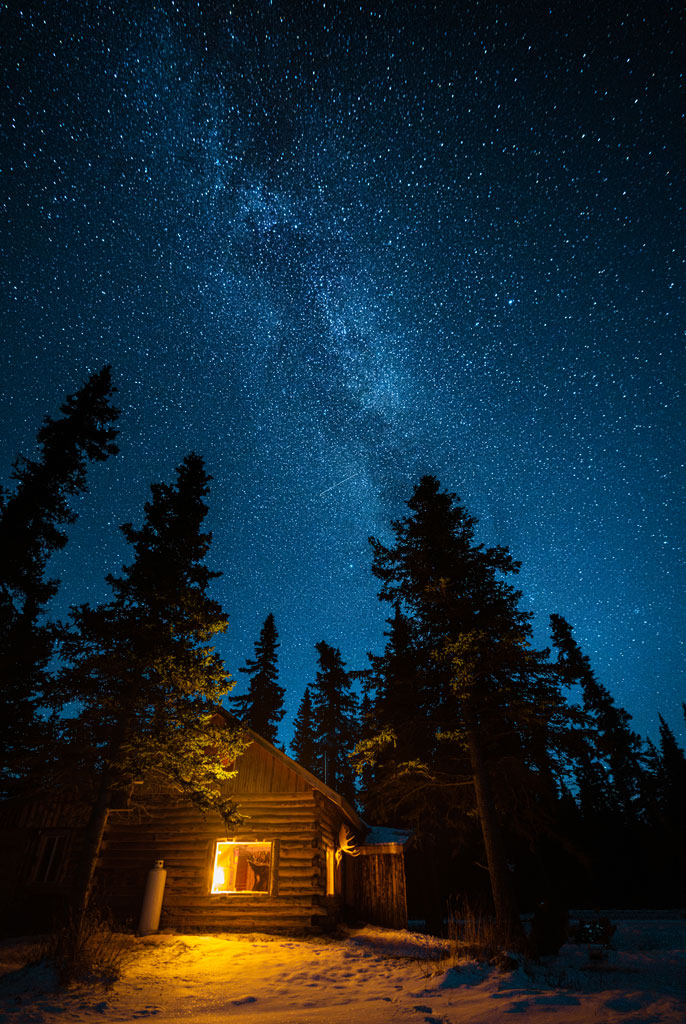 As you go even further north on your Anchorage to Denali Drive, you come across the small town of Cantwell, very close to Denali National Park.
Named in honor of the river that runs by it, this full-service community is kept busy by the people who come to the National Park, providing accommodation, food, as well as fuel to all those who need it.
There isn't *much* going on in Cantwell other than it happens to be a great base for where to stay while driving in Alaska once you reach Denali. Since you're so close to everything there is to do in Denali we recommend staying the night at Adventure Denali Cabins Alaska in Cantwell.
This is one of the most incredible cabin getaways in the United States we have ever encountered. While exploring the enchanting and majestic Denali National Park in Alaska be sure to stay in a rustic and incredible cabin getaway during your stay.
These cabins are the perfect hopping off point to exploring Denali National Park surrounded by the most pristine of nature and beauty. The cabins are all 99% powered by solar panels and surrounded by forest, mountains, and lakes.
The owners also offer adventure activities like fishing, hiking, and other adventures in the park.
Denali National Park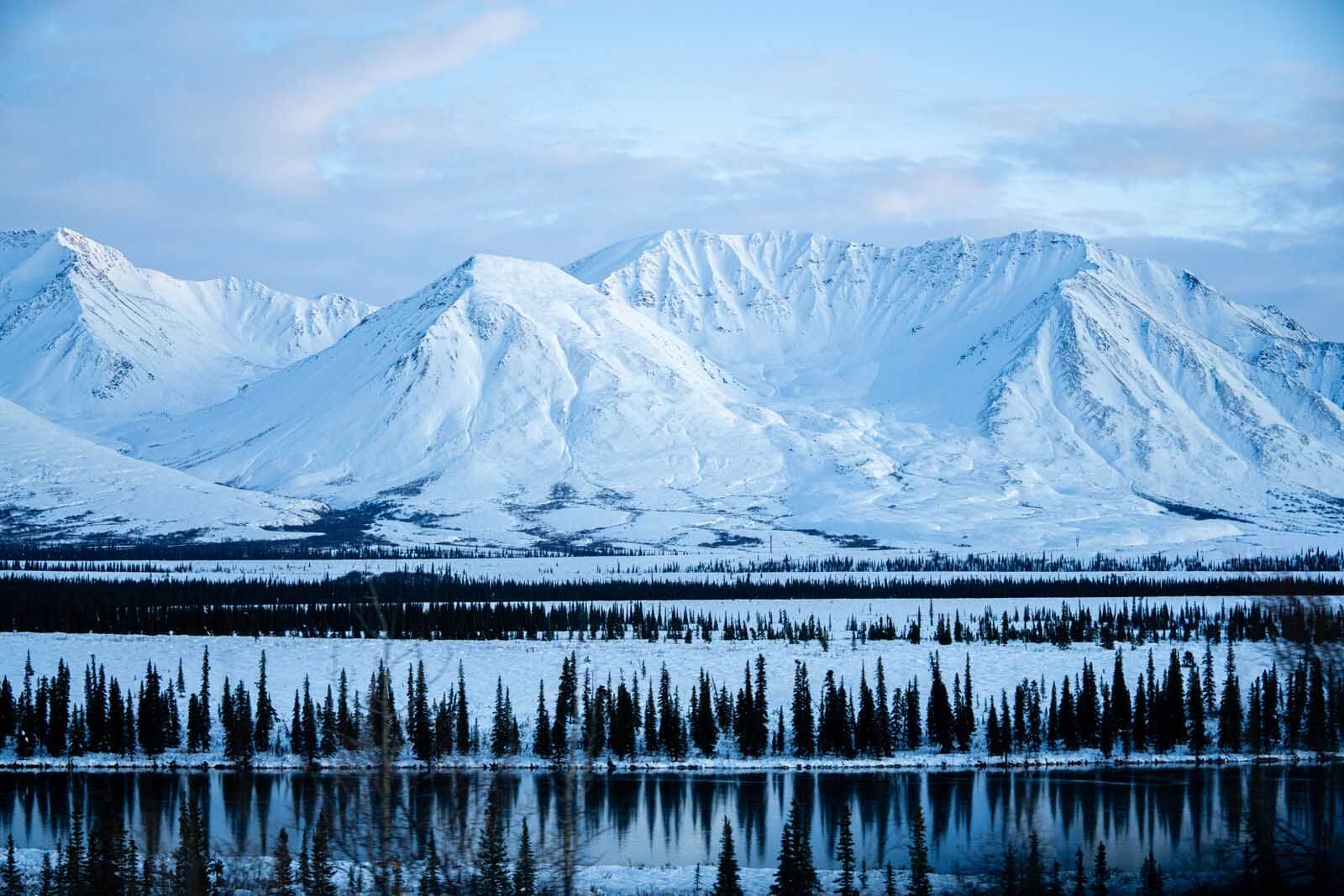 Denali National Park is one of the most popular land attractions in Alaska and your final point on your Alaska drive from Anchorage to Denali.
Visitors are rewarded with some of the most breathtaking sights they could ever imagine and the most breathtaking mountains in the US.
Within the National Park is Denali, formerly known as Mt. McKinley the tallest mountain in North America at 20,308 feet.
Visitors can observe that glory of nature and all her creations; from the glacial rivers to the high mountain peaks and the vast tundra. There are lots of wildlife roaming the park, from grizzly bears (locals only refer to them as brown bears) to caribou, wolves, and Dall sheep.
Renting a Car for Driving in Alaska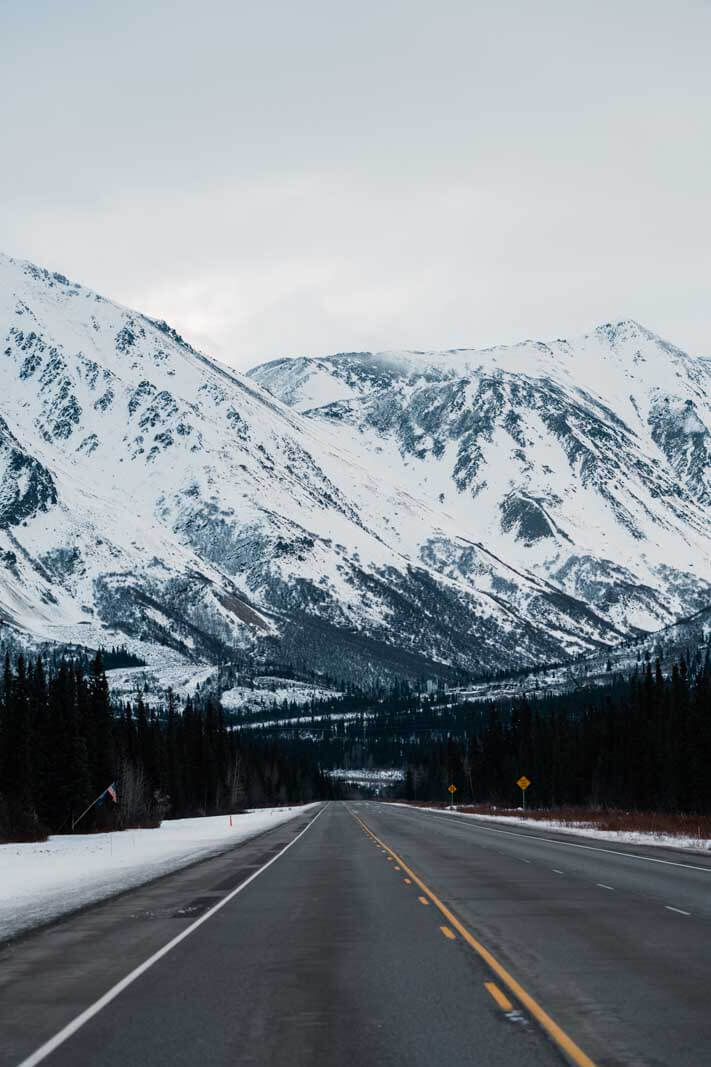 Driving in Alaska is going to require you to rent a car. We recommend starting your Anchorage to Denali drive by flying into Ted Stevens International Airport located in Anchorage, Alaska's largest city and where you can find rental car companies for driving in Alaska.
In the winter, it may take a bit longer due to poor driving conditions. We always recommend renting a car that has 4WD or AWD when driving in Alaska and to practice caution especially if you're not used to driving in snowy conditions.
If you are renting a car (we recommend using Expedia.com) and driving, be sure to watch out for wildlife. If you see any please slow down as animals get scared and may make an unpredictable movement along the roads. To save an animal and yourself from an accident be sure to watch for this.
Tips for the Anchorage to Denali Drive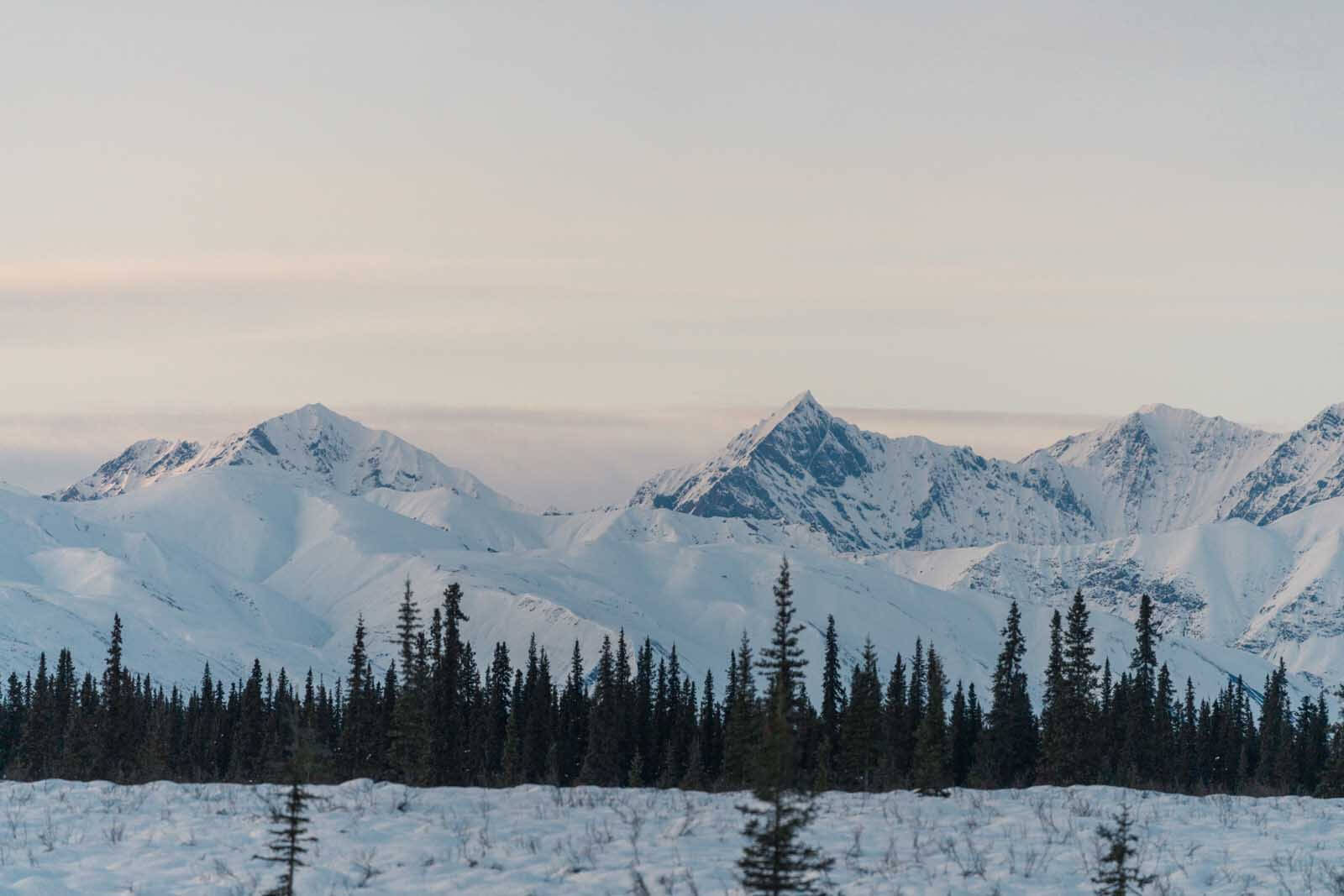 We recommend getting groceries in Anchorage or Wasilla before embarking on the Anchorage to Denali Drive, especially if you're planning on staying a few nights in a cabin or a resort up in Denali.
The options start to thin out the further along you drive in Alaska towards Denali, so it's best to get the most affordable options and largest selection by doing any grocery or snack shopping before getting too far away from the big city.
Also, we recommend making sure you start your Anchorage to Denali drive on a full tank of gas. While gas stations aren't impossible to come by, we do recommend filling up in Anchorage as they have the most affordable gas prices.
After passing Wasilla, the gas options start to become less frequent. So be sure to plan out your fueling stops carefully as not to end up in a bad situation.
We recommend refilling gas in Talkeetna again then you can find another gas station near Denali, which you can expect to be a more pricey option but unavoidable. Cantwell is also a great choice for driving in Alaska near Denali to fill up again.
We recommend having AAA or good insurance for your trip. We ran over a fragment of a bone or antler on the road and it punctured our tire, we had to be towed back to Anchorage as we were visiting off-season and it was a very painful bill to pay.
There are repair options near Denali, but during the off-season, like our visit, there is a good chance that the business is only open seasonally and you're the best bet will be to go all the way back to Wasilla or Anchorage.
Heaven forbid something happens on while you're driving in Alaska, but if it does you can be as prepared as possible!
Driving in Alaska: What to Pack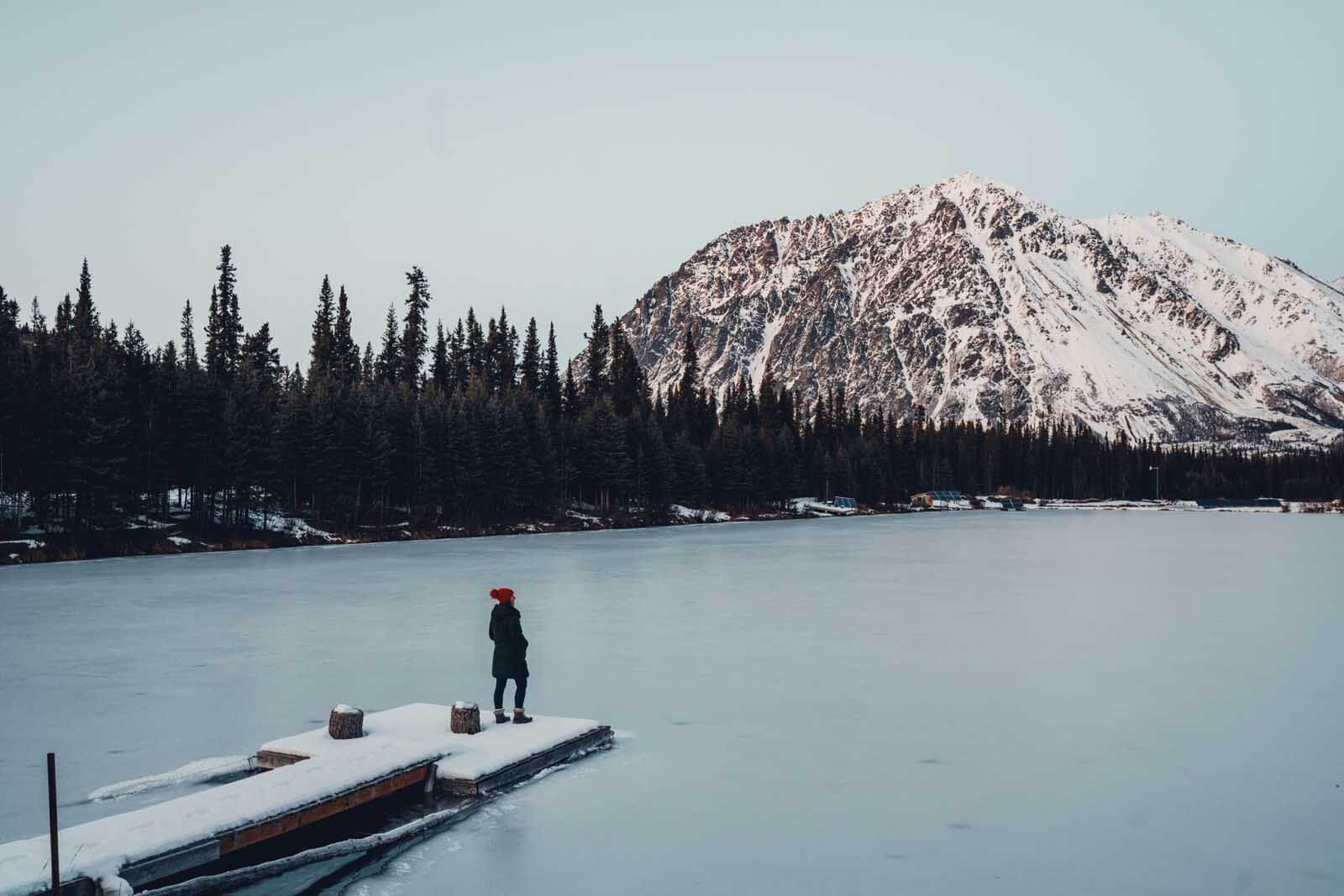 Packing for a vacation is the worst as if you haven't been there before its hard to determine what to bring. Enjoy our checklist of what to pack for your driving in Alaska trip to help planning for your trip be easy peasy.
Bring a warm winter jacket for obvious reasons, Alaska can be chilly and in the fall, winter, and spring, you will undoubtedly need a very warm winter jacket. We love the famous 'Amazon Jacket' for women that will keep you warm and stylish as well as this great down winter jacket for men that's long to keep that cool air off your body.
Another essential you need for your trip and driving in Alaska are thermal layers. Layering is essential as depending on the weather or activity you are enjoying in Alaska you can stay warm. What we love about having layers is if we get too warm we can always take one layer off, it's easier to take layers off than it is to warm up if you're underdressed. We love this thermal set for ladies and this thermal set for men.
You'll want to make sure you pack warm socks. There's nothing worse than having cold feet when you're trying to enjoy the great outdoors. Layer your feet up properly with these merino wool socks for men and merino wool socks for women.
Weatherproof and waterproof boots are also essential if you're planning on exploring in cold or wet weather along with good socks. We love Sorel boots because they are waterproof to keep your feet dry in wet weather or snow, keep your feet warm in cold weather, and are stylish! We love the classic Men's Caribou Boot with wool lining and Women's Caribou Boot with a wool lining.
Read Next: Stylish & Comfortable Travel Shoes for Women and The Best Travel Shoes for Men
Don't get caught on a cold day without warm gloves to keep your hands warm! We recommend these wool knitted Thinsulate gloves for men and this gorgeous Chenille cable knit touch screen gloves for women. Or if dexterity isn't an issue and you want to be sure your hands stay completely dry we recommend getting a good pair of snow gloves.
You'll also want to pack a warm winter hat or beanie to keep your head warm. We love these Carhart winter hats as they come in a variety of colors and are unisex.
You will also want to protect your eyes with polarized sunglasses! The sun reflecting off the snow is not only bright but the rays of sun are also damaging to your vision. Protect your eyes with the classic Rayban Wayfarers that are polarized and a timeless classic that look amazing on both men and women! One of our all time favorite looks.
Another few great items to bring are hand warmers for those especially chilly days you just can't get warm, a reusable water bottle as Alaska has some of the best drinking water and you'll be cutting down on plastic bottle use, a great hiking day backpack like this packable backpack that has rave reviews on Amazon, and a power bank for charging your electronics via a USB cable to make sure your battery doesn't die during a photogenic moment!
Read Next: Road Trip Essentials for Your Next Trip
---
Liked this post on all the spectacular stops on the drive from Anchorage to Denali? Bookmark for later or share the love below on Pinterest!