Post Overview: Honest Sheertex review after trying a few pairs of their strong pantyhose that claim to be 10x stronger than anything on the market!
DISCLAIMER! This story is 100% true, if you've been following along on my Instagram Stories you'll be up to speed. I did reach out to Sheertex to see if I could try a pair of pantyhose, they happily obliged. I tried them and this is my honest Sheertex review even though they were gifted. I was also able to ask and receive a discount code for our readers who want to try them out as well as an affiliate link, which means I get a tiny commission at no extra cost to you for referring you to try a pair out! I 100% stand behind my Sheertex review based on my own personal experience and weeks of wearing them!
Now that we got that disclaimer out of the way, if you're anything like me, you've probably owned about a million pairs of pantyhose in your lifetime. Some worn just once because of a snag, secretly sharp nail, run, or a stubborn toe that busts out your new pair of pantyhose in your first wear or try on.
As a matter of fact, I've actually completely RIPPED a pair of pantyhose just recently when I was putting them on for the first time. I was actually quite upset as I had just bought them at a Duane Reade in NYC, used the sizing guide for my weight and height to purchase a $12 pair of pantyhose that I needed that day to put them on, with little time to spare, for them to rip.
I walked back to Duane Reade and without question, they returned my pantyhose as I had the receipt to prove I had just bought them an hour earlier and got a different pair.
I have a lot of stories like this one. Except maybe it didn't happen the first time I put them on but more like the first time I had to go to the bathroom and pull the pantyhose back on to snag or tear them.
Besides being completely wasteful, I was sick and tired of buying crap quality pantyhose.
When we travel I also like to bring dresses along and pantyhose. But because I am tall and curvy it's almost impossible at many places to find pantyhose in my size. This was very common when we were living in South Korea, traveling through Asia, and even in Europe!
I would bring around 5 pairs of pantyhose on a trip in fear that I would bust through them. For someone who likes to pack light, this was taking up a lot of space in the undergarment section of my suitcase.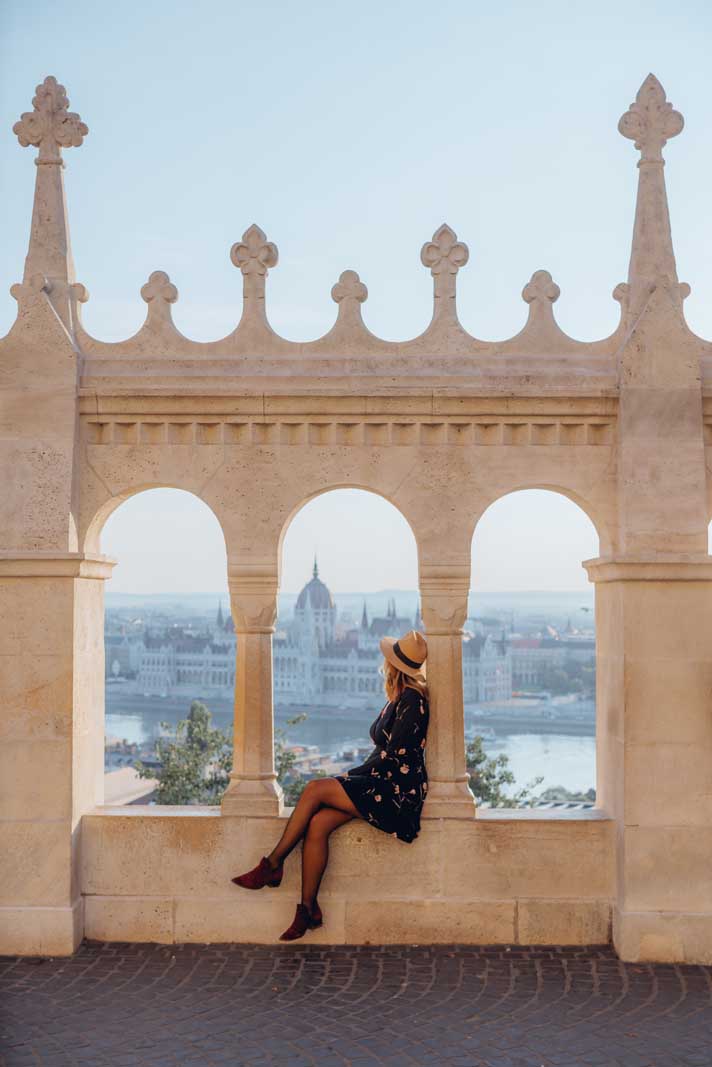 You couldn't tell in this photo, but I have a run on the side of my pantyhose that was around a foot long. This was the trip I had 5 pair of pantyhose, it was a 3-month long trip and I only had a carry on roller size suitcase and a small backpack for the 3 months. Those 5 pairs of pantyhose took up ALOT of space for how little of space I had in the first place and all of them had some kind of run, tear, or hole in them after one or two wears and didn't make it the duration of the trip.
I am not running around doing hardcore parkour in my pantyhose either. I was fed up.
Fast forward to the present day when I actually was pretty excited about a targeted ad I saw on Facebook. This is the first time I've actually REALLY wanted something that was targeted to me. It was from Sheertex about their heavy-duty and strong pantyhose that's 10x stronger than anything on the market with videos of women pulling aggressively at their pantyhose without them tearing.
The visuals worked. I wanted to try a pair of these out because could this be the end of all my pantyhose problems?! If these Sheertex pantyhose were as strong as they said, I could not only buy WAY less pantyhose and travel lighter but I could not worry so much about ripping, running, and tearing my pantyhose.
However, I saw the price. The Classic Sheers started at $59. Not bad, but I have already lit a ton of money on fire basically on pantyhose purchase in the past. I wasn't ready to believe that these were as strong as they said. So, I reached out to the Sheertex team and asked if I could try a pair out to give my honest Sheertex review and talk about my experience to see if these could be the best strong pantyhose on the market as they claim.
They happily obliged and here is my Sheertex review and personal experience wearing Sheertex pantyhose.
My Sheertex Review
The Good
As of writing this post, I have had two pair of Sheertex that I've worn several times. So far I am impressed with how they are holding up. I still have zero holes or runs, which is nothing short of a miracle for me as normally my pantyhose don't last this long.
These pairs are seriously holding up.
It's a breath of fresh air to be able to confidently pull on a pair of pantyhose without having to carefully adjust my pantyhose over every little curve and toe millimeter by millimeter worrying I might snag, rip, or tear. Even with toenails that haven't been trimmed recently, I was able to quickly and easily pull on a pair of my Sheertex pantyhose.
Since I am 5'9″ and a bit curvy, regular pantyhose can be a chore to find and a crapshoot to find ones that will actually be long enough for me. In some pairs I've had I could tell I was a tad too tall for the pantyhose even though I followed their sizing guide. This made the fit of the pantyhose fall down with a sagging crotch or they just ripped when I tried to pull them up over my booty and hips.
I did not have this issue with my Sheertex as I was able to order their tall size. I actually am very impressed with how easy they are to pull on, and I can stretch and move the fabric with ease and without worry of tearing, snagging, or creating a run in my pantyhose.
I've taken these pantyhose on and off at least 8 times that I've worn them now and each time is the same. Some things I really enjoy about Sheertex pantyhose and as a company are bulleted below nice and neatly for you kind readers.
Made of a unique super-strong polymer, the kind of material found in ballistic materials and climbing gear, it's basically turning bulletproof vests into a lightweight and strong pantyhose.
Their sizing is inclusive. They have short, regular, and tall lengths and size range from small to 3XL.
They have a good selection of colors, which vary depending on the product.
There is quite a good selection of styles from shimmery sheers, classic, ultra-sheer, to knee-high socks.
Their products are made and shipped straight from our Canadian headquarters and factory.
Their products are sustainable!
Not to mention, this is a primarily female-run company. Their CEO, Katherine Homuth was basically told she was crazy for wanting to take CSI-grade material to make lightweight and strong pantyhose. But they pulled it off. This is why I get excited when women design or think of products for women. They understand the struggle and pain!
The Bad
I tried really hard to find something wrong with this product for my Sheertex review. And after about a month of owning and wearing them a few times I can only find one thing that if I am being picky is the problem.
During the time I got my Sheertex I had painted my nails with the at home gel manicure nail polish for the first time. My nails had a reaction to whatever chemicals were in it and started falling apart. It was kind of scary and gross and as I write this post a month later I am still dealing with the off-yellowish color it left behind on my nails as well as the layered chipping that happened to my nails trying to grow out.
Anyway, I usually have very strong and healthy nails as I take these amazing hair, skin, and nails gummy vitamins [not sponsored btw, just a huge fan] that make my hair grow longer and healthier than it has before and my nails are usually super strong and grow nicely.
When I used this nail polish my nails shredded and fell apart. My nails were super weak, brittle, and ripped with barely any force or pressure. So, the day that I painted my nails was the day before wearing my Classic Sheers for the first time.
My nail ripped and the jagged edge would have been the end-all of any previous pantyhose I would have owned creating a bad run, hole, or snag that would become one of those two.
But, for my Classic Sheers held up and didn't get a hole or run, but it left little lines where my jagged little nails touched it (see the left photo above). I wonder if this would have happened if my nails didn't look like little rats were chewing at the edges of them – I doubt it.
But the little lines are the only flaw that I have found so far. And honestly, you can't even tell from a regular standing distance from me, only if you're looking very close in that spot by my knee where it happened. As you can see in the photo I shared above, you can barely notice once I move the camera just a few inches back and am not focusing up so closely!
This is a shot of me wearing that same pantyhose (like the 8th time wearing them) and you can't even tell, you only really see them if you are looking very closely. And honestly, who is going to be that close anyway?
But here's the kicker! I was today years old I learned that the Sheertex pantyhose are SELF HEALING! You can actually massage the fibers back into place and remove those lines!
Don't believe me? Watch this.
Are Sheertex Worth it?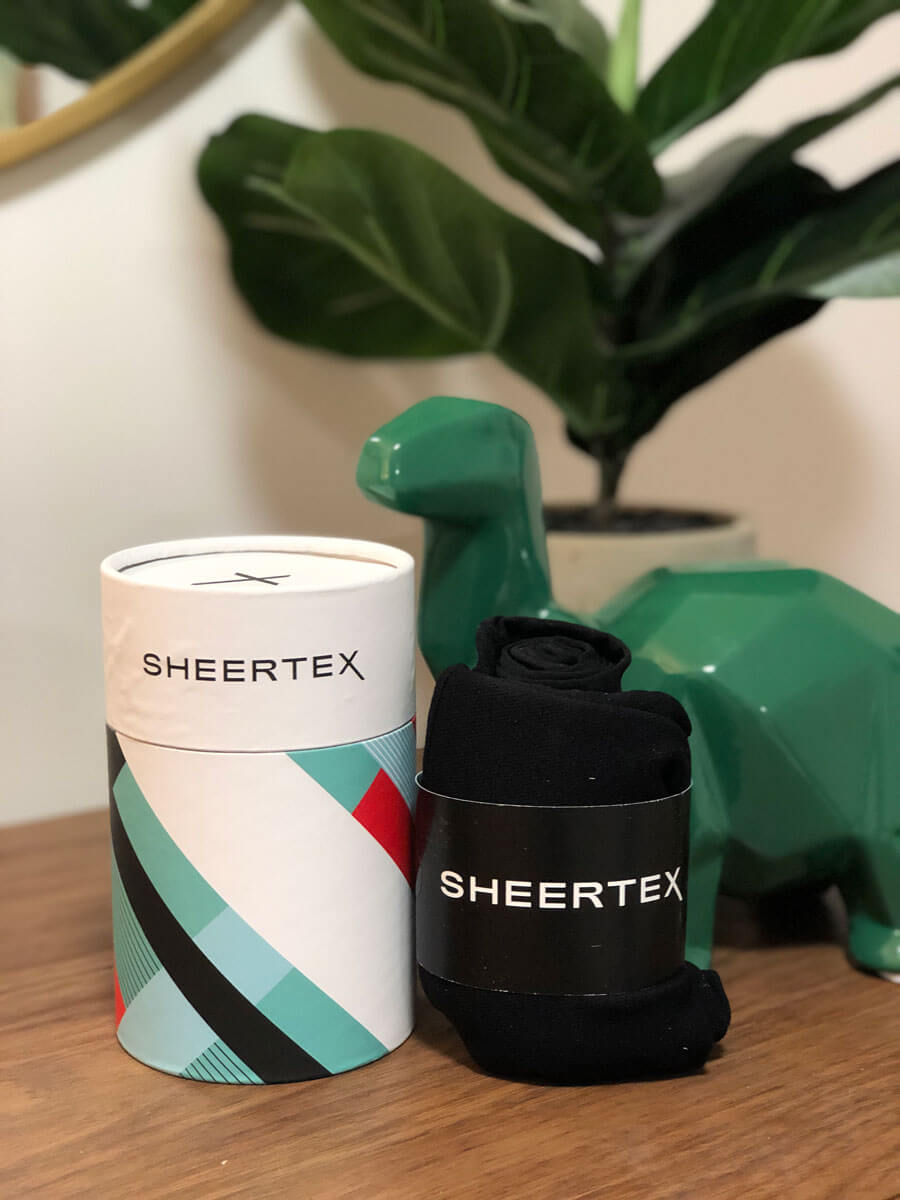 One of the biggest hesitations for people considering giving Sheertex a chance would be the price tag, especially according to my followers hanging along on my Instagram Stories talking about Sheertex.
Their most popular product, Classic Sheers are $59 and some of the other pairs are upwards of $100.
So the question is after my Sheertex review and trying them out would I say is Sheertex worth that price tag? I would definitely say so. If I buy just a few pairs of pantyhose that can only get one to three wears before they are ruined then you'll be paying for a lesser product many times and paying more than one pair of Sheertex Classic Sheers which I have already worn several times without damage (other than my jagged little nail experience).
Not only is this so wasteful, is this a good time to mention how terrible fast fashion is for the environment? I don't want to preach because I can be WAY better, but there's no denying it and just buy buying one pair of good strong pantyhose you can reduce waste little by little.
This quote and statistic is pulled directly from the Sheertex website:
"Over 2 billion pairs of pantyhose end up in landfills each year. We believe there's no longer an excuse for pantyhose that can't get through the day. Our sheers are 10X stronger than the other guys. Not only will our products help you look and feel your best, we're committed to doing the same for Mother Nature."
The amount of waste lesser than pantyhose is creating can be reduced by buying one or two good pair. And if you add up how many pair you would have bought in a year or two (depending on how often you get dressed up) it would equal to be at least if not more than investing in one quality pair.
I have three more pairs of Sheertex coming my way while I wrote this Sheertex Review. You might say I am a fan, especially since I can travel worry-free of my pantyhose ripping or falling apart in a place where I can't find my size and I don't have to pack more than one pair on a trip!
I also love that the fibers can be massaged back into place to remove those little lines! My mind is a bit blown at how well of a design this product is.
In the end, the saying of you get what you pay for is very true in this case! Which is also why I started investing in better quality products that will last longer, see my picks for best travel pants for women too to see my best recommendations for cozy, quality pants.
Try Sheertex Yourself
So, at the time of writing this post as mentioned, I had two pairs of Sheertex pantyhose where I based this Sheertex review on. I have worn the Classic Sheers around 8 times and the polka dot pair around 4 times.
Both are holding up so well that I have 3 new pairs on the way to me to try out more of the different styles including the Ultrasheers, which I am super excited about because I really love the look of the almost see-through black sheer pantyhose.
I recommend giving Sheertex a chance and Sheertex so kindly gave our readers a $10 discount using the code CHICHI10 shopping through this link.
If you don't know where to start, try the Classic Sheers first! They have a great range of sizes and some nice colors to choose from.
---
Have you tried Sheertex? Share with us your own personal Sheertex review in the comments below! Or if you have any questions let me know!