Located just 30 miles north of NYC is one of America's favorite fall time destinations and cutest towns! Check out all the amazing things to do in Sleepy Hollow, NY the famed town and inspiration of one of America's most famous literary pieces by Washington Irving, "The Legend of Sleepy Hollow."
We are going to also cover all the best things to do in Tarrytown along with Sleepy Hollow attractions. While these two towns were all once known as North Tarrytown, the town was separated to make Sleepy Hollow it's own after the literary classic by local author Washington Irving.
Located in Westchester County in the scenic Hudson Valley along the Hudson River, you can find many amazing attractions, homes, and one of America's cutest towns to explore on a day trip from NYC or an unforgettable weekend getaway in Sleepy Hollow at Halloween time in the gorgeous Hudson Valley.
This is an incredible destination and historic Dutch settlement is amazing to visit all year round, but especially popular in the fall season because of the Sleepy Hollow folklore that is tied to Irving's literary classic that is considered one of the first popular pieces of American literature to be famous internationally and one of the first ghost stories in American literature making Washington Irving a founding father of American literature.
Sleepy Hollow and Tarrytown are known to be one of the most haunted locations in the country and has had a spooky mystique surrounding this area even dating back to the 1600s and Dutch settlement days. So even beyond the Sleepy Hollow attractions around the Headless Horseman and Ichabod Crane, there is a huge draw here for anyone into paranormal tourism.
But first, for those unfamiliar with "The Legend of Sleepy Hollow" by Washington Irving we will cover that below as well as how to familiarize yourself with the story through many adaptations in film.
Legend of the Headless Horseman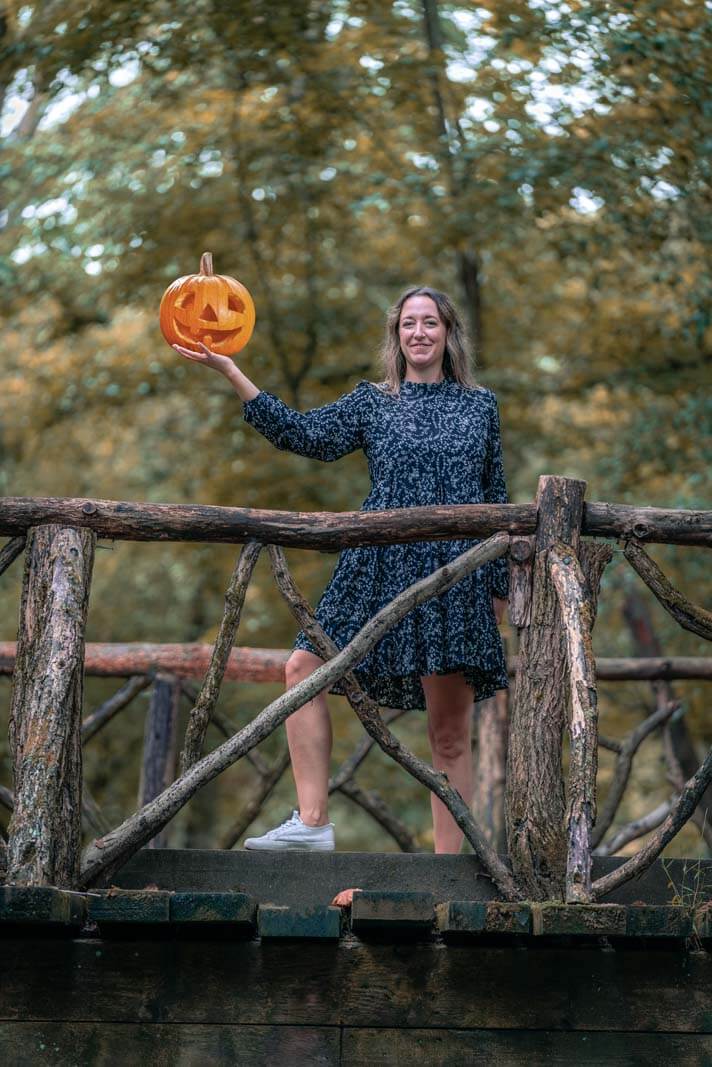 One of the most famous stories and legends in the United States is easily "The Legend of Sleepy Hollow," by author Washington Irving in 1820 who used the town of Sleepy Hollow as his inspiration which has been used as inspiration for several other adaptations including "The Adventures of Ichabod and Mr. Toad," by Disney in 1949 as well as the Tim Burton film, "Sleepy Hollow," starring Johnny Depp in 1999.
Irving lived in Tarrytown as a teenager fleeing a Yellow Fever outbreak in NYC to this scenic town along the Hudson Valley just north of the city.
We are going to focus on Irving's story which consisted of a collection of 34 essays that he wrote while living abroad in Birmingham, England, and is considered one of the very first American ghost stories. Washington Irving was also known for other famous literary works including "Rip Van Winkle."
This story, in particular, is very popular around Halloween time as the Headless Horseman, a Hessian soldier whose head was blown off by a cannon in battle and haunts the town of Sleepy Hollow starting a nightly horseback ride in the town's cemetery hurling pumpkins at people, including the superstitious Ichabod Crane a local school teacher.
Believe it or not, the Headless Horseman wasn't a creation of Irving, headless horsemen were popular folklore in Northern European storytelling and at the time of writing this piece, Irving was in England even though he has a home in Sleepy Hollow, which we will dive into more later on in this guide!
The story is set in 1790 in Sleepy Hollow, a glen in Tarrytown which was an early Dutch settlement. Before this story was even written, Tarrytown and Sleepy Hollow were known for the spooky atmosphere.
The Headless Horseman, who lost his head in battle in 1776 around Halloween, takes a ride every evening starting at the Sleepy Hollow cemetery riding towards battle since that is how he tragically passed looking for his head.
Ichabod Crane, a local school teacher who wants to marry a local wealthy farmer's daughter, Katrina is told about the legend of the Headless Horseman by men who don't want to see the marriage happen. Ichabod doesn't get the hand of Katrina and on his ride home on a chilly autumn evening on his horse named Gunpowder, he is spooked by learning about the recent story that was told to him.
On his ride home on his skittish horse, Ichabod encounters the Headless Horseman and he tried to book it for the bridge next to the cemetery where he'd be safe from the haunting horseman. Instead of crossing the bridge where he'd be safe, his horse was spooked and doesn't make it across before the Headless Horseman hurled a pumpkin striking Ichabod's head.
The only remains left behind to the disappearance of Ichabod was a trampled saddle and a pumpkin blasted into pieces.
Speculation occurs that perhaps Brom Bones, who also wanted to marry Katrina was the one behind the demise of Ichabod Crane, others say its the Headless Horseman making it a mystery and legendary story for the ages. The story is so well known and loved that many people visit Tarrytown and Sleepy Hollow attractions around Halloween time to visit all the folklore spots that inspired Irving's story.
If you haven't already, we recommend reading the book compromised of all the essays, watching the Tim Burton Disney film, or the classic cartoon by Disney!
Legendary Things to do in Sleepy Hollow
Headless Horseman Sculpture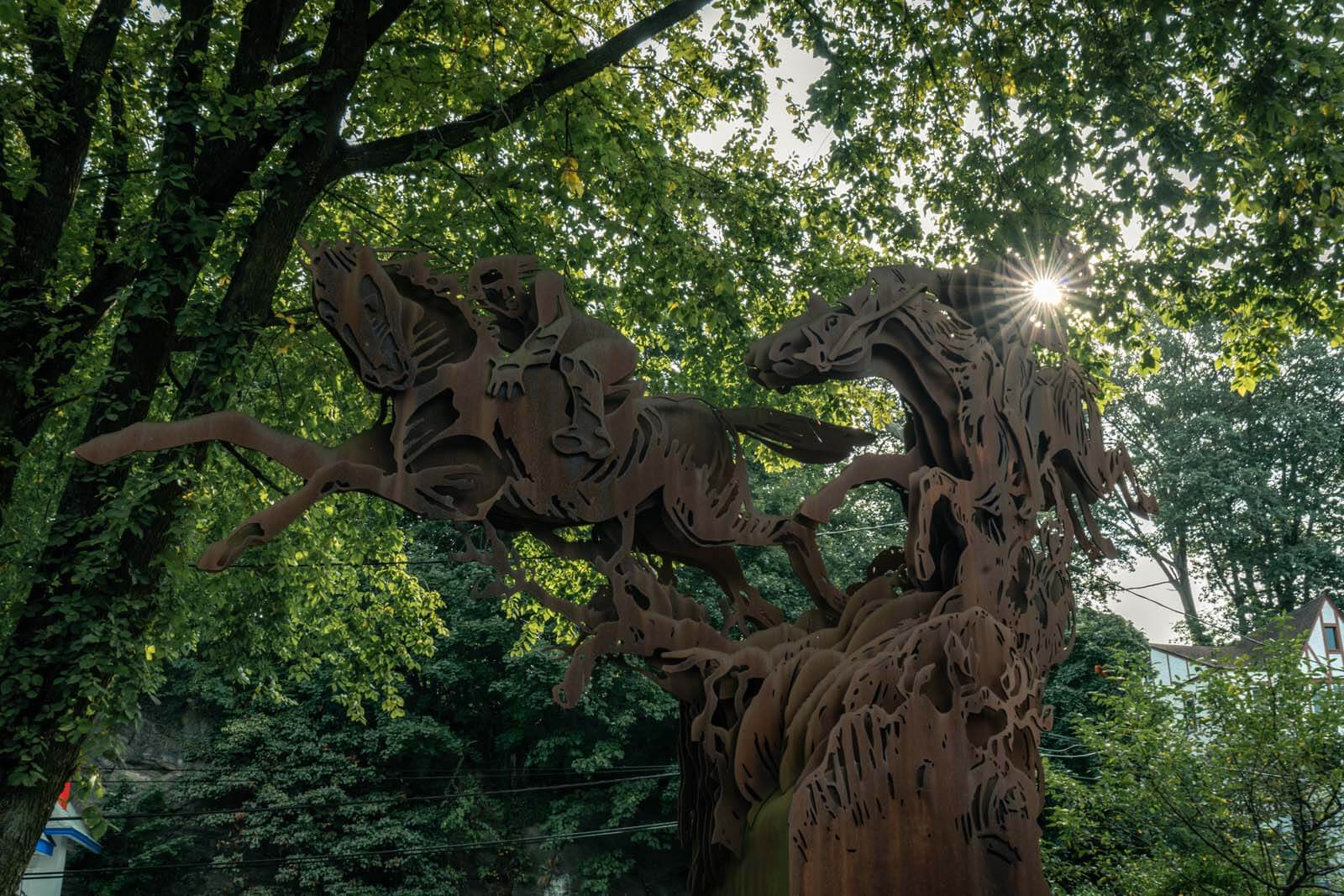 One of the best Sleepy Hollow attractions and quick photo stop is the Headless Horseman sculpture located just outside the Sleepy Hollow cemetery and next to the famous bridge where it all happened!
The 18-foot high sculpture is made out of metal and has a rusted appearance made by Miglo-Bufkin depicting the moment the Headless Horseman chased down Ichabod Crane on horseback and hurling a pumpkin at his head.
Find this quick and fun thing to do in Sleepy Hollow and photo spot at 420 North Broadway at Gordon Avenue before exploring the rest!
Headless Horseman Bridge
One of the most iconic things to do in Sleepy Hollow, New York is visit the location of the Headless Horseman Bridge. This always confuses people because the actual location and bridge that the Headless Horseman hurled a pumpkin at Ichabod Crane's head over the Pocantico River is a modern-looking bridge that cars travel over on Broadway.
This modern bridge was actually the location of where this moment in Irving's story took place right outside the Sleepy Hollow Cemetery and Old Dutch Reformed Church. The bridge itself is a bit underwhelming if you're expecting an old wooden looking bridge like you'd expect from the story, but alot has changed since when the story took place in 1790.
Some say the bridge location is actually on Route 9, but we are going to cite this location since this is where the historic landmark marker and sign is.
The modern bridge can be thanked by the Rockefeller family who bought property in the Pocantico Hills in 1893 to build Kykuit, or the John D. Rockefeller Estate, another Sleepy Hollow attraction to check out. The modern bridge at this location was funded by the Rockefeller family.
It's hard to get an image here, so if you want a more authentic looking wooden bridge to accompany the "Legend of Sleepy Hollow," and the tale of the Headless Horseman, there's a popular wooden bridge often photographed in the Sleepy Hollow Cemetery nearby you can check out.
To find it, from the modern Headless Horseman Bridge you will drive into the Sleepy Hollow Cemetery and take the furthest right road along the Pocantico River. As you're driving along the river, you will come across a little wooden bridge that's perfect for photos directly parallel to Andrew Carnegie's Grave. The drive will take less than 2 minutes and if you're visiting by foot the walk is less than 15 minutes following this route.
Old Dutch Reformed Church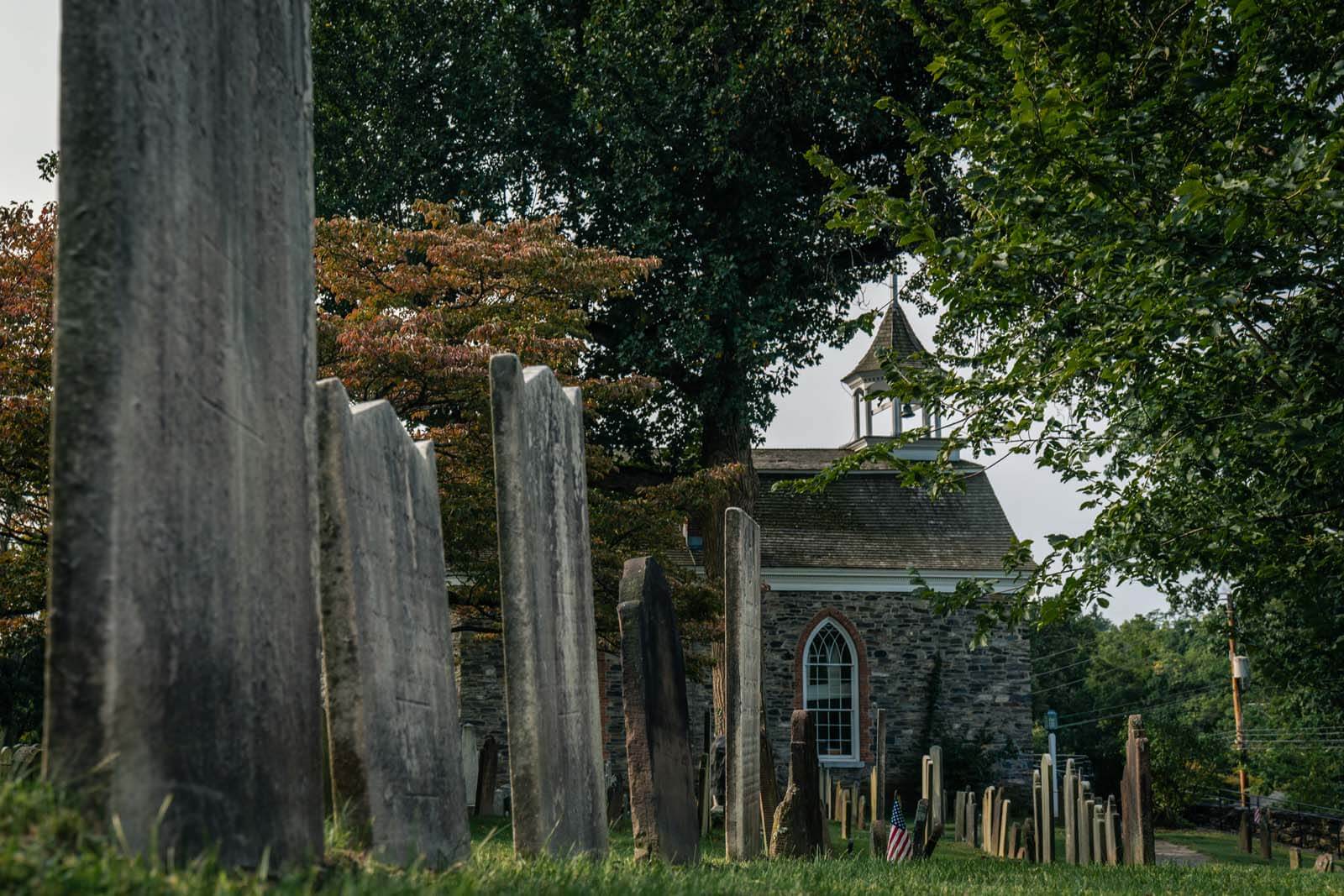 Another one of the best things to do in Sleepy Hollow retracing the legend of Ichabod Crane and the Headless Horseman is visiting the Old Dutch Reformed Church and burying ground adjacent to the Sleepy Hollow Cemetery.
This area was inhabited by early Dutch settlers to America and the church itself is one of the oldest in the country founded in 1685 and is of course a part of the legendary Washington Irving story.
The church is considered to be separate from the rest of the Sleepy Hollow Cemetery and has its own 2.5 acre burying ground surrounding the church which is considered one of the oldest in the United States and is the oldest church in New York State. You can find gravestones for local citizens who Irving used as inspiration in his tale including Brom Bones as well as Katrina Van Tassel.
We recommend walking the grounds and trying to spot the gravestones of those who inspired character names in Irving's tale as well as where the Headless Horseman would set off on his nightly ride.
In October, you can actually visit inside the church which is not really open to the public other times of the year except for big holidays like Christmas and Easter.
If you're visiting, please be respectful of any services that might be happening during your visit.
You can also purchase a map that gives you a self-guided tour at the local gift shop or the museum shop at the Phillipsburg Manor if you want to learn more!
This Sleepy Hollow attraction closes at 4:30 pm, so plan accordingly!
Sleepy Hollow Cemetery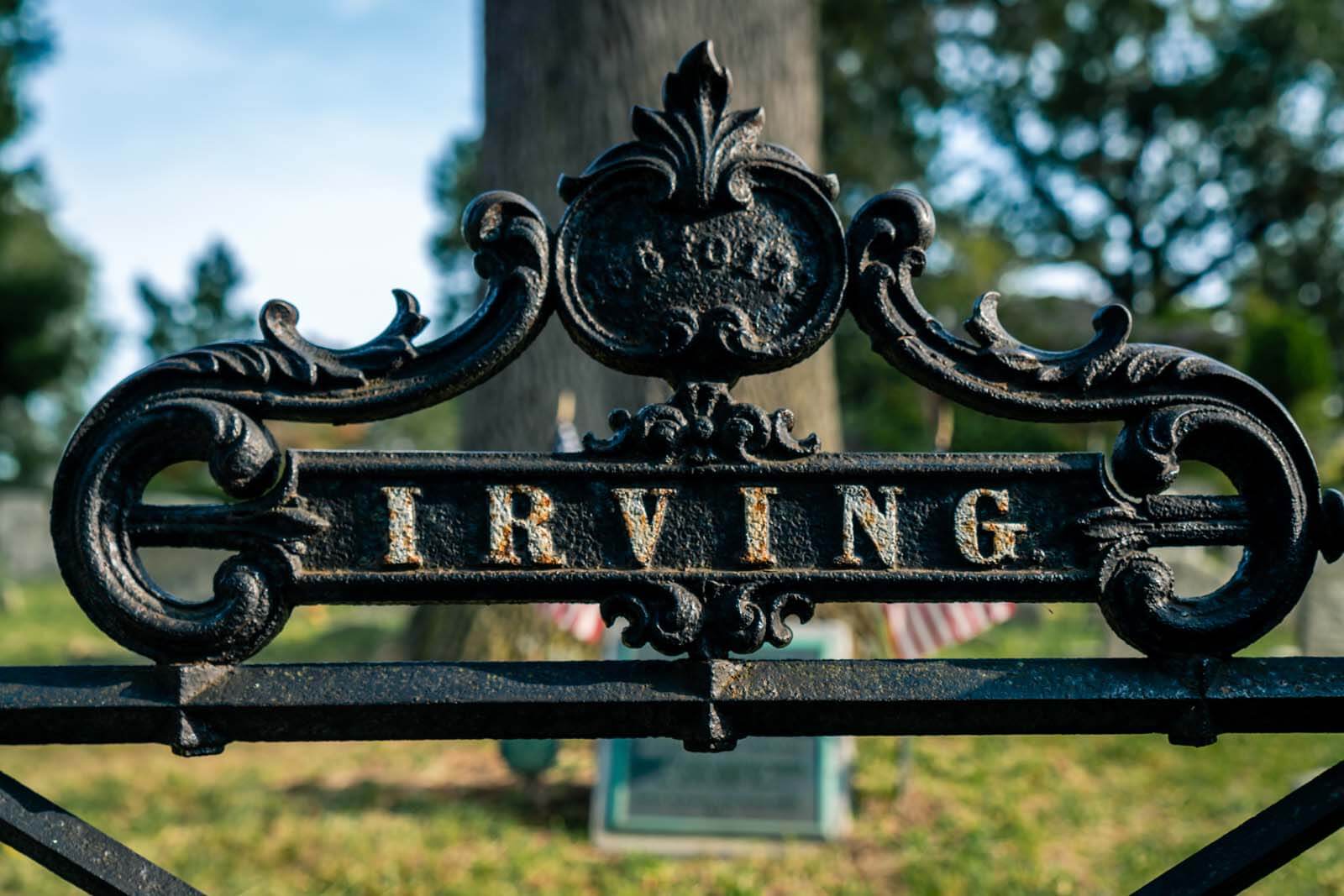 Continue exploring the best things to do in Sleepy Hollow, NY by visiting the Sleepy Hollow Cemetery adjacent to the Old Dutch Reformed Church. This Cemetery was established in 1849 and was originally named Tarrytown Cemetery but changed upon request to Sleepy Hollow Cemetery after Irving's classic story.
In the 90 acres of graveyard you can find famous burial sites of notable people throughout American history including Walter Chrysler, William Rockefeller, and Andrew Carnegie.
But, one of the most famous gravestones to visit is that of Washington Irving himself in his family plot located right next to the Old Dutch Reformed Church and burying ground in the Sleepy Hollow Cemetery.
We recommend exploring some of the cemetery by foot then if you want to get to all the famous gravestones and mausoleums outside of Washington Irving's to do so by car.
This is also where you can find the wooden bridge over the Pocantico River that's a great photo spot if you're looking to recreate a spooky scene with a wooden bridge! See directions above at the Headless Horseman Bridge.
Phillipsburg Manor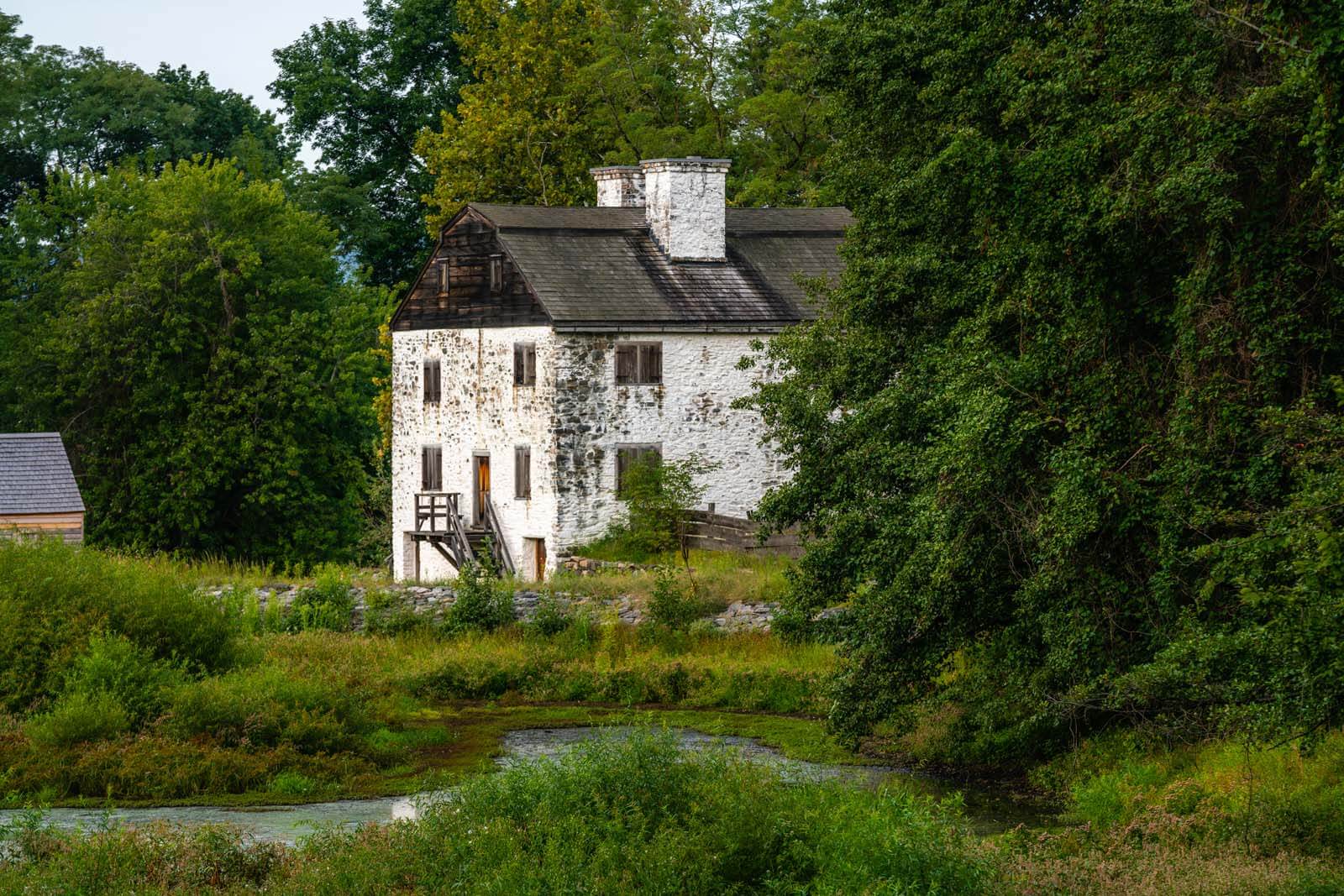 One of the best historic sites and things to do in Sleepy Hollow, NY is visit the Phillipsburg Manor directly across from other Sleepy Hollow attractions like the Headless Horseman Sculpture and the Headless Horseman Bridge along the Pocantico River.
The village of Sleepy Hollow and Tarrytown are descendants of early Dutch colonization in America in the 1600s where trade took place including milling and farming in the Hudson Valley.
The home you see and can tour is from 1750 and is an example of the thriving milling and trading economy of the time.
On the tour, you can learn about the working gristmill as well as the lives of the 23 African-descent individuals who were enslaved and forced to work here. Inside, you will learn particularly about Caesar, one of the enslaved millers. Many of these historic sites try to hide or glorify its history with slavery, however, Phillipsburg Manor does try to include the narratives of the gruesome history of slavery that took place at this Sleepy Hollow attraction for visitors today.
There's also quite a bit of history surrounding the property including the carpenter for the Dutch West India Company, Frederick Phillipse who came to the area in 1653, a loyalist during the American Revolution, and Dutch and British colonization. There are various programs and events that take place here that show the Dutch, African, and Native American stories tied into this historic landmark.
Another reason why this is one of the best things to do in Sleepy Hollow is that it is also mentioned in Washington Irving's story as well.
In 2020, the bridge and gristmill are undergoing restoration and expected to be open next season for visitation. However, you can still see a great view of this Sleepy Hollow attraction from the Headless Horseman Bridge.
The Great Jack O'Lantern Blaze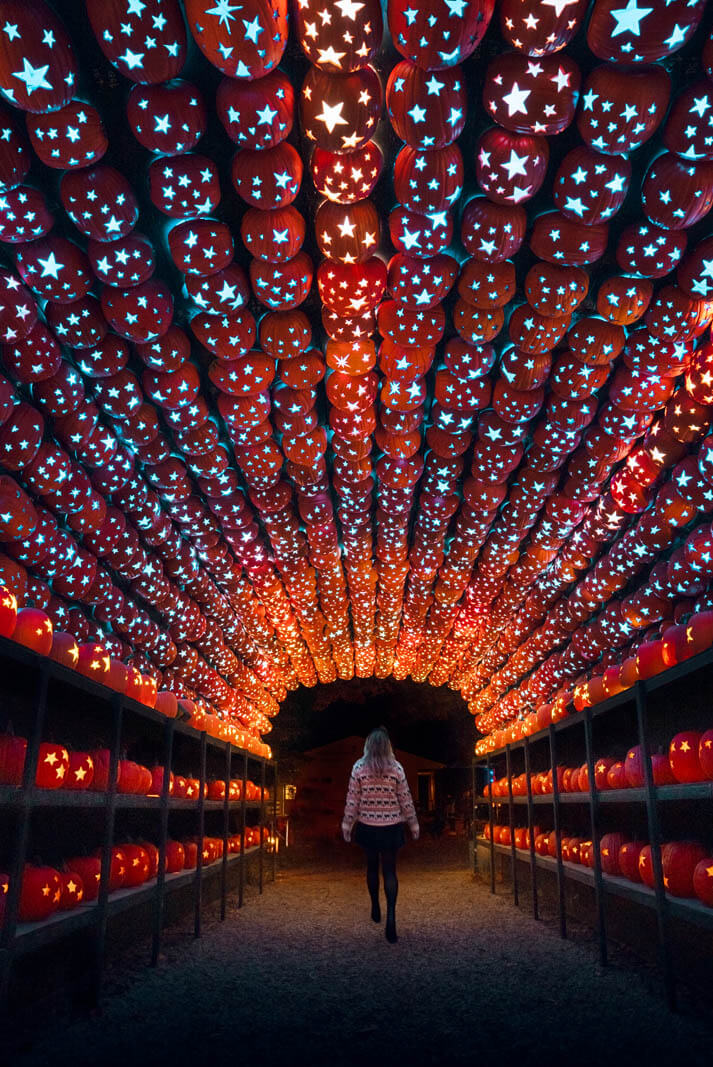 Easily one of the most famous and best things to do near Sleepy Hollow, NY during autumn is The Great Jack O'Lantern Blaze! Each year in the fall, you can walk through more than 7,000 hand-carved jack o' lanterns by artists that are illuminated making for an enchanting evening located around a 20 minute drive away.
Located at the 18th-century Van Cortland Manor you can enjoy this impressive display of pumpkins and jack o' lanterns synched up to an original soundtrack!
Other festivities include the Museum of Pumpkin Art, the Pumpkin Carousel, the Pumpkin Windmill, and the Pumpkin Planetarium making it one of the most unique and one of a kind experiences to enjoy during Halloween and fall season!
Things to do in Tarrytown & Nearby
Shops and Dining in Tarrytown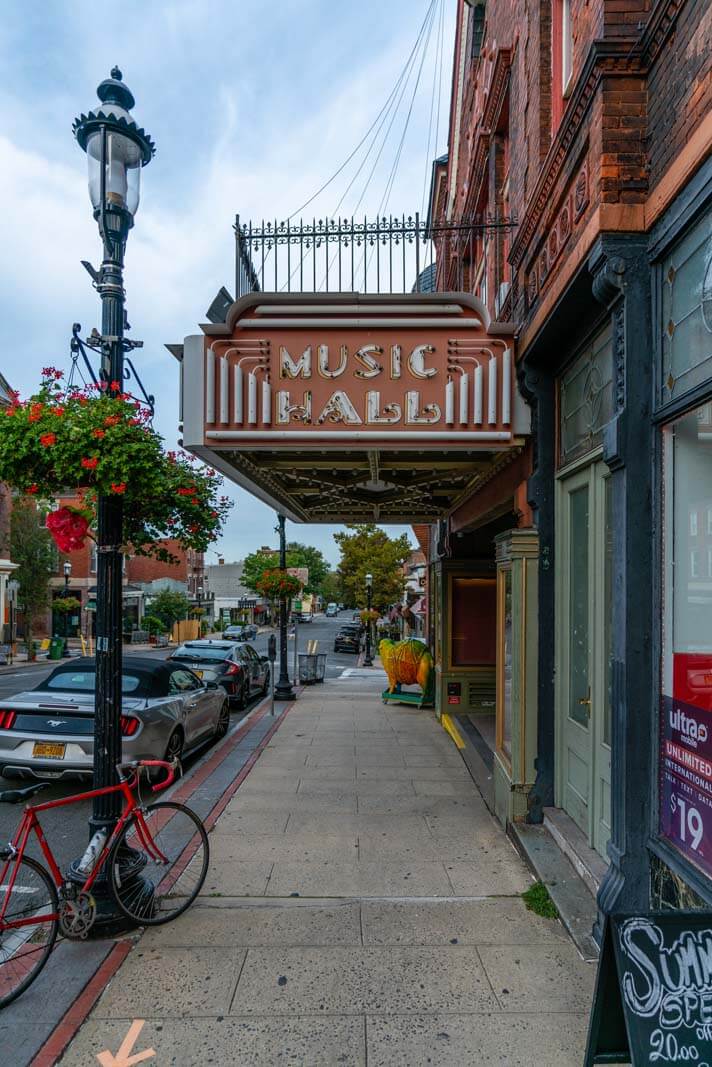 Don't miss one of our favorite things to do in Tarrytown, explore the picturesque and quintessential downtown that looks straight out of a movie that's been named one of the top 10 prettiest towns in America by Forbes.
Don't miss the gorgeous store fronts and buildings up and down the Main Street dotted with cute shops, restaurants, and cafes. One of the star attractions and best things to do in Tarrytown is check out a show the historic Tarrytown Music Hall. If you can't catch a show, even just admiring the gorgeous exterior is breathtaking and worthy of a photograph! This is one of the few remaining theaters in the US that predate 1900 too!
What's even more impressive are the selection of different cuisines at the restaurants in Tarrytown! You can find everything from Mexican to Japanese restaurants making it a perfect stop before or after exploring the area as well as all the best things to do in Sleepy Hollow. We highly recommend stopping by Horsefeathers, especially around the Halloween season as it's super festive (just be prepared for a wait) and they have a great selection of pumpkin and fall-flavored beers and drinks.
Also, check out cool shops like The Swan's House and Sleepy Hollow Souvenirs which are both curated with cool vintage finds plus other artisan products.
Sleepy Hollow Lighthouse & Scenic Hudson Riverwalk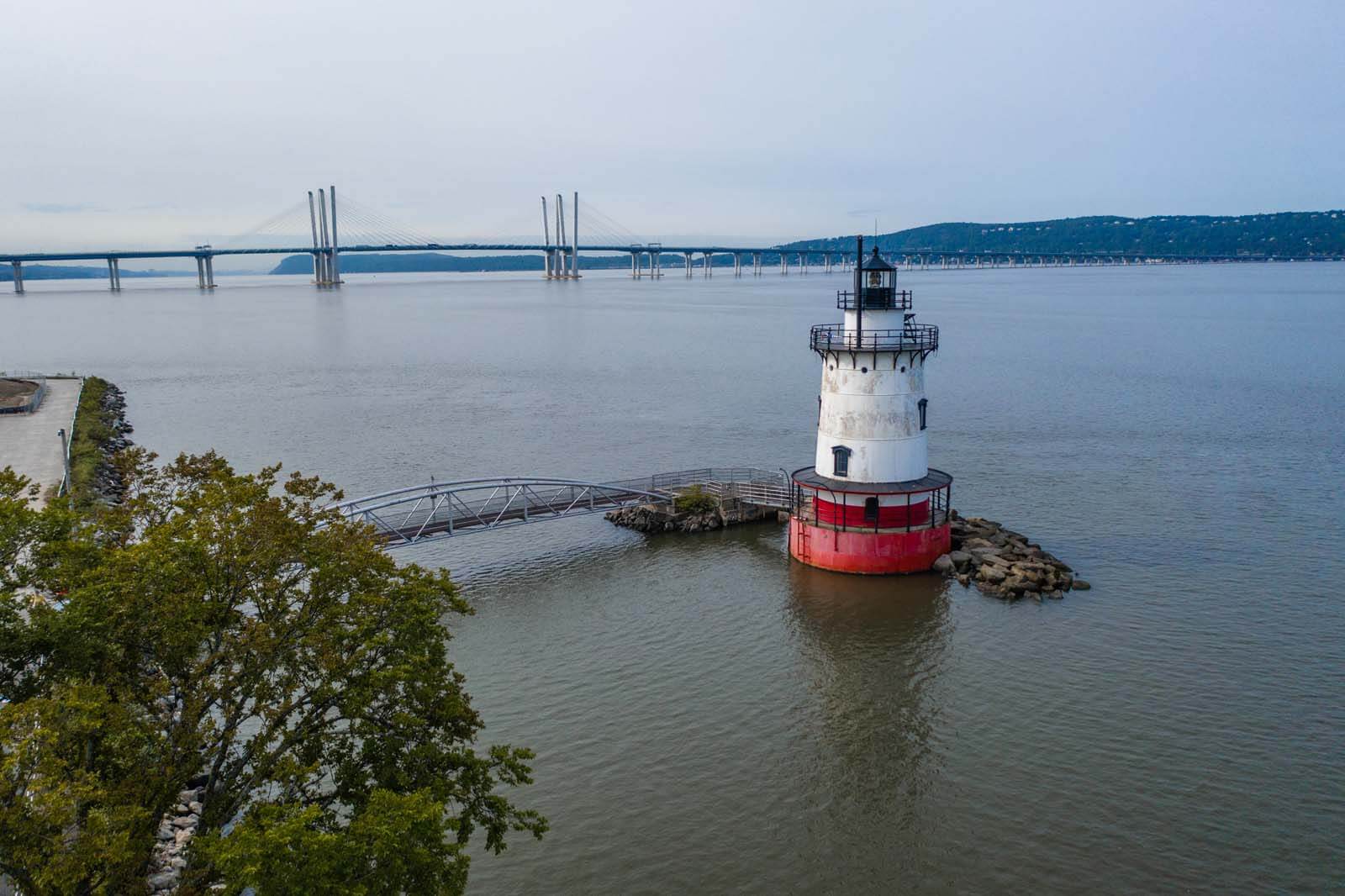 One of the best things to do in Tarrytown is enjoy a picturesque walk along the Scenic Hudson Riverwalk overlooking the Hudson Valley, Governor Mario Cuomo Bridge over the Hudson River, and the picturesque Sleepy Hollow Lighthouse.
We are big fans of cute lighthouses, we don't know why but we just are and this one doesn't disappoint! The Sleepy Hollow Lighthouse is also often referred to as the Tarrytown Lighthouse or Kingsland Point Lighthouse as well.
This historic lighthouse was installed in 1883 and used to be located a half of a mile off the shore of the Hudson River warning ships of the dangerous depths of the river, but as industry changed the landscape of this area the now gone GM factory actually dramatically changed the shoreline of the Hudson River from years of landfill making the lighthouse closer to shore.
Lightkeepers used to maintain the lighthouse, but by the 1950s the light had been automated making the need for a keeper basically obsolete. Once the Tappan Zee Bridge was built, the lighthouse was no longer needed and stopped running in 1961.
The best views of this Tarrytown attraction is from the Scenic Hudson Riverwalk!
Kykuit a Rockefeller Estate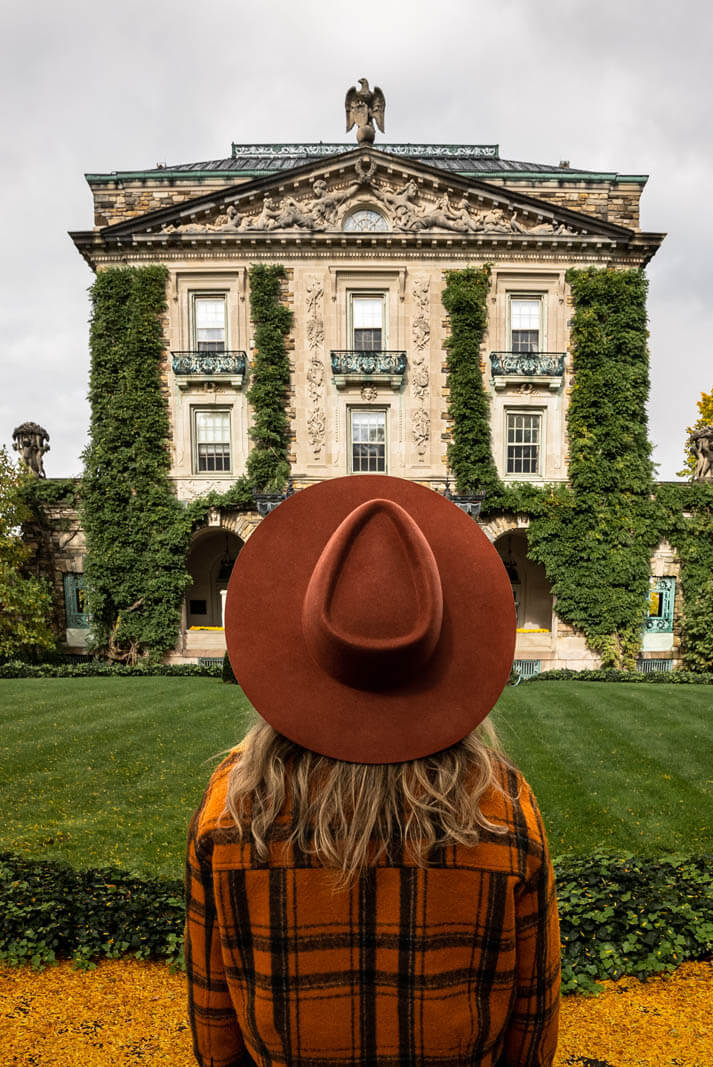 Another must-see attraction and best thing to do in Tarrytown is visit Kykuit, the Rockefeller Estate located in the scenic Pocantico Hills. In 1913, John D. Rockefeller completed his family estate, making it one of a few famous estates still in the area today open for tours by one of the wealthiest men in American history.
Since its completion in 1913, four generations of Rockefeller family members and descendants of the Standard Oil Company tycoon lived here and continuously added to this grand estate and property.
This historic estate is now one of the historic sites that are a part of the National Trust for Historic Preservation and offer guided tours of the main house, art galleries, and gardens.
This Tarrytown attraction is one of the most impressive, the estate is no joke either complete with a nine-hole golf course and at one point it had at least 75 houses connected by 70 private roads all designed by John D. Rockefeller and his son.
The Rockefeller family was no stranger to hosting famous guests including U.S. presidents Lyndon B. Johnson, Gerald Ford, Richard Nixon, and Ronald Regan. Other famous guests include powerful leaders from all over the world.
The estate is so large that around 10 Rockefeller families still live within the estate and it is said former President Bill Clinton has even been spotted jogging on the property.
Another noteworthy fact about Kykuit is that Rockefeller's grandson Nelson Rockefeller curated and collected one of the greatest private collections of modern art in the country to keep here including works from artists like Warhol to Picasso and are located in a private underground, basement gallery.
You must book tickets for a tour in advance (ranging from 1 to 3 hours in length). You will have to arrive to Phillipsburg Manor at the Vistors Center to check in and join your tour which will shuttle you up to Kykuit, which makes it easier for visiting these Sleepy Hollow attractions and things to do in Tarrytown, NY by train from NYC.
Matisse Stain Glass at the Union Church of Pocantico Hills
View this post on Instagram
Another notable thing to do in Tarrytown, NY located below the Kykuit Estate is the Union Church of the Pocantico Hills where you can find the final work of artist Henri Matisse, a rose stain glass window inside the church along with nine windows designed by artist Marc Chagall.
The rose window was Matisse's last completed work before he passed away in 1954 and this window was commissioned by Nelson Rockefeller, the art collector of the family mentioned before as a memorial for his deceased mother. As a matter of fact, a few of the other windows also serve as memorials for deceased Rockefeller family members.
No photography is allowed inside the church and you need to pre-arrange your tickets and tour in advance.
Lyndhurst Mansion
View this post on Instagram
Another one of the famous homes and things to do in Tarrytown is visit the Lyndhurst Mansion. This mansion was completed in 1886 by architect Alexander Jackson Davis, which is said to have inspired the Rockefeller family into building their grand estate here one-upping Lyndhurst.
Lyndhurst is this gorgeous castle-like Gothic Revival mansion that was also famously the home to the railroad tycoon, Jay Gould.
This property had gone through a few different owners, additions, and name changes before becoming known as Lyndhurst and is a part of the National Trust for Historic Preservation, much like Kykuit.
If this mansion and Tarrytown attraction looks familiar to you it's probably because you recognize it as being frequently used as a filming location including the 1960s TV series Dark Shadows among others.
You can tour the interior of the mansion or check out to see what seasonal events and programs they have hosted on the property for the public. Some highlights include the 1894 bowling alley inside the mansion and swimming pool.
Washington Irving's Sunnyside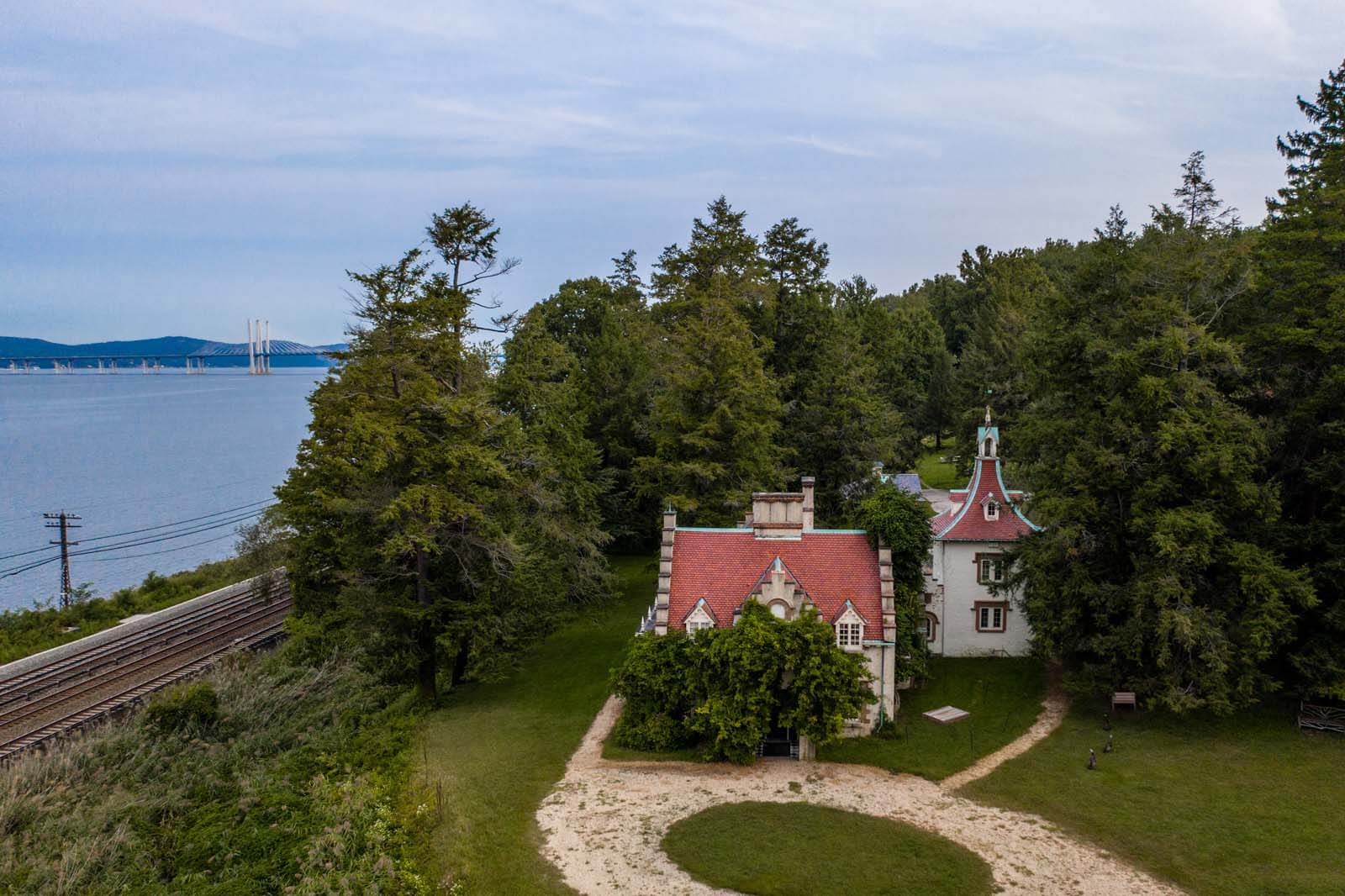 Another one of the most famous estates and things to do in Tarrytown, NY is visit Washington Irving's Sunnyside, the famed author of, "The Legend of Sleepy Hollow," and all the neighboring Sleepy Hollow attractions in which inspired his story from his teen years living in Tarrytown.
Washington Irving's family fled New York City to Sunnyside in the Hudson Valley at this Tarrytown attraction due to a Yellow Fever outbreak in the city. He spent his youth here and was inspired by many of the sites to use in his famous story of Ichabod Crane and the Headless Horseman.
While he spent part of his childhood here he did leave Tarrytown and returned later in life for the remaining years and is where you can find his final resting place in Sleepy Hollow Cemetery. Irving's final days were spent at his Hudson Valley retreat and Dutch home, Sunnyside.
You can join a tour at this Tarrytown attraction and learn about Irving's past and how he became one of the founding fathers of American literature at his whimsical home nestled near the shores of the Hudson River. Some even say its haunted!
In the fall, you can even do a fun outdoor tour that includes a scavenger hunt based around "The Legend of Sleepy Hollow."
The Armour-Stiner Octagon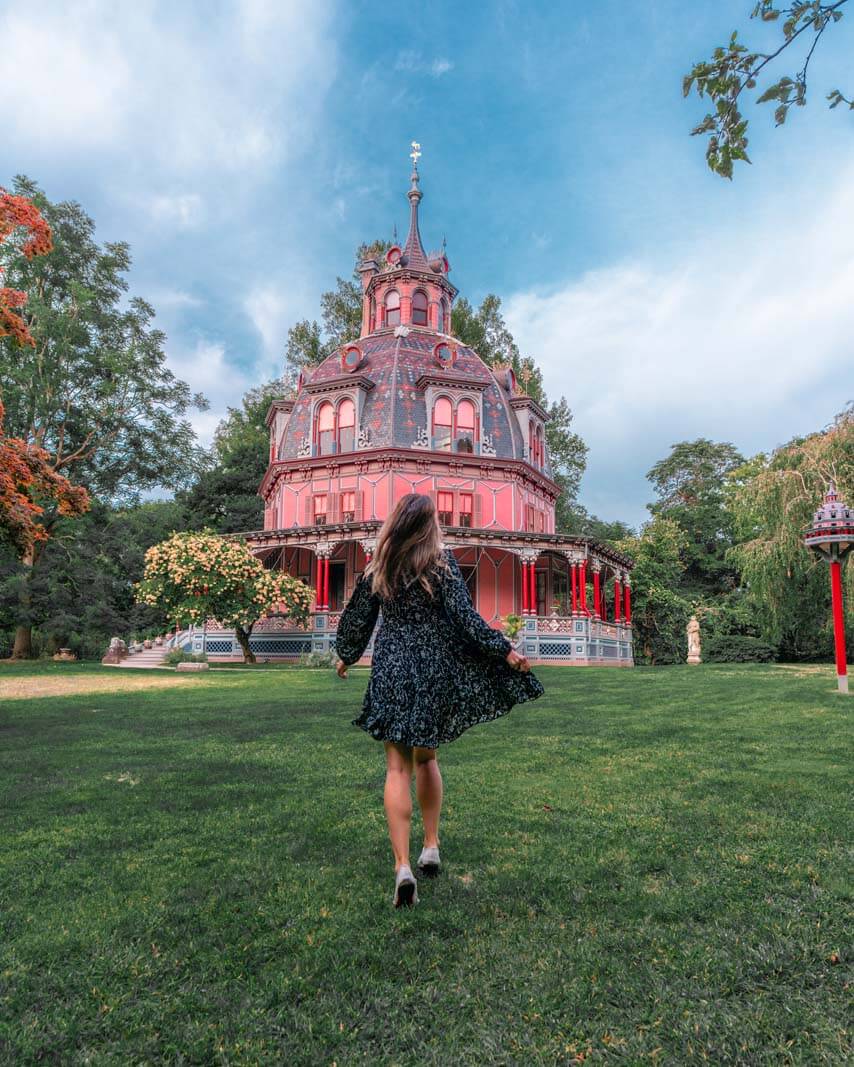 One of the most breathtaking things to do in Tarrytown, NY is visit the STUNNING Armour Stiner Octagon house! This is one of the most unique looking homes we have ever seen and of course, Scott loved it because it's PINK! The house is said to have been inspired by Donato Bramante's 1502 Tempietto in Rome.
This is considered one of the only known dome and octagon homes built in the form of a classic temple with a gorgeous barn on the property that matches the color of the Octagon shaped home!
The home was built by Paul J. Armour in the 1860s and was inspired by the octagonal homes that were a popular style in the pre-Civil war era. The home changed ownership in 1872 to Joesph Stiner, hence the name Armour Stiner.
Paul J. Armour was a financier in NYC, and Joesph Stiner was a tea merchant in the city.
Another resident of this home that's worth mentioning is said to haunt the grounds, spooky! Carl Carmer lived in the house from 1940 until his death in 1976. He was a poet, author, and historian. During your tour be sure to ask about the resident ghost!
The house has been fully restored to its 1872 appearance and is under the National Trust for Historic Preservation even though it's still a private residence. The interior is also decked out in decor and furnishings from the 1870s. One notable room to mention is the only Egyptian Revival room in the United States including the original 19th-century furnishings you can see during your tour.
The current owner, Joseph Pell Lombardi, is an architect and real estate enthusiast, and investor, who has famously won several awards and accolades for his preservation of various properties including the 12th-century Chateau du Sailhant in France.
Something to be very aware of is that even though this home does offer tours, it is a private residence and you're only allowed to visit when they are running tours which start at noon. Please don't visit outside the hours as its private property. Visit their site to plan your visit.
Governor Mario Cuomo Bridge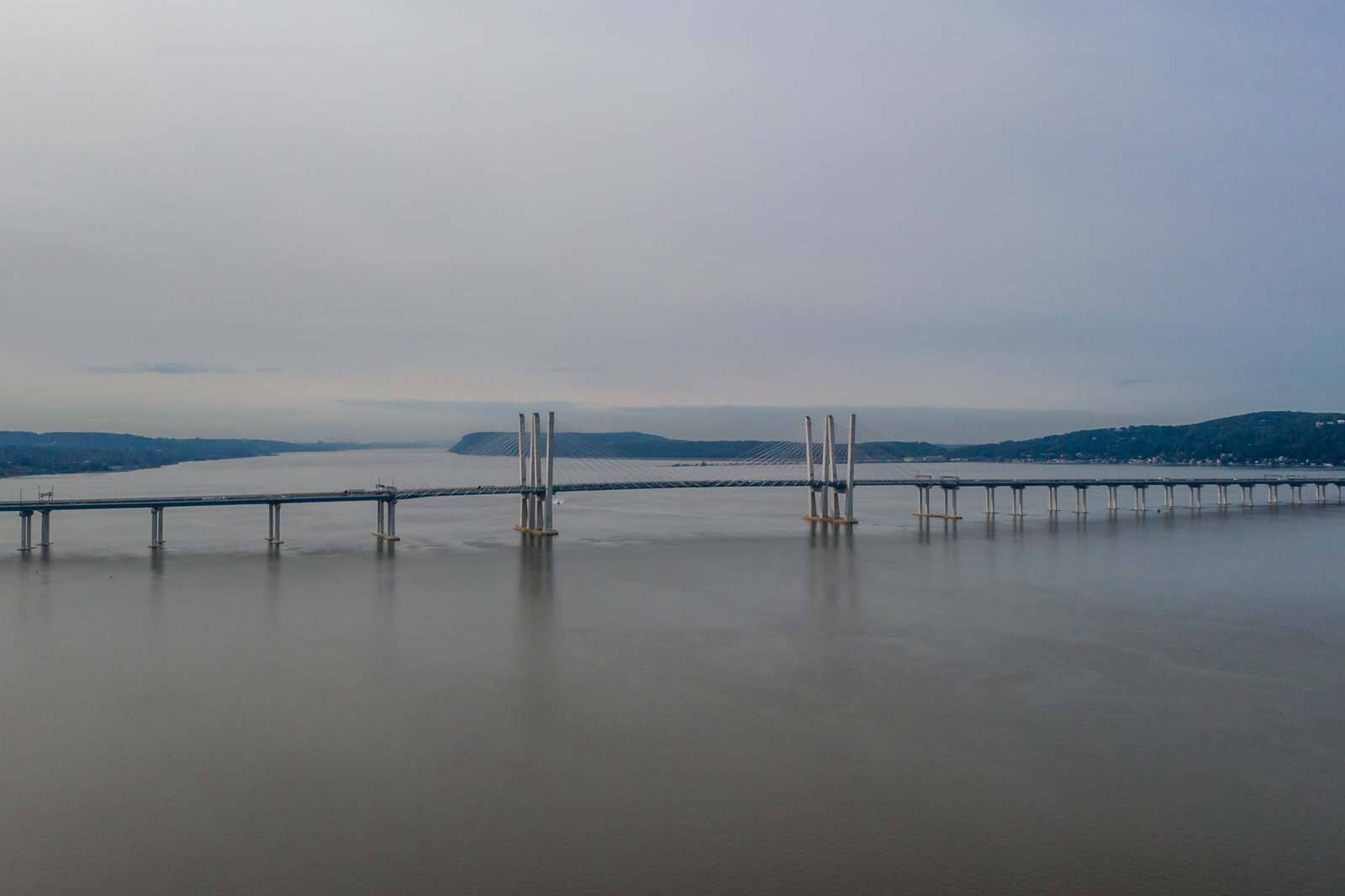 Another notable Tarrytown attraction and landmark of the Hudson Valley is the Governor Mario Cuomo Bridge that crosses the Hudson River. You can't miss this in the skyline of the Hudson Valley when exploring the best things to do in Sleepy Hollow and the best things to do in Tarrytown!
The bridge is new, opening fully to the public for crossing in 2018 and is 3 miles in length spanning across connecting Westchester and Rockland counties. The twin-spanning cable bridge is the longest bridge in the state and has a shared pedestrian and bicycle path for those who want to take in the views from the bridge or get some stunning photos.
We just drove over it, but you could definitely tell this was one of the longer bridges we have ever driven on!
Stone Barns Center for Food & Agriculture
One of the best stops and things to do in Tarrytown, NY is visiting the Stone Barns Center for Food & Agriculture in the Pocantico Hills, formerly a part of the famous Rockefeller Estate.
Now, this gorgeous property is an agricultural and culinary experience focusing on year-round programs, dining, and shopping based on sustainable agriculture, local foods, and the farm to table restaurant Blue Hill at Stone Barns for an unforgettable dining experience.
Besides being a great place to dine with some of the freshest and local ingredients, you can also rent out this gorgeous property for private events and weddings!
Where to Stay in Tarrytown & Sleepy Hollow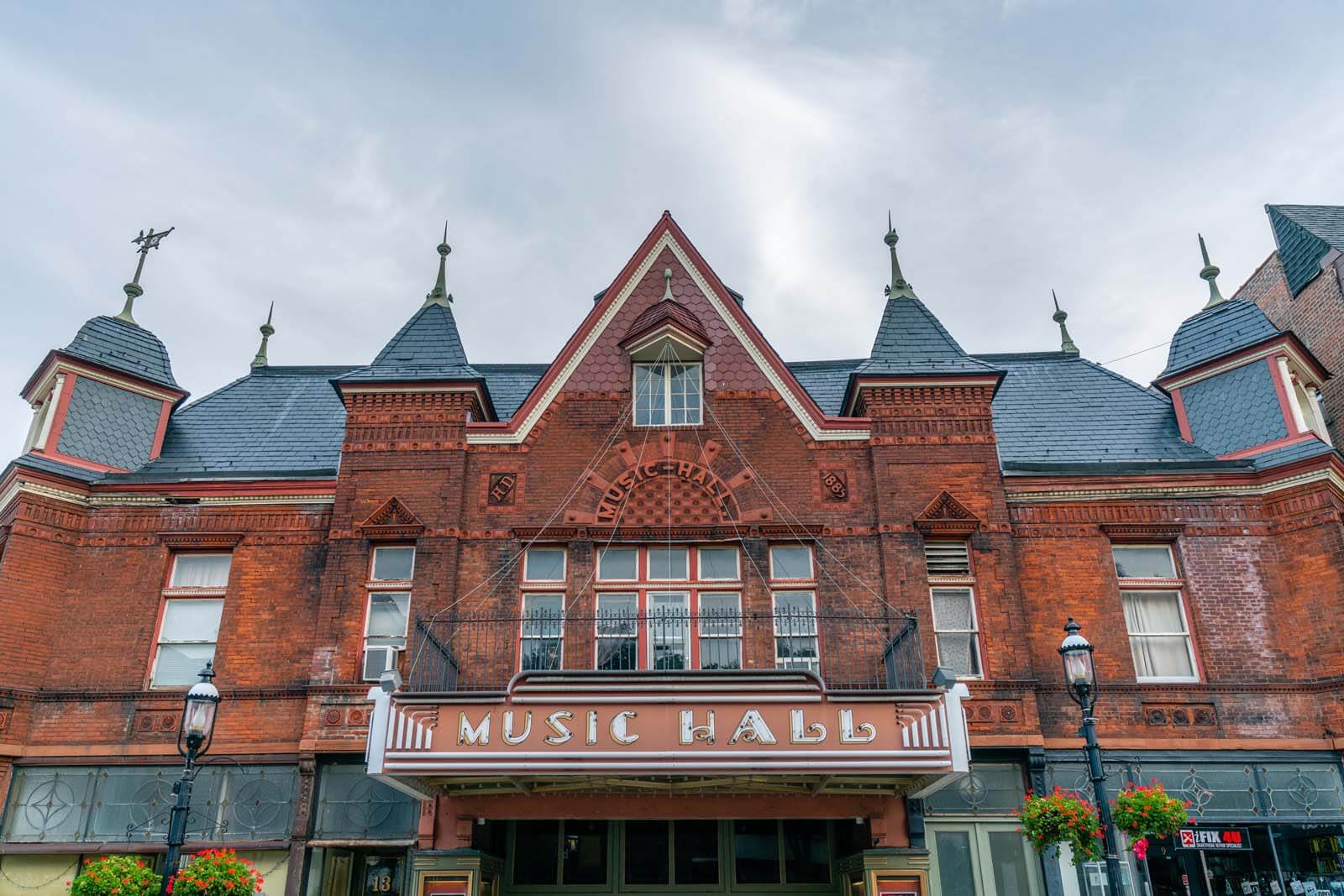 While enjoying all the best things to do in Tarrytown and things to do in Sleepy Hollow can be easily enjoyed in a day trip from New York City, you can also easily make it into an overnight trip with a luxurious stay at the Castle Hotel & Spa an actual castle hotel overlooking the Hudson Valley in Tarrytown.
You can find the Castle Hotel property perched on one of the highest points in the region with a stunning panoramic view of the Hudson River, Valley and wooded landscape. You will feel like you've transported somewhere in Europe in this luxury castle setting and hotel.
This property is a member of the Small Luxury Hotels of the World and Historic Hotels of America. There are only 31 rooms, a gorgeous outdoor swimming pool, and an award-winning restaurant Equus on the property as well as a spa.
This is the perfect addition and stay for exploring all the amazing things to do in Tarrytown and nearby Sleepy Hollow attractions for an unforgettable stay.
Book Now on Booking.com | Compare Prices on Hotels.com | See Rates on Expedia.com
Getting to Sleepy Hollow & Tarrytown NY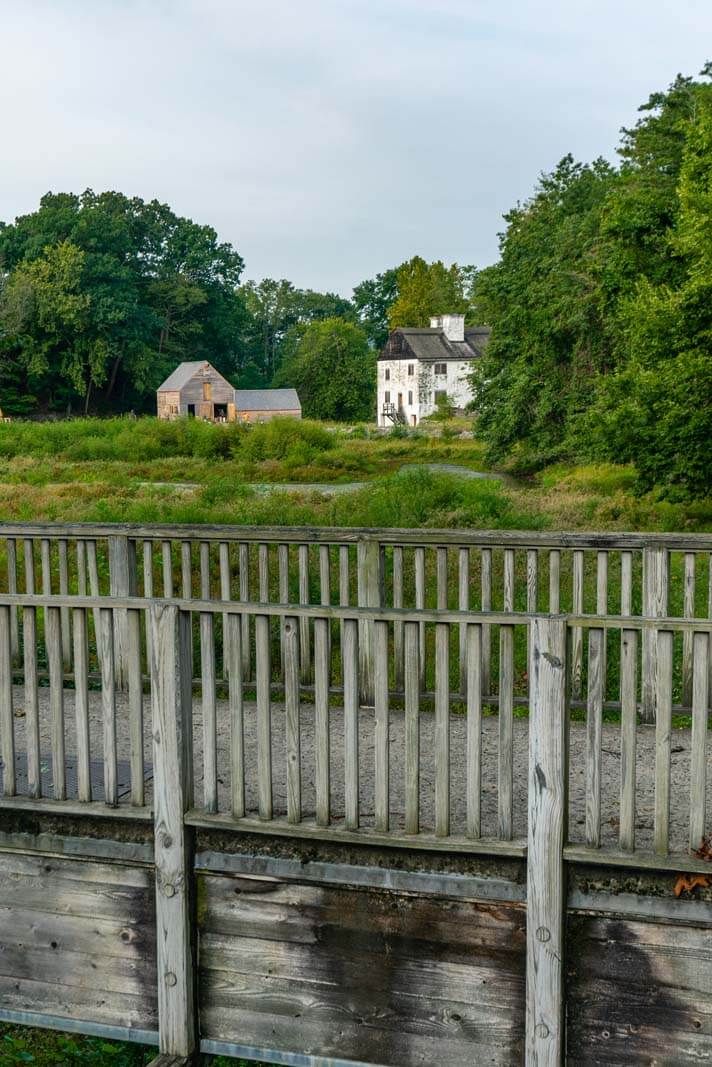 Getting to all the best things to do in Tarrytown, NY and Sleepy Hollow attractions couldn't be easier since it's located only around 30 miles north of Manhattan and easy to access on the Hudson Line train at Grand Central Station or Penn Station. Train trips take around 35 to 90 minutes from here and many of the best things to do in Sleepy Hollow are walking distance to the train station.
However, if you want to explore more freely and not worry about time tables and catching/missing trains we recommend renting a car in NYC.
There are two main train stations that service the area, Philipse Manor and Tarrytown and require a walk to nearby attractions.
Tarrytown Station is the closest to all the things to do in Tarrytown, located about a mile from Sleepy Hollow. And Philipse Manor Station is closest to all the things to do in Sleepy Hollow with about a 15-minute walk to Sleepy Hollow attractions like Phillipsburg Manor and the Sleepy Hollow Cemetery and Old Dutch Reformed Church.
If you're driving up the Hudson Valley, it's an easy straight shot of a drive that takes around 40 minutes from Manhattan and 60 minutes from most spots in Brooklyn.
Some of these attractions won't be accessible without a car. We also recommend bringing along your bicycle if you're an avid cyclist to get around.
Also be aware that in the fall season this is a very popular place to visit among tourists and plan ahead by making reservations, giving yourself extra time to park, and secure tickets to any attractions you're hoping to visit!
Read Next: Places to Visit in NYC
---
Liked this post on all the best things to do in Sleepy Hollow and best things to do in Tarrytown, NY? Bookmark for later or share the love below on Pinterest!