Check out all the incredible things to do in Portsmouth, New Hampshire along the New England seacoast and one of the most charming destinations on the East Coast as well as one of the nation's oldest cities.
A destination packed with history settled in 1623 and the state's oldest settlement and sole seaport you can find many great historic places to visit in Portsmouth along with some great Atlantic seafood plus some great tax-free shopping!
Situated at the mouth of the Piscataqua River known for its picturesque views of tug boats chugging away hard at work through the river and harbor you can find plenty of places to eat, drink, and sightsee around this charming New England seacoast destination.
Visiting Portsmouth, New Hampshire can be done in an afternoon if you just want a taste on your way to or from Portland, Maine to the north or Boston, Massachusetts to the south – or what we recommend is staying the night, taking your time, and enjoying all the amazing places to visit in Portsmouth.
Interesting Places to Visit in Portsmouth
Take a Stroll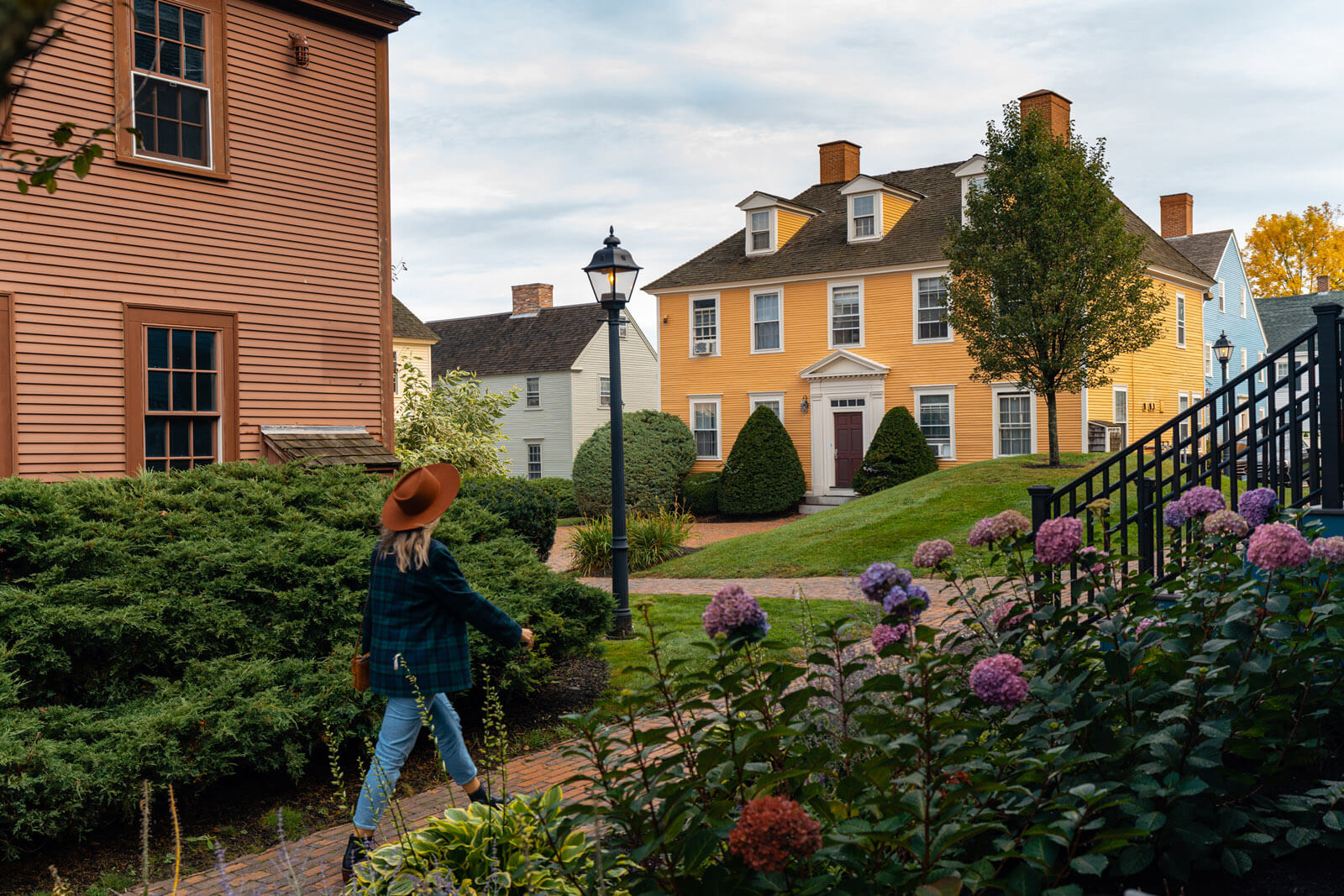 This goes without saying, one of the best things to do in Portsmouth, New Hampshire is to aimlessly stroll. See an alley? Go down it, this is how we found some of the most charming streets filled with colonial homes, random shops to stop in, and even fun murals.
For a picture-perfect lane head down Deer Street and the charming, hidden courtyard off of The Hill.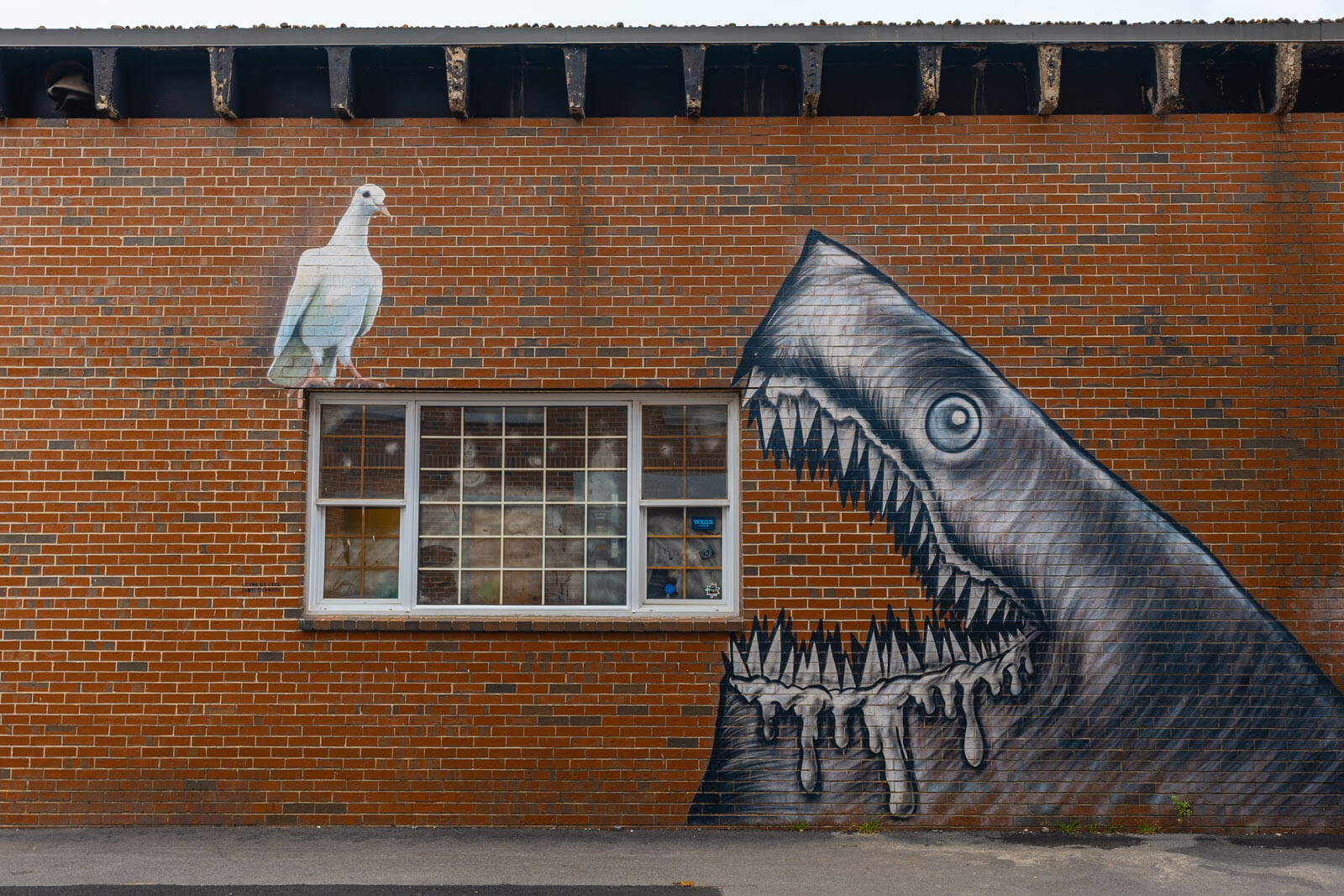 For a fun shark-eating mural head down Ceres Street and hop in the shops along the way along this Piscataqua River waterfront where you can also catch a glimpse at those famous tugboats!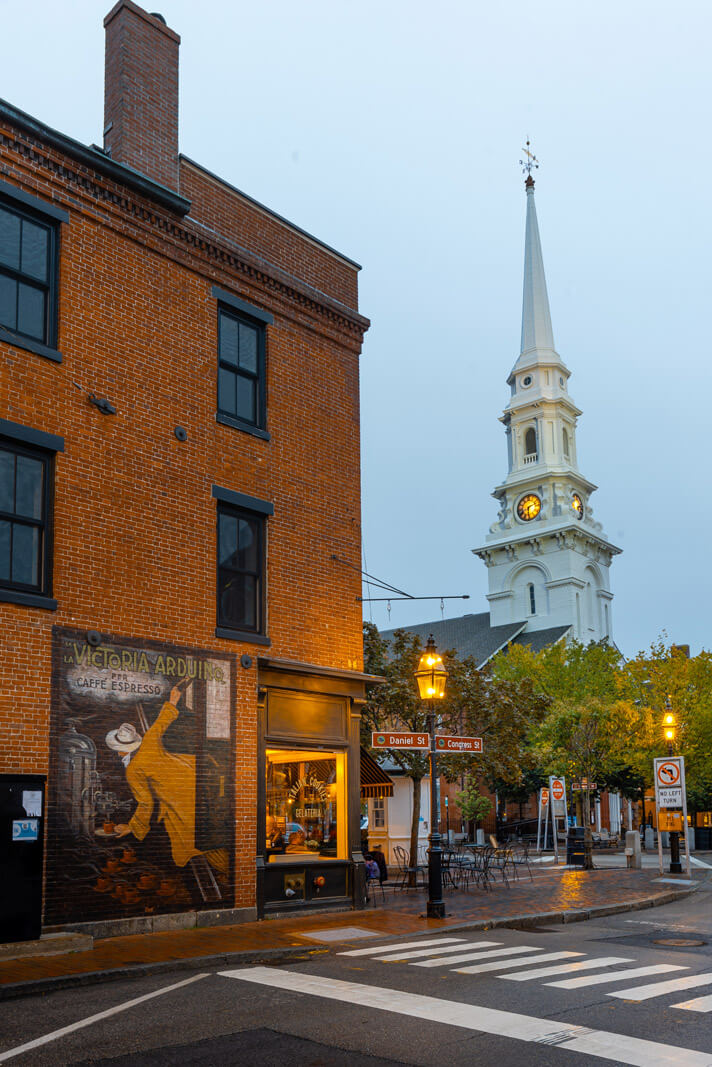 Catch harbor front views from Harbor Walk Park after making your way up and down the shops on Bow Street.
And of course, don't miss hitting up all the different vantage points around Market Square where the North Church serves as the focal point with surrounding shops, cafes, eateries, and other fun stops.
Shopping Tax-Free in Portsmouth
New Hampshire is one of only 9 states in the US that is sales tax-free. For the shopper, this is one of the best things to do in Portsmouth, and lucky for you there are some great boutiques and shops to check out!
"Shop tax-free or die!" Okay, that was a dumb joke playing on the state motto "Live Free or Die," which pays homage to a toast by General John Stark during the Revolutionary War adopted by the state as a slogan. I guess they both technically have to do with taxes, but here are a few Portsmouth boutiques we recommend.
The Drift Collective
Find The Drift Collective on Fleet Street. This is an upcycled clothing boutique that believes in an ethical future for the clothing industry.
This place gives us Southern California, surfer vibes. If you love grungy, eclectic fashion, check out The Drift Collective. They make one-of-a-kind cropped hoodies, acid-wash sports team tees, and custom color-blocked and screen-printed pieces that do have a surfer feel.
Moonshine
Moonshine is a colorful and creative little storefront on Congress Street in the heart of Portsmouth, New Hampshire. This boutique is not only decorated in a fun, arts and crafts kind of way but it's fully stocked with unique finds, focusing on items from local creators from around the area.
This is one of the best places to visit in Portsmouth if you're looking to find the perfect gift for someone or do a little shopping yourself, it's hard to walk out of here without picking up one of their locally made products from chocolate to illustrations, prints, and other fun finds!
Cotillion Bureau
This is hands down one of the best vintage stores I've ever been in! I absolutely lovely the carefully curated collection of vintage finds at the Cotlliion Bureau on Bow Street.
This vintage shop specializes in high-quality and unique thrift finds from lingerie and dress slips to jackets, dresses, suits, scarves, and anything you can imagine. Come support this size- and gender-inclusive Portsmouth, New Hampshire boutique.
If you're into vintage hunting like me, this is one of the best things to do in Portsmouth!
Modern Records
Speaking of vintage treasure hunting, check out the incredible selection of vintage and used vinyl at Modern Records on High Street. This ended up being one of our favorite Portsmouth attractions not only because of Richard and his friendly dog who not only made us smile and laugh during our visit, but his collection is impressive with rare and vintage vinyl that is in great condition.
If you're a record collector like we are, check out this stop while you're in Portsmouth, New Hampshire.
Seafood Dining in Portsmouth
One of the best things to do in Portsmouth is to check out the food scene with the catch of the day. New England coastal towns are notoriously the best places to find delicious, fresh Atlantic seafood.
Taste your way around the city in between visiting Portsmouth tourist attractions.
River House Restaurant – Visit River House Restaurant on Bow Street for stunning harbor views while enjoying their impeccable seafood options.
River House prides itself on selecting the freshest seafood and meat straight from the port plus serving up what was voted as New England's best clam chowder.
They use locally sourced ingredients including season forged vegetables. If you aren't convinced already, you have to try the chowder and make sure to have enough room for a fresh lobster roll with butter.
This spot is popular, we recommend trying to dine earlier for dinner to secure a seat with a view.
Old Ferry Landing – Old Ferry Landing is a family-owned seafood restaurant that has been open for about 50 years, but the building has a rich past, starting as a ferry terminal in the 1800s and now you can dine along the waterfront next to those iconic tugboats that are their own Portsmouth attraction.
Enjoy the rustic seaside setting while you dine on plates of mussels in white wine sauce. They have excellent cocktails and beer. Old Ferry Landing is open seasonally typically from May to early October.
Breweries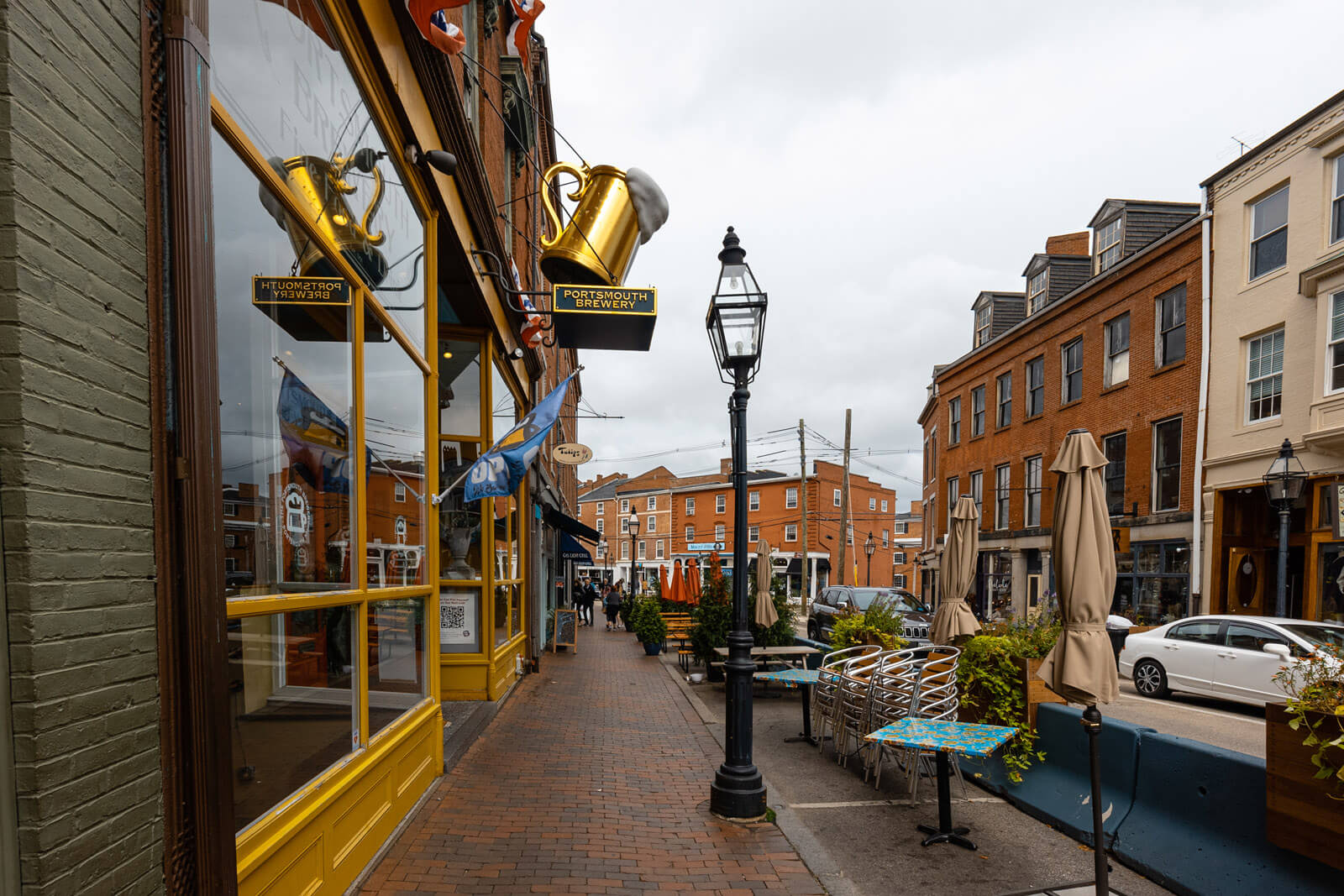 Portsmouth, New Hampshire has been an important part of the craft brewing industry and is home to the oldest brewpub in New Hampshire. Today they keep inching closer and closer to 100 breweries in the state and they rank #2 for beer sales per capita in the country at 42.2 gallons!
Portsmouth Brewery
Make sure you stop by Portsmouth Brewery, a retro-style brewpub on Market Street that's the oldest in the state and among the first wave of microbreweries in the country.
The brewery has a fun vibe and a friendly, knowledgeable staff. They're all about the local community, donating regularly to local charitable organizations.
Their chicken schnitzel is top-notch and goes great with a Portsmouth Brewery Pale Ale. But if you're looking for their award-winning brews, check out the Russian Imperial Stout called Kate the Great which has been voted the best beer in the country and the second-best beer in the world in 2007 which also raised over $30,000 for local charities!
You can also watch the brewery at work through a glass window and stop by their retail store to purchase a six-pack of whatever they're cooking up.
This is a great lunch stop in town paired with a pint. The interior is pretty fun too, try to sit in the 'fish bowl' so you can get a great view of the entire bar and restaurant.
Earth Eagle Brewings
Located on Deer Street, you can't miss Earth Eagle Brewing's orange exterior. This brewpub specializes in gruit beers but offers a variety of other alcoholic beverages. Pair your drink of choice, we recommend going for one of their brews obviously with their menu of designer dogs, aka fun hot dogs and hamburgers with all kinds of fun toppings.
The pub hosts live music on the weekends in their beer garden in the back. Earth Eagle Brewings also has an entire business selling fun kits for homebrewing, cheesemaking, and more if you get inspired during your visit to this popular Portsmouth, New Hampshire attraction.
Great Rhythm Brewing Company
Great Rhythm is another great brewery in Portsmouth located on Bartlett Street. Their gorgeous modular brewery and taproom overlook Brook Mill Pond. They have an outdoor patio so you can enjoy the views or hang out inside. There isn't much food except for pretzels, so be prepared if you're getting hungry you'll want to plan around.
The brewery focuses on New England-style IPAs (our fav!) but carries a wide selection of beers. Most of them have beautiful music-themed names. I recommend trying their flagship IPA, the Resonation.
Beer connoisseurs looking for things to do in Portsmouth will stay busy with the burgeoning craft beer scene. For more local breweries, check out the Portsmouth, New Hampshire website.
Portsmouth African Burying Ground Memorial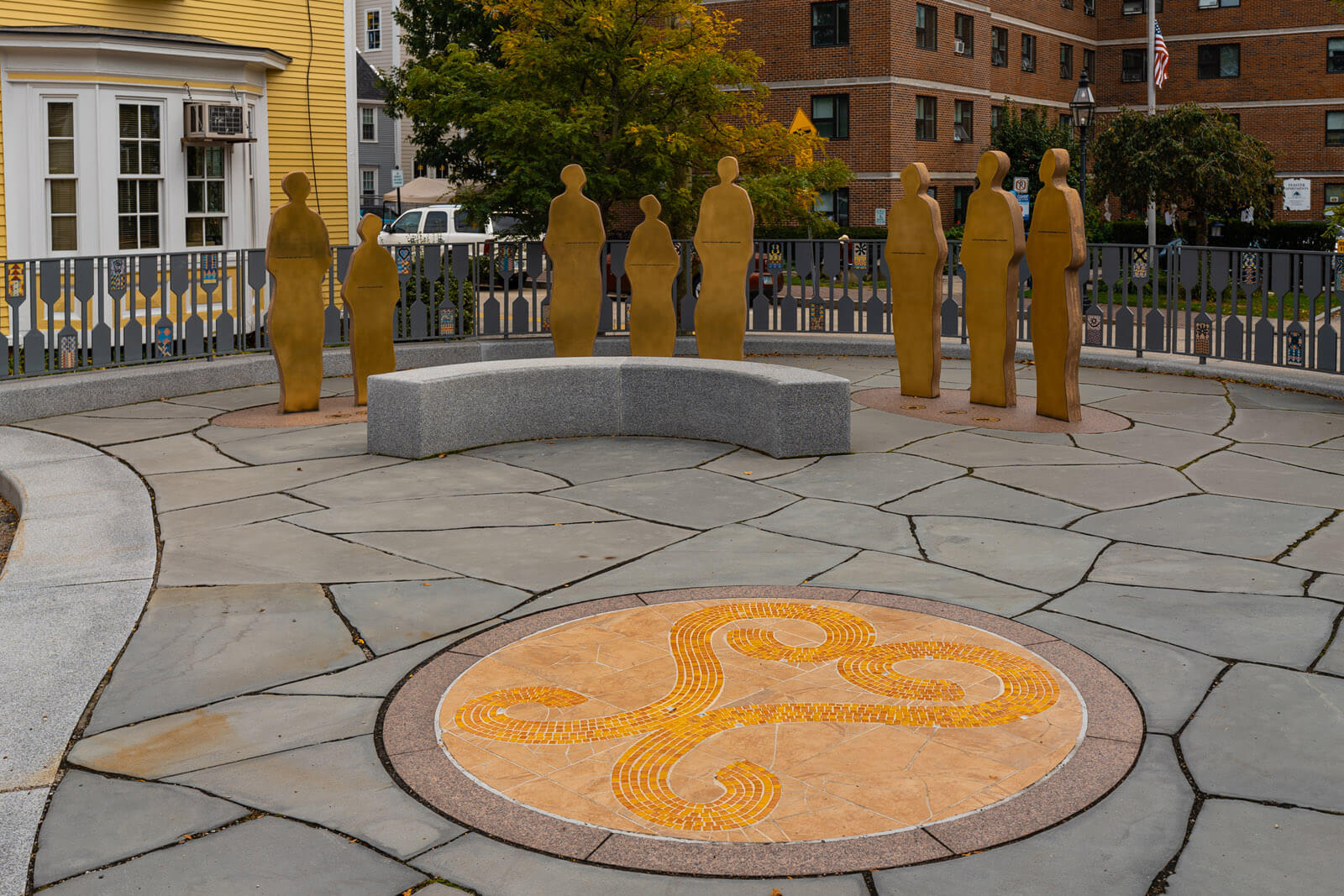 If you're interested in local history, one of the important Portsmouth attractions to visit is the Portsmouth African Burying Ground Memorial.
During routine road maintenance and work in 2003, workers discovered the remains that were a part of a neglected and forgotten 18th-century African burying ground that served as a gravesite for nearly 200 freed and enslaved people of African descent.
Members of the community questioned how could something like this be forgotten and assembled a committee to determine how to move forward with honoring those who were buried here which resulted in the decision to make the African Burying Ground Memorial Park, We Stand in Honor of Those Forgotten which is also a part of the New Hampshire Black Heritage Trail.
Historically, Portsmouth had a role as a busy seaport that didn't place a tariff on slave trading. Because of this, the port was a major stop for slave ships in the Triangle Trade and a large enslaved population in Portsmouth during the sixteenth and seventeenth centuries. This gravesite was discovered as a reminder of that gruesome history.
The Black Heritage Trail keeps appreciates and promotes awareness of African American people of New Hampshire. Visit their headquarters for exhibits including special events and educational programming. Pick up a guide and take a walking tour of places to visit in Portsmouth that are historically significant along the trail as well.
Portsmouth Music Hall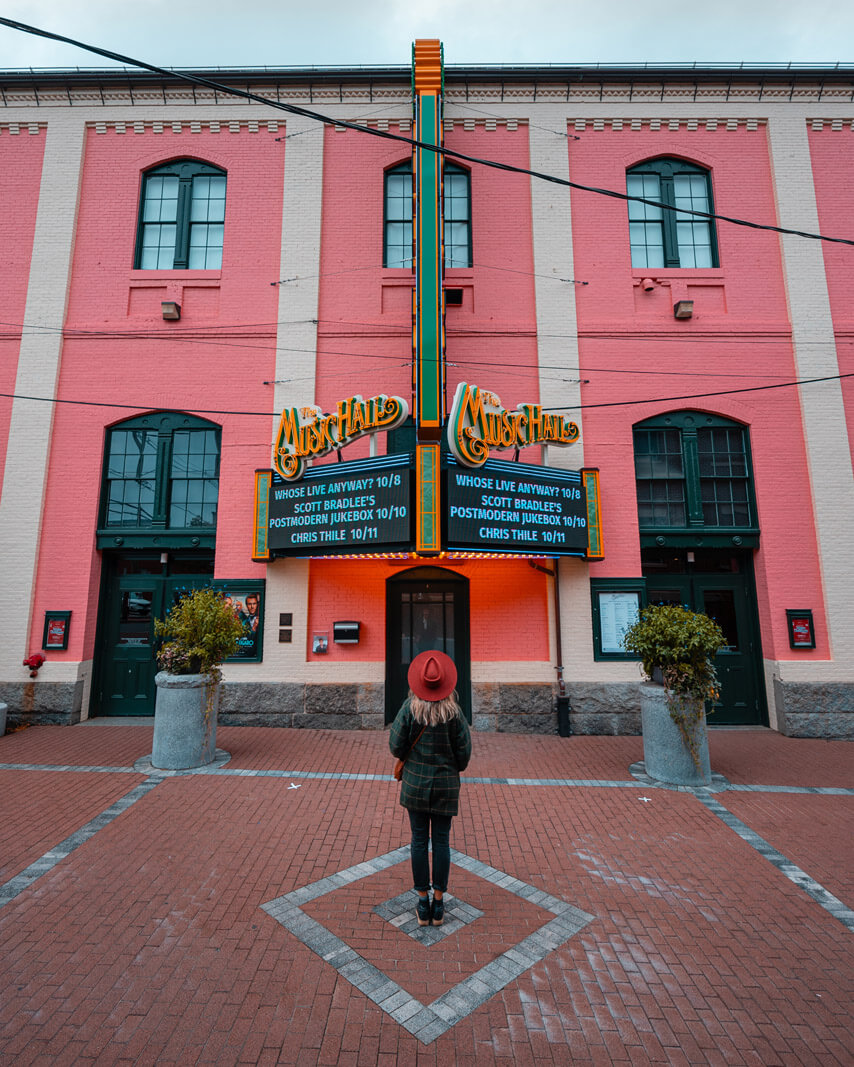 Another great Portsmouth tourist attraction that also happens to be a stop on the Portsmouth Black Heritage Trail is the bright pink Portsmouth Music Hall performance venue.
Located on Chestnut Street, the hall is an active theater that has been in operation since 1878 and is the oldest in operation in the state and the 24th oldest music hall in the country starting as a Vaudeville theatre. There's always something going on at the music hall if you're looking for things to do in Portsmouth.
If you stop by, make sure to read the plaque on the front of the building. It tells the history of the Temple, a meeting location at the site of the Portsmouth Music Hall. This was a vital location where Black abolitions met in the mid-19th century, helping move forward antislavery mentality and ultimately the 13th amendment.
Nowadays, you can find an array of entertainment events and performances that take place here, check to see what's going on during your visit.
This theater was one of the most popular Portsmouth tourist attractions and helped the city become a New England destination for entertainment. Between WWI and WWII, locals came to the hall to watch movies and war films.
In 2011, the hall added a second location with The Loft. This is a smaller, more intimate theater with a bar for small productions and events. See their events here.
The Friendly Toast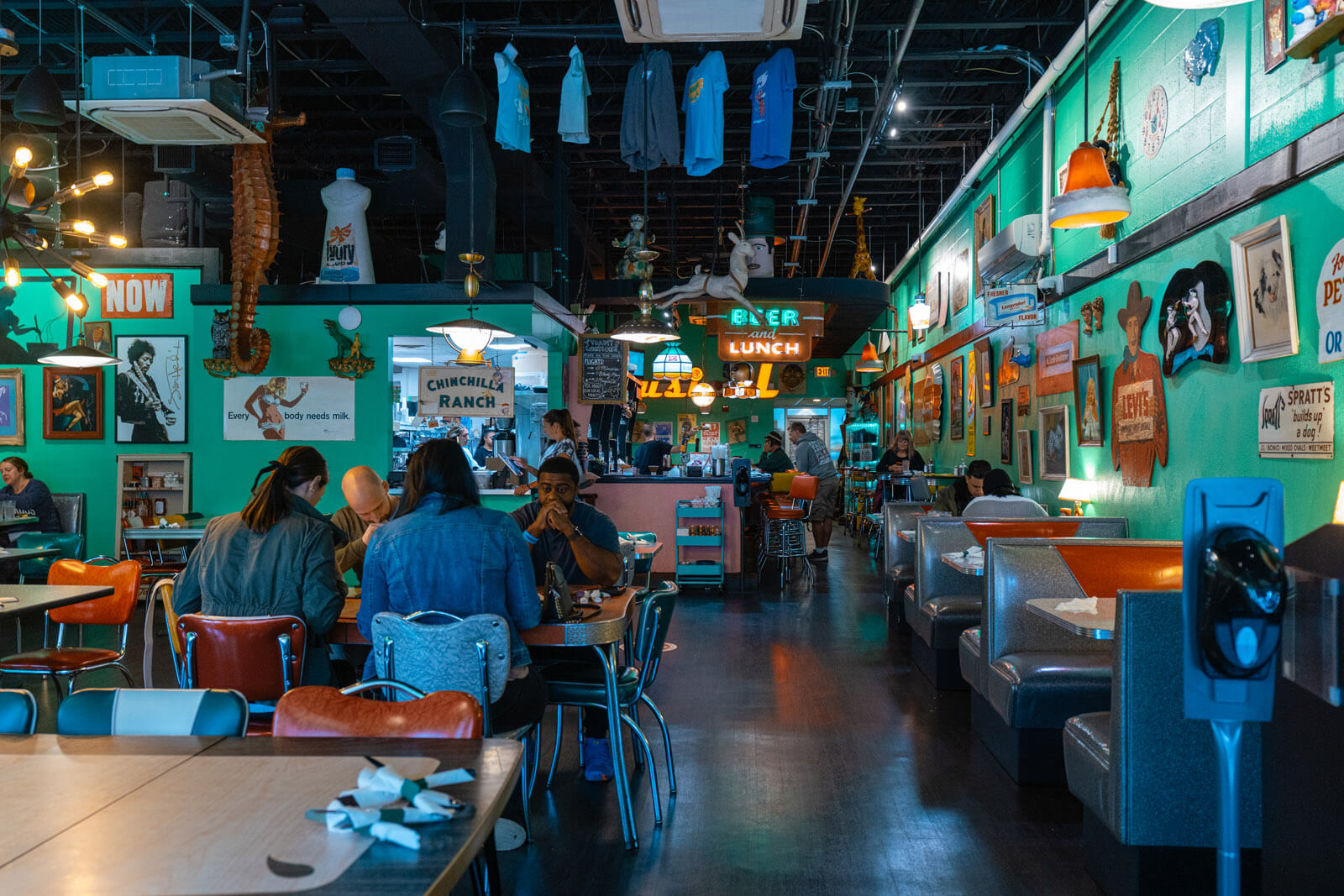 The best brunch in town. Before setting off to explore all the best things to do in Portsmouth and hitting up all the best Portsmouth tourist attractions, grab a meal at The Friendly Toast on Congress Street.
Esquire Magazine named them "one of the best breakfast places in America." They also won 4th place in Good Morning America's "Best Breakfast in America" contest. This is a must for your list of places to visit in Portsmouth!
It's no secret they are popular among their many impressive accolades, but the best part has to be the entire ambiance and flamboyant decor inside!
Enjoy the eclectic décor, 80's music, and fun atmosphere. They serve a diverse and creative menu. The portions are huge and they have creative twists on breakfast classics.
Order their mimosa flight with variations like elderflower liqueur and grapefruit. Try the chicken and waffles with Rice Krispy fried chicken with hot honey, fire-roasted corn, and chipotle maple sour cream.
USS Albacore Museum
If you're looking for more historic Portsmouth tourist attractions, check out the USS Albacore Museum and Park off Market Street. An experimental type of submerged vessel used for research, the USS Albacore was the first submarine of its kind which played a huge role in World War II and the evolvement of underwater warfare and submarine design to this day.
This submarine revolutionized the US Navy with state-of-the-art experimental technology. The museum and park tell the story of the once speediest submarines in the world.
Take a self-guided tour through the memorial garden. Read the plaques and listen to audio stations. There are monuments honoring those who lost their lives in service during World War II and the Cold War.
Pay a fee to tour the submarine, which is a unique and educational experience. If you're short on time, you can do a drive by as the USS Albacore sits outside in Albacore Park and is impossible to miss even from quickly driving by.
More Historic Sites Around Portsmouth
If you're looking for more historic and educational things to do in Portsmouth, you won't be disappointed. Here are a few places to start your tour of historic Portsmouth attractions.
Portsmouth Athenaeum
This is a beautiful library, gallery, and museum archiving the histories and genealogy of Portsmouth through their extensive collection of rare books, photographs. artwork, manuscripts, artifacts, and digital collections.
Keep in mind when you're planning places to visit in Portsmouth that they are only open 1 to 4 PM, Tuesday through Saturday.
John Paul Jones House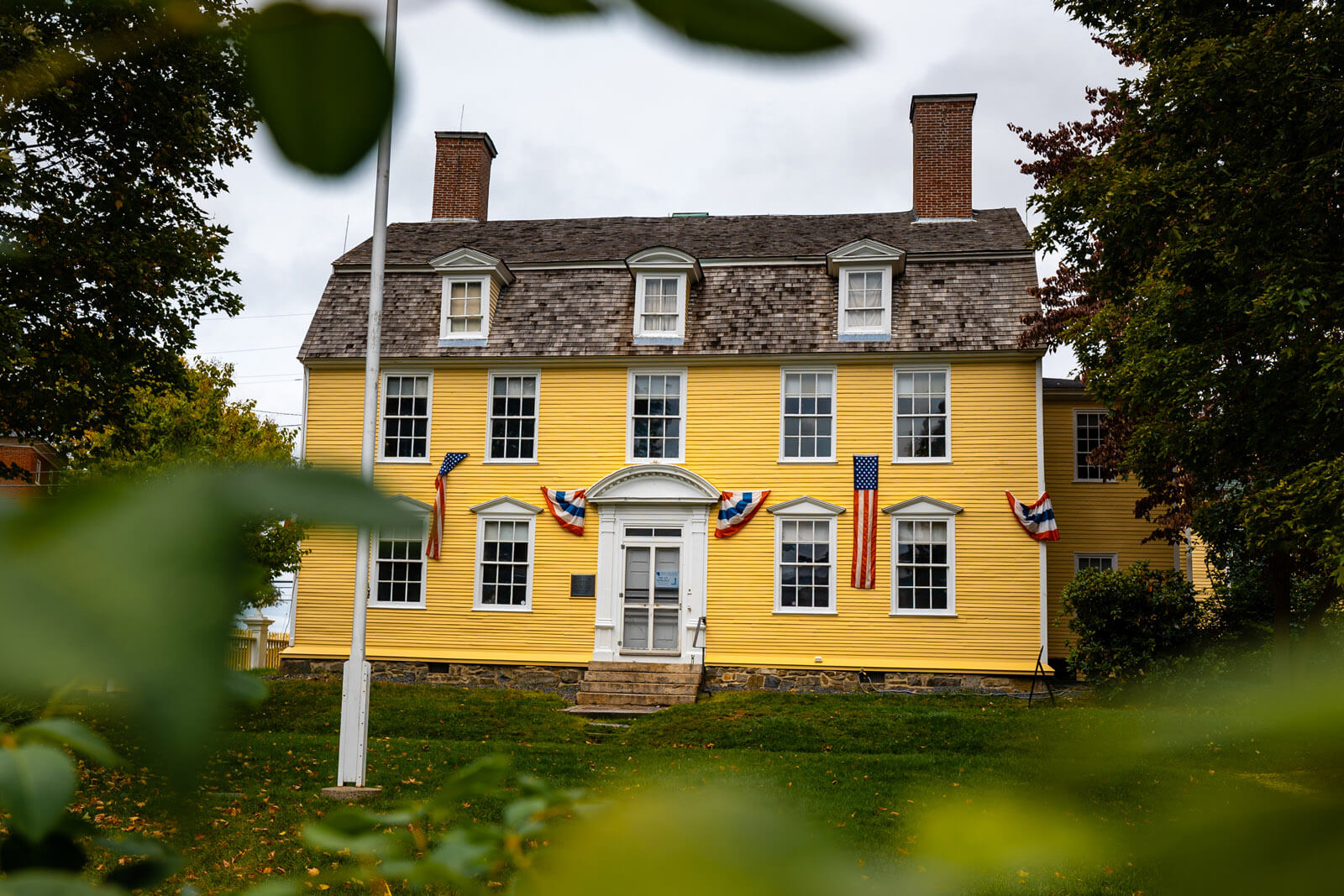 Built in 1758, this house is part of a collection of Portsmouth attractions maintained by the Portsmouth Historical Society. Come learn about the colonial naval and Revolutionary War hero, John Paul Jones, who stayed here during his career, and tour the pristinely preserved estate.
Warner House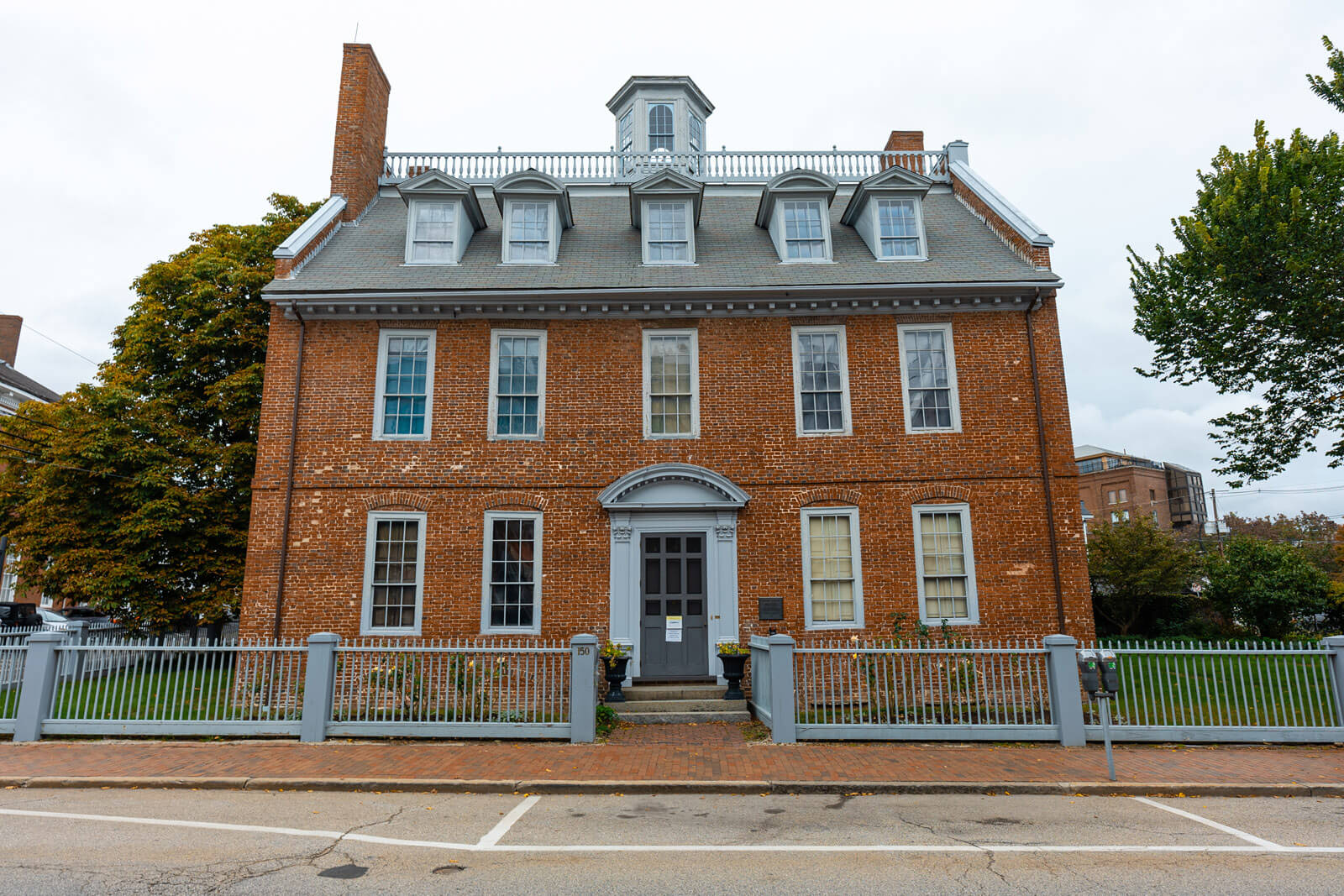 The Warner House is another historic Portsmouth tourist attraction and museum on Daniel Street dating back to the 18th century and is the oldest brick house in New England not to mention one of the finest examples of Georgian brick homes in the region.
This National Historic Landmark, also known as MacPheadris-Warner House, was built for a Scottish-Irish sea captain, Archibald Macpheadris, and his family and is open to visitors to witness this rare example of early Georgian-brick style homes and their personal collection of period items with tours as an option.
Strawberry Banke Museum
This is one of the coolest places to visit in Portsmouth. It's a 10-acre living history museum featuring the oldest existing European settlement in New Hampshire, this area of Portsmouth which was formerly called Strawberry Baanke named after the strawberries that grew there.
Tour the preserved Georgian, Federal, and Colonial homes, watch time-period actors give demonstrations on how settlers lived. You can also walk through the museum and historic gardens.
Moffatt Ladd House & Garden
Visit this historic mansion on Market Street, built in 1763 also known as the William Whipple House.
Open seasonally for guided tours, the purpose of the estate is to tell the history of the free and enslaved people of Portsmouth. One of the signers of the Declaration of Independence, William Whipple, lived here for a time.
Prescott Park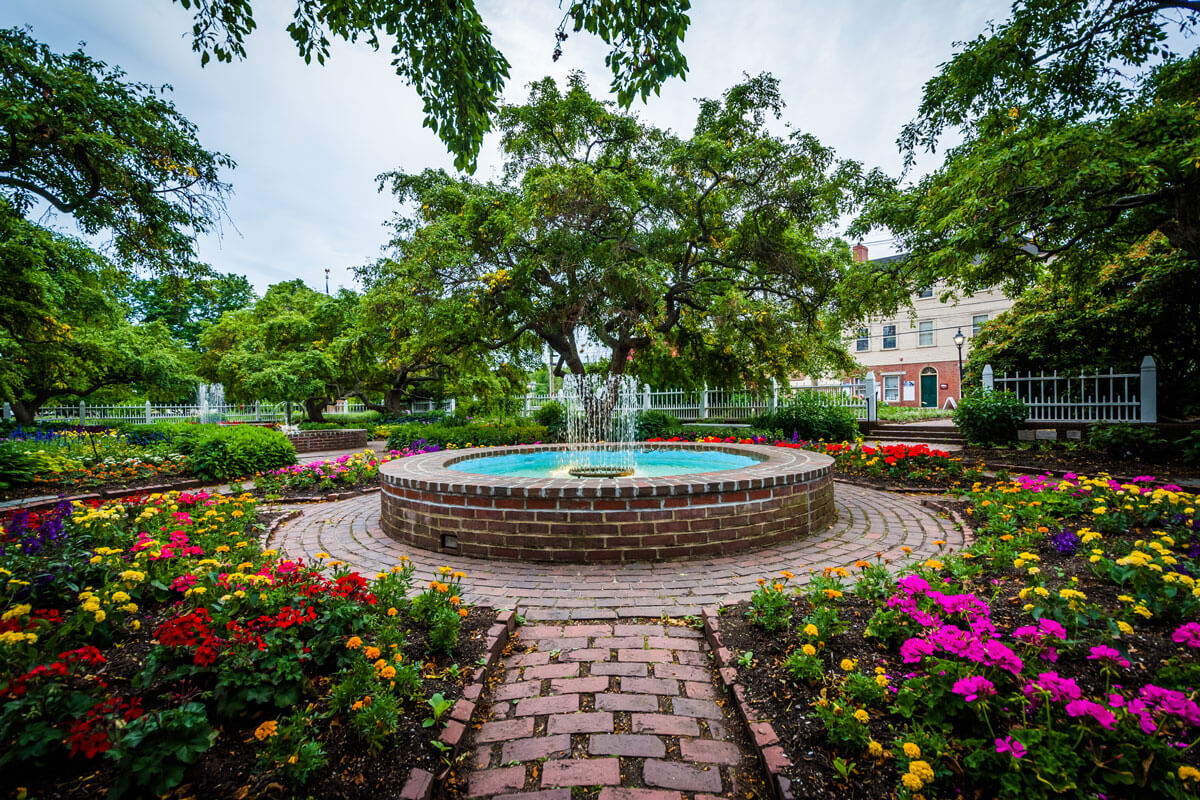 Prescott Park is a beautiful waterfront park on the Piscataqua River and a popular Portsmouth attraction for not only visitors but locals alike.
Come during the summer for live music, theater performances, or outdoor movie showings. There are events all year-round, including an October beer festival.
Walk in the flower gardens or check out the statues and historic buildings. There's a pier you can walk out on or relax on the grassy lawns. Keep in mind that some of the events cost a fee, but parking is free.
Nearby Portsmouth, New Hampshire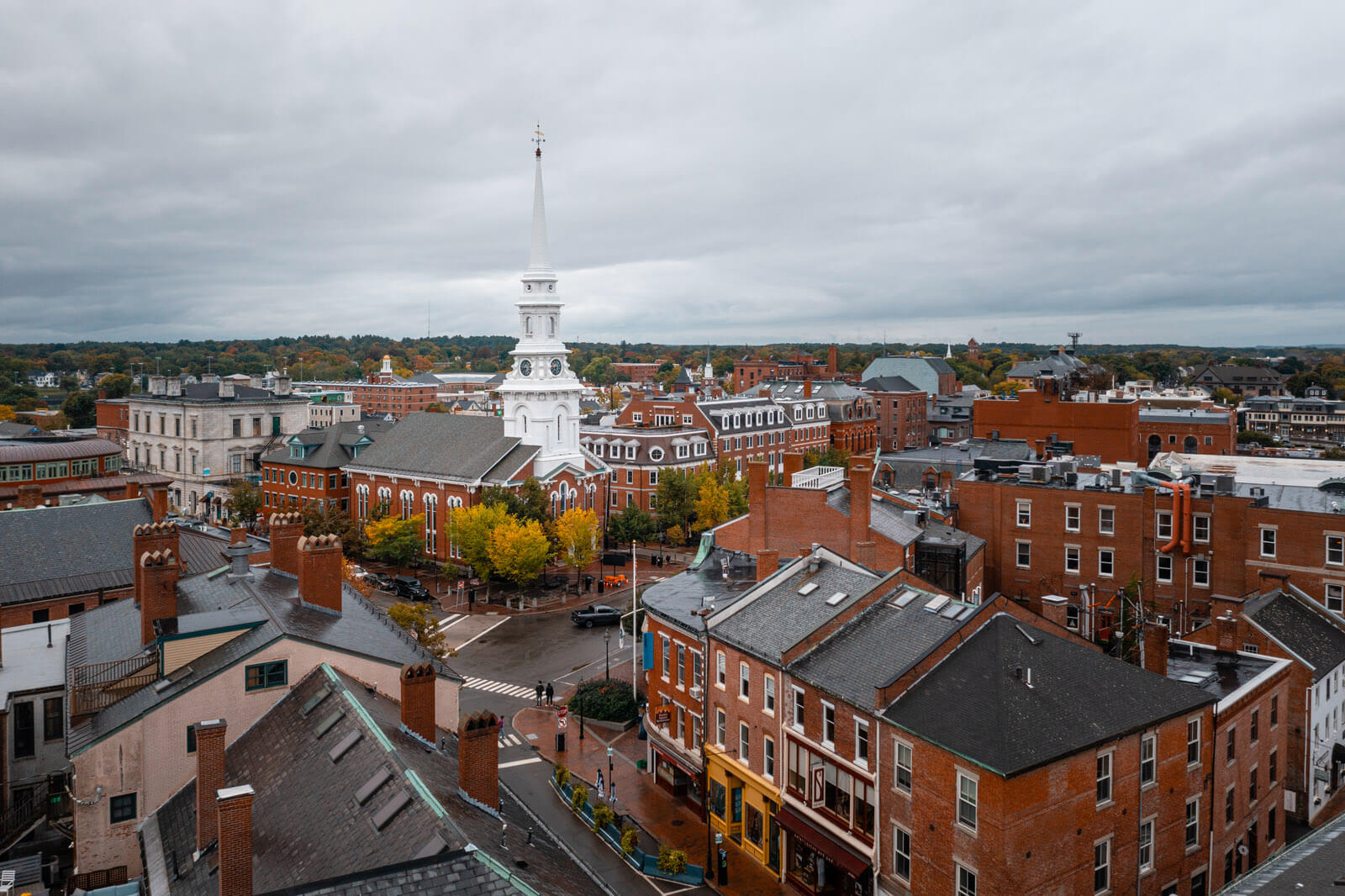 If you've already done all the incredible local Portsmouth tourist attractions and want to venture out a little, there's plenty to do and you couldn't be in a better New England location with Portland, Maine an hour drive north and places like Salem or Boston, Massachusetts an hour to the south.
Or you don't even need to venture that far! You can hit up nearby destinations like Kittery. On the other side of the Piscataqua River is the southernmost city in Maine, Kittery. Settled in 1623, this 400-year-old town is a popular tourist destination with all kinds of attractions.
Relax on one of the public beaches or go for a boat ride along the coastline. Check out the beautiful McClary State Park with grassy knolls and a 300-year-old gunpowder magazine. There's also the Kittery Historical and Naval Museum.
If you want to go shopping, there's the Kittery Premium outlets and the Kittery Trading Post. And for some delicious Maine lobster, stop by Robert's Main Grill for a buttery lobster roll!
Where to Stay in Portsmouth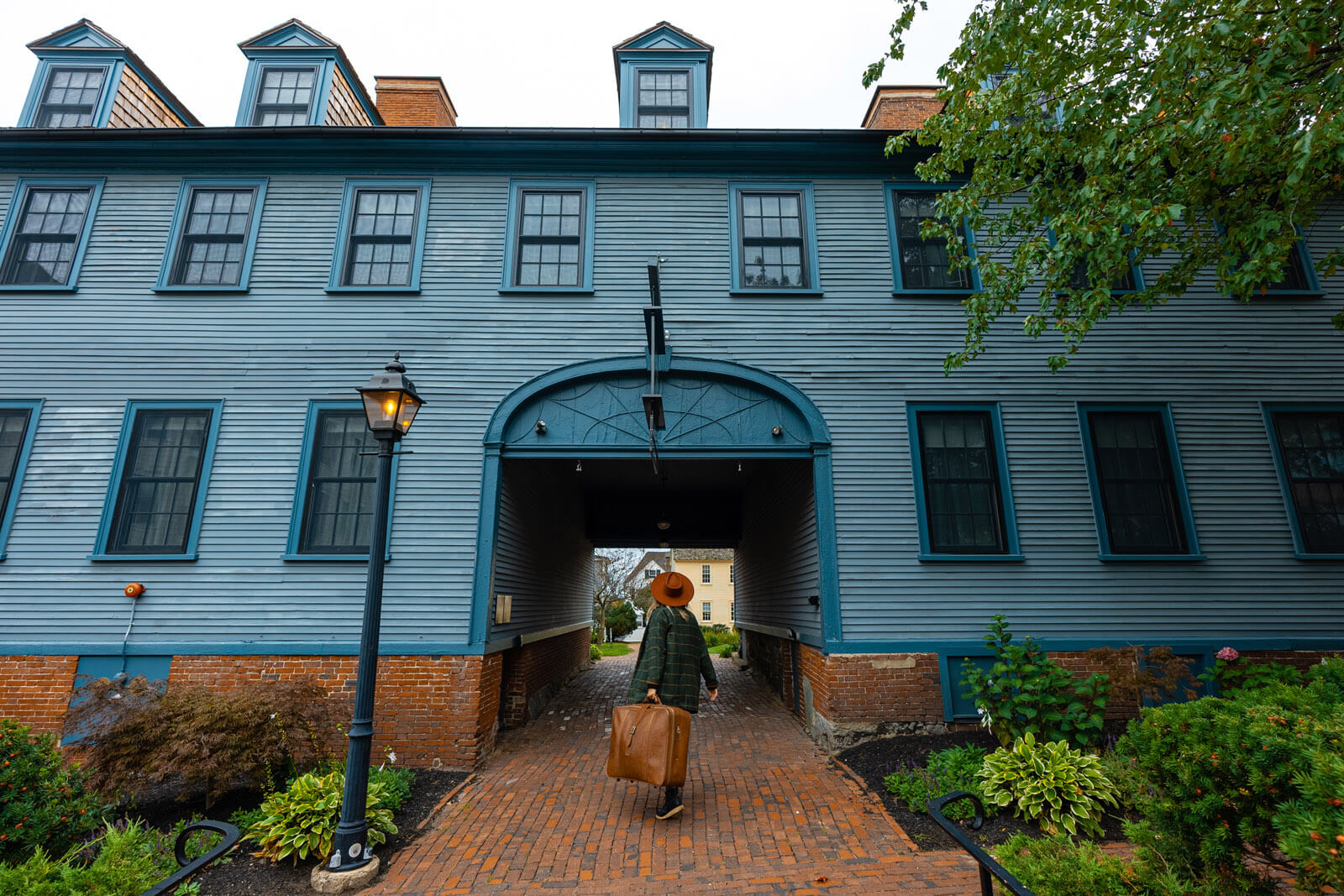 We recommend staying a night to make sure you can visit all the amazing Portsmouth tourist attractions and fun things to do, this is also a great base to stay a few nights if you want to use Portsmouth as a base while exploring other nearby New England seacoast destinations.
We booked both of these hotels, we only ended up staying in the one due to changes in our travel plans but both of these are great options for exploring Portsmouth, New Hampshire, and nearby.
Ale House Inn
The Ale House Inn is a spectacular, 4-star boutique hotel and option for where to stay while exploring Portsmouth tourist attractions during your visit. This Inn is quaint with 10 rooms with premium bedding making your stay cozy and intimate.
Centrally located in Portsmouth's Market Square district on Bow Street in a former 19th-century beer warehouse, you will fall in love with the industrial, chic decor. You're not going to want to miss this charming stay. Book here.
Note: You will have to let them know at booking if you want to reserve a spot in their limited, paid parking option.
The INN Downtown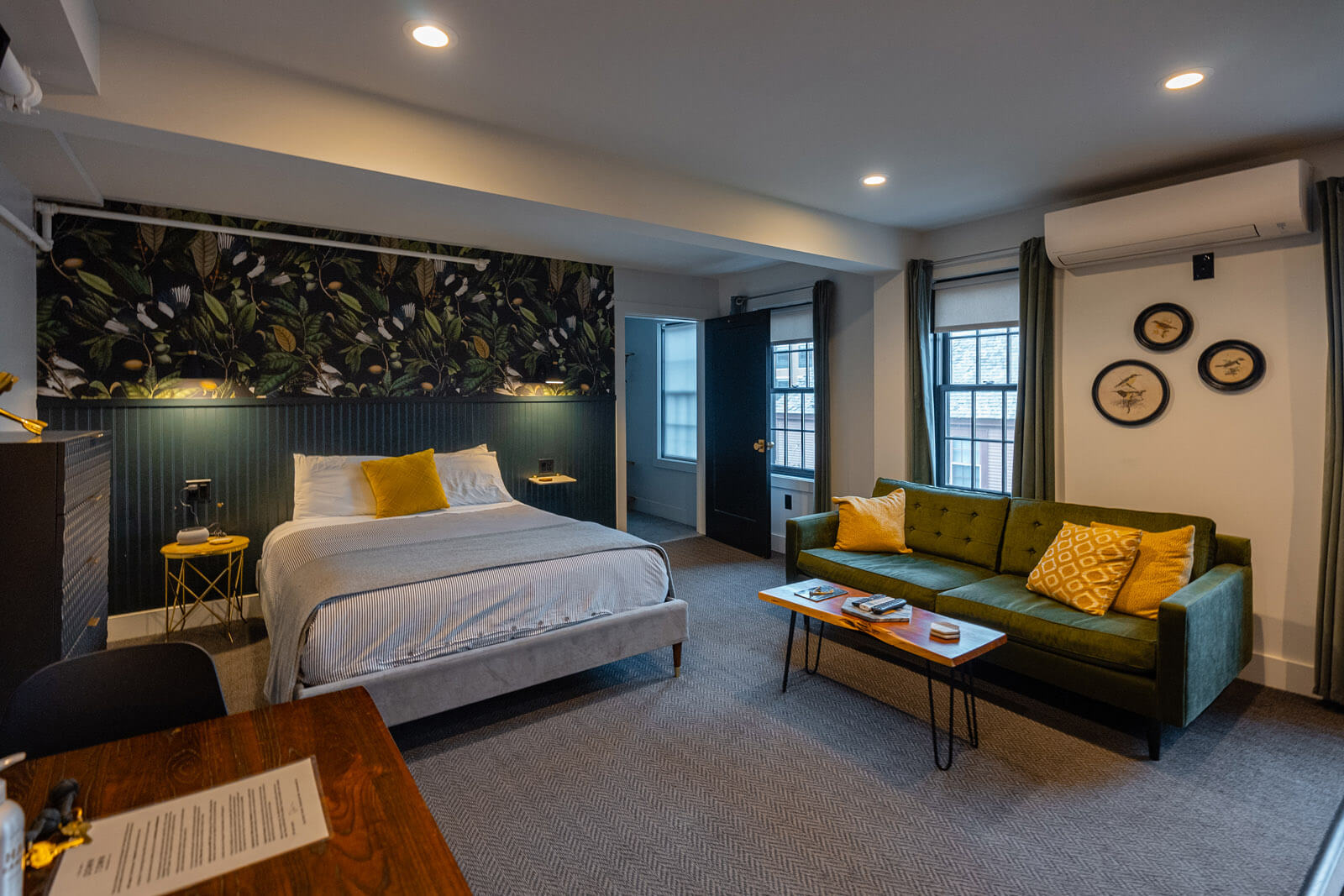 The INN Downtown is a gorgeous apartment hotel is inside an early 1800s building with the most adorable cluster of colonial homes surrounding it in its own private courtyard just steps away from all of the amazing things to do in Portsmouth.
Each apartment is styled with gorgeous furniture, designer wallpaper, and a kitchenette stocked with snacks and drinks that are reasonably priced. (we were shocked that they were charging normal prices for their snacks and alcohol)
Enjoy this home away from home, take a stroll through the pretty garden, snuggle up on the plush velvet couch in the evenings with a glass of wine watching your favorite show, and enjoy staying in Portsmouth, New Hampshire in style. If you're like us you won't want to leave. Parking is available. Book here.
---
Enjoyed this guide to all the best things to do in Portsmouth, New Hampshire, and the best Portsmouth tourist attractions? Bookmark for later or share the love below on Pinterest.