Looking for awesome things to do in Irvine? We got you. If you're familiar with Southern California, you've probably heard of Orange County. It's where beach culture and a laid-back lifestyle reign supreme, oh and let's not forget the original Real Housewives and several early 2000s MTV reality TV shows.
There's so much that Orange County has to offer, and we might be a bit biased as Scott grew up here and I lived here for a decade of my life (and am head over heels in love with this beautiful area of the country!).
Beyond the popular coastal towns like Laguna Beach, Newport Beach, and Huntington Beach are some really underrated spots inland to check out in Orange County, one of them being Irvine, California (and Costa Mesa). But for the purposes of this guide, we will focus on good ol' Irvine.
This easygoing metropolis has great scenery, with mountain views in the distance and tall palm trees to remind you that you're in the Golden State. And for locals, we enjoy some of the great places to visit in Irvine, from buzzy entertainment centers to idyllic outdoor spaces – and GREAT food.
Better yet, the John Wayne International Airport (SNA) is located here in Irvine, which if you're not a fan of large airports like LAX, this is THE airport to go into. This smaller airport is easy to get in and out of and if you're making a visit to popular Southern California attractions like Disneyland (less than 20 minutes away by car) or kicking of a Southern California road trip, this is a great place to start plus you can check out the awesome things to do in Irvine.
Keep on reading to find out about all of the Irvine attractions to add to your list of stops in the city! PS: Unlike some other spots in Southern California, the things to do in Irvine will require having a car and are not walking distance! Keep that in mind when planning your visit!
Things to Check Out in Irvine, California
Great Park Balloon
If you've thought that taking a ride on a balloon in the sky looks fun, here's your opportunity to get off the ground in one of the most unique balloons! The Great Park Balloon is an enormous, orange helium balloon with a gondola that transports passengers into the air, giving them an incredible view of what were former orange groves.
During the daytime, on a clear day, you'll be greeted with panoramic views that can stretch as far as 40 miles, and during the evening you will see the twinkly lights dotting the landscape.
The balloon kind of resembles a giant orange floating in the sky, which is fitting because this area used to be orange groves back in the rural days of the OC! Hence the name, Orange County!
The Great Park Balloon gets up to 400 feet in the air, and is anchored by a steel cable. As long as you're not afraid of heights, this is a fantastic thing to do in Irvine.
So, what are the details about taking a ride on the Great Park Balloon? Well, a great feature is that admission and parking are both free. And all ages are welcome. However, you can't book a ride in advance, and you will be added to a waitlist when you arrive. You may end up having some time to spend while waiting to hop in the gondola.
If this is the case, check out the recently renovated Great Park Carousel. It features artwork with a vintage feel and is another fun Irvine attraction to check out.
Irvine Spectrum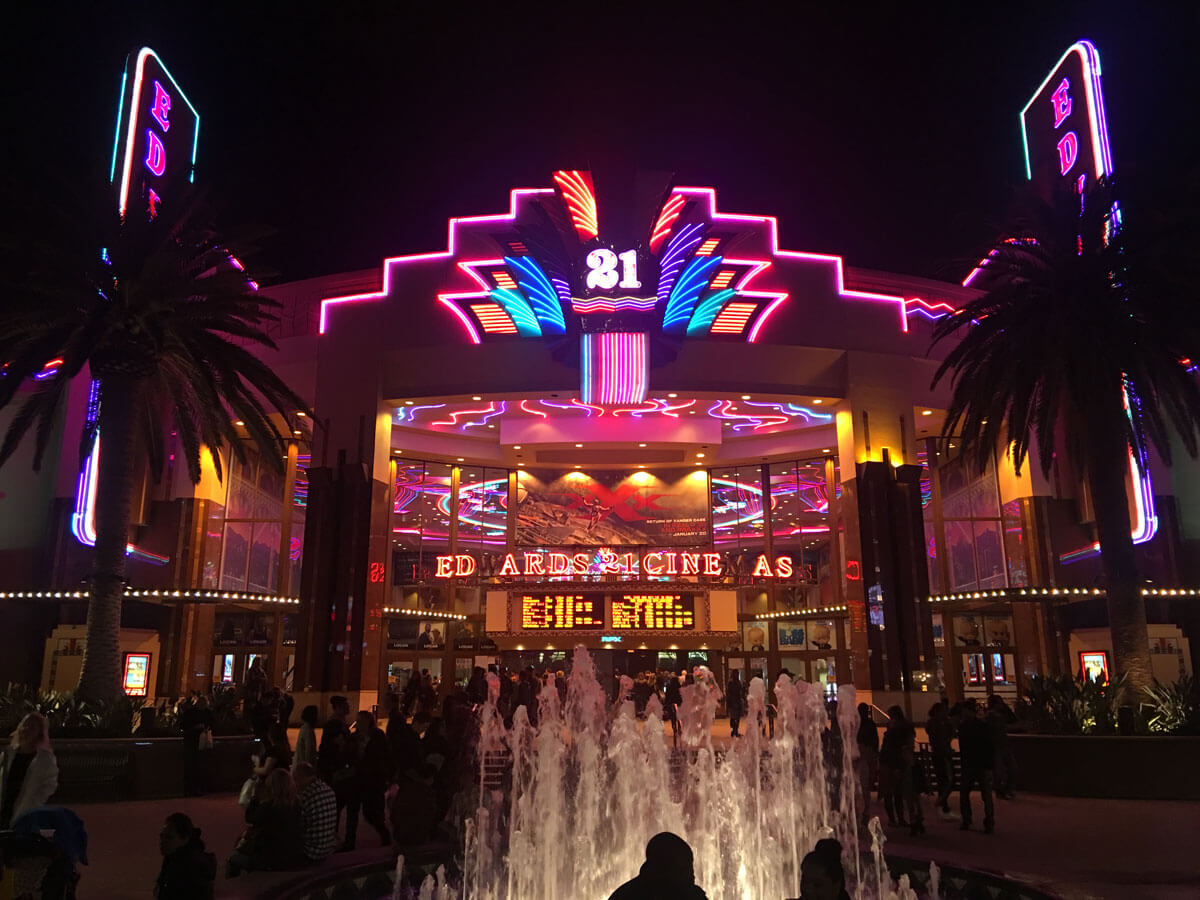 Want to know a little secret? When I first graduated college with a degree in Fashion Merchandising I moved to California to find a job. During the grueling months of nonstop job hunting and applying for my 'future' career I took a job as a manager of a shoe store at Irvine Spectrum!
And I may be biased, but this is one of my favorite things to do in Irvine because this mall is awesome! Beyond being a beautiful outdoor shopping mall, Irvine Spectrum is also an entertainment center with an Improv Comedy venue, movie theater, tons of restaurants, and even a Ferris Wheel!
Equal parts shops, restaurants, and attractions, this Irvine, California center has something for everyone. For your shopping needs, hit up stores like Levi's for jeans, Oakley for sunglasses, and Vans for quintessential California footwear.
When you're ready for some excitement, check out the giant Ferris wheel. You will be treated to views of Orange County and Irvine Spectrum's courtyard. Even if you don't catch a ride on the giant wheel, it's a pretty sight with LED lights illuminating the structure. Just a note, there is a fee to ride the attraction. Follow up the giant wheel with more entertaining activities.
For some laughs and a good time, check out the Improv Comedy Club. To play games and feel like a little kid again, head over to Dave & Buster's.
And when you're ready for food and drinks, Irvine Spectrum has a variety of options. One of the standouts is Hello Kitty Grand Café! Grab drinks and baked goods in this charmingly themed shop with all things Hello Kitty. This is an awesome place to visit in Irvine that you won't want to miss if you're looking to do some shopping and check out some of the other fun things here.
Diamond Jamboree
View this post on Instagram
Foodies, this is one thing to do in Irvine that you will want to make sure to hit up! After working at Irvine Spectrum, I worked at a corporate office in Irvine and this was the 'go to' spot for my coworkers and I whether we wanted lunch or a great post work dinner spot.
The Diamond Jamboree is a plaza with over 20 tantalizing restaurants showcasing international fare. In particular, Asian cuisine is the main attraction here as Irvine is home to a large Asian-American population, and the restaurants at the Diamond Jamboree are a reflection of the city's residents.
When navigating this plaza, here are a few places to stop by. 85°C Bakery Café is a Taiwan bakery and coffee house, where you can grab several baked goods to sample.
HaiDiLao is a Chinese hot pot restaurant, where you can enjoy your meal in a cozy and entertaining setting.
The Kickin Crab is the place to go for a filling meal of Cajun seafood in a casual atmosphere.
There is also an H Mart here, which is a really cool Asian supermarket to browse for a variety of items. There are also several other eateries in Diamond Jamboree, as well as an assortment of beauty stores, a spa, and even an escape room, among other establishments.
Tanaka Farms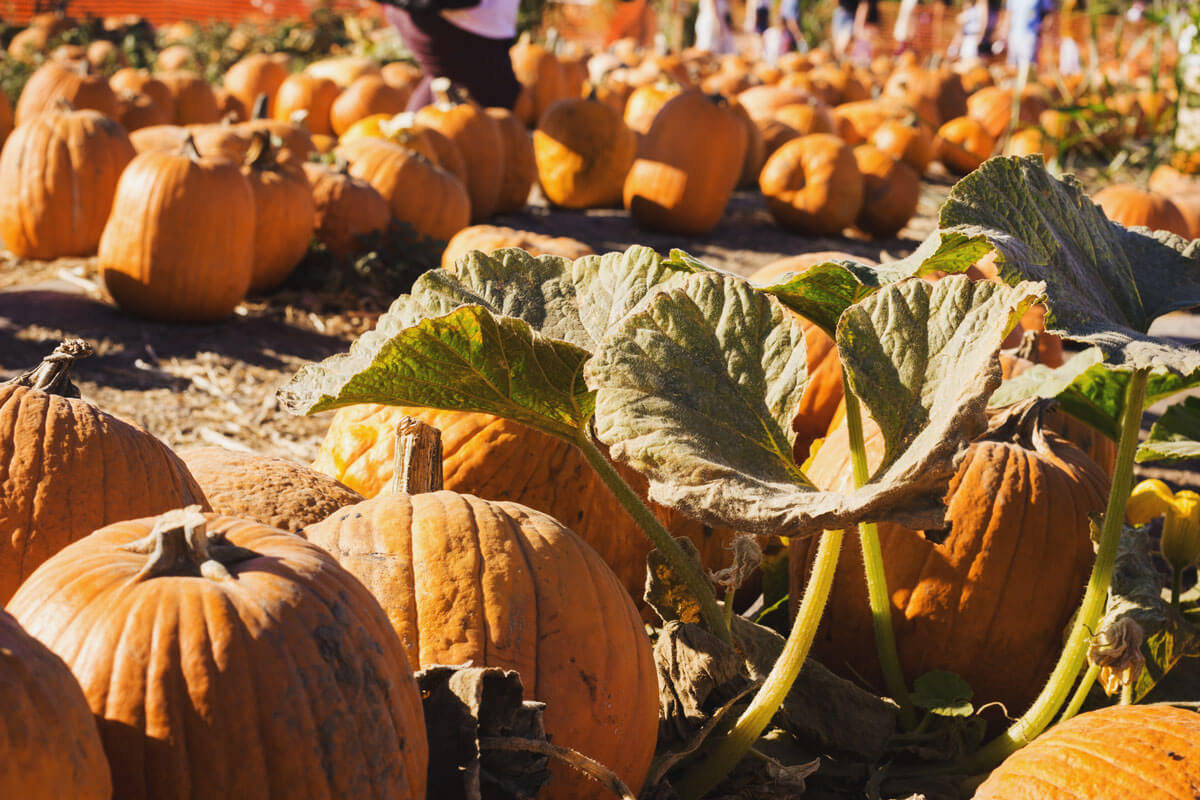 For a day of outdoor activities, centered around fresh produce, head to Tanaka Farms. There is always something happening at this Irvine, California hotspot, and this place is especially great for kids.
The experiences include melon tours, picking your own flowers at Hana Field, a barnyard educational exhibit, Storytime at the Barnyard, and farm-to-table cooking classes.
Depending on what time of year you visit, there are fun seasonal activities. If you come from March to May, you can partake in a Strawberry Tour. There are also Watermelon Tours, which happen from July to August. The U-Pick Pumpkin Patch happens, of course, in October. The Hikari – Festival of Lights & Christmas Trees occurs in December.
Lastly, no matter what time of year you visit, U-Pick Tours go on all year long. If you want to explore all the activities at Tanaka Farms, other than the Produce Market Stand & Gift Shop, you will need a reservation. And depending on what events you want to attend, there may be a fee. Make sure to add Tanaka Farms to your itinerary of Irvine attractions!
UCI Institute and Museum of California Art
Irvine, California is home to a fantastic art museum, the UCI Institute and Museum of California Art. This is a pretty young museum, having opened just a few years ago, in 2017.
Two collections prompted the opening of the UCI Institute and Museum of California Art. The first collection is The Irvine Museum Collection, which showcases California art. The Irvine family curated this collection, and the city of Irvine is named after one of their ancestors.
The second collection is The Buck Collection, which features contemporary California Art acquired by Gerald E. Buck. These permanent collections, as well as rotating exhibitions, are on display at this museum for your viewing pleasure.
The UCI Institute and Museum of California Art should definitely be included on your list of things to do in Irvine.
Go on a Hike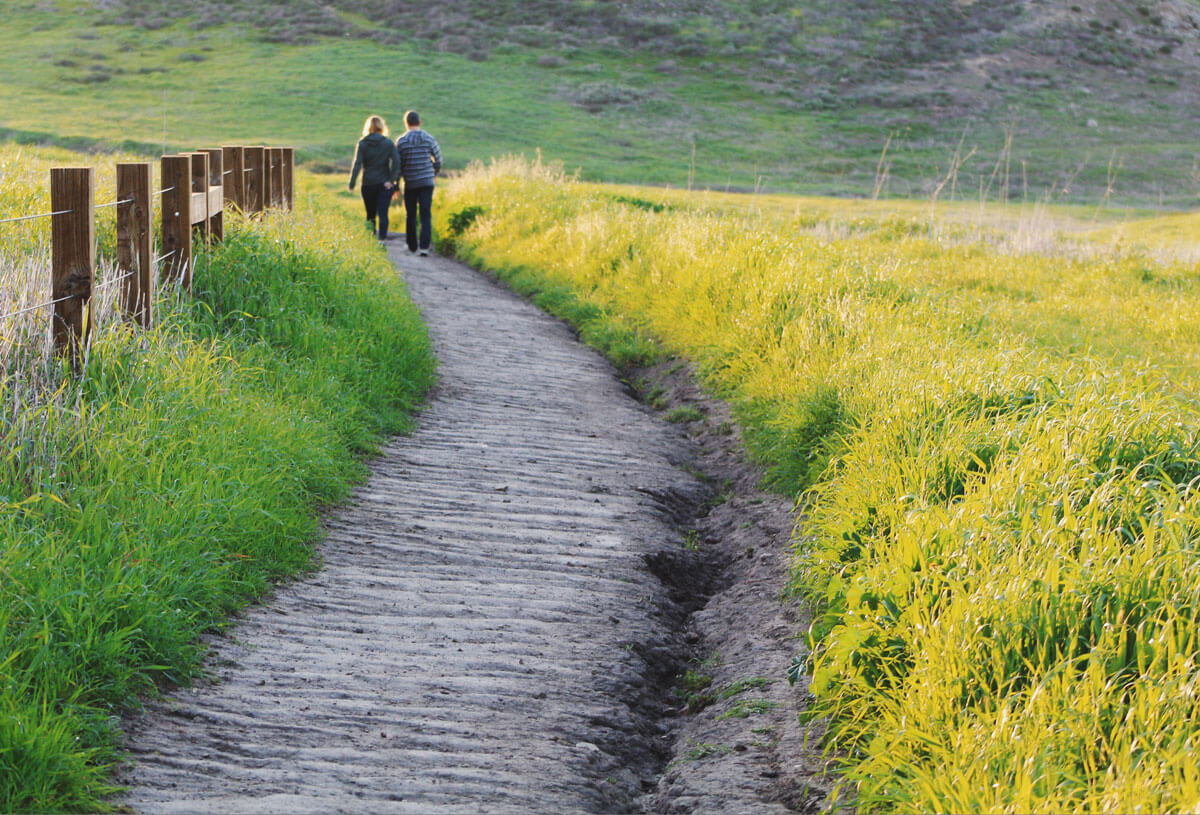 When you are in sunny Southern California, you must go on a hike to take advantage of the beautiful weather and stunning views. There are several trails and outdoor spaces to explore in the Irvine area too.
The Quail Hill Hike is an easy, two-mile path that not only provides gorgeous views, but also has a self-guided audio tour that you can access on your cell phone.
Bommer Canyon gives you a peek into the more rugged landscape of the city, and you can explore the canyon via a looping trail that's just under five miles. The path at Bommer Canyon is perfect for hikers and mountain bikers, and you may just see a horseback rider or two.
The Turtle Rock Trail is an easy hike that's just over one and a half miles, and it's a fantastic option for a brisk outing to see amazing views of the city and landscape.
The Laguna Coast Wilderness Park is located in Laguna Canyon, fairly close to Irvine. Start out at the Nix Nature Center, where you can pick up information about the park, as well as trail details. There are forty miles of trails here that take you through coastal canyons, vistas, and bluffs. Going on a hike is a quintessential thing to do in Irvine!
San Joaquin Marsh and Wildlife Sanctuary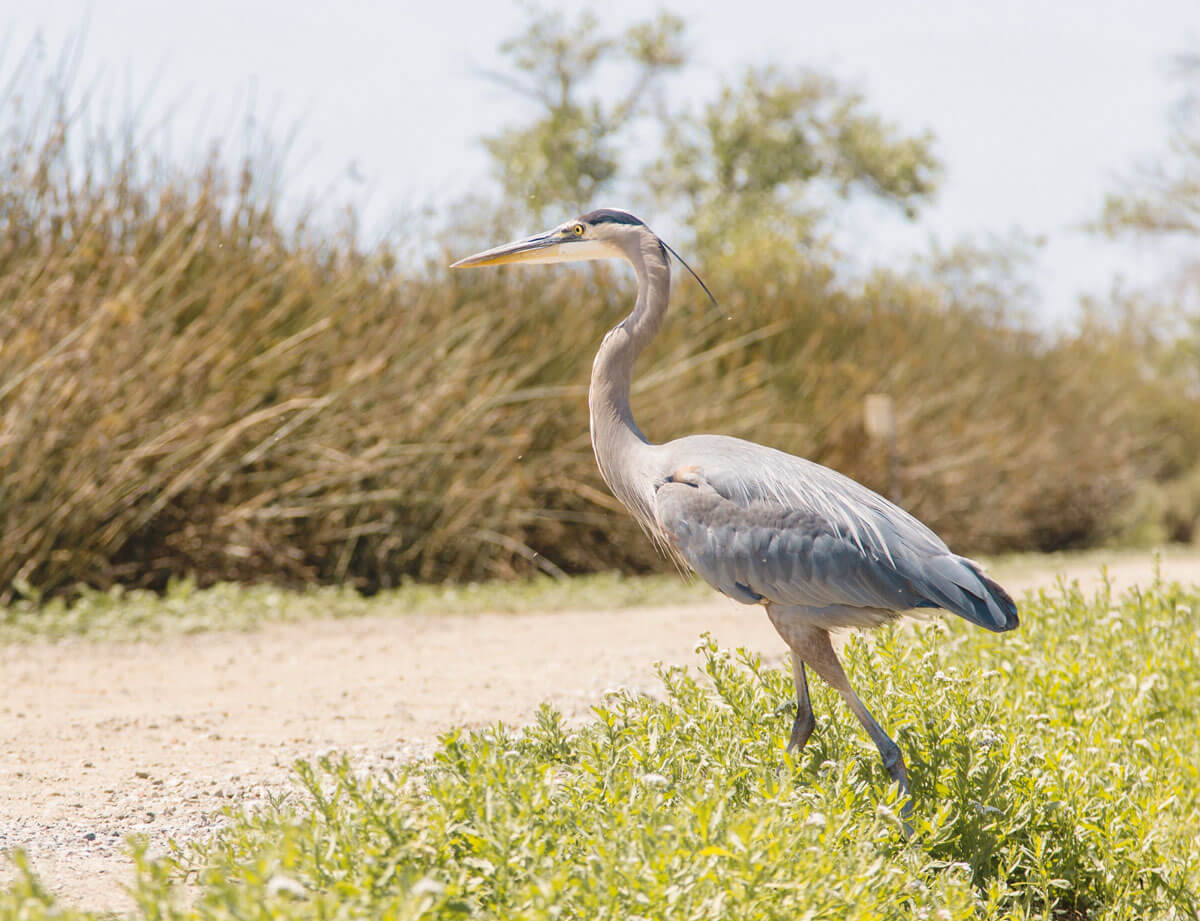 A serene morning or afternoon thing to do in Irvine is spend time at the coastal freshwater wetlands at the San Joaquin Marsh and Wildlife Sanctuary. There are 12 miles of walking trails here, perfect for stretching your legs and spending some peaceful time in nature.
You'll pass by bodies of water, big and small, surrounded by tall grass and bordered by thick trees. And if you enjoy bird-watching, this is an especially great place to visit, as there are over 200 species of birds that have been spotted here.
One thing to note about visiting the San Joaquin Marsh and Wildlife Sanctuary is that vehicles, bicycles, and dogs are not allowed in the area. So bring yourself, perhaps a camera for some great photo ops, and enjoy this delightful escape in Irvine, California.
Catch a Show at Irvine Barclay Theatre
For some evening entertainment, see a live performance at the Irvine Barclay Theatre, a performing arts center. The Barclay, as it's affectionately known, is a terrific place to visit in Irvine with a great backstory. In the 1970s, several community leaders vocalized their desire for a performing arts facility, as they believed performing arts play a huge role in a city's heart and soul.
The venue opened in 1990, and ever since it has been putting on shows from dance, to theater, and music, as well as spoken word. If you like architecture, the building that houses the theater is an architecturally appealing, modern style.
There are musical acts, theatrical performances, and even comedians that grace the Barclay's stage. Be sure to check out the calendar of events to see what's playing at this Irvine attraction when you visit.
Mini Golf at Boomer's
View this post on Instagram
As far as places to visit in Irvine where you can let loose and have tons of fun, you have to stop by Boomer's. This is where Scott and I had some of our dates in the early days of dating because we are kids at heart and this mini golf course is AWESOME!
There's also laser tag, go-karts, bumper boats, batting cages, plus an arcade. And that's not all! There are rides, including the Flame Thrower and Starship, which resemble amusement park attractions.
However, the one attraction you have to check out at Boomer's is the mini golf course. It's a really fun, themed course, where you'll encounter things like crazy windmills and splashy water designs.
If you need a break from the excitement, head over to Boomers Backyard. This is an outdoor area with fire pits, flat-screen TVs showing live sporting events, and a selection of food and drinks. Boomer's is a great place for adults and kids. There is an admission fee, and Boomer's offers various package deals, depending on what type of activities you want to do.
Aldrich Park
Over at the University of California, Irvine is where you'll find Aldrich Park. It's a big, centrally-located park in the middle of the university campus, and it connects most of the undergraduate and graduate schools in a circular formation around the park.
The design and vision was the brainchild of the UCI's inaugural chancellor, Daniel G. Aldrich, and various university planners who wanted UCI to look different from other colleges. The scene here is a perfectly grassy, picturesque, almost idealized backdrop for a university campus. Come to Aldrich Park to get some fresh air and explore the area, it's one of the best outdoor places to visit in Irvine. You can bring a blanket, and plop down in the grass and enjoy the ambiance. Or you can watch the students wander through the campus, meeting up with their peers or studying in the park.
Be sure to check out the Infinity Fountain and the Jao Family Sculpture Garden when you visit this gorgeous Irvine attraction.
Where to Stay in Irvine, California
I'll be honest, you probably won't be staying in Irvine unless you're a business traveler (there are a lot of corporate offices around here) and many of the things to do in Irvine can be done in just over a day. While I will recommend one hotel in Irvine, I am going to also give recommendations of great hotels nearby where you can combine some of the best that Orange County has to offer – because you're really close to some of the best beaches in Orange County and I figure you might be coming around here for more than Irvine anyway.
Feel free to browse the interactive map below for deals and hotels in the area too.
Irvine Hotel: Irvine Marriot
For my Irvine, California hotel recommendation I picked Irvine Marriot specifically for its location. Not only are you located right along the 405 (one of the central veins connecting Southern California from Orange County to Los Angeles) making it easy to not only hit up all the best things to do in Irvine but also easily connect to State Route 55 (aka Costa Mesa Freeway) to easily access Costa Mesa, Newport Beach, and connect to other coastal spots like Huntington Beach and Laguna Beach. Not to mention you're super close to the airport.
This pet-friendly hotel is equipped with modern rooms with floor-to-ceiling windows offering ample natural light. The property also has a Topgolf Swing Suite, restaurants on site, an outdoor pool, fitness facility (24 hours), and a gorgeous outdoor space complete with cushioned furniture and fire tables. Book Irvine Marriot here.
Newport Beach Hotel: Lido House
One of the most luxurious places to stay near Irvine in Newport Beach is Lido House, an Autograph Collection property located at Lido Marina Village on Balboa Island. Their rooms range from luxury king-size suites to full-on spacious cottages that are more than enough to feel like your home away from home.
Guests can take advantage of their beautiful pool with private cabanas, swanky roof deck restaurant and bar, and their spa on site if you're looking for any special treatments or pampering during your stay.
The rooms and cottages are sophisticated and you're steps away from waterfront views, great dining and nightlife options, and just a short walk to the beach. Book the Lido House here.
---
Found this guide helpful for all the best things to do in Irvine, California? Bookmark for later! Happy travels!