Looking to spend 3 days in Phoenix? Excellent choice! Phoenix is one of the most underrated tourist destinations in the United States. Phoenix is a beautiful place to be, from its desert landscape to luxury food and restaurants, various adventure spots, cultural and musical museums, and other beautiful, unique sights and attractions found nowhere else in the world.
Phoenix is known as 'The Valley of the Sun' because it is sunny most of the year. In fact, it is one of the hottest cities in the United States, making it an ideal destination if you want to escape the colder weather and bask in a picturesque desert environment, especially in the winter, which is why this is one of the best winter getaways in the USA!
To assist you in planning and making the most of your time in this beautiful city, we've put together the perfect itinerary to make your 3 days in Phoenix, Arizona's capital city one to remember whether you're on a long weekend in Phoenix or stopping on a Southwest road trip.
Weekend in Phoenix Itinerary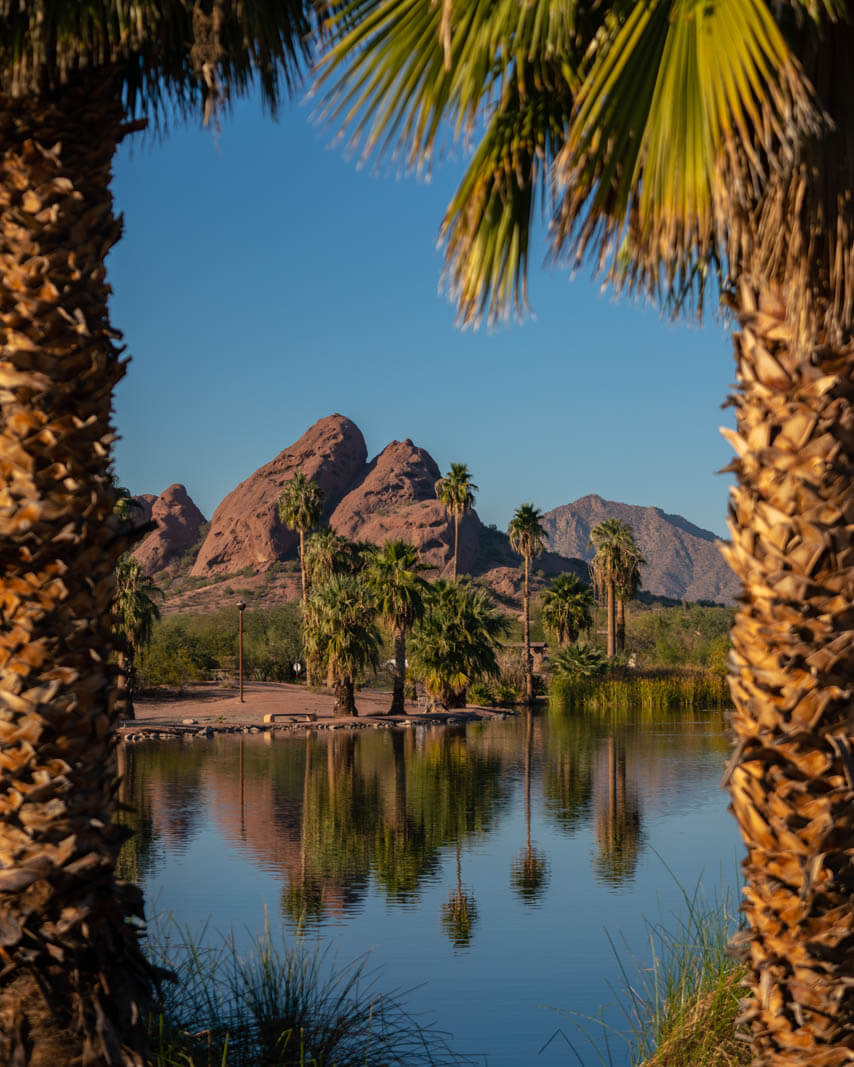 DAY 1 OF 3 DAYS IN PHOENIX
BROWSE THE MUSICAL INSTRUMENT MUSEUM
Begin your 3 days in Phoenix by visiting this world-class museum in Northern Scottsdale, downtown Phoenix. The Musical Instrument Museum has more than 8,000 international and rare musical instruments from over 200 countries are housed in the museum. It is one of a kind and a must-see for any visitor.
For only $20, you can learn about the history of various musical instruments that you won't find anywhere else in America, and even put your musical skills to the test by trying some of them out. From antique cymbals to guitars, trumpets, harps, and old South American musical instruments, the list goes on and on. The museum also offers regular music lessons to its visitors.
GO HIKING ON CAMELBACK MOUNTAIN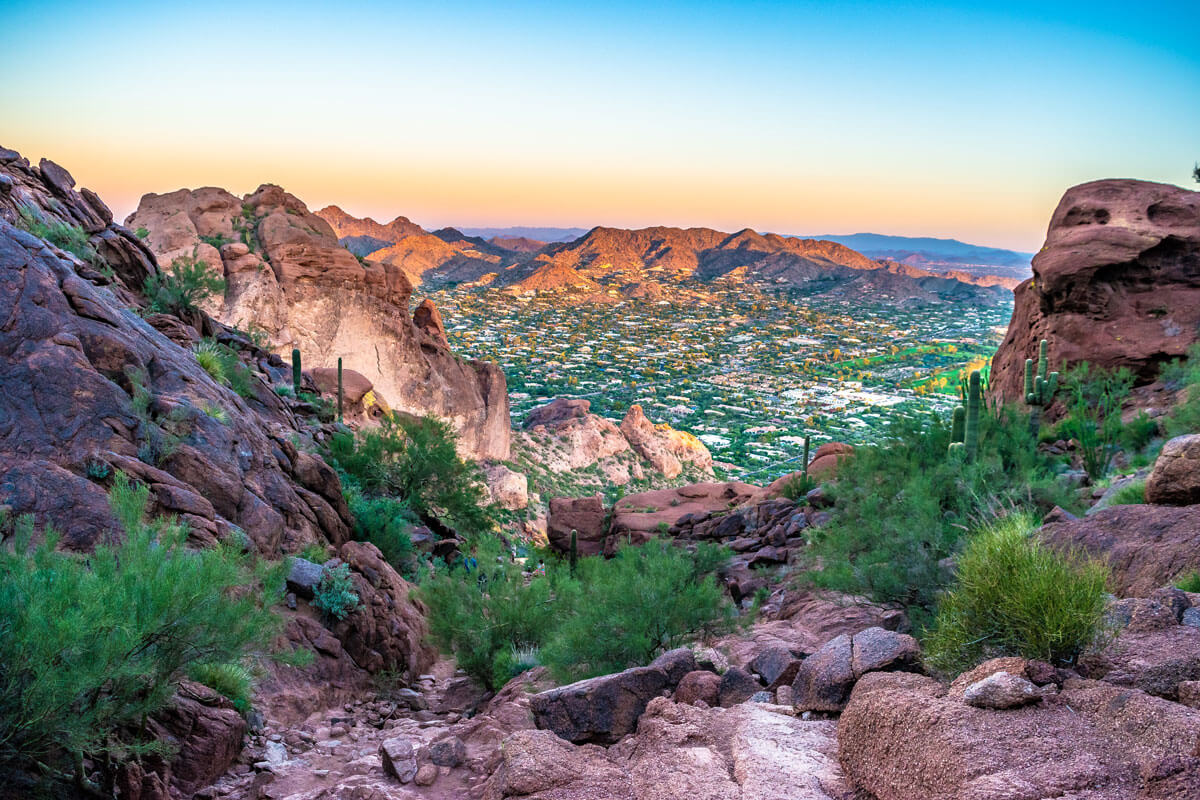 If hiking and other physical outdoor activities in the sun are part of your ideal vacation, Phoenix has you covered. Hiking trails abound in the Valley of the Sun. Camelback Mountain is one of the highest points in the area, and it's only a 20-minute drive from the musical instrument museum.
Its 2,700-foot high summit is a difficult 1.2-mile hike from the Echo Canyon trail, but it provides an incredible view of the Phoenix and Scottsdale landscape. Just make sure you have plenty of water on hand because you'll need a lot of it. Especially during the summer. Don't forget the sunscreen either!
For other alternatives, Scottsdale is home to some of the best hikes near Phoenix.
If you're not sure you want to do this alone or you want an experienced local, consider booking this 3-hour Camelback Mountain hiking tour with a professional guide that also offers hotel pick up and drop off. Book here.
LUNCH AT CHELSEA'S KITCHEN
Following your hike, the next recommended place to spend your first of 3 days in Phoenix is at Chelsea's Kitchen since you'll be hungry after hiking.
Located overlooking a canal, you get a little waterfront view accompanied by a menu filled with Southwest ingredients and dishes. This fun roadhouse stop has so many great options along with great drinks whether you need a caffeine pick me up after your hike or a cocktail.
REJUVENATE AT SANCTUARY CAMELBACK, A GURNEY'S RESORT & SPA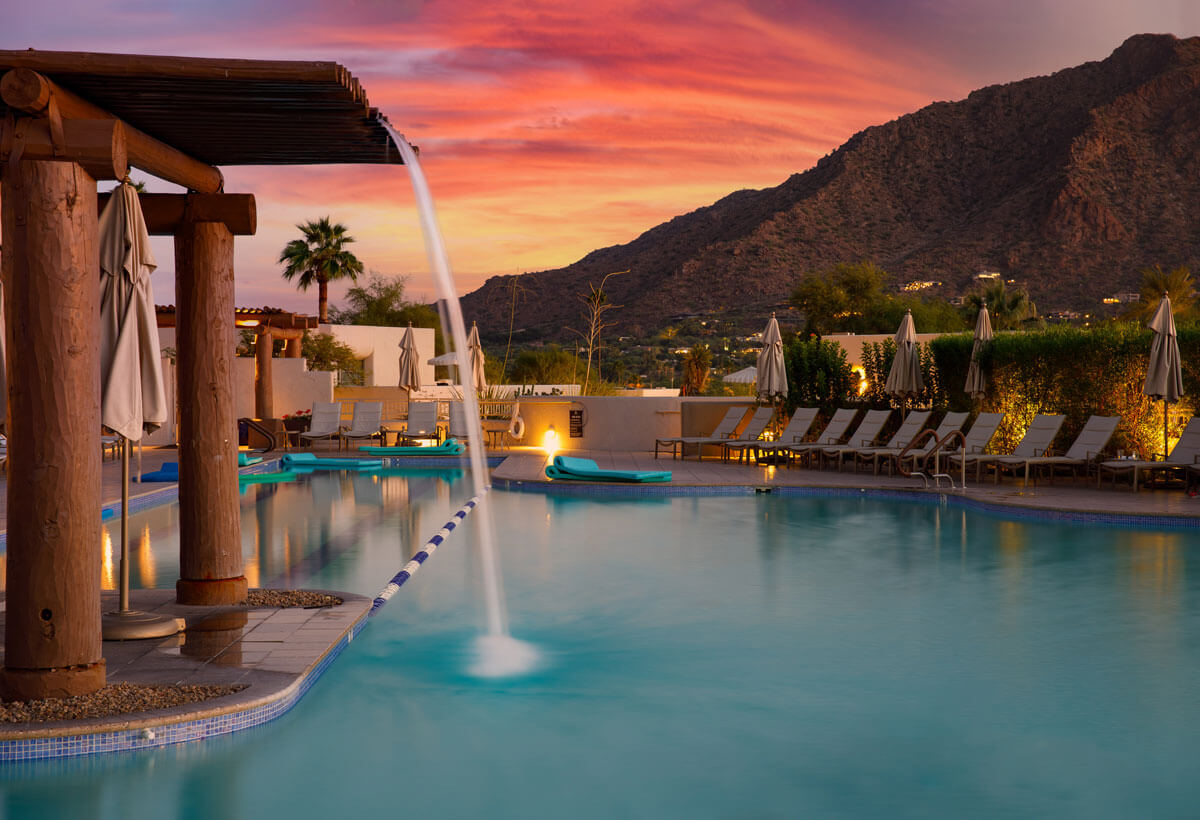 After a day of hiking, what better place to rejuvenate the body and mind than a spa? The Sanctuary Camelback, a Gurney's Resort and Spa, has it all.
The 53-acre luxury resort is set against Camelback Mountain and offers breathtaking views of both the mountain and the valley below. It has a world-class spa on-site that provides a variety of treatments to help you relax and rejuvenate, not to mention one of the most scenic pools ever which even non guests can enjoy with a spa treatment.
The spa has something for everyone, from facials and massages to aromatherapy and body wraps. There are three pools to choose from, including an adults-only pool and one for families. Whether you want to relax in the sun with a good book or go for a refreshing swim, you won't have to worry about crowds.
CHECK OUT STREET ART & GET DINNER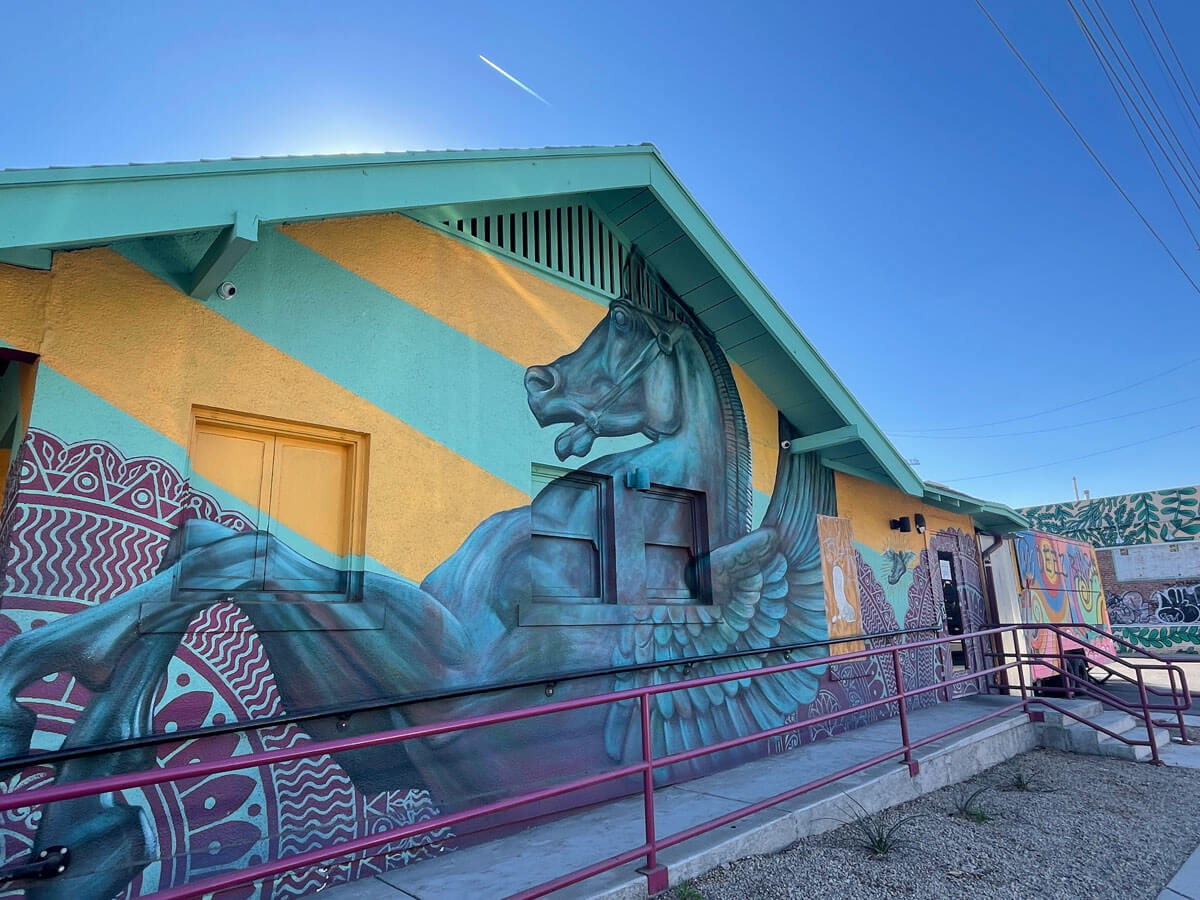 End your first day by visiting some of the fantastic restaurants in the area, head to Roosevelt Row, one of the coolest areas to check out in Phoenix and home to the city's Art District.
For dinner, check out The Churchill, which is home to a variety of local businesses and startups in Roosevelt Row. The Churchill has a patio where you can get everything food. Provecho, Foxy Fruit Acai Bowls & Smoothies, and Freak Brothers Pizza are among the restaurants there. There are also a few shops.
Don't miss strolling around the neighborhood to check out the murals. Check out the original 'Roosevelt Row houses' in which the neighborhood is named after which are covered in street art at the corner of E Roosevelt St and N Fifth St, and if you're thirsty pop into Greenwood Brewing for a drink!
DAY 2 OF 3 DAYS IN PHOENIX
BREAKFAST AT SIP COFFEE & BEER
Sip Coffee & Beer is the best place to start day 2 of your 3 days in Phoenix itinerary to fuel you the rest of the day. This popular morning/evening hang-out spot has everything from omelets and pancakes to bagels and sandwiches is on the menu.
Of course, they have a delightful selection of freshly brewed coffee to complement your meal. You can also enjoy their salsa dancing sessions, and if you're in the area and free at night, you should check out their open mic nights too.
EXPLORE THE PHOENIX ART MUSEUM
Phoenix boasts a plethora of museums. The world-class Phoenix Art Museum, located just a few blocks from the Heard Museum, is the largest in the southwest and one of the largest in the United States.
The museum houses over 18,000 classic and contemporary works of art, dating from the Renaissance to modern monuments. Its collection includes works by popular artists such as Picasso, Frida Kahlo, George O'Keeffe, and Diego Rivera, as well as fashion collections from well-known brands such as Dior.
It has nine different departments, including American, Asian, and European, as well as photography and weaponry. You are surrounded by art from the moment you walk in. The museum caters to all ages, and it even has a section with miniature art collections that children will enjoy.
HAVE A PICNIC AT MARGARET T. HANCE PARK
After viewing the art galleries, head to Margaret T. Hance Park for a picnic with your travel companion or family. The 32-acre park is located above the Papago freeway tunnel in the heart of downtown Phoenix. It is within walking distance of the museum and takes only 10 minutes to get there.
The park has more than enough open grassy space for picnics and is surrounded by beautiful scenery. It hosts a variety of shows and events, as well as some interesting accessories that will appeal to children.
You'll be spoiled for choice when it comes to food. You can get pasta from The Old Spaghetti Factory, barbecue from Trap Haus Barbecue, or try Fez Restaurant and Bar, which is nearby.
WATCH THE SUNSET IN THE HOLE IN THE ROCK AT PAPAGO PARK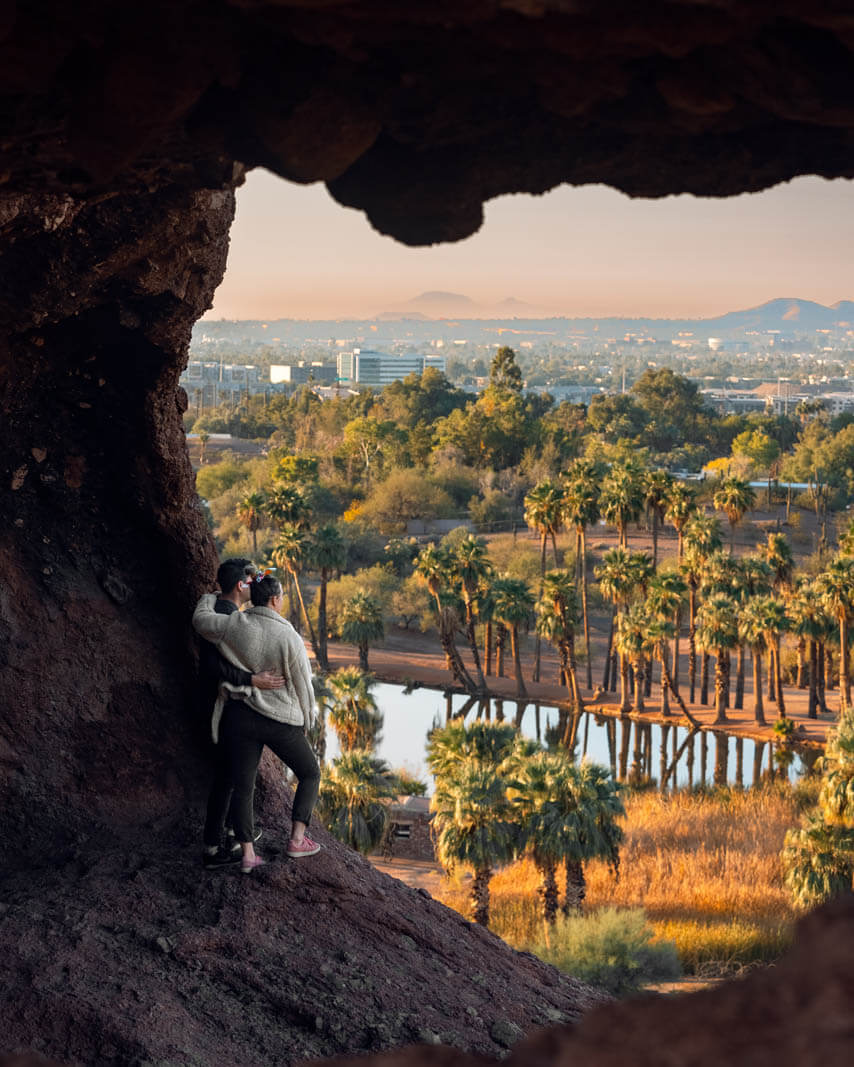 Have you ever imagined watching the sunset over the Valley of the Sun with your loved ones? The iconic Hole in the Rock provides you with this opportunity. You wouldn't have to go far after your picnic at Margaret T. Hance park, as it is also located in Papago Park. This breathtaking view is accessible via a short 0.2-mile trail.
Just make sure to bring a flashlight because there are some loose rocks along the trail, especially if you intend to stay until dark.
If you do have extra time, consider coming a bit earlier to enjoy more of Papago Park as this was one of the best photography locations in Tempe and Phoenix!
WIND DOWN WITH DINNER
Finish your day with dinner at one of the world-class restaurants located around Papago Park. You can try the American steakhouse, Stockyards Restaurant, and Los Sombreros, which serve exquisite Mexican dishes and some of the best tacos. Check out DeFalco Italian Deli and Grocery if you like Italian food.
DAY 3 OF 3 DAYS IN PHOENIX ITINERARY
COFFEE AT ECHO COFFEE
The third and final of your 3 days in Phoenix should be devoted to making the most of the time you have left. Fuel up for the day at Echo Coffee. This coffee shop is one of the best in the area. They only serve organic coffee that is made from locally roasted coffee beans. A word of advice: if you want the best coffee they have to offer, ask their barista for a recommendation; they are knowledgeable.
TAKE A HOT AIR BALLOON RIDE IN THE SONORAN DESERT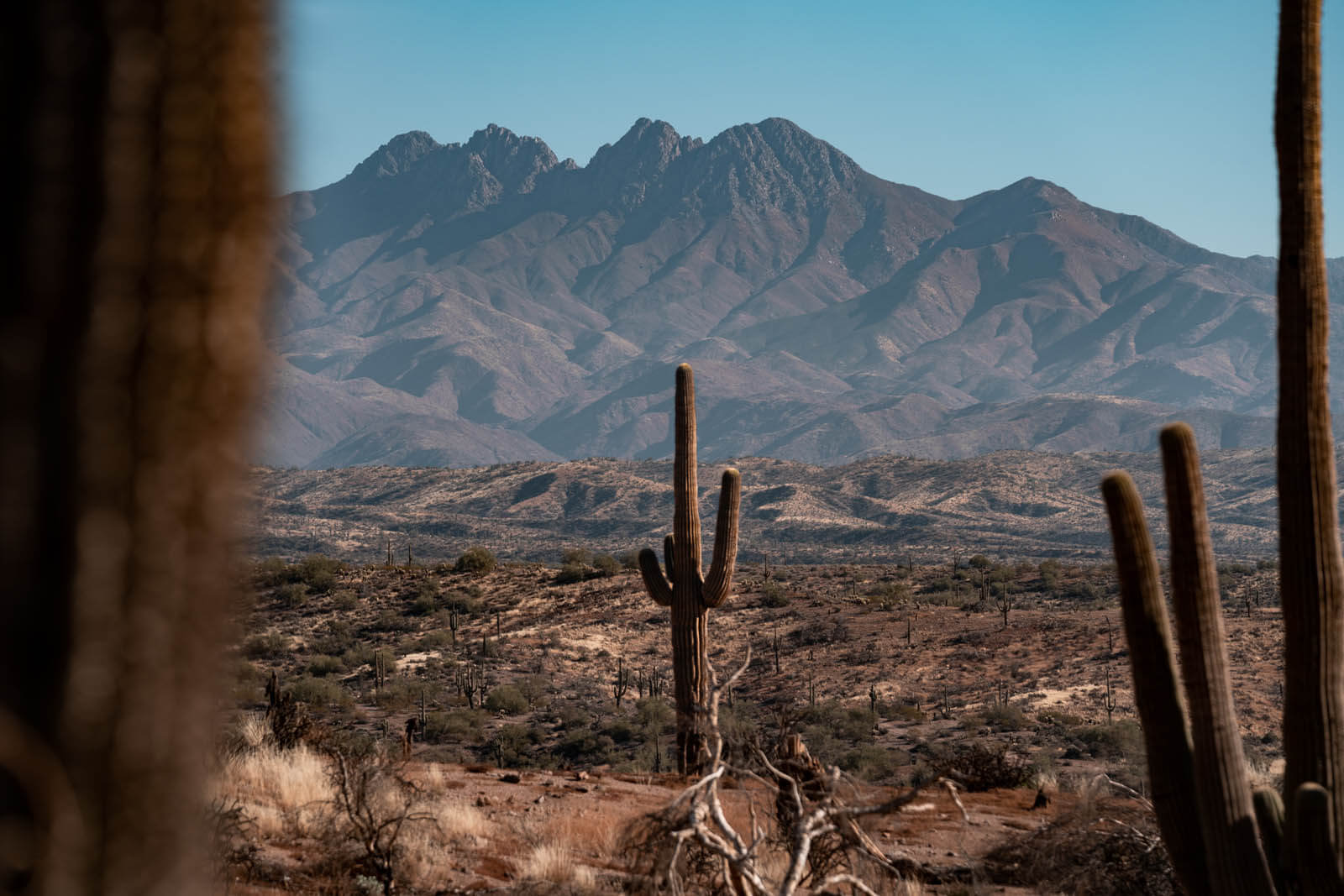 Begin your final day by taking to the skies to watch the sun rise over the Sonoran desert. A hot air balloon ride over the Sonoran provides a 360-degree view of the incredible Valley of the Sun.
Phoenix has over 300 days of sunshine on average, so you won't have to worry about inclement weather disrupting your ride. If you get close enough to the ground, you can see wild animals like coyotes and jackrabbits, as well as the massive cacti that beautify Phoenix.
Just remember to bring your camera; you'll need it. It will undoubtedly be a memorable experience during your weekend in Phoenix. You can book your hot air balloon ride here.
VISIT THE DESERT BOTANICAL GARDEN, BRUNCH AT GERTRUDE'S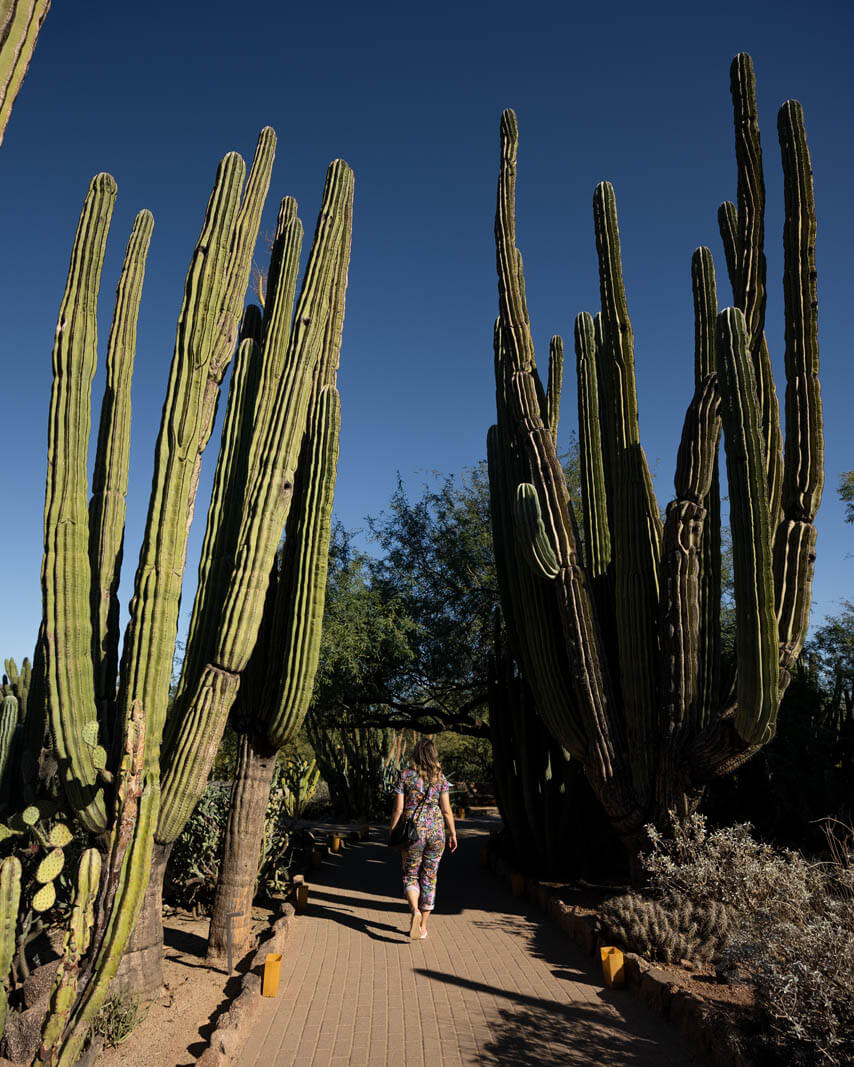 After your unforgettable ride in the sky, visit the Desert Botanical Gardens, which has over 50,000 different types of desert plants, cacti, trees, and flowers.
One unique aspect of the garden is that Gertrude's restaurant, where you can have brunch, is located within it. Brunch options include Catties Benedict, which has mustard hollandaise with toasted muffins and Chesapeake blue catfish cakes, and the gluten-free crabmeat omelet, which includes French herbs, mornay sauce, and, of course, crabmeat.
Gertrude's is also a good hangout spot, with an amazing view sandwiched between desert plant life. This is also next to the Phoenix Zoo, if you're looking for another cool spot to add to your weekend in Phoenix right here.
Take a few hours to enjoy the Desert Botanical Garden, it's really one of the most unique and beautiful in the country with several great cacti photo opportunities.
RELAX TO MUSIC AND PHOENIX NIGHTLIFE
It's time to let loose and enjoy Phoenix's nightlife. End your 3 days in Phoenix with a bang by partying hard. Nightlife and music are an important part of Phoenix's scene. Nightlife in Phoenix is spectacular, with everything from high-energy ballrooms to relaxed karaoke bars.
Try Bottled Blonde, The District, or Maya Day+ Nightclub for upbeat music. Check out W Scottsdale, Three Wisemen, or Blind Dragon for some laid-back music. Just don't drive under the influence, as DUI laws in Phoenix are quite strict. Rideshare apps are easily and readily available.
EXTRA TIME ON YOUR WEEKEND IN PHOENIX?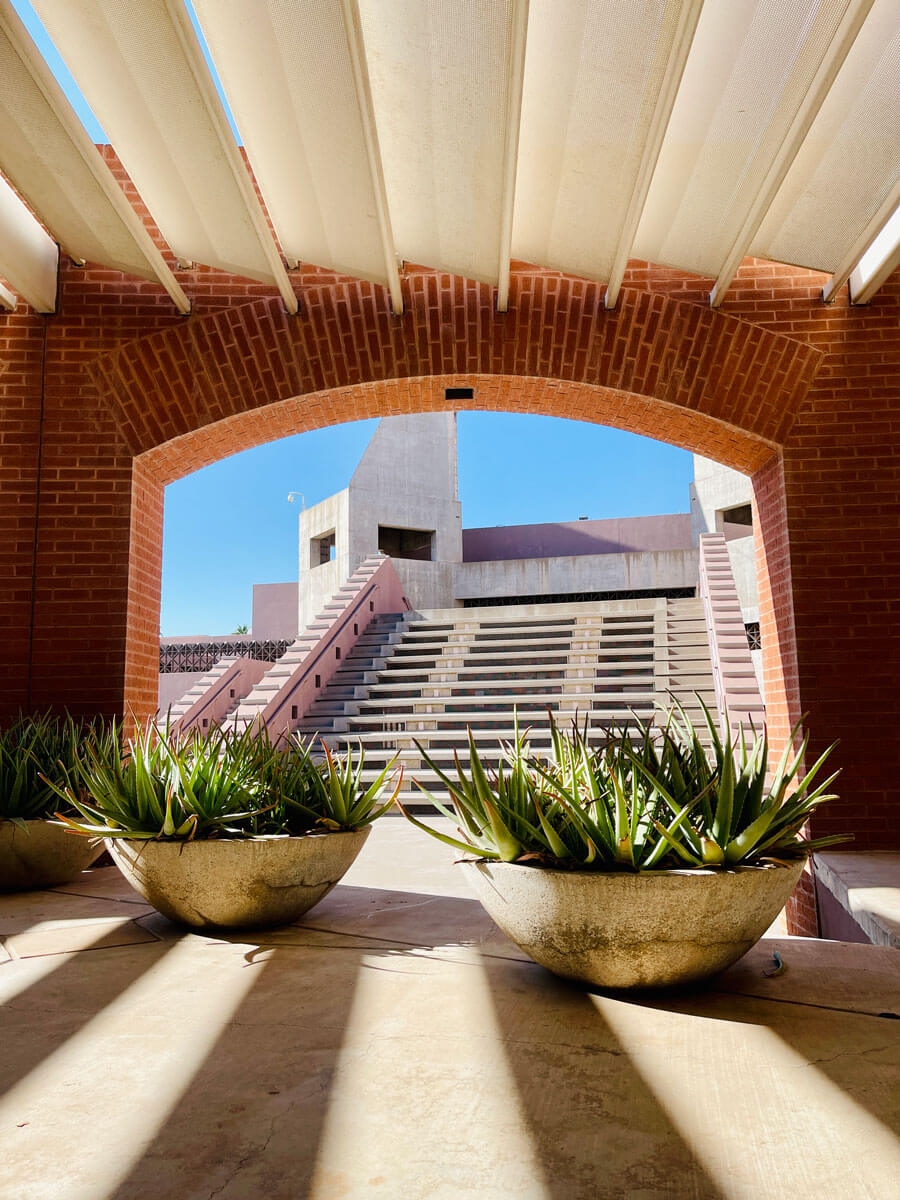 If you have an extra day or a long weekend in Phoenix, or if the above Phoenix itinerary does not appeal to you, here are some other places you should visit:
Are you looking for perishables such as vegetables and fruits? Visit some of Phoenix's farmers' markets to purchase farm-fresh produce as well as locally made products. Every Saturday morning, the downtown farmer's market is open, while the uptown farmer's market is open on Saturdays and Wednesdays, see their website for specific times and locations.
Did you enjoy the hot air balloon ride? You'll enjoy the Sonoran Desert ATV Tour even more. Get dirty and put yourself through the rigors of exploring the Sonoran Desert on wheels. Book this adrenaline-pumping Sonoran Desert ATV Tour here.
The Heard Museum is another excellent option. Another world-class museum with an outstanding collection of art and artifacts, particularly native American collections.
How could we forget about the Grand Canyon? No Phoenix itinerary would be complete without a stop at the location Teddy Roosevelt described in 1903 as "one of the greatest sights every American should see." You can book a small group tour from Phoenix or if you're short on time and want to have a more unique experience, you can book a helicopter tour over the Grand Canyon from Phoenix.
Enjoy a half day outdoor adventure on this 3-hour kayaking tour through the Lower Salt River. Spot wildlife while floating down the river and take in the majestic scenery of the Sonoran Desert landscape on this guided adventure.
How about spending a day exploring the best things to do in Tempe? From the ASU Campus has several Frank Lloyd Wright-designed structures, a great food scene, museums, and fun pedal boats on Tempe Town Lake, there's no shortage of fun in Tempe, and it's close and convenient.
Also, be sure to check out all the best things to do in Scottsdale, another amazing place you can base an entire weekend around in the Phoenix area full of over 80 art galleries, a premiere golfing destination, great nightlife, and a wonderful culinary destination to check out!
Want to see more of Arizona? Consider this full-day, small group tour to Sedona. You'll stop at Native American ruins and have the option to visit Tuzigoot National Monument or Montezuma Castle National Monument while having an additional few hours to explore Sedona.
WHERE TO STAY IN PHOENIX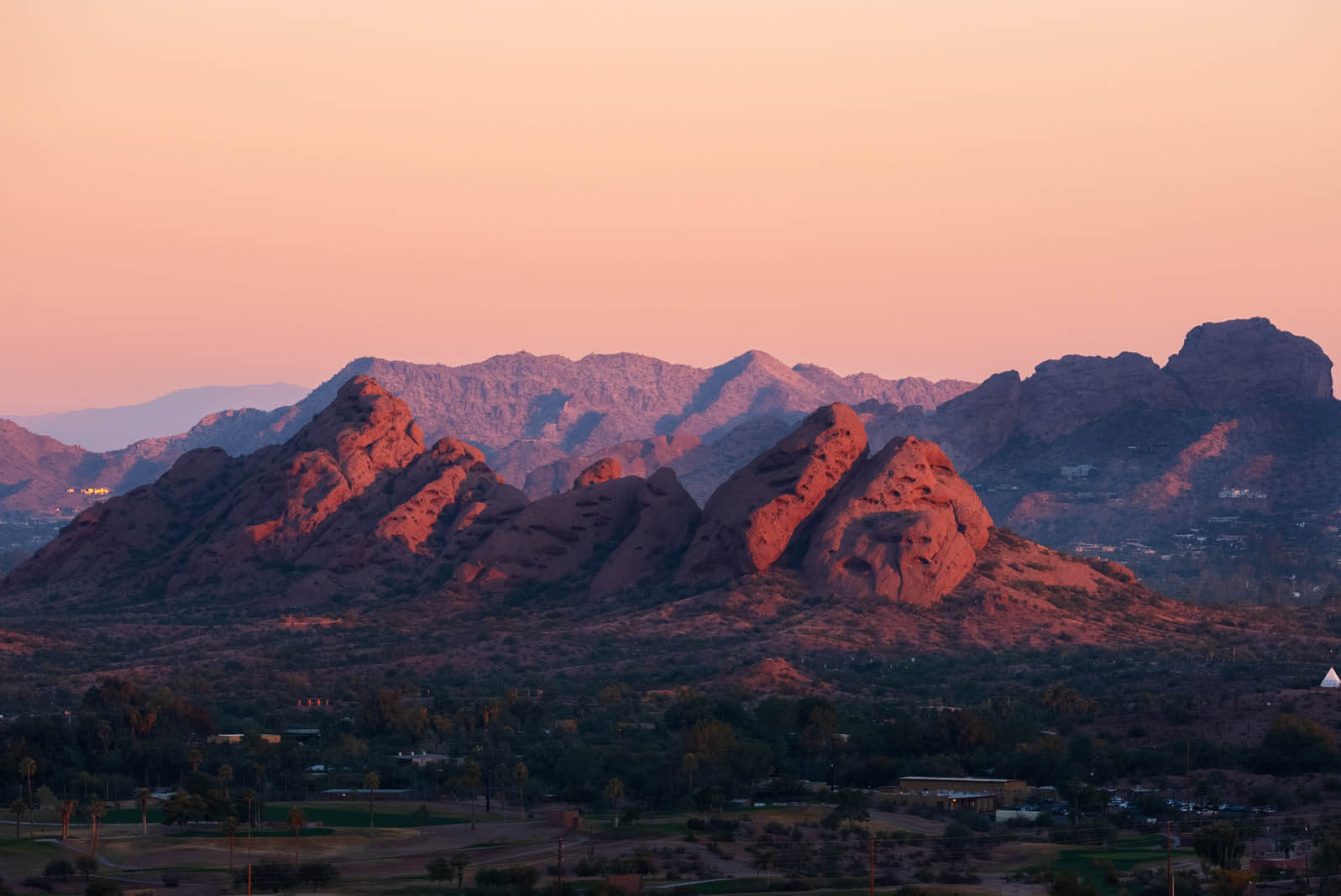 $-$$ KIMPTON HOTEL PALOMAR PHOENIX CITYSCAPE
The Kimpton Hotel Palomar in downtown Phoenix is our top choice for comfort, accessibility, and scenery. This luxury hotel is close to major attractions such as the Phoenix Art Museum and has a nice rooftop view of the surrounding mountains on the horizon. It has a rooftop pool and is only 11 minutes from Phoenix International Airport. It is preferable for visitors who are traveling as a family. Book Kimpton Hotel Palomar Phoenix here.
$$-$$$ SANCTUARY CAMELBACK MOUNTAIN, GURNEY'S RESORT & SPA
For a completely rejuvenating and unforgettable weekend in Phoenix, stay at one of the best resorts in the Southwest. Sanctuary Camelback Mountain, a Gurney's Resort and Spa has one of the most beautiful hotel pools in North America with a backdrop of Camelback Mountain.
The upscale rooms are sleek and contemporary and the entire hotel is a destination in itself. As mentioned earlier on this suggested Phoenix itinerary, you don't want to miss a treatment at the spa here. There are also all kinds of great onsite amenities including 3 pools, tennis courts, a fitness facility, and of course one of the best sunset views in the desert. Book Sanctuary Camelback Mountain a Gurney's Resort & Spa here.
---
About The Guest Author
Catalin Geangos is the Founder and Editor of TravelTrained. He has been to more than 35 countries and lived in a few more before. Now is making a living as a digital nomad by reviewing travel gear and writing guides about the destinations he has visited. You can follow more of his journeys on Instagram, Facebook, and YouTube.
---
Enjoyed this guide to the perfect 3 days in Phoenix itinerary? Bookmark for later or share the love below on Pinterest.