Are you planning on taking a 3 days in Washington DC weekend trip? If so, we're happy to help you have the best weekend in Washington DC ever!
Deciding what to do on your own Washington DC 3 day itinerary can be intimidating as there are so many landmarks, museums, attractions, and neighborhoods in Washington DC to explore. After all, this city has many great historical monuments, our nation's capital, an impressive dining scene, and museums to name just a few.
This travel guide will help you decide what to include on your Washington DC getaway or you can totally borrow this complete Washington DC itinerary and follow it to a T.
Disclaimer: This post contains affiliate links which means we may receive a small commission at no extra cost to you by purchasing or booking through our links.
How to Spend a Weekend in Washington DC
Day 1 of 3 Days in Washington DC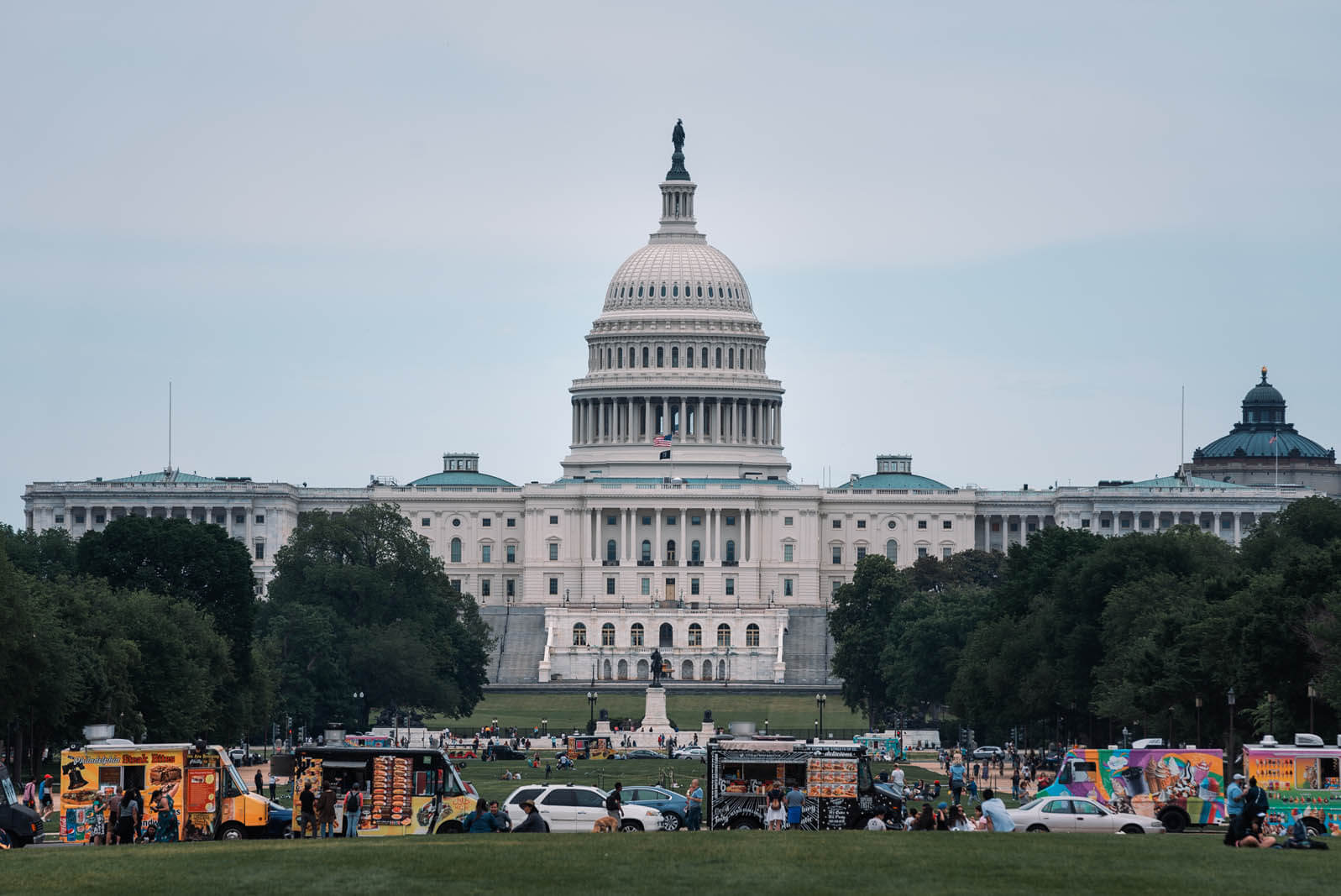 Your first day of your Washington DC weekend trip or 3 days in Washington DC will start off with hitting up all of the most famous landmarks including the government institutions along the National Mall and nearby neighborhoods.
This day on your Washington DC itinerary is totally walkable, but we must warn you that this will be a long day on your feet. Wear comfortable shoes you can walk in all day and schedule in some time to take walking breaks if needed.
Breakfast in Penn Quarter
Before starting off on all these exciting activities be sure to grab breakfast. A great area to do that based on our Washington DC getaway recommendations on this day is to start by getting breakfast in Penn Quarter so you are only a short walk to the National Mall.
Check out Lincoln's Waffle Shop for a classic breakfast menu and sit-down restaurant or if you're looking for something that is more grab and go check out Au Bon Pain for light baked goods, sandwiches, and coffee you can take anywhere to eat at a bench or on the National Mall lawn looking at landmarks like the Capitol or the Washington Monument before continuing on your day.
The National Mall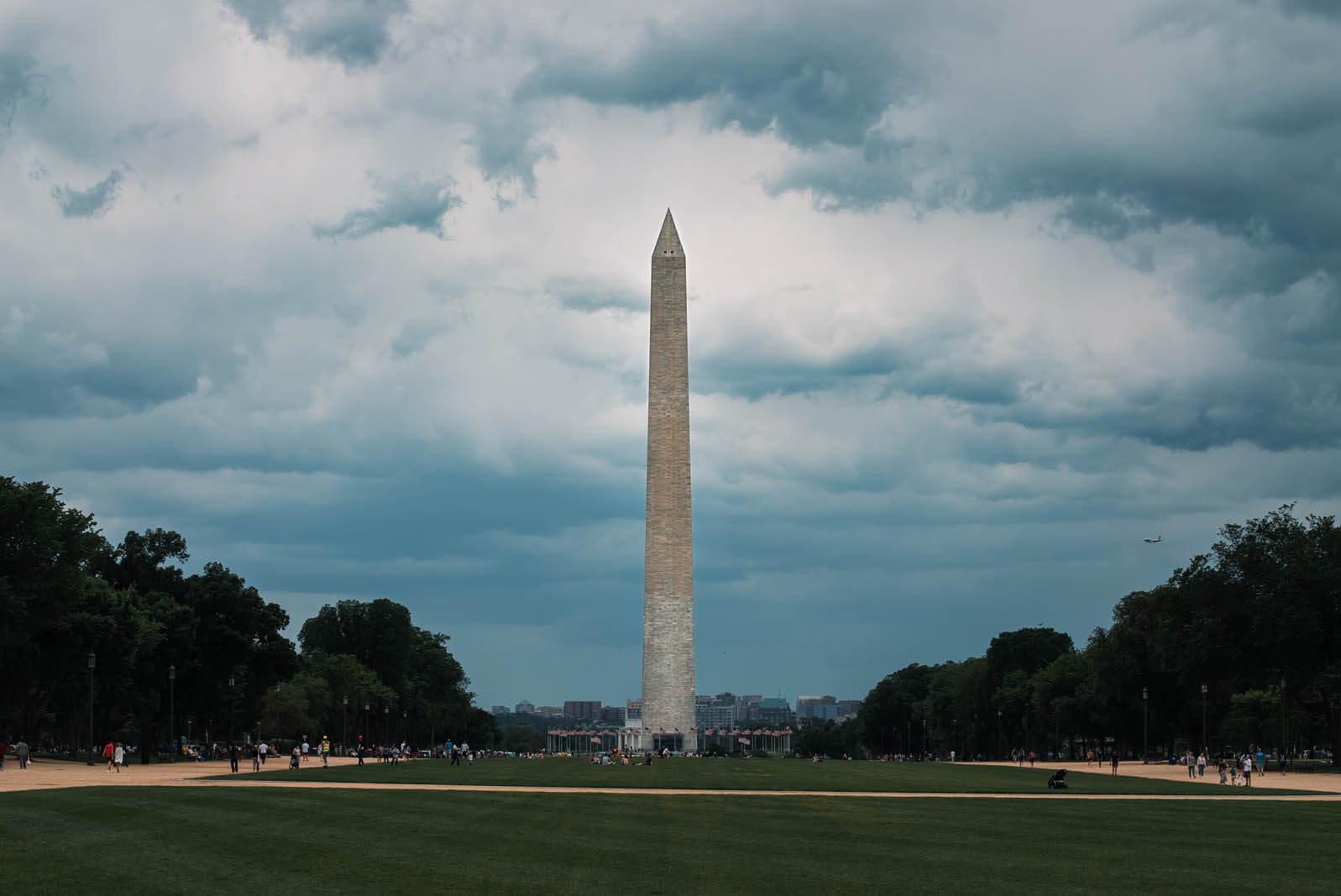 Now that you have breakfast options, start your Washington DC weekend trip or getaway by hitting up the most famous landmarks in the city including government institutions, memorial parks, museums, and the large lawn that spreads from the Lincoln Memorial to the Capitol Building.
You can easily spend a whole day exploring the historic landmarks on the National Mall. We recommend at least taking a walk or grabbing one of the bicycle rentals to get around and at least visit these landmarks on the exterior.
If you want to visit a few, we recommend planning ahead and picking which landmarks you want to prioritize as you could fill up an entire Washington DC getaway in the museums alone!
If you want to try to fit as much in as you can during your 3 days in Washington DC, we recommend just biking around and seeing the places from the exterior making note of which landmarks you want to visit more extensively on a follow-up trip!
Here are a few of the most popular landmarks on the National Mall to choose from to add to your Washington DC itinerary:
One of the most popular things to do during a Washington DC getaway is taking a tour of The Capitol Building. The only option for doing this is by joining a guide-led tour directly from the Capitol. On this tour, you will not only get a chance to see Congress in session, but you will get to visit the National Statuary Hall, Rotunda, and Crypt to name a few highlights.
(NOTE: As of August 2021, this tour is temporarily not available. Keep checking back to see if they open this to tourists before your trip)
The Elipse is another must-see landmark to fit in while exploring the National Mall on your Washington DC 3 day itinerary. This is also known as President's Park South because this area and park are where you can find the White House.
If you're hoping to see the interior of the White House you're going to need to plan at least 3 months in advance by contacting your local Congress representative. The process isn't difficult but does require planning.
Otherwise, you can enjoy the view from the lawn like we did.
The Washington Monument is another famous landmark along the National Mall you can't miss. This giant obelisk penetrates the sky and commemorates the United States' first president, George Washington.
The Lincoln Memorial is also a must-see highlight along the National Mall at the very opposite end of the Capitol commemorating the 16th president of the United States, Abraham Lincoln. This monument is a great place to get photos and if you need a public restroom, they have large facilities here including a place to go the restroom as well as a museum. This is a great spot to also grab a bike to get back to other areas on the National Mall since it's the furthest out.
Technically located in West Potomac Park but is basically still on the National Mall is the Martin Luther King, Jr. Memorial. This memorial commemorates Dr. King and the entire memorial was inspired by his "I Have a Dream" speech.
The Jefferson Memorial is beautiful to photograph commemorating Founding Father, Thomas Jefferson and is also located in West Potomac Park but can be viewed from across the Tidal Basin on your way to the Lincoln Memorial.
Add a nature-inspired activity to your Washington DC itinerary! The Bartholdi Fountain is a monumental public fountain and garden designed by the same man who created The Statue of Liberty! Also known as the fountain of light and water, this tourist attraction has a great view of The Capitol.
There are also several national museums and galleries located along the National Mall. Any visits to these require tickets and we recommend visiting the individual websites to arrange your visit in advance.
Some of the great museums include:
National Museum of American History
Smithsonian National Museum of Natural History
National Gallery of Art Sculpture Garden – be sure to even visit the exterior of this one as there are several cool sculptures in the lawn you can visit without entering
National Museum of the American Indian
Smithsonian National Air and Space Museum
Arthur M. Sackler Gallery
Smithsonian Castle
Smithsonian National Museum of African Art
Smithsonian Arts & Industries Building
Hirshhorn Museum
National Museum of African American History and Culture
By adding any of these landmarks to your Washington DC itinerary, you'll easily be able to fill a day which is why we recommend doing a bit of legwork to see which of these might interest you the most so you can explore some of the other great areas Washington DC has to offer during your trip!
If you get hungry while exploring all there is to see at the National Mall grab a quick bite to eat from the many food trucks and ice cream trucks that park along the National Mall!
Go on a Food Crawl at Eastern Market
After all the sightseeing along the National Mall on the first day of your Washington DC 3 day itinerary might have worked up an appetite, plus adding foodie stops are all a part of planning a perfect itinerary wherever you go.
Eastern Market is a public market in a stunning, historic building. Here, you can find indoor and outdoor food vendors, fresh produce, and deliciously prepared meals. The outdoor markets are available on the weekends and the Indoor Market is open every day of the week except for Mondays.
Whether you're looking for a breakfast, lunch, or dinner spot, Eastern Market will have what you need for a great weekend in Washington DC!
Take a Bus Landmarks Tour
Check off any landmarks you missed earlier in the day and give your legs and feet a break by joining a Hop on Hop Off Bus Tour of Washington DC Landmarks.
This tour provides a drive and stops at some of the best landmarks during your Washington DC getaway! Adding this to your Washington DC itinerary is a great way to see the White House, the National Mall famous monuments, and the educational museums all at once while learning.
There are three different routes to choose from so you can pick the one that stops at the monuments you missed earlier. Book your tour here.
Dinner at Southwest Waterfront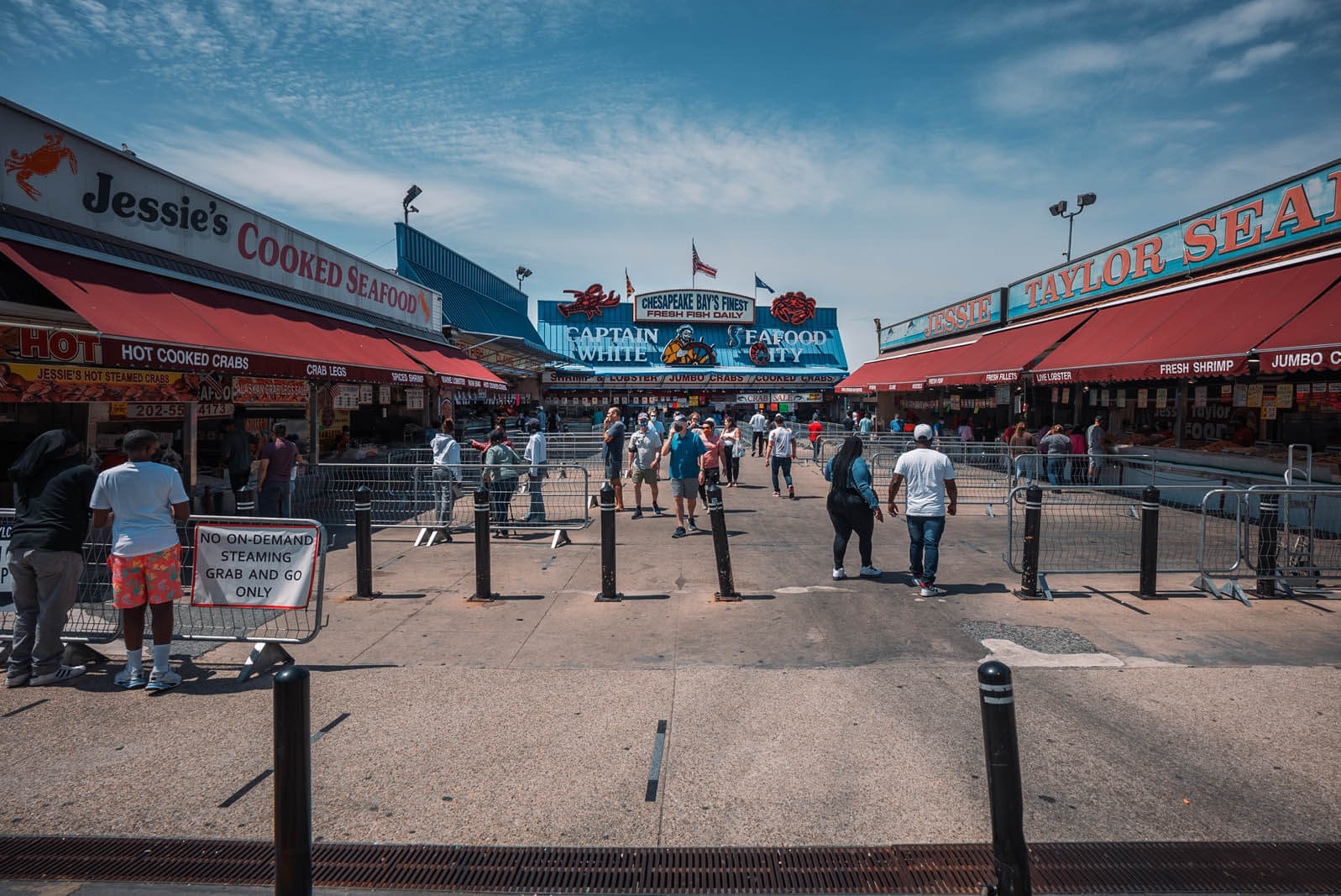 End the first day of your Washington DC itinerary with dinner at the Southwest Waterfront, which is walking distance to everything you've been exploring today!
Southwest Waterfront is a residential neighborhood in Washington DC that is centered around The Potomac River. This neighborhood is known for its Municipal Fish Market and fabulous waterfront dining options!
One of the best ways to end 1 of your 3 days in Washington DC is to have dinner at one of the many waterfront places here.
Rappahannock Oyster Bar is one of the most popular spots here and where we dined. This casual restaurant serves oysters, other types of fresh-caught fish, burgers, alongside a menu of wine, cocktails, and beer.
Its glass-enclosed interior and outdoor seating options make it great for anyone looking to experience the waterfront dining in the area! On a warm day it's fun to sit outside facing the Wharf's fish markets and all the live action that goes on here.
Day 2 of 3 Days in Washington DC
Your second day of your Washington DC weekend trip or 3 days in Washington DC explores some of the beautiful neighborhoods in the city including the oldest neighborhood in the city, Georgetown to culturally rich neighborhoods loaded with history and ties to jazz music like U Street Corridor to see a side of the city beyond the government and national landmarks.
Breakfast at Call Your Mother
Call Your Mother is a famous bagel shop with three locations in Washington DC. This famous bagel shop & deli is a great place to stop for breakfast during your Washington DC getaway! Whether you're craving a bagel, sandwich, or fresh coffee, this place will have what you're looking for plus their Georgetown location is picture-perfect as its candy pink and mint!
Although Call Your Mother Bagel is known for its bagels, this spot is also a popular deli that's great for anyone craving a panini, doughnut, or breakfast sandwich.
We both ordered different things, which were both great but the one that stood out to use the most was The Horizon which has smashed avocado, red onion, jalapeno, and a bit of crunch with Fritos on an everything bagel. We have even recreated this at home since we loved it so much!
Explore Georgetown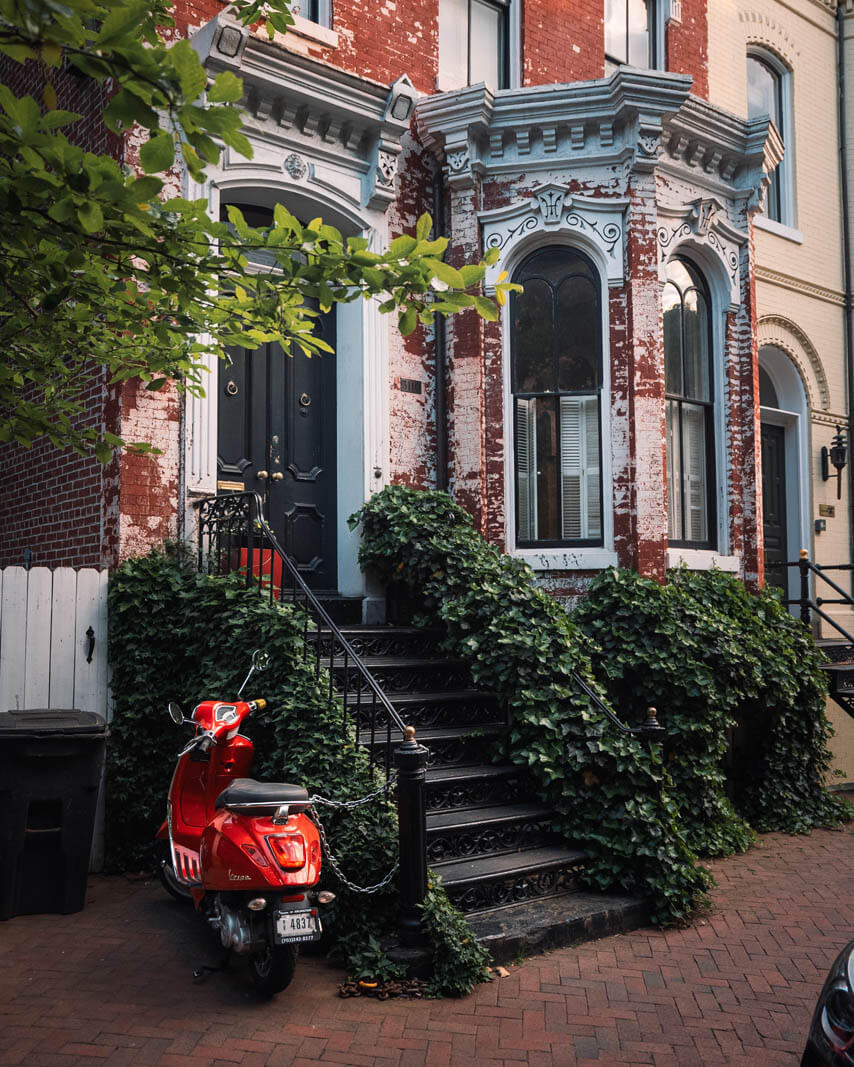 After you're fueled up for your Washington DC itinerary with a delicious bagel from Call Your Mother, we recommend exploring all the best things to do in Georgetown from shopping to strolling the beautiful streets filled with Federal Style era homes and architecture from the years of 1789 to 1825 and Washington DC's oldest building pre-dating the Revolutionary War.
This neighborhood is famous for not only being one of the oldest neighborhoods in the country but being the home to historic figures like Francis Scott Key who wrote the Star-Spangled Banner, to presidents like John F. Kennedy, to famous explorers, journalists, and politicians like John Kerry and Nancy Pelosi.
Schedule a visit and tour at historic homes like Dumbarton Oaks, Tudor Place, and Dumbarton House, or take a self-guided Kennedy walking tour of Georgetown as JFK lived in several homes in the neighborhood throughout his lifetime.
The Old Stone House, a museum and historic site that's the oldest unchanged building in the city, dating back before the Revolutionary War to 1765.
For shopping, explore around M Street NW and Wisconsin Avenue. Don't miss Cady's Alley either which is a narrow, hidden alcove filled with shops that can be found down a flight of stairs off of a brick archway off of M Street.
Walk along the C&O Canal or head down to the Potomac Riverfront where you can rent kayaks, sit by the water with lunch, take a break, or join a scenic Potomac River Cruise departing from Georgetown that passes historic monuments along the river all the way to Old Town Alexandria. There are different tour options available ranging from 45 minutes up to 4 hours with options for one-way tickets or round-trip tickets.
While you're here you will want to break your day on your Washington DC weekend trip up by having lunch at any of the many incredible restaurants including Martin's Tavern, the oldest family-owned restaurant in DC and where John F. Kennedy allegedly proposed to Jacqueline Bouvier as well has other US presidents being regular patrons here. Guests can request the 'proposal booth' to enjoy the tavern's American-fare menu.
Another great option includes Church Hall a cool, laidback beer hall and restaurant overlooking the C&O Canal offering great brews and popular bar food like wings.
Explore Adams Morgan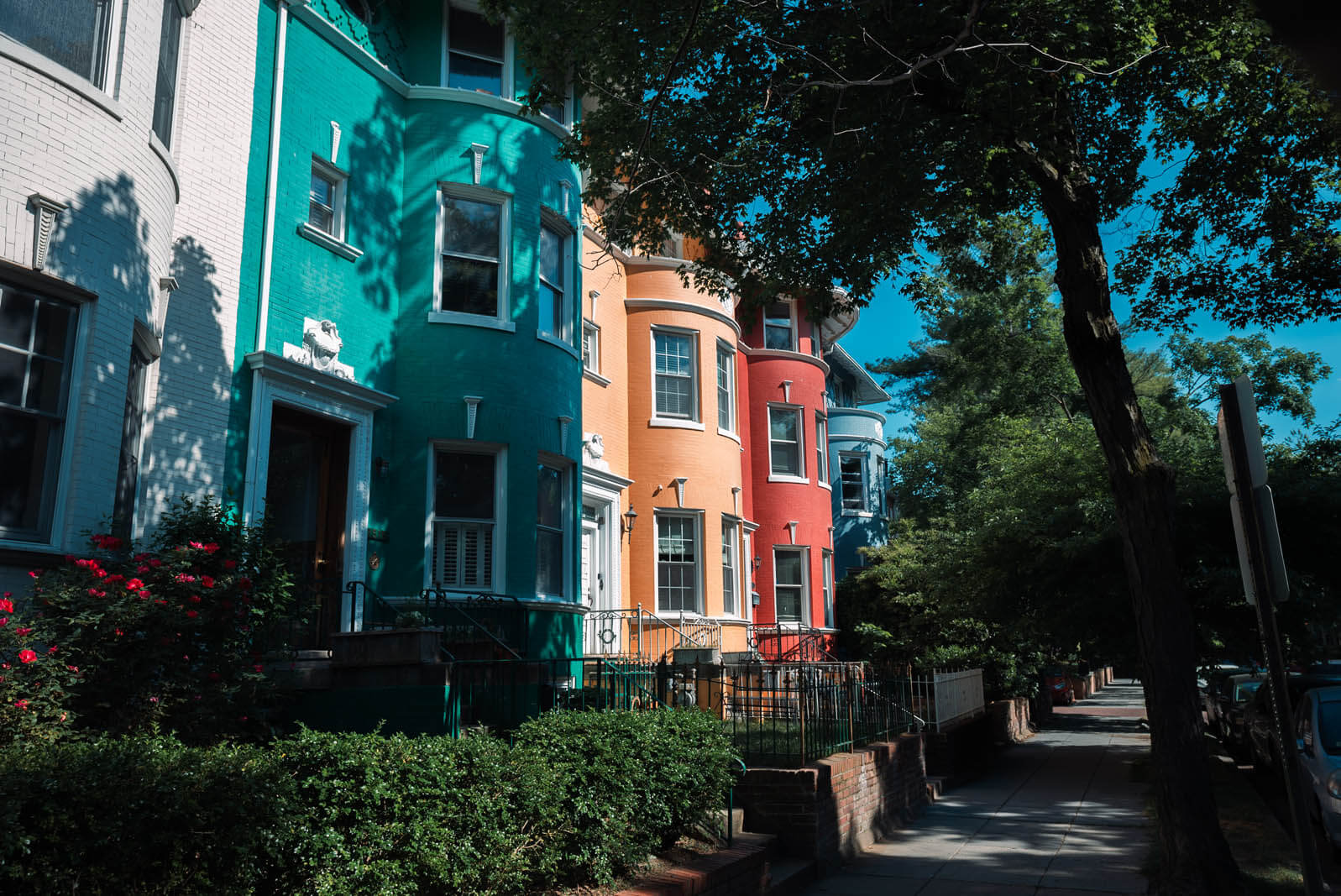 Another fun area to explore and where we recommend heading to after you've had your fun and lunch at Georgetown is Adams Morgan. This is too far to walk, so we recommend using public transportation or ordering a rideshare car from an app like Uber or Lyft to continue your Washington DC itinerary.
We recommend taking time to explore this neighborhood which has beautiful brick row houses, street art, and more dining and drinking options from artisan cafes to nightclubs that go off in the evenings.
Most of the businesses, whether it be shops, restaurants, or bars are located along 18th Street. We thought it was fun to take a detour every now and then down a pretty residential street to peek at the beautiful architecture that fills this neighborhood.
If you need a walking or foot break, you can visit one of the many parks in the neighborhood too. The most popular parks in this area are Rose Park, Mitchell Park, and P Street Beach Park, to name a few.
If you're looking to learn more about the history of this area, walk along the Adams Morgan Heritage Trail which is identified with historic signs that trace the past of this neighborhood's culturally diverse history from the meaning of the name of the neighborhood which is tied to school desegregation and history of the neighborhood tied to presidents, Native Americans, immigrants, activists, and creatives likes poets and authors.
Spend the Evening in U Street Corridor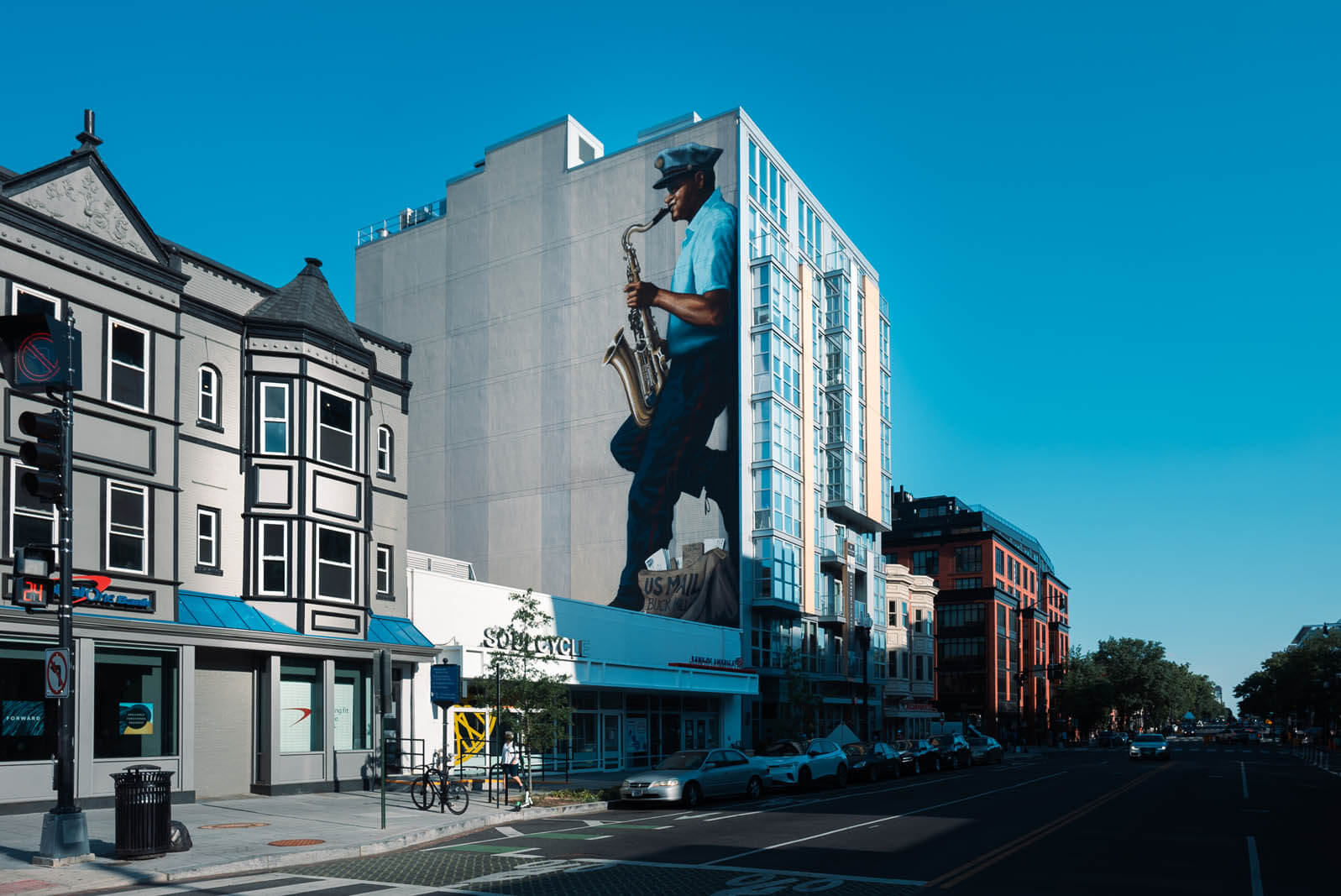 After exploring Adams Morgan, continue walking to U Street Corridor, one of the most popular and culturally rich neighborhoods in the city and home to 'Black Broadway' during the peak of the Jazz music era in the 20s and 30s. This neighborhood is home to legendary jazz musician Duke Ellington along with other artists like Ella Fitzgerald and Nat King Cole. Other creatives who contributed to the arts and culture scene here also include poet Langston Hughes.
This neighborhood continues to be one of the best for nightlife which is why we are suggesting you stay here for dinner and any after-dinner cocktails or partying on your Washington DC weekend trip.
Be sure to take a walk through the neighborhood admiring murals paying homage to legends from here and if you want a quick bite to eat for dinner don't miss Ben's Chili Bowl, one of the oldest places to grab a bite to eat in the area where Duke Ellington, Miles Davis, and even Barack Obama have all been patrons of!
If you prefer a sitdown meal, head to Busboys and Poets. This restaurant pays homage to Langston Hughes who worked as a busboy at the Wardman Park Hotel in the 30s before becoming famous. This restaurant and shop is centered around creative thinkers, artists, social activism, and the community which has received a positive reception from not only this historic community but a popular spot among other creatives, writers, and celebrity clientele.
There are also great Ethiopian restaurants in the neighborhood, which this neighborhood was known as being Little Ethiopia. If you're looking for one spot in particular to try, Dukem Restaurant is one of the most popular!
Spending a weekend in Washington DC wouldn't be complete with out catching a live jazz performance in U Street Corridor. Check out the shows at Jojo Restaurant & Bar and Twins Jazz for live performances during your 3 days in Washington DC.
Another great way to learn more about this must-see neighborhood on your Washington DC getaway is by joining the African American History Walking Tour of U Street Corridor. On this tour you'll learn all about Black Broadway and the history of the communities who have lived here stopping at the neighborhood's best highlights along the way!
We recommend booking the tour in advance and planning to do this before dining and a jazz show or performance as your nightcap to your day 2 of 3 days in Washington DC itinerary!
Day 3 of 3 Days in Washington DC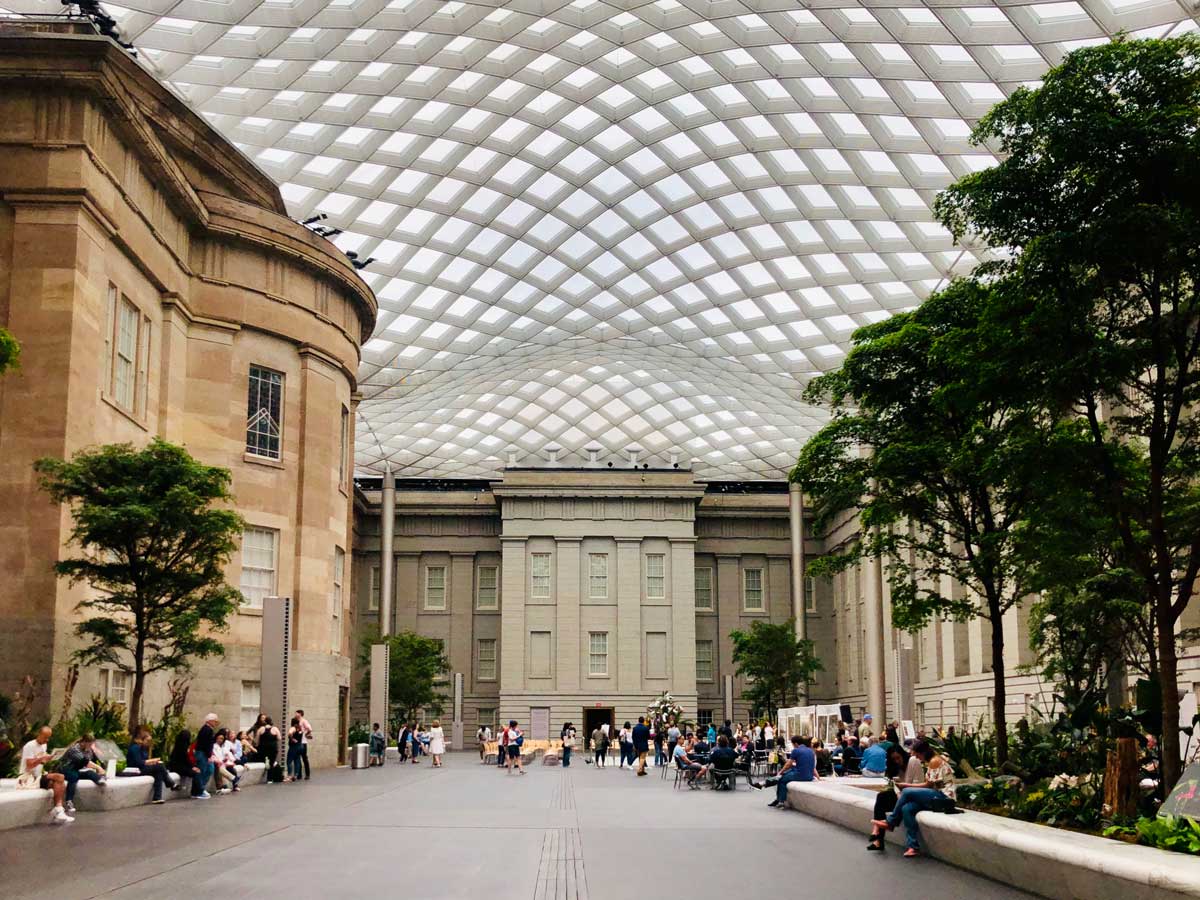 Our final day of our Washington DC 3 day itinerary has you hopping all over the city to check out more of the best neighborhoods to explore on a Washington DC weekend trip including historic landmarks and foodie hotspots.
To get between each of these neighborhoods you'll want to use public transportation or rideshare apps as they are too far to walk. Trust us, its worth it!
Spend the Morning Around Penn Quarter & Chinatown
You may have had breakfast here on the first day of your Washington DC itinerary, but now you're getting the opportunity to explore some of the best things to do in this area on the final day of your Washington DC getaway.
Penn Quarter and Chinatown are some of the most high-energy, central areas in Washington DC. This area known for its collection of extensive art galleries and fascinating museums not to mention famous landmarks.
Ford's Theater, the location where 16th president, Abraham Lincoln was assassinated while attending a show at the theater, Our American Cousin on April 14, 1865. You can join a tour to learn all about the theater and its history along with the monumental and tragic historical event that took place here.
Nearby Ford's Theater is The National Portrait Gallery which is a Smithsonian Institution. This historic art museum is almost always open to the public and is one of the best things to do during a Washington DC getaway. Here, you'll find portraits of the most famous people throughout American history including the Hall of Presidents where you can find the only completed collection of portraits of all the US Presidents.
After finishing up at The National Portrait Gallery, head to The Smithsonian American Art Museum to learn more about American history. Here, you can view one of the most extensive art collections globally that includes art from the colonial period up until the present.
Lunch at La Cosecha or Union Market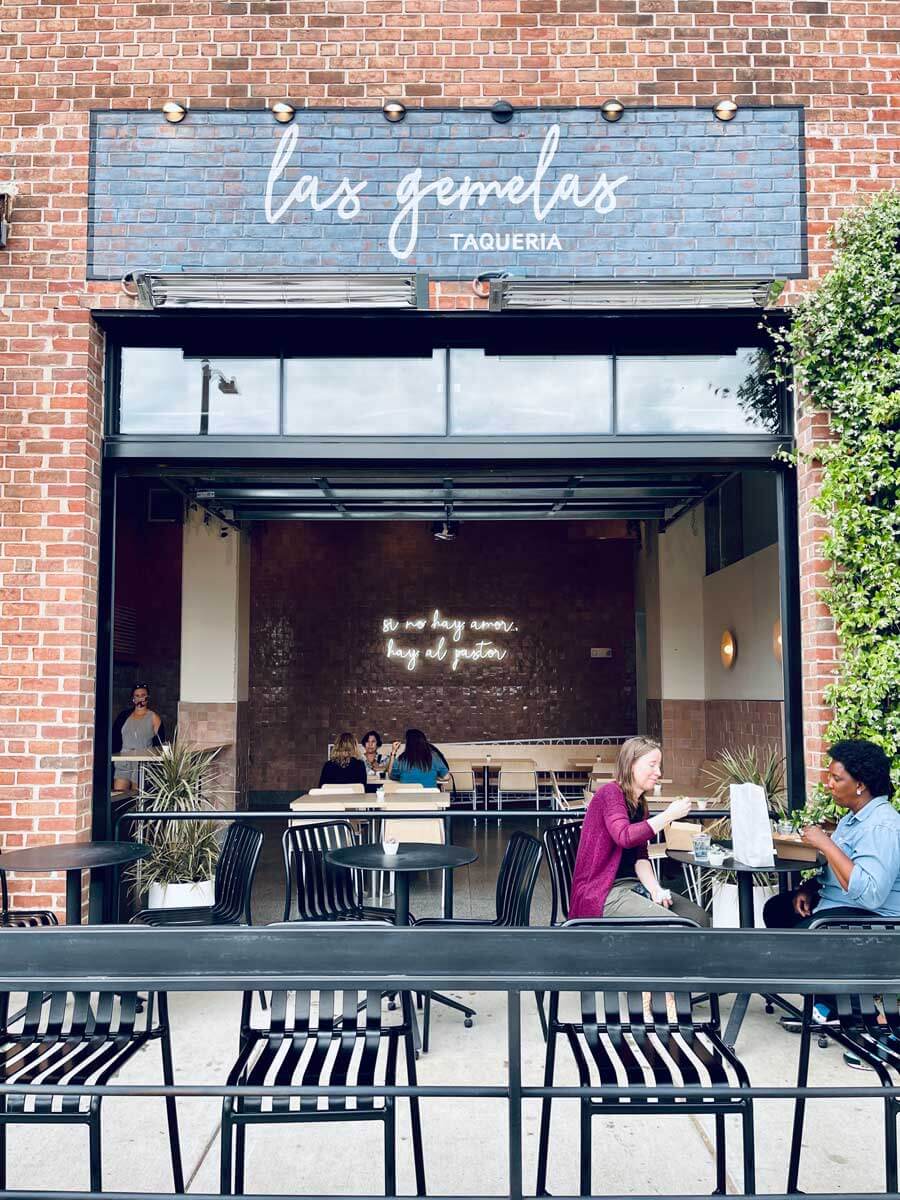 After finishing up your exploring around Penn Quarter and Chinatown we recommend saving room for lunch until you can get to La Cosecha in NoMa. Getting over here on your weekend in Washington DC will require using public transportation or calling a rideshare app since its not really walking distance, but worth getting over here!
La Cosecha is a Latin American marketplace with various merchants that celebrates centuries of heritage. Here, you can find many coffee shops, bars, and restaurants! Check out Serenata, a Colombian restaurant with great cocktails that has a Michelin star.
Or try Taqueria Las Gamelas or Las Gamelas Cocina Mexicana, a Oaxacan eatery with two outposts withini LaCosecha. One is a taqueria and the other is more of a sitdown restaurant.
Another option for lunch would be to head over to Union Market, which is just steps away from La Cosecha. Union Market is one of the most famous foodie landmarks in the city. This food hall has everything from a rooftop bar, eateries, and shops where you can get local items or home furnishings.
This feasting ground's most popular dining spots include St. Anselm, brought to you by a Top Chef competitor, and 2Fifty's. Or if you ate ate La Cosecha, head over to the Hi-Lawn rooftop bar for a post-lunch drink and break.
Tour The National Deaf Life Gallaudet University Museum
Located near La Cosecha in the Union Market neighborhood is the first school and advanced education center for the deaf and hard of hearing community at Gallaudet University.
The National Deaf Life Museum promotes education about the deaf experience and shares cultural information about various neighborhoods in Washington DC. Here, you can view films, artifacts, and portraits that will educate you about the area and the deaf experience. You'll also learn more about Gallaudet University and how it came to life in Washington DC.
Head to H Street Corridor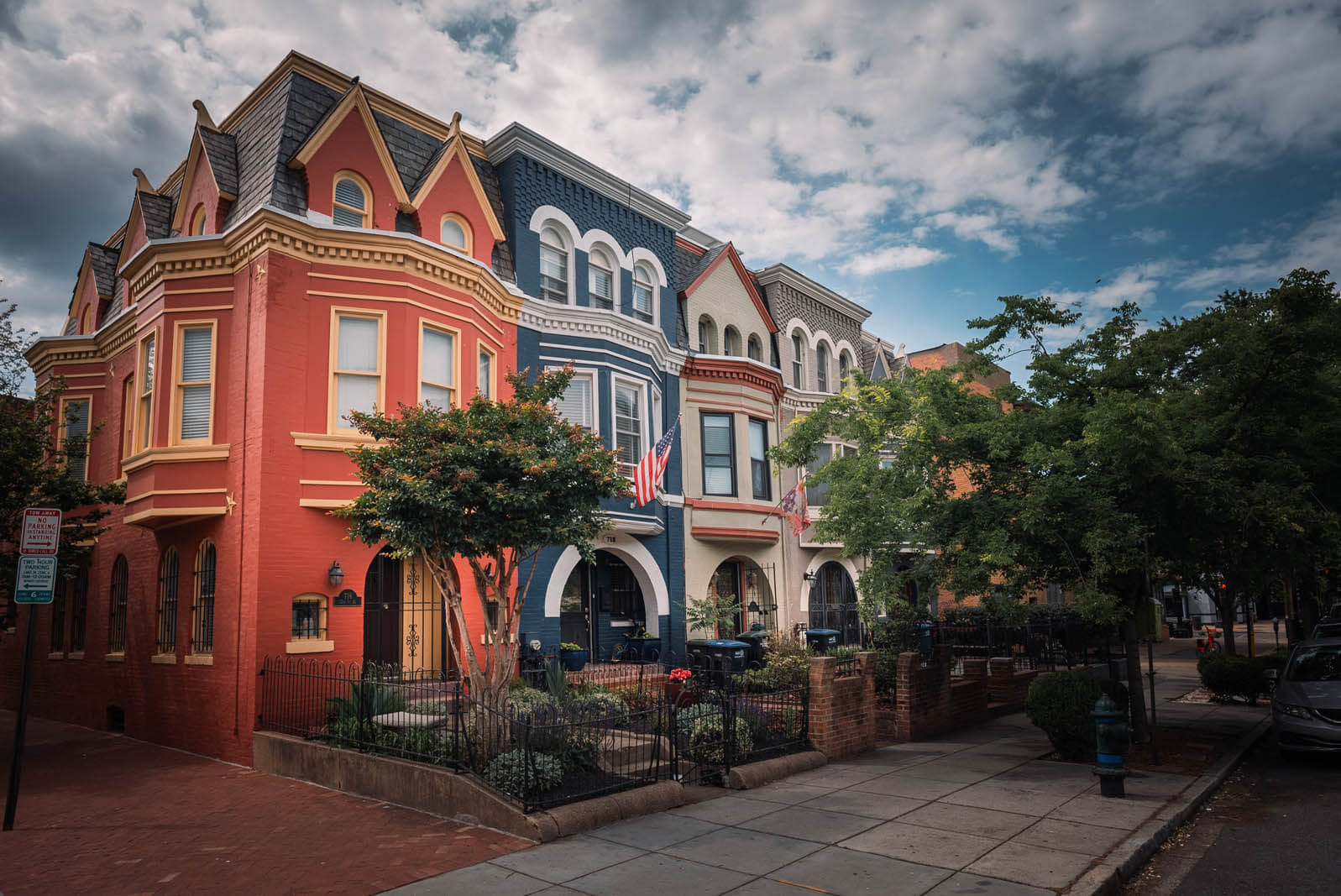 Another neighborhood worthy of spending time in during your Washington DC getaway is H Street Corridor. This neighborhood is known for not only its foodie scene but its great nightlife and even shopping.
Be sure to also see if the Atlas Performing Arts Center has anything happening during your visit, this historic theater has been putting on performances since the 1930s.
Check out some of the beautiful homes in the neighborhood by taking a stroll around streets like Linden Pl and Wylie St. Along the way you'll also be greeted with colorful murals.
Enjoy dinner at Maketto, a Cambodian and Thai restaurant, cafe, and retail space with many great options for areas to dine from the interior, outdoor garden, to outdoor patio. This food and fashion combo is really a unique concept space and they serve incredible food and great cocktails.
This neighborhood is also known for its excellent nightlife and bars. Kitsuen is a popular ramen stop but they also are known for their great nightlife and cocktails located very close to to Maketto. Bar Elena is a low-key bar with a mini arcade that's a fun stop to grab drinks and Hill Prince offers cocktails and drinks at this historic century-old carriage house turned bar.
Extra time on your Weekend in Washington DC?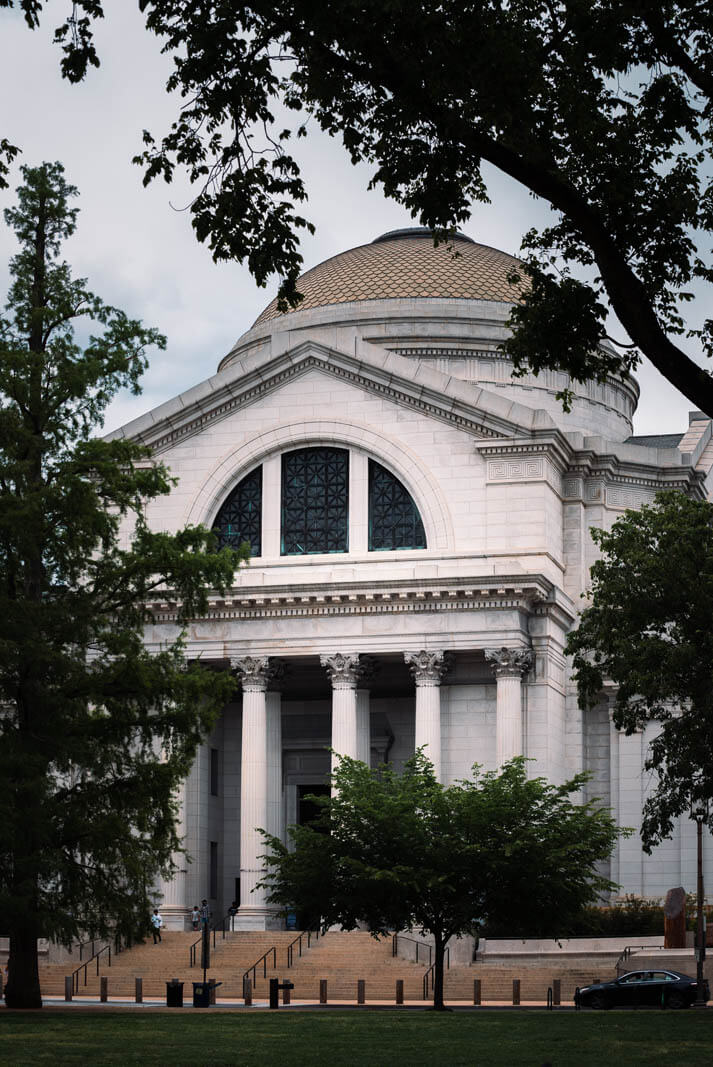 Do you have more time than 3 days in Washington DC? Or perhaps you're looking for some alternative attractions to substitute out for some that we mentioned earlier in this guide. Here are some other great options for exploring the city and the best landmarks and attractions during your Washington DC getaway.
Walk Along The Tidal Basin
The Tidal Basin is a large pond in Washington DC that used to be attached to The Potomac River that is next to the National Mall. if you didn't get a chance to visit on your day exploring the historic and national landmarks here this is a great opportunity to spend time around the beautiful Tidal Basin.
This area is great for anyone that wants to walk, scooter, or bike while seeing the city's most famous landmarks including the Jefferson Memorial, Franklin Delano Roosevelt Memorial, and Martin Luther King Jr. Memorial to name a few of the most significant.
You can also rent paddle boats here and explore this by water! This is also a gorgeous time to come if you happen to time your Washington DC trip around cherry blossom season.
Tour The International Spy Museum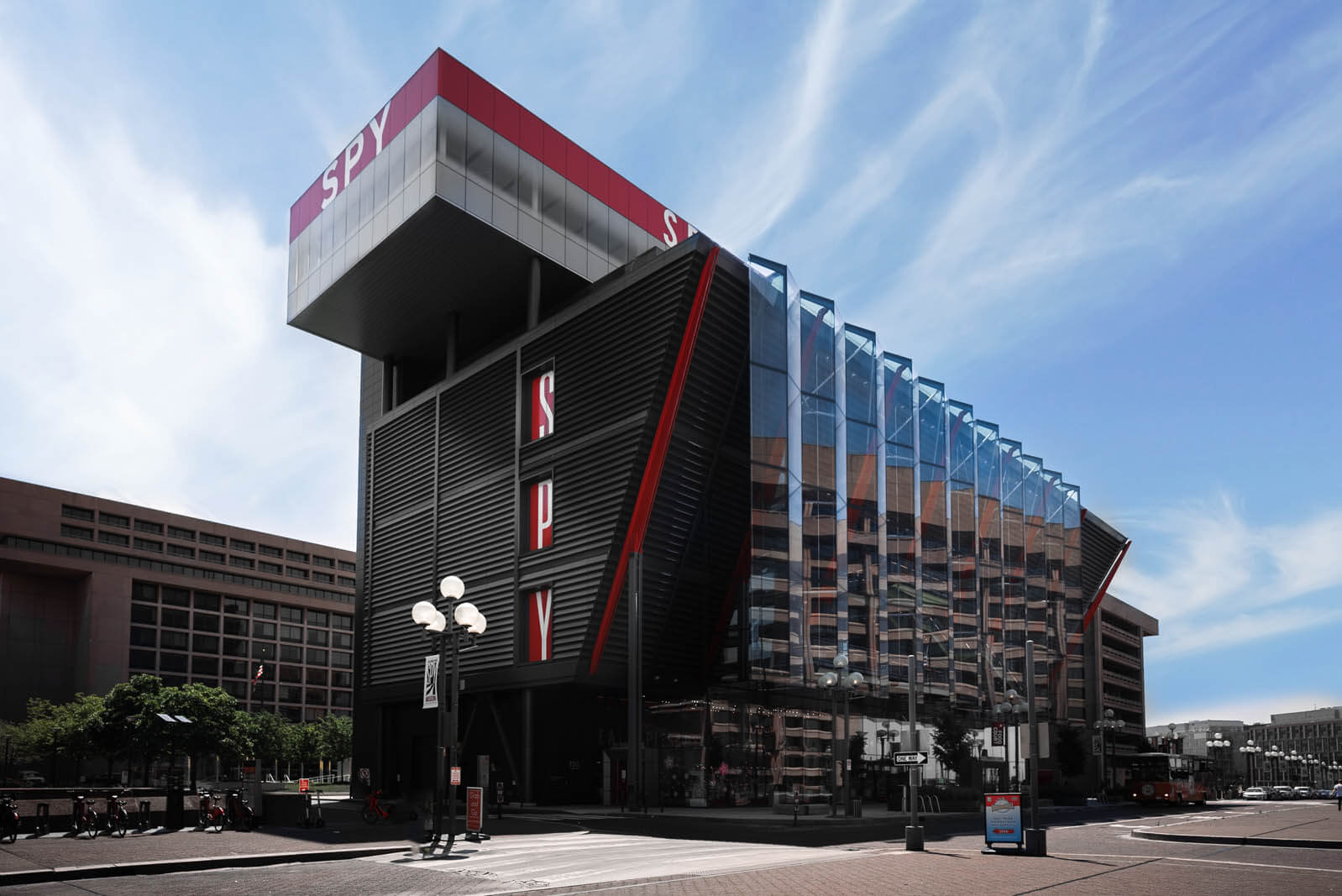 If you have more to add to your Washington DC itinerary, consider The International Spy Museum! Here, you can view the world's largest collection of espionage artifacts. You can also immerse yourself in interactive technology and learn more about the role that intelligence has played in the history of America as well as espionage around the world.
We were actually so surprised with this as we thought it would be fun but assumed this museum is just for kids. While kids would absolutely love this, as adults we were blown away! You can easily spend an entire afternoon here too if you're very interested in the history of spies.
During your visit you will get an alias and be sent on missions to complete as a spy while learning through the interactive exhibits. 10/10 recommend! Book your tickets in advance.
United States National Arboretum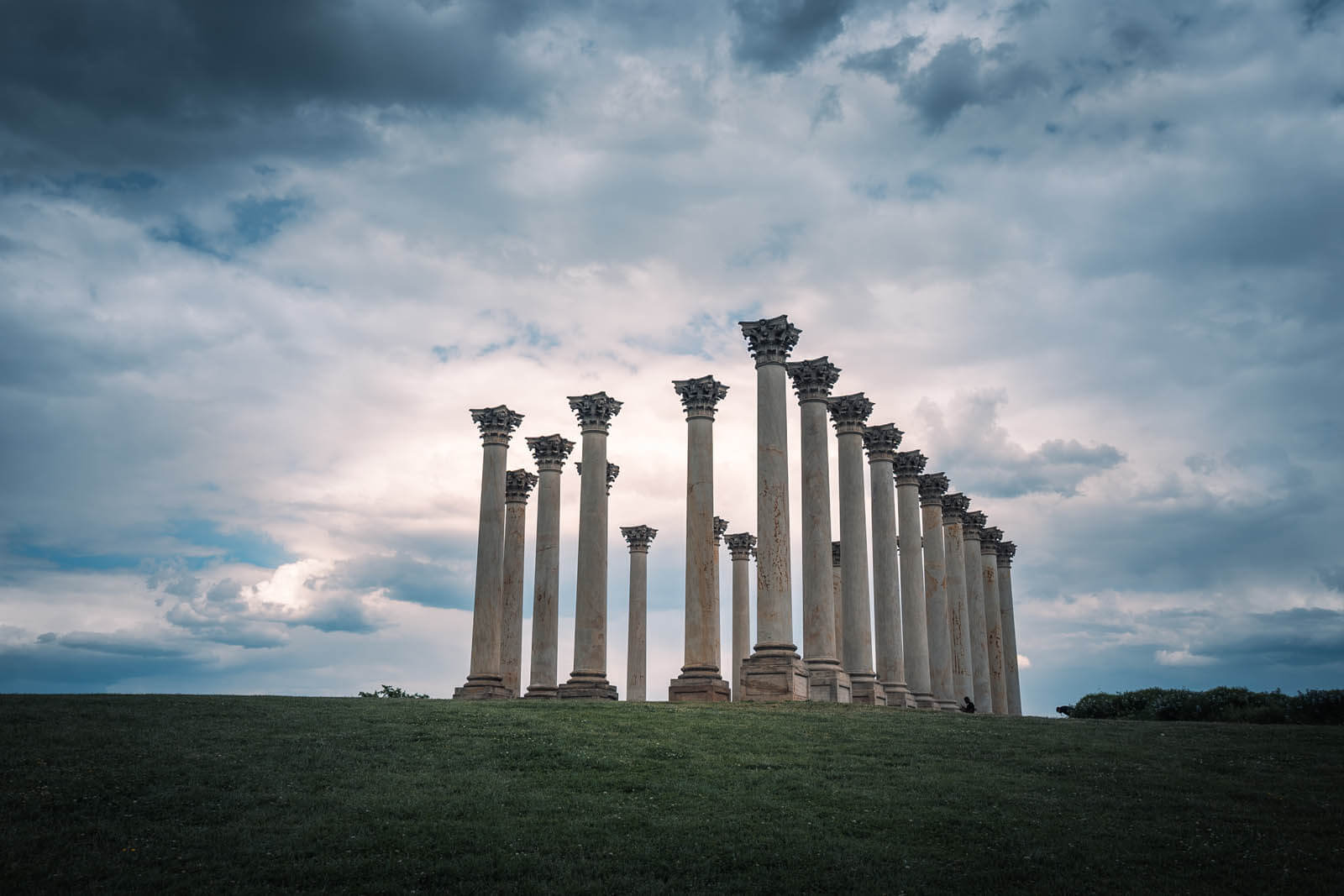 If you're traveling in a car on your Washington DC weekend trip, consider visiting The United States National Arboretum, or honestly, you could do this via a rideshare app too as long as you come prepared with a picnic so you can spend a morning or afternoon exploring the impressive National Arboretum.
This hot spot is located in northeast Washington DC and is excellent for large families, children, people looking for a scenic walk, or those looking for a place to picnic. Here, you can check out a large garden, picnic area, and educational museum run by The U.S. Department of Agriculture's Agricultural Research Department.
This area is LARGE and we highly recommend going to see the Old Capitol Columns, which were relocated here and the actual columns on the Capitol building from 1828-1958 and the same columns that served as a backdrop for many Presidential inaugurations. The Capitol dome was completed in 1866, the designer felt that the columns were inadequate compared to the size of the dome so they 'corrected' the visual illusion in 1958 and that's when they were removed.
It wasn't until the 1980s though that the columns were brought here to enjoy by the public at the Ellipse Meadow. There are actually two columns missing because they were badly damaged, they are actually on display at the Arboretum's Azalea Collection.
Visit Mount Vernon
Another great way to spend your 3 days in Washington DC is to visit Mount Vernon. This is the former estate of first president, George Washington, and his wife Martha. Allowing the public to visit the grounds here is actually over 2 centuries tradition started by George Washington himself as he was inviting of those to come see the gardens and grounds themselves.
On your visit you can tour the grounds, which serves as an open-air museum, and join a guided tour of his home, head down to the waterfront, and visit the museum which houses his highly controversial teeth which are not made of wood. This site does recognize its history of enslaved people and has a monument for those who lost their lives as well as sharing information about what life was like for the enslaved workers.
Located 13 miles south of Washington DC, this historic landmark is best visited by car or by joining a tour. On this narrated tour you get to visit Mount Vernon by cruising along the Potomac River from Alexandria.
Take a scenic cruise
Complete your Washington DC 3 day itinerary by enjoying a gourmet brunch or dinner on this Odyssey cruise. By dining aboard this unique boat, you'll be able to experience fine dining while getting a great view of the city's most famous spots!
You'll also have your own private table where you can enjoy these views with a 3-course meal and relaxing music. This activity is great for couples looking for a romantic weekend in Washington DC. Book here.
Where to Stay in Washington DC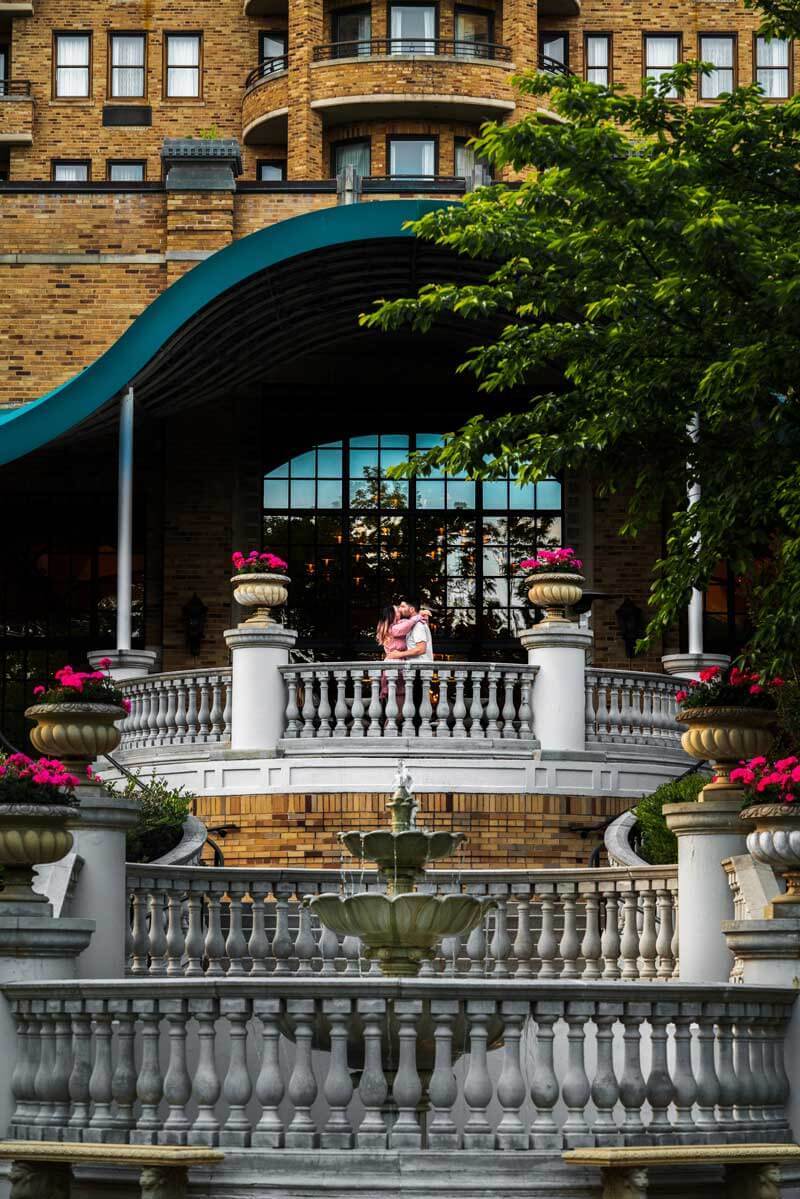 Looking for the perfect place to stay during your Washington DC weekend trip? We've got you covered there too! Check out some of our suggested stays during your getaway.
$$ Grand Hyatt Washington this hotel is conveniently located in Penn Quarter and is steps away from the famous historic attractions in DC including the National Mall, White House, and museums. The hotel features sleek, modern rooms and the hotel features amenities including a hip bar and a gorgeous indoor atrium pool to name a few. Book here | Compare Rates
$$ Omni Shoreham Hotel is a great choice that's located in Woodley Park which neighbors Georgetown, one of the most attractive neighborhoods to visit in the city and is separated by Rock Creek.
This historic hotel is where we stayed on our DC visit and loved the beautiful property that also was the location of many presidential inaugural balls and was where the Beatles stayed during their American debut! The property also as a gorgeous pool, spa, and lobby. Book here | Compare Rates
$$$ The Ritz Carlton Georgetown this gorgeous 5-star property offers luxury rooms with options to upgrade to living suites with kitchenettes and living spaces. Guests love the amenities such as the luxe spa, beautiful garden space, and terrace plus this hotel is located in the gorgeous neighborhood of Georgetown. Book here | Compare Rates
---
Enjoyed this Washington DC 3 day itinerary full of suggestions on how to spend your trip? Consider bookmarking for later or share the love below on Pinterest! Have a great 3 days in Washington DC!