Amsterdam is an enchanting coastal city where narrow Medieval homes line winding canals. It's the perfect place for ANYONE to visit given the welcoming Dutch spirit and culture of tolerance. Whatever you may be into, you'll surely find it in Amsterdam. This 3 Days in Amsterdam itinerary includes all the top tourist attractions, restaurant recommendations & insider tips.
On day 1 in Amsterdam, you'll explore city center and take a boat ride through the canals. During day 2, you'll visit the Anne Frank House, the Amsterdam Botanical Garden and Prinseneiland. Finally, you'll finish on day 3 with a free walking tour and a bike ride through Vondelpark.
Check out this guide for what to do in Amsterdam in 3 days and the perfect Amsterdam itinerary to help you plan your trip.
Consider getting an Amsterdam City Card during your 3 days in Amsterdam that includes all public transportation, entrance to many of the city's attractions, and discounts at other attractions, restaurants, and cafes. Get your Amsterdam City Card here.
Also, check out how to spend two days in Amsterdam in this wheelchair-accessible guide by Cory Lee.
Table of Contents
Day 1 of 3 days in Amsterdam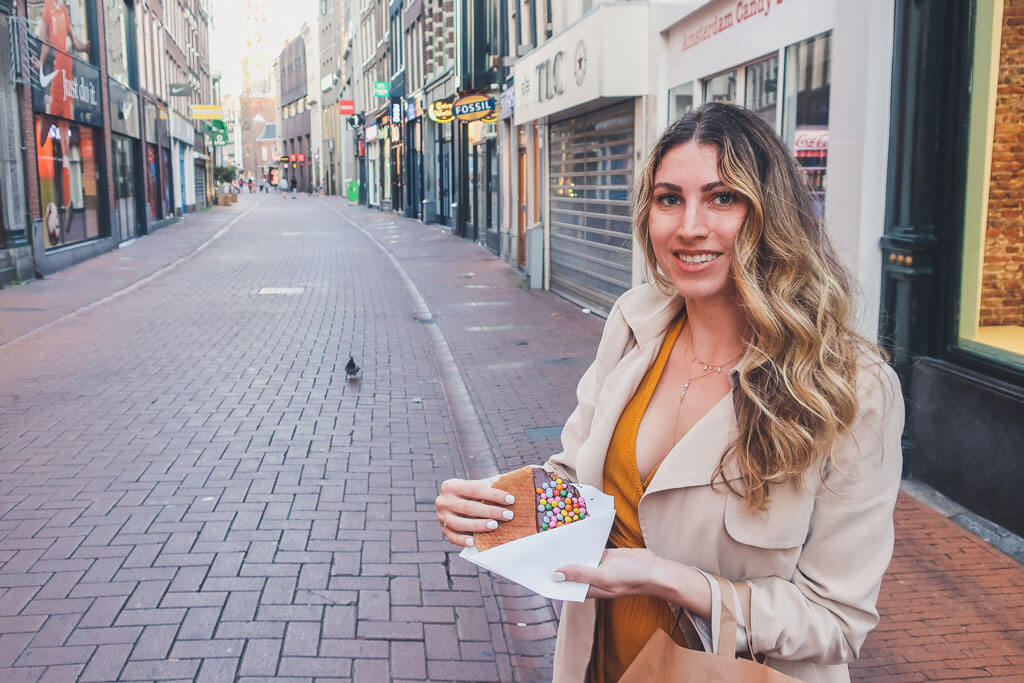 Morning/Early Afternoon
Start your first of 3 days in Amsterdam with Dutch pancakes! The best place to go is the Pancake Bakery. You'll notice a huge line extending out the door of this place. It's that good! Your coffee here will come with a mini Stroopwafel for dipping. Mmm
After your delicious breakfast, head to Dam Square. This is the heart of Amsterdam! It's also the place Amsterdam was named after. It's the historic location of the Dam built to partition off the Amstel River. Eventually, "Amstelredamme" became "Amsterdam."
In Dam Square, there are a few important buildings. You'll notice the dramatic Royal Palace of Amsterdam. This palace is still the official reception palace for the Dutch royal family. When it's not in use by the King and Queen, it is open to visitors as a museum and you can get your skip the line tickets in advance here.
The second important building in Dam Square is the New Church. Not actually very new since it was built in the 15th century, but new in the sense that it was built after Amsterdam's Old Church which you'll see later on this Amsterdam itinerary. This is a stunning Gothic church that has been beautifully restored and is a must visit on your Amsterdam itinerary.
For a lighter afternoon activity, consider this a great time to go shopping. Walk south along Kalverstraat from Dam Square. You'll hit all the best European labels like Bershka, Pull & Bear, Stradivarius, and Mango.
For vintage shops & luxury designers, head to the 9 Streets. It's only a short walk from Dam Square. At 9 Streets, you'll find the iconic Dutch designer Scotch & Soda.
While you're at 9 Streets, get a stroopwafel from Van Wonderen. They make fresh, chocolate covered, candy dipped Stroopwafel creations! These are the most Instagram worthy stroopwafels in Amsterdam! Speaking of, Stroopwafels are a MUST in any Amsterdam itinerary.
Late Afternoon/Evening
In the afternoon on the first day of your 3 days in Amsterdam, you've got to go to Reypenaer for wine and cheese tasting run by a family who has been making Dutch cheese for generations. Reserve your wine and cheese tasting in advance.
During the tasting, you'll learn about their tried and true cheesemaking process. You'll also sample their incredible Gouda, paired with carefully selected (unlimited) wine!
Next up on your Amsterdam itinerary, head to Foodhallen. You can't miss this place if you've got 3 days in Amsterdam! It's an indoor food market with rotating vendors, live music and casual communal seating.
Make sure to save room for dessert at Easy Times Coffeeshop to grab a cosmic brownie. Of course, if you're into this kind of thing and trying an edible dessert infused with marijuana.
If you decide to go another direction on your Amsterdam itinerary then try out a canal boat. Rent your own boat in advance from Mokum (Nassaukade 351) or join an evening canal cruise.
If you plan on doing your own rental be sure to book in advance, as boats can quickly sell out on nice days. Head onto the water as the sun is setting. This is one of the most romantic things to do in Amsterdam for couples.
If you're doing your own boat from Mokkum be sure to wind your way north through Prinsengracht, south on Keizersgracht, north on Herengracht and south on Singel. There are the most scenic canals where you'll find the prettiest homes!
After, head to Leidseplein Square to check out the local nightlife. There's plenty of bars, restaurants, street performers, shopping and entertainment. If you are looking for a classier experience with a clubbier vibe, check out the W Amsterdam Rooftop before resting up for your next day in your Amsterdam itinerary.
Day 2 of 3 Days in Amsterdam
Morning/Early Afternoon
Start your day 2 of 3 days in Amsterdam by visiting the Anne Frank house. This small unforgettable museum is one of the most visited attractions in Amsterdam.
In fact, it can be quite a challenge to procure tickets. You may need to book up to 2 months in advance to secure a spot. If you aren't lucky enough to secure tickets in advance, a limited number will are released each day for same-day admission. Be sure to get the 5 euro presentation add-on. It was an excellent emotional introduction to 'the Secret Annex.'
If you aren't so fortunate to get tickets to the Anne Frank House, don't worry. You can still do a Jewish Cultural Quarter walking tour with a guide and get some of the great history of the area including Anne Frank.
There's also the Amsterdam Museum. This is another excellent museum that takes you through Amsterdam's unique history. From the Dutch East India Company to mainstream marijuana.
After your morning museum experiences, head to Amsterdam's Beginjnhof a hidden courtyard with pretty homes, quaint gardens, and religious statues. Just a warning, this place can be quite the challenge to find but that's part of the adventure.
Grab lunch in Lion Noir's stunning outdoor garden. This French restaurant radiates chic. Grab a stroopwafel at Van Stapele Koekmakerij for dessert before heading out to the rest of your Amsterdam itinerary activities.
Late Afternoon/Evening
This afternoon, your 3 days in Amsterdam itinerary will take you on a long walk. Make sure you have comfortable travel shoes on!
First, head to the Bloemenmarket. You can purchase tulip bulbs here to bring home as souvenirs. They make excellent gifts for mom or anyone who's a fan of flowers in your life.
Continue on to "Dancing Houses." These houses look lopsided because they are! Notice their uneven roofs. This is because Amsterdam is sinking into the mud! The canal houses were built on wooden poles hundreds of years ago.
After stroll on over to the Amsterdam Botanical Garden. It's famously known for being one of the oldest botanical gardens in Europe! The palm greenhouse is a national monument and it was designed in the late 19-century. There's also a charming butterfly garden here not to mention one of the most romantic places in Amsterdam to take a stroll!
Finally, check out the Micropia Museum. This is one of the most unique museums in Amsterdam! It features microbes and future technology. A MUST for anyone who loves science! Skip the lines by getting this ticket in advance.
All this walking might work up an appetite, we recommend getting an afternoon snack at I Jscuypje Plantage for delicious ice cream.
In the evening, have dinner at Café Binnenvisser. It's the perfect place for authentic Dutch food in an elegant setting. Leave room for famous Dutch apple pie for dessert at our last stop on this day 2 Amsterdam itinerary.
The best place to eat Dutch apple pie is Winkel 43. It's a 20-minute walk from the restaurant which gives you enough time to prepare for more food!
Day 3 of 3 Days in Amsterdam
Morning/Early Afternoon
On the last of your 3 days in Amsterdam, head to Omelegg City Center for a hearty breakfast. It's open as early as 7 am, so you can get a head start on your final day exploring this Amsterdam itinerary!
After breakfast, head to Amsterdam's Old Church. Be sure to climb the tower while you're here. During our visit, the tower was being restored. If this happens to you, don't worry. There is also a tower you can climb at the West Church. Most of the buildings in Amsterdam are so short, these towers will give you a phenomenal aerial view of the city.
After, meet your guide for your FreeDam Tour! Make sure to sign up for this tour in advance. FreeDam is the best rated walking tour company in Amsterdam, and the tours are free! Tips are given based on your discretion.
You'll get to walk through the city, learn about history and culture. Our guide was very knowledgeable and engaging. It's one of the best ways to get to know Amsterdam.
Late Afternoon/Evening
On the afternoon of your 3 days in Amsterdam, you'll have to do as the Dutch do. That means— rent a bicycle!
Try out Black Bikes. Black Bikes doesn't take reservations, but they have many convenient locations and they never run out of bikes!
Take your bike for a spin through Vondelpark. This is Holland's most visited park and it's huge, so you really must have a bike to explore a good chunk of it.
Be sure to check if there are any free concerts or other events going on in the park. Also, have a bite at Vondelpark's Blue Tea House. Sit in the quaint outdoor patio and try one of the locally brewed beers from Brouwerij 't IJ.
For dinner, you can visit either Restaurant De Kas or Restaurant Blauw. Both are excellent options.
Restaurant De Kas is further away from city center, so you might have to take public transportation or Uber. It's a Michelin choice restaurant with carefully crafted, garden-fresh, vegetable inspired dishes. De Kas serves a price-fix seasonal tasting menu. It's housed in a scenic greenhouse with modern touches, natural lighting & flourishing plants. It was quite a unique dining experience!
Otherwise, Blauw is a great option closer to the city center. It's still formal dining, but less pretentious. Known for their Dutch Indonesian inspired cuisine. Due to the the many Indonesian immigrants, Indonesian food has become a popular staple in the Amsterdam restaurant scene.
Extra Time on Your Amsterdam Itinerary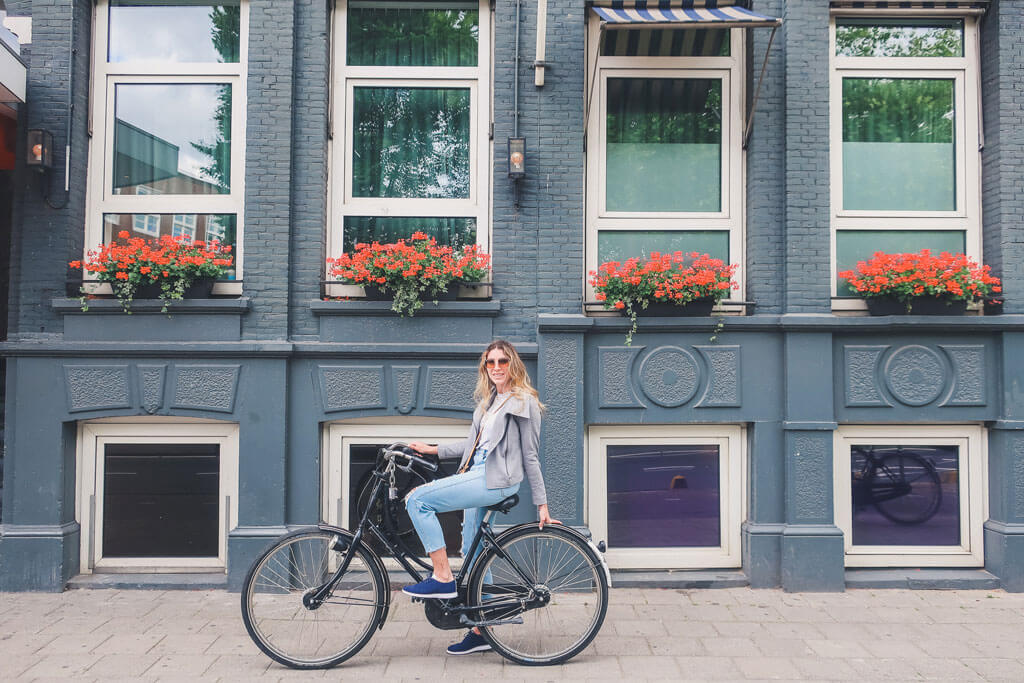 Do you have more than 3 days in Amsterdam or extra time on your Amsterdam itinerary? We recommend to check out these ideas for what to do in 3 days in Amsterdam or more to add to your Amsterdam itinerary.
Visit the Heineken Brewery for the Heineken Experience and tasting at this popular beer attraction. Get your tickets in advance here.
Check out the A'DAM Lookout for an unforgettable panoramic view of the city from their observation deck. Reserve in advance as well as 2 drink tickets here.
Find a Windmill near the Brouwerij 't IJ Brewery
Take a day trip to Zandvoort Beach. Believe it or not, Amsterdam has beaches! This is one of the best that's not far from the city center.
Eat at the Albert Cuyp Market, the largest day market in the city.
Where to Stay in Amsterdam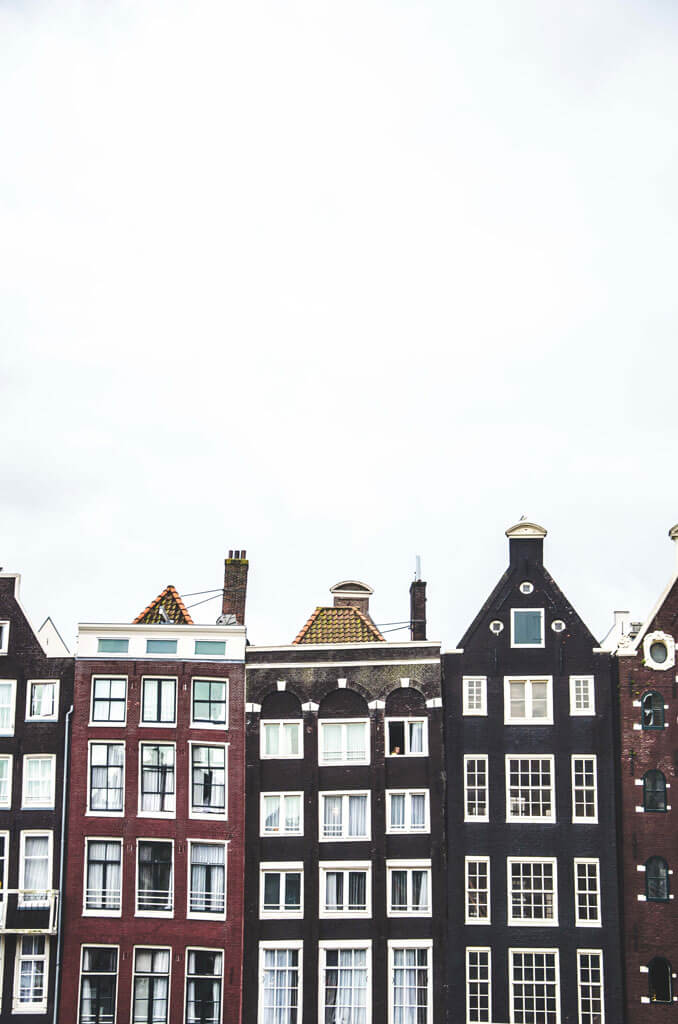 Amsterdam central is pretty small and dense. The local transportation of choice is a bicycle, but you'll be able to get around easily by foot. If you enjoy walking, you won't ever need to use public transportation here except, maybe, to get to and from the airport. To view the locations of all the top attractions, see this Amsterdam Sightseeing Map.
Staying near the city center will make it much easier to navigate during your 3 days in Amsterdam on foot.
$ Shelter Jordan Hostel
This is the perfect place to stay during your 3 days in Amsterdam itinerary if you're on a budget. This not for profit hostel is run by Christian volunteers. Enjoy your stay in a single sex dorm room close to many of the best attractions on your Amsterdam itinerary including the Anne Frank House.
Keep in mind this property is drug and alcohol free.
Book Now on Booking.com | Compare Prices for Later on Expedia | See Prices on TripAdvisor
$$ Dream Hotel Amsterdam
This is another great option for where to stay during your 3 days in Amsterdam is the Dream Hotel. Situated on the corner of canals with plush rooms. You're also just steps away from the Flower Market and Rembrantplein and only a short walk to Vondelpark.
Book Now on Booking.com | Compare Prices for Later on Agoda.com | See Prices on Expedia.com
$$ Hoxton
Set in a group of converted canal homes, this is another great option for where to stay during your 3 days in Amsterdam itinerary. This contemporary hotel is set in storied canal houses and is close to many of the best attractions on your Amsterdam itinerary including the Royal Palace and Anne Frank House.
Each of the rooms have stylish and modern furnishings and packed breakfast bags. Upgrade to rooms with canal views.
Don't miss out on the hip lobby and hang out spots on the property including a restaurant.
Book Now on Booking.com | Compare Prices for Later on Agoda.com | See Prices on Expedia.com
$$ Grand Hotel Krasnapolsky
For an affordable luxury option for where to stay during your 3 days in Amsterdam, consider the lavish yet reasonable Grand Hotel Kransapolsky. It's located right in the heart of Dam Square, AND there's a stunning rooftop terrace! Located just a 2-minute walk from the Royal Palace, this luxe hotel has a prime location and incredible views.
The rooms are polished and some even have balconies with a view. Don't miss out on the posh restaurant on site and cocktail lounge.
Book Now on Booking.com | Compare Prices for Later on Agoda.com | See Prices on Expedia.com
$$$ The Dylan
The top pick for luxury travelers to stay during your Amsterdam itinerary is the Dylan. This place has a gorgeous outdoor garden space and is located in the heart of Amsterdam on the Keizersgracht canal. The rooms are all decorated by a famous local interior designer, Remy Meijers. The rooms here are exquisite and you don't want to miss the award-winning restaurant located in an 18th-century bakery with garden views.
Book Now on Booking.com | Compare Prices for Later on Agoda.com | See Prices on Expedia.com
Author's Bio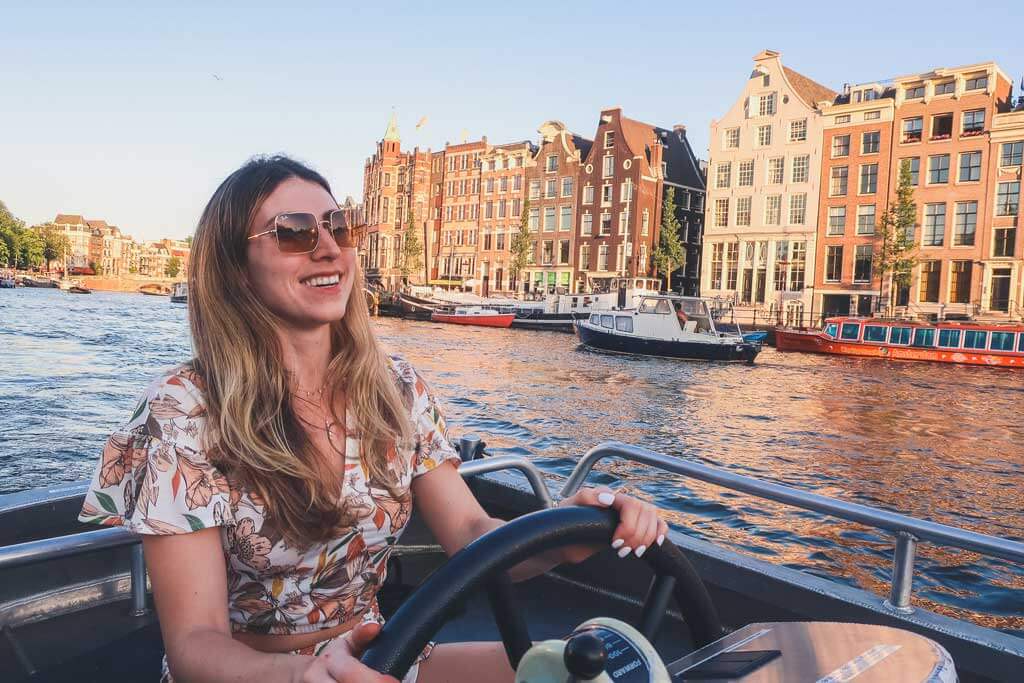 Valentina's Destinations was born from my obsession with meticulously researching, organizing and planning my travel itineraries. I'm originally from Nis, Serbia. My family moved to the US when I was young, and I've been living in Chicago for the last decade. My passion is traveling the world with my boyfriend, Remigijus. When we're not traveling, I work as a physician assistant in the psychiatry field. The mental health field is as rewarding as traveling can be.
Follow Valentina on her blog or her day to day adventures on Facebook, Instagram, and Twitter.
---
Liked this post on how to spend the perfect 3 days in Amsterdam itinerary? Bookmark for later or share the love below on Pinterest.