Looking for some serious travel inspiration? Check out our picks for greatest adventure and travel quotes by famous adventurers, poets, writers, and travel personalities. This collection is a mix of inspirational adventure and travel quotes to spark your wanderlust from the most famous and celebrated travelers to poets and minds of all time.
Also, see more great travel with friends quotes!
Table of Contents
Anthony Bourdain Travel Quotes & Words of Wisdom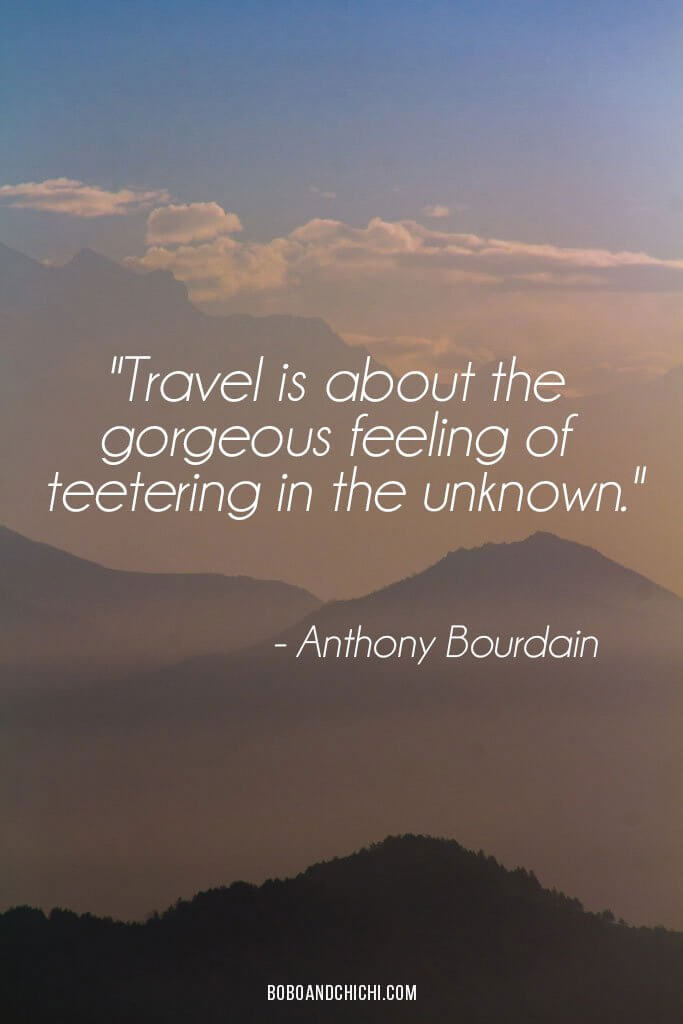 One of the most celebrated and beloved travelers of all time is former chef Anthony Bourdain. Tony spent is later years as a travel host on several different television programs from CNN to the Travel Channel exploring international cuisine, culture, and human stories.
One of the many reasons people love him so dearly was his ability to connect with locals no matter where he was traveling to tell his story. Over the years of adventures and words of wisdom Bourdain shared with us he has left his imprint on the world permanently through his adventure and travel quotes and old episodes of his best shows.
Here are some of our favorite Anthony Bourdain travel quotes and words of wisdom.
---
"If I'm an advocate for anything, it's to move. As far as you can, as much as you can. Across the ocean, or simply across the river. The extent to which you can walk in someone else's shoes or at least eat their food, it's a plus for everybody. Open your mind, get up off the couch. Move."
"Travel is about the gorgeous feeling of teetering in the unknown."
"Drink heavily with locals whenever possible."
"Travel changes you. As you move through this life and this world you change things slightly, you leave marks behind, however small. And in return, life — and travel — leaves marks on you."
"I'm a big believer in winging it. I'm a big believer that you're never going to find perfect city travel experience or the perfect meal without a constant willingness to experience a bad one. Letting the happy accident happen is what a lot of vacation itineraries miss, I think, and I'm always trying to push people to allow those things to happen rather than stick to some rigid itinerary."
"If you're twenty-two, physically fit, hungry to learn and be better, I urge you to travel – as far and as widely as possible. Sleep on floors if you have to. Find out how other people live and eat and cook. Learn from them – wherever you go."
J.R.R. Tolkien Wanderlust & Travel Quotes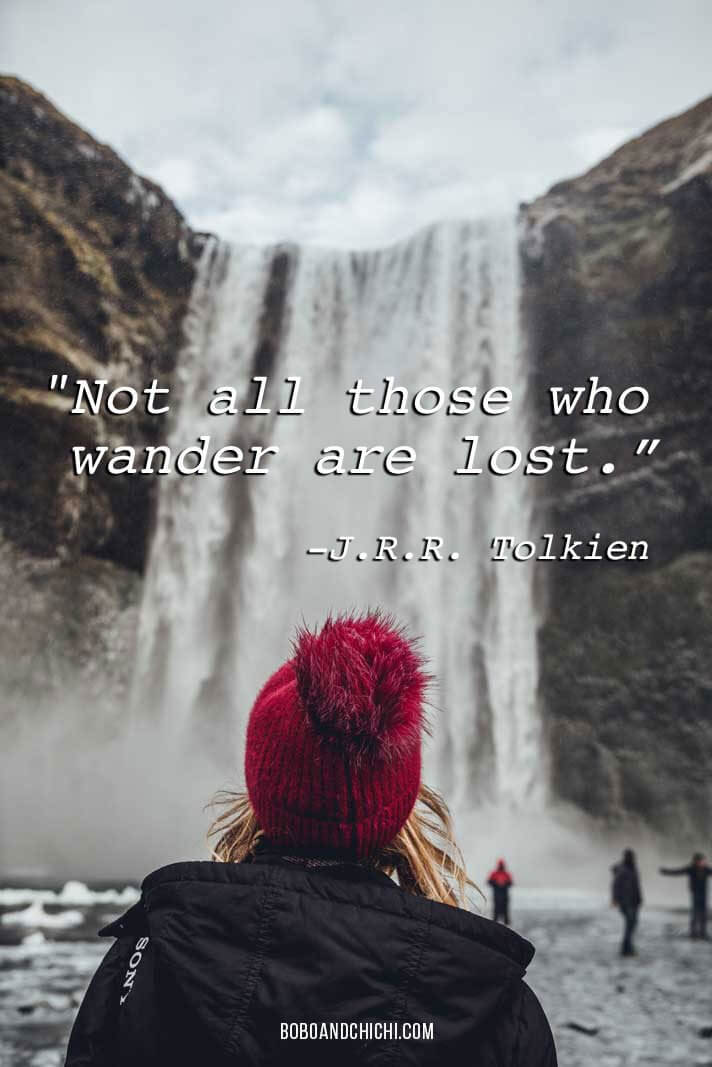 One of the best wanderlust, fantasy, and epic adventure writers and authors of all time is no other than J.R.R. Tolkien, the creator of the famous Lord of the Ring series of novels.
Known as the father of modern fantasy literature, Tolkien is no stranger to inspiring people in real life even through his fantasy writing.
Check out our favorite J.R.R. Tolkien travel quotes.
---
"Not all those who wander are lost."
"All we have to decide is what to do with the time that is given to us."
"Home is behind, the world ahead."
"Little by little, one travels far."
"May the wind under your wings bear you where the sun sails and the moon walks."
Lao Tzu Travel Quotes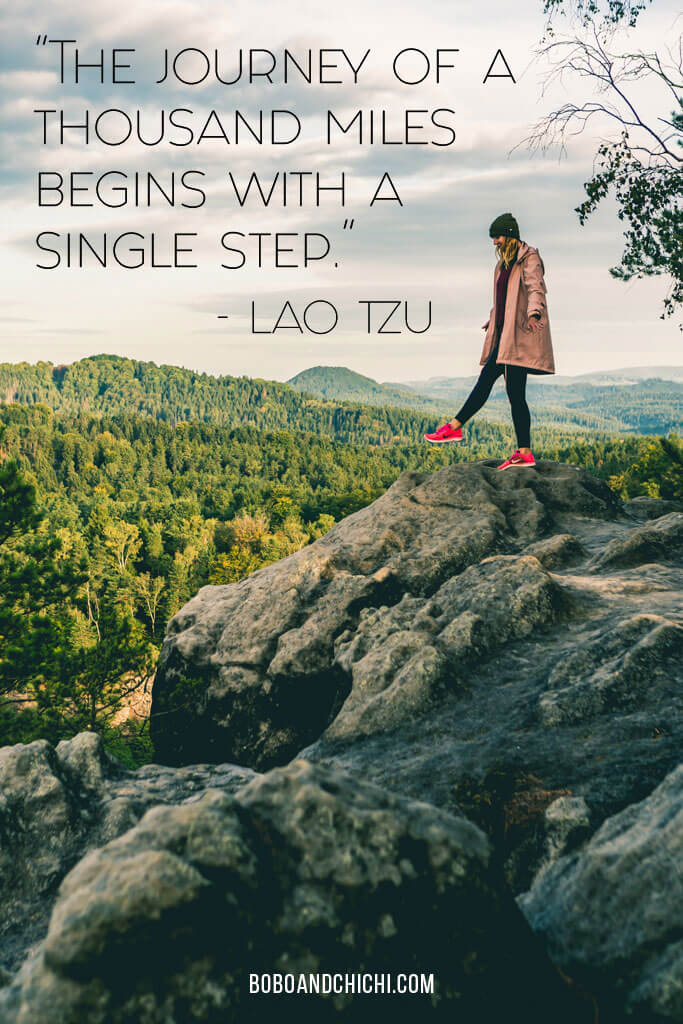 Lao Tzu or Laozi has inspired many for centuries. The Chinese philosopher is credited for founding Taoism, a philosophical system and ancient Chinese religion focused on living in harmony.
His words are moving and inspiring. Little is known about his life but his words of wisdom are some of the most popular and best travel quotes of all time.
---
"The journey of a thousand miles begins with a single step."
"A good traveler leaves no tracks."
"There is a time to live, and a time to die but never …to reject the present moment."
"A good traveler has no fixed plans and is not intent on arriving."
"If you do not change direction, you may end up where you are heading."
"Those who flow as life flows know they need no other force."
"Your own positive future begins in this moment. All you have is right now. Every goal is possible from here."
Susan Sontag Travel Quotes
Susan Sontag was a writer, filmmaker, philosopher, teacher, and political activist who wrote essays and novels. Her literary work often included travel undertones as well as photography, culture, conflict, AIDS, human rights, and leftist ideology, some of which were very controversial.
She is considered one of the most influential critics of her generation and has written words that have become some of the most celebrated travel quotes of all time.
---
"I haven't been everywhere, but it's on my list."
"Do stuff. be clenched, curious. Not waiting for inspiration's shove or society's kiss on your forehead."
"The fear of becoming old is born of the recognition that one is not living now the life that one wishes."
Dalai Lama Travel Quotes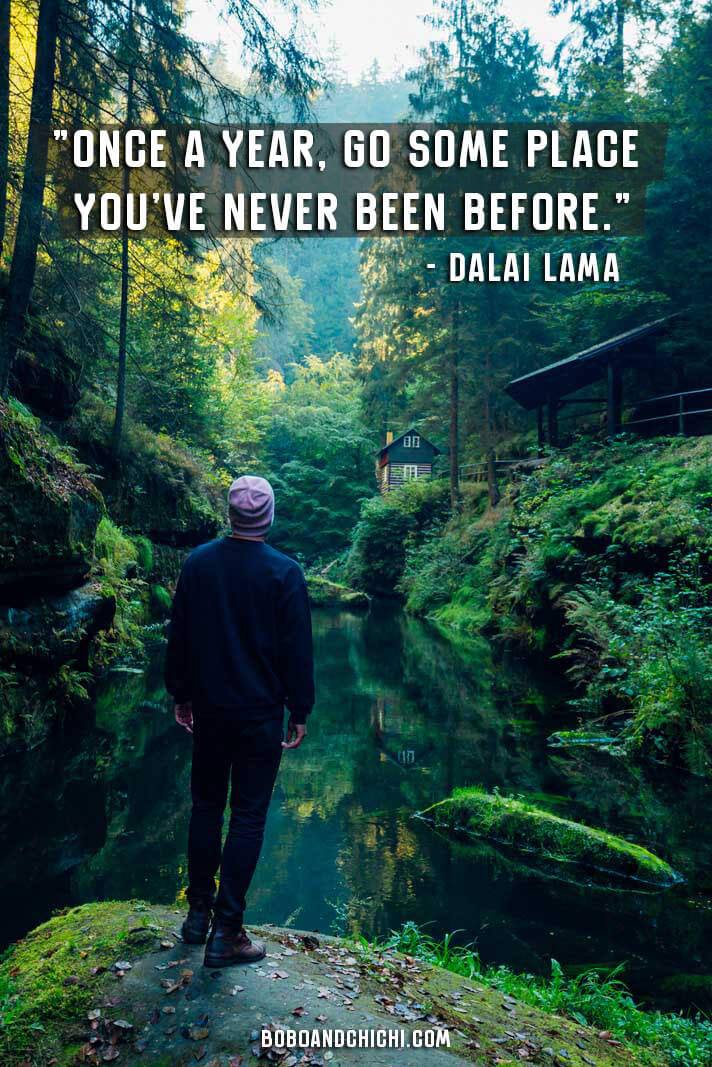 The Dalai Lama is another one of the most famous figures we have on this travel quote collection. The spiritual leader of Tibet is known for his compassion in his teachings and his books are some of our favorites. His words are filled with wisdom, compassion, and can teach you to be a better person inside and out.
Some of our favorite quotes from the Dali Lama can be applied to more than just travel.
---
"Once a year, go some place you've never been before."
"Consider carefully: what prevents you from living the way you want to live your life?"
"Happiness is not something ready made. It comes from your own actions."
Ralph Waldo Emerson Travel Quotes
Another literary icon with some incredible quotes about travel is Ralph Waldo Emerson. This famous American philosopher, essayist, lecturer, and poet was also a leader of the transcendentalism movement in the 19th century that protested against the general way of thinking at the time.
His take on individualism eventually turned into work featured around nature which is where we find some of our favorite words of his and the best Ralph Waldo Emerson travel quotes.
---
"Do not follow where the path may lead."
"The happiest man is he who learns from nature…"
"In the presence of nature, a wild delight runs through the man…"
Cheryl Strayed Travel Quotes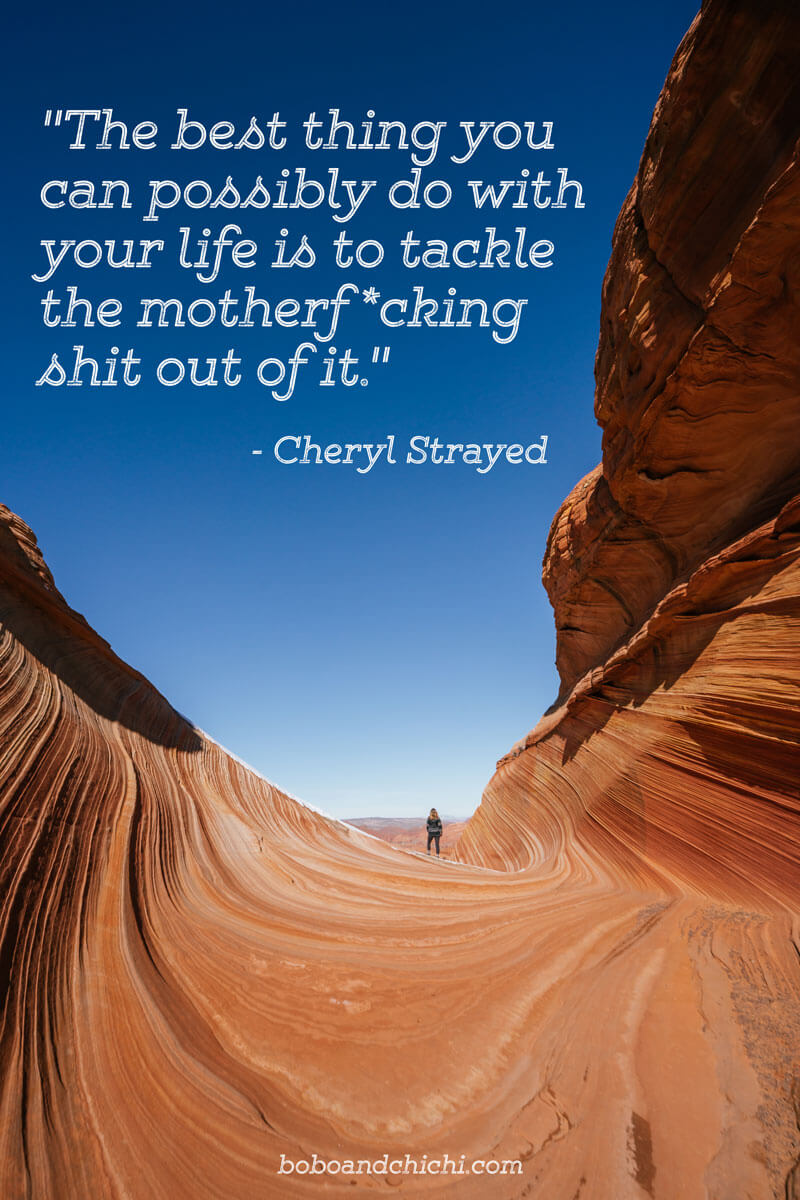 Cheryl Strayed, an American novelist, essay writer, podcast host, and memoirist is most famous for her memoir Wild: From Lost to Found on the Pacific Crest Trail which was adapted into a film starring Resse Witherspoon. Her memoir details her journey on the Pacific Crest Trail in 1995 and is where we pull alot of the best Cheryl Strayed travel quotes from when she was connected as one with nature.
---
"The best thing you can possibly do with your life is to tackle the motherf*cking sh*t out of it."
"Wanting to leave is enough."
"Nobody's going to do your life for you. You have to do it yourself…"
"What's important is that you make the leap. Jump high and hard with intention and heart. Pay no mind to the vision that the commission made up. It's up to you to make your life."
"You get to define the terms of your life."
"I'm a free spirit who never had the balls to be free."
"I was amazed that what I needed to survive could be carried on my back. And, most surprising of all, that I could carry it."
"And so I walked on."
Ansel Adams Nature & Travel Quotes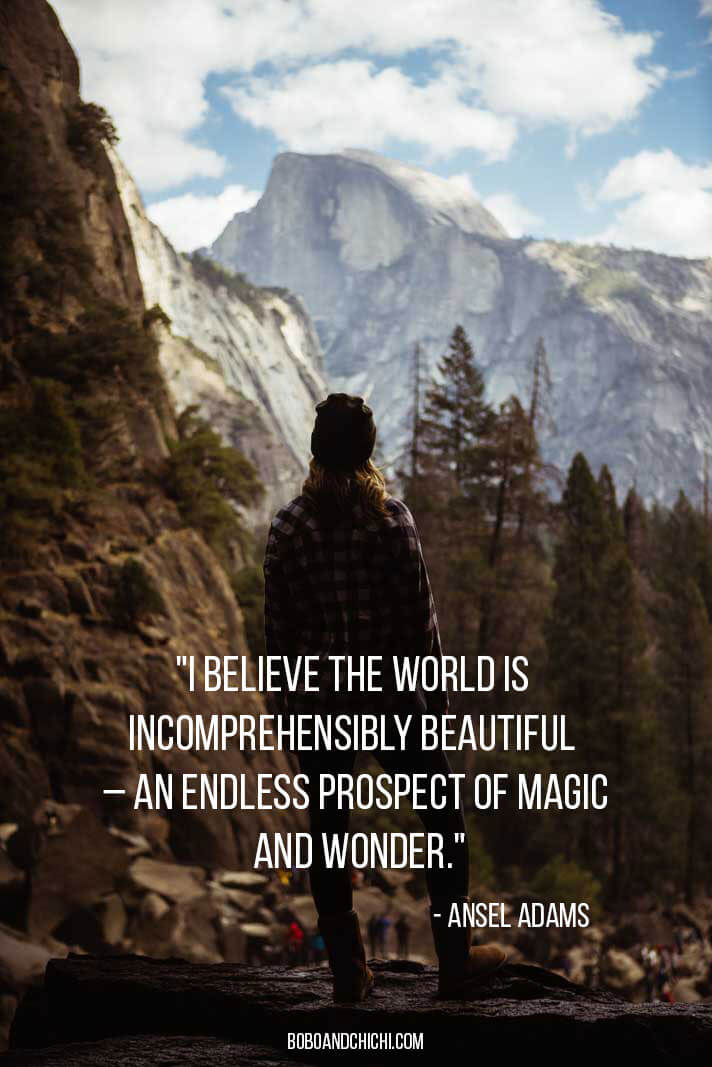 Ansel Adams is another great figure to look at for travel inspiration and travel quotes because of his love of the great outdoors and capturing its beauty through his lens. The landscape photographer and environmentalist is famous for his black and white photography of the American West, particularly Yosemite National Park.
Pioneering landscape photography to what it is today, he spent his life advocating for environmental conservation and many of his words are some of the most beautiful nature and travel quotes in existence.
Check out our favorite Ansel Adams nature and travel quotes.
---
"I believe the world is incomprehensibly beautiful – an endless prospect of magic and wonder."
"It is all very beautiful and magical here – a quality which cannot be described. You have to live it and breathe it, let the sun bake into you."
"It is just as important to bring people the evidence of the beauty of the world of nature and of man as it is to give them a document of ugliness, squalor, and despair."
Mark Nepo Journey & Travel Quotes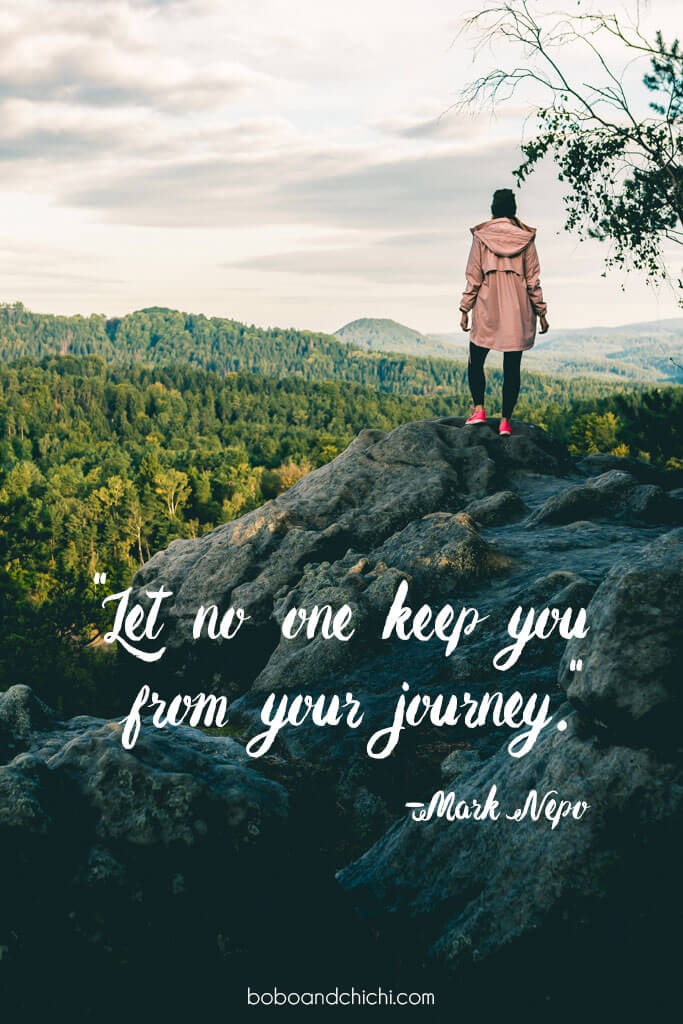 Mark Nepo is a poet, author, and spiritual advisor famous for The Book of Awakening. While his quotes aren't specifically for travel, they talk about the journey of life which can easily be adapted into quotes about travel as each adventure is a journey of its own.
---
"There are no wrong turns, only unexpected paths."
"Let no one keep you from your journey."
"Life is always where we are."
"I discovered that living is the original art."
Chief Seattle Travel Quotes
Pacific Northwest Native American, Chief Seattle, of the Suquamish and the Duwamish was a leader among his tribes and people. He formed personal relationships with white settlers in the area and the city of Seattle is named after him.
His respect for land and nature was publicized during a famous speech about the responsibility of taking care of our earth. His devotion to ecological responsibility leaves us with some incredible nature and travel quotes that we love.
---
"We are part of the earth and the earth is part of us."
"Take only memories, leave nothing but footprints."
"There is no such place as away."
Howard Thurman Inspirational & Travel Quotes
Howard Thurman has another few of our favorite inspirational and travel quotes. Thurman is famous for being an African-American author, philosopher, theologian, educator, and civil rights leader as well as a religious figure. He was a part of many of the social justice movements of the 20th century and promoted non-violent activism.
His life work and words are nothing short of inspiring.
---
"Don't ask what the world needs. Ask what makes you come alive, and go do it. Because what the world needs is people who have come alive."
"Keep alive the dream; for as long as a man has a dream in his heart, he cannot lose the significance of living."
"Ask what makes you come alive and go do it."
Seneca Life Philosophy & Travel Quotes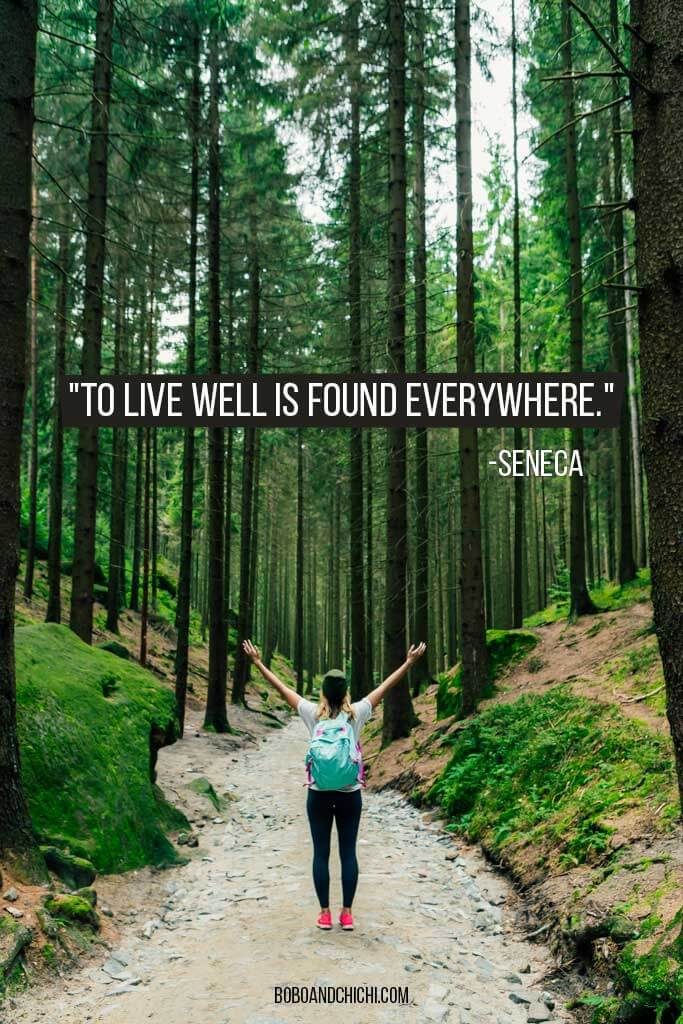 More of our favorite travel quotes comes from famous Roman stoic and philosopher who influenced centuries of thinkers known as Seneca the Younger. The travel quotes we picked touch on life philosophy and can be easily applied to a life of adventure and wandering.
---
"To live well is found everywhere."
"Travel and change of place impart new vigor to the mind."
"A tree can be transplanted, no matter how many years old it is."
"Sometimes even to live is an act of courage."
"As is a tale, so is life: not how long it is, but how good it is, is what matters."
"As long as you live, keep learning how to live."
"We learn not in school, but in life."
"Life is long, if you know how to use it."
Samuel Johnson Travel Quotes
Another English writer to add to our travel quotes list is Samuel Johnson, a noteworthy poet, essayist, playwright, biographer, and literary critic to name a few.
Besides being a talent himself in literature, he is considered one of the best English literature critics of all time.
---
"The use of traveling is to regulate imagination by reality, and instead of thinking how things may be, to see them as they are."
"Curiosity is, in great and generous minds, the first passion and the last."
"All travel has its advantages. If the passenger visits better countries, he may learn to improve his own. And if fortune carries him to worse, he may learn to enjoy it."
Jack Kerouac Travel Quotes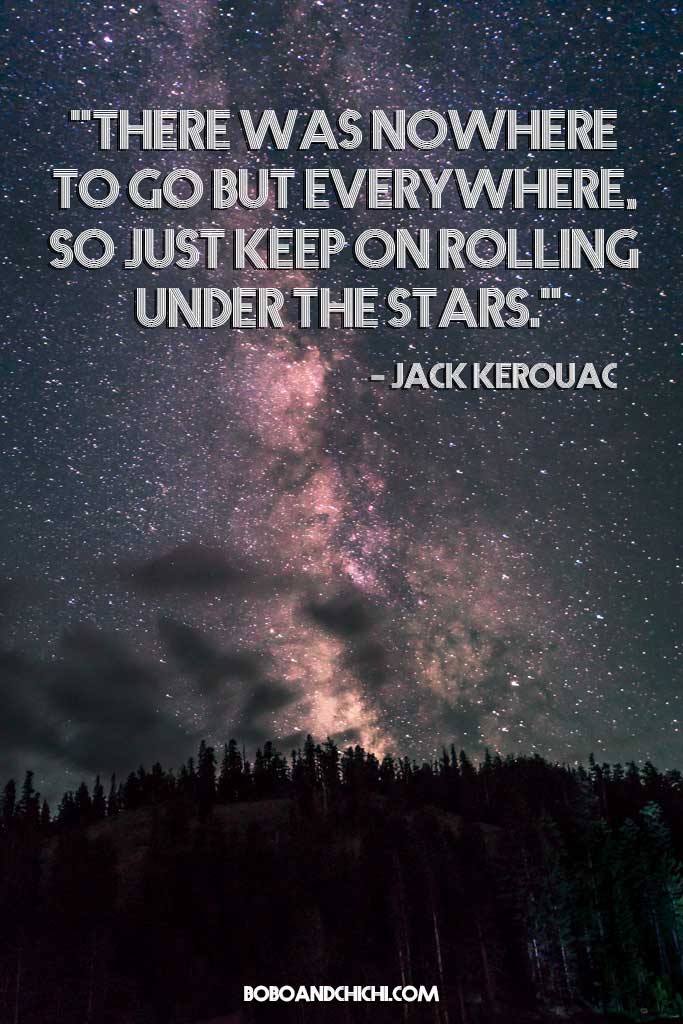 Some of the best travel quotes, in our opinion, come from Jack Kerouac a famous freethinker, philosopher, novelist, and poet as well as a rebel.
He covered many topics, travel included which is why we get some of best travel quotes from Mr. Kerouac himself.
---
"Nothing behind me, everything ahead of me, as is ever so on the road."
"Live, travel, adventure, bless, and don't be sorry."
"There was nowhere to go but everywhere, so just keep on rolling under the stars."
"Our battered suitcases were piled on the sidewalk again; we had longer ways to go. But no matter, the road is life."
"What's in store for me in the direction I don't take?"
"Because in the end, you won't remember the time you spent working in the office or mowing your lawn. Climb that mountain."
Dr. Seuss Travel Quotes
Of all the people and notable figures on this travel quotes guide Dr. Seuss is probably the most famous and a household name. His whimsical stories were what we read as children that dared us to spark our imaginations in the world of Dr. Seuss.
Through his adventurous fantastical tales, he shared words of wisdom that can relate to your journey, adventure, and travels. These are our favorite Dr. Seuss travel quotes.
---
"Kid, you'll move mountains! Today is your day! Your mountain is waiting. So get on your way!"
"You have brains in your head. You have feet in your shoes. You can steer yourself any direction you choose."
"Oh the places you'll go."
"You're off to Great Places! Today is your day! Your mountain is waiting, So… get on your way!"
"Sometimes you will never know the value of a moment until it becomes a memory."
"You'll miss the best things if you keep your eyes shut."
Aldous Huxley Travel Quotes
More great travel quotes come from English author, Aldous Huxley. His most famous piece of work is Brave New World which is set in a dystopian future warning about the future developed globe.
He focused on travel writing, screenplays, and satire in his career and was considered one of the most foremost intellectuals of his time.
---
"To travel is to discover that everyone is wrong about other countries."
"Experience is not what happens to you; it's what you do with what happens to you."
"For the born traveler, traveling is a besetting vice. Like other vices, it is imperious, demanding its victim's time, money, energy, and the sacrifice of comfort."
"Your true traveler finds boredom rather agreeable than painful. It is the symbol of his liberty – his excessive freedom. He accepts his boredom when it comes not merely philosophically, but almost with pleasure."
Robert Louis Stevenson Travel Quotes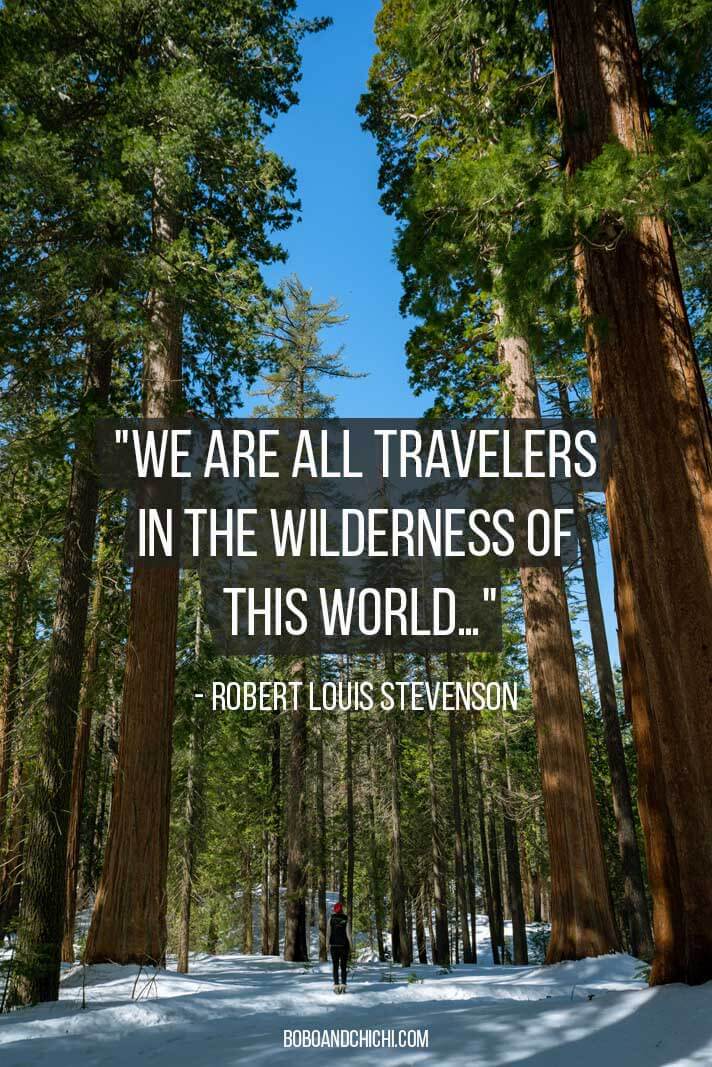 More great travel quotes come from the famed author of Treasure Island. Robert Louis Stevenson was a famous Scottish novelist and travel writer who traveled and wrote about it even though he was ill for much of his life.
He is one of the most translated authors in the world and has plenty of incredible travel quotes and words of wisdom throughout his years of travel and writing.
---
"I travel not to go anywhere but to go. I travel for travel's sake. The great affair is to move."
"There are no foreign lands. It is the traveler only who is foreign."
"We are all travelers in the wilderness of this world…"
Henry David Thoreau Travel Quotes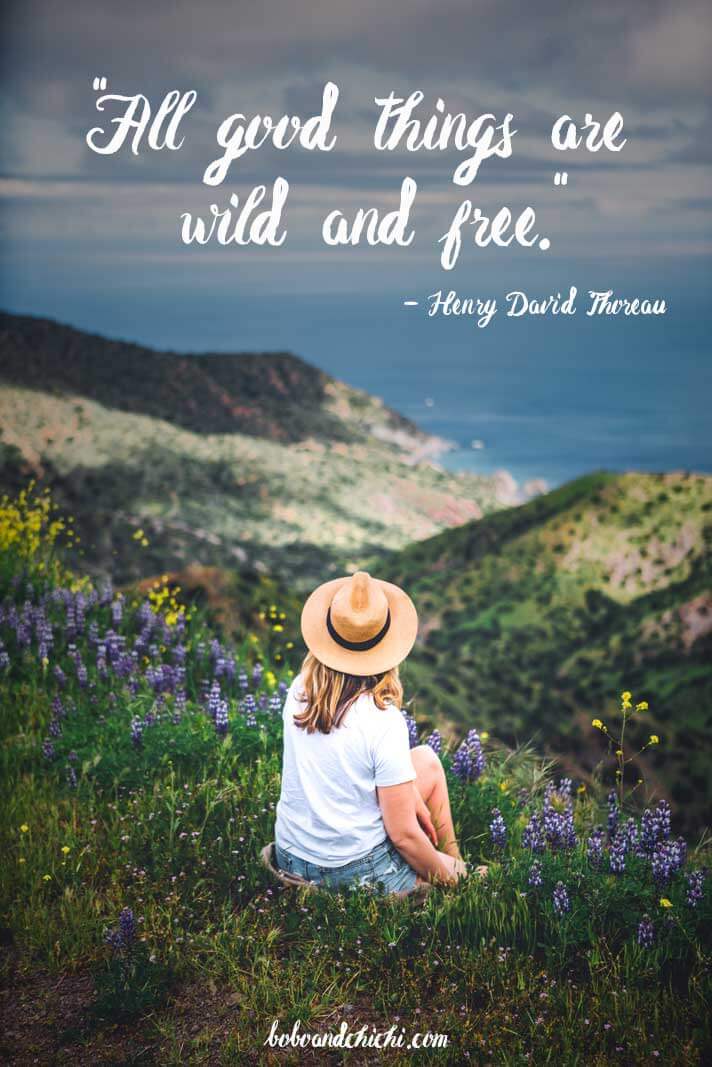 Some of the most shared travel quotes of all time come from the American writer and naturalist Henry David Thoreau. Through his works you can feel his journey through nature just by reading his words. He spent more than two years living alone in the woods in Massachusetts which inspired him on his teaching of ethical and naturalist living.
Many of his most famous travel quotes come from his book Walden about his time living in the woods. He put his reflections on nature from his intimate time living there into words so beautifully.
Check out our favorite Thoreau travel quotes.
---
"Not until we are lost do we begin to understand ourselves."
"Wildness is the preservation of the World."
"I learned this, at least, by my experiment: that if one advances confidently in the direction of his dreams, and endeavors to live the life which he has imagined, he will meet with a success unexpected in common hours."
"You must live in the present, launch yourself on every wave, find your eternity in each moment. Fools stand on their island of opportunities and look toward another land. There is no other land; there is no other life but this."
"I went to the woods because I wished to live deliberately…"
"All good things are wild and free."
"Heaven is under our feet as well as over our heads."
"This world is but canvas to our imaginations."
Arthur Frommer Travel Quotes
Another great figure to look to for great travel quotes is Arthur Frommer, the man behind the Frommer travel guides.
His first travel writing took place while serving in the US military during the Korean War while he was stationed in Europe because of his linguistic background and talents. His first travel book, The GI's Guide To Traveling Europe sold out in its first print run and each travel book he published after would continue to be a success.
Because of his love for seeing the world, you can find many great travel quotes from Mr. Frommer.
---
"At its best, travel should challenge our preconceptions and most cherished views, cause us to rethink our assumptions, shake us a bit, make us broader minded and more understanding."
"To travel best requires some time preparing for your visit to a particular location – that you don't travel anywhere without spending a few nights reading about the culture and history of the place you are visiting. This is what most of us don't do – we fling ourselves on an exotic destination hoping that someone will tell us what we are looking at, but by that time its too late, and all the lectures and tour guides simply add to our confusion."
"Seek out people and new ideas when you travel."
"Tourism does not go to a city that has lost its soul."
David Mitchell Travel Quotes
More great travel quotes come from the English author and novelist of Cloud Atlas, David Mitchell. His words are relatable to any frequent traveler.
---
"Travel far enough, you meet yourself."
"…there ain't no journey what don't change you some."
"Maybe the meaning of life lies in looking for it."
"This world, he thinks, contains just one masterpiece, and that is itself."
"There are so many cities in every single city."
"For one voyage to begin, another voyage must come to an end, sort of."
"It's the edges of the maps that fascinate…"
Mark Twain Travel Quotes
Another household name and prolific writer and author is Mark Twain or Samuel Langhorne Clemens. His pen name is what everyone knows him as and many of read at least one of his books in grade school.
Many of his most famous travel quotes come from Innocents Abroad when he explored the Middle East and Europe after his exploration of the American West.
---
"Travel is fatal to prejudice, bigotry, and narrow-mindedness, and many of our people need it sorely on these accounts. Broad, wholesome, charitable views of men and things cannot be acquired by vegetating in one little corner of the earth all one's lifetime."
"I have found out there ain't no surer way to find out whether you like people or hate them than to travel with them."
"With courage you will dare to take risks, have the strength to be compassionate, and the wisdom to be humble."
"Education consists mainly in what we have unlearned."
"The secret of success is making your vocation your vacation."
"Broad, wholesome, charitable views of men and things cannot be acquired by vegetating in one little corner of the earth all of one's lifetime."
Confucius Travel Quotes
Even though Confucius didn't philosophize on travel per say, some of his words can be applied to travel anyway. He lived his life between 551 – 479 BC and was one of the greatest Chinese philosophers and politicians of all time.
His thoughts were transformed into what is known as Confucianism that is known around the world even to today and is responsible for influencing and shaping human history as we know it.
---
"No matter where you go, there you are."
"It does not matter how slowly you go as long as you do not stop."
"Wherever you go, go with all your heart."
John Muir Nature & Travel Quotes
Some more of our favorite nature and travel quotes come from a man who was no stranger to nature, John Muir. John Muir travel quotes come from the extensive time he spent in the outdoors. He's considered the father of the National Parks in the US, a famous naturalist, author, environmentalist, and philosopher.
He recorded his adventures and journies through nature in several letters, books, and essays. John Muir travel quotes are some of the best words on nature and the great outdoors.
---
"The clearest way into the Universe is through a forest wilderness."
"The mountains are calling and I must go."
"The world's big and I want to have a good look at it before it gets dark."
"Of all the paths you take in life, make sure a few of them are dirt."
"Going to the woods is going home."
"Most people who travel look only at what they are directed to look at. Great is the power of the guidebook maker, however ignorant."
"Climb the mountains and get their good tidings."
"Only by going alone in silence, without baggage, can one truly get into the heart of the wilderness. All other travel is mere dust and hotels and baggage and chatter."
John Steinbeck Travel Quotes
Another famous American author and Nobel Prize winner draws some beautiful words on life that can be applied and used as travel quotes.
You might recognize the work of Steinbeck as he is the author of famous books like Of Mice and Men, The Grapes of Wrath, and East of Eden to name a few of his most stand out pieces of literature.
---
"A journey is a person itself; no two are alike."
"We find after years of struggle that we do not take a trip; a trip takes us."
Carew Papritz Travel Quotes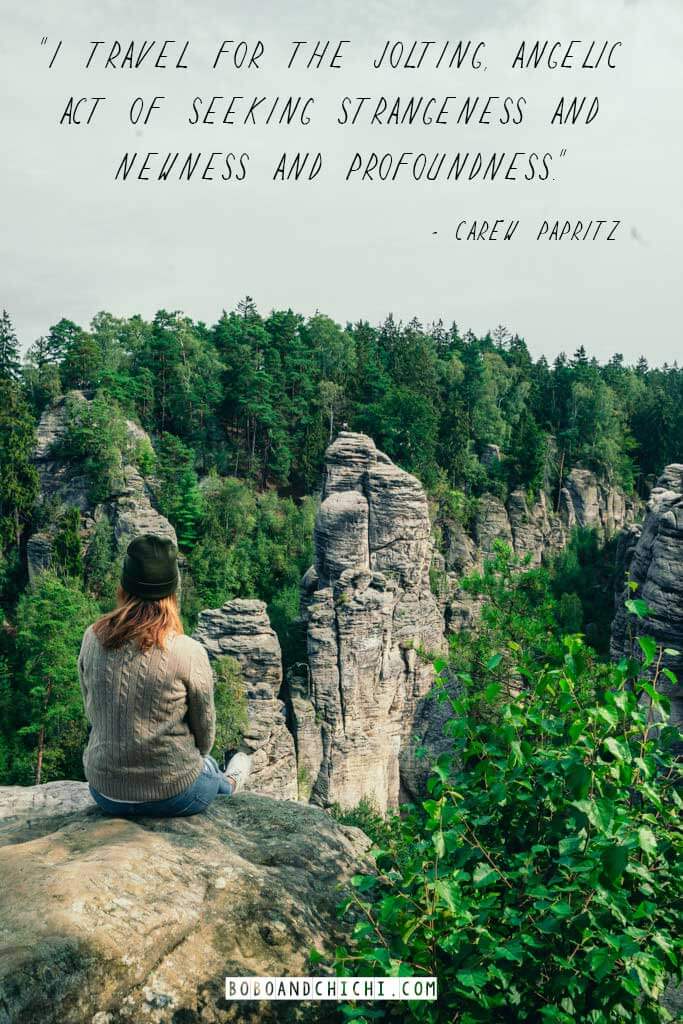 Another great collection of travel quotes comes from award winning American filmmaker and Author Carew Papritz. Born in Yosemite National Park where he spent the first year of his life, this man is no stranger to nature and travel. You can easily see how this influenced his work in The Legacy Letters and is truly a person who loves to live life to its fullest.
Here are our favorite Carew Papritz travel quotes.
---
"Why travel? To be changed, and to be changed again and again."
"I travel because it makes me realize how much I haven't seen, how much I'm not going to see, and how much I still need to see."
"I travel to be replenished with beauty, for travel makes the beauty of this world seem like a Christmas that never ends."
"I travel not only for the passion and madness and desire of movement but because travel, like bread and water and air, becomes necessary to a life fully dreamed and lived."
"Sometimes I travel just to be overwhelmed – for it's good every now and then to be overwhelmed."
"I travel to know where I fit into the world, and where I don't."
"I travel for the jolting, angelic act of seeking strangeness and newness and profoundness."
"I travel because life is short, and I will not wait for fear of death or sanctuary to become a prison of my own making."
"I travel because I become uncomfortable being too comfortable."
"I travel for the great stories now ready tell, and those waiting to be told."
Rumi Travel Quotes
More beautiful travel quotes come from the 13th-century Persian poet, theologian, and Islamic scholar Rumi.
His work has been translated to many languages and is considered one of the most famous and popular poets of all time in the United States where his work has been translated.
These are our favorite Rumi travel quotes.
---
"My soul is from elsewhere, I'm sure of that, and I intend to end up there. Travel brings power and love back into your life."
"When you're traveling, ask the traveler for advice / not someone whose lameness keeps him in one place."
"When you are everywhere, you are nowhere. When you are somewhere, you are everywhere."
Paulo Coelho Travel Quotes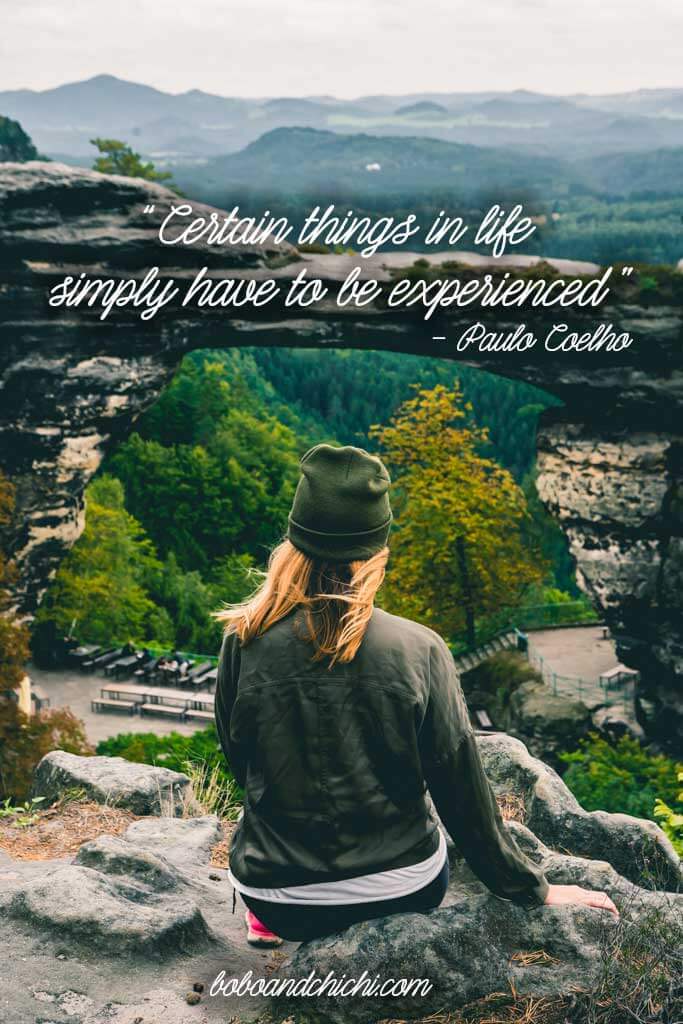 Another beautiful collection of travel quotes from one individual is Brazilian lyricist and novelist Paulo Coelho. His most famous piece of literature is The Alchemist.
These are our favorite Paulo Coelho travel quotes.
---
"One day you will wake up and realize there won't be any more time to do the things you've always wanted. So, do them now."
"People are capable, at any time in their lives, of doing what they dream of."
"If you think adventure is dangerous, try routine. It is lethal."
"We are travelers on a cosmic journey, stardust, swirling and dancing in the eddies and whirlpools of infinity. Life is eternal. We have stopped for a moment to encounter each other, to meet, to love, to share. This is a precious moment. It is a little parenthesis in eternity."
"I can choose either to be a victim of the world or an adventurer in search of treasure. It's all a question of how I view my life."
"Life is too short, or too long, for me to allow myself the luxury of living it so badly."
"Certain things in life simply have to be experienced…"
"It's the simple things in life that are the most extraordinary."
"There is only one way to learn. It's through action. Everything you need to know you have learned through your journey."
"Travel is never a matter of money but of courage."
"If you are brave enough to say goodbye, life will reward you with a new hello."
Freya Stark Travel Quotes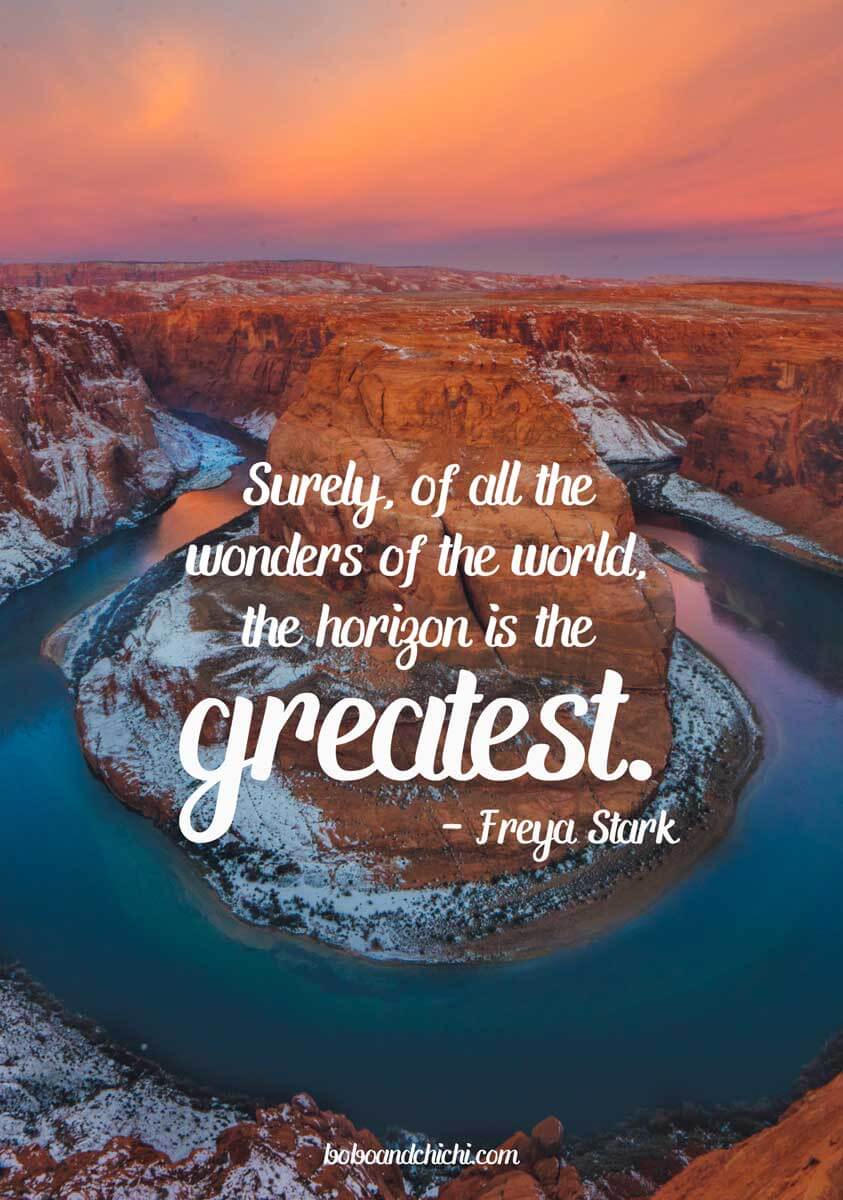 The Anglo-Italian explorer and travel writer Freya Stark, or Dame Freya Madeline Stark, has no shortage of recordings of her travels and travel quotes. Frey Stark travel quotes come from more than two dozen books detailing her travels including the Middle East.
She was a pioneer for travel in the Arabian Desert, being not only a female but one of the first non-Arab people to travel through the southern Arabian Desert.
She's a pretty remarkable woman who lived a long life. These are our favorite Freya Stark travel quotes.
---
"I have no reason to go, except that I have never been, and knowledge is better than ignorance. What better reason could there be for traveling?"
"Curiosity is the one thing invincible in Nature."
"There are, I sometimes think, only two sorts of people in this world – the settled and the nomad – and there is a natural antipathy between them, whatever the land to which they may belong."
"Travel does what good novelists also do to the life of everyday, placing it like a picture in a frame or a gem in its setting, so that the intrinsic qualities are made more clear."
"Surely, of all the wonders of the world, the horizon is the greatest."
"One can only really travel if one lets oneself go and takes what every place brings without trying to turn it into a healthy private pattern of one's own and I suppose that is the difference between travel and tourism."
"The true fruit of travel is perhaps the feeling of being nearly everywhere at home."
"To awaken alone in a strange town is one of the pleasantest sensations in the world."
Miscellaneous Travel Quotes
"To live is the rarest thing in the world. Most people exist, that is all." – Oscar Wilde
"The biggest adventure you can take is to live the life of your dreams" – Oprah Winfrey
"Like all great travelers, I have seen more than I remember and remember more than I have seen."― Benjamin Disraeli
"Live life with no excuses, travel with no regret." – Oscar Wilde
"When overseas you learn more about your own country, than you do the place you're visiting". – Clint Borgen
"Adventure is worthwhile in itself." – Amelia Earhart
"Collect moments not things." – April Peerless
"Two roads diverged in a wood, and I – I took the one less traveled by, and that has made all the difference." – Robert Frost
"The world is a book and those who do not travel read only one page." – Augustine of Hippo
"I will not follow where the path may lead, but I will go where there is no path, and I will leave a trail." -Muriel Strode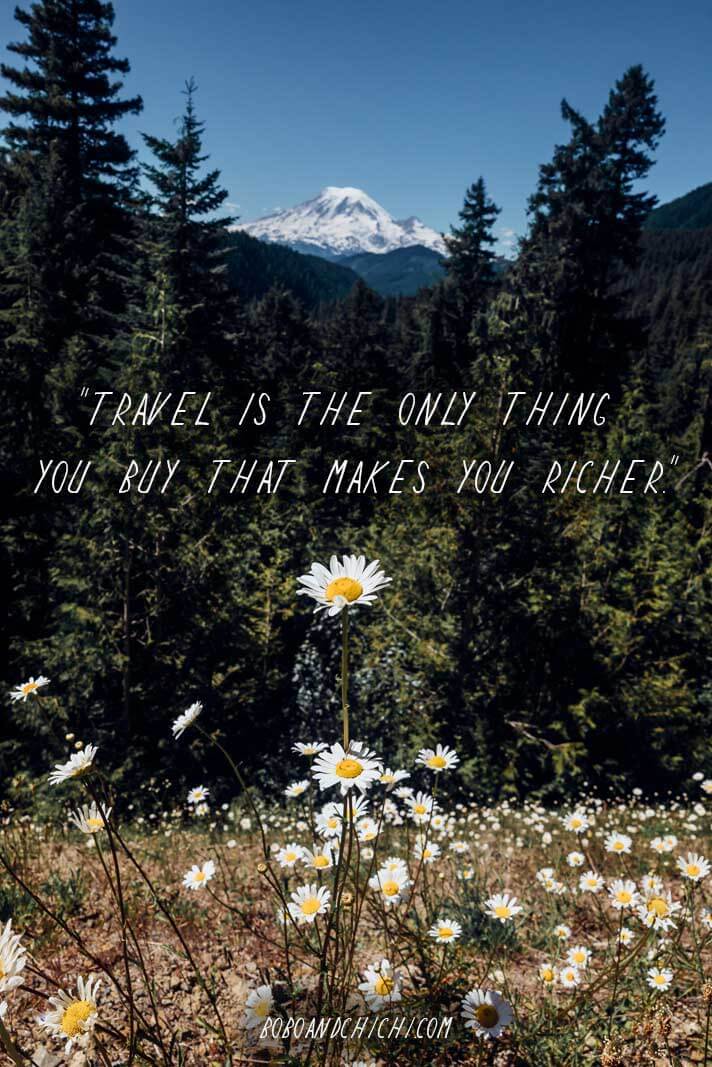 "To move, to breathe, to fly, to float, to gain all while you give, to roam the roads of lands remote, to travel is to live." – Hans Christen Anderson
"Life is either a daring adventure or nothing." – Helen Keller
"One way to get the most out of life is to look upon it as an adventure." – William Feather
"There's the whole world at your feet." – Mary Poppins
"You don't have to be rich to travel well." – Eugene Fodor
"One doesn't discover new lands without consenting to lose sight, for a very long time, of the shore." – Andre Gide
"Adventure is worthwhile." – Aesop
"It is only in adventure that some people succeed in knowing themselves – in finding themselves." – Andre Gide
"Live your life by a compass, not a clock." – Stephen Covey
"If we were meant to stay in one place, we'd have roots instead of feet." – Rachel Wolchin.
Anonymous Travel Quotes
"Twenty years from now you will be more disappointed by the things that you didn't do than by the ones you did do…Explore, Dream, Discover." (often falsely cited as Mark Twain)
"Of all the books in the world, the best stories are found between the pages of a passport."
"Don't tell me how educated you are, tell me how much you traveled." (often falsely cited as Mohammed)
"Travel is the only thing you buy that makes you richer."
"We travel not to escape life, but for life not to escape us."
---
Enjoyed this post on the greatest travel quotes of all time? Bookmark for later or share the love on your favorite Pinterest board. Happy travels!