Snorkeling Bonaire should be on the top of any underwater enthusiast's bucket list. And if you're looking for the best Bonaire snorkeling spots, you've come to the right place.
Bonaire is the "B" of the ABC Islands that includes Aruba and Curacao and is home to the shore diving capital of the world! With its entire waters surrounded the island is a part of the first-ever protected national marine park founded in 1979.
It's a treat and a privilege to be able to swim and snorkel in the protected waters of the Bonaire Marine National Park!
Full of shallow reefs teeming with vibrant marine life, tropical fish, stunning corals, and even sea turtles you don't want to come to Bonaire and miss out on the snorkeling. With over 85 shore diving sites marked by yellow-painted rocks, many of the best snorkeling in Bonaire can be found by just getting in the water and seeing what's below.
Although, if you're really trying to carefully plan your time, you'll want to make sure you're picking the prime spots and hitting up the best Bonaire snorkeling spots – which is where this guide comes in handy!
From secluded beaches to spots right in Kralendijk for cruise visitors, we've curated a guide of our favorite Bonaire snorkeling spots we encountered on our trip and extensive research!
We also include a few great Bonaire snorkeling tours at the bottom so you can just sit back and relax and enjoy the ride as a local guide takes you around and takes care of all the planning, many of which are cruise friendly too!  So let's dive into snorkeling Bonaire and the best spots to do it!
And for more ideas to help you plan your trip, be sure to check out our guide to the best things to do in Bonaire!
Disclaimer: This post contains commissionable links.
Snorkeling Bonaire Tips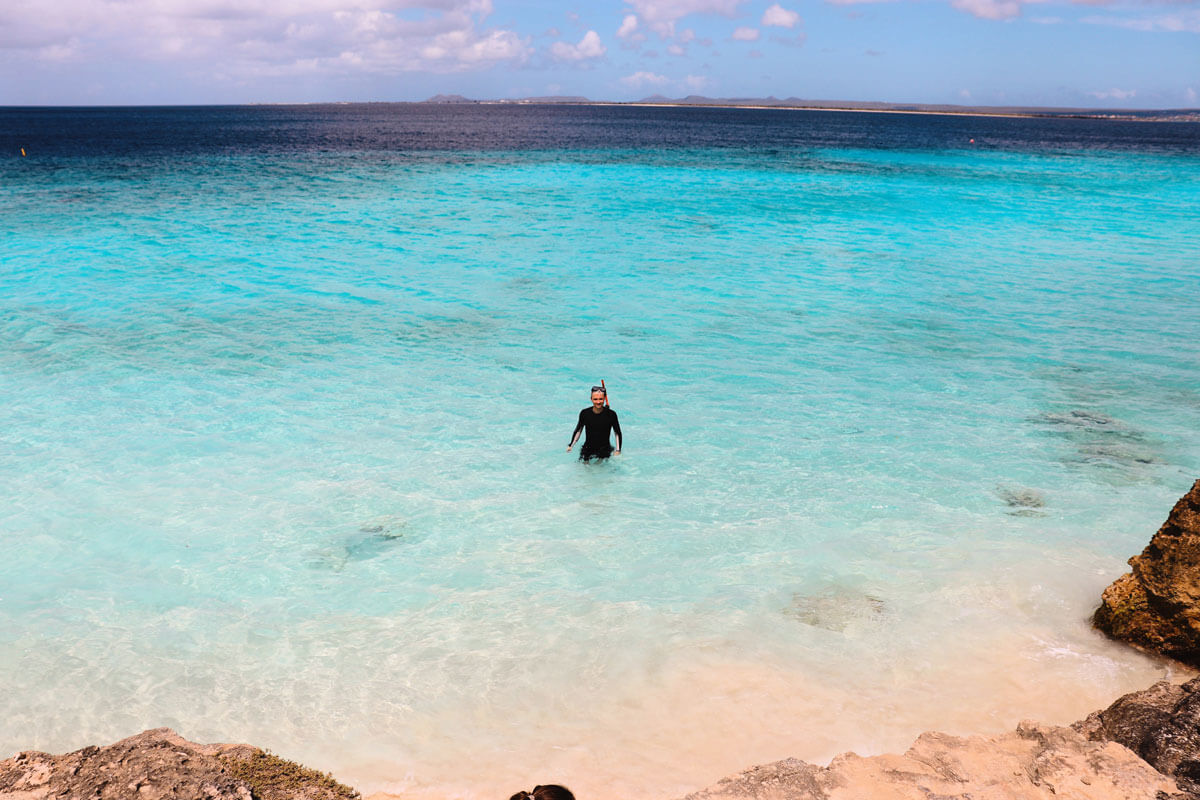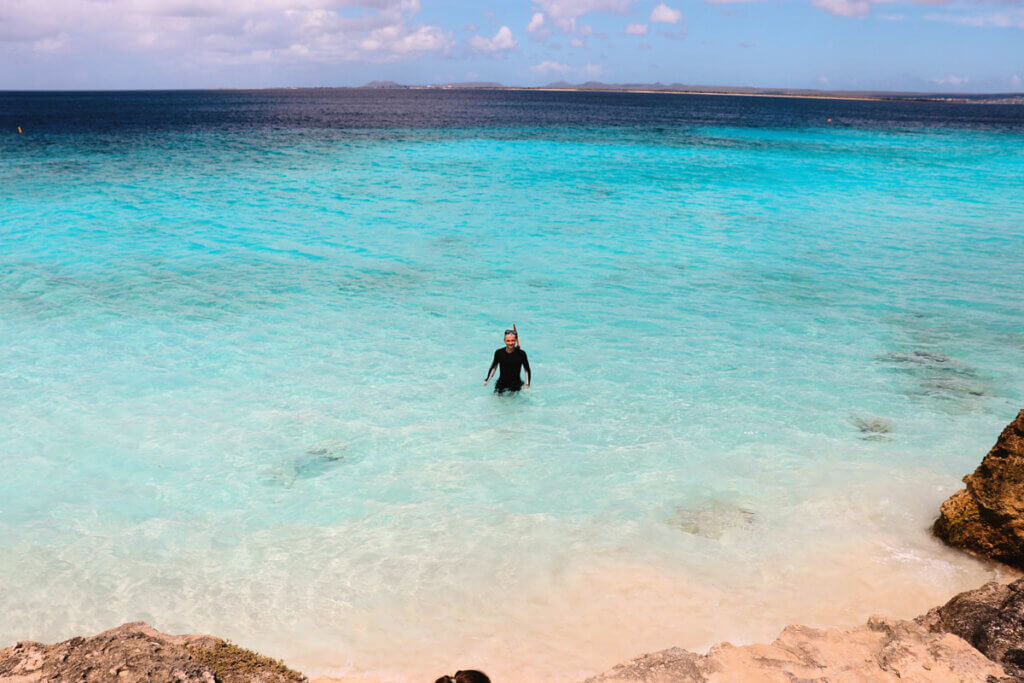 You'll notice that this guide to the best Bonaire snorkeling is focused on the west side of the island with the exception of Lac Bay, which offers a protected lagoon from the trade winds on the east side of the island. You do NOT want to go into the water on the east side of the island as it's too rough and dangerous.
In addition to being the shore diving capital of the world, Bonaire is also home to an excellent wind sports scene including a world-class destination for windsurfing, kitesurfing, and even land sailing excursions.
So it can be windy and on those days you'll want to be careful at Bonaire snorkeling spots further away from the center of the island as the currents can be stronger. The closer you are to Kralendijk (the center of Bonaire on the west) the calmer the waters tend to be regularly and are better for beginners.
I am by no means the strongest of swimmers and lucked out with easy snorkeling conditions during our trip to Bonaire in April. Rain can also affect visibility, the rainiest months are October and November, although Bonaire only gets around 20 inches of rainfall a year.
And while Bonaire and the other ABC Islands tend to be in a position to avoid most of the huge storms in the 'hurricane belt' they do get tropical storms occasionally (typically June-November).
This will not only affect snorkeling Bonaire but also attractions like visiting Washington Slagbaai National Park which is only accessible by dirt road and a high clearance vehicle. If the roads are too wet or muddy they will close the park until they dry out. So keep that in mind when planning your trip and be prepared to be flexible if heavy storms or rainfall do affect your trip at all.
You'll want to rent a car to get around to the best snorkeling in Bonaire! There are really not any great options for public transportation, unfortunately. If you're planning to visit Washington Slagbaai National Park during your trip too, which is where one of our favorite Bonaire snorkeling is located, you'll need to rent a high-clearance vehicle or something with 4×4 as you'll need that to drive through the unpaved roads in the park.
You'll need to pay a Nature Fee to access BNMP-protected areas as well as visit Washington Slagbaai National Park, which is good for an entire calendar year. We paid ours when we went to the national park, but you can pay for your Bonaire nature fee online. Whichever way you pay for this, be sure to keep your proof of purchase so you don't have to pay the fee again elsewhere.
You'll want to bring your own snorkel! There aren't many rental options once you're here unless you're joining a Bonaire snorkeling tour.
It's so easy to buy a snorkel set for everyone in your family in advance. We both bought this snorkel set which included a mask, snorkel, ear plugs, flippers, and carrying bags which were perfect for hopping around beaches and snorkeling in Bonaire! (we both pack carry-on only and were able to easily fit it in our bag too!)
It's also necessary to have a pair of water shoes too to wear under your flippers! Out of all these snorkeling in Bonaire locations, almost all of them had rocky entrance points or pebbly beaches, so this is crucial for getting in and out of the water with ease and also protecting your tootsies for sea critters like urchins (which you'll still need to carefully avoid even with shoes on). These also fit in the snorkel set bag we bought!
Get reef-safe sunscreen to protect marine life too, during our week-long trip we went through a few bottles and were able to easily find more at grocery stores. But, you'll definitely want to pack a bottle and be ready to apply it every 60-70 minutes and let it sit a few minutes before getting in the water.
We were being cautious and still got a little sunburn on days when we spent more time at the beach, which made me wish I had a rash guard top to protect my back from the sun while snorkeling.
A few of our favorite reef-safe sunscreen products include:
Don't forget something to take underwater photos! For those who are looking for something on a budget, you can get a waterproof pouch for your smartphone to take underwater photos. Just be careful to keep this sealed correctly so no water gets in. This does do the trick but can be a bit tricky to play with to get focus.
Or bring a waterproof camera like the classic waterproof GoPro action camera or the waterproof Insta360 camera which are both great for snorkeling and don't require the waterproof housing if you're not diving into deeper water!
Bring your own towel. We also pack our own beach towel on trips with us too, not the bulky traditional beach towel you're thinking of though. We both always use a sarong or Turkish towel because they are lightweight, dry quickly, easy to pack, and do the job!
If you are a cruise ship visitor for the day, don't worry we included a few options for snorkeling in Bonaire near Kralendijk for cruise passengers that you can arrange a taxi to pick up/drop off around your ship schedule or join a tour that we provide below.
Best Snorkeling in Bonaire
Karpata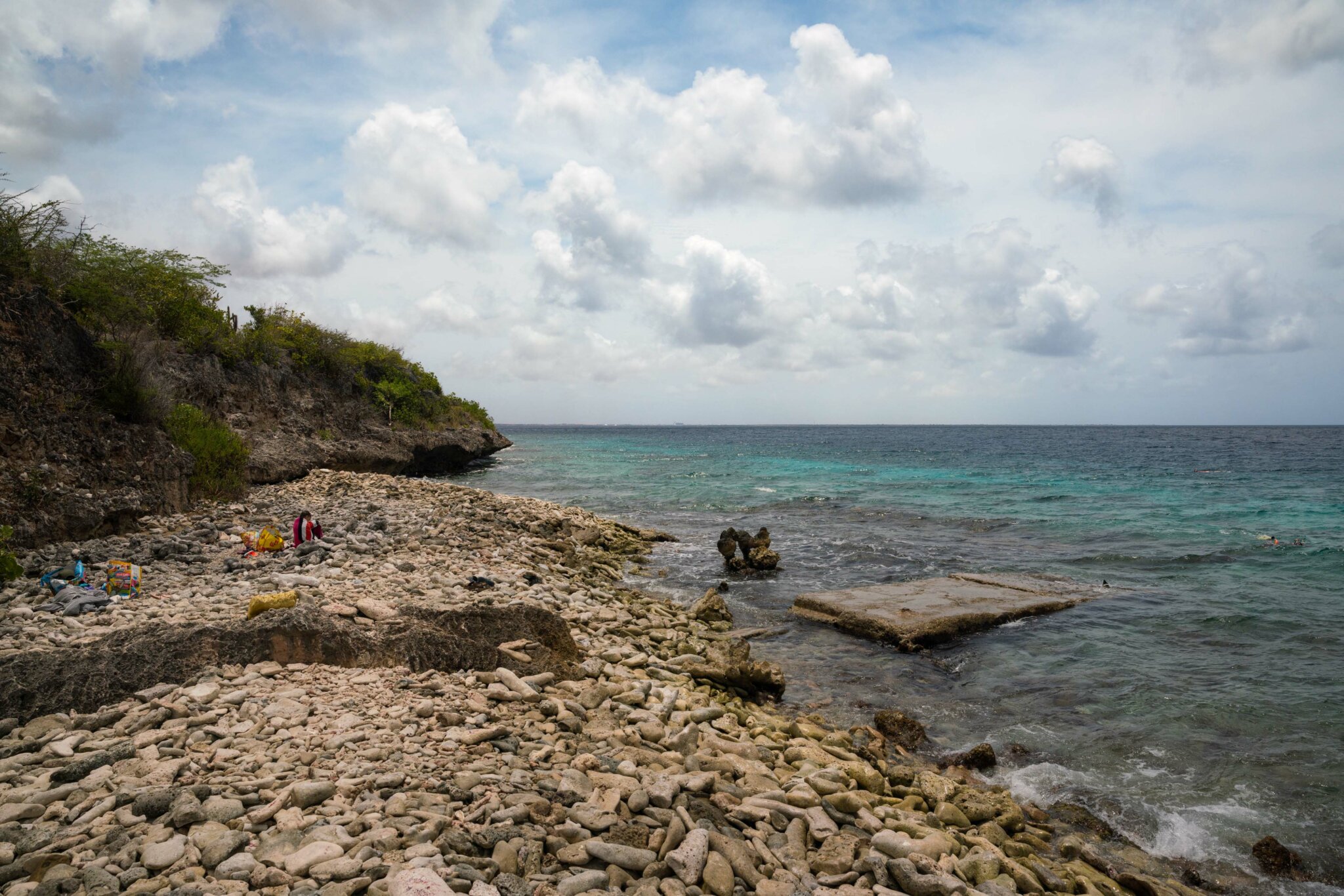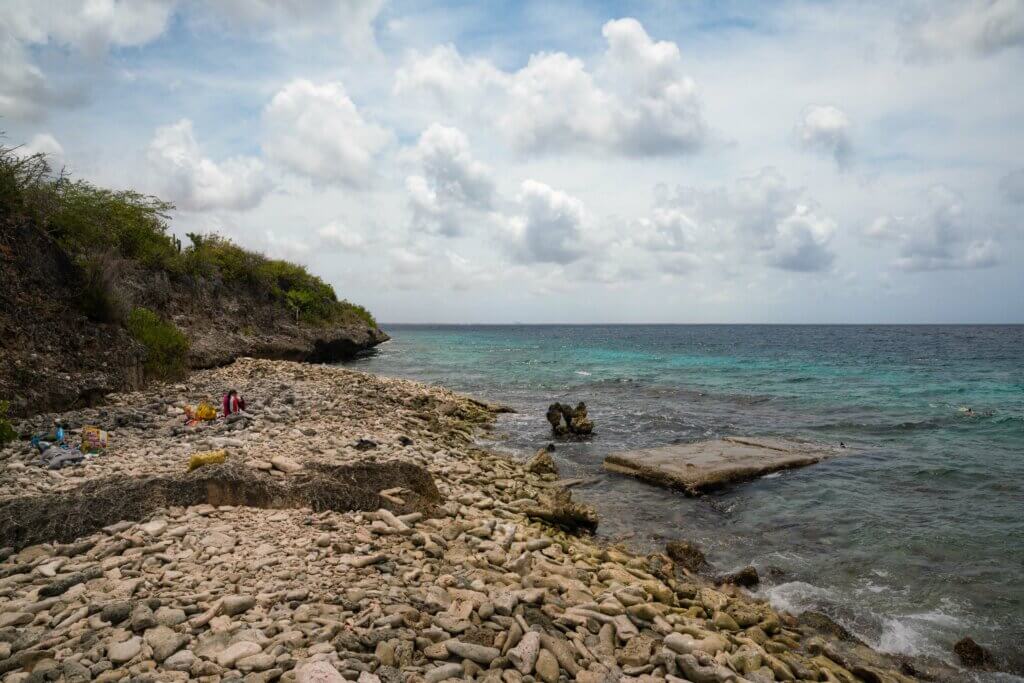 Let's kick off this snorkeling Bonaire guide with our top pick. For the best snorkeling in Bonaire, you'll want to head to Karpata. This is a great stop in addition to 1000 Steps as it's just a short drive north on the incredibly scenic Queen's Highway!
After parking you'll walk down to the shore. There's really no beach here but there is an area you can leave your stuff while you're in the water. The shore is rockier here and you'll want to grab your snorkel gear and get to the concrete slab which provides incredibly easy entry into the water.
I loved this because I was able to easily get my flippers on and just get right in (it's easier to take the flippers off in the water to exit though).
Karpata blew both our minds, it's no wonder this underwater reef is popular among divers and snorkelers in Bonaire! You'll find all kinds of tropical and colorful fish and maybe even a hawksbill or green sea turtle here.
Since this is further north on the island and the site is a little more exposed you'll want to pay attention to the current here. We did come on a calmer day and it was easy to snorkel, but on a windier day or a day where there's a stronger current you'll only want to hop in and enjoy this snorkeling in Bonaire if you're more experienced or advanced at navigating currents.
Afterward, drive out by passing Gotomeer or Goto Lake to see if you're lucky enough to spot the flamingos that hang out here.
No Name Beach at Klein Bonaire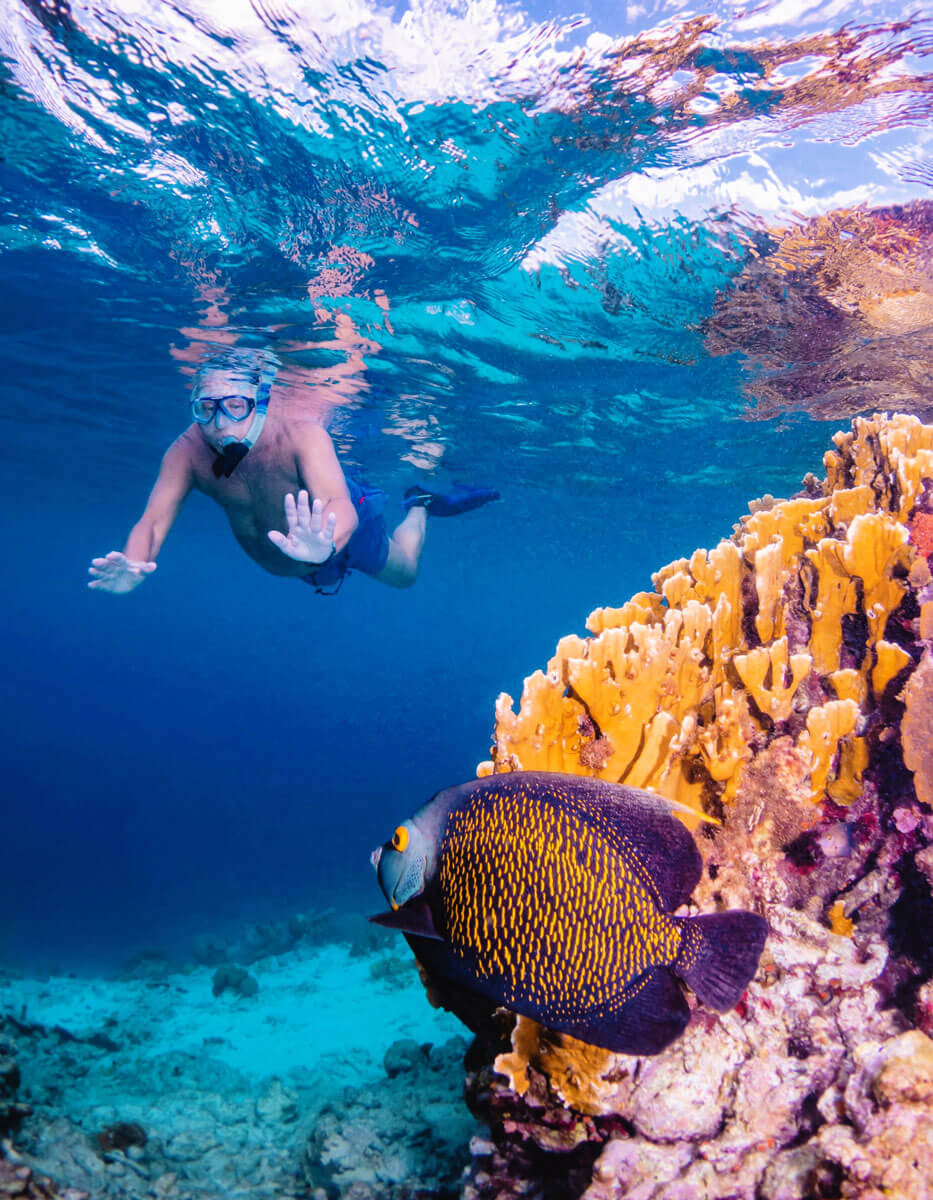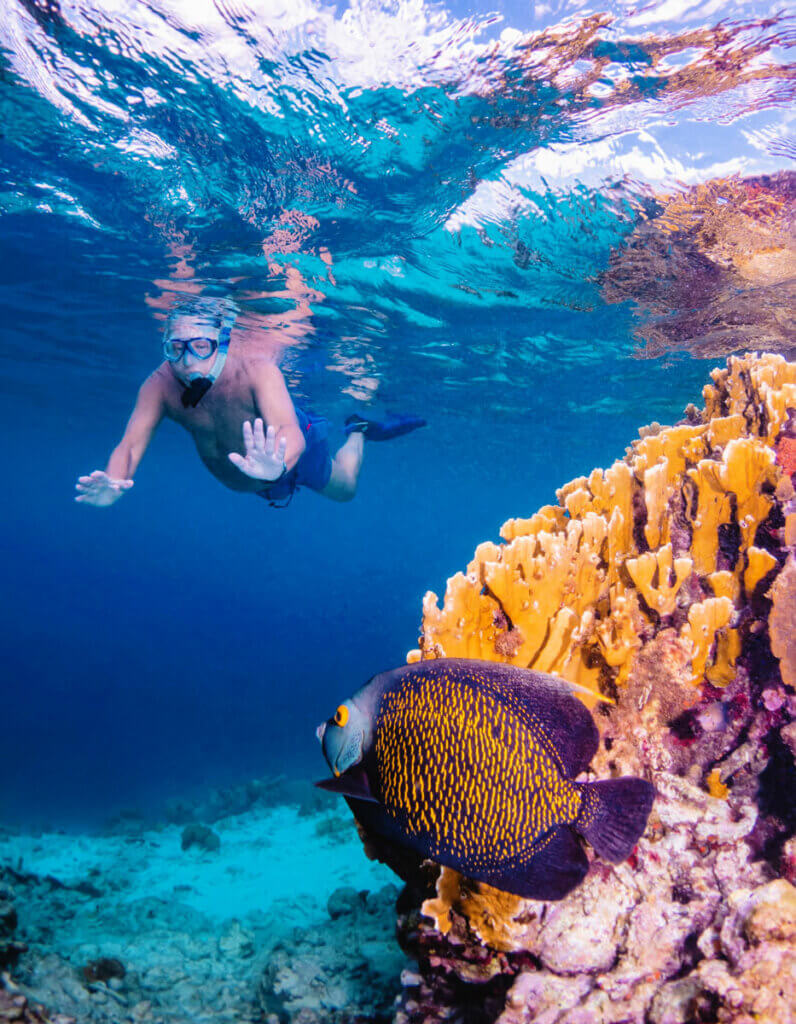 No Name Beach on Klein Bonaire, aka "Little Bonaire" is a bit more of a mission but totally worth it. This uninhabited island is also home to one of the prettiest beaches in Bonaire too which actually has white sandy shores (which are not as common as you'd think on this paradise of a Caribbean island).
You'll need to first get to Klein Bonaire, which is located just a half mile off the central west coast of Bonaire and getting here is actually pretty easy as there are regular water taxis that go here, Bonaire snorkeling tours to Klein Bonaire, and you have the option of also chartering your own boat whether you want a captain or you want to be your own captain – all of these are options.
The water taxi is the most budget-friendly option. You can grab a ticket and hop on the 15-20 minute water taxi from Eden Beach Resort and Karel's Beach Bar, both of which are in Kralendijk. It's $25 USD for adults and $15 for children round trip operating every hour starting service departing from Bonaire at 9:00 & 9:15 AM (depending on which water taxi you take) with the last departing water taxi from Klein Bonaire at 4:45 PM.
Be sure to check the water taxi schedule in advance as they weren't operating from Eden Beach Resort during our visit!
Because of how close this is to Kralendijk, this is one of the best day trips for cruise passengers too since it's easy to plan a few hours and be back in time for your boat.
Something to keep in mind, there are no facilities on Klein Bonaire. You'll want to pack everything you'll need during your time on the soft, white sandy shores of Klein Bonaire from your sunscreen, snorkel gear, and plenty of water and any snacks or food you might need during your time here. Just remember to take any trash or anything you bring with you back off the island!
If you're taking a water taxi, ask the captain if they can offer a 'snorkel drop off' where they take you to a section of the reef where you can just drift in the water while snorkeling down to the part of the beach where all your other belongings will be dropped off first. (they sometimes only offer this on non-cruise ship days, but it never hurts to ask as this is a regular thing that they do).
If that's not an option on the day you go, don't sweat it. You will want to find a spot where you want to leave all your non-snorkel belongings. Then head east on No Name Beach to Buoy B (Ebo's Reef) until you see the yellow sign/marker indicating where you can enter the water to start your Klein Bonaire snorkeling adventure!
There's a split in the reef, so it's easy to enter. Once you're in the water, swim a little further east if you want to maximize your snorkeling here before letting the gentle current drift you along back down to No Name Beach.
When you naturally drift with the current, you'll want to find a spilt in the reef to exit too. Don't' worry, this isn't hard to find and then you'll be dumped off near your belongings. You also have the option to just swim around too, but the drifting with the current here is a fun and relaxing way to enjoy this Bonaire snorkeling spot!
It's also possible to join a Klein Bonaire snorkeling tour (cruise passenger friendly) where they will take you to different reefs you can't access otherwise around the island.
Or you can charter your own private boat for 4 hours and take it to Klein Bonaire! If you want a captain or local to navigate and take you around, you can choose a private 3 hour boat charter with a guide/captain too.
Lac Bay (Sorobon Beach)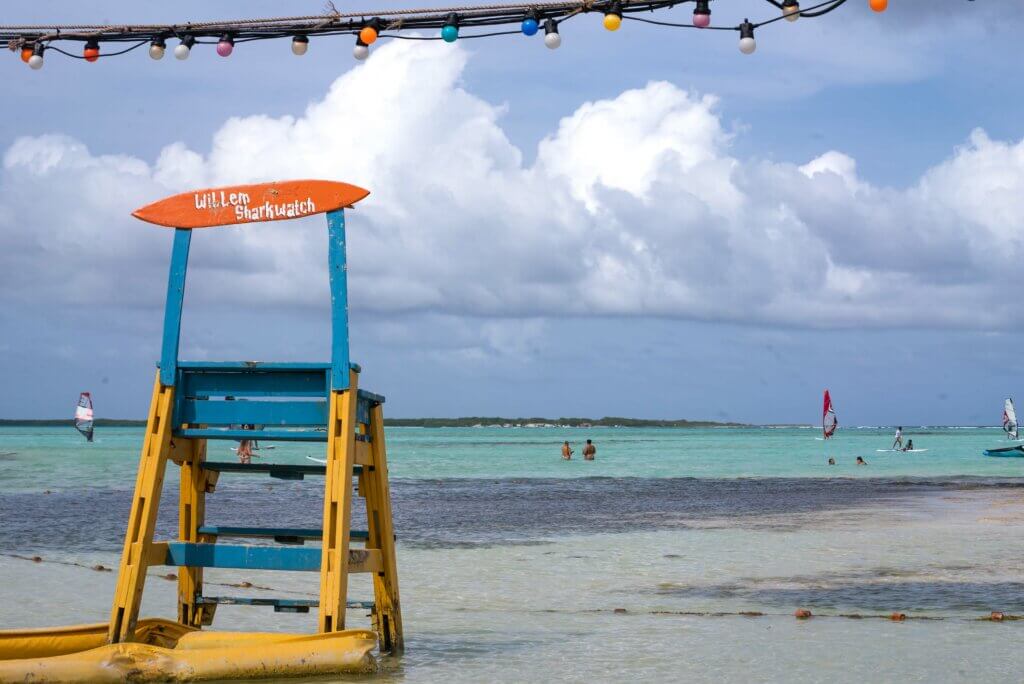 Another great option for the best snorkeling in Bonaire is the ONE exception to swimming and snorkeling on the east side of the island. That's because it's located in Lac Bay, which is a protected lagoon from the trade winds which makes it ideal for sunbathing, snorkeling, swimming, and the most popular thing to do here is windsurf!
Lac Bay is rather large, so for focusing on the snorkeling spots you're going to want to head to Sorobon Beach, this is the popular windsurfing spot on the island that's known globally for its ideal conditions. There are several resorts and windsurfing shops with bars and restaurants that line this beach making it a really fun day at the beach.
The water here is very shallow and getting to the snorkeling here can be a bit tricky to navigate and is best done on days that aren't windy so you don't have to attempt to navigate past and dodge the windsurfers who pretty much have the right away here as this is 'the spot' for windsurfing.
The windsurfing shops like Jibe City are great because they not only have a restaurant and bar with sun beds to sit back and relax, but if you wanted to try windsurfing they have lessons and all the gear you need. On a no-wind day, they are pretty generous letting snorkelers enter the water around here – but don't do this on a high windsurfing activity day.
That being said, it is still possible to go on a day there are windsurfers, but you have to use extreme caution and stay out of their way and enter the water from a different point to better avoid them. To find this, you're going to look for a fishing hut about 600 feet before Sorobon Beach Resort, this is where you can enter safely.
Either way, you go, this is better suited for those who are ready to commit to a 1/2 mile walk and swim journey to get to the reef. Keep in mind not to step on seagrass as it damages them, if you see seagrass avoid it by swimming around/over or walking around in the shallow waters.
You'll first be walking through the water as it's too shallow to swim or snorkel. Once you get past this point you can get your snorkel fins on and as you pass the sandy area before reaching a high concentration of staghorn corals and reefs that are abundant with tropical marine life. During the sandy part keep an eye out for eagle rays and sting rays. You may even spot a sea turtle too!
Since it's more shallow waters here be mindful of how close you are to corals to not touch! While this Bonaire snorkeling spot is more of a mission to get to, it's worth it once you make it there and really not too difficult but is better suited for advanced snorkelers and swimmers since it is a journey.
Luckily, when you're done you can easily refuel at the restaurants along the beach here!
1000 Steps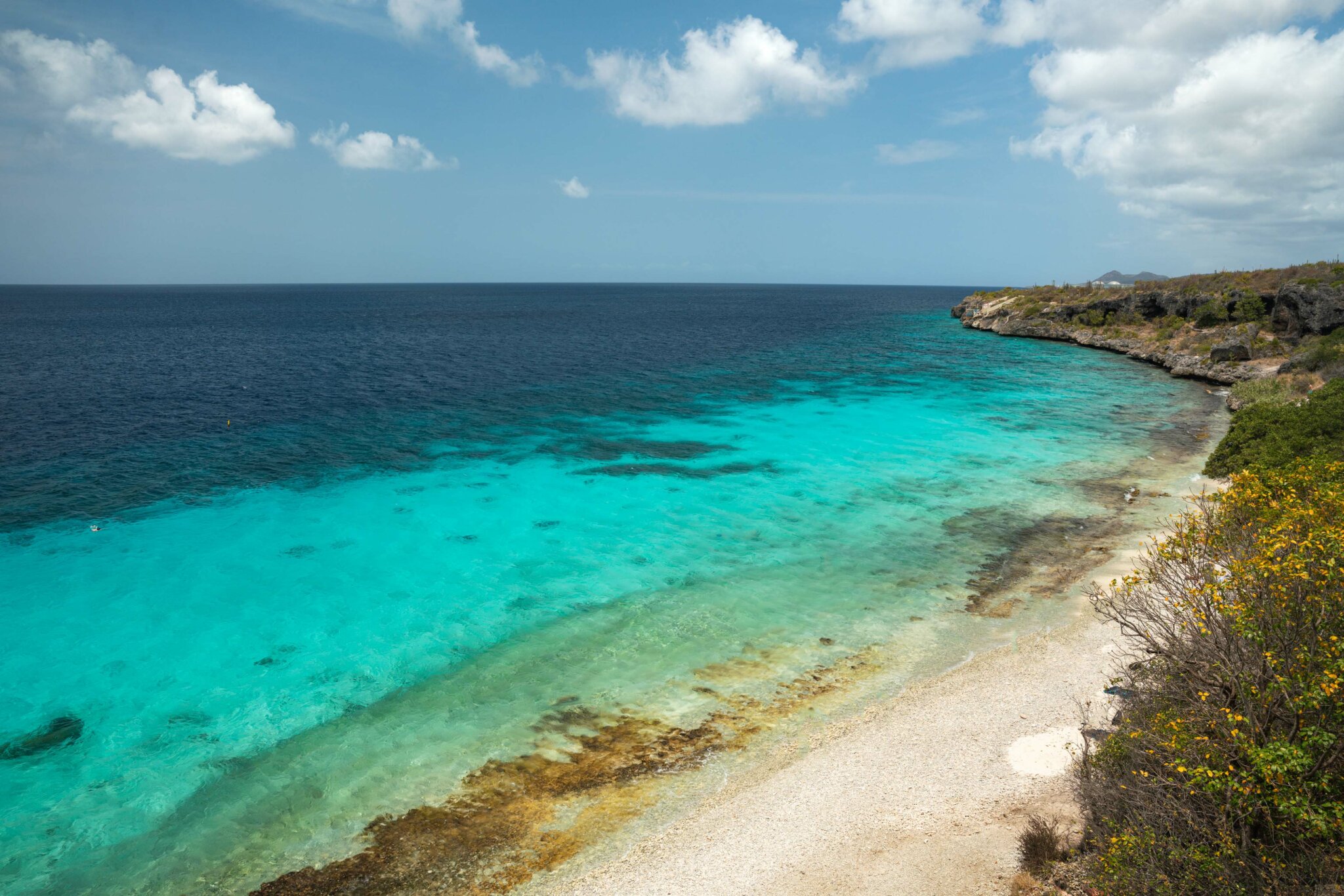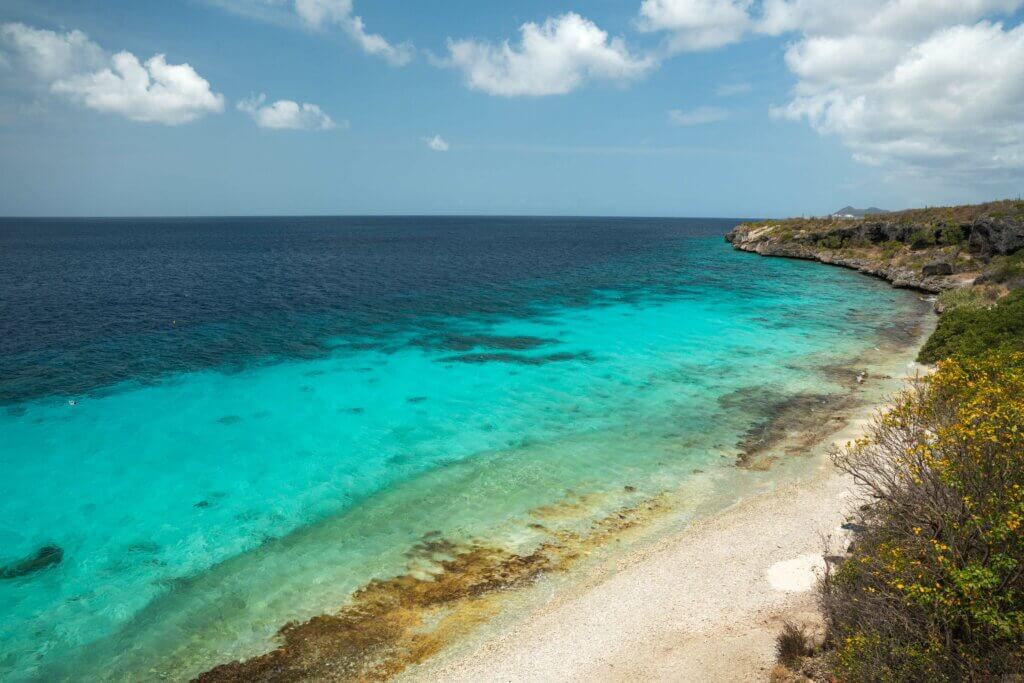 One of the most popular places for snorkeling in Bonaire is 1000 Steps Beach along the Queens Highway on the west coast north of Kralendijk. This Bonaire snorkeling spot is definitely no secret, expect to see small group tours and other people. That being said, the beach was big enough we really didn't notice everyone else and it wasn't really THAT crowded compared to other destinations we've been to, but it was more crowded compared to other places for Bonaire snorkeling.
The first treat you have here is driving along the Queens Highway, which is one of the prettiest drives on the island where you've got the flora and fauna on one side including cacti and on the driver's side you have a dramatic cliffside view of the bluest water you'll see on the island!
Park at 1000 Steps and walk down the 60 or so steps (not 1000, but I'm sure if feels that way for scuba divers who have to lug their equipment back up) and you may even pass a large iguana who seems to always patrol the stone stairway.
The beach here is a little rockier, so you'll want water shoes for getting in and out. We were easily able to find a spot by some cacti to drop off our belongings (just make sure your food is secure in the car as cheeky iguanas may snatch your food while you're snorkeling) and getting in and out of the water here to snorkel was pretty easy.
Once you're in the water you'll be rewarded with an abundance of sea creatures that live in the variety of coral reefs that are found here!
Washington Slagbaai National Park (Boka Slagbaai & Wayaka II)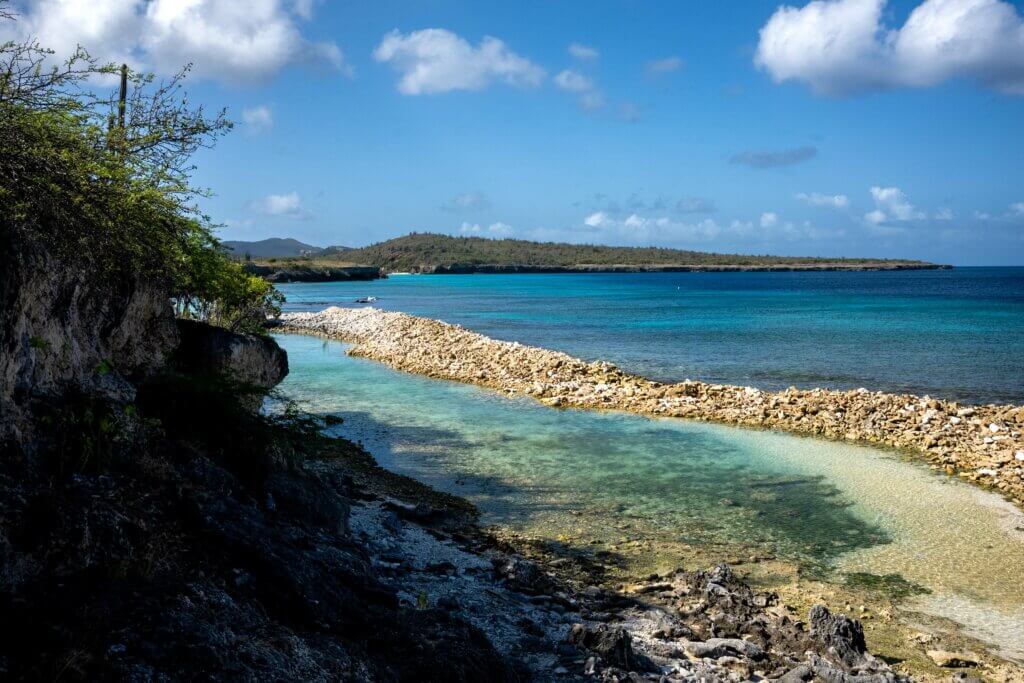 There are a few great diving and snorkeling Bonaire spots inside Washington Slagbaai National Park, located on the northwest coast of Bonaire. We are going to focus on the two that are towards the 'end' of the routes you'd be taking through the park, Wayaka II and Boka Slagbaai.
Both the short route and the long route in Washington Slagbaai National Park will pass these two great snorkeling spots. Keep in mind that if you're driving the long route you will pass a few beaches that are not safe to swim in! You can look at these spots but certainly do not get in.
Wayaka I, II, and III are all right next to each other and shore diving sites. Wayaka II is an excellent spot for snorkelers and there's even a small white sandy shore at low tide you can enter from. Before making your way down the stone stairs to get in, look for any gaps in the coral reef from above so you can find an ideal entry point.
Wayaka I & III are also popular snorkeling spots too and all three sites are next to one another. Just keep in mind the currents here are a bit stronger and you're more exposed, so this is best suited for experienced snorkelers.
After checking out the Wayaka snorkeling spots, get back in your car and make your way to Boka Slagbaai, one of the prettiest white sand beaches in Bonaire along with the beautiful old yellow port buildings (which has the only other restroom in the national park beyond the entrance).
Get in the water here and check out the underwater excitement here from coral reefs to old canons and maybe even some of the sea turtles who nest here!
Keep in mind if Bonaire had any recent heavy rain that access to Washington Slagbaai National Park may be limited or closed as all the roads are unpaved. If the roads need to dry out they will close the park, this is something to keep in mind and check on if you experience heavy rainfall during or around your visit.
You will need to rent a high clearance vehicle with 4×4 or AWD to access Washington Slagbaai National Park.
Since visiting Washington Slagbaai National Park requires alot of planning and driving on dirt roads, you can sit back and relax by joining a Washington Slagbaai National Park guided day trip where your guide takes care of everything and you can sit back and relax, including stops at Boka Slagbaai Beach.
Margate Bay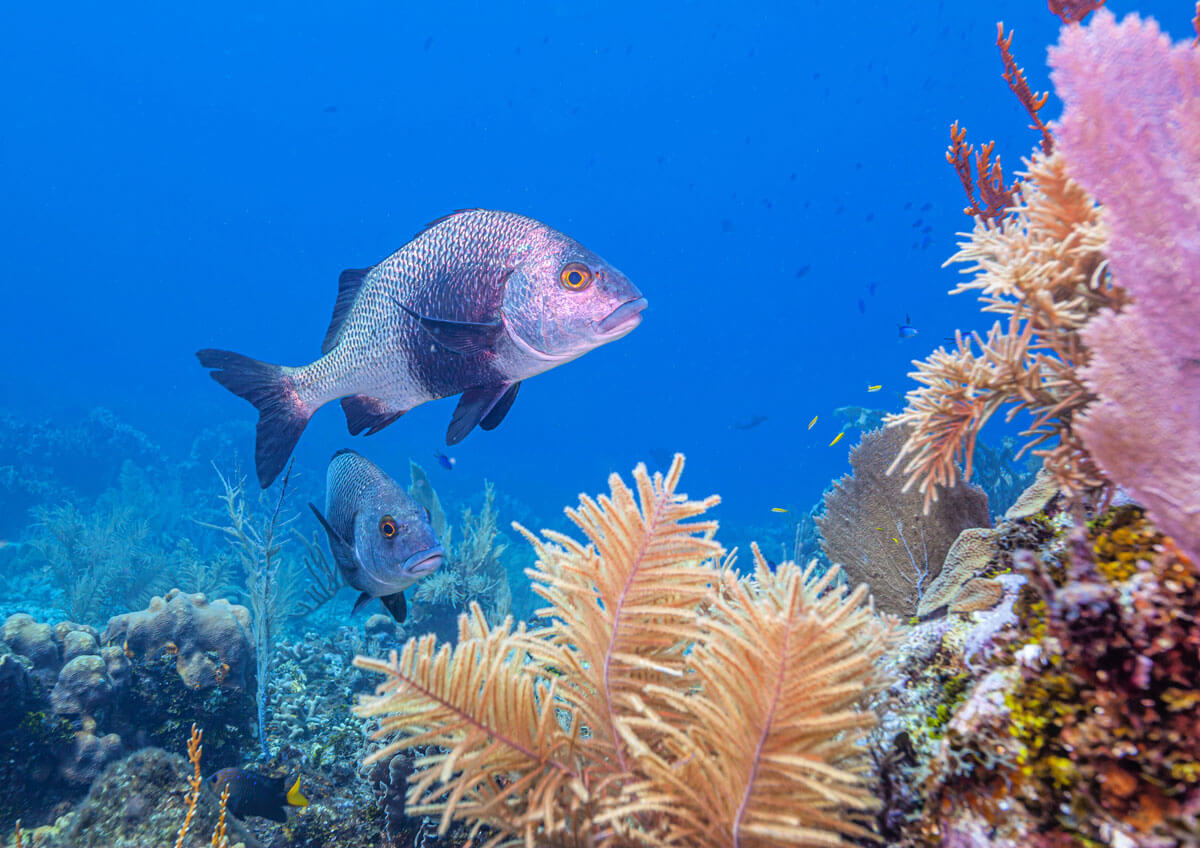 Located on the southwest end of the island are several excellent snorkeling Bonaire spots near the salt pyramids and salt production facilities. Many of which are no strangers to stronger currents with the exception of Margate Bay, which tends to have calmer waters and less intense currents. With that in mind, it's still best to visit on a less windy day as waves can pick up here too.
Named after the black margate, which can be found a plenty here, you can also spot all kinds of colorful fish and marine life here including the occasional ray!
Many of the beaches along this stretch of shoreline are also sea turtle nesting areas, so don't be surprised if you see sea turtles around here too!
The only thing about Margate Bay was finding a good entry and exit point as there's a shelf of rocks and coral at the shoreline that tends to be home to sea creatures like urchins. We actually saw so many urchins that we were very hesitant about getting in, so please be mindful of this when you're entering and exiting the water!
We actually saw eels here in the shallow tide pools along the rocks too!
And if you want to stick around here and check out more great Bonaire snorkeling spots, you can visit Red Beryl North dive site nearby too which is another spot with healthy corals.
Tori's Reef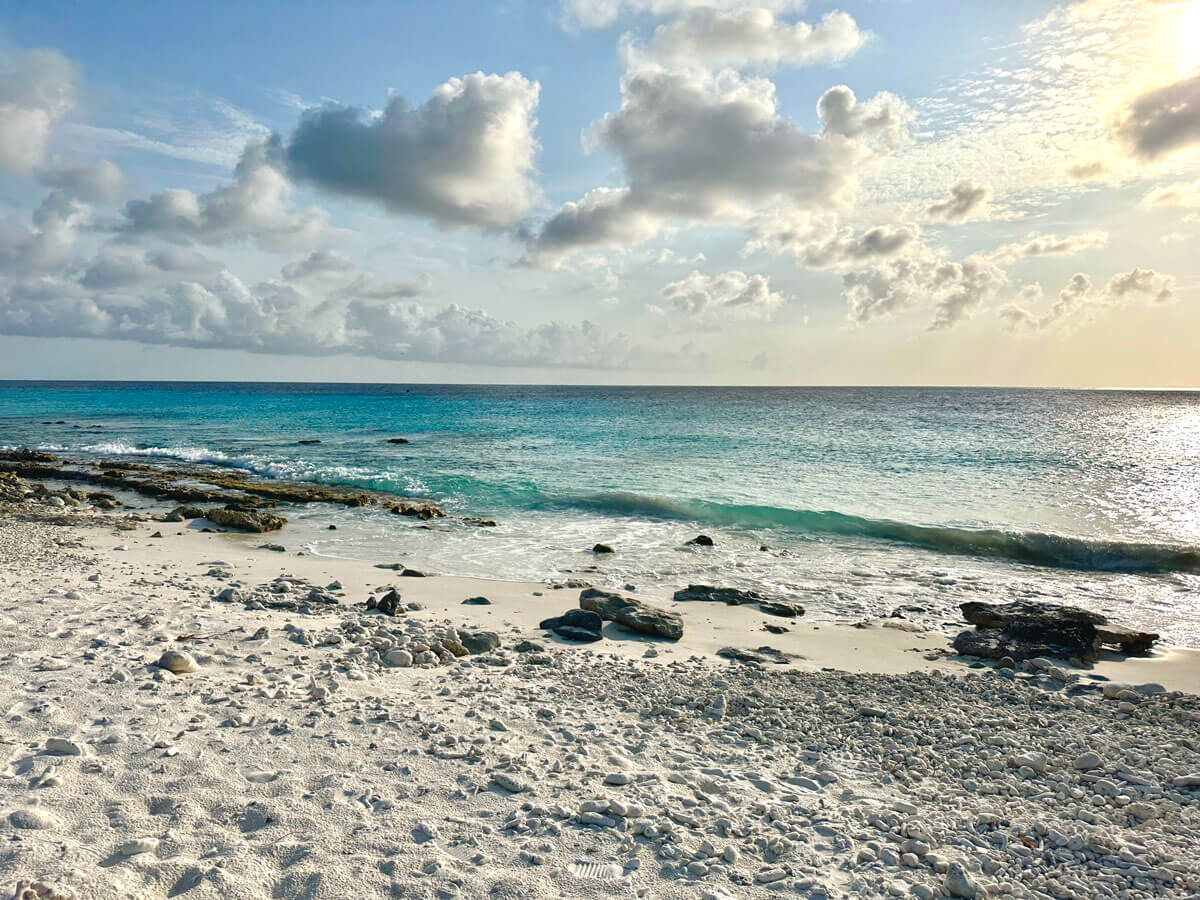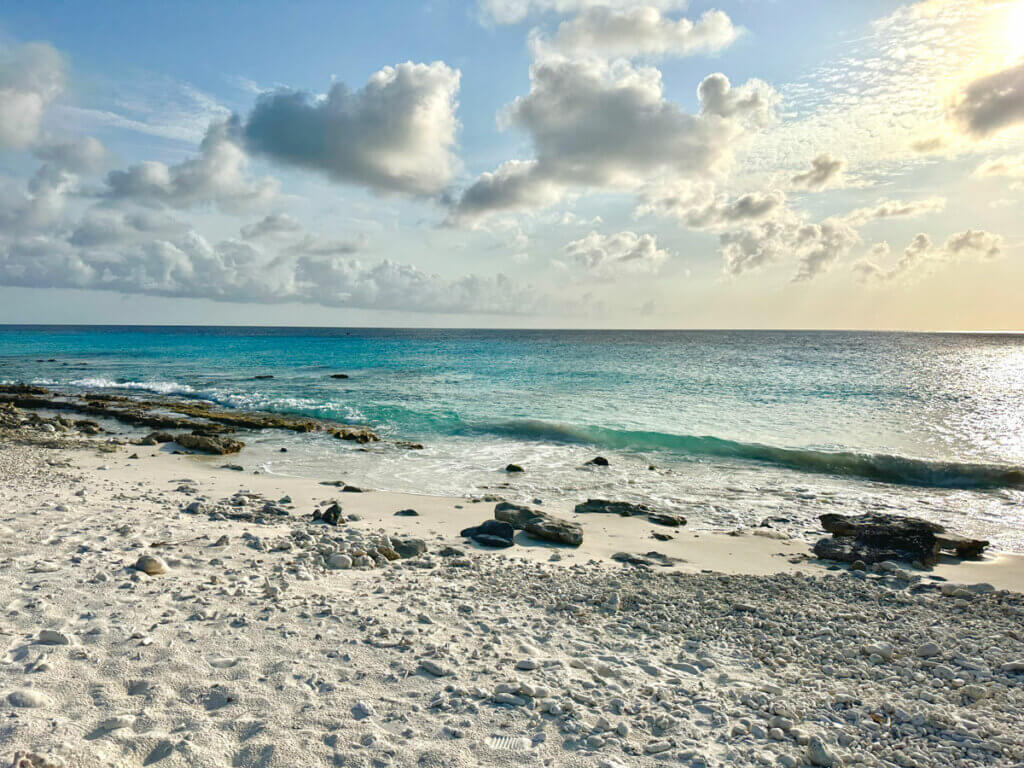 This popular dive site is also a great snorkeling spot too. Located on the southwestern coast (between the White Slave Huts and the Salt Pier) is Tori's Reef, where you can find a unique double reef ideal for spotting all types of marine life including eagle rays in the sandy patches between the reefs.
Getting in is pretty rocky, so you'll definitely want watershoes. The best entry point is near the bridge at the south end of the beach where you'll find a gap in the coral.
Like many of the Bonaire snorkeling spots to the south, the currents are a bit stronger here and this is best suited for experienced snorkelers.
Bari Reef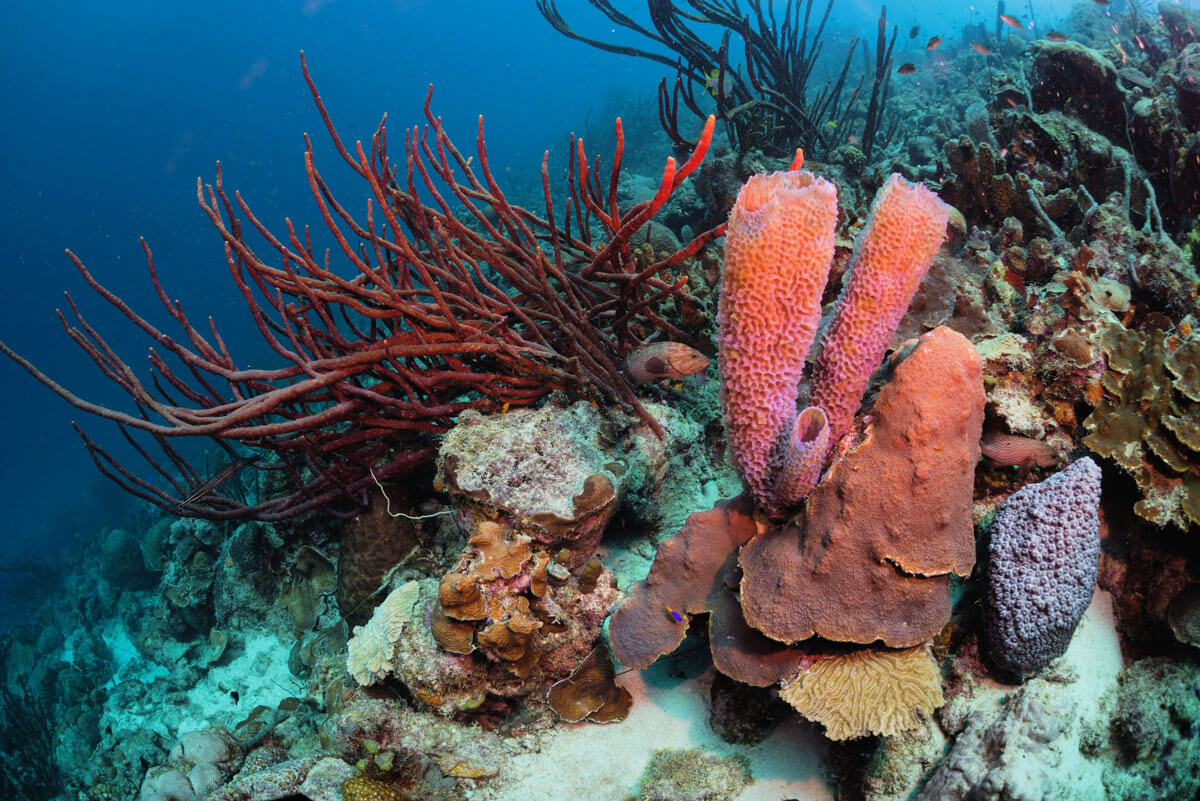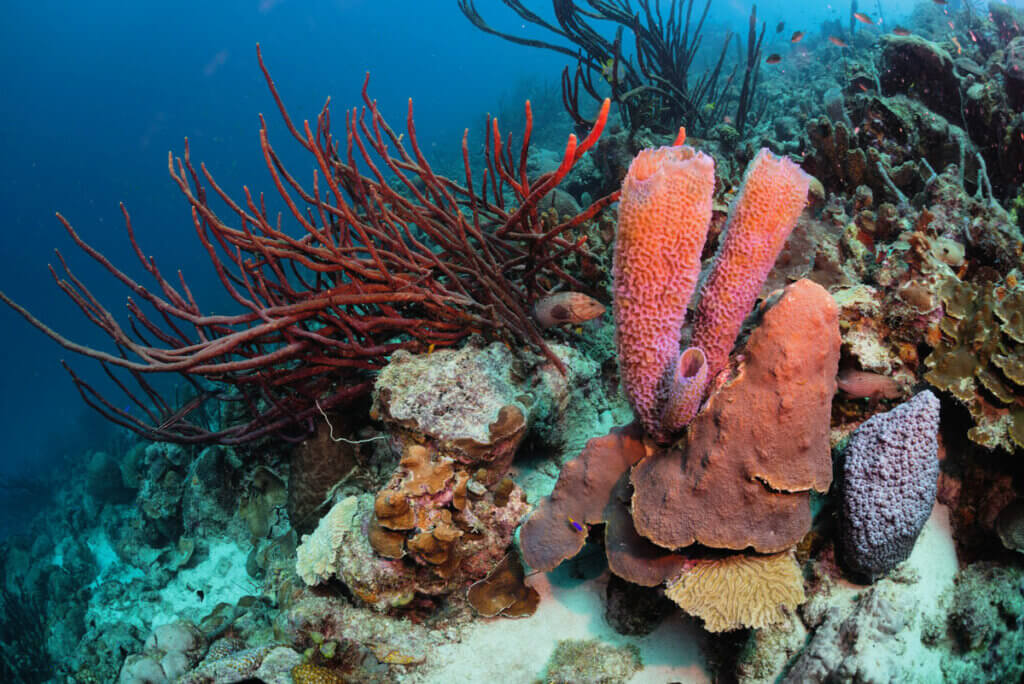 Bari Reef is an excellent snorkeling spot in Bonaire for those looking for calmer waters as it's located near the center of the west side of the island near Kralendijk. To find this Bonaire snorkeling spot, you'll need to head to the Sand Dollar Condominiums just north of Eden Beach Resort.
Because of how close this spot is to the city center, this is one of the best spots to snorkel in Bonaire for cruise passengers.
From here you can access the rocky beach which provides easy entry and exit points to snorkeling here. There's great marine life to be discovered here in the water along the corals and the pier as it's said to have over 300 types of fish spotted here, which is more than reported in other spots. There's a big drop off too, so if you're not a fan of deeper water you'll want to stick around the more shallow areas.
Something to keep in mind, if you're not staying at the hotels here you can't access the main entrance to Bari Reef, unfortunately. To get around this, you can swim up to Bari Reef entering at the public shore point at the right side of Den Laman Apartments.
Or if you want to hang out at Eden Beach Resort, non-guests can rent comfortable beach chairs and beds with an umbrella and order food and drinks making your Bonaire snorkeling and beach day incredibly comfortable and relaxing! They even have live music and DJs sometimes.
Tolo Divesite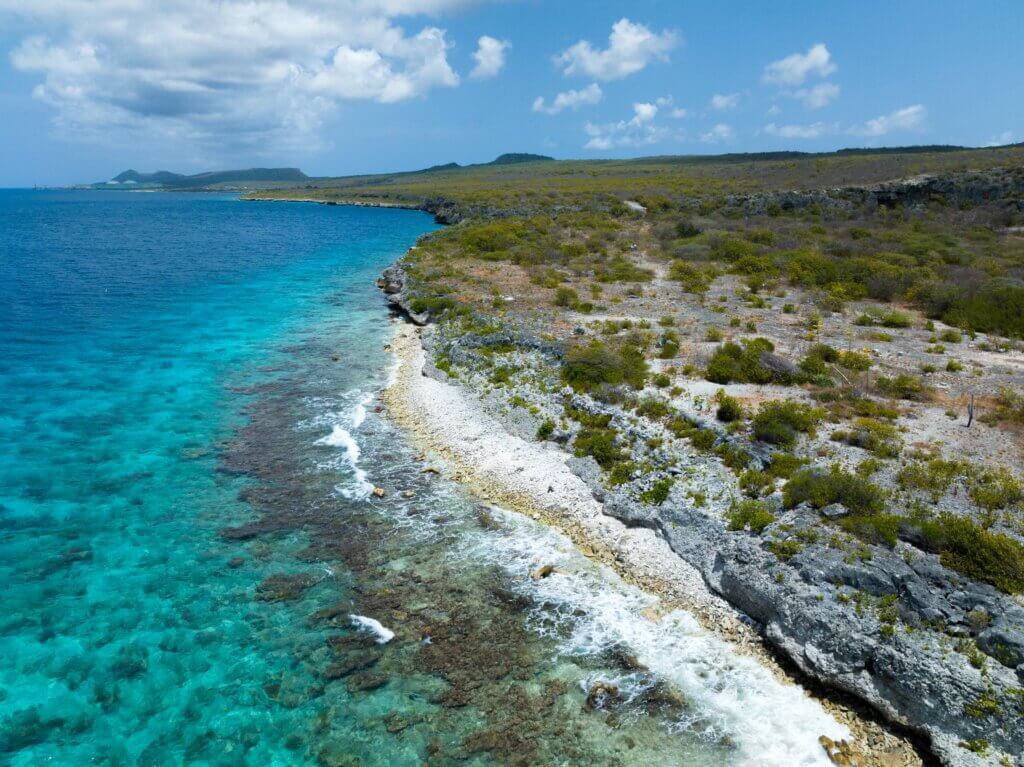 Another excellent Bonaire snorkeling location along the incredible scenic Queen's Highway is the Tolo Divesite (also known as Ol'Blue). This sandy, but rocky, stretch of beach has easy access to but you'll want water shoes to protect your feet.
Sometimes there are waves here, so you may need to plan your entry and exit a little more carefully here to not get tossed around.
You can basically snorkel all around this beach, to the right you'll find shallow reefs to explore and after swimming back against the current you can explore the drop-off for more underwater exploring.
Both areas have an array of types of healthy corals to see that are home to an abundance of fish. Just plan your underwater exploring to your energy levels and not go too far with the current as you'll have to swim back against it.
Salt Pier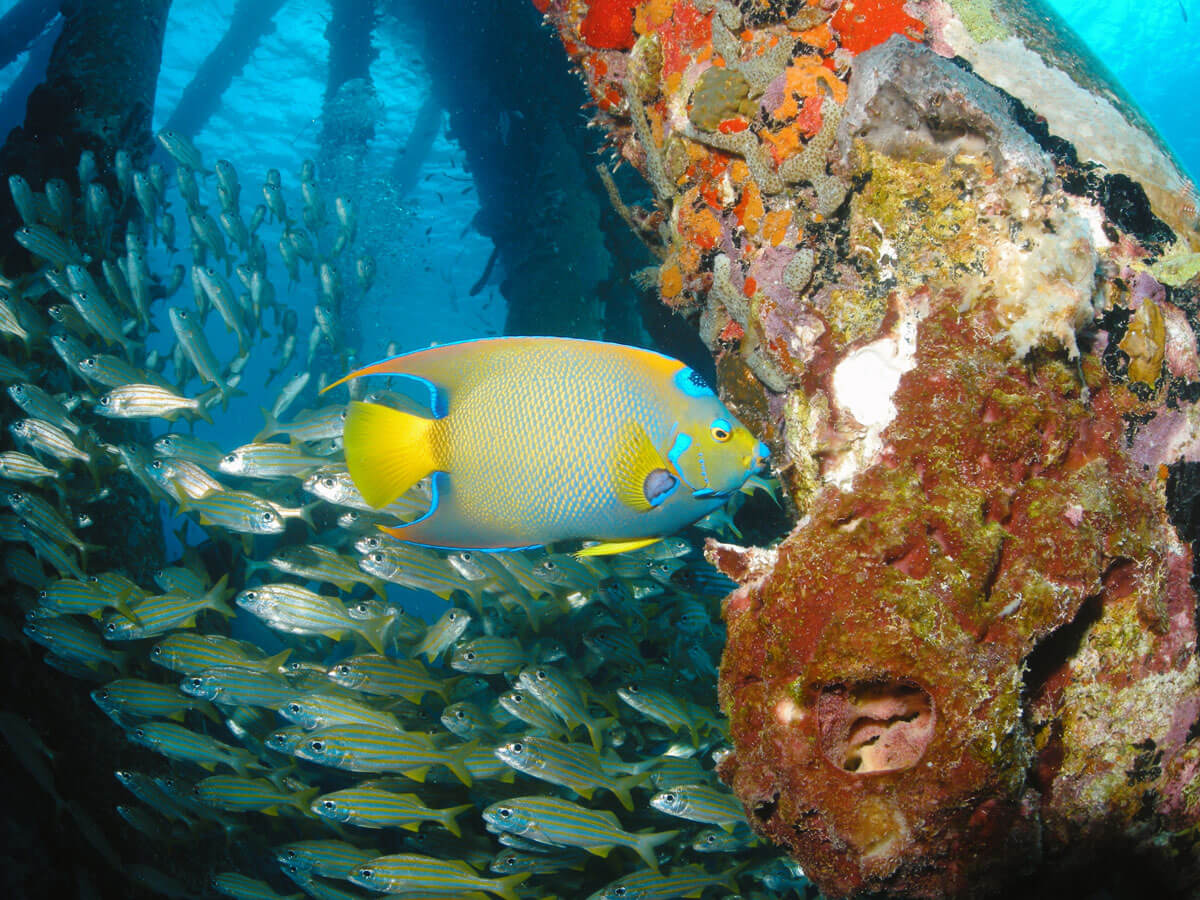 Another one of the best snorkeling spots in Bonaire is the Salt Pier along the southwest coast where the Cargill salt production facilities are (near the cool salt pyramids). While this is a popular diving and snorkeling spot, it's only open to people when there are no ships as it is active with docking ships.
We saw tons of people snorkeling between the sponge-encrusted pilings of the pier as there's an abundance of fish who hang around here.
It's also not uncommon to spot sea turtles here who like munching on the sea grass beds that are here too.
Just keep in mind, there are stronger currents here and there can be waves when entering the water, so this is best suited for experienced snorkelers.
To get in, head to the right side of the pier. You'll want water shoes as you'll be walking on a pebbly surface. Then snorkel over to the pilings and the drop off where you'll be rewarded with tons of coral and colorful fish.
Bonaire Snorkeling Tours
Not feeling like you want to hit up the best snorkeling in Bonaire on your own? Or maybe you don't want to rent a car. Or maybe you're a cruise passenger. Don't worry, you can join one of these tours.
| | | | |
| --- | --- | --- | --- |
| Tour | Highlights | Bonaire Snorkel Spots | Book |
| Rent Your Own Private Boat for 4 Hours | Comes with use of snorkeling equipment, watersports equipment, towels, and jug with ice, cruise-friendly | Customizable with option to visit Klein Bonaire on your own | Book here |
| Brunch & Snorkel Catamaran Tour | 4.5 hours, breakfast and drinks included, snorkel gear included, cruise-friendly | Snorkel spots between Bonaire and Klein Bonaire | Book here |
| Roundtrip Beach Transfer (from cruise or hotel) | air-conditioned roundtrip beach transfer from cruise ship or hotel to beach of your choice | customizable | Book here |
| Snorkel, Fishing, & Grilling at Donkey Beach | 3-hour experience to learn local fishing methods including meal and snorkel equipment, cruise-friendly | Donkey Beach | Book here |
| Catamaran Snorkel & BBQ Tour | 4-5 hours, catamaran boat, snorkel gear included, BBQ lunch and drinks included, cruise-friendly | Snorkeling around Klein Bonaire and Bonaire | Book here |
| Private Snorkeling Tour with Underwater Photos Included | 2.5 hours, private tour for max 4 people, includes snorkel gear, 5 underwater photos, cruise-friendly | local snorkel spots | Book here |
| Private Charter with Captain | 3 hours, option to customize activities/locations, includes watersports gear and snorkel gear, drinks and snacks included, pick up & drop off included to hotel or cruise port, cruise-friendly | customizable | Book here |
---
Does Bonaire have good snorkeling?
Bonaire not only has good snorkeling, Bonaire has excellent snorkeling! Home to the shore diving capital of the world, there are many shallow reefs along the shoreline with an abundance of healthy coral reefs and marine life making it a perfect snorkeling destination.
What is the best reef in Bonaire?
There are several great coral reefs to snorkel in Bonaire, but the best is Karpata at the northwest section of the island where you'll find a premier shore diving and snorkeling site. The other best reef in Bonaire can be found at Klein Bonaire, another popular day trip and snorkel site for visitors.
Can you swim with turtles in Bonaire?
Many of the beaches in Bonaire are nesting areas for sea turtles who often hang out along the shores eating sea grass and are common to spot while snorkeling or shore diving at many of the sites around Bonaire.
When is the best time to visit Bonaire?
Bonaire has ideal weather 9 months of the year and the best time to visit Bonaire is from January through September, as October through December can bring on tropical storms and more rainfall.
---
Best Bonaire Snorkeling Spots Summary:
Karpata
No Name Beach at Klein Bonaire
Lac Bay (Sorobon Beach)
1000 Steps
Washington Slagbaai National Park
Margate Bay
Tori's Reef
Bari Reef
Tolo Divesite
Salt Pier
---
Enjoyed this guide to the best snorkeling in Bonaire and the best Bonaire snorkeling tours? Bookmark for later or share the love below on Pinterest!