Looking for the perfect cabin getaway or romantic mountain cabin getaway? The United States is full of incredible luxury cabin rentals that are the perfect escape away from the every day hustle and bustle of modern life. Some are set in the forest where you can enjoy a quiet holiday off the grid and others are located near national parks, on lakes, and near some of the best cities to enjoy and explore in the country.
We asked a group of travel experts on their favorite cabin resorts in the United States and these are their top picks for the best cabin getaways in the United States to help inspire you and plan your next dreamy getaway.
Amazing Cabin Resorts in the US
A Frame Cabin in the Adirondacks New York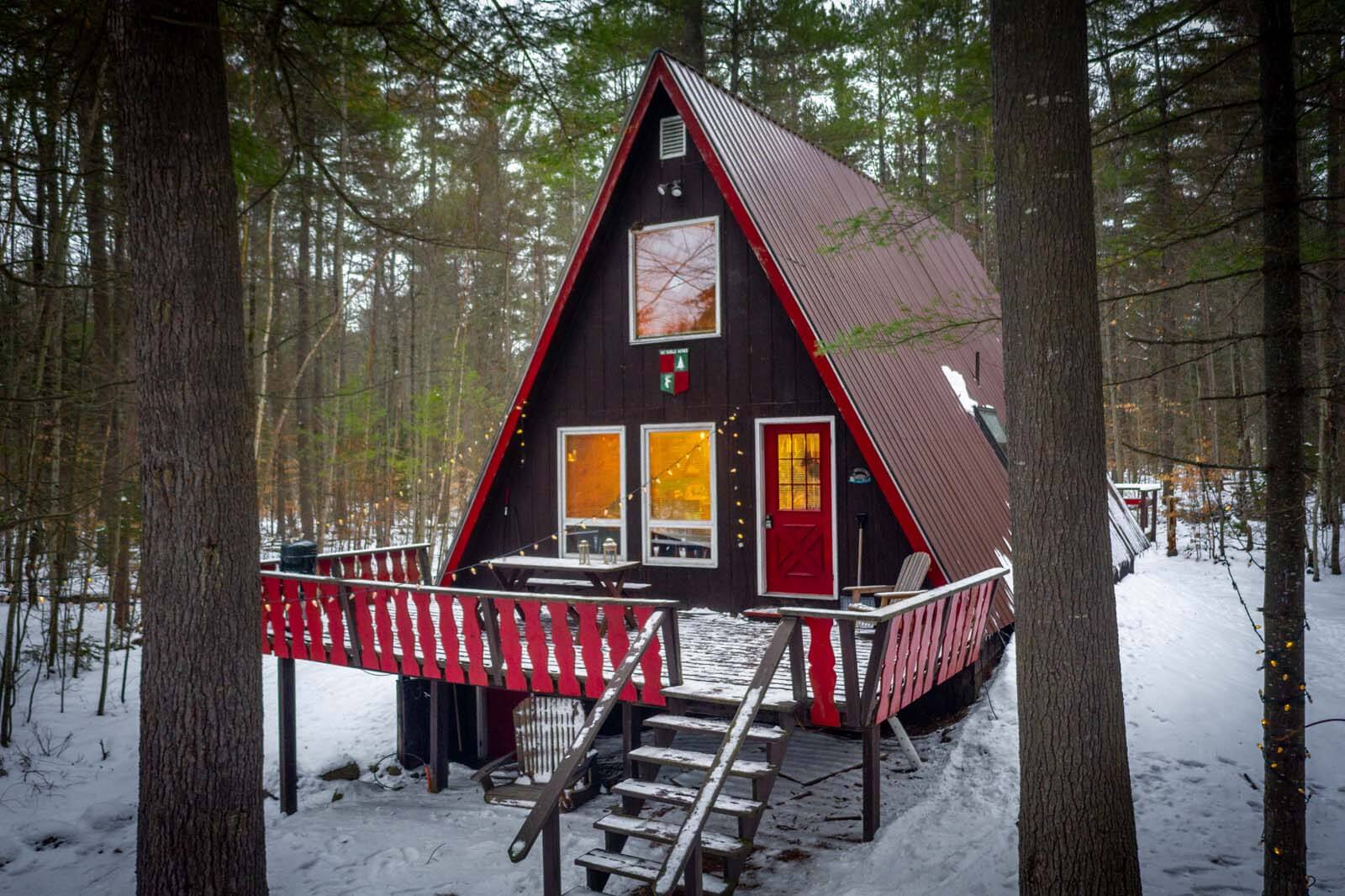 One of our favorite romantic cabin getaways in the United States is located in Upstate New York in the Adirondack Mountains.
Located in the adorable Adirondack's town of Jay is this A-Frame beauty tucked away in the forest. This cabin is just a short drive from Whiteface Mountain, Ausable Chasm, multiple waterfalls including High Falls, Lake Placid, and even the North Pole winter amusement park and village.
This cabin getaway is located on 2 acres of secluded forest and is a perfect spot any season offering great activities year-round.
This 2 floor A-frame cabin has a fully equipped kitchen, living room, dining room, office, and 2 bedrooms. Book this romantic cabin getaway on Airbnb.
Elk Ridge Campground, Washington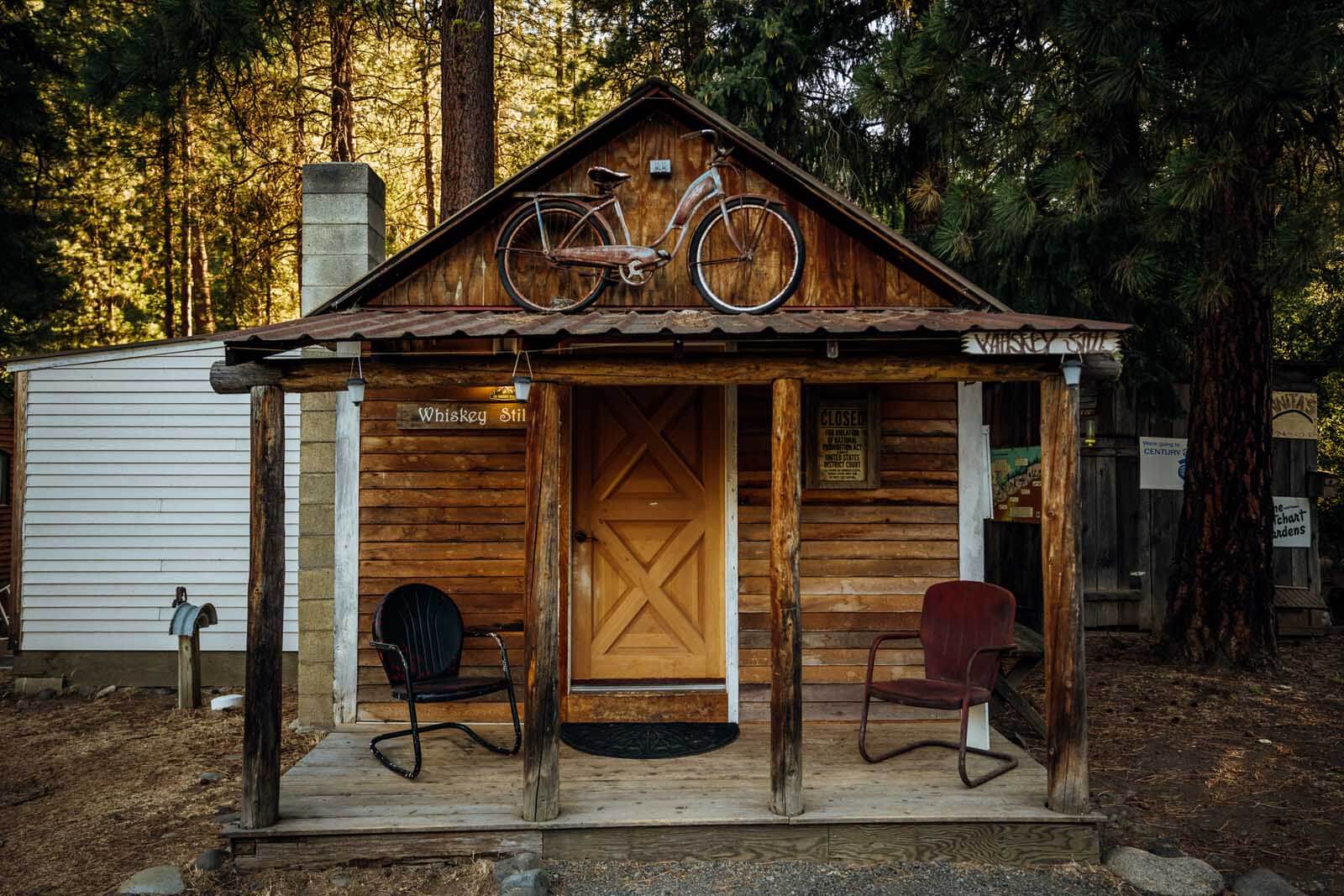 One of the best cabin getaways and campgrounds in the Pacific Northwest is located near Yakima Valley in Washington State.
Elk Ridge Campground in Naches is the perfect place to bring your own camper or rent one of their adorable and historical cabins located along the river next to the mountains for the ultimate peaceful escape.
There's no cell service out here so this is the perfect excuse to disconnect and enjoy the incredible beauty that surrounds you. Besides being complete bliss in the Washington mountains, the owners are some of the most welcoming and inviting cabin getaway owners in the US going above and beyond to help make unforgettable memories for a romantic getaway or a family vacation.
From the garage cinema with fresh popcorn to the releasing of the 'fireflies', to the history behind each of the cabins. You can't leave here without wanting to come back for another incredible week or weekend in Yakima Valley.
Book the Elk Ridge Campground in Naches, Washington
Visit Elk Ridge Campground's Website and be sure to check out more amazing and romantic cabins in Washington.
Cowboy Village in Jackson, Wyoming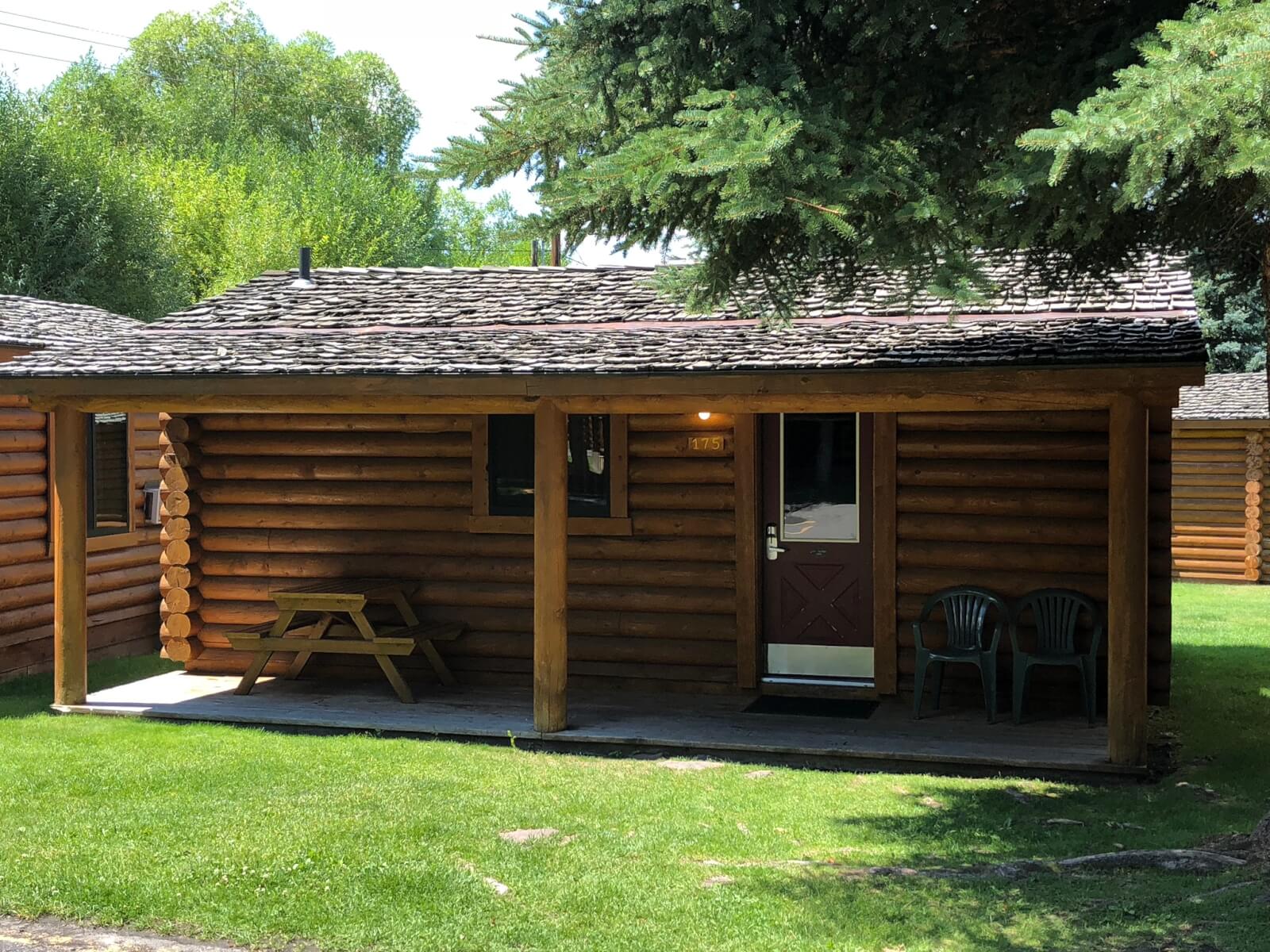 The Cowboy Village was the perfect cabin getaway for a family to stay when visiting Grand Teton National Park. Our family chose to stay in Jackson, Wyoming, a cowboy chic town with cool log cabins to rent, just ten minutes away from the national park.
The Cowboy Village has 82 stand-alone log cabin rentals that contain a kitchen, dining table, refrigerator, bathroom, and picnic table just outside your door. Even though the cabin size is smaller than a typical log cabin, it was just enough.
The Cowboy Village is located just a few blocks away from the downtown area of Jackson which makes it a perfect location within walking distance to restaurants and shops, yet isolated enough that you don't hear traffic noise.
I highly recommend staying in this cabin getaway no matter the season. During the winter months, they offer a free shuttle to the ski lifts, and in the summer months, it is the perfect home base for exploring Grand Teton National Park even taking a day trip to Yellowstone, which is only 55 miles away, is a great option for staying in this area!
Book the Cowboy Village in Jackson, Wyoming
Book Now on Booking.com | Compare Prices for Later on Hotels.com | See Rates on Expedia.com
---
Top Cabin Resort Pick By Margie from DQ Travel
Bar N Ranch in West Yellowstone, Montana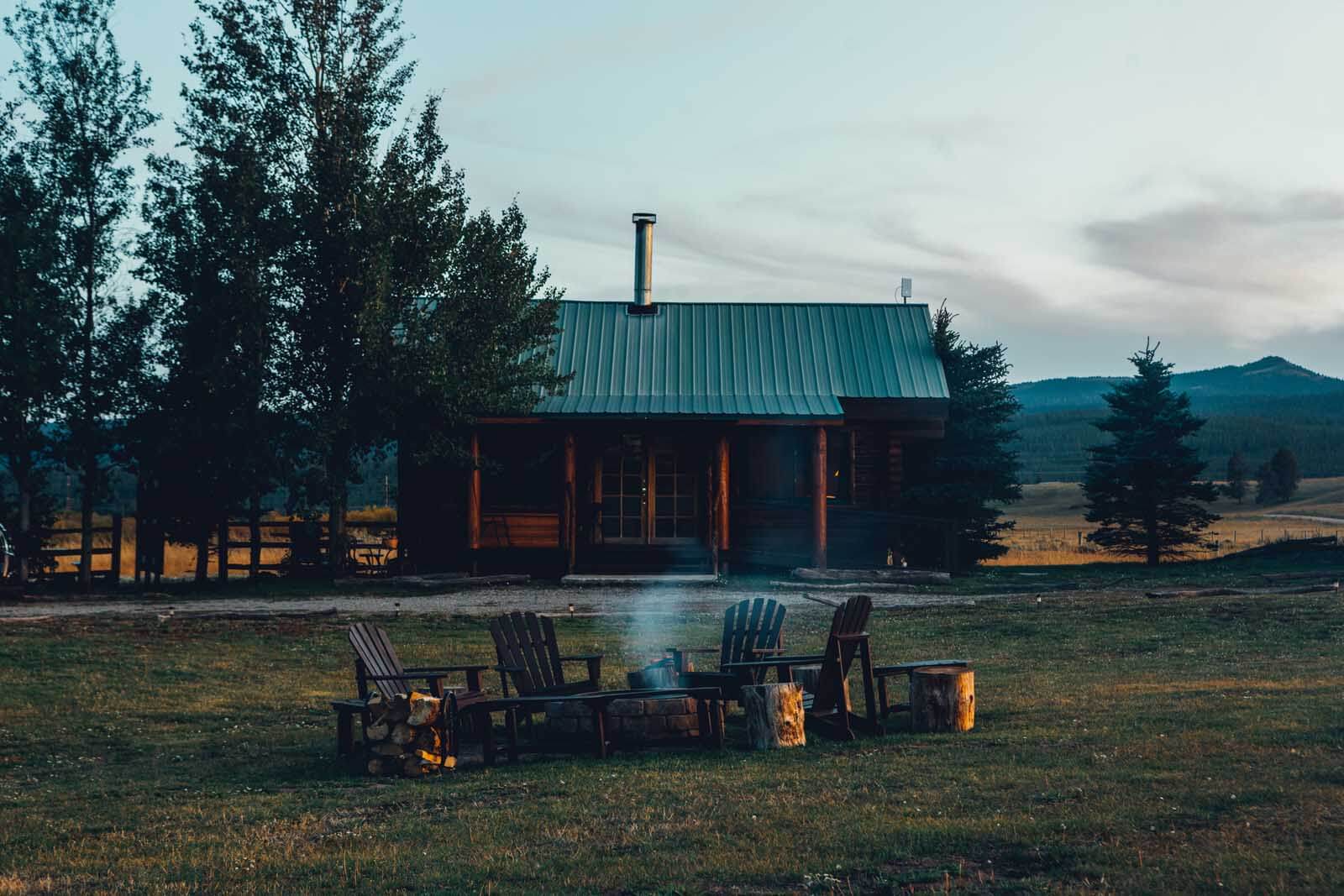 If you're looking for an incredible luxury cabin rental to explore all there is to do and see in Yellowstone National Park we recommend staying at the Bar N Ranch in West Yellowstone. Located just outside the park this is the perfect place to explore the beauty of Yellowstone as well as kick off a Wyoming or Montana road trip.
This beautiful property is an incredible cabin getaway with different cabins for rent that accommodate as little as two guests to a dozen guests. There are also rooms in the main lodge and camping yurts on the property as an option.
We stayed in the largest cabin with a group of friends and it was an unforgettable time with our very own hot tub on a private porch under the stars and view of the mountains and a fire pit to cozy up next to a warm fire on a chilly night.
Book Bar N Ranch in West Yellowstone, Montana
Book Now on Booking.com| Compare Prices for Later on Hotels.com | See Rates on Expedia.com
Getaway Cabins in Washington DC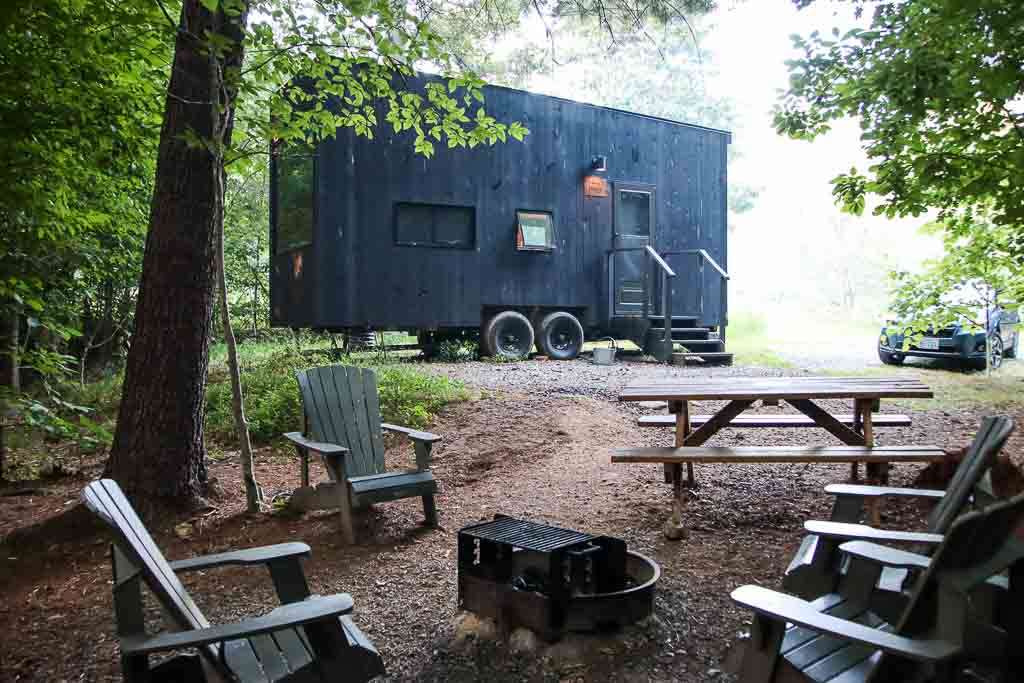 Living in Washington DC can certainly make someone want to run and escape into the comfort of the trees and lay under the stars taking a break from the rush of life in the city. With the beauty of Shenandoah National Park at the fingertips of DC, it only made sense to have a plot of land where families and couples could enjoy tiny cabin rentals and enjoy a slice of that beauty.
Getaway is a company based on the idea that we should all escape the demands of life, put our phones away and read a good book. With locations around the US, there is a Getaway House or romantic cabin getaway closeby when you need that respite.
Each Getaway House is equipped with the basics and can comfortably fit either two (one queen bed) or four (two queen beds stacked) in front of a huge glass window overlooking the trees. You'll also find a small kitchen, coffee pot, table for 2-4 and a bathroom with shower. Outside each cabin features a fire pit and Adirondack chairs. You'll find a complimentary smores kit to get you into a relaxing mood.
Catch up on the latest novel, talk until the sunsets or go for a hike along the trails… the options are endless. For more adventures, escape to the local wineries, trails inside Shenandoah National Park or do some shopping in nearby historic towns.
Book Getaway House in Washington DC
Find out availability and rates at Getaway House.
---
Top Cabin Resort Pick By Chelsea from Pack More Into Life
Fat Sheep Farm in Windsor, Vermont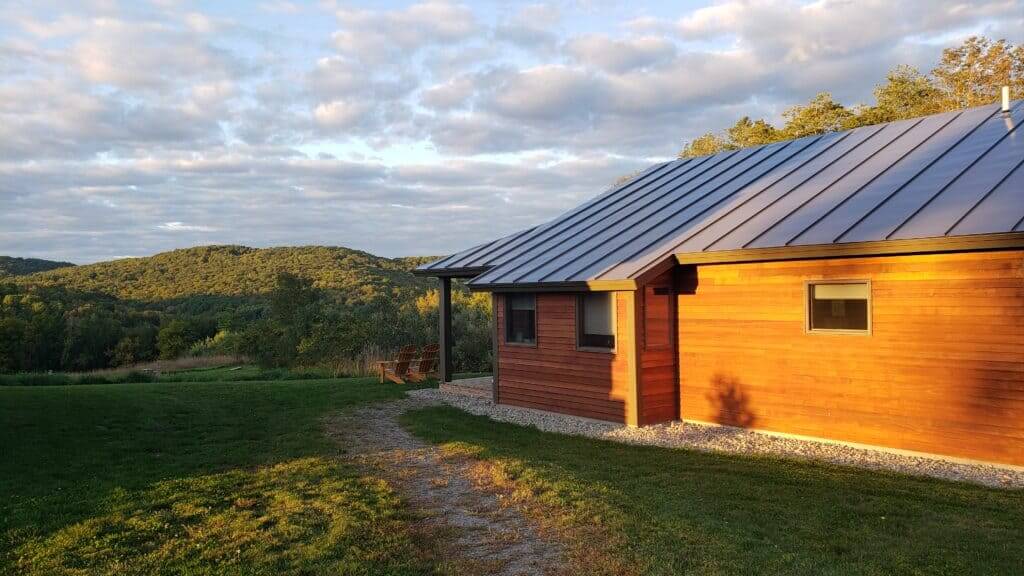 There are all kinds of amazing cabin getaways around the US, but when you're in Vermont, consider this unique option for a romantic cabin getaway: stay right on a working sheep farm!
Fat Sheep Farm is a beautiful property in central Vermont where sheep, goats, and chickens are living their best life. This is a real working farm, and during your stay, you can join in for morning farm chores, including collecting fresh eggs and milking the sheep.
This is the perfect opportunity to experience farm living, all while surrounded by the rolling hills of Vermont. And of course, there is the chance to hang out with adorable animals.
The property has a selection of cabins to rent, available right onsite at the farm. These super-cozy cabins have views out to the mountains beyond and cute "farm-style" touches throughout making them the perfect cabin getaway. Best of all, when you arrive, you receive fresh eggs and freshly baked pastries right in your cabin. Such a dreamy stay!
Book Fat Sheep Farm in Windsor, Vermont
Find out rates and availability at Fat Sheep Farm Vermont.
---
Top Cabin Resort Pick By Amy from Two Drifters
Big Cedar Lodge in Branson, Missouri
One of the best cabin getaways in the midwest is the Big Cedar Lodge just south of Branson, Missouri. The Big Cedar Lodge is known as "America's Premier Wilderness Resort," and is an amazing cabin resort!
The grounds of the Big Cedar Lodge are located on bluffs overlooking Table Rock Lake. If you would like, you can either stay at the lodge or choose from the many wilderness log cabins to rent. Some cabins are located more in the woods, while others are located with a wonderful view of the lake.
The cabin resort as lots of different pools you can choose to swim during the day, or at night you can eat a delicious dinner at one of the many restaurants on the grounds. Besides swimming and eating, you can enjoy a wonderfully relaxing day at the Cedar Creek Spa or you can rent a boat and spend the day cruising around the lake.
Staying at the Big Cedar Lodge is great for families looking for things to do to entertain their kiddos or people who are looking for a romantic cabin getaway and love to have lots of different options of things to do while on vacation!
Book Big Cedar Lodge in Branson, Missouri
Compare Prices for Later on Hotels.com | See Rates on Expedia.com
---
Top Cabin Resort Pick By Jessica from Unearth the Voyage
Lone Mountain Ranch in Big Sky, Montana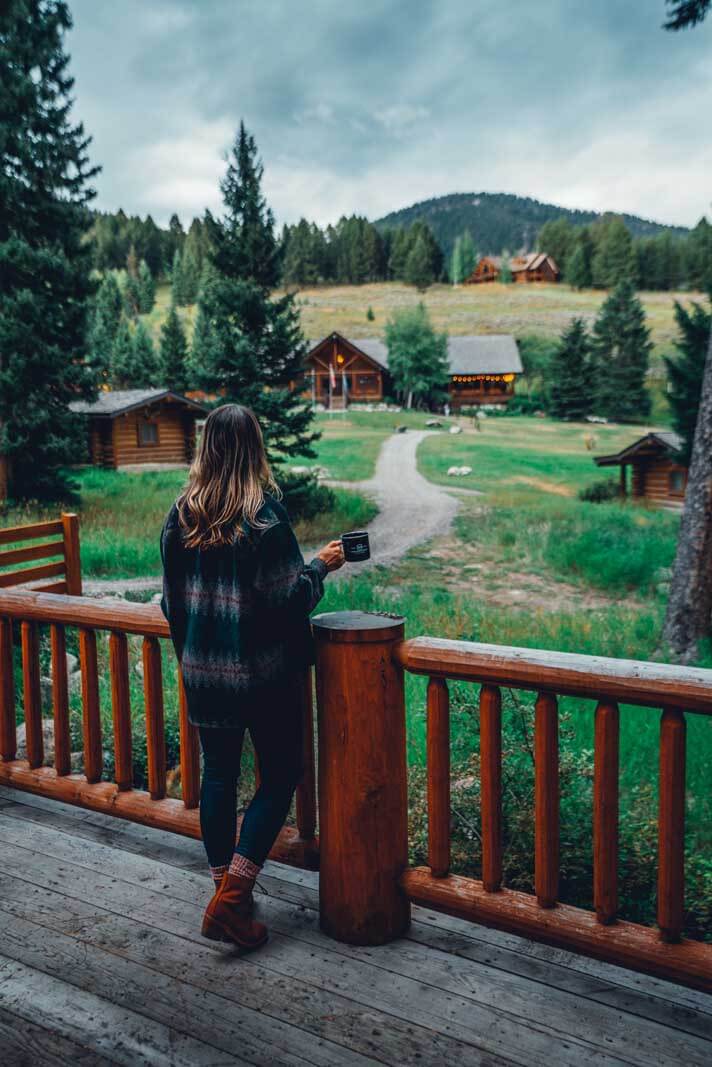 One of the most incredible accommodations we've ever stayed at and the perfect romantic mountain cabin getaways in the US are the luxury cabin rentals at Lone Mountain Ranch in Big Sky, Montana. Stay in your own cabin complete with a vintage record player and records, a rushing creek right outside our door that you can listen to as you fell asleep at night nestled in the most incredible mountain terrain.
What's amazing about Lone Mountain Ranch is that not only can you stay here but you can enjoy relaxing and walking around the property as well as enjoy a guided horseback riding excursion through Lone Mountain Ranch and the mountains nearby.
You don't even need to leave the property to eat as they have an incredible restaurant on site inside their lodge. If you do want to leave, Big Sky is just a 5-minute drive away where there are ski resorts, shops, and more restaurants.
This is an incredible cabin hotel and cabin getaway for any season as there are activities nearby for winter outdoor sports like skiing and in the summer you can enjoy horseback riding and just being in the great outdoors. This is the perfect escape, romantic cabin getaway, or place to inspire and refuel your creativity in the mountains.
This really is one of the best stops on your drive from Yellowstone to Glacier or your road trip to Glacier National Park!
Book Lone Mountain Ranch in Big Sky, Montana
Book Now on Booking.com| Compare Prices for Later on Hotels.com | See Rates on Expedia.com
Evergreen Lodge at Yosemite, California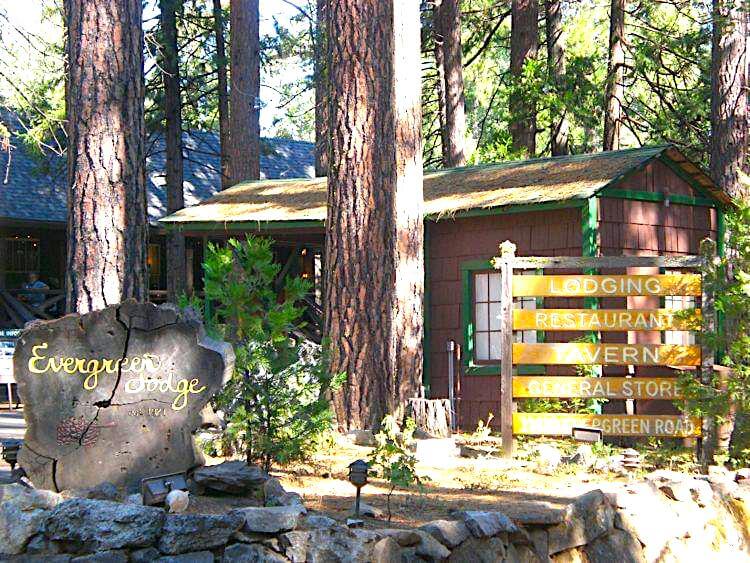 While looking for locations for my "Eat, Pray, Love" trip, I decided Yosemite National Park would be the "Pray" destination. With so many great places to stay in and around the park, it was hard narrowing down my choices. However, once I found Evergreen Lodge, I knew it would be the perfect cabin getaway I was looking for.
Evergreen Green Lodge is located right on the border of Yosemite National Park. Within the forest of Yosemite, you will find this scenic cabin resort with log cabins to rent of various sizes, a delicious restaurant, grocery store, lounge, and a pool.
The cabins are all equipped with comfortable beds and linens, tables, chairs, and a bathroom. I had always had an interest in glamping vs camping and Evergreen Lodge fulfilled this bucket list item and incredible mountain cabin getaway experience.
While at Evergreen Lodge you can take tours of Yosemite National Park. There are tours available with experienced and responsible guides. As a solo traveler, I appreciated this option since I didn't feel comfortable exploring the park on my own. I did go on walks on the many trails around the resort and enjoyed sunsets and smores from the patio. It was a wonderful experience.
Book Evergreen Lodge at Yosemite, California
Book Now on Booking.com| Compare Prices for Later on Hotels.com | See Rates on Expedia.com
---
Top Cabin Resort Pick By Nadeen from The Sophisticated Life Blog
Ruby Hill Cabins in Wells, NY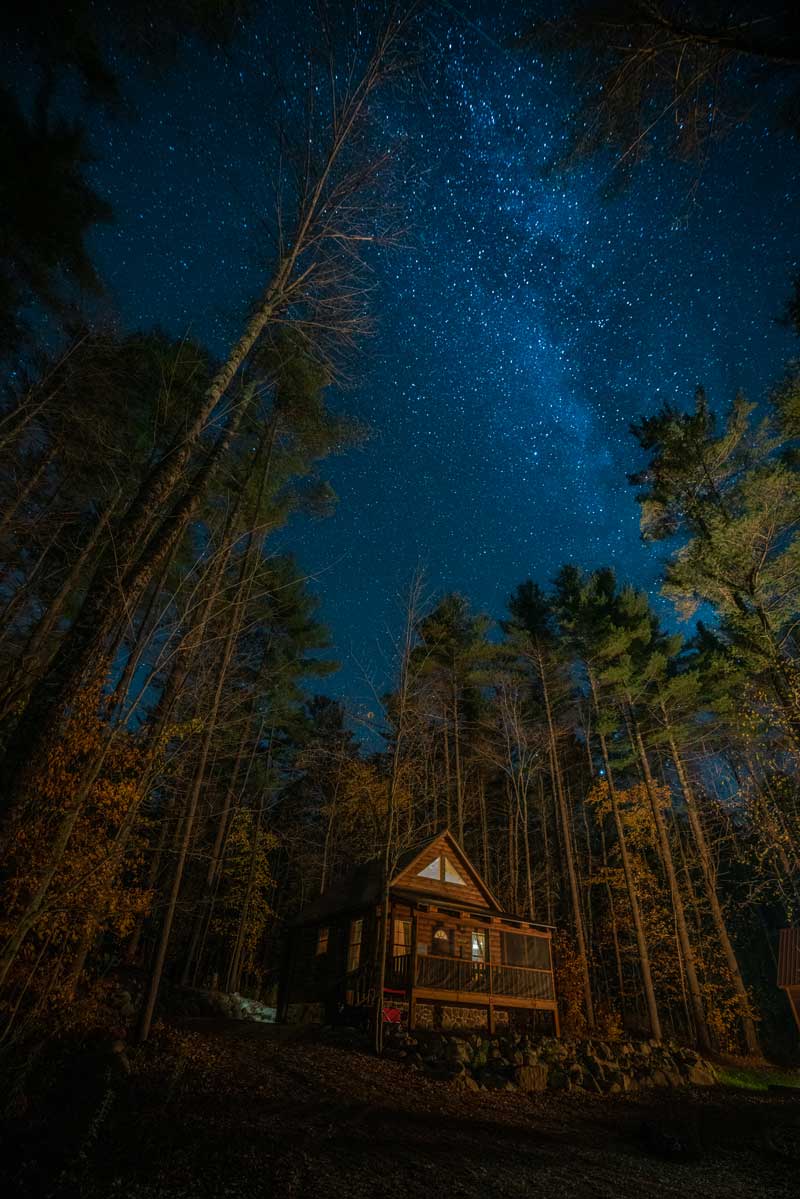 Located in the quaint town of Wells in the heart of the Adirondack Mountains in Upstate New York is this cozy and romantic cabin getaway in the US.
This is an all-season getaway as there are several lake activities to enjoy in the summer, gorgeous fall foliage in the autumn, snow activities in the winter, and outdoor activities in the spring!
This cabin can sleep up to 4 guests and has one bedroom with a queen bed and a loft that has two twin beds making it ideal for families! The living room is cozy and there is a fully-equipped kitchen for all your cooking needs.
Enjoy the screened patio or sit outside in the Adirondack chairs dotted around the firepit. This amazing cabin rental in New York is located on the scenic Lake Algonquin and if you're lucky you might even spot a moose!
The nearby town of Speculator is just a short drive and offers dining options as well as grocery stores. Book this cabin getaway on Airbnb or Vrbo.
Lazy Z Resort in Twain Harte, California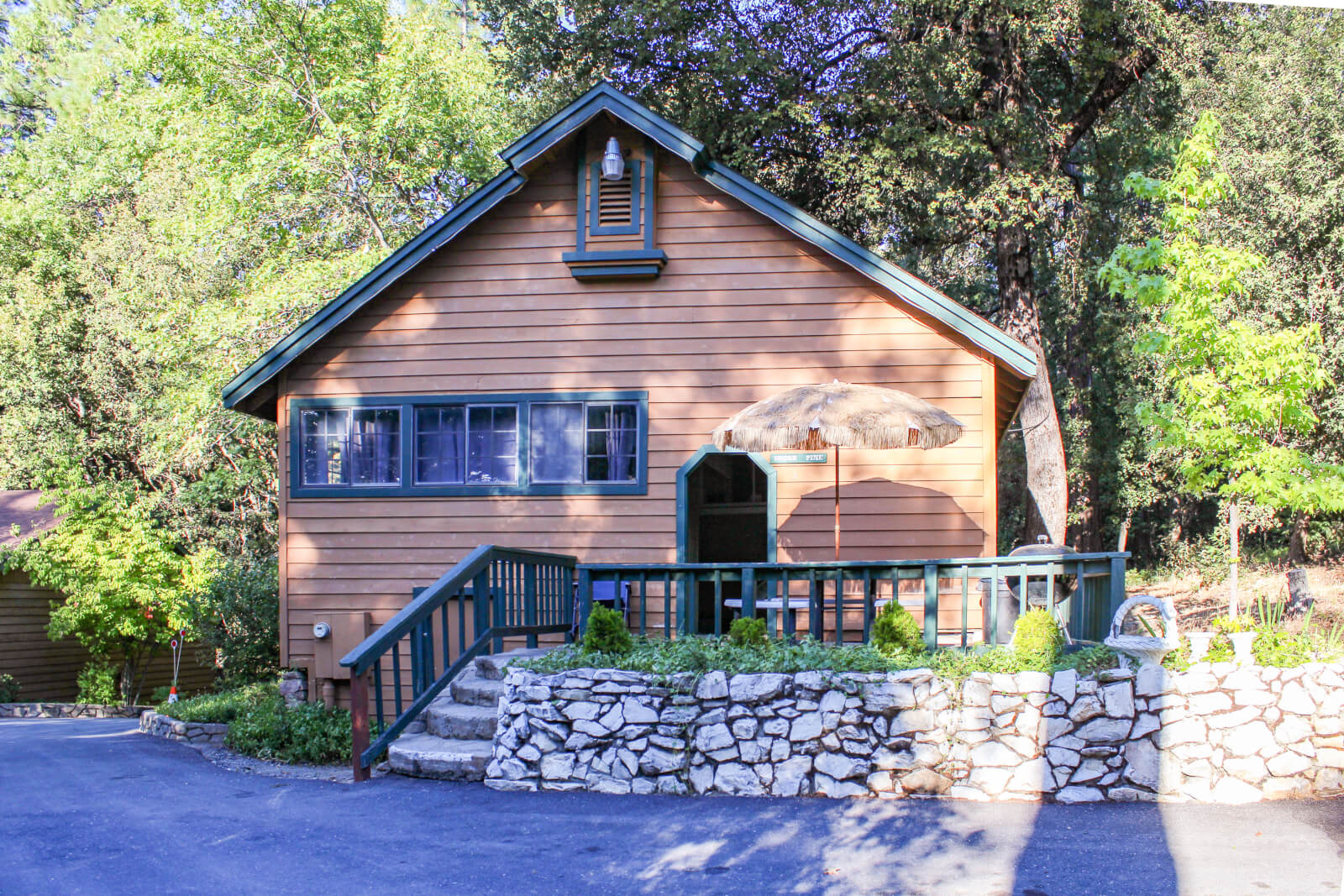 Lazy Z Resort is a mountain cabin getaway located just outside the Gold Rush town of Twain Harte in California's Gold Country. A family owned resort, it is nestled in the beautiful and peaceful Sierra Nevada mountains. Surrounded by nature, it's the ideal spot to get away from everything yet it's not too far from some of the best attractions that Tuolumne County has to offer.
Lazy Z Resort has two types of accommodation – cabins and cottages. Cabins vary from one room studios that accommodate two people to multi-room family cabins that sleep up to 8 people. The cottages are super cute and either sleep two or four people.
Both the cabins and cottages are self-contained and equipped with either a full kitchen or a kitchenette depending on their size.
I stayed in the Sugar Pine cabin, which accommodated 6 people, with 4 other friends, and I loved returning to a secluded and homely feel after exploring the area. I also loved how they made their pool look like a natural rock pool in the middle of the forest. I would definitely recommend it as a base to both chill and enjoy the surrounding nature and to explore California's Gold Country and the High Sierra.
Book Lazy Z Resort in Twain Harte, California
Book Now on Booking.com| Compare Prices for Later on Hotels.com | See Rates on Expedia.com
---
Top Cabin Resort Pick By Teresa from Brogan Abroad
Big Meadows Lodge at Shenandoah National Park in Virginia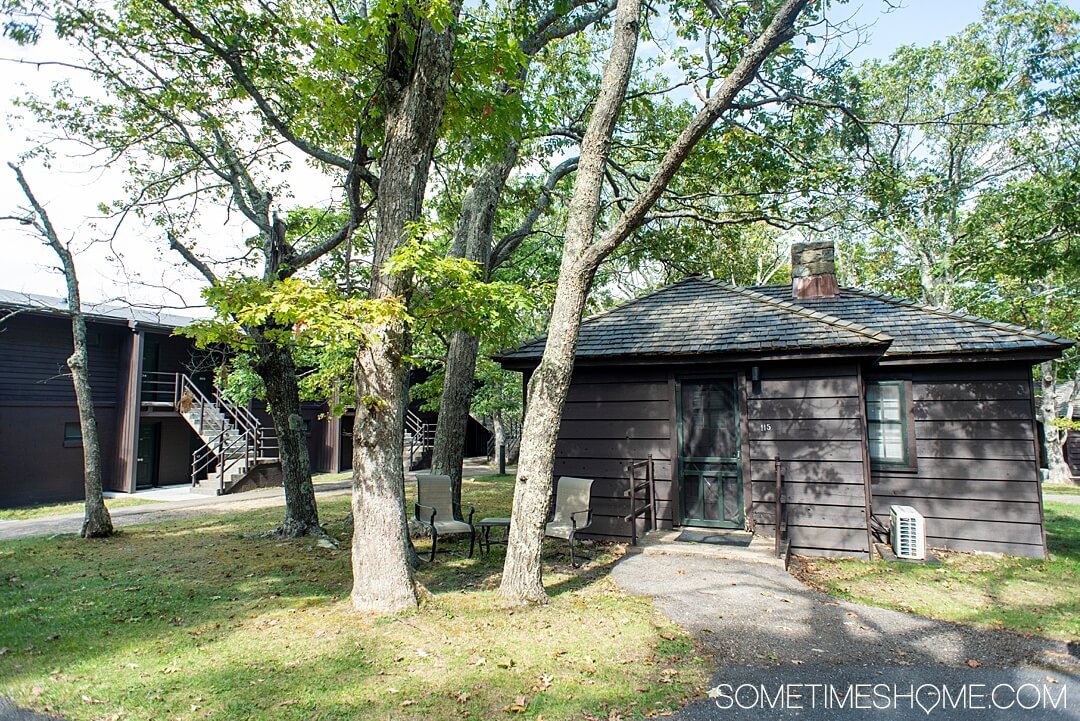 Exploring the Shenandoah Valley in Virginia, and seeing the beauty of its mountain in Shenandoah National Park, is a breath of fresh air. Skyline Drive is a winding road that runs through the park, which will take you to one of their popular romantic cabin getaways, Big Meadows Lodge.
There are 97 rooms in the main lodge but are also five stand-alone log cabins to rent nearby. Each of the cabins is split into two rooms. The 10 total rooms each have their own private entrance. All of them are equipped with air conditioning and wood-burning fireplaces (wood is available for purchase) and they are open from the end of April to the beginning of November.
These "rustic" cabins were newly renovated and are so close to the main lodge you can easily walk there to enjoy meals at their delicious (also rustic) dining room, Spottswood. (I really was quite impressed with their food – be sure to try their peanut soup and blackberry ice cream pie dessert). The view from the terrace is phenomenal!
While the cabins don't overlook the mountains you're only ever steps away from a fantastic view, like at the main lodge. And without reliable wifi, TV or good cell service you'll want to do what you're there for anyway: enjoy the nature that surrounds you.
Rooms start at $125 and vary by booking dates. If you're looking for things to do around Shenandoah National Park be sure to stop investigate things to do in Luray, Virginia, a cute town just 13 miles away from one of the park entrances with restaurants, park provisions and entertainment.
Book Big Meadows Lodge at Shenandoah National Park in Virginia
Find out rates and availability at Go Shenandoah.
---
Top Cabin Resort Pick By Mikkel from Sometimes Home
Adventure Denali Cabins in Cantwell, Alaska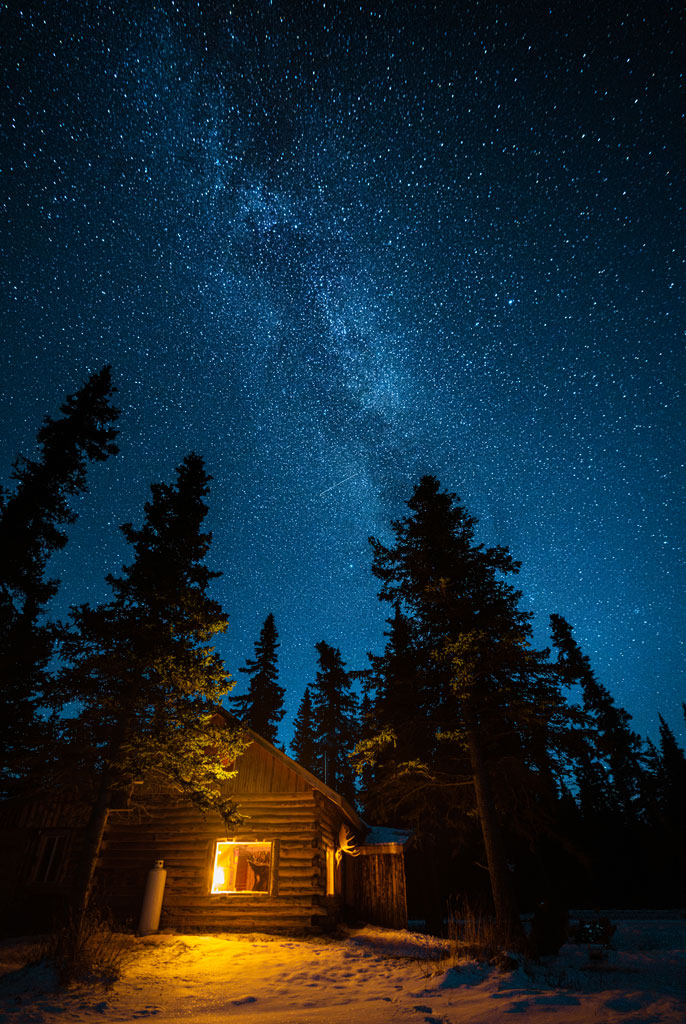 While exploring the enchanting and majestic Denali National Park in Alaska be sure to stay in a rustic and incredible cabin getaway during your stay. Adventure Denali cabins in Cantwell, Alaska are the perfect hopping off point to exploring Denali National Park surrounded by the most pristine of nature and beauty.
The cabins are all 99% powered by solar panels and surrounded by forest, mountains, and lakes.
If you're looking for more than a log cabin to rent, you can also book adventure activities like fishing, hiking, and other adventures in the park with the owner who is basically a Bear Grylls.
If you fall in love with this cool cabin getaway there's a chance you can even buy the cabin as he sells some of the cabins on his property as well that he built all by hand. These cabins are perfect for a romantic mountain cabin getaway or for a family cabin getaway.
Book Adventure Denali Cabins in Cantwell, Alaska
Check for availability and rates on Airbnb.
Treehouse Cabins in The Mohicans, Ohio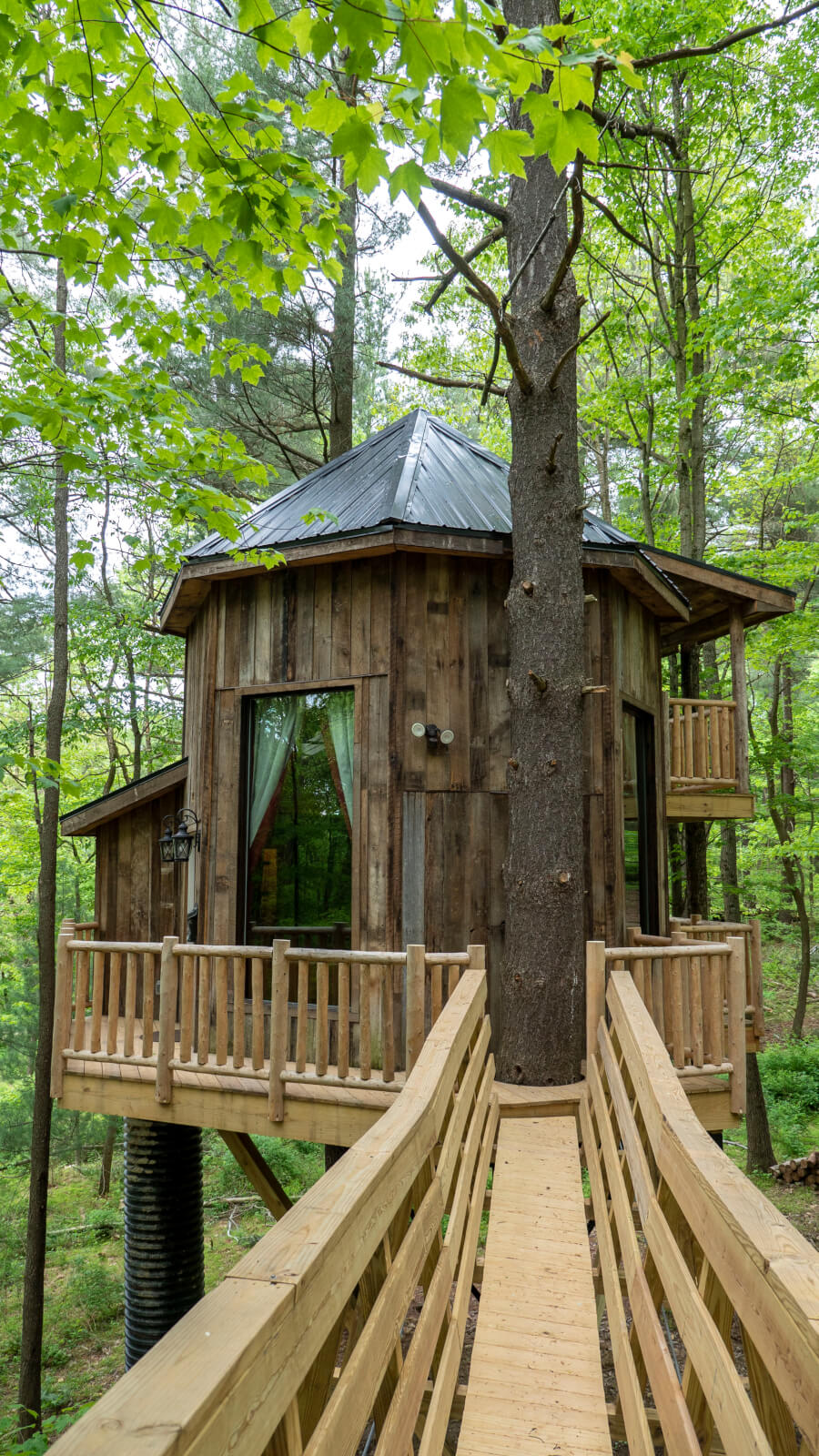 One of the most unique cabin getaways and accommodations I've ever visited are the treehouse cabins in Ohio at The Mohicans. While you won't find many nearby attractions, that's all part of the appeal. It's in the middle of the forest where it's doubtful that you'll even have cell phone signal. The Mohicans makes for the perfect romantic cabin getaway and for it to be possible to truly disconnect from modern technology in order to simply enjoy nature and the company of your travel partner.
Now, this isn't your average treehouse. The Mohicans are one of a kind, luxury treehouses that are essentially works of art. These treehouse cabins are constructed by Pete Nelson of the Animal Planet show, Treehouse Masters. We stayed in the newest treehouse, El Castillo, which translates to "the castle". Indeed, it was a castle of a treehouse.
After walking up a flight of stairs, you'll walk across a mini suspension bridge to reach the treehouse. El Castillo is a two level treehouse cabin with a full kitchen and living space in the downstairs, and a luxurious bedroom upstairs. There are two balconies for beautiful woodland views, which was my favorite space for enjoying my morning cup of coffee. There's even a swing hanging from the base of the treehouse itself for added fun.
Definitely check out the treehouse cabins at The Mohicans for an extra special, magical and romantic experience in one of the most unique romantic cabin getaways in the world.
Book the Treehouse Cabins in The Mohicans, Ohio
View rates and availability at Glamping.com.
---
Top Cabin Resort Pick By Lauren from Justin Plus Lauren
Cottages at Spring House Farm in Marion, North Carolina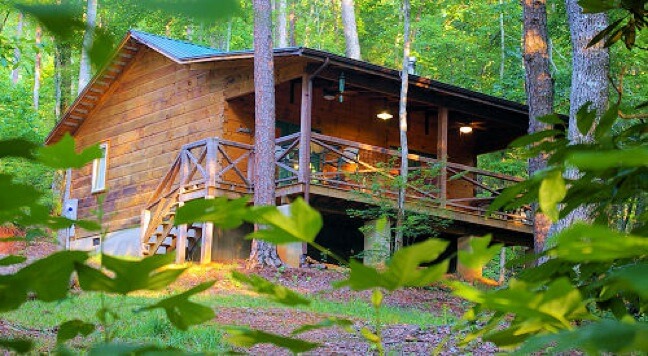 Located less than 15 miles north of downtown Asheville, the 510,000-acre Pisgah National Forest was one of the first national forests established in the eastern United States. One of many popular ecotourism attractions in the North Carolina portion of the Blue Ridge mountains, Pisgah was the site of the Biltmore Forestry School (the first school of forestry in North America), which was founded on George W. Vanderbilt's Biltmore Estate in 1898 and is now listed on the National Register of Historic Places.
The Cottages at Spring House Farm make the most of this pristine pastoral paradise, offering gorgeous log cabins for rent right on the forest's border. The interiors are spacious, modern and feel totally private, with amenities including full kitchens, wood fireplaces, hot tubs on the porch, and more. Nearby attractions include several long-distance hiking trails (including the Appalachian Trail), waterfalls, the Linville Gorge, and wildlife such as bears, deer, and birds.
Book Cottages at Spring House Farm in Marion, North Carolina
See rates and availability at Cottages at Spring House Farm.
---
Top Cabin Resort Pick By Bret Love & Mary Gabbett from Green Global Travel
Cabins at Fontainebleau State Park in Louisiana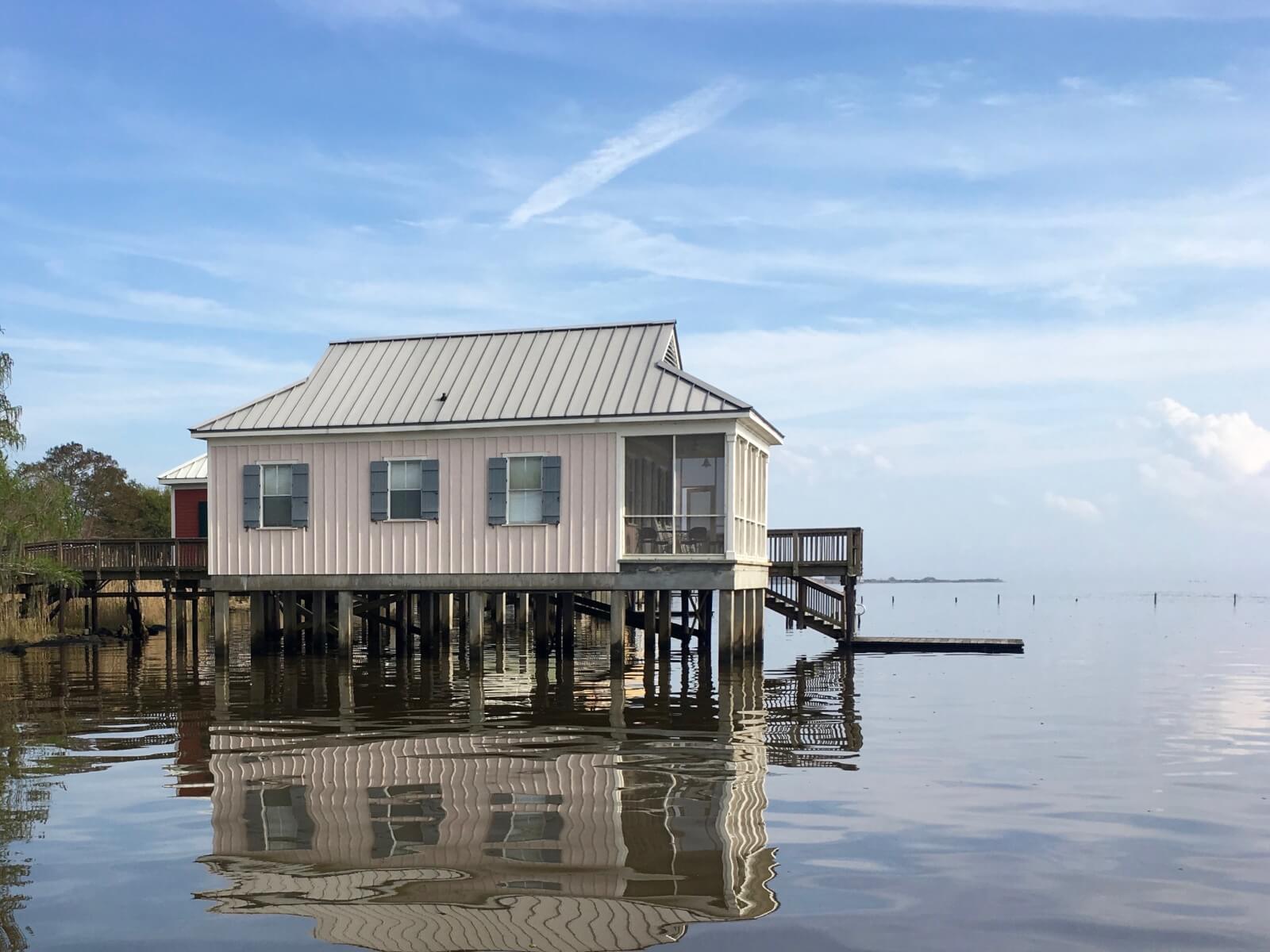 Imagine you are in the Maldives while sipping Bayou Rum on your Cajun cabin getaway porch. Fontainebleau State Park is Louisiana's most visited state park and its dozen deluxe overwater cabins perched over Lake Pontchartrain offer a convenient and unique home base while exploring southeastern Louisiana.
The hustle and bustle of New Orleans is only a 30-minute drive away; so frolic in the French Quarter and then retreat to your secluded and comfortable Bayou bungalow. When you decide to focus on the Louisiana Northshore—you would be crazy not to—visit USA's strangest attraction (believe me!), the Abita Mystery House. Then attempt to unravel your thoughts over a pint or several at nearby Abita Brewing Company. Your luck is remarkable if you can catch a show at Dew Drop Jazz Hall.
Venture into Covington to sample cheeses at Acquistapace's, try an array of natural ice cream flavors at Hoodoo, and savor incredible meals at Oxlot 9, LOLA Restaurant, and Del Porto.
Two of my favorite outdoor activities in St Tammany Parish are the Insta-Gator Ranch show—also check out the only white gator in the world—and a #FeedYourSoul experience with Bayou Adventure—where, no lie, a massive wild gator bumped my kayak.
Book Cabins at Fontainebleau State Park in Louisiana
See rates and availability at Reserve America.
---
Top Cabin Resort Pick By Charles from McCool Travel
Mount Princeton Hot Springs Cabins in Buena Vista, Colorado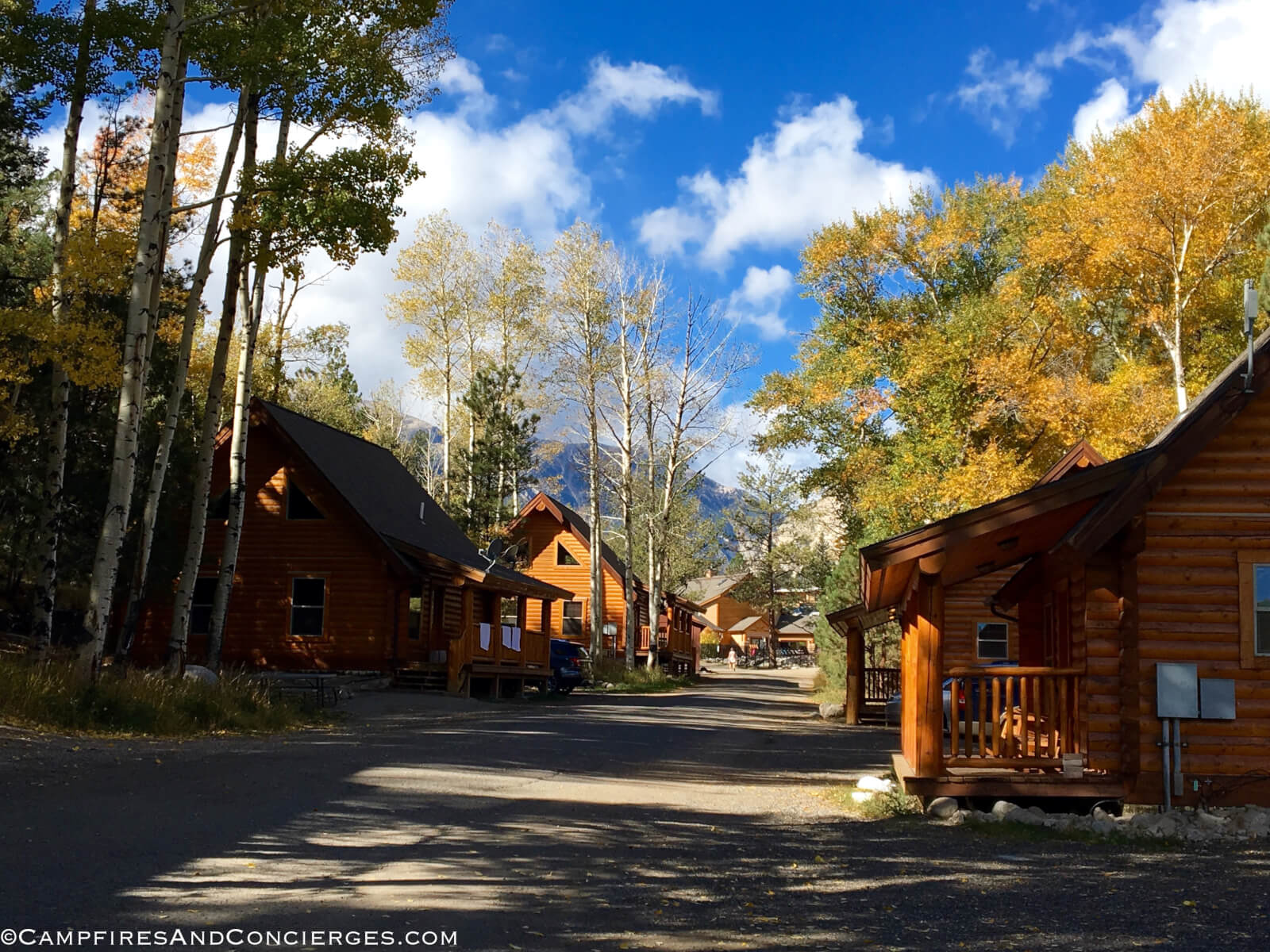 One of the best hot springs and cabin resorts I've been to is Mount Princeton Hot Springs near Buena Vista, Colorado. The Mount Princeton Hot Springs cabins are the perfect weekend and cabin getaway, whether you're celebrating a girls weekend or a romantic escape.
Set in the middle of the Sawatch Range of the Rocky Mountains, the surrounding area offers a ton of recreational opportunities, including hiking, skiing, off-roading or fishing. There's even an old ghost town you can explore, just up the road in St. Elmo.
You may not want to leave the resort, though, as there are so many things to do right on the property. The log cabins for rent at the hot springs resort is the best way to spend your time, as you can relax in front of the living room fireplace, cook up a tasty meal, or enjoy an adult beverage from your front porch. All within a few minutes' walk of the hot springs pools! Cell service can be spotty out here, so just plan on relaxing and enjoying some time off the grid.
Book Mount Princeton Resort in Buena Vista, Colorado
Compare Prices for Later on Hotels.com | See Rates on Expedia.com
---
Top Cabin Resort Pick By Leigh from Campfires and Concierges
Cabins on Moosehead Lake in Maine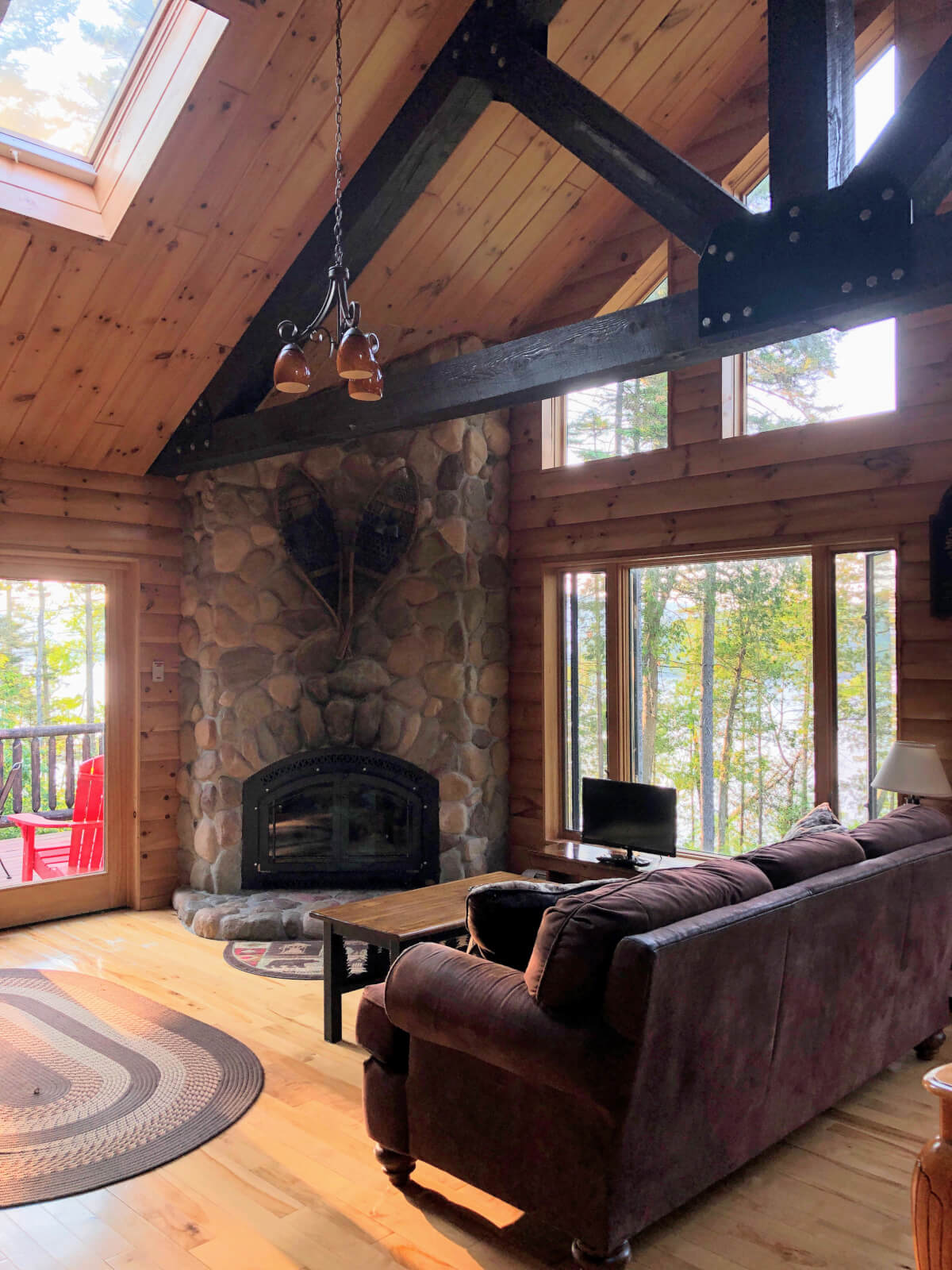 Moosehead Lake, Maine is the perfect cabin getaway for cabin lovers. On my recent trip, I experienced two cabins that offer unique experiences. The first cabin is the Loon Lodge with Moosehead Hills Cabins. This lovely log cabin rental sits on the shores of Lower Wilson Pond, about 15 minutes away from Greenville and Moosehead Lake. The cabin is the quintessential cozy cabin with beautiful wood views, comfy couches, and a fireplace for chilling Maine nights. It's perfect for families, with two master bedrooms, and another room with four bunk beds. You can kayak on Lower Wilson Pond or go on a moose safari around the region.
If you're looking for a rustic, hiking vacation, check out the Appalachian Mountain Club's log cabins for rent that are located in the 100-mile wilderness section of the Appalachian Trail. I stayed at the Gorman Chairback Lodge in a single room cabin getaway perfect for the solo traveler or as a romantic mountain cabin getaway. The AMC Lodges provide you three meals a day and bathroom facilities if you're staying in a cabin without one. Both of these cozy cabins offer you a relaxing, unplugged vacation with plenty of hiking, watersports, and wildlife viewing.
Book Moosehead Hills Cabins
See rates and availability at Moosehead Hills Cabins.
Book Appalachian Mountain Club Cabins
See rates and availability at Outdoors.org.
---
Top Cabin Resort Pick By Kim from Stuffed Suitcase
Covered Wagons in Yosemite Pines RV Resort in California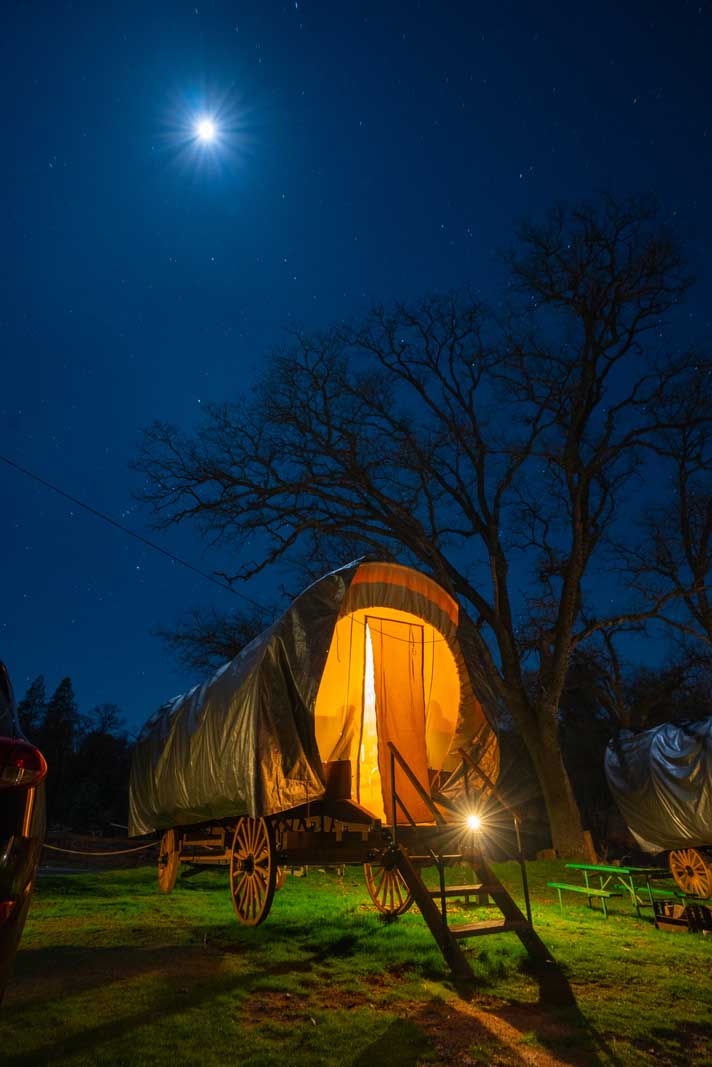 Not exactly a cabin getaway (they do have them) but the next best thing and unique experience all of its own are the covered wagons at Yosemite Pines RV Resort just outside of Yosemite National Park. Set in a great location for exploring all there is to do in and around Yosemite National Park near the Big Flat Oak Entrance.
Bring your own camper or tent or check out one of their log cabins to rent, yurts, or even covered wagons for your stay! YES, covered wagons are an option! Enjoy a once in a lifetime experience staying in a covered wagon. We stayed in one of these surprisingly spacious wagons and didn't want to leave. The beds were one of the most comfortable we have ever slept on and the wagons can sleep an entire family and have heat and AC so they are perfect for any season.
There's even a general store, petting zoo, and clean bathroom facilities on the property plus you have Yosemite and all the cool towns that makeup Gold Country in Tuolumne County at your fingertips. This is a perfect romantic cabin getaway, family getaway, or friends getaway.
Book the Covered Wagons at Yosemite Pines RV Resort
Check rates and availability at Yosemite Pines RV Resort.
Riverside Campground and Cabins in Big Sur, California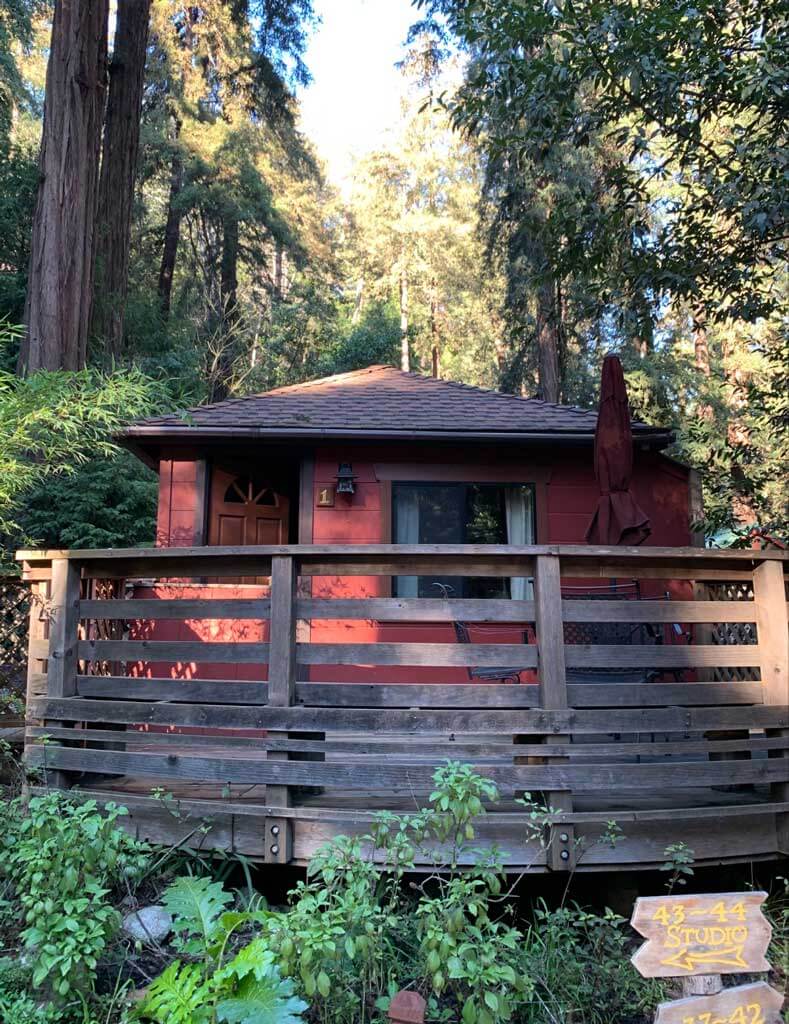 If you haven't had the opportunity to visit Big Sur, California then you should definitely add it to your bucket list! Big Sur is a beautiful town along the coast of California that offers amazing scenic views. This small town is famous for its outdoor activities and scenery as well as its hiking, camping, and beach going.
There are several resorts and campgrounds to choose from ranging from average priced to extremely expensive. Riverside Campground and Cabins falls right in the middle and is the perfect cabin getaway on coastal California. With the average cost of a cabin being around $165/night, it makes for the perfect night stay during your California road trip.
The cabins are located along a river, so you can fall asleep to the sound of rushing water. Enjoy a nice glass of wine or a hot cup of coffee on your private front porch. Picnic tables and fire pits are also located on each cabin and campsite. Each cabin is equipped with showers, comfy beds and a perfectly designed "cabin feel" interior. You won't be disappointed with your stay here!
Looking for fun things to do while in Big Sur during your cool or romantic cabin getaway? Make sure to check out Julia Pfeiffer Falls, the Bixby Bridge, and I highly recommend eating dinner or grabbing a drink at Nepenthe for a beautiful sunset view.
Book Riverside Campground and Cabins in Big Sur, California
---
Top Cabin Resort Pick By Chelsey from Explore with Me
Red Cedar Lodge in Charles City, Iowa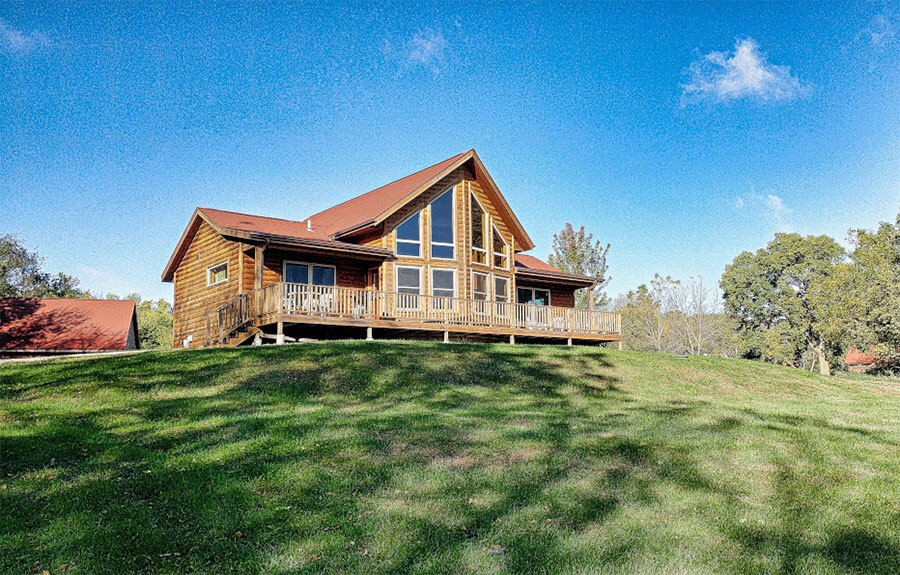 Red Cedar Lodge is a luxurious, yet rustic, cabin getaway in North Central Iowa. There are three large cabins along the Cedar River that are outfitted with full kitchens, fireplaces, and large decks with grills. It's a short drive into the town of Charles City, Iowa where you can stock your groceries at the local Hy-Vee, pick up some coffee at Aromas, and get a pizza to go from the Cedar River Pizza Co.
While you're there, do not miss a visit to the Charles City Library. Inside, you'll find a priceless art collection with works by Dali, Monet, Picasso, Wood, Whistler, and more. If you're there during the summer, you can even go white water rafting – yes, in the middle of Iowa.
Since 2011, this town of about 8,000 has been a destination for kayakers and tubers. History buffs will love the Floyd County Historical Museum, complete with an entire 19th-century drug store, including items you certainly won't see on a pharmacist's shelves today.
This truly is a one of a kind cabin resort and cabin getaway!
Book Red Cedar Lodge in Charles City, Iowa
Check rates and availability at Red Cedar Lodge.
---
Top Cabin Resort Pick By Theresa from The Local Tourist
---
Also, be sure to check out the best romantic cabin getaways in New York too!
Enjoyed this collection of amazing cabin getaways and romantic cabin getaways by top travel experts? Bookmark for later or share the love below on Pinterest.