Are you a castle lover like us? If so, you might want to plan a visit to Scotland's 'castle country' in Aberdeenshire. With over 260 castles in Aberdeenshire, you could spend an entire holiday just chasing one castle after another, and we wouldn't blame you!
However, if you're like us, chances are you'll be wanting to explore more of what this amazing country has to offer. That is why we picked out some of the top castles in near Aberdeen to visit, sleep in, or have or attend a special event in all around Aberdeenshire and the Scottish Highlands.
Fall in love and feel inspired as some of the best artists in the world have over the years including Walt Disney, Robert Louis Stevenson, to Bram Stoker as well as visit some of the current Royal Family getaways in the Highlands.
Check out our picks for the 10 most incredible Aberdeenshire castles to add to your itinerary. Also, if you're looking to plan an incredible and unforgettable trip, be sure to check out this guide about traveling Scotland by train!
10 Amazing Castles Near Aberdeen
1. Craigievar Castle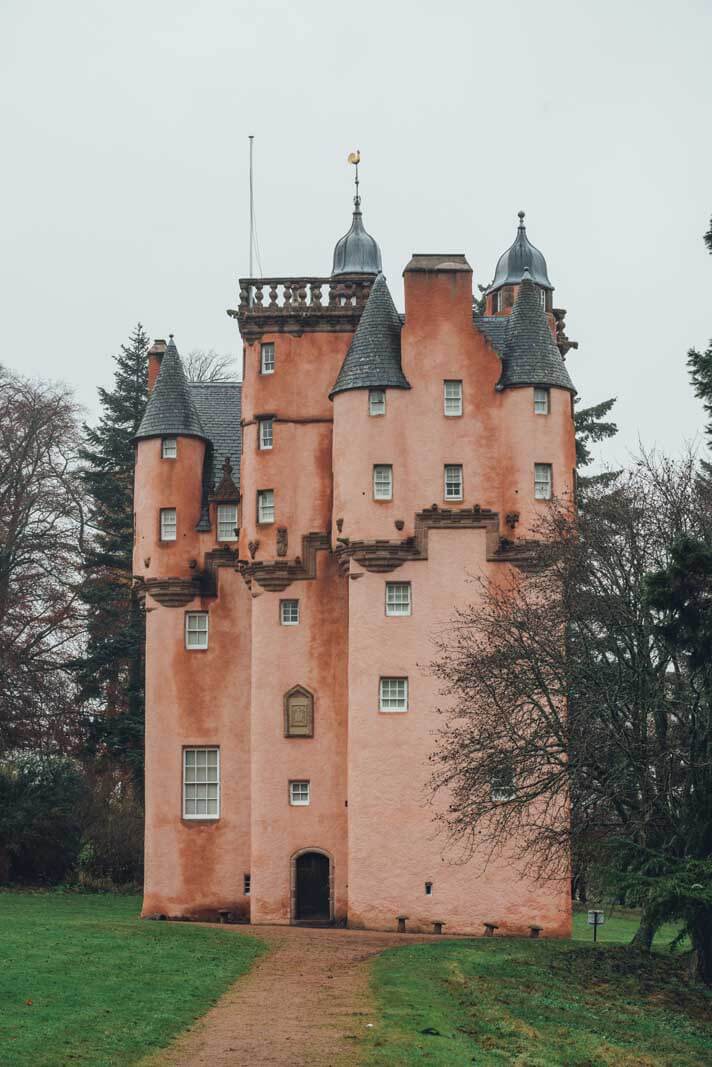 We are going to start off with a bang with one of the most gorgeous fairytale castles in Aberdeenshire. Craigievar Castle is one of the most beloved castles near Aberdeen and is famous for its pink exterior. This castle is also rumored to be the inspiration behind the Cinderella castle!
This castle has become truly iconic to the region, while the architecture speaks true to its Scottish Baronial roots. This is one of the castles in Aberdeenshire that is owned by the Forbes family. They bought the estate from the Mortimer family in 1610 and finished constructing what is now the famous pink castle in 1626. The Forbes family lived here for centuries but, today, the castle is open to visitors.
Craigievar Castle has varying opening hours throughout the year. It is open from 10:30 AM to 4:00 PM from Friday to Tuesday between March 30 and May 31 and daily between June 1 to September 30. It is also open from 11:00 AM to 3:00 PM every Saturday and Sunday from October 5 to October 27.
You can take a 30-minute tour inside the castle during these schedules. Meanwhile, the grounds are open daily all year during daylight, so you can have a lovely picnic by the castle on a nice day.
When we visited the interior of the castle was closed, we were happy to walk around and admire the exterior. Even a local dog came to greet us. This is undoubtedly one of the most beautiful castles in Scotland.
2. Braemar Castle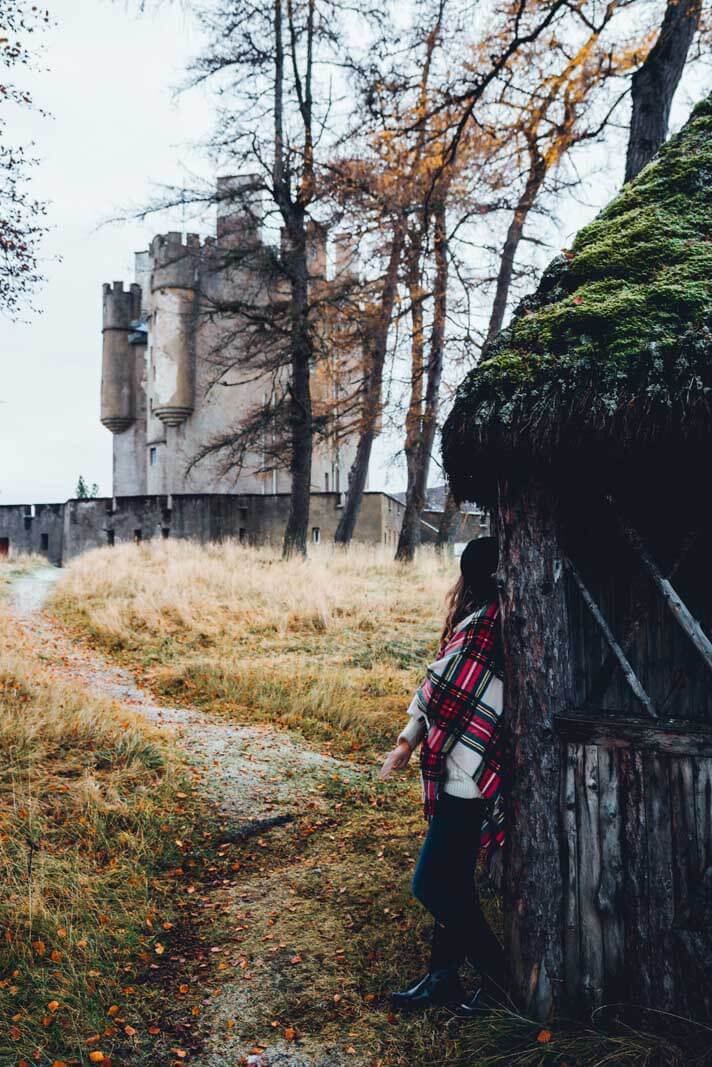 Another majestic castle in Aberdeenshire located in Cairngorms National Park just outside the town center of Braemar. Braemar itself is a magical stop in Aberdeenshire in the park, but continue along and visit the royal home just outside the city overlooking some of the most beautiful highland landscape.
The Earls of Mar were among the first rulers of Scotland. In 1628, then Earl of Mar, John Erskine, built the Braemar Castle, which finished construction in 1628. However, after three consecutive Jacobite uprisings, the earlier castle was burnt, seized by the Farquharsons, and rebuilt by the new owners to what it is today.
Like several other Aberdeenshire castles, Braemar Castle still has some of the original structures, but most of it was reconstructed after the Battle of Culloden in 1746.
Braemar Castle is one of the many castles in Aberdeenshire that you can visit today. The interior tours are closed during the winter, but you can take a tour inside, from Wednesday to Sunday, between 10:00 AM and 5:00 PM, from April 1 to June 30 and all throughout October. You can also visit the castle every day from July 1 to September 30, except for the first week of September when it is closed during Saturdays. You can also visit the castle grounds during daylight year-round.
3. Fyvie Castle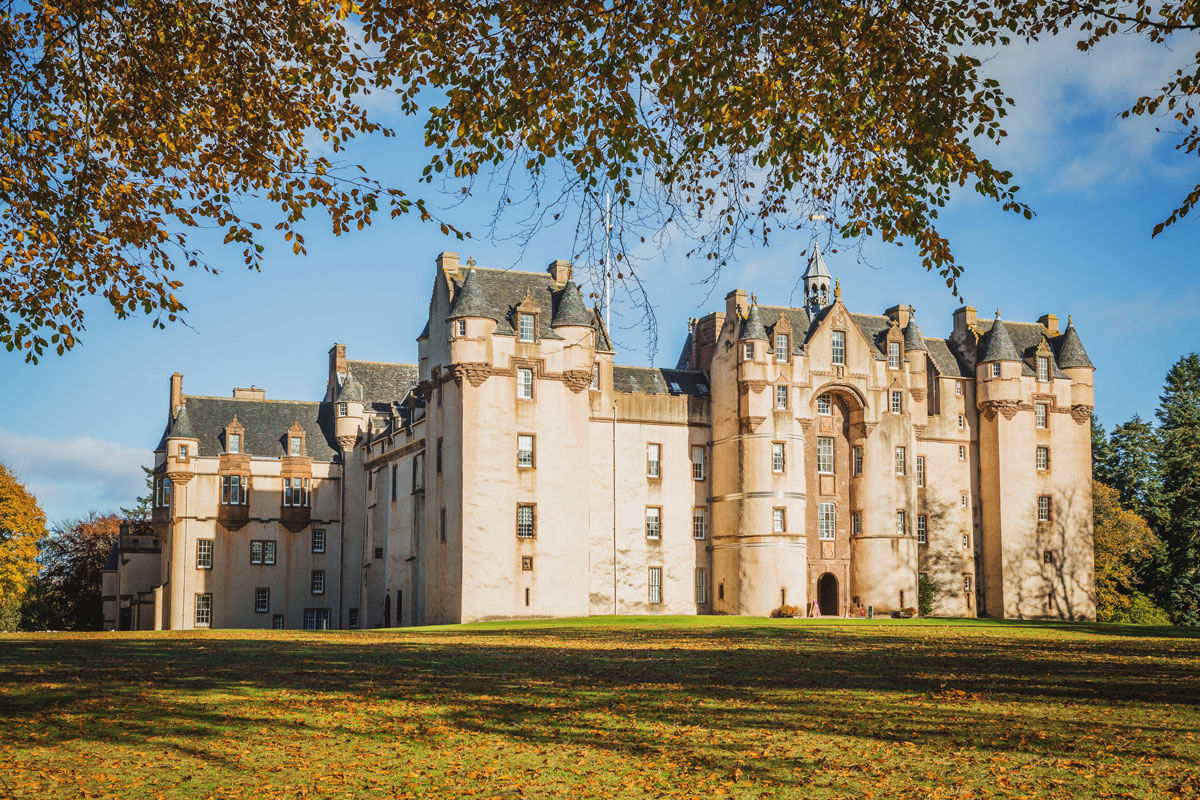 Fyvie Castle is one of the most historic structures among Aberdeen castles. It's an 800-year-old fortress, with its earliest records dating back to the 13th century. Additions were made to the castle until the 18th and 19th centuries. In particular, the Gordon Tower was built in 1778.
Perhaps due to its age, it is one of the few castles near Aberdeen that is infamous for being haunted. It has been featured in several British television programs like "Most Haunted," "Spook Squad," and "Castle Ghosts of Scotland." There are two famous ghosts and legends that are tied to Fyvie Castle in Aberdeenshire and even a bloodstain that won't go away. Spooky!
If you're scared of ghosts, don't worry Fyvie Castle is only open to visitors during the day. Hours are daily from March 30 to May 31 between 11:00 AM and 4:00 PM, and from June 1 to September 30 between 11:00 AM and 4:30 PM. It is also open from Friday to Monday between October 4 to December 15 between 11:00 Am to 3:00 PM.
There's also a tearoom where you can enjoy a nice brunch or afternoon tea overlooking the grounds.
4. Dunnottar Castle
One of the most moving castles in Aberdeenshire to visit with the jaw-dropping dramatic landscape and location is Dunnottar Castle. Perched on a cliff off the shores of Stonehaven is a castle that looks straight out of a epic story. This is one of those places I admittedly wanted to cry because it was so beautiful.
Construction on Dunnottar Castle happened mostly between the 15th and 16th centuries, although the fortification is believed to have been built in the 14th century. It was a special castle where the Honors of Scotland, the crown jewels, were hidden from invaders.
Like some other Aberdeen castles, Dunnottar Castle also played a role during the Jacobite Uprising. In fact, it was in use as the last Earl's residence until he abdicated his seat to join the rebellion. In the 20th century, the castle was restored for public viewing.
Two of the most notable figures in Scottish history are also tied to the history of this castle. Apparently both William Wallace and Mary Queen of Scots have both played a role in the history here. William Wallace captured this castle in 1297 and caused some severe damage to the structure during his invasion. And in 1562, Mary Queen of Scots visited the castle for the first time returning 2 years later with the future king, her son James VI.
One other thing makes Dunnottar Castle more special than the other Aberdeenshire castles is that dramatic location on top of a cliff that offers and unforgettable view of the water below.
You can visit the castle during the summer season, between April 1 to September 30, from 9:00 AM to 5:00 PM every day. During the winter season, which is between October 1 to March 31, the castle opens at 10:00 AM but closes at varying times. The grounds to the exterior of the castle are visitable during daylight hours year round. You can also have your wedding at Dunnottar Castle during the summer.
5. Balmoral Castle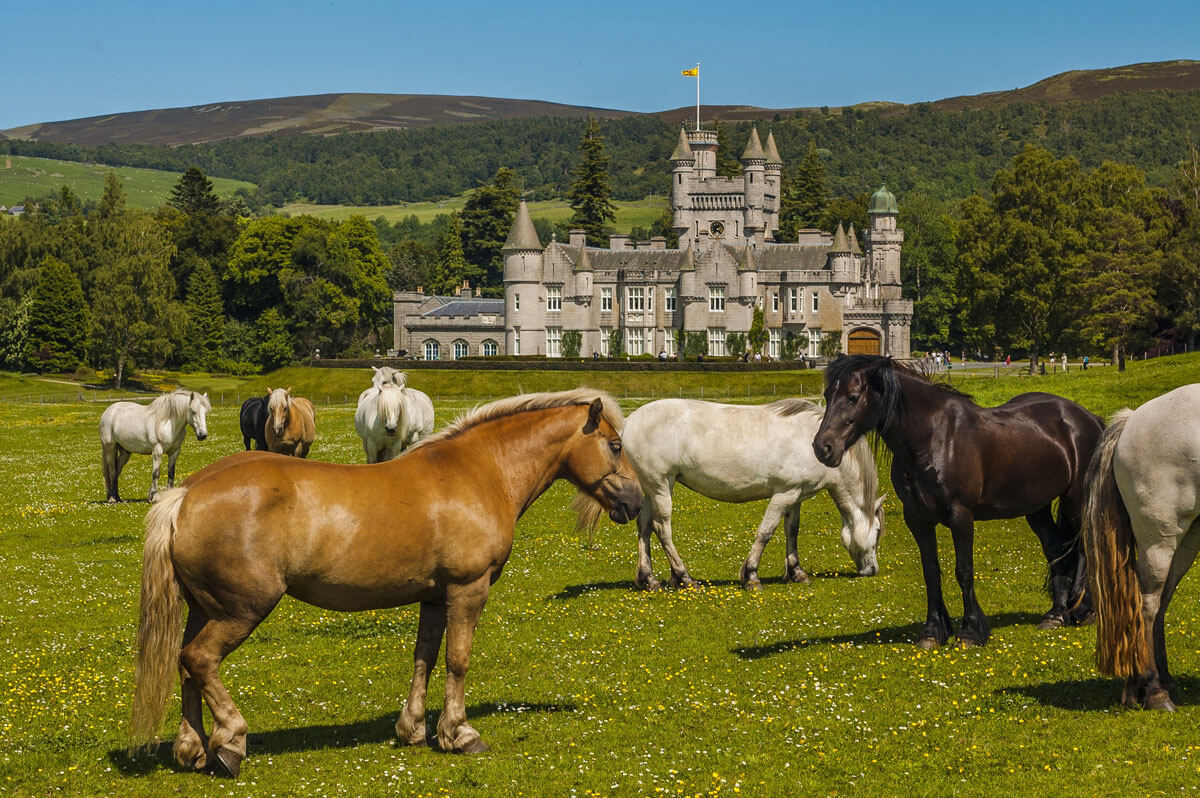 Another majestic castle in Aberdeenshire located in the Scottish Highlands in Cairngorms National Park was the summer royal residence of the Queen.
Located in Royal Deeside, Balmoral Castle is one of the castles in Aberdeenshire, Scotland that belongs in the Crown Estate. It was bought in 1852 by Queen Victoria and Prince Albert. They commissioned an artist named James Giles to create plans for the castle. In 1856, the construction was completed and the castle has since been used by the royal family as one of their official residences.
Royals who have resided here include Queen Victoria and Prince Albert, King Edward VII, King George, King George VI, and Queen Elizabeth. The late Queen Elizabeth II spent her summers at Balmoral Castle and even her final days.
Balmoral Castle is open to visitors every day except for when the royals are staying in Balmoral Castle, regular hours are from 10 AM to 5 PM. However, you will want to plan your visit in advance as you're not allowed in without a tour and they have set times depending on the season. We recommend planning ahead close to your visit by contacting the castle so you can secure your visit, we sadly didn't do this and missed the last tour by minutes.
If you want to see where a lineage of royals lived, this is one of the Aberdeen castles that you should visit unless you have poor planning and bad luck like us then you can visit the Crathie Kirk across the road, a quaint church that's open and where the royals worship when they visit Balmoral Castle.
6. Castle Fraser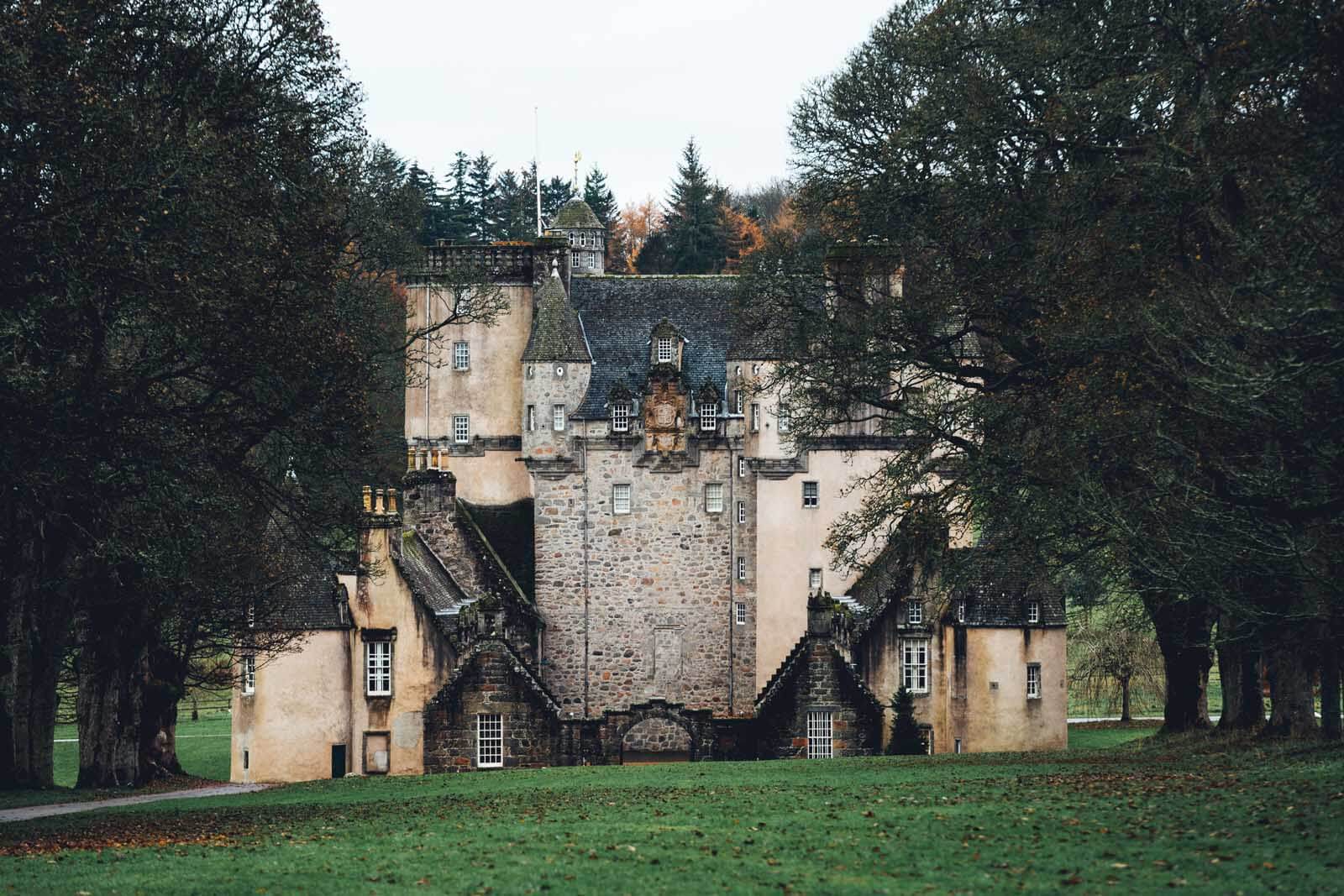 Castle Fraser is another one of our favorite Aberdeen castles that we visited on our trip. Castle Fraser is more popularly known as the grandest castle of Mar and is one of the largest tower houses in all of Scotland.
Michael Fraser, the 6th Laird of Fraser, set construction in motion in 1575. The castle was completed 66 years later in 1636. After its construction, it remained the home of the Fraser family for more than 400 years. It sits on a 300-acre land with landscaped grounds (dating back to the 18th and 19th centuries), woodlands, and farmlands surrounding it.
Today, this is one of the popular castles near Aberdeen that is open to the public for visitors. On a tour inside you'll discover hidden passageways, trap doors, spy holes, and other unique castle features.
You can visit the castle every weekend from March 2 to 31 and November 1 to December 15 between 11:00 AM to 2:00 PM, and every day from April 1 to October 31 between 10:00 AM and 4:00 PM.
Meanwhile, the grounds are open daily all year and the garden is open daily all year between 10:00 AM and 4:00 PM.
7. Slains Castle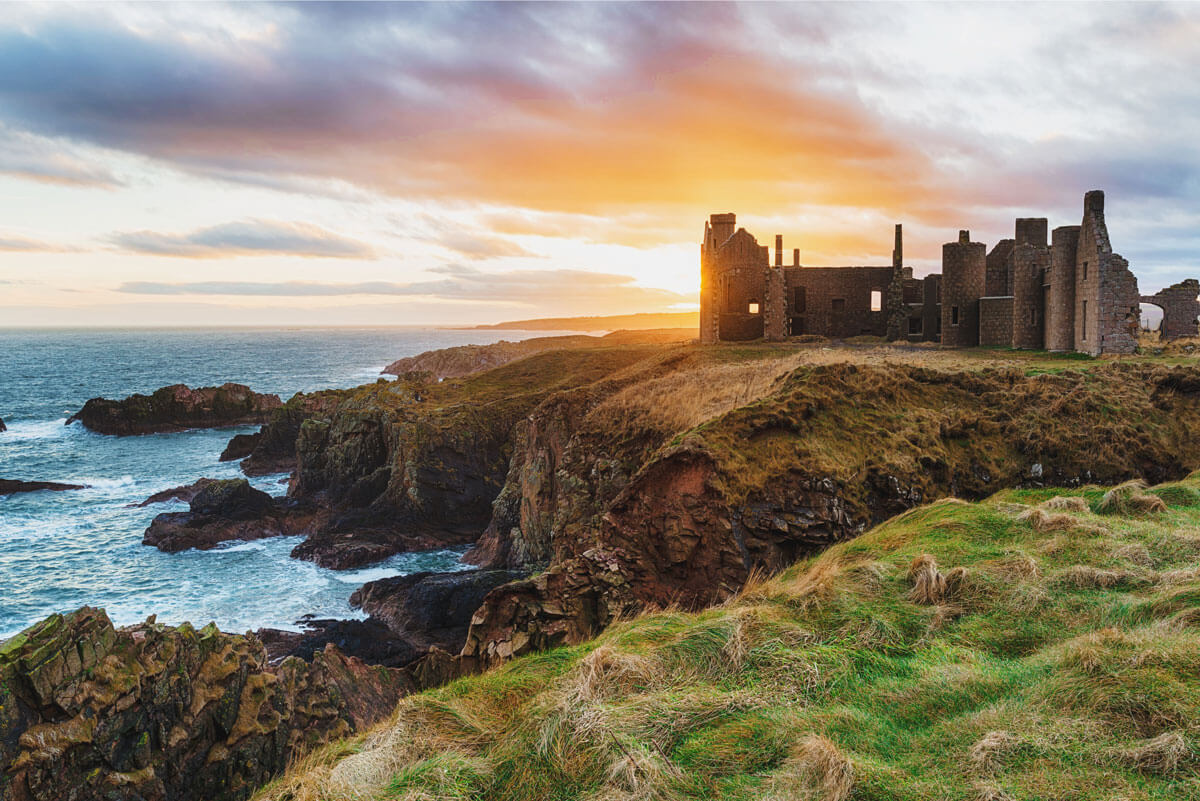 One of the most interesting castles in Aberdeenshire to visit are the ruins of Slains Castle with a dramatic waterfront view from its cliff site on Cruden Bay, aka New Slains Castle as there is an Old Slains Castle nearby that sometimes confuse visitors.
In 1585, the 9th Earl of Erroll, Sir Francis Hay, started construction of Slains Castle atop a cliff. Its core was built during Sir Francis Hay's time, but major reconstruction happened in 1837. This 16th-century building, which used to stand majestically on top of a cliff overlooking the Atlantic, is now abandoned and in ruins.
After the 20th century, Earl of Erroll sold it to Sir John Ellerman in 1913, the new owner, weirdly enough, removed the roof to avoid taxes, which led to the deterioration of Slains.
It is one of the few Aberdeenshire castles that you can visit inside without paying an entrance fee. You can drive up to the location on your own and explored what once was an august castle, home to one of the most influential families in Scotland.
Note, however, that Slains Castle is one of the Historic Environment Scotland Category B listed Aberdeen castles. If you visit here, you should be respectful to the structure.
8. Cluny Castle
Cluny Castle is one of the Aberdeenshire castles that was passed on to different owners through centuries and is privately owned. It started in the hands of King Robert the Bruce's brother-in-law, Alexander Fraser, who passed it down to the Gordons of Cluny, beginning with John Gordon, the Third Earl of Cluny, who left it to his son Sir Thomas Gordon, who is responsible for the construction of the core of the castle in the 14th century.
After him, his son, Alexander Gordon, the Fourth Laird of Cluny, inherited it. Financial difficulties led him to transfer ownership to the Gordonstoun side of the family, who were responsible for the extensive additions that were made in 1820.
Cluny Castle is now one of the castles in Aberdeenshire, Scotland that is used as a venue for special events. Family gatherings, private parties, corporate events, and weddings are hosted here. It is also one of the castles near Aberdeen that is used as a filming location. Most notably, "The Queen," starring Helen Mirren was shot in Cluny Castle.
Since this castle is a private estate and now mostly used for events as a venue, the best way to see this castle is to actually stay the night! There is an apartment in the castle for visitors to rent that can sleep up to 10 guests. There are also plans to expand the luxury overnight castle rentals for more options! So now you can feel like a royal by sleeping in one of the most beautiful of castles in Aberdeenshire.
9. Monymusk Castle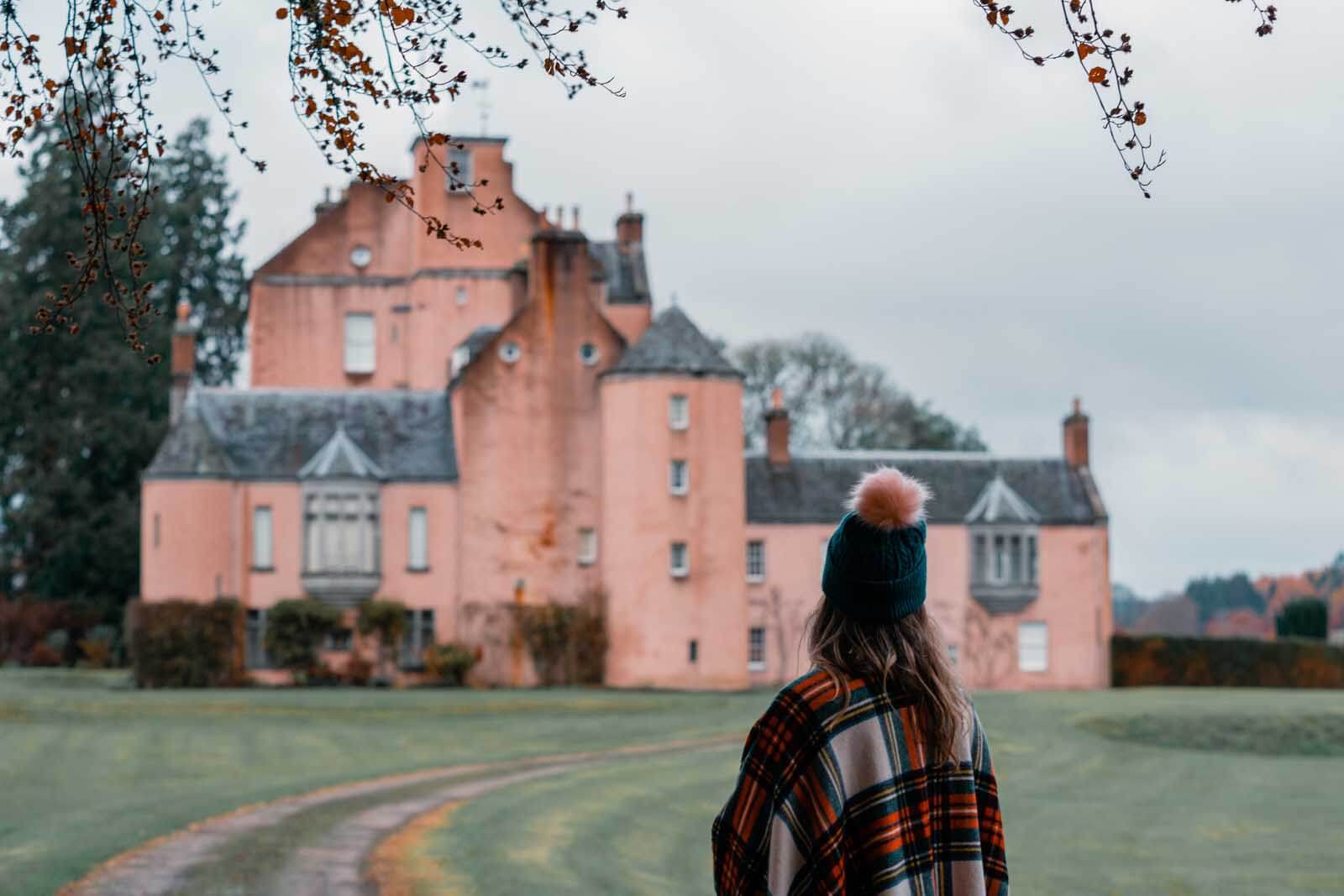 Monymusk House, also known as Monymusk Castle or Monymusk Estate, is one of the castles near Aberdeen that not many tourists know about in the charming village of Monymusk. This was an accidental stumble upon on our Scotland road trip when we needed to find a stop for lunch.
The cafe in the village center was our nearest option thus discovering this charming town. Even the town center is awe worthy, Monymusk is a planned village and all the houses look the same in the small town center.
To see the estate, which also happens to be pink, you need to walk on the path down past the church. You won't see many tourists here just locals walking their dogs. You're able to look at the castle but not go in or up really close to the estate without an appointment or permission.
It stands on the foundations of the old 13th-century Priory. When the Forbes family bought it in the 16th century, they built the house that exists today.
In 1713, the Grant family bought the Monymusk House and has since used it as their residence. Currently, Sir Archibald of Monymusk runs the estate.
Parts of the house are now being rented as venues for events, particularly weddings. Outside the house, people can rent the Marquee or the gardens for the party. Inside the house, the Billiard Room or the Grand Dining Room are the most popular for rentals. The front hall and smoking room are also open to guests.
If you want to have your wedding in one of the Aberdeenshire castles, you can schedule a viewing by contacting the Estate Office.
10. Kincardine Castle
Our last Aberdeen Castle is another private residence where you can actually sleep and feel like you live in the castle alongside the owners, a Scottish Laird and his Lady. This private Victorian-style estate is also used as a venue like many of the Aberdeenshire castles on this list.
If you can't spring for spending a night in this romantic castle, then you have another chance to visit the castle as every first Friday of every month (except for August) there is a pop-up cafe open to the public where you can dine and enjoy the interior of the castle in the Great Hall as well as explore the castle gardens.
Alternatively, there are other outdoor activities you can enjoy nearby along the River Dee.
Unlike the other castles in Aberdeen that we mentioned, Kincardine Castle is the youngest hence the Victorian style. If you notice how many windows there are on the castle, this would have made it very difficult to defend under an attack. While there are features on the building that look like they're from the 14th-19th centuries, everything you see here was actually constructed between the years of 1894 – 1896.
Despite its youthful existence, we still believe this is one of the most beautiful castles in Aberdeenshire to check out!
What to Pack for Scotland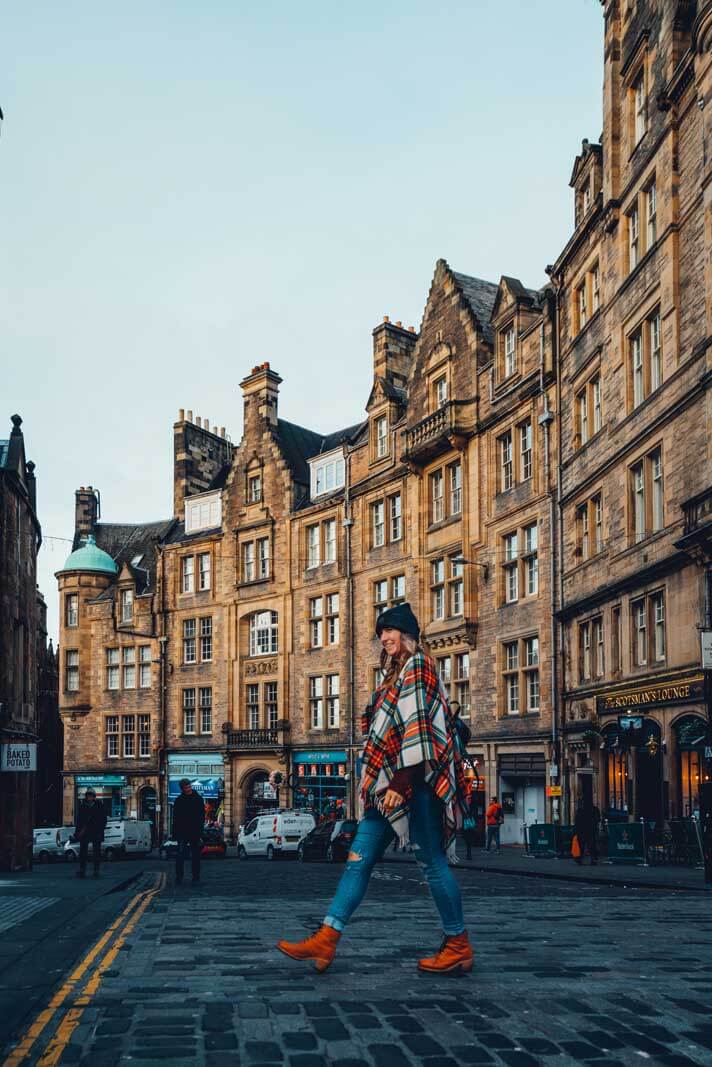 Scottish weather is a bit different than anywhere you've likely ever been! You don't want to come without layers and the right clothing. Also, check out these gifts from Scotland too so you can dress for the destination with some of these unique Scottish items!
Windproof and Water- Resistant jackets are a key item for what to pack for Scotland as chances are you will most likely encounter wind and rain during your trip. It's important to have a jacket that is wind resistant and waterproof to keep you dry and warm, there's nothing worse than getting wet from cold rain and dealing with wind, that will chill you to the bone. Shop a men's windproof jacket here and a women's windproof jacket here.
Water-resistant boots are another essential for what to bring to Scotland. There's nothing worse than getting wet feet because they tend to take forever to dry, plus you'll save yourself from blisters from wearing wet socks and shoes. Shop men's water-resistant boots here and women's water-resistant boots here.
The perfect sweater, layering is key for how to dress with the weather in Scotland. You will want to come prepared with layers for what to pack for Scotland on your trip. When the weather is nice, it's easily sweater weather, but when it starts to get windy or rain starts you'll want to throw on your wind and rainproof jacket. Shop men's layering sweater here and a women's layering sweater here.
A thermal undershirt is another good idea for what to bring to Scotland for those colder days and perfect for layering. On colder days wear this under your sweater and on warmer days leave it at home or wear it by itself. It's always good to pack one of these in your suitcase. Shop a men's layering thermal here and a women's layering thermal here.
Warm socks are clutch no matter what kind of shoes or boots you choose to wear in Scotland. There's something about the wet air that makes it feel much colder than it is. Do yourself a favor and follow our advice for what to pack for Scotland by making sure you have a few pairs of warm socks. Shop men's warm socks here and women's warm socks here.
Wind resistant umbrella is also a must-have. We broke two umbrellas during our trip to Scotland because we didn't have a quality wind resistant umbrella. Don't let the same happen to you by coming prepared with a wind-resistant durable umbrella. Shop here.
Travel Insurance is a must! If you don't already have it be sure to check out our guide for the best travel insurance for you based on where you live and what kind of travel you do.
Renting a car in Scotland
The best way to get around all the amazing castles in Aberdeenshire is by renting a car. Keep in mind that car rentals work a bit differently in Scotland. The main difference being that many rental cars have mileage limits when you book your rental.
This can catch you by surprise when you go to pick up your car like it did for us as we didn't catch this on our booking. You can easily upgrade your car to unlimited mileage for an extra fee, but often times when you're booking online you might not notice the fine print of the distance you can drive before being charged extra.
If you don't watch this or upgrade to unlimited mileage you can be really taken by surprise at the end of your rental. They were going to charge us an extra $.25 USD for mile over the mileage.
If you're doing a shorter Scotland road trip this shouldn't matter but should be something you're aware of if you don't want any surprises when you drop off your rental car.
We recommend renting a car through Expedia for great rates and discounts!
---
Liked this post about 10 Incredible Castles in Aberdeenshire? Bookmark for later or share the love below on Pinterest!