Looking for the perfect Southern California paradise? How about taking a Catalina Island weekend trip where you can enjoy an idyllic island escape just miles off the Southern California coastline at one of our favorite places in the US – Catalina Island!
It's no secret we are fans of the island, we have done several day trips to Catalina Island as well as spent several overnights stays exploring all the best things to do in Catalina that make this a destination we love coming back to over and over again. And while doing a day trip to Catalina Island is possible and great for those who are short on time or looking for easy day trips from Los Angeles or Orange County, the best way to spend time exploring the best of the island is by spending a weekend in Catalina.
For the purposes of this guide, we are going to focus on Avalon, the charming 1 square mile town that feels like it's stuck back in the golden age of Hollywood as this was a haven for some of the biggest stars and where they would come to spend their free time 22 miles off the coast of California.
What's great about this Catalina Island weekend trip itinerary is that it's easy to customize and move things around to fit the schedule you want to enjoy during your getaway. Just keep in mind that many of these activities will require advance reservations, especially in the popular summer months so be sure to plan ahead!
Disclaimer: This post was done in collaboration with Love Catalina Island, as always all opinions are our own.
Brief History and Facts about Catalina Island
Before diving into our Catalina Island weekend trip itinerary and guide, it's fun to learn a little about some of the interesting facts that make this destination so unique and special (and for the history buffs, this is one of the many reasons you should visit the Catalina Island Museum to learn more about the famous people and happenings that took place here during your weekend in Catalina).
Marilyn Monroe was discovered by a photographer when she was working as a taffy puller at the candy shop downtown Avalon known as Lloyd's of Avalon Confectionary when she was still Norma Jeane at the age of 16.
The Wrigley Family, the American chewing gum industrialists and owners of the Chicago Cubs baseball team bought Catalina Island in 1919. They brought the Chicago Cubs here for spring training, which also brought Ronald Reagan here as he was an announcer for the Cubs. The Wrigley family still helps preserve the island and has put in place protections to prevent over development.
Winston Churchill caught a record-breaking marlin on his visit to Catalina Island in 1929.
Catalina Island is also the location in the center of the mysterious death of actress Natalie Wood who died while aboard her husband Robert Wagner's yacht. The only other people on board the yacht during her death were actor Christopher Walken and the captain of the boat in 1981.
The casino on the island, which was never actually a gambling hall and never will be, means 'gathering place' in Italian and that's exactly what it was on the island with a movie theater featuring the first motion picture with sound known as a 'talkie'.
How to Get to Catalina Island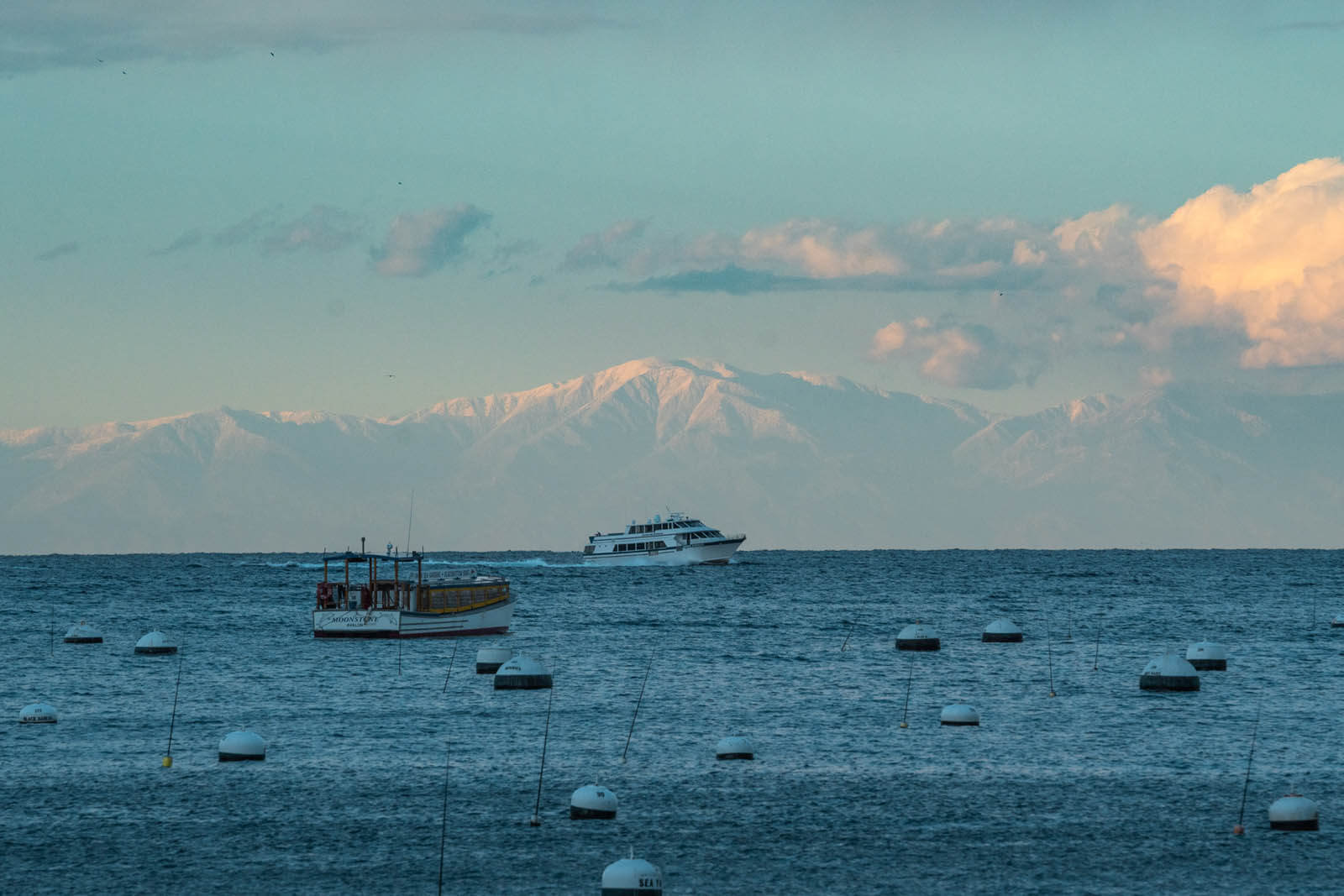 To enjoy our weekend getaway to Catalina we used the Catalina Express ferry service which operates out of Dana Point, Long Beach, and San Pedro to Avalon, where we will be basing our entire itinerary to a weekend in Catalina around.
The ferry terminals have several departures daily to Avalon as well as return trips to Dana Point, Long Island, and San Pedro daily. The times and schedule depend on the season so it's best to check their website for the desired time of your visit to plan your ferry tickets.
Keep in mind you will want to purchase your ferry tickets in advance, especially around the summer season as this is the most popular time and high season to visit the island.
The ferry journey to Catalina Island take around 60-90 minutes depending on what your departure location is.
For a great weekend trip to Catalina Island, we recommend buying tickets for the earliest ferry and taking the last ferry back. You also need to arrive to the ferry at least 30 minutes before departure going both ways.
No cars are allowed on Catalina Island, there are paid parking lots at the mainland ferry terminals for you to leave your car.
How to Spend a Weekend in Catalina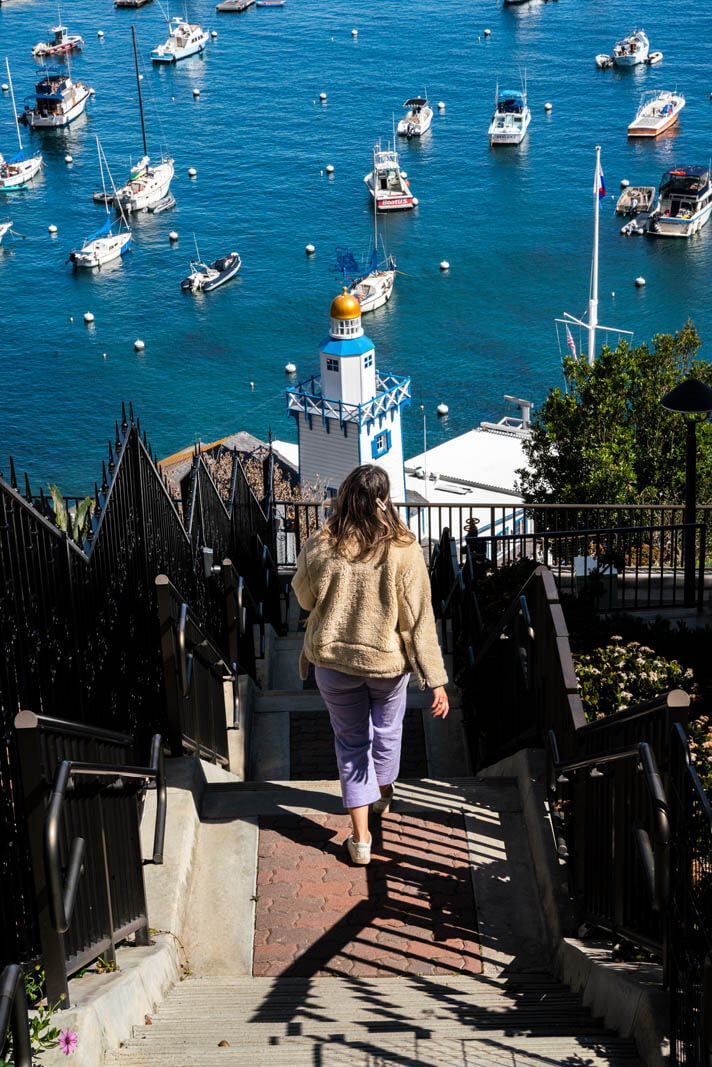 So now that we've covered how to get you to and from the mainland to Avalon on your Catalina Island weekend trip we need to cover all the fun activities you can fill your time with! Also, if you need some inspiration, check out some of our favorite photos of Catalina to get inspiration before your weekend trip.
Day 1: Weekend in Catalina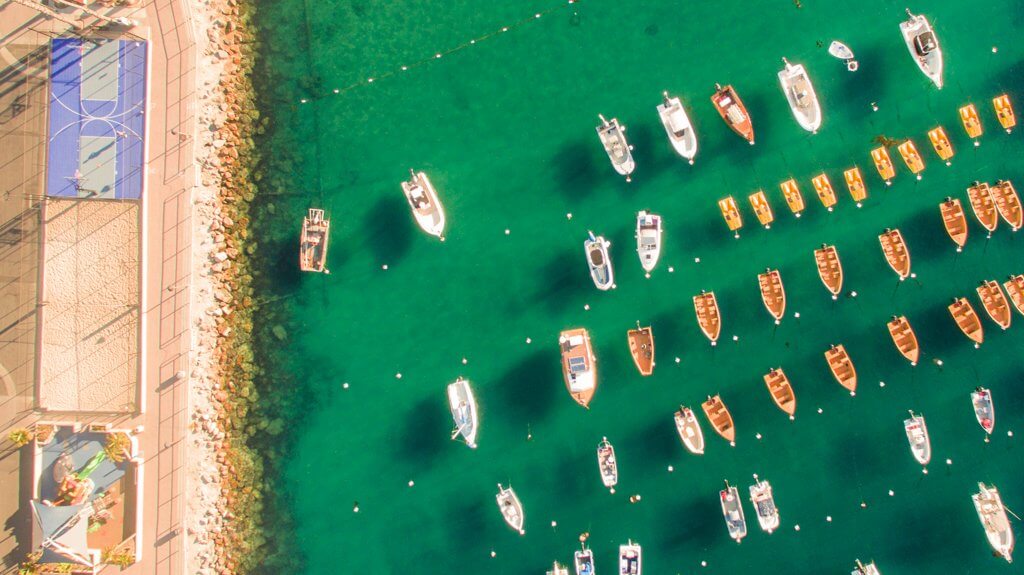 On your first day during your weekend trip to Catalina Island you will most likely be arriving late morning or around lunchtime from your ferry over to the mainland.
Be sure to come hungry as there are several amazing places to eat on the island which is what we suggest you start your trip with after dropping off your luggage at your hotel. Chances are, your hotel room might not be ready yet. So from the ferry, take your luggage to the front desk and get ready to start exploring starting with lunch and filling your first afternoon with some fun activities.
Descanso Beach Club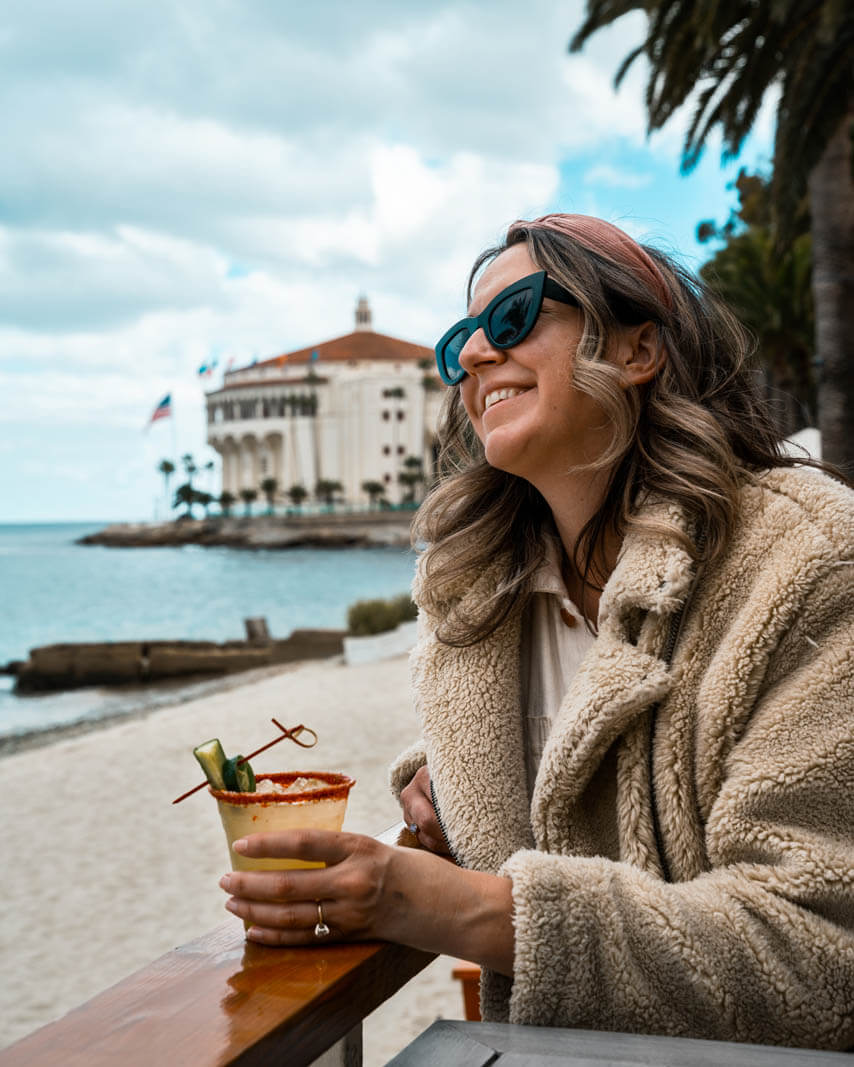 A Catalina Island weekend getaway isn't complete without visiting Descanso Beach Club. This is where you can find the best beach in Avalon serviced by the Descanso Beach Club where you can enjoy a delicious, fresh lunch and refreshing cocktails along the waterfront on the far end of Avalon past the Casino.
On our way, enjoy breathtaking views of the island and the Pacific Ocean passing the Casino, Tuna Club, and Catalina Island Yacht Club. After you pass the Casino, you'll walk along the waterfront on a beautiful palm tree-lined path to Descanso Beach Club.
Enjoy lunch on the patio overlooking the beach watching the gentle waves roll onto the shores. During the summer season, you can also rent cabanas or chaise lounges with umbrellas for shade to enjoy your drinks and lunch at. If you want to do this, you'll want to secure a reservation in advance.
On a gorgeous day, like the one we had, it's easy to spend a few hours here just relaxing, sipping on drinks, and enjoying the view until your room is ready, heck, you might even want to come back again during your weekend in Catalina because it's that beautiful and relaxing over here.
Zipline Eco Tour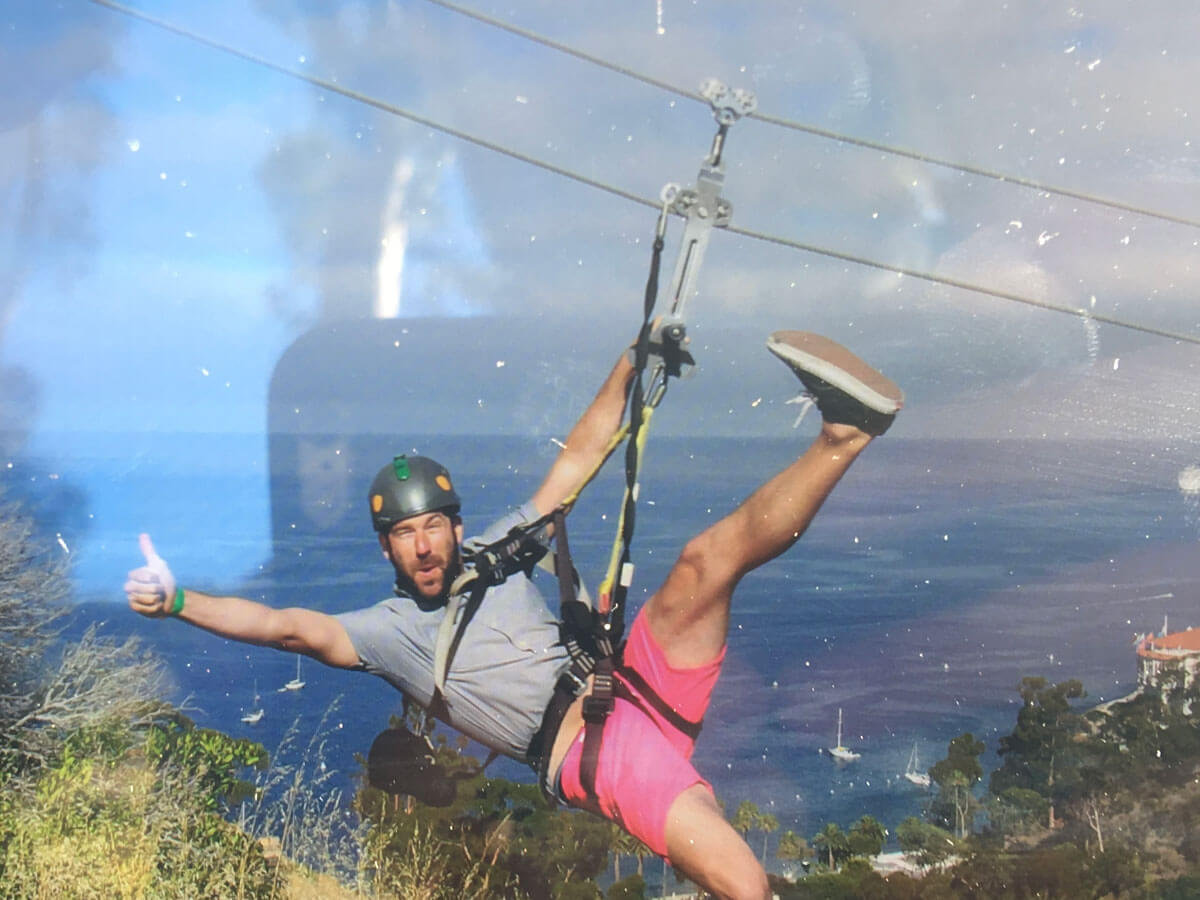 If you're looking for an adrenaline-pumping adventure with incredible views on your Catalina Island weekend trip, then you will want to book the sky-high soaring adventure at the Zipline Eco Tour in the Descanso Canyon located right by Descanso Beach Club.
Soar through the sky with jaw-dropping views of the ocean on this 2-hour ziplining course starting at Descanso Beach Club where a shuttle takes you 600 feet up to the top of your course before zipping by at 35 miles per hour towards the ocean!
You'll need to wear closed-toe shoes and wear full clothing (not bathing suits) to enjoy this activity during your weekend in Catalina. Also, if you're hitting up Descanso Beach Club before for lunch, skip the alcohol until after your zipline tour. You end right at Descanso Beach Club so you can enjoy a post-zipline adult beverage then!
Rent A Golf Cart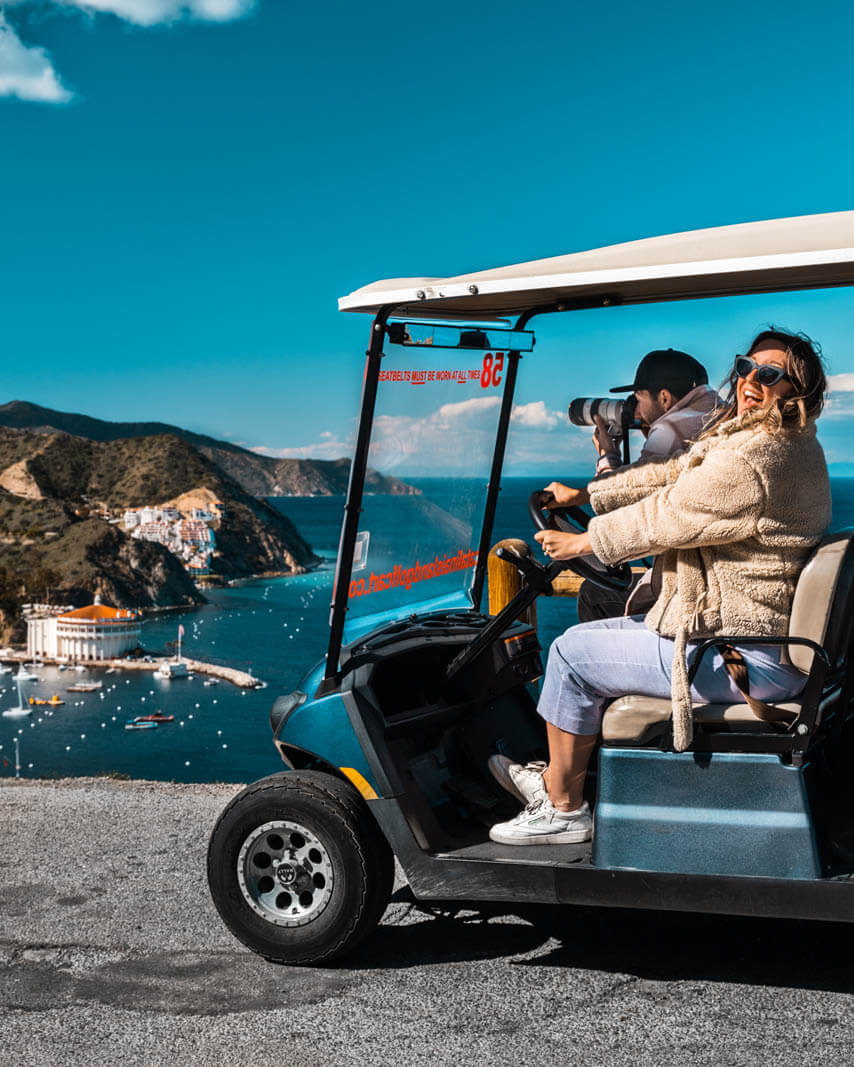 Another fun option for your Catalina Island weekend trip is to rent a golf cart for an hour or two to explore the island. Catalina Golf Cart Rentals (625 Crescent Ave) offers 4 passenger and 6 passenger golf cart rentals for 1 and 2 hours at a time.
Golf carts are the cars of the island, seriously you won't see many actual cars on the island but everyone drives golf carts!
This is an excellent option for getting some incredible views of the island and taking the scenic route past places like Mt. Ada, the Wrigley Memorial Botanical Garden, Chimes Tower, and Descanso Beach to name a few plus a map of the island of where you are and not allowed to drive.
It's strongly advised to book your golf cart rental in advance as during peak summer season, this book up quickly! Also, if this is a great way to get to Wrigley Memorial and Botanical Garden since they are a bit inland (which is walkable but it will take longer). If you plan on seeing the Botanical Garden via golf cart, which is an excellent option, be sure to book a 2-hour rental, the entire scenic loop will almost take up the full 1-hour rental with minimal stops for photos.
Wrigley Memorial & Botanical Gardens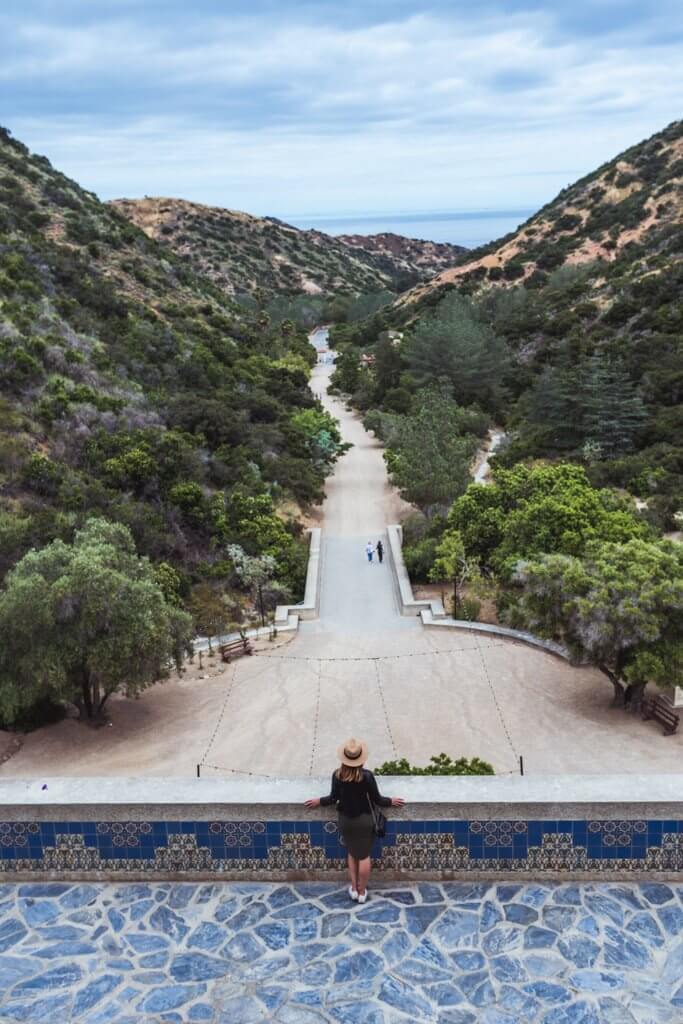 While cruising on your golf cart during your Catalina Island weekend trip, be sure to stop at the gorgeous Wrigley Memorial and Botanical Garden located 1.5 miles up Avalon Canyon Road inland.
The inland Catalina Island Conservancy and botanical garden and memorial to William Wrigley Jr and is absolutely beautiful full of endemic plants and rare endangered flora and fauna as well as beautiful Spanish tile and architecture, not to mention a beautiful view from the top of the memorial with views of the ocean.
Admission to the botanical gardens is between $8-12.
Keep in mind that the Botanical Garden is open daily from 8:00 am to 5:00 pm. If your time is running short on the first day of your weekend in Catalina you can always swap this activity out for something else on another day. As mentioned, you can totally walk here too but you will need to plan comfortable walking shoes as the walk will be 3 miles round trip.
If you do plan on walking in the summer, make sure to have sunscreen and a hat or something to shade you, this walk can get hot! We know from experience!
Dinner at Maggie's Blue Rose
As you wind down from your first, very eventful day on your Catalina weekend getaway you will probably have built up an appetite. There are SO many incredible dining options and since we've been on the island at least a dozen times we feel confident with our food recommendations.
One place we never skip eating at when visiting Catalina Island is Maggie's Blue Rose Mexican eatery. Everything we've tried here has been insanely delicious including their famous margaritas.
If you love sharable plates, our favorite thing to order is the carnitas nachos which are huge and big enough for two to split as an entire meal served with freshly made tortilla chips and layered with toppings paired with their homemade salsa.
Evening Activities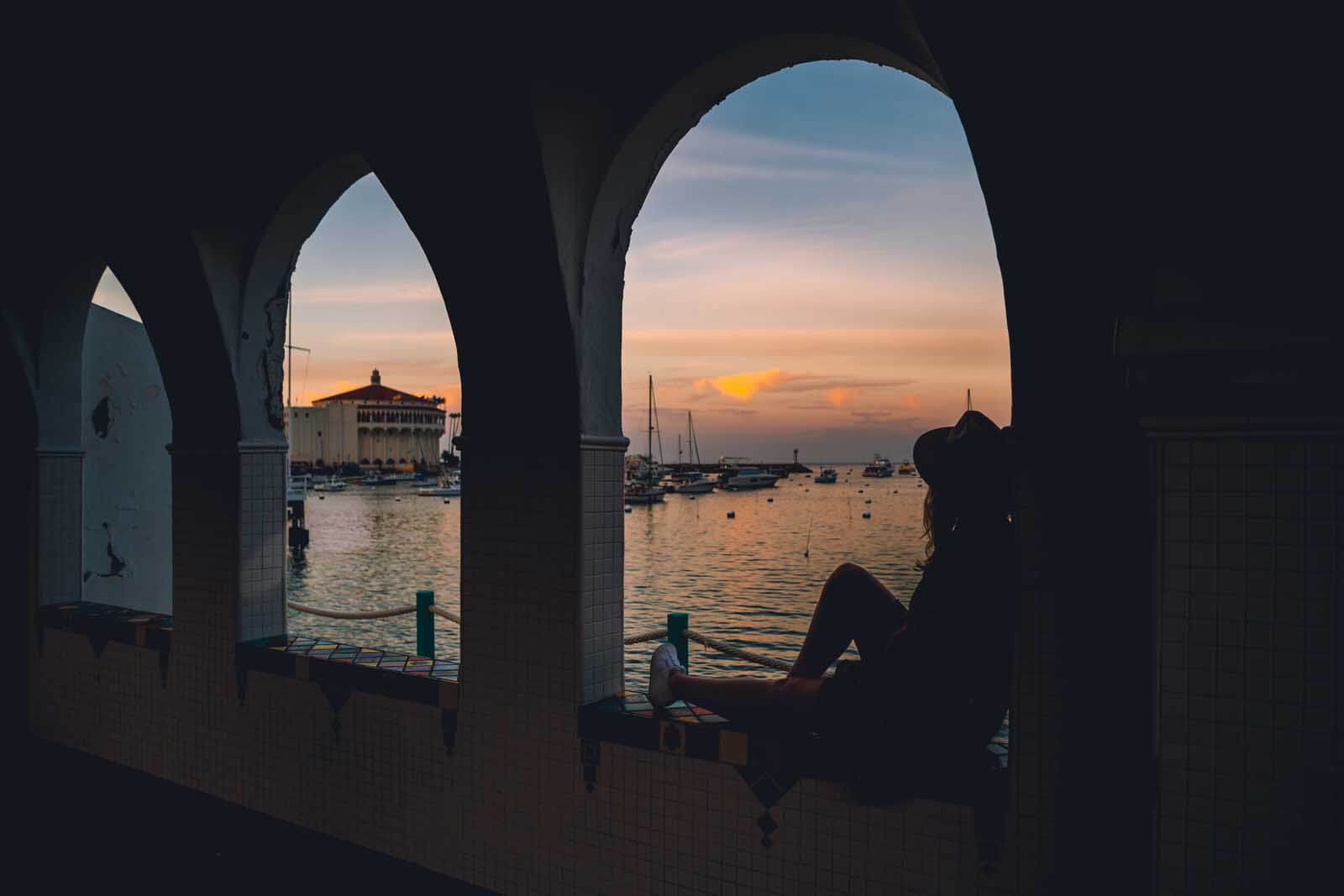 Even for a small island getaway, you can find some fun nightlife and evening activities for all ages during your Catalina Island weekend trip.
For families and adults who are kids at heart, head to Three Palms Avalon Arcade at the Metropole Marketplace which has a bar and an arcade full of fun video games where you can win tickets to cash in for fun prizes along with a mini-bowling alley. The arcade is open daily until 8:00 pm.
If you're looking for more fun, check out the Catalina Island Ghost Tours which take place on Tuesdays, Fridays, and Saturdays in the evenings to learn a bit more about the paranormal activity (and even alien activity) on the island!
Last but not least, for the adults, there are a few bars on the island and restaurants with full bars to enjoy a nightcap at. Some of the best bars to hit up in the evening include the Marlin Club, Luau Larry's, and J L's Locker Room.
Day 2: Weekend in Catalina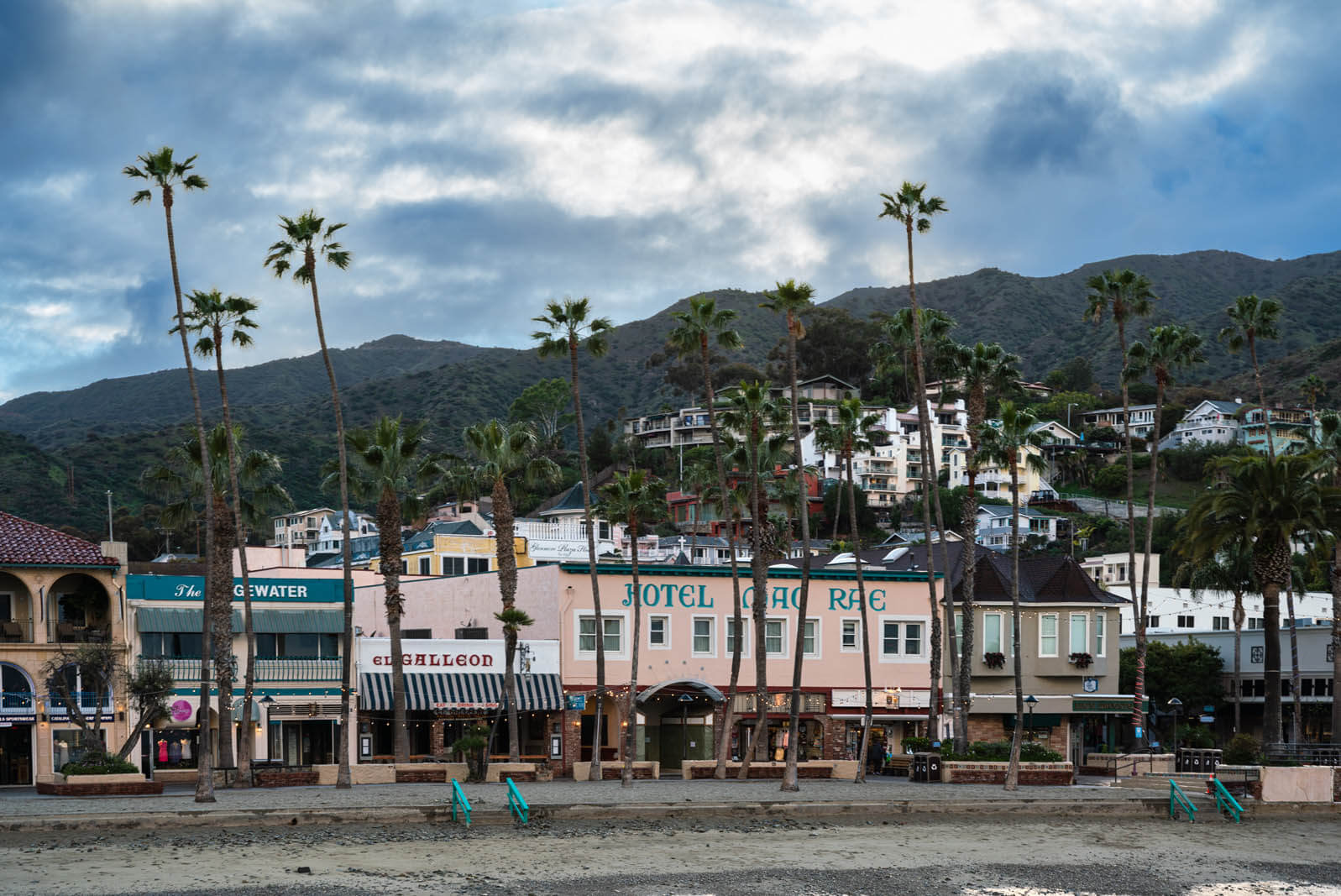 This will be your full day of fun and activities during your Catalina Island weekend getaway! Keep in mind that some activities, especially in the summer months will require advance reservations. You may have to slightly alter or tweak some of the suggested activities to fit your reservations which is really easy to do because things are not far away from one another, It's very easy to adjust all of our recommendations to fit your weekend in Catalina.
Morning Coffee & Breakfast
Fuel all the fun during your full-day during your weekend in Catalina at the Catalina Island Coffee & Cookie Co. located in the Metropole Market Place which opens at the wee hours of the morning. We both love a good cup of coffee and they deliver quality cups of coffee – especially if you like iced chai tea lattes!
You can find small bites and baked goods as well as a few breakfast options.
If you're not a coffee drinker you're also in luck as they have delicious flavored iced teas you can try too!
Hike to Buena Vista Point Scenic Overlook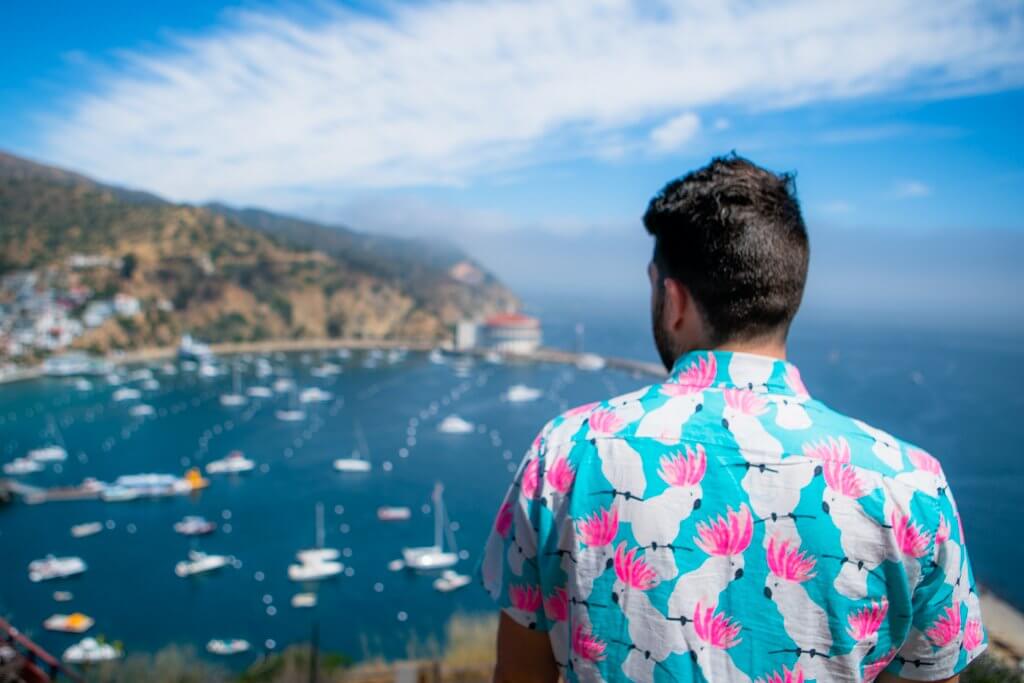 After you've enjoyed your early breakfast, if you're looking for a nice morning workout with a rewarding view of Avalon, Catalina Harbor, and the Casino from above, then check out Buena Vista Point Scenic Overlook.
Take Wrigley Road for a 25-minute uphill climb to this scenic vista. This is best done in the morning, especially in the summer because of the heat. There are a few places to take a rest along the way including the shaded local pet cemetery before continuing your incline.
One of our favorite views of Catalina can be found here and is a great photo stop. 
If you're not wanting to hike up here, you can rent e-bikes from Brown's Bikes or stop on your golf cart rental the day before!
Catalina Museum for Art & History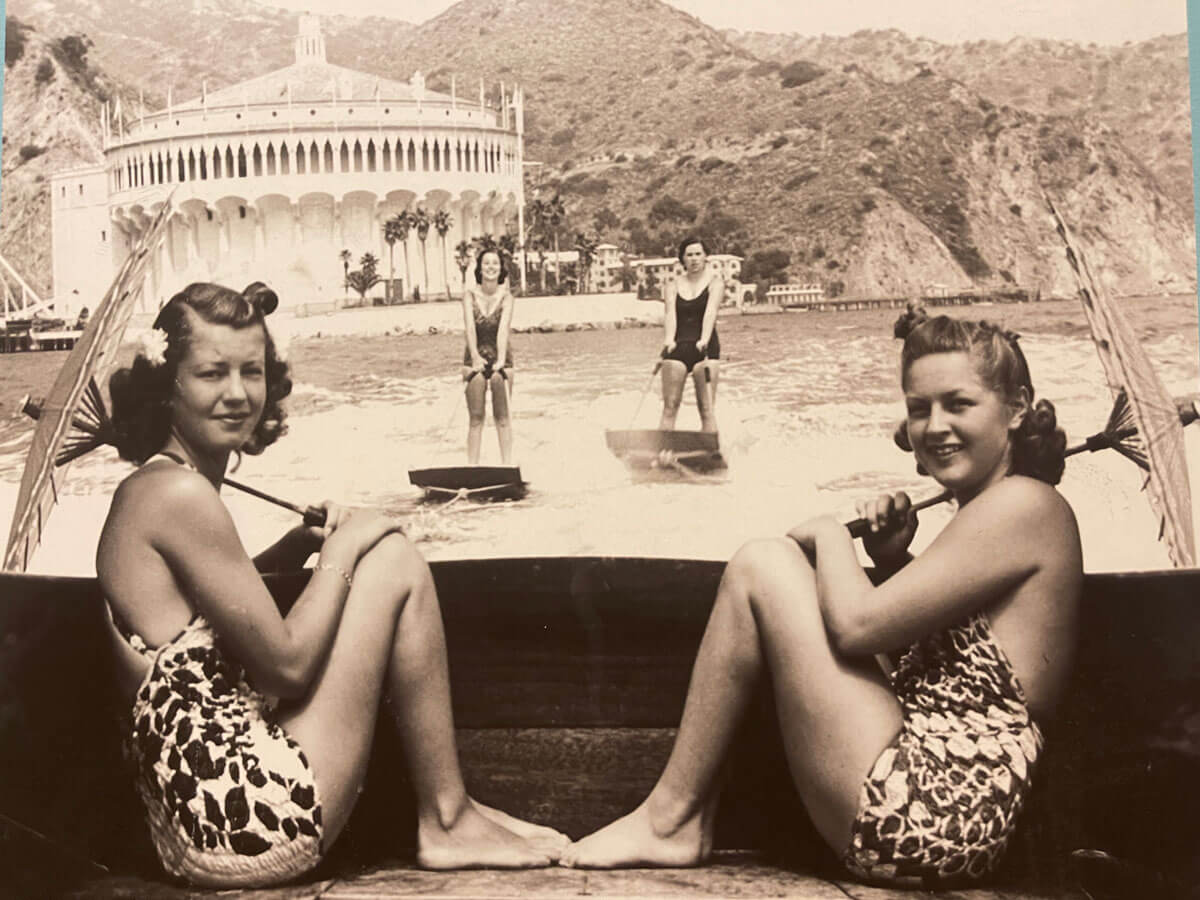 If you're like us and fascinated with the island's history then you'll want to include the Catalina Island Museum for Art & History to your Catalina Island weekend trip itinerary!
Open daily from 10:00 am to 5:00 pm, you can explore this beautiful space takes you through the history of the island including historic photos, ephemera, and stories from when the island was purchased by the Wrigley family, when the Chicago Cubs did their training on the island, its role in WWII, to the history of transportation to the island, and of course, the island being a playground for Hollywood's Golden Age including the discovery of one of Hollywood's biggest stars of all time, Marilyn Monroe.
And as the name suggests, you can find art exhibits here as well including a permanent Chihuly glass installation on their outdoor terrace next to the amphitheater.
Lunch at The Naughty Fox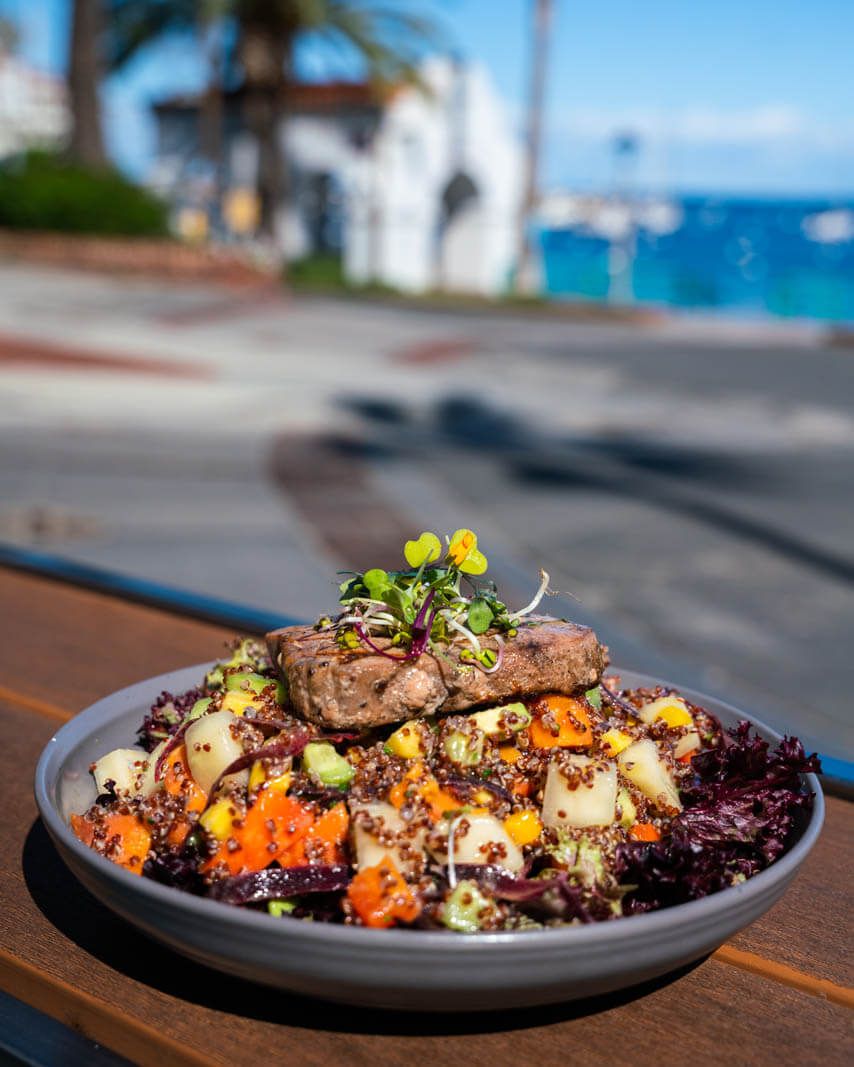 We recommend planning your lunch around doing an inland tour of the island on this day during your weekend in Catalina. This might mean you have an early lunch or plan to have a late lunch, regardless of what works for your schedule, we recommend having a delicious, fresh lunch from The Naughty Fox restaurant at the Bellanca Hotel.
Their outdoor seating section offers a waterfront view on the opposite side of the roundabout where you'll see the adorable golf carts zip by and enjoy views of the Casino and ocean as your backdrop.
This restaurant serves up coastal cuisine with a wine list and island-inspired cocktails. We especially loved their salads topped with fresh tuna and the ahi poke nachos.
Interior Island Tour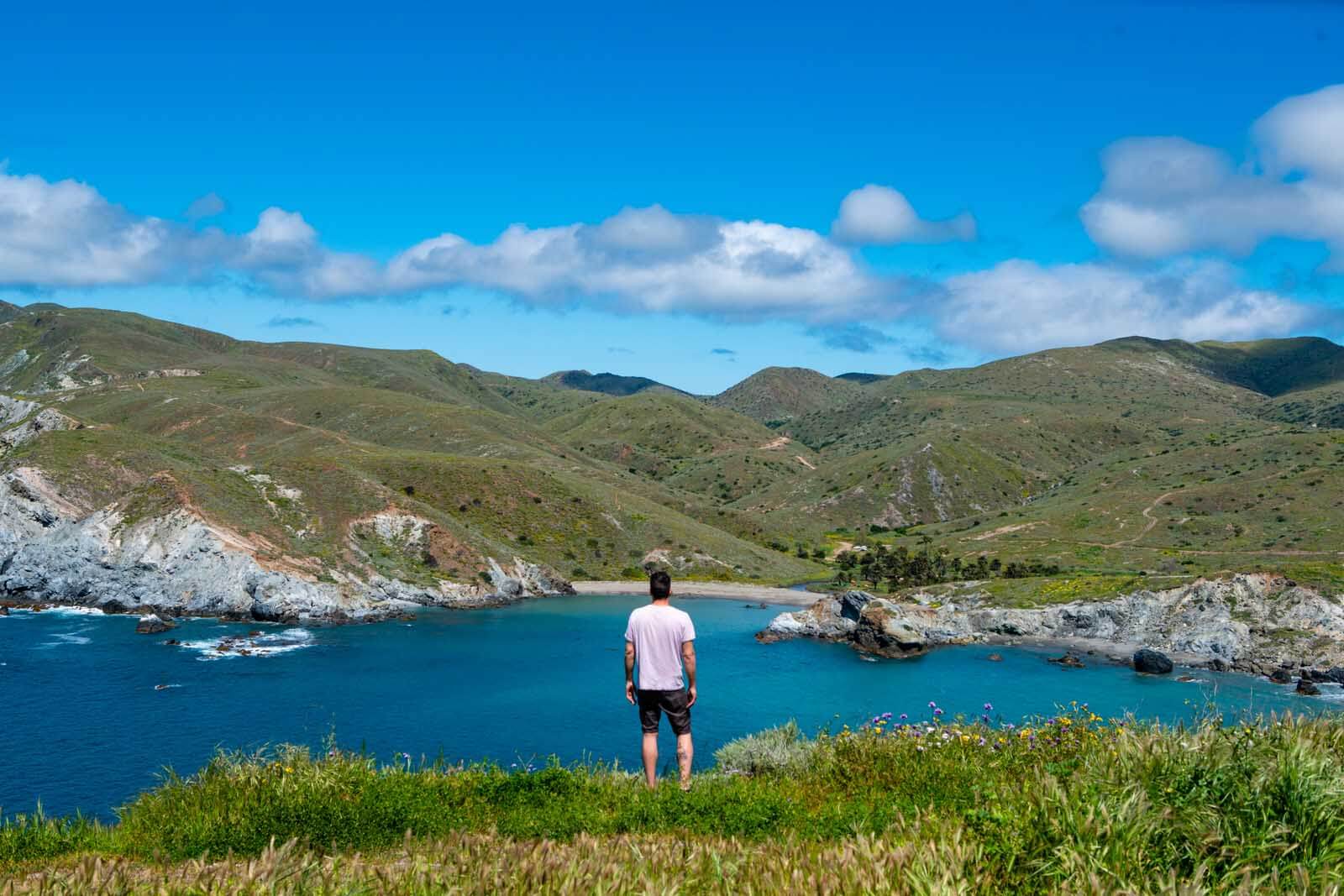 One of the best things to do on the island is to take a scenic tour to the interior of the island or the backside of the island where you can find all the undeveloped beauty that the Wrigley family promised to protect when purchasing the island.
Depending on what tour or experience you want to do you have the opportunity to see untouched, pristine beaches on the back end of the island, smaller hiking adventures along the Trans Catalina Trail (which is a multi-day trek across the entire island), wildlife spottings like the small native fox and the herd of bison that roams the island, to day trips to Two Harbors.
The Catalina Island Conservancy offers Eco Tours daily which you can book in advance online. We really enjoyed our customized tours with Catalina Backcountry which offers personalized, private tours depending on what it is you want to do or see. We did a few hours on a personalized tour of the interior of the island witnessing incredible views of the ocean, beaches, and even saw the tiny Catalina Island fox!
They also offer personalized tours that include taking guests to a beach on the back end of the island to hang out for the day, special trips for a private, intimate wedding proposal, customized hiking trips, and for those who want to do the multi-day Trans Catalina Trail in style they offer a service where they take your luggage and set up camp for you each night so you can do the multi-day trek with just your day bag and not have to worry about lugging all of your things around or where you're going to sleep and what you're going to eat.
Catalina Island Mini Golf
One of our favorite activities to do on any visit to Catalina whether we are spending a weekend in Catalina or just a day trip is to enjoy a round of mini-golf at the Catalina Island Mini Golf course!
Open daily from 9:00 to 5:00, you can enjoy all the fun on this 18-hole course in a gorgeous lush garden in the heart of downtown Avalon. The course is pretty fun and also has plenty of holes that have trick shot opportunities.
Pay attention to the little signs at each course as they are full of island facts as well as hints for how to get a hole in one at each hole!
Dinner at Lobster Trap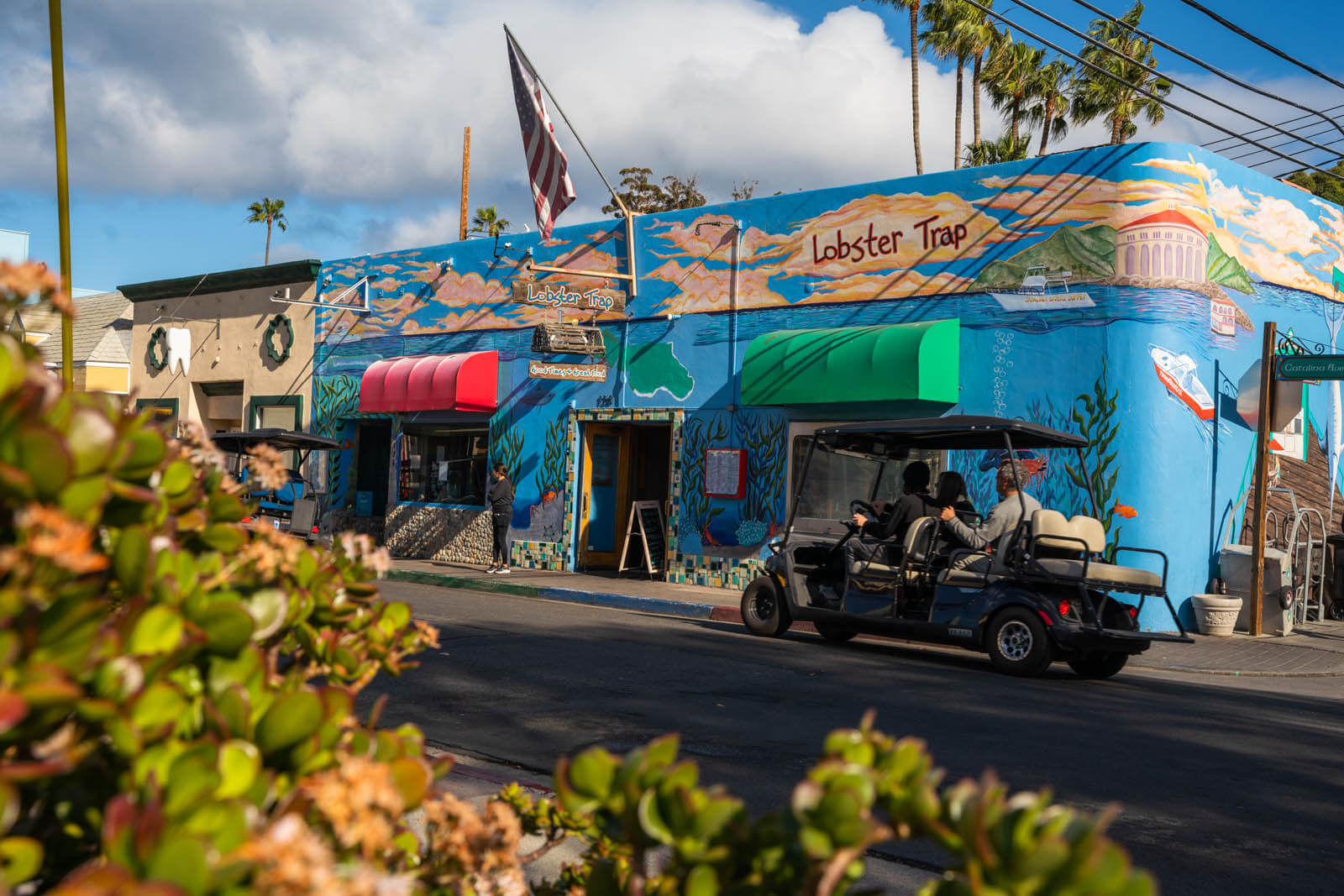 We've asked many locals on our visits to the island and time after time everyone always says their favorite spot for dinner is the Lobster Trap which is why we recommend spending at least one of your dinners during your Catalina Island weekend trip enjoying a seafood feast here!
Hop inside this nautical-themed restaurant where people rave about the seafood pasta dishes and there are fresh catches of the day available as an entree. We both got great local catches as our meal and loved how lively and fun the entire setting was here!
Evening Activities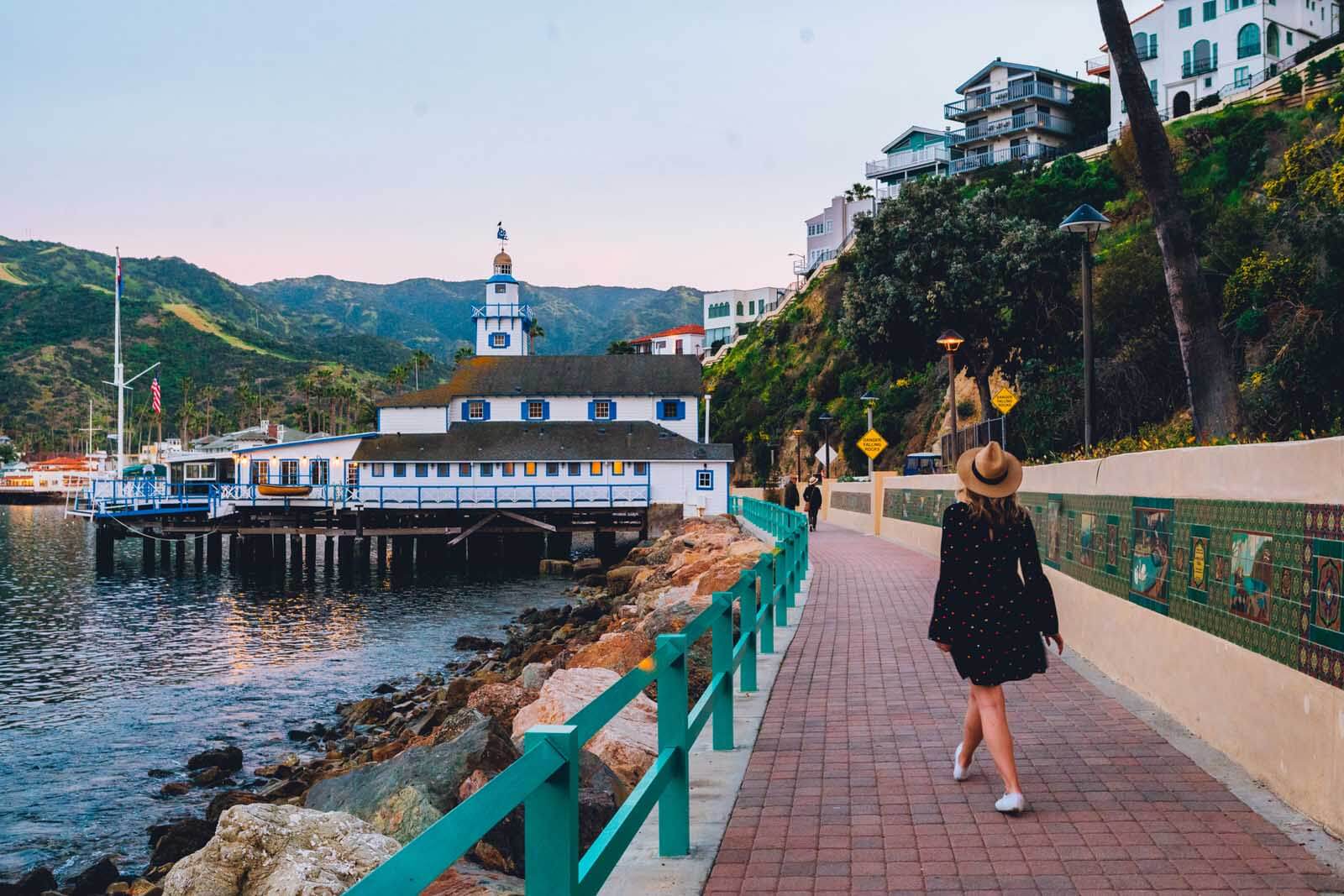 We recommend hitting up the evening activities mentioned on our first night at Catalina Island during your weekend stay. If you're not completely exhausted from all the fun in the sun and island activities there's also the Chi Chi Club (oh hey, another Chi Chi!) which is the only nightlife club on the island.
Another additional option is the Catalina Room Escape, a pirate-themed escape room in downtown Avalon.
Day 3: Weekend in Catalina
If you're spending a traditional weekend in Catalina, chances are this is your last day on the island and you have a ferry departing Avalon later in the afternoon. We always try to get the later afternoon ferry so we have more time to enjoy the island activities and another lunch before departing back to the mainland.
Breakfast at Pancake Cottage
If you love a large homestyle-cooked breakfast this is the spot for you! Sit back and enjoy a feast for breakfast in this popular morning spot on the island.
We actually ordered a breakfast burrito to-go and split it (the portions here are pretty large and it's very easy to split a meal) while sitting on a bench near the Pleasure Pier to enjoy the morning waterfront view.
Whether you want a stack of pancakes or a hearty breakfast, they've got it!
Catalina Casino Tour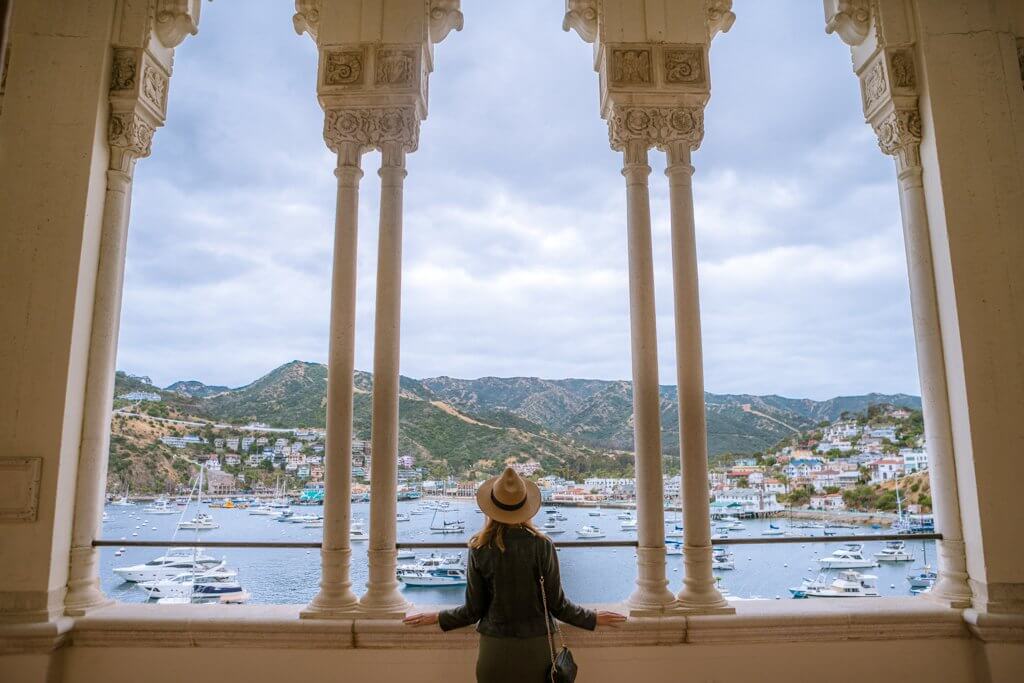 During your Catalina weekend getaway learn a bit more about the island's most iconic landmark, the Casino. You can join one of the daily behind-the-scenes Casino tours with a historian where you'll have a chance to witness this Art Deco masterpiece of a building that houses a gorgeous 1920s movie theater where the first 'talkies' where shown, the world's largest circular ballroom on the second floor, and the rare pipe organ inside the casino to name a few highlights you'll uncover on this educational tour.
Or you're free to pay admission and wander the Catalina Casino freely on your weekend in Catalina.
Snorkel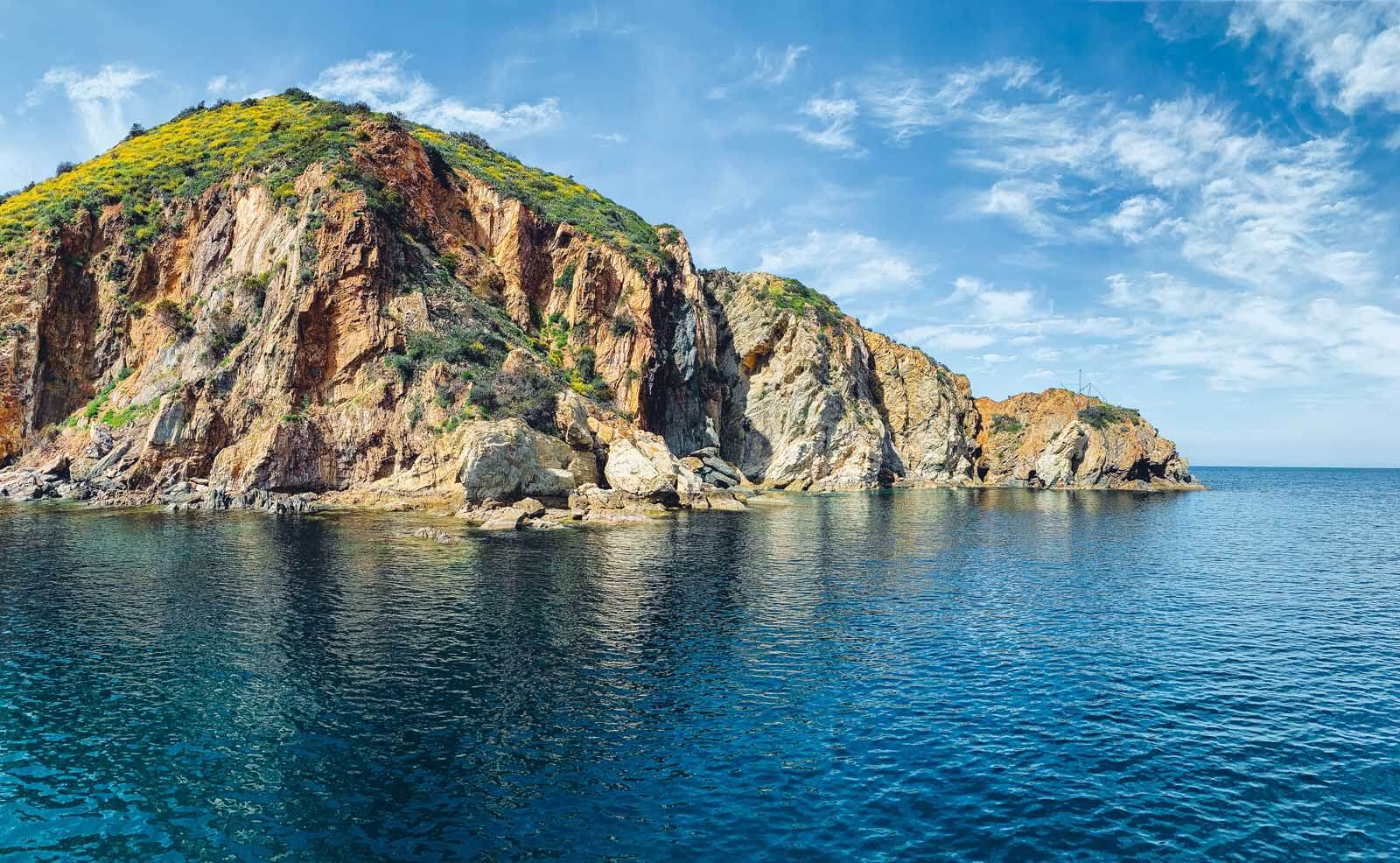 Whether you're visiting off-season or in the summer, there are fun snorkeling adventures to be had off the coast of Catalina Island. We recommend booking a snorkeling excursion with Catalina Diver's Supply which takes you on a fun 2-hour snorkeling adventure with everything you need – a boat to get to the best spots, a wetsuit for the colder months, fins, and your snorkel gear!
You'll get to witness the beauty below the surface of the turquoise waters including getting up close to the bright orange Garibaldi fish which are found everywhere along the island.
In the summer months, they offer a 12:00 pm and 2:00 pm option for snorkeling adventures, off-season they only offer one time. You will want to book this in advance and may need to adjust your Catalina Island weekend trip itinerary if the only time available is the later afternoon time since it would be getting back very close to your ferry departure.
If you're trying to follow this weekend in Catalina itinerary exactly, we recommend getting the 12:00 pm tour that lasts 2 hours so you have time to relax and get to the late afternoon ferry on time.
Final Lunch
Depending on which activities on our suggested Catalina Island weekend trip itinerary you followed, you have probably worked up an appetite and are going to need a great meal before heading back to the ferry journey to the mainland.
As we mentioned, all the food on the island is great. But if you want a few personal recommendations we have two that we have yet to mention in this guide.
Bluewater Avalon is the perfect spot if you want to enjoy a seafood lunch on their gorgeous outdoor deck and patio right on the water.
If you're a pizza fan like us, don't miss Antonio's Pizza. There are two locations, there's Antonio's Pizzeria & Cabaret located on the waterfront next to Bluewater Avalon or their 1950s style pizza joint at 114 Sumner Avenue which is pretty special as you can't help but admire the nostalgic dining room setting complete with the checkered table cloths and fun decor covering the walls.
Where to Stay on Your Catalina Island Weekend Trip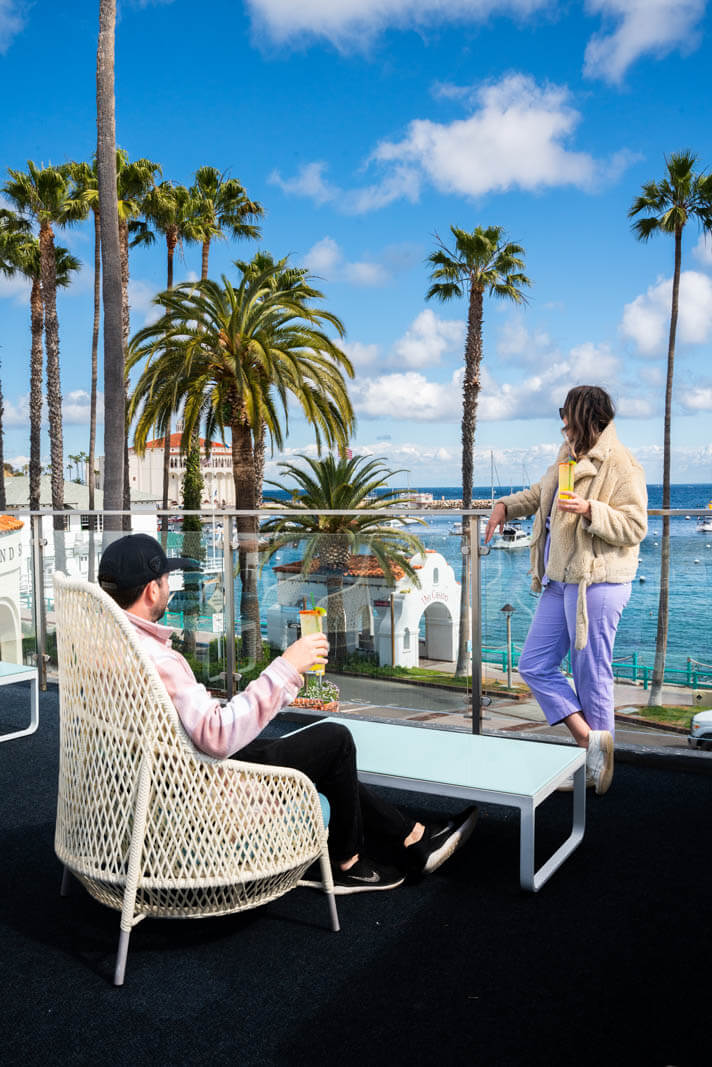 For this trip, we stayed at the beautiful Bellanca Hotel located in the heart of downtown Avalon on Crescent Avenue overlooking Catalina Harbor.
This location is great as you are just a brief walk from the ferry terminal and close to everything there is to do and see in downtown Avalon.
Onsite amenities include The Naughty Fox restaurant which has a gorgeous outdoor dining space open to guests and the public as well as an outdoor sundeck with seats and umbrellas with unobstructed ocean views to relax at for guests.
The rooms are spacious with artistic accents and some offer their own private balconies. Book here.
For more hotel options check out our full guide to where to stay on Catalina Island including different accommodation options for every type of traveler.
Other Catalina Travel Tips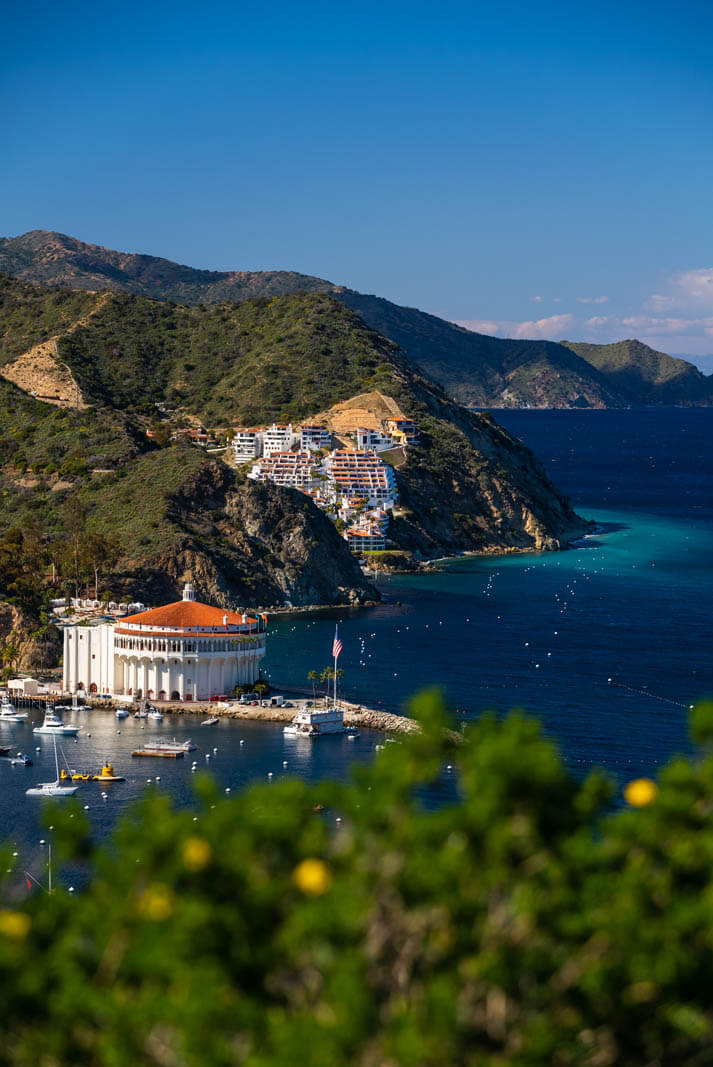 Here are a few essential tips for your Catalina Island weekend trip and itinerary including what to pack and a few useful resources for booking your on-island activities.
If you're prone to motion sickness you'll want to come prepared for the ferry ride to and from Catalina Island. The ferry service is very smooth, but on days with the high wind the ride is a little rocky and those who are prone to motion sickness may feel it the worst.
Come prepared with things that settle the stomach like ginger ale or purchase ginger chews, Dramamine for motion sickness, or try a motion sickness patch.
Come prepared with sunscreen too! We recommend, especially if you're planning on getting in the water, to purchase reef-safe and eco-friendly sunscreen as many brands contain harmful chemicals to the ocean that people don't realize. Unfortunately, the 'reef friendly' sunscreen label isn't regulated so you often get brands who are 'greenwashing' or pretending to be safe for the environment even though they are not – which makes things confusing for the consumer.
My personal favorite brand is Thinksport as their formula applies evenly and doesn't leave a weird white minerally residue.
There are plenty of small, charming boutiques on the island for any last-minute things you may have forgotten and even a full-on Vons grocery store too.
For booking on island activities, if you didn't purchase in advance (which is highly advised for the summer season) there is still a chance you can book all kinds of island excursions from boat rides, submarine rides, snorkeling, island tours, Casino tours and more. If you want to try your chances of booking last minute you can at several spots around the island including the blue Pleasure Pier, the information and ticketing spot at the Catalina Island mini-golf, and directly at some attractions like the Casino.
If you're visiting off-season like we did in March or April, chances are you'll be able to book last-minute activities but keep in mind they don't operate at their full schedule off-season, so it's still recommended to book in advance.
---
What is the best month to go to Catalina?
September offers a prime time to visit Catalina Island. The weather is still warm, crowds thin out after summer, and various activities can be enjoyed without the peak-season rush. The winter months are also an underrated time to visit Catalina Island as there are fewer crowds, better hotel deals, and the weather is still comfortable.
How many days should you spend on Catalina Island?
A 2 to 3-day visit to Catalina Island is ideal, allowing you to explore its attractions, enjoy outdoor activities, and experience its unique ambiance without feeling rushed.
How much does an average trip to Catalina Island cost?
The cost of a trip to Catalina Island varies. A day trip might be around $75-$100 for transportation and basic activities. A multi-day stay with accommodation can range from $200 to $500+ per person, excluding extras.
Can you spend a day at Catalina Island?
Yes, you can spend a day on Catalina Island but since there are so many things to do and see here it's best to spend a night or two to see more of the island and it's beauty, attractions, and historic sites.
---
There you have it! All of our favorite options for how to spend Catalina weekend getaway! If you found this guide helpful, consider bookmarking for later or sharing the love below on Pinterest!