T
he soothing sound of birds singing in the trees. The rhythmic humming of cicadas rise and fall. The serene sounds of beautiful turquoise cascading waterfalls. Inundated in a canopy of trees is Kuang Si Waterfalls. A true jungle oasis you would only expect to find in fairytales. Hidden in the depths of the beautiful and lush trees, Kuang Si waterfalls offers an escape. Not just from the heat, but from a modern world. It's a time machine into a magical land that one can sit back in awe and wonder what it must have been like to be here all alone a hundred years ago. If you arrive early in the morning you could just get a glimpse of what Kuang Si Waterfall must have been like when no one but monks visited it.
 We took off for Kuang Si via motorbike so we could arrive right when it opened. When we finished the beautiful drive and when we arrived we were greeted with a huge smile from a friendly stranger carrying a bag of sticks and looking for rocks. It was eight o'clock and we were the only three there. Practically speechless Megan and I soaked up the beauty and started to take photos.
---
---
I was really excited about the opportunity to take photos at Kuang Si. After researching flickr and on the internet I saw some stunning images and was excited to try and find my own. Most of them a variation of this area. So as I desperately tried to figure out how to get the best image possible, and make it unique to me, I snapped away ferociously.  
---
---
Unfortunately I didn't know how to make my images different from the hoards of awesome photos already of Kuang Si. My inexperience had me panicked and I took tons and tons of photos. Megan wandered off to explore, while I stayed in this one spot for at least 45 minutes trying to figure out what I could do that was unique. When Megan returned she informed me we were at the very beginning of the falls, and that there were even more to see!  [justified_image_grid preset=c3 row_height=1000 width_mode=responsive_fallback gallery ids="12750,12751″] There are a total of four sections of waterfalls at Kuang Si. Each one absolutely breathtaking. [justified_image_grid preset=c3 row_height=500 width_mode=responsive_fallback gallery ids="12749,12748″]
I was endlessly amazed by the stunning scenery of Kuang Si. It was time for us to take a dip. On our way back down to the second fall we ran back into the smiling stranger. This time he was perched on a rock, assembling a cairn.
---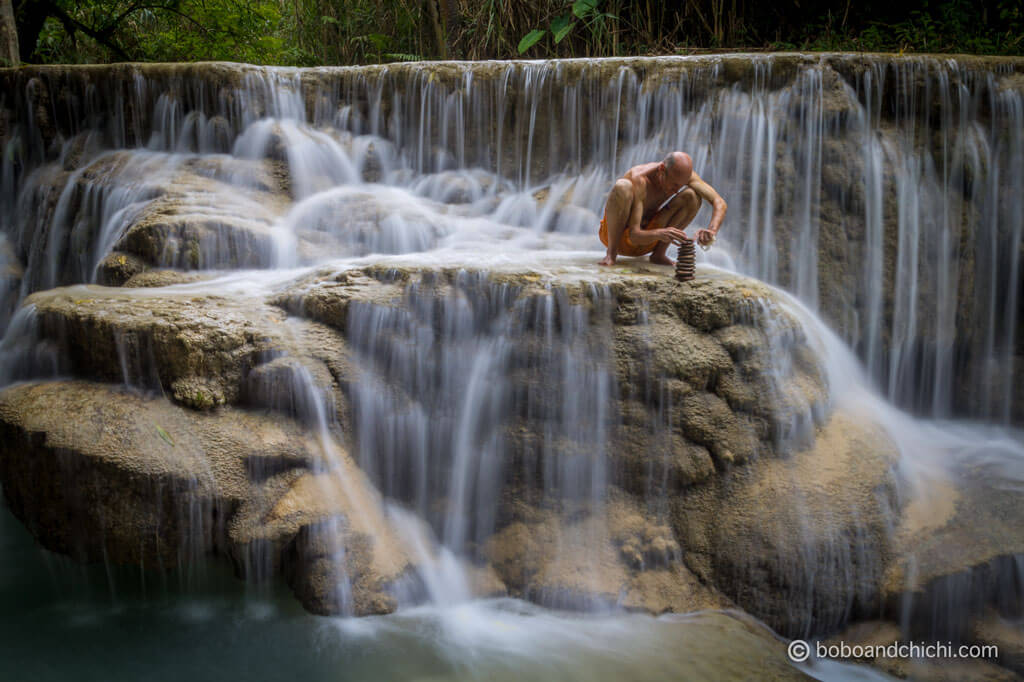 It was when I saw this scene of a man resembling Golem, from Lord of the Rings, precariously perched on top of a cascading waterfall skillfully stacking rocks. In the middle of a lush jungle oasis, that I knew there was something special, or different about these photos that made my images of Kuang Si different from the rest.
---
---
I took quite a few photos of the scene as this man was perching precariously on the extremely slippery waterfall of Kuang Si.  I was actually a bit nervous for him as he was constantly moving. Trying to get in the most stable position as he tried to delicately keep his balance, move slowly, while setting up the rocks.
---

Kuang Si Waterfalls has to be one of my favorite waterfalls I've ever visited date. It has it all, beautiful turquoise waters, a secluded jungle oasis, 4 different sections of falls, and cascades like no other. This place is absolutely breathtaking. So we decided to come back another day and shoot a walk with us and enjoy Kuang Si one last time.
If you liked this post and want to see more like it, consider liking our page on facebook, following us on twitter, or seeing our latest photos on instagram.
*Please remember all photos on this website are copyrighted and property of Bobo&ChiChi. Please do not use them without our permission. If you want to use one of them please contact us to ask first because we'd be absolutely flattered and would love to share. Thanks!