One of the most magical castles in the world is undoubtedly the pink castle known as Craigievar Castle in the Scottish Highlands of Aberdeenshire, Scotland.
This beauty of a castle has taken social media by storm as it's instagrammability factory is through the roof considering it's not often you see in real life pink castles other than at amusement parks like Disneyland.
The pink castle of Scotland's popularity has soared since being featured all over Instagram as this is one of the most photo-friendly and picture-perfect places we've ever been. We've put together this guide for everything you need to know about visiting Craigievar Castle to help you plan your trip, from the history, location, how to get there, and cool things to do nearby to help to make planning your adventure to this pink castle a breeze.
Craigievar Castle Location
The famous and photo-friendly Pink Castle Scotland loves is located in hillocks by the Grampian Mountains, specifically on the incline of the hill of Craigievar which sits above the gully of the Water of Leochel in Aberdeenshire.
Its eastern border is formed by the convergence of A980 Banchory to Alford Road, while its southern end is bordered by Rumblie Burn. The south-eastern corner of the property is bounded where the Rumblie Burn meets with the Corse Burn to form the Leochel Burn.
The hills are expansive and undeniably beautiful. The valleys that surround Craigievar Castle are used for agricultural purposes like livestock grazing, and most of the hilltops are covered by moorland. During our visit, the nearby farm dog came and greeted us at the castle! He almost seemed like he was running the show at Craigievar Castle.
The views that go across the Corrennie Moor and to the Grampians are extensive and breathtaking. Lying in the protective shelter of Craigievar Hill, Craigievar Castle is a dominating presence in the valley of Leochel Burn and truly incredible to witness.
Craigievar Castle Distance from Popular Locations
Craigievar Castle is located about 42 kilometers or 26 miles away from Aberdeen and takes about 40 minutes to get there if you take your own car or charter a taxi.
If you do not want to drive or are unable to, you can board a direct bus to Craigievar Castle from Music Hall, Aberdeen, which makes a ninety-minute journey to Lumphanan, Crossroads Hotel three times a day from Monday to Saturday.
The journey from Edinburgh is 205 kilometers or 127 miles to this glorious pink castle of Scotland is a further, in comparison to Aberdeen, taking about 2.5 hours on the average.
Direct buses do not go from Edinburgh to the pink castle, but there are services that take passengers from Edinburgh Bus Station to Union Square Bus Station on a 6-hour journey.
Glasgow is 232 kilometers or 144 miles away from the pink castle. A trip to Craigievar Castle from Glasgow typically takes 2.75 hours in a car. As with Edinburgh, there are no direct buses from Glasgow to Craigievar Castle. However, you can get on a service that goes from Buchanan Bus Station on a 6-hour journey to arrive at Union Square Bus Station.
Rent a Car in Scotland
The best way to get around Scotland and to visit the pink castle or Craigievar Castle is by renting a car. Keep in mind that car rentals work a bit differently in Scotland. The main difference being that many rental cars have mileage limits when you book your rental.
This can catch you by surprise when you go to pick up your car like it did for us as we didn't catch this on our booking. You can easily upgrade your car to unlimited mileage for an extra fee, but often times when you're booking online you might not notice the fine print of the distance you can drive before being charged extra.
If you don't watch this or upgrade to unlimited mileage you can be really taken by surprise at the end of your rental. They were going to charge us an extra $.25 USD for mile over the mileage.
If you're doing a shorter Scotland road trip this shouldn't matter but should be something you're aware of if you don't want any surprises when you drop off your rental car.
We recommend renting a car through Expedia for great rates and discounts!
History of Craigievar Castle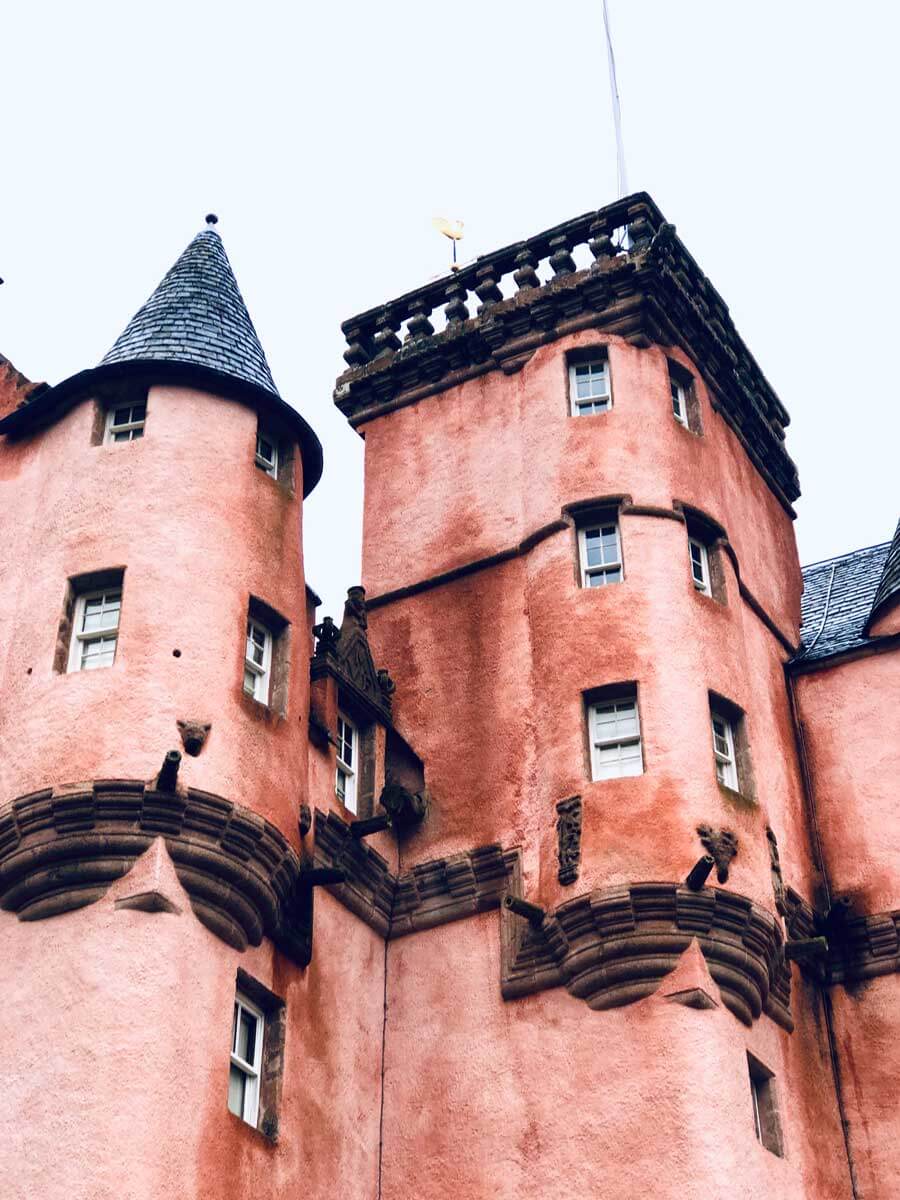 There are many beautiful castles in Scotland, but Craigievar Castle is magnificent in a way that is truly unique. It was built between 1576 – 1626 by William Forbes and was inherited by Sir John Forbes in 1823, upon the death of his older brother.
A report on its condition in the following year claimed that the castle was one of the most beautiful examples of architecture for its age and that it was very well situated.
Sir John Forbes was pleased and invested in the renovations and repairs of the castle and the installation of a new roof. It was during the process of the harling that the castle was transformed from its original cream color to the distinctively pink castle hue it has today.
On the interior of the pink castle, however, very little modification was carried out and most of the furniture and paneling is still the same today. It is the pink hue of the castle's exterior that made it popular, drawing the attention of people from places far and wide and making it a tourist attraction as its probably one of the most Instagram friendly castles in the world!
Over the years, many people came to visit the pink castle, including a number of important personages like Queen Victoria, who showed up unannounced on June 18, 1879, from her nearby castle, the Balmoral Castle in the Scottish Highlands in Cairngorms National Park.
Craigievar Castle served mostly as a tourist attraction and a holiday home for the Forbes family, as they lived mainly at the Fintray House; their family home on the River Don.
The family's restricted use of the castle ensured that very little modifications were made to it over time, preserving it in its old state. In 1962, the family signed an agreement with the National Trust for Scotland in 1962, who took over its management and opened fully it to the public.
How to Visit Craigievar Castle
Visiting Craigievar Castle couldn't be easier. Keep in mind to tour the interior of Craigievar Castle you will have to join a guided tour. This tour operates seasonally, however, the exterior of the castle and the pink castle grounds are open all year.
Hours of Operation and Admission
Admission for Craigievar Castle Tours: Adult £13.00 or Family £30.00
End of October through April 2 – closed
April – May open Fridays through Tuesdays from 10:30 to 4:00
June – September open daily from 10:30 to 4:00
The month of October open on Weekends only 11:00 to 3:00
The exterior of the pink castle may have changed from cream to pink, but the interior remains the same in its aged but beautiful majesty.
From the entrance, when you're on a tour, visitors enter a foyer leading to three arched antechambers and a straight staircase in the heart of the house that goes up to the first floor. The first floor is occupied by the hall, which is a majestic domed apartment that has mixed inguen-and-barrel vaulting used to make an amazing plaster ceiling.
In the hall is a great and beautiful fireplace with delicate stone carvings and the wine cellar is accessed via a narrow staircase and there is a gallery meant for minstrels in it as well.
The castle exterior is extensive and well-tended, featuring many beautiful gardens that are very attractive and open to members of the public all year long. So if you visit as we did during the off-season you can still enjoy the beauty of this picture-perfect pink castle from the exterior.
Tours of Craigievar Castle
Craigievar Castle, as well as its 200-acre estate and the farmlands and woodlands that adjoin it has been the property of the National Trust for Scotland for more than 55 years.
As mentioned, visitors are only allowed to go into the castle on a guided tour. Tours start every half hour and last between 45 to 60 minutes.
For ease of organization and experience enjoyment reasons, each tour can take a maximum of 1o people at a time. Therefore admission on a tour is granted on a "first come, first served" basis.
It is possible to purchase a hot beverage or pre-wrapped cakes from the castle or from any of the kiosks that can be found on the castle grounds. Members of the public often sit in the gardens and have picnics, enjoying the picturesque views of the castle.
Parking Information
Visitors to Craigievar Castle cannot drive straight up to the door of the castle, which you can thank them later when you try to take a photo.
Instead, you can park your car at the Pay and Display car park which has been constructed about 300 meters from Craigievar Castle.
What to see Nearby Craigievar Castle
Lucky for you, when visiting Craigievar Castle you're in a hot zone for more amazing castles in Aberdeenshire. Check out some of our favorites that are located nearby this beautiful pink castle of Scotland.
Braemar Castle – located in Cairngorms National Park just outside the town center of Braemar is this beautiful castle dating back to 1628 overlooking the most beautiful Scottish Highland landscape. Plus the town of Braemar is also adorable and worth a visit. (35 miles/56 km ~50 min drive)
Fyvie Castle – This beautiful 800-year-old fortress and castle is another amazing visit from Craigievar Castle. This is one of the most haunted castles in the area and another amazing place to visit. (34 miles/55 km ~50 min drive)
Balmoral Castle – Located in Cairngorms National Park, not far from Braemar is the summer royal residence in the Scottish Highlands. See what castle is good enough for today's royals set among some of the most gorgeous Scottish scenery. (27 miles/43km ~45 min drive)
Dunnottar Castle – One of our favorites and most dramatically located castles on a cliff overlooking the coast. This castle dates back to the 15th century and is easily one of the most beautiful in all of Scotland located in the town of Stonehaven. (37 miles/60km ~50 min drive)
Castle Fraser – More beautiful castles near Craigievar Castle, Castle Fraser is one of the more uniquely designed castles as its one of the largest tower houses in all of Scotland. Another beauty not to be missed. (14 miles/23km ~25 min drive)
Also, be sure to check out all the amazing Scottish Highlands castles too for an extended castle chasing trip!
What to Pack for Scotland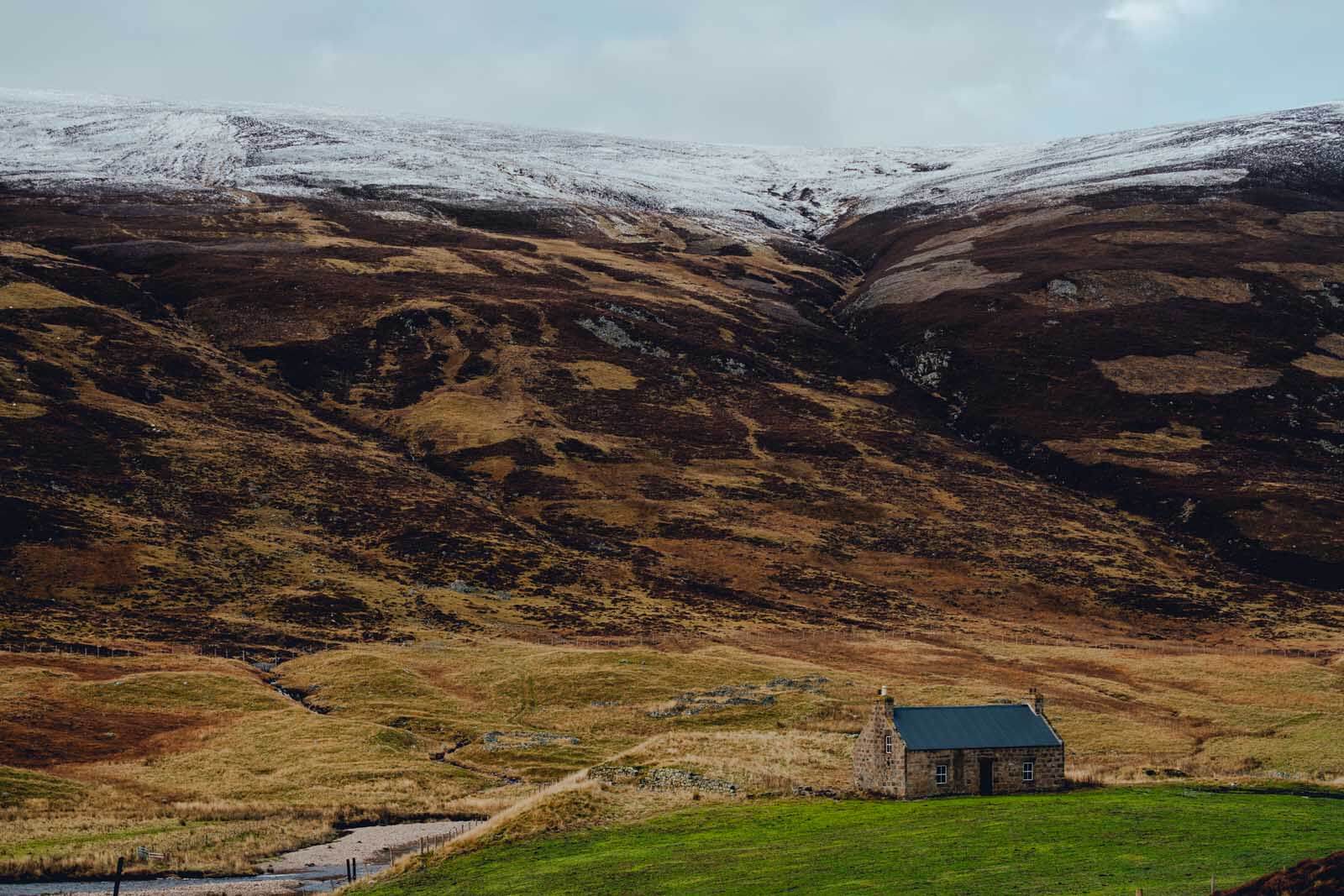 Scottish weather is a bit different than anywhere you've likely ever been! You don't want to come without layers and the right clothing.
Windproof and Water- Resistant jackets are a key item for what to pack for Scotland as chances are you will most likely encounter wind and rain during your trip. It's important to have a jacket that is wind resistant and waterproof to keep you dry and warm, there's nothing worse than getting wet from cold rain and dealing with wind, that will chill you to the bone. Shop a men's windproof jacket here and a women's windproof jacket here.
Water-resistant boots are another essential for what to bring to Scotland. There's nothing worse than getting wet feet because they tend to take forever to dry, plus you'll save yourself from blisters from wearing wet socks and shoes. Shop men's water-resistant boots here and women's water-resistant boots here.
The perfect sweater, layering is key for how to dress with the weather in Scotland. You will want to come prepared with layers for what to pack for Scotland on your trip. When the weather is nice, it's easily sweater weather, but when it starts to get windy or rain starts you'll want to throw on your wind and rainproof jacket. Shop men's layering sweater here and a women's layering sweater here.
A thermal undershirt is another good idea for what to bring to Scotland for those colder days and perfect for layering. On colder days wear this under your sweater and on warmer days leave it at home or wear it by itself. It's always good to pack one of these in your suitcase. Shop a men's layering thermal here and a women's layering thermal here.
Warm socks are clutch no matter what kind of shoes or boots you choose to wear in Scotland. There's something about the wet air that makes it feel much colder than it is. Do yourself a favor and follow our advice for what to pack for Scotland by making sure you have a few pairs of warm socks. Shop men's warm socks here and women's warm socks here.
Wind resistant umbrella is also a must-have. We broke two umbrellas during our trip to Scotland because we didn't have a quality wind resistant umbrella. Don't let the same happen to you by coming prepared with a wind-resistant durable umbrella. Shop here.
Travel Insurance is a must! If you don't already have it be sure to check out our guide for the best travel insurance for you based on where you live and what kind of travel you do.
---
Liked this post on all you need to know about Craigievar Castle, the pink castle of Scotland? Bookmark for later or share the love below on Pinterest.