Another week another trip. We decided to extend our trip to Boseong and turn it into a hike at Mudeungsan National Park. We were intrigued to this park by photos we saw of the naturally formed hexagonal shaped rocks at the top of the mountain. We were determined to see with our own eyes.
We stayed the night near Gwangju's U-Square Bus Terminal. With no plan, we walked around on Saturday night and found most love motels to be 60,000 KRW (~$60) on the weekends. A bit steep we kept trying and found this gem for just 30,000 KRW (~$30). Spent the night drinking Magkeolli, watching some Anthony Bourdain on the tube, and laughing at our complimentary gift set.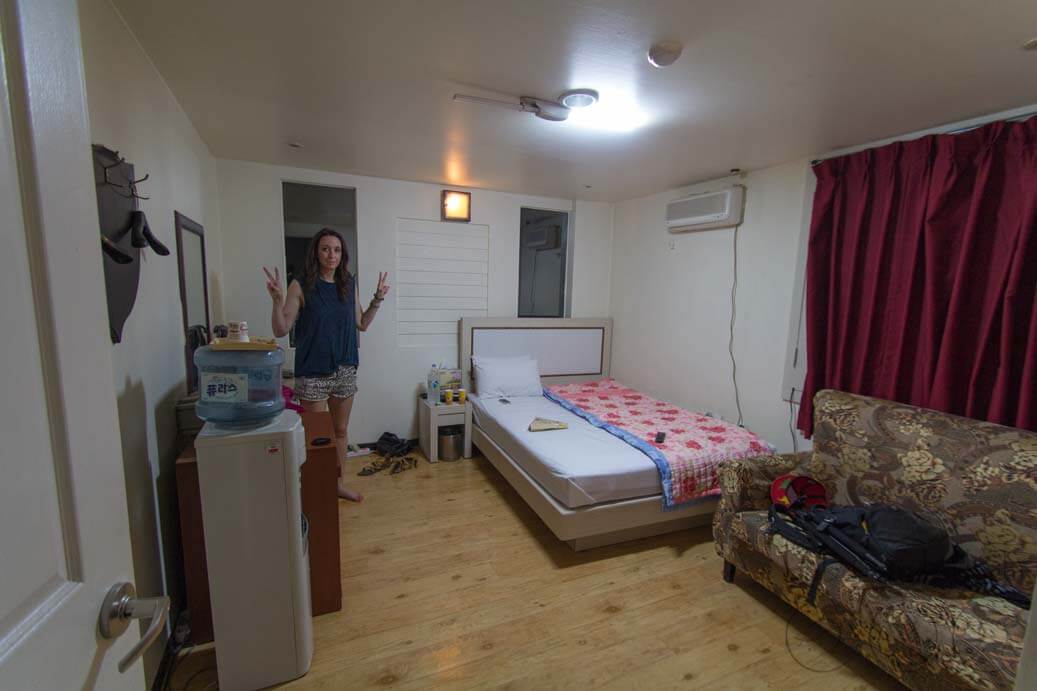 ---
This trip is easily doable as a day trip as well if you are coming from Seoul.
The rocks we wanted to find are known as Seoseokdae Rock and Ipseokdae rock. You can get to these rocks by hiking first to Jungmeorijae Pass (3.5km)–> then take the Jangbuljae Pass (1.5 km)–> then to the rocks (.9km)
Jungmeorijae Pass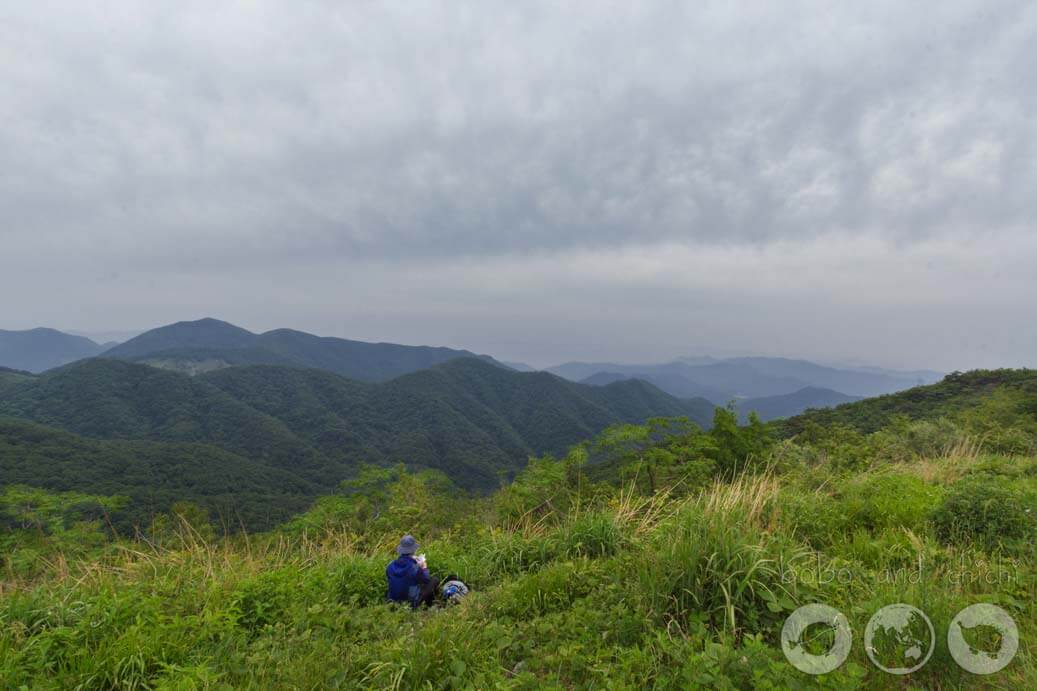 We started off the hike by towards Jungmeorijae Pass which is a 3.5 km (about 2.2 miles) hike. Hiking often, we underestimated how challenging a hike to a pass could be! The hike involved gradually walking up stone steps for hours. This takes a toll on the legs, especially with our weekend backpacks on.
Once you get to Jungmeorijae Pass you will need to take a well-deserved rest and take in the beautiful panoramic views of green mountains and the foggy/hazy air. Friendly hikers with tomatoes and red onion juice treated us with some of their goodies. Odd, and not very delicious, but super generous. Adding to our belief that Korea has the nicest hikers in the world. We saw this as a great moment to enjoy our favorite Korean hiking tradition, a bottle of Makgeolli.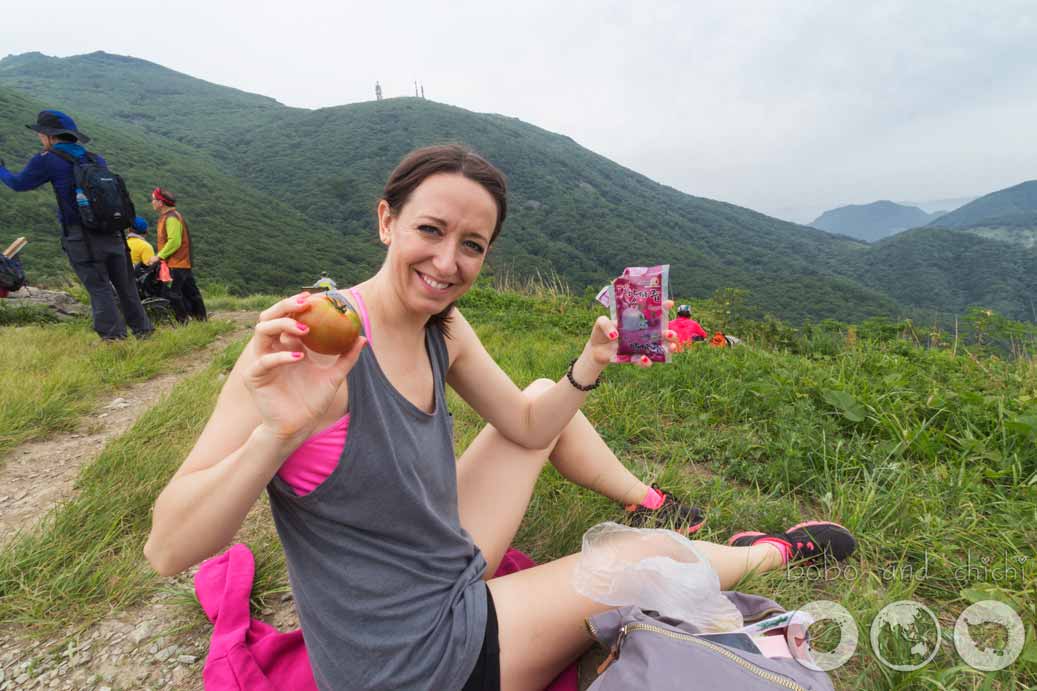 Jangbuljae Pass
After a nice rest and a bottle of the sweet mak, we powered our way up the Jangbuljae Pass 1.5 km. (about .93 miles) Again, with tired legs and backpacks this was a challenging gradual climb up steps. Luckily we had the Makgeolli madness help us get through this one. Once you reach the pass there is a picnic area and a huge, ugly power station surrounded by hikers with their picnics. From here, you can see the rock formations are a short hike away.
Seoseokdae Rock and Ipseokdae Rock
Finally we could see it. The twin rocks that we had wanted to visit but were now wondering if we had anything left in the tank. We could see them but it was still another agonizing kilometer (about half a mile) to the Seoseokdae and Ipseokdae rock formations.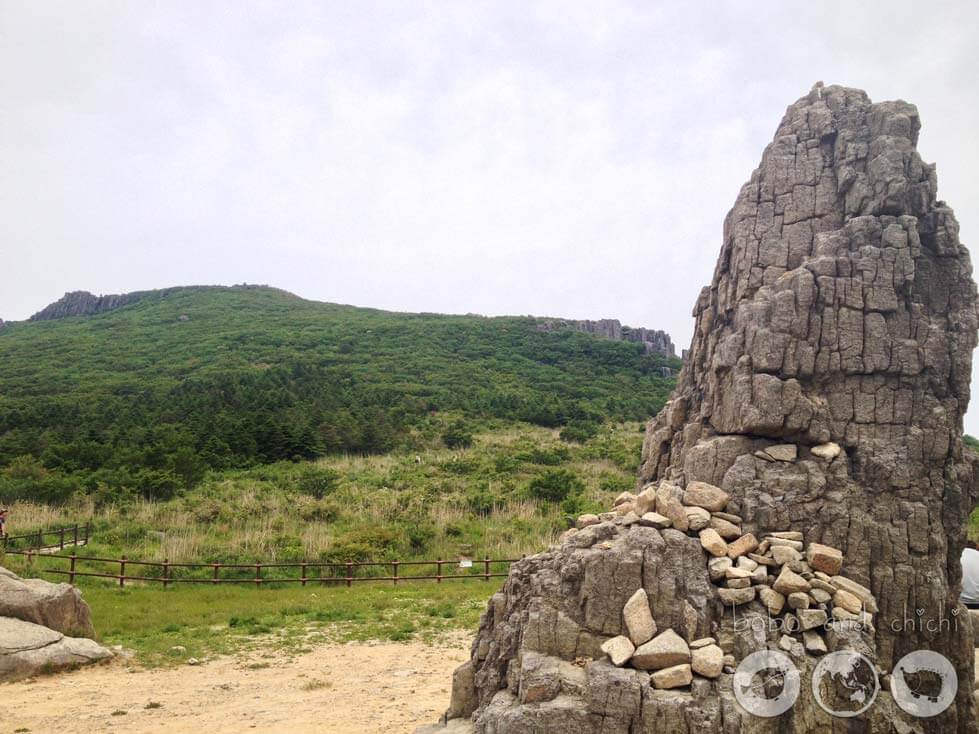 The hexagonal rocks were formed over 70 million years ago due to rapid cooling hot lava. At this point, our dogs were barking and squealing like crazy and we needed a rest before we finished the hike. This time feeling the Makgeolli sadness since we didn't have another bottle.
The rock formations were a unique and magical sight to see. Sounds cheesy, but how often do you get to see awesome rock formations from 70 million years ago?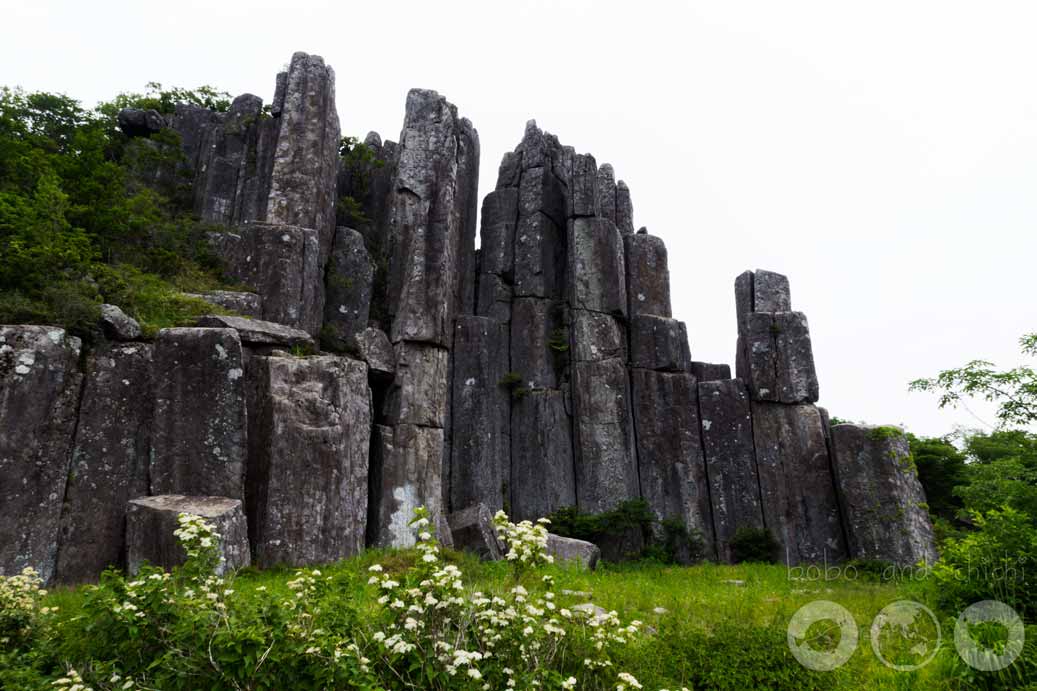 [/text_output]
We were also nearby Seungcheonam Rock which has a lovely historical fairy tale telling the story of the rock. See below for the full story.
Once upon a time, a monk helped a goral to hide who was being chased by something. One day, in the monk's dream, a monster serpent appeared and said to the monk, "I had to eat the goral to ascend to the heaven, but you hindered it. If bell does not ring, I will eat you." Some time later, as a bell resonated, the serpent released him and it ascended to the heaven.Some rock on Mudeungsan Mountain.
The entire hike was exhausting, but rewarding. We started at 10 am and ended around 4 pm with a total of almost 6 hours. It didn't help that we took a different route down and it made us go about an extra 2 km sideways 🙁 Luckily, there is a cute, hiker town at the base and entrance of the park where we were able to grab some snacks and makgeolli for a reward.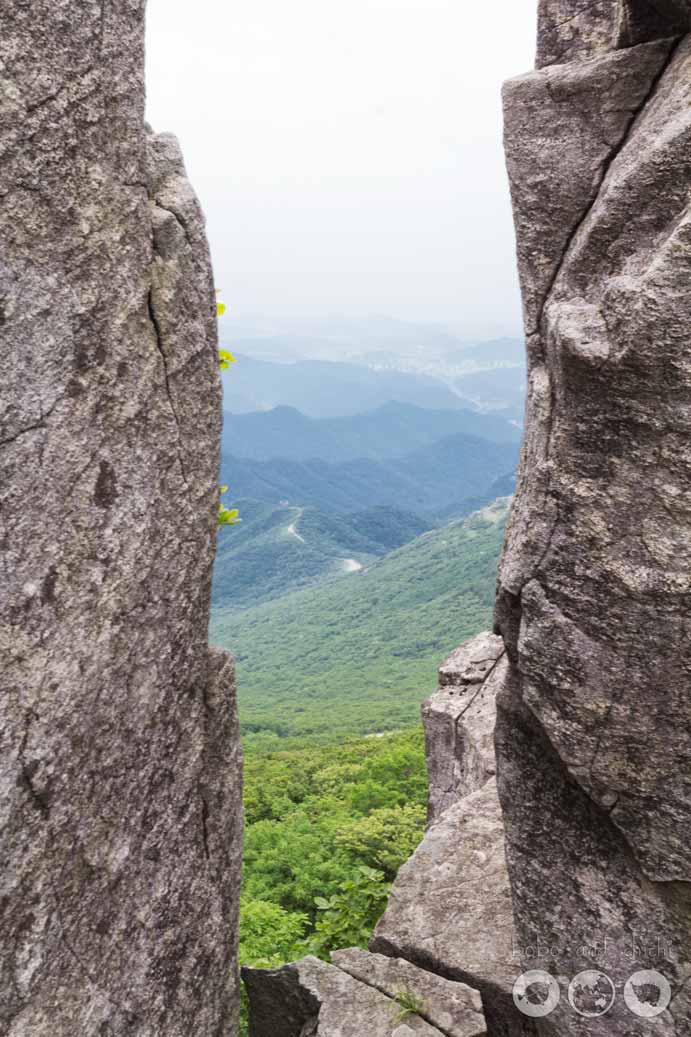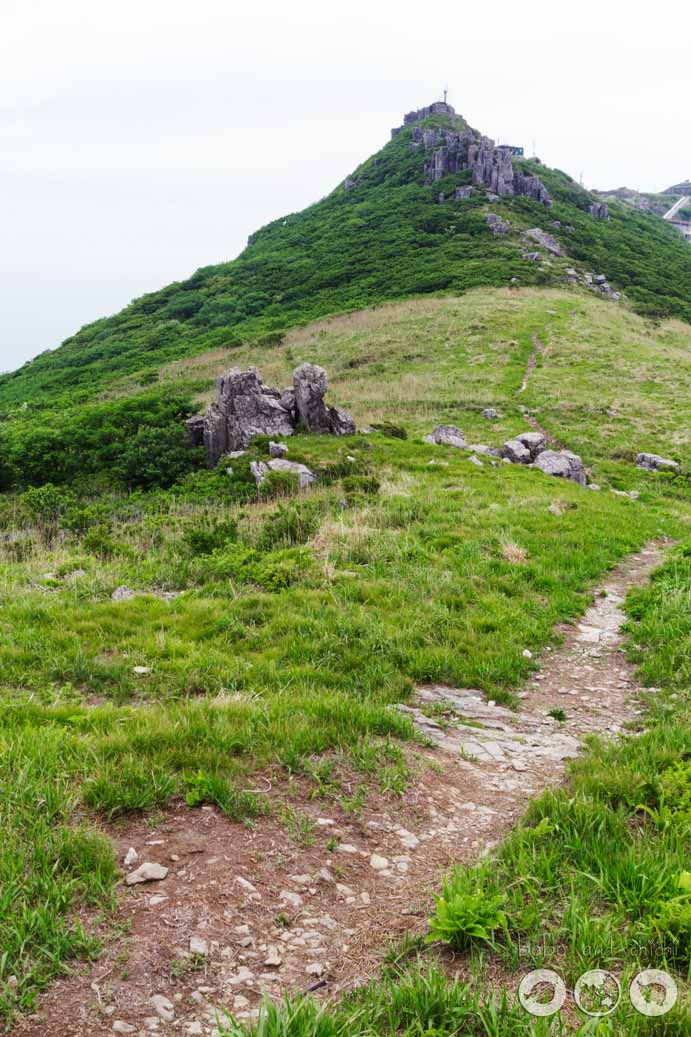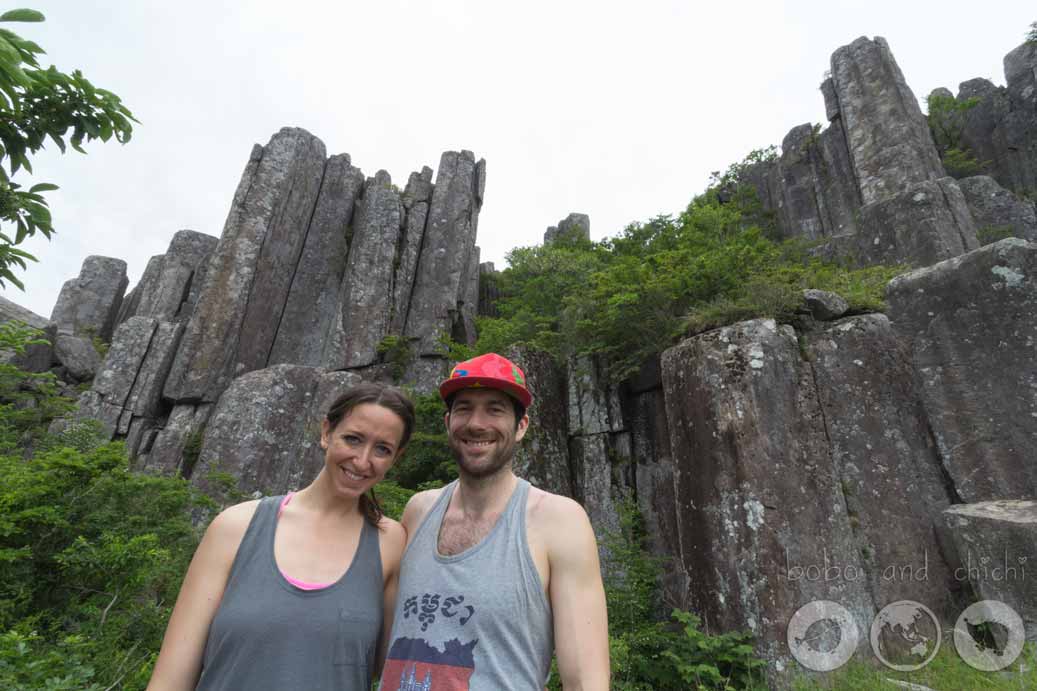 Overall, this hike was more challenging than we expected, but it offered majestic views. We couldn't have picked better time to visit during the last weekend of May, the weather was perfect, the mountains green, and a touch of color from wildflowers. If we have time, we would like to come back and hike the three major peaks. This is definitely an easy, attainable day trip that we recommend if you are a lover of nature.
Looking for other day trips to do in Korea? Here's a couple suggestions
Have you been to Mudeungsan National Park? Share your hiking experience below! Like or Follow us on Facebook, Instagram, and Twitter!