Looking for an amazing day trip from Berlin? We have you covered. Berlin is an absolutely amazing city in Germany that should not be missed. But what many people do wrong when they visit a country is only head to the big cities and that's it. While the cities are amazing, you'll be missing out on what other amazing places the country has to offer and most of the time really miss seeing the real country outside of the international hubs in the big cities.
We recommend planning to take a few day trips from Berlin during your trip to get to see more of Germany and get to know the place and the people a bit more as well as see some of the scenic country side while still getting to explore the incredible city of Berlin.
We only got to spend a limited amount of time in Germany and throughout Berlin but enjoyed a few day trips from Berlin that were unforgettable. We've teamed up with other travel bloggers to pick out the best day trips from Berlin to help you plan your trip and see a bit more of Germany.
Potsdam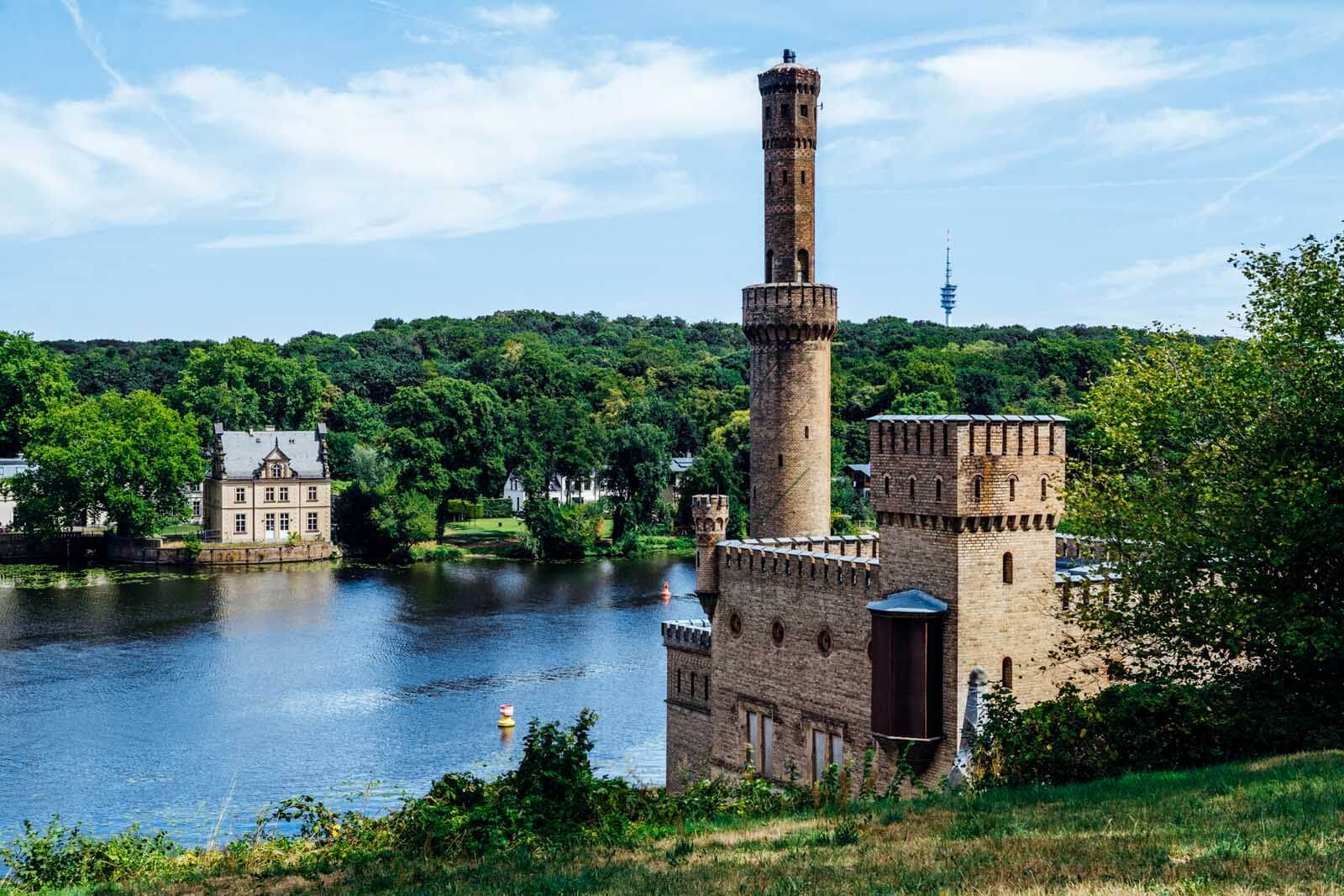 Potsdam, Germany is an amazing day trip from Berlin because it's just a 30-minute train ride from the city and has so much to offer. We realized we could have spent way more than a day trip from Berlin in Potsdam, we could have spent multiple days exploring Potsdam.
This city is filled to the brim with history and historical events that took place here like the Potsdam Conference in 1945 where Truman, Churchill, and Stalin all met to determine what was next for Germany after the war to the famous Bridge of Spies bridge that is featured in the Steven Spielberg movie a few years ago.
These are just a few of the examples of the history that took place here. Besides being for history buffs there are also 16 palaces here including the very popular layered gardens of Sansoucci Palace.
A trip to Potsdam wouldn't be complete without visiting both the charmingly beautiful Dutch Quarter and the adorable Russian Quarter with little wooden cottages. You can easily visit Potsdam by bicycle or hop on a tour on your day trip from Berlin.
Get there with your ABC zone ticket.
Dresden
Dresden is an old city with lots of interesting history and architecture. It's the second largest city in the state of Saxony, and nowadays it's most famous for being home to one of the oldest Christmas markets in the world.
The Dresden Striezelmarkt (the most famous Christmas Market) is a good reason enough to visit Dresden during Christmas time. in 2018, it has been held for 584 times, so you'll be literally walking around in the same place and enjoy the same traditions as they did during medieval times.
As for the city itself, Dresden is just about 2 hours from Berlin by car or train. So, it's easy to get here on a day trip. Some of the most notable attractions include Residenzschloss Dresden, Frauenkirche, the opera house, Zwinger and Pillnitz.
About 13 km outside the city center, one can also visit the Moritzburg castle.
Dresden is quite a large city by European standards with more than 500 000 inhabitants, so you'll find lots of restaurants, cafes and things to do here. Stop by at one of the many biergartens or admire the Baroque architecture and some of the best museums in Germany.
It's easy to get around in the city, and most attractions are within walking distance from the old town in Dresden.
---
Contributed by Christine of Christine Abroad.
Sachsenhausen Concentration Camp
A visit to a concentration camp might not be the most obvious day trip from Berlin, but it's impossible to deny that the German capital breathes history. Today Berlin has an underground and easygoing vibe, but in the past, it suffered a lot like many German and European cities and it had its own concentration camp.
Sachsenhausen was first designed to hold political prisoners, however, given the course of the war it escalated and people considered being "racial and biological inferior" were also imprisoned here, such as homosexuals, thieves, and disabled people.
It was a freezing and gray November day when we visited this moving place. While my lips were turning purple because of the cold, we were hearing many sad stories on our tour in the Sachsenhausen Concentration Camp. I had on four layers of clothes and had just eaten a good breakfast, but all I could think was, 'how could someone survive in these conditions without the luxury of having proper clothes (or food)?' Just so you can understand it, at some point over 900 men were kept in the barracks, the one from the photo.
The camp is located 35 km north of Berlin and it's easily reached by train (ABC zone ticket). If you're departing from the Brandenburg Gate, take the S-Bahn S1 line to Oranienburg station (around 50 minutes). From there, you can easily reach it on foot (20 minutes), but there are buses available, in case you don't want to walk (line 804 to Malz and line 821 to Tiergarten). The camp entrance is free of charge, however, they charge €3 for an audio guide.
Alternatively, you can book a guided tour, like we did, and have an experienced and thoughtful expert to tell you about the historic events involving the war, the prisoners' stories, and the camp's facts.
Needless to say how moving this place is, right? If you're visiting Germany, it's essential to learn more about the developments of the war in the country and this concentration camp is a good place to start with and an easy day trip from Berlin.
Fun fact: There is a police academy right next to the camp to ensure trainees will always remember what abuse of power can cause.
---
Contributed by Bruna from Maps N Bags.
Lübbenau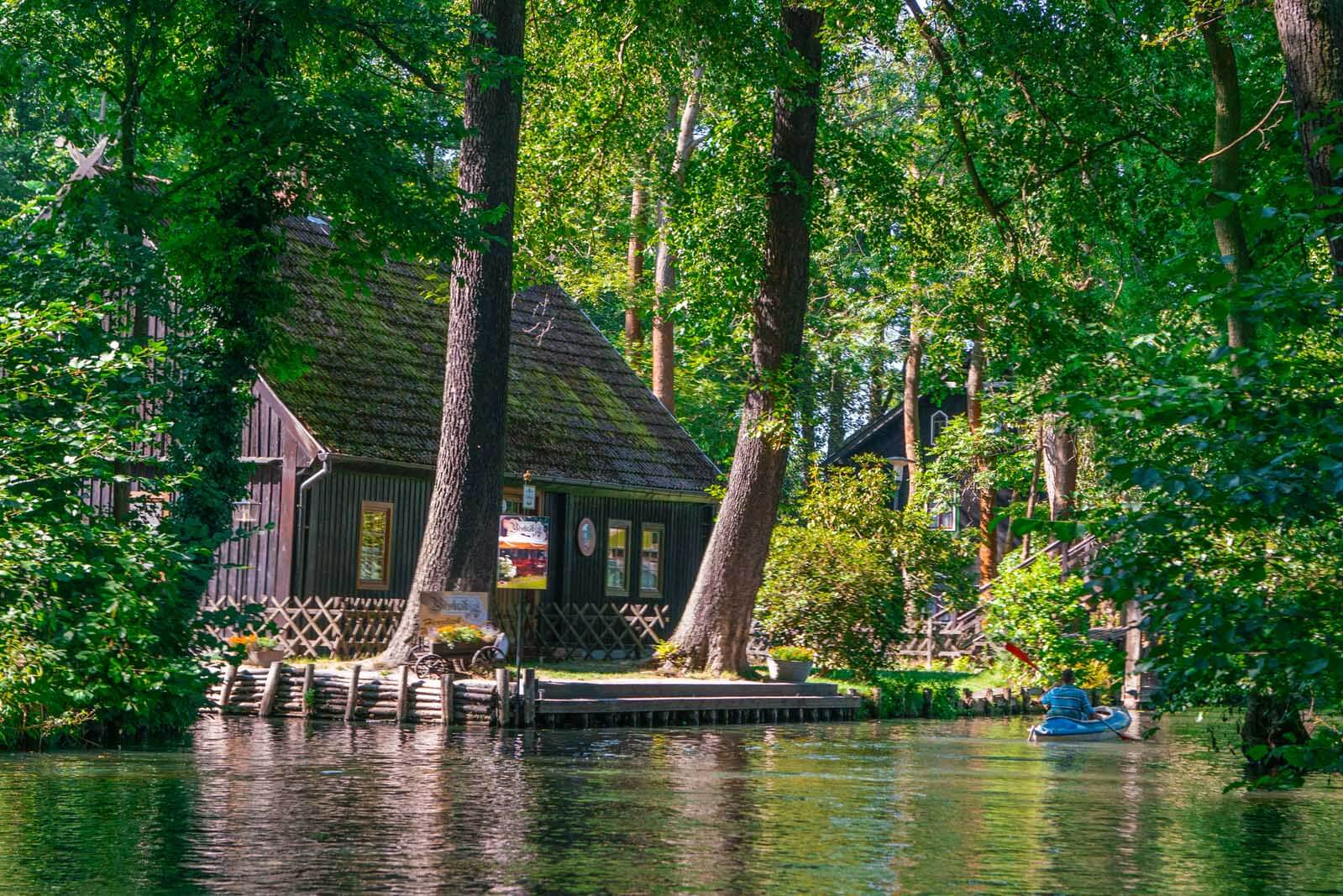 Another beautiful day trip from Berlin in Brandenburg is the charming town of Lübbenau in Spreewald. This gorgeous town is only an hour and twenty minutes by train from Berlin. Walk through the beautiful town square and admire the beautiful and colorful town square and side alleys and cobblestone pathways.
This is where you can also find some of the best gherkins in the world and you will see them for sale EVERYWHERE including gherkin merchandise.
Hop on a punting boat tour and enjoy the Venice of Germany though the gorgeous, green canals with charming little cottages situated right on the water. As you relax and enjoy your boat ride you can buy a beer or some gherkins from locals selling them on the side of the river. This is an unforgettable experience and just absoulutely breathtaking.
You can take the boat tour to the town of Lehde, only a 15-20 minute walk return down the 'gherkin mile' back to Lübbenau. In Lehde, you can enjoy the Open Air museum where you can step back in time on this day trip from Berlin and see what it was like living in rural Germany's villages along the canals in the 19th century.
Hamburg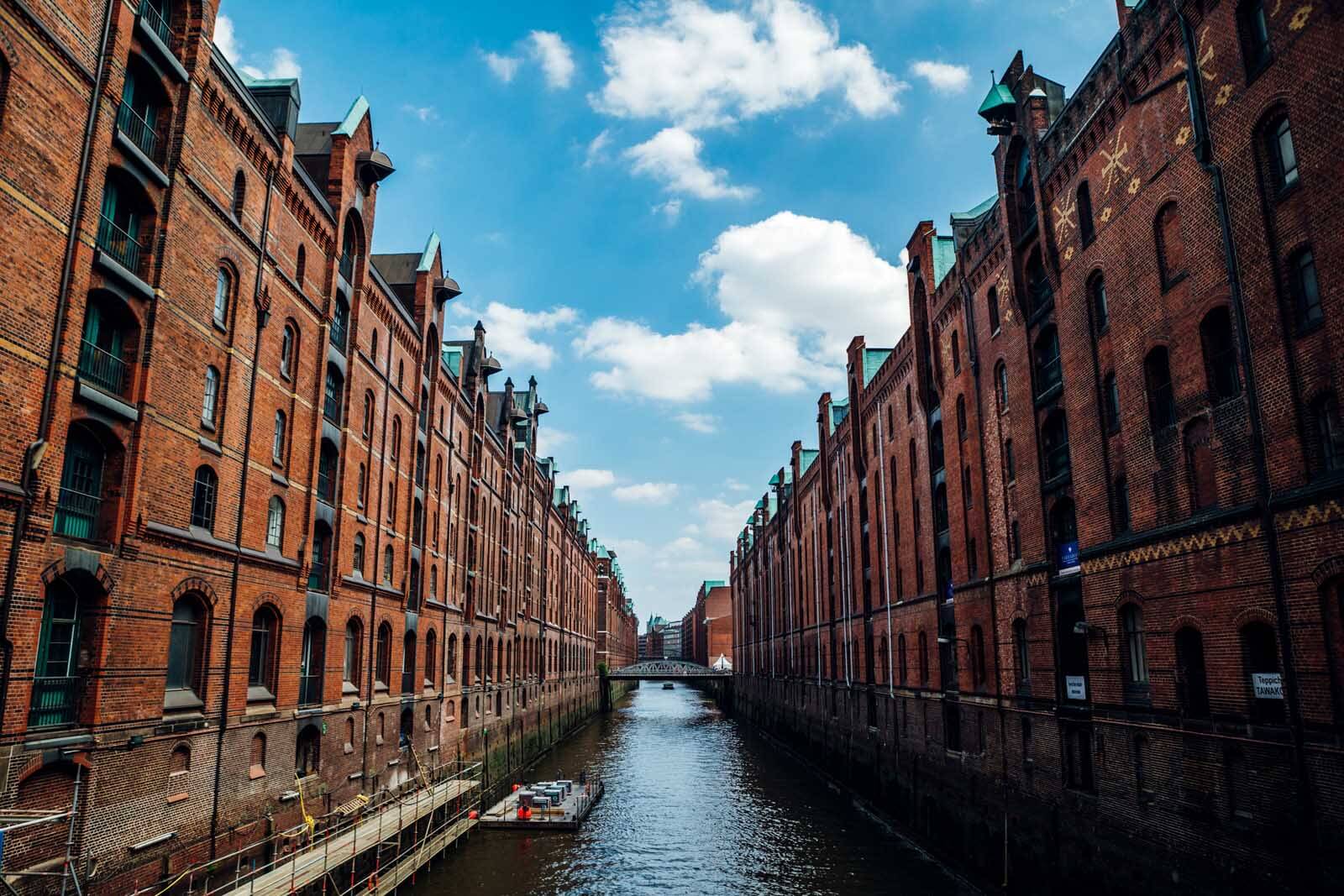 A very fast train ride and a great day trip from Berlin is
Hamburg
, a very cool and historic city worth visiting. Hamburg – one of the biggest ports in Germany, made it's marked as the shipping capital and base to importing goods from around the world. The city has a gorgeous downtown district worth exploring, fun neighborhoods and even a cool red light district that is part naughty and also a fun hang out spot. The waterfront area is where you want to be in Hamburg and taking a very cheap ferry ride passing through small communities and seeing the main attractions from a water viewpoint is fantastic and a great photo op.
Check out more on this city experience on my Hamburg visit and first impression for more images and inspiration to visiting on a short day trip.
---
Rostock
If you are looking for day trips from Berlin, consider Rostock. Located on the Baltic Sea coast to the north of Germany, Rostock is just over two hours away by fast train.
Start your exploration at Neuer Markt, one of the prettiest parts of the town. Here you will see Rostock's Town Hall, with its Baroque facade. Also of interest here are six historic gable houses from the 15th and 16th centuries. The square originally contained many more such houses, but they were all destroyed in WWII. These six were restored to look as they did before the bombing, but the rest were built much more simply.
Next, walk to the fabulous St. Mary's Church, with its gigantic tower. The church houses an ancient astronomical clock. A second church of interest in Rostock is St. Peter's. You can take a lift to the top of its tower for a small fee, but the windows are wired up, so you won't be able to take good photos. Also of note is the St. Nicholas Church, the oldest church in Rostock.
You can walk all over town and explore parts that interest you in about three to four hours. Spend some time relaxing and people watching at a cafe at Neuer Markt before you hop on a train back.
You will love your day trip to this charming Baltic Coast town!
---
Contribution by Dhara of It's Not About the Miles
Bastei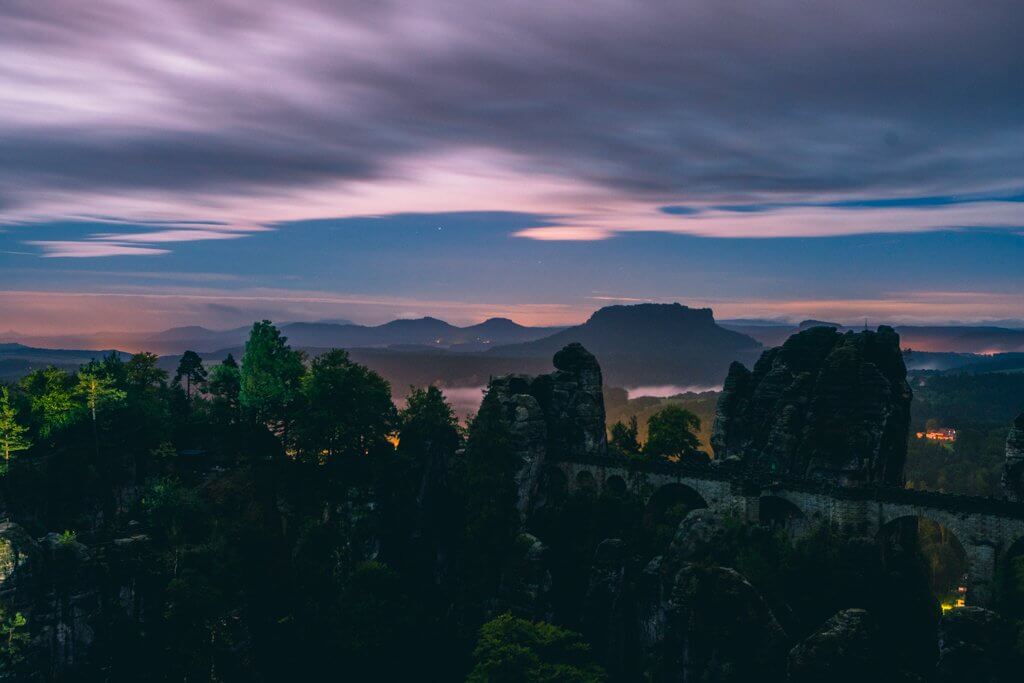 This day trip from Berlin is a bit far, and almost 3 hours away. However, it is totally worth the day trip from Berlin or a stop on your way to or from Berlin. Bastei borders the Czech Republic and is a part of the Saxon Switzerland National Park in Germany, bordering the gorgeous Bohemian Switzerland National Park we explored last year in the Czech Republic.
Bastei is a gorgeous rock formation jutting over 630 feet above the Elbe River. There is a beautiful sandstone bridge built into the rocks that look like something out of a fantasy movie. The scenery here inspires many including the visitors it attracts here every year and even well known artists.
If you need a little R&R from your journey or day trip from Berlin then you can stop in Rathen, Germany which is a spa town.
Rakotzbrücke
Rakotzbrücke in Eastern Germany is one of the Devil's bridges in Europe. This particular bridge can be found within Kromlau Park, which is also famous for its Rhododendron and Azalea flowers.
Rakotzbrücke is about 2 hours from Berlin and is best reached by car. It's truly a stunning bridge, and it's no wonder that photographers and instagrammers have found their way here in recent years to capture the beauty of the bridge and the reflections.
But what is a Devil's Bridge you might wonder? The phenomenon came about during the Medieval times in Europe. They are nicknamed Devil's bridge as they're said to be built with help from Satan. Rakotzbrucke was built in the 1860s and is one of the latest devil's bridges to be built in Europe.
Rakotzbrucke is an arch bridge that goes over Rakotsee, and it would fit into any storybook from your childhood. It was commissioned by Friedrich Herrmann, also known as the Knight of Kromlau. According to the legend, the bridge had a deadline, but the builders couldn't finish it in time. So Friedrich called upon the Devil to help him finish the bridge in time.
The Devil agreed as long as the first living being who walked across the bridge would be delivered to Satan.
The reason for it being called the Devil's Bridge is because the architecture and way of building bridges like this was very hard to imagine, and no ordinary human could build such a structure.
---
Contribution by Alex of Swedish Nomad
Cottbus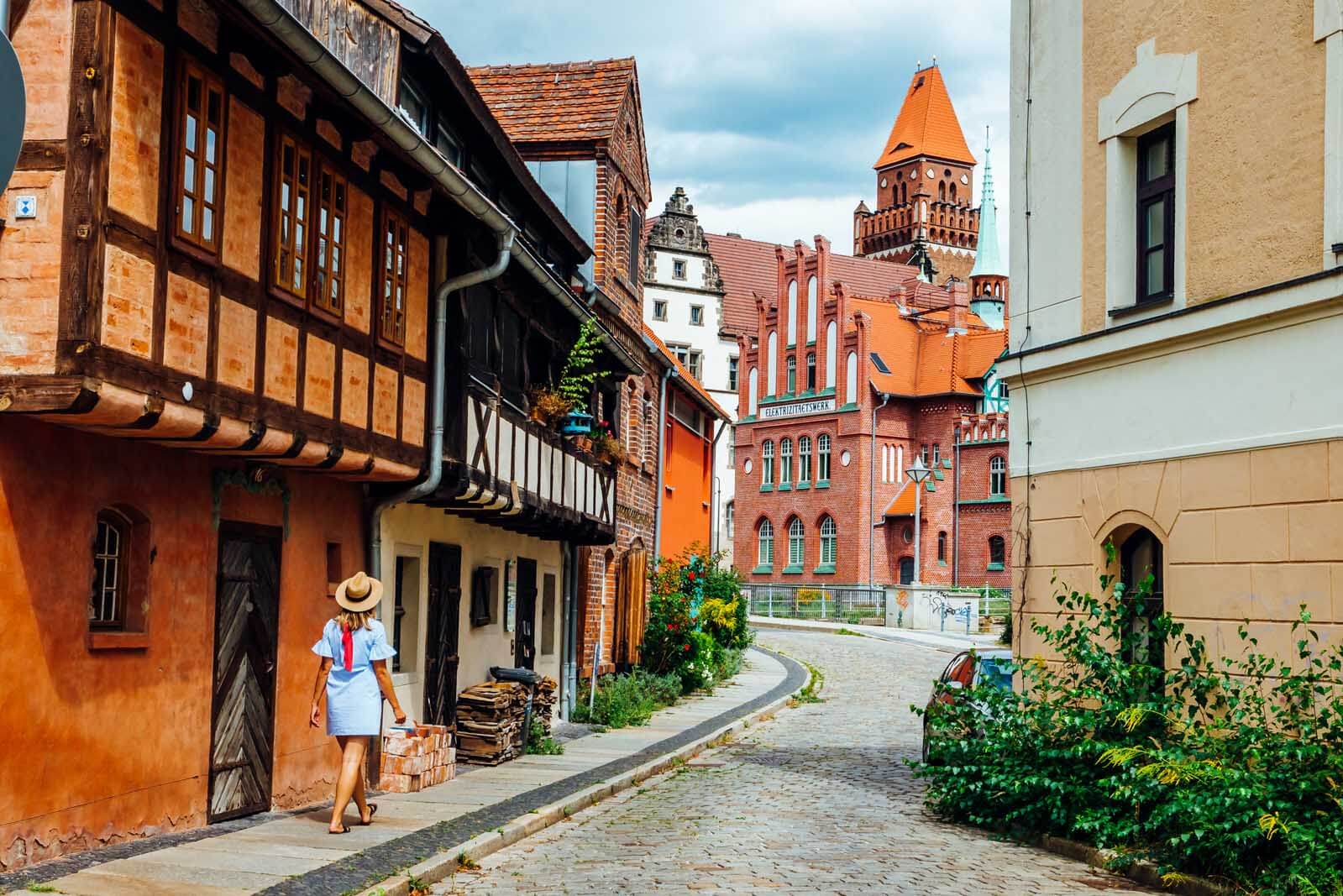 Another amazing day trip from Berlin is the storybook village of Cottbus. Accessible by train in an hour and a half you can easily get lost in the beauty and cobblestone streets of this adorable German town who has splashes of history all over its walls from the drastically different architecture from the past centuries to the East German days under the Iron Curtain.
From the beautiful town square, Altmarkt, to the surrounding streets and the lush green Park Branitz and the beautiful palace of Count Pückler where you can easily spend a few hours wandering through the park and touring inside the palace, there's even a great restaurant on site here.
We especially loved the Apothecary Museum in Altmarkt of Cottbus, see what an old pharmacy looked like from the GDR days and learn about different medieval remedies used to cure illnesses, some are so bizarre it makes us appreciate modern day medicine.
Lake Stechlin
On hot summer days, Berliners like to spend their time on the shores of a lake. There are plenty to choose from in the city. However, if you want to escape the crowds, try one of the many lakes in the surroundings as a perfect day trip from Berlin. Our favorite one is Lake Stechlin (Stechlinsee), around one and half hours north of Berlin by car. It is an off the beaten path destination, surrounded by beautiful nature parks. Best of all: The water is so clear you can see up to 36 feet underwater.
To get there, leave Berlin via B96, then hit the country roads until you reach the village of Neuglobsow. There is no quick way to get there, no motorways nearby, so consider the drive part of the journey.
Neuglobsow is the main gateway to Lake Stechlin. The little beach is free to use. It comes with facilities such as a snack bar, playgrounds, and non-motorized boat rental. Neuglobsow is a quiet village with no through traffic. Here you will find restaurants with traditional German food and a glassmaking museum. Hire a bike and explore the nature park, or include the area as part of a bigger road trip through the north of Brandenburg.
---
Contribution by Silke of Happiness and Things
---
Liked this post about the best day trips from Berlin? Bookmark for later or share the love below on Pinterest! Happy travels!