It's 4 am. Still dark outside and we are groggy and out of our minds trying to navigate our way to Fushimi Inari Shrine in Kyoto, Japan. This is one of the biggest tourist hotspots and best things to do in Kyoto in the area during high season.
We have the shots in mind that we want and a hyperlapse video clip we have to shoot before the crowds wake up and join us at this blissful place. The night before we planned, packed, and prepared for the day ahead with snacks and our wedding dinosaur photo props in tow. We caught the first train outta dodge.
---
For more on Kyoto, check out this incredible Kyoto itinerary.
We finally arrive right after sunrise to be greeted by a handful of local morning joggers and those infamous orange torii gates. The morning light was still a bit dark for photos so we decided to explore.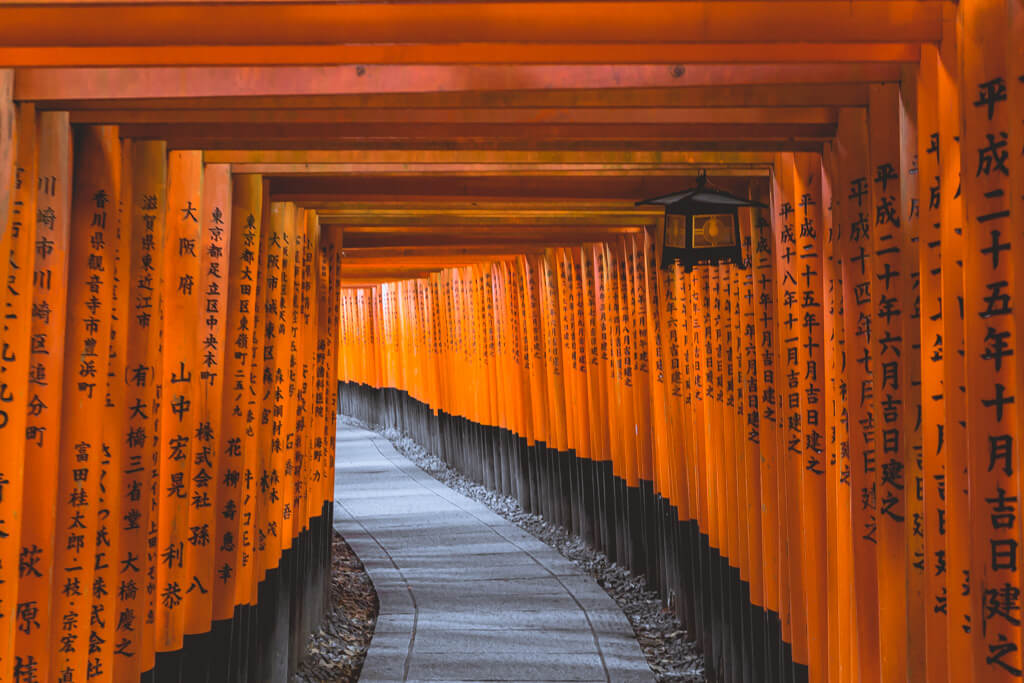 It was hard to fathom how many of those orange gates we saw. They seemed to never end.
After hitting the famous double pathway of gates, we realized quickly we barely scratched the surface of this complex. We made the mistake of assuming we would be done with the shots we needed in 30 minutes so we kept going in search of the best location for the hyperlapse.
We were pleasantly surprised at the size of this place and how much there was to explore.

We continued to explore until we realized we had a mountain to climb. These gates were lined up all the way to the top of Mount Inari.
We were blown away.
At least an hour after a gradual, easy and peaceful incline past clusters of orange gates and smaller shrines we stopped for a view overlooking all of Kyoto. Ten minutes later we made it to the top greeted by another shrine and a sign letting us know we did it.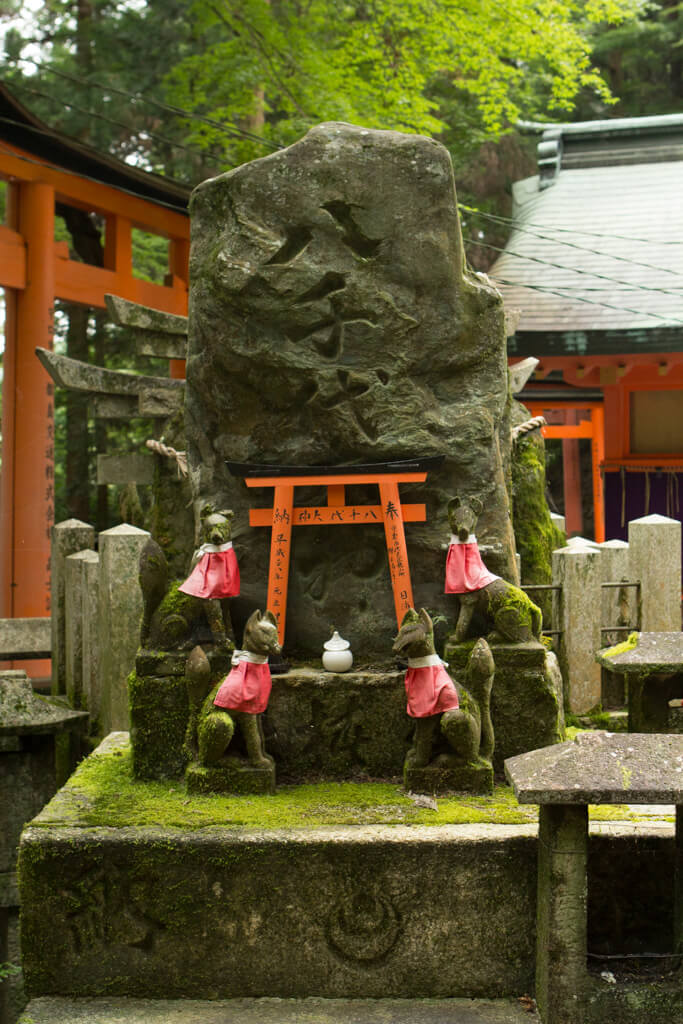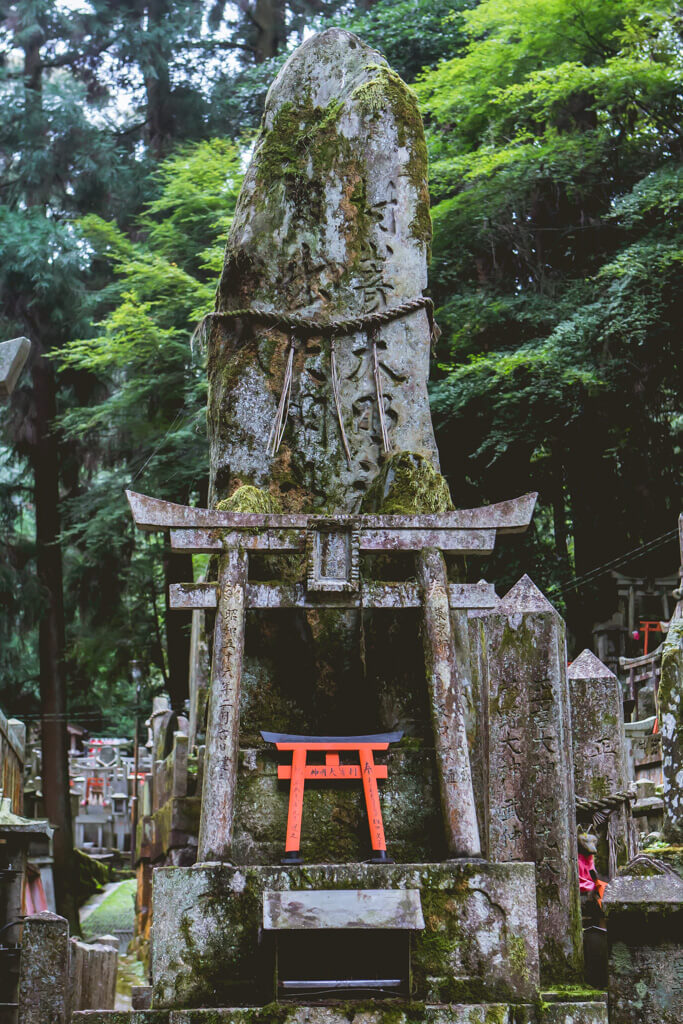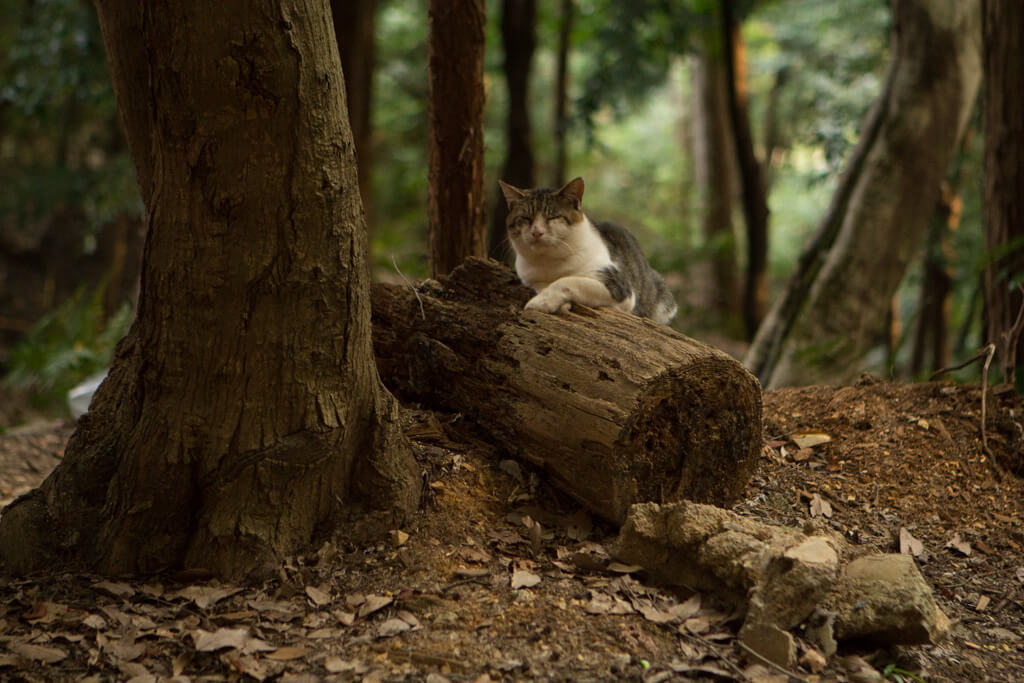 Little did we know there were multiple ways down and even side trails of more orange gates.
There were soooo many, too many for us to count. As a matter of fact, it is said that there are over 30,000 torii gates on the premises.
If you want to be a part of the shrine you can pay for a gate. The small gates cost $4,000 and the bigger ones cost $10,000 to make.
Being here in the morning to ourselves the place was incredibly peaceful. We imagine even on a busy day that you would still be able to find pockets of serenity since the place was so big with many different paths to take.
I found myself wishing I lived next to this 1,300-year-old shrine so I could run and exercise in it everyday as the locals did. Imagine having such a peaceful, beautiful place to run every morning. It sounds to me like a great way to start your day.
Finally, we had enough light to stop and take some photos. We were all alone so didn't think about anything and stopped and took our selfies first.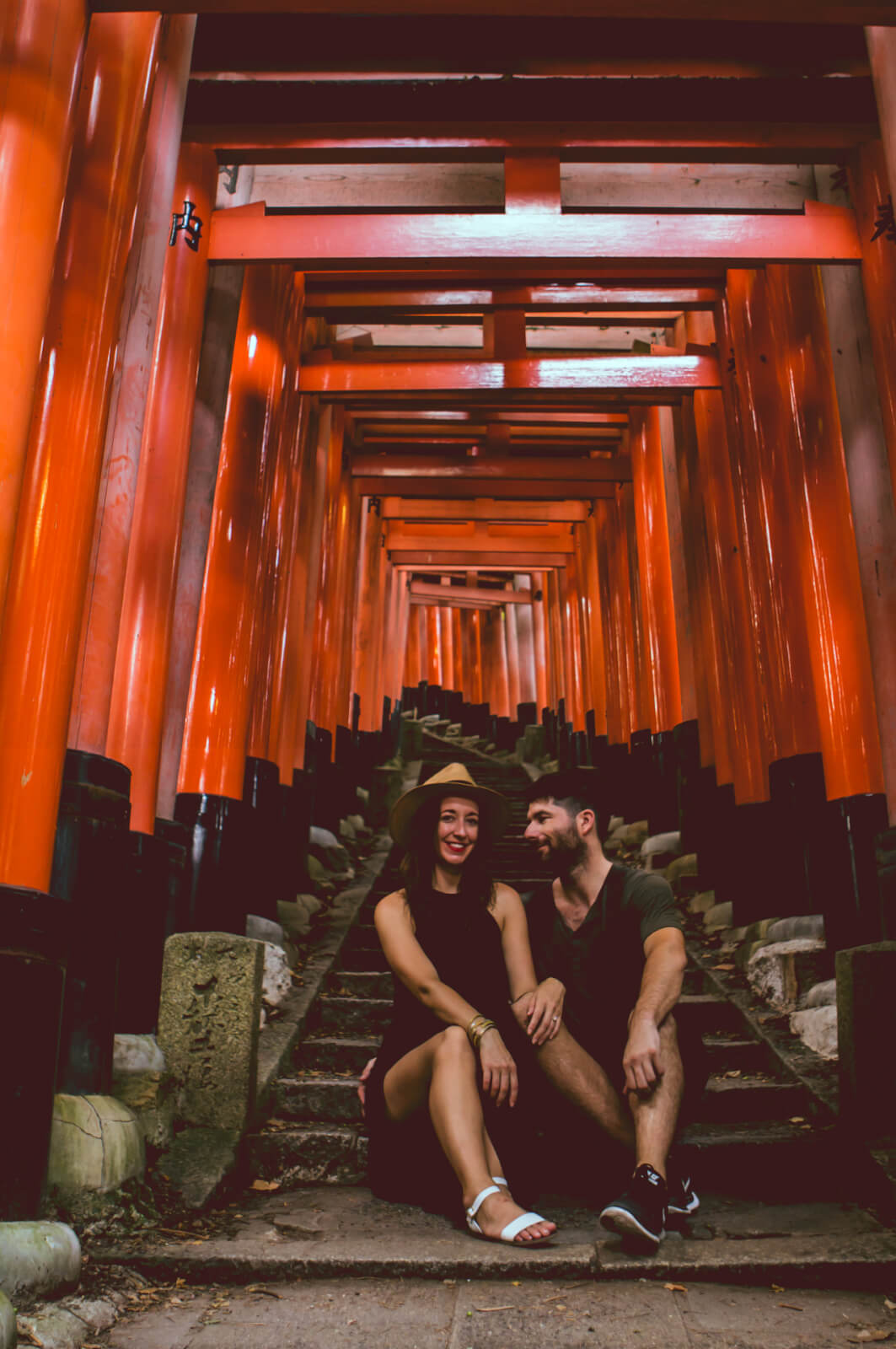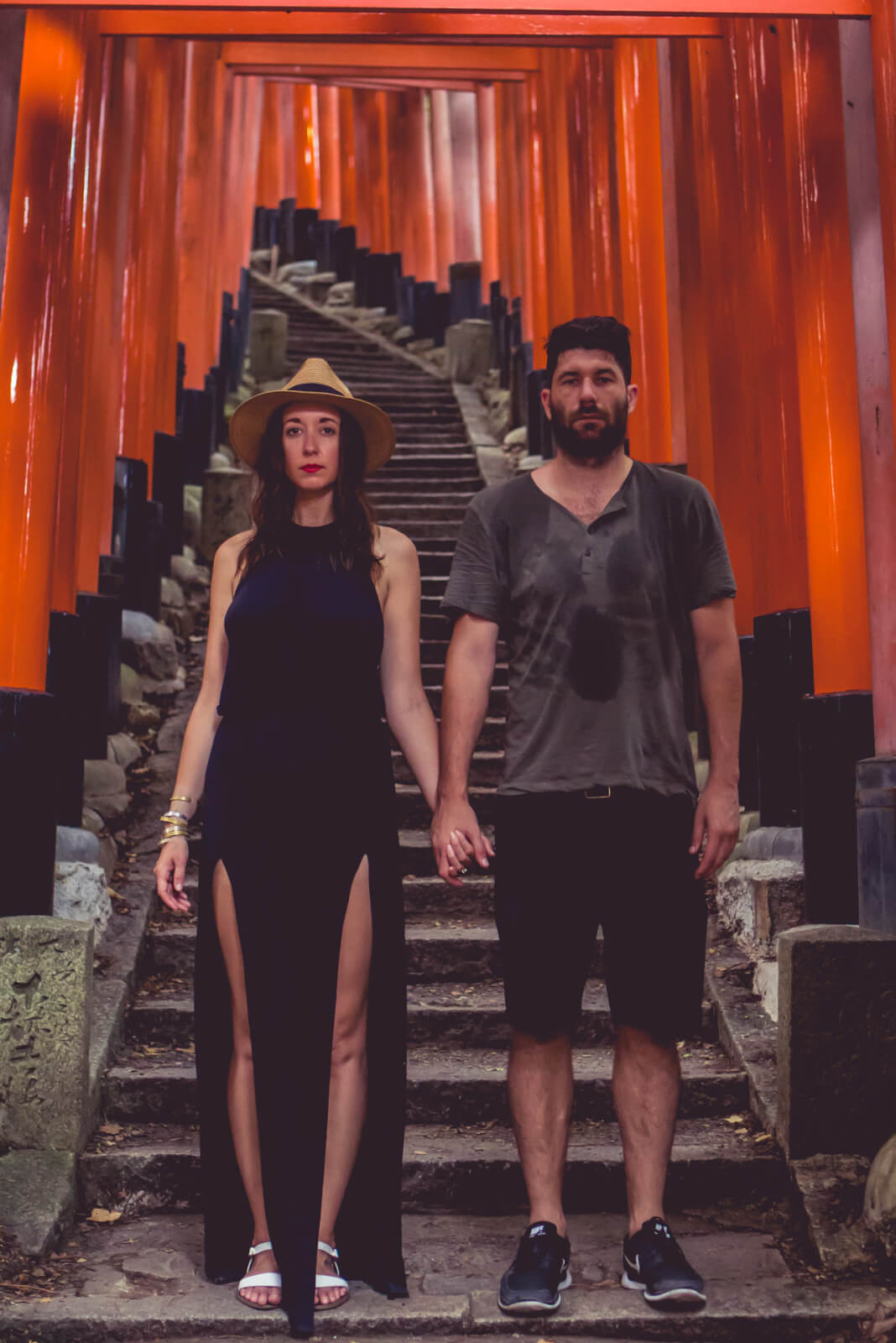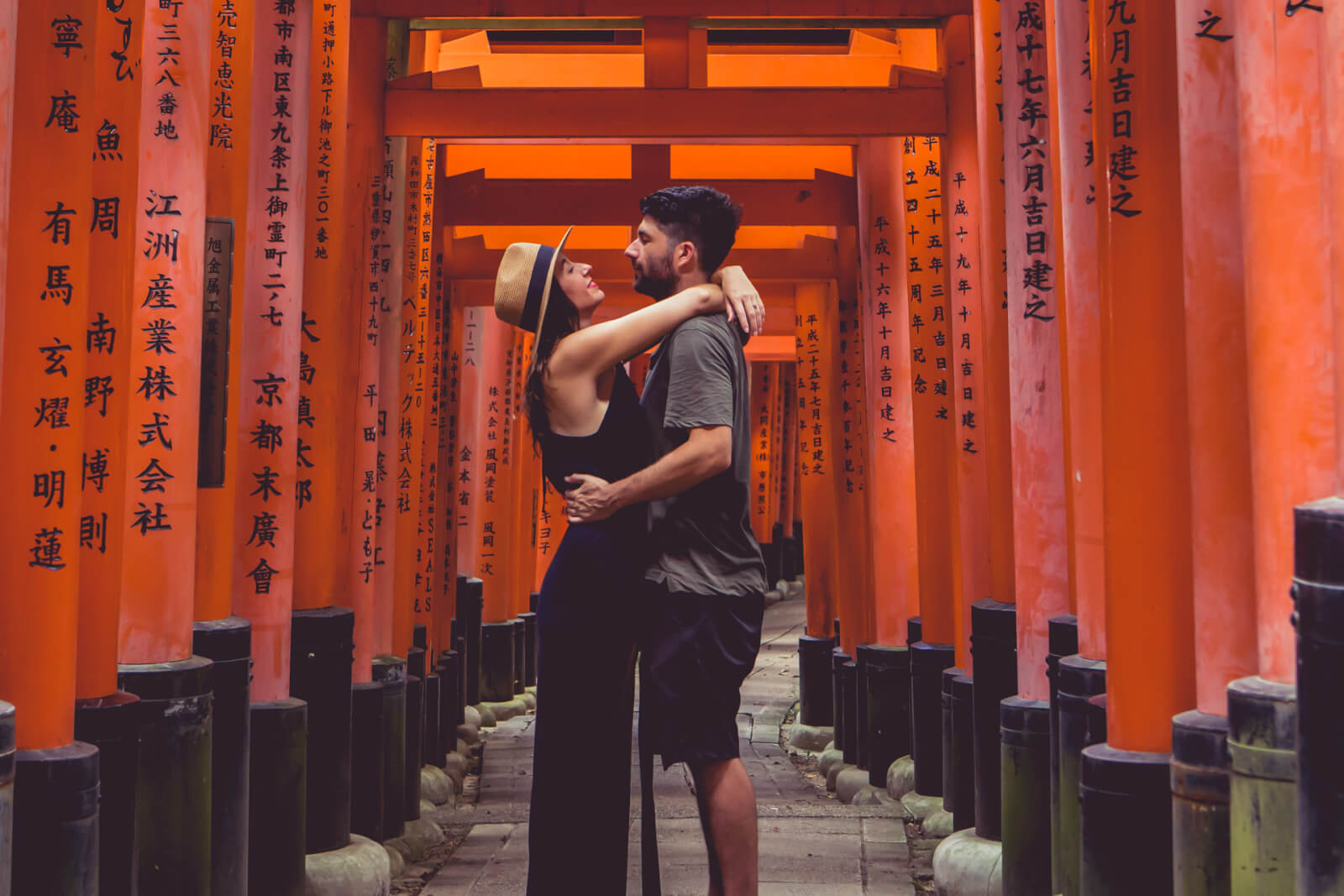 On our descent down the mountain, we started seeing the crowds roll in. Little did we know they were going to get bigger and bigger as the minutes ticked away.
It was now 9 am and we had been at Fushimi Inari for 4 hours. Time flew by and we didn't get all the photos we planned. We were too busy admiring and trekking through the forest and the lines of orange gates to get to work.
Now the people were pouring in. We realized we made the right choice at waking up at 4 am to get here. We had a completely different experience than we would have had to fight the crowds.
A friendly woman from home (the US) told us to come back after dark. Apparently, the shrine is empty then too and another magical experience.
After our short conversation, we attempted to get our wedding dinosaur photos. The crowds had already rolled in and it was a bit of a challenge to get the empty look.
We used an ND filter with a long exposure to try and blur out the people. This is the effect we got, but it really wasn't the desired look we were going for.
We had Fushimi Inari Shrine to ourselves for almost a good two hours. This ended up being one of our most memorable experiences from our time in Japan.
Fushimi Inari is truly breathtaking and hard to imagine this has been around since the year 711. This is a must see spot when visiting Kyoto, and we urge you to try and get yourself out of bed to be an early bird and witness the place for yourself before the crowds roll in.
---
Liked this post about Fushimi Inari Shrine in Kyoto, Japan? Bookmark for later or share the love below on Pinterest.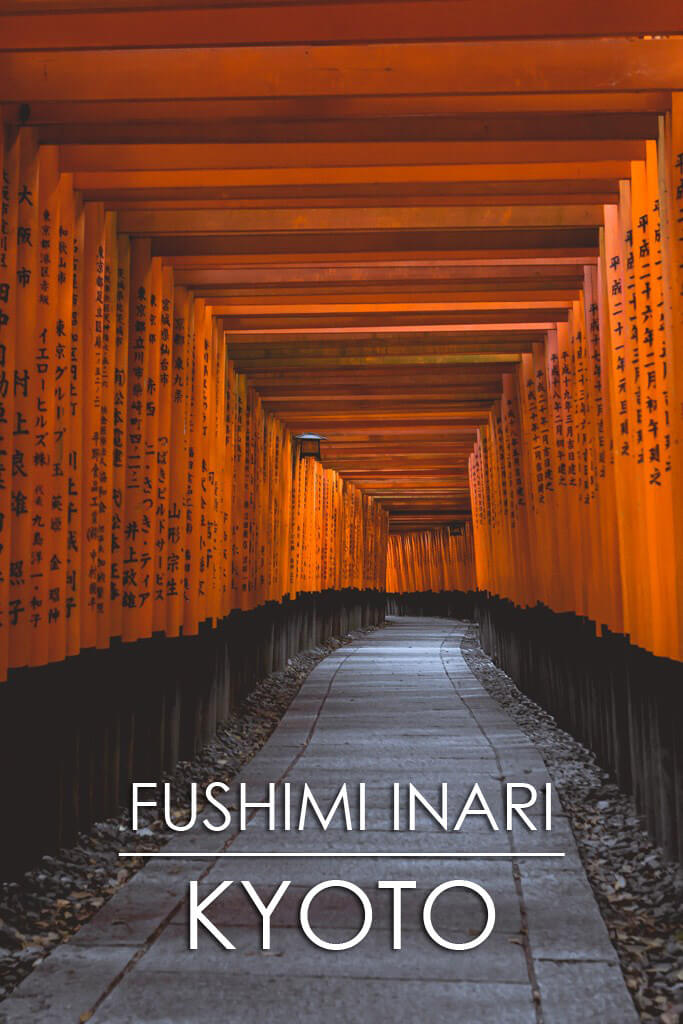 Or your favorite social media