Wondering what to do in Penang? Here's our ultimate wanderer's guide!
Touring more of Southeast Asia we finally made our way to Malaysia. Uncertain where to go, knowing we didn't have enough time to visit the idyllic Perhentian Islands, we decided to spend our days in the expat friendly island of Penang, specifically the Georgetown area. It did not disappoint, check out our guide below!
What to Do in Penang
Where to Eat in Georgetown Penang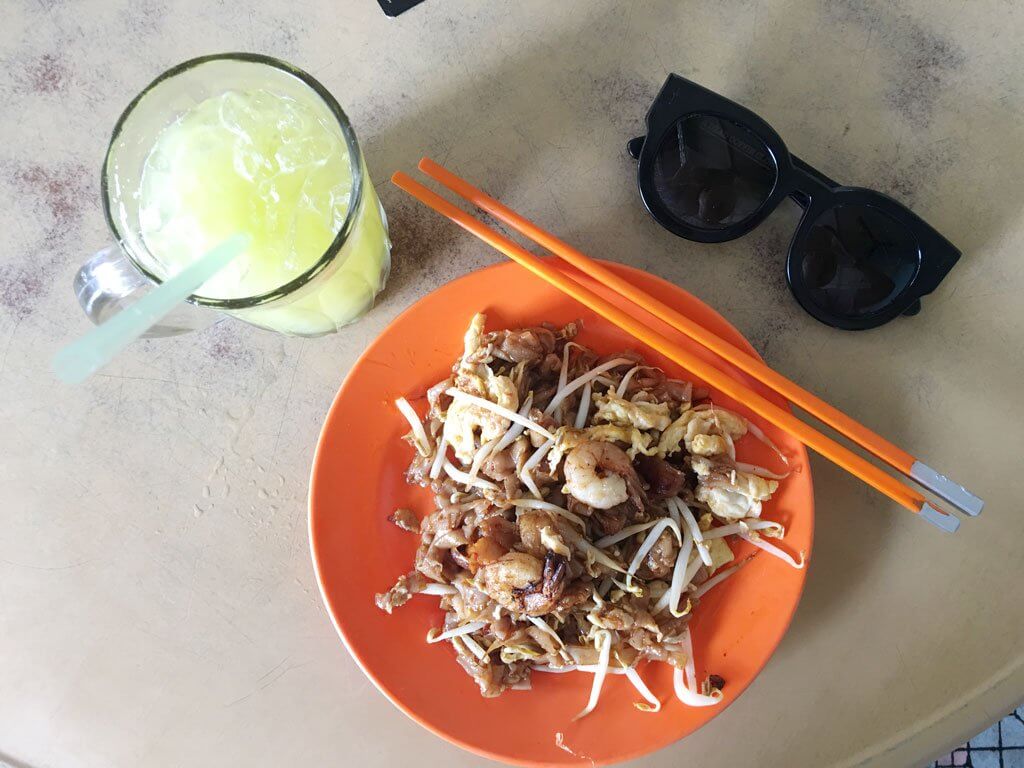 Before coming to Penang, we heard several times that the food was going to be great. Anyone who has ever said that is right. Everywhere we ate, the food was incredible. Don't bother coming while on a diet, you need room to eat!
We recommend sampling around the different food courts and stalls (aka hawkers) during your visit. It's super inexpensive to try different dishes and even better if you have a friend to split and sample different foods with!
Here are some places we tried and recommend!
China House
Great for nightlife and dessert! Check out their daily selection of cakes, there are too many to choose from! Grab a tasty cocktail and enjoy some of the live music.
Red Garden Food Paradise
Tons of different hawker stalls to try, this food court is famous thanks to a visit from Anthony Bourdain who tried the oyster pancake! We had the Thai food here and it was divine!
Expect a line at this popular Chinese restaurant. But trust us, it's worth the wait! Look around and see what looks good on everyone else's plate, if you still can't decide get the chicken with Thai spices!
Little India Street Stands
This is technically not a restaurant, but worth mentioning. We became addicted to the street food stands around Little India. Our favorite go-to snack would be the egg or chicken samosas!
If you want something more guided, try this street food tour or this Georgetown night food tour.
Check out more great hawker/food stalls to eat from Miss Tam Chiak here.
Things to Do in Penang
Georgetown Street Art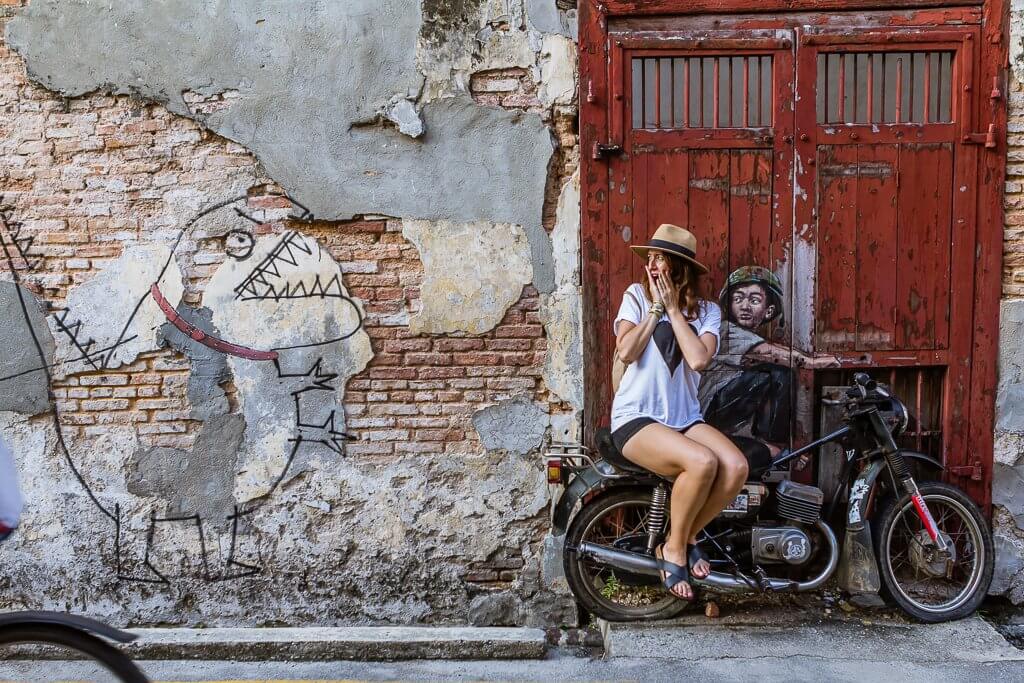 Penang is famous for their street art. Artist Ernest Zacharevic helped put Penang on the maps for his 3D street art installations found all over the city. He was invited by Penang in 2012 to come and do many installations around the city titled, "Mirror George Town."
A local told us after the iconic "Little Children on a Bicycle," street installation had gained popularity the tourism here increased by 10x. Not sure if that number is exact, but people flock to this particular piece to get a photo with this iconic piece of art as well as wander through the streets to find more of Zacharevic's work.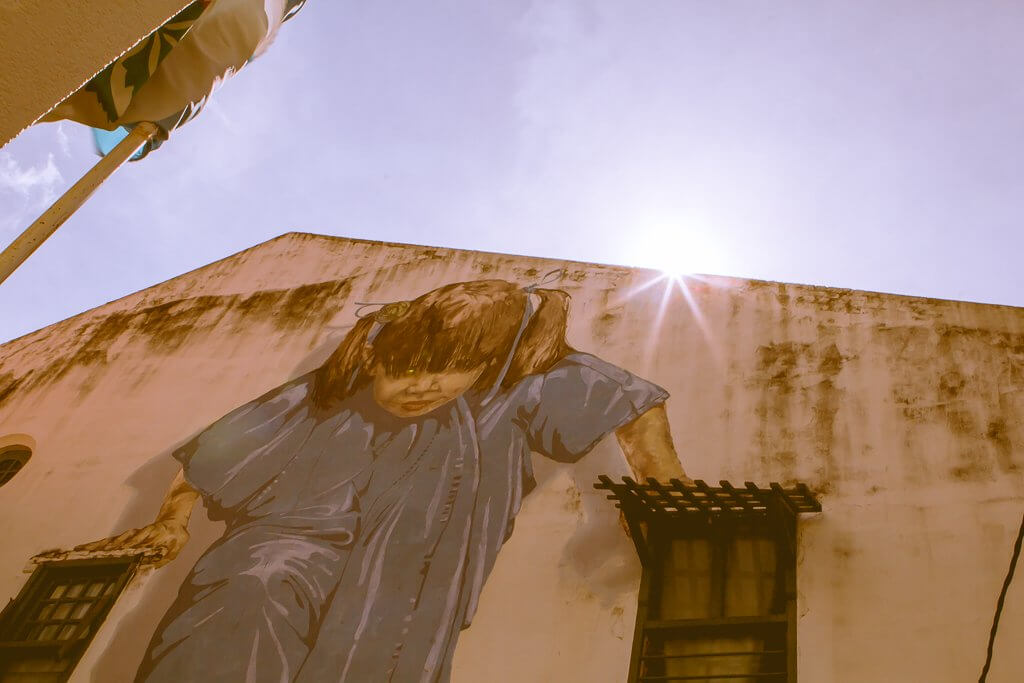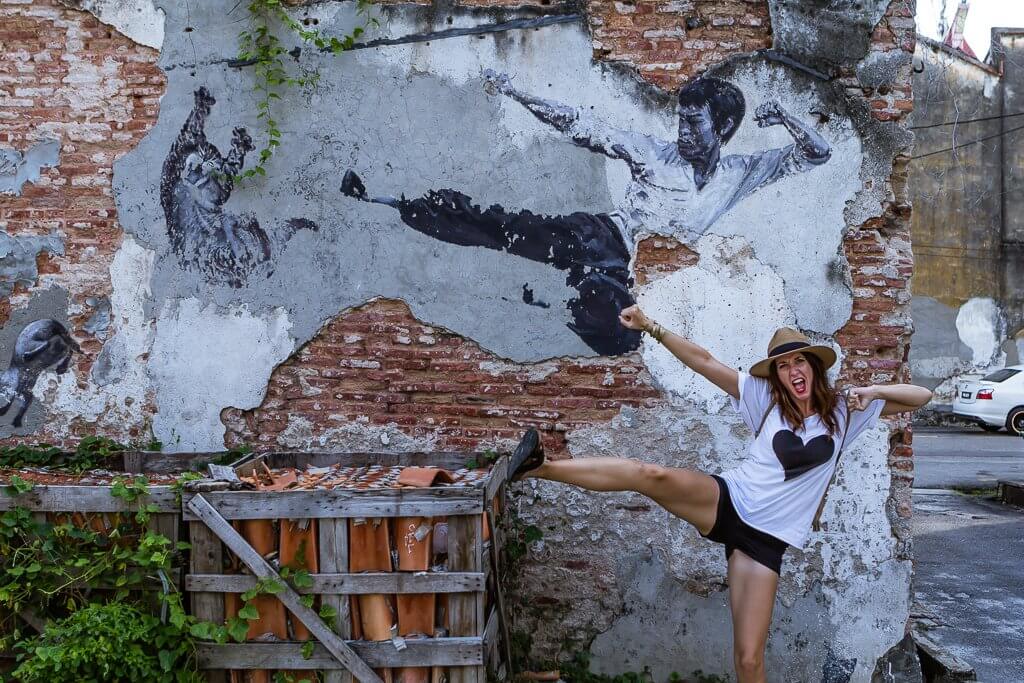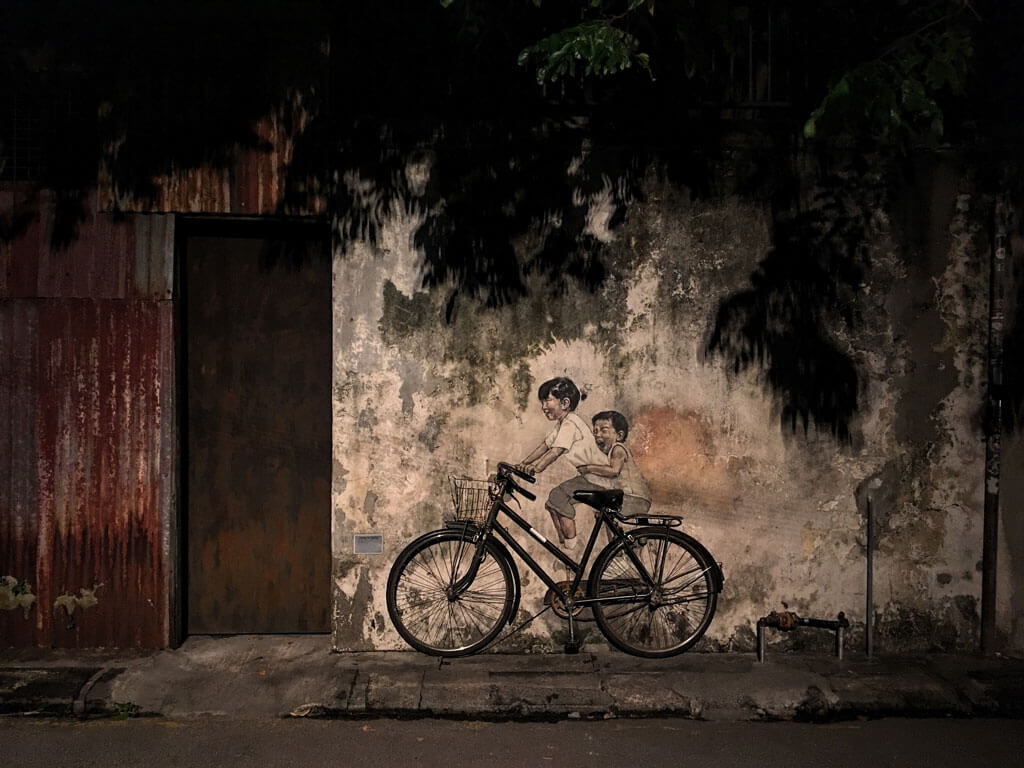 Zacharevic has also inspired other street art in Georgetown that's also fun to walk around and see. There are also series of wire sculptures scattered throughout the city that share small stories of local culture and history. You'll even find one to honor Jimmy Choo, who is from Penang and learned his craftsmanship here in Georgetown!
Check out more of Penang's street art here!
Visit Koh Sum Footwear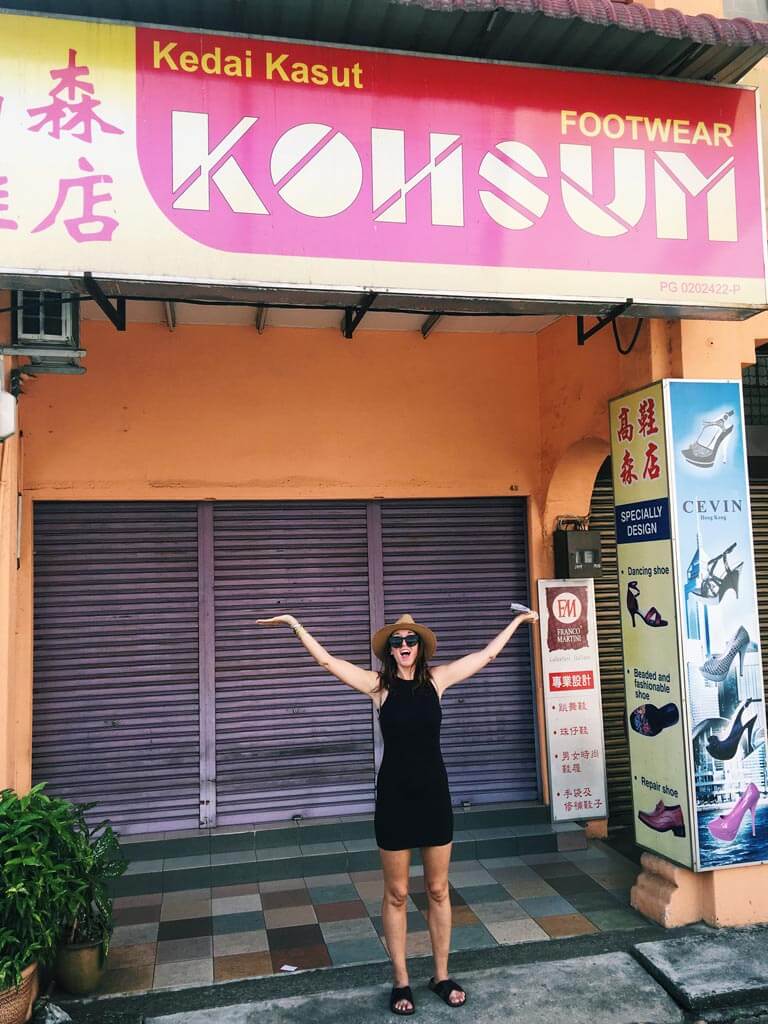 You can visit and shop at the store of the shoemaker who taught Choo his shoemaking ways. Sadly, they were closed the day we showed up!
Check out the Mansions of Penang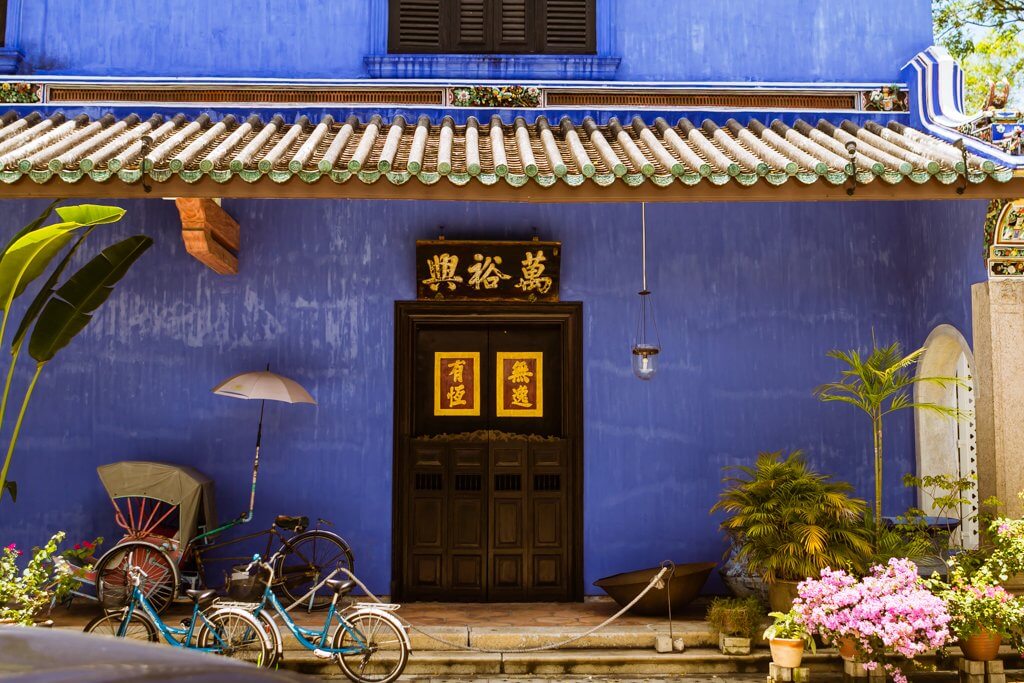 The most popular mansions to visit in Georgetown include Cheong Fatt Tze, aka Blue Mansion, and Peranakan Mansion. There's also an additional mansion, Macalister Mansion. All of these immaculate home are restored colonial mansions and an integral part of this history of Georgetown. They're included on this heritage tour, if you want to book ahead of time.
The Blue Mansion
You can visit the Blue Mansion by either staying as a guest in a room or by doing one of their daily tours at either 11 am, 2 pm, or 3:30 pm. The tour costs 17 ringgit and lasts 45 minutes. We did not have such a great experience on the tour as we could barely understand our guide. We also did not get to explore much of the mansion, we only got to stand in two different rooms and listen to our guide speak. The other areas are roped off and only available to guests and staff. Check here to book a stay
Macalister Mansion
You can visit the Macalister Mansion by staying as a guest in one of their eight rooms. Check here to book a stay
Peranakan Mansion
The Peranakan Mansion can be visited by paying a 20 ringgit fee where you can explore the mansion like a museum or join one of the guided tours. This mansion was my favorite thanks to the mint green color. Please note that photography and videography are not allowed inside the mansion, you'll have to get all your shots from the street!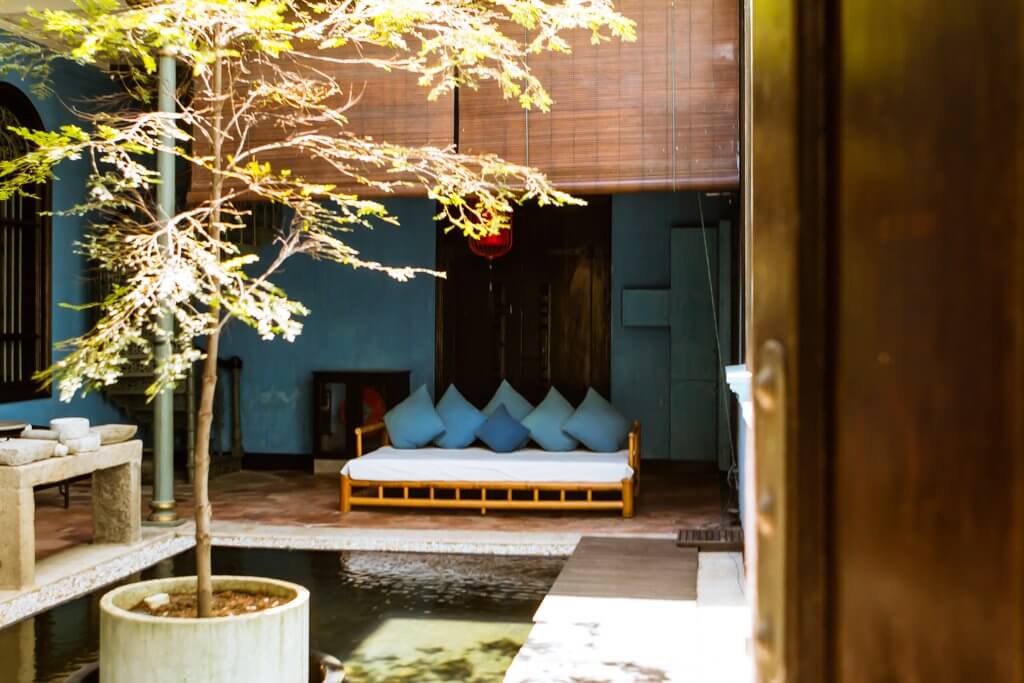 Wander around and see what remains of the colonial architecture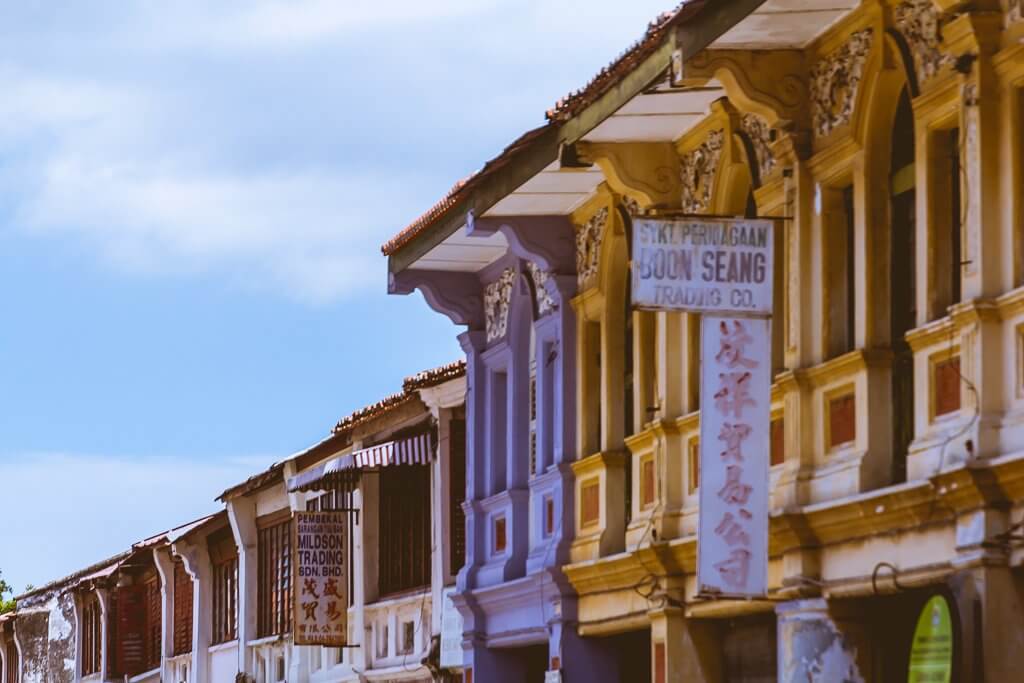 You should spend some time walking around Georgetown and enjoy the beautiful colonial architecture. You can definitely see the British influence here as you wander the streets. Luckily, these buildings still exist and haven't been replaced by high rises.
Now, Georgetown is a protected UNESCO heritage site, so hopefully this pleasant town remains the way it is with the only changes being minor restoration. There are different splashes of color all over the place and you can't help but find these aging buildings to be charming. We really loved strolling the streets and admiring the beauty and character this place has to offer.

Check out the Clan Jetties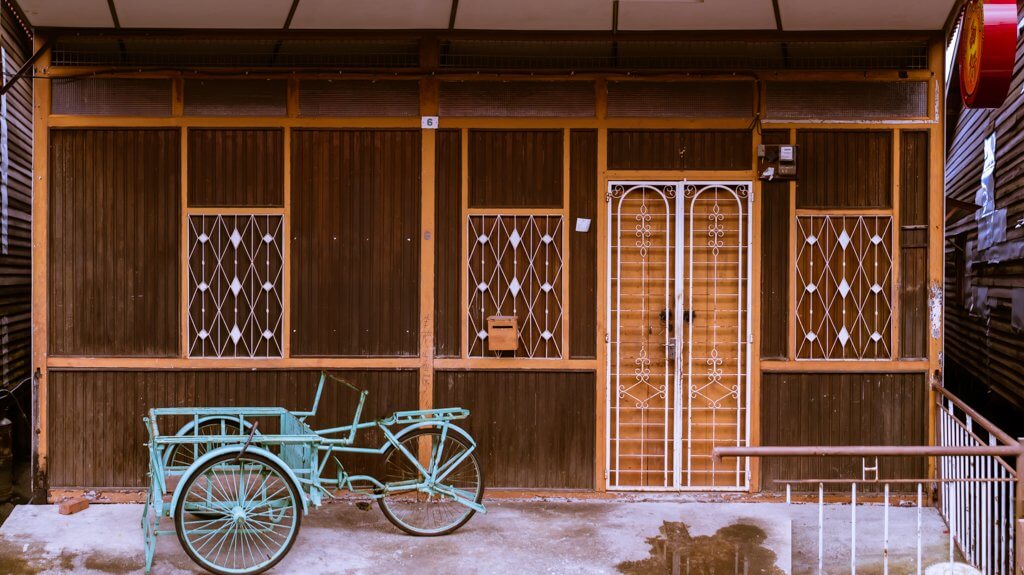 These Chinese settlements on the water are separated by "clans," or families. The Chew Jetty is probably the most famous and crowded of the six remaining jetties. Visit in the evening to enjoy it all to yourself! Friends of ours took us to the Tan Jetty which is much more quiet and has a narrow, scary walkway to the small temple at the end of the jetty. This is a nice spot to get away from the crowds. We ended up really liking the Lee Jetty for it's uniqueness. We liked each home's windows and doors as they had some touch of color and a retro feeling to them that made for a great photo!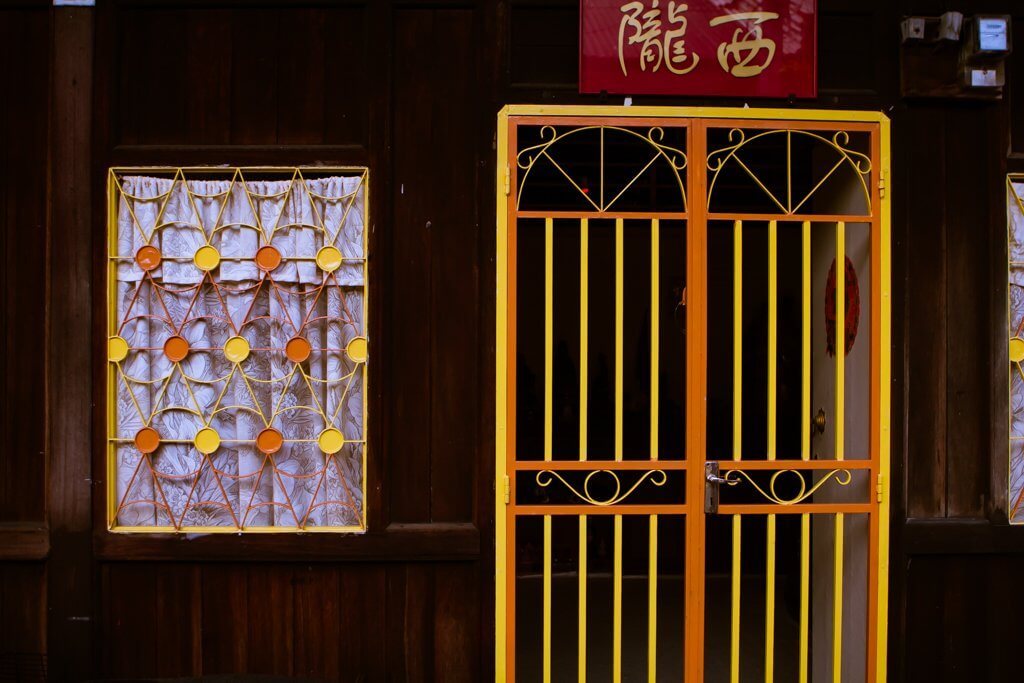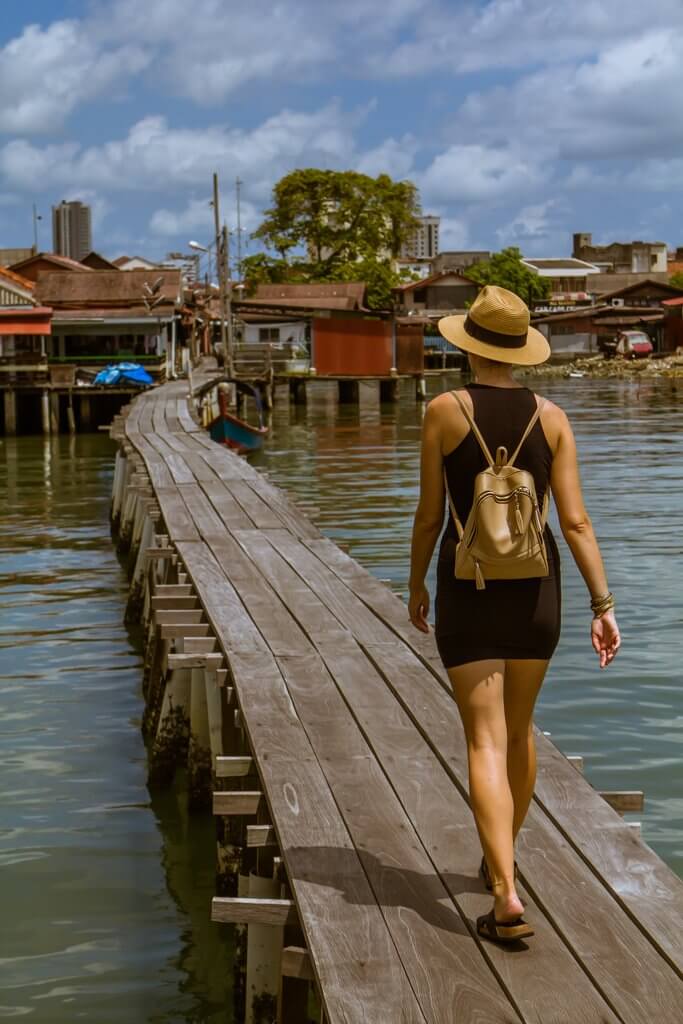 Visit Penang Hill
Hike or take the funicular up to the top of Penang Hill to get beautiful views from atop of the island. This is one thing we regrettably missed but heard is spectacular! Book a tour to see it here
Kek Lok Si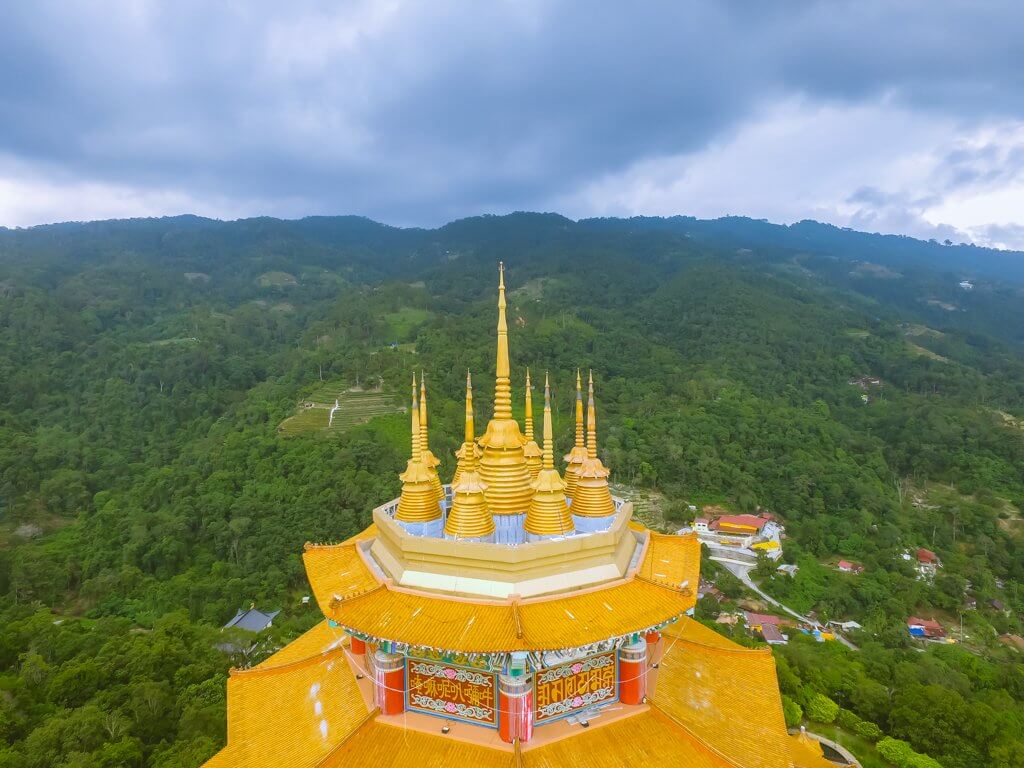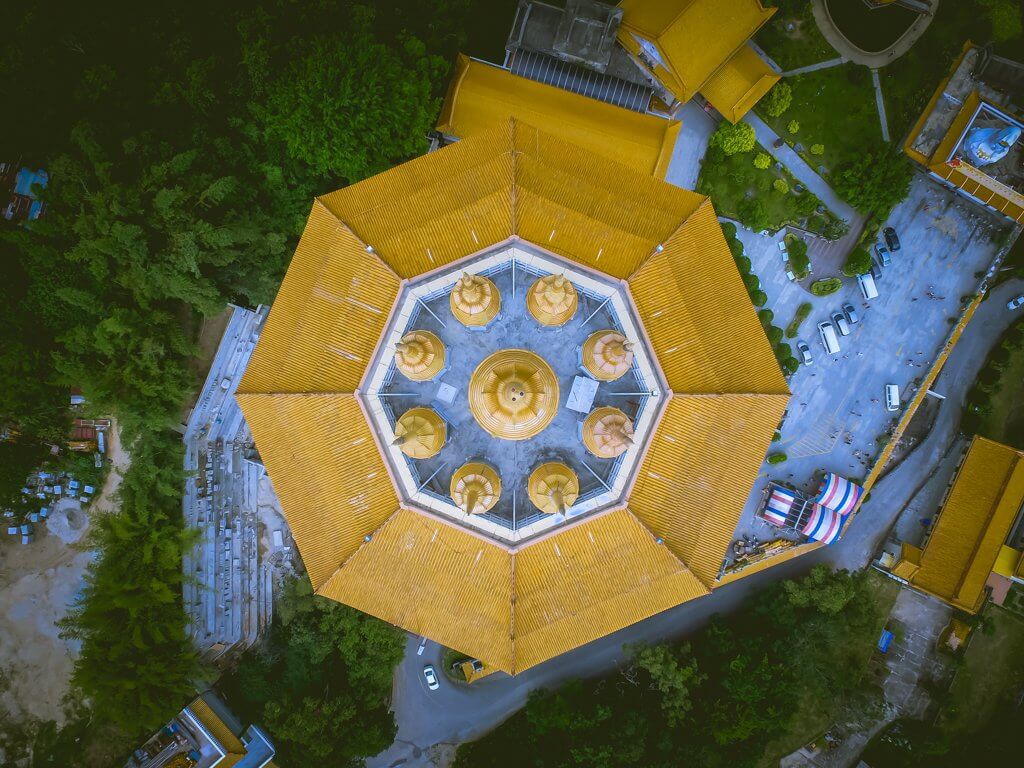 If you're out exploring Penang Hill then you should combine a visit to the island's buddhist temple, Kek Lok Si. The big ticket item here would be the seven story pagoda and the giant standing buddha statue.
Go Shopping on Gurney Drive
Although there are a few shopping malls throughout Penang, the most popular is the Paragon Mall located on Gurney Drive. You can also come here if you don't want to stay in Georgetown. There are entertainment options like a cinema and screen golf. There are also a few temples nearby to explore.
Go on a Free Walking Tour!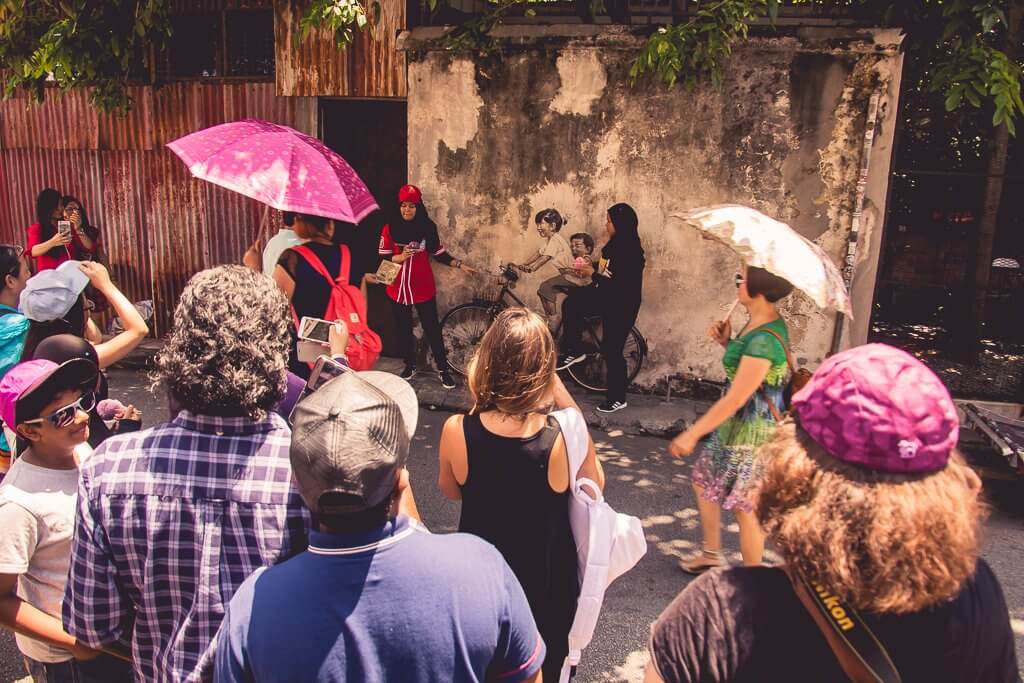 If you're into history and stories from locals then you may want to join one of the free walking tours held by Georgetown's Tourist Information Center. You can join every Tuesday, Thursday, and Saturday at 10:30 am where a local guide will take you around to some of the area's most historical places for an hour and half. Our guide tended to ramble on a bit, but he had great character and was entertaining while sharing stories.
If you'd prefer a smaller tour, try this one.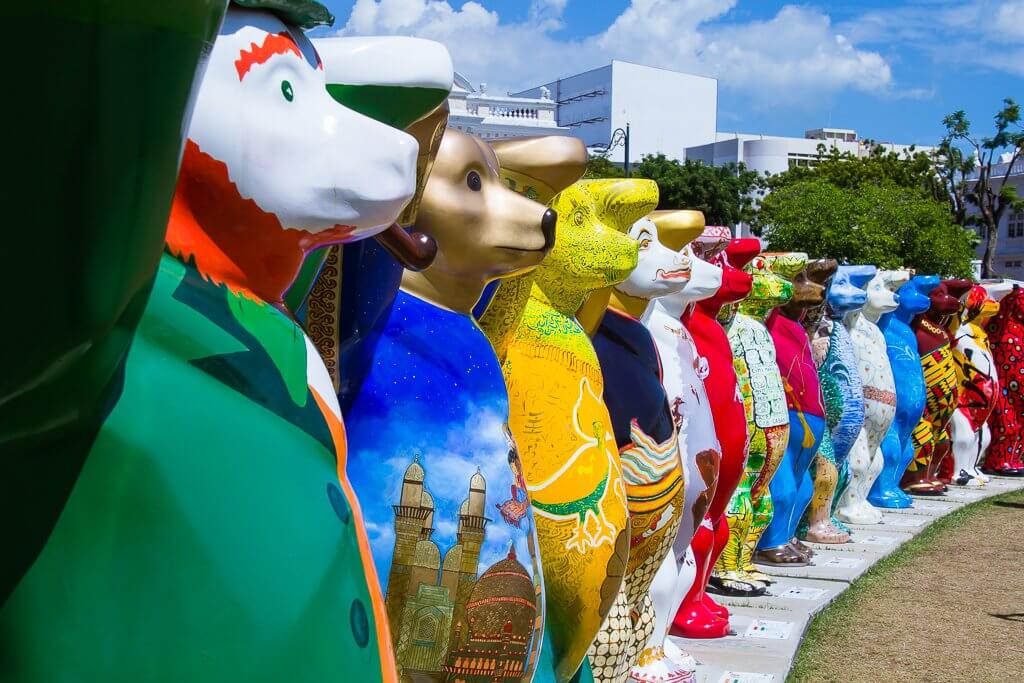 If you want to hear a brief history of the drama behind the settlement in Georgetown without taking the tour then enjoy my version of what our tour guide told us below.
Why Penang is Named Penang
A British guy by the name of Francis Light, who was living in Phuket, Thailand at the time, decided to come and explore a bit further down south. Upon arriving he met some locals who he had a hard time communicating with. A local pointed to the trees on the island and said, "Penang," so Francis is like, "Oh, that's the name of this place."
It wasn't. It was just the name of a tree.
Anyways, Francis unknowingly renamed the place Penang.
Francis gets settled into Penang with his lady, who was not a Protestant like him, which was a big no no back then, and are having a good ol' time until Francis went into the jungle and got malaria.
No one knew what the hell malaria was back then, so they referred to getting a fever after visiting the jungle, "jungle fever."
Francis died. His lady, Martina, marries his best friend in Penang quickly after in HER church while everyone was thinking like, whoa dude that ain't cool.
The people who hated Francis called him a pirate. The people who loved him built a statue of him on the island. However, no one had a picture of him and had no idea what the hell he looked like. So, they went in search for his son, William Light, who founded Adeline in Australia, and made the statue after his face. Close enough, I guess.
See the local town hall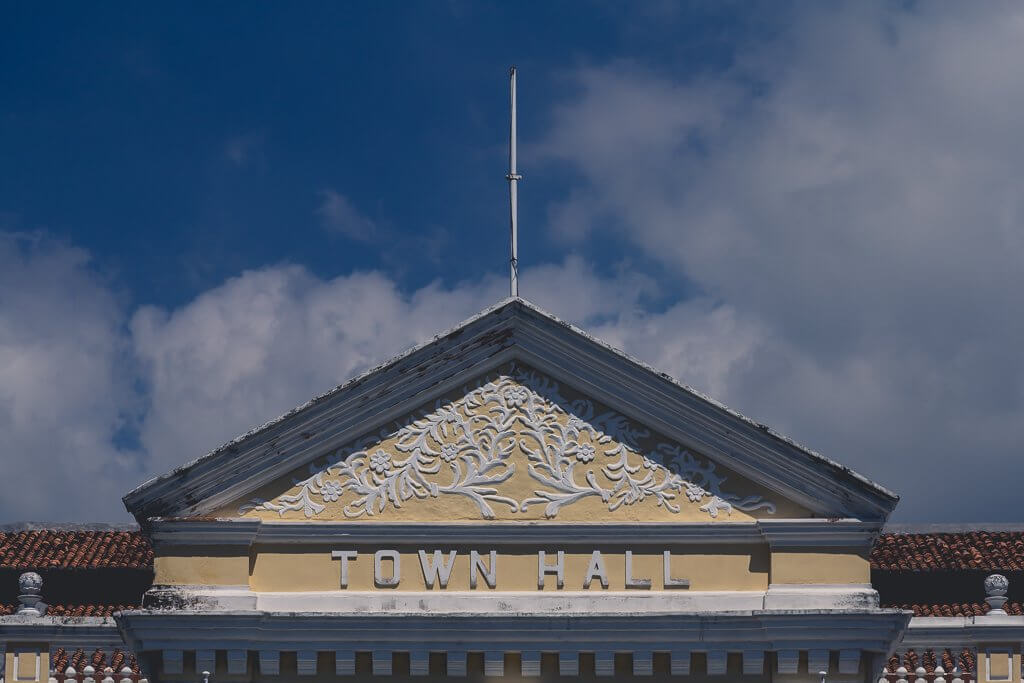 The local town hall in Georgetown, which has a theatre on the 2nd floor, is going to be putting on a scandalous play about Francis's wife soon for the 200 year anniversary of Georgetown. We are really hoping they make it as dramatic as we imagined all this going down.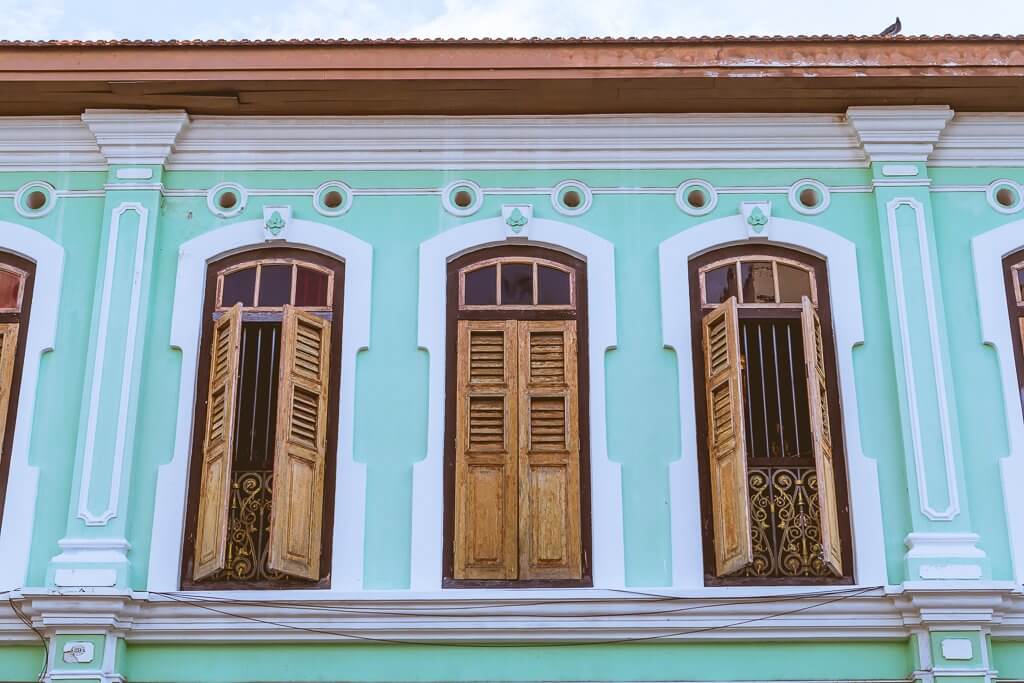 Overall, our favorite parts of Penang included hunting down street art through the alleys, wandering through the charming colonial homes, and eating the food. Really in terms of what to do in Penang, it doesn't get better than that! If you only have a short time, we recommend enjoying just that!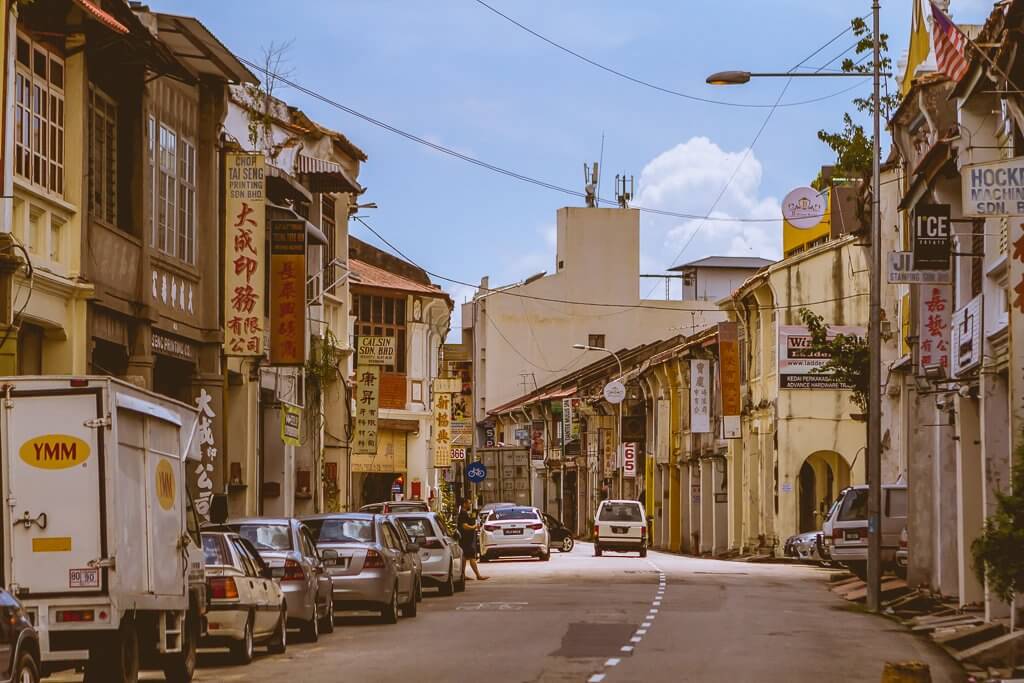 A special thanks to our friends Pete DeMarco of A Nomad Within and Simon Bond of Creative Photography School for showing us the best of Penang. Both of these guys are incredible photographers, so be sure to click on their sites and check out their phenomenal work.
Anything to add to this list of what to do in Penang? Let us know below!
Share the love on Pinterest below!