Before our inaugural trip to Israel Scott and I was both really excited. We get jazzed anytime we get to experience a new country for the first time as we make our way across the globe and endless list of countries and places we've decided we must visit one day.
Scott asked me what I was most excited about before visiting Israel, and without any hesitation, I replied the food. This usually isn't my answer when going to a new country, usually, it's a specific destination or some sort of sight seeing, but this time I was the most amped for the food.

Just to throw it out there, I was also excited to see places here like the Dead Sea, BUT my first thought every time about coming to Israel was swimming through a sea of hummus like Scrooge McDuck with his money in his vault like Ducktails.
Our first days were spent in the party, chilled out, beach city of Tel Aviv where we met up with Inbal of Delicious Israel for an unforgettable culinary escapade through the best eateries through Carmel Market and the surrounding area.
First, we must explain to you that this is unlike any food tour we have ever done. Yes, we walked and sampled foods all over the city but we have never on any type of tour we have done experienced such a warm welcome to a country and felt as if we were old friends catching up and hanging out eating the best food in town. This will also go down as our favorite encounter with a local in Israel.
We were greeted by Inbal, the owner, and creator of Delicious Israel, and instantly felt a connection. We felt like best friends, the three of us eating, talking, joking, sharing stories, and there was even dancing on this tour. Each food we tried, each place we went to, each person serving the food we encountered had a compelling backstory or fun anecdote she shared with us.
Our afternoon was packed full of history, stories, jokes, and an insider look at the lives of the locals and their fusion of foods from surrounding countries to make the incredible dishes we were served up. This tour was one of the most interesting and entertaining tours we have ever been on.
One place we visited during the day that stood out was the lachoch shop. We showed up, already stuffed to the gills after devouring what we agreed on was the best hummus we've ever had, to this tiny little spot where we were greeted by what we can only describe as the happiest woman in the world. She was excited to see Inbal with us there and started speaking in Hebrew with utmost delight. We couldn't tell you exactly what she said but her happiness radiated through the entire place.
She started making our food and insisted we snacked on an orange she cut up for us. Two women came into her store and she was delighted, apparently, these women were on a Delicious Israel tour before us and came back just to hang out with the happiest woman on earth. Her presence was infectious. As we were served this incredible Yemenite bread with cooked egg in the center Inbal explained to us that whenever she was in a bad mood or needed a happiness boost she just comes here. We can see why and we would do the same if we lived in Tel Aviv.
After our food was finished we left and Scott realized he forgot his lens cap to his camera in the restaurant. He ran back minutes later and returned smiling telling us that he ended up dancing with the happiest lady on earth who was still having the time of her life in her small shop with her customers dancing away, laughing, and cooking food.
Happiness is infectious if you're around happy people you want to be happy. We were already in a great mood throughout the entire tour but after leaving her shop we had a happiness high.
We continued strolling the streets stopping at cool walls, an amazing dessert café, and a local microbrewery for the ultimate Instagram pics and posts. Every single stop was a back to back hit and most importantly delicious food.
We began to think that maybe we were really lucky to be having such an incredible time on this food tour. But as we were touring the streets we ran into another one of Delicious Israel's groups and their guide was just as personable with their group. We couldn't really tell who the leader was, everyone just seemed like a group of friends out around town eating amazing food.
We never felt that the kindness being shown to us was fake or inauthentic, we realized that the people of Delicious Israel were really passionate about food, having a good time, and sharing this experience with visitors. It was truly amazing seeing and experiencing seeing someone who loves their job and what they do and it resonated with us.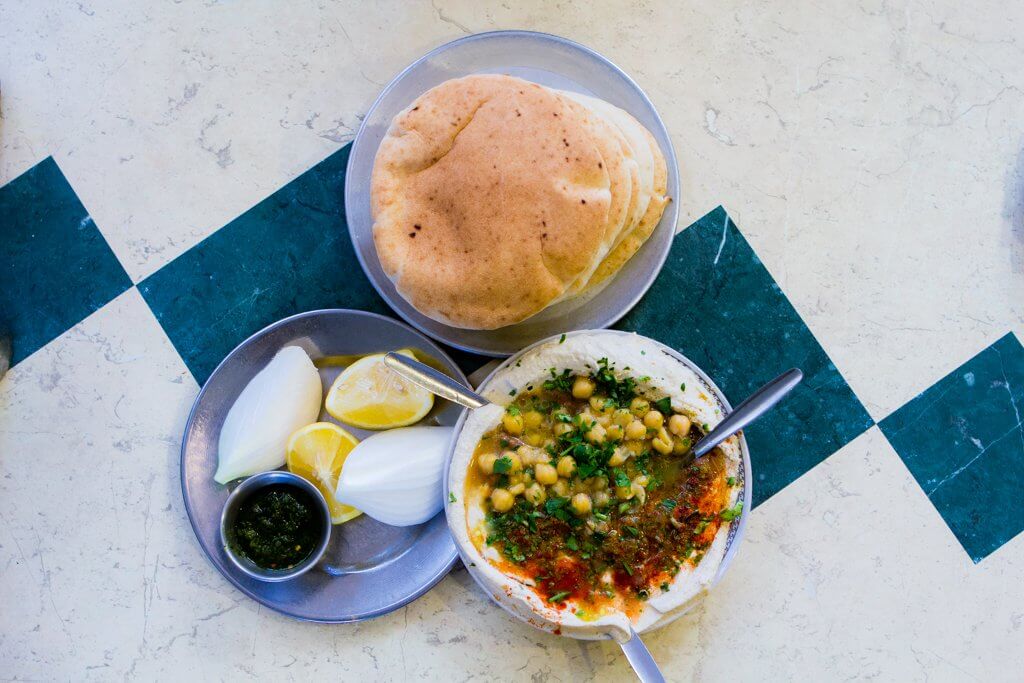 From the etrog refresher, sabich, the sweet malabi dessert, a Nutella crepe cake, to that unforgettable bowl of hummus. Our tastebuds and waistlines were blown.
After a week in Jerusalem we came back to Tel Aviv to meet up with Inbal once more where she took us to the hip and trendy Levinsky market for some amazing homemade soda at Levinsky 41, delicious deli bites, hummus, falafel that you could eat for days, and the best halva we've ever had the pleasure tasting.
On our last day in Israel as I went to put on my pants they literally ripped. I knew it was time to leave Israel. When you're clothes are bursting at the seams because you ate so much amazing food in two weeks, it's time to go.
So do yourself a favor and while you're in Israel, spend at least a day sampling around Tel Aviv with Delicious Israel. From a friendly local to take you around to the faces and foods you'll meet along the way. You won't want to leave, at least we didn't want to until our clothes were bursting at the seams.
Delicious Israel also offers local Shabbat dinner experiences inside their homes as well as winery day trip tours!
Want some extra delicious dishes in Tel Aviv? Check out the places below.
Hakosem
This was probably our favorite place to eat in Tel Aviv. We ended up coming back three times trying something different each time and each dish was a back to back hit. First we tried shakshuka served in a pita, then shawarma served in jaffa bread, and last shakshuka served up with salads and sides for days that still make our mouths water thinking about it. Come when they open to get served right away, come in the afternoon and expect to wait in a line. Don't let the line deter you, its totally worth the wait!
Shlomo ha-Melekh St 1, Tel Aviv-Yafo
Haj Kahil
Located in the heart of Jaffa this authentic restaurant specializing in hummus, falafel, and shawarma. We feasted on amazing salads, hummus, and lamb until we couldn't move. The restaurant has been passed down from generation to generation serving up some of the tastiest food we ate in Tel Aviv. The location couldn't be better right across from the iconic clock tower in Jaffa and just steps away from the amazing Jaffa flea market as well as Jaffa Port.
David Razi'el St 18, Tel Aviv-Yafo
ShawarMAX
If you're looking for a new spin on shawarma then look no further than ShawarMAX. An epic name for a place where the chef likes to fuze different tastes of different cuisines with the classic shawarma. We really liked the fushion of shakshuka and shawarma as well as the Thai flavored shawarma. Each plate is loaded with flavor and they even have vegan options!
Ibngavirol St, Tel Aviv-Yafo
Sarona Market
If you can't decide what you want to eat then head over to Sarona Market where you can choose between dozens of different eateries all serving up some of the most delicious looking dishes we have seen. It really is hard to choose so why not get a group of friends and sample your way around the market? We ate at La Farina for some italian sandwiches and paninis and were pleased. It was a nice break from hummus, falafel, and shawarma.
3 Kalman Magen St. Tel Aviv
---
Looking to up your video game? Check out the best camera for vlogging.
Liked this post? Share the love below on Pinterest!