What if I told you there was a place in California that had a small town charm, friendly people, is a remote island, and paradise all in one? Avalon, Catalina is the perfect getaway for anyone visiting or living in Southern California. Even though you can easily visit in an afternoon on a Catalina day trip, it's best to spend at least a weekend in Catalina, we were lucky enough to have had a chance to spend 3 nights and 4 whole days with Aurora Hotel & Spa for an unforgettable experience.
Check out our thoughts from our stay at Aurora Hotel & Spa in Avalon, Catalina. And while you're here don't miss all the wonderful things to do at Catalina Island!
First Impressions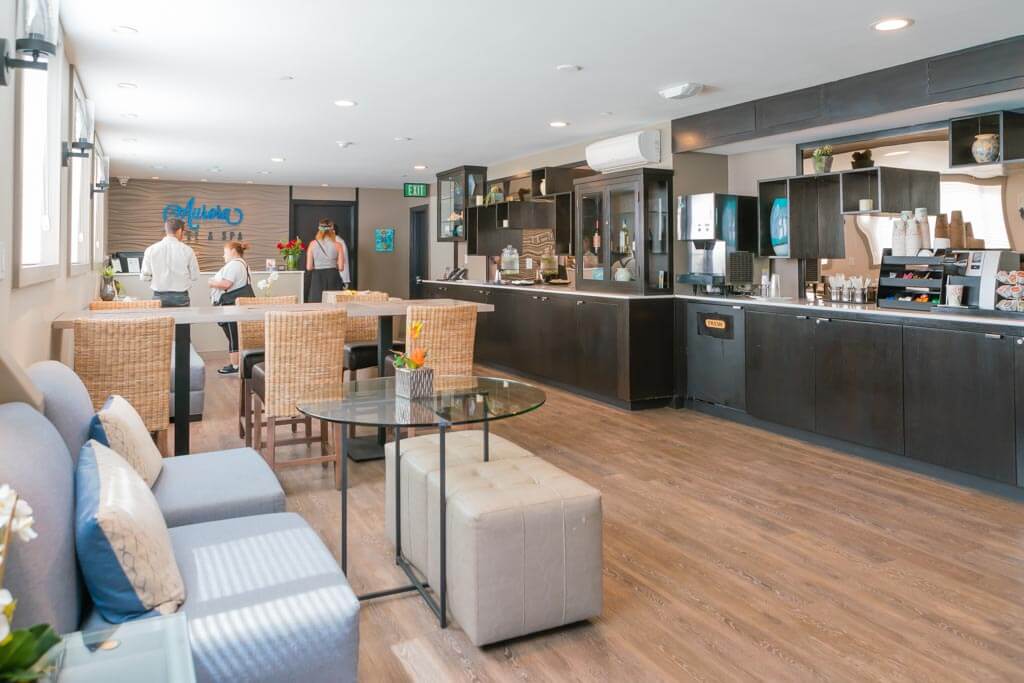 Our first step into the entrance at Aurora Hotel & Spa and we were greeted with a warm welcome and two friendly faces. We were instantly excited as we saw the 24-hour coffee and tea station as well as refreshing chilled cucumber infused water in the lobby. So far, our trip was off to a good start.
This would not only be our first impression of Aurora Hotel & Spa but also the entire Island itself. Everyone is friendly, welcoming, and just in general happy people. When you're surrounded by happiness and positive people it's infectious. We felt the entire trip was extra pleasant and special thanks to how friendly our hotel staff was and every local we met on the island.
While walking up the stairs to the third floor where our room was located we couldn't help but be awestruck by the floor to ceiling windows in the staircase overlooking the harbor. The staff member from Aurora Hotel & Spa's face lit up with a smile when he heard both of us say, "wow" as we walked past.
Our Room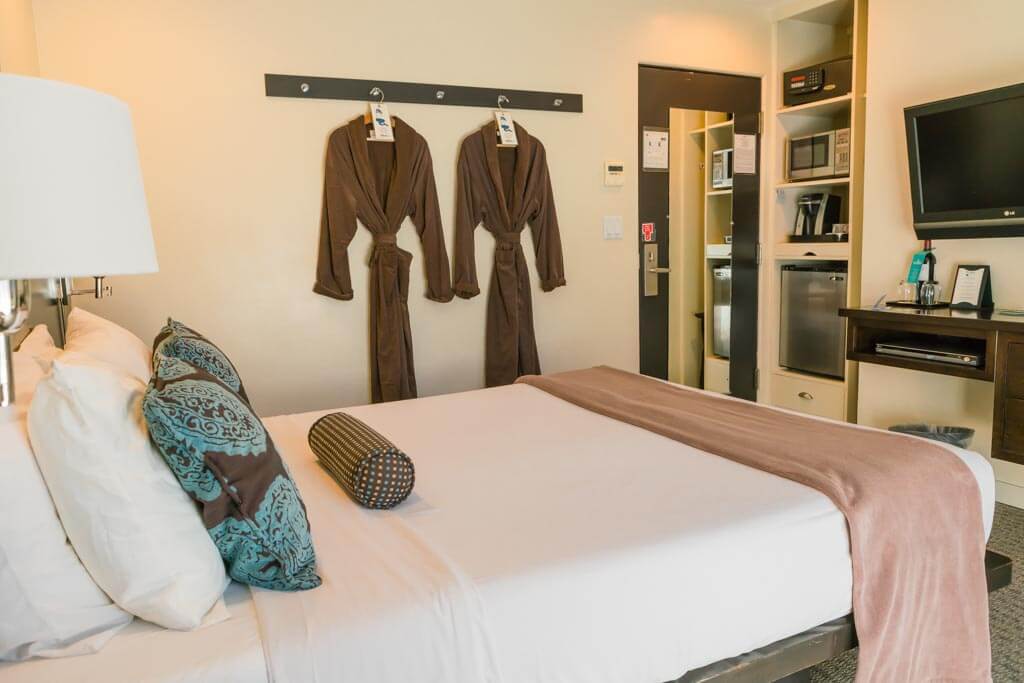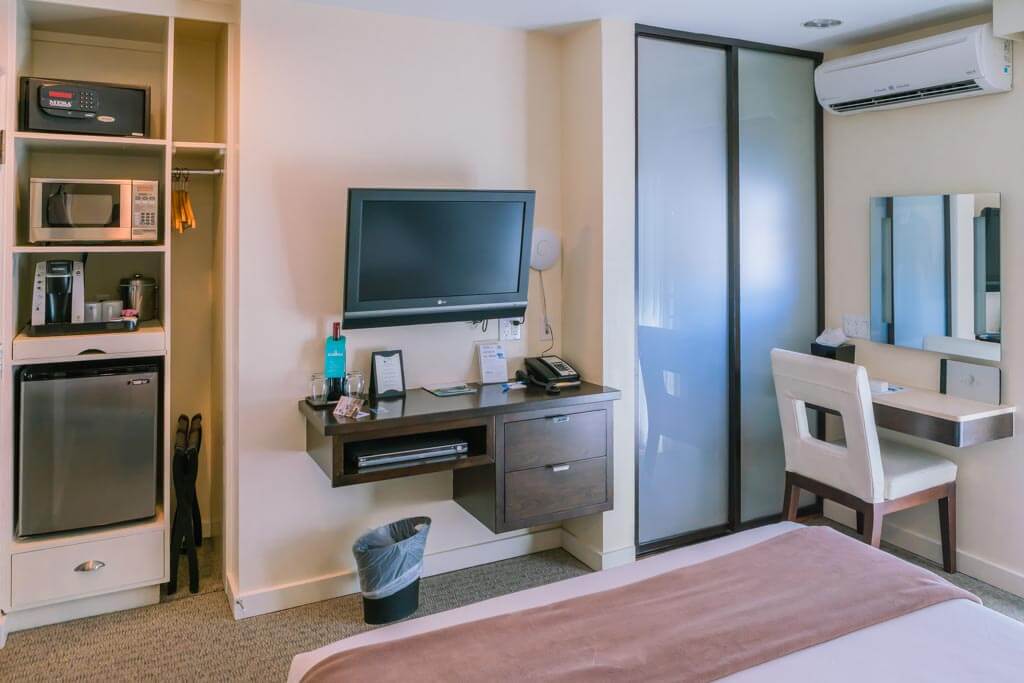 After checking in we were shown our room. The room itself isn't large, but because of the design felt incredibly spacious, clean, and cozy. The beds are incredibly comfortable and the two of us had three incredible nights of sleep. Since we are always working while we travel we appreciated the workstation and desk in the room as well as the mini fridge, coffee machine, microwave, and safe.
One evening we ate too much on a food tour and weren't hungry enough for an entire meal for dinner. We went to the local grocery store, picked up a frozen snack and were able to heat it up in the room when we were ready for a snack. It's the little extras like this that are easily overlooked in hotels that make your stay extra comfortable and convenient.
The bathroom was small, but like the room, because of the layout, it felt more spacious than it actually was.
We had a balcony that overlooked the hills and adorable homes on the island. We didn't use this much as we felt like we could see right into the neighbor's house and they could see right into our room. A few of the rooms in the hotel must have an incredible view on the opposite side of the hotel since that side overlooked the harbor, the ocean, and downtown Avalon.
Our favorite feature at the hotel would be the outdoor patio on the 3rd floor. During the day you can relax and sun bathe or in the evening you can bring a glass of wine and enjoy the magnificent view from the deck. We found ourselves enjoying this spot every day. Even though there were houses surrounding the hotel, it felt peaceful and quiet like you were the only people around enjoying this breathtaking panoramic view.
Location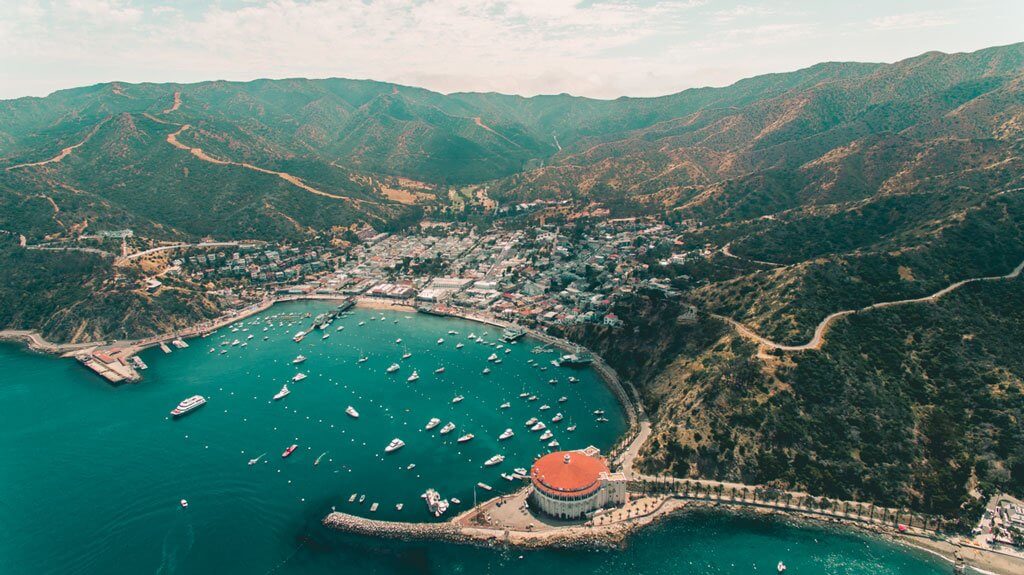 Aurora Hotel & Spa is located just outside the buzzing downtown area of Avalon. While the entirety of Avalon is only 1 square mile you feel removed from all the noise where locals and visitors enjoy their evenings at the bars and restaurants on the main strip.
A short walk up a hill and you'll find the hotel perched next to residential homes with that stunning view from the 2nd and 3rd floors.
We actually prefer this location because the downtown area can get really congested when cruise ships stop at the island along with the day visitors. No one really comes up this way and it's close enough to be anywhere you'd like to be in town within a 5-minute walk.
Overall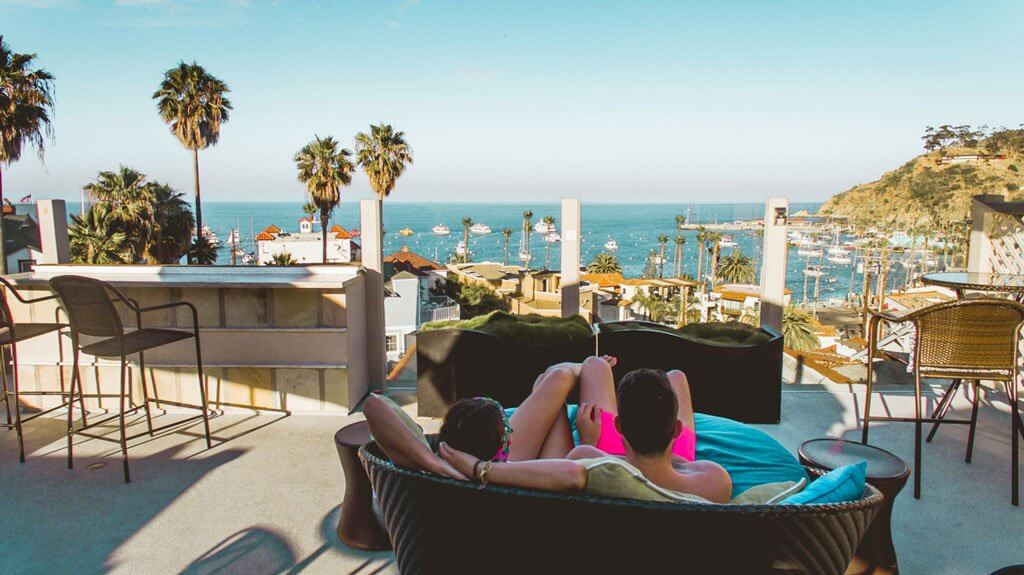 Overall we had a great stay at Aurora Hotel & Spa on Catalina. The friendly staff made our stay extra special by giving us personal, local recommendations, which were all great. The view from the 3rd-floor patio was impeccable. And the rooms were comfortable and quiet for an overall relaxing and rejuvenating getaway and this is definitely one of the
best hotels on Catalina Island
!
Aurora Hotel & Spa
137 Marilla Ave
Avalon, California
+1 310 5100454
To make a reservation or check rates visit Aurora Hotel & Spa.