Nestled away in the hills of the South Moravia and just a few kilometers away from the border to Austria is one of the most under the radar getaways we have encountered: Mikulov, Czech Republic.
There are so many things to do in Mikulov to have a romantic time – it even has "love" in its name! We found ourselves smitten with this city and its surrounding towns, chateaus, countryside views, and vineyards! Here our picks for what to do and see!
How to Have a Romantic Getaway in Mikulov, Czech Republic
So we say Mikulov is the romantic getaway, but really there are a few other nearby towns that help make it the most romantic spot. They're all just a short drive away.
We suggest following our schedule where we stayed in Mikulov as our starting point of every day, with an exception of one night.
From Mikulov, you can drive to Lednice and Valtice in about 20 minutes. Also, even closer to Mikulov are the really small towns of Klentnice and Pavlov.
We will break down what to do in each destination below and what makes each place so special.
Mikulov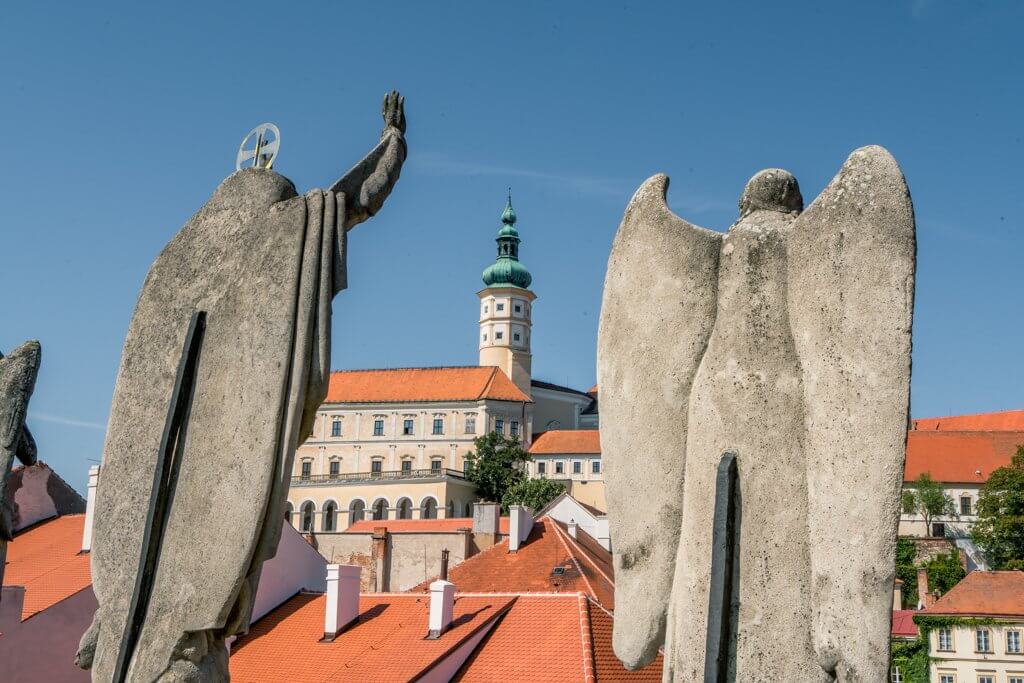 We will start with Mikulov, as this was a great area to stay and visit each of these other romantic places from. Mikulov is a small and easily walkable by foot. There are many incredible bakeries, restaurants, and spots to enjoy a glass of the local wine.
You'll also notice all of the wine from the region says it's from Mikulov, however, there is a 62 kilometer stretch of wineries that make up the wine of the region. For whatever reason they all claim to be from Mikulov and typically wine destinations and romantic getaways go hand in hand, and we can attest to that.
Things to Do in Mikulov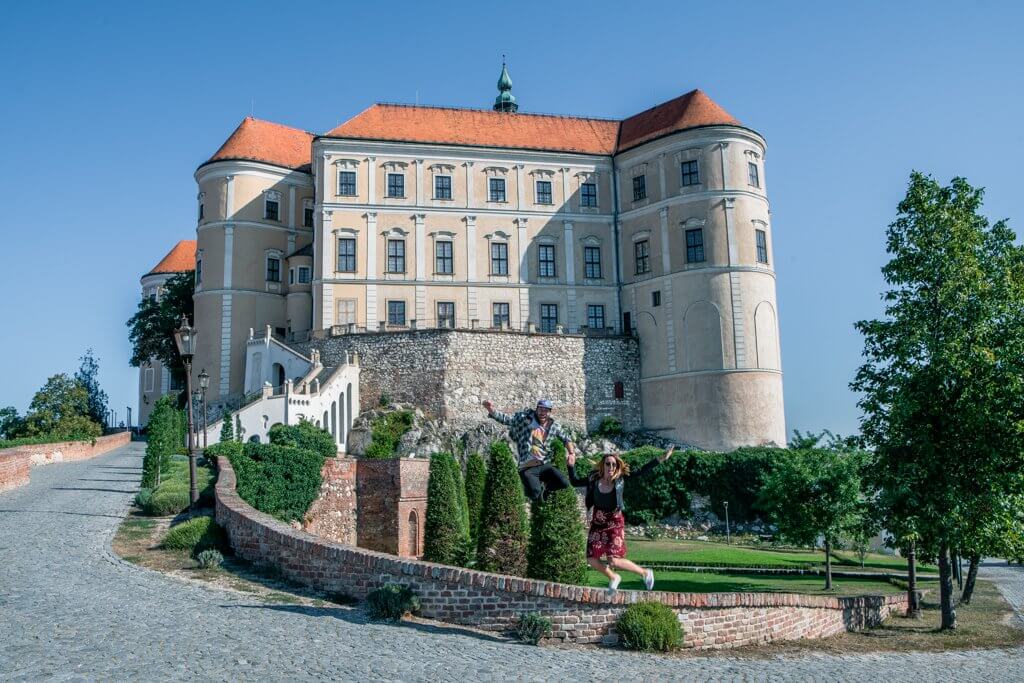 Visit Mikulov Castle
You'll want to wander the streets of Mikulov and get a feel for the place. We recommend starting off by checking out Mikulov Castle. This baroque castle is set up on a small hill in the center of town and is unmissable near and far.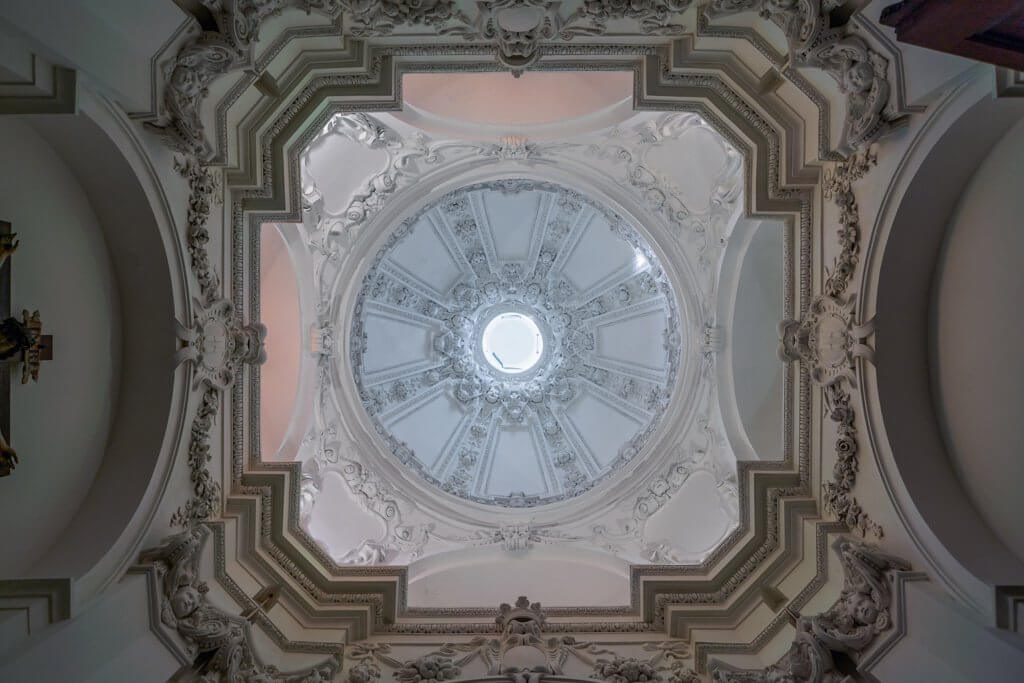 It plays a significant role in the local history being home to the Dietrichstein family and has seen guests such as Napoleon. You can tour inside the chateau to learn more of the history and see the grand interior, or you can just take a leisurely stroll around the exterior of the castle and be awe inspired by the sheer size of the place.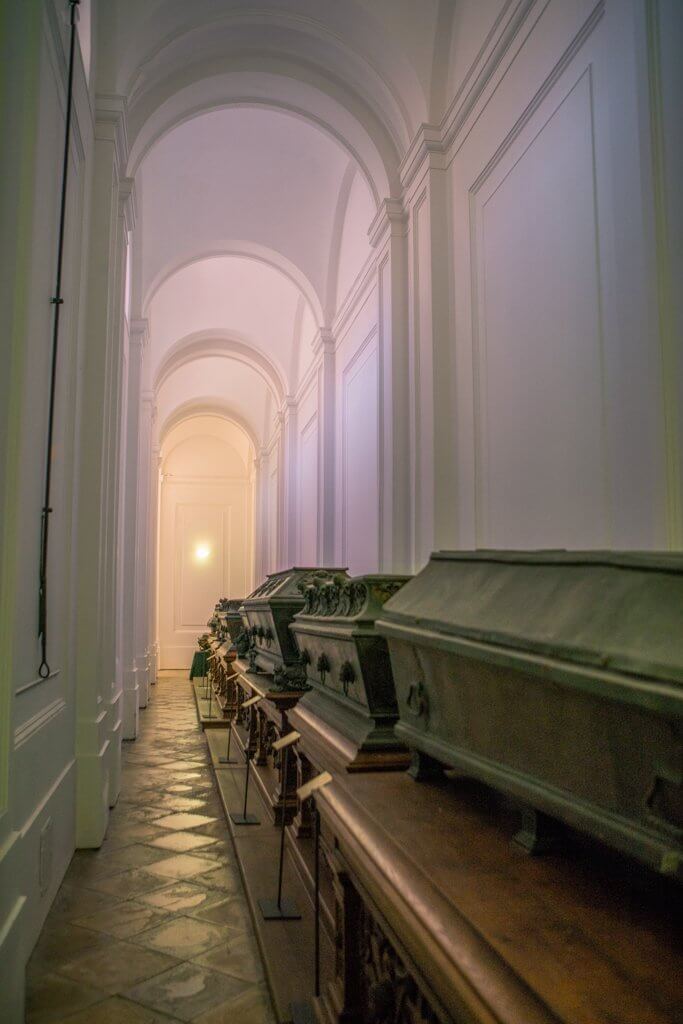 Learn Some History at the Dietrichstein Tomb
After we recommend checking out the Dietrichstein tomb in Mikulov Square. Tour the interior of the tomb where you will see where 45 members of the Dietrichstein family's remains rest, the remains of the Loretto Church including the famous Black Madonna statue, and see the collection of coffins in the corridors.
While walking through a tomb of dead bodies isn't exactly romantic, the history is interesting. We were most fascinated to learn that the wife of Ferdinand of Dietrichstein was an incredibly strong woman, she gave birth to 19 children in her lifetime, sadly only 3 survived to adulthood as many died of common diseases of the 17th century including small pox. You can see their small coffins in the corridor. Anyways she lived to be in her mid-70s after giving birth to all those children and living through a time when many people died much younger.
After learning a bit about the history from inside the tomb you can make your way up to the terrace of the Dietrichstein tomb for an excellent view of Mikulov Square, Holy Hill, the castle, and the nearby hills including the remains of the goat castle.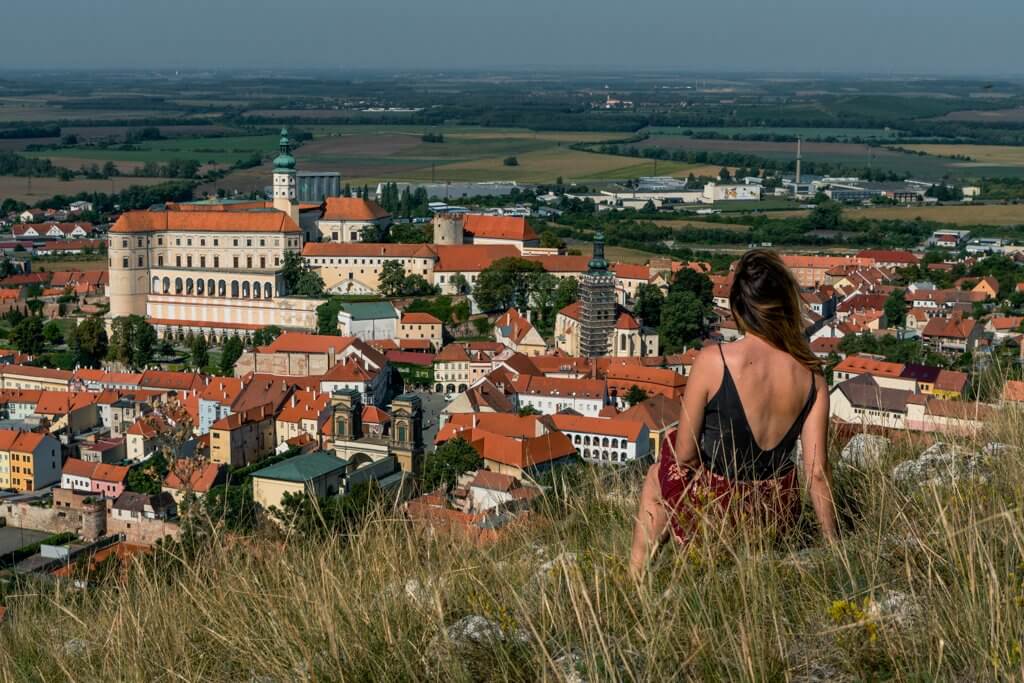 Hike up Holy Hill
We also recommend taking a small hike up to Holy Hill for an incredible view overlooking South Moravia and Mikulov. On your way up the 360 m (1,100 ft) climb you'll pass by the different stations of the cross leading you to your final stop at the St. Sebastian Chapel on the top of the hill.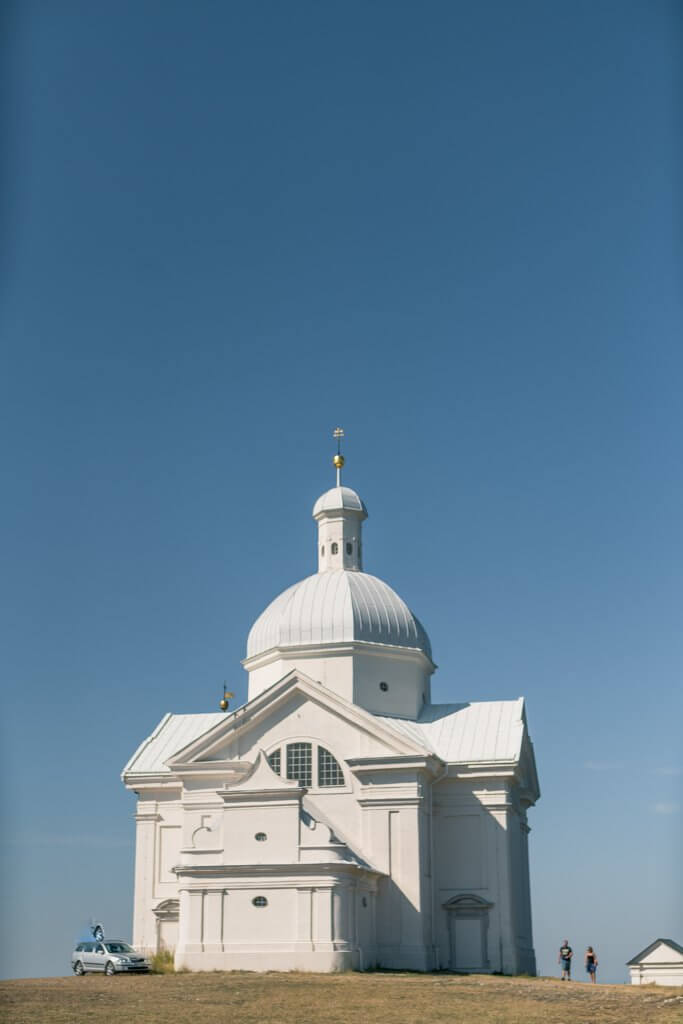 The climb is relatively easy and takes about 20-25 minutes. From up here you can overlook the city, continue walking on different paths, or even pack a bottle of wine and a picnic for the ultimate local picnic spot.
Play some Frisbee Golf
Last, if you and your partner like to participate in outdoor adventures then there is also a frisbee golf course nearby! If you don't have a Frisbee with you don't fret, you can buy one at the information center in Mikulov Square as well as a map of how to get there. We wish we had a little extra time to do this ourselves!
Where to Eat on Mikulov
We recommend trying Sojka Bistro. We ended up eating here twice because we enjoyed our first meal so much. You can get an entire bottle of local wine with your meal for just around $10 to pair with your delicious meal. The bistro also has a small shop inside where you can buy spices, tea, and other natural products.
For a small snack or breakfast we highly recommend the bakery Pekarstvi Krizak. They are open by 8 am and have a vast selection of delicious fresh pastries. We each tried a sweet and savory pastry and they were all delicious.
Valtice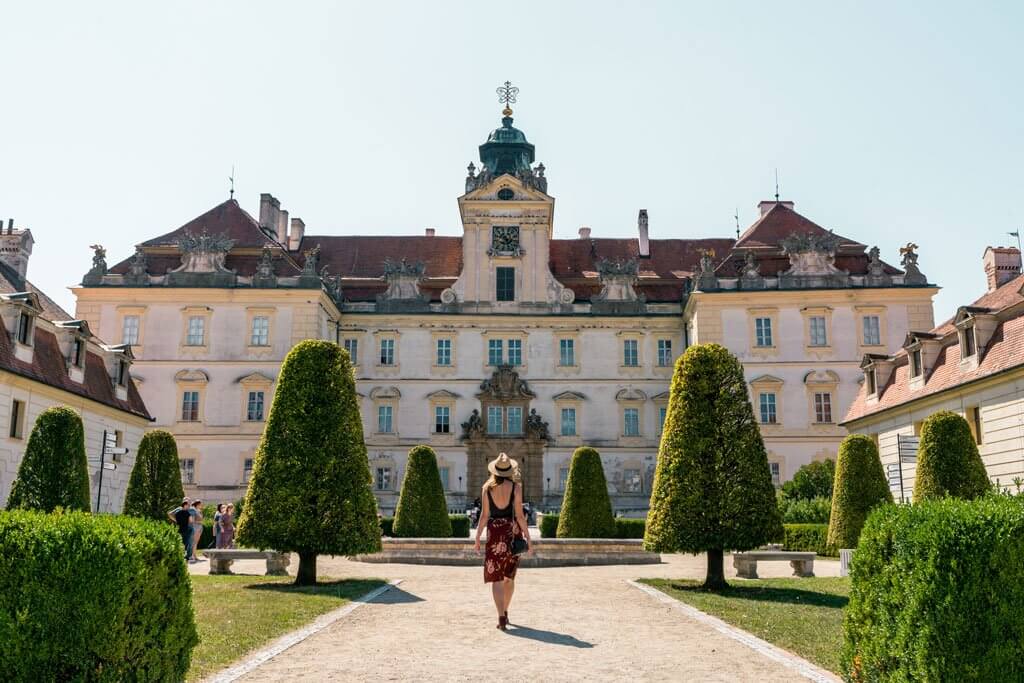 Our next romantic stop just a 20-minute drive from Mikulov is Valtice. This ended up being our favorite area to explore thanks to the impressive chateau. We spent an entire day in the chateau and ended with an unforgettable wine tasting experience in the cellar of the castle!
Things to Do in Valtice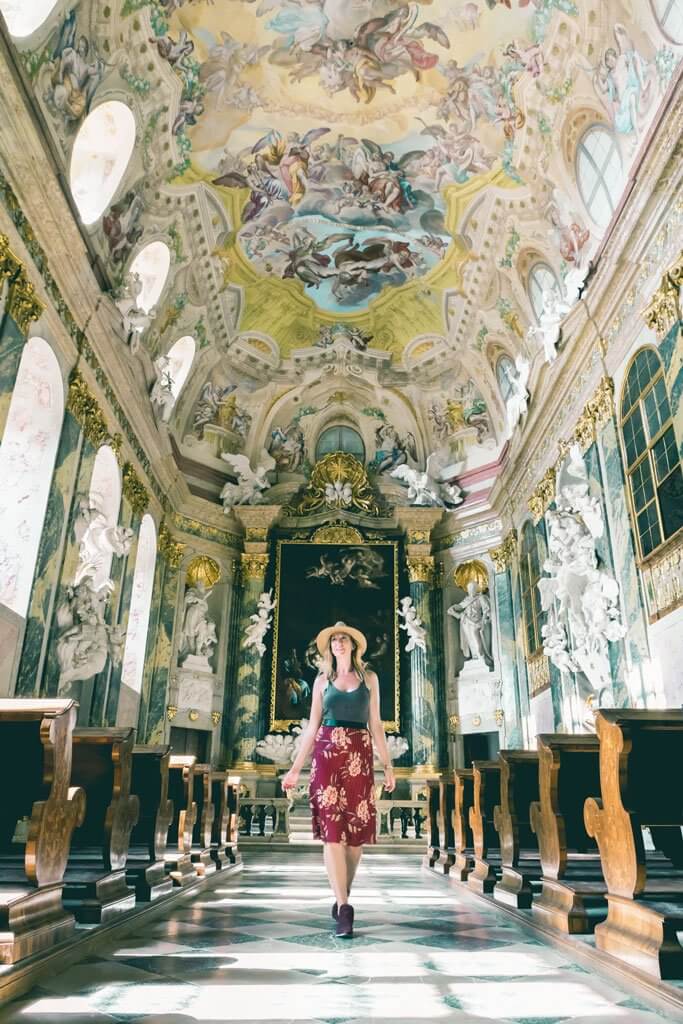 Visit Valtice Castle
We suggest to first walk around the Valtice Castle grounds and admire the grand exterior before touring the inside. This picturesque Baroque castle is lavish inside and out. Which is why many tv shows and movies have been filmed here.
During our visit, there was a filming going on for an upcoming television series in the US, "The Romanoffs" featuring Christina Hendricks, John Slattery, and Aaron Eckart to name a few of the actors. Much of the castle was off limits during these few days but we were extremely lucky to have gotten a sneak peek and saw Christina Hendricks getting ready to film a scene! That was for sure a highlight of the entire day!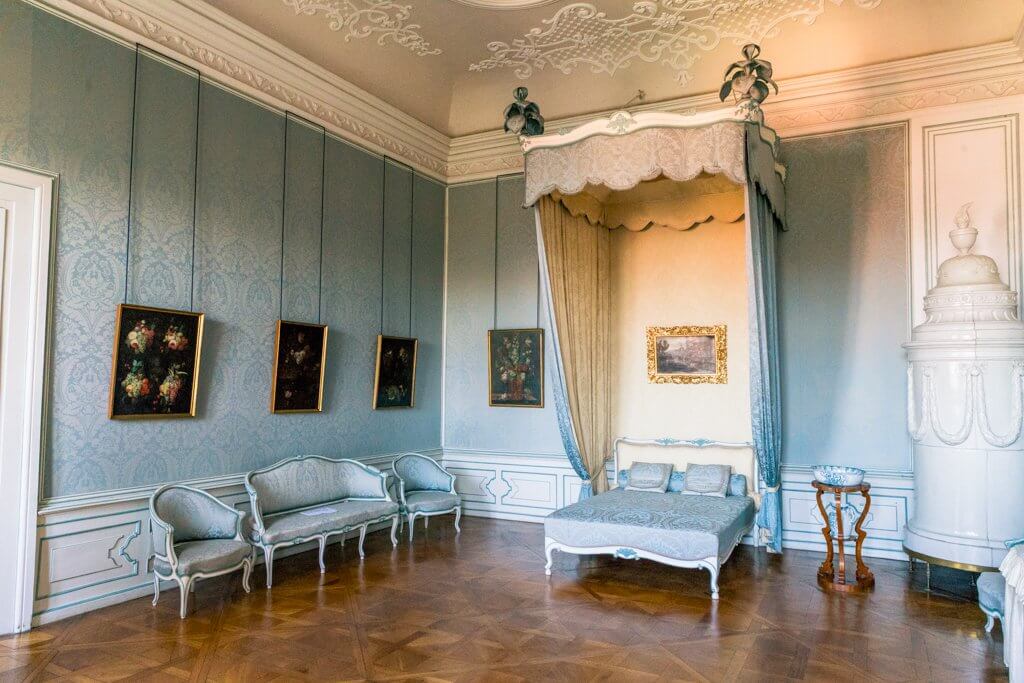 Be sure to take a tour of the inside of the castle to witness each ornate room after another. We loved the color themes for each room we saw. Scott, of course, loved the pink room and I fell in love with the red room, but they were all elegant.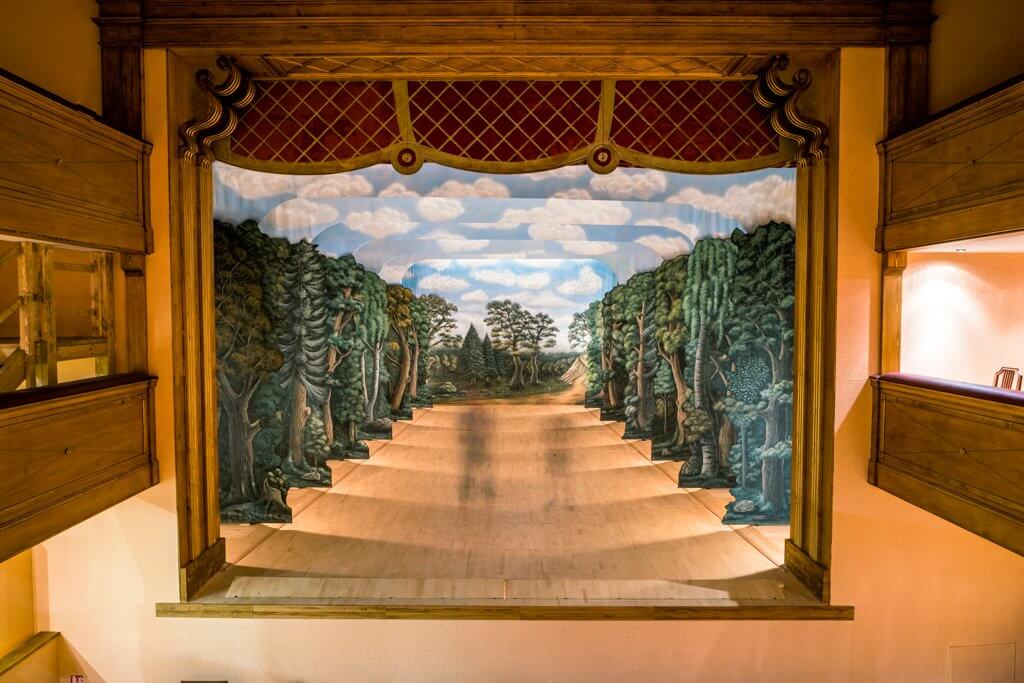 Tour the Baroque Theater
Afterwards, get a tour of the Baroque Theater connected to the castle. The incredible theater is used often for performances where the actors and performers can interact with the multi layered stage and sets to give the audience a 3D effect. Getting a behind the scenes tour is really interesting because you get to see the behind the scenes of how one of these shows in this theater are put on.
There are a series of pulleys with ropes that move and change the sets on stage where operas and dance performances are held. The seating is limited, but the relatively small theater is built for acoustics in mind giving sublime sound quality during a live performance.
The current theater is actually not the original as that one was damanged in the 1940s and completely destroyed in the 1960s. It was actually used to store tractors until the Valtice Chateau was able to raise enough funds over a 20 year period to rebuild the baroque theater replica in 2014-2015.
Since it's opening they have many performances and receive a new set from students in Prague every year. Unlike the Baroque Theater in Cesky Krumlov where it is pretty much a museum under controlled conditions to preserve the theater, this replica can be used for performances and to let people get a sneak peek in this dying art. It was really fascinating and worth doing a tour or even seeing a show.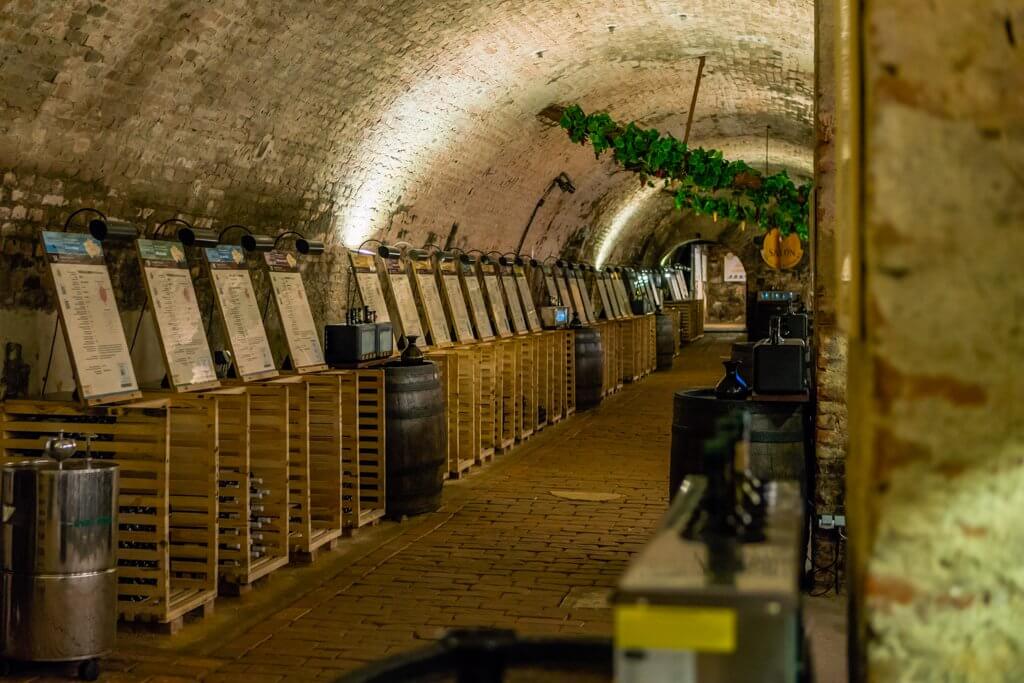 Go Wine Tasting at the Wine Salon
The last stop is the Wine Salon the cellar of the Chateau where you can actually do wine tasting. This is easily is easily one of the best things to do in Mikoluv for your getaway! The entire experience was absolutely unique and unbelievable.
You start by picking out which cheese you'd like to pair with your bowl of bread and wine tasting. You will get your empty wine glass and then led into the cellar where you can sample and try over 100 of the best wines from the Czech Republic.
Each year over 1,500 wines submit to be included in the salon, only 100 (plus a few bonus wines) make the cut. This ensures that you will be sampling the best that the Czech Republic has to offer.
You guide yourself and can pick which program you'd like to do. There are ones for either 1.5 hours or 2.5 hours of wine tasting. We found 1.5 hours to be plenty of time to taste around the different varieties of wine.
You can also shop as you sip if you find a wine that you absolutely love. If you want to learn more about the wines in English you can download an app on your phone and scan the QR code on each wine.
If you're extremely pressed for time and want to still experience the wine tasting, you can do a quick program where you preload a card and go to a specific station with just a few of the popular wines to sample.
What can get more romantic than wine tasting with your partner in a castle? This was by far one of the most unforgettable experiences on our month long trip thus far.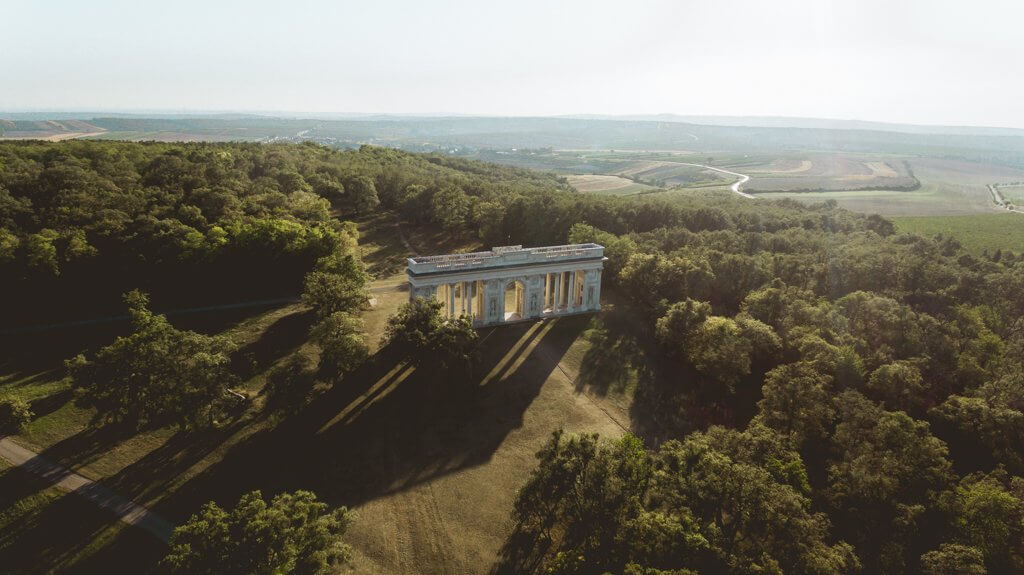 See the Colonnade at Reistna
After your wine tasting, you can make your way up to Colonnade at Reistna just on the border with Austria for a breathtaking panoramic view overlooking Valtice and the surrounding wine country. This massive Classicist Colonnade seems randomly placed in the middle of nowhere but is a great place to just come and look in awe at how stunning the surrounding area is.
Perhaps you can even crack open a bottle of wine you got at the Wine Salon and snacks with a picnic blanket and enjoy a romantic sunset.
Lednice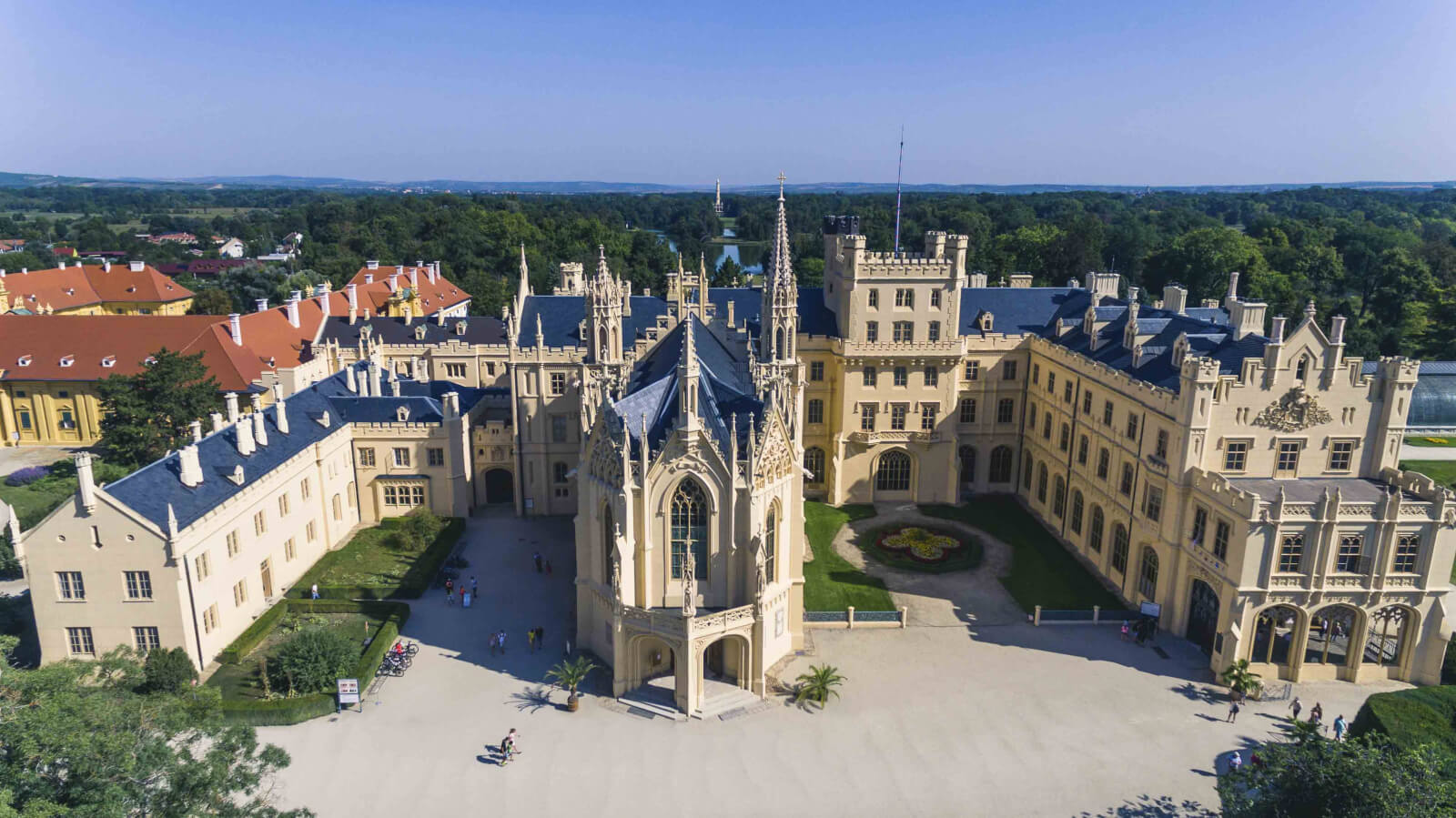 Another 20-minute drive from Mikulov, Czech Republic is Lednice, a fantastic place to spend a day exploring the castle, gardens, and sampling more local wines.
Things to Do in Lednice
Tour Lednice Castle
Take a tour of the inside of Lednice Castle, there are four tours to choose from but if you only have a little bit of time we recommend doing the first tour through the first floor. You'll pass through one jaw dropping room after another once home to the Lichtenstein family.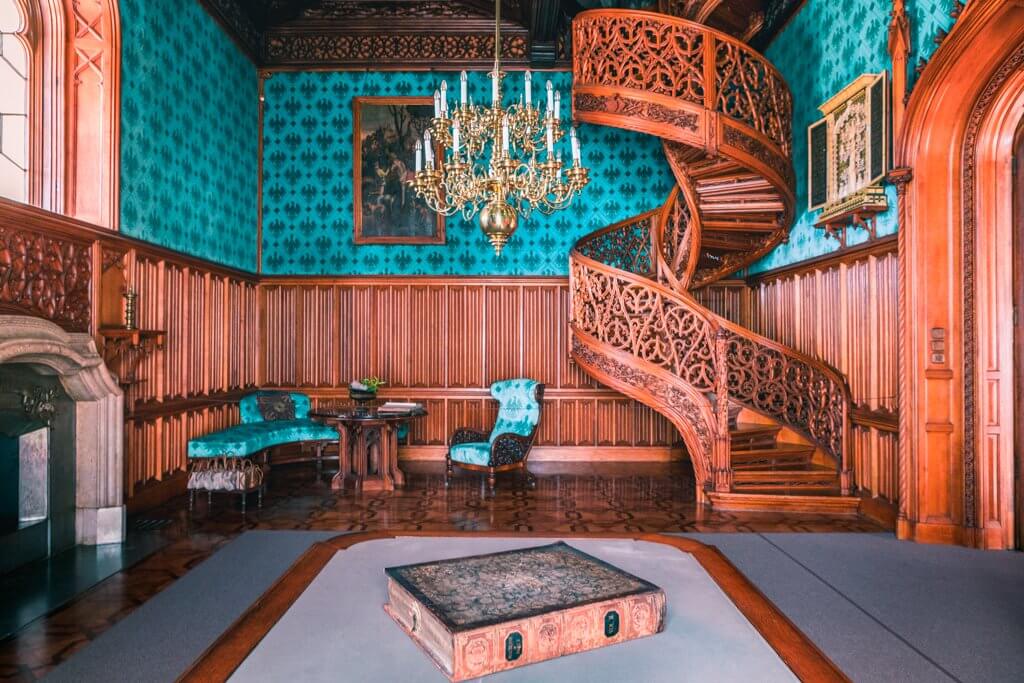 We were in awe in the bright blue rooms and were ready to move in. Apparently, there are flats available for rent in the chateau. So if you and your partner fall in love with the castle you could possibly move in!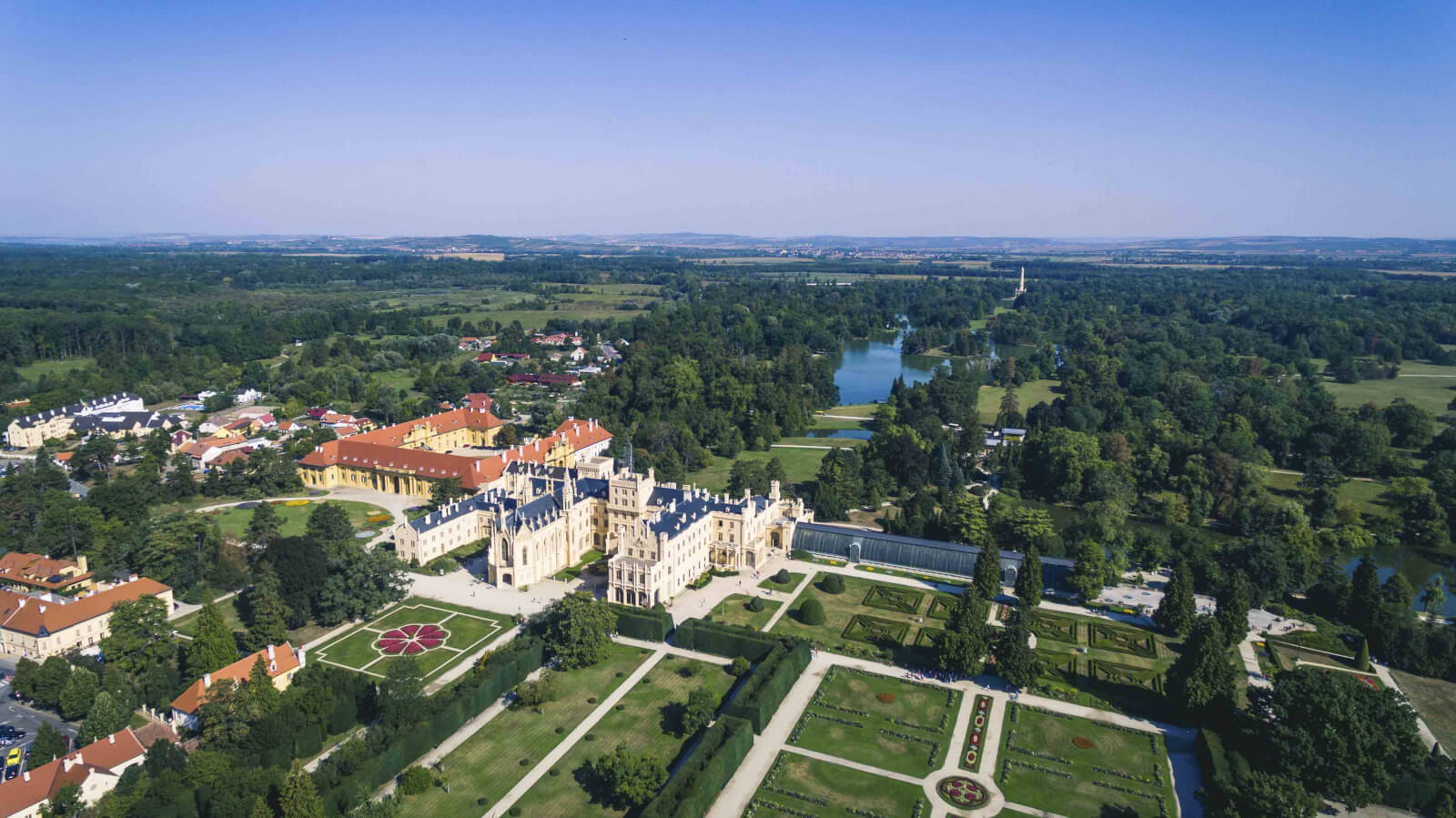 Explore Lednice Castle's Gardens
Afterwards, explore the gorgeous gardens surrounding Lednice Castle. You can spend as little as 20 minutes to as long as an afternoon exploring.
If you are short on time just check out the lovely gardens within eyesight of the castle. However, if you're up for a bit of a leisurely stroll you can check out the Minaret a mile away. There are paths leading through the surrounding ponds with bridges that take you directly to this monument.
Once you get to the minaret you can see another view of the chateau off in the distance and climb the 300+ spiraling stairs up to the top for a 360 view of the region.
If you're tired of walking, you can opt to take the horse and buggy ride like Cinderella from the chateau to the minaret and vice versa. Also, if you work up an appetite you can buy beer and snacks.
Afterwards, you can do some more wine tasting at many of the wineries in town steps away from Lednice Castle. You will see many where you can walk in and sample their very own wines. You could easily fill a whole afternoon doing this.
Klentnice & Pavlov
Two other small and notable towns near Mikulov are Klentnice and Pavlov.
Klentnice is a great place to stay the night if you want to try staying in an even more quiet and smaller town for your romantic getaway. There are wineries to sample more wines and delicious restaurants including Café Fara. Take a walk through the Palava Hills up to some beautiful ruins overlooking the vineyards.
Pavlov is another small town surrounded by vineyards and about a 3-minute drive from Klentnice. Another small town with a lot of wine tasting spots. The town is also adorable and offers another hill with the Devicky Ruins.
Both of these towns are easily able to visit from Mikulov with great views, plenty of wine, and lovely hikes to ruins with views for you and your lover to explore.
Where to Stay in Mikulov, Czech Republic
Check out Amazing Places for accommodation in the Czech Republic. It's a local company that helps you find unique hotel experiences in this beautiful country.
We spent a total of three nights in South Moravia and decided to spend two nights in Mikulov and one night in the smaller town of Kletnice. We liked getting to experience both places. Check them out below.
Mikulov
In Mikulov, we stayed at the cozy, modern and minimalist loft at Stajnhaus. The rooms were clean and chic and a perfect spot to relax comfortably after a long day of sightseeing. The highlight of our room would have been the incredible view of the Mikulov Castle from our bed as well as the stylish interior décor.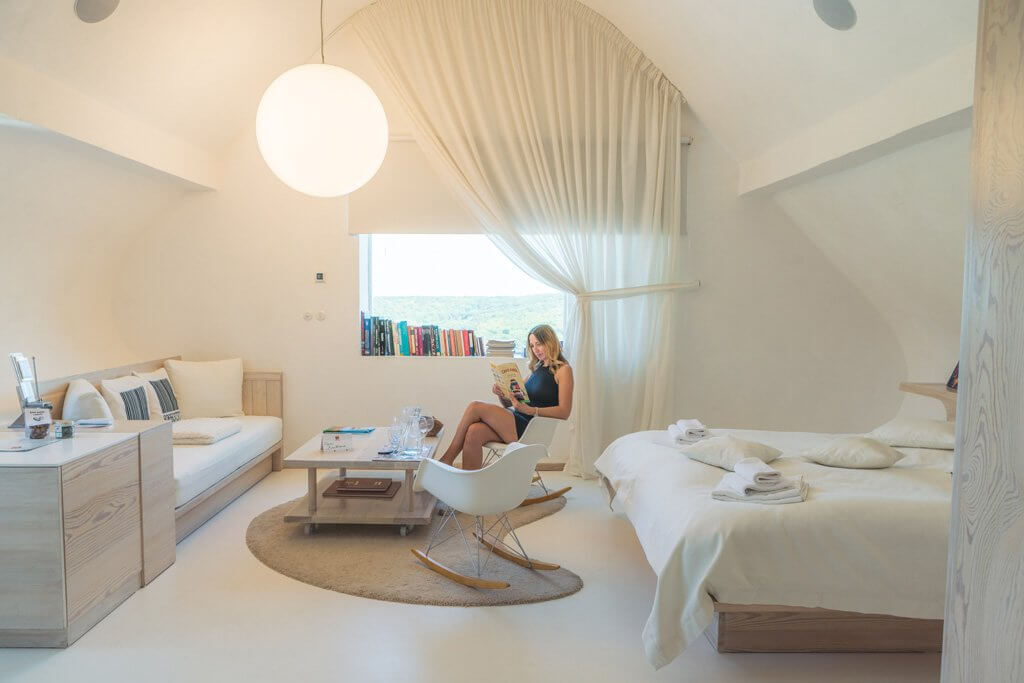 Klentnice
In Klentnice, we stayed at the local gem, Café Fara. Not only do they have a delicious restaurant but they have great accommodation.
There are small cozy rooms with a cozy loft perfect for reading or relaxing. Or you can treat yourself to one of the upgraded rooms offering stellar views of the vineyards and are much more spacious.
We loved all the amenities available at Café Fara including the pool, spa, whirlpool, and relaxation room with tea and cookies available during the day.
For more places to stay in Mikulov, check the map below!
---
We really enjoyed our trip to South Moravia and Mikulov was an unexpected romantic getaway for us. We really enjoyed the atmosphere of the region as well as all the wine tasting and stunning castles.
If you're still planning your trip, don't miss our complete Czech Republic travel guide as well as our picks for the best things to do and tips for your itinerary!
Like this post on the best things to do in Mikulov, Czech Republic? Share the love below on Pinterest!