Looking for the best things to do in Montreal in winter? We've got you covered in your Montreal in winter travel guide. Experience the beauty of this city in the snowy season and see how the locals celebrate winter!
Most people would consider hibernating in the winter and waiting for things to warm up, not in Montreal. Locals embrace the winter and cold weather enjoying all the incredible Montreal winter activities the city has to offer from outdoor festivals to ice skating, and snowshoeing as well as the many remarkable museums, cafes, restaurants, and other fun things to do in Montreal in winter.
Disclaimer: This guide to Montreal in winter was done in collaboration with Quebec Original. However, all opinions from these experiences are our own! Happy travels!
Check out our guide for a full 3 days in Montreal itinerary to help you plan your trip.
Table of Contents
Montreal in Winter Weather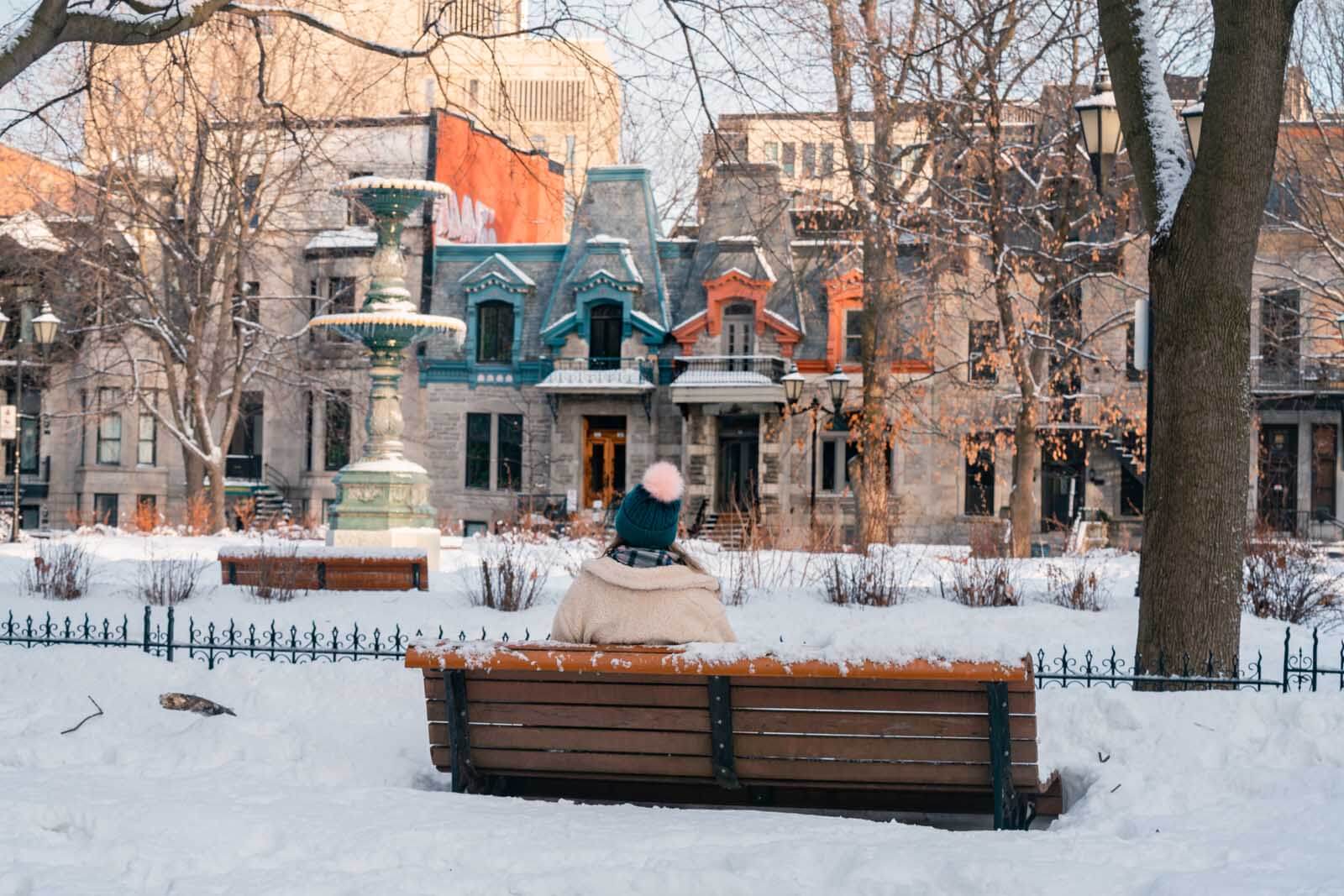 Montreal winters are known to be very cold and severe! Which is interesting because their summers are polar opposite and famous for being very hot and humid. Montreal experiences both extremes. The winter season typically lasts from December until April.
Snow depths of around 1 cm are seen around 109 days of the year, which compared to Toronto is significant with only around 65 days of the year.
Average temperatures in December during the day being around 28 F and 16 F in the evenings. Snow, sleet, and freezing rain are likely this time of year.
During January you can find that the temperatures drop even lower averaging 28 F in the day and 10 F in the evenings with snow being pretty common.
February you continue to see colder weather with strong wind chill factors and an average between 26-28 F during the day and 10 F in the evenings.
March, on the other hand, depending on the year can start to have early spring weather or continue the cool frigid winter weather. You can find typical averages of around 37 F during the day and 20 F in the evenings. This is the time of year where you really want to make sure you have waterproof boots as the snow starts to melt and everywhere becomes a bit slushy.
And with April leading to early spring weather, you'll still see some wintery bursts usually depending on the year's weather patterns.
Montreal Winter Activities & Things to do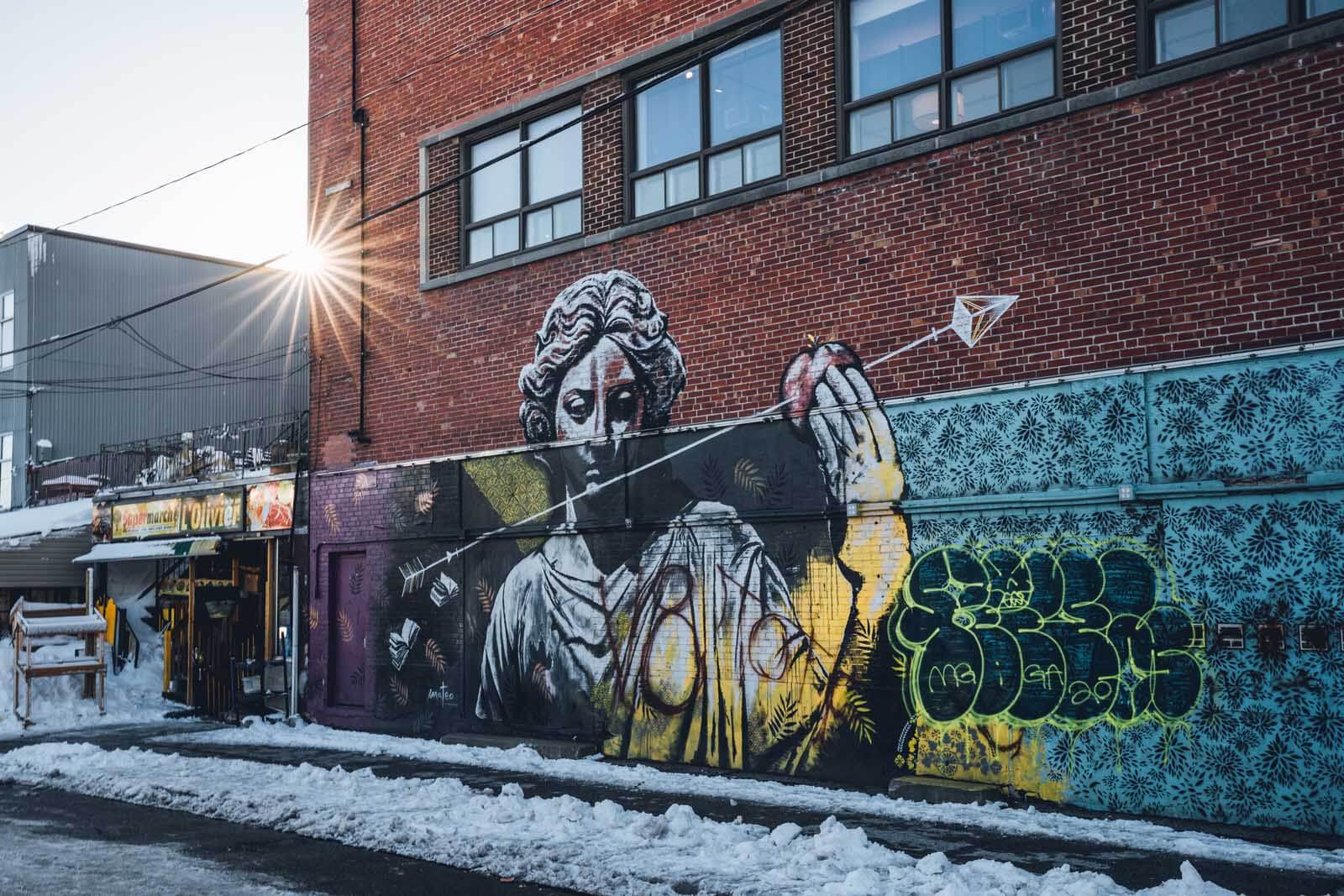 Mount Royal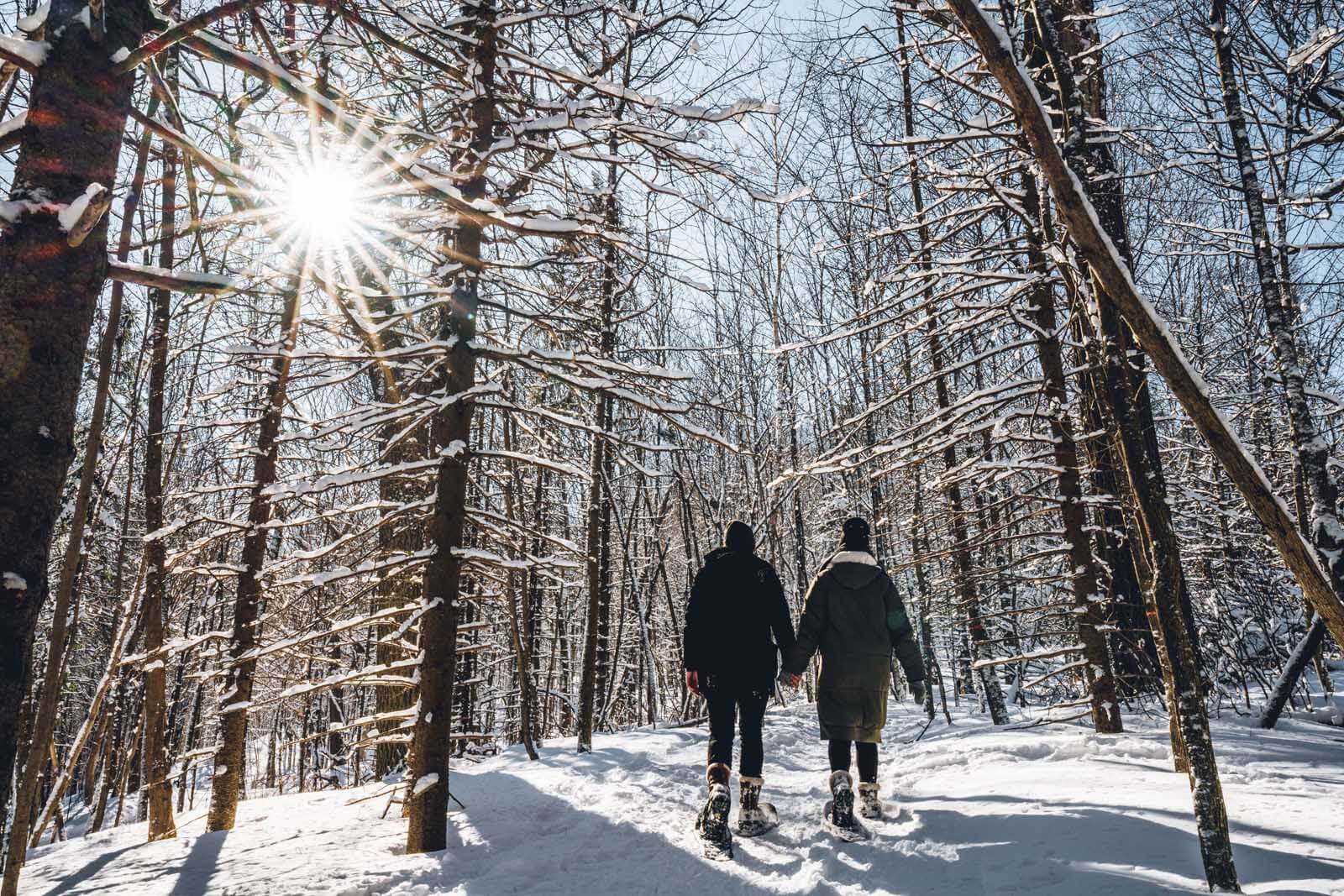 One of the most iconic landmarks in the city and best things to do in Montreal in winter is visit Mount Royal. Situated in the center of the city you can find the best views of the city from atop Mount Royal as well as the best Montreal winter activities.
Montreal actually takes its name from Mont Royal, and there is actually a law in place that no buildings in the city can be built taller than the mountain making the top of Mount Royal and its viewpoints the best place for a panoramic view the stunning city from above and mountains in the distance.
On a clear day you can actually see into the United States too! It as pointed out to us that some of the mountains in the distance were actually in Vermont.
In other seasons this is also the city's greenspace. It's Montreal's own version of Central Park to NYC. Which brings is to another fun fact. Mount Royal Park on Mount Royal was actually designed by Frederick Law Olmsted, the same guy who co-designed NYC's, Central Park!
Back to the fun Montreal winter activities on top of Mount Royal. You can find that this is where everyone in the city comes to do their outdoor activities from cross country skiing, snowshoeing, ice skating, sledding, and more.
Don't have equipment with you on your trip? No worries, you can rent all your Montreal winter sports supplies from December 1 to March 15 at the Beaver Lake Pavilion.
The easiest way to get to Mount Royal is to either get a taxi, which you'll want to make sure you have a taxi service number and call when you're ready to order another to come back down the mountain or take the Number 11 bus.
Botanical Garden
One of the best ways to enjoy Montreal in winter is enjoy what is considered one of the best and important botanical gardens in the world! One of the best things to do in Montreal in winter is to visit the Botanical Gardens.
While most people would think that this would be a bad time to visit as you'd want to see flowers in bloom, the outdoor gardens like the Chinese Garden look like a magical winter wonderland in the snow.
If you need to escape the Montreal winter cold then you can still enjoy their 10 indoor greenhouses to keep you all snug as a bug while witnessing some of their beautiful plant collections.
Montreal en Lumiere Festival
One of the most fun things to do in Montreal in winter and ways to celebrate Montreal winter is to join the festivities and fun of the Montreal en Lumiere Festival held annually in February.
With free festivities like outdoor carnival games, rides, electric ice slides, and special gastronomy events and meals at participating restaurants you can enjoy all the splendor of embracing and celebrating winter like a local in Montreal.
Spend your evenings riding the rides, playing carnival games we've only ever seen in Canada like hockey games, walk around the special outdoor exhibits, interactive lights, and art installations.
The Lumiere festival is more than that though, there's a culinary and foodie aspect to it as well. Between food trucks outside at the festival and restaurants serving up special set menus with guest chefs you can enjoy the best of the city's gastronomy scene during the festival as well.
We experienced a few of the culinary experiences and they were AMAZING. Montreal's food scene is a force not to be reckoned with. As a matter of fact, if you only wanted to do foodie experiences you could plan an entire itinerary just around the culinary aspect to this festival!
We had a special course menu at Blumenthal with special guest chefs that was HEAVEN! Be sure to check out all the dining experiences and specials going on during your visit.
Another one of the best parts of the Lumiere Festival and best things to do in Montreal in winter is enjoy the sleepless night of Nuit Blanche festivities.
The entire city stays up all night, hence the name, and you can find special exhibitions, art installations, activities, art galleries, and boutiques open all night for Nuit Blanche. There are hundreds of participating venues, galleries, museums, and businesses for Nuit Blanche, so you'll want to make sure you're full of energy for an unforgettable night out exploring this huge event!
The Brunch Experience
One way to warm up in Montreal in winter is to enjoy the local brunch scene, an integral part of the local foodie and restaurant scene in the city.
Be sure to plan for a proper brunch by setting aside enough time to take it easy and enjoy a slow meal. We highly recommend trying lunch at Bistrot La Fabrique.
Enjoy the light and airy ambiance with some of the delectable dishes from savory muffin sandwiches to tartare and their unforgettable and mouthwatering french toast dessert. They also make killer cocktails and freshly squeezed mocktails for those who don't drink.
And when you're done you can walk across the street and enjoy the famous and beautiful colorful homes bordering the Saint-Louis Square.
P.S. If you're visiting Montreal in winter during the Lumiere Festival be sure to find out which participating restaurants have special brunch menus, during our visit the popular restaurant Agrikol did a special brunch menu as a participating restaurant in the festival. However, they normally are not open for breakfast and it was a very special experience! Don't miss out on these by checking before your visit!
Check out the Microbrewery Scene
One of the best ways to stay warm while enjoying all the Montreal winter activities is to try some of the local microbrews! The beer scene in Montreal is exploding and there's no shortage of great places to grab a pint.
The classic microbrew Le Cheval Blanc is always a great choice as it's been a staple in the city's beer scene for nearly three decades.
No matter what neighborhood you're exploring in between your Montreal winter activities you're most likely near one of the city's many microbreweries.
Here are some of our favorites that we checked out:
Benelux – With a few locations around the city, you can find that Benelux is one of the most popular breweries in the city. They blend Belgian and American styles and do really cool artwork for each of their brews packaging.
Harricana – Probably our favorite of all the breweries we visited not only because they serve up amazing and experimental flavors of brews but because of their gorgeous bar and ambiance. Harricana is crowned as the first beer bar in Canada which any beer aficionado can nerd out over their special Flux Capacitor draft system that controls the temperatures and carbonation to serve each of their drafts in their perfect situation.
Dieu du Ciel – Another cool beer hangout and place to warm up in Montreal in winter in the evenings in the Mile End neighborhood. You can find a romantic, dimly lit corner of the bar to sip on their different styles of beer they serve up including some fun experimental concoctions.
Siboire – If you're looking to pair your brew with a meal we recommend checking out this brew pub in the Mile End neighborhood which also has a full menu.
Reservoir – Located in the Plateau neighborhood, this is another fun bar to check out with great beer on draft and bites to order if you're feeling a bit peckish.
Saint-Houblon – Another great beer spot with a few locations throughout the city with an impressive number of taps always on draft making it easy for you to warm up all around the city with a delicious craft brew.
One of the best ways to explore the beer scene in Montreal in winter (or anytime) is to download the Passport en Füt app on your phone and purchase a 'passport.'
The passports come with a set amount of credits that can be used for a flight of 3 smaller sized brews or 1 pint at participating breweries all over the city. The benefit of using the app, if you use all your credits you'll be saving alot of money and you can discover within the app which breweries are near where you are at in your current location!
So if you get cold exploring all the things to do in Montreal in winter and need a beer break, you can open the app up and see which participating brewery is closest to you for a break!
A Day at the Spa
One of the best Montreal things to do in winter is enjoy a day at the spa. Everyone deserves a relaxing spa day from time to time and in really cold temps is when you can appreciate the hot baths and steam rooms of a spa the most.
We recommend Scandinave Spa in Montreal as we visited one of their other locations exploring Mont Tremblant in the winter and it was just a magical experience.
Imagine a peaceful, screen-free day soaking in a hot pool or resting your eyes in a steam room with a relaxing scent. Scandinave Spa prohibits the use of phones or digital devices so that you can truly unplug and enjoy a rejuvenating experience.
The entire property also practices complete silence so you can truly enjoy this serene experience and completely reset your mind.
So on the coldest of your days in Montreal in winter, save it for the spa and come out feeling rejuvenated and reset.
La Grande Roue de Montreal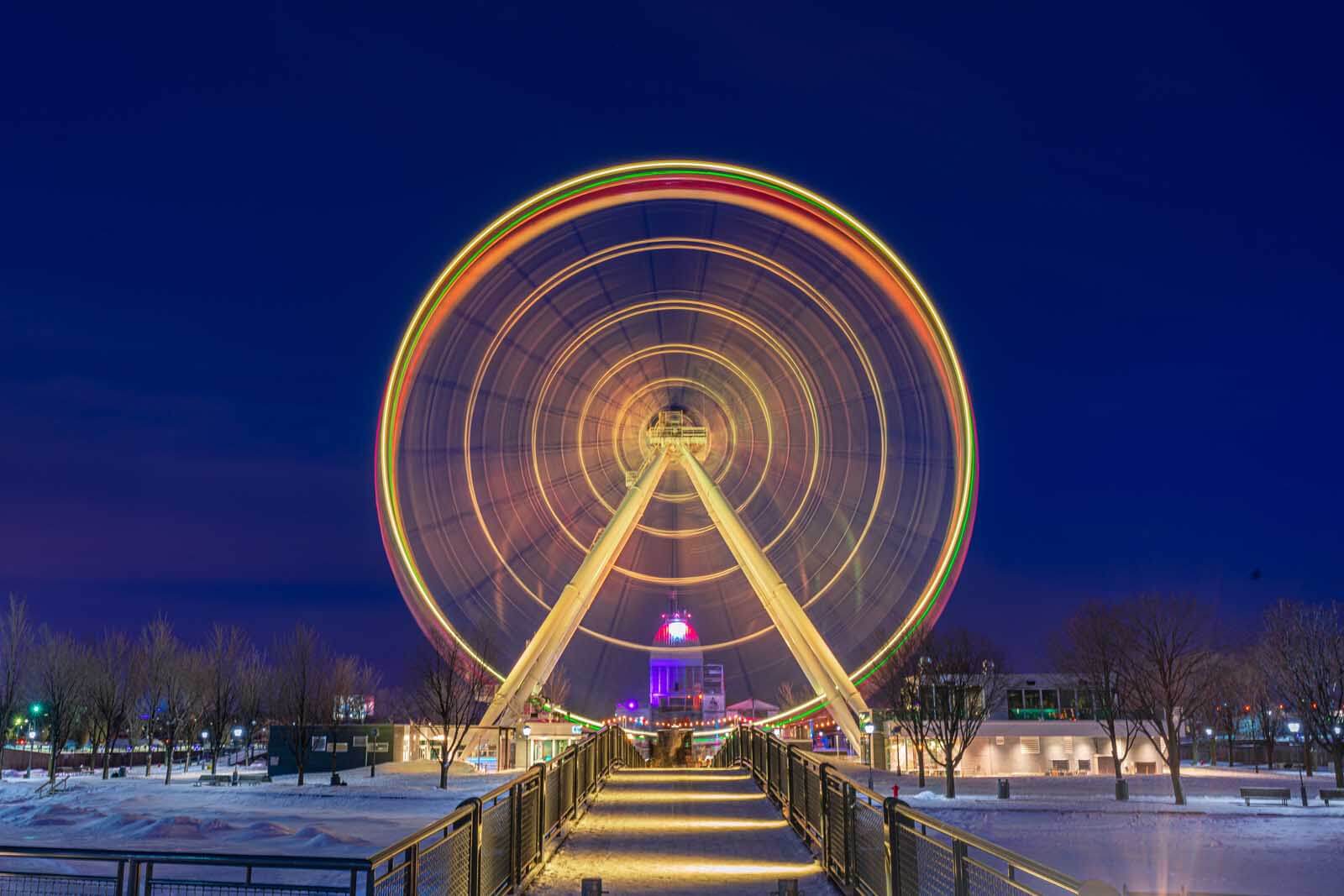 Another one of the best things to do in Montreal in winter and some of the best views of the city is take a ride on the La Grande Roue Montreal, the giant Ferris wheel in the Old Port of Montreal.
This giant observation wheel is the tallest in Canada and offers protection from the outdoor elements! So this is your perfect break from the cold wind or weather during Montreal in winter!
From atop the wheel you get great panoramic views of the city and on a clear day, you can see 17 miles away!
The wheel makes a few laps, so you can sit back and relax while you're given an aerial tour on the La Grande Roue Montreal.
Ice Skating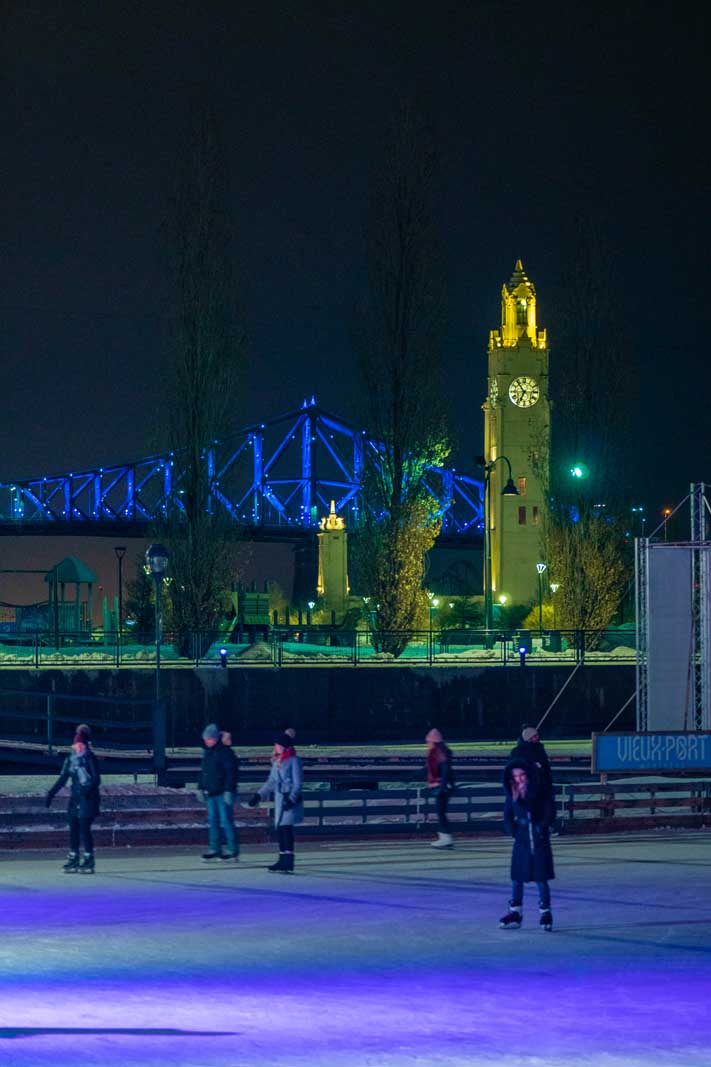 Another one of the best Montreal winter activities is ice skating! While there are ice skating rinks and options all over Montreal we recommend enjoying the ice skating at the rink at the Old Port of Montreal and Boutique Patin Patin.
Rent your skates at Patin Patin and get ready to skate among one of the most fun spots in the city next to the giant wheel of La Grande Roue Montreal.
After enjoying this awesome thing to do in Montreal in winter you can warm back up with a hot cocoa sold at the cafes surrounding it.
You'll notice quickly that Canadians know how to skate and do it well! If you're a beginner you can also rent a helmet from Patin Patin along with the skates or ask to borrow something to hold on to use as your 'training wheels.'
Visit Notre Dame Basilica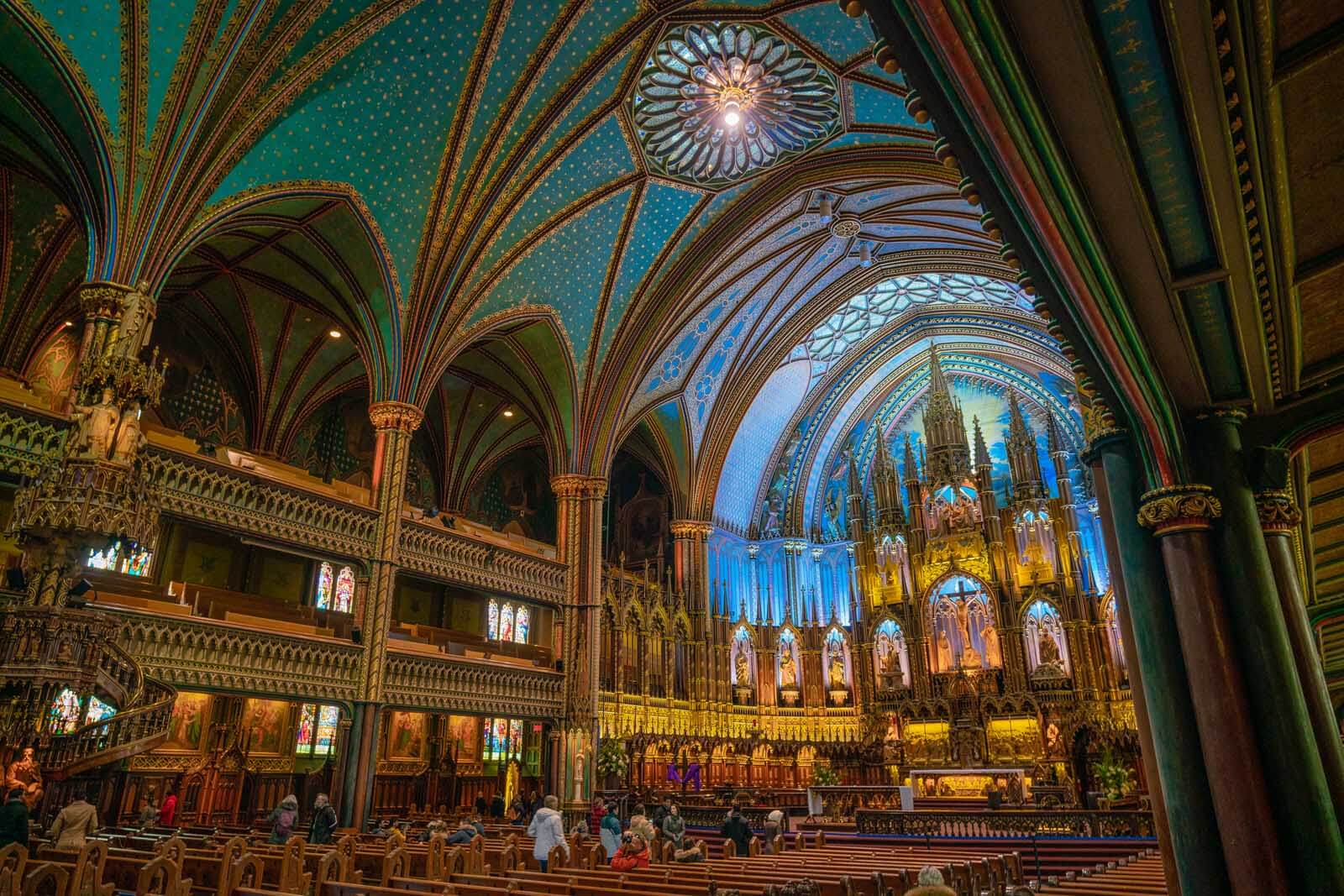 One of the most impressive buildings in the city and great things to do in Montreal in winter to get a break from the cold is visit the interior of the Notre Dame Basilica.
Located in the historic district of Old Montreal on Place d'Armes Square is one of the most gorgeous churches in North America and in the world.
The interior details are just absolutely breathtaking with rich blue vaults and gold leaf stars, detailed wooden carvings and artwork, and religious statues.
You'll also find one of the largest organs in North America in here that dates back to 1891 and has over 7,000 pipes!
This church is one of the most visited monuments in North America with over 11 million visitors annually and has had several notable events that have taken place here including the funeral of Pierre Trudeau, Justin Trudeau's father. At this funeral, both Cuban President Fidel Castro and former U.S. President Jimmy Carter were pallbearers which caused alot of commentary as they seemed to be the two very unlikely men to be in a room together along with other celebrity figures like Leonard Cohen, a famous singer and legendary Montreal citizen who also was a huge part of the Jewish community.
At the same funeral, Justin Trudeau also gave a eulogy as it was his father's funeral. It was said that this was one of his first public speaking engagements and the people in attendance would have never predicted he'd follow in his father's footsteps and become a future Prime Minister of Canada.
Another famous happening at this church would be the setting and location of Canadian sweetheart Celine Dion's wedding!
If you want to experience something truly special during your time in Montreal in winter be sure to also check out Notre Dame Basilica's evening light and sound show inside the church called Aura.
This visual production shows off the beautiful interior architecture and artwork along with a synchronized light show and orchestra music.
Aura feels more like something Disney Imagineers created and is a unique visual and sound experience to enjoy indoors while visiting Montreal in winter!
Have a Cup of Coffee at Crew Collective & Cafe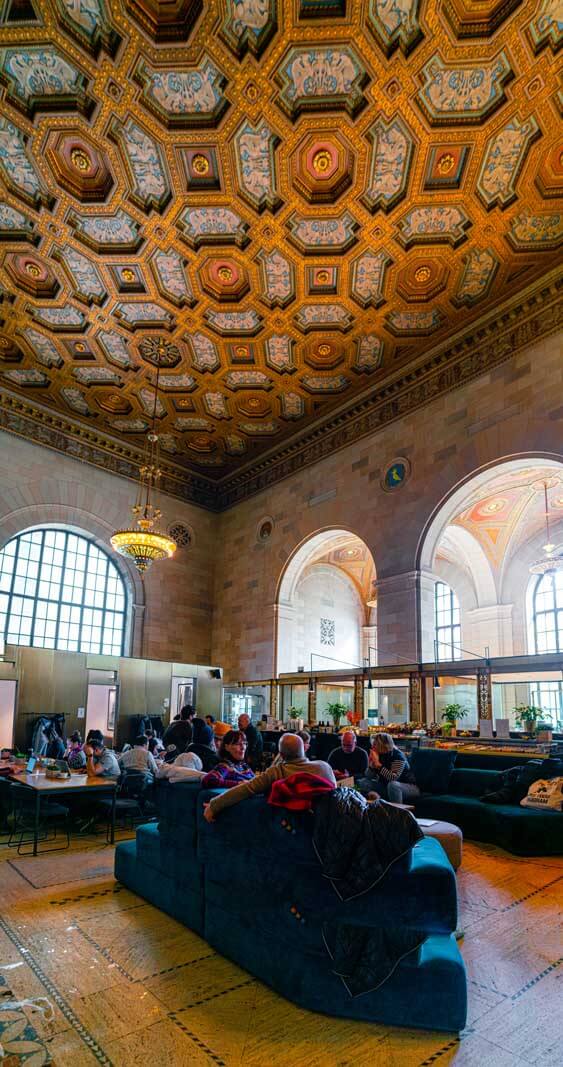 One of the coolest places to check out and things to do in Montreal in winter is have a cup of coffee or work for the day at Crew Collective & Cafe.
Located in the former Canadian Royal Bank building in the former Wall Street of Canada, Crew Collective & Cafe has transformed this historic and gorgeous building into a co-working space and hip cafe.
Whether you have some work you need done on a cold winter day or you just want to warm up during Montreal in winter with a hot drink, this is the place to go!
They let workers rent a working space by the day, month, or however long you need a space.
Regular visitors can just come in and enjoy the cafe setting in this gorgeous space! Be sure to check out the elevators and pay attention to all the intricate details in this famous building repurposed for new creative space.
Montreal Underground City
Did you know that Montreal has a famous underground city that has over 20 miles of tunnels?! This is the perfect Montreal winter activity if you want to avoid the cold at all costs! Instead of walking outside you can connect to different places in the city all by using the underground!
We were told by a local that sometimes on a really cold or snowy day you won't see many people out on the streets, that doesn't mean they aren't there though! They are just using the underground passageway that connects the city safe from the extreme elements.
As mentioned, Montreal experiences extreme seasons, the summers are very hot and humid and the winters are very cold with freezing temperatures.
If you're not sure where to start, we recommend heading to the Montreal World Trade Center and go to where the Berlin Wall Segment is, you can access the underground city there while also seeing a famous landmark in the city.
Make sure to get familiar with the underground city symbol so you don't miss access points on the ground level!
Discover all the Street Art & Murals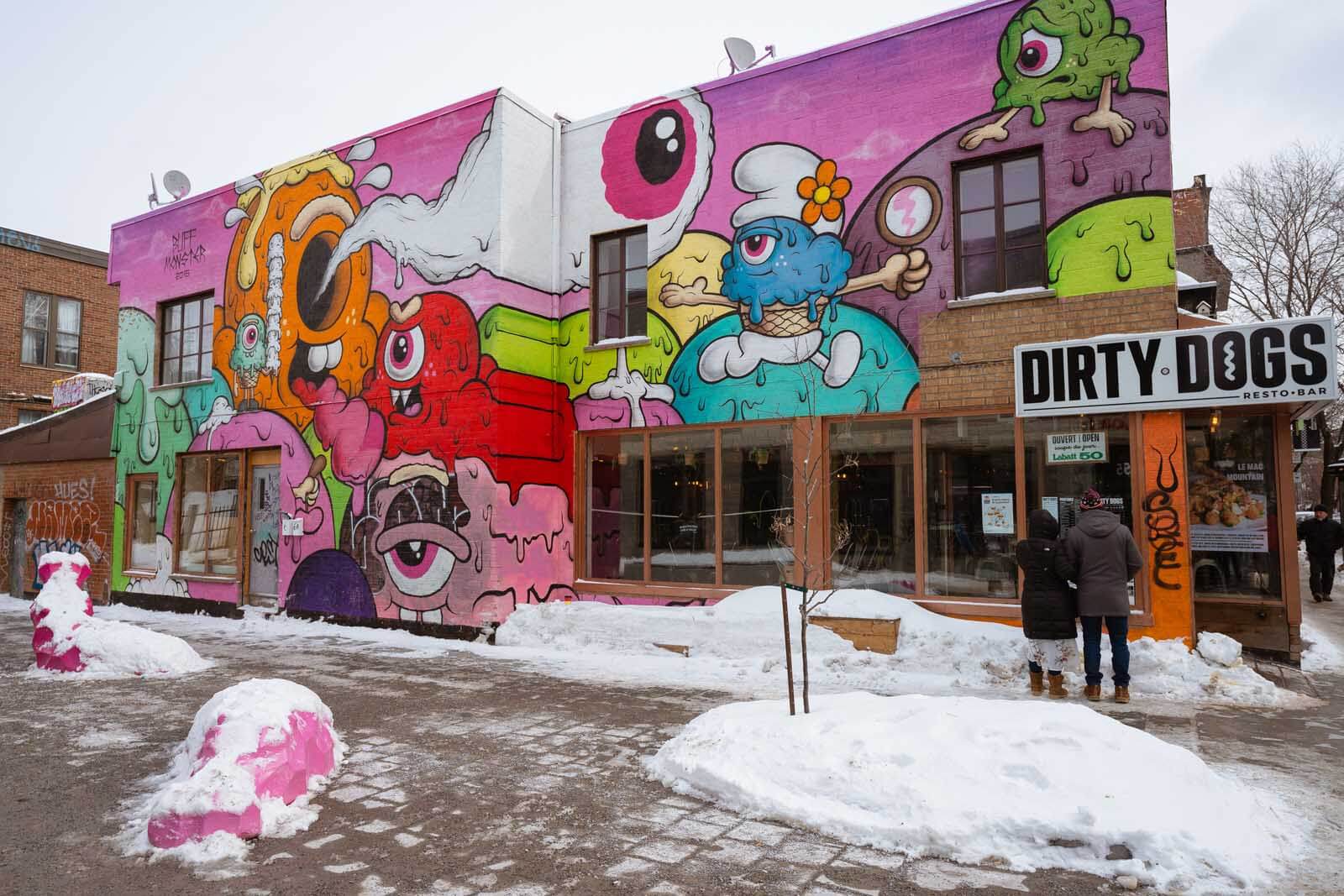 Another one of our favorite things to do in Montreal in winter, or anytime is to check out all the incredible street art and murals of the city!
You won't be able to miss the colorful walls of the city as there are murals all over especially in the Latin Quarter and Plateau neighborhoods of the city.
Thanks to the annual street art and mural festival held in early June that invites famous artists from all over the world to help bring color to the city, you can now find amazing murals all over the city!
We love discovering places that embrace the artist community and encourage colorful murals to be splashed all over the city. This is one of them, you won't be disappointed with their street art scene here.
Try a Street Art Tour
If you want to learn a bit more behind the mural and street art scene in Montreal check out these small group Street Art walking tours covering over 35 murals in 2.5 hours with a local guide!
Along the way you'll also learn and discover the best places in the popular Le Plateau neighborhood too.
Try some of Montreal's Iconic Bites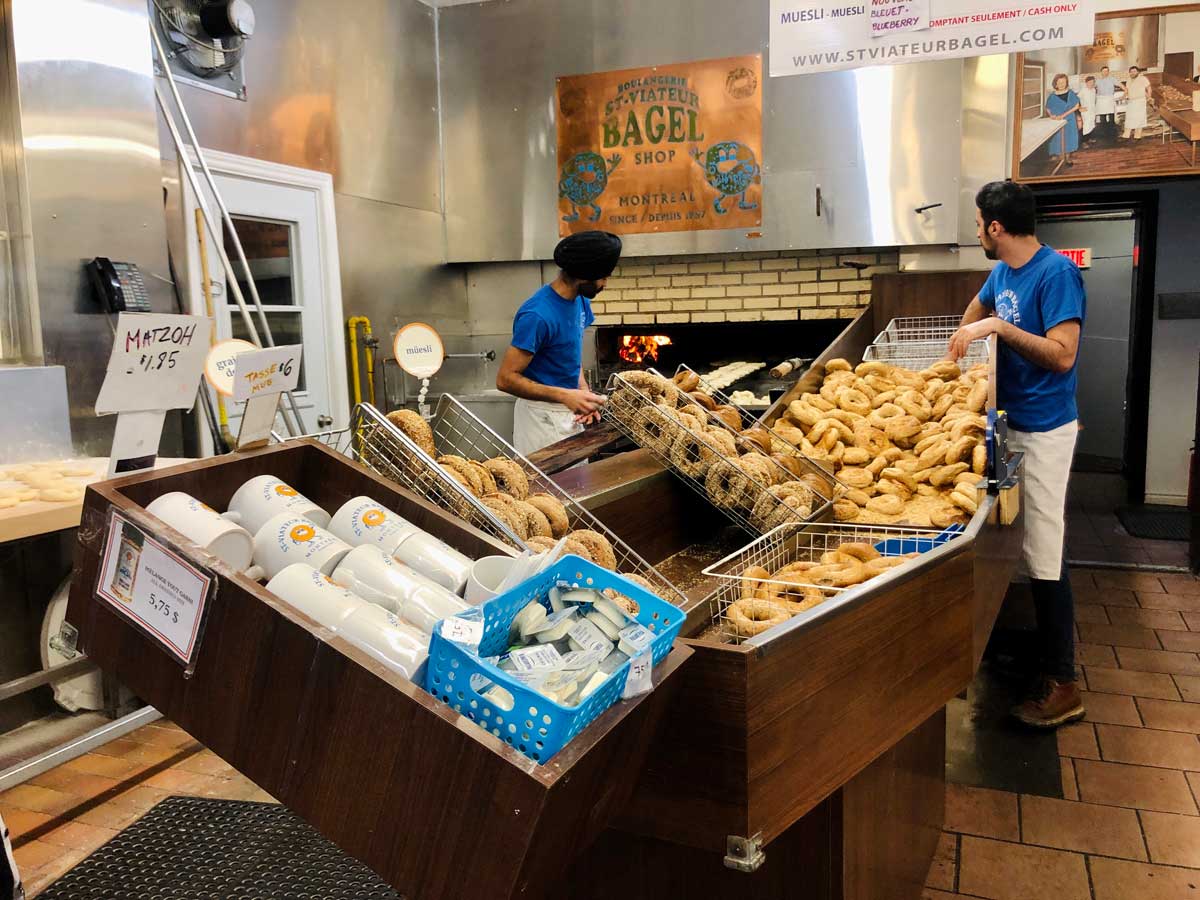 There's something about eating in cold weather that warms you up. That's why another pick for one of our favorite things to do in Montreal in winter is to try some of the most iconic foods and signature bites in Montreal!
Poutine is a staple in Montreal and one of the most famous places to try it in the city is La Banquise with all their crazy combos that take poutine to the next level with extra toppings from guacamole to you name it! There's a chance they threw it on one of their many poutines on the menu.
Another famous food to try in Montreal are the local bagels! A bit different from the New York bagel, the Montreal bagel is thinner, less doughy, and with a hint of more sweetness. You can enjoy the bagel with just plain butter or with smoked meat. You'll want to try St-Viateur Bagel at any of their several locations or at Fairmount Bagel.
We recommend trying both so you can pick your favorite, some swear St-Viateur is better while others declare Fairmount has the better bagel, and since you'll need warming up from all those fun Montreal winter activities you can do so by snacking and judging the bagels yourself!
Another iconic and hearty dish to try during your visit to Montreal in winter is the smoked meat sandwiches at Schwartz's Deli. You will know when you're close as it's common to see a line out the door for one of these famous sandwiches that have been a staple in the city since the 1920s.
There, of course, are more amazing places and dishes to eat in this city as their food scene is unbelievable! You could spend your entire visit to Montreal in winter just eating your way through the city!
Checkout Eva-B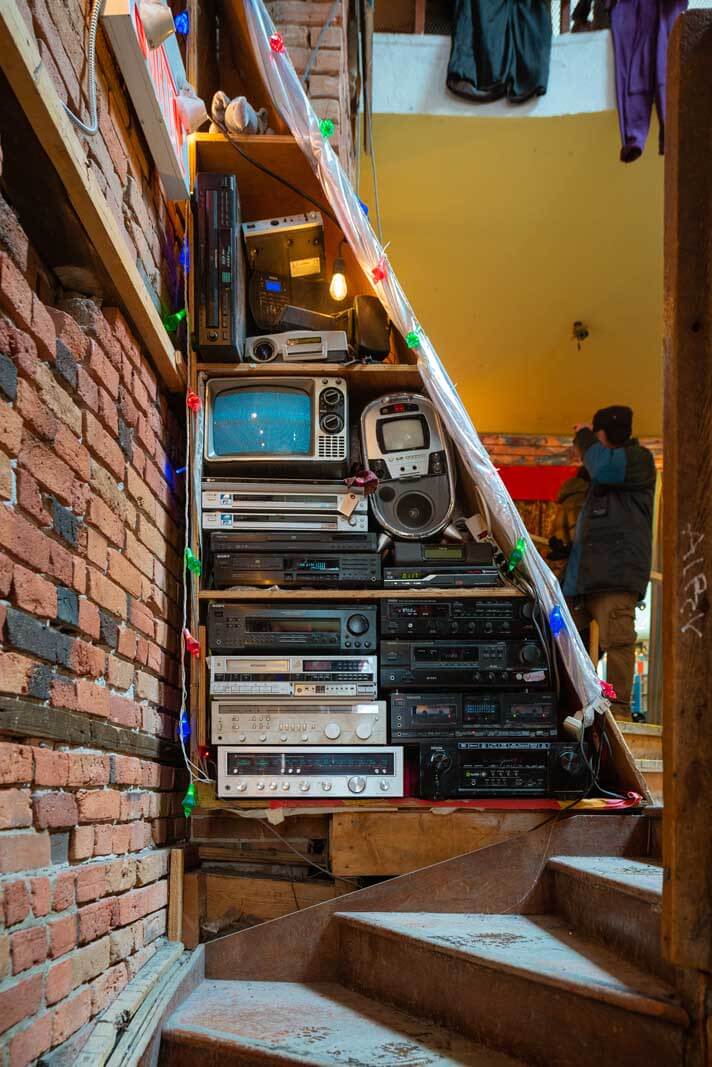 One of the coolest things to do in Montreal in winter is check out Eva-B. You won't miss the entrance as you'll find a Michael Jackson dummy holding a baby out the window (do you remember that famous moment), a Santa, and other eclectic decors on the outside of this vintage shop/cafe/bar/costume rental one-stop-shop.
Explore the awesome vintage and thrifting selection on three different floors of this shop with anything and everything for sale from old furniture, accessories, to vintage snowsuits from the 90s, cowboy boots, and anything you can imagine.
Besides being an awesome thrift store and experience you'll also find a cafe, bistro, and bar inside where you can take a break from shopping or thrifting or just sit back and relax while taking in all the crazy things you'll encounter here from people to the merchandise in the store.
This is truly a fun spot and not to be missed during your visit to Montreal in winter, even if you only take a quick lap around the store!
Café Chat L'Heureux
The purrfect way to warm up on a cold Montreal in winter day or a way to get cozy after any of the fun Montreal winter activities is to cuddle some cats at Café Chat L'Heureux, Montreal's cat cafe!
Cozy up with some feline friends on a chilly winter day with a cup of coffee or a meal! This cat cafe isn't just a place for coffee, they have a full-on restaurant and guests are welcome for a drink or a meal alongside all the furry felines who call the cafe their home.
They say that interacting with cats, known as 'cat-therapy' can stimulate happiness. No, we did not make that up! It's no secret that we love cat cafes, so we were really excited to learn Montreal had one!
You'll be asked to leave your shoes at the door before entering and enjoying this furrtastic experience.
For extra cat-themed activities you can check out the salon directly across the street, Salon Moov! Get your hair done and have a friendly feline sit on your lap and keep you company! I was so sad I didn't know about this sooner otherwise I would have scheduled a hair cut or style while we were in town!
Jean-Talon Market
Another one of the best foodie experiences and something not to be missed during your trip to Montreal in winter is the Jean-Talon Market in the Little Italy neighborhood.
This famous foodie spot is the largest of the four public markets in the city where you can find fresh produce, Quebec cheese, local maple syrup, and more food!
Come hungry and check out all the different stalls for all kinds of food from full meals to small bites and drinks!
Visit the Food Halls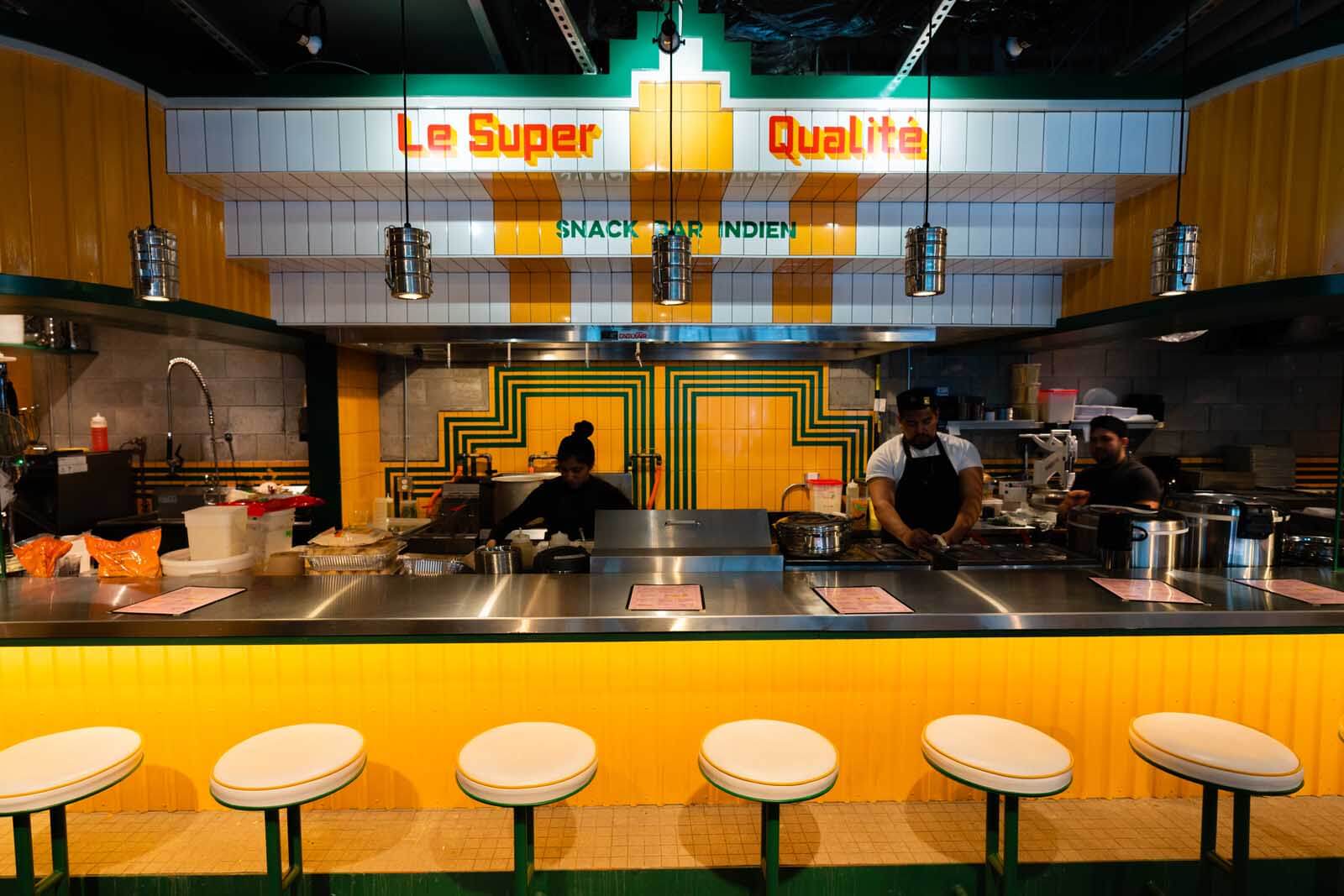 Noticing a theme here? We weren't lying when we said the food scene in Montreal is no joke! Another awesome way to refuel after enjoying all your Montreal winter activities is to check out any of the newish food halls in Montreal.
There are a few now in the city including a Time Out Market just like at home in NYC, but the one we visited and recommend is Le Central.
This food hall highlights some of the best eateries and chefs around the city that were handpicked by the food hall to showcase the best of the gastronomy scene all under one roof.
What we love about Le Central is that this food hall actually has alot more character than Time Out, even though we do love their food halls too. The reason being is that each individual eaterie got to design their stand making it a fun and eclectic place to shop around for where to eat lunch or dinner!
Better yet, if you're with a group you can all split up and eat what you want and sit together in a common area.
We really enjoyed the pani puri from Le Super Qualite Snack Bar Indien, these are a nice light bite that are perfect for splitting with friends!
Dine with a View & Visit the Observatory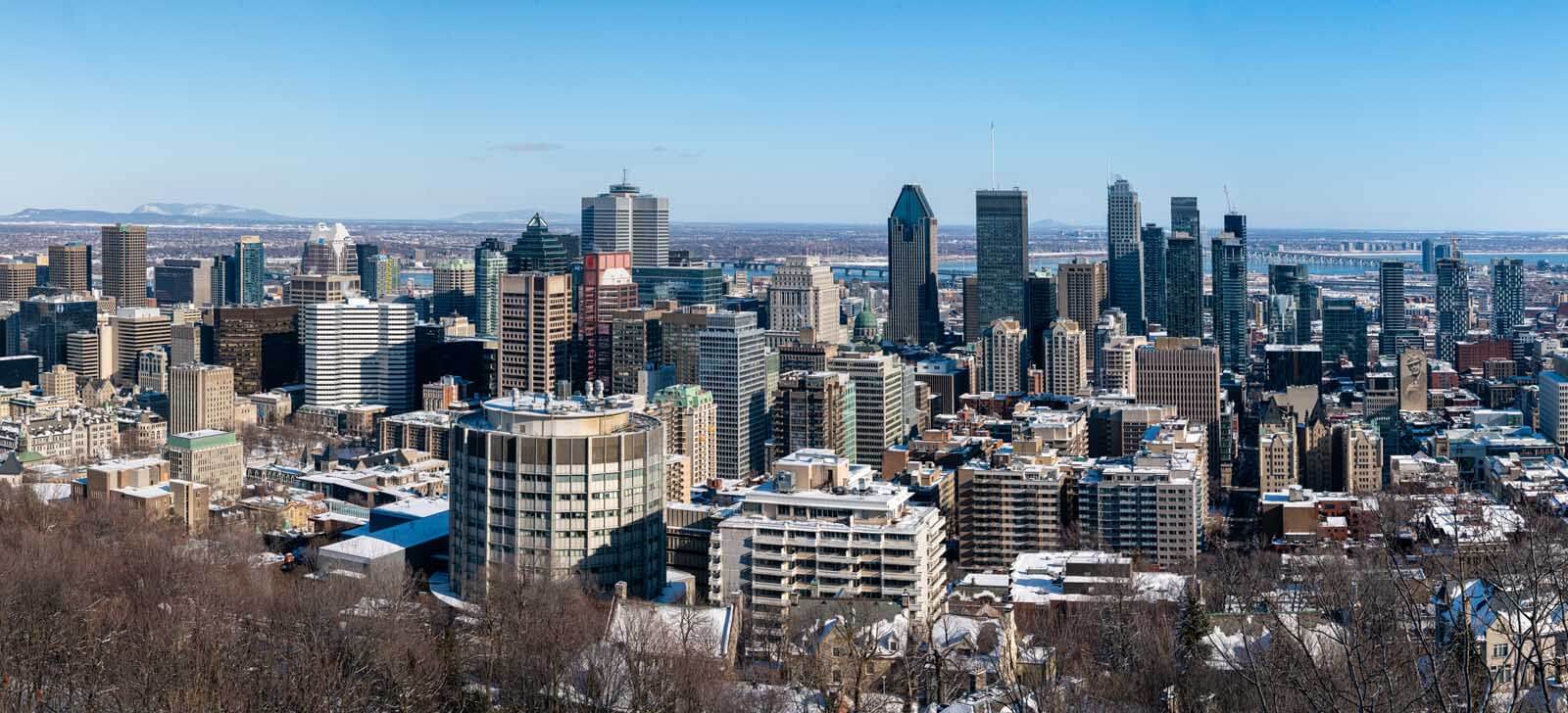 We have included enough food options to fill a month of visiting Montreal, we promise this is the last one for this post! We love this option for where to dine during your trip to Montreal in winter because you're rewarded with a breathtaking view of the city from the 44th floor of 1 Place Ville Marie.
Les Enfants Terribles is a popular restaurant that now has several locations serving a mix of comfort food and French cuisine with a nice cocktail and wine selection to choose from.
This is definitely a great place to have a romantic dinner during your trip to Montreal in winter.
Before seating, be sure to head up to the 360 Observatory on the 46th floor. It's important that you do this first because in the winter they close earlier and during our visit, they closed at 6:00 pm.
This is the highest observatory in Montreal and is a great place to get a gorgeous view of the city and all the iconic landmarks from the Saint Lawrence River, Olympic Stadium, Mount Royal, and La Grande Roue Montreal to name a few!
Visit the Museums
One of the best things to do in Montreal in winter if you want to get out of the cold is enjoy all the amazing museums in the city. There are several incredible museums to choose from, especially as this is a city that celebrates arts and culture.
You can easily spend your entire itinerary during your trip to Montreal in winter exploring solely museums or you can do what we normally do, add one or two into the trip along with other activities.
Here are a few of the most popular and famous museums in Montreal:
Montreal Museum of Fine Arts – This is the most visited museum in Canada and is definitely one of the most massive that you can spend an entire trip exploring the giant collection of thousands upon thousands of works and a large range of styles of art from centuries-old to contemporary art.
Montreal Museum of Contemporary Art – If you're more into contemporary art this is the place for you! MAC has a collection of over 8,000 permanent pieces of contemporary art on display including local artists.
Biodome – This is one of the more unique museums that we were sad we missed during our trip and an awesome way to spend a cold day during your visit to Montreal in winter! The Biodome was originally built as a velodrome for the 1976 Olympics and today is the home of 4 different ecosystems including a Laurentian forest, Saint-Lawrence River marine ecosystem, a sub-polar region, as well as a tropical forest filled with animals and plants! REOPENING SUMMER 2020
Museum of Jewish Montreal – Learn about the deep history and experiences of the Jewish community in Montreal at this museum.
Beyond the Basilica Tour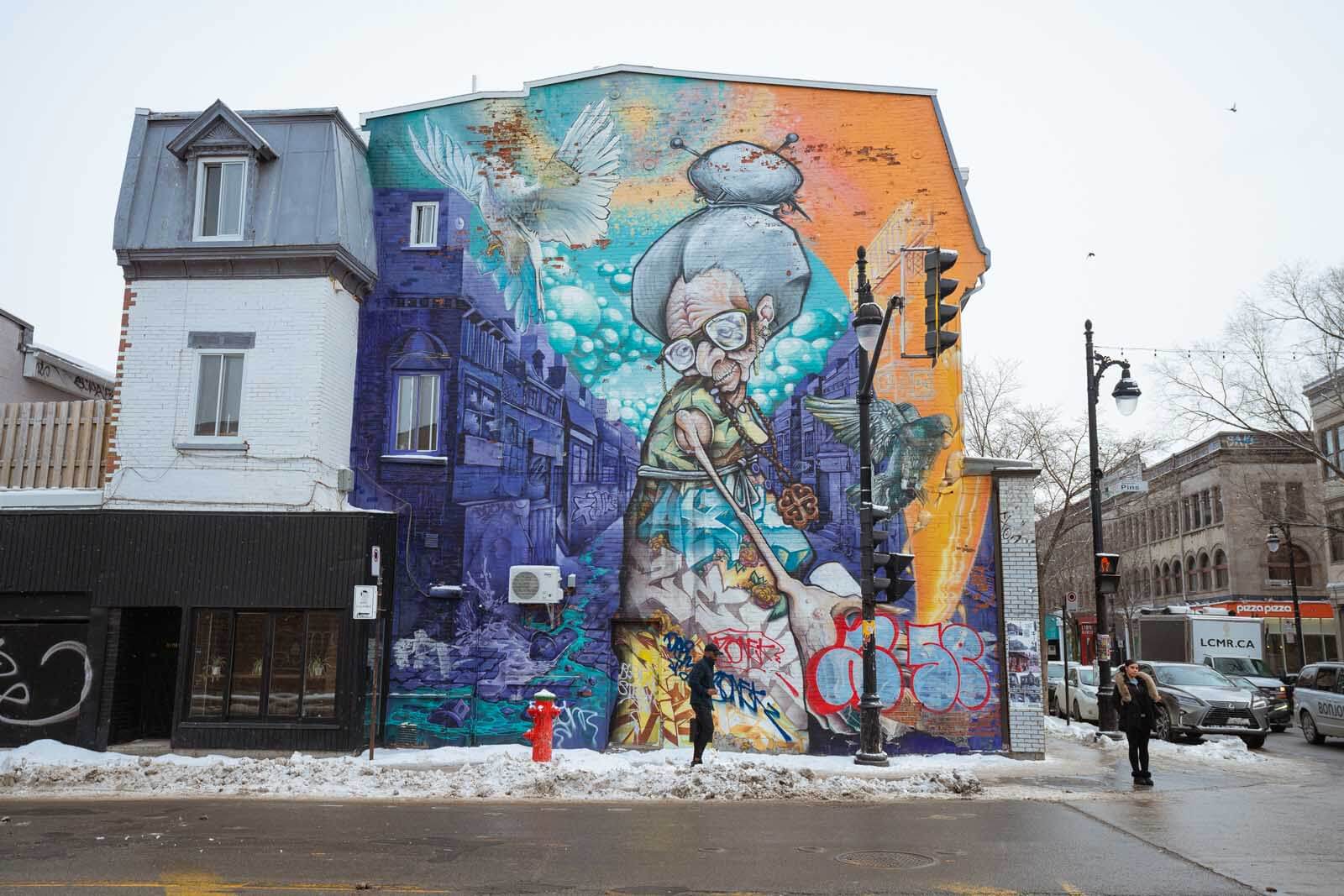 One of our favorite things we did during our trip to Montreal in winter was joining the Spade & Palacio Beyond the Basilica Tour taking us from Old Montreal to the trendy neighborhood of Plateau Mont-Royal by foot.
Along the way, you'll learn about the history of Canada's old Wall Street in the historic Old Montreal neighborhood, visit the Notre Dame Basilica, sample food and walk through Chinatown, and making your way by foot passing some of the best street art in the city along Saint Laurent to the neighborhood of Plateau.
This is perfect for first-time visitors to the city and we honestly recommend doing the tour early in the trip if you can! You'll learn so much and your guide will give you local tips for the best places to visit after the tour during the rest of your trip to Montreal in winter!
What we loved especially about this tour is that it was a blend of all the tours we love, there was history, street art, and even some food tastings on the tour!
Things to do Nearby Montreal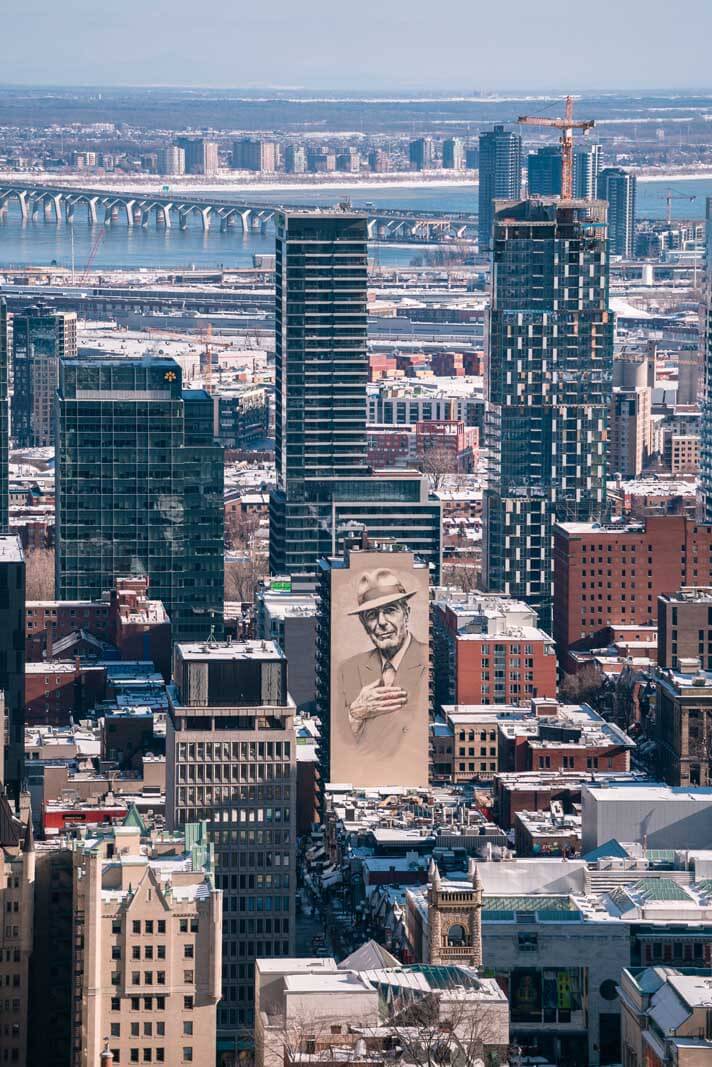 While there's no shortage of Montreal winter activities to enjoy one of the best parts about visiting Montreal is that you're just a short drive away to many other amazing destinations in Quebec to enjoy winter activities in the Laurentian Mountains.
Here are some of our favorite picks for more fun things to do in Montreal in winter just outside the city! See more on our guide with all the best day trips from Montreal.
Hit the Slopes at Mont Tremblant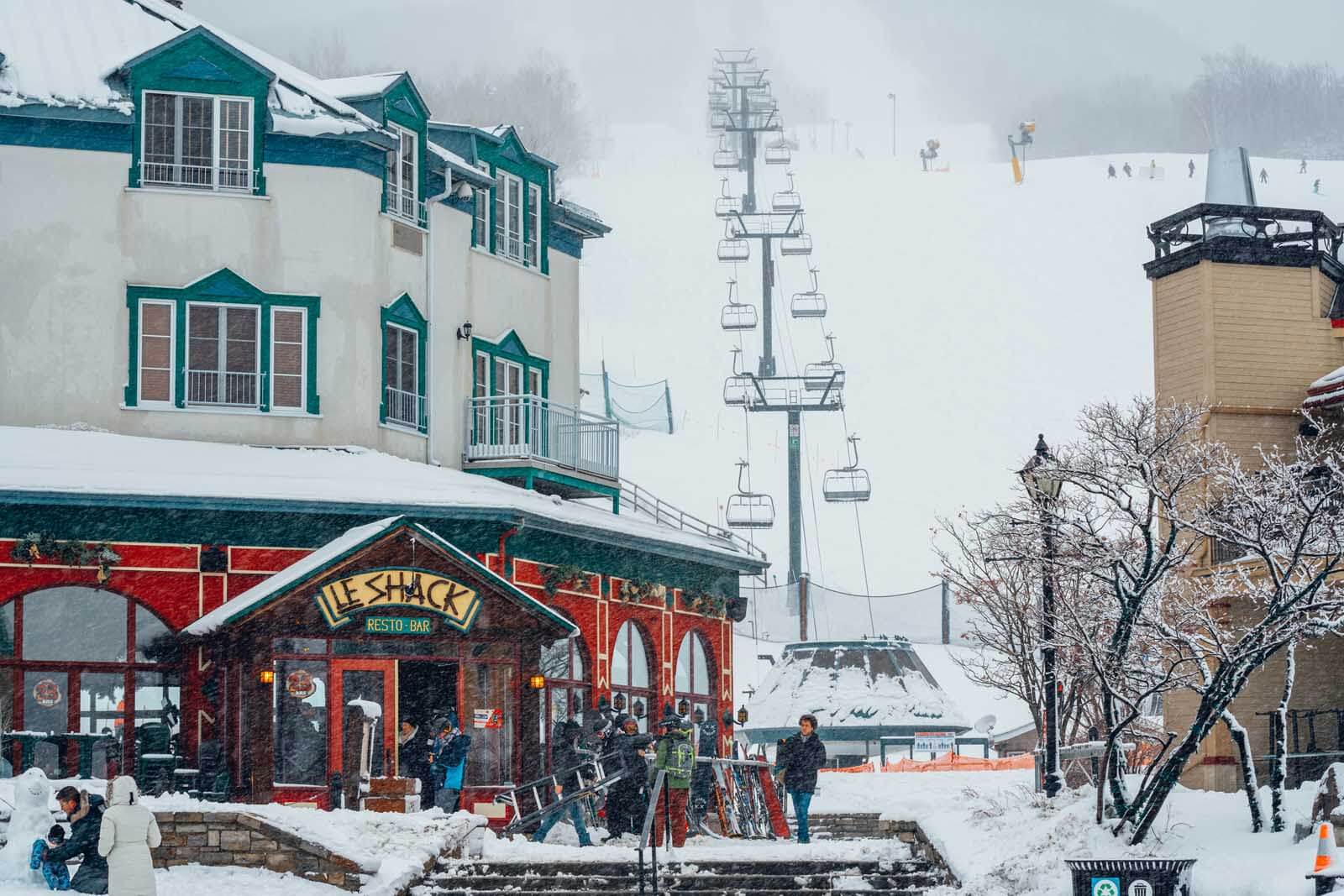 One of the best things to do in Montreal in winter is head out of the city to hit the slopes. We tied in a visit to Mont Tremblant during our visit to Quebec and were blown away with this amazing ski resort.
National Geographic named Mont Tremblant one of the top 25 ski villages in the world and Ski Magazine named Mont Tremblant the number one ski resort in Eastern North America!
Besides being an amazing ski destination you feel as though you're in a real snowglobe when your visiting as the pedestrian village is incredibly charming and full of colorful buildings tucked away in the snowy mountains.
Mont Tremblant National Park
While we are talking about amazing Montreal winter activities to enjoy outside of the city near Tremblant we cannot forget to mention Mont Tremblant National Park and all the amazing outdoor winter leisure activities you can do there!
This is a great place to do some additional snowshoeing or cross country skiing as there are tons of different trails to enjoy surrounded by the gorgeous Laurentians.
Snowmobile or Dog Sledding at Saint Hippolyte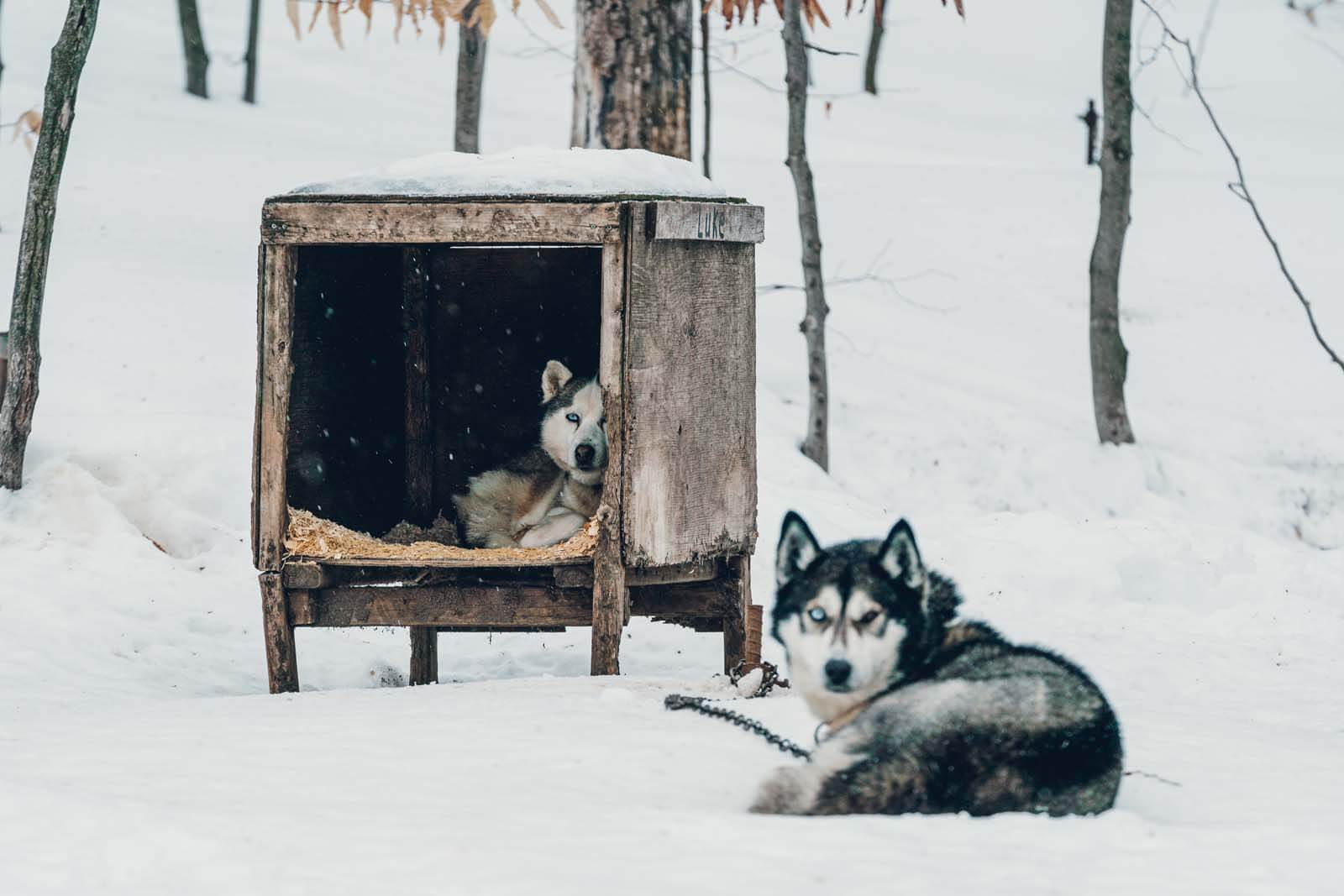 If you're looking to enjoy things to do beyond Montreal winter activities you're in luck. Just outside the city are the Laurentian Mountains which are full of other outdoor and winter excursions to enjoy including the tradition of dog sledding with Aventures Plein Air in Saint-Hippolyte.
Try your hand at the traditional mode of transportation in the Great White North on a dog sledding excursion.
Experience first-hand the relationship between a musher and their dogs, and for a moment experience this 9,000-year-old tradition yourself with these dogs with their thick fur and padded paws who have been born to thrive in the cold and are enthusiastic to run in their element.
Even in a short time you'll experience the unique and special bond between you as the driver and the dogs. And after you get to thank your dogs by spending time with them petting and relaxing with them before they go back to their houses.
See the village where the mushers and dogs live atop the mountain and enjoy an authentic homemade Quebec meal at Manon's Shack.
If you're not into dog sledding, they do offer snowmobiling excursions as well to experience a different area of the Laurentian mountains and the winter landscape and beauty this area has to offer.
Enjoy a Sugar Shack Meal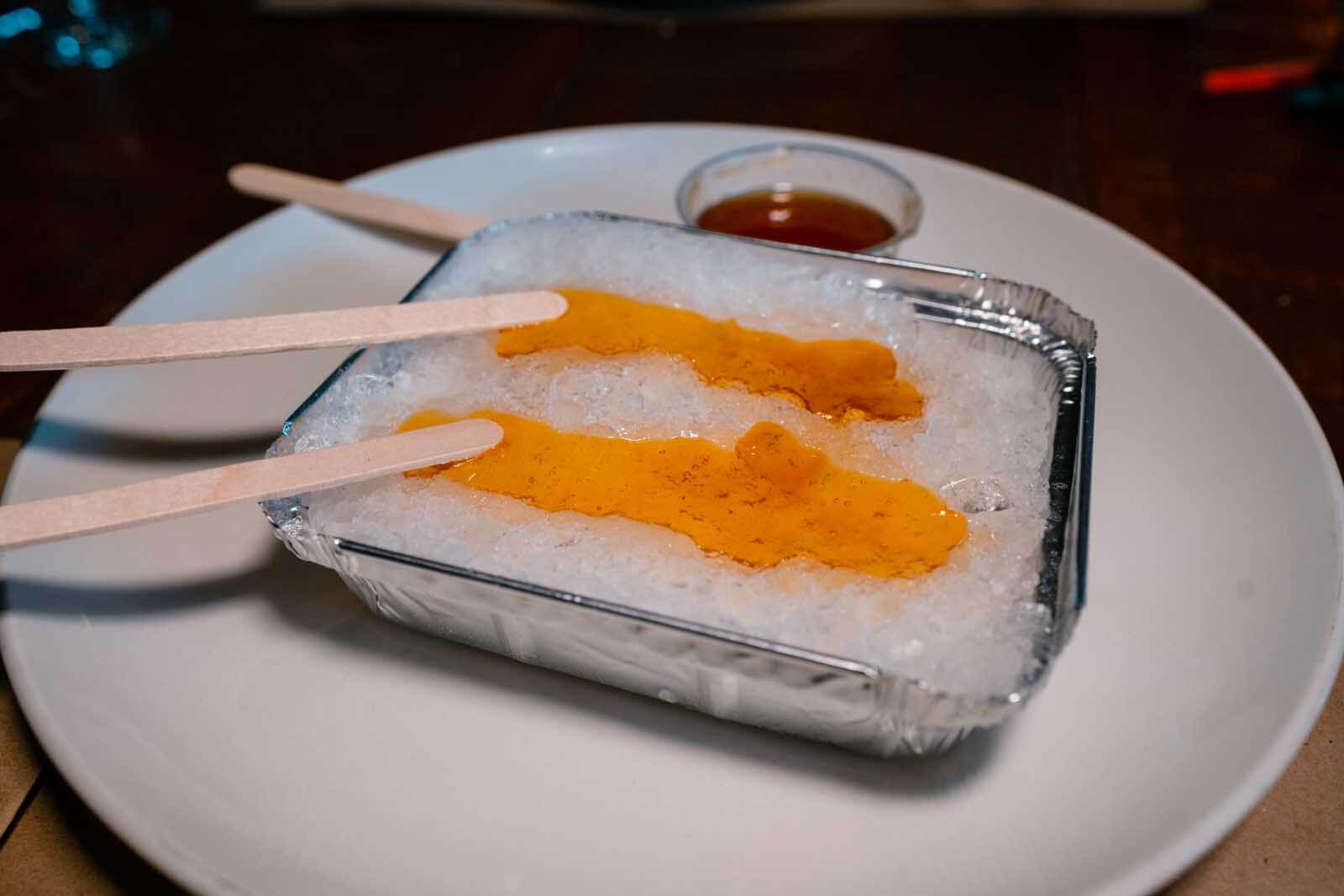 Another awesome experience about an hour outside of Montreal is Restaurant Au Petit Poucet who prepares authentic "Sugar Shack," meals Quebec style!
Sugar season has a pretty small window annually, and there's a chance you may miss it depending on when you visit Montreal in winter – so by stopping at this restaurant you get an authentic sugar shack meal any time of the year.
This is a great stop if you find yourself visiting Montreal before/after Mont Tremblant and is a great stop about halfway between the two destinations.
A traditional sugar shack meal features eggs, baked beans, ham, and crispy deep-fried pork jowls served with a drizzle of fresh maple syrup.
Before you fill up you'll want to save room for the sugar on snow dessert or maple syrup inspired desserts including their mouthwatering and unique maple cream pie.
What makes this experience even better, even though the food is already phenomenal, is the setting. On a chilly day after enjoying all those Montreal winter activities, you can warm up fireside by the giant fireplace in the center of the restaurant and rustic interior.
Where to Stay in Montreal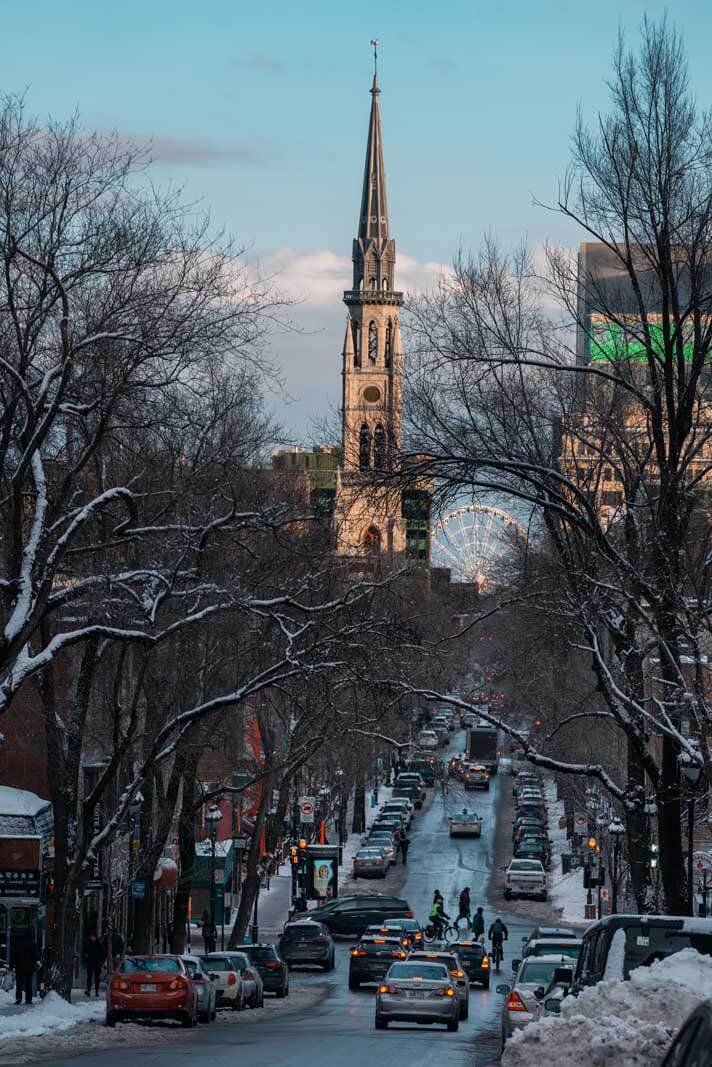 You'll need a cozy place to stay while exploring all the best things to do in Montreal in winter! We recommend staying where we stayed at Boxotel which feels more like a home than a hotel.
This boutique hotel has fully equipped rooms with a full kitchen, laundry services (washer & dryer), heated bathroom floors, automated curtains, and a gorgeous bathtub facing the window with a view of the city.
Better yet, Boxotel is a sustainable hotel and uses locally sourced products.
What to Pack for Montreal in Winter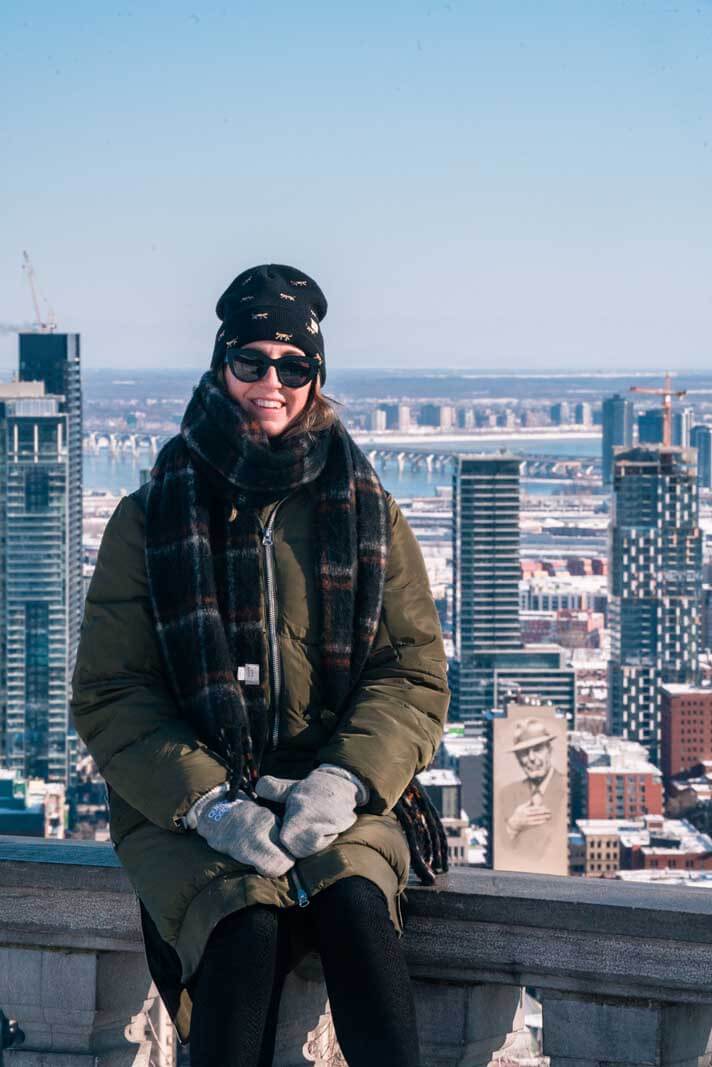 Packing for a vacation is the worst as if you haven't been there before its hard to determine what to bring. Enjoy our checklist of what to pack for your holiday to Montreal in winter to help planning for your trip be easy peasy.
Bring a warm winter jacket for obvious reasons, Quebec has very cold weather in the winter you will undoubtedly need a very warm winter jacket.
We love the famous 'Amazon Jacket' for women that will keep you warm and stylish as well as this great down winter jacket for men that's long to keep that cool air off your body.
Another essential you need for other fun Montreal winter activities are thermal layers. Layering is essential as depending on the weather you can stay warm.
What we love about having layers is if we get too warm we can always take one layer off, it's easier to take layers off than it is to warm up if you're underdressed. We love this thermal set for ladies and this thermal set for men.
You'll want to make sure you pack warm socks. There's nothing worse than having cold feet when you're trying to enjoy the great outdoors. Layer your feet up properly with these merino wool socks for men and merino wool socks for women.
Weatherproof and waterproof boots are also essential if you're planning on exploring in cold or wet weather along with good socks. We love Sorel boots because they are waterproof to keep your feet dry in wet weather or snow, keep your feet warm in cold weather, and are stylish!
We love the classic Men's Caribou Boot with wool lining and Women's Caribou Boot with a wool lining. These will keep your feet warm and dry during all your fun Montreal winter activities.
Read Next: Stylish & Comfortable Travel Shoes for Women and The Best Travel Shoes for Men
Don't get caught on a cold day without warm gloves to keep your hands warm! We recommend these wool knitted Thinsulate gloves for men and this gorgeous Chenille cable knit touch screen gloves for women.
Or if dexterity isn't an issue and you want to be sure your hands stay completely dry we recommend getting a good pair of snow gloves.
You'll also want to pack a warm winter hat or beanie to keep your head warm. We love these Carhart winter hats as they come in a variety of colors and are unisex.
You will also want to protect your eyes with polarized sunglasses! The sun reflecting off the snow is not only bright but the rays of sun are also damaging to your vision. Protect your eyes with the classic Rayban Wayfarers that are polarized and a timeless classic that look amazing on both men and women! One of our all time favorite looks.
Another few great items to bring are hand warmers for those especially chilly days you just can't get warm. We actually like to keep one or two in our pockets with our iPhone as the battery tends to die quickly in cold weather. This keeps it warm so that we don't lose battery while enjoying all those fun things to do in Montreal in Winter.
Speaking of phone batteries dying quickly in the cold, we like to also keep a power bank for charging your electronics via a USB cable to make sure we always have battery when we are in the cold.
---
If you're looking for more Quebec province travel check out our guide to the best things to do in Quebec City in winter (& the holiday season) and the gorgeous region of Saguenay-lac-Saint-Jean.
Found this guide to all the best things to do in Montreal in winter helpful? Bookmark for later or share the love below on Pinterest to help you plan your perfect trip to Montreal in winter!