It might surprise you that there is actually a lot of cool things to do in Tel Aviv, Israel. With a beautiful coastline, gorgeous people, and delicious food, it is one of the most underrated vibrant cities in the world.
We recently visited Tel Aviv and were smitten with its resemblance and similarities to our home in Southern California. If you're looking for a cool, party city in the Middle East, look no further and give this young, up and coming tech capital a chance.
Wondering what to do in Tel Aviv? These are our picks!
Best Things to do in Tel Aviv
Go to the Jaffa Flea Market
Olei Zion St, Tel Aviv-Yafo

Love flea markets and vintage shopping? You'll love getting lost in the alleys and buildings of Jaffa Flea Market, it's seriously one of the best things to do in Tel Aviv! We didn't spend nearly enough time here. Had we spent more time I could have done some serious damage to our wallet.
You'll find antiques, hand made and second-hand items galore. If you love finding unique items then you will be in heaven here. Be sure to check out one of the chill cafes or cool bars in the area as well to soak in the local scene and laid back vibe in the area.
Old Jaffa Port
Jaffa, Tel Aviv 68031
As far as Tel Aviv sightseeing goes, you'll want to visit Old Jaffa Port. This ancient port not only is an important historical site, it's one of the oldest ports in the world.
It's also a great area to hang out and explore the beautiful architecture. There are restaurants and shops to explore in the area and even a floating tree! Views of the Mediterranean coast also add to the charm of the area.
Check out the local Graffiti scene
Tel Aviv has an up and coming street art scene starting to get global recognition. Whether you're just admiring random street art around the city as you explore or go out seeking iconic pieces you'll be in for a treat.
We even got to see some awesome graffiti on our Segway tour! To learn more about what to see in Tel Aviv for street art, check out this awesome article by Paper Mag.
Explore the White City
One of the best things to do in Tel Aviv for architecture lovers would be to explore the UNESCO World Heritage site, the White City. The White City refers to over 4,000 buildings with the unique architectural Bauhaus style.
You can take a tour to learn more or just wander through the area yourself. If you're short on time we recommend skipping straight to Rothschild Boulevard. There you can stroll through the garden and get a cup of coffee or fresh juice from one of the many stands while taking in the Bauhaus architecture.
Shop along Sheinkin Street
If one of the things to do in Tel Aviv is shopping, don't miss Sheinkin Street. This street had me ooohing and ahhhing at all the cute boutiques along the way.
I was most in love with the custom made jewelry shops and still regret not buying a piece while we were in Tel Aviv! Check out Mango Tree for some great jewelry that you can customize or mix and match charms and chains to make your own personal piece.
Hit up the Beach
You'd be crazy to visit this coastal party city and never see the coast! One of the best things to do in Tel Aviv is visiting the beach. Cruise along the boardwalk by bike or foot and enjoy the warmer climate with a cool coastal breeze.
Swim at your own risk as the Mediterranean is infamous for it's strong currents and can be fatal for anyone not familiar. There are lifeguards on duty only seasonally. Check here for Tel Aviv's best beaches to find out which one is best for you.
Rent a Bike
One of our favorite ways to do some Tel Aviv sightseeing was take advantage of all the public bicycles throughout the city. You can't miss the stations of green bicycles when you're in the city. For just a few bucks a day you can rent a bicycle to tour the city as long as you park it back at one of the designated parking spots every 30 minutes.
Sounds bad but there are actually bike stalls ALL OVER the city, no joke. Figuring out how to pay for the bike is a bit tricky. We had to have a local help us but as long as you have a credit card and a little patience but it all worked out and this is easily one of the best things to do in Tel Aviv!
Take a Food Tour
Seriously do yourself a favor and get a food tour with Delicious Israel! This was one of the best highlights of our trip in Israel. Come hungry and leave with a full, happy stomach and tons of knowledge about the food, the city, and the people who make these delicious dishes.
Better yet, you'll have an amazing, personable guide who makes the tour that much better. You can check out our experience here.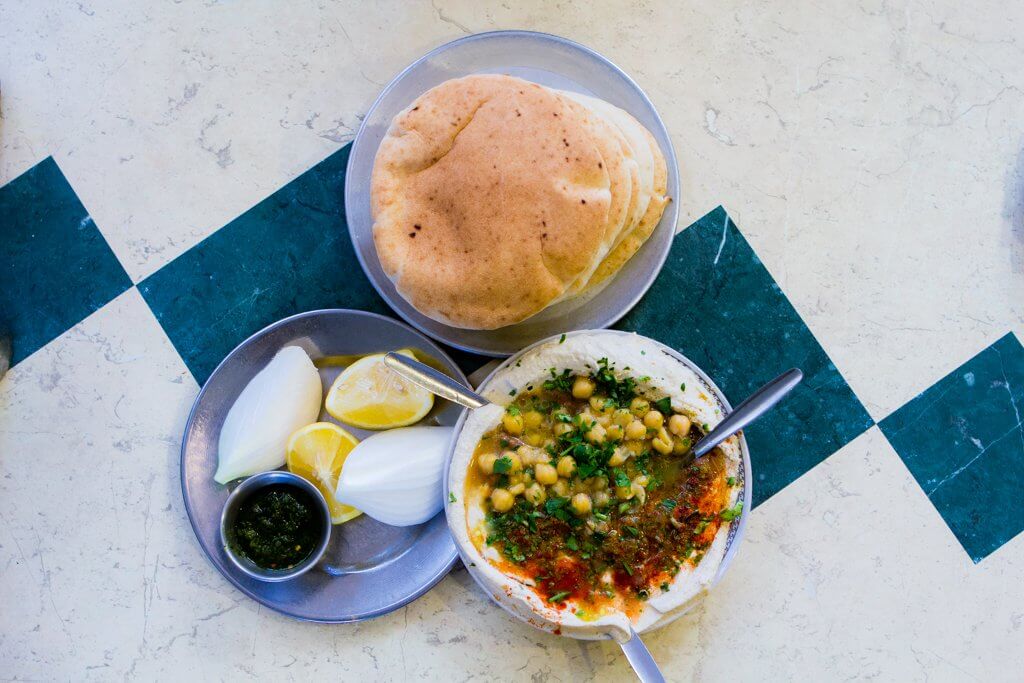 Where to Eat in Tel Aviv
Levinsky Market
Levinsky is the trendy and hipster market of Tel Aviv. Come here to stroll and enjoy the cool boutiques, shops, cafes, and enjoy snacking your way through all the eateries. We highly recommend grabbing a refreshing Instagram worthy soda from Levinsky 41 and snacking at the delis and getting a plate of delicious hummus.
Carmel Market
One of the best things to do in Tel Aviv and in Israel in general is visit the markets, aka shuks. The most famous market in Tel Aviv, shuk HaCarmel aka Carmel Market, is a great place to weave your way through for a bite to eat and admire the adorable cafes, beer stands, and food stalls along the way.
You may even catch a few photogenic walls to stop and take a photo. We ate our way through this area stopping at stall after stall with Delicious Israel's food tour.
Hakosem
We ended up eating at Hakosem three times during our visit, trying something different each time. Each dish we tried was a back to back hit. First we tried shakshuka served in a pita, then shawarma served in jaffa bread, and last shakshuka served up with salads and sides for days that still make our mouths water thinking about it.
Come when they open to get served right away, come in the afternoon and expect to wait in a line. Don't let the line scare you, its totally worth the wait!
Shlomo ha-Melekh St 1, Tel Aviv-Yafo
The Prince
Thanks to Trisha from PS I'm On My Way for showing us The Prince! This place is great for a late dinner and drinks. We absolutely loved the feta and bread here!
You know you've found a gem when a local recommends it, and this is one of her favorite spots in the city. Make sure you get a reservation if you plan on going later in the evening to make sure you get a table!
Nahalat Binyamin St 18, Tel Aviv-Yafo (hours 5pm – 1am)
Teder.FM
Another great place if you're a late night eater. Teder is a great spot to get at right around 8 pm to make sure you get a table, this place fills up quick and is popular among locals for nightlife in Tel Aviv. Be sure to try one of their AMAZING woodfire pizzas and get a pitcher of beer. Hang out and watch the place go from being empty to completely full and people standing and waiting everywhere. If you want to make sure you have a table, call ahead and make a reservation for when Teder opens at 8 pm. It's worth it!
Derech Jaffa 9, Tel Aviv-Yafo (hours 8 pm – 3am)
The Old Man and the Sea
Located right on Old Jaffa Port overlooking the boats and the Mediterranian is one of the most fun food experiences in Tel Aviv. Show up and get the famous tasty 20 side dishes for 50 shekel a person, the sides are unlimited! You can order a main dish but let us warn you the portions are EXTREMELY generous so split with a friend!
Retsif ha-Aliya ha-Shniya St 101, Tel Aviv-Yafo
Where to Stay in Tel Aviv
The best spots to stay in the city are always going to be along the coast, however, these hotels come with a higher price even though it's worth it! We have picked out a couple spots for different budgets below.
In general, there aren't too many budget friendly places to stay in Israel, so be prepared to pay a little more for accommodation if you're on a shoestring budget.
This is our luxury pick and where we spent our second stay in the city. The rooms are modern and cozy and you really can't beat the balcony view overlooking the sea. Their breakfast spread is incredible with unlimited mimosas for the win! Book now or read reviews for later here
This is a small hotel with only 4 rooms available but each of the rooms are chic and perfect place to stay in this trendy city. Allenby 106 is located just a few blocks from Jerusalem Beach and about a 15 minute walk from Caramel Market. Book now or read reviews for later here
Laguardia has a great room for a great price. The clean, comfortable rooms are located just off Dizengoff Square. Book now or read reviews for later here
This is an awesome choice for any budget travelers. Not only is the atmosphere fun but the staff is friendly. We recommend booking one of many tours through Abraham as well, we did the Best of West Bank tour and it was awesome. Book now or read reviews for later here
To see more places to stay in Tel Aviv, check the map below:
---
Did we miss any of the best things to do in Tel Aviv? Let us know in the comments below.
If you enjoyed this post then share the love on Pinterest below!