Saguenay-lac-Saint-Jean in winter is one of the most epic winter destinations in Quebec, Canada. The Saguenay region is located around a 3-hour drive north of Quebec City known for the Saguenay Fjord, Monts Valin National Park, and copious amounts of winter snowfall.
In fact, Saguenay-lac-Saint-Jean has the most days with fresh snowfall in Canada snowing an average of 93 days of the year!
No matter what part of winter you're visiting, Saguenay, Quebec has something going on from snow adventures in Monts Valin National Park, hitting the slopes, winter glamping, visiting one of the most beautiful zoos in the world, to driving on ice and ice fishing on the frozen fjords.
Oh, and don't forget to try something with their famous blueberries!
Disclaimer: Our trip was in partnership with Bonjour Quebec and Tourisme Saguenay-lac-Saint-Jean to highlight some of the best things to do in Saguenay in winter. As always, our opinions are our own.
Things to do in Saguenay in Winter
Snow Shoe in Monts Valin National Park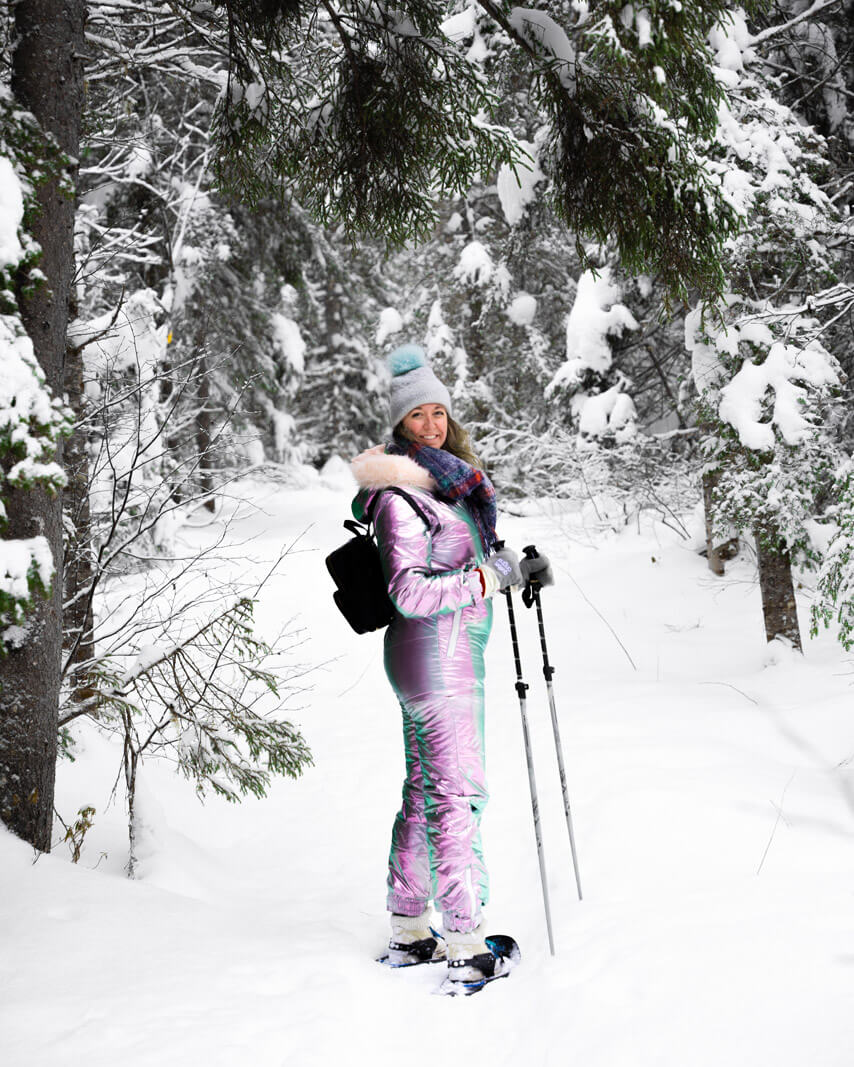 (mid-December – beginning of April)
One of the best things to do in Saguenay in winter are the snow adventures like snowshoeing in Monts Valin National Park. The heavy snowfall this park receives makes it an ideal location for snowshoeing not to mention some of the most magical winter landscapes in the province and entire country.
There are over 47 miles (77 km) of marked snowshoe trails including the famous Valley of Phantoms (Valle des Phantômes) where the trees are covered in over 20 feet of snow for an unbelievable one of a kind experience! Not to mention plenty of other trails like the half-day adventure to Pic-de-la-Tête-de-Chien trail with amazing views to shorter trails like the Lac des Pères which can be done in around 90 minutes.
We were visiting just a few days before many of the trails opened in early December, keep in mind most trails open mid- December and it's best to check their official website if you're planning an early winter trip like we did if you want to experience spots like the Valley of Phantoms.
Snowshoe rentals and adventures start at the Discovery and Visitors Centre (360 Rang Saint-Louis, Saint-Fulgence 8 am – 5 pm daily). Here you can speak to a park ranger, get a QR code for a downloadable map to use on your trail, and grab any last-minute snacks or gear you may need before setting off on your adventure.
If you want to do the Valley of Phantoms you will have to make a reservation for the Snowcat shuttle (1-800-665-6527 or parc.monts-valin[at]sepaq.com) known as the Le Fantôme Express which will take you on a 45-minute journey to the trailhead. Expect to snowshoe around 2.5 hours to enjoy the Valley of Phantoms and you can stay the night in a winter hut and shelter.
This iconic winter activity in Saguenay, Quebec is only available by reservation, make sure to plan ahead by calling the number provided above.
While we can't wait to go back and do the Valley of Phantoms ourselves, it was really nice to have a shorter option for our trip as we had alot of exciting things to check out in the Mont Valin, Quebec area during our visit!
Keep in mind if you're using Google Maps to the Discovery and Visitors Centre that the location that Google takes you to is incorrect, it will be on the same road but it takes you to house #314 about a 10-minute drive from the actual visitors center. Use the navigation to get you on track, then pay attention for a building that looks like the visitors center or house numbers so you don't miss it!
Winter Glamping in a Yurt
One of the most magical things to do in Saguenay is to enjoy a winter glamping experience in Monts Valin! Imago Village offers guests a unique stay under the snow and stars in a cozy yurt.
Each yurt is equipped with a private balcony overlooking the snowy alpine forest and view of Valinouët ski resort. Don't worry about being cold, bring your usual winter pjs (maybe an extra warm pair of socks) and snuggle in your lofted yurt bed under a window of stars (or snow).
The yurts all are heated by a private fireplace fed by pellets. If you're visiting on an extra chilly night like we did, be sure to fill that fireplace up before you go to sleep and you'll sleep sound throughout the night.
The yurts also have compost toilets (for #1 only), mini fridge, and a couch to relax in. There is a shared area with 3 bathrooms with showers, running water, and toilets.
Whether you stay at Imago Village or not, while visiting this area you have to eat at Yourte-Bistro du Norde, the yurt restaurant on site. Try all of their poutine flavors and enjoy one of the hottest spots to eat and enjoy a drink after an eventful snowy day along with groups of snowmobilers who park outside.
This was such an unforgettable stay for us, we loved waking up to the views and the fresh little animal and critter tracks that visited nearby our yurt overnight.
You can book your stay here and if you do stay there are a few things to keep in mind. We were not provided towels, so bring your own! The blankets are thin, but we had the fireplace going which helped keep us warm. If you're an especially chilly sleeper be sure to request extra bedding or bring extra layers.
Winter Wellness at l'Eternal Spa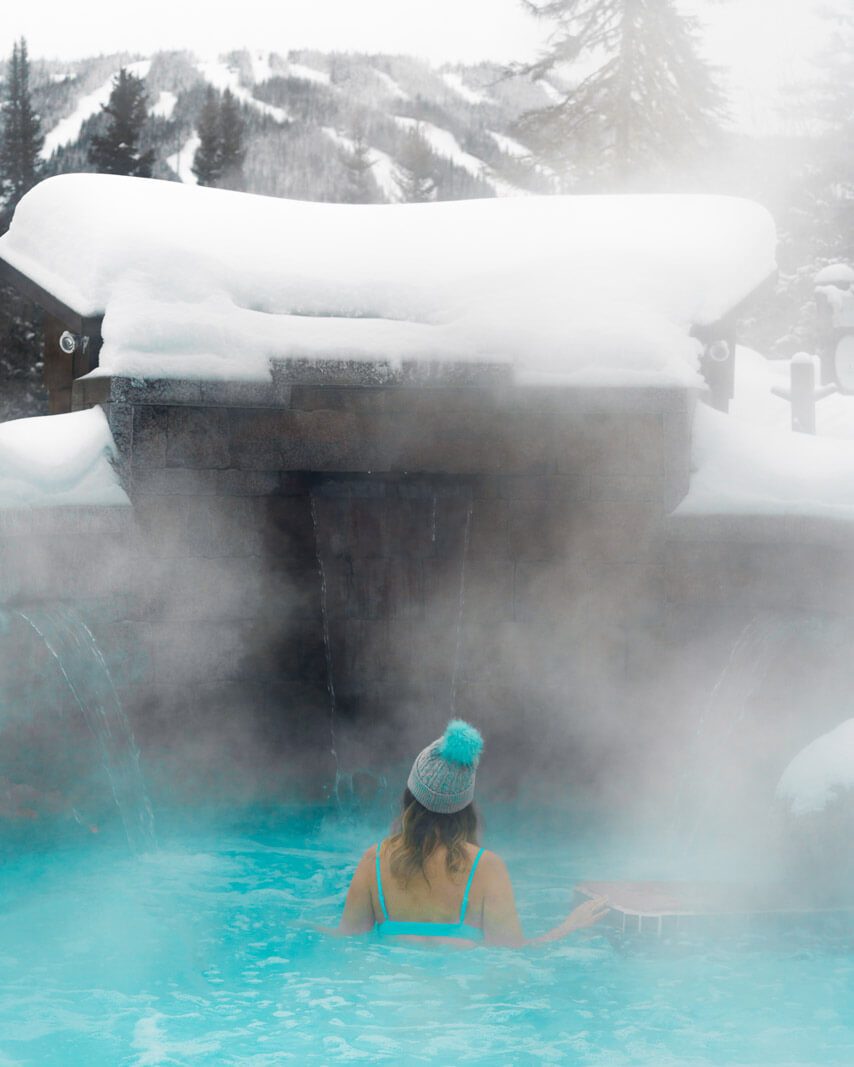 One of our absolute favorite memories from our trip and things to do in Saguenay in winter was enjoy an afternoon of complete winter wellness at l'Eternal Spa, a Scandinavian spa in the heart of Monts Valin with several relaxation rooms, heated outdoor pools, hot/cold baths, saunas, steam rooms, and on-site restaurant perfect for recharging after all your fun in the snow.
We easily spent over three hours (and could have spent more) soaking in the hot pools surrounded by the pure beauty of the mountains, forest, and winter snowfall. Be sure to try the full Nordic spa ritual experience where you alternate between hot and cold temperatures. There are a few cold pools (located conveniently close to hot saunas) including one natural pool with a ladder going down to a natural water source.
We were both nervous about taking a plunge in the cold waters, especially with the sub-zero temps outside, but were both pleasantly surprised that it wasn't that jarring or cold, especially when you had a short walk to the nearest hot sauna or bath.
The Nordic spa ritual steps are:
Choose your source of heat whether it be a sauna (dry heat) or steam room (wet steam) for 10-15 minutes.
Choose your source of cold water – there is a natural river or cold baths to choose from. Take a cold dip (do not get your head wet) for a few seconds.
Head to a relaxation room.
Take time to relax and repeat if desired.
Enjoy the hot pools!
You can also add on premium experiences for an extra fee like book a massage or beauty treatment. We recommend planning a visit for at least a few hours and dining at their on-site bistro, Bistro du Rêveur.
Of the handful of Nordic spas we have been to, this might be our favorite. We couldn't believe how large and spacious the grounds were, it was really easy to find a tranquil spot to yourself and being surrounded by the natural beauty of the mountain and winter landscape was surreal. We 10/10 recommend planning your trip to Saguenay, Quebec in winter so you can enjoy this experience as we did and stand by that 100%.
Open on Fridays – Sundays only – visit their website for full details and reservations
Visit Chicoutimi
While visiting Saguenay-lac-Saint-Jean be sure to stop in Chicoutimi, the central city in the region located at the confluence of the Saguenay River and Chicoutimi River.
This is a great base for exploring things to do in Saguenay or a great stop for dining and shopping. We enjoyed lunch in the rustic setting of Restaurant INTER, located in Hotel Chicoutimi.
There are more options for dining as well as a selection of shops along Rue Racine that is worth exploring before or after enjoying a meal during your stop in Chicoutimi.
If you're looking for an especially unique shopping experience, drive over to La Commère General Store (194 Rue Price O). This one of a kind store is chocked full of fun and festive holiday decor and home goods, gifts, candy, maple-flavored goodies, and other fun local gifts that make for great souvenirs for yourself or gifts to bring back home.
The concept is a 20th-century general store offering a wide variety of goods and products, including artisanal and Indigenous gifts.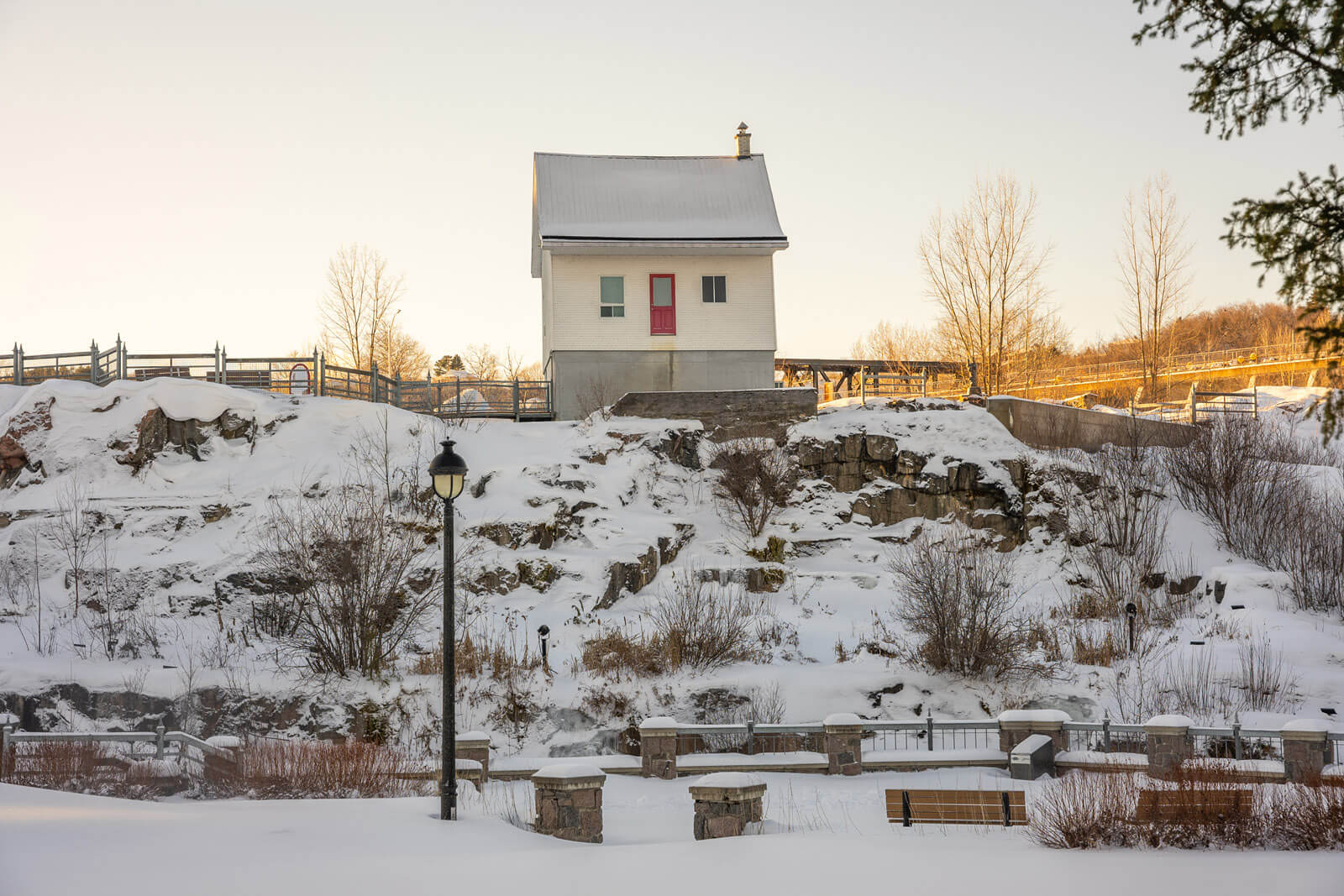 After shopping, walk to the park next door and notice the little white house sitting perched on the hill above. This little house symbolizes the resiliency after the devastating Saguenay floods of 1996 where the constant rain and extreme weather accumulated enough floodwater at the volume that tumbles over Niagara Falls.
As you can imagine, this was disastrous for the area. The one image that you see when seeing anything related to this historic event is this little white house perched on the hill with the raging and rushing waters that look like a waterfall surrounding it.
The house is referred to as La petite maison blanche, and is a symbol for surviving the devastating flood, and is now a preserved historic site commemorating the events.
Snowmobile Adventure
There are over 2,300 miles (3,800 km) of marked and maintained snowmobile trails in Saguenay, Quebec making it one of the best things to do in Saguenay-Lac-Saint-Jean, Quebec in winter!
Coming from a family of snowmobile enthusiasts, I have always heard the legends about the snow play and trails available in Quebec. As a matter of fact, in all of Quebec as a province, there are over 20,500 miles (33,000 km) of trails available!
Take a day tour or enjoy an entire snowmobile excursion complete with overnight stays! Visit the Saguenay-Lac-Saint-Jean website to learn more about the different snowmobile adventure options from short day adventures to multi-day trips, rentals, and areas to snowmobile in Saguenay, Quebec – a real snowmobile lover's paradise!
Enjoy the Arts & Culture Attractions of La Baie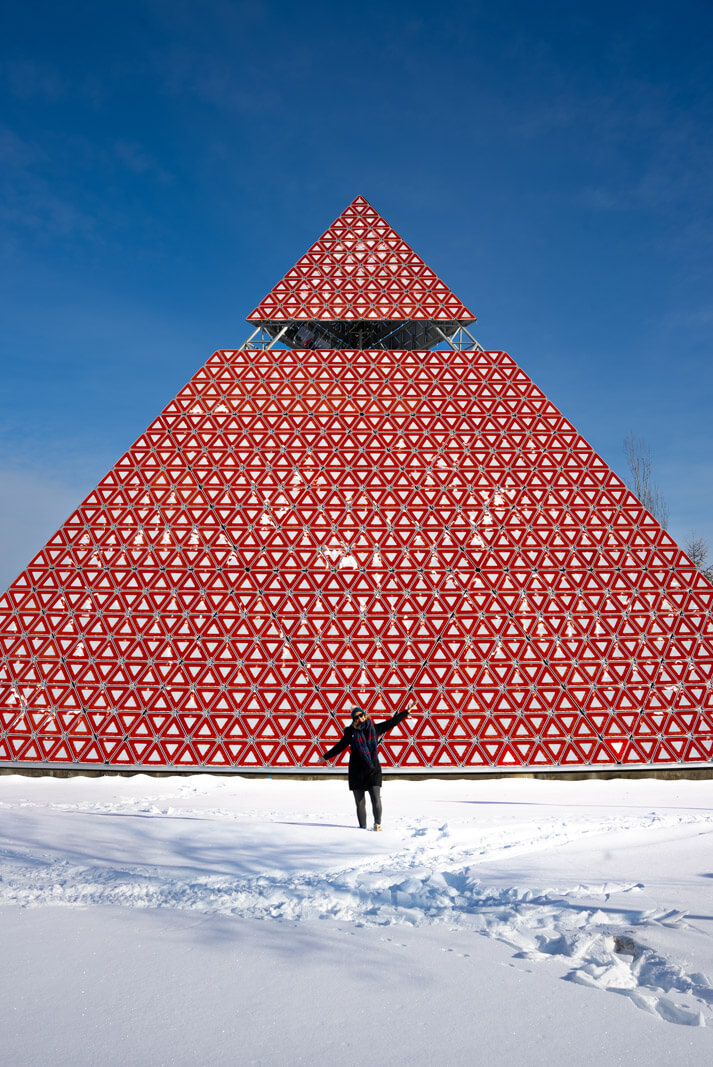 La Baie is a scenic borough of Saguenay, Quebec located on the banks of the Ha! Ha! Bay and fjord and the first colony built in the Saguenay-lac-Saint-Jean region. We enjoyed a one night stay in La Baie and spent the next morning enjoying the breathtaking views of the fjord and stopping at a few of the arts and cultural attractions you can find here.
Musée du Fjord (3346 Bd de la Grande-Baie-Sud) offers a family-friendly, educational experience to learn more about the bay and fjord through science and interactive exhibits.
First, you'll enjoy an immersive 15-minute video presentation in a room that feels like you're on a ride at Disney as you time travel through the history of the fjord. After, you can explore the special rotating exhibit and aquarium featuring critters from the local ecosystem.
There is also an really fascinating ancestry and genealogy exhibit in the museum that explores the past of the first colonizers here. Guests are encouraged to look up their family surname to see if they have any possible relation to the first settlers and you can learn a bit more about their survival here as well as interesting facts like the impressive amount of twins and triplets that came from these French settlers.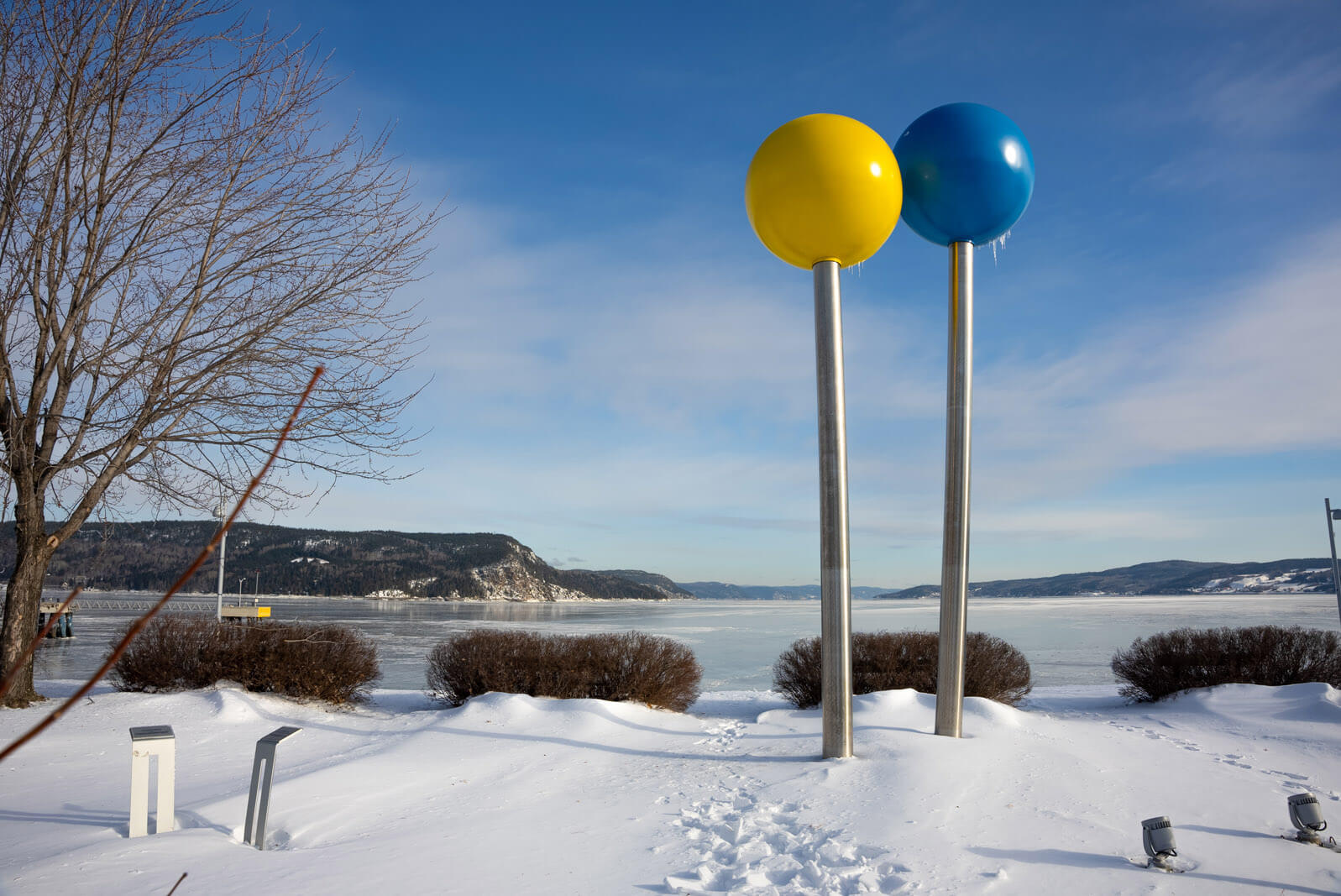 Take a scenic walk along the waterfront or head across the street to La Vererie d'art Touverre (3205 Boulevard de la Grande-Baie-Sud) where you can find the works of Italian-Canadian artist, Giuseppe Benedetto who not only works with glass but also is a sculptor and works with minerals and gemstones. If you look across the street you will see one of his sculptures, a beluga whale next to the fjord.
In his studio, you can also find a shop selling his works from jewelry, stones, and minerals, and hand-blown glass art from tableware to animal sculptures. Better yet, if you fall in love with a piece you want to bring home they will ship it for you.
Another not to be missed Saguenay-lac-Saint-Jean attraction located in La Baie is the contemporary art monument Pyramide des Ha! Ha! (3000 Rue Mgr Dufour).
While driving through La Baie you can't miss the giant, red pyramid. Our curiosity led us over to the public park where the sculpture stands made out of 3,000 yield road signs. This sculpture, and interesting photography location, commemorates the Saguenay floods of 1996 we mentioned earlier in this article.
The pyramid was completed in 1998 and was meant to be a symbol and monument to help residents after the traumatic floods that devastated the area.
Made of yield traffic signs, the pyramid uses a play on words. The French word for 'to yield' is céder which when pronounced has a similar sound to the word for 'to help each other,' in French which is s'aider.
When you're walking along the Fjord waterfront you'll also find several sculptures and statues. Another fun sculpture is located right outside the Auberge des 21 Hotel at Parc Mars. You'll find two towering location markers facing the fjord!
Ice Fishing in La Baie
One of the most famous things to do in Saguenay in winter is check out the ice fishing village atop the frozen fjord from around mid-January through early-mid March annually.
We were about a month too early to witness this, but it's worth mentioning as it's one of the most iconic activities and gatherings that takes place in Saguenay-lac-Saint-Jean.
While we were looking at the fjord we were trying to imagine ice thick enough to allow cars to drive on it and hundreds of little fishing cabins creating a temporary winter village on the body of water we were looking at making up one of the largest ice fishing sites globally.
If you're able to plan your visit around witnessing this, you can rent an ice fishing cabin on the frozen fjord for yourself or just visit and witness one of the best winter activities in the region by exploring and walking around the ice village.
Distillerie Du Fjord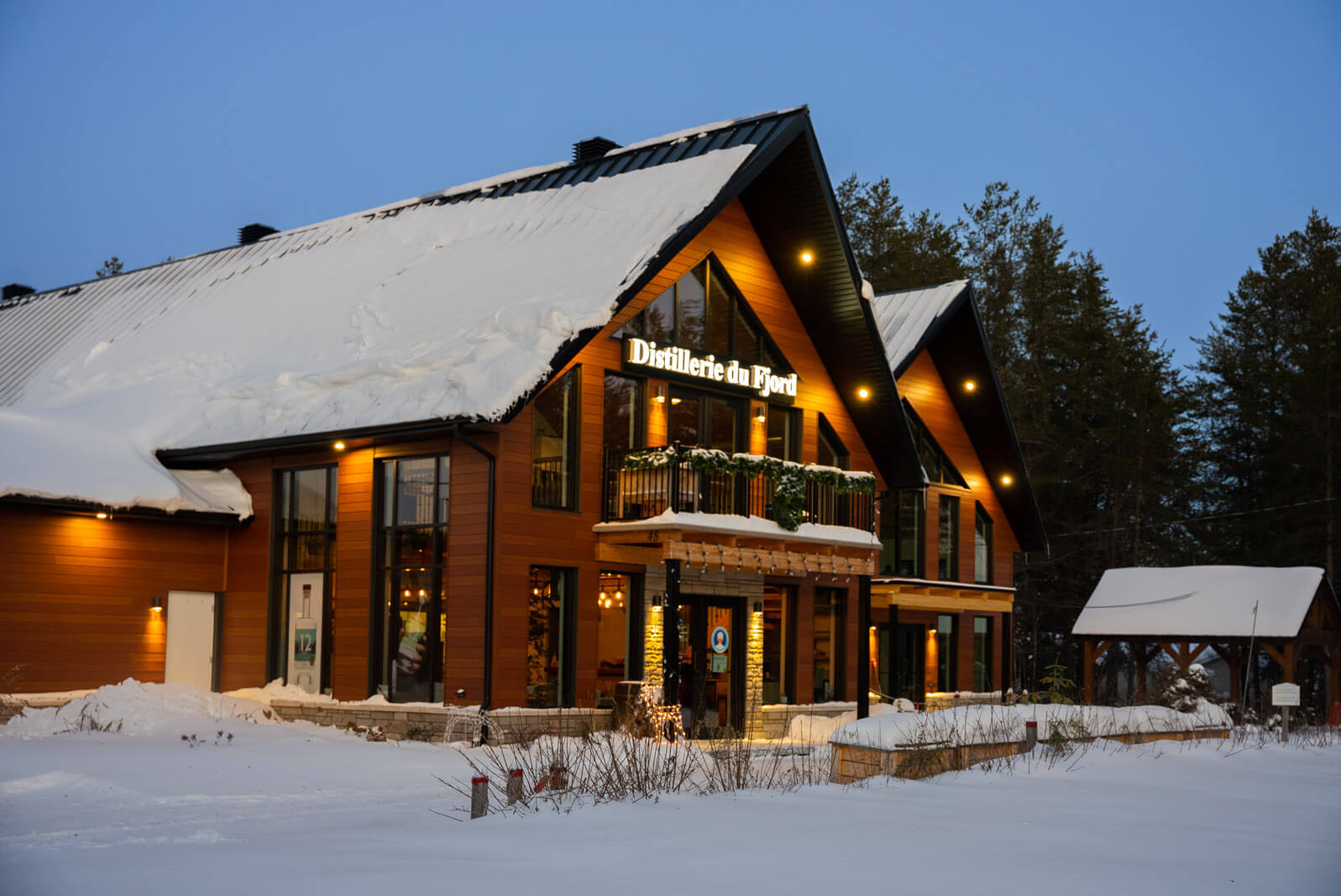 One of our favorite things to do in Saguenay on our way to Monts Valin was to stop and enjoy a gin and spirits tasting at the local, micro-distillery Distilerie du Fjord (48 Chem. de Price).
Using botanicals and natural ingredients for the boreal forests around them, this family-owned and operated distillery is creating seriously good spirits.
Try their award-winning gins that they forage the botanicals and herbs for that flavor this easy-drinking spirit themselves or check out their liqueurs and unique digestives like Lily that has flavors of fruits and eucalyptus (we brought a bottle home of this for ourselves) and their incredibly good Crème de menthe.
Their facilities are gorgeous and we were even tempted to buy all their merch as not only did we love everything we tried, their merchandise from their shirts to Nalgene water bottles were really cool.
Our only regret is not bringing a suitcase big enough to bring more bottles home. Alas, another reason to return to Saguenay-lac-Saint-Jean!
Hit the Slopes at Valinouët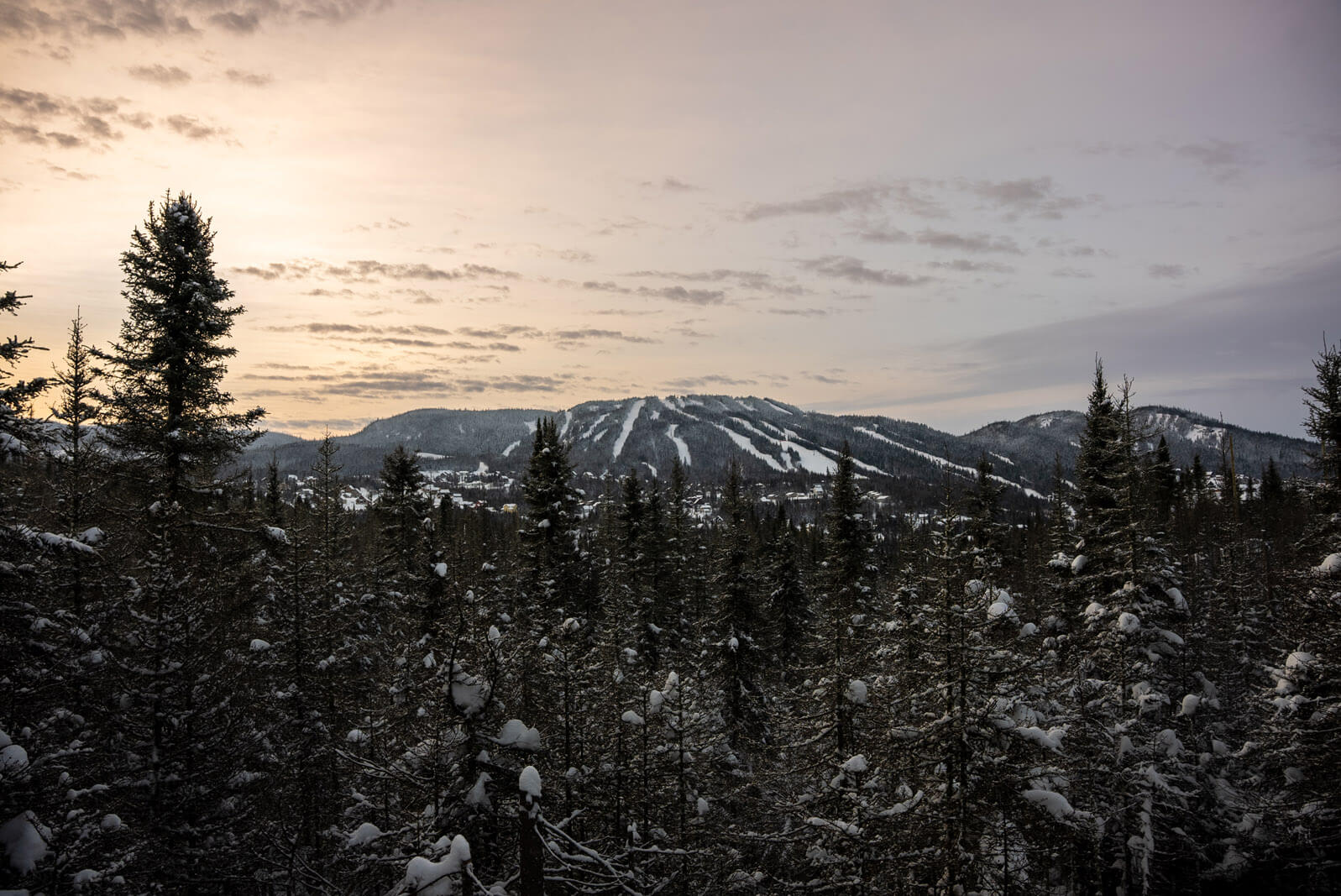 One of the best things to do in Saguenay in winter is hit the slopes at one of the snowiest places in North America! The mountains here receive an average of 20 feet of fresh snowfall per year (6 meters)!
This ski resort offers 30 slopes ranging for all levels of skiers and snowboarders from beginner to advanced level trails and runs.
And besides having plenty of places for snowboarding and skiing, they do have a snow tube area and ungroomed trails for snowshoeing and cross country skiing if you're looking to switch up the snow play and adventures.
Zoo Sauvage de St-Félicien
Everyone we talked to during our trip to Saguenay-lac-Saint-Jean asked us if we were visiting Zoo Sauvage de St-Félicien. Spoiler alert, we did not get to go here. That being said, because of how many times we were told this is one of the most beautiful zoos in Canada, this piqued our interest and now we just added another reason on our ongoing list of reasons to come back to Saguenay, Quebec.
This is the largest zoo in the province of Quebec and focuses on wildlife conservation of boreal wildlife. Their habitats are natural enclosures that give the animals plenty of space to roam.
There are also hiking trails and a train ride that takes you through the wild park where you get a closer glimpse at the beautiful creatures and animals who live here.
Among some of the 91 species of animals you can find here you'll have a chance to encounter black bears, polar bears, caribou, bison, moose, grizzly bears, elk, and wolves to name a few.
Whether you're looking for family-friendly things to do in Saguenay or just love learning about wildlife conservation and seeing animals up close, this is a great choice and we can't wait to go back to Saguenay, Quebec to visit for ourselves!
Ouiatchouan Falls at Village historique de Val-Jalbert
View this post on Instagram
Another one of the most mesmerizing things to do in Saguenay that we missed (it's close to the zoo) is visit Ouiatchouan Falls located at the abandoned Village historique de Val-Jalbert. Known as one of the best-preserved ghost towns in the country, you can visit the 70 original buildings that made up this former thriving mill town here in Saguenay-lac-Saint-Jean.
Believe it or not, Ouiatchouan Falls is taller than Niagara Falls! That's the second waterfall in the Quebec province we've learned about on this trip alone that have taller waterfalls than Niagara (I am sure there are more) including Montmorency Falls in Quebec City.
The waterfall provided hydro-power electricity to the inhabitants of this once-thriving mill town.
The ghost town is now a historic attraction and village that gives visitors a glimpse into what life was like here in the 1920s. A visit here also includes options for an overnight stay.
Where to Stay in Saguenay, Quebec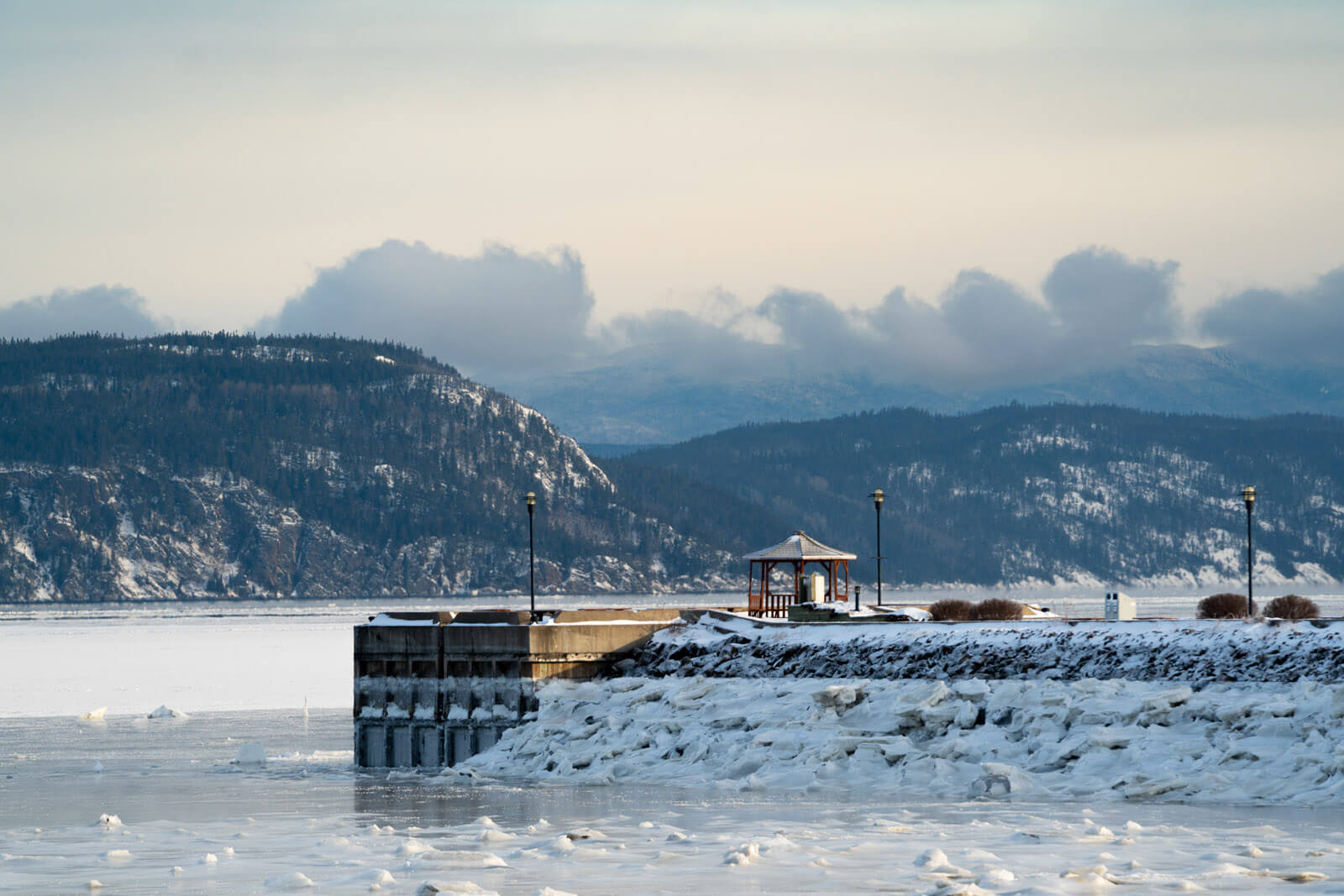 Where you stay during your time in Saguenay-lac-Saint-Jean depends on what you're going to see and do. We spent three nights in the region, our first in La Baie and the following two nights in Monts Valin.
These are the accommodations we stayed at, both of which we recommend! Use the map tool below to find additional options if you find yourself exploring more of the region and incredible things to do in Saguenay.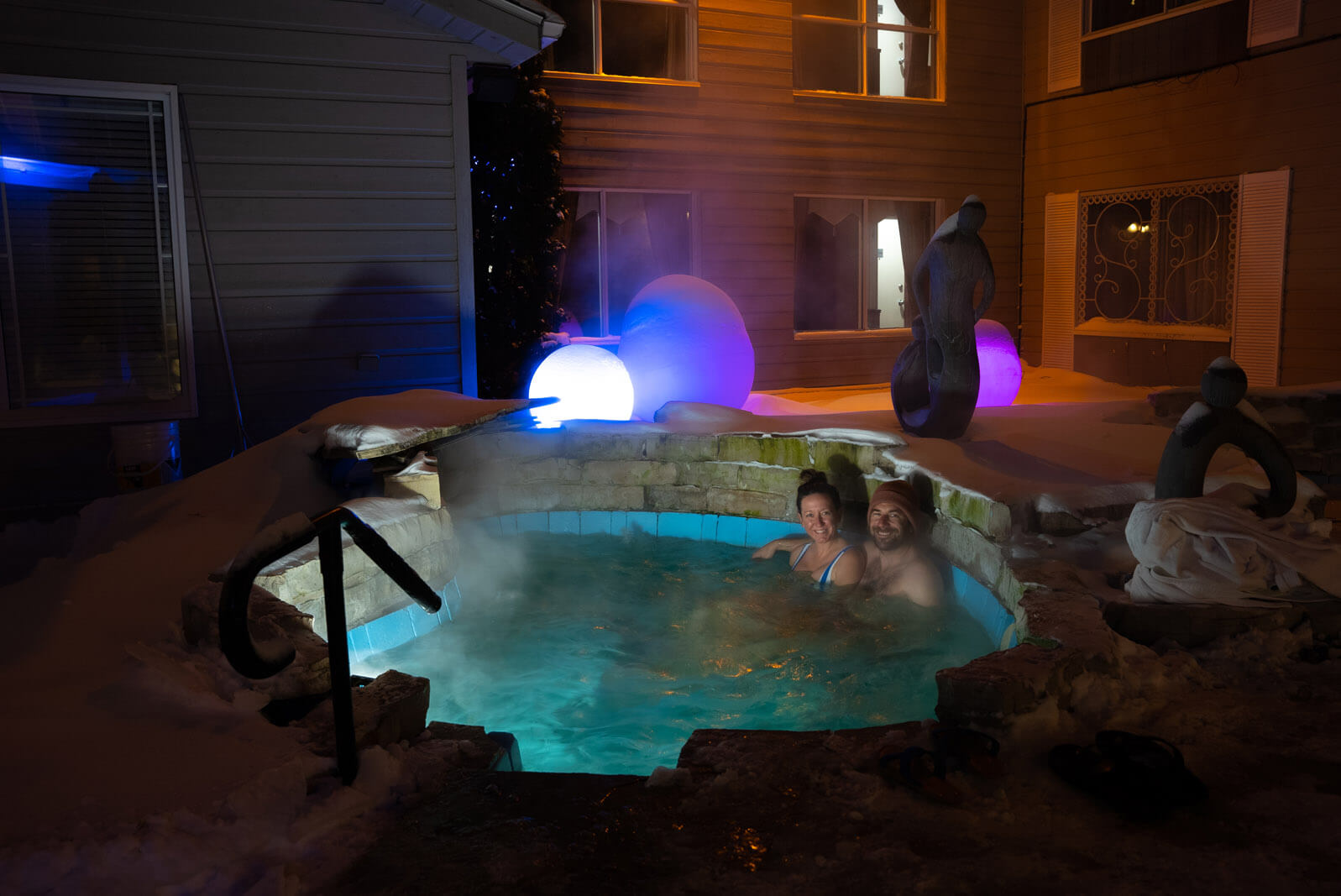 Located on the majestic fjord next to Parc Mars is a great stay, especially if you're coming to witness the ice fishing village on the frozen fjord!
Auberge des 21 & Spa has spacious and cozy rooms. Ours have a great jacuzzi tub for two that was great for soaking in after an extra chilly Saguenay, Quebec winter day.
There's also an outdoor spa on-site that you can enjoy complete with an outdoor cold pool and outdoor hot pool plus a relaxation room to enjoy the entire Scandinavian spa ritual and experience.
There's also a hotel restaurant on-site, Le Doyen which offers regional cuisine and a set course dinner menu.
This is a great launching point for enjoying all the best things to do in Saguenay. Book here.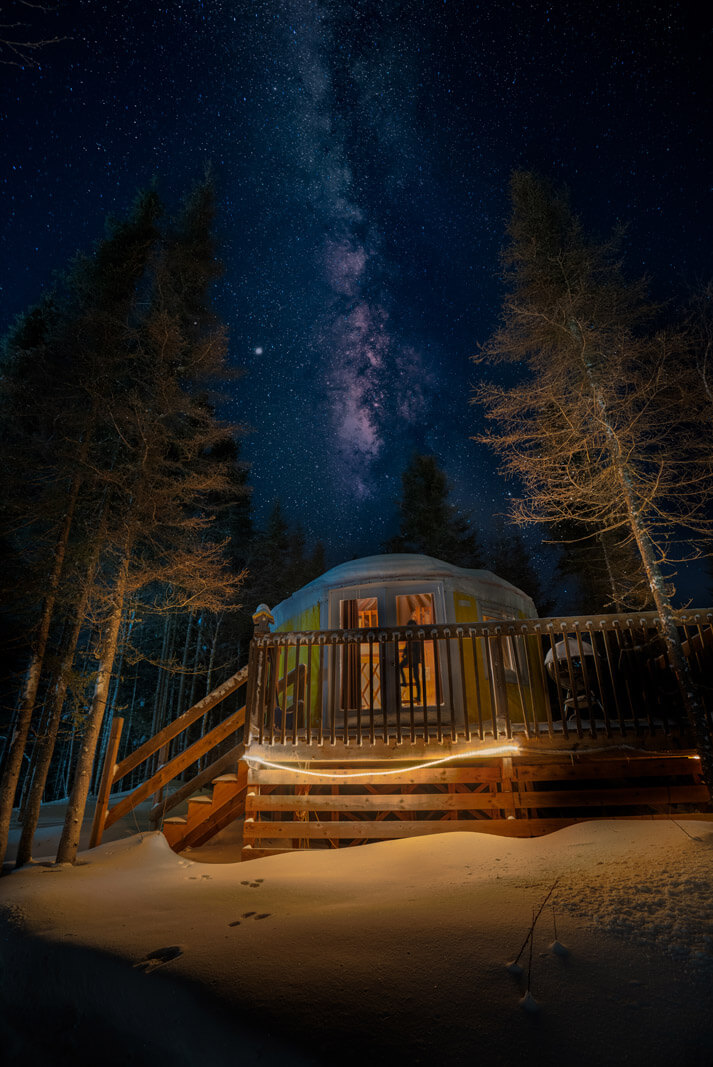 Wake up with private panoramic views of the mountains, a fresh blanket of snow, and the majestic views of Monts Valin at Imago Village's glamping yurts. Even in the winter, this stay provides a cozy and unique alternative to your average hotel stay.
As a couple, we found this to be a fun romantic way to spend our time in the area with a cozy lofted bed we had to snuggle up tight together on under our window with a thick covering of snow (on our first night) and the stars (on our second night after the snow melted).
This is a glamping experience, so there are shared bathrooms with showers besides a compost toilet inside your private yurt. While you're out, be sure to pick up a little nightcap to enjoy cozied up next to the fireplace at night and be ready to be blown away by the gorgeous, panoramic views by morning. Book here.
Tips for Visiting Saguenay-lac-Saint-Jean in Winter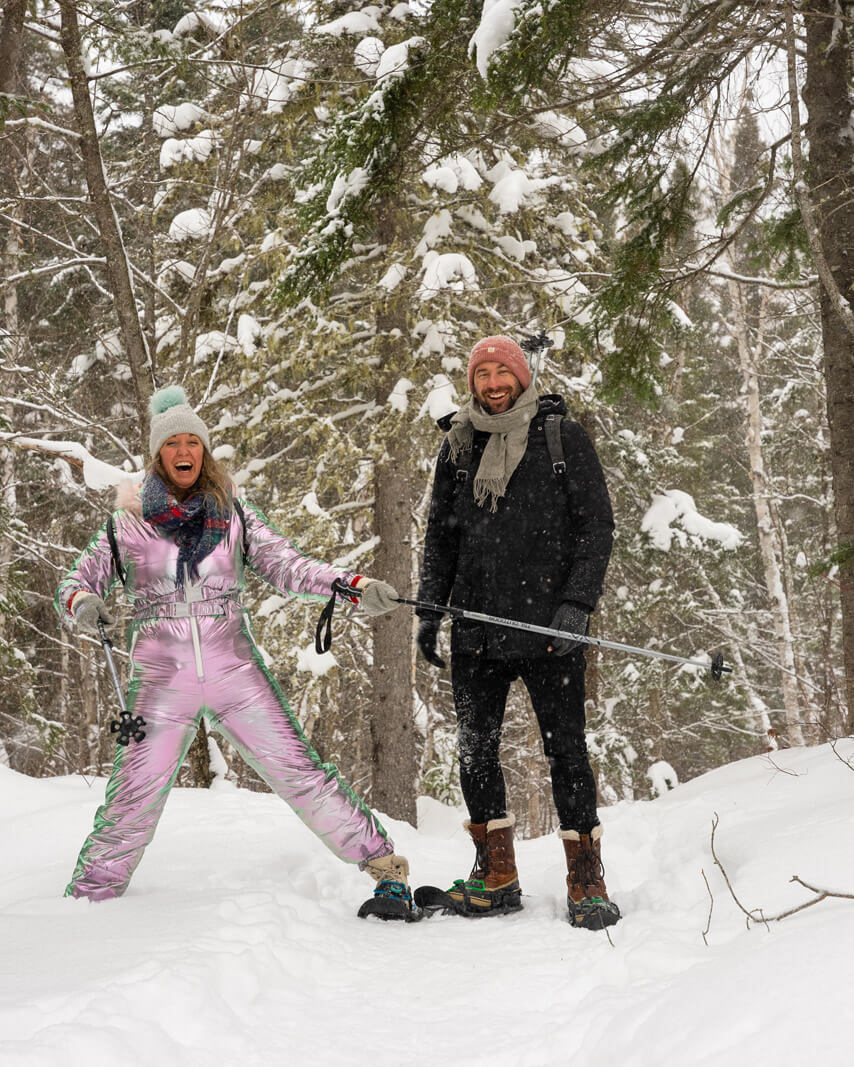 Here are a few tips we learned along our trip to Saguenay, Quebec in winter. If you're not from an intense winter wonderland like us, you might find these tips useful and hopefully, they help you along your trip!
We used Google Maps to navigate and while 95% of the time it was accurate there are a few things to be aware of. When exploring the Monts Valin area, we found that Google Maps had some mistakes, especially in Monts Valin National Park when trying to find the house number.
The directions sent us 10 minutes past the actual place we were trying to visit on the same road and we were able to eventually figure it out by turning around and watching out for the exact house number. Keep this in mind when navigating the area.
Speaking of Google Maps, it doesn't know which roads are closed in the winter and are seasonal. For example, Google Maps sent us down a road that was closed in the winter and during the snowy season (nearly 1/3 of the year) this road is a part of a snowmobile trail!
We went down the road, as the map told us, and by the time we discovered our mistake, it was too late. We ended up getting stuck in the snow with our car and had to be towed. The nearest towing company had to come all the way from Chicoutimi and the bill was a bit of a surprise, but in the end they saved us.
We were told that this isn't 'rare' for visitors. To be honest, we were a bit embarrassed about the mistake even though anyone not familiar with the area could have made it.
When you're in the mountains, be hyper-aware of the roads you're turning on. If it looks a little snowy (some of the snowmobile trails are as big as roads and the snow is packed down) hesitate and don't turn until you confirm it's not a snowmobile trail.
We didn't see many roads like this, they were mostly around Monts Valin. This isn't meant to scare anyone but had we just had a little heads up there's a good chance we would have never made the mistake and we are hoping to prevent that from happening to you.
Luckily enough, multiple people including snowmobilers stopped to make sure we didn't need any help or assistance. We were already waiting for our tow, but it was reassuring to know many locals stopped to help in case.
What to Pack for Saguenay, Quebec in Winter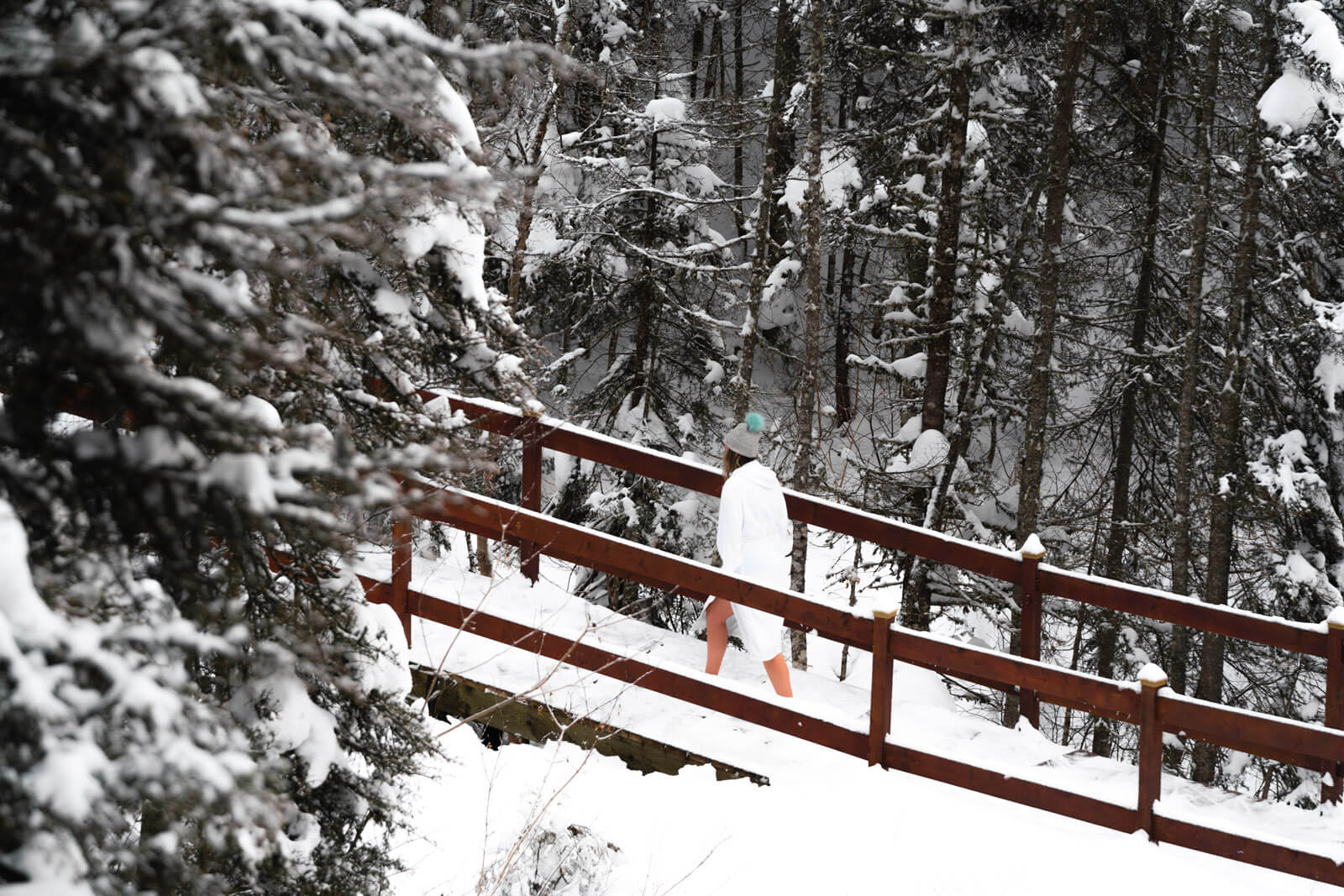 Unless you're a local or come from a destination known for having some of the best winter weather and snow in the world, like Saguenay-lac-Saint-Jean, you will want to come prepared with the proper packing essentials to ensure that you're comfortable so you can enjoy all the beauty and best things to do in Saguenay-lac-Saint-Jean, Quebec in winter offers.
Let's start with your attire, the key is to layer. You will want to make sure you have a warm winter jacket, we recommend bringing one that can handle wetter, snowy conditions so that your jacket keeps you dry. I have this North Face winter parka (they have a Men's winter parka too) that kept me warm and dry.
We also recommend having layering thermals for the really cold days. I have a thin, long-sleeved thermal I like to wear under my sweaters and Scott wore a long-sleeved thermal under his flannels that helped regulate his temperature. We like the Uniqlo brand of Heattech thermals because they include insulation without overheating or being bulky (plus use fabrics that are moisture-wicking, anti-static, and have odor control).
It goes without saying, make sure you also have a scarf, winter hat, gloves or mittens, and thick, warm socks. We really like the thick, warm socks from Roots (a Canadian brand). If you're in snowy conditions you may want to pack extra socks. Sometimes snow sneaks in the top of your boots and it's nice to have a fresh pair to change into halfway throughout the day or before going out for the evening.
One of the most important parts of your body to keep warm and dry are your feet! Which is why we highly recommend having a quality pair of snow boots, because if you're visiting Quebec in winter, you're going to be walking in snow at some point.
We both are huge fans of Sorel boots, Scott has the Men's Caribou Boot and I have a pair of their women's snow boots as well which are great at keeping your feet dry and warm even on the wettest and coldest of winter days.
We love to pack some hand warmers. There are disposable, single-use ones that can come in handy (in the winter we always have a spare pack of these in Scott's camera backpack and my purse). They even have toe warmers too in case your toes get extra chilly.
The holy grail of hand warmers though are the rechargeable hand warmers. We LOVE ours and they last all day – just remember to charge again at night. I like to have it on the low setting in my winter jacket pocket to keep my phone warm too (since phone batteries hate the cold weather). We tried a few brands and not all rechargeable hand warmers are created equal – this is the one we have and it's the best.
One thing I wish we had were ice grips for our snow boots. These are not only affordable and take up no space in your luggage, but they are also really great for walking on icy sidewalks and packed down snow, even with snow boots.
---
And if you want to extend your visit to the Quebec province beyond Saguenay-lac-Saint-Jean in the winter be sure to check out our guides to Montreal in the winter including a Montreal 3 day itinerary and our Mont Tremblant winter getaway guide.
Found this guide to all the best things to do in Saguenay-lac-Saint-Jean, Quebec in winter helpful? Bookmark for later and use this to plan your next trip!