After four incredible days living on a wooden boat in the jungle in Borneo, we made it to Bali where it was time to pamper ourselves in a luxury villa on this island of retreat. We ended up at Sanctoo Villa and got just what the doctor ordered. We spent our days here enjoying our spacious villa which had all the comforts we needed as well as an action packed day at the Bali Zoo next door. With our wedding coming up it felt like we had our own romantic pre-honeymoon during our stay at Sanctoo.
Sanctoo Villas
First Impression
After a long day of travel we were greeted at Denpasar airport with one of the most comfortable vans we have ever rode in. The Sanctoo Villa's van had individual leather recliners, a cold refreshing towel, and a Bintang beer waiting for us for our commute to our pampering getaway for the next few days. Upon our arrival we were instantly impressed with the friendly staff who welcomed us with a delicious glass of rosella tea and then shown our villa.
Our Villa
We were more than pleased with the size and amenities of our private deluxe river view villa. Inside we were happy to find a large workspace that included a small espresso machine and mini fridge. The king size bed was comfortable and made for a great night of sleep. Leading to the huge bathroom was a spacious dressing room great for storing luggage and getting ready. The bathroom itself included a large bathtub overlooking the garden, two sinks, toilet, and a shower with a rainfall shower system.
Our favorite part would have to be the private infinity pool with sun chairs outside overlooking the Wos River, who's sound was soothing while falling asleep. The villa and pool are surrounded by the jungle and tropical plants which made you feel secluded from everyone else and was wonderfully romantic.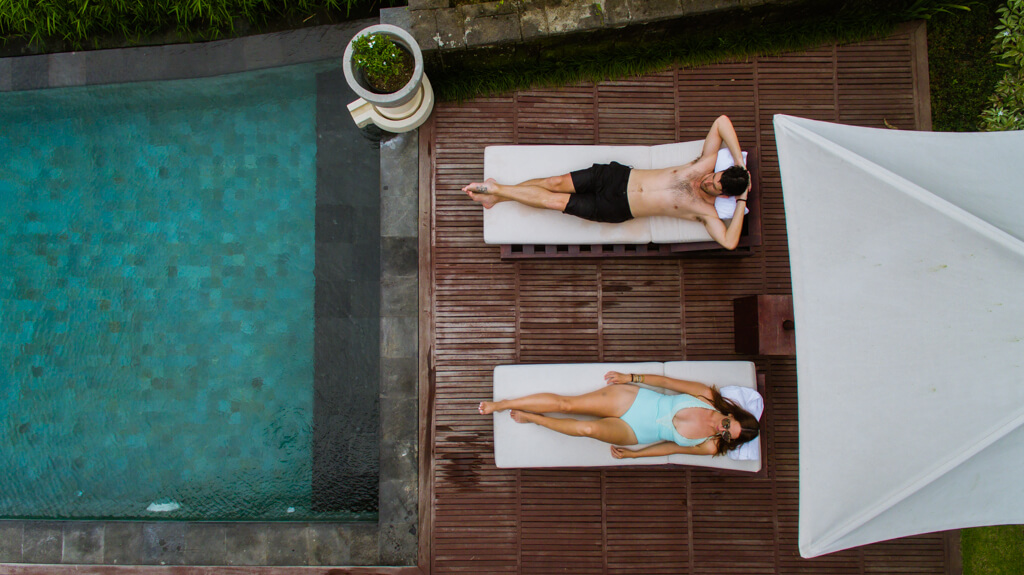 We stayed in the Deluxe River View Villa, but Sanctoo also offers the Deluxe Garden View Villa pictured below.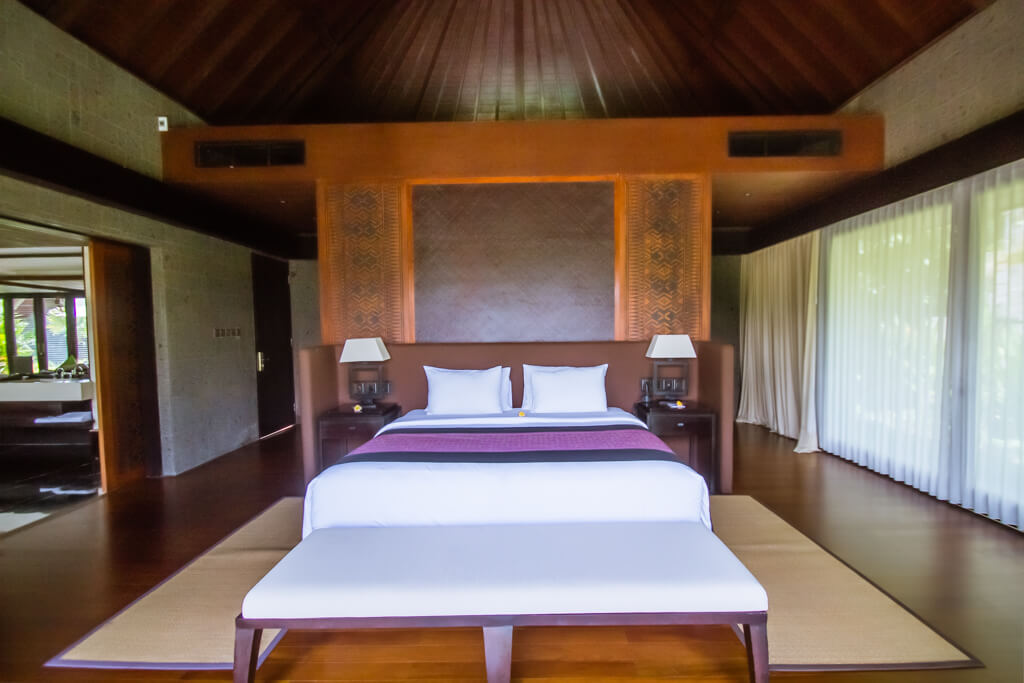 Dining
Sanctoo Villa offers an impressive menu with plenty of options including local Balinese dishes. We were treated with having our breakfast and dinner served to us at our own villa outside next to the infinity pool. The dinner was candlelit and incredibly intimate. The staff delivered one delicious course at a time.
If you want to switch things up you can also reserve to have a private dinner on the lawn or a traditional balinese feast at the restaurant.
Breakfast is served each morning at your villa after calling in your order. We loved the options the breakfast included such as the juice, yogurt, eggs, meat, and bread. Having a great breakfast with a gorgeous view all at your own villa was the perfect way to start the day.
Spa & Wellness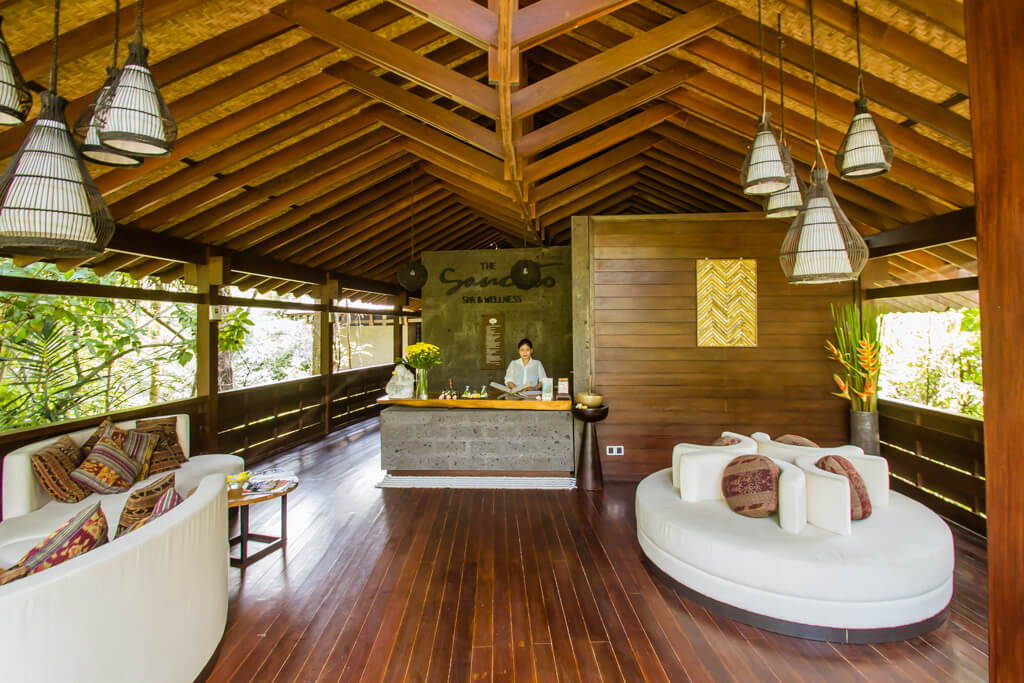 It would be a shame to stay at Sanctoo and not enjoy their serene spa and wellness center. Each room is set up with a jacuzzi tub and a massage table with an open window overlooking the canyon river with a plummeting waterfall. The entire atmosphere is total relaxation.
Pick between their menu of massages, facials, body treatments, and aromatherapy.
We enjoyed a 60 minute balinese style massage side by side and left completely rejuvenated. I was actually having tension headaches before this visit everyday for 5 days prior from carrying a backpack and a few bad nights of sleep. After my massage all the tension in my back and neck completely melted away.
We both loved the view and listening to the waterfall in the background as we enjoyed our massage. This currently tops the cake in best overall experience at a spa either of us have had to date.
Location
Located a 20 minute drive from the center of Ubud, Sanctoo Villas offers more of a quiet and less crowded experience than you would get in Ubud. Sanctoo Villas also is neighboring the Bali Zoo which makes it incredibly easy to experience both your luxury villa and this world renowned zoo together in one trip.
Bali Zoo
Considered one of the top 25 zoos in Asia, according to Trip Advisor, Bali zoo was one of the most unique zoos we have been to. The property is tucked away in a jungle and each of the animal enclosures included beautiful balinese architecture from temples to local plants. We really liked Gibbon Island where there were trees, ladders, ropes, waterfall, and a tree house Swiss Family Robinson style for the family of gibbons living on the island. The meerkats and the otter had their own balinese temple and small waterfalls to reflect the size of the animal. We noticed Bali zoo has big improvements coming to other animal enclosures for the elephants and orangutans to have more of a jungle habitat for their enclosures too. The new elephant enclosure will include a big waterfall and huge bathing pool for the elephants when complete.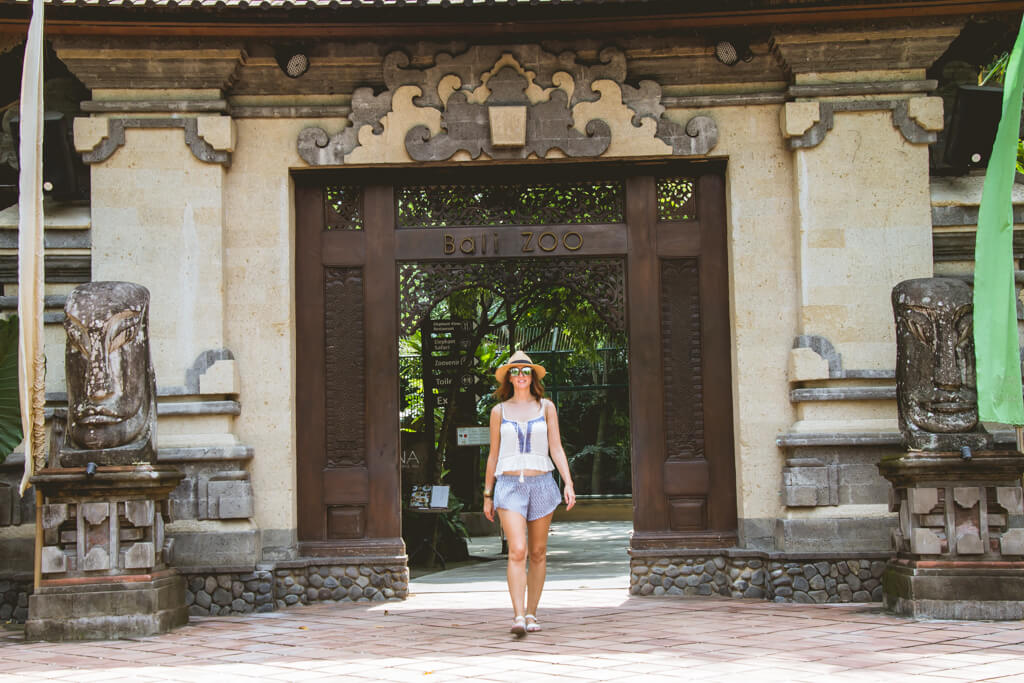 Most of the animals in the zoo are native to Indonesia including some of the animals we saw last week in Borneo. As we wandered the zoo we learned about the conservation and breeding programs for the endangered native species and African lions in the zoo.
Our Experience
Since Sanctoo Villas is located next to the zoo, we were able to enjoy an action packed day at the zoo. What was nice was we were able to enjoy the day at the zoo in chunks and come back to our villa for breaks for a massage and cool off by taking a dip in our pool. Sanctoo gives you a ride on a buggy to and from the zoo when you want to come and go which was very convenient.
Check out our action packed day at the Bali zoo.
Morning
For breakfast we started off inside the zoo for breakfast with the orangutans. The breakfast spread was a huge buffet with everything from fruit, toast, pastries, rice, and even an egg station. After fueling yourself for the day you can get a photo with an orangutan. We wished that breakfast was served next to the orangutan exhibit where people could just observe the orangutans, instead the young orangutans were brought to breakfast where people could touch and get selfies with them.
We liked the other restaurant in the zoo, Wana. Here you could dine overlooking the lion enclosure to observe the animals rather than touch.
Afternoon
After a break back at the villa we came back to Bali Zoo for a delicious lunch buffet and the Zoo Explorer. The zoo explorer ticket gets you general admission to the zoo to walk around freely and enjoy the different animal exhibits.
We had a really great time walking around the zoo and admiring the Balinese jungle enclosures for each animal. We loved how some animals had their own temples and waterfalls in their homes. It was interesting to see all the colorful birds around the zoo as well sitting in trees.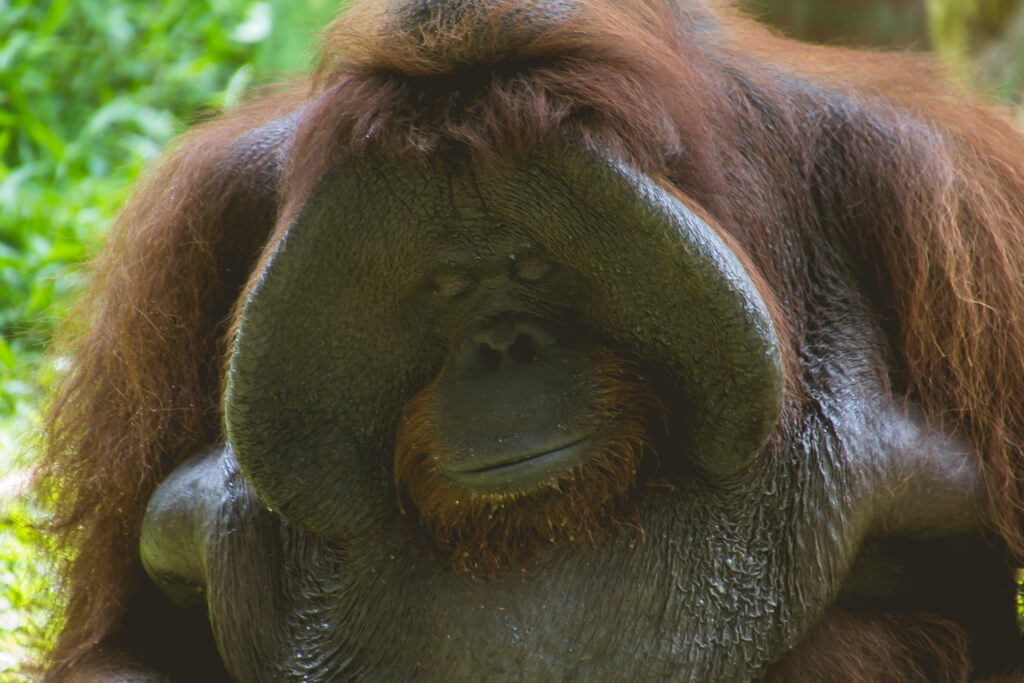 Since we just came off our jungle cruise in Kalimantan (Indonesian Borneo) we were able to see animals up close that we saw in the wild. This was really interesting as we saw animals like the hornbill flying around, gibbons in the trees, and crocodiles in the river, but not up close. We also didn't see nocturnal animals like the slow loris or the bear cat on our cruise but had a glimpse in the zoo. It was nice to get a good look at these beautiful creatures. Alot of these animals are endangered and it was great to learn about the breeding programs that the zoo was working on for their native species.
Evening
After another break from the zoo with a relaxing massage we made our way back for the night and dinner experience inside Bali Zoo.
We were first given an hour long private guide through the zoo with one other couple. Our guide showed us around the zoo and teaching us about the different animals and had jokes for days. This was our chance to catch a glimpse at some of the nocturnal animals and experience the zoo alone. This part of the zoo is not open to the public, you have to book ahead which made the experience more intimate and a great learning experience.
We were able to hand feed a pen of various deer, wallabies, and goats vegetables and grass. We also got to feed one of the zoo's elephants corn who decided to sniff around my clothes and get a little too close to me which made for an interesting photo.
The highlight of the zoo walk for everyone but me would have been when Jacky the male orangutan decided he didn't like the joke I made about him and then threw a poop or corn at my face. Still not sure. It was dark, but he had good aim. If you visit please be sensitive to Jacky's sense of humor.
After the tour we were treated with another delicious buffet dinner and a Balinese fire show. This experience is great for families and couples who want a night outside the villas for an intimate experience at the zoo.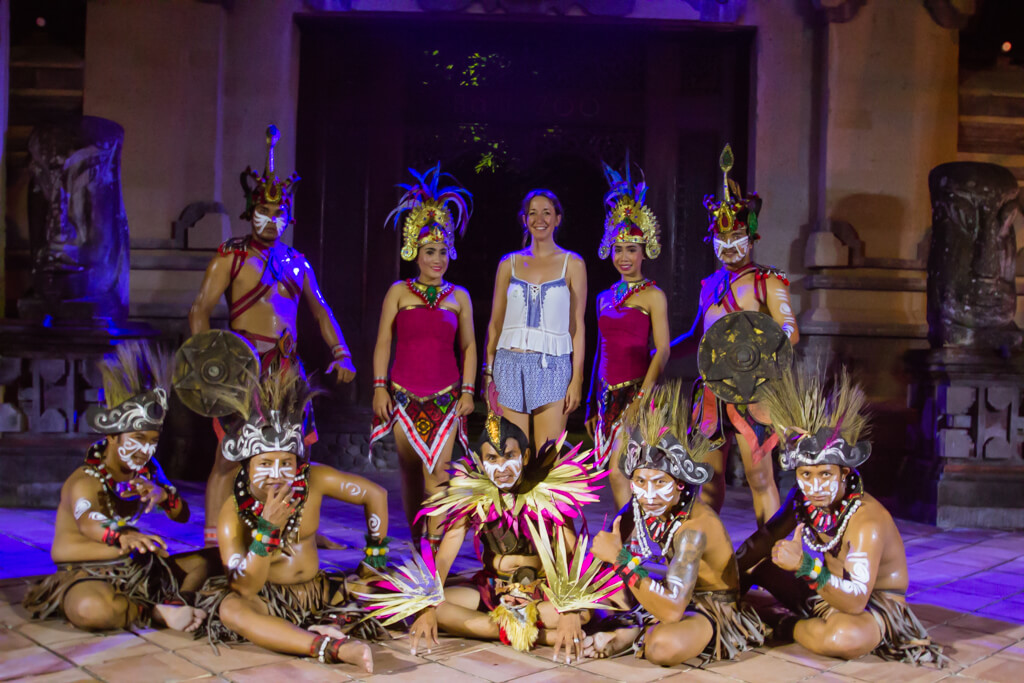 ---
Even though we did enjoy our experiences at Bali Zoo we were really sad to see that they promoted and offered elephant riding. If they must have an activity for people to interact with the elephants we would much rather see a feeding station or elephant bathing.
Overall
We really enjoyed our time at Sanctoo Villas and the Bali Zoo. Sanctoo Villas was the perfect luxury retreat we needed after a few days in the jungle. We loved how romantic and private our villa was with its own pool. The flora and fauna here is beautiful and makes you feel like you're staying in a peaceful oasis in the jungle. Our favorite highlights would have to be the romantic dinner by our pool and our massage overlooking the river and waterfall. We recommend couples coming to Bali who are looking for a blissful romantic getaway in the jungle to come to Sanctoo Villas.
---
Sanctoo Villas
Disclaimer: Our stay in the villa and experience at the Bali Zoo was courtesy of Sanctoo Villa. As always, all opinions and photos are our own.