It's not often you get to see endangered animals in the wild let alone witness them for four days straight while riding your own private boat through the jungles of Borneo Indonesia. Imagine four days of solitude with nothing but you and your travel companions, a local guide, and the jungle of Borneo Indonesia. Everyday spotting wildlife from different species of monkeys including the odd looking proboscis monkeys, crocodiles, beautiful birds, and wild and rehabilitated orangutans at the feeding stations.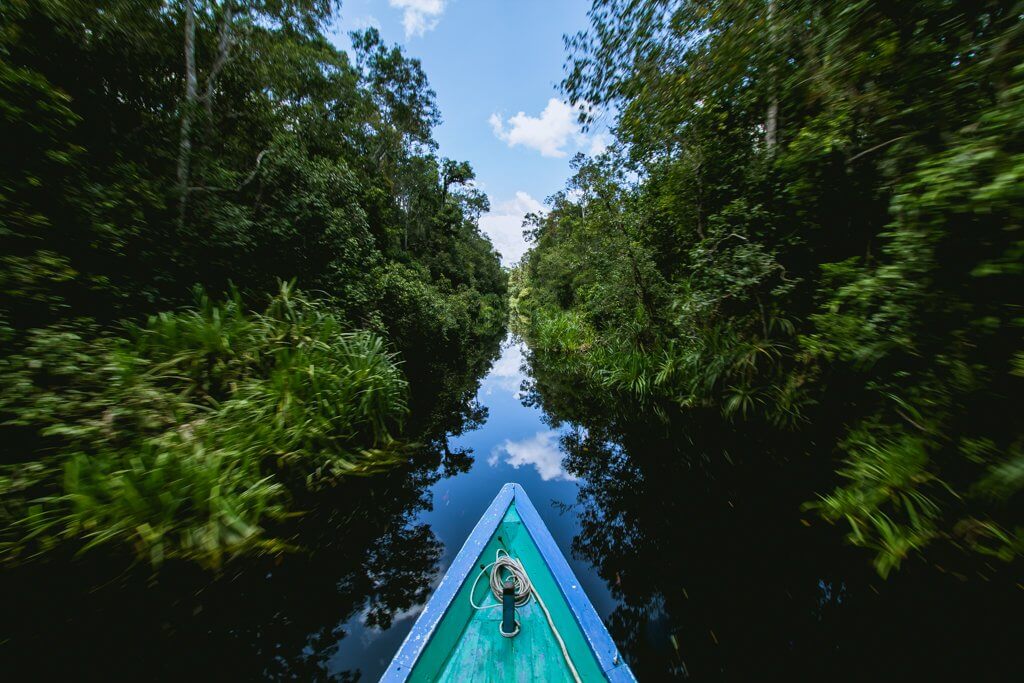 This entire trip is all a special thanks to our friends Katy and Emil, who we met in during our travels in Laos and have now become lifelong friends. The four of us instantly hit it off during our trip to Nong Khiaw and we ended up traveling together for the next week.
They raved about this experience living on a klotok boat and cruising through the jungle of Borneo Indonesia spotting wildlife and we knew we had to do it too, lucky for us they wanted to do it again and we all met up to go together!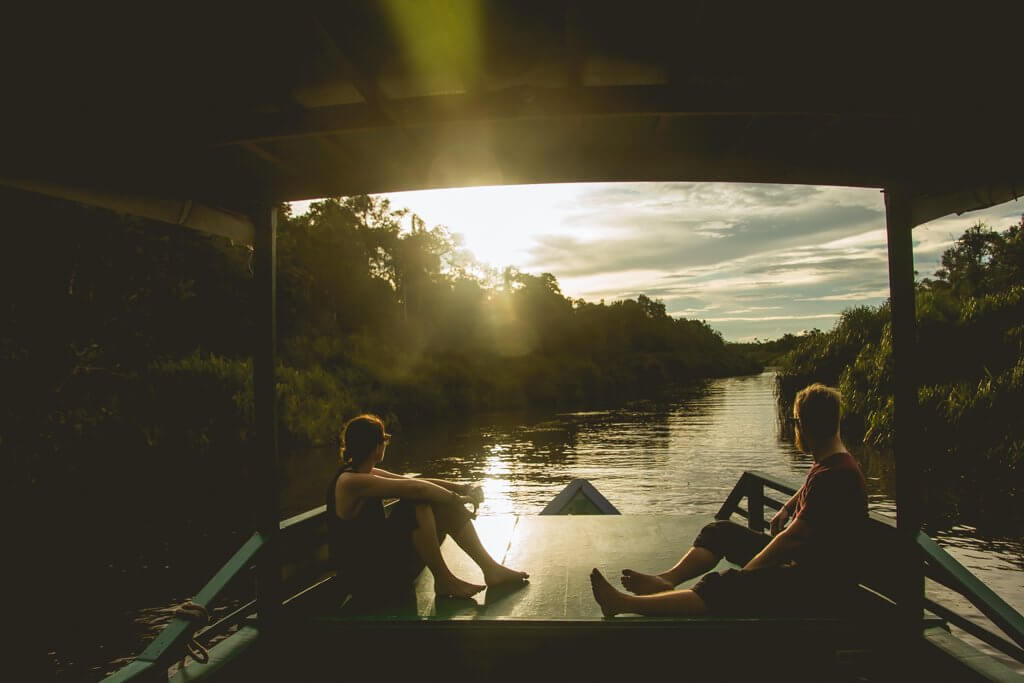 One of the most unexpected and one of our favorite parts about traveling long term would be the friends you meet along the way from all over the world and meeting back up!
Life on the Boat in Borneo Indoensia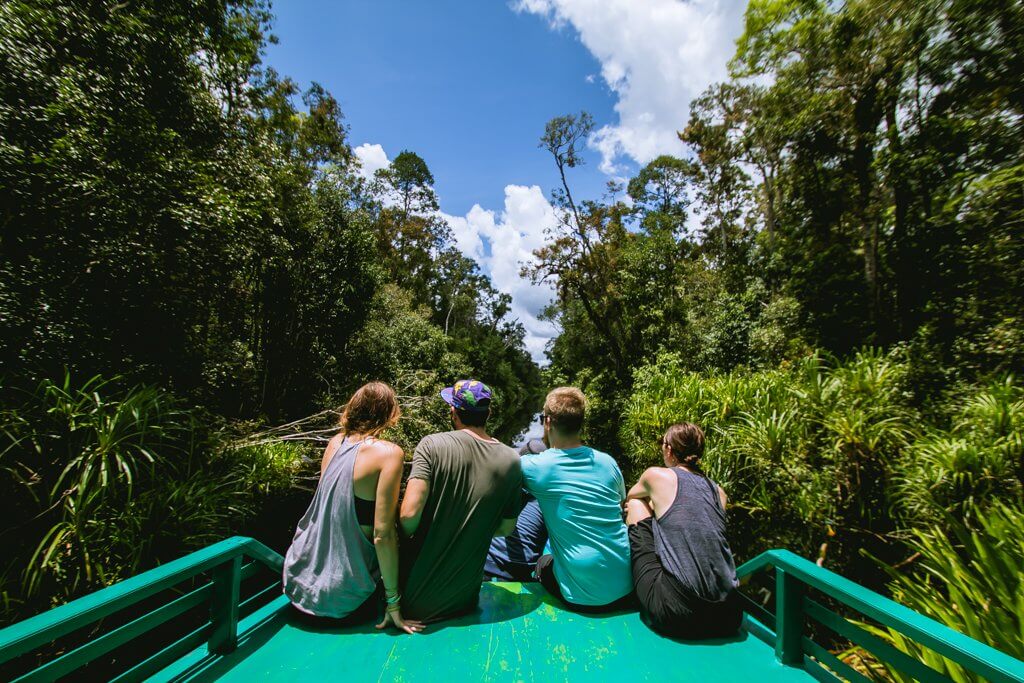 We set off for three nights on a klotok, our wooden boat, where we would be cruising through Tanjung Puting National Park and the Sekonyer River to three different orangutan feeding stations and any stops for sightseeing we wanted to make along the way through the jungle of Borneo Indonesia.
Wildlife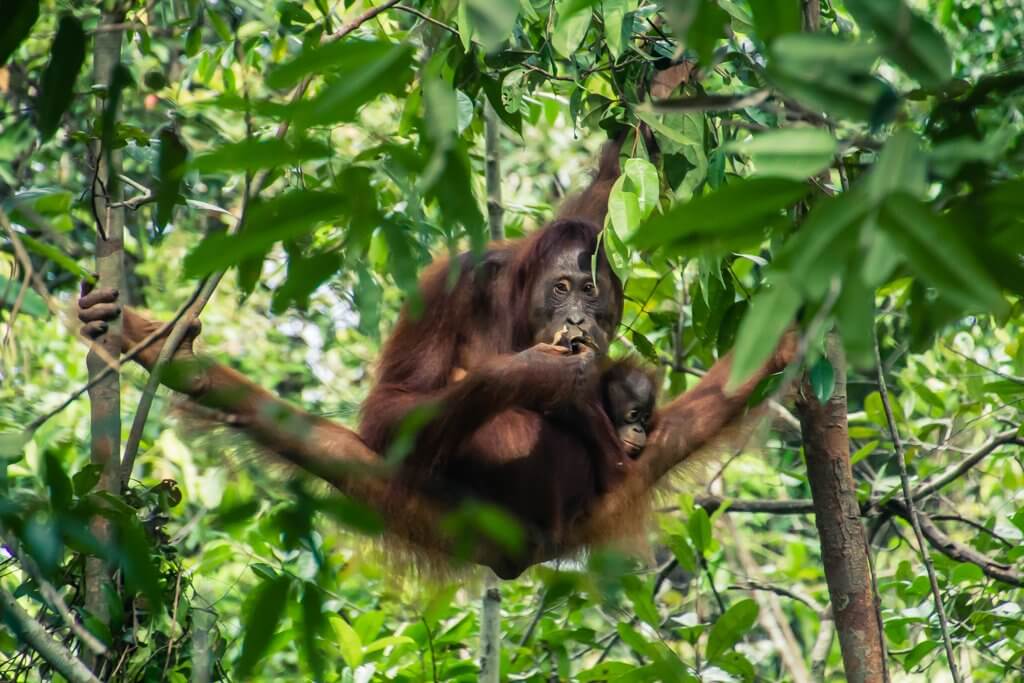 One of the most amazing and unforgettable experiences of this would be sitting at the front of the boat and looking for any animals in the wild. From looking high in the trees for proboscis, macaques, gibbons, and orangutans to looking in the water for vicious crocodiles or up in the sky for birds like the kingfisher. We would get a lucky treat of seeing a giant hornbill from time to time as well.
Some of the best moments of the trip were spent on the boat just cruising down the beautiful Borneo Indonesia river, bonding with our guide, and looking for wild animals.
Sleeping Arrangements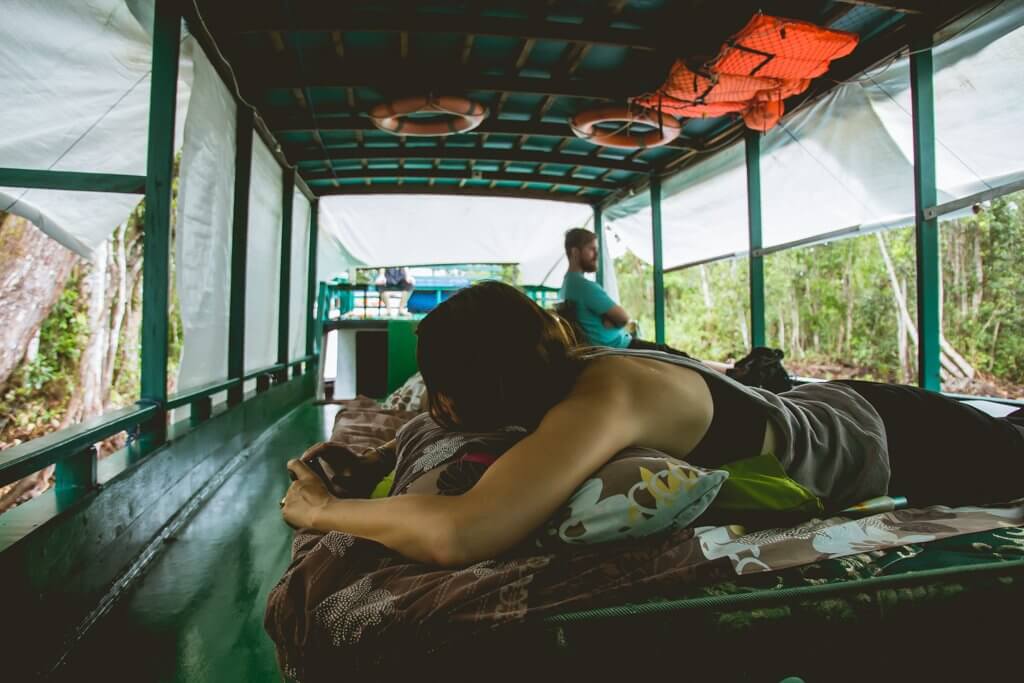 The sleeping arrangements were basic and more like camping on a boat. Each couple is provided with a mattress with a bug net attached on the upper deck of the klotok. You're protected from mosquitos and insects, but its best to make sure you spray your area with bug spray before tucking in to make sure you don't trap any bugs in the bed with you for the night.
During the day, the mattresses are stored and the upper deck of the boat was where you'd hang out while cruising through Borneo Indonesia and eat your meals.
If you're lucky, you might even encounter a huntsman spider right before bed to give you sweet dreams. Haha.
Meals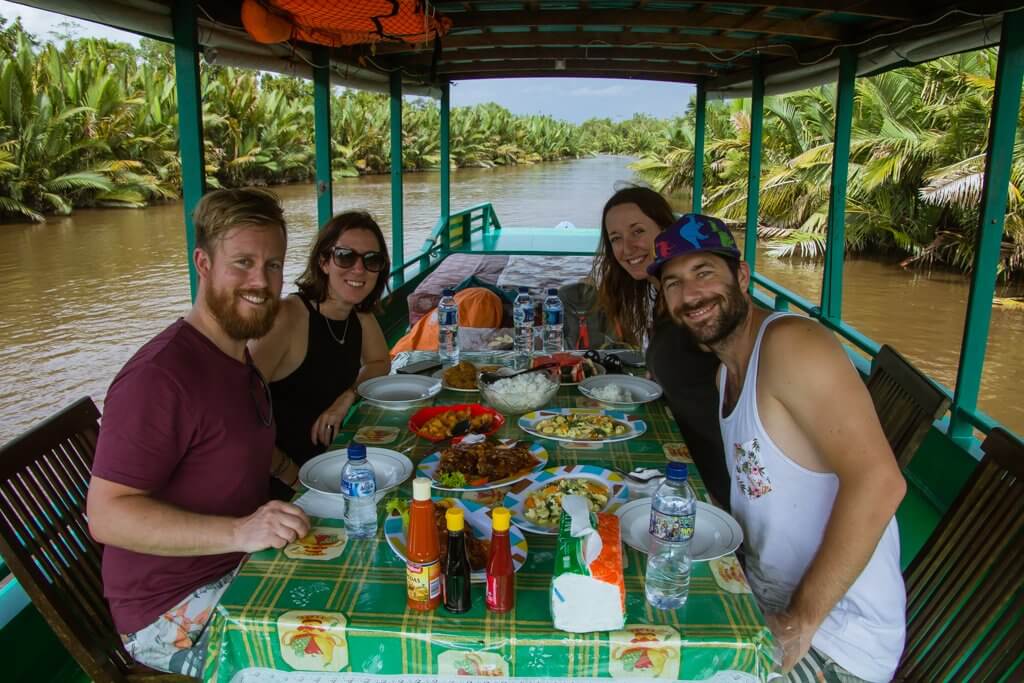 You would think that meals on a boat floating through the jungle of Borneo Indonesia for four days would be basic but this ended up being one of the best surprises of the trip. All of our meals were cooked and served on the boat by our chef onboard. It was impressive what our crew's chef could whip up in such a small kitchen. Each meal consisted of at least five dishes and each one seemed to be more delicious than the previous. We could say we didn't go hungry at all on that boat, we probably came off 5lbs heavier thanks to the heaping amount of tasty food served up at every meal.
Your Local Borneo Indonesia Guide
It's important to get a great and knowledgeable guide for your multi-day excursion through Borneo Indonesia. We were lucky our friends already met our guide, Chris, during their first trip.
We couldn't have had a better guide!
Chris is such a fascinating person. Having grown up part of his life in the middle of the jungle in Borneo Indonesia, he's devoted his entire adulthood to sharing his home and teaching others about the jungle and the orangutans who live here. He made our trip complete, his company was one of the best highlights of our experience.
Chris would take us with a crew consisting of a captain, captain's assistant, and a chef for the next 3 nights and 4 days through the jungles of Borneo Indonesia (Kalimantan, Indonesia) to observe the orangutans at the three different feeding stations as well as wild sightings in the jungle from our boat.
During our walks through the jungle, he would stop and point out any interesting insects or plants that might interest us and explain what it was. There were a few occasions where he would find plants and tell us about the medicinal purpose and have us try it! We even tried a bitter plant that is said to help treat malaria.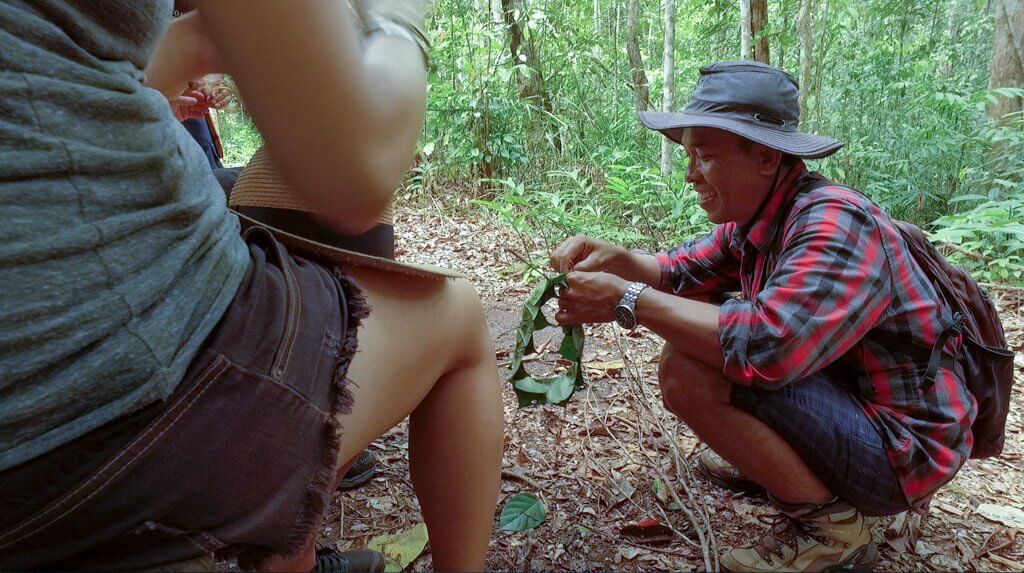 From giving us jungle medicine, making the ladies jungle queens of Borneo for the day with crowns made of leaves and sticks, treating us after leeches attacked our feet, helping us with a magic eucalyptus oil for our itchy bug bites, and introducing us to the orangutans he knew by name, teaching us about every animal we saw in the wild, he was the best damn jungle guide we could have had and wouldn't go back again without him!
We seriously could write a whole book about how awesome Chris is. A few small paragraphs just isn't enough. Seriously, this is the guy that National Geographic calls when they need a jungle guide to take their photographers to spot wild animals. If Chris had a resume to hand out, it would be freaking impressive.
The Feeding Stations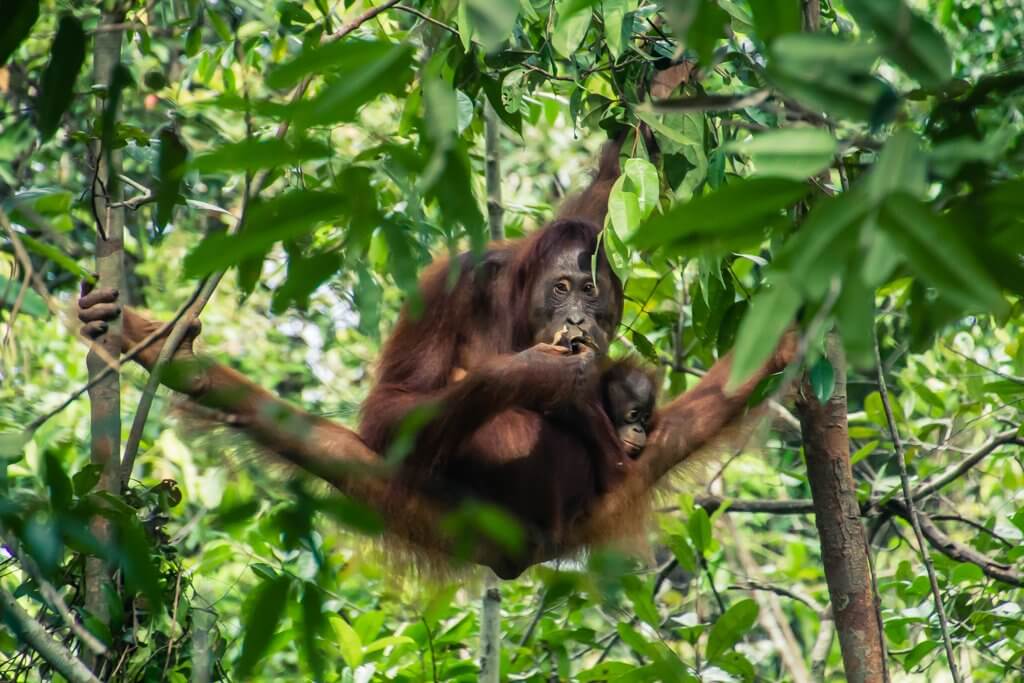 There's no guarantee that you will see orangutans in the wild from your boat in Borneo Indonesia, although we were very lucky to see quite a few. The best chances of seeing an orangutan would be visiting any or all three feeding stations along the river.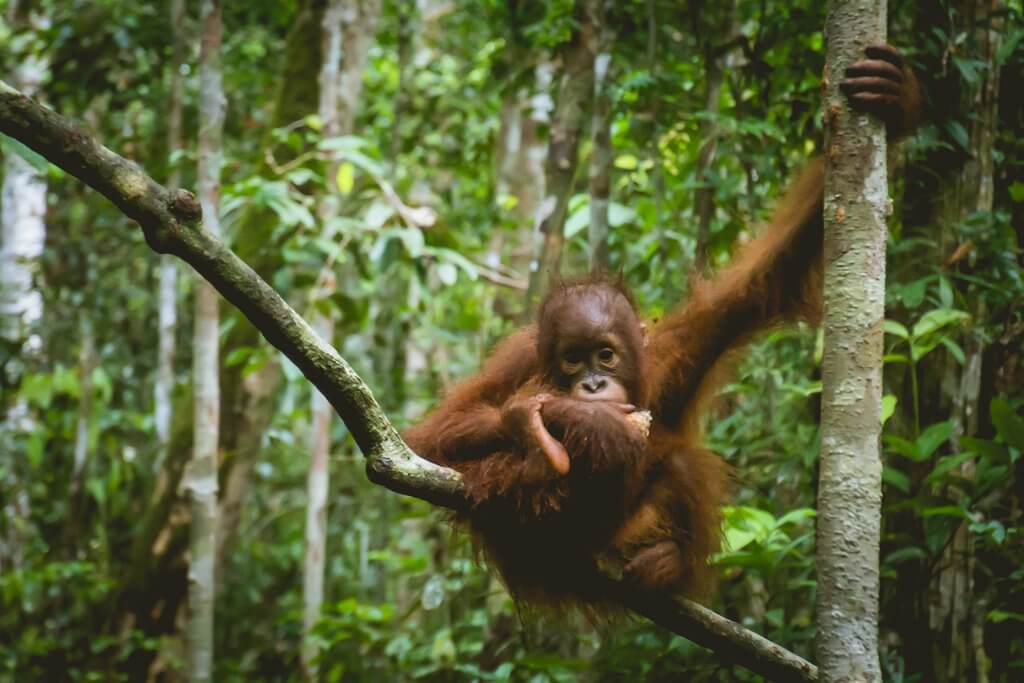 These feeding stations also act as a rehabilitation center for formerly captive or orphaned orangutans who are brought to be looked after and reintroduced to their natural and wild environment. These orangutans are considered to be semi-wild since some were once captive or they are used to the presence of humans.
The first and second feeding stations are located in Tanjung Puting National Park and have a roped off area where observers can witness the orangutans during the two feeding times per day.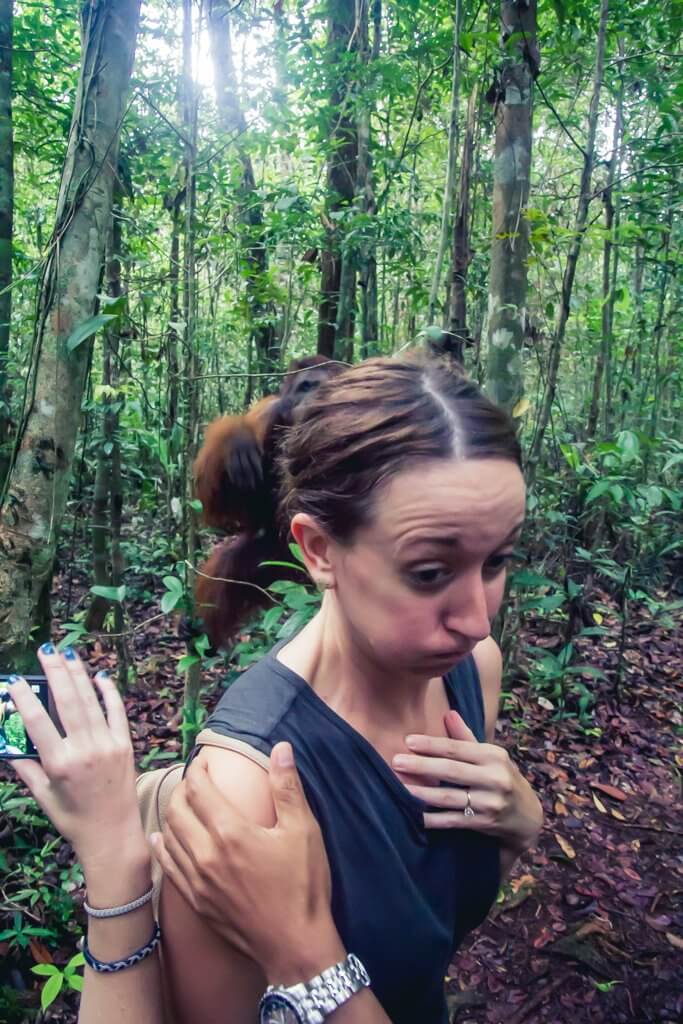 We had a bit of a mild scare when one of the male orangutans unpredictably came down from a tree towards us and our guide at the first station. We had to quickly move out of the way to be sure we didn't disturb or anger this hormonal guy.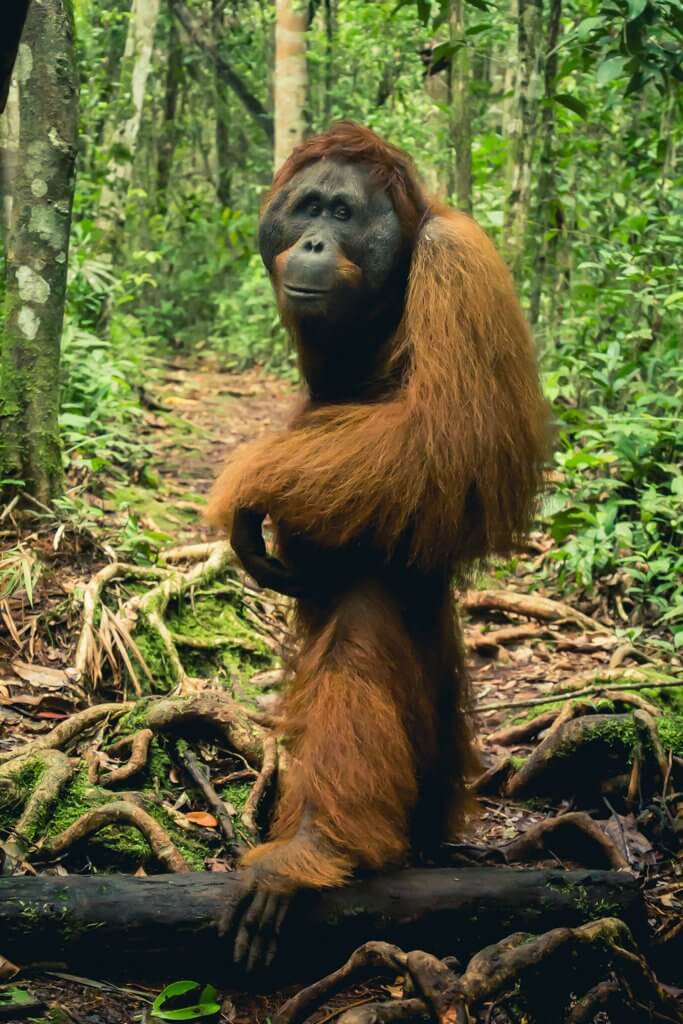 The third and most famous station is Camp Leakey. Named after famous paleoanthropologist Louis Leakey, who was a mentor to Dr. Birute Galdikas who performed some of the most important studies done to date on orangutans here at this very feeding station in Borneo Indonesia. Camp Leakey was founded in 1971 and has been featured several times in National Geographic and even in documentaries.
Dr. Leakey was also mentor to other famous anthropologists Jane Goodall and Diane Fossey.
Here, you will get to witness the orangutans from a safe distance and perhaps even see a scientist studying or conducting research.
More Wild Animal Sightings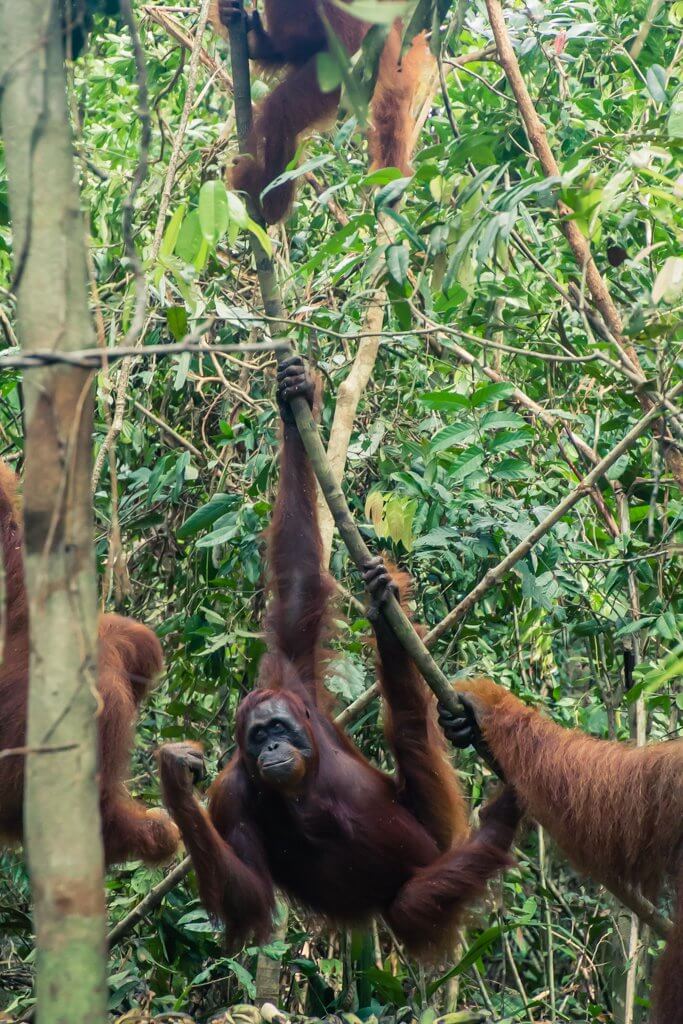 Seeing the orangutans at the feeding stations was such a treat, but these orangutans are semi-wild because they are used to seeing people every day come and observe them during their eating times. We loved how close we could get to the orangutans at the feeding stations for this purpose, but there was something that felt more rewarding to spot the animals in the wild from the boat.
We were apparently really lucky because we saw at least a dozen different wild orangutans on our klotok boat. Our friends said they didn't see more than one or two on their last trip. We were visiting in mid-September, which is when the fruit is in season and the reason why we saw more wild orangutans than normal.
Because the fruit was in season, this also meant that all of the orangutans may not show up to the feeding stations seeing how they can eat and fill themselves up on their own with the fruit in the wild.
Our favorite sighting of a wild orangutan would have been this giant male. We stopped our boat to observe him a bit and he began to swing through the trees towards us to see us as well. Before long he was sick of us staring at him and started puckering his lips and making a smooching sound at us. Our guide said that meant he was upset, apparently, we have overstayed our welcome at this point, and we moved along leaving him be.
Another favorite wild animal sighting would be the proboscis monkeys. These guys are so strange looking with their floppy nose, big ole' belly, and for the male proboscis, their red chili pepper. We found these guys to be so interesting to look at and hilarious. They look almost like a crazy character rather than a real monkey. We couldn't help but think of Al Bundy every time we saw one.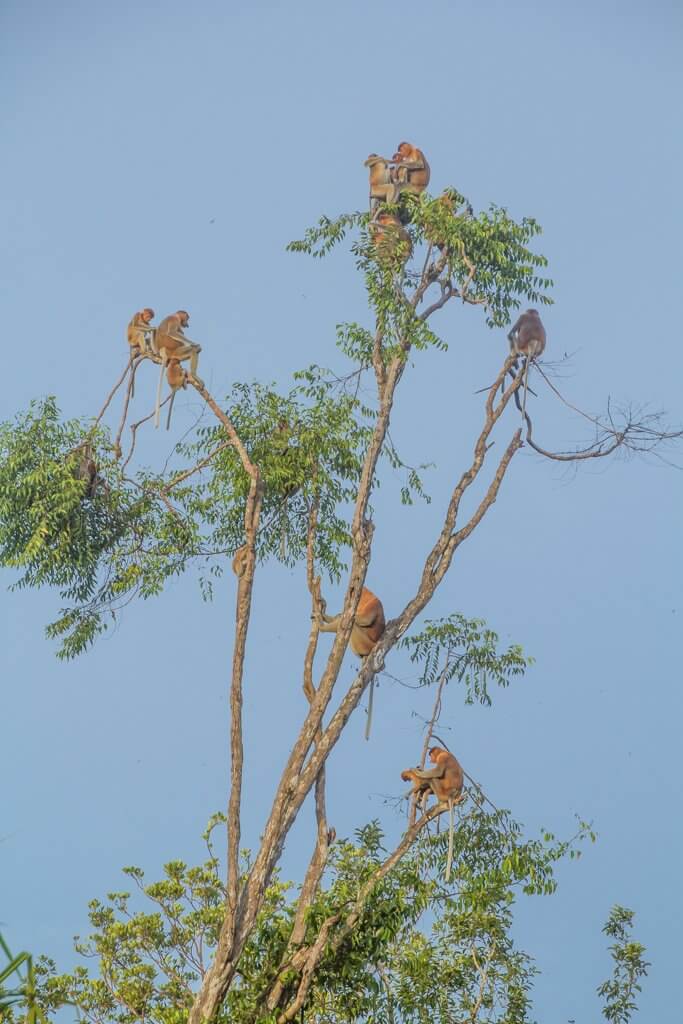 It was fun watching them swing through the trees because they looked. It felt as if you were watching a blooper reel at some points because it looked like they were missing the trees altogether when they took their leap of faith to a branch on another tree. It looked like they were aiming for a branch, completely missed it and had to grab on the next branch below them. Little did we know this is just how they move around.
We also saw some terrifying crocodiles, monitor lizards, hornbills, macaques, and gibbons.
A solo cheeky little macaque carefully planned how he was going to jump on our boat parked for the night along the river. We watched him as he jumped through the trees over the crocodile-infested waters until he made it on a branch close enough to take the leap of faith on to our boat. After stealing a few napkins, Chris who is a lover of all jungle animals rewarded this brave little pirate with a banana.
We ended up calling him Phree-doh the little gray monkey.
If you're lucky you may spot a clouded leopard, tarsier, or slow loris!
Extra Stops on your Borneo Indonesia Cruise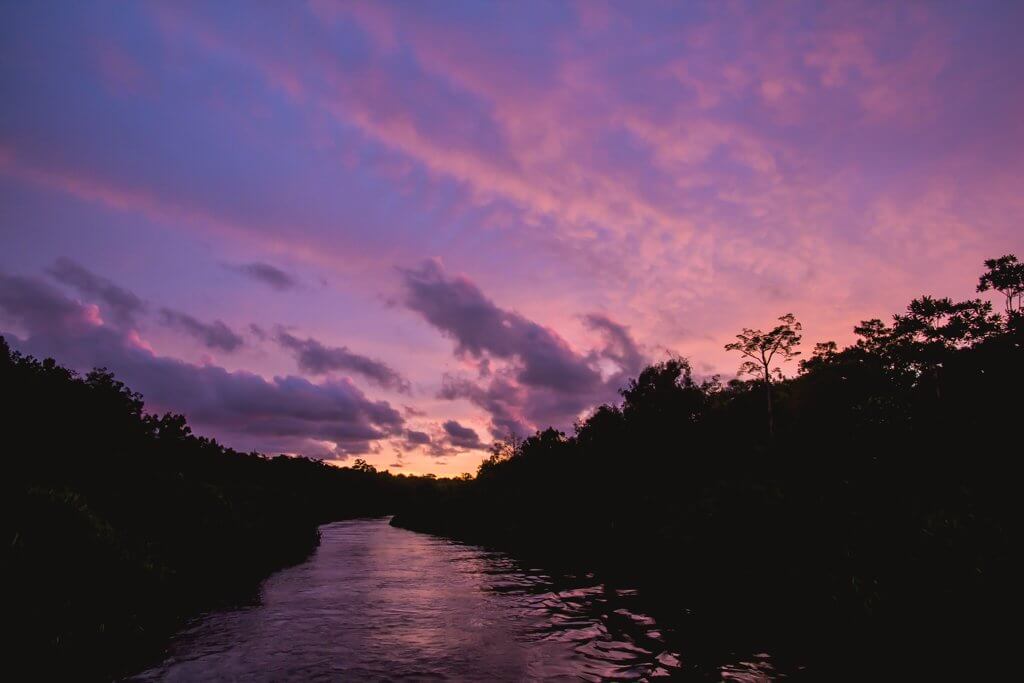 Besides the feeding stations, our cruise made two extra stops including a night walk in the jungle and planting a tree at the jungle conservation center. These extra stops will depend on the length of your cruise.
The night walk through the jungle was incredible although a bit spooky since you can't see very well. Luckily, our guide did everything to make us feel comfortable in the jungle of Borneo Indonesia at night by staying close and pointing out night creatures to admire in the silent darkness of the jungle.
We were hoping to be lucky enough to spot a slow loris or a tarsier during our night walk but ended up seeing more creepy crawlers instead. Chris showed us where tarantulas live in the trees and let us get a closer look at one we spotted in the night. We did not know that tarantulas from Borneo Indonesia were poisonous, so we didn't dare get too close.
At one point we heard a loud sound thinking it was going to be some sort of large bird, Chris pointed out to us that it was actually a grasshopper who was making loud music that could be heard far away. We were so impressed with how easily Chris was able to locate this tiny insects location in the dark on a single leaf in the jungle.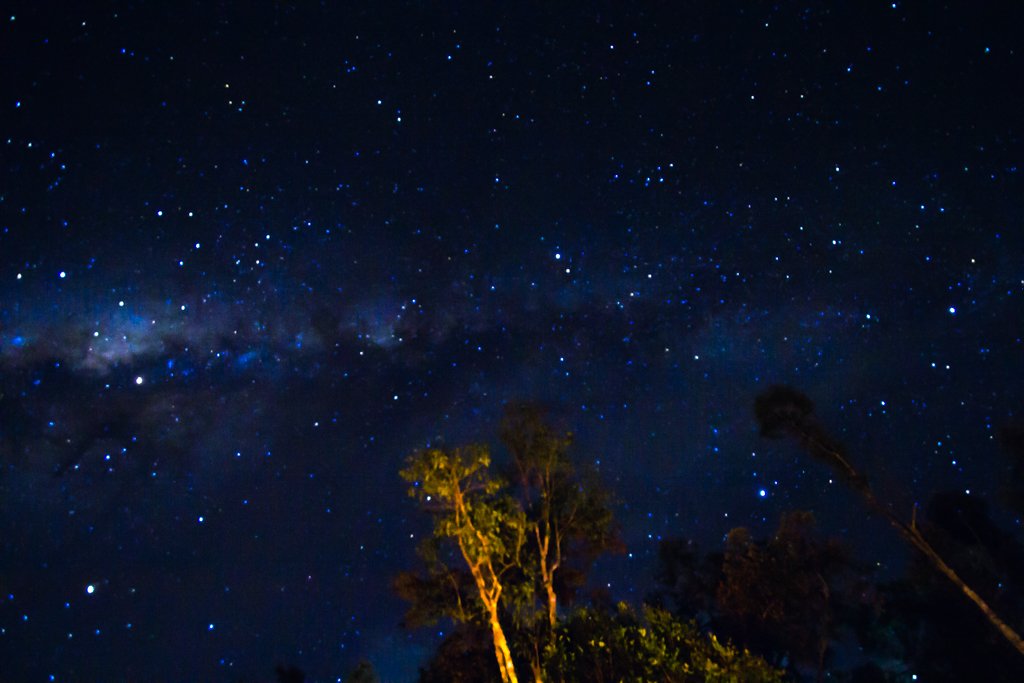 We also got to witness bioluminescence mushrooms that actually glow in the dark! It was surreal to see this in real life in the wild.
Once we got back to the boat we discovered Chris, Scott, and I had leeches. Katy and Emil were lucky little devils who didn't attract these little bloodsuckers. Again, Chris came to the rescue and made sure our leeches were gone, stopped the bleeding with his magical ways, and checked our pants and the boat for more who may be lurking around. To avoid this be sure to get a strong repellent with deet that is good for mosquitos and leeches.
Try this product: Aeroguard Tropical Strength Repellent for mosquitos, leeches, and other insects.
On the very last day of our jungle cruise through Borneo Indonesia, we were taken to a nursery that plants trees native to the jungle. We all gave a voluntary donation and planted a tree native to the jungle. We all picked different kinds of trees and a park ranger took us to a plot to plant it. This was a nice way to end the trip and hopefully, once our trees are big enough they are relocated to a part of the jungle that needs it.
How to Plan your trip to Borneo Indonesia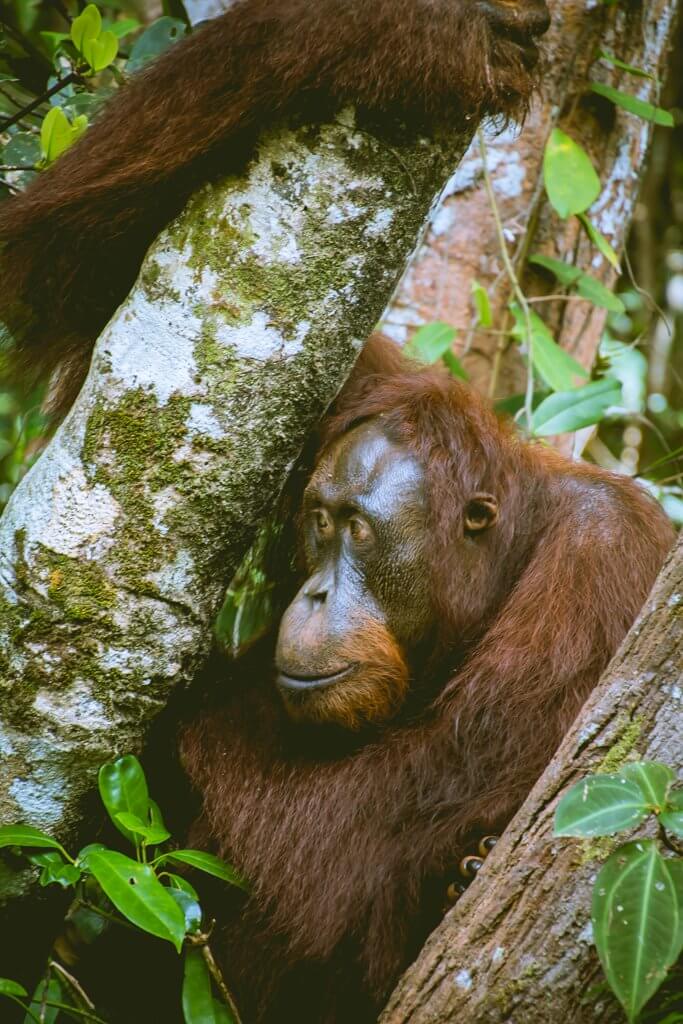 We recommend planning your trip to Borneo Indonesia during the same season we went in mid-September since this is when all the fruit is in season and your chances of spotting wild orangutangs are increased as well as other wildlife sightings.
We recommend doing the 3 night 4 day cruise like we did to ensure that you will stop at all the feeding stations and hit up the extra stops as well as increase your chances of spotting wildlife.
We booked our tour through Orangutan Voyage. They will take care of everything and even help you coordinate your logistics getting to Kalimantan (Borneo Indonesia) through the local airport.
To get to Indonesia Borneo you can take one of the daily flights from Jakarta to Pangkalan Bun Airport.
Orangutan Voyage had our flight information and picked us up straight from the airport and transported us to our klotok where we set off for the 4-day cruise.
Depending on your flight back to Jakarta you may have to spend a night in Pangaklan Bun, Borneo Indonesia. This is what we did and Orangutan Voyage help set us up with a hotel near the city center where we could walk around and get a feel for the local scene and find a meal.
What to pack for Borneo Indonesia
Clothing
It's important to have lightweight clothing for this trip as the jungle in Borneo Indonesia is humid and often hot. You will want to make sure you bring lightweight pants and even a long sleeve shirt you can wear to avoid bug bites and leeches. You can wear shorts and a tank on the boat, but when you go to the feeding stations you'll want to swap out to pants.

Click on the links to shop
Women's linen pants are the perfect lightweight option to wear day or night in Borneo Indonesia. Not only are they comfortable, lightweight, and breathable but they will keep you protected from bugs.
The women's three-pack of tanks are perfect for a trip to Borneo Indonesia. They can be worn under the long sleeve shirt when going off the boat for jungle walks or the feeding stations or worn by themselves when you're on the boat looking for wildlife.
The women's lightweight linen long sleeve shirt is perfect to wear when you're walking around off the boat to protect you from mosquito bites and to wear over your tank at night when the temperatures slightly cool down.

Click on the links to shop
These men's linen pants are the perfect lightweight option to wear day or night in Borneo Indonesia. Not only are they comfortable, lightweight, stylish, and breathable but they will keep you protected from bugs.
This men's tank is perfect for a trip to Borneo Indonesia. It comes in a variety of colors and can be worn under the long sleeve shirt when going off the boat for jungle walks or the feeding stations or worn by themselves when you're on the boat looking for wildlife.
The men's lightweight linen long sleeve shirt is perfect to wear when you're walking around off the boat to protect you from mosquito bites and to wear over your tank at night when the temperatures slightly cool down. Plus it's available in a few colors!
Bug Repellent
It's important to come prepared with quality mosquito repellent. Double down and be sure to get a repellent that also scares away those leeches for your nightly nature walk or any moist days walking through the jungle to the feeding stations. Between the four of us we went through two bottles in 4 days, so be sure to come prepared! We also recommend getting something to soothe bug bites in case you do get a bite that helps with the itch, we ended up using Tiger Balm to help soothe any itchy spots.

Click on the links to shop
This Aeroguard bug spray is great to repel mosquitos and leeches plus any other bug you might run into. The bug spray is tropical strength and offers up to 6 hours of protection. We recommend taking a few bottles.
The white Tiger Balm is the perfect remedy to soothe any bug bites you might get and help you get rid of that pestering itch. We prefer the white because it's cooling, the red Tiger Balm is warming. This balm also works as a muscle ache ointment and a sniff of it opens up your sinuses!
These Repel Mosquito Wipes are another option to keep those pesky mosquitos away. We recommend taking these along with the Aeroguard bug spray for a handy on the go repellent wipe. There's only 15 per pack so we recommend getting a few, they are only a few dollars so this is money well spent!
Miscellaneous Things to Pack
We recommend bringing a good flashlight or headlamp. It gets DARK at night and if you need to go to the bathroom on the boat, unpack your pajamas, or do anything after dark you will want a good flashlight. We also recommend bringing a solar power battery pack that can charge during the day in the sun and charge your phone or any devices with a USB cable. (the one we selected below also has a flashlight on it!) If you want to increase your chances of spotting animals in the wild, bring a set of binoculars.

Click on the links to shop
This headlamp is a great option for looking around in the dark on the boat at night hands-free and for any night jungle walks in Borneo Indonesia. This is going to come in handy. Plus it has a USB charger that you can use in the battery bank we recommend as well.
This solar powered battery bank with a flashlight is one of the best all around traveling products we highly recommend. You can charge the battery bank in the sun with the solar panel or with it's charging cable. There are two USB ports so you can charge more than one device at a time. A bonus would be the handy flashlight and compass built into the battery bank!
We recommend getting a pair of small binoculars for your trip to Borneo Indonesia to get a closer look at the wildlife. What's nice about this pair is you can put your camera phone up to it and take a photo. This pair also comes with a handy carrying case.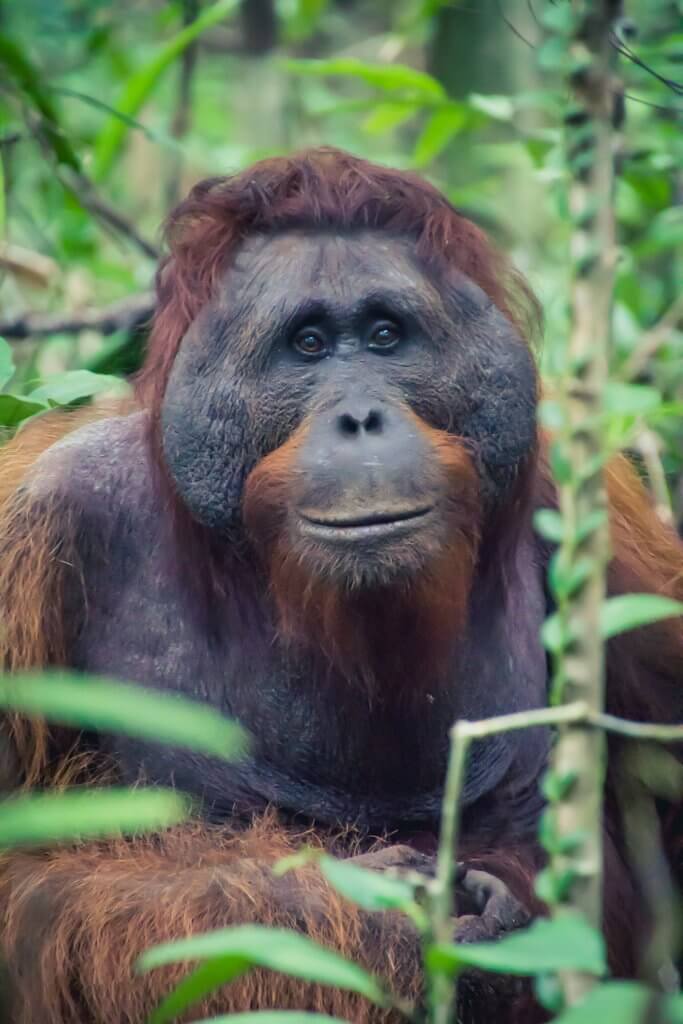 We LOVED this experience in Borneo Indoensia. This was a perfect digital detox for anyone who wants to connect with nature with a unique experience witnessing endangered animals in the wild. We would love to come back to Borneo Indonesia and do this entire experience all over again since it will never be the same experience each time with the wildlife sightings you'll see.
It was fascinating to learn more and witness the wild and semi-wild orangutans as well as the other wildlife native to Kalimantan in Borneo Indonesia. Camping on the boat was an experience unlike any other. To be able to get up in the night and look up at the milky way and waking up in the morning to the sound of wild animals and even curious monkeys trying to get our boat are unforgettable memories. We have a feeling we will be back!
Liked this post about Borneo Indonesia? Save this post for later on Pinterest below!