Looking for the perfect 3 days in Siem Reap itinerary? We've got you covered. Check out this incredible guide for how to spend 3 unforgettable days in Siem Reap.
Siem Reap is well known to the world as the location of the magnificent Angkor Wat and its surrounding temples at the UNESCO World Heritage Site, Angkor Archaeological Park. No itinerary for Siem Reap would be complete without a visit to Angkor Wat, one of the ancient seven wonders of the world.
Siem Reap is a quaint town itself beyond the magical wonders of Angkor Wat filled with night markets, delicious Khmer cuisine, beautiful traditions, and friendly locals.
This Siem Reap 3 day itinerary is the perfect amount of time to experience this incredible destination and gem of Cambodia.
Table of Contents
Tips for Your Siem Reap Itinerary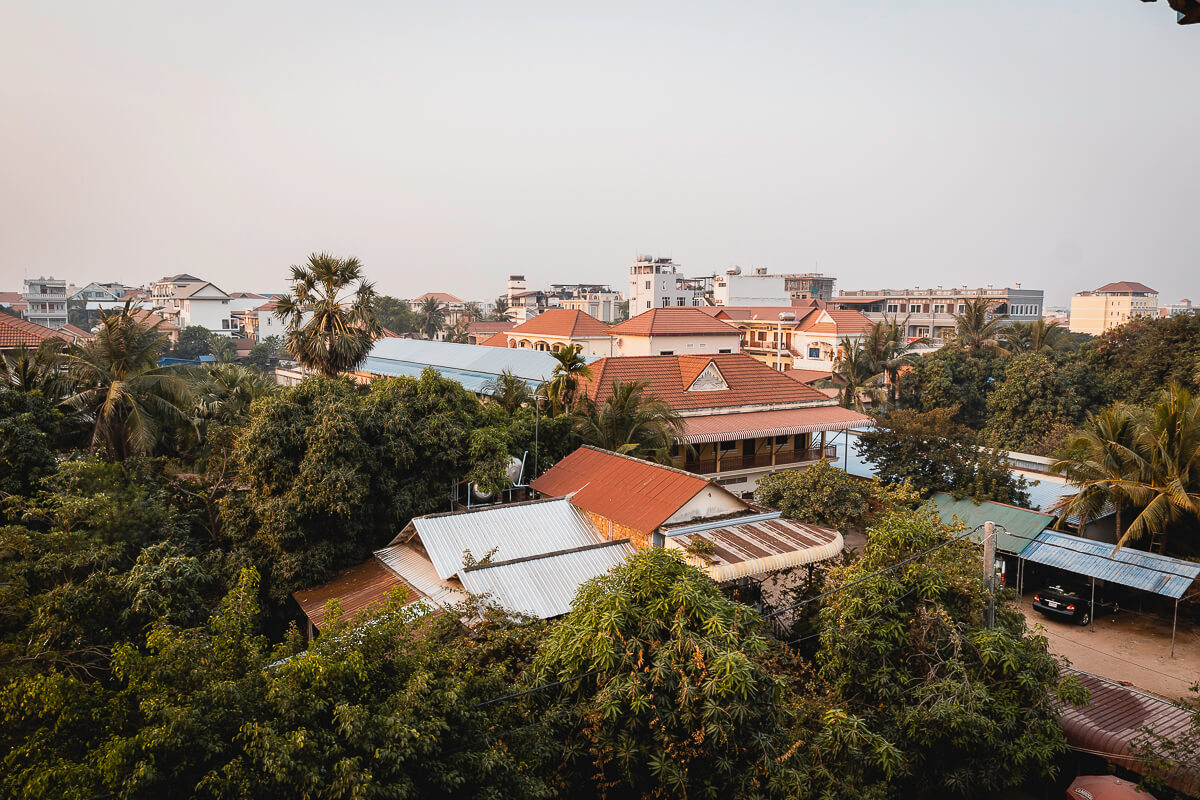 Getting to Siem Reap
Before starting your Siem Reap itinerary, you need to arrive to Siem Reap. Most visitors will arrive to Cambodia in Phnom Penh. From there, it's only a 6-hour bus ride to Siem Reap.
I booked through the Giant Ibis – they're on time (which is unusual for Southeast Asia), air-conditioned, and the drivers drive safely from my experience.
Usually, this route includes a stop or two along the way to stretch your legs and go to the bathroom.
Once you arrive to Siem Reap, grab a tuk-tuk to take you to your accommodation. There will also be drivers there waiting, but the price will be almost double or require negotiating than if you order a Grab tuk-tuk.
Siem Reap also has an international airport, so it's possible to fly straight in. Organize transport from the airport with your accommodation, head to the taxi stand, or book a Grab.
Getting Around Siem Reap
Apart from visiting Angkor Wat and some extra day activities on your Siem Reap itinerary, you should not require transport for your time in town.
This is because most attractions in Siem Reap are within the center, and any other attractions outside of the center (like the floating markets and temples) are usually run by tours that have transport included, but you also have the option to book independently.
I booked a private tuk-tuk driver after reading their great Tripadvisor reviews.
If you find yourself in need of transport, book a tuk-tuk via Grab. Just type in your location, and your driver will meet you wherever you are. I used this mode of transport to get to the airport.
Best Time to Visit Siem Reap & other tips
The best time to visit for your 3 days in Siem Reap itinerary is during their northeast monsoon season that runs from December to April. This is their drier season of the year in Cambodia.
The southwest monsoon season runs from May to October. Traveling to Siem Reap during this time of the year is still doable and enjoyable but you'll want to bring along a lightweight waterproof rain jacket with you.
To bypass the crowds, avoid December and January, during the Christmas holiday season when many visitors come to the area on their holiday break.
For your Siem Reap 3 day itinerary you will want to start your days early. Southeast Asian countries have a tropical climate, so it can get both hot and sticky even before midday.
If you start your day early in the morning, you can spend a few hours in the afternoon during the hottest parts of the day indoors either relaxing, in a cafe, or a museum with air conditioning.
If you're on a budget, venture away from Pub Street. The actual attraction of Pub Street is a must-see, but when it's time to spend money – whether it be for a meal, souvenir, or service, head elsewhere. You'll find food just as tasty, the same souvenir, or a cheaper service just around the corner.
Another tip includes buying your Angkor Archaeological Pass tickets the day before your visit to save time. This way, you don't have to line up at 5 am in the morning to get them, and meanwhile, missing a good spot to watch the sunrise as the crowds roll in.
Be sure to always have water handy. In hot and humid environments like this it's very easy to get dehydrated. When you're going to Angkor Archeological Park be sure to bring water for the day, or even electrolytes!
Day 1 of 3 Days in Siem Reap – Exploring Siem Reap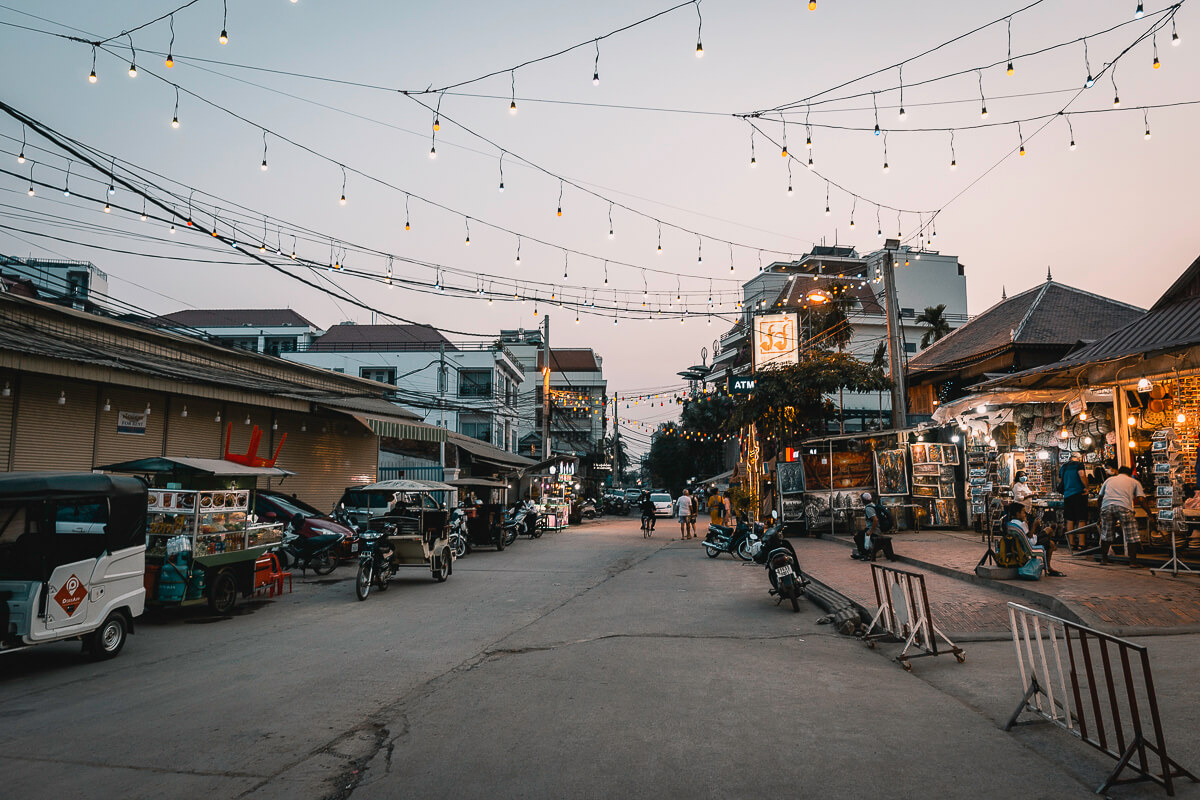 The first day of this 3 days in Siem Reap itinerary lets you get to know all the best things to do in Siem Reap as well as learn a bit more about the Angkor Archeological Park before your visit, and some great nightlife if you're up for it!
Old Market
Start your itinerary in Siem Reap by exploring the town. First thing in the morning, make a trip to Psar Chas, the old market. This is where you'll find the locals in Siem Reap. The market sells a lot of fresh produce including fruit, vegetables, spices, and meats.
Continue wandering around the town afterward visiting the various stalls and coffee shops. Be sure to grab lunch at a traditional Khmer restaurant to try some of the amazing local cuisine – my favorite is Chae Ngek.
Angkor National Museum
Next up on your first of 3 days in Siem Reap is doing some learning about the archeological and historic sites of Angkor by getting a little background information and history before you visit the wonders themselves.
Heading to Angkor National Museum prior to heading to the Angkor temples is a great way to orient yourself and learn about the history Khmer Empire during the Angkor era.
It's also a great idea to spend the hottest hours of the day indoors, so visiting the museum after lunch is a great time to do so to escape and get a break from the hot, humid heat!
Tickets are $15 USD including an audiobook.
Sunset at Angkor Park
Unbeknownst to many, Angkor Archaeological Park is free after 5:30 pm – all you need is to show your ticket for the next day and your ticket won't be clipped.
Order a tuk-tuk through Grab or your accommodation and head to the Angkor Pass Ticket Counter.
Then, organize for your driver to take you into the park to watch the sunset.
My tuk-tuk driver recommended watching the sunset from Phnom Bakheng – it's quite a popular spot, but for good reason. The walk to the top will take you around 20 minutes – you'll be walking up a bit of an incline, but it's only gradual.
This is where you can experience a gorgeous sunset at one of the seven ancient wonders of the world!
Night Markets
One of the best things to do during your 3 days in Siem Reap itinerary is enjoy the nightlife in town. In the town center, there are great night markets where the streets are lined with stalls selling clothing, handicrafts, and delicious treats.
Start at Siem Reap Night Market, located close to Pub Street. Browse items to purchase here with its huge selection, but if you're looking to get the best price, head to a night market further away from Pub Street for the same or similar item.
Just remember to be back to your accommodation early so you can get enough sleep for the very early morning the next day of our Siem Reap itinerary – if you're feeling jet-lagged or tired from the sunset, maybe leave Pub Street for another day as you have a few more chances to enjoy the nightlife!
Day 2 of 3 Days in Siem Reap – Angkor Wat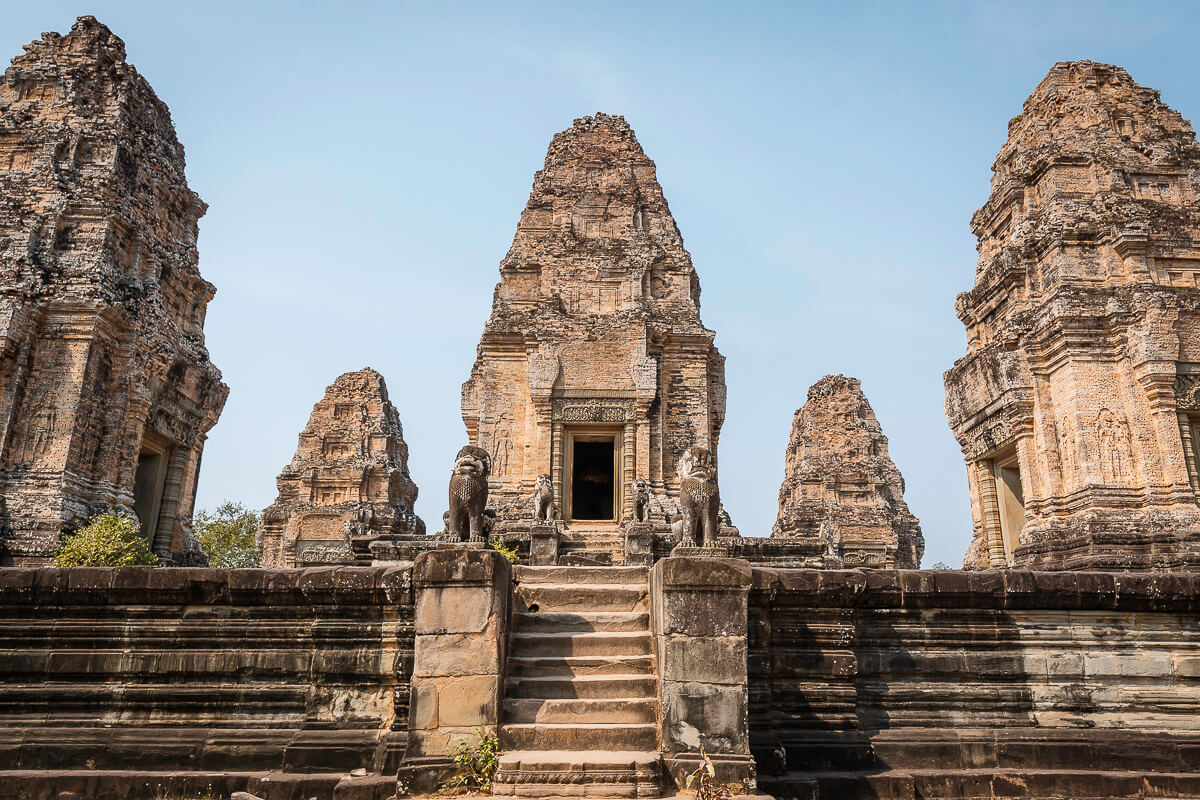 Your second of 3 days in Siem Reap take you to the magical and ancient world wonder of the Angkor Archaeological Park. Be sure to get plenty of rest for this day, as it's action-packed and ending with some more fun nightlife in the town center of Siem Reap.
Angkor Archaeological Park
Start off your day in your Siem Reap 3 day itinerary for the reason most visitors even come to Siem Reap, the Angkor Archeological Park, and one of the seven ancient wonders of the world!
The best tip you can ever receive for exploring this popular Southeast Asia attraction and UNESCO World Heritage Site is to get here early, before sunrise early!
Schedule your tuk-tuk pickup at 4:30 am or 4:45 am. If you have your tickets already purchased the following evening, you can head straight to the park. Otherwise, you'll have to go to the ticket counter first, which doesn't open until 5 am, and you'll miss out on a great spot to view the sunset.
Head to the lake outside Angkor Wat – this is the ultimate sunrise view as you watch the sky turn pink and red behind the temple. It will be pitch black, so use your phone torch to guide you, and follow the crowds.
The earlier the better. I left at 4:30 am and got one of the last front row spots which was fortunate for me since I'm not tall at all. You will have to wait in the dark for a while until the sun rises, but the view is totally worth the wait.
Be ready, this is probably the most popular thing to do in the Angkor complex and photos can be deceiving as they usually don't include the crowds of people.
After the sun had risen, make your way into Angkor Wat itself. Then, complete either the short loop or long loop of Angkor. The short loop seems to be more popular as it includes the temple that was featured in Tomb Raider, Ta Phrom the temple that looks like its being reclaimed by nature with the trees and roots coming out of the temple.
It will be a full day in Angkor at 8 – 10 hours, so bring snacks with you, and you can always ask your tuk-tuk driver to stop for lunch at one of the cafes within the park.
You might even want to consider a second day as the complex is huge, check out this guide to visiting Angkor Wat for more helpful information.
Siem Reap Art Centre Night Market
My favorite night market is the Siem Reap Art Centre Night Market, located directly opposite the bridge. This market focusses on hand-crafted art, rather than mass-produced items of clothing or souvenirs.
Because of this, prices will, of course, be higher than other night markets to factor in the time and skill used to create these art pieces.
You'll often see the vendors painting and crafting their art at their stalls in between customers making purchases. Look out for the brightly-colored canvas paintings and the decorative pottery.
Read more about some of the best Siem Reap attractions and more things to do.
Pub Street
If you have the energy after your long and amazing day exploring Angkor Wat and the other temples, I recommend having a drink or some fun on Pub Street.
After you've done some shopping and sampled some street snacks, head to Pub Street for dinner, drinks, and experience Siem Reap's nightlife. The street is completely filled with restaurants and bars – just take your pick.
Street vendors will be hovering around with trays of fried scorpions, crickets, and other insects. You'll be surprised at how popular they are with tourists.
For great live music to listen to as you enjoy a cold beer, head to Beatnik.
Day 3 of 3 Days in Siem Reap – Cultural Attractions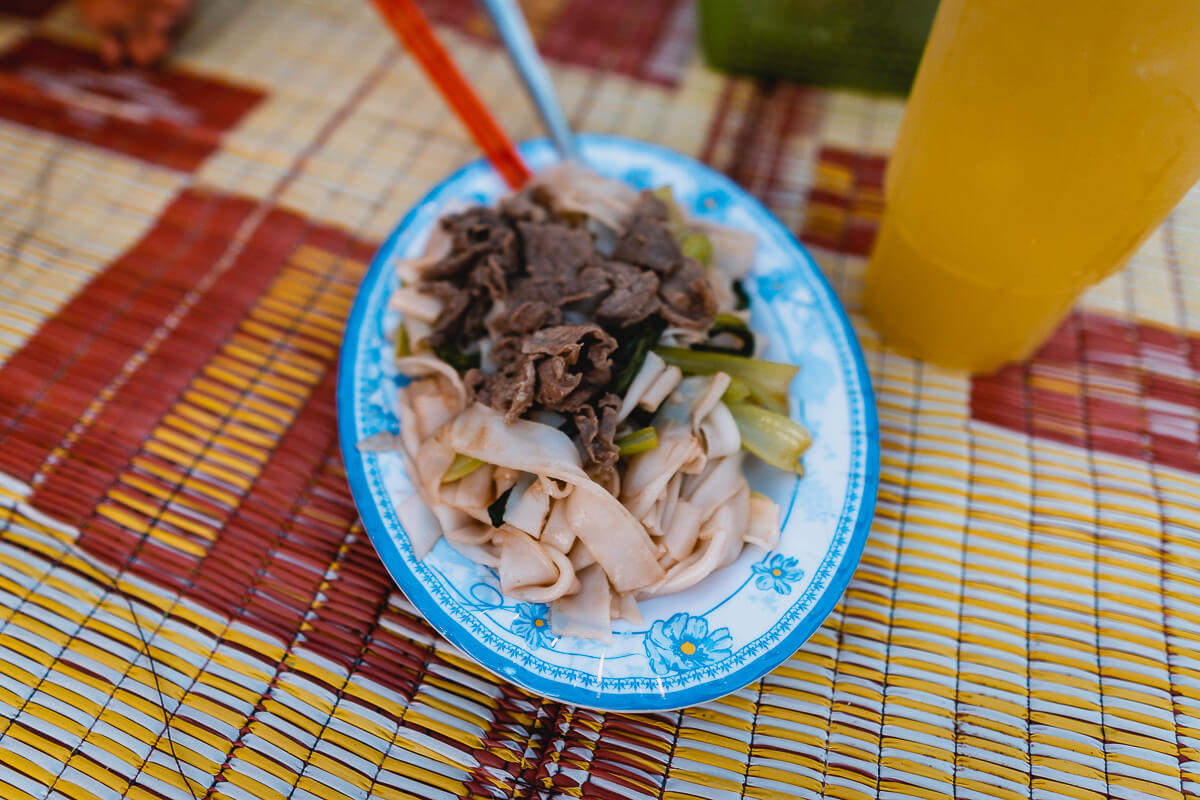 On the final day of your Siem Reap 3 day itinerary, you will be introduced to more cultural attractions for how to spend your time in Siem Reap.
Beng Mealea and Koh Ker
Angkor Archaeological Park isn't the only place you can view temples in and around Siem Reap. Beng Mealea and Koh Ker are both marvelous temples, but they don't come close in terms of the popularity of Angkor Park. They are located around 40 km east of the main group of temples at Angkor and require a different day to visit.
While 40 km doesn't seem far, when you're accounting for getting there via tuk-tuk you should expect for it to take a little longer.
Beng Mealea is over an hour away from the middle of Siem Reap. The temple is the same layout as Angkor Wat. Some regard Beng Mealea as a prototype that was built prior to Angkor Wat. Entry will cost $10 USD per person.
Koh Ker is a further hour away from Beng Mealea. This temple is in the shape and style of a tiered pyramid, with overgrown grasses on each of the tiers. Entry will cost $5 USD per person.
You can take a half or full-day tour of these temples. Full-day tours usually include a visit to both temples, whereas a half-day tour will usually visit Beng Mealea.
Cooking Class
I'm a foodie at heart. I love to indulge in each country's traditional cuisine and learn about their secrets in cooking a tasty local dish. This is why I love cooking classes – I can continue to eat the dishes I had on holiday once I'm back home.
Siem Reap is full of cooking classes to choose from and is an awesome addition to your Siem Reap itinerary. Classes usually run for three to four hours and will involve making a few dishes.
Choose a class that involves making a Khmer curry like amok which is especially delicious.
Phare Circus
Another item not to be missed on your 3 days in Siem Reap itinerary is the Phare Circus. Phare Circus uses music, theatre, and movement to showcase Cambodian tales and folklore.
The circus was actually founded by refugees from Pol Pot's reign of terror. The show is spectacular and the energy from the performances creates such an atmosphere.
The circus runs daily at each night at 8 pm. Tickets start at $18 USD.
More time on your Siem Reap itinerary?
Do you have more than 3 days in Siem Reap or you're looking for some alternatives to add to your itinerary? Check out these extra options!
3-Day Angkor Archaeological Park Pass
If you are staying for more than 3 days in Siem Reap, consider buying a 3-day Pass to Angkor, instead of a single day. The grounds are extensive, and you won't even be close to seeing it all in a day.
A 3-day pass will allow you to do both the long and short circuits, then an extra day to go back to your favorite temple, or explore some temples that have barely any visitors.
I spent a couple of weeks in Siem Reap, so I went with this option and I was so glad I did. I did the long circuit on the first day, the short circuit the next day, and the day before I left Siem Reap I went back for my final day at the park to revisit Angkor Wat and Bayon Temple.
Floating Market
A floating village, as its name suggests, is where boats take the place of stalls in the river. Vendors sell products such as fresh fruit and vegetables. You may have seen these villages in parts of Southeast Asia, like at the Mekong Delta of Vietnam.
Siem Reap is home to the Tonle Sap Lake, where you can find many of these floating villages. You can visit these villages as part of a half-day tour.
Chong Kneas is the famous floating village in Siem Reap, however, in recent years, has gained a bad name for being a tourist trap using orphanage tourism. For this reason, visiting the other villages is recommended.
Cambodia Landmine Museum
Cambodia held a critical role in the Vietnam War – they held a military supply line to the south of Vietnam. The US dropped extensive amounts of landmines on both Cambodia and Laos and the history and how it affects life to this day is very important.
Aki Ra founded the museum and disarmed the majority of landmines on display.
The museum will cost $5 USD for entry. The museum is a 45-minute drive from the town, so you'll need to arrange a tuk-tuk as transport.
Where to Stay in Siem Reap
There are a few great areas to stay in during your 3 days in Siem Reap itinerary, here are a few of my best recommendations.
The French Quarter is the best area to stay in Siem Reap. You'll be smack-bang in the middle of the town so you won't need to walk far to be in the heart of the city. French colonial style buildings surround the area, and there is no shortage of cafes and restaurants.
The Wat Bo area is the best place to stay if you're on a budget. It's located close to the French Quarter, making the location incredibly convenient. Pub Street is less than 10 minutes away, and there are dozens of hostels to choose from, including hostels with private rooms.
If you have more than 3 days in Siem Reap, you could stay in a couple of different locations to get a feel for different parts of the town. Taphul Village is a more peaceful area to stay, away from the hustle and bustle of the main town.
About the Author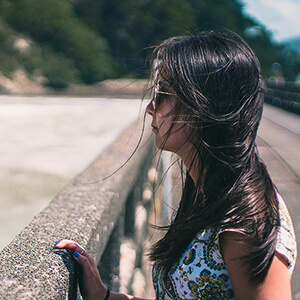 Delilah is a Kiwi who is passionate about travel and writing. She loves to share her experiences in her travel blog Our Travel Mix. Follow along her latest adventures on her Instagram & Pinterest.
---
Found this 3 days in Siem Reap itinerary helpful? Bookmark for later or share the love below on Pinterest!