L
ocated in Yongin and only a half hour bus ride from Gangnam is the Korean Folk Village. Take time to see traditional Korean culture, architecture, and a brief history lesson on some of what this country is most proud of. The village is not all folk, they even have carnival rides that we know are not from the Joseon Dynasty.
The grounds are much larger than we expected. There are many traditional homes of all status scattered throughout the property as well as old school houses, museums, traditional bridges, food, drinks, arts/crafts, and even a microscopic version of Lotte World tucked all into one park!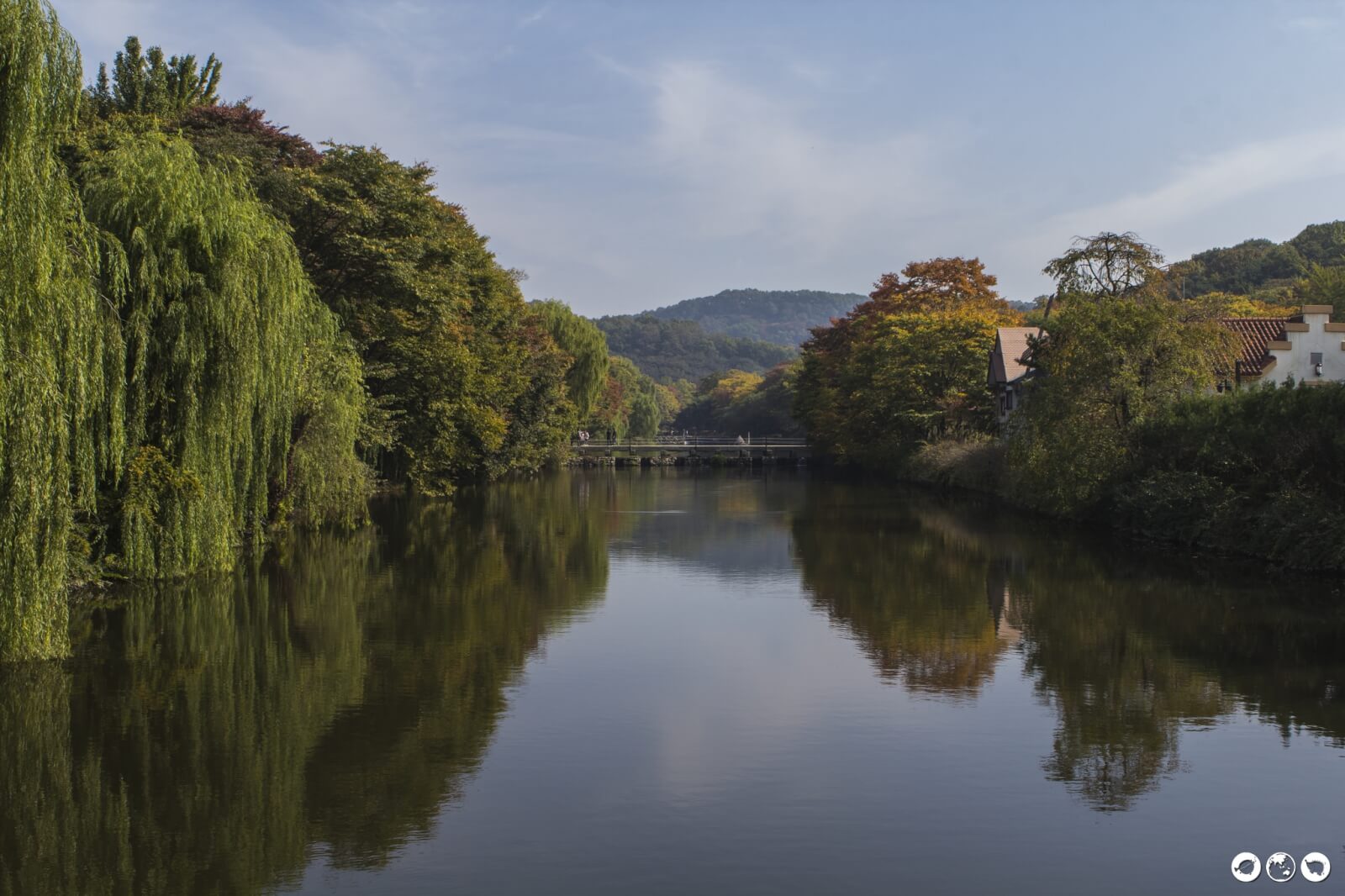 First stop was the amusement area. We were confused about why there was a carnival/amusement area in the Korean Folk Village. We thought the park was supposed to have more of an "authentic" appeal. But what do we know? The rides cost more money and didn't look great so we passed. But if you have kids they may be more easily impressed.
After being disappointed we ended up getting to the more traditional parts of the village and a few surprises. We stumbled upon the tail end of a real traditional Korean wedding! People really get married here and let the visitors be a part of their nuptials. We arrived just in time for the throwing of the chickens. At the end of the ceremony two chickens attached by a string are thrown to end the traditional wedding.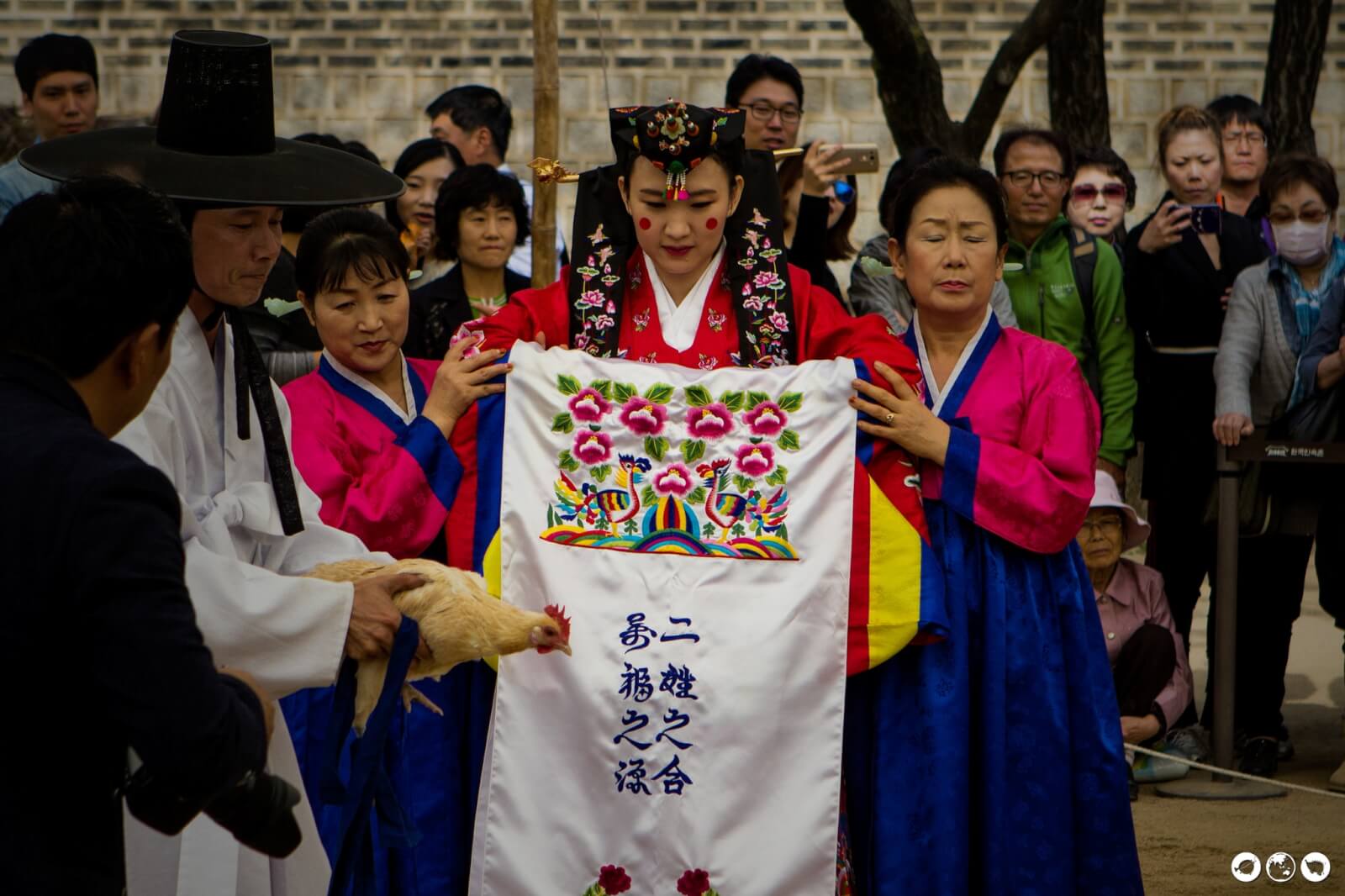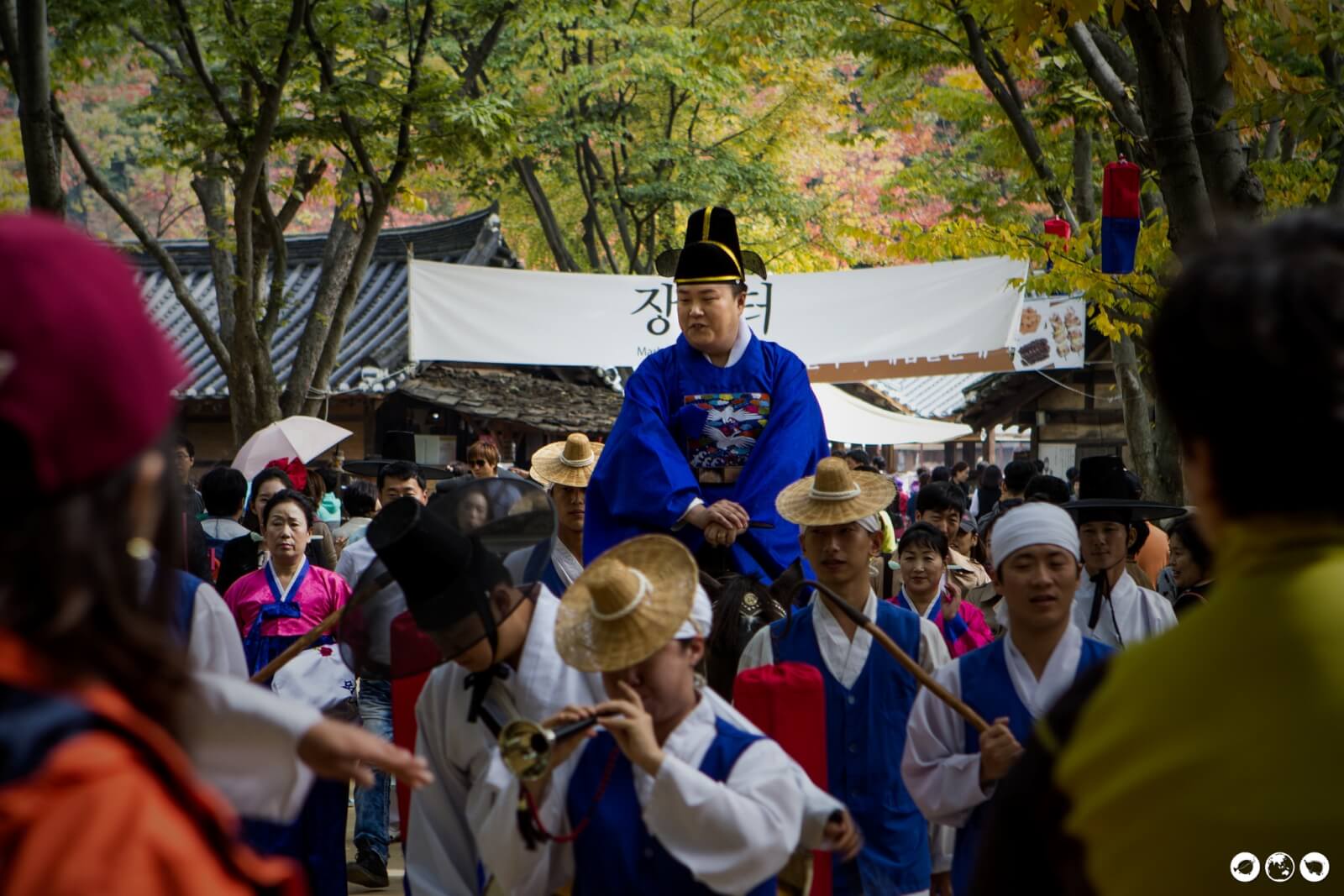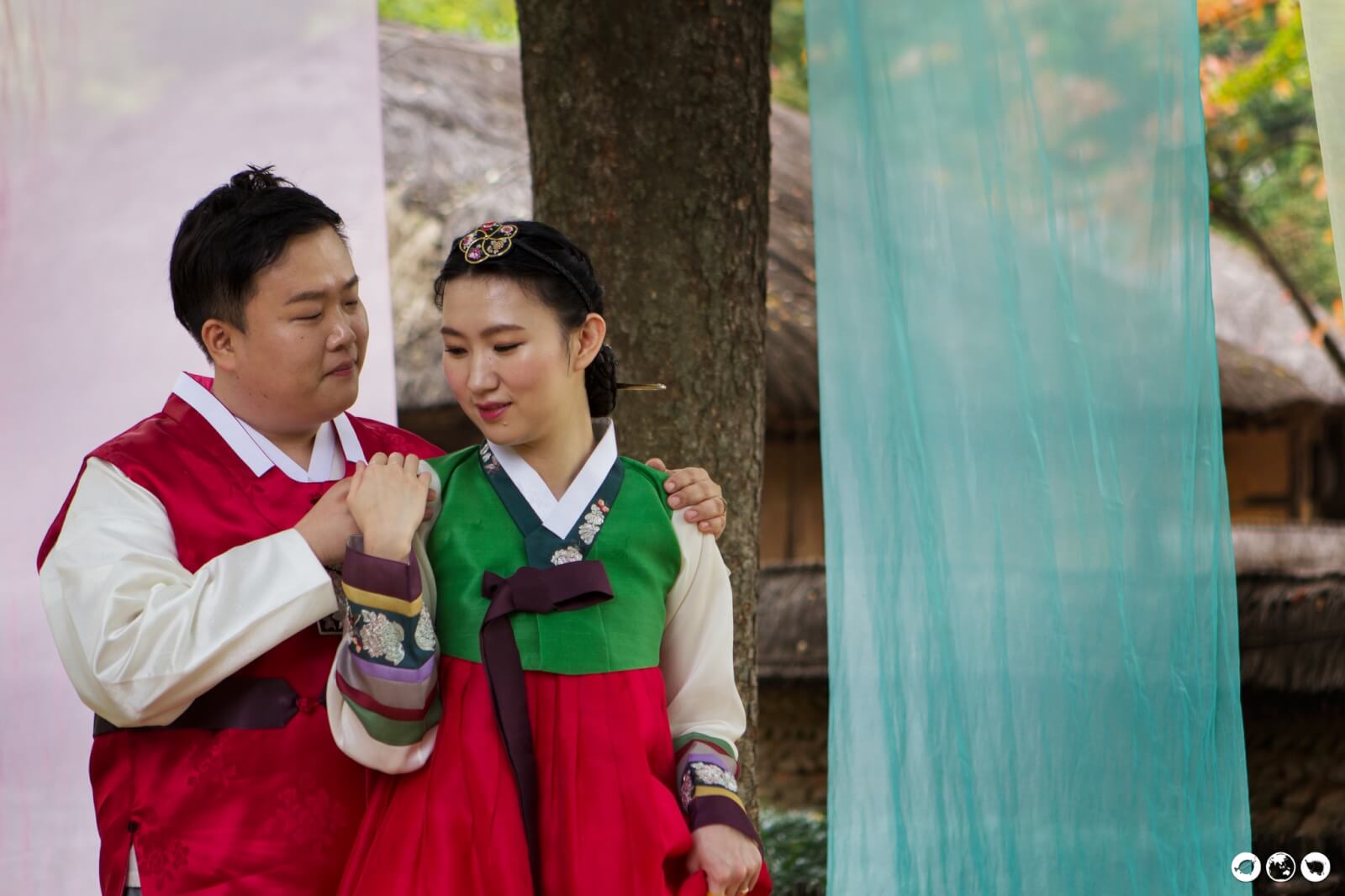 ---
We thought these were just actors until we saw the cute newly married couple with a professional photographer snapping some photos of them throughout the village. We liked the area they were shooting in so we decided to strike a few poses.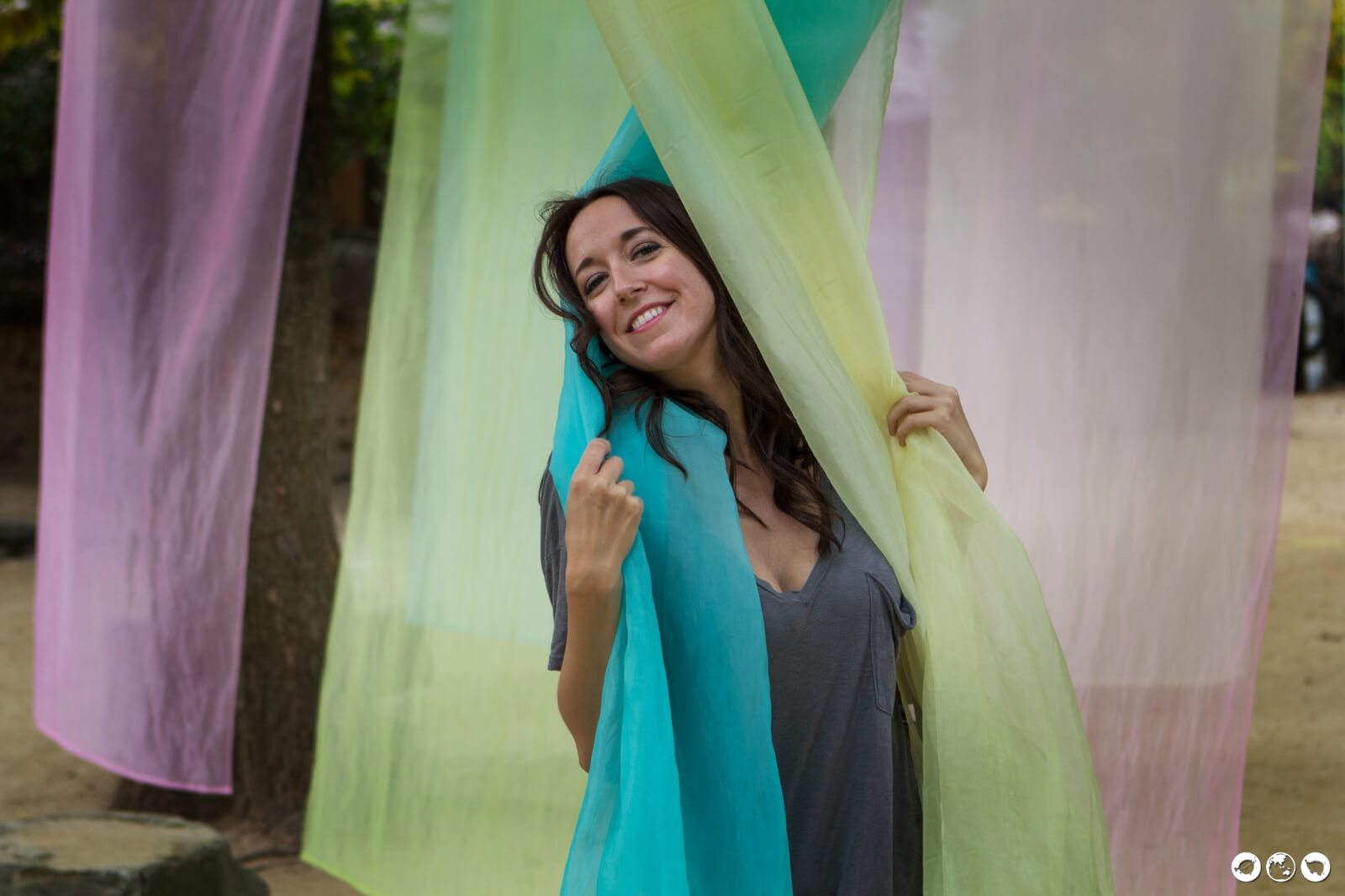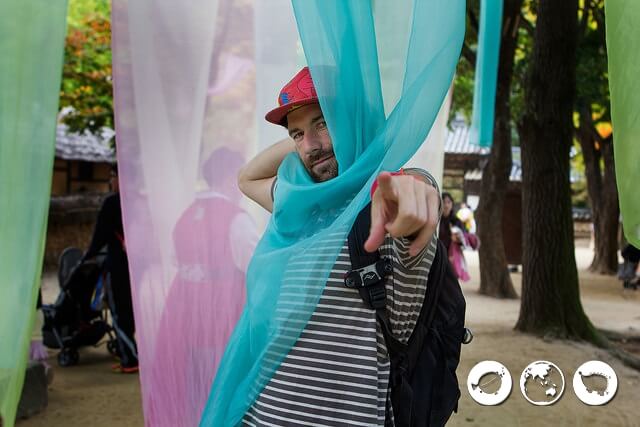 ---
Another highlight of our day was when we came across a friendly woman wearing her hanbok (traditional clothing) painting cartoon versions of children for free! We had to do it!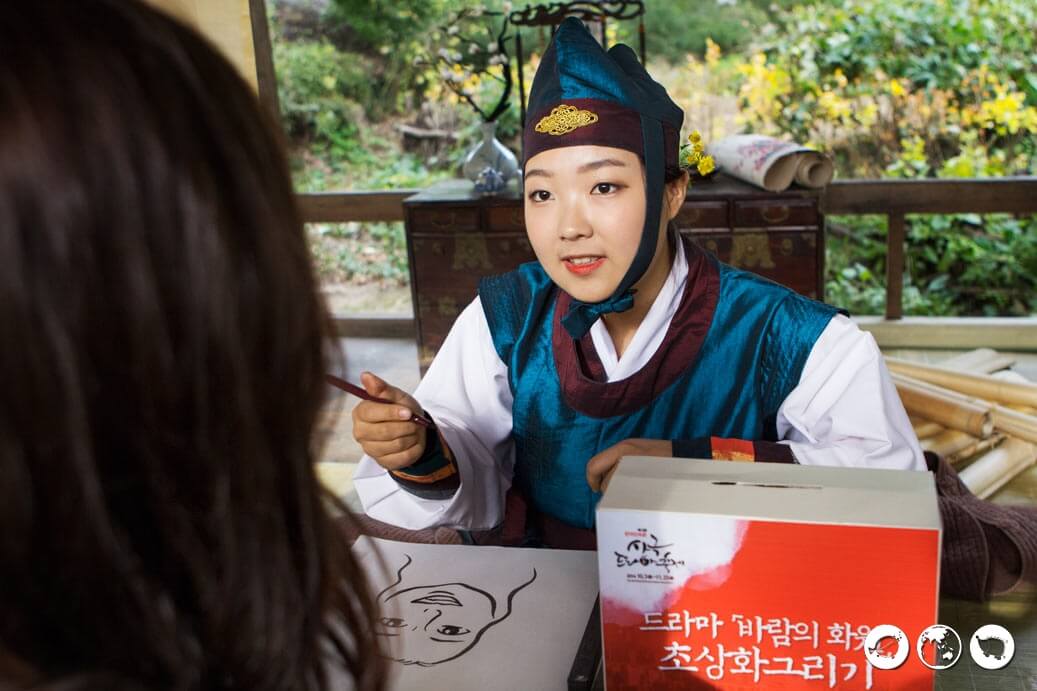 We also went to the main stage to watch a Korean acrobatic rope walker show. The performer impressed us with his balance and poise. He was jumping up and down on one leg while bouncing back and forth on the rope.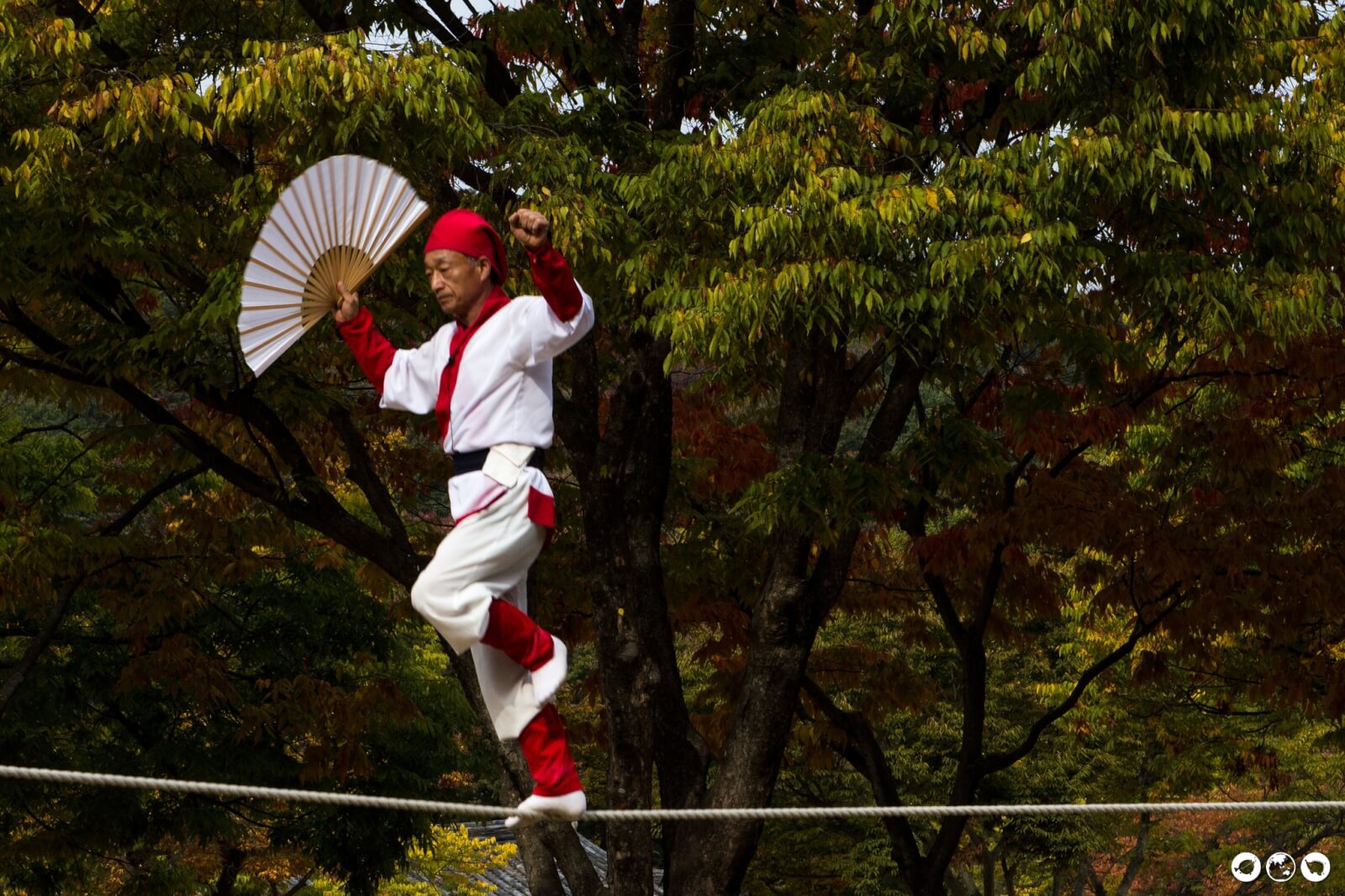 While checking out all the different activities they have to offer make sure you wander through the traditional homes and buildings. There are 168 traditional homes in the village and some of which were relocated to this Korean folk village from their original location.
Make sure you peek through each hanok style home. Most have the homes and buildings decorated with furniture from the Joseon Dynasty to make it appear as if it was just frozen in time. Some also have different activities or crafts inside them.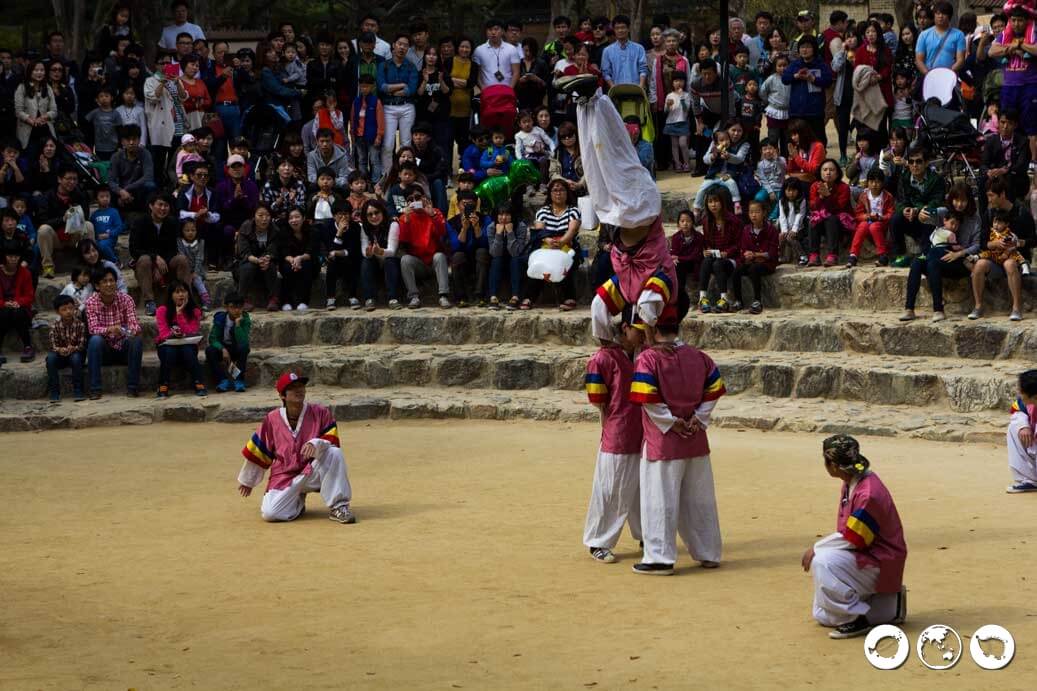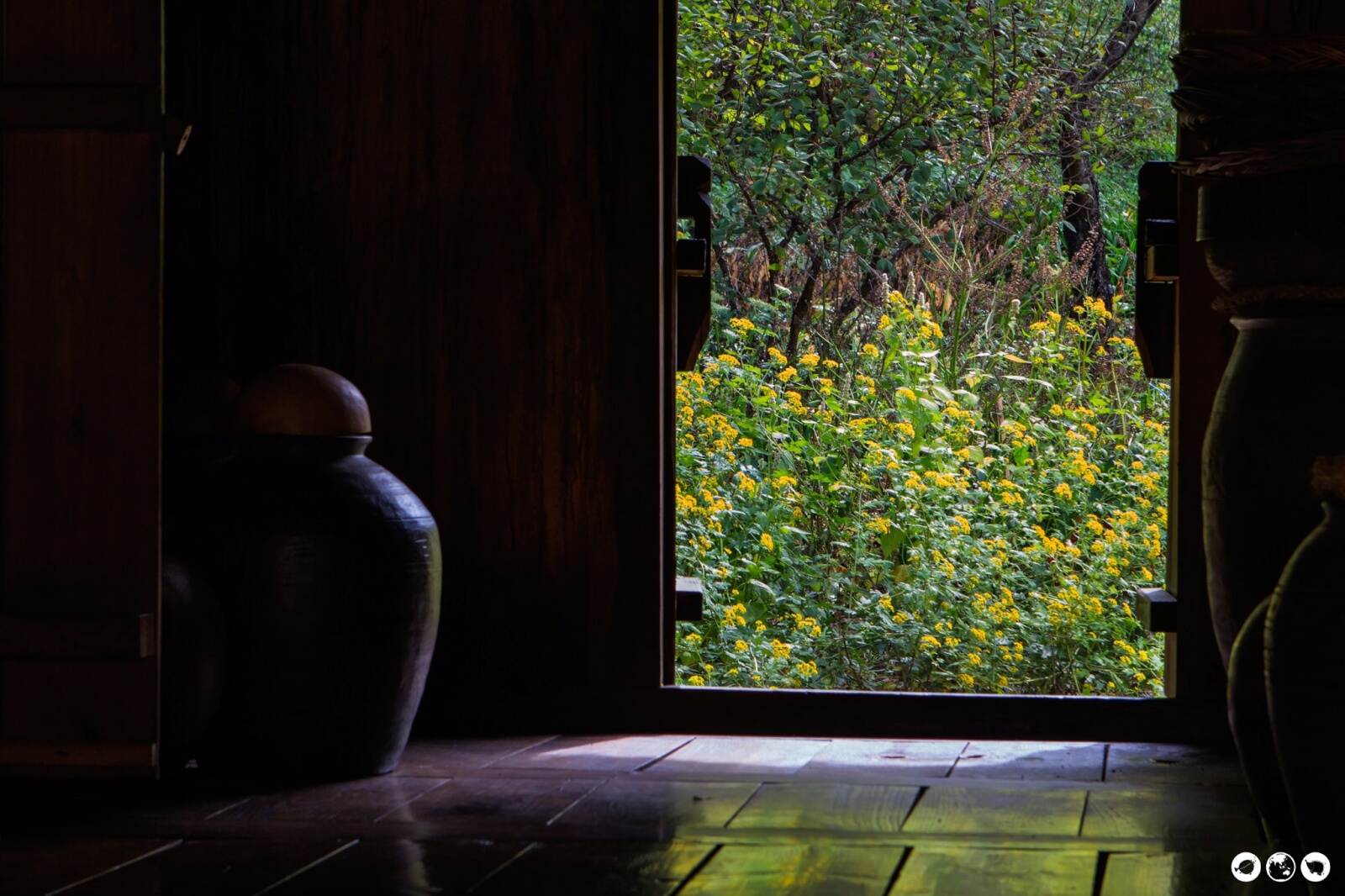 The village is also a popular filming location for many different movies and TV shows in Korea. There is a traditional home where they have guests act out a scene from a famous movie or drama. Actors pull members from the crowd to act out a scene where you drink poison and die. Of course, I had to do it!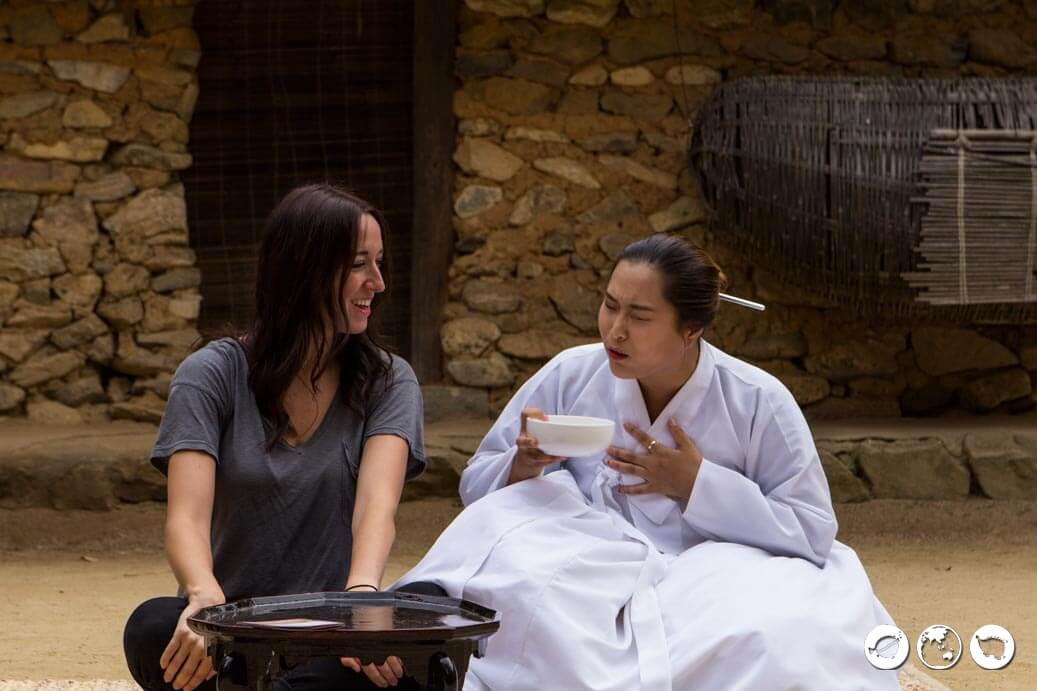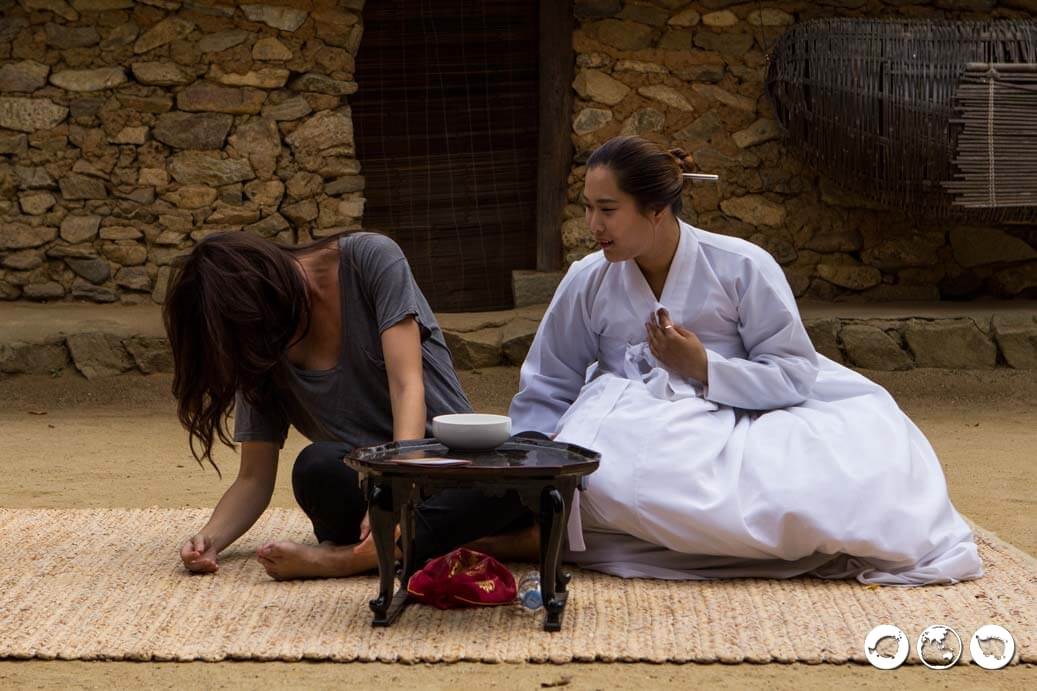 See everything that has been filmed in the Korean Folk Village here.
If you love arts and crafts then you need to check out the different artisan shops where you can create some traditional crafts. One that caught our eye was the pottery workshop. You can create a small piece and have it mailed to your home once it has been fired.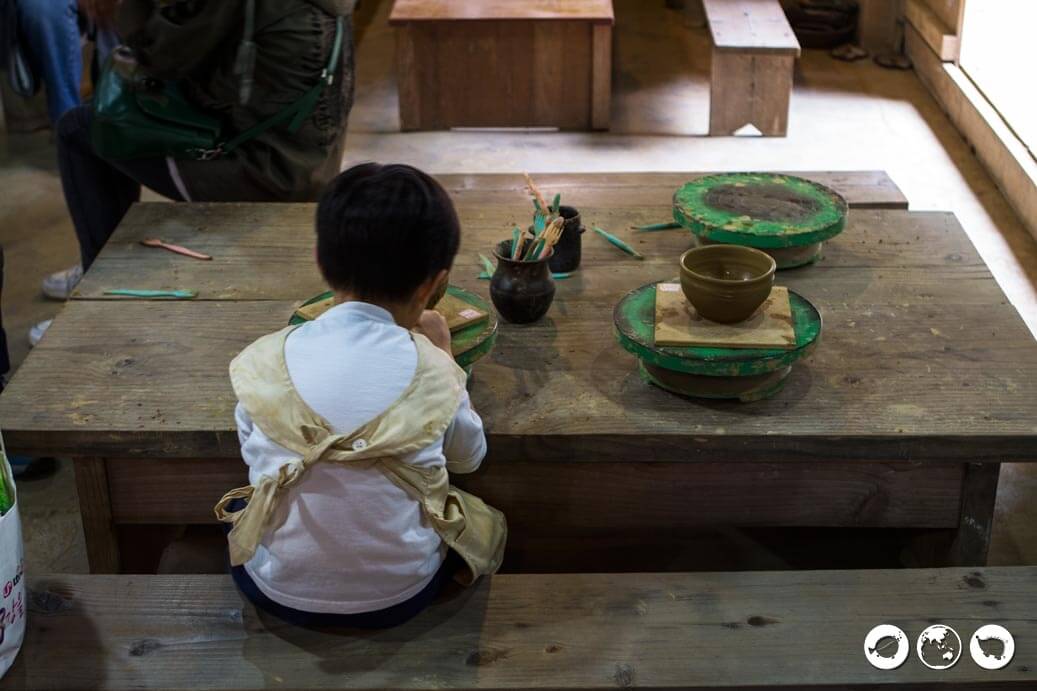 We spent a great, full afternoon exploring the Korean Folk Village. This is a fun day activity for families and anyone who wants to experience the folklore of Korea.
Admission
Adults 15,000 KRW
Children 10,000 KRW
Directions to Korean Folk Village:
Subway to Gangnam Station (Line 2) Exit 10
Walk straight about 5 minutes to the bus stop in front of Paris Croissant and Who.A.U?
Take bus 5001-1 to Korea Folk Village (You should see a small sign on the bus sign)
Disclaimer: This page contains affiliate links. By purchasing through the links on Bobo & Chichi you will help us keep the site up and running at no extra cost to you.