Located in the northern part of Ambergris Caye, Belize, San Pedro is the paradise perfect for an escape. Home to the world's 2nd largest reef system, some of the best dive sites in the world, gorgeous resorts, and tons of activities, we've put together a guide for the best things to do in San Pedro Belize!
We spent Scott's birthday in this absolute paradise, and in that time we've had a chance to explore what to do in San Pedro as well as check out some incredible Belize excursions.
Best Things to do in San Pedro Belize
Explore by Golf Cart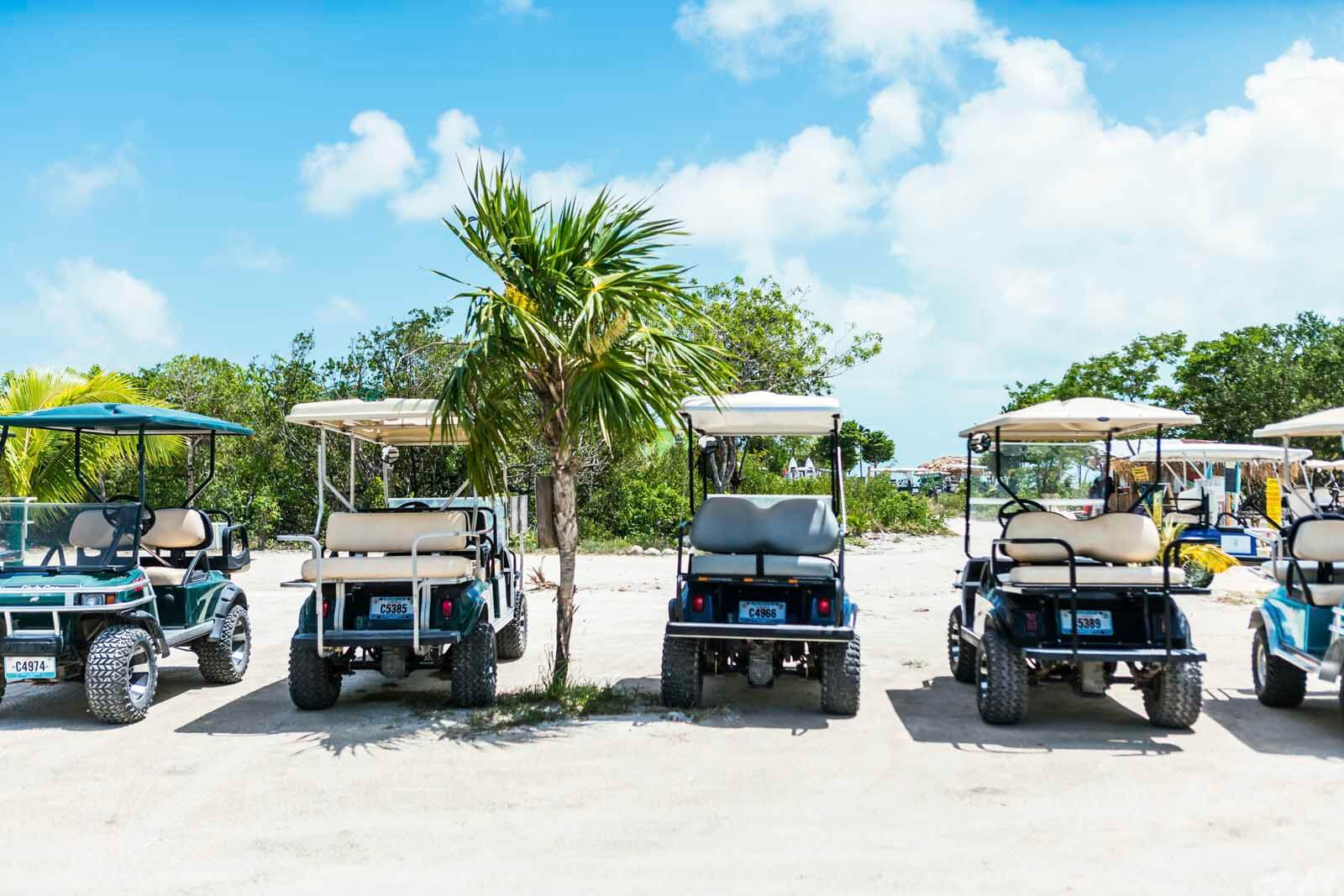 Renting a golf cart is undoubtedly the best way to get around and one of the best things to do in San Pedro Belize. You'll notice that this is the local's mode of transportation on the island. If you're not staying in the heart of San Pedro town, you will need to get around one way or another. Why not rent a golf cart to explore on your own?
You're also able to get to hard to get to places like Secret Beach, which is another one of our top picks for Belize excursions, and explore the bars and restaurants in that area.
One of them you should check out is John's Escape, the former home to John McAfee, the internet security tycoon who had an interesting and weird time involving a murder. You can actually watch more about his time in Belize in the documentary Gringo available on Netflix.
You can rent golf carts from most resorts or in downtown San Pedro town in person.
Go to Secret Beach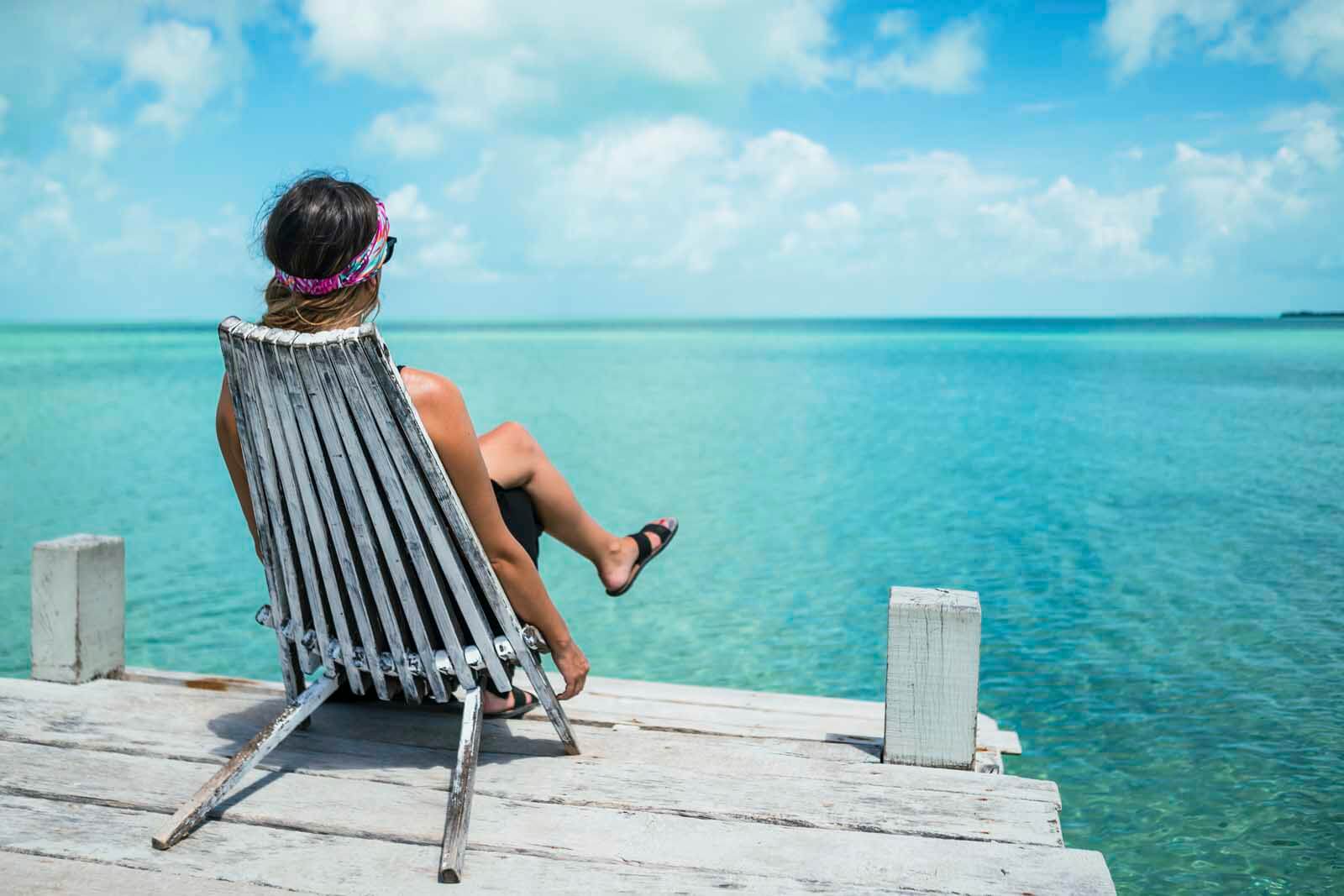 The "not so secret" Secret Beach is another one of the best things to do in San Pedro Belize and honestly, something you can't miss! This is the best swimming beach on the island with white sand and crystal clear blue waters.
Better yet, there are bars and restaurants with piers right on the beach making it the perfect spot to spend an entire day enjoying meals, drinking the local beer Belikin, and enjoying the best beach on the island.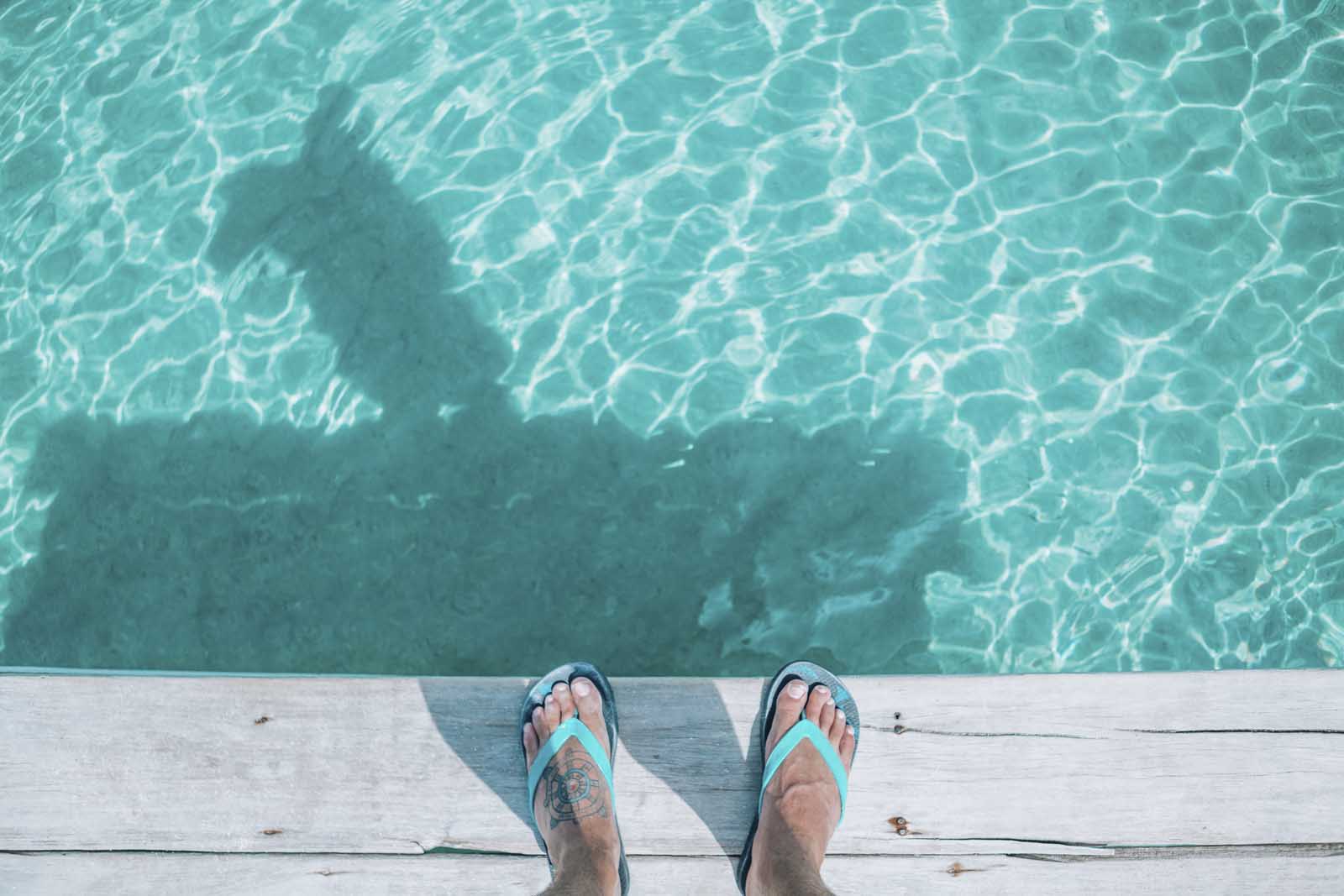 You will have to reach Secret Beach by golf cart or pay around $20 USD to take a daily shuttle, we recommend getting a golf cart and doing it yourself.
We went with some local expat friends and arrived early in the morning. This is the BEST way to see Secret Beach because you'll have it all to yourself before the crowds come in! We arrived around 9 am and had the entire place to ourselves for a good hour before more people slowly rolled up.
We had a great time grabbing a few drinks at Pirate's Not So Secret Bar & Grill and posting up on their lounge chairs overlooking the amazing blue water. Off in the distance, you can even spot Leonardo DiCaprio's private island.
Visit the Blue Hole
Arguably the most famous thing to do in San Pedro Belize is to visit the famous Blue Hole, a giant sinkhole in the Caribbean Sea located off the coast of Ambergris Caye. Best seen from above, but you can visit via boat on a snorkeling or a diving trip.
The Blue Hole is a bucket list item for many and once studied by the famous Jacques Cousteau. While visiting by boat is mostly for bragging rights, you can get the best view from a helicopter or plane tour.
You can book airplane tours with Tropic Air or Maya Air on the island with your resort. Or you ca book a more intimate experience with Astrum Helicopters.
Diving the Blue Hole is a whole different beast. Even though it isn't stated, it probably is best to dive the Blue Hole only if you are an advanced diver. You will most likely encounter nurse and reef sharks, stalactite formations, but much of what we have read is that this dive is a bit disappointing if you're expecting to see colorful reefs and fish.
Make sure you book this in advance to make sure you secure a spot on one of the weekly diving boats that go out to the Blue Hole and plan to spend the entire day from dawn until dusk making the journey out, enjoying your dive plus another or two depending on your tour, and coming back.
We regrettably didn't plan our trip accordingly and missed the chance to do this amazing Belize excursion. However, we loved San Pedro so much we plan on returning and this time we will be sure to see the Blue Hole from above!
Snorkeling in Hol Chan Marine Reserve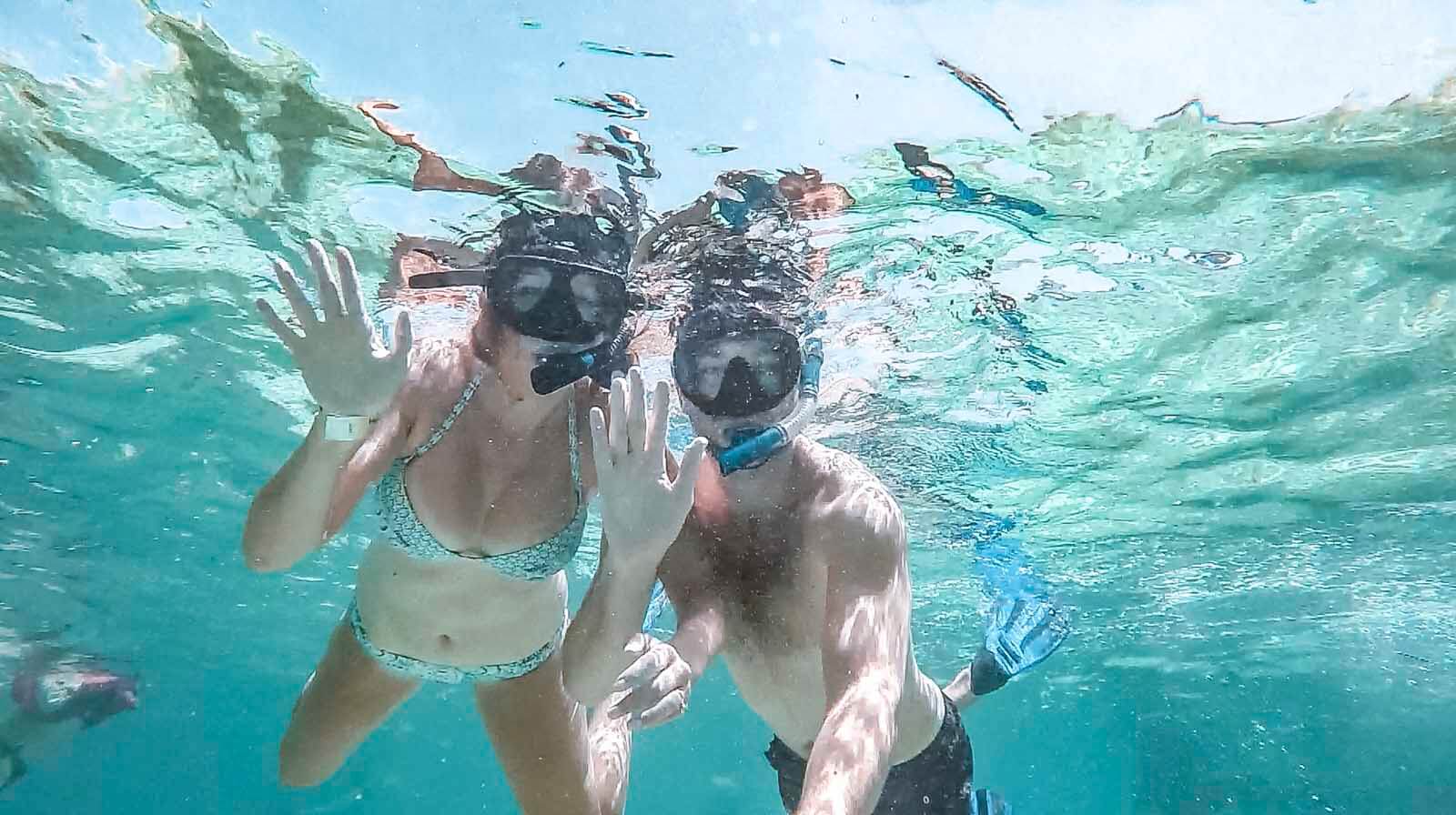 Another one of the most famous things to do in San Pedro Belize is take a snorkeling trip to the Hol Chan Marine Reserve, a part of the Belize Barrier Reef.
Take a snorkeling tour where you stop at Hol Chan Marine Reserve as well as Shark Ray Alley where you will witness colorful reefs, fish, nurse sharks, giant stingrays, and if you're lucky enormous sea turtles. This was one of the highlights of our trip as we had never had a snorkeling experience like this where we were swimming so close to sharks and giant stingrays.
We recommend wearing biodegradable sunscreen as regular sunscreens have harmful and toxic chemicals in them that cause coral bleaching and disturb the ecosystem. You will have to be prepared and bring your own as it's very hard to find anywhere on the island and even at grocery stores at home. That's why we recommend this brand that you can order from Amazon.
Also, most tour guides won't let you touch the marine life, this is a no-brainer. Do not stand on or touch the coral reef and for the love of Zeus don't touch the nurse sharks or any of the marine life for that matter.
While we had a responsible guide we overheard a guy at our resort's pool bragging about how he "rode the nurse sharks" by grabbing on to their fin. Don't do this.
Take a Catamaran Cruise
Since you won't be able to charter your own catamaran or boat with the complicated navigating with the barrier reef system, it doesn't mean you can't enjoy this activity altogether.
Our next pick for best things to do in San Pedro Belize is take a catamaran cruise. You can join a group or if you want something a bit more intimate you can charter your own private catamaran with a tailor made itinerary and even private snorkeling. Enjoy your sailing experience in one of the most beautiful places on earth.
Take a Day Trip to Caye Caulker
One of the best things to do in San Pedro Belize we regrettably missed during our trip was taking a day trip to Caye Caulker. Sadly, the day we were going to go we got rained out but that always leaves an exciting new activity for us to do on our return trip!
Caye Caulker is only a 30-minute water taxi ride from San Pedro, making it a popular stop on some day Belize excursions and another great place to spend a few nights if you have the time.
Opposite of San Pedro, Caye Caulker is less developed, has more of a sandy beach to enjoy, and has an even more of a small time and slower feel.
Go on a Food Tour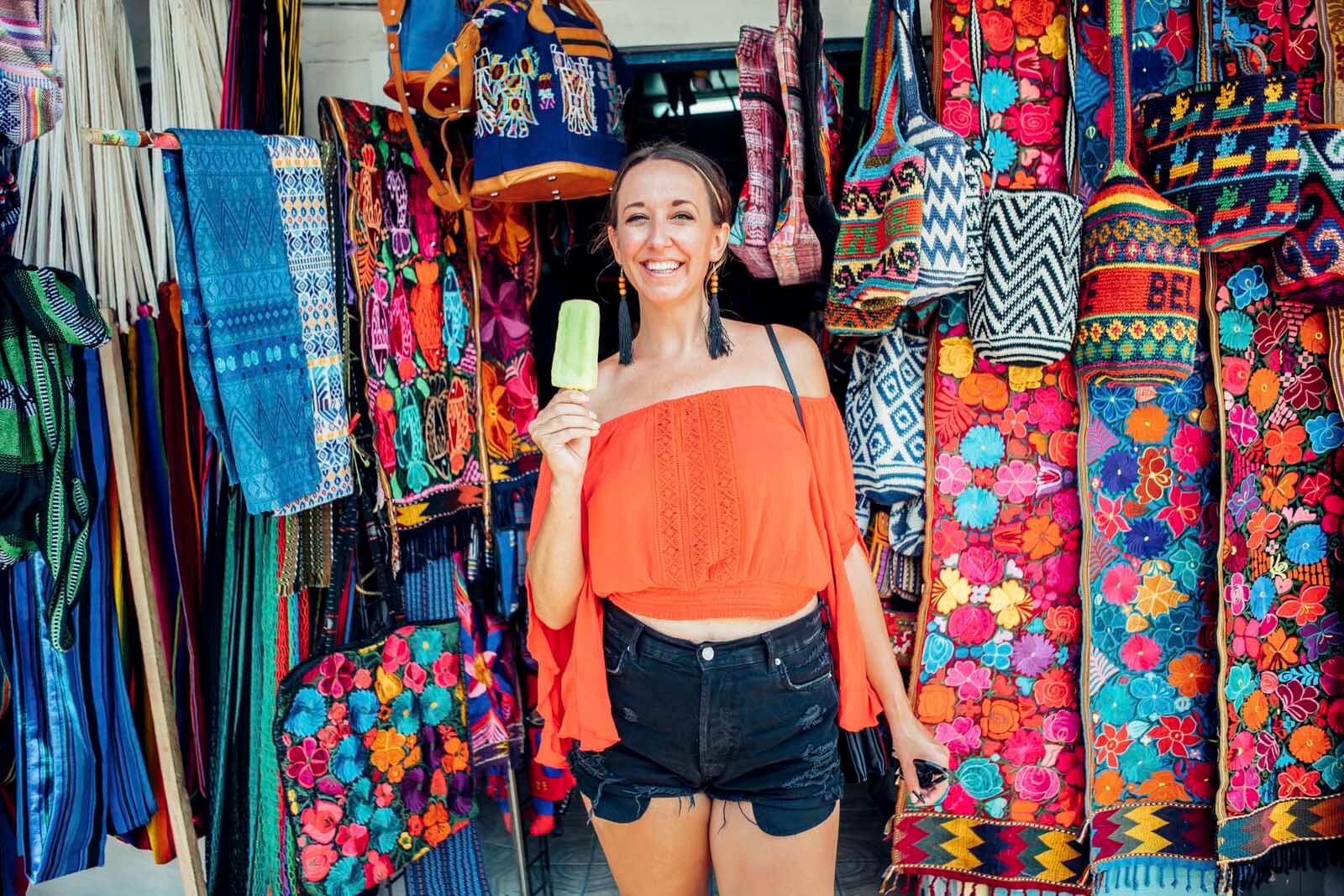 For those of you who have been following along with us for some time know we LOVE food tours. They are seriously the best way to get to know a new country, through your tastebuds!
We love doing food tours on our first day if possible so we know all the best food spots to eat the rest of our trip. We did a food tour with Belize Food Tours and loved every bite.
You can opt to do either the lunch or dinner tour but whichever you do make sure you come hungry because you will be fed alot! We loved that there were also drinks included like rum punch and Belikin beer! This is a must and one of our favorite things to do in San Pedro Belize.
Visit the Largest Mayan Archeological Site on the Island
While we have seen our fair share of Mayan ruins while living in Mexico's Yucatan Peninsula, none quite compared to the Marco Gonzalez archeological site on the island of San Pedro. Don't come expecting a huge pyramid that will leave you awestruck. As a matter of fact visiting this site is actually a bit of a mission and is uncomfortable if you're easily bothered by mosquitos.
With that being said, this was one of the coolest things we did in San Pedro Belize. Located far southern tip of the island you will need a golf cart to get down here. You will be visiting what is known as a virgin site where the ruins are still being studied and are underway of trying to get grants to continue doing archeological digs. The caretakers here are experts on Mayan civilization and will give you information on your visit.
To enter the site you have to walk on a 1/4 mile wooden plank through mangroves until you reach the dense jungle where when you look closely you can see some remains of the civilization that once called this site home.
As you walk you will see chards of ancient pottery and tons of conch shells that were left behind when the city was abandoned over 500 years ago.
The site itself dates back to at least 200o years ago and researchers are still trying to discover and get answers to all the mysteries surrounding this site.
While there's not any WOW temples or structures it was actually really interesting to be walking around a site where you could still surround by tons of artifacts. During our tour one of the caretakers of the site spotted a ring carved out of a conch shell on the ground. They were elated and excited to send off this new discovery to get cataloged with the archeology department.
This was actually one of the highlights of our trip, to be present when a perfect condition artifact that is at least 500 years old was discovered!
It was fascinating to know we were walking around somewhere where we could easily spot ancient artifacts like this. Our friendly guide also pointed out a human skeleton that was surfacing. It was crazy to think that at one point the giant ruins like Chichen Itza or Uxmal were once a site like this where new pieces were being discovered all the time.
This is the best thing to do in San Pedro Belize if you are a lover or archeology and want to channel your inner Indiana Jones or explorer in you. But we must warn you, this is not like the rest of the Mayan ruins that draw tourists and you must come prepared with bug repellent if you wish to visit.
Tips: Do not come without sleeves and pants or something you can cover up with and most importantly bug spray. You will want the heavy stuff.
Try Your Luck at the Chicken Drop
You don't want to miss this when you're on the island! This was one of the most unique things to do in San Pedro Belize. Better yet you could win some extra cash while you're at it! Every Thursday night at
Wahoo's Lounge
in San Pedro town right on the beach is the world famous
Chicken Drop.
Show up at 6 pm to get your tickets, you can only buy 5, where you will have random numbers.
Outside there is a giant board with the numbers 1-100 on them. Starting at 7 is the first "chicken drop," where you basically play Bingo with a chicken. If the chicken poops on your number you are the lucky winner and you can win up to $100 on most rounds or $1,000 on the big round!
Before each drop (more like a set down) someone blows on the chicken's butt to encourage it to poop. As everyone gathers around chanting and eagerly watching to see if the chicken leaves it's droppings on their number. Once the chicken poops on a number, the only way the winner gets the cash prize is if they clean up the poop themselves.
We can't make this up and we aren't going to lie, it was one of the most fun and unforgettable things to do in San Pedro. I am thinking next time we visit my family's farm in Ohio we will be putting numbers down in the cow pasture and playing our own version.
Be sure not to miss your chance to play by arriving a few minutes before 6 pm on Thursday to get in line to buy your tickets.
Shop at the Artisan Market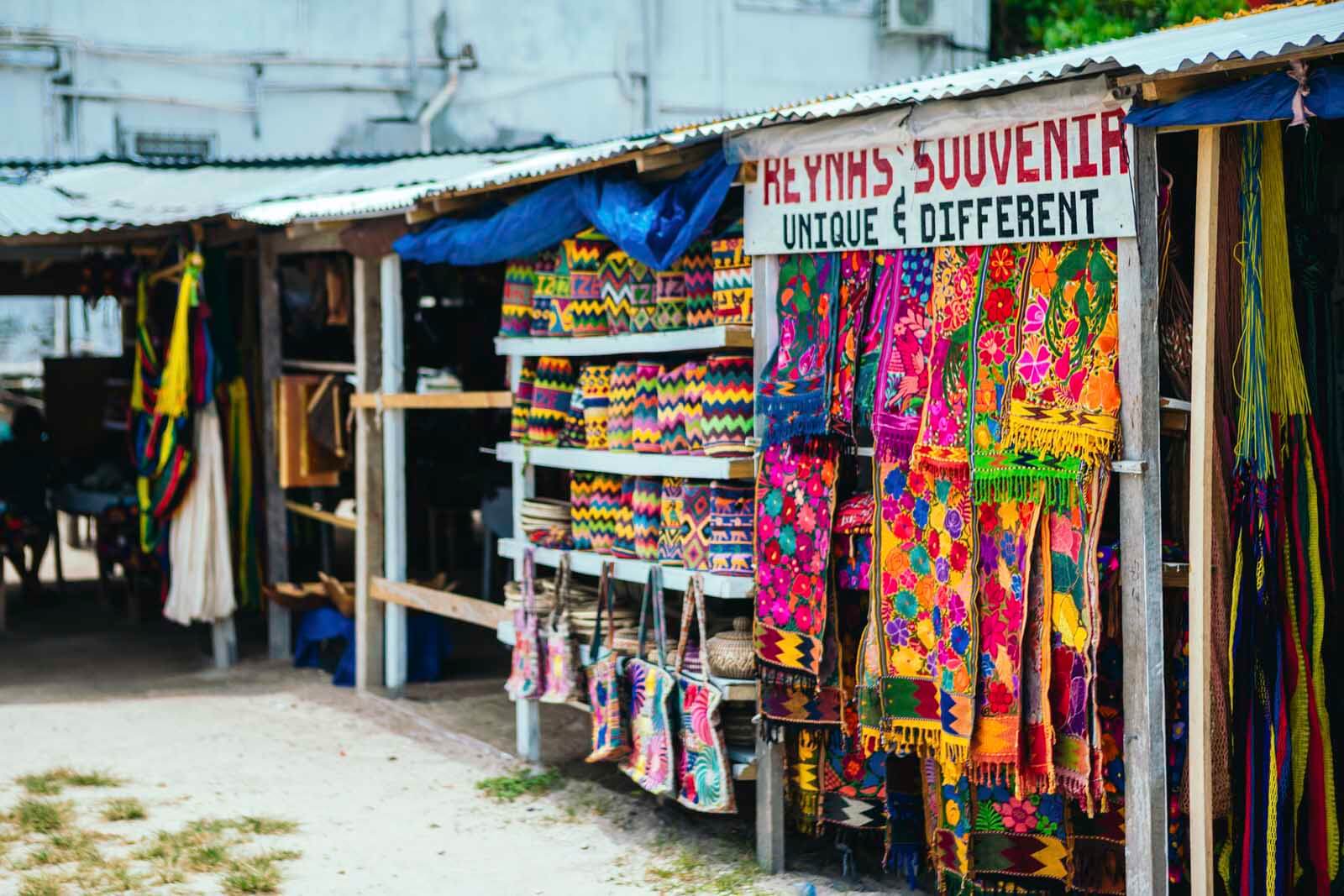 Another one of the best things to do in San Pedro Belize is to check out the small artisan market near the House of Culture on Back Street. The market sells jewelry to wood carvings and textiles. While the market is small, it still has unique items that are perfect for a souvenir or a gift for a friend back at home.
Best Things to Do in San Pedro Belize for Food & Drinks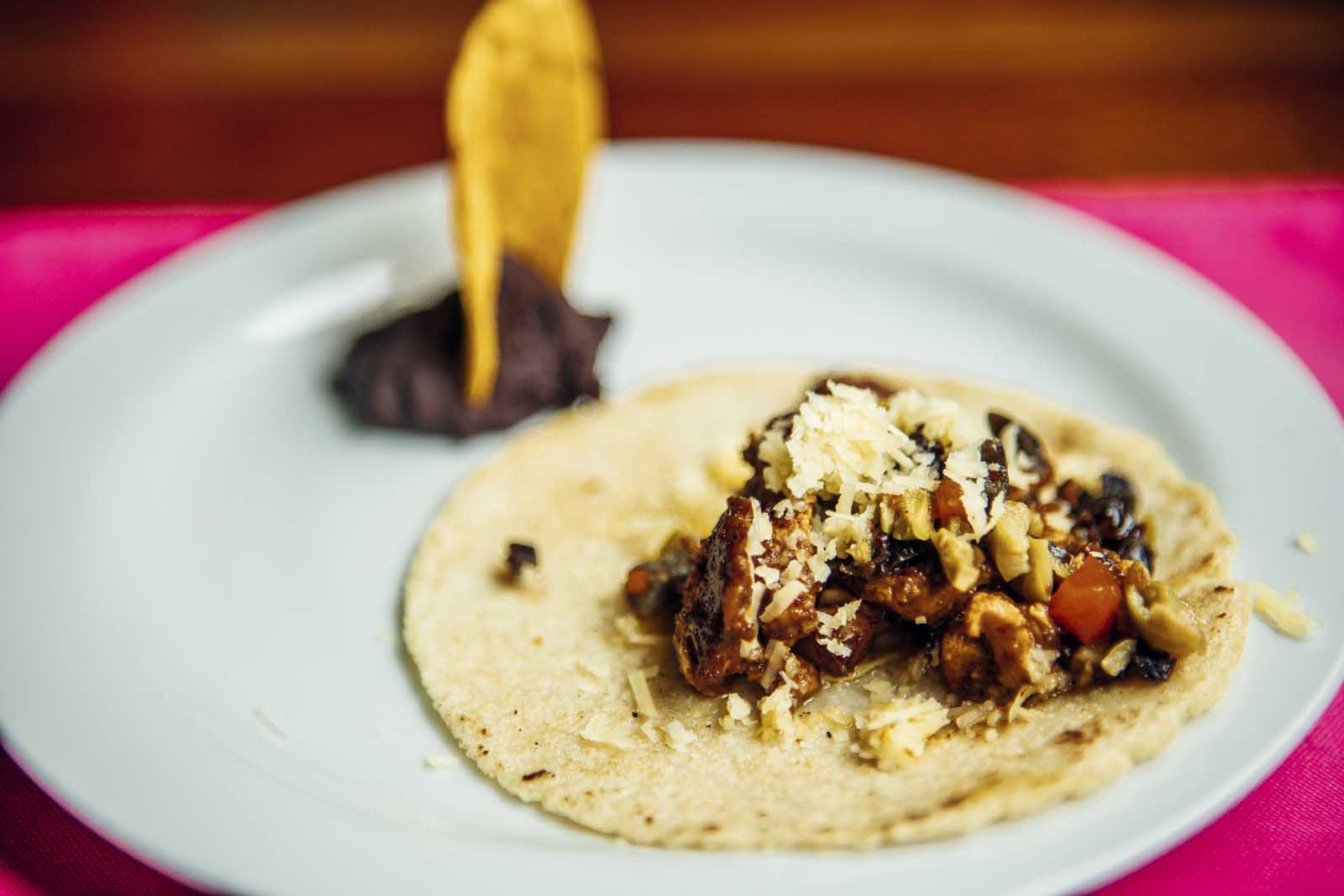 One of the best things to do in San Pedro Belize is EAT! The food here is packed with flavor with Creole, Chinese, and Mayan influences. As we mentioned earlier, we recommend checking out the food tour on one of your first days so you can get a little history and great sampling of the local food scene.
This is always helpful when getting to a new place and you're not sure what to eat and you don't want to miss out on some of the best flavors of the island. Here are our top picks for where to eat in San Pedro.
Estel's
Located on Front Street along the beach next to Central Park this is one of our favorite spots for breakfast in San Pedro. Sit at one of the beach tables where you can have your toes in the sand as you enjoy your breakfast.
This is also where we had our first taste of Marie Sharp's hot sauce, one of the best hot sauces we have ever tasted. You might want to grab yourself a bottle or two to take home before leaving!
We recommend the breakfast burrito, although we were told pretty much their entire breakfast menu is great.
Boogie's Belly
Only open for breakfast but not to be missed is Boogie's Belly. Be sure to get here well before their closing time at 11 am to snatch up one, or a few of their famous meat pies. The meat pies are small so be sure to order a few or try something else on the menu!
We had the creole bread as well which was basically a breakfast sandwich with egg and meat and it did the trick! But be sure not to miss out on one of these famous Belizean meat pies!
Elvi's
This is one where all the local's will say is one of their favorite things to do in San Pedro Belize, eat at Elvi's Kitchen. Jennie, the chef at Elvi's and daughter of the original owner, is one of the best chefs in the entire country and was selected to cook for Prince Harry himself during his visit to Belize a few years back.
You'll want to make a reservation if you plan on eating in the evening because this spot is extremely popular. It's hard to recommend what to eat here because EVERYTHING looked delicious and we had a hard time ordering. If you're extra hungry go for the whole fried fish.
Palapa Bar
Besides being a good place to eat and get some great bar food, Palapa Bar is also one of our picks for best things to do in San Pedro Belize because it is a fun hangout right on the water on a pier.
Check out this spot for lunch or dinner, but we recommend coming for a mid-day meal and drinks so you can enjoy the tubes in the water to cool off in the hot humid tropical weather. There's a daily happy hour from 4-6, be sure to watch out on the local vodka, I got a mean headache after the happy hour here but had a great time!
Briana's Food Place
Another local favorite and one of the best spots in town to eat is Briana's Food Place. We stopped here on the food tour and LOVED the food. We recommend getting the stew chicken or stew beef which comes with a side of rice and beans and slaw. Locals fill this place up and it's one of the best cheap eats with a big fill on the island.
Pupuseria Salvadoreno
Another no fuss restaurant full of delicious cheap eats is Pupuseria Salvadoreno on Middle Street. They serve up tasty pupusas and local dishes like stew chicken, rice and beans, and seafood. We tried our first papusa here and were pleasantly surprised
Crocs Sunset Sports Bar
Not located in the heart of town but worth the effort of getting to by bike or golf cart is Crocs Sunset Sports Bar. This multi level palapa building offering great views, tasty cocktails, and delicious bar food. We tried the wings and local fish tacos which were amazing. We also loved the lavender Moscow mule and their cocktail menu.
Things to Do in San Pedro Belize: Where to Stay
Phoenix Resort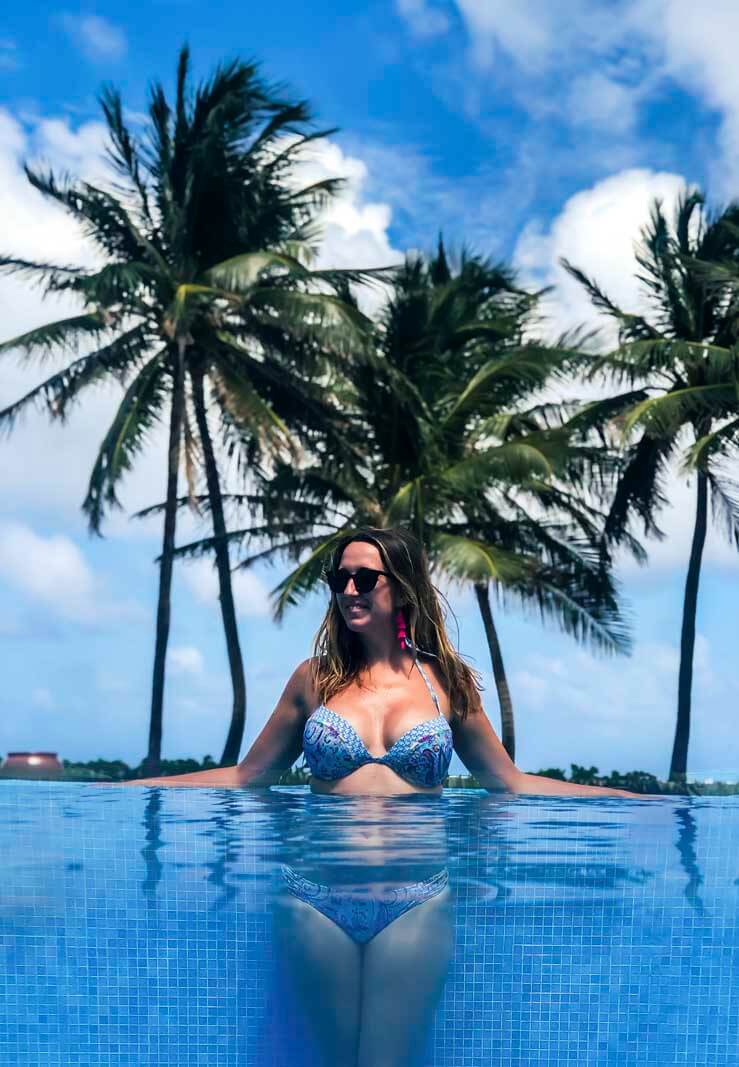 One of the best things to do in San Pedro is stay at one of the many amazing resorts on the island. Our pick for where to stay in San Pedro is right in the heart of the town at Phoenix Resort. The resort is made up of spacious and luxurious privately owned condos. The entire property feels like a small community and has a killer location right on the water and in the center of town making it easy to walk everywhere and rent a golf cart only when you want to explore the island a bit more.
Our condo was superb. We had a giant balcony overlooking the Caribbean and gorgeous pool and bar. Since this part of the island doesn't really have any ideal swimming spots in the sea it was nice to have two amazing pools to choose from with waterfront views and a bar only for guests of Phoenix.
There's a restaurant, gym, and spa on site as well as a daily happy hour where guests get free drinks daily from 5-6 pm. This was an amazing perk to staying here as we got to mingle and play dice games with the other guests and owners of condos at Phoneix. It really made you feel like you were a part of a community on your trip.
Besides free daily drinks, you can also participate in some of the other complimentary experiences like yoga, adult painting, s'mores, and beach clean up.
The service was incredible and the condos made us feel right at home. We also loved that we had a fully stocked kitchen so we had the option to cook our own meals during our trip too. With such a lovely condo and amazing balcony it was nice to have the option for a quiet romantic dinner on our balcony during sunset.
For more places to stay in San Pedro, check the map below:
Best Things to do in San Pedro Belize: What to Bring
If you want to fully enjoy some of the best things to do in San Pedro Belize you will want to come prepared. You'll want to be prepared for the mosquitos. Make sure you have insect repellent or you will be sorry!
Also, the sun is hot down here and even with liberal amounts of sunscreen we still got alot of sun. Be prepared and bring sunscreen.
We recommend getting biodegradable sunscreen as the chemicals in most sunscreens harm the environment and cause coral bleaching in the precious water ecosystems. Buy biodegradable sunscreen ahead of time and be prepared, it's almost impossible to find once you're traveling.
San Pedro Belize Tips
How to get to San Pedro Belize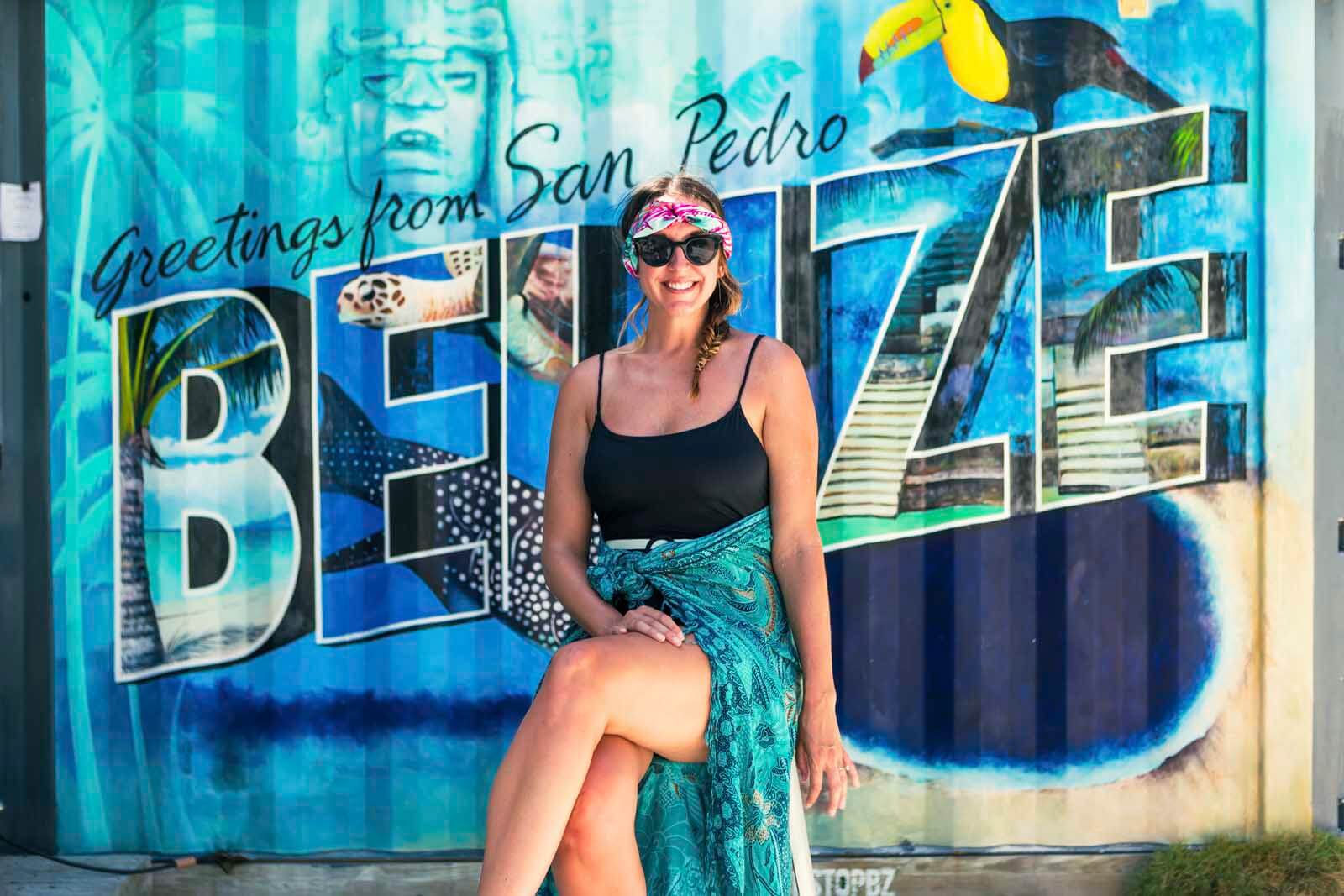 Getting to San Pedro is easy be requires planning. You can either take a small plane from Belize City or take a water taxi from Belize City, Corozal, Caye Caulker, or Chetumal Mexico. Just be sure to check your ferry schedule and times in advance.
We did the border crossing from Chetumal Mexico to San Pedro, you will need to make sure you have USD on hand to pay fees as well as enough pesos to pay the Mexico Border exit and entrance fees. It costs around $2 USD to enter Belize, $20 USD to leave Belize, 500 pesos to leave Mexico, and 533 pesos to re enter Mexico if you are coming to and from Mexico like we did.
You won't be able to use credit card for this so make sure you are ready with the right amount of cash before.
Money in San Pedro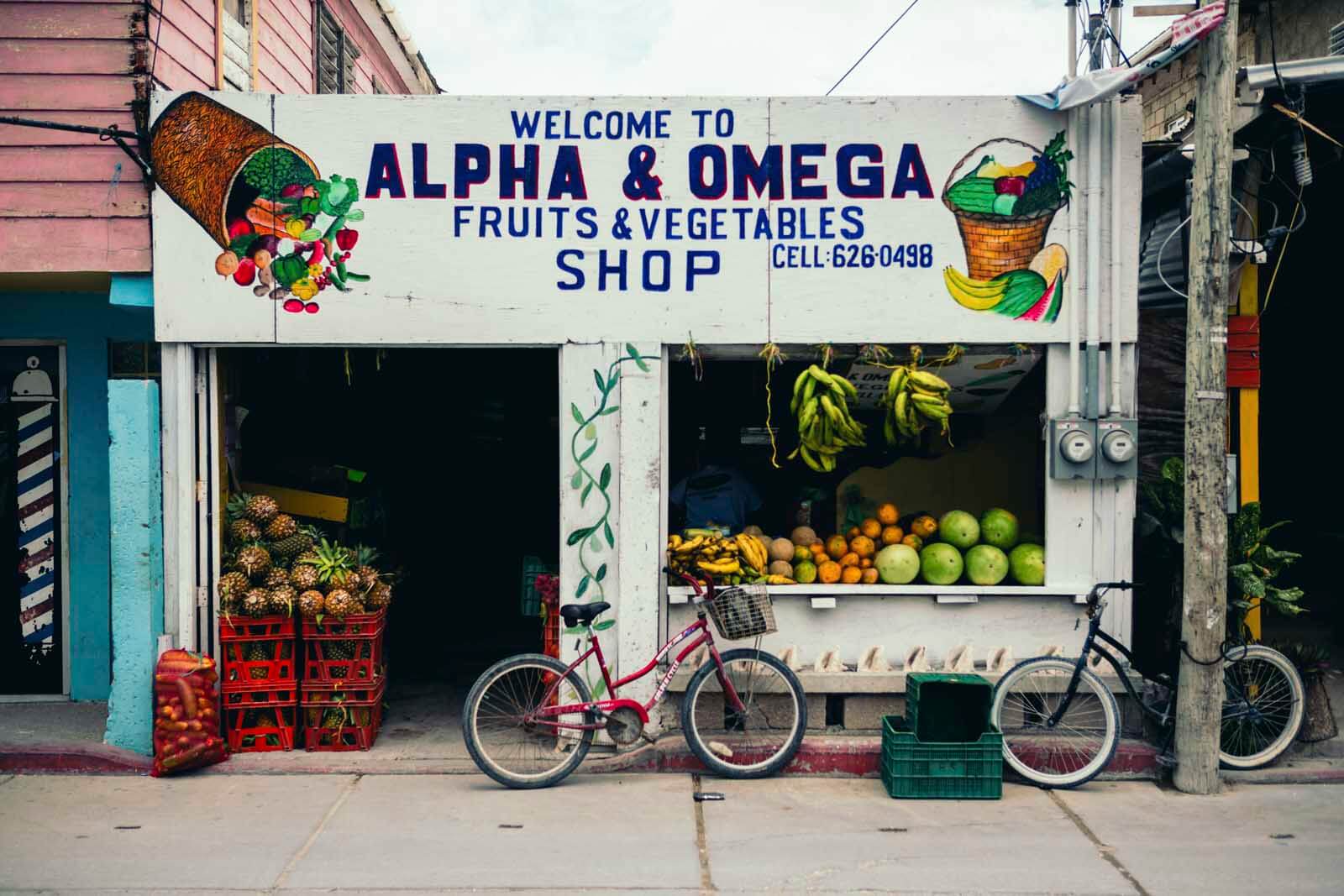 The local currency is the Belizean dollar, although US dollars are accepted everywhere on the island. The exchange rate is exactly $2 BZD to $1 USD. Don't bother bringing Mexican pesos if you are coming from Mexico, you will get a crappy exchange rate. Be prepared with USD.
There are a few banks in town where you can withdraw local currency using your debit card. Many restaurants accept credit cards but some require you to pay in cash.
Getting Around San Pedro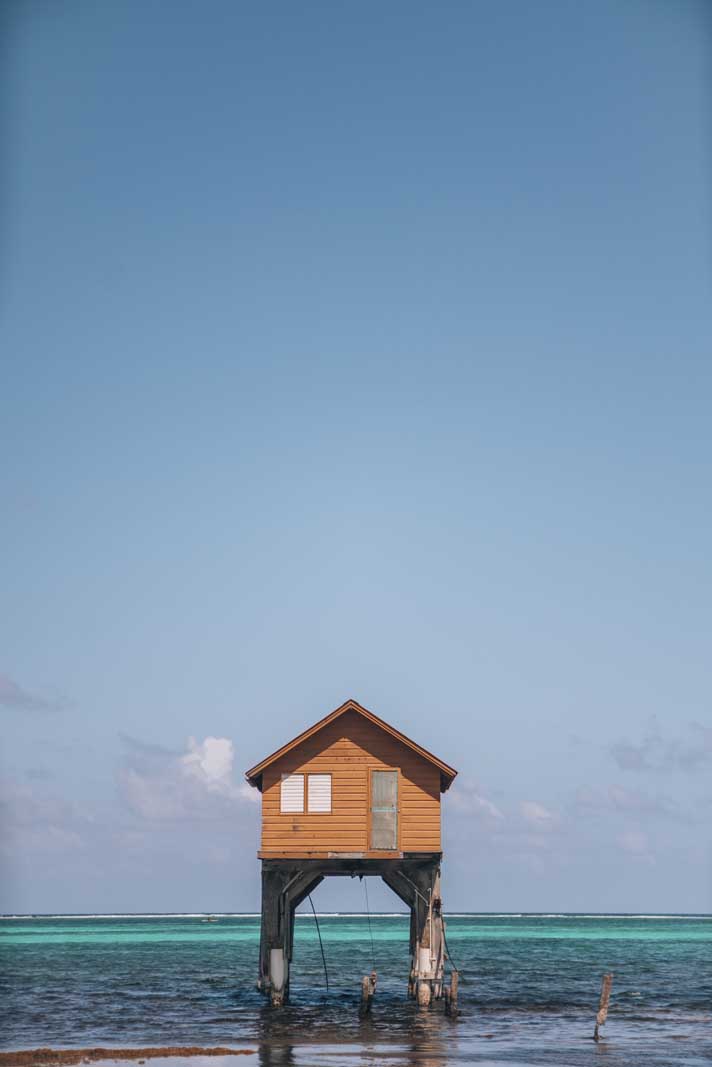 Getting around San Pedro can be tricky if you don't rent a golf cart. Golf cart rentals are just as expensive if not more than actual car rentals so be prepared for that expense if you plan on exploring the island, which you should. If not, there are shuttles and taxis on the island that can help you get from place to place. You can also rent bicycles or borrow bicycles from your resort if they offer them. Everything in town is walking distance, but places like Secret Beach require a golf cart or shuttle service.
---
We'd like to give a special thanks to Erin of Our Tasty Travels who has lived in San Pedro the past several years knowing the island intimately and graciously showed us around to many of these spots!
Check out this article by Eternal Arrival for some more of the best things to do in Belize!
Have anything to add to our list on what to do in San Pedro Belize? Let us know!
Liked this post on the best things to do in San Pedro Belize or found it helpful? Share the love or bookmark for later on Pinterest below!