Looking for the best things to do in Bermuda? We got you. Bermuda is no doubt one of the most beautiful (and dare I say one of our favorite) destinations we've ever been to. Whether you're booking a romantic getaway or just a fun beach vacation, this guide will cover the best of Bermuda to help make planning your trip easy breezy.
If it's your first trip, we recommend reading up on all the things to know before you visit Bermuda as there are a few essential tips that will ensure you have a great trip that you need to plan for. Then you can focus on all the fun and best things to do in Bermuda to fill up your vacation with unforgettable memories.
From scooting around and exploring the island by electric car or scooter to visiting pink sand beaches, magical caves and grottos, to historic and cultural sites – oh, and don't forget the food and drink! We have put together all the top things to do in Bermuda!
And to enjoy the best of Bermuda and your vacation, if you do want to explore around like we did (which we highly recommend as exploring around is how you get to see most of the best things to do in Bermuda) you will want to research how to get around Bermuda (don't worry that link leads you to our entire transportation guide and breakdown of public transportation, rentals, and everything you need to know) that way you can explore at ease and be set up for the best vacation ever.
Best of Bermuda Attractions
1. Visit the Pink Beaches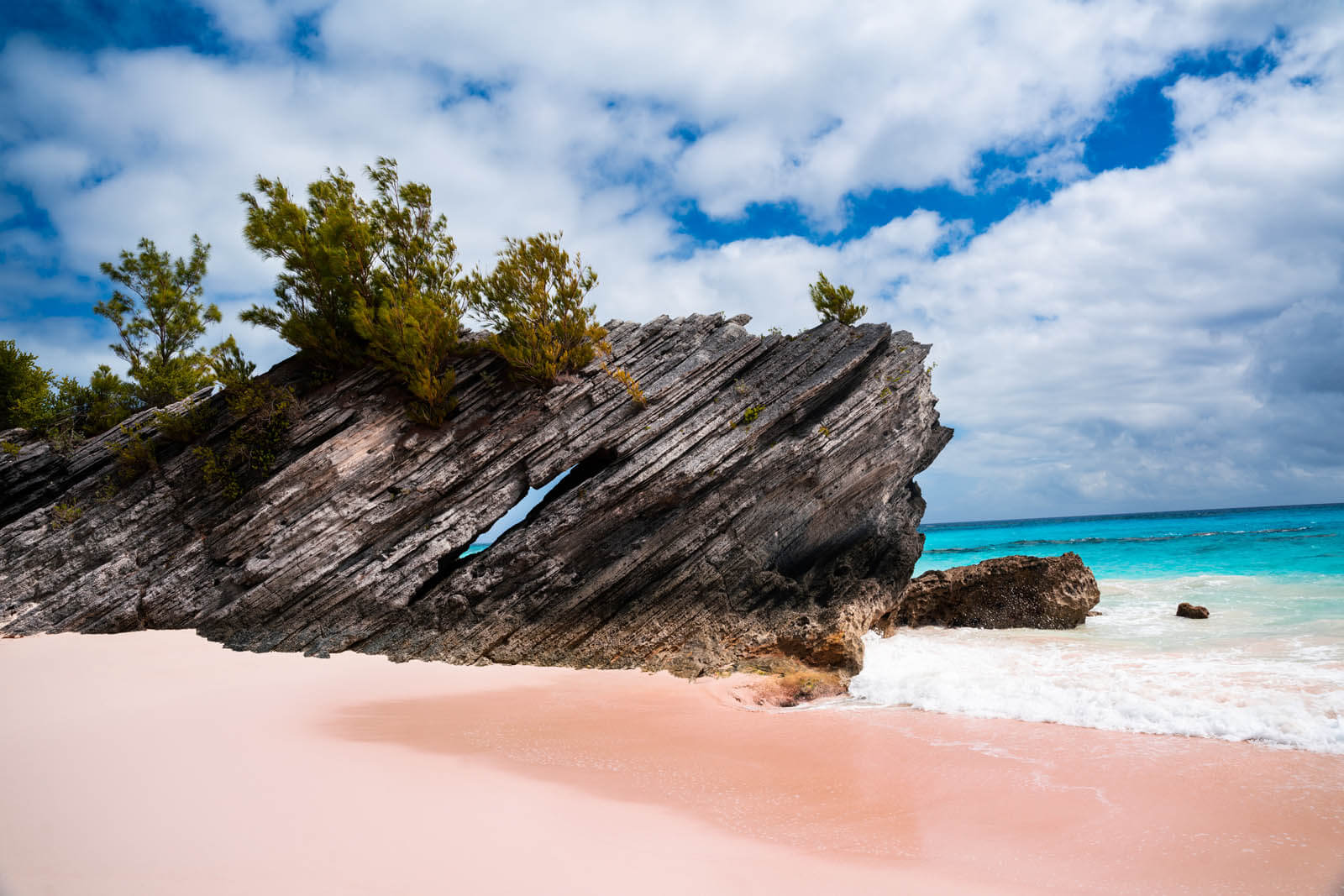 When you're looking for the best things to do in Bermuda, the pink sand beaches of the South Shore should be at the top of your list!
The most iconic and must-see in Bermuda is Horseshoe Bay Beach. This famous rosy-hued beach has a horseshoe shape and always tops the charts for being one of the best beaches in the world. Better yet, you can connect to more pink sand beaches from Horseshoe Bay Beach, and follow the South Shore Park Trail along the sand dunes from Horseshoe Bay Beach to reach Warwick Long Bay Beach.
There are several smaller, secluded pink sand beaches along the way (some of the best pink sand beaches in Bermuda if you ask us) and Warwick Long Bay Beach is also a stunner and it's less busy than Horseshoe Bay and it's great for snorkeling.
It's fun to see the pink hue of the sand that comes from red shells broken up in the surf and mixed in with the sand. It's not as bright pink as you see in a lot of pictures, but it's still so pretty in person!
2. Visit all the Other Amazing Beaches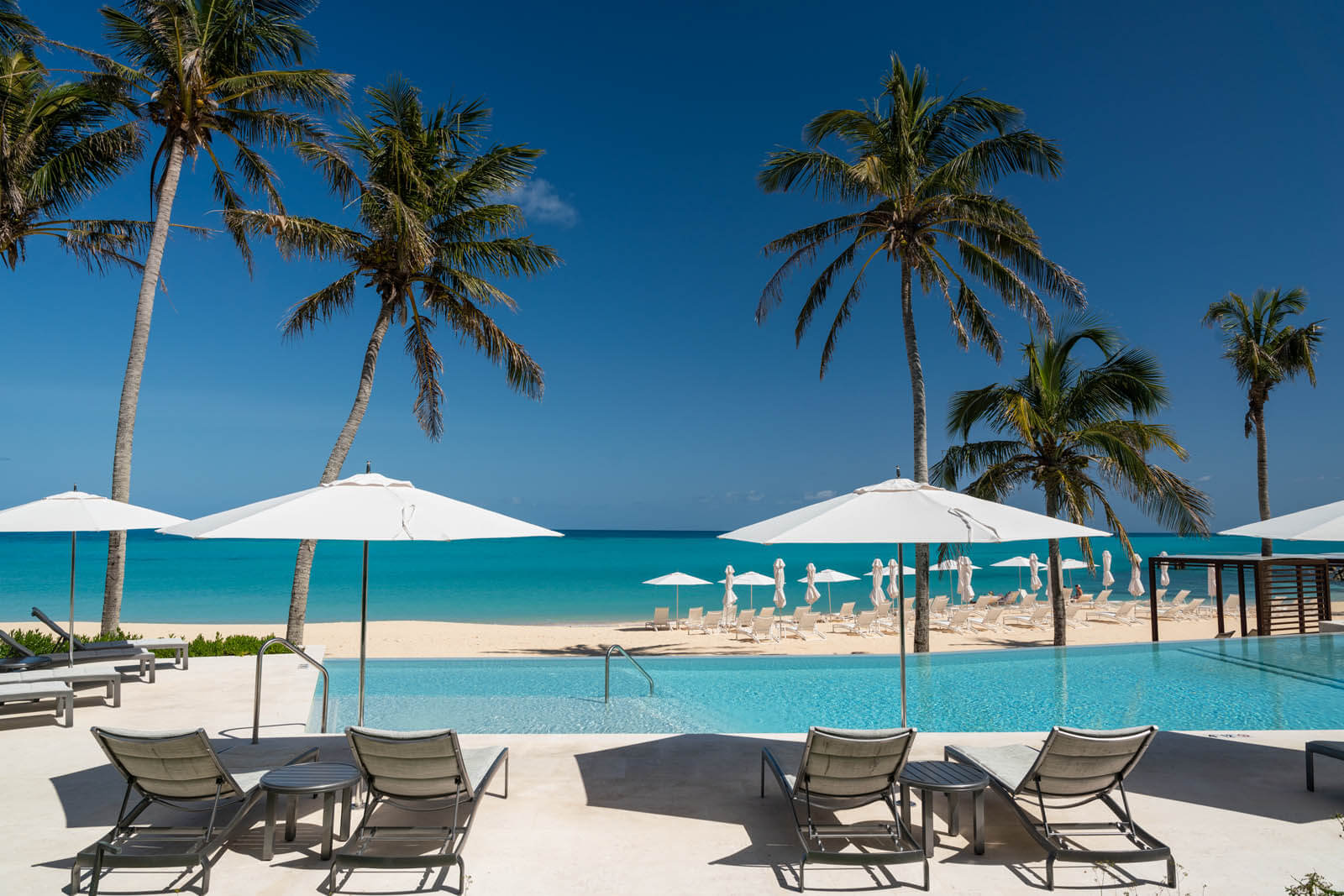 Okay, so pink sand beaches are AWESOME but there are so many other cool beaches here too. One of the top things to do in Bermuda is head to ANY beach.
See our full guide to the best beaches in Bermuda where we break down the top must-see Bermuda beaches as well as what amenities are at each one, how to get to them via driving or public transportation, and tips for visiting each one.
You'll love the number and variety of beaches available to you! It's fascinating how different each one is as you're at different parts of the archipelago.
Besides quality swim and sunbathing beaches, they're the perfect place to see tropical fish and even sea turtles. We saw so many colorful parrotfish on our trip. Some even offer opportunities to explore sea caves, walk through historical ruins and forts, swing in a hammock, or play beach pool!
Here are a few of our favorites and the best of Bermuda:
West Whale Bay Beach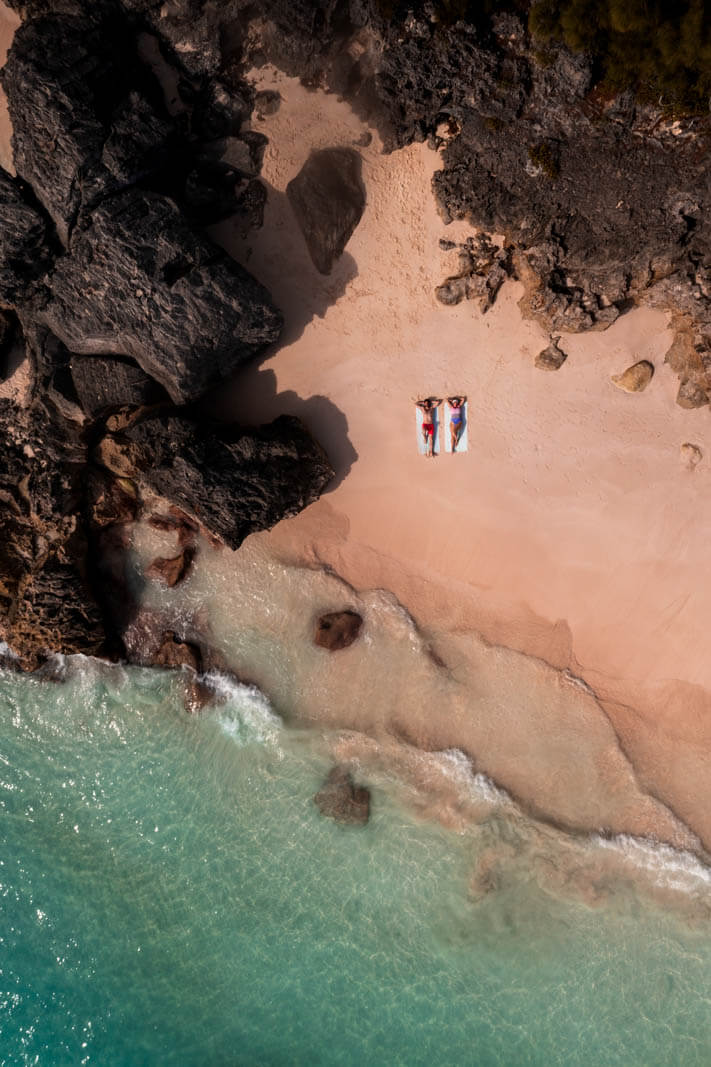 One of our absolute favorites was West Whale Bay Beach. Nestled below a sea cliff, you can enjoy the views up high or walk down a path to the beach. This beach is quiet and secluded- perfect for an afternoon of sunbathing and swimming, and you can easily walk along the shoreline in shallow waters during low tide to explore along the coastline .
West Whale Bay Beach is also one of the best places to catch of glimpse of migrating whales in the spring who often can be spotted in the distance from the cliffs. One tip for spotting them is to look out for the whale-watching boats as they will park near them or you might just get lucky and see a humpback whale when the boats aren't there – bring binoculars if you happen to be visiting during March or April.
Catherine's Beach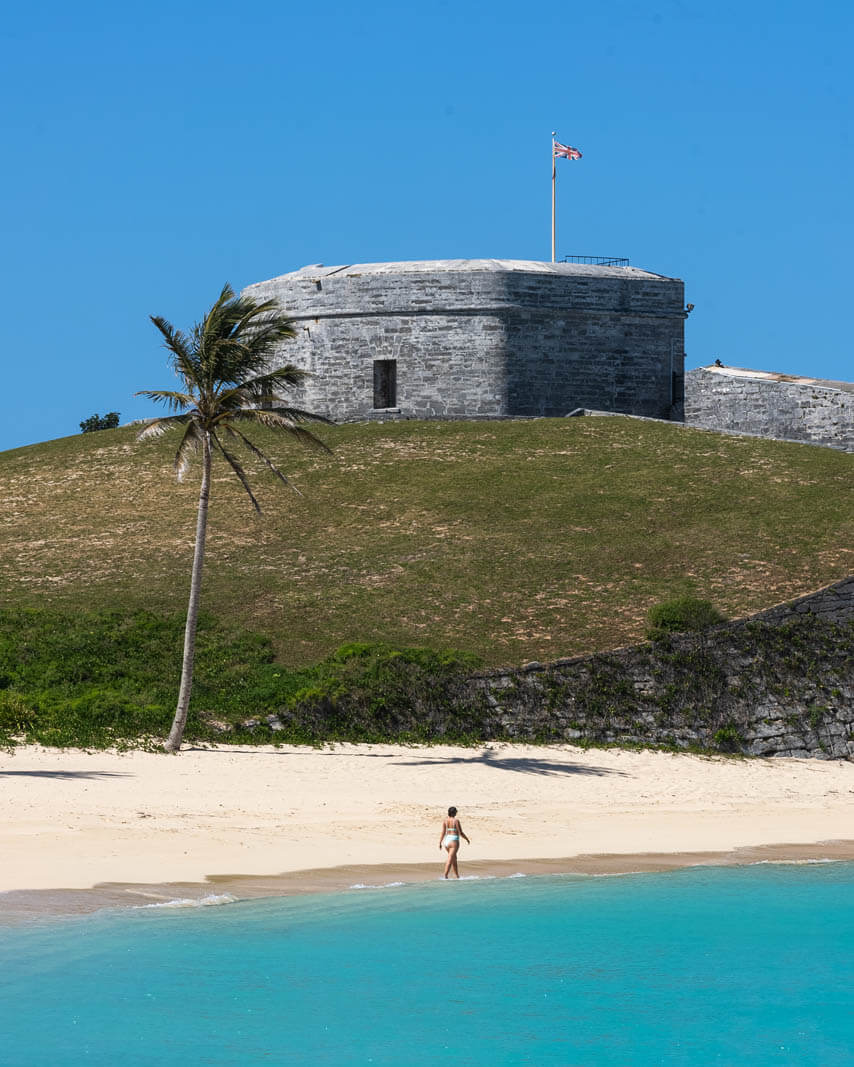 Another great secluded beach is St. Catherine's Beach on St. George's Island. This beach has the softest white sand and brightest blue waters.
You'll have them all to yourself at this out-of-the-way beach. Alonge beach is the new St. Regis Hotel. The bar and restaurant are open to the public if you're hungry while you're there. But be warned, even though we are coming from NYC – the prices are REALLY steep, we were pretty surprised when our bill for two margaritas came and it was $70. Just want to throw that warning out so there are no vacation surprises on your trip!
Tobacco Bay Beach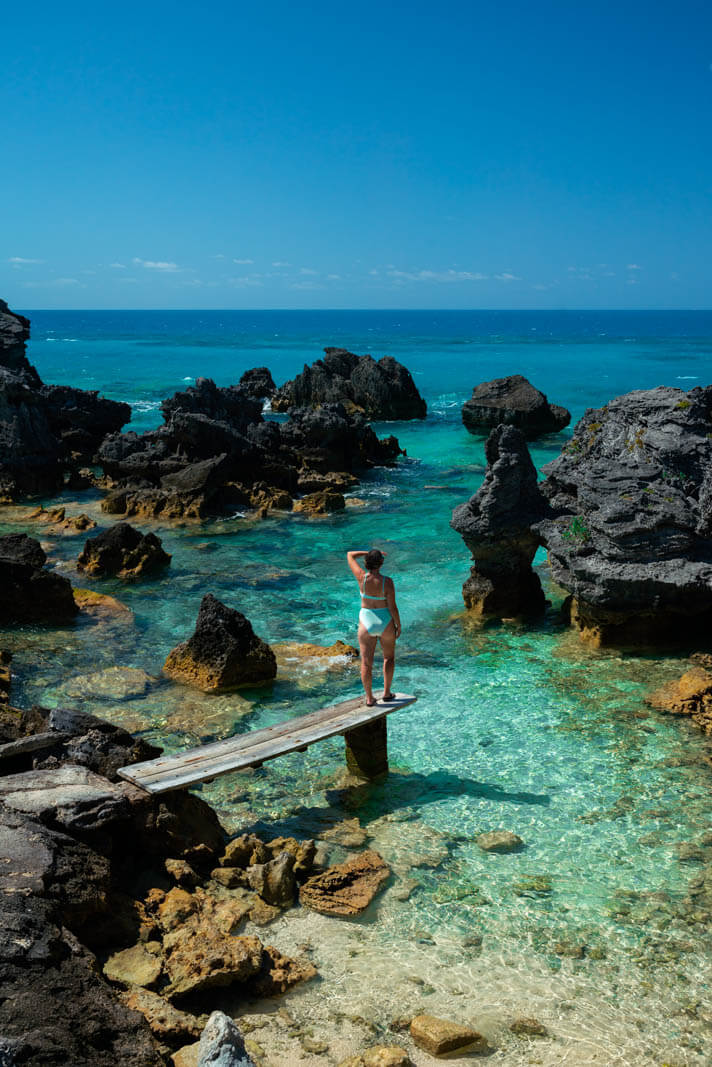 Tobacco Bay Beach is a smaller beach, but it's one of the most unique things to do in Bermuda and a beach you'll want to make time for, especially if you're exploring Bermuda by a rental scooter or electric car as getting here by public transportation is a bit tricky.
The water is shallow and calm, which makes it great for swimming or snorkeling and it's really easy to spot tropical fish in the waters here! It's also super clear, and we couldn't believe how many angelfish and rainbow parrotfish we see at this beach!
The entire coastline here has rock formations towering out of the water making for really gorgeous views. You can explore rock formations here or come in the evening when the bar turns into a great hangout spot with bonfires, pool tables, and a beach bar.
Cooper's Island Nature Reserve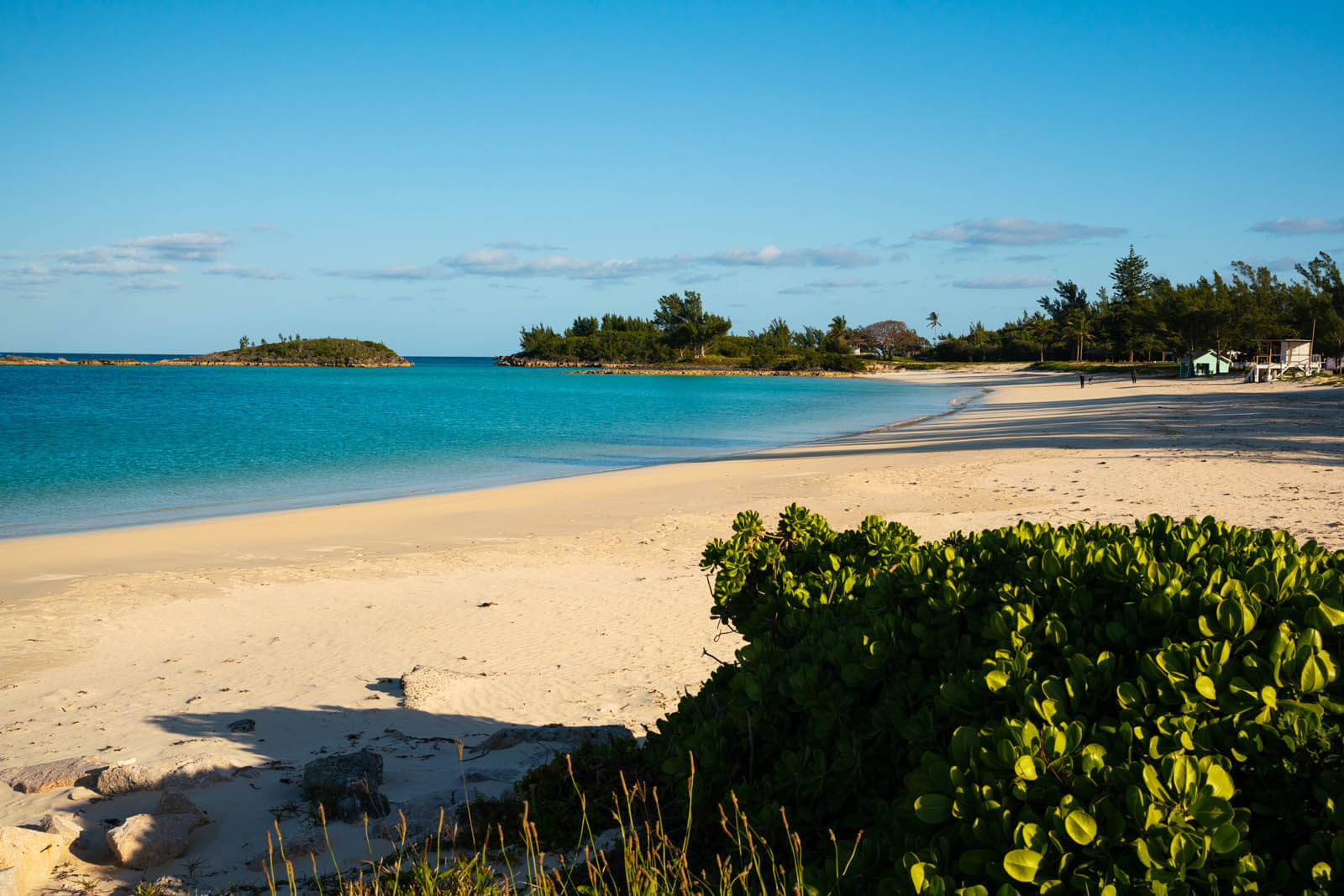 More top-notch beaches include the 8 beaches that makeup part of Cooper's Island Nature Reserve on the West End. The beaches feature calm, blue waters and long stretches of white sand. The reserve also has concessions, picnic areas, playgrounds, and more for you to enjoy.
Our favorite was Clearwater Beach and Long Beach which are a long stretch of soft white sand beaches. Also, many of the beaches also offer views of St. David's Lighthouse off in the distance too.
If you're lucky you might even spot sea turtles here!
3. Fort St Catherine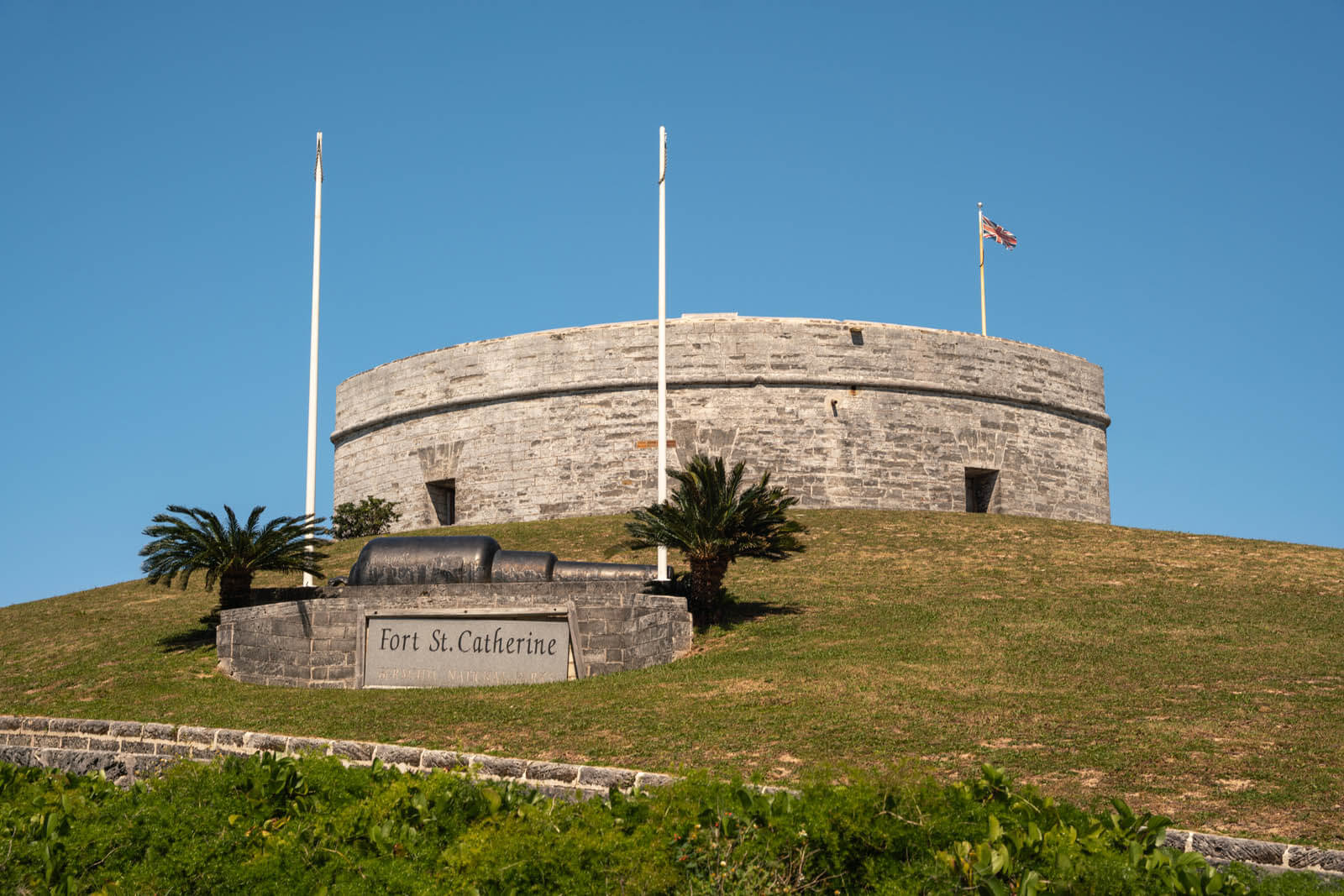 Also called St. Catherine's Fort, you can visit this over the 400-year-old site when you're at the beach here. Visiting the fort is one of the best things to do in Bermuda to learn about the island's history as a British imperial fortress.
St. Catherine's was once an important defense with its position on the eastern flank of the island. With reef lines in the water, invading boats trying to get to western harbors were forced to navigate close to shore where the fort was. Here they would be shot with cannons! The fort has seen many lives over the years.
Today you can visit the seasonal museum there. There are awesome 20-minute guided lantern tours through the fort offered 4 times a day. Call to book one and learn about fort life in the 1600s. It's open every day from June through the end of August from 10 AM to 4 PM. There's a small admission fee.
4. Visit the Crystal Caves & Fantasy Caves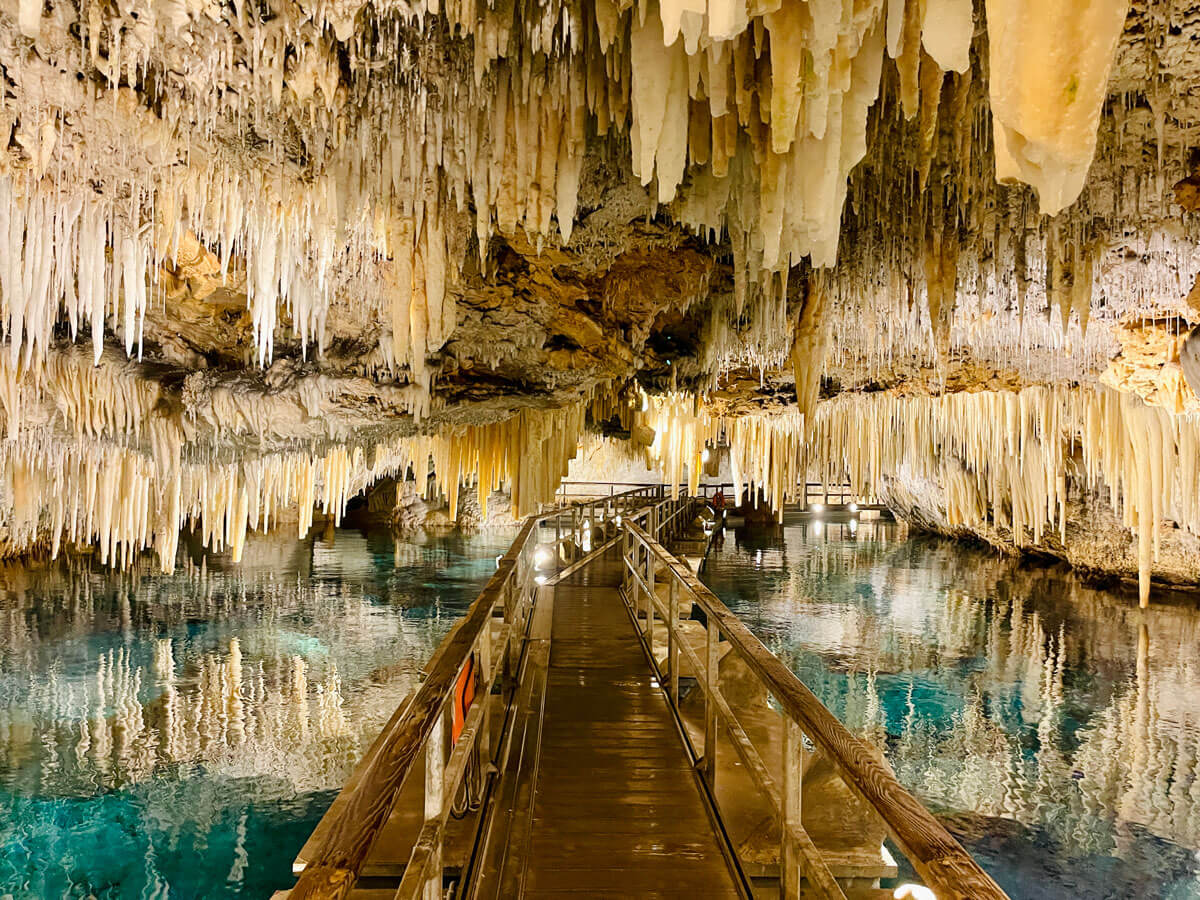 One of the most unique things to do in Bermuda is to visit the underground cavern pools in Hamilton Parish. As you descend deep into the earth, you'll feel like you're on another planet. But you're in fact inside caves that formed over millions of years.
While there is no swimming at the Crystal Caves and Fantasy Caves, this was still one of our favorite things we did and one of the best attractions in Bermuda – we also had a fantastic guide who took us beneath the earth to visit the Crystal Caves (sadly we didn't get to see the Fantasy Caves as they were being worked on during our visit).
You can visit one cave or both caves by guided tour only. This is one of the top things to do in Bermuda and cruise ship visitors often come here too – so be sure to book your tour in advance to not miss this natural Bermuda attraction.
What's even more fascinating about these caves beyond their sheer beauty (I mean we've visited so many caves and cenotes in Mexico so we were surprised by how taken aback we were when witnessing these in person) is how these were discovered.
Even though the caves have been forming for millions of years, the Crystal and Fantasy Caves were discovered by some local boys looking for their cricket ball in 1907. The caves might look familiar as they've been featured in movies for over the past century (even early films) and the Crystal and Fantasy Caves were the inspiration for the show, Fraggle Rock!
Not to mention one of the earliest tourists to the caves was famed American literary icon, Mark Twain who even wrote about how majestic the caves were.
This place is just something you have to see for yourself! In Crystal Caves, you'll walk down a wooden boardwalk past rock formations and observe glassy azure pools and white sugary stalactites and stalagmites that formed over millions of years.
Fantasy Cave has floating pontoon paths for you to walk over the water under a ceiling covered in crystallized stalactites.
There's an admission fee, and you're encouraged to book in advance. Tours leave every 30 minutes from 9 AM to 5 PM.
5. Blue Hole Park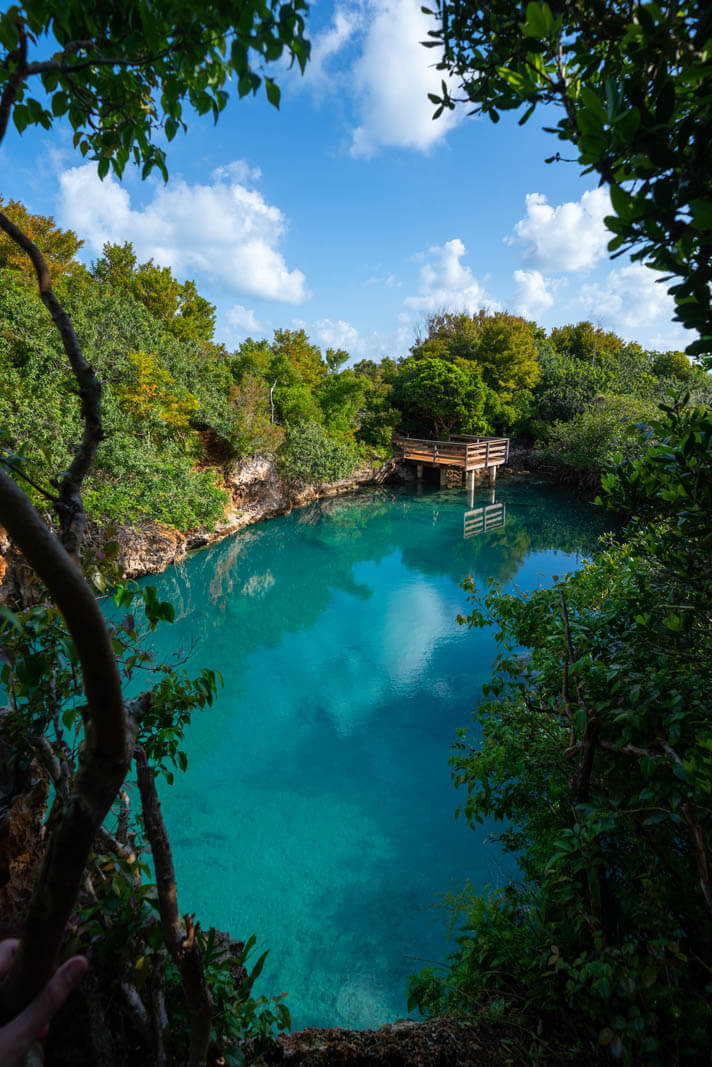 For exploring more of the most unique things to do in Bermuda's cave systems, you won't want to miss the jungle exploring through Blue Hole Park. Blue Hole Park is part of the Walsingham Nature Reserve.
You might also hear the park also called Tom Moore's Jungle. That's because the poet famously wrote verses while spending time here, the Tom Moore Tavern is also located on one side of the park and a local explained if you enter from over there it's 'Tom Moore's Jungle," but if you enter over on the other end, it's called "Blue Hole Park." Either name works but it's the same place.
The park itself follows the main path that starts where The Causeway and Blue Hole Hill Road meet. The main path curves along the coast for some lovely ocean views. This is where we met a local who was fishing who showed us the grotto here and gave us tips for exploring the area – which was basically go off the path into the more densely wooded areas and find all the random caves hidden in here.
Through the rugged park, you can walk on the main trails, but it's the little footpaths that break off from the trails you want to explore in here which is what we did and we were happy we did it!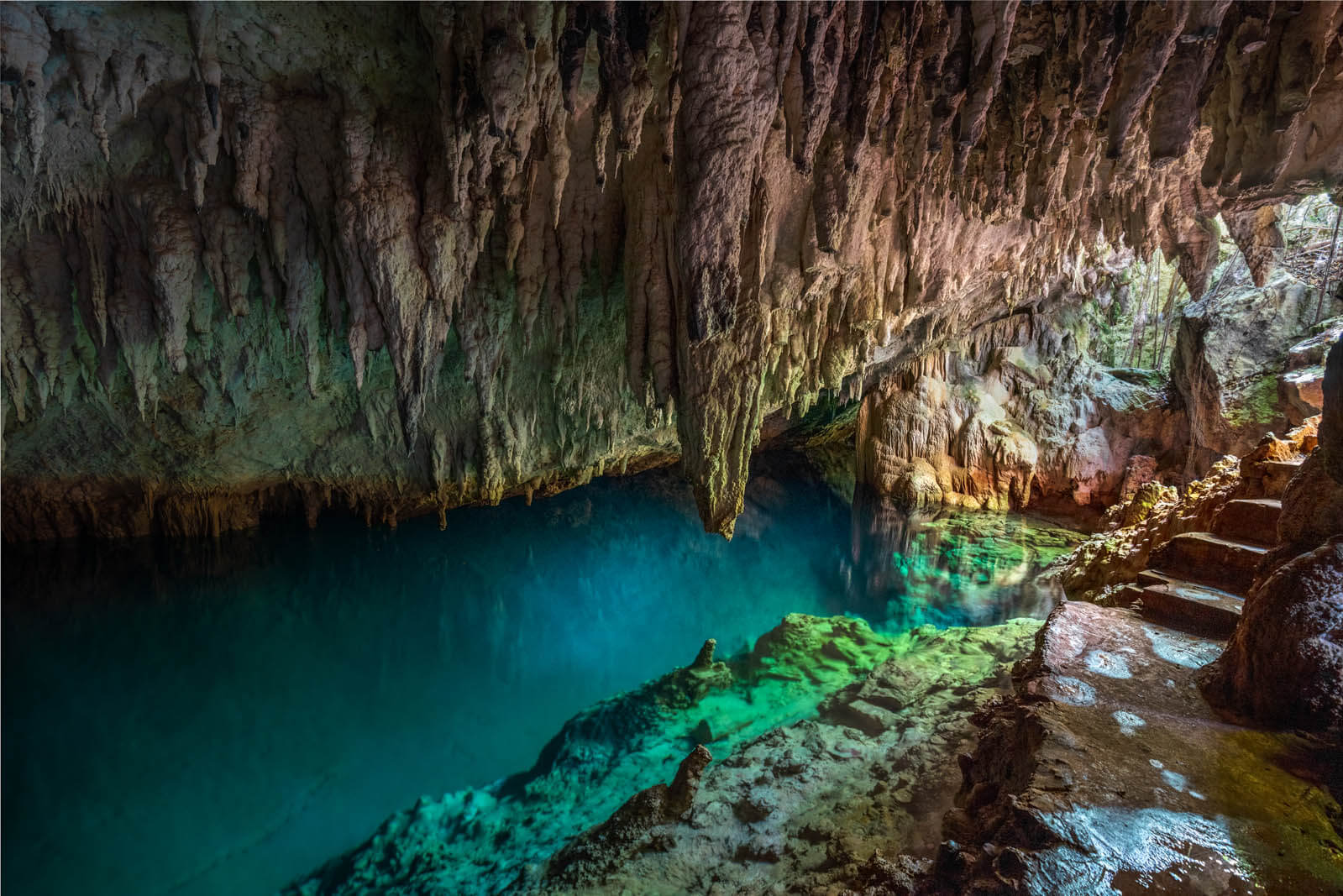 This is where you'll find all the random caves. You want to get 'lost' a bit in here just exploring around, this is one of the more adventurous activities in Bermuda. I am terrible with my natural sense of direction but was able to sort of remember what path we took to get back out and used my Google Maps to make sure I was going in the right direction.
If you don't want to go rogue in the jungle, the easiest spot to get to is The Blue Hole. You can follow the main trail and you'll eventually bump into an opening that leads to this spot. There is a wooden deck here for viewing or you can walk along the footpaths to different cliffs where you can jump in. Just be sure if you're going to swim here to look for your way of getting out as it will require scrambling up the cliffs to get back out.
You can spend hours exploring hidden caves and grottos, lagoons, and mangroves on the trails here – depending on how adventurous you want to get. Just wear good shoes, bring a headlamp, and stay on the pathways.
Also, to protect the natural environment they ask that people do not swim inside the caves – please be respectful visitors! However, at the main grotto the 'Blue Hole', it is permitted to swim and you can jump in off the cliffs surrounding it.
6. Get a Massage in a Cave at Natura Spa
One of the most unique things to do in Bermuda is booking a massage in the underground Prospero's Cave! It's as enchanting as it sounds.
Nature Cave Spa is located at Grotto Bay Beach Resort, the hotel we stayed at the last leg of our trip as it's less than a 5-minute drive to the airport plus a fantastic resort. Choose from different massage styles, like Swedish, hot stone, or even a couples massage, we went for the couples massage and it was incredibly romantic.
(minus the random guest who walked in and had their phone on speaker walking through the cave – but our masseuse asked them politely to leave as only those who book treatments are allowed in this cave, I wish they enforced this a bit better).
Beyond that one snafu, the experience was out of this world. Imagine how divinely peaceful it would be, being pampered on raised pergolas that float on top of a small blue lagoon underground. The only sounds will be echoes of dripping water and soft spa music echoing off the limestone cave walls!
After your treatment, you can relax in their lounge with some water before walking through the rest of the cave to exit.
Bermuda attraction tip: the caves at Grotto Bay Resort are for guests of the hotel only, UNLESS you book a treatment at Natura Cave Spa. Guests of the spa can also visit Cathedral Cave, you just will have to rinse off by the pool before going in to wash the massage oil off, or better yet visit before your treatment!
7. Visit Cathedral Cave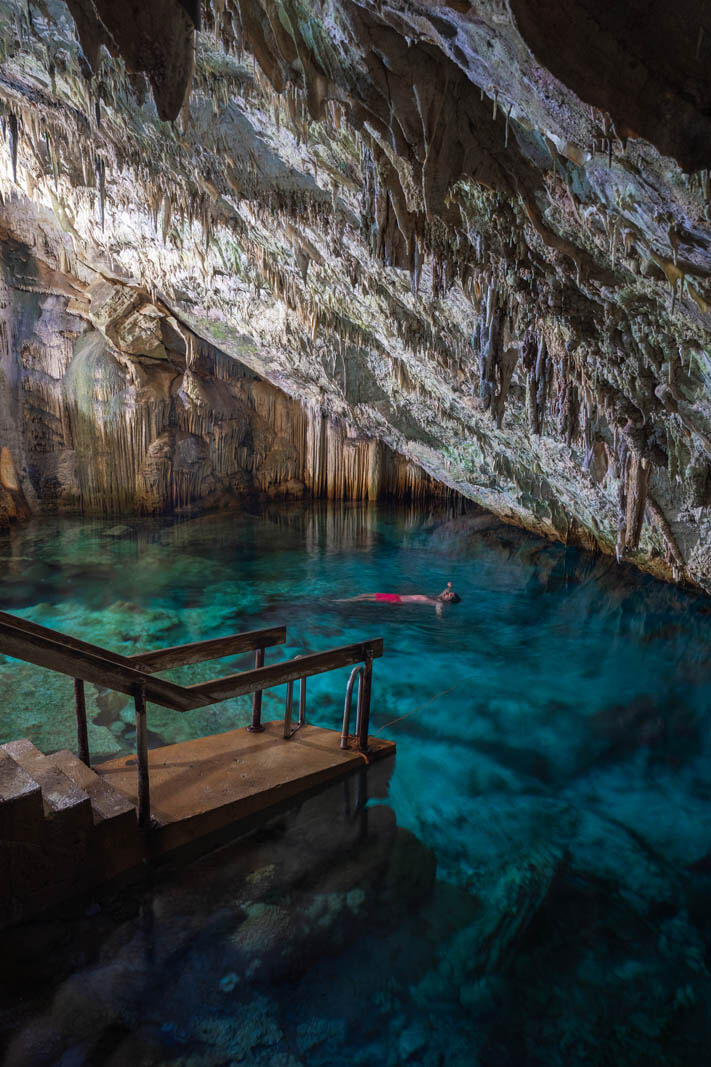 As a guest of Grotto Bay Beach Resort, or if you book a treatment at the spa (the only way non-guests can visit), you can also visit Cathedral Cave, one of the top things to do in Bermuda.
This incredibly gorgeous cave has a refreshing, natural freshwater pool inside, just like the cenotes in Mexico. Saltwater from the ocean is filtered through the island's limestone rocks. Inside these ancient caves, you're left with these deep, crystal-clear turquoise pools.
The water inside Cathedral Cave stays cooler than the ocean outside because it's hidden away from the sun. Taking a dip in here is rejuvenating. There's a platform you can jump off of with a ladder to get back out. If you continue on the cave path it will take you up into another area that's a chamber in the cavern if you want to explore a little more.
Keep in mind, that if you want to get in the water, you need to wash off first. It's important that any oils, sunscreen, or makeup is removed from your body to protect the environment inside these caves as those chemicals are harmful for the creatures you don't see in the swimming area.
The caves of Bermuda are protected by the Department of Environment and Resources, so to keep this cave visitor friendly, please make sure to follow the rules.
8. Try Bermuda's Signature Cocktails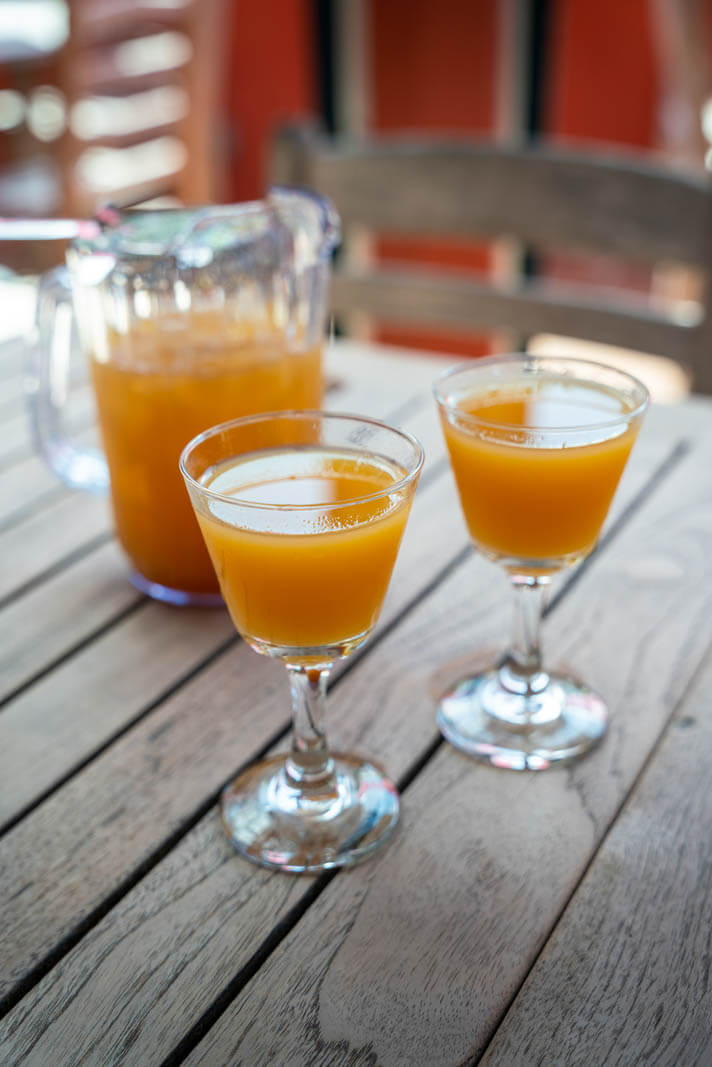 For the best of Bermuda, make sure to try their iconic mixed cocktail drinks, the Rum Swizzle and the Dark 'n' Stormy!
While the history of the Rum Swizzle is a little fuzzy, today it's considered Bermuda's unofficial national drink. It's made with a combination of dark rum, citrus juices, Bermuda falernum, and bitters poured in a frosted glass over lots of ice!
You can have it anywhere, but the most iconic spot to have it is at the Swizzle Inn. (this is a perfect stop after Blue Hole Park or Crystal and Fantasy Caves since it's walking distance!) Just a fair warning, these drinks sneak up on you!
You can even buy the famous Swizzle Inn Rum Swizzle mixers here if you need a souvenir to bring home – don't worry you can also get this in the airport after you go through security too in duty-free!
The key to any island drink is that it's very cold. While not as well known as the Rum Swizzle, the Dark 'n' Stormy is absolutely a Bermudian drink! It's a cocktail of rum, ginger beer, and lime over ice in a tall glass. But the key is to use Bermuda's own Gosling's Black Seal rum!
9. Eat All the Seafood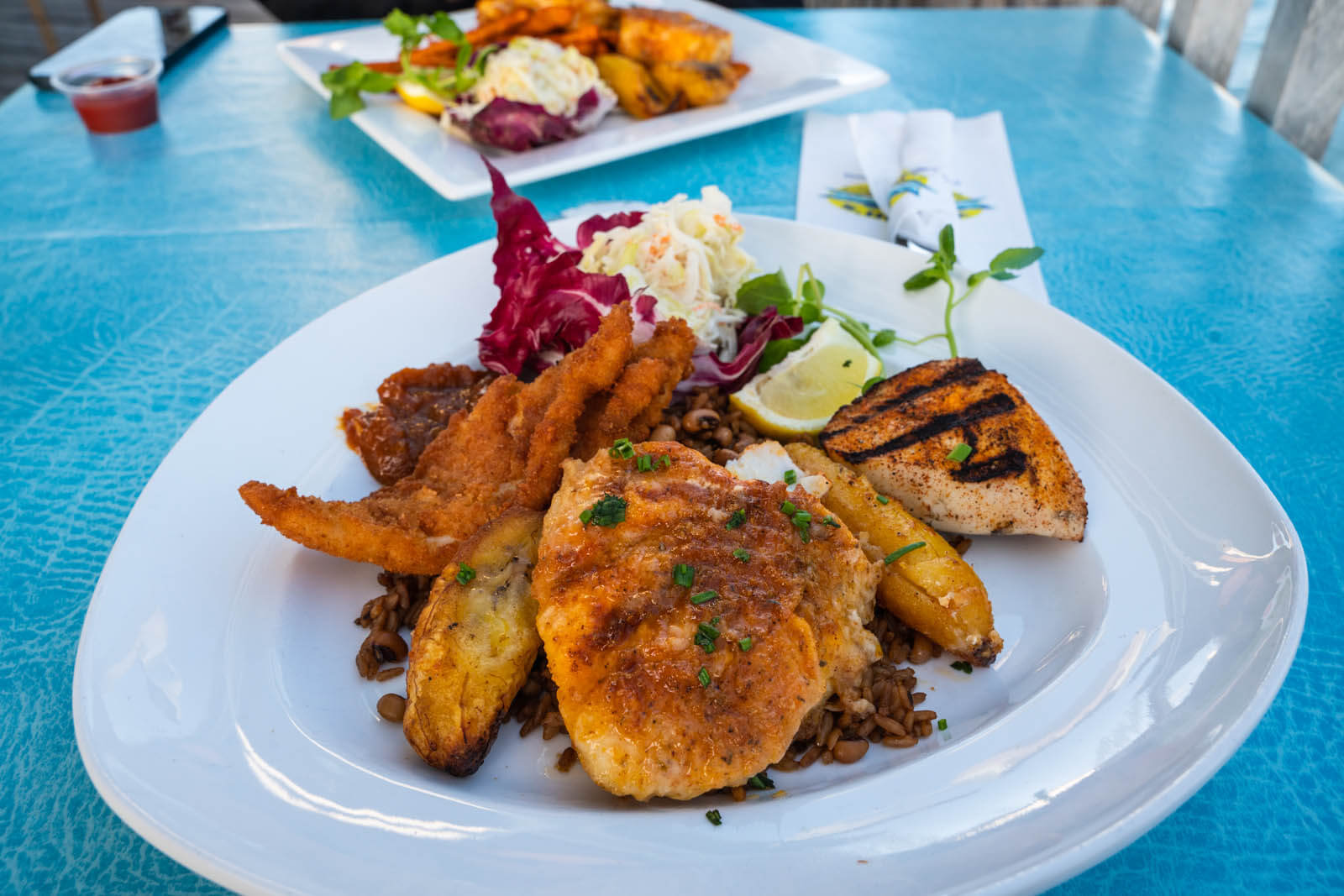 Being on an archipelago in the middle of the ocean means you're going to have great seafood. One of the best things to do in Bermuda is to try some quality dishes. The most iconic spot for seafood is getting a fish sandwich from Art Mel's Spicy Dicy near Hamilton. They make their unassuming fish sandwich with fried snapper. You can't beat a classic!
Seaside Grille on the North Shore is another great option for super fresh fish sandwiches. The owner also runs a fishing company and even sells that day's catch in his shop! You can choose from a variety of grilled or fried fish sandwiches with classic toppings and 3 kinds of bread.
Our favorite seafood restaurant was Wahoo's Bistro & Patio at St. George's, known for everything. This was a spot that multiple Bermudians recommended to us – they are so friendly! If you go, try to get a patio seat by the water! We saw a lot of parrotfish and even an eel while we were dining.
For what to order, you have to do the catch of the day, they have a few fish options daily and if the rockfish is an option get it pan-fried and ask them to prep it like the locals like it – hands down the best meal here.
10. Visit St George's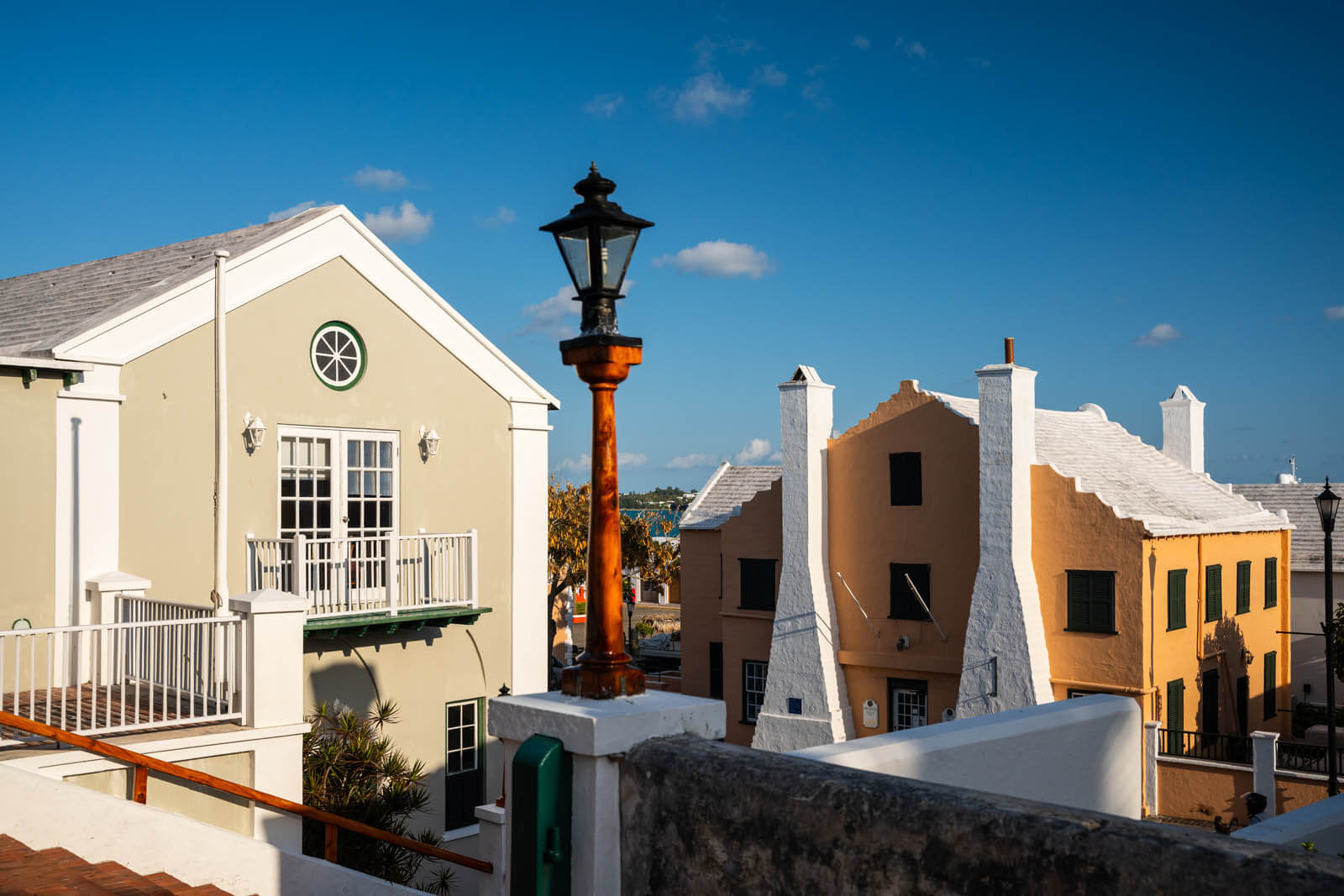 The entire town of St. George's on the East End is designated a UNESCO World Heritage Site. If you're looking for things to do in Bermuda around history and culture, we suggest you start here. St. George's is where the first settlers landed in Bermuda on their way to the Jamestown Colony during the 17th century.
You can just go on a self-guided walking tour of the town and have a great afternoon. Start in the King's Square area. The Town Hall is there, as well as the National Trust Museum and a World Heritage Center. Also, don't miss St. Peter's Church. You can walk through all 3 to learn about the history and culture of the island.
If you prefer to do some shopping, walk down Water Street. There are specialty gift shops and clothing stores. At the end of the street is a lovely blue building called Somers Wharf, a shopping mall with a café and dining inside.
We really enjoyed the architecture here and there were a lot of great food and drink options.
11. Unfinished Church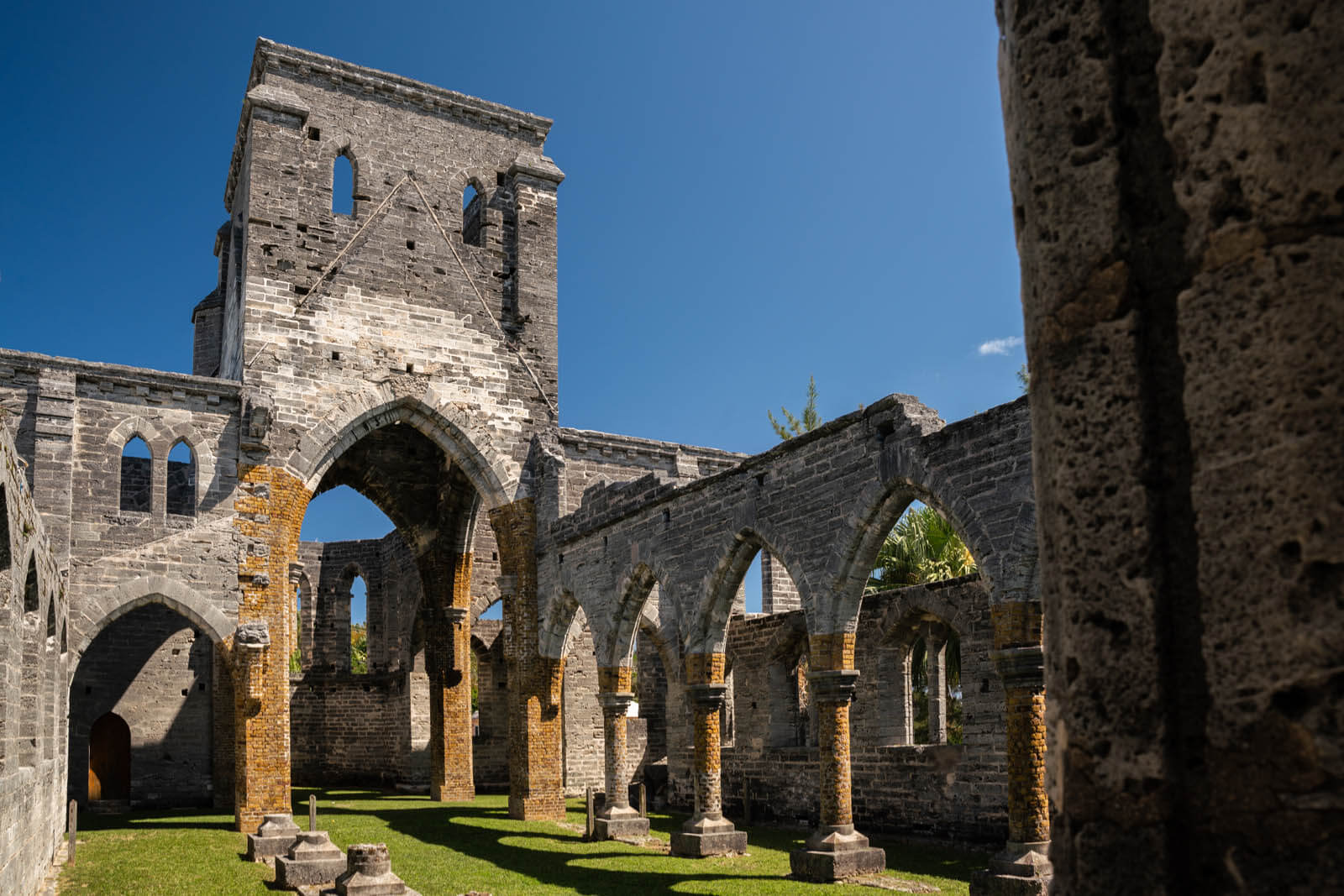 While you're exploring St. George, take a stroll by one of the most unique of Bermuda attractions, the 150-year-old Unfinished Church. The gray, weathered stone ruins are almost unsettling after all the bright, colorful buildings you see elsewhere on the island.
Today, the ruins are privately owned as a wedding venue. You can't go inside, but it's fun to walk through the gardens and peek through the doorways and windows!
12. Golf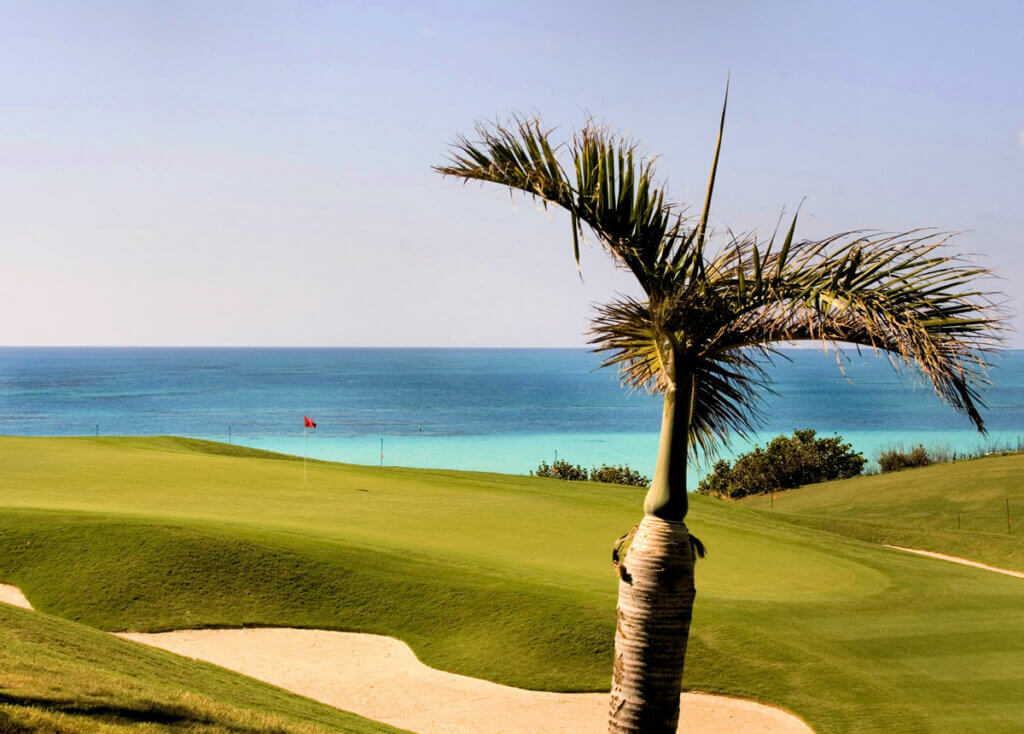 Switching gears, let's talk golf! One of the best things to do in Bermuda is to check out one of the dozen golf courses. What's better than endless sunny days and ocean views while you play?
The island is a premier golf destination, with award-winning locations like the Port Royal Golf Club in Hog Bay. The longest course in Bermuda, it's even been recognized by the likes of Golf Digest and the New York Times as one of the best courses in the world.
Turtle Hill Golf Club in Southampton is considered favored by everyone from beginners to professionals and is also ranked one of the top courses in the world. Then there's the century-old Mid Ocean Club on the South Shore, which is loved by experts in the game of golf.
13. Bermuda Fun Golf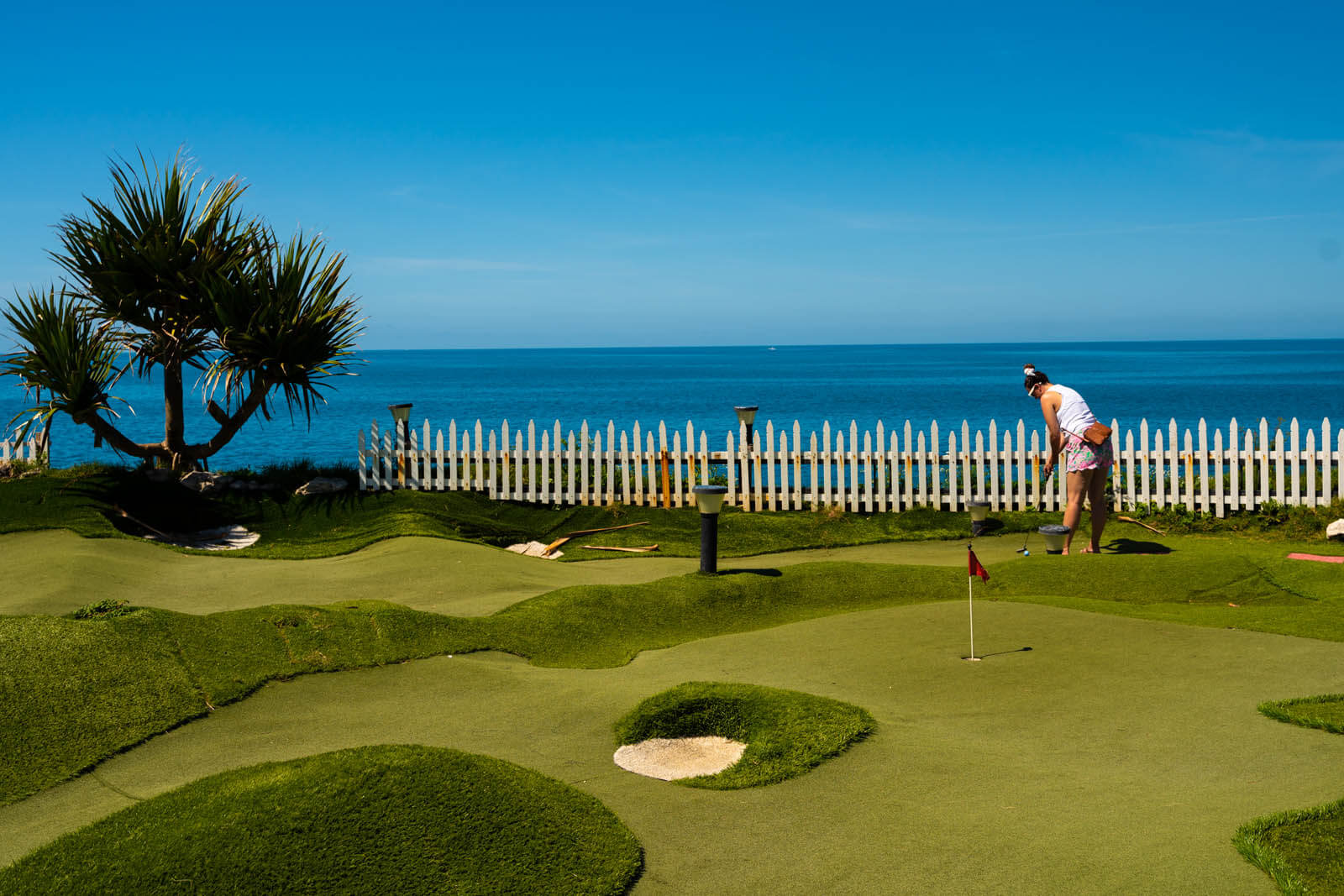 For more casual lovers of the game, one of the top things to do in Bermuda for fun is trying your hand at Bermuda Fun Golf located at the Royal Navy Dockyard.
The 18-hole course is divided into 3 sections of fun mini replicas of professional and famous holes on courses found in Great Britain, Bermuda, and the US! There's also a bar and grill there called "The Caddy Shack."
Pick up an ice cold beer to take along with you, it's encouraged! The course was brilliantly designed so when you're at hole #9 you're back at the bar to get another round!
This was absolutely one of the best mini-golf courses we have ever done and we REALLY like doing mini golf! Just imagine being perched on a cliff in paradise playing mini golf, sipping on a cold beverage of your choice all while seeing the bluest water in the world surround you! If you're lucky you might even spot a few chickens too.
Bermuda attraction tip: There is no shade here other than the bar, we wish we would have had a hat during our round. Be sure to also wear plenty of sunscreen (as you should everywhere) and drink plenty of water when you're out in the exposed sun for long periods of time.
14. Royal Naval Dockyard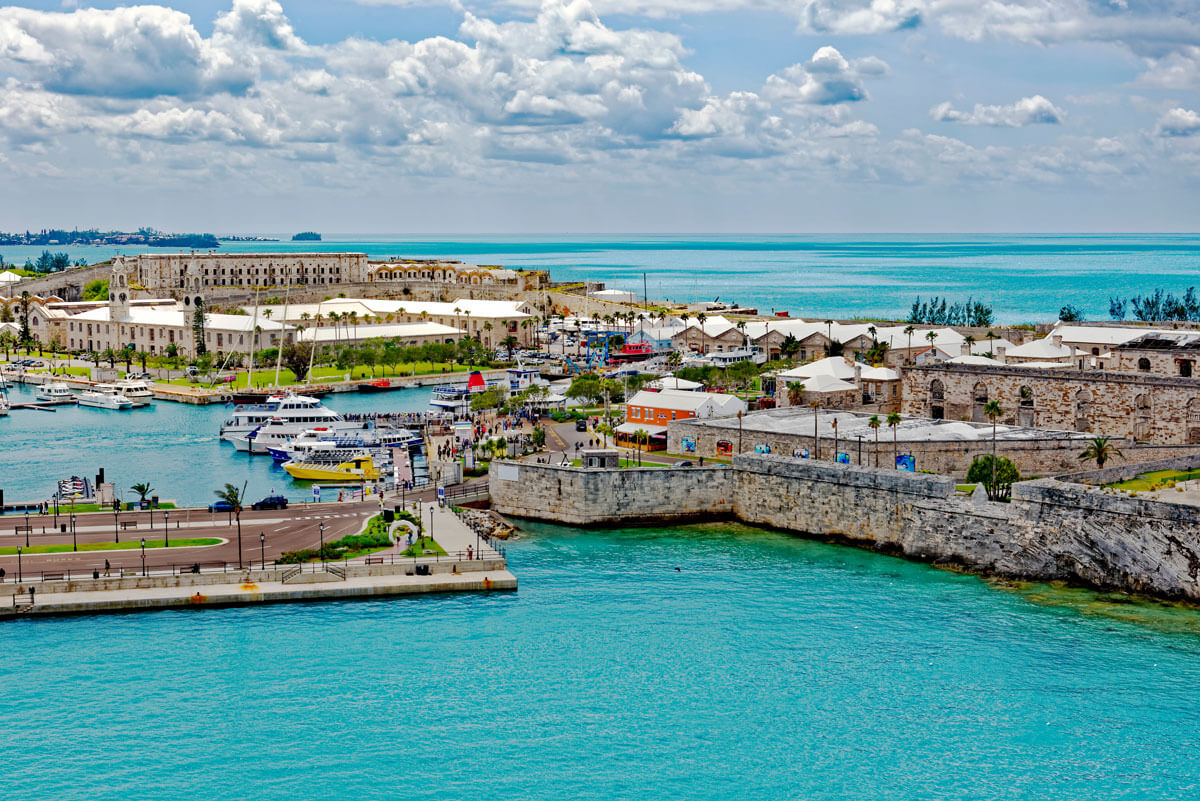 The Royal Naval Dockyard on the West End was an active strategic base for the British Navy well into the 1940s. The site was reopened in 2017 as a tourism hub with entertainment, dining, shopping, an event space, and much more. Cruise ships dock there, keeping the Dockyard busy with visitors coming off the boats.
The best way to get to the Dockyard is by the Blue or Orange Route ferries, but you can drive as well. You can get into the National Museum of Bermuda at the Dockyard from 9 AM to 5 PM every day.
Or check out the Anchor Restaurant Bar & Lounge near Clock Tower Shopping Mall. You'll love the laid-back atmosphere here and even better drinks. We got the fish sandwich, which is a must!
15. Shop and Explore Hamilton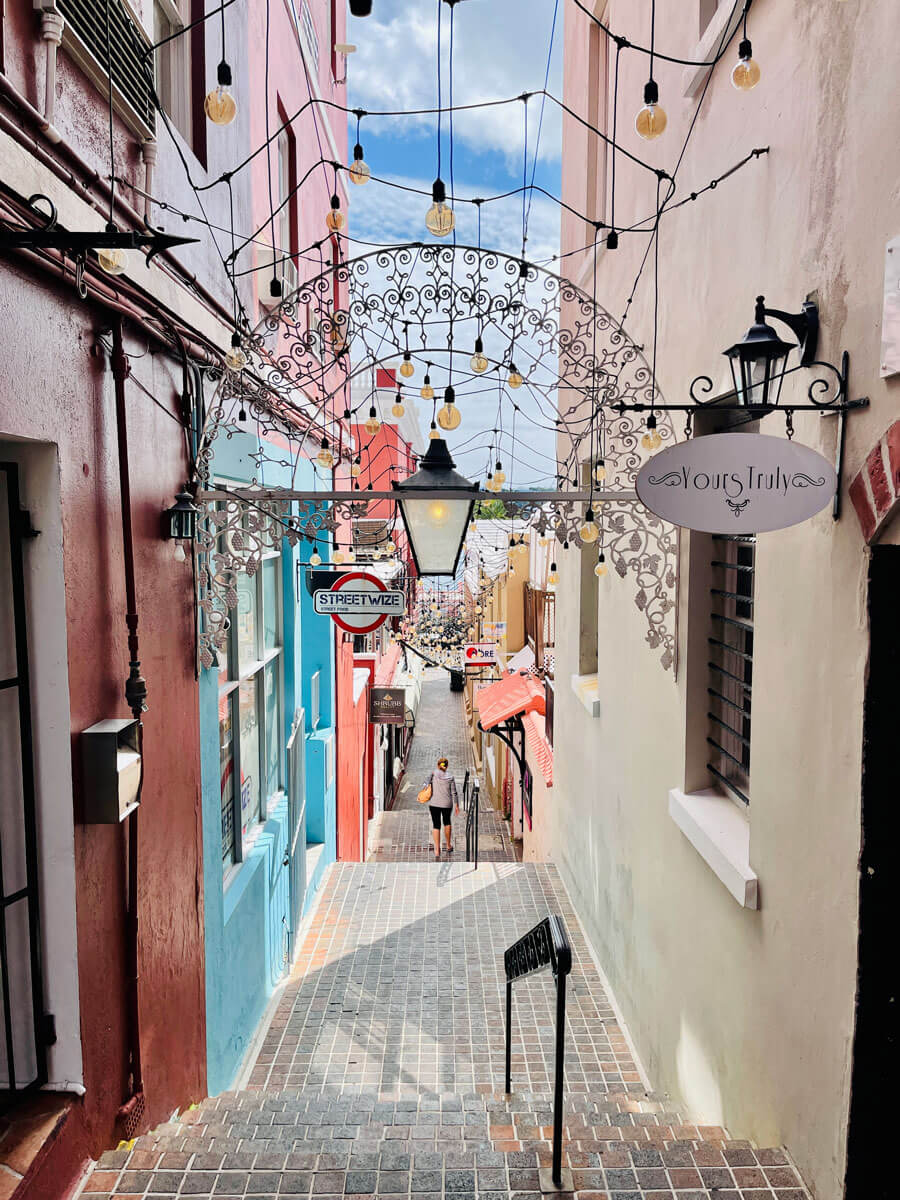 Getting to know the city of Hamilton is one of the best things to do in Bermuda, we actually based our first two nights of our trip here so we could do everything around Hamilton before moving on to other parts of Bermuda.
Be sure to take a walk down Front Street and pop into the shops. Have a drink, gaze out onto Hamilton Harbor, and take in all the stunning Colonial-era buildings that are painted in every color and shade of the rainbow!
If you can find the footway off Front Street called Chancery Lane, walk down it! It's charming, lined with cobblestone with string lights hanging above you. And we recommend trying Devil's Isle Café if you get hungry. They have great coffee and brunch options, but also excellent dinner and drinks! We loved our dinner here – both of us had stand-out meals.
Popular activities in Bermuda in Hamilton include shopping. You'll find a variety of high-end and small craft stores in downtown Hamilton. One of our favorites was Orange Bay Company, a really cool consignment shop on Victoria Street with a clothing and accessories section on the upper floor and homeware on the lower basement level.
There's also Walker Christopher Goldsmiths where you'll find stunning designer pieces and one-of-a-kind jewelry made from sunken treasures! Yes, they make jewelry based on pirates' treasure and other things that are found on dive sites!
16. Visit the Artwork at Hamilton Princess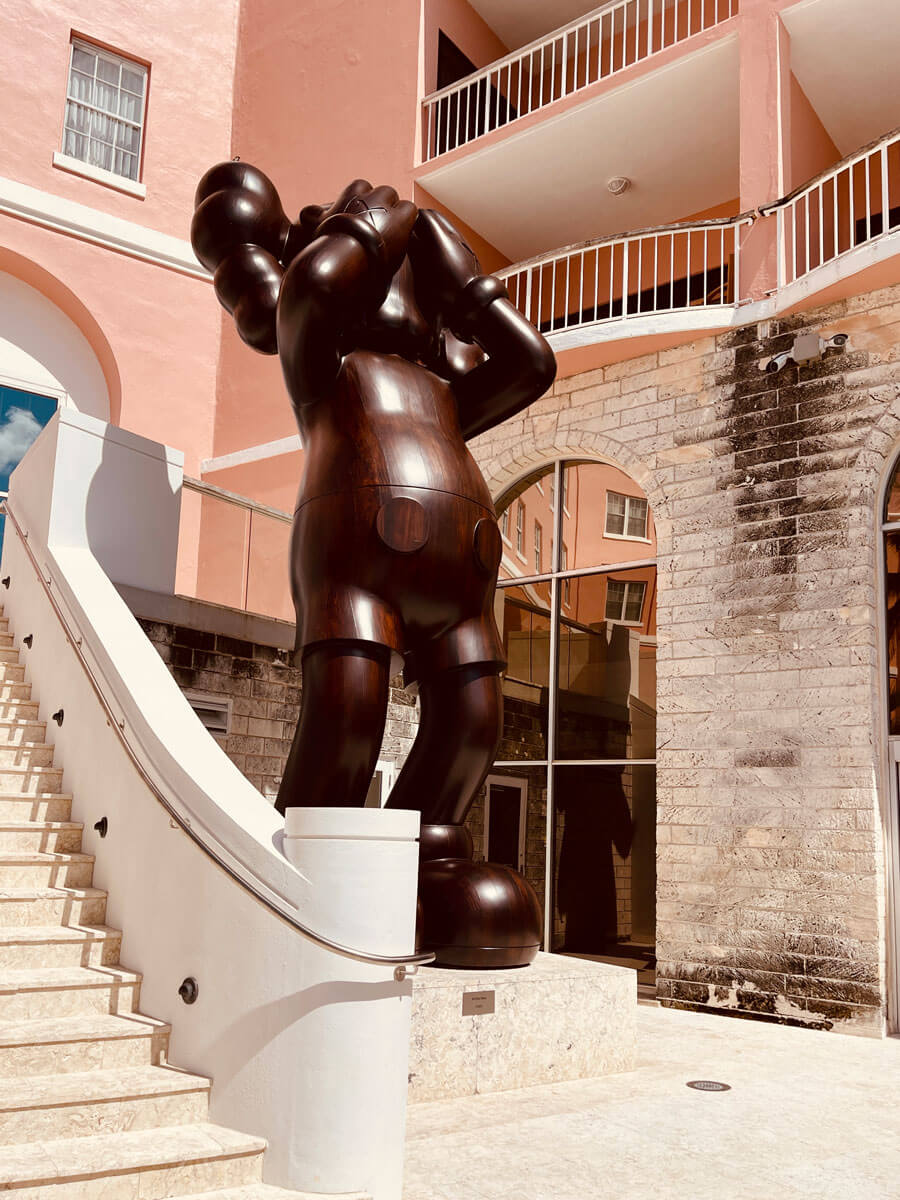 The Hamilton Princess is a 5-star Fairmont Hotel (and a pink hotel!) on Hamilton Harbour that doubles as an impressive modern art museum. We actually stayed here for our first two nights of our trip to base and explore around Hamilton and LOVED it – they also have a private beach club for guests by the way! Anyway, even if you aren't a guest here you can still enjoy the artwork they have on display throughout the hotel, which is basically a free modern art museum!
One of our favorite things to do in Bermuda was to see all the artwork by famous artists like Banksy, Mr. Brainwash, Andy Warhol, Roy Lichtenstein, and many more. Walk down a hall and you might see work by Jeff Koons or Takashi Murakami. In the courtyard, there were installations by KAWS. You also can spot lithographs by Nelson Mandela.
The entire place is meticulously curated, and art is rotated regularly. Plus, you don't need to be a guest to view this as it's in a public space. But hotel guests can book a private guided art tour by calling the concierge.
17. Bermuda National Gallery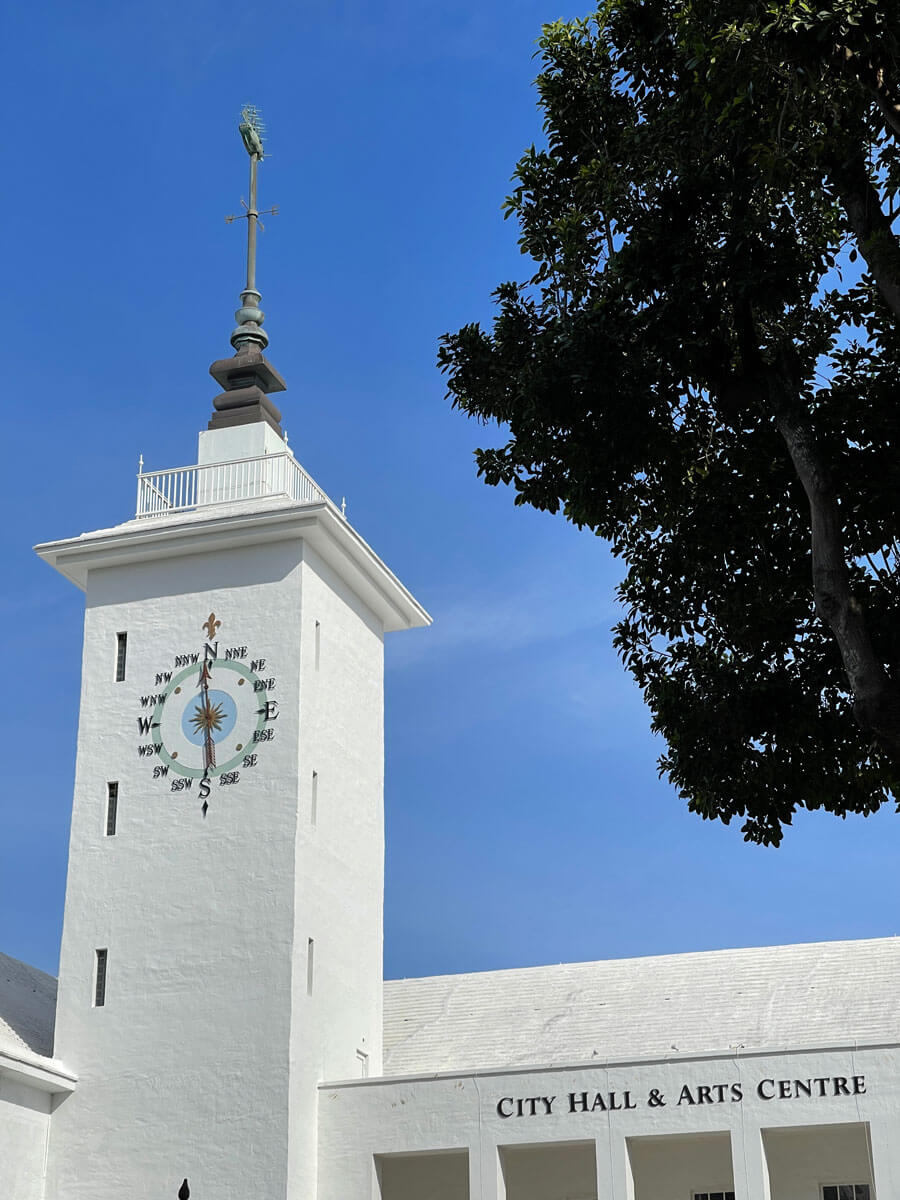 One of the best attractions in Bermuda around arts and culture is the Bermuda National Gallery, a contemporary art center and museum inside Hamilton's City Hall. You can visit and walk through exhibits or attend workshops, talks, and special events. Installments highlight current Bermudian creators, as well as the cultures that shape the island country.
There's a small admission fee. It's open Tuesday through Friday from 10 AM to 4 PM and on Saturday from 10 AM to 2 PM.
18. Masterworks Museum of Bermuda Art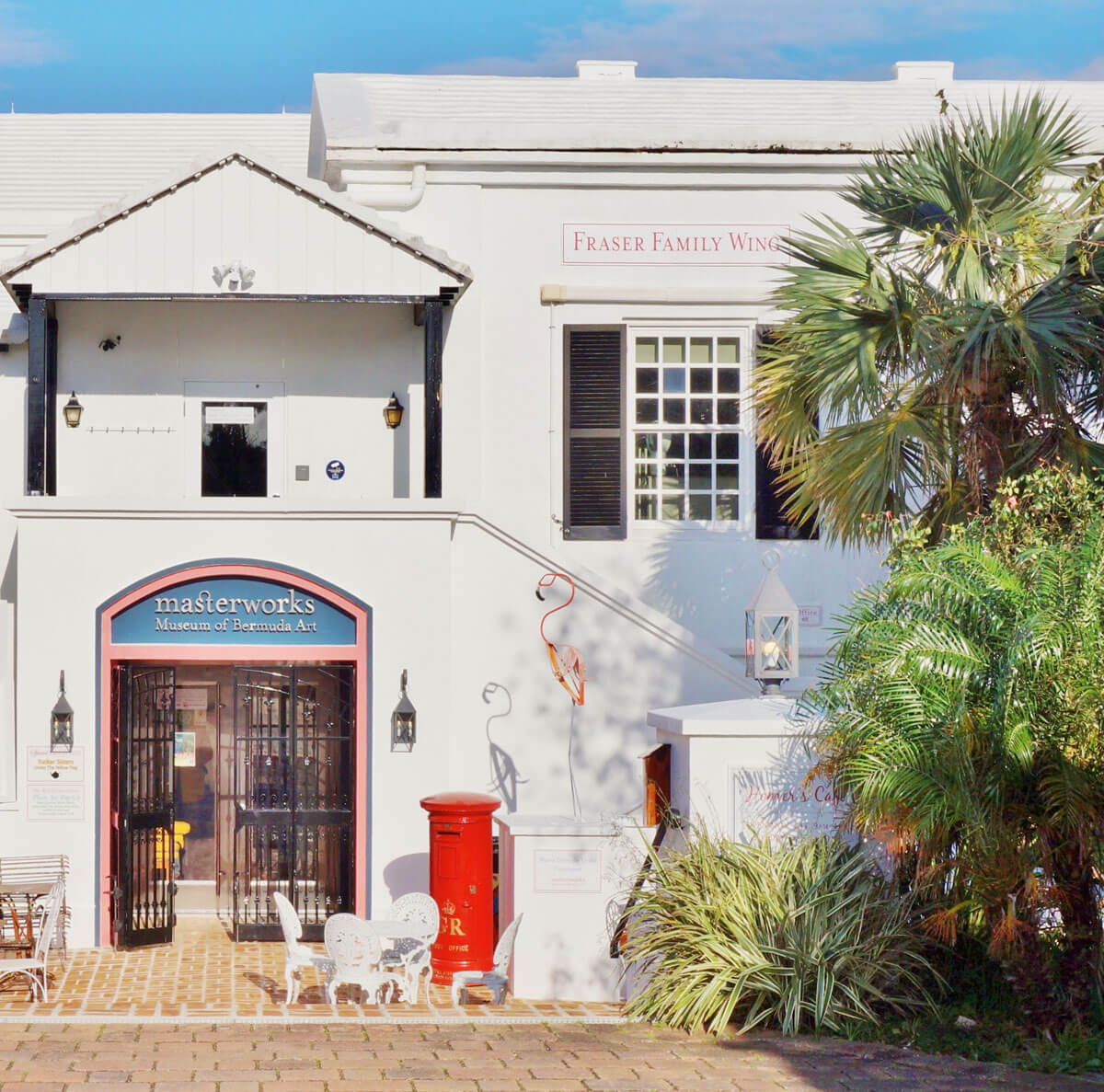 Tom Butterfield created the Masterworks Museum of Bermuda Art in Camden to celebrate the art of Bermuda. Learn about generations of artists from all over the world who have been inspired by the beauty of the islands and see the work that was created.
You can see exhibits by local artists, sign up for art classes, or attend workshops at the museum. Make sure to stop by the gift shop and the café. The museum and Bermuda attraction is open Monday through Saturday from 10 AM to 4 PM.
19. Bermuda Botanical Gardens
For over 100-years, the Bermuda Botanical Gardens has been an important part of the Camden community. It's also one of the best things to do in Bermuda for visitors to experience all the native flora of the island!
You can walk the 36-acre grounds that also house the Masterworks Museum of Bermuda Art and the historical Camden House. There's a grove of palm trees and a flower garden filled with hibiscus, birds of paradise, African violets, plumeria, and more.
Explore the tropical fruit garden and greenhouses. There's even a sensory garden for the blind set up with fragrant plants and Braille placards. The botanical garden is open every day from sunrise to sunset.
20. Bermuda Railway Trail National Park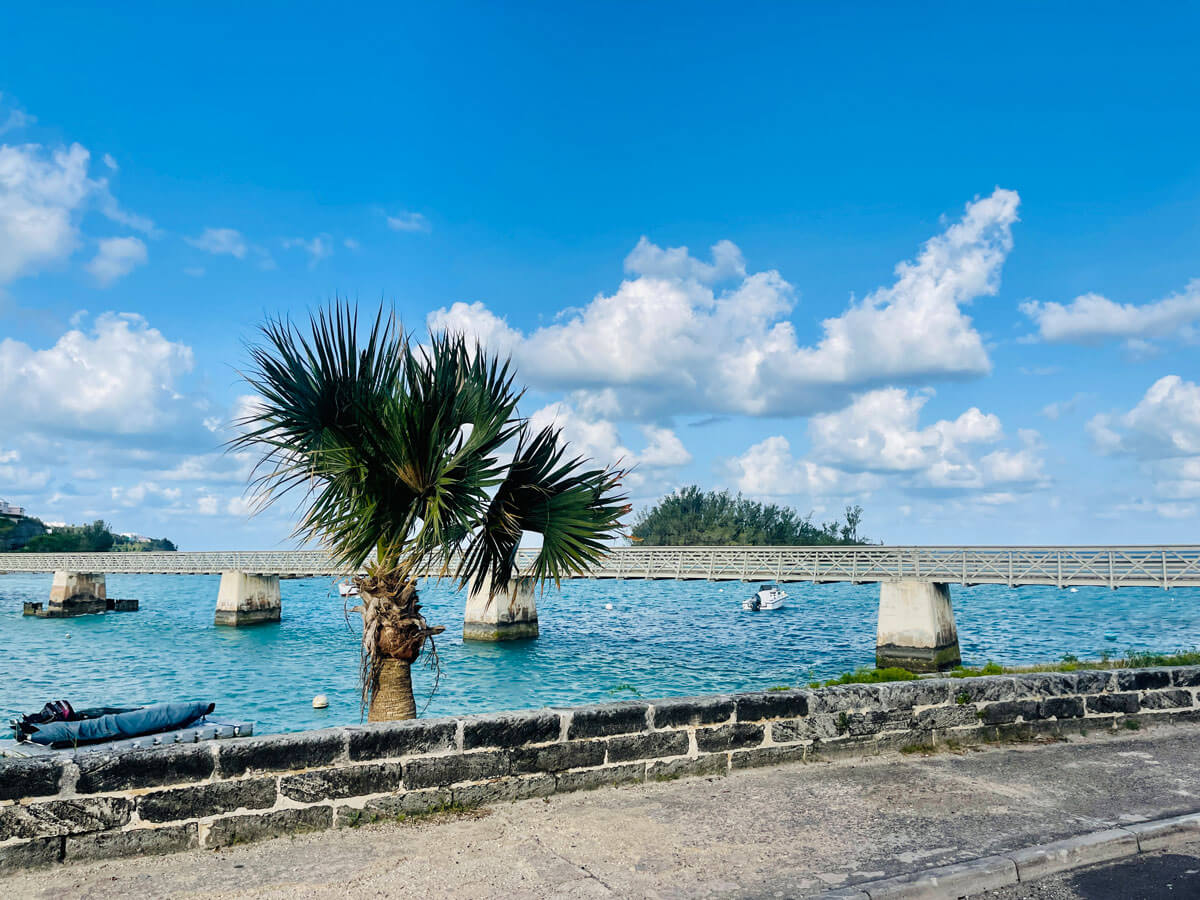 For more outdoorsy things to do in Bermuda (that are also historical), head down the Bermuda Railway Trail. This 18-mile trail is what's left of the days from the 20th century when trains were the main form of transportation for locals and tourists alike.
The train ran between islands, and you can see the remnants of bridges between Coney Island and the southern tip of St. George's Island. If you want to bike the trail, start below Ferry Point Park, but be prepared for a challenging ride. Along the 18-miles, some of the paths are paved while some are windy, uphill, unpaved, and through wooded areas.
If you can do it, it's a rewarding adventure! Make sure to wear proper cycling gear and bring a camera for the views. You can also just do small sections of the trail too! You can find the map and more info on Bermuda's website.
21. Cooper's Island Nature Reserve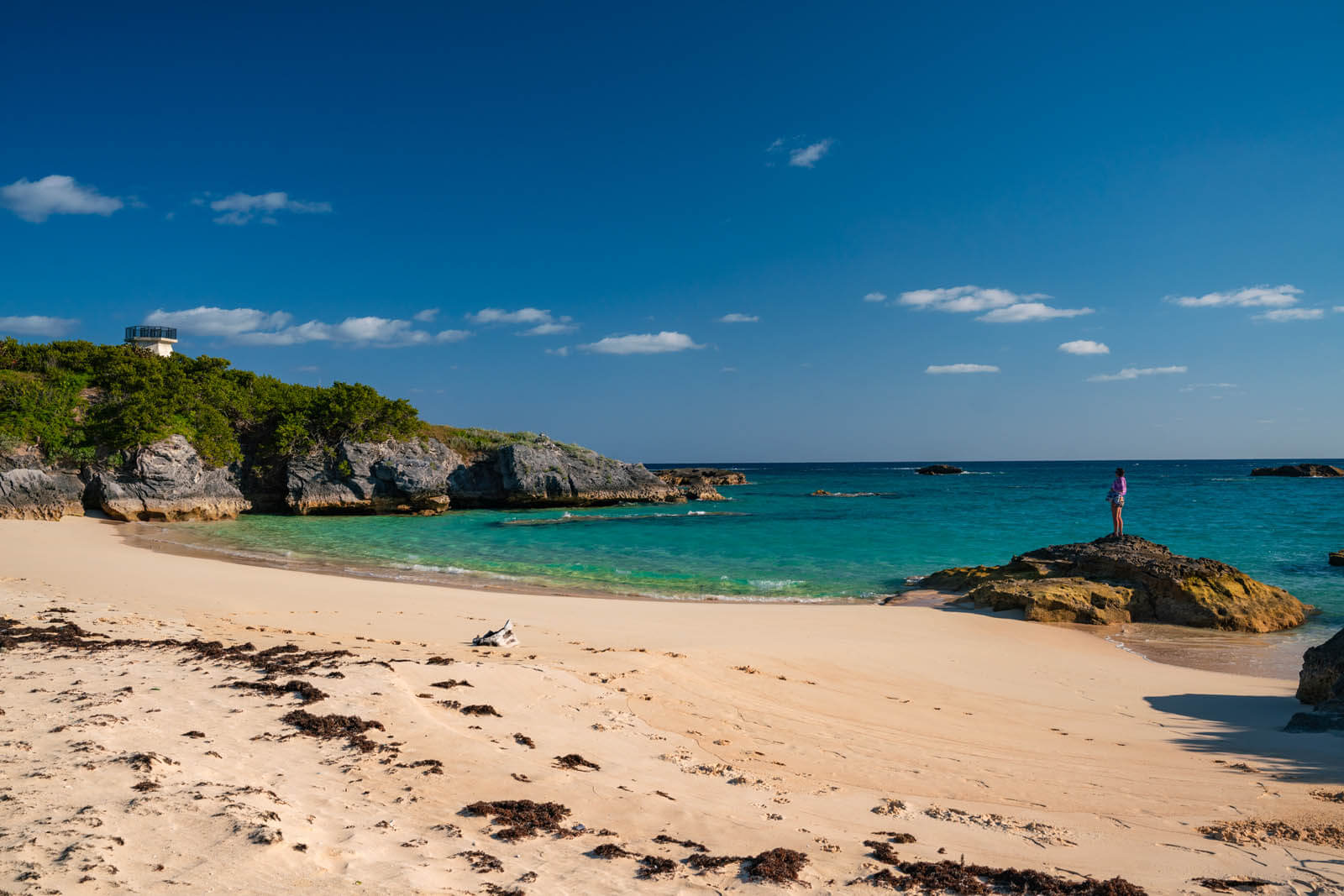 Already mentioned above for its beaches, one of the top things to do in Bermuda is visit this epic nature reserve. The Cooper's Island Nature Reserve opened about 30 years ago on land that used to be a NASA research facility.
Today, you can walk miles of trails or observe native wildlife. There's an observation tower you can climb that's perfect for whale watching off the southern tip of the reserve – you can see it in the photo above.
Cooper's Island Nature Reserve is home to several beaches. Turtle Bay Beach has super calm waters and is great for catching a glimpse of sea turtles in the bay! Explore them all though, they are each stunning and have soft white sand. A few of the beaches even have views of St. David's Lighthouse too.
It's incredibly quiet and calm over here and right before you enter the actual nature reserve is Clearwater Beach which has a ton of facilities and is a family-friendly attraction in Bermuda as they have playgrounds and small waves. There's also dining options here and restrooms.
22. St. David's Lighthouse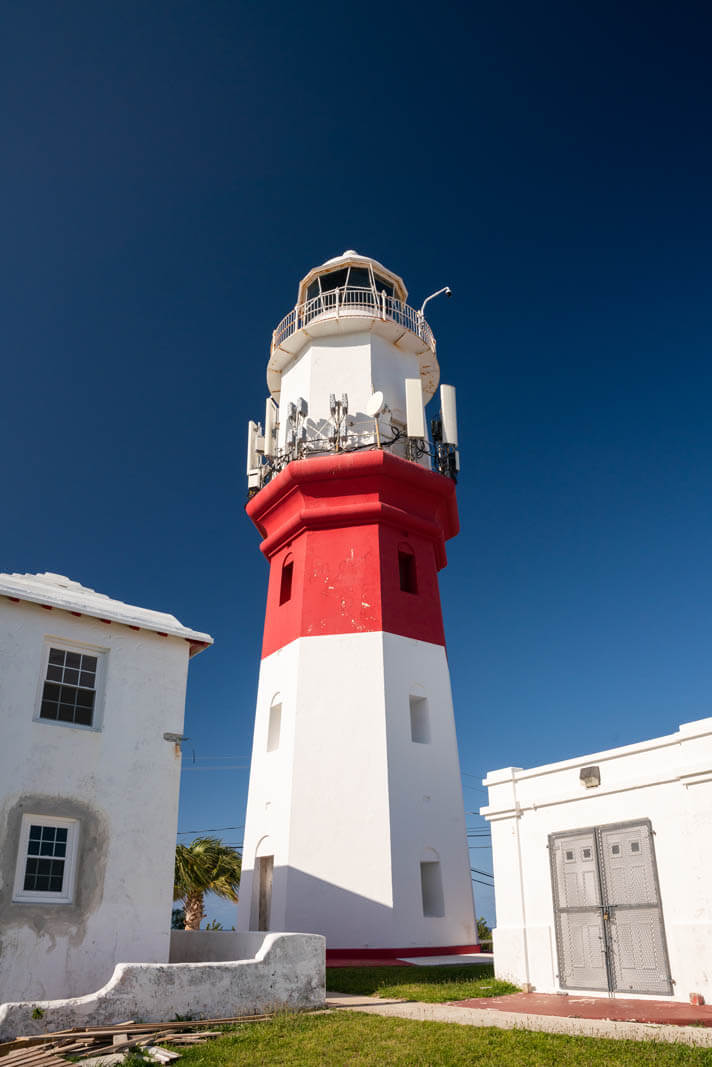 Make a trip to see an active lighthouse on the East End of St. David's Island. St. David's Lighthouse has been active for almost 200 years, but it was once a manned kerosene lighthouse. Today it's an automatic electric beacon and it's surrounded by a residential area.
You can walk the steps up to the lighthouse grounds. There are stunning views of the ocean from the island's easternmost point. Just be prepared that the lighthouse is not always open for tourists to see inside. This is more of a fun stop if you're exploring Bermuda by electric car or scooter!
23. Alexandra Battery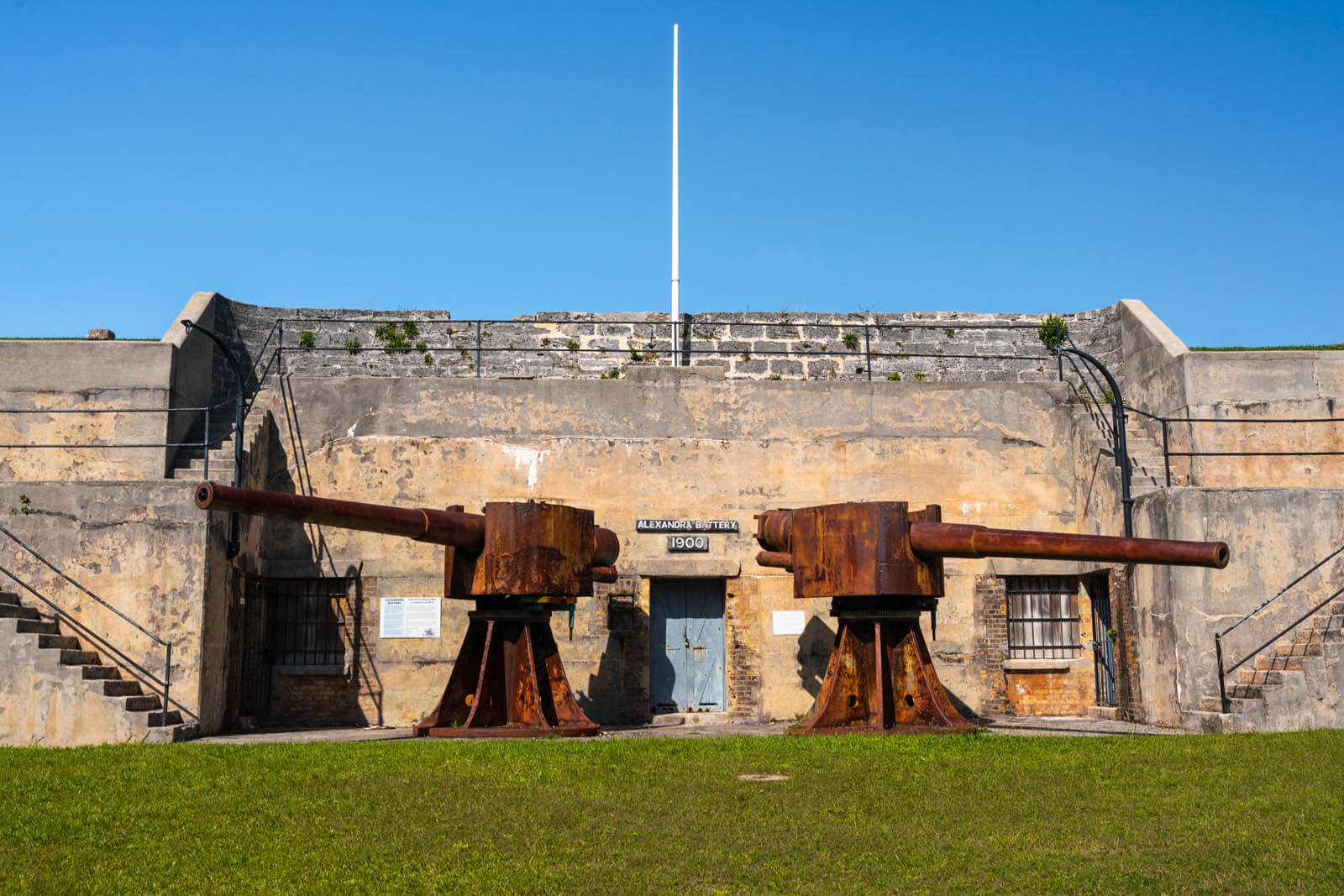 Another historic activity in Bermuda is to visit the Alexandra Battery on St. George's Island. This military battery was built in the 1860s and was active until after World War II. Today, it's open to the public as a historical site and is free to visit.
You can explore the grassy park that makes up the remains of the battery. Read signs and check out guns left inside the fortification.
There's also a tiny beach on the side of the battery called Building Bay Beach. Here you can find tons of sea glass that you can take with you or explore sea caves along the cliffs at the water's edge. When it comes to the best things to do in Bermuda, this beach and park are less known but definitely worth checking out.
Nearby is also a scenic bench you can sit at and overlook the bluest of blues water all the way to the horizon. This is a great, quiet spot to take a break as this area doesn't see as many tourists.
24. Dine at Tom Moore's Tavern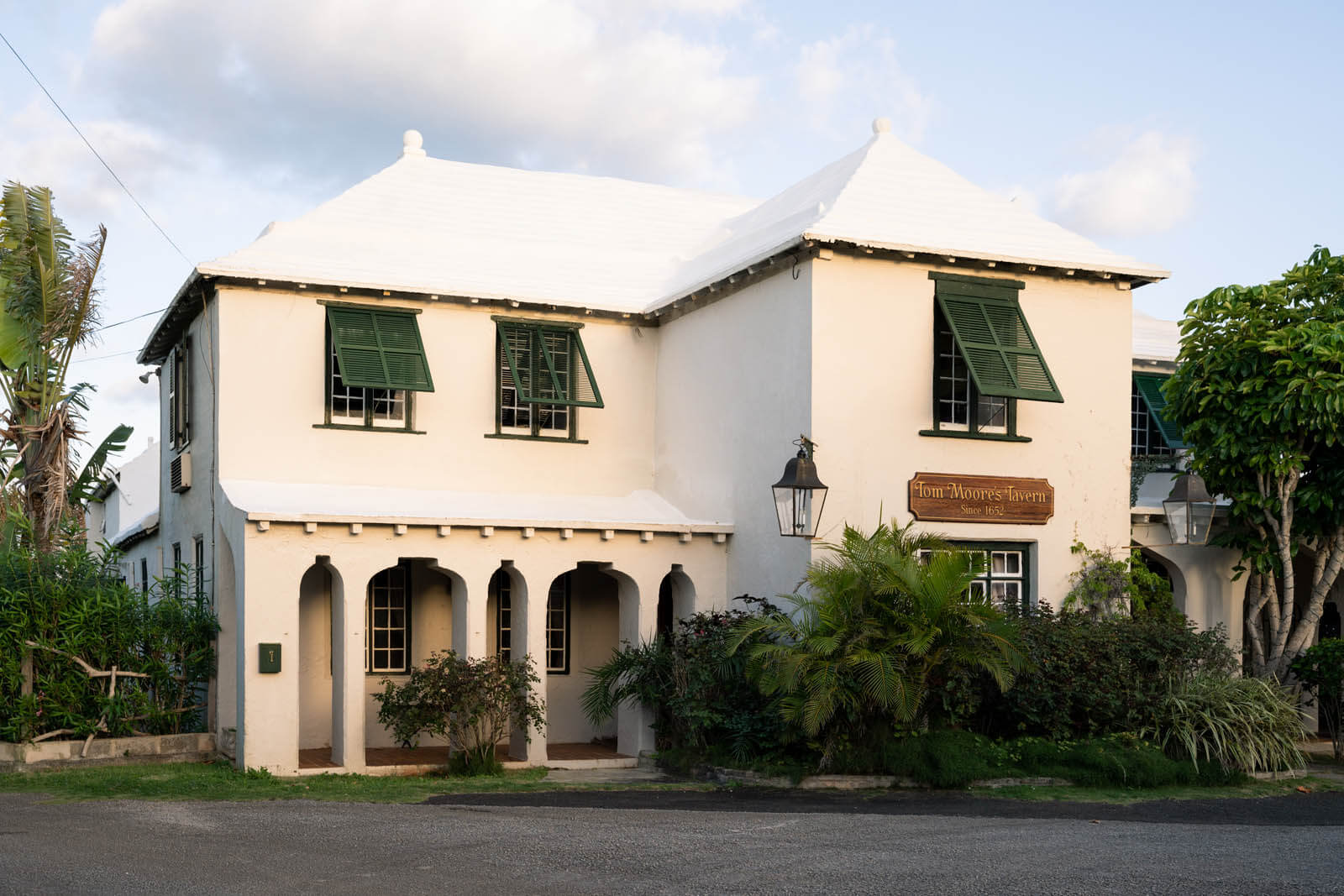 One of the top things to do in Bermuda is splurge on a fine dining experience at Tom Moore's Tavern, briefly mentioned earlier in the Blue Hole Park as the side of the park that's near the tavern is called 'Tom Moore's Jungle' paying homage to the Irish poet.
Turn off Harrington Sound Road onto Walsingham Lane. At the end of the lane you will find Tom Moore's Tavern Restaurant. The historical building was built in 1652 as a private home for Mr. Walsingham.
By the time Samuel Trott owned it in 1804, the famous Irish poet, Thomas Moore was living on the island. The poet is beloved by Bermuda and Trott named his tavern after him. Today, the tavern has been serving Bermuda for over 200 years.
Enjoy fine contemporary cuisine with stunning presentation. You can find both gluten-free and vegan options on the menu. The tavern opens at 6:30 PM for dinner, Tuesday through Saturday. Reservations are recommended, and while there's no official dress code, it's best to dress up for this restaurant as everyone is dressed up – we don't want you to feel out of place!
25. Brunch at Loren at Pink Beach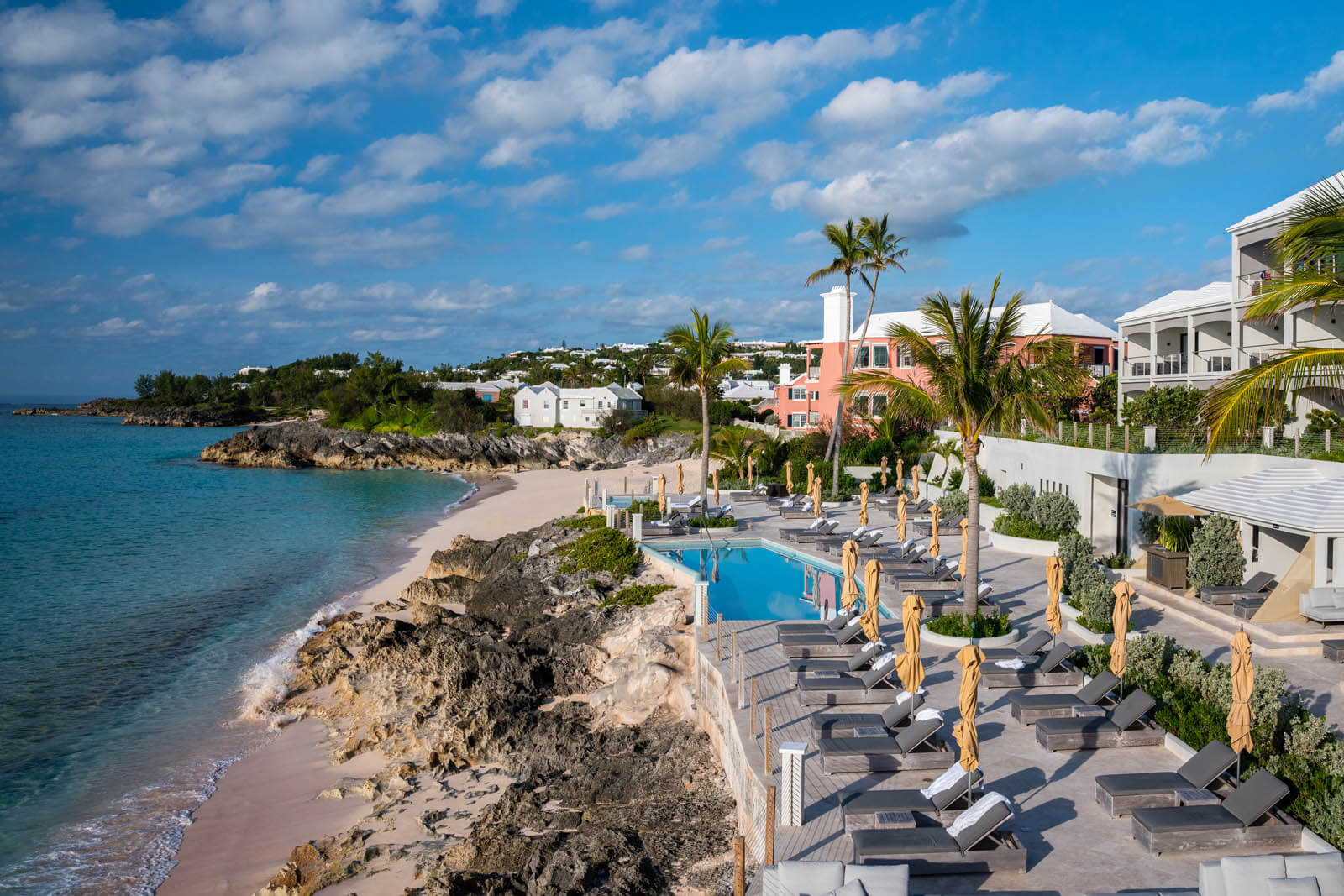 For more foodie things to do in Bermuda, visit the Loren at Pink Beach. This stunning luxury 5-star hotel has breezy, classic interiors and a great ambiance. It's off the cliffs of Canton's Bay on the South Shore and offers insanely gorgeous views.
Chef Tim Sullivan and his staff serve up quality cuisine at The Pink Beach Club at the Loren. Open to the public, you can enjoy breakfast, lunch, or dinner at The Pink Beach Club during the week.
But for a treat, we suggest heading to brunch at the restaurant on Saturday or Sunday from 11 AM to 3 PM. Reservations are required. Enjoy an elevated prix-fixe brunch menu on the patio with gorgeous views of the water. 
26. Spittal Pond Nature Reserve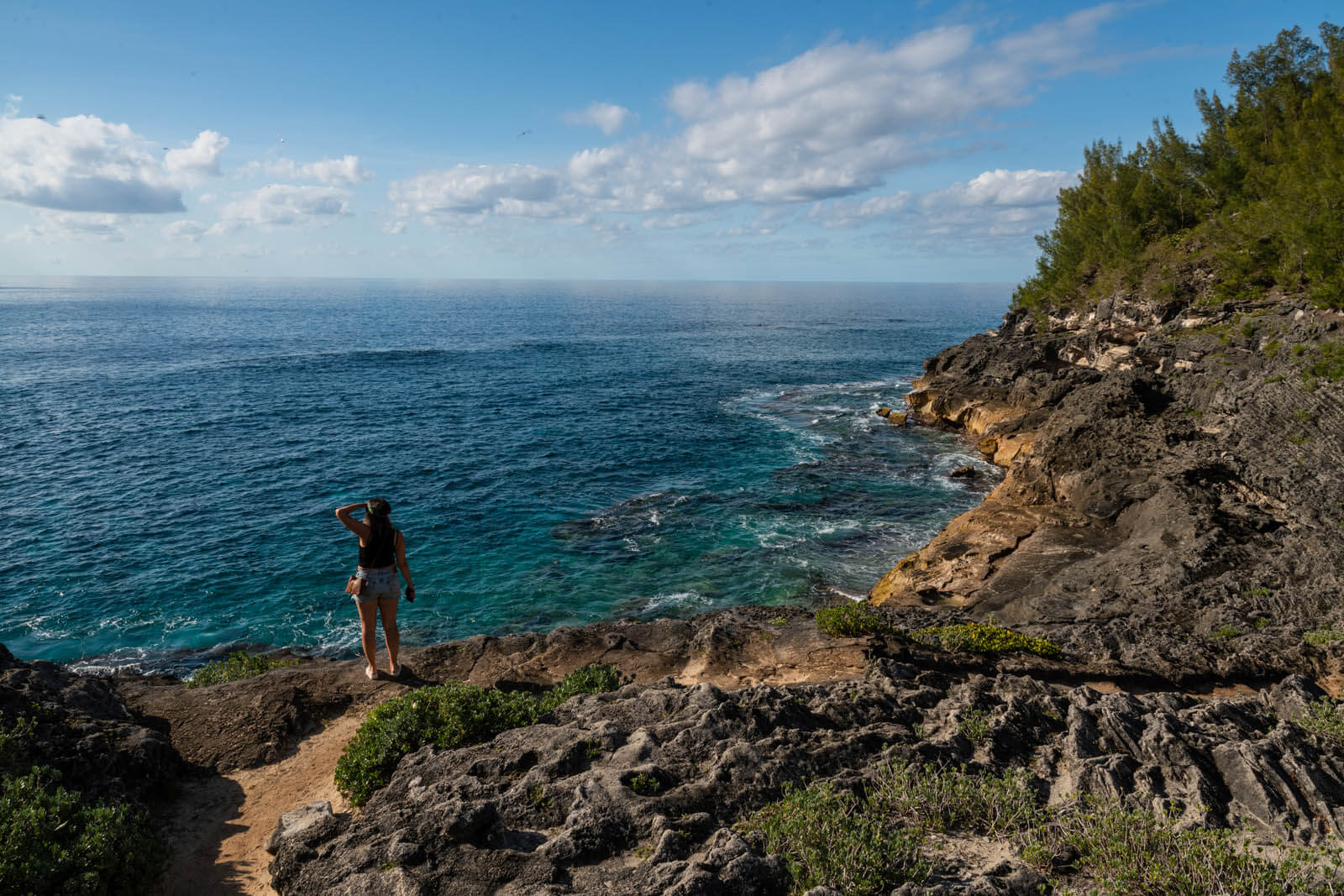 Located in Smiths Parish on South Shore, the Spittal Pond Nature Reserve is the largest sanctuary for wildlife in Bermuda. The 64-acre conservation area contains walking trails, ponds, and more.
It's the best place for birdwatching and taking a gorgeous cliffside walk. It's a bit off the beaten path and there isn't any public transportation there. If you want to visit, you need to rent an electric minicar or motorbike.
Spittal Pond is one of the largest ponds in Bermuda too, and it's a protected ecosystem within itself. It's surrounded by a simple gate, but you can still walk around the pond and take pictures. Sometimes in the summer, the algae in the water bloom and turns the pond deep pink!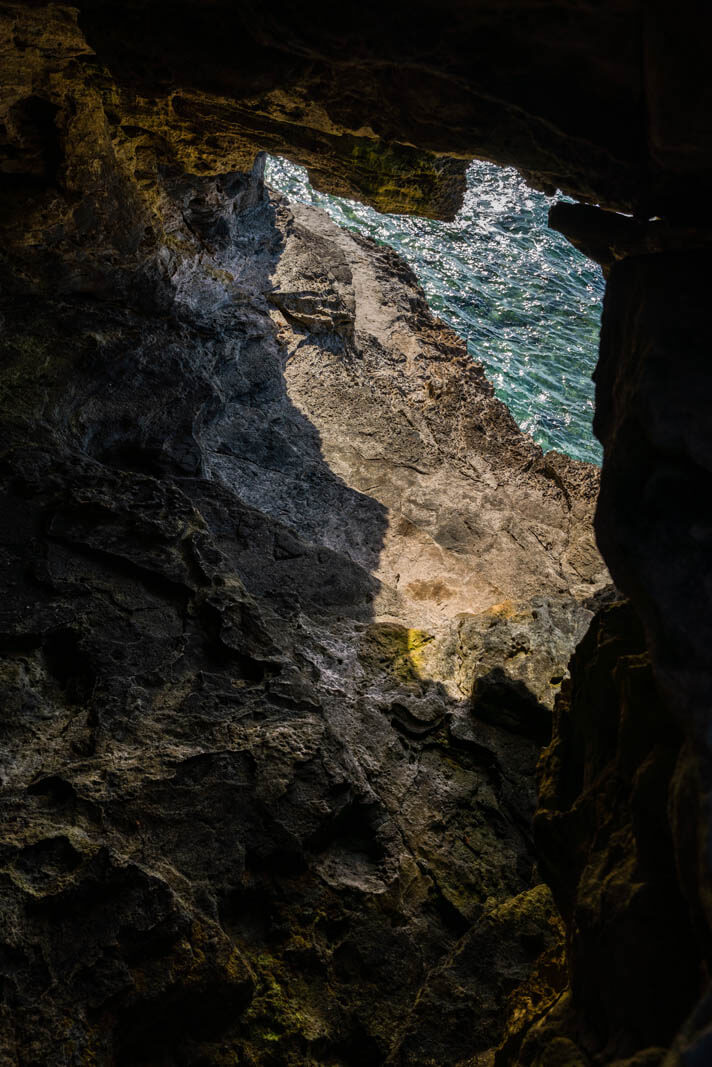 If you walk along the cliffs, you'll reach Jeffery's Cave. The cave is named after an enslaved man name Jefferey who hid inside the coastal cliffs after running away from his slave owner. After hiding in a cave that opened to the ocean, he was eventually found after someone followed a female slave who was taking him provisions after a month and returned to his captors.
Slavery was abolished in Bermuda in 1834, but until then it was an important site in the international slave trade. Jefferey's Cave is also part of the larger African Diaspora Heritage Trail in Bermuda.
Also, when you're here on of the must-see Bermuda things to look out for is Portuguese Rock, formerly known as Spanish Rock. Look for the letters "R" and "P" engraved in the rock, there will be a sign as it's a bit faint. These are believed to be the earliest human remnant found on Bermuda dating back to 1543!
Originally, the English colonists thought these were from Spanish sailors who shipwrecked in the nearby treacherous reefs, but a historian discovered it was actually Portuguese settlers hence the name change.
27. Rent a Boat
One of the best things to do in Bermuda is to get the water! A great way to do this is to rent a boat. Pack up for the day and take a little electric whaler or pontoon boat out to the smaller island beaches.
You don't need to have a license to operate a boat, you just need to be 21-years-old. And you don't need any prior experience to operate one, since it's as simple as driving a go-cart. Life jackets are supplied by rental companies for all ages and are legally required for kids 12 and under.
There are a few highly rated places to rent boats in Bermuda. The seasonal Bermuda Electric Boat Co. has some of the cutest options in bright pinks, yellows, and blues that make sense on the colorful island! This is the best of Bermuda if you're looking for a great photo opportunity!
Sadly, they weren't open for the spring season so we missed out, but they are open during the peak summer season!
28. Kayak or Paddleboard
Another way you can experience Bermuda from the water by going on a kayak or paddle boarding tour. It gives you a different perspective of the cliffsides, and you'll have a chance to encounter more wildlife.
Book a guided 3.5-hour eco-tour with Island Tour Centre to see hidden coves, uninhabited beaches, and tons of island birds. Plus you can get an up-close look at tropical fish and sea turtles in your clear-bottom kayak.
And Bermuda has over 300 sunken shipwrecks from over the centuries that dot the islands. A fun way to see them is on a clear-bottom kayak or paddleboard tour! BDA Watersports offers a full guided experience in Ely's Bay that includes observing wildlife, overhead photography at the shipwreck and snorkeling.
29. Gibb's Hill Lighthouse
For more historical things to do in Bermuda, check out one of the world's oldest cast-iron lighthouses. Gibb's Hill Lighthouse in Southampton is a working beacon that was built in 1846. You can pay a small admission and climb the 185 steps to the top.
Enjoy views of South Shore and the smaller islands in the Sound. There's also a restaurant at the bottom. The lighthouse and restaurant are open every day from 9:30 AM to 4:30 PM.
30. Whale Watching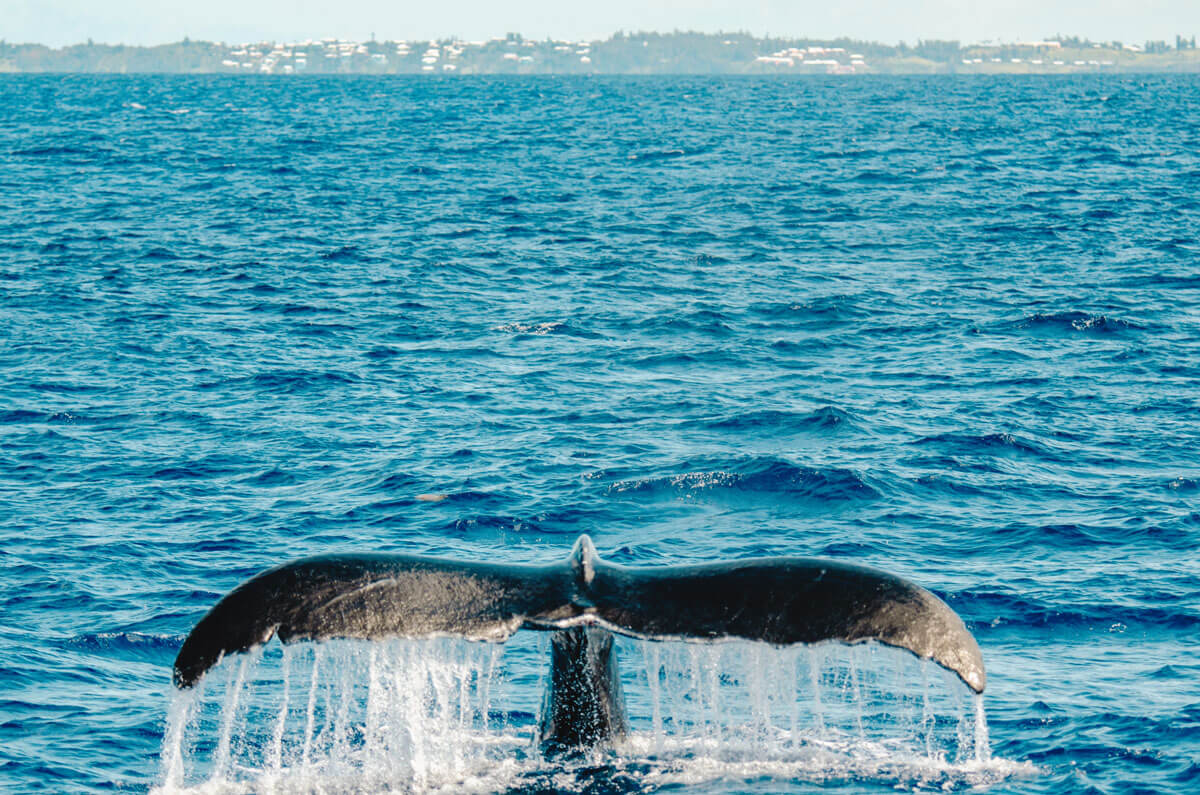 If you're looking for the most popular and best things to do in Bermuda, consider a whale-watching tour. We were on the island in mid-March, which is the perfect time to see humpback whales through April during their migrating season.
While you can try to see if you can spot one off in the distance from places like West Whale Bay, for the best experience, book a guided tour during migration season, which is March through April.
You can find several great companies that offer tours. Island Tour Centre has a great 5-hour clear-bottom boat tour that leaves from either Hamilton or the Dockyard.
31. Admiralty House Park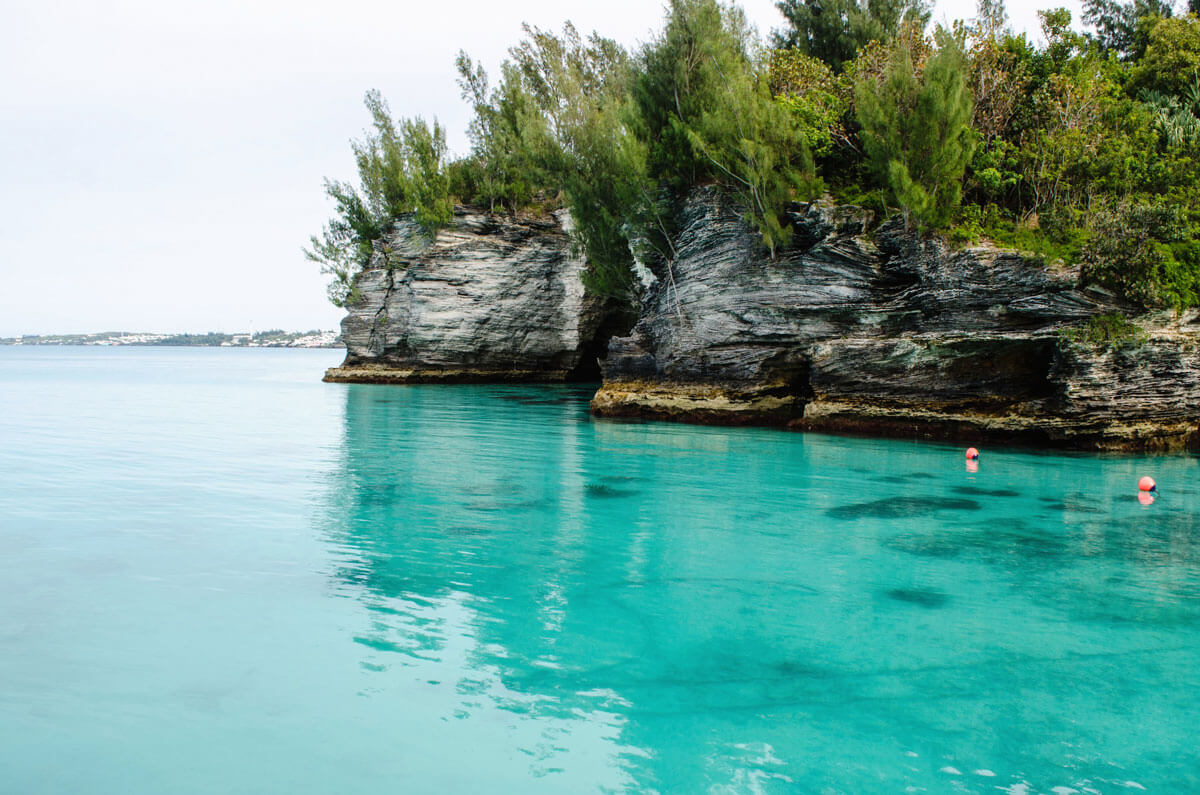 Admiralty House Park is a cool little park that has all kinds of walking trails, wooded areas, grassy lawns, cool ruins, and places to swim. This is considered one of the best things to do in Bermuda because of the access to secluded lagoons and calm alcove beaches for swimming.
The park has a fun past, once being the location for a naval officer's home. While the house is completely gone, you can find ground-level ruins and tunnels to walk through. They were once secret passageways that gave access to the house!
Where to Stay in Bermuda
To make the best of Bermuda and your trip, we highly encourage you to move around the archipelago during your trip. If you have 5 days you can easily stay in two different parts of Bermuda or if you have 7 days you could even fit in three or at the very least two different areas.
We had 10 days and split our time up at 3 very different areas of Bermuda which is why we recommend it so much! Although, we highly encourage you to taxi between hotels then do day rentals for scooters or electric cars to get around and explore all the must-see Bermuda attractions we mention in this guide.
We spent the first few nights in Hamilton at Hamilton Princess, which was a great way to get our bearings and enjoy the city. Then we moved to the West End and stayed in a gorgeous waterfront villa with a private pool at Cambridge Beaches Resort & Spa near the Royal Dockyard in Somerset Village for a few nights. Last we moved to the East End of the island near the airport (convenient for our flight) at Grotto Bay Beach Resort which was also perfect for exploring the caves and St. George's.
Here's where we recommend booking, but don't worry if these aren't available there are plenty of amazing resorts in Bermuda to choose from:
Hamilton Princess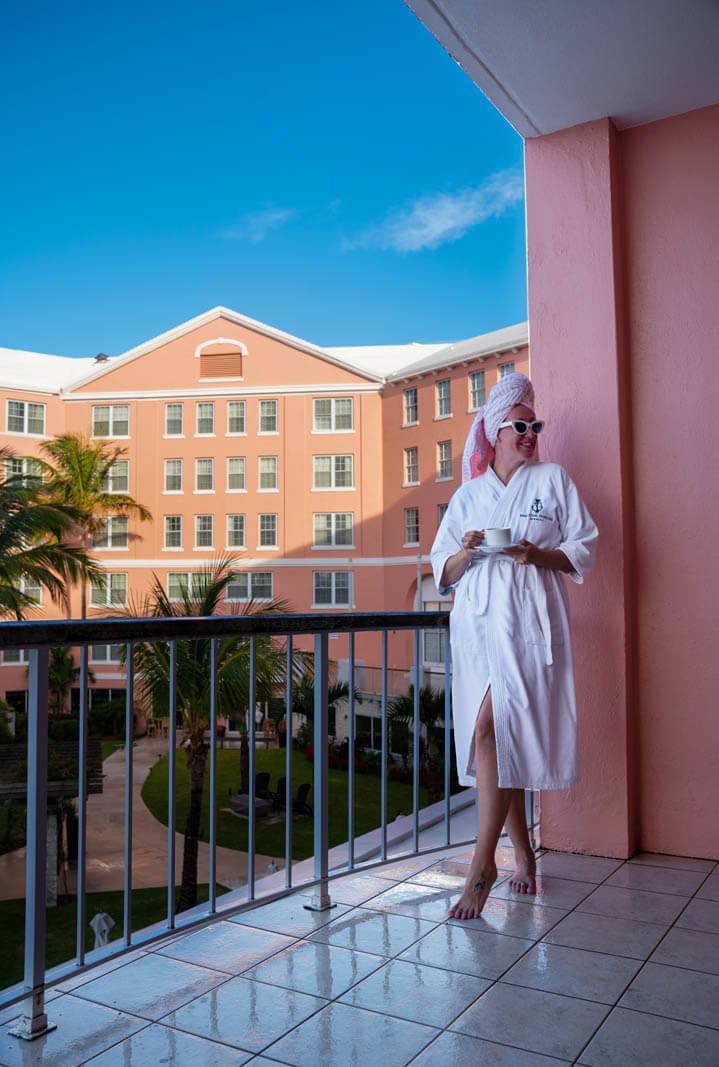 Located in Hamilton, the Hamilton Princess is a stunning 5-star resort managed by Fairmont, which if you're familiar is a very reputable brand for its luxury properties in some of the most beautiful destinations in the world.
This gorgeous pink hotel not only is a great base for checking out all the amazing Bermuda attractions in Hamilton, but also a great spot if you want to stay centrally located as you're just steps away from the ferry terminal, bus terminal, and rental options.
This resort, as mentioned before, has a stunning collection of contemporary and modern art. Amenities include two fantastic pools overlooking the Hamilton Harbour, dining options (the Duchess Cafe is great for breakfast and 1609 Restaurant is great for dinner – skip the main restaurant the food wasn't great and overpriced), and you can actually get your rentals on site here whether you're looking for boats or electric cars.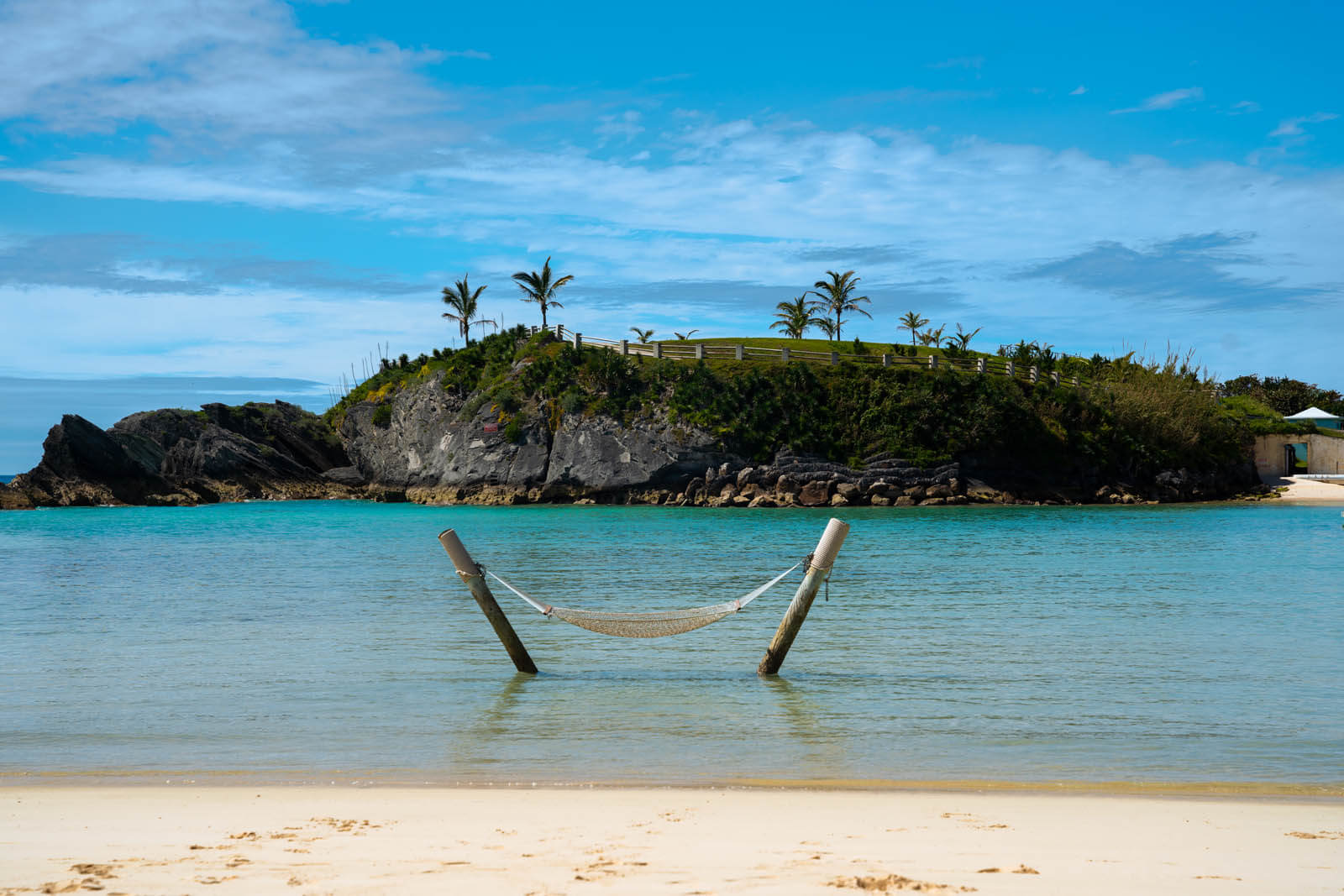 The best part has to be the private beach club only for Fairmont hotel guests over on the South Shore. They provide a shuttle directly from the hotel to the Princess Beach Club at Sinky Bay Beach multiple times a day in both directions. At Princess Beach Club you'll find two secluded beaches to enjoy and cliffside trails overlooking the ocean.
Sinky Bay Beach is the main beach here and there are bathrooms and a beach attendant onsite along with beach chairs, umbrellas, cabanas, towels, complimentary beach toys like kayaks and stand-up paddle boards, cold drinking water, changing rooms, lockers, a gorgeous tennis court, and even overwater hammocks. This beach also is in a quiet bay so it's a great beach for young kids or timid swimmer as there are no waves.
You can also go to Cross Bay Beach which is just steps away where you're more exposed to the ocean and there are waves.
The Princess Beach Club honestly made staying at the Hamilton Princess worth it to us, enjoying the private beach was awesome and we went a few days in a row. Book Hamilton Princess here.
Cambridge Beaches Resort & Spa
Located in Somerset Village on the West End, near the Dockyard was our FAVORITE place to stay during our time in Bermuda. Cambridge Beaches Resort & Spa is a historic property (that's pink!) with ocean-front private beach cottages.
The property also has a spa for guests to use with treatments you can book, sandy beaches, private coves, waterfront dining with a great infinity pool, a gorgeous garden, and stunning views.
Guests can choose between ocean-front rooms, suites, or private villas. We booked the private villa that had it's own private pool which was worth every penny we paid for that room! Every morning we enjoyed breakfast in our pool overlooking the ocean from the cliff above and at night we'd come outside and float underneath the stars.
Room service is available, which we did a few times as we didn't want to leave our cottage or you're just a short distance away from the Dockyard and other great nearby dining options. You can also arrange for scooter and electric car rentals to explore around here too.
This is one of those places we want to come back to again year after year, as a matter of fact they have a wall of all their return guests who have been back 5 times to 100 times! This place is peaceful and incredibly romantic, we highly recommend it! Book Cambridge Beaches Resort & Spa here.
Grotto Bay Beach Resort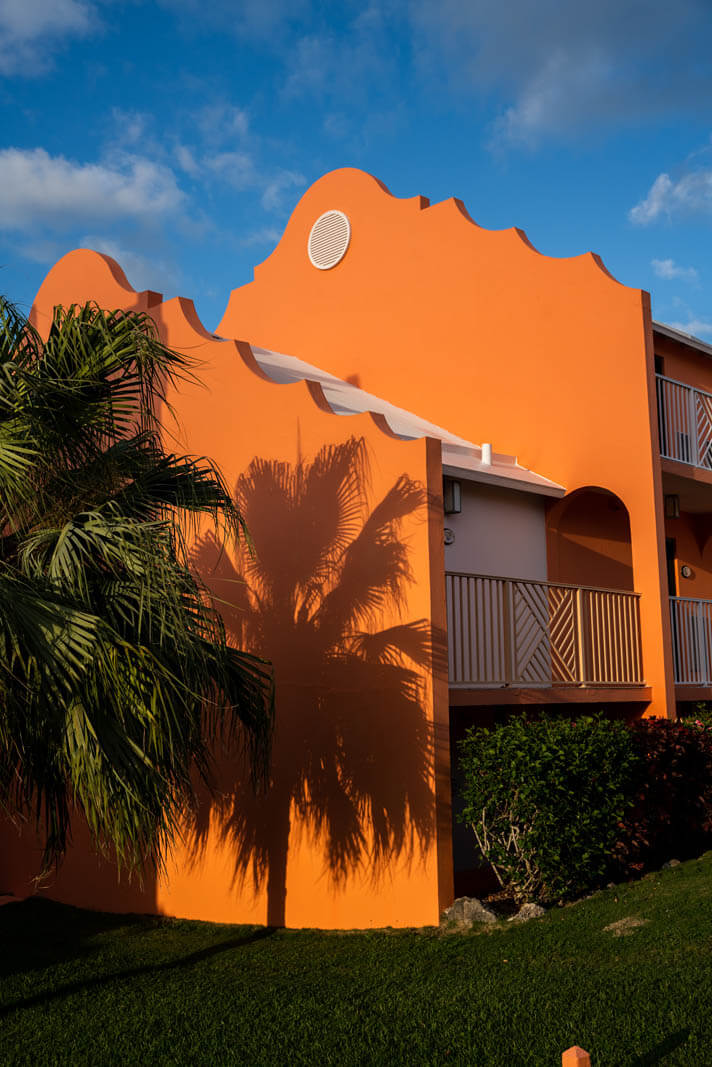 The perfect place to stay in Bermuda on the East End near the airport is Grotto Bay Beach Resort. This stunning resort is perfect for exploring all the caves and East End activities, plus a great place to end your trip if you're splitting up your stay as it's less than 5-minutes away from the airport.
One of the best perks about staying at Grotto Bay Beach Resort (besides the friendly cats that live on the property here) is the access to swim in Cathedral Cave, which is one of the rare caves you can swim in Bermuda. Guests can also book a treatment at the Natura Spa here, which is set in Prospero's Cave and one of our favorite things to do in Bermuda that we did!
There is also onsite dining, onsite rentals for electric cars and scooters, as well as a great pool and bar overlooking a private beach that has its own shipwreck you can snorkel or swim to.
This is also the only resort in Bermuda that offers an all-inclusive supplement, guests can add this on and all of your drinks and meals are included during your stay.
The rooms are located in the gorgeous tropical, salmon-colored cottages which guests can also have a balcony overlooking the water. What really made this resort stand out are the amenities, location, and of course the caves! You're also walking distance away to the Crystal and Fantasy Caves, Blue Hole Park, and the famous Swizzle Inn! You can easily rent a scooter or electric car from the resort to explore around St. George's too! Book Grotto Bay Beach Resort here.
---
What is Bermuda best known for?
Bermuda is known for its idyllic pink sand beaches, crystal clear waters, and pastel-colored houses located in the North Atlantic Ocean.
How many days do you need to see Bermuda?
You need at least 5 to 7 full days to really see the best of Bermuda, although since it's such a short flight from the Atlantic Coast of the US, you could also have an action-packed 3 or 4 days in Bermuda too.
What is the most beautiful part of Bermuda?
The most beautiful part of Bermuda is arguably the South Shore where you can find the pink sand beaches and the most famous beach in Bermuda, Horseshoe Bay Beach.
When is the best time to visit Bermuda?
The best time to visit Bermuda for comfortable weather is March or April, this also is the whale migration period too and prices are still reasonable. May through October are the busiest months and peak season to visit Bermuda.
Does Bermuda accept US Dollars?
The official currency of Bermuda is the Bermudian Dollar (BMD) which is 1:1 with the US Dollar (USD) and you can pretty much use USD everywhere in Bermuda.
---
Best Things to do in Bermuda (Post Summary)
Visit the Pink Beaches
Visit all the Other Amazing Beaches
Fort St Catherine
Crystal Caves & Fantasy Caves
Blue Hole Park
Get a Massage in a Cave at Natura Spa
Visit Cathedral Cave
Try Bermuda's Signature Cocktails (Rum Swizzle & Dark n' Stormy)
Eat all the Seafood
Visit St. George's
Unfinished Church
Golf
Bermuda Fun Golf
Royal Naval Dockyard
Shop & Explore Hamilton
Visit the Artwork at Hamilton Princess
Bermuda National Gallery
Masterworks Museum of Bermuda Art
Bermuda Botanical Gardens
Bermuda Railway Trail National Park
Cooper's Island Nature Reserve
St. David's Lighthouse
Alexandra Battery
Diner at Tom Moore's Tavern
Brunch at Loren at Pink Beach
Spittal Pond Nature Reserve
Rent a Boat
Kayak or Paddleboard
Gibb's Hill Lighthouse
Whale Watching
Admiralty House Park
---
Enjoyed this guide to the best things to do in Bermuda and all the must-see Bermuda spots for your vacation of a lifetime? Bookmark for later or share the love on Pinterest below!