Looking for all the best things to do in Beverly Hills? We got you. Beverly Hills has a reputation that precedes it, due to the fact that it has been referenced in well-known film, tv, and music. This Los Angeles neighborhood is synonymous with luxury and the rich and famous in just about every aspect imaginable.
There are a good variety of places to visit and things to do in Beverly Hills which makes it a fantastic place to visit, not to mention many of Hollywood's stars live here so who knows, you might even be lucky and have a spontaneous encounter with your favorite movie star.
Don't miss shopping (or window shopping) along Rodeo Drive and more Beverly Hills attractions you won't want to miss! Here's all the best things to do in Rodeo Drive for the first-time visitor. And be sure to check out our guide to all the best things to do in Los Angeles during your visit too!
The Best of Beverly Hills Sightseeing
Rodeo Drive
Arguably the most well-known street name ever is located here and one of the best things to do in Beverly Hill. Yep, it's Rodeo Drive, home of luxury shopping and one of the ultimate Beverly Hills attractions.
The three blocks that make up Rodeo Drive have store after store of the top high-end designer brands that exist, like Gucci, Prada, and Versace.
And for a bit of an architectural detour, check out the Anderton Court building, which was designed by Frank Lloyd Wright. It's located on Rodeo Drive, and while there aren't really any shops open in the building, it's a fun and interesting space to explore.
Beverly Hills Trolley
One of the most fun things to do in Beverly Hills is check out the best of the area by hopping aboard the complimentary and completely free Beverly Hills Trolley. The trolley takes passengers on a 40-minute curated route running between the Civic Center and Rodeo Drive.
While this is not a narrated tour, it is a great option to take in some great Beverly Hills sightseeing. During the first Thursdays of every month, where businesses run special promotions and other perks like extended happy hour and complimentary goodies from 5 pm to 9 pm on the first Thursday of every month, the Beverly Hills Trolley operates along the curated route with special stops along the way! So if your visit lands on this event, be sure to take advantage of this experience!
Beverly Hills Hotel
If you have any familiarity with Beverly Hills or Los Angeles, you may have seen or heard of aspects of the Beverly Hills Hotel and not even know it! This pink hotel (you know we love our pink hotels) is one of the best known and recognizable hotels in the world! The exterior of the building showcases a large, deep green wall with "The Beverly Hills" written in a slightly slanted script.
The hotel is home to the Polo Lounge, a spot famously known for being frequented by celebrities and power players in Los Angeles.
The palm print wallpaper showcased throughout the hotel is not only famous in its own right, but has been the inspiration for similar, popular prints and is a pop culture icon in its own right.
Since the hotel opened in 1912, many Hollywood celebrities have stayed here, contributing to its rich history and becoming ingrained in Hollywood culture and a reminder of the golden years of Hollywood. As far as places to visit in Beverly Hills go, this is a must-see destination.
This is also one of the best places to stay while you're in Los Angeles and exploring all the best places in Beverly Hills! Check out rates for the Beverly Hills Hotel and Book here.
Get a Bird's Eye View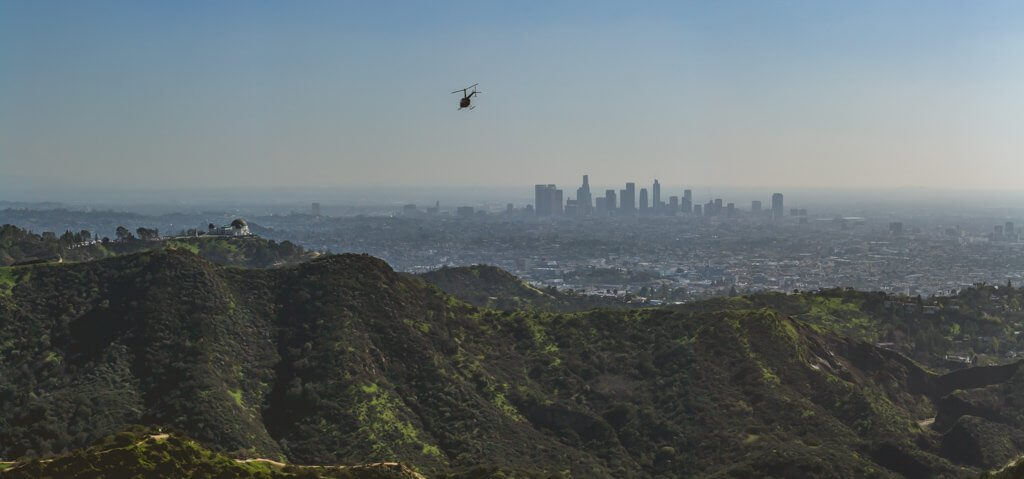 For an exciting and unique thing to do in Beverly Hills, see the city from above by trying a helicopter tour! This particular tour is a 25-minute excursion that takes you by the Hollywood Sign, Universal Studios, and Hollywood Bowl while the pilot narrates the experience as you get to see Tinseltown from above.
You'll also get amazing views of Laurel Canyon, Mulholland Drive, and the Pacific Ocean. If you're not afraid of heights and enjoy an adventure, this is Beverly Hills sightseeing at its finest! Book here.
Greystone Mansion
One of the historic Beverly Hills attractions you won't want to miss is Greystone Mansion. Built in the 1920s and situated on twelve acres, the home and surrounding property was groundbreaking at that time due to its exorbitant cost. The mansion was built from scratch, and stables, tennis courts, and a fire station were constructed on the surrounding property.
The city of Beverly Hills purchased Greystone Mansion in 1965, and six years later it was officially designated as a public park. Today, you can visit the property to enjoy a calm, peaceful stroll around the beautifully landscaped gardens.
And if something about the Greystone Mansion seems familiar to you, it's probably because you've seen it on tv or in a movie! This Beverly Hills attraction is used for filming frequently and has been seen in famous films including the Big Lebowski, X-Men, the Spider-Man movies, The Body Guard, and Star Trek to name a few of the many projects to hit the silver screen filmed here.
Will Rogers Memorial Park
Beverly Hills is home to plenty of lush greenery and beautifully landscaped spaces, so there are quite a few parks and scenic places. And Will Rogers Memorial Park is no exception. It can be found off of Sunset Boulevard and dates all the way back to 1915 making it the first public park in Beverly Hills.
Initially called Sunset Park, the name was changed to Will Rogers Memorial Park in 1952, referring to the first "Honorary Mayor" of Beverly Hills, entertainer Will Rogers. When you're in the mood for a serene place to visit in Beverly Hills, to walk amongst palm trees and fountains, this park is a wonderful place to visit.
Virginia Robinson Gardens
If you love beautiful gardens one of the best things to do in Beverly Hills is to pay a visit to the Virginia Robinson Gardens, a historic estate on the National Register of Historic Places and home to stunning botanical gardens visitors can enjoy.
The estate itself is over 100 years old and is considered the first luxury estate of Beverly Hills. The estate was home of Virginia and Harry Robinson, related to the Robinson department stores. The gardens are comprised of six smaller, distinct areas: the front meadow, the great lawn and dry border, the Italian terrace garden, the king palm forest, the display rose garden, and the kitchen garden.
The king palm forest is especially unique as it's the largest collection of these palms outside Queensland, Australia.
The Virginia Robinson Gardens are located behind the Beverly Hills Hotel, so when making your itinerary of places to visit in Beverly Hills, this is a good one to include since it's next to another Beverly Hills highlight!
Beverly Gardens Park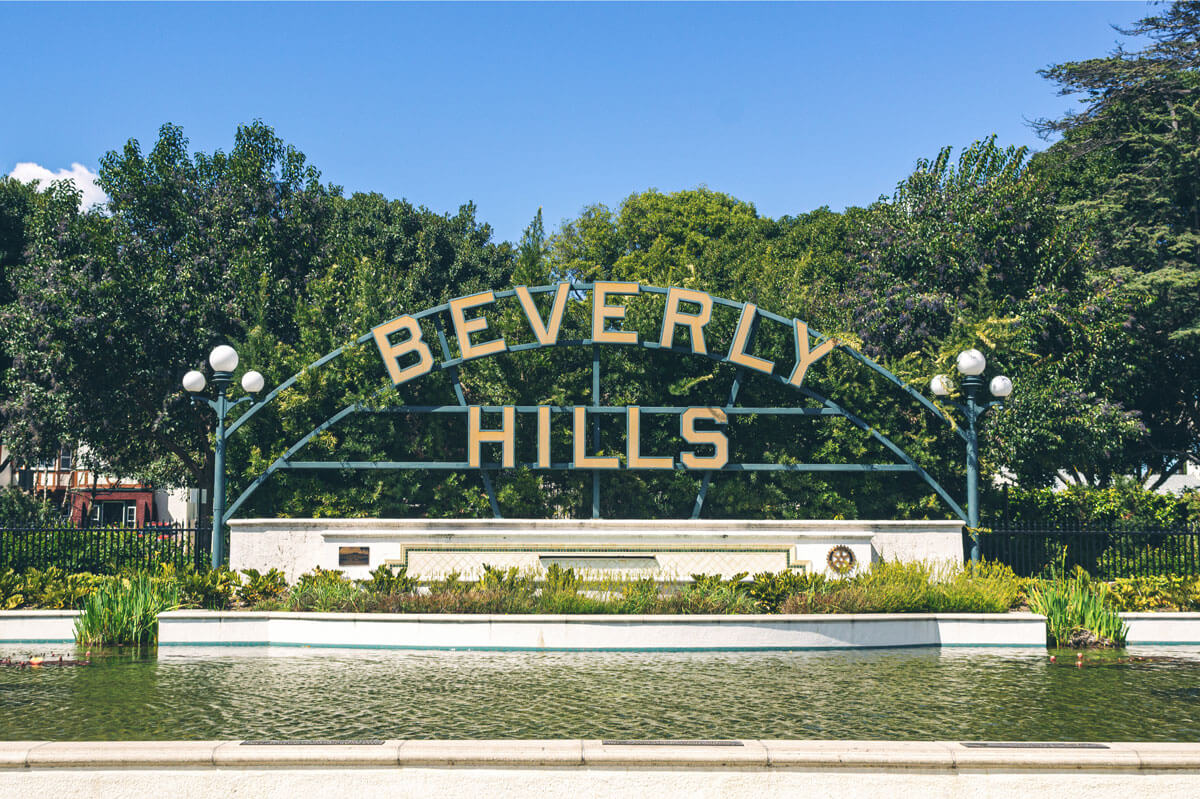 Continuing on with the aesthetically stunning parks that Beverly Hills has to offer, Beverly Gardens Park is another not to be missed location. Located on Santa Monica Boulevard, some features unique to this park include sculptures, arbors, and a decomposed granite path for jogging and walking.
This park is home to the famous 40-foot-long, illuminated Beverly Hills sign, making for a perfect photo opportunity – not to mention this is one of the most popular photo spots in all of Los Angeles!
Two other noteworthy sights here are the Lily Pond and Endless V sculpture. This gorgeous park is a fun thing to do in Beverly Hills that also is incredibly photogenic!
Beverly Wilshire
An iconic Beverly Hills attraction is the historic Beverly Wilshire, a luxury 5-star Four Seasons Hotel. If you've seen the film Pretty Woman, you're familiar with this hotel. In addition to being the famous setting for that cult classic movie, it has been frequented by Hollywood celebrities and well-known politicians since it opened its doors in 1928.
A unique experience this hotel offers is "Pretty Woman" For A Day; this package includes accommodations in one of the hotel's Specialty Suites, consultation with a wardrobe stylist, exclusive dining at THEBlvd restaurant, and in the suite, as well as a specialized spa experience. For some top-notch and high-end Beverly Hills sightseeing, make sure to come here.
And much like the Beverly Hills Hotel, this historic hotel has a storied past and was no stranger to celebrities.
This is also one of the best places to stay in Los Angeles, especially for luxury travelers or those looking for the unique Pretty Woman experience! You can check out rates for the Beverly Wilshire or book here.
Check out the Witch's House
This is just a really cool sight to see and a fun thing to do in Beverly Hills. This private residence is referred to as the 'Witche's House' or the Spadena home. This interesting little home with a lot of character was built in the 1920s as a set for a few silent films. Some even described the house as the Hansel and Gretel, which is a pretty perfect setting when you look at the house. It looks like it came right out of a storybook, and is worth a drive-by just to marvel at the property.
This Disney-esque house is located on the corner of Walden Drive and Carmelita Avenue. And if you're a fan of the movie Clueless, maybe you recognize the house as Cher walks past it in a scene of the movie where shes walking around Beverly Hills!
Gagosian Gallery
I don't know about you, but I am a huge fan of contemporary art and galleries! When checking out all of the things to do in Beverly Hills, make sure to pay a visit to the Gagosian Gallery to take in the impressive collection of contemporary art they have on display. Founded in 1980 by Larry Gagosian, this global gallery prides itself on using the new technology and working with living artists.
Some of the artists they have working relationships with are Urs Fischer, Damien Hirst, and Takashi Murakami, just to name a few. They proudly showcase exhibitions of new works by living artists, so be sure to check out what is on display at the gallery when you are planning your visit.
Sprinkles Cupcake ATM
View this post on Instagram
For a fun and novel experience where you'll end up with a delicious cupcake, which we would say are the BEST cupcakes you can get, you'll have to make a stop at the Sprinkles Cupcake ATM, the world's first cupcake ATM! While this location may be the first, there are several locations of their ATMs now around the country!
Head to the Sprinkles Cupcakes store, located on South Santa Monica Boulevard; just look out for the aesthetically pleasing brown and white storefront, separated by vertical strips of blue, green, pink, and red. It's within those colorful strips, particularly the pink strip, where you'll find the cupcake ATM that is open 24 hours!
So anytime you are in the mood for a sweet treat, and looking for a fun thing to do in Beverly Hills, hit up this spot!
Mulholland Drive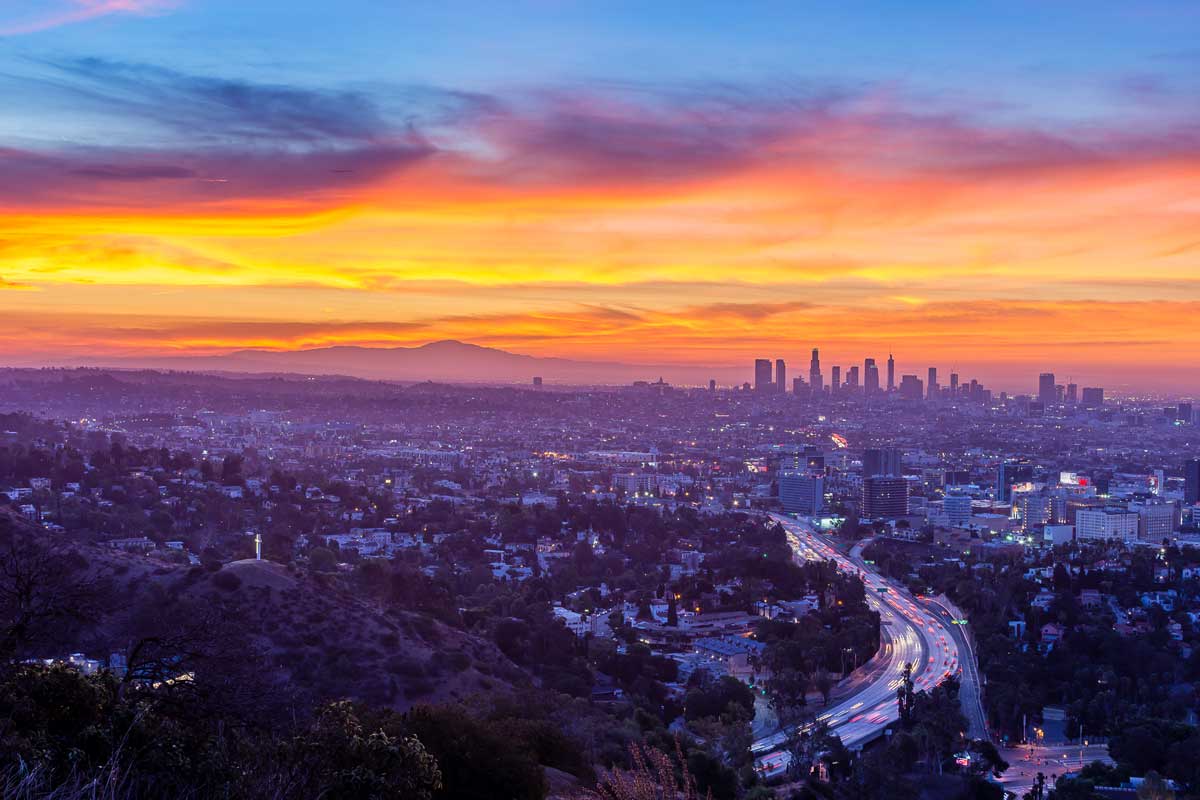 Mulholland Drive is certainly a recognizable name, but what makes it famous? The scenery. There are several overlooks to visit when driving along this stretch of road, making for some scenic Beverly Hills sightseeing.
One noteworthy stop is the Jerome C. Daniel overlook, and here you get an amazing view of downtown Los Angeles, and you'll even be able to see the famous Hollywood sign. Also, many celebrities have homes on Mulholland Drive, so you may see someone you recognize. This is a fantastic thing to do in Beverly Hills where you'll see some of the best viewpoints of Los Angeles!
---
With so much Beverly Hills sightseeing to do, what attractions are at the top of your list? Enjoyed this guide to the best things to do in Beverly Hills for a first time visitor? Bookmark for later!