Looking for the best things to do in Budapest, Hungary? We got you. This is arguably one of the most beautiful European cities we have ever witnessed that is not yet overrun by tourism, probably not for long. There are many incredible things to see and things to do in Budapest you can easily fill 4-5 days with nothing but magic, and we did.
We came to Budapest knowing very little other than a few places we wanted to go and see and left feeling like we stumbled upon the next Prague of Europe. What do we mean by that? Budapest has just started getting more and more discovered by tourists in the last few years, and that number will be increasing.
This is a popular stop along the Danube River for European river cruises and from a local's perspective is starting to boom with tourists, it's just a matter of time until the mass crowds come here to experience the magic and beauty of this city for themselves.
Besides being beautiful, the city and country of Hungary have a rich history and some of it very recent with the end of communism in Hungary in 1989. You also have the Buda side of the city and the Pest side of the city, the west side is Buda which has all the hills and castle district, and the east side being Pest which is flat and is home to Parliament.
Both sides of the city are amazing and something we really enjoyed was even if you had to cross a bridge by foot, the city was pretty walkable if you wanted to walk to all the amazing things to do in Budapest.
We highly recommend a visit to this city before it gets too crowded, which is only a matter of time. Enjoy our guide for the best things to do in Budapest, broken down by the Buda side and the Pest side.
Also, check out our guide for where to stay in Budapest to help you plan your trip!
What to See in Budapest
---
Things to do in Buda
---
Fisherman's Bastion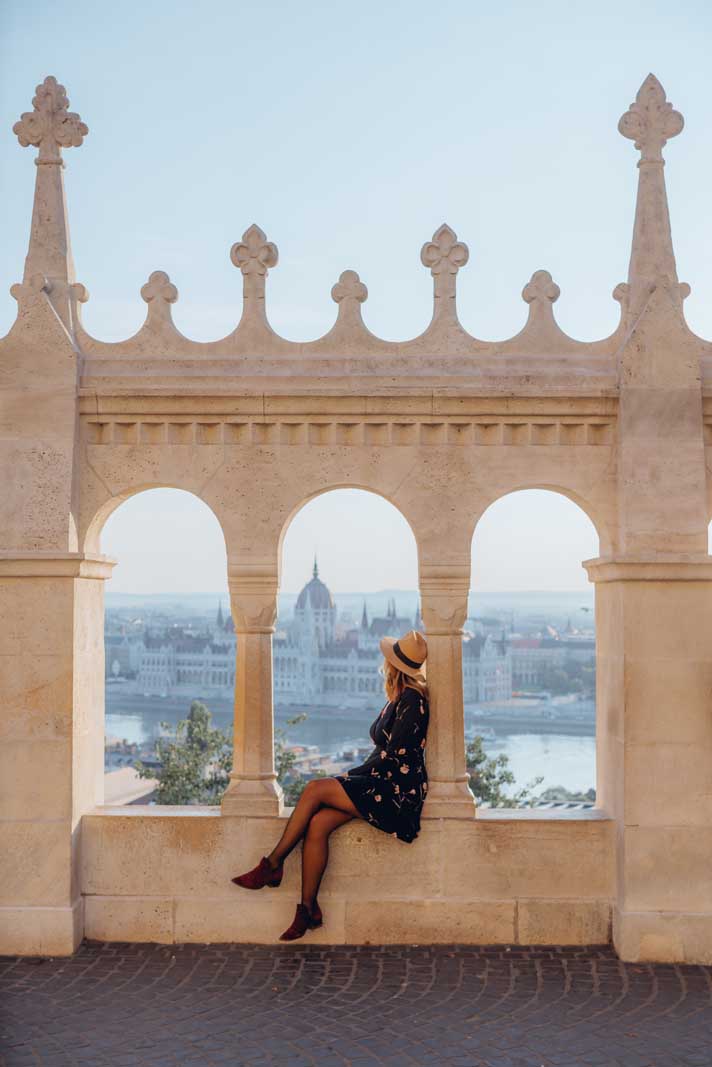 Probably one of the most picturesque spots in the city and one of the best things to do in Budapest is the gorgeous Fisherman's Bastion. This neo-gothic and neo-Romanesque structure is nothing short of amazing to look at and photograph, plus it has one of the best views in the city with a perfectly framed view of Parliament.
Located on castle hill on the Buda side this was built between 1895 – 1902 to beautify the already beautiful Matthias Church and celebrate the 1000 year anniversary of the Hungarian state.
Tip: Get here early in the morning for the best photos without crowds! It's a great sunrise point!
Matthias Church
Another one of the best things to do in Budapest on the Buda side is visit the gorgeous Matthias Roman Catholic Church next to Fisherman's Bastion in the heart of the castle district.
Over the past centuries this impressive cathedral was used for coronation ceremonies for Hungarian kings, was once a mosque during the Ottoman Empire, and today you can even get married in this one of a kind, beautiful church.
Blended with a mix of architecture styles from Romanesque to Gothic we especially love the colorful tiled roof. Don't forget to explore inside and climb the tower for an amazing viewpoint.
Rudas Bath
One of the best things to do in Budapest is soak in the thermal baths. Budapest is known for being a spa city because of its location on top of over 125 thermal springs.
We found out we loved spa cities after visiting Karlovy Vary last year, so it was exciting to visit another. All the baths you see today date back to the Ottoman Empire.
We soaked in Rudas Bath right across the Danube River from the Elisabeth Bridge on the Buda side. Rudas is the most famous of the Turkish baths with the beautiful octagonal pool.
This pool was men only until recent renovations and now lets women enjoy a soak on Tuesdays and on the weekends during the mix sex days. If you are a woman and show up any other day of the week don't fret, you can head up to the rooftop bath that offers an amazing view of the Danube River and the Citadella above you.
We recommend coming around sunrise if you're an early bird for an empty bathhouse. They also offer late night visiting hours from 10 pm to 4 am on the weekends if that's your thing!
The baths have been in operation for over 450 years and is such a spectacular place to soak and forget about your worries.
View from Citadella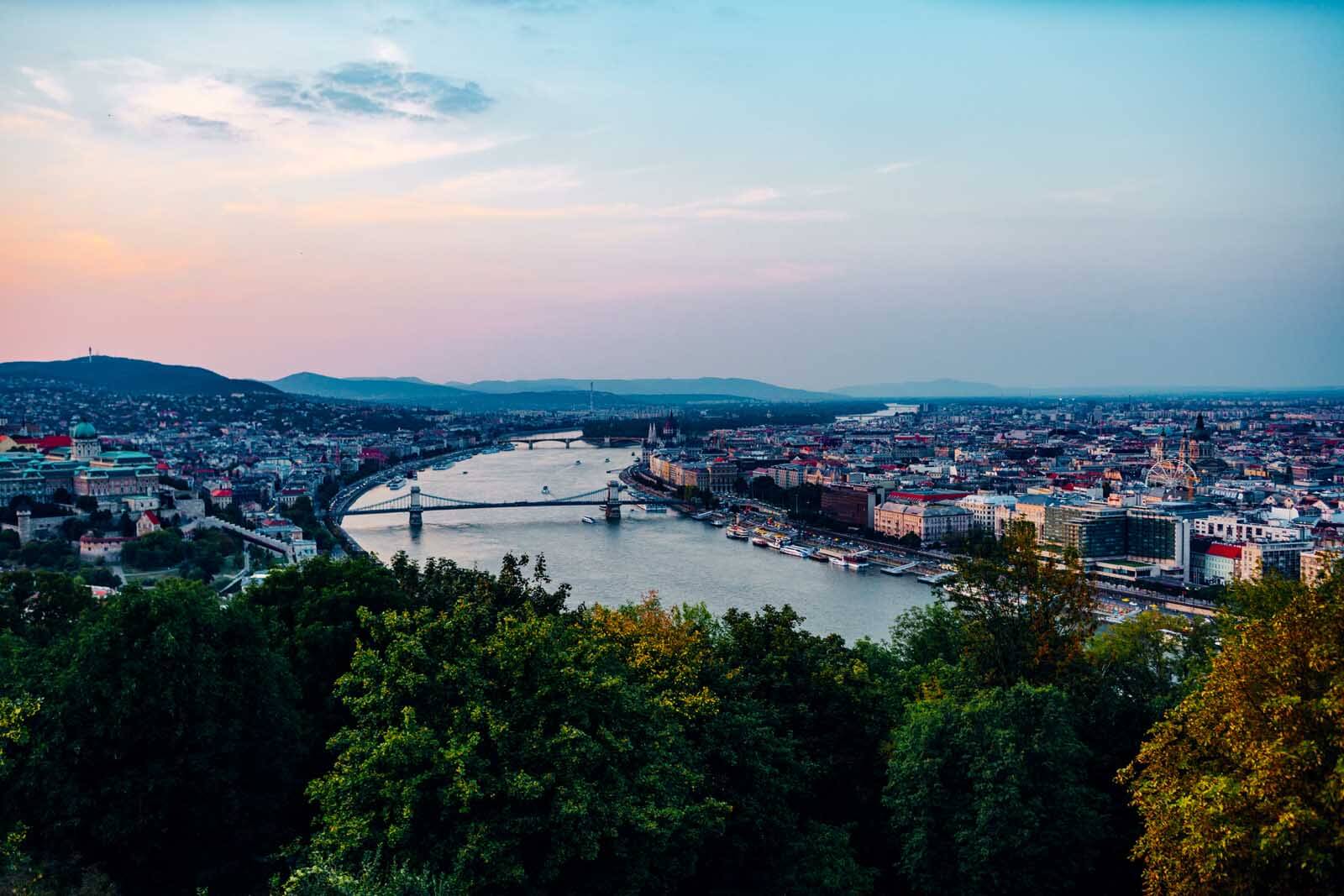 One of the best views and things to do in Budapest on the Buda side is visit the Citadella. This was the city's fortification located on the top of Gellért Hill.
You can climb up here by foot from the path at the bottom of the Elisabeth Bridge or get up here by car or transport. We visited the Citadella around sunset with Budapest Tuk Tuks and just fell in love with the sweeping view of the city.
There are also restaurants, food stalls, and places to grab a drink up here.
Pálvölgyi Cave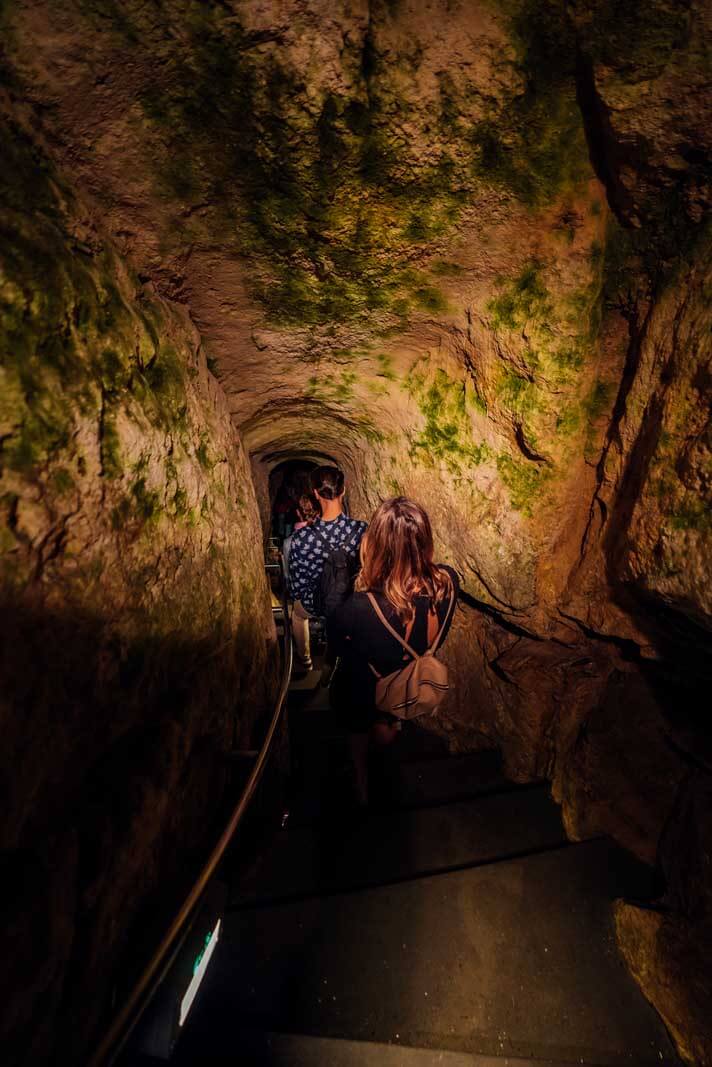 Another interesting thing to do in Budapest if you have time to venture out about a 15-minute bus ride from the popular tourist spots is the Pálvölgyi Cave on the Buda side.
You feel completely removed from the city where you can go underground in the dripstone cave system that runs 33 km. You only get to explore a small section of that on a guided tour, but the experience is pretty cool and the perfect way to cool off if you're visiting Budapest during hot weather.
If you have a Budapest Card, the entrance to the caves are free!
Sándor Palace
Located in the castle district is the official residence of the President of Hungary and the office to the President. This is a great thing to do in Budapest for just a few moments while visiting the castle district on the Buda side located next to the funicular and Buda Castle. There isn't much to see here other than a quick look and the changing of the guard every hour on the hour.
From here you can also look directly behind you and see the Old Jewish Bath Ruins behind the row of Hungarian flags. We were told that there is perhaps a renovation project to bring these baths back to life, only time will tell!
Budapest Castle Hill Funicular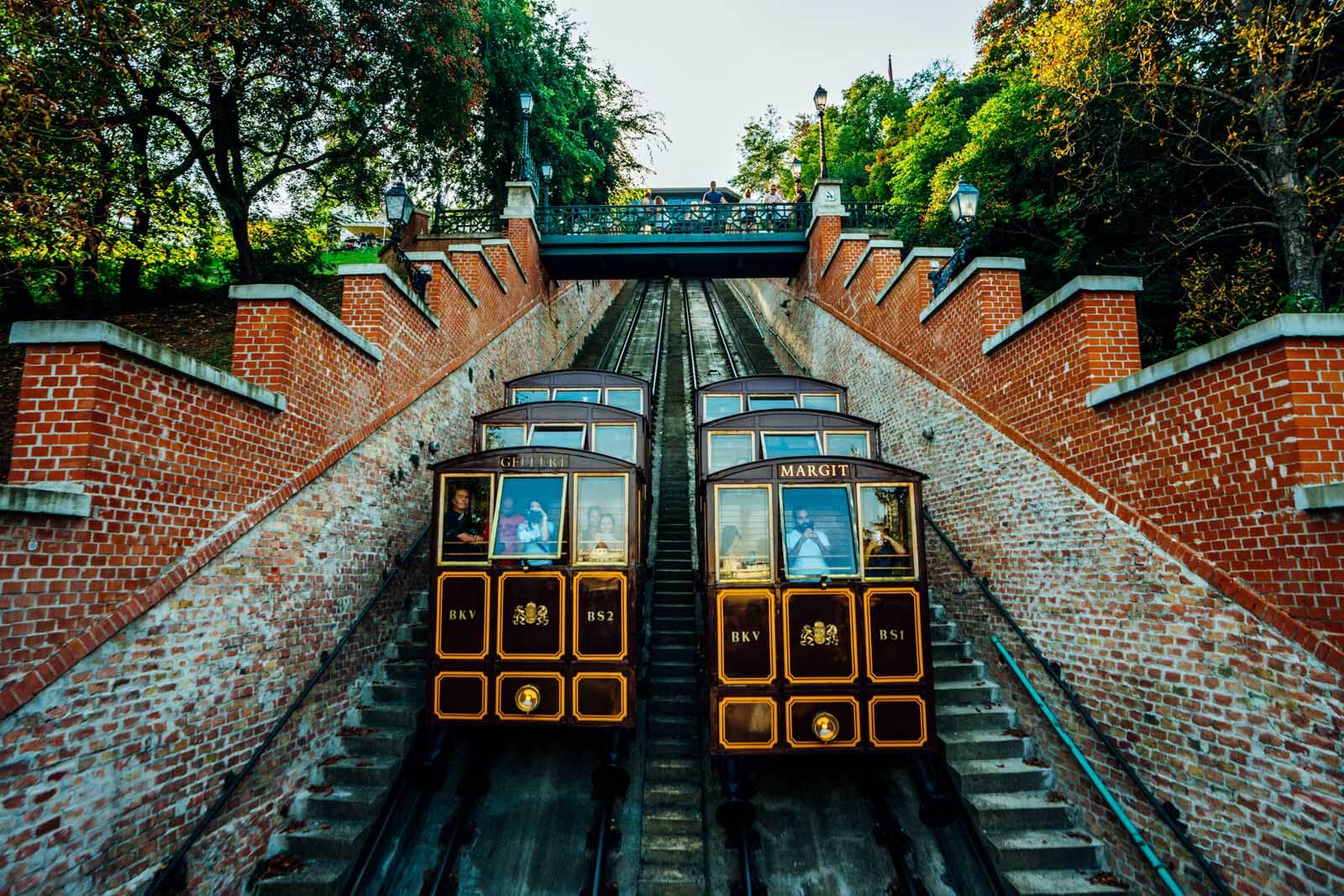 One of the more fun and interesting things to do in Budapest is ride the Castle Hill Funicular! Also known as Budavári Sikló, this funicular works like a pendulum and is a short ride from the top of the castle district to the bottom or vice versa leading to the Chain Bridge.
There are two different cars named Gellert and Margit. There are also two bridges that cross it if you're looking to watch others enjoy their funicular ride or you want a cool photo.
This is also considered a UNESCO World Heritage site if you like to visit those in cities like we do!
Buda Castle
One of the most iconic things to do in Budapest on the Buda side is visit the Buda Castle. This impressive castle is the pinnacle of the castle district and has been the palace of the kings of Hungary.
Dating back to 13th century but what you see today is the Baroque architecture from the 18th century. You can visit the exhibits of the Hungarian National Gallery and the Budapest History Museum inside the Buda Castle as well. There was an interesting Frida Kahlo exhibit going on during our visit.
Labyrinth of Buda Castle
One of the coolest and creepy things to do in Budapest is visit the underground labyrinth and natural cave system of Buda Castle. Used over the past several centuries for military, hiding spots in WWII, harem, and even a dungeon and prison that held famous prisoner Dracula, Vlad Tepes, aka Vlad III or Vlad the Impaler, under the rule of King Matthias.
Today, you can explore the creepy past of the underground with different exhibits like a wax opera which is really eerie, the maze of darkness where you feel your way around the creepy underground in the complete darkness, the foggy corridors leading to Dracula's old prison chamber, and even a dark theater playing an opera film at the end.
All I could think of is that this would be an amazing place to play hide n seek if you were brave. Both of us were creeped out a few times and I don't think I would have liked exploring this alone, I get scared too easily, ESPECIALLY in the maze of darkness.
The entire labyrinth is 6 miles long, however, where you can visit is only one mile in length.
Prior to July in 2011 a different labyrinth exhibit was open until a mysterious police raid that forced everyone out during their visit. The reason behind the police raid is still a mystery but some believe that is has to do with the Dracula history told here to attract tourists that isn't actually true, but since the part of the labyrinth that we visited has been open to the public for visits and still advertises the chambers for being the prison to Dracula.
I am not going to lie, trying to do research on Dracula, Vlad, and his imprisonment was not an easy task and I still didn't find answers. If you know of any Dracula experts, we'd be interested on discovering the truth.
Chain Bridge
One of the most iconic spots in the city and one of the best things to do in Budapest is cross the Chain Bridge by foot. This beautiful structure is one of the bridges connecting Buda and Pest over the Danube River.
This was the first bridge to connect Buda and Pest over the Danube River erected in 1849 and according to Wikipedia, the bridge symbolizes advancement, national awakening, and the linkage between the East and West.
EAT & DRINK in Buda
Ramazuri
Take a rest from all your sightseeing of the amazing things to do in Budapest at Ramazuri in the castle district. This bistro and bar has a cozy atmosphere with lovely outdoor seating overlooking the perfect view of Matthias Cathedral.
Things to do in Pest
---
St. Stephens Basilica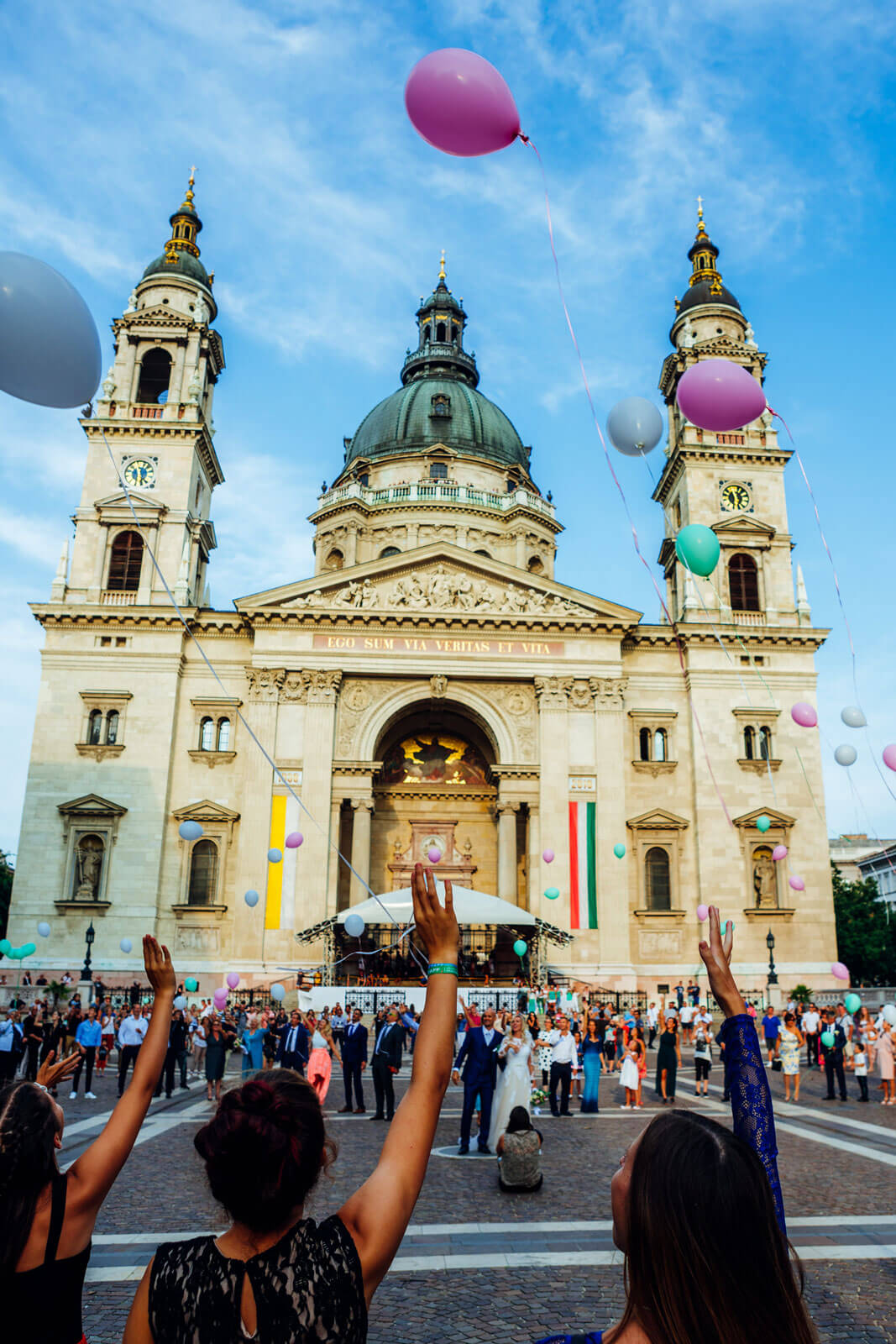 One unmissable thing to do in Budapest is visit St. Stephen's Basilica. This grand cathedral is one of the most iconic sites in the city and impressive to say the least from both the exterior and interior.
Visit inside the cathedral for 300 forint, close to a dollar donation, but if you don't have it for whatever reason no worries, it's a suggested donation.
You can also get sweeping views of Pest by climbing to the top of the Basilica. There's a 600 forint fee to climb and about 300 stairs to climb, but the view is rewarding.
We were lucky to show up on a Saturday and witness a newly married bride and groom outside the cathedral for one of the most magical moments possible at St. Stephens.
Parliament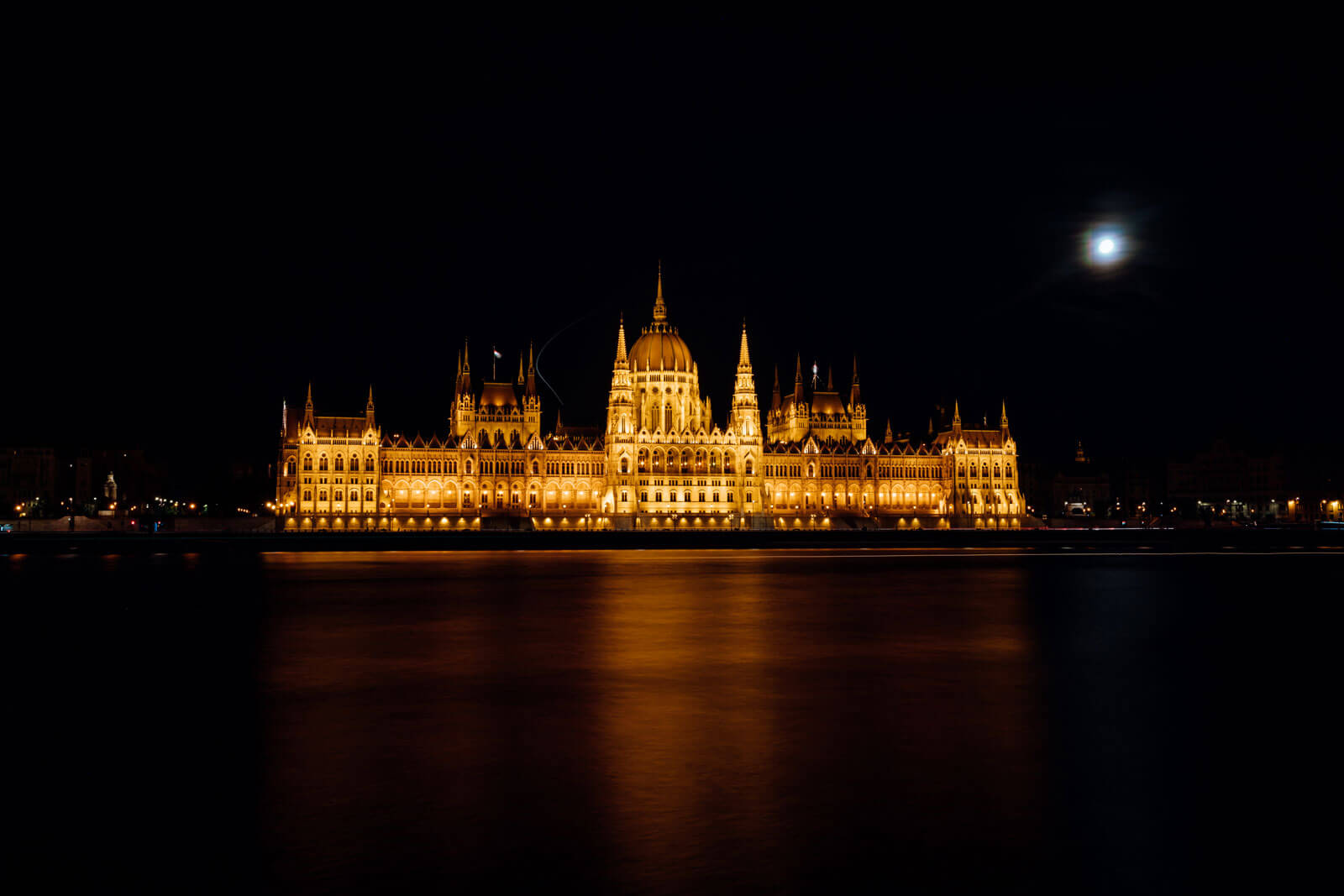 The most popular thing to do in Budapest is visit the Parliament building. You can't miss this impressive and massive structure nested right on the riverbank of the Danube River.
The Parliament can be admired from both outside and inside. We recommend booking a tour inside in advance when we tried to book ours a week before our trip it was sold out.
Make sure you want to plan if you want to see inside Budapest's largest building and some of the 691 rooms that make up this Gothic Revival architectural masterpiece.
You can book a 45 minute guided tour in advance here.
Liberty Square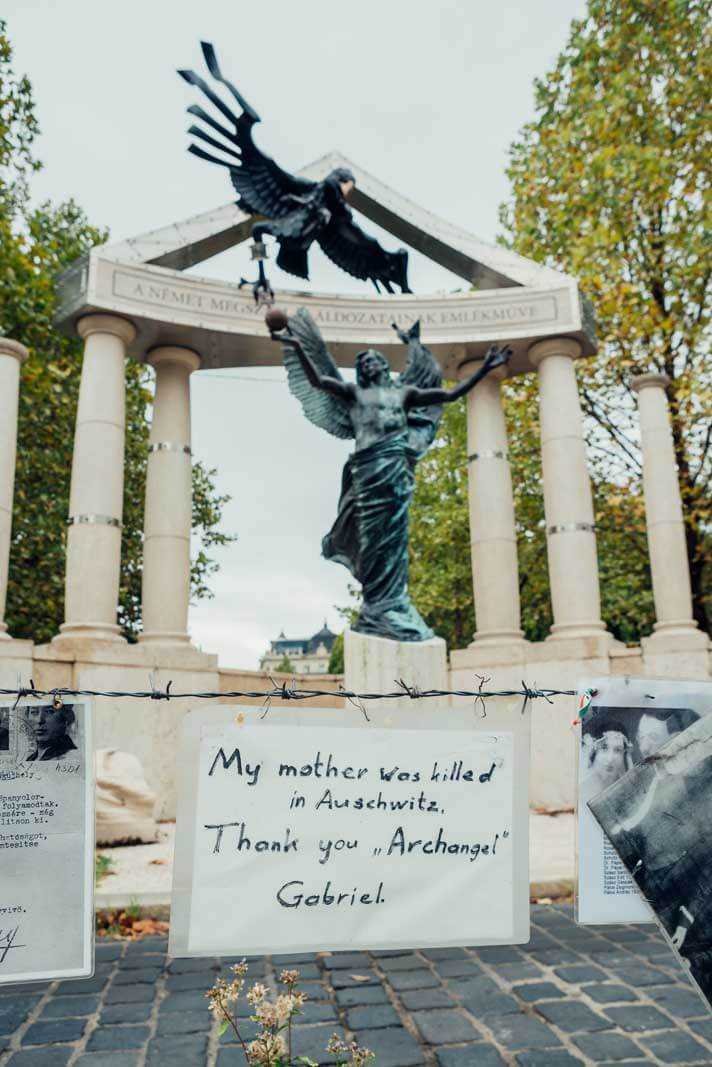 One of our next picks for things to do in Budapest is for history buffs. Liberty Square is easily visited on your way to or from Parliament. This square is riddled with turbulent history, monuments of liberty, embassies, and even a popular protest spot today.
In the 18th century, this was the location of Austrian military barracks and prison to the 20th century where this was a place for protest and revolution of communism liberation to Hungary.
Today you can see examples of that with a remaining Soviet monument and a Ronald Reagan statue keeping a close eye on the Soviets, which was an odd statue to see seeing how Reagan had no part of the history here at the time, the statue was actually erected to show appreciation to the US president's efforts to end the Cold War which eventually led to the help of an end in communism in Hungary.
It is said you are supposed to shake Ronald's hand for good luck.
A more recent sign of protest in Liberty Square is the Monument of German Occupation during WWII. There is much controversy over this statue as it depicts an angel being attacked by a German eagle.
Many locals are upset as they feel that this statue is a false narrative to the past and shows that Hungary will not take responsibility for sending its own people, Jews, gypsies, gay people and more to their deaths during the Holocaust.
You can see peaceful protests on display with dozens of photos of those whose lives were lost during the Holocaust and their stories shared by their family members. Read more about it here.
Budapest Eye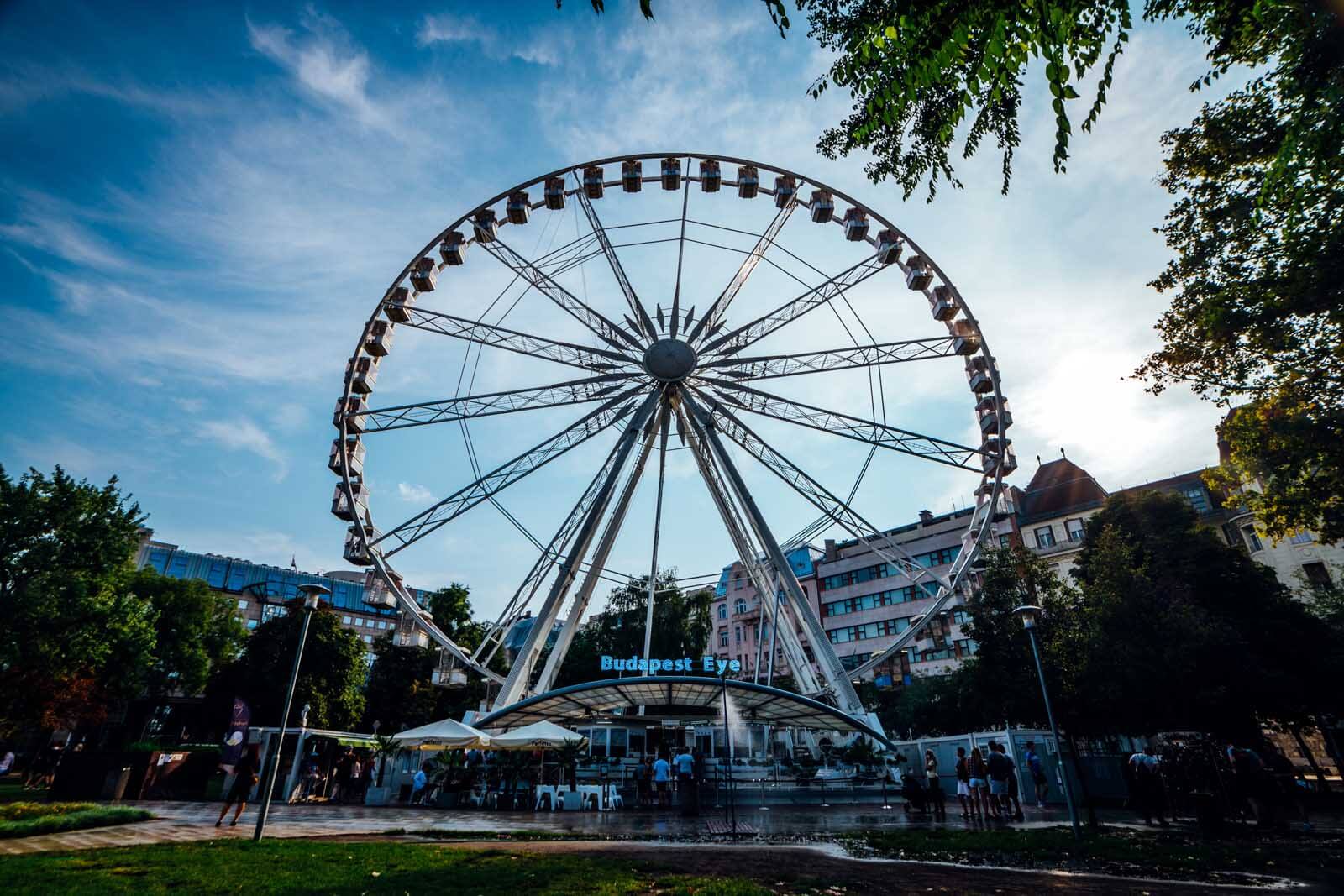 Located in Erzsébet Square is the next fun thing to do in Budapest. See the city from above in the Budapest Eye over 200 feet high in the sky.
After make sure you stop at Fröccsterasz for a drink. This is a popular place to get a local cider or a local cider drink mixed with alcohol and gin.
I couldn't tell you the name of the drink other than it has the local cider in it and it's delicious! There's also a row of vendors here selling various goods from leather to Hungarian souvenirs.
Chefparade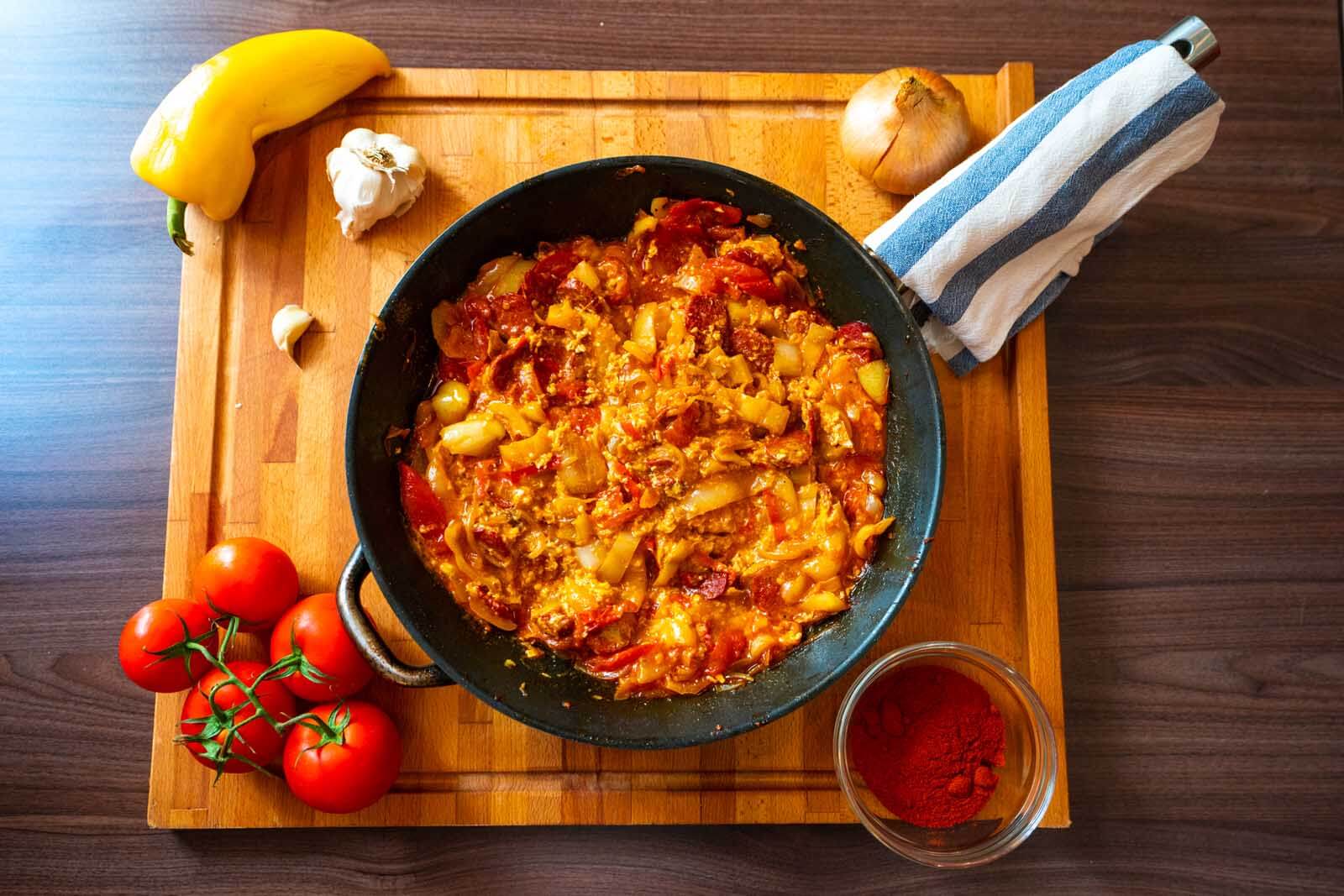 When in Budapest why not learn how to cook Hungarian food? Our next fun thing to do in Budapest is attend the cooking school at Chefparade.
Cook alongside your friends and a local chef for some of the greatest traditional Hungarian cuisine featuring popular local spices like paprika.
This hands-on experience is extremely fun and at the end you're rewarded with eating your meal. We made Lescó which we both fell in love with and I will be trying to make this when we return home.
Great Market Hall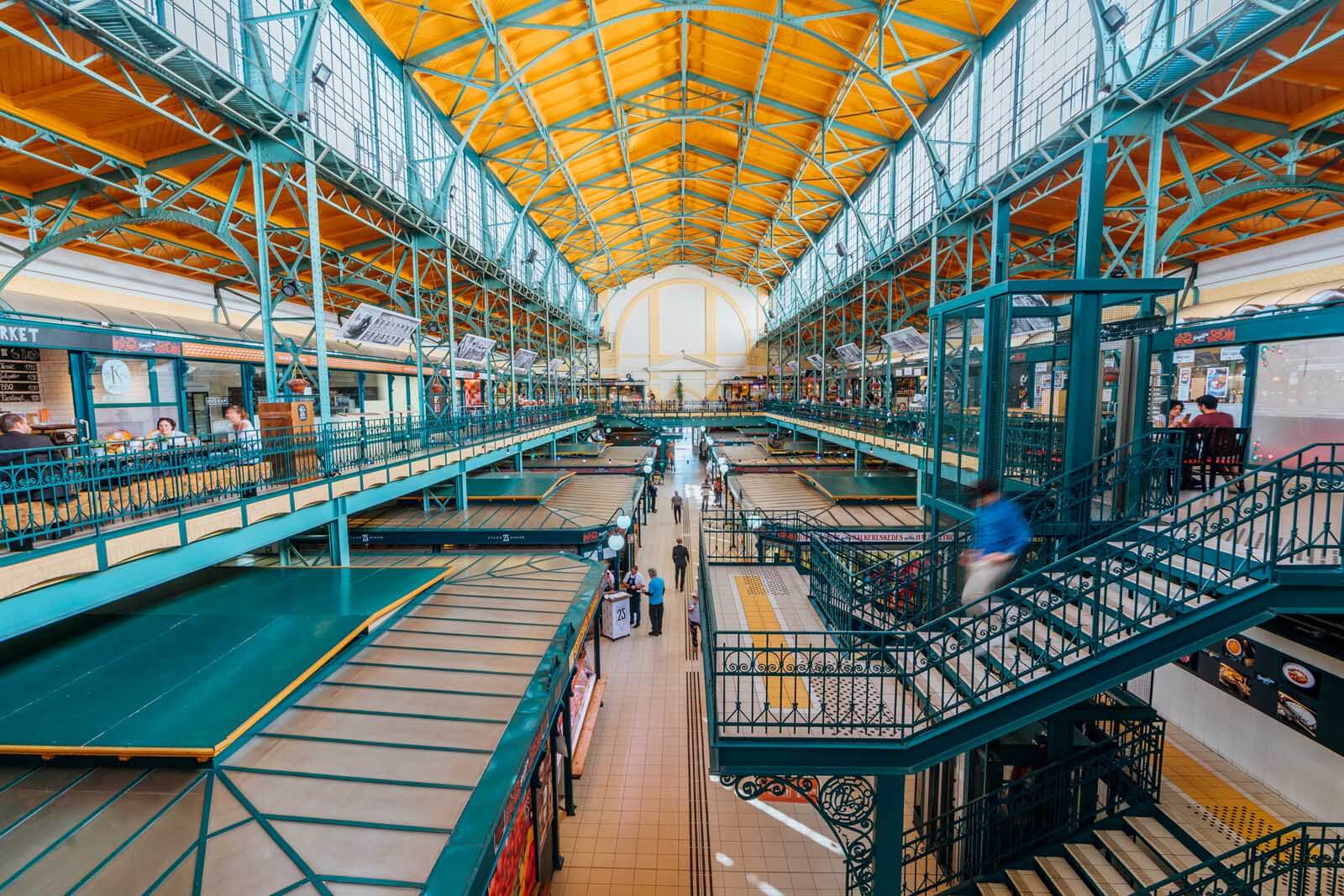 Visiting the Great Market Hall, aka Central Market Hall is another great thing to do in Budapest, especially if you're hungry.
In the market you will find produce vendors and various food stalls selling some of the freshest and tastiest food in the city. This is also a great spot to pick up some of Hungary's famous paprika.
Be sure to check out Stand 25 by Michelin star chef Tamás Széll here, a popular lunch spot and the most crowded eatery during our visit.
Vörösmarty Square
During your visit to the city you have to stop in Vörösmarty Square. This square not only has shopping but some traditional coffee houses that serve Hungarian deserts like Gerbeaud-ház
and Szamos Café who is famous for their marzipan.
This is one of the best things to do as well if you're here during the Spring or Christmas Market as its held in Vörösmarty each year.
This is also home to the oldest subway on the Europe continent. Not to be confused with London since England is technically and island. Anyways, this factor also helped gain Budapest as a UNESCO World Heritage site. We loved the subway system here as it had a very retro and antique vibe to it.
Dohány Street Synagogue
Another remarkable building and thing to do in Budapest is visit the Dohány Street Synagogue in Pest. Dating back to the 1850s, damaged in WWI and used as a base for German radio, and ties with the Holocaust as being the border of the Budapest Ghetto this synagogue is drenched with history and is considered the largest synagogue in Europe.
Today you can visit the synagogue, the Jewish graveyard, the Heroes' Temple, memorial, and Jewish Museum.
For a 45 minute guided tour book your ticket in advance here.
Jewish Quarter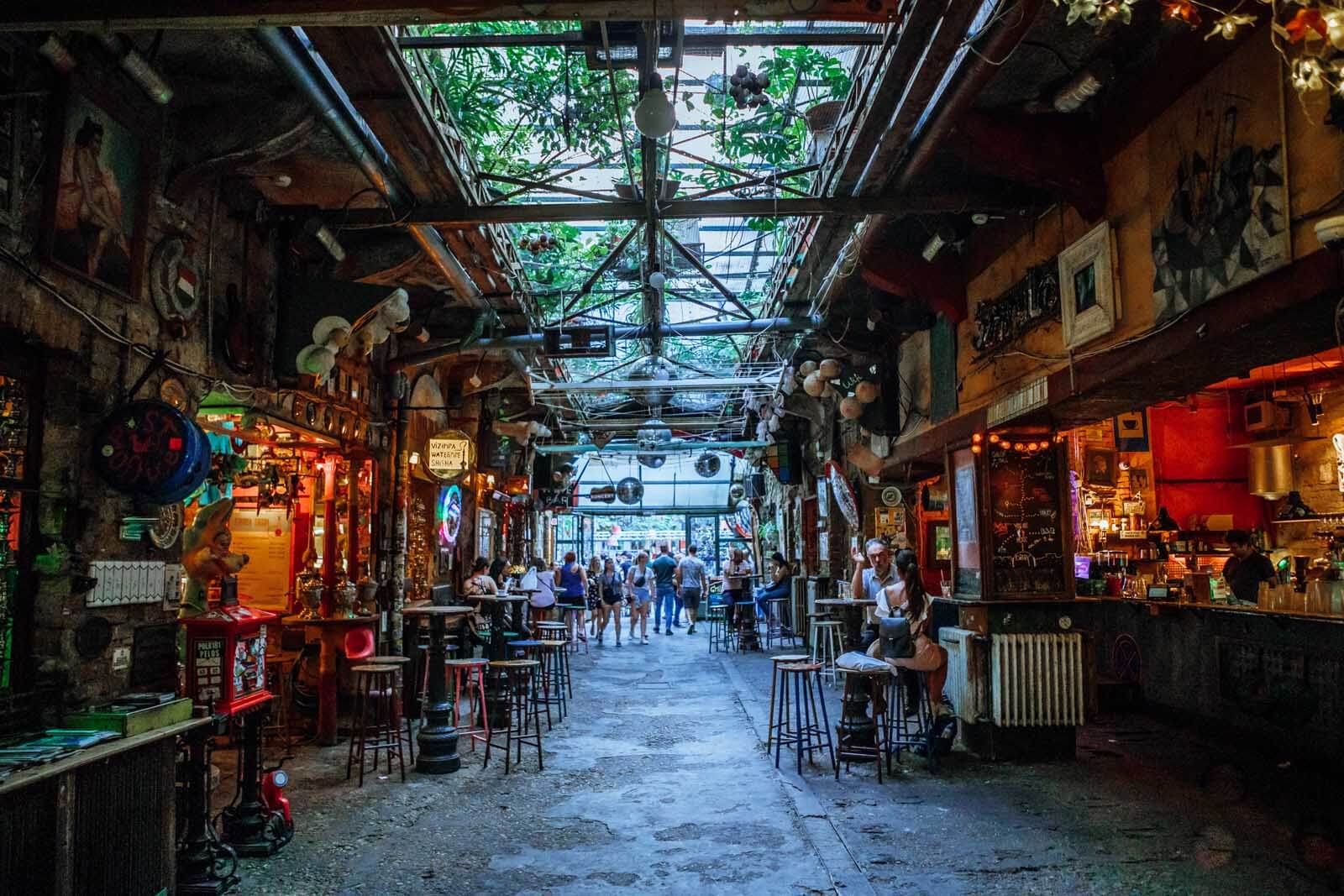 One of the best neighborhoods to explore and things to do in Budapest is visit the Jewish Quarter. Like many Jewish quarters we have visited in Europe, this area has become gentrified and full of businesses popular with tourists. This area is a thriving neighborhood full of delicious eateries, galleries, murals, shops, and ruin bars.
We recommend having a drink at Szimpla Kert, the first ruin bar that is quirky and unique. The entire bar is just one room after another with a different hodge podge of themes and décor. This is an interesting place to grab a drink, if you're hungry there's a food truck lot next door too.
Hungarian National Museum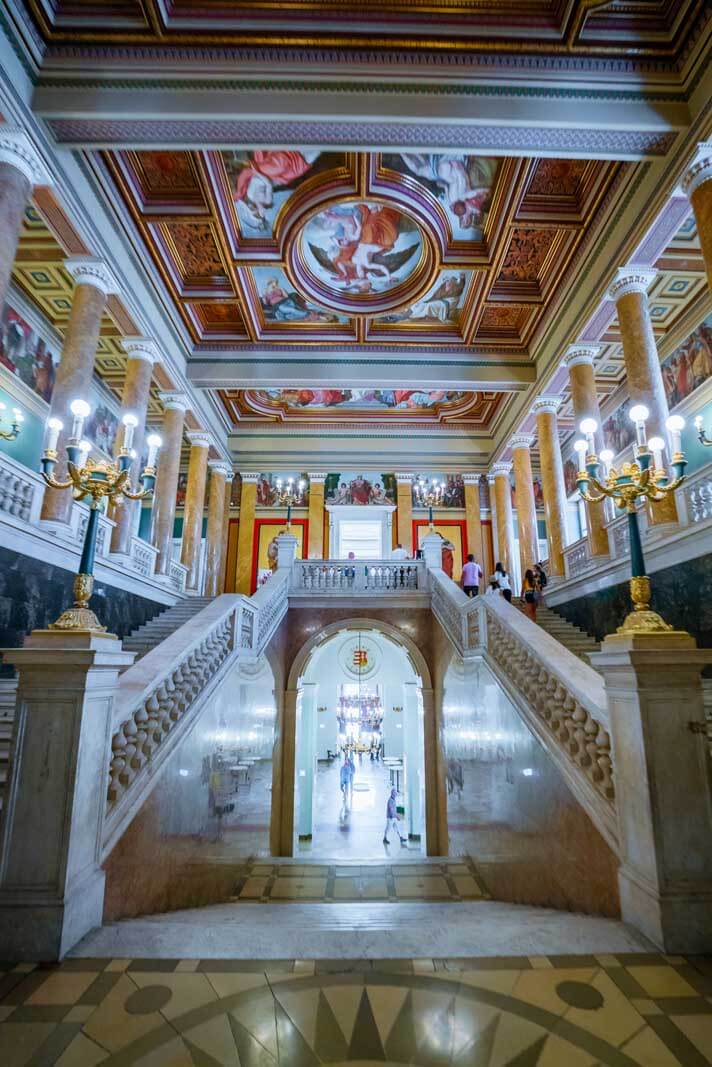 This next thing to do in Budapest is for the museum lovers. The Hungarian National Museum is a great stop if you want to learn more about the art, archaeology, and history of Hungary on display in the Museum.
Admission is free with a Budapest Card too.
Vajdahunyad Castle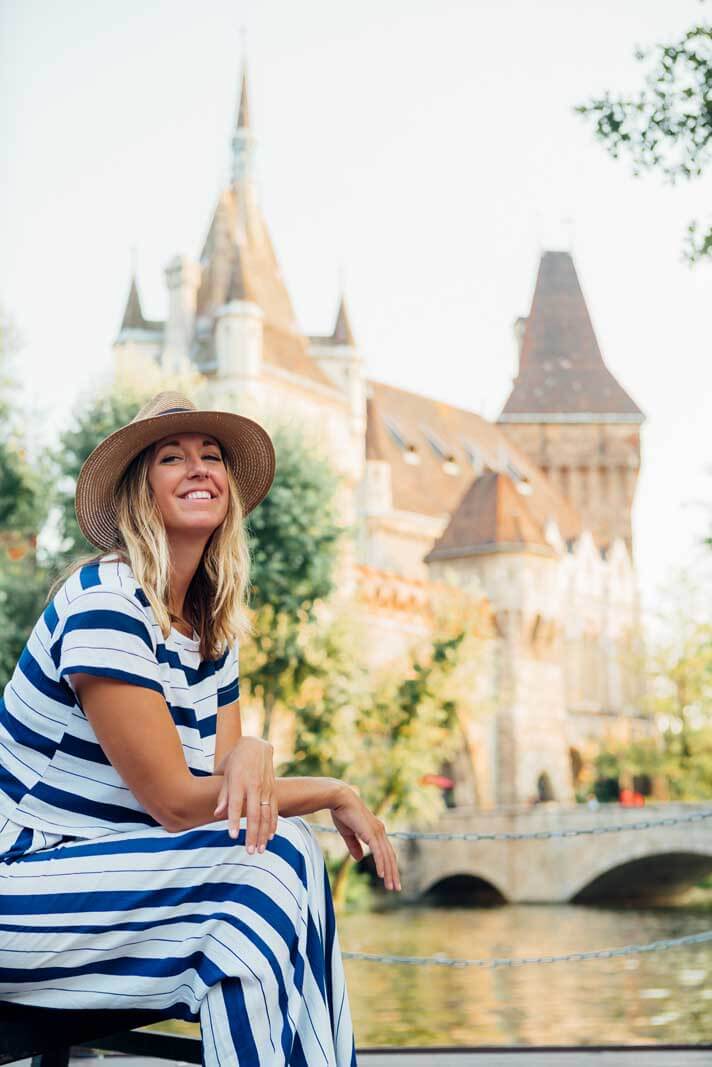 One of our favorite things to do in Budapest is visit the gorgeous medieval-looking Vajdahunyad Castle in Pest. The castle looks old but was actually built in the 1896 Millennial exhibition in Hungary celebrating the 1000 year anniversary.
This gorgeous medieval looking castle was said to be the inspiration for Bram Stoker's Dracula book and is a great place to walk around the moat, wander in the castle walls, and climb the tower. This was a picturesque place and they could have fooled us that this wasn't as old as it looks.
Szechenyi Bath
The most famous of all the thermal spas and baths of the city is one of the most popular things to do in Budapest. This is one of the largest thermal spas in Europe and the largest in Budapest with over 18 different pools.
The outdoor pools with the backdrop of the gorgeous yellow building are one of the most iconic scenes captured in the city, especially on Instagram. We sadly did not make it to Szechenyi but learned that Will Smith was here filming the movie, "Gemini Man," a month before our visit.
You can book your ticket in advance here.
Heroes' Square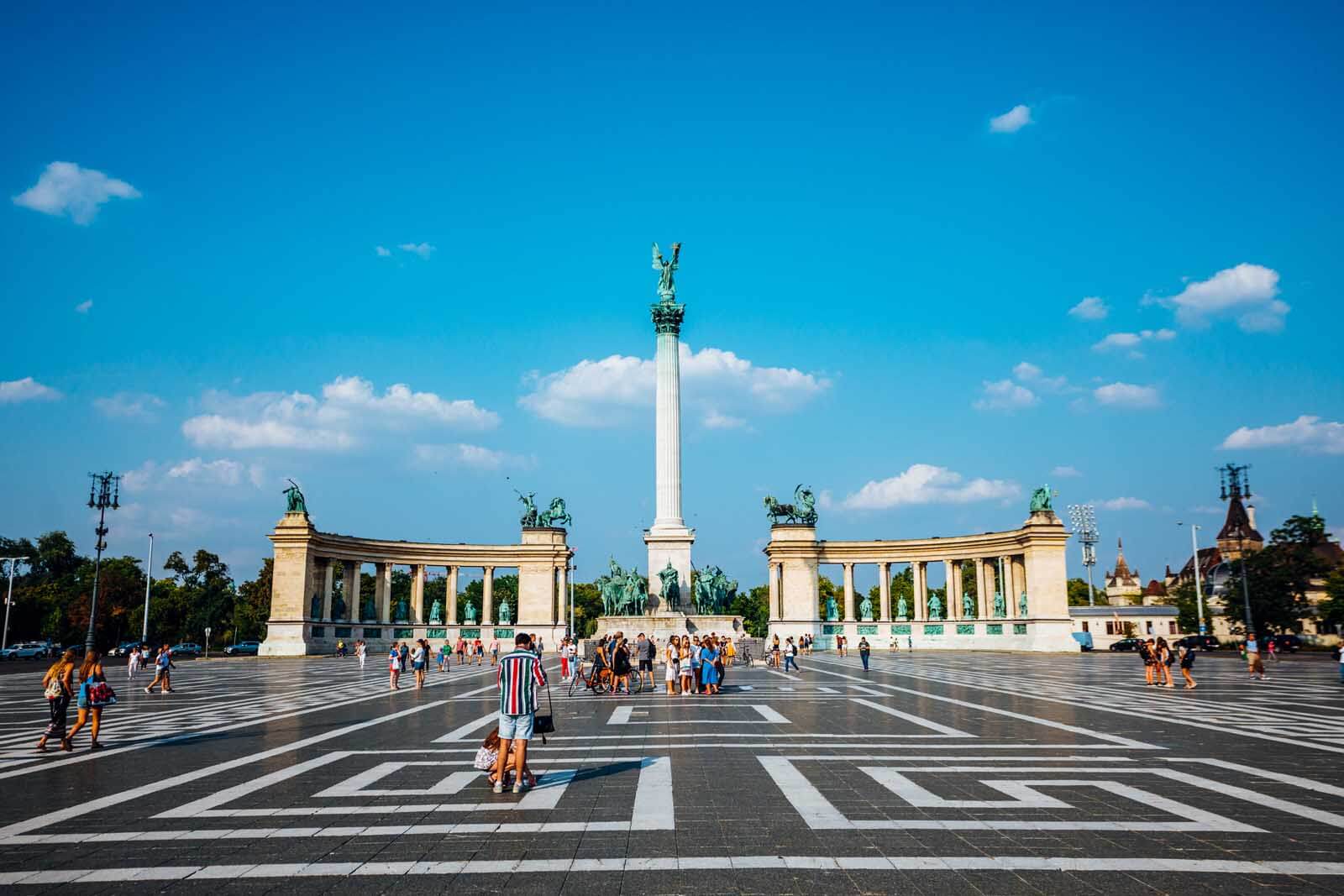 Another great thing to do in Budapest combined with Szechenyi Bath and Vajdahunyad Castle since you're right here is visit Heroes' Square. Like Vajdahunyad Castle, the impressive Millennium Monument was built to celebrate the 1000 year anniversary.
This is another popular photography spot with tourists and visitors both day and night.
New York Café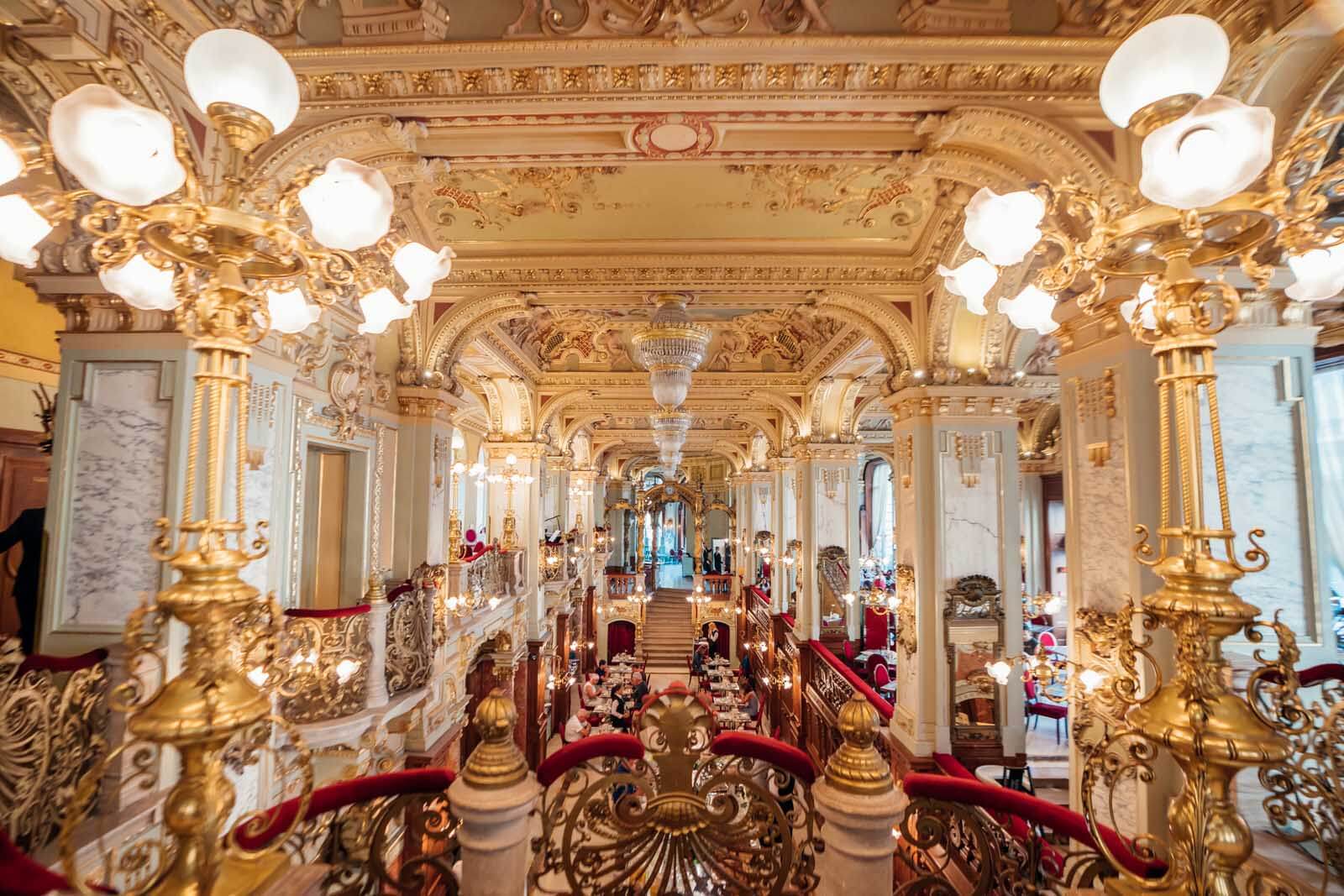 This guide for the best things to do in Budapest wouldn't be complete without one of the most beautiful cafes in the world. We aren't just saying that either, the New York Café, a part of the New York Palace hotel in Pest was awarded the most beautiful café in the world and is a traditional Hungarian coffee house.
If you want to splurge on something, splurge on breakfast or a coffee here. The inside is over the top with ornate and elegant design, exceptional service, and live music.
EAT & DRINK in Pest
360 Bar
One of the best things to do in Budapest is grab a drink with a view at 360 bar. Located behind the Opera House this bar is located on a rooftop terrace overlooking gorgeous views of the city.
If you're hungry there's a light menu for food and snacks to have along with one of their signature cocktails. This is a great spot for sunset as they often have live musicians performing to give this spot the complete ambiance with the view.
Szimpla Kert
Already mentioned as one of the best things to do in Budapest's Jewish Quarter, Szimpla Kert is a fun ruin bar to visit for a drink while wandering this area of the city. This partly open-air bar is full of different rooms with eclectic décor hanging from the ceilings to the wall and a fun meeting place. The unique atmosphere makes this one of the most fun spots to get a drink.
Mangalica Heaven
This Hungarian prix fix food stall is an amazing option for lunch. Located in the small Klauzal market serving up what is considered the best quality of pork in the world, mangalica pork from the almost once extinct wooly pig.
We stumbled in here by accident and fell in love with the food. Pick your plate and enjoy the no fuss eatery that serves up one tasty dish after another for a very reasonable price.
This is also considered the only specialty shop in Hungary and the world serving only mangalica pork.
Note: Mangalica Heaven is only open for breakfast and lunch
Belvárosi Disznótoro
Another fantastic option to eat is Belvárosi Disznótoro serving up fresh Hungarian dishes. Pick your choice or cut of meat and they cook it right in front of you. This was even a spot the late Anthony Bourdain visited during his trip in 2015 and is considered a heaven for meat lovers.
Best Tours in Budapest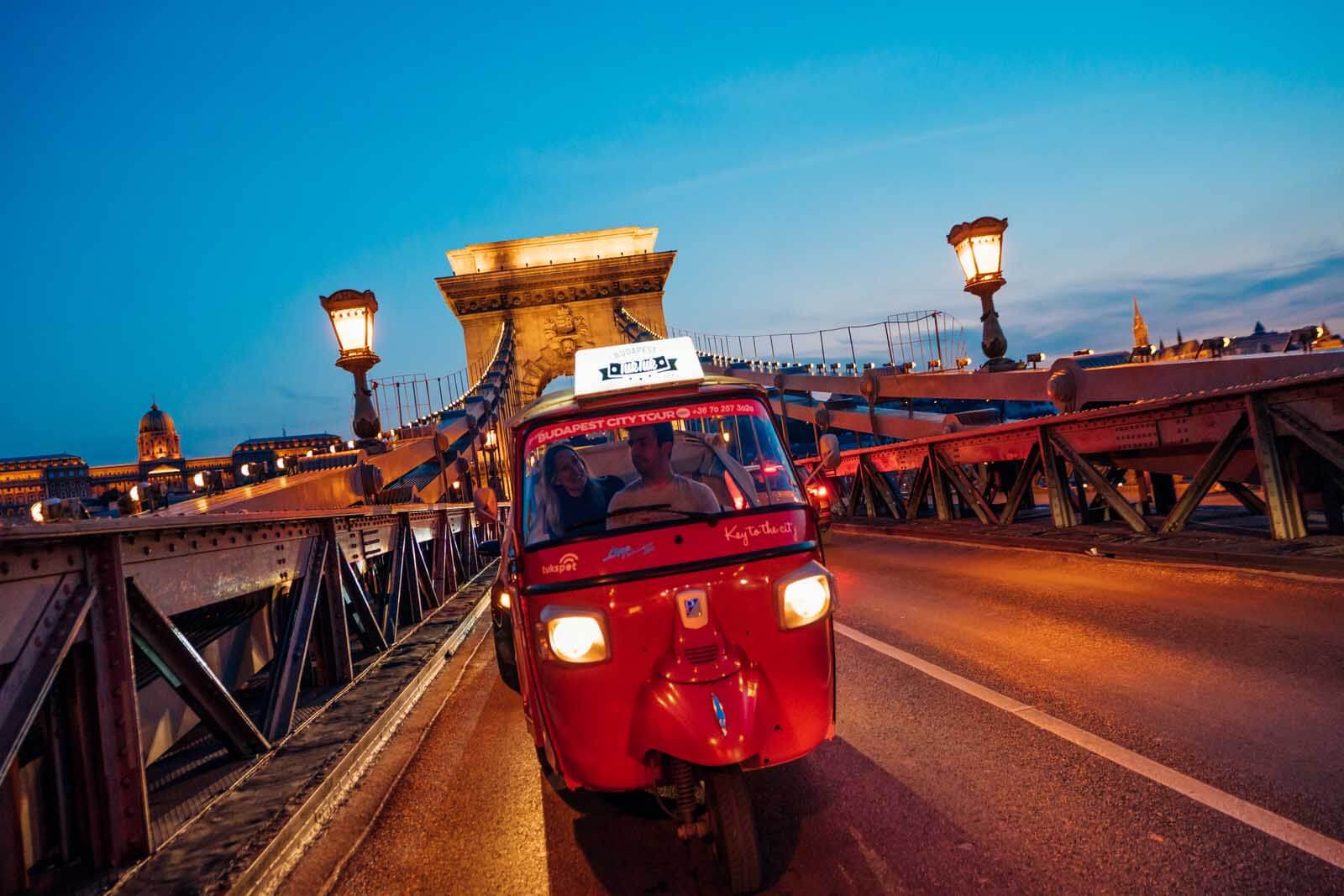 Budapest Tuk Tuk
One of the most fun things we did in Budapest was taking a 2-hour tuk tuk tour around the city.
Your tuk tuk comes with a local guide who will take you where ever you want to go, if you're not sure, leave it up to the guide since they are a local and know all the best spots!
We took this up to the Citadella at sunset for one of the most memorable parts of our trip. You can book your tuk tuk any time of the day, we highly recommend this tour! Book your Budapest Tuk Tuk here.
Boat Cruise down Danube River
One of the most romantic things to do in Budapest as well as one of the best ways to enjoy the views of the city is take a cruise down the Danube River.
This cruise takes place in the evening where you can see one of the most beautiful cities in the world lit up at night by candlelight. The cruise is 2 hours and also includes complimentary drinks, you also have the option to eat dinner aboard the boat.
Book your Danube Night River Cruise here.
Budapest Card
We highly recommend getting the Budapest Card before your visit. They sell them from 24 hours to 120 hours and they get you into over 100 different museums and attractions for free or at a discount INCLUDING free transportation on the buses, tram, and subway.
If you plan on visiting many museums or attractions the free admission and discounts alone make it worth it. You also get discounts to amazing attractions like the baths and Tuk Tuk tour.
You can buy your Budapest Card here.
Where to Stay in Budapest
$ 7X24 Central Hostel
This is a great option for where to stay in Budapest if you're on a budget. This hostel is located near the Jewish Quarter and just a 5 minute walk to the Opera House. The rooms are dorm style with shared bathrooms with wifi, seating areas, and tables. You can upgrade to a private room with a private bathroom as well.
Book Now | Compare Prices for Later
$$ Danubius Astoria Hotel
This is 4-star hotel is where we stayed during our time in Budapest. We found the location to be extremely convenient located just outside the Astoria stop and only a 15-minute walk to things to do in Budapest like St. Stephen's Basilica. The hotel has a vintage feel to it and was even a filming location for the 2004 film, Being Julia.
Book Now | Compare Prices for Later | Read TripAdvisor Reviews
$$$ Hilton Budapest
Another amazing option for where to stay is also right where one of our favorite things to do in Budapest is. The Hilton Budapest is located right next to the Fisherman's Bastion in a former 13th century church in the Castle District. The rooms are decorated with refined décor and some even offer view of the Danube River.
Book Now | Compare Prices for Later | Read TripAdvisor Reviews
$$$$ Four Seasons Hotel Gresham Palace
The most luxe place to stay in Budapest is the Four Seasons located in a gorgeous art noveau style building right in the front of the Chain Bridge on the Pest side of the city. This 5-star hotel is nothing short of amazing and if you're lucky you can nab a room with a view of the Chain Bridge.
Book Now | Compare Prices for Later | Read TripAdvisor Reviews
---
Found this guide to the best things to do in Budapest helpful? Bookmark for later or share the love below on Pinterest!