Check out all the best things to do in Campeche, Mexico. Just before leaving our almost three-month stay in Mexico's Yucatan Peninsula, we fell in love with the most adorable and colorful city in Mexico, Campeche.
Campeche is a small city located on the Gulf of Mexico rich with history with Mayan culture, a history of colonialism as you can easily see through the architecture, Buccaneers, and pirates located in the state of Campeche, which can get confusing if you don't realize the state and city share the same name.
This UNESCO World Heritage site is a must-see and it will most likely charm your bottoms off. Even though the state of Campeche is the least popular to visit among tourists in the Yucatan Peninsula, it still has a lot to offer.
Check out why you don't want to miss a visit to Campeche, the most colorful city in Mexico along with all the amazing things to do in Campeche, and why you don't want to miss this gorgeous destination.
Be sure to add all these Campeche attractions to your Mexico vacation or Yucatan road trip!
Things to do in Campeche, Mexico
Check out all the colorful streets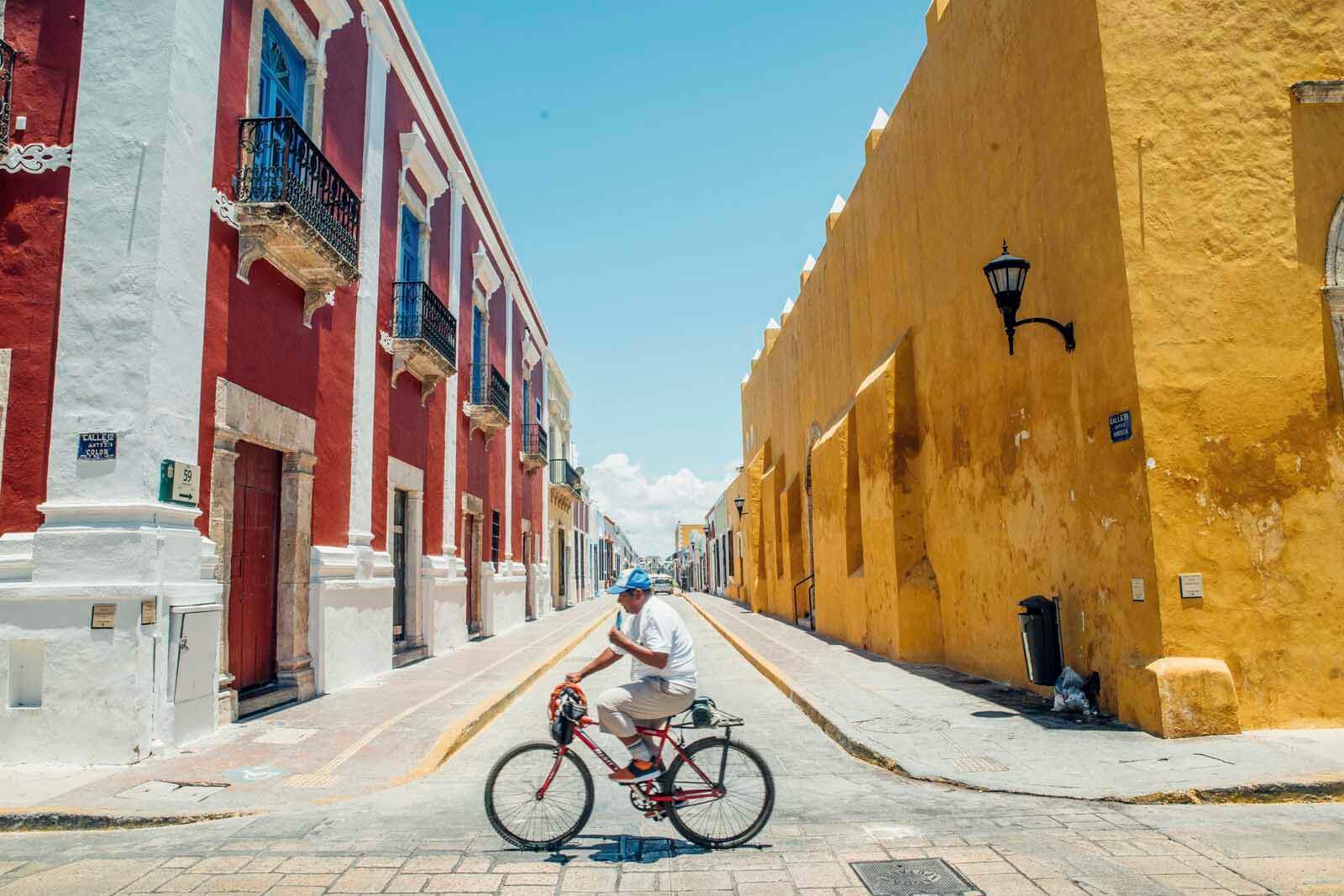 The preservation of the architecture here is what earned Campeche, Mexico the status of a UNESCO World Heritage site.
Besides being another cool UNESCO site to knock off your list of amazing places to visit in the Yucatan Peninsula the city is also filled to the brim with colorful colonial architecture with pastel facades.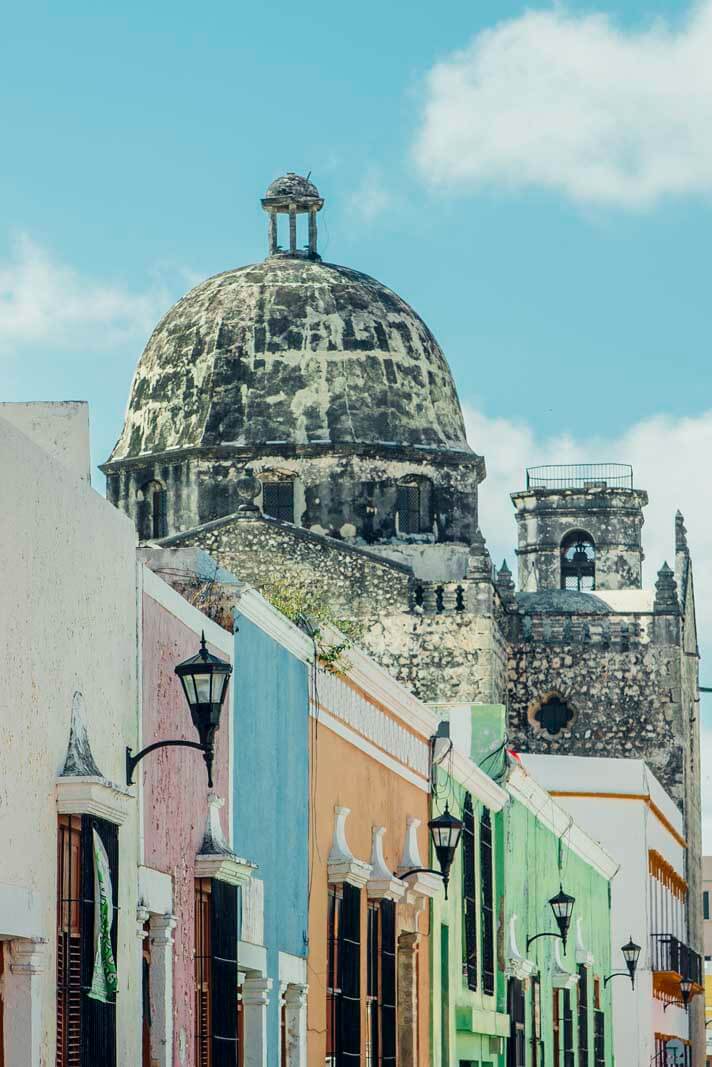 One of the best things to do in Campeche is stroll through the cobblestone streets and be amazed with the gorgeous streets one building after another. Each street is as picture-perfect as the next.
Dine on Calle 59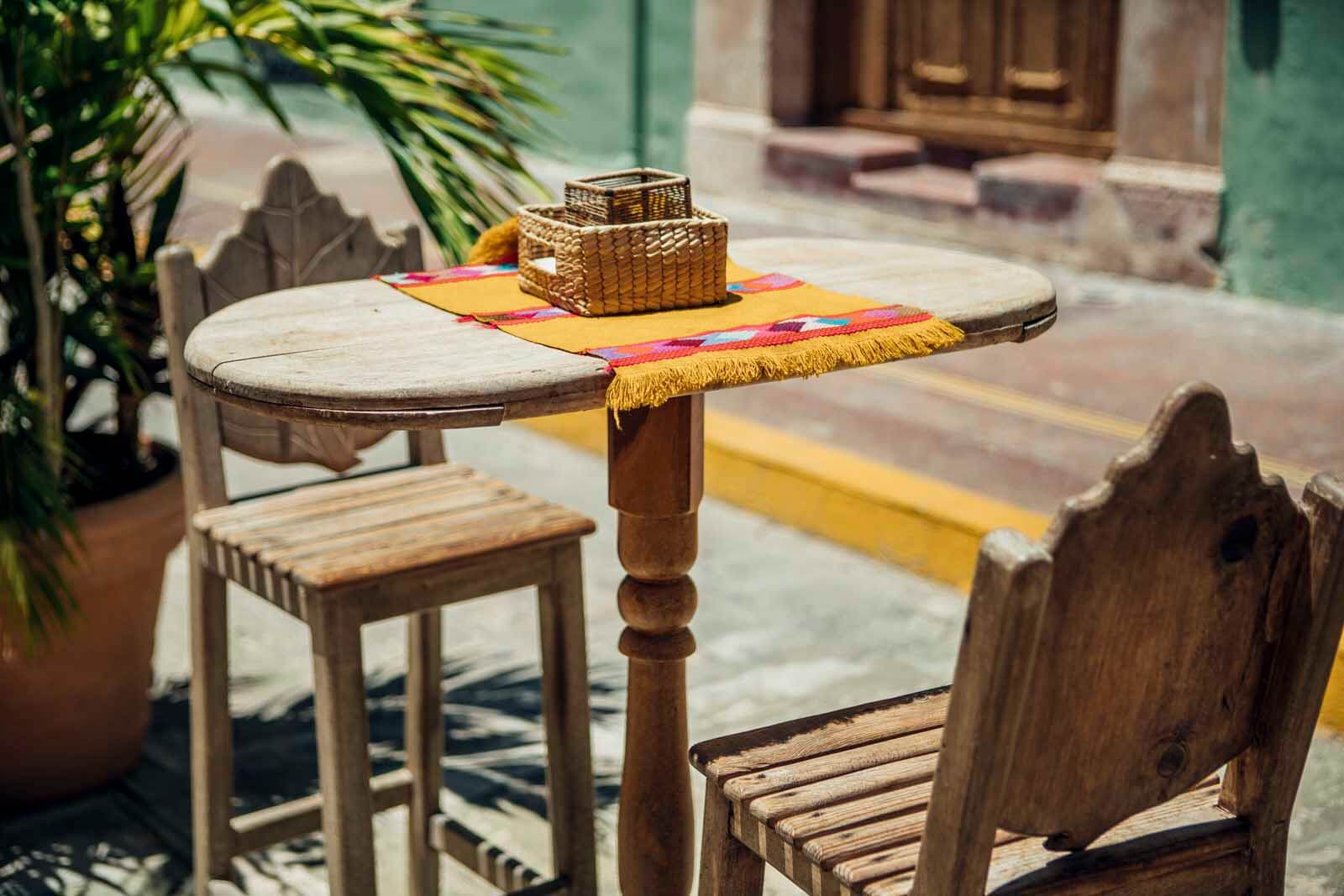 This is the best thing to do in Campeche, Mexico if you've built up an apptetite. Throughout the small fortified colorful city, there is one street that is blocked off by cars where visitors can dine on the streets.
Dining Calle 59 is one of the best places to take a break while exploring all the best things to do in Campeche, Mexico. With tons of little restaurants to choose from that have seating on the cobblestone streets this spot wins for the best atmosphere.
Better yet, many of the places have great deals and happy hours that go on throughout the day from giant mugs of local beer for 32 pesos to food specials.
Throughout our travels in the Yucatan Peninsula, we found the dining to be incredibly more affordable here compared to other destinations.
Check out the Fortress Walls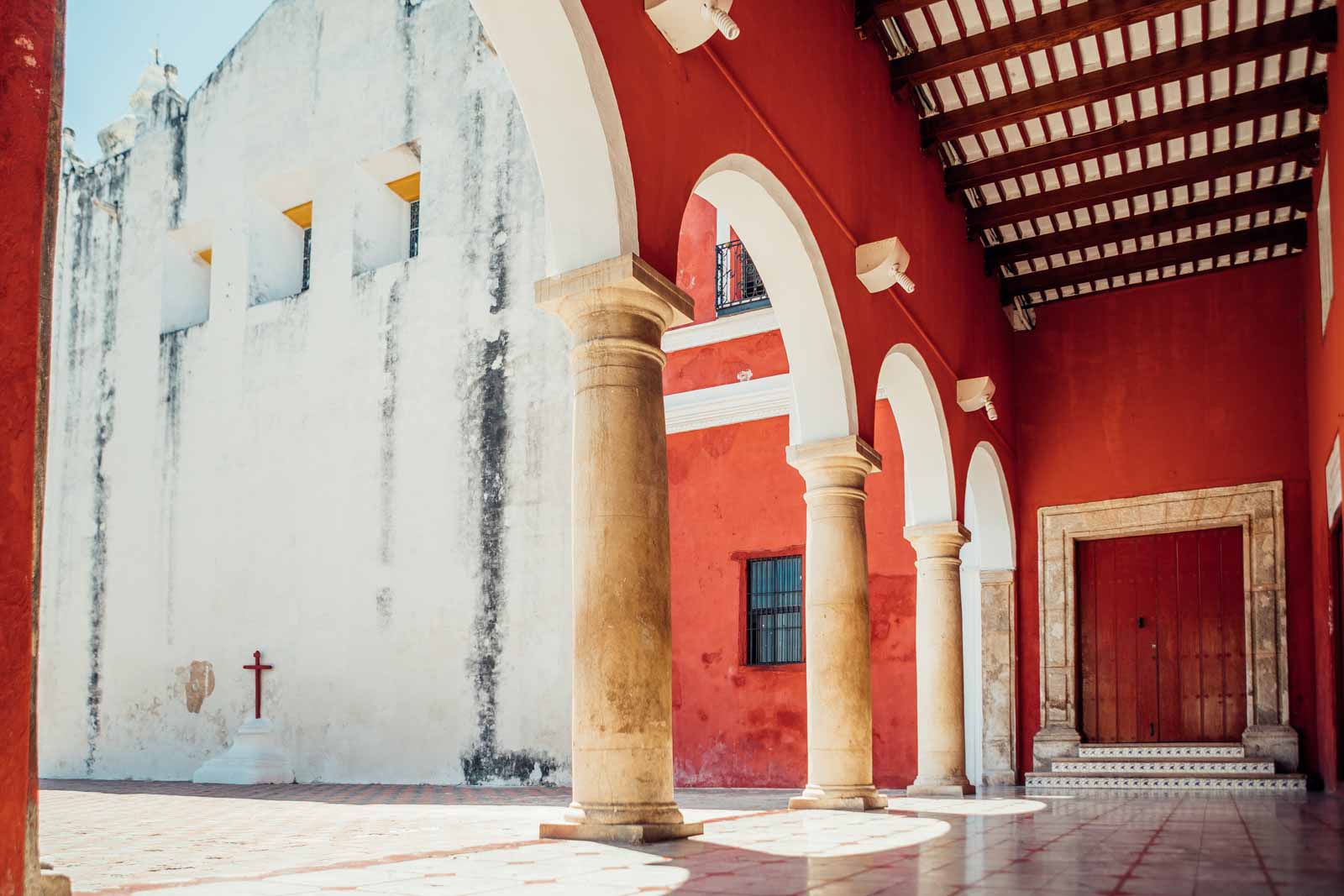 When you visit Campeche, Mexico you'll see that this tiny, colorful city is surrounded by fortress walls that were meant to keep out pirates and buccaneers from invading the inside of the city walls which worked for the most part but not always.
The walls were built after two devastating attacks and massacres, the worst being in 1663 the worst attack from pirates happened were the city walls and destroyed just about everything and killed everyone in sight.
The Spanish colonizers built the fortification walls and nine bastions which warded off most attacks.
Today you can walk along the walls and even visit five of the seven bastions as well as the museums built within the bastions like the Museum of Mayan Culture and the pirate museum to name a few.
You can fill an entire day just visiting all the museums within the city of Campeche, Mexico.
Visit both Forts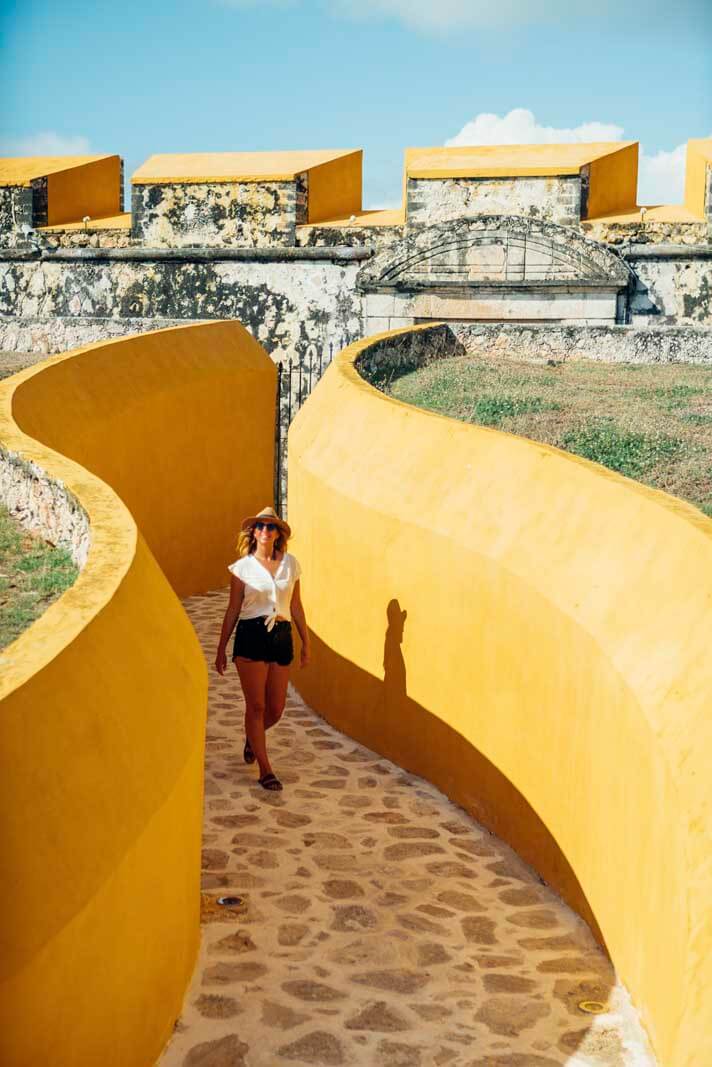 Another one of the best things to do in Campeche, Mexico is visit the outlying forts of the city that were a part of the city's ancient fortification. Both Fuerte de San Miguel and Fuerte San Jose Alto can be visited by car as they are located on the hills overlooking the city and the coast of the Gulf of Mexico.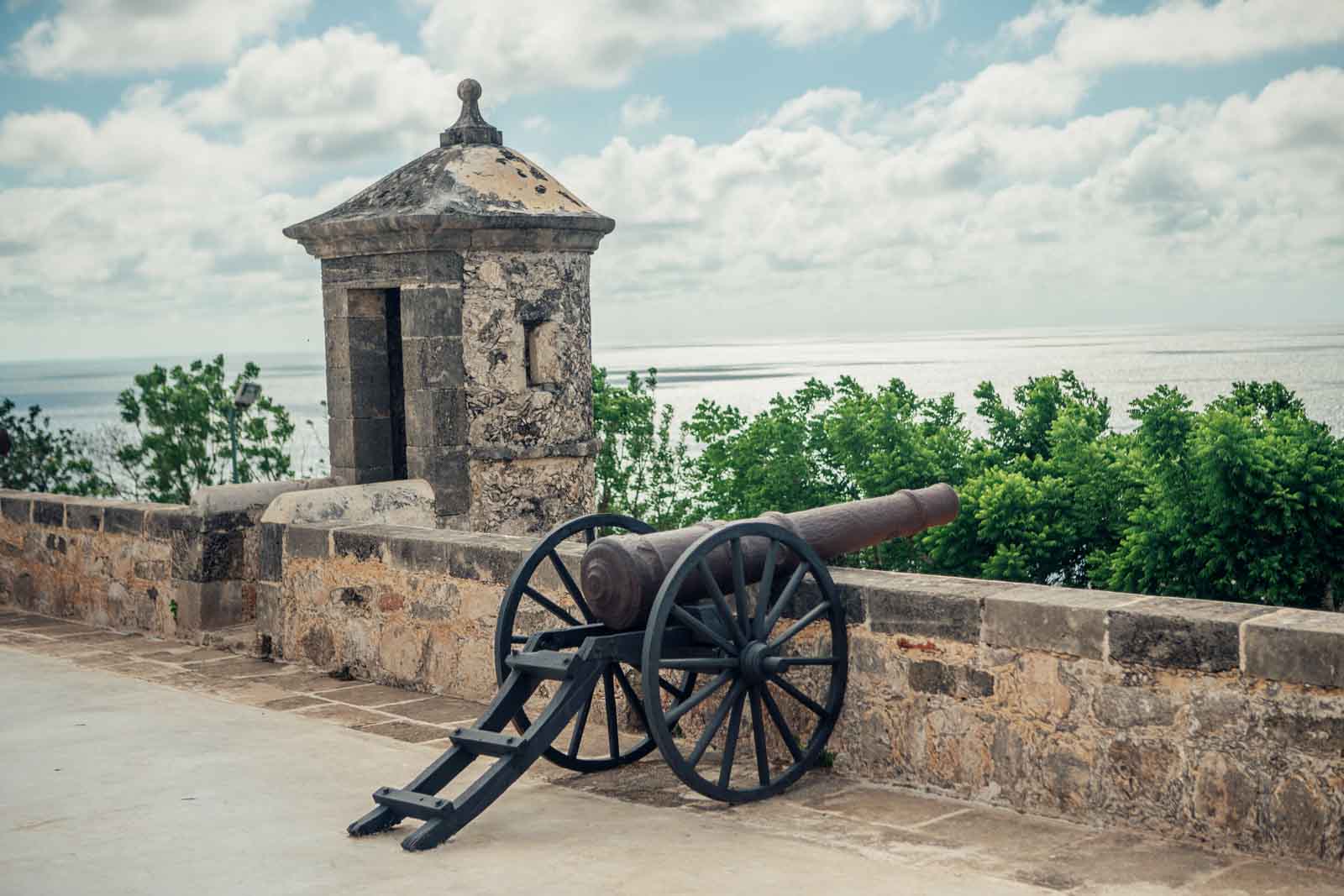 Fuerte de San Miguel offers a bit of a better view and includes a cool drawbridge, moat, and view of the coastline through the top of the fort. Dating back to the end of the 18th century you can admire the yellow architecture and old canons on display here. It's definitely worth the small admission it costs to enter.
Fuerte San Jose Alto is also a not to be missed thing to do in Campeche. While the view isn't as nice as Fuerte San Miguel, it still offers a peek at the coastline and cool museum exhibits including treasures and jewelry found at sea!
Both forts are closed on Mondays, both forts close by 5 pm on the rest of the days.
Shop for Handicrafts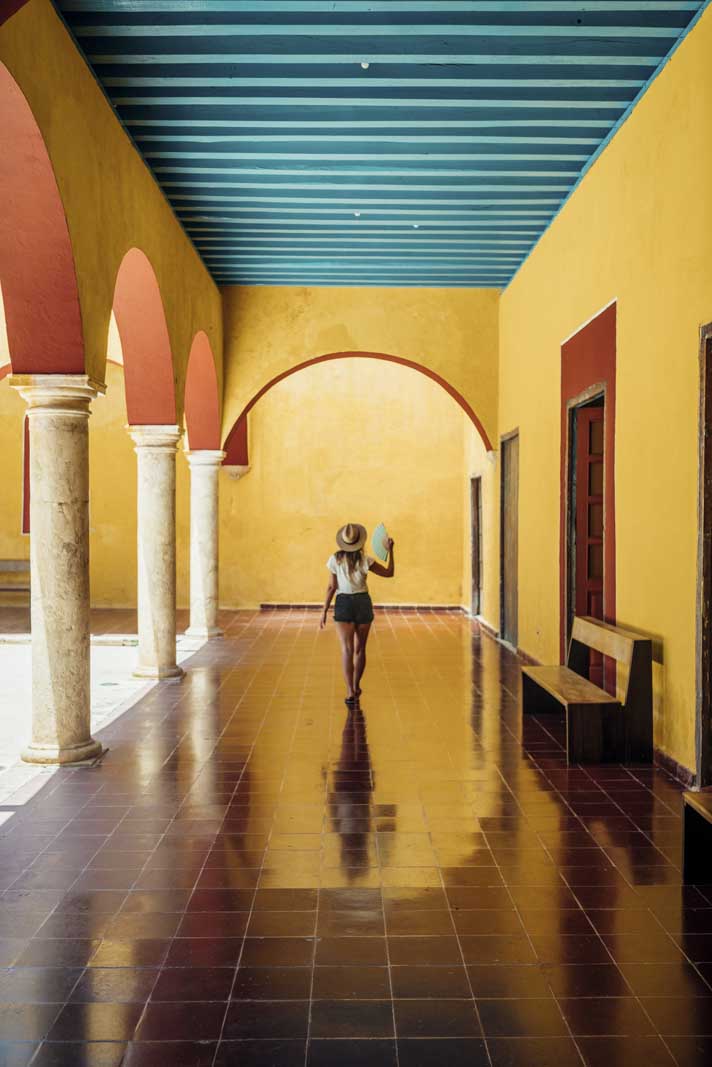 One of the best things to do in Campeche is to shop through the adorable little shops that fill the streets and look for handicrafts. There were many little stores selling local handicrafts from local woodwork to hammocks.
We only left with a turquoise hand fan to cool us off on the incredibly hot day but it was fun to do some window shopping. Had we had more space in our luggage, we would have went a bit crazier buying more of the local artisan works.
There are tons of spots around town, check them all out and take home a gift to remember the amazing colorful city by.
Go down the Malecon
Another one of the best things to do in Campeche, Mexico is enjoy the promenade or Malecon that runs parallel with the coast and Gulf of Mexico.
There are walking paths that cover the 2 mile stretch of the Malecon. You can rent bicycles or enjoy all of it or as little of it as you'd like to explore by foot.
There are even little stops with workout equipment or on the opposite side of the street tons of restaurants to choose from that have a waterfront view.
Soon, the new renovation of sculptures and fountains will be in place and draw more people to the impressive new makeover to the Malecon. During our visit we could only see baracades through this small stretch with photos of what the completed project will look like, we'd love to come back and see it when it's done.
Check out the Night Illumination Show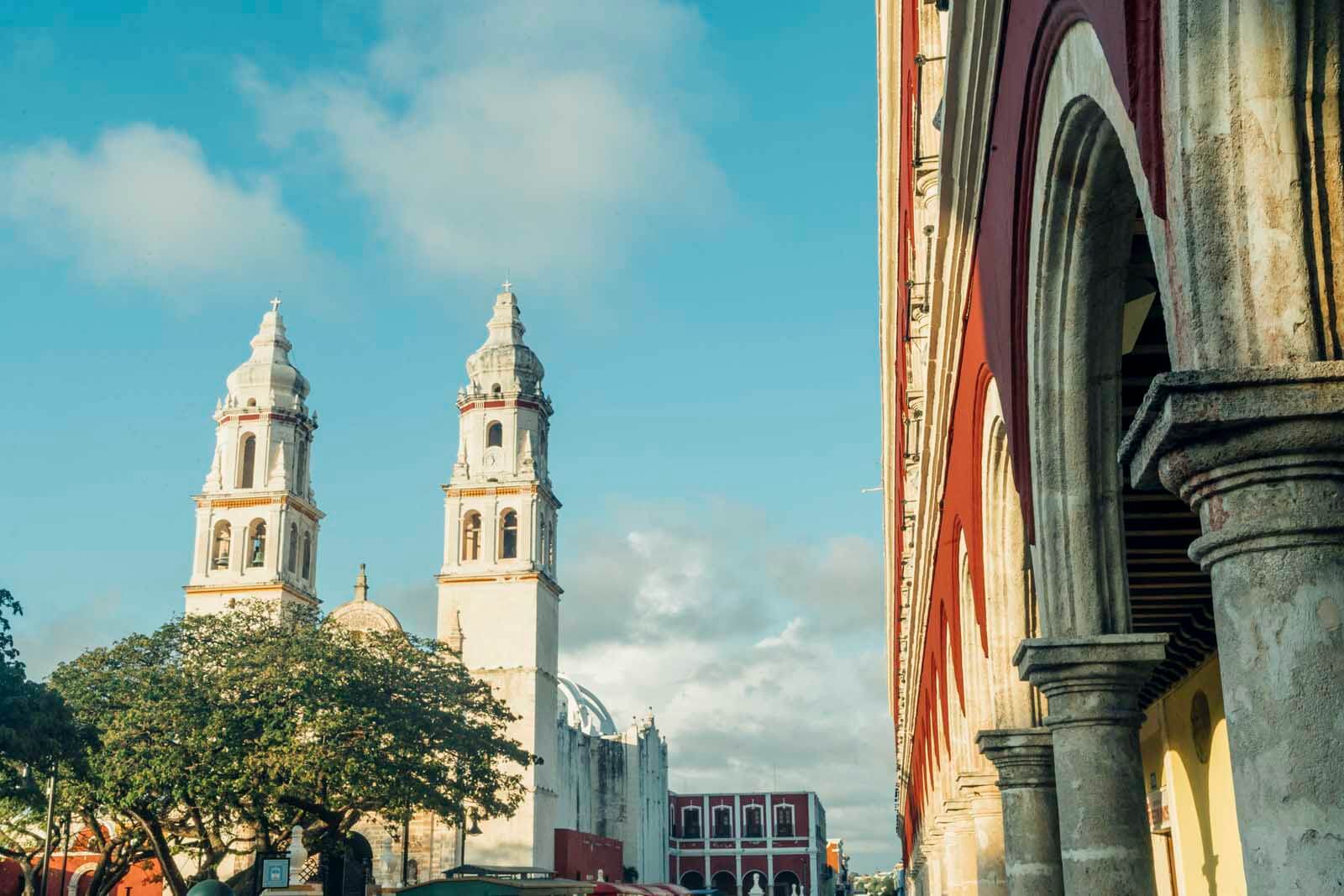 For day visitors, you might want to extend your trip and visit to Campeche, Mexico to stick around until the evening or even extend for an overnight trip for the nighttime illumination show on Puerta de la Tierra on Thursday nights through Saturday nights.
We thought it was only Friday and Saturdays (we came on a Thursday) and missed pretty much the entire show except the last 30 seconds, whoops. The show starts at 8:00 pm and runs for 30 minutes.
Where to Stay in Campeche, Mexico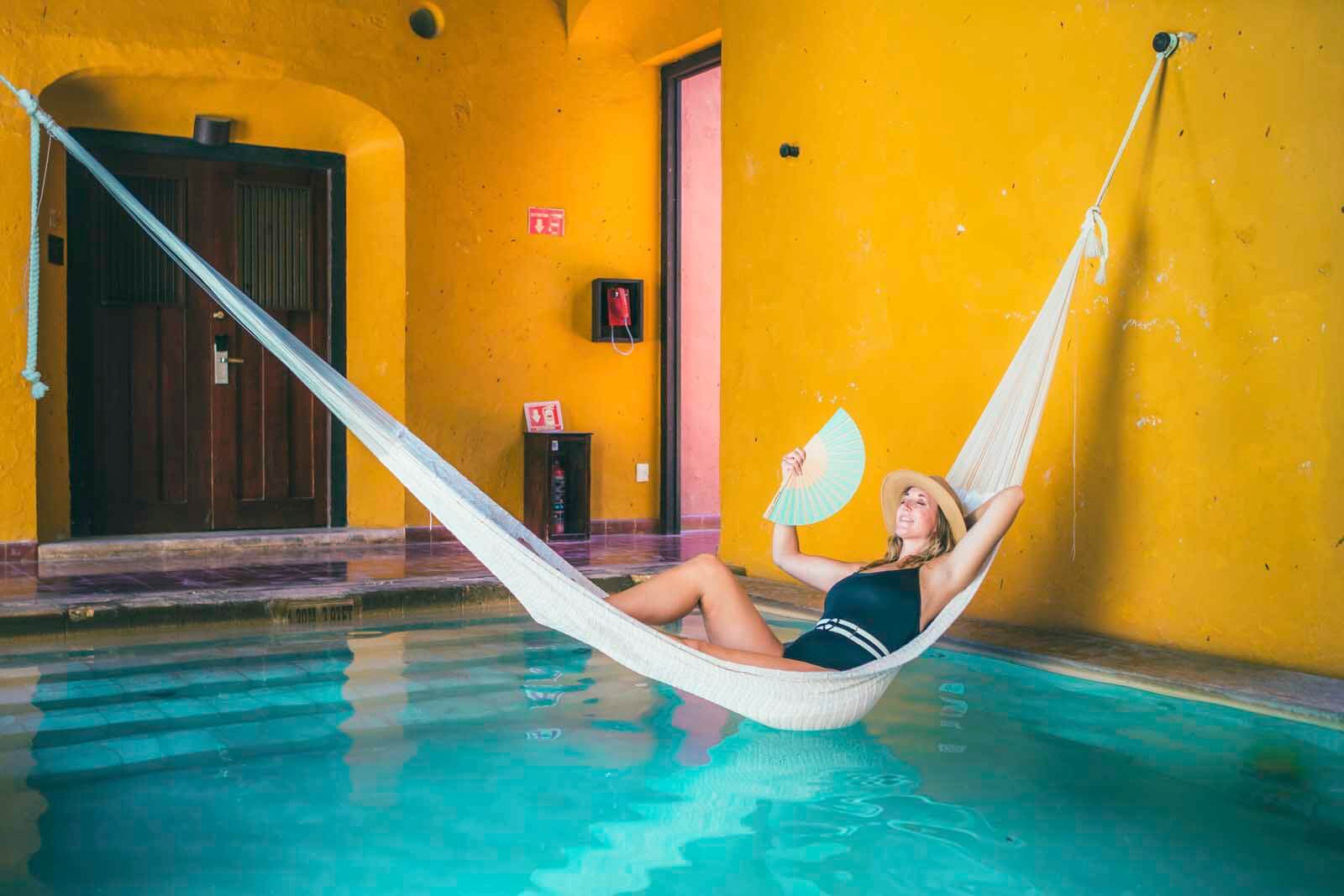 We recommend spending the night so you can leisurely enjoy all the amazing things to do in Campeche like check out all the museums, forts, and just enjoy the slower life the locals enjoy in Campeche. The perfect spot to stay in town is Hacienda Puerta Campeche.
Not a true hacienda but still as magical as one, this property by The Luxury Collection is swoon-worthy. Located in a restored 17th-century building, the interior of the hotel is incredible.
The rooms are decorated with Mayan touches and the entire property makes you feel like you've stepped back in time. The best feature might be the incredible indoor/outdoor pool with connecting chambers, open windows, and hammocks over water for the most picture-perfect setting making it the perfect place to stay when you visit Campeche.
Book Now | Compare Prices for Later | Read Trip Advisor Reviews
How to Get to Campeche, Mexico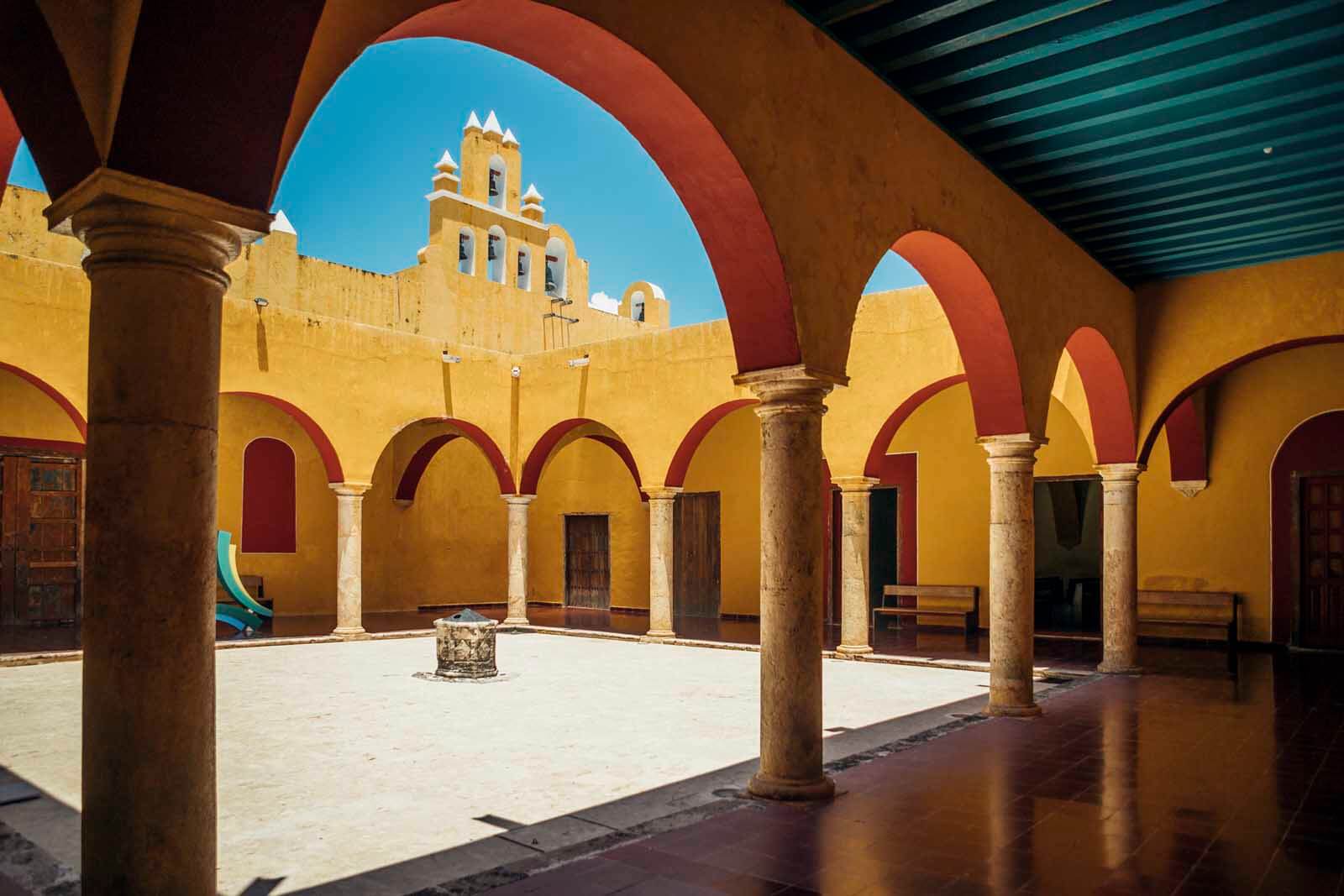 Depending on where you're coming from one of the easiest ways to get to visit Campeche, Mexico is either by renting a car at your starting destination or by using local transportation like the buses.
Buses in Mexico are a really nice option because not only are affordable but they are extremely nice and efficient. We have been on nicer buses in Mexico than we have had on long haul flights with reputable airlines. We recommend using the company ADO in the Yucatan Peninsula, you can buy your bus tickets in advance or show up and buy them in person at any bus station in any city you're at.
There is a small local airport in Campeche, Mexico too, but we only recommend this if you're coming from Mexico City as that is the most common domestic flight offered.
Driving Distance from Campeche to:
Merida: 2 hours 10 minutes, 177 kilometers
Tulum: 5 hours, 431 kilometers
Cancun: 5 hours 25 minutes, 476 kilometers
Valladolid: 3 hours 45 minutes, 332 kilometers
Izamal: 2 hours 50 minutes, 240 kilometers
Renting a car for Campeche & Travel Insurance
If you already don't have a car for your starting point we recommend renting a car in advance on Expedia.
We also recommend getting travel insurance for this trip. Many travel insurance plans also cover Collision Damage Waiver (CDW) coverage up to $35,000.
Check out our guide to how to pick the best travel insurance for a few different options depending on what your needs are and type of coverage you're looking for.
Cool Things Near Campeche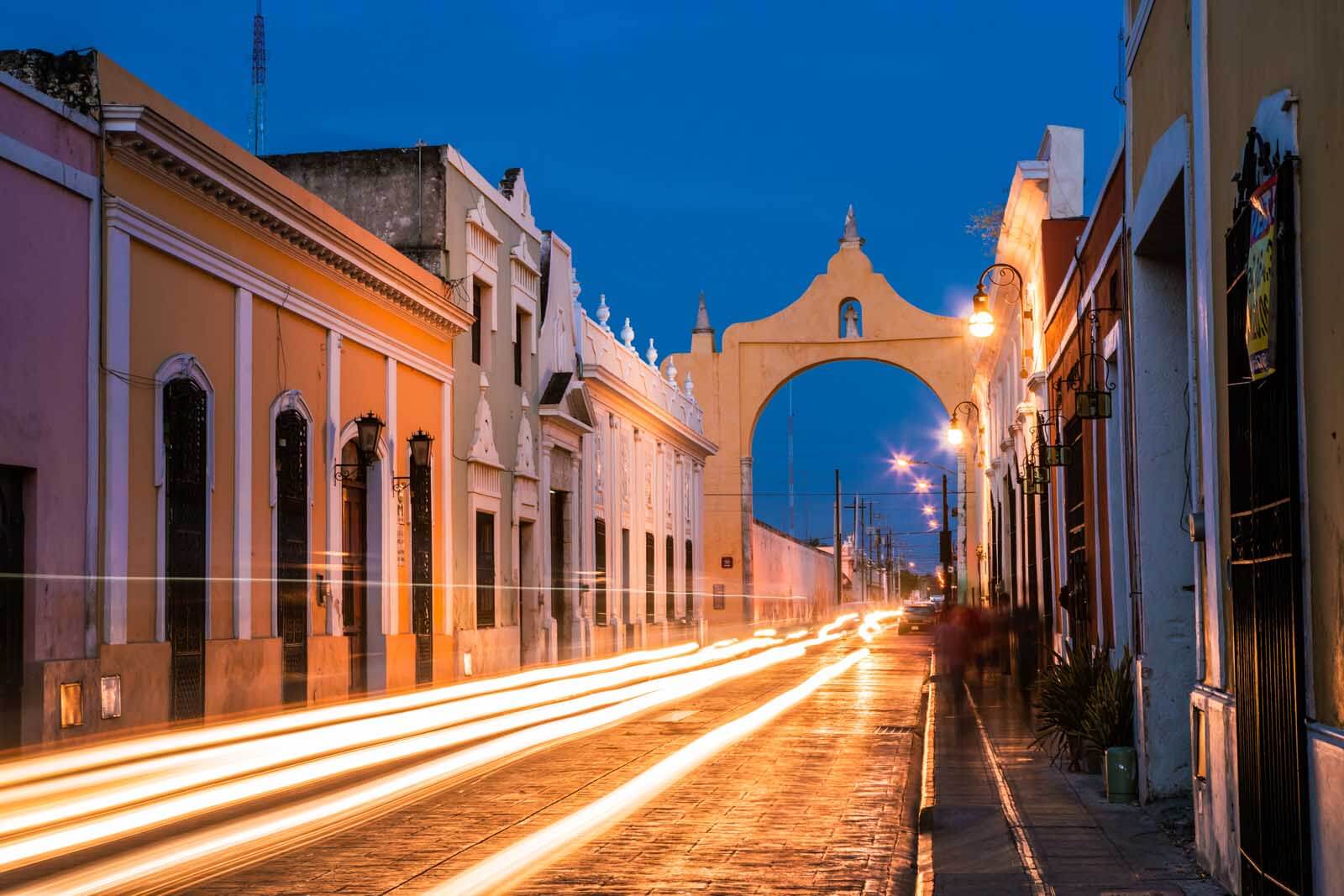 Merida
Chances are if you're coming to see all the best things to do in Campeche, Mexico you could be coming from Merida, the capital city of the Yucatan State since its relatively closeby.
You can see the colonial influence on all the architecture including the giant mansions along Paseo Montejo. Filled with gorgeous churches, neighborhoods, and homes, this is one of the most picturesque little cities we've ever visited.
Besides being beautiful there is also a killer food scene here and find just about any type of cuisine you fancy. This is undoubtedly one of our favorite places in Mexico, we recommend checking out our full guide to best things to do in Merida for more ideas.
Edzna Ruins
One of the best things to do when you visit Campeche, Mexico are the Edzna Ruins which are only an hour away by car or colectivo. These are some of the most impressive Mayan Ruins in the Yucatan Peninsula to visit.
Dating back to as early as 600 BC, which origins come from the "House of the Itzás", which has led archaeologists to believe that these Mayan ruins were influenced by the Itza family way before they built Chichen Itza.
However, unlike the other Mayan ruins whose demise came when the Spaniards came, Edzna was mysteriously abandoned in 1500. It is still an unexplained mystery today.
There is an evening light show that takes place here all year long, in the summer it shows at 8 pm and in the winter at 7 pm.
What to Pack for Campeche, Mexico
If you want to fully enjoy some of the best things to do in Campeche, Mexico you will want to come prepared. These are a few of the staple items you will want to bring if you're exploring the Yucatan Peninsula.
Make sure you have insect repellent or you will be sorry!
Also, the sun is hot down here. Be prepared and bring sunscreen. If you plan on going to cenotes you will not be able to wear regular sunscreen as the chemicals harm the environment. You will need to wear biodegradable sunscreen which is very difficult to find once you are in Mexico so we highly recommend purchasing it in advance.
Here are a few other great ideas for what to pack for your trip to Mexico.
---
Found this guide to all the best things to do in Campeche, Mexico helpful? Bookmark for later or share the love below on Pinterest! Happy travels and we hope you visit Campeche soon!