Looking for the best things to do in Pittsfield, MA? We got you! This guide will cover how to enjoy a great weekend in Pittsfield, Massachusetts in the heart of the Berkshires!
Located in the center of Berkshire County in Massachusetts, Pittsfield is the perfect base for exploring the region or just spending a weekend in Pittsfield is worthy enough for a getaway in its own right! This is a popular escape for New Yorkers, being just under a 4 hour's drive from the city.
This region is not only known for its incredible outdoor recreation with ample opportunities to hike in the mountains, lakeside lounging, or in the winter months enjoy the ski resorts but it's also famous for its performing arts scene with world-renowned venues in the Berkshires like Jacob's Pillow and Tanglewood not to mention there are many more in each of the towns, world-class museums, and more cultural institutions and festivals that attract visitors and lovers of the performing arts. All in addition to being a destination that's attracted and inspired creatives including literary legends.
One of the best things to do in Pittsfield is to also enjoy the local venues, which there are three in a small town, dine at the incredible restaurants, take in the incredible outdoors, and visit the great museums of Pittsfield – all of which are featured more in depth below, making this truly one of the best towns in the Berkshires to spend a weekend in!
So without further ado, here are the best things to do in Pittsfield, MA for an unforgettable weekend getaway or a trip to the area exploring all the best things to do in the Berkshires region!
How to Get to Pittsfield, Massachusetts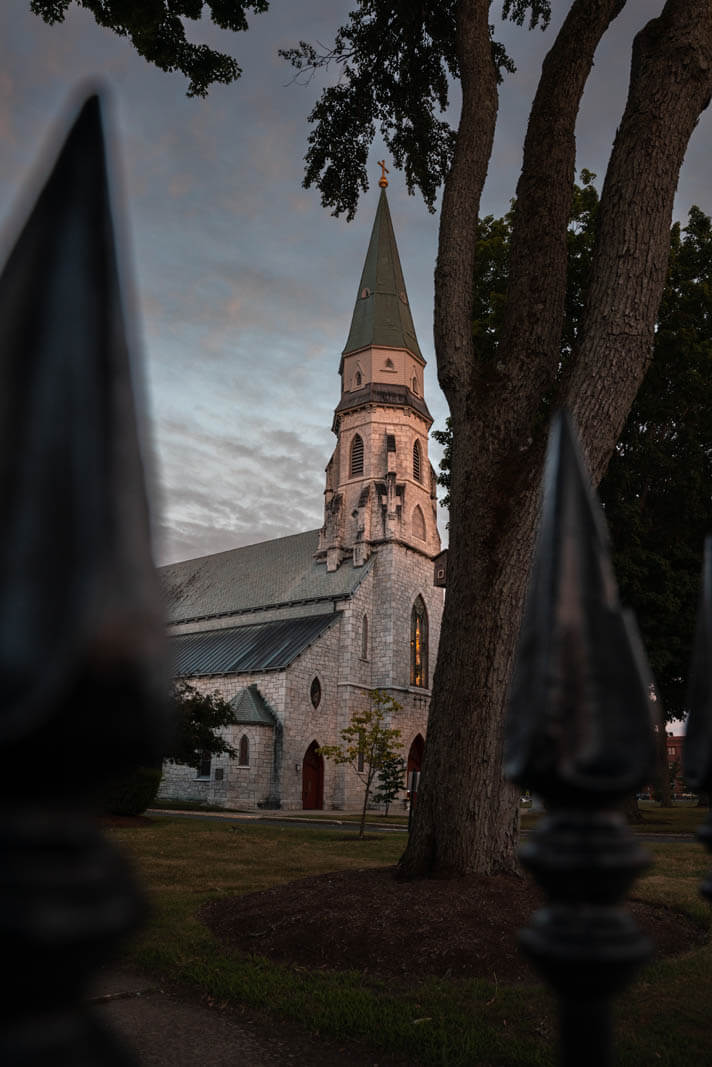 Without a doubt, the best way to explore the Berkshires is by car so that you can freely explore the region and all the amazing towns and things to do here. That being said, you can enjoy an incredible weekend in Pittsfield (like we did) without a car too. You'll be limited to exploring all the great things to do in Pittsfield and can arrange for transportation once you're here to check out some of the things to do near town.
There's actually an Amtrak station in Pittsfield and being that the Berkshires are a popular getaway for New Yorkers like ourselves, they started operating a new train service to help you enjoy the perfect weekend in Pittsfield on the Berkshire Flyer.
This seasonal summer route offers weekend trains from New York City's Moynihan Station (Penn Station) to Pittsfield. The train departs from NYC on Friday afternoon with a return train from Pittsfield back from NYC on Sunday afternoons giving you the perfect amount of time to enjoy a weekend in Pittsfield.
Many New Yorkers don't have cars, so this is a great escape to the Berkshires without needing one. We recommend booking a hike with Berkshire Camino (featured later in this guide) who will arrange for a hike for you and during that day you can schedule a few other stops surrounding town.
Alternatively, if you're coming from anywhere else or aren't able to plan around the actual Friday-Sunday for a weekend in Pittsfield, your best option is car.
What to do During a Weekend in Pittsfield, MA
Berkshire Museum
It makes sense that it's home to a quality museum because Pittsfield and the Berkshires are full of history! If you're looking for things to do in Pittsfield, you could easily spend a few hours at the Berkshire Museum!
It's actually pretty impressive how much this small local museum contains. There are multiple levels with art, natural history, and regional exhibits, including both permanent and rotating ones, so each time you visit there's something new.
The Berkshire Museum definitely has a lot of hands-on stuff geared towards kids, but they put an emphasis on exhibits for all ages. You can easily have fun as an adult without children.
The ground floor is dedicated to the natural world with stuffed animals behind glass, dinosaur fossils, regional flora exhibits, and an entire section on minerals and gems. It also has a beautiful area called the Hall of Innovation with lots of informational stuff by local inventors and famous people!
In the basement, you can visit a small aquarium and reptile exhibit with poisonous dart frogs, tarantulas, tropical fish, and more. And on the 2nd floor are stunning art exhibits largely highlighting art theory and famous artists from the Berkshire region.
But here, the best part is the rotating exhibits. In the past, there have been installations around tattoo art, the inventions of DaVinci, and the indigenous communities of the region.
The Berkshire Museum is open Monday through Saturday from 10 AM to 5 PM. There's a decent admissions fee for adults and children. And if you drive, keep in mind that there's no parking at the museum, but you should be able to find free street parking, as well as metered parking spots.
Bousquet Mountain Ski Area
You'll find the Bousquet Mountain Ski Area on the southwest side of Pittsfield, Massachusetts. Originally, a man named Clarence J. "Clare" Bousquet ran a mink farm on the land, but it went under during the Great Depression. Skiers had always asked to practice on his mountainside, so he opened a ski area in the 1930s.
Bousquet was an innovative guy who improved on the design of rope tows (surface lifts) with hand grips, making them safer. This made Bousquet and his ski area super popular, and at the time, his rope tow was the longest in the world. Bousquet Mountain was also the first ski area to offer night skiing. Bousquet worked with General Electric to install groundbreaking flood lights on poles lighting the slopes!
Today you can ski 24 different runs across the 200-acre ski area. There are 2 chair lifts and 2 surface lifts that you can pay to ride all year round. In the winter, there's also snow tubing, snowboarding, and a full terrain park. And there are different programs for men, women, and children, including kids camps and an adult racing league.
In the summer, the park completely transforms offering different types of outdoor activities that can be enjoyed here. There are fire pits outside for visitors to enjoy (available year-round too). There's also an annual summer music concert series and a few hiking trails that start at Bousquet Mountain.
Throughout the year there are local events open to the public for a small fee. Attend outdoor movie nights through the off-season or watch local groups ski race. There are also pro events where you can come watch professional skiers take to the slopes!
If you're hungry, there's The Lift Bistro Pub that's open from 4 to 10 PM for dinner throughout the week and for brunch on Sundays from 11 AM to 3 PM. This is also where the lodge is located, which was completely rebuilt from the ground up next to the Lift Bistro Pub!
And while there are no lodgings at the ski area, there are options nearby like the Berkshire Mountain Lodge and the Hilton Garden Inn Lenox Pittsfield. Plus, you're less than 15 minutes from downtown Pittsfield where there are plenty of places to stay.
Take a Hike with Berkshire Camino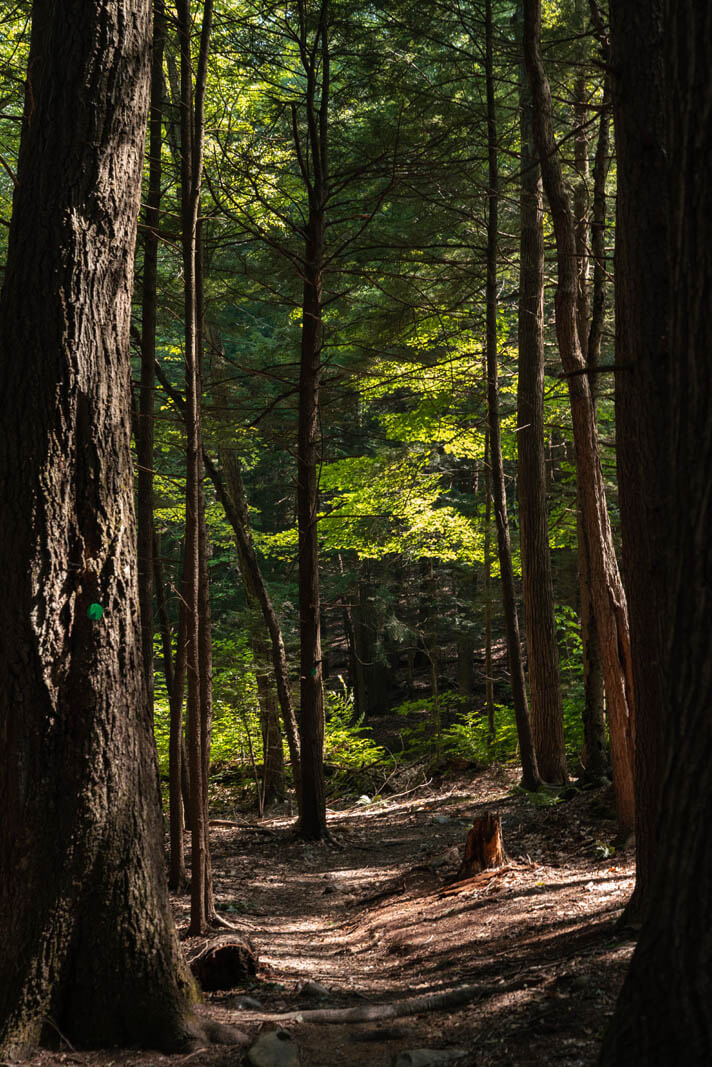 One of our favorite things to do in Pittsfield was a hike with Berkshire Camino! Mindy Miraglia founded the company in 2020. Berkshire Camino was born after she went on a soul-seeking pilgrimage on the Camino de Santiago, a 500-mile hike in northern Spain.
The experience pushed her outside her comfort zone and she came to love the power of hiking outdoors and the community it can build. Today you can tell she has a true passion for what she does by sharing hiking experiences with guests and visitors to the Berkshires.
Berkshire Camino offers a large range of day hikes, multi-day hikes, and private hikes. You can find a list of day hikes on their website and book them online. But you're encouraged to call and book a multi-day hike or curated guided hike. The company will work directly with you to create a satisfying experience tailored to what you want out of the experience.
They offer hikes throughout the year and any season through the beautiful region.
We were only in Pittsfield for the weekend, so we did a short hike at the Boulders (which is right next to a section of the famous Appalachian Trail) and then enjoyed scenic lunch at Pittsfield State Forest. You can choose day hikes in the Berkshires that are only a few hours up to a whole day. A lot of them include sightseeing with historic points of interest. It's a great way to spend a day outdoors while learning about this part of Massachusetts.
We are hoping to go back and do a multi-day hike to see and experience the area by foot!
Pittsfield State Forest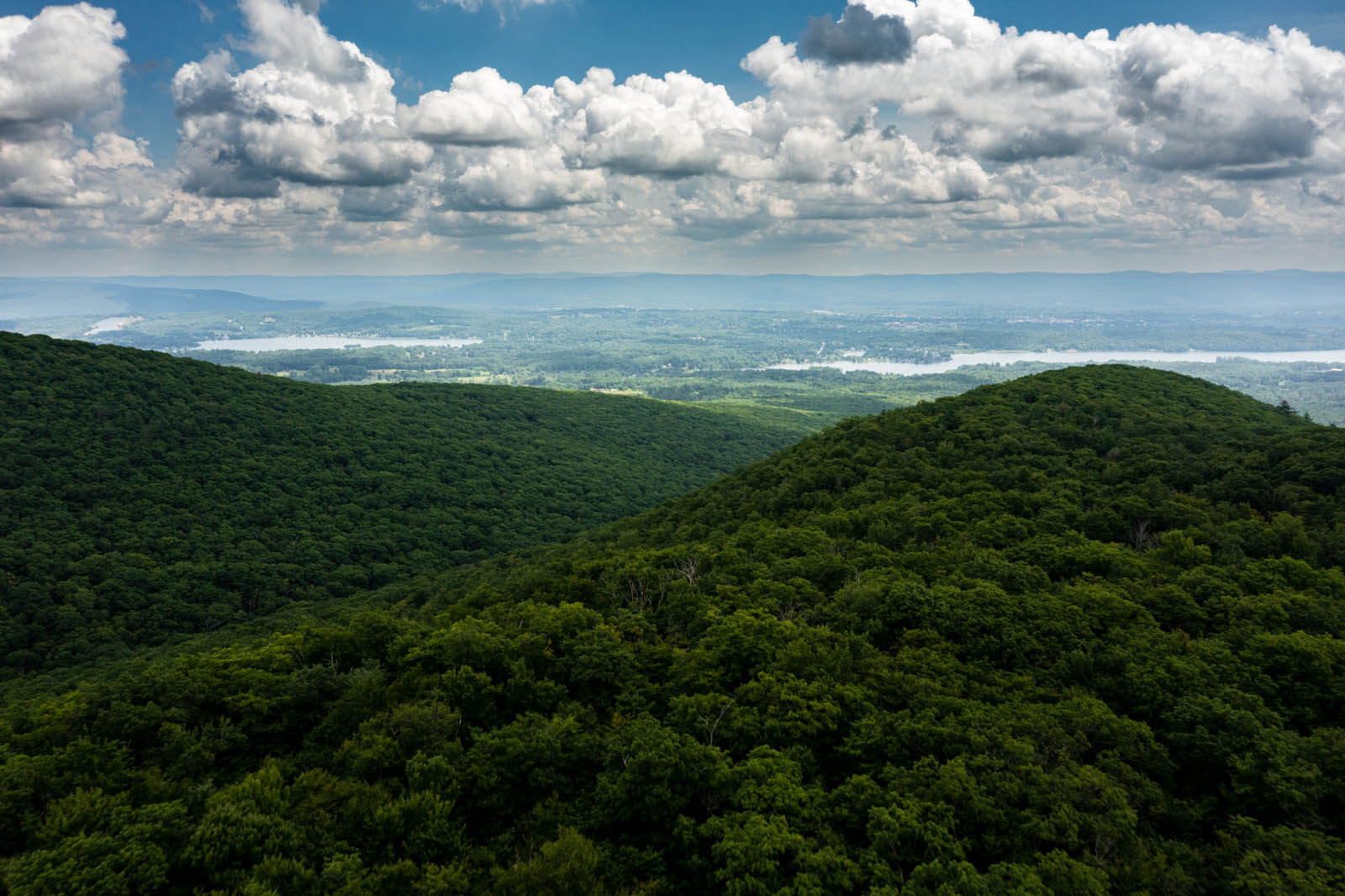 For more hiking, head to Pittsfield State Forest northwest of Lake Onota along the New York-Massachusetts border. Outdoor lovers have all kinds of options in this sprawling 11,000-acre forest in the Berkshire Mountains!
There are 30 different hiking trails that range from easy to difficult. You can also go mountain biking here, horseback riding in the summer, or cross-country skiing in the winter. And if you have a wheelchair, you'll find several accessible walking paths.
The Pittsfield State Forest is home to Berry Pond, which is perfect for swimming, or you can take out a canoe or kayak. And lots of people go fishing there or on Berry Creek. Just be aware that some hunting is allowed when it's in season, so we suggest wearing bright clothing when you decide to hike during this time of year.
You can go camping at several different campsites with showers and firepits. There are even grills and picnic tables, as well as a covered pavilion at the old Pittsfield State Forest Ski Lodge. One of the most popular campsites is on top of Berry Mountain with great views and on a clear day you can even see the Catskills!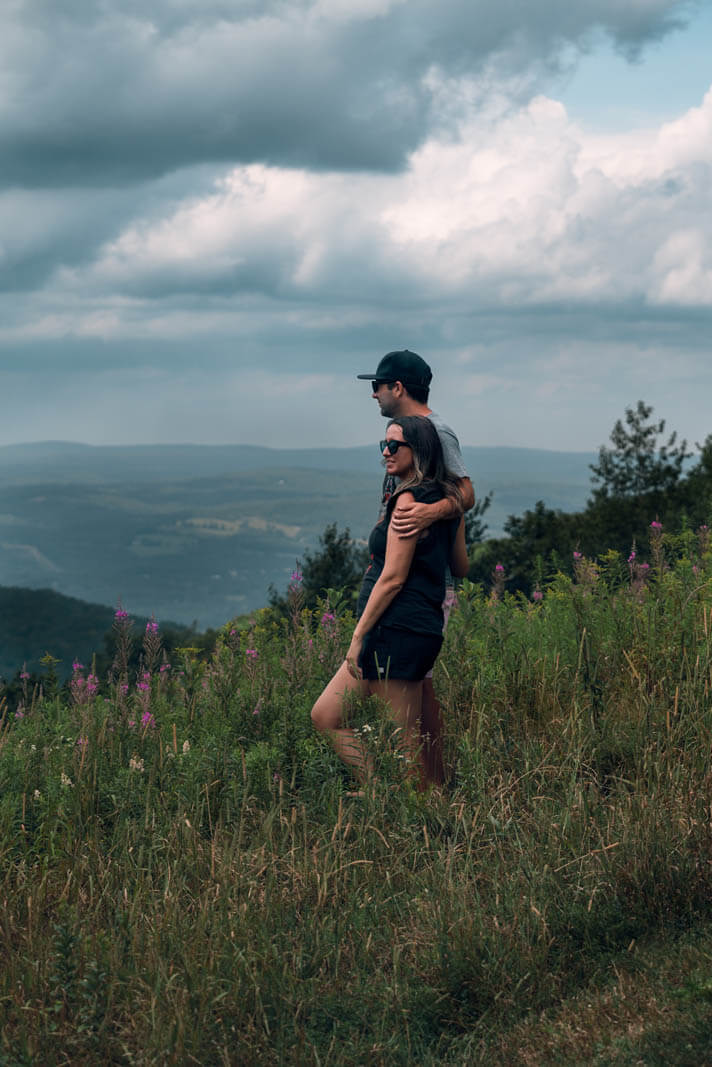 In fact, our favorite part of visiting the state forest was the Pittsfield State Forest NY Overlook! It's just north of Berry Pond along Berry Pond Circuit Road. You can park and take in New York and the Catskill Mountains off in the distance!
This is just a beautiful place to get out into nature for the day. It's full of moss-covered rocks, waterfalls, and creeks with wooden walking bridges over them. The Pittsfield State Forest is lush and green in the summer and full of autumnal foliage in the fall.
Herman Melville's Arrowhead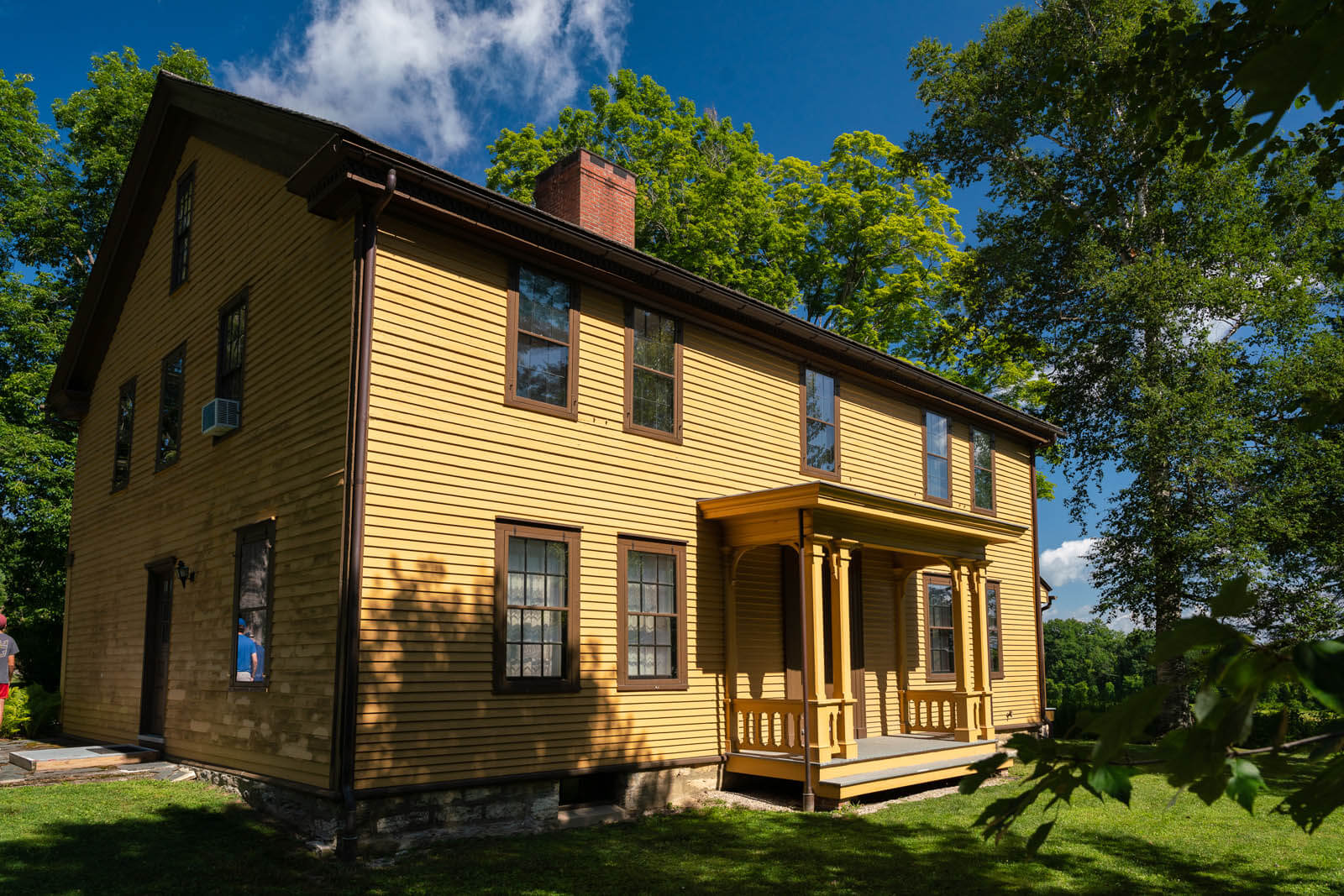 For all fans of literature, this is one of the best things to do in Pittsfield, MA for you! Over the years a large number of creatives like artists and writers have found inspiration in the Berkshires. But one of the most significant of these creatives is Herman Melville, who wrote literary classics like Moby Dick. He lived at Arrowhead (80 Holmes Road) in Pittsfield for over a decade, and you can visit and tour the home today.
The house was originally built in the 1780s. Melville bought the house because it was near where he grew up visiting family. He lived in the house, which he named name Arrowhead, from 1850-1863. The beauty of his surrounding area inspired Melville and he wrote some of his most famous works during this time. His desk was actually placed in front of a window that had a stunning view of Mount Greylock which resembles the shape of a whale's back. He actually wrote Moby Dick here, along with three other novels and dozens of short stories.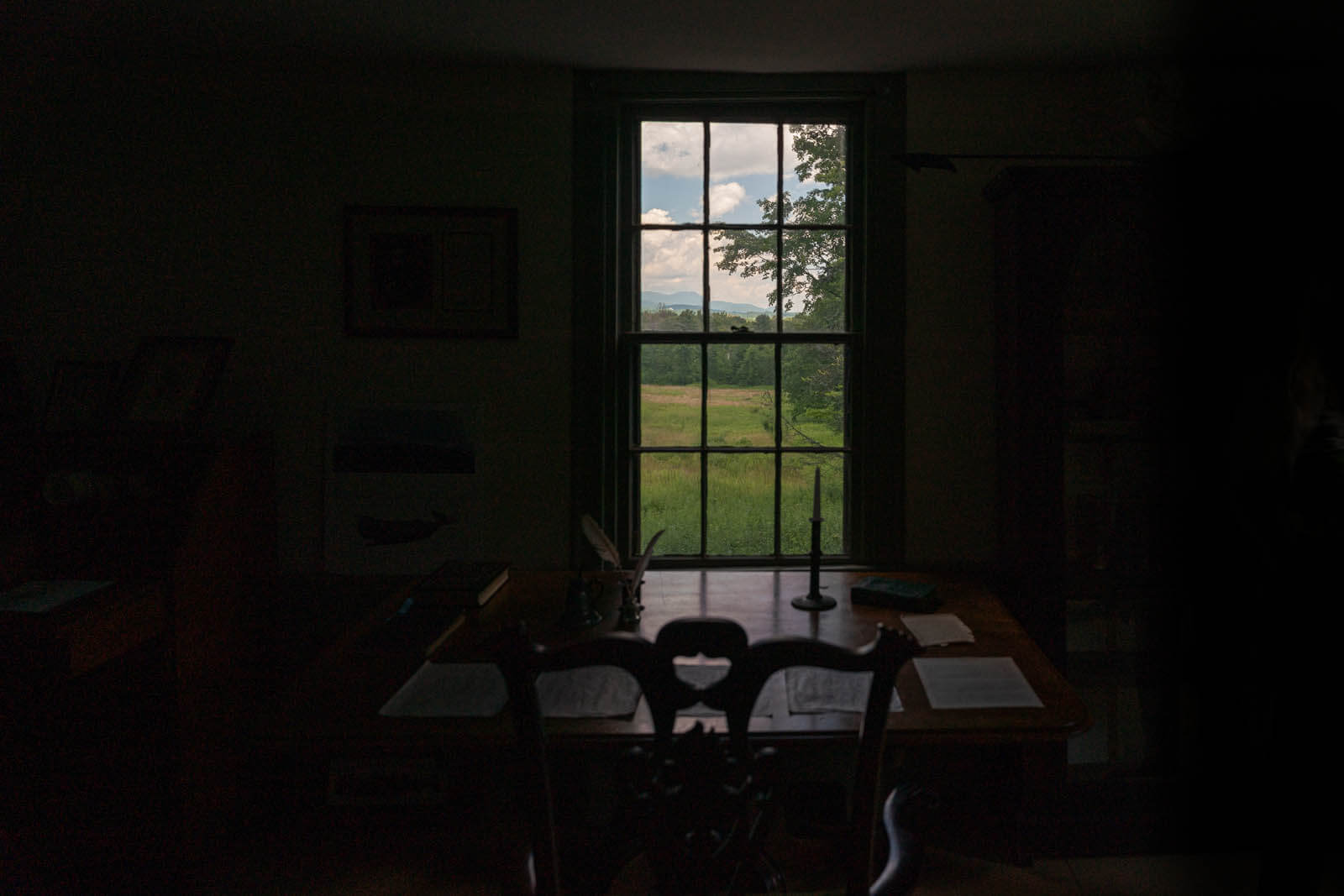 You can read the writer's work and see where he drew his inspiration from his time in the Berkshires all over the place. Melville built a veranda, or a piazza, where he would write while enjoying views of Mount Greylock. He had a book of short stories called The Piazza Tales which was named after this feature of the house. One of the short stories, Pierre, was even dedicated to Mount Greylock!
Arrowhead got its name because Melville found many arrowheads in the dirt on the property when he was farming. Long before the writer and his family lived there, much of the Pittsfield area was inhabited by the Mohican people. They were forcefully removed from the land by the US government in the early 19th century.
Today, the house and some of the surrounding acreage are registered as a national historical landmark. You can visit the house museum that's been restored to look like it did when Melville lived there. They offer seasonal guided tours every day but Tuesday and Wednesday when they're closed. An hour-long tour is available to join every hour from 10 AM to 3 PM each day for up to 12 people at a time. There's an admission fee for the tour, but parking is free.
While you're here, you can go on a nature walk. Melville really loved the land here and found many places inspiring. You can walk the Melville Trail, which takes you to a dozen scenic locations, a few of which have educational markers. And there's a link you can follow for a self-guided nature walk.
There was even a Melville reading happening while we were on our tour taking place in the barn where you can find a gift shop full of items including many of Melville's most famous works.
Downtown Pittsfield Foodie Scene
While you're finding things to do in Pittsfield, MA, don't forget to take advantage of the great food scene here. We found so many great places to eat across town during our weekend in Pittsfield.
A must-visit breakfast spot is Dottie's Coffee Lounge on the corner of North Street and Maplewood Avenue. It's a local institution with great atmosphere and amazing breakfast sandwiches and bowls to try. If you've never tried Bear Butter (a locally made nut butter) they have some great breakfast items that include this ingredient! They also serve locally roasted coffee.
Another quality place for breakfast is Otto's Kitchen further south on East Street and Wendell Avenue. It's a classic American diner with a local, laid-back vibe. Bring your appetite, because their servings are huge!
And when you're ready for lunch, we recommend The Marketplace Café. You'll find this sleek, contemporary café on North Street next to the Beacon Cinema near Burbank Place. Everyone can find something on their menu of soups, salads, sandwiches, wraps, and more.
For dinner in Pittsfield, Massachusetts, we loved Mission Restaurant! It's a tapas place where you can sit back, relax, and enjoy a good drink and live music. You can also check out District Kitchen & Bar on West Street between McKay Street and North Street. This place is all about their rotating list of craft beer. The restaurant is beautiful with modern rustic interiors and a local seasonal menu.
After dinner, one of the best things to do in Pittsfield is grab dessert at the famous King Kone! Look for a walk-up window on the corner of First and Fenn Street. For 35 years they've been serving soft serve ice cream heaping a mile high. Their cones come in signature "boats" and you eat them with a spoon!
And while there aren't many nightlife options in Pittsfield, Methuselah Bar and Lounge is a must! The cocktails are excellent and the atmosphere is a lot of fun.
Stroll Downtown Pittsfield
One of the best things to do in Pittsfield is to honestly just take a stroll around and admire all the beautiful architecture and use this an opportunity to pop into the little shops you find along the way. If you didn't already grab yourself a soft serve ice cream cone from King Kone, this is a great time to do that as well!
We were taken aback by how many beautiful churches there were in Pittsfield, we counted quite a few as we were wandering around and couldn't help but admire the architecture.
Other impressive and pretty buildings we liked walking to included the City Hall, the National Bank Building, and Berkshire Bank Building to name a few. For being a small town, they really have beautiful architecture and nice 19th-century storefronts.
If you're wanting to enjoy some shopping check out Museum Facsimiles which is a gift shop full of different knick-knacks, home decor, and gifts or check out Dory & Ginger which is connected to Hotel on North for a beautifully curated home goods store. We really liked Clark Vintage Lighting which had a cool collection of antique lighting fixtures you can purchase from the 1800s – 1960s! They also do restoration work and other cool custom work if you're looking for something special for your home – honestly, I am surprised as to how much we loved this store, it's worth checking out!
Hancock Shaker Village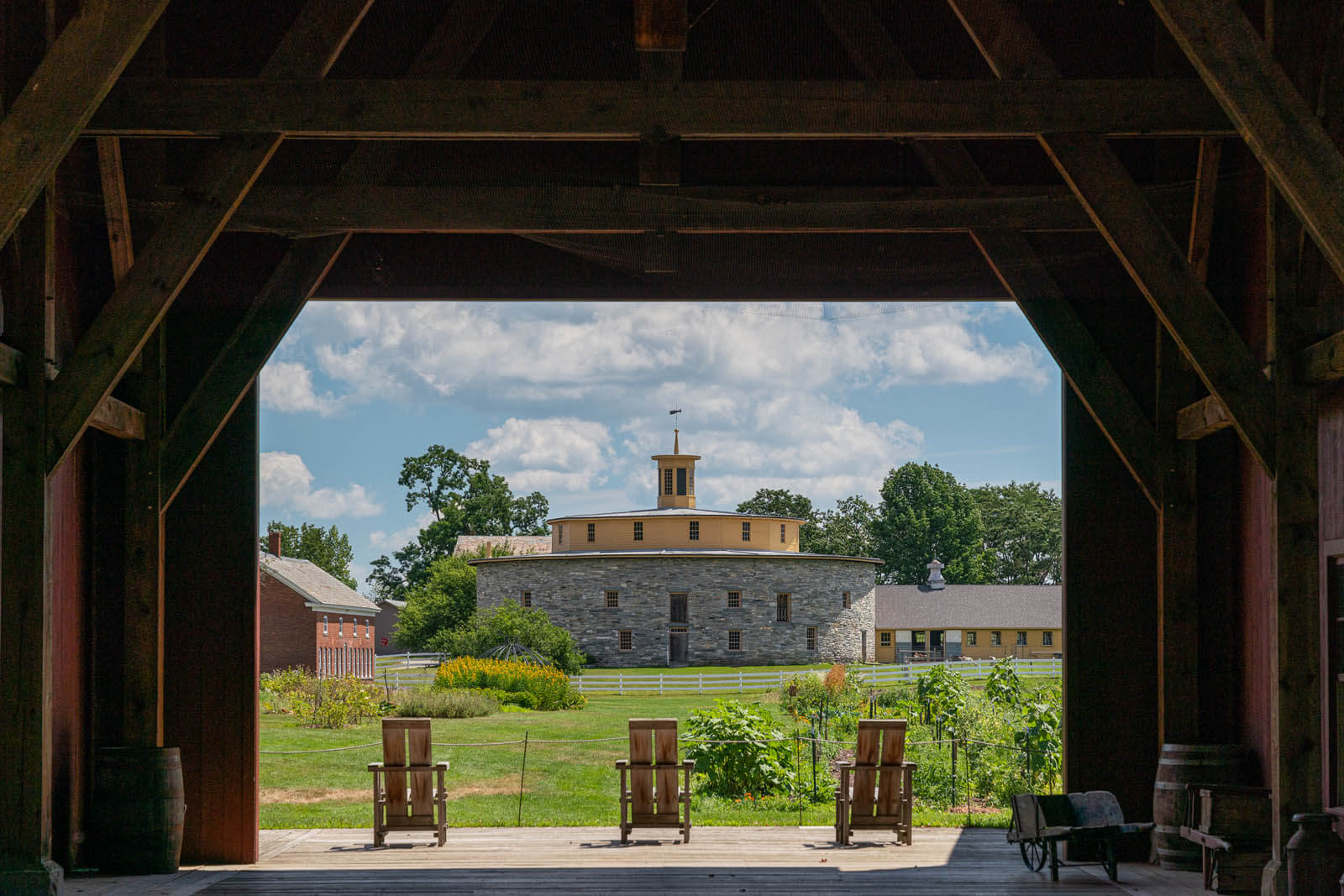 For more historic things to do in Pittsfield, visit the Hancock Shaker Village. This an interesting spot where a Shaker community once lived. Today it's a living museum where you can walk around and see how they lived on the farm from day to day.
The Shakers were an interesting sect of Christians dating back to the early 18th century starting in England and settling in Colonial America. The Hancock Shaker Village was started in the 1780s. At its height, Hancock was the 3rd largest Shaker village in the US with 300 believers.
Their beliefs and practice were interesting. They basically lived in a self-sustaining commune, practiced pacifism, believed in gender equality, had anti-slavery views, and were also celibate (believed in adoption but I am left to wonder if their celibacy is why this religious group is pretty much non-existent with only around ~2 known Shakers left).
Hancock Shaker Village was a thriving dairy and farming village until 1959 when they sold the land off. Today, the religion is almost gone, with just a few followers left in Maine.
We suggest taking a few hours during your weekend in Pittsfield because the area is large and you can join various tours here. Walk around and see preserved buildings, the barns are pretty fascinating but that could be the farm girl in me.
You'll learn how the Shakers lived and see presentations, like how to recognize Shaker craftsmanship or how to churn butter. There's a farm with livestock and gardens. Stay and have lunch at the café that's open when the museum is open. The cafe serves up great grilled cheese sandwiches, just keep in mind that this isn't fast or quick food, so be sure to order before you're starving.
Hancock has regular events for children and adults. If you're here at the end of September, there's an annual country fair. And in October you can get tickets to after-hours haunted ghost tours!
Onota Lake
Onota Lake (or Lake Onota, depending on who you ask) is a popular place in Pittsfield, especially in the summer. On the east side of the lake is Onota Lake Beach, a great sandy beach. There are tons of picnic tables around, grassy areas, and shade trees. It's a nice place to have a picnic. And nearby in the woods, you can walk paved nature trails.
Close to the shore, you'll see people canoeing, kayaking, and paddle boarding. Further out, there are usually tons of different boats. If you want to rent a boat, the Onota Boat Livery is on the northern side of the lake.
The lake is a popular place to fish, and most people find success on the southeast shore. There's a fishing dock there near the boat launch. Brown trout and northern pike are the most common fish caught here and they can be massive! But there are several other species of fish, including bass, rainbow trout, pike, and even catfish on occasion.
Especially because most of the things to do on Onota Lake are on the eastern side, you can enjoy great sunsets! In the summer the water is super active, and in the fall it's a great place to hike along the water with tons of changing leaves. Even in the winter, it's cool to see the water frozen over, and you might see people ice fishing.
Pontoosuc Lake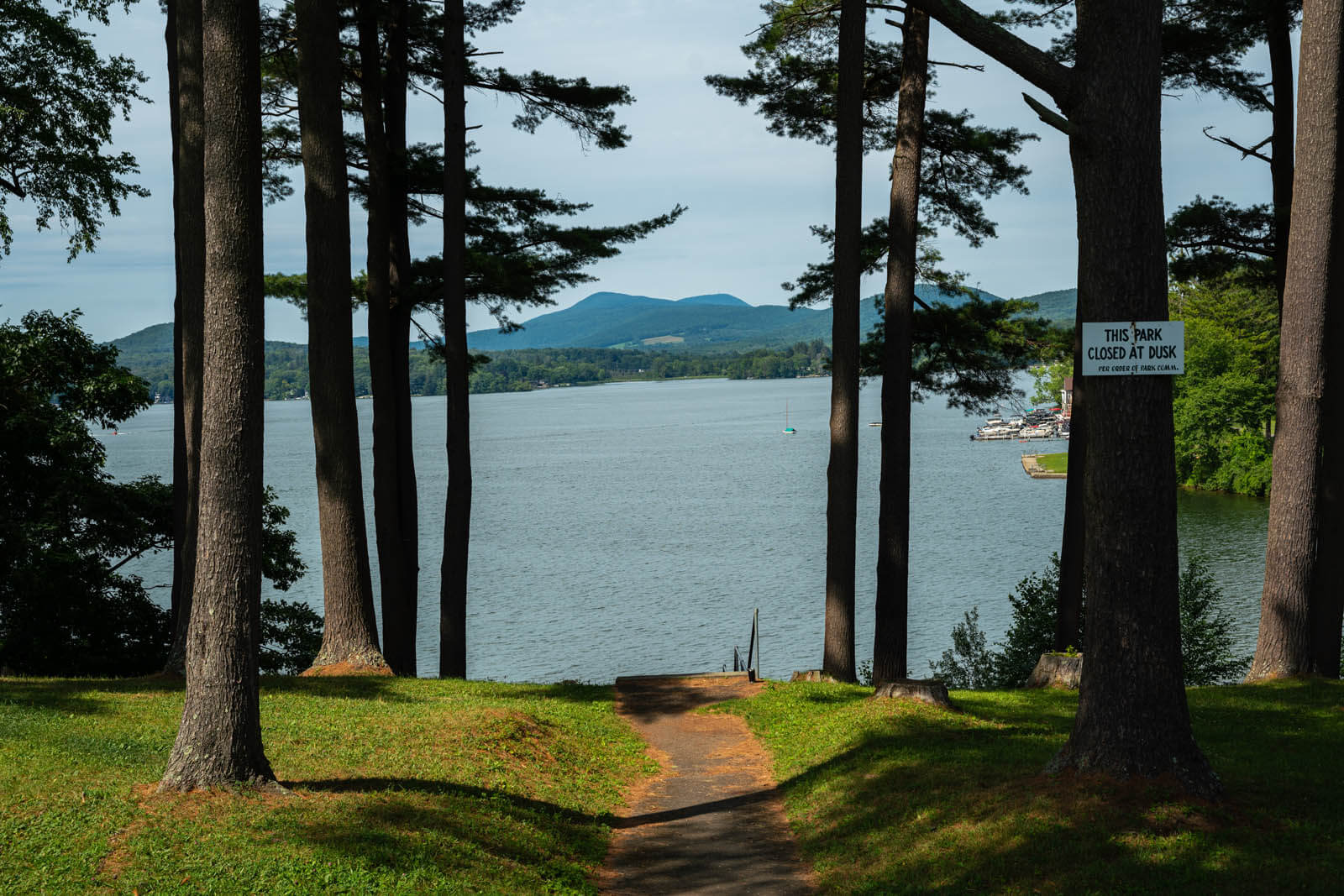 North of Onota Lake is the slightly smaller, but incredibly scenic Pontoosuc Lake. The shore is much more developed than Onota Lake and it's not a great lake for swimming. But it's absolutely gorgeous and a popular place for boaters. Try taking a paddle boat out early or late in the season, because it's usually full of motorboats during the busy summer season!
A popular pastime is walking paths that are all along the water's edge. You'll find places to eat all around Pontoosuc Lake, but especially on the southeast side. For picture-perfect views, head to Pontoosuc Park on the south shore. This is a great place to take a scenic walk or have a picnic. The park's on a high bluff with tall evergreens framing the lake and mountains for a great shot.
We also recommend going to Proprietors Lodge Restaurant near the park if you're looking for a lakeside restaurant. You can sit inside or outside for great views while dining. The menu is full of classic and creative American food, including lots of great seafood options. And there's a bar with everything you can think of.
Catch a Show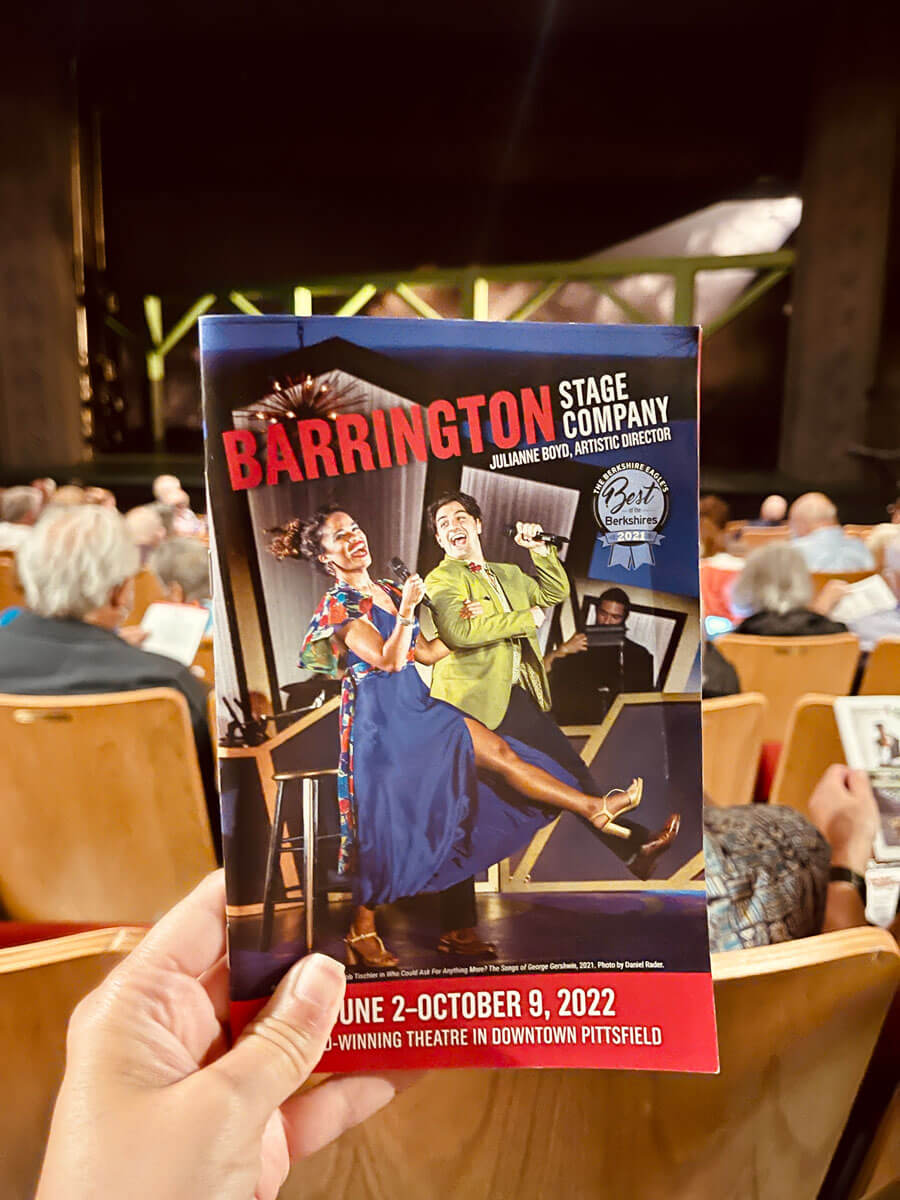 One of the most popular things to do in Pittsfield, MA is catch a show! The Berkshires are famous for their performing arts. In downtown Pittsfield alone, there's the Barrington Stage Company, Colonial Theatre, and The Unicorn Theater.
The Barrington is an educational program and a popular theater. It currently runs productions in three different venues with almost nightly performances during the season! We watched Anna and The Tropics here during our weekend in Pittsfield.
The Colonial Theatre and The Unicorn Theater are both part of the 94-year-old Berkshire Theater Group that also has stages in Stockbridge, one of the most famous towns in the Berkshires.
All year round you can attend concerts, dance performances, and plays. You'll also find a few more intimate production companies, like Pittsfield Shakespeare in the Park that's held each summer. Also, during the summer, there's the Berkshire Opera Festival. It's a series of operatic events held across three stages in the area.
Balderdash Cellars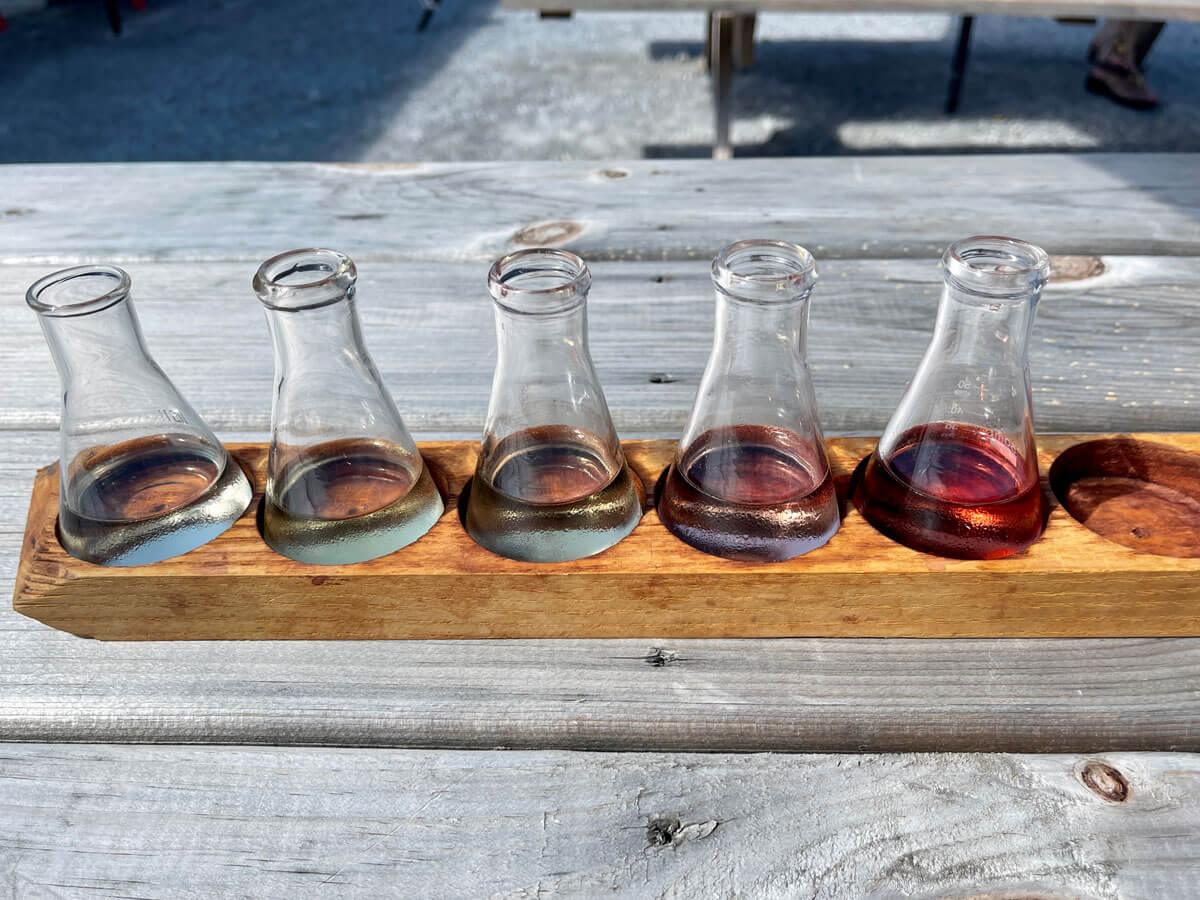 Balderdash Cellars is a local winery located south of Pittsfield near Richmond Pond. Christian and Donna Hanson opened their family-owned business in 2011 with a vision for producing the highest quality wine with the most exclusive Californian grapes.
Come by the tasting room from Wednesday through Sunday. They open at noon and close at 5 PM except for Friday and Saturday when they close at 7:30 PM. Balderdash also offers a few local Massachusetts craft beers and light food items.
And on the weekends the winery usually has a local food truck outside the tasting room, as well as live music! You'll love the friendly, peaceful atmosphere at the tasting room. Invite a few friends and hang out inside or head outdoors to their manicured lawns. There's lawn furniture and plenty of tables and chairs overlooking Richmond Lake with Bousquet Mountain in the background.
If you're local or just can't get one of their wines off your mind after a tasting, you can order online and pick it up at the winery for no extra charge. They also sell their wines at a few retailers in the area.
Where to Stay in Pittsfield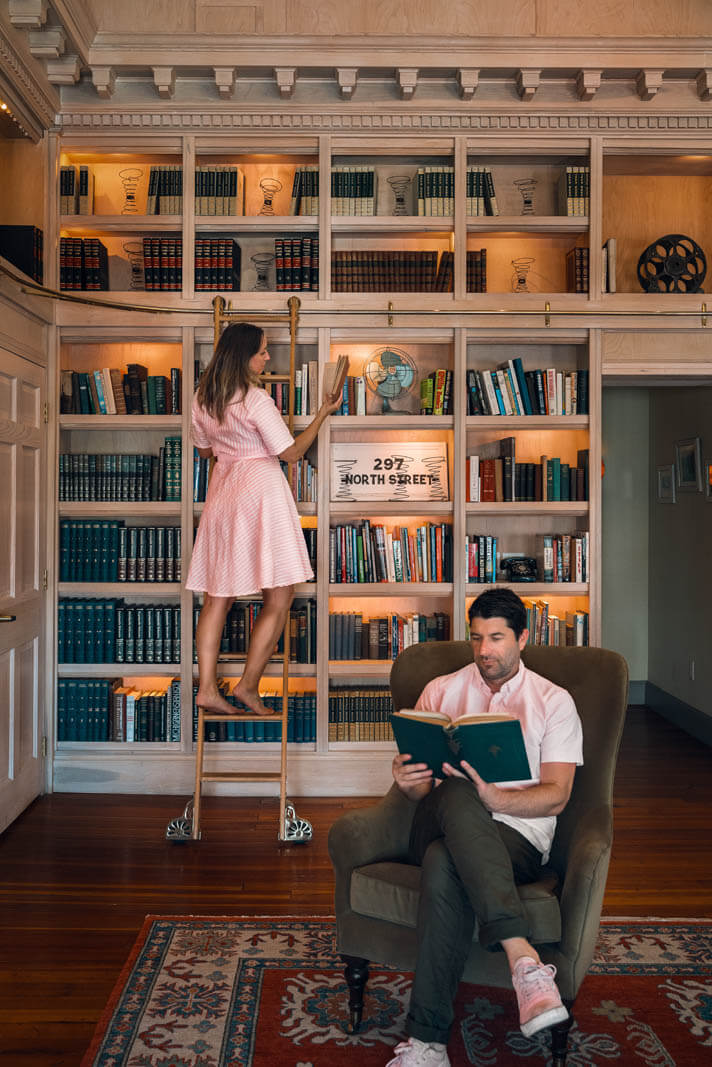 With everything there is to do during your weekend in Pittsfield, we recommend basing here for at least a night or two while exploring the area. We stayed at Hotel on North, a local boutique hotel that really honors its small town roots through it's design and is a really great stay.
The hotel is set in a building in central Pittsfield from back in the 1880s. Prior to being the best hotel in town, the building served many purposes from being used to be a menswear and sporting goods emporium to even being a Goodwill location.
Local owners David and Laurie Tierney have done an outstanding job restoring and preserving the original architectural details and curating individually designed rooms featuring works by local artists. Speaking of that art, if you LOVE the art you see on display, you can purchase it!
We think you'll love the beauty of the Hotel on North as you come and go. Choose from a range of standard and premier rooms, as well as suites. If you want a truly unique experience, see if the Library Suite is available during your stay. This room is surrounded by books and looks like a library!
All of the rooms feature impeccable interior design with early American elements combined with modern textures and shapes. Our room had a great clawfoot tub which was really nice to soak in after all of the fun things we did during our weekend in Pittsfield.
During your stay, enjoy The Gallery. It's a small, curated art museum inside the hotel! There's also a fitness center, as well as The Atrium, a sun-filled private lounge on the upper floors. Hotel on North also hosts a restaurant and is a pet-friendly hotel. Book Hotel on North here.
---
Enjoyed this guide to all the amazing things to do in Pittsfield, Massachusetts? Plan your weekend in Pittsfield using our guide and bookmark this for later!