Check out all the amazing things to do in Tempe, Arizona. Located just east of Phoenix, with easy access to all the great attractions in the area. You can find plenty of exciting adventures, culinary experiences, fun events, and places to take in the beauty of the Sonoran Desert right here in the heart of this thriving Arizona city.
Full of entertainment options, world-renowned architecture, and great places to eat and drink! So pack your bags and gear up for a fun 3 days in Tempe in our suggested itinerary and guide for things to see, do, and eat.
Better yet, you don't even need a car! However, we do recommend a few things to do in Tempe on this guide and itinerary that require a rideshare ride or are easier to access by car.
Disclaimer: This post was done in collaboration with Tempe Tourism Office, as always all opinions are our own!
Getting Around Tempe, Arizona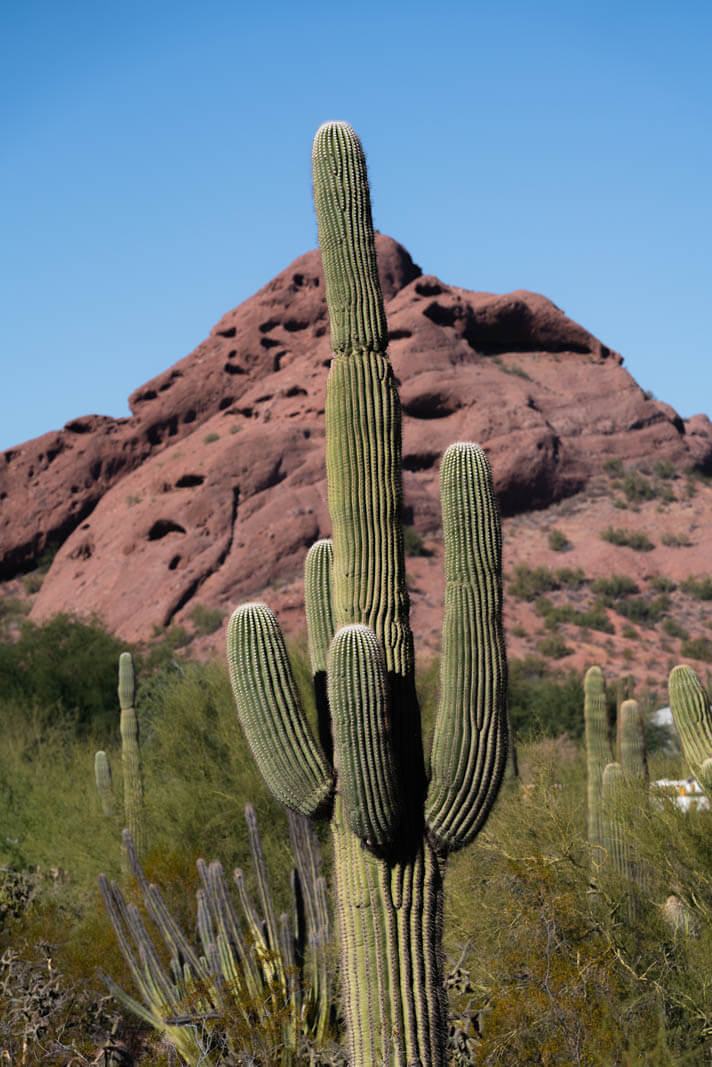 Visiting Tempe, Arizona is incredibly convenient whether you have a car or not. During our Tempe itinerary, we didn't have a car and were able to easily get around by foot and rideshare apps when necessary.
The nearest airport is Phoenix Sky Harbor International Airport (PHX), which is just under 4 miles away and as little as a 10-minute drive. From the airport, you have the option of taking the PHX Sky Train to Valley Metro Rail public transportation option which costs $2 for a single ride per person.
While you're exploring the best things to do in Tempe suggested in this guide, almost all of these activities are within walking distance. However, a few of these are suggested to use a rideshare app like Uber or Lyft to get to a few of these locations, particularly some of the outdoor activities focused around Papago Park and Desert Botanical Garden area, which are a little too far to travel to by foot and require about a 10-minute drive.
Tempe, Arizona is a very skateboard-friendly destination, so if you're into skateboarding, don't leave it behind! There are even skateboard racks outside of restaurants and all around the city too!
There are also motorized standing scooters all around Tempe available. Keep in mind there are many areas that are forbidden to ride these scooters and they actually won't work in these designated zones. We found this to be a little tricky, so just make sure that you're aware and check the app of the scooter brand you're looking at to see if a scooter is possible for the specific route you're looking for.
Another thing to note is that if you're intending on trying out these scooter rentals to pay attention to where you can and cannot park. They have designated zones and you are unable to successfully drop off and close out your rental if you don't park in the right zone. We made a mistake and had to push our scooter to a designated parking zone!
The scooters are great – just be aware and informed before you set off on your ride that you can indeed ride a scooter there and park at where you're going before taking off!
What to do in Tempe, Arizona
Foodie Scene
We are pretty excited to share some of the best food we ate during our Tempe itinerary! Tempe has a pretty stellar gastronomy scene and personally, I am a huge fan of the southwest-inspired dishes and flavors that represent the region.
From low-key quick bites to higher-end dining experiences, we tried a little bit of everything during our stay in Tempe, Arizona and here are a few of the stand-out restaurants we recommend checking out!
Our very first meal and one of our favorites during our entire trip was Postino Annex (615 S College Ave) located at the edge of the ASU Tempe Campus. Try some of their appetizers and don't leave without trying one of their customizable bruschetta boards paired with wine or beer.
They also have a really great happy hour! Every day until 5 pm where you can get $5 glasses of wine or pitchers of beer. So be sure to swing by for lunch!
Another stand-out meal and a popular spot was the Culinary Dropout at The Yard (149 S Farmers Ave). You'll want to grab a reservation to avoid a wait because we aren't joking about the popularity of this spot even though it's a massive location!
This gastropub serves up comfort food dishes paired with craft cocktails, fun games like corn hole and ping pong, plus live music!
For more relaxed dining options check out The Chuckbox (202 E University Dr), a cash-only establishment serving up mesquite-grilled burgers on an open flame made fresh to order right in front of you with a fixins bar for you to add on your favorite toppings.
Casey Moore's Oyster House (850 S Ash Ave) is an Irish bar and hangout spot tucked away in a residential neighborhood and a bit of a local institution. They serve up fried apps, fresh oysters, and have a full bar. This is one of the best things to do in Tempe at night to grab an appetizer and drink.
Speaking of appetizers, if you're looking for a great spot to grab pre-dinner drinks, appetizers, and an incredible sunset spot check out the Skysill Rooftop Lounge (11 E 7th St) at the Westin Tempe. They serve up cocktails, have cozy lounge chairs, couches, and a bar overlooking the valley with views of the mountains and downtown Tempe.
If you're looking for an elevated culinary experience, check out Terra Tempe Kitchen & Spirits (11 E 7th St) which focuses on Sonoran and Southwest cuisine using fresh, local ingredients by chef Alexander Robinson.
Four Peaks Brewing Company (1340 E 8th St) not only offers great brews on draft to try and brewery tours, but they have a great restaurant too! You can find everything here from pizza, burgers, to hearty salads to pair with your fresh brew.
If you're a fan of a big hearty or sweet treat for breakfast or brunch, you're in luck. There are quite a few great breakfast spots in Tempe to check out!
We had our fill with huevos rancheros and breakfast burritos at Morning Squeeze (690 S Mill Ave). A few other spots worth checking out for breakfast include the Daily Jam (310 S Mill Ave) and Snooze, an a.M. Eatery (615 South College Ave).
Brew Scene
Another one of the best things to do in Tempe, Arizona is hit up the brew scene! We are huge fans of quality craft breweries and Tempe did not disappoint!
The most well-known brewery in Tempe is Four Peaks Brewing Company (1340 E 8th St) which also offers a great menu that we recommend stopping by for lunch and brewery tours. They have some award-winning beers, be sure to try their most famous brew the Kiltlifter, a dark, malty, Scottish amber ale.
Another great stop is Pedal Haus Brewery (730 S Mill Ave) which also has a restaurant on-site and is a nice lunch or dinner option paired with their craft brews on draft located in the heart of downtown near all the best things to do in Tempe.
Dog Haus Biergarten (430 N Scottsdale Rd) offers local brews on draft paired with gourmet hot dogs, sausages, and burgers served on the sweet, delicious King's Hawaiin rolls.
Tempe Town Lake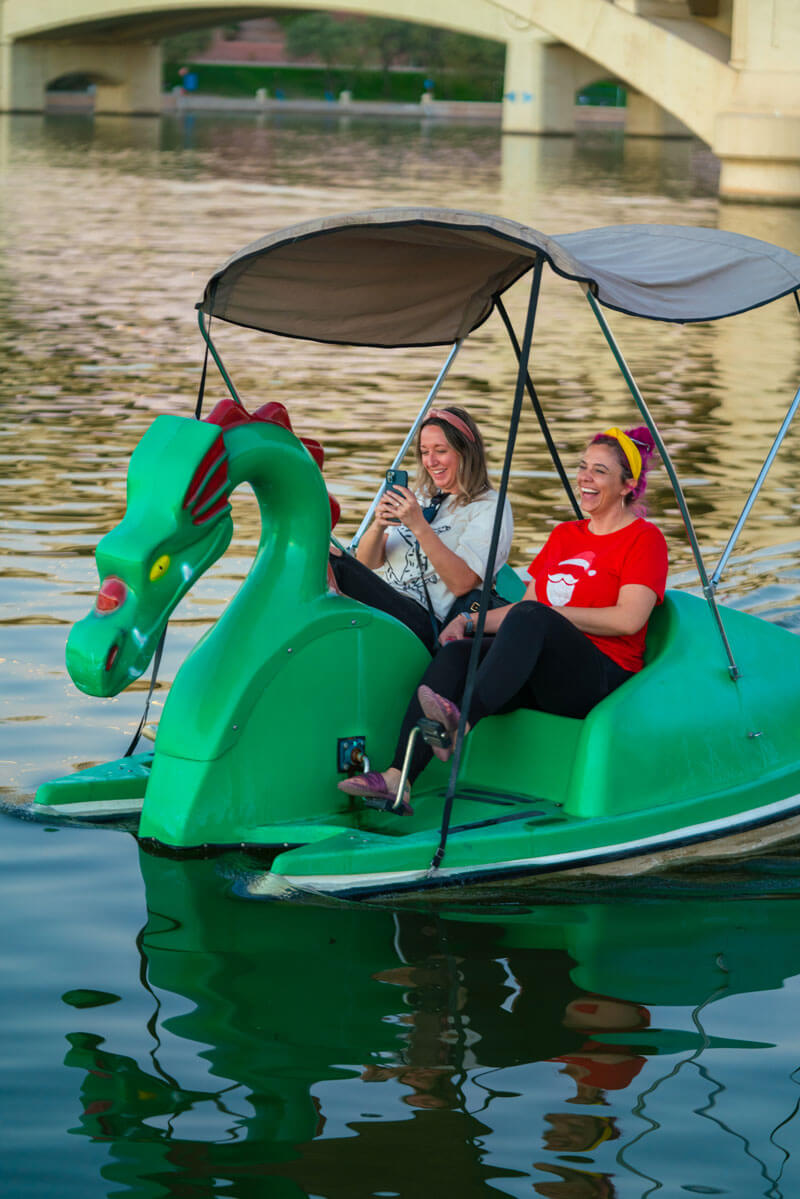 One of the most fun things to do in Tempe is to rent a paddleboat on Tempe Town Lake. This 2-mile long, man-made lake not only has pedal boat rentals but also electric boat rentals for those who want to relax a bit more. But if you're looking to get a little exercise they also have kayak rentals, bike paths, and walking paths to enjoy the scenic views especially pretty at sunset.
This is also the location for many festivals and events throughout the year too!
Our activity of choice at Tempe Town Lake was renting a boat from Boat Rentals of America (72 W. Rio Salado Pkwy). They have all kinds of fun pedal boats from swans to dragons and you know we went for the wild dragon boat!
If you're not prepared to pedal your way around Tempe Town Lake, don't worry, they have an electric donut boat that is perfect for a group of friends complete with a table in the center, an umbrella, and is even pet-friendly!
They also have kayak, stand up paddleboard, and surrey bike rentals if you prefer to explore Tempe Town Lake through any of these many options available!
If you do happen to have a car you can park at the paid lot at Ash Ave and Rio Salado Pkwy. It's $2 per hour.
Desert Botanical Garden
Hands down, one of the most impressive things to do in Tempe that we did was visit the Desert Botanical Garden located around a 10-minute drive (~3 miles) from downtown Tempe located in the scenic Papago Park filled with exhibitions, seasonal events, and stunning desert trails featuring the plants that grow here in the Sonoran Desert including my favorite – saguaro!
Desert Botanical Garden opens daily at 8:00 am if you're hoping to enjoy a quiet, desert morning at the botanical garden, otherwise anytime of day is great to visit and we recommend planning a few hours here.
We walked all the trails, which we highly encourage you to do, and our favorites were the Plants & People of the Sonoran Desert where you pass impressive saguaro cacti along with plants that have been used for food, medicine, and building materials for centuries by native communities.
Also, look for the crested saguaro, it is a rare saguaro formation and the only one we saw in the botanical garden, it sort of looks like the head of broccoli on the top of a saguaro cactus.
The other stand-out trail for us was the Desert Discovery loop, this is where you can find some of the first of the collection that came to be the Desert Botanical Garden next to Webster Auditorium. Our favorite was the organ pipe cacti towering above the trail.
We were incredibly lucky because during our visit we not only got to witness the Chihuly in the Desert exhibit featuring glass sculptures by the famous American glass artist Dale Chihuly but also the nighttime winter festivities of Las Noches de Las Luminarias, one of the best things to do in Tempe at night if you're visiting around the holiday season, not to mention this is one of the best warm winter getaway spots in the US!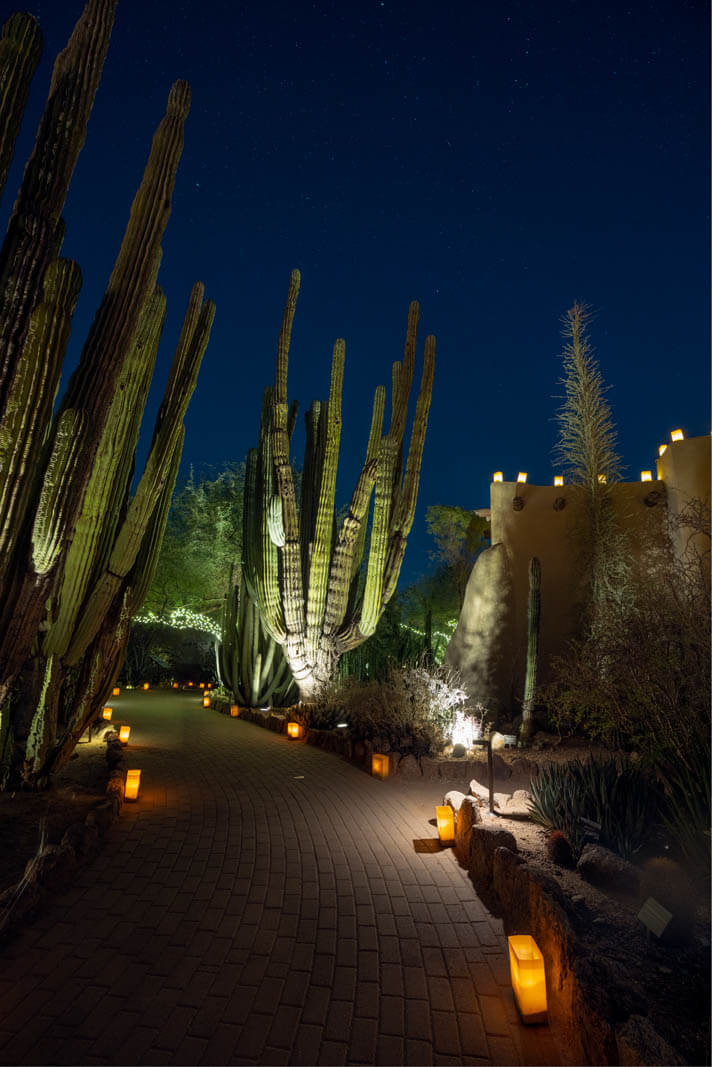 Las Noches de Las Luminarias transforms the botanical garden by night with the glow of thousands of candles along the desert pathways, live music performances, and special programming. Better yet, you can grab a glass or bottle of wine and find a place to sit and enjoy the beauty of the desert by night along with live music.
This was absolutely one of my favorite things we experienced on our trip and takes place annually during the month of December!
Tickets and reservations are required in advance, head to the Desert Botanical Garden website to make your reservation and see any events happening during your visit.
Papago Park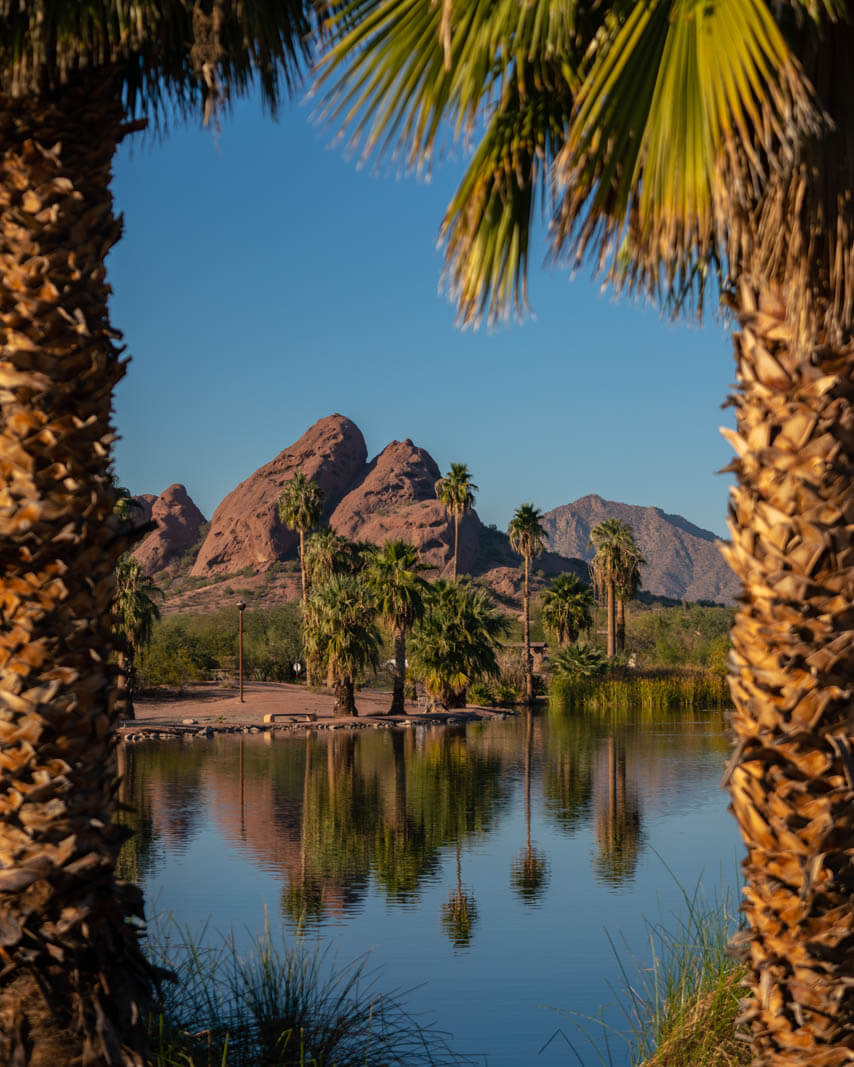 One of the best outdoor activities and things to do in Tempe, Arizona is visit Papago Park. This desert park spans nearly 1,500 acres and is full of desert plants like the saguaro cactus, buttes, hiking and biking trails, lagoons, picnic areas, and views!
Some cool points of interest include visiting Hunt's Tomb, you can't miss the pyramid structure sitting on top of a hill in the middle of the park. This is the tomb and memorial for Arizona's first governor, George W.P. Hunt. The views from up here are pretty great too and you can drive, bike, or walk up.
Don't miss the little desert oasis, the pretty lagoons offer some of the most gorgeous Tempe photography locations we enjoyed on our trip not to mention there are buildings and areas for picnics to enjoy along the water of the lagoons surrounded by palm trees.
We both kept saying how these lagoons with the backdrop of the terrain at Papago Park looked exactly like where the dinosaurs would roam.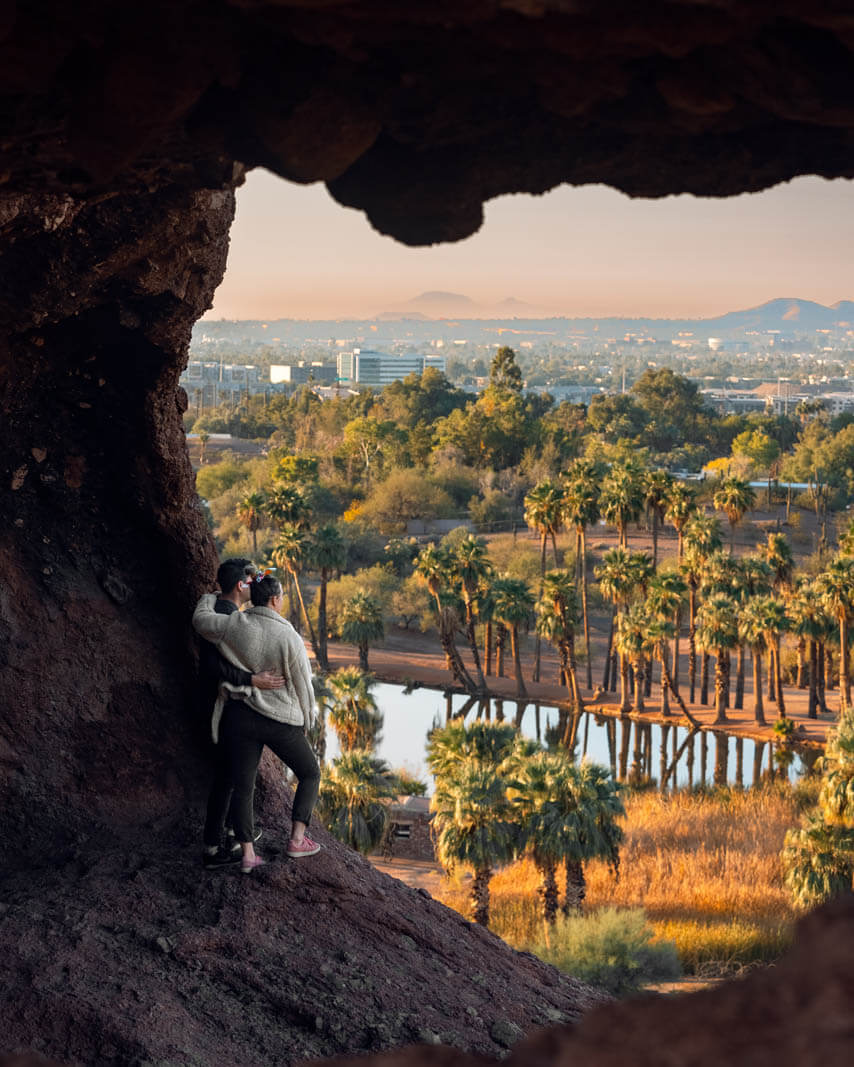 One of the most famous things to do here at Papago Park is to hike up to Hole in the Rock. When exploring Papago Park you can't miss the landmark, it's a geological hole formation in the sandstone hill.
The hike up is really easy, follow the path behind the hill and it's less than a 5-minute incline to the top where you're rewarded with views of Papago Park and Tempe off in the distance. This is especially beautiful in the morning light or if you can arrange to visit a sunset, the light is also great for photography.
If you'd like to tie in all the nearby activities to Papago Park in one visit, the Phoenix Zoo and Desert Botanical Garden are both located in Papago Park.
Hike "A" Mountain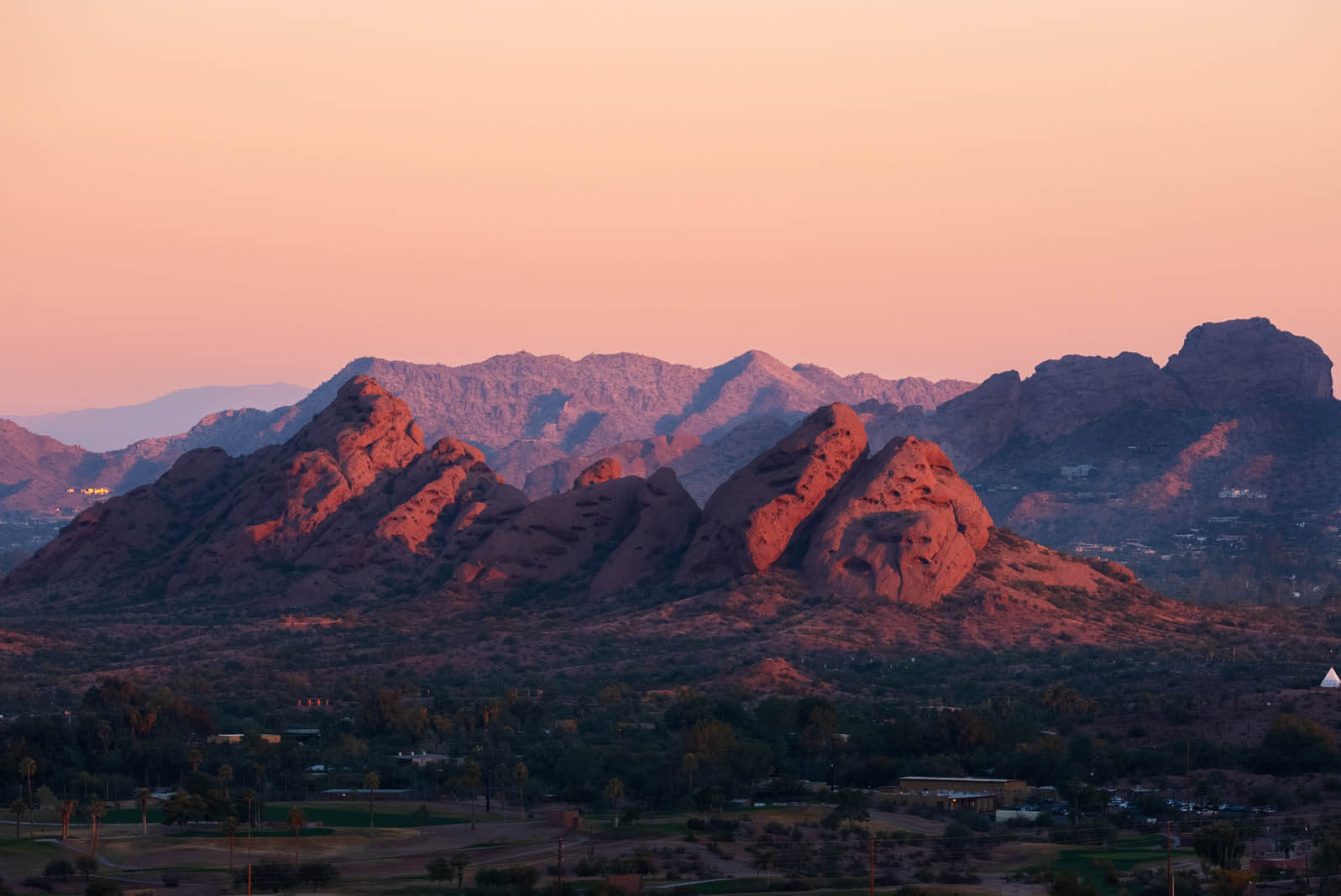 One of the best things to do in Tempe, Arizona at sunrise (or any other time of day really) is hike up to the top of Hayden Butte, locally known as "A" Mountain. This mountain is smack dab in the middle of Downtown Tempe and dubbed "A" Mountain because of the "A" painted at the top for Arizona State University.
The hike up is quick and steep and once you're at the top you're rewarded with panoramic views of Tempe and the Superstition and Four Peaks Mountains off in the distance. The hike can take as little as 15 minutes if you're cooking along or if you walk at a leisurely pace expect 20-25 minutes to reach the top.
There are a few routes to go up to "A" Mountain, the trail along the south side of the mountain even passes prehistoric petroglyphs by Ancestral Sonoran Desert People who inhabited the area between A.D. 1 and 1450!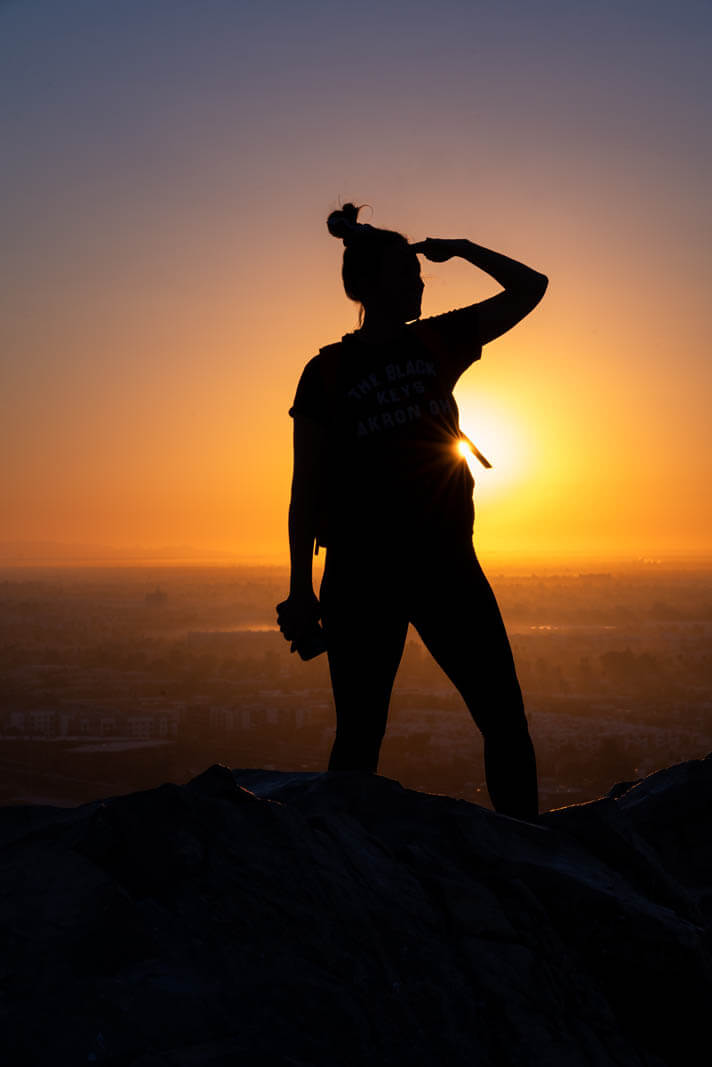 There are a few places to start the hike, one is across the street at the corner of Mill Avenue and Third Street (across from the building with the Tempe Tourism Office) or start behind the Hayden Flour Mill (at Mill Ave and Rio Salado Pkwy), or at the Valley Metro Rail station Veterans Way/College Ave.
We started at the light rail station and exited from Mill Avenue and Third Street. If you ascend at this entry point, you will have a straight-up climb, whereas the other two entry points have some switchbacks to get halfway up to the mountain before doing that last steep bit to the top.
We did this hike at sunrise, which was insanely rewarding and all the great breakfast spots located within a few steps from the base were also really convenient, like Daily Jam and Morning Squeeze!
Admire the Beauty of ASU Campus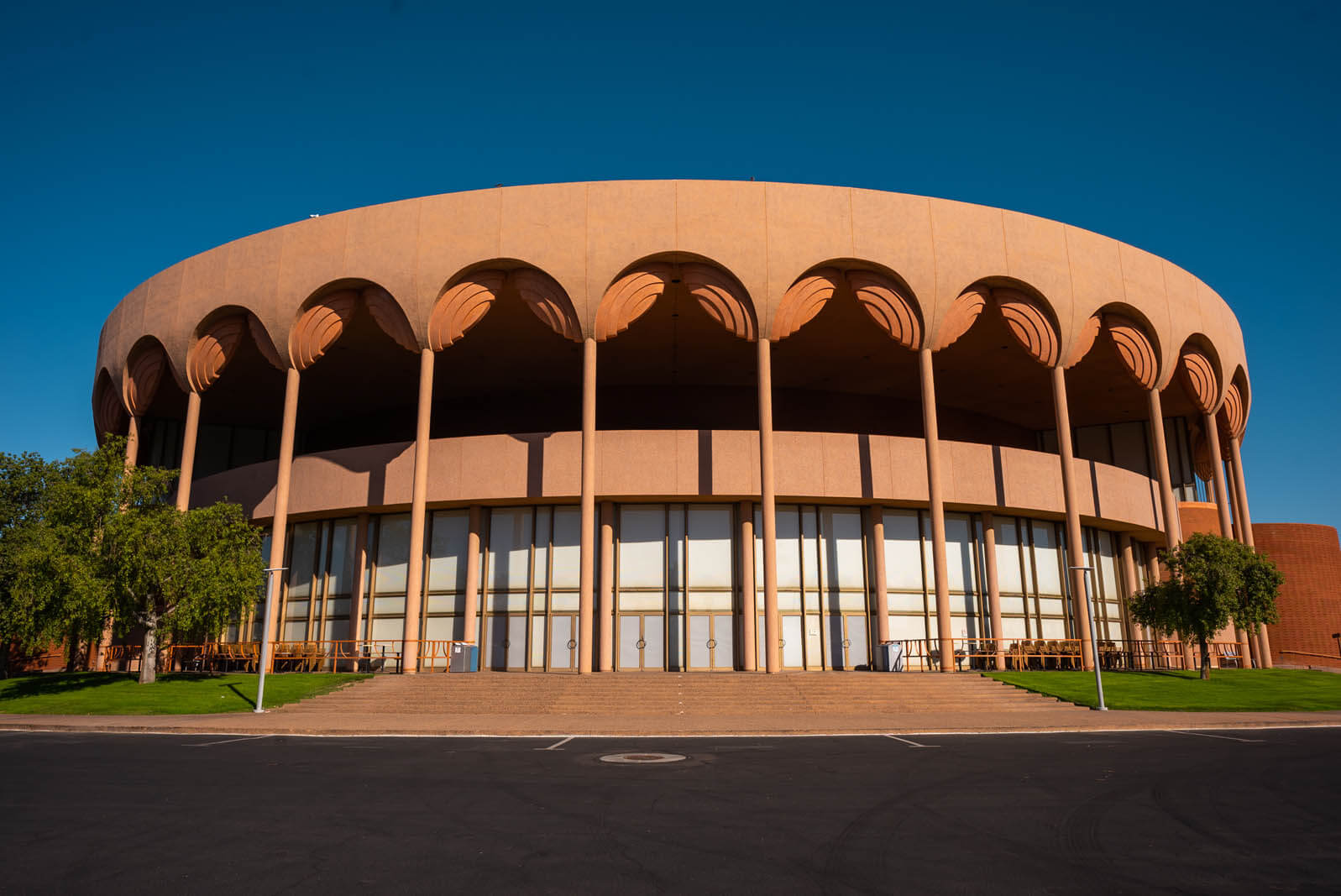 I would never imagine that walking through a university campus would be one of the best things to do in Tempe or any location, but a few steps into the ASU Tempe Campus and you will easily see why you have to pay a visit on your trip!
Located smack dab in the middle of Downtown Tempe, both of us could imagine how fun this campus would be to attend back in our ol' college days.
But what really is impressive about the ASU Tempe Campus is the architecture! Most notably, the architecture that is clearly from the 1970s here was my personal favorite. In my opinion, a lot of the architecture that came from this period is meh with a few exceptions like Frank Lloyd Wright's designs.
But, ASU's campus is different, it somehow has a collection of the best architectural trends (in my opinion) to come from that era, and speaking of Frank Lloyd Wright, the ASU Gammage was designed by arguably the country's most famous architect of all time as well as one by his son in law neighboring it!
It's worth spending some time around the ASU Tempe Campus, be sure to include this on any Tempe itinerary. Here are a few of our favorite spots we went to!
ASU Gammage is no doubt the most famous building on campus, this performing arts theater designed by Frank Lloyd Wright was originally designed for an opera house in Iraq that just never came to fruition, so it was pretty exciting when the design would be used here at ASU.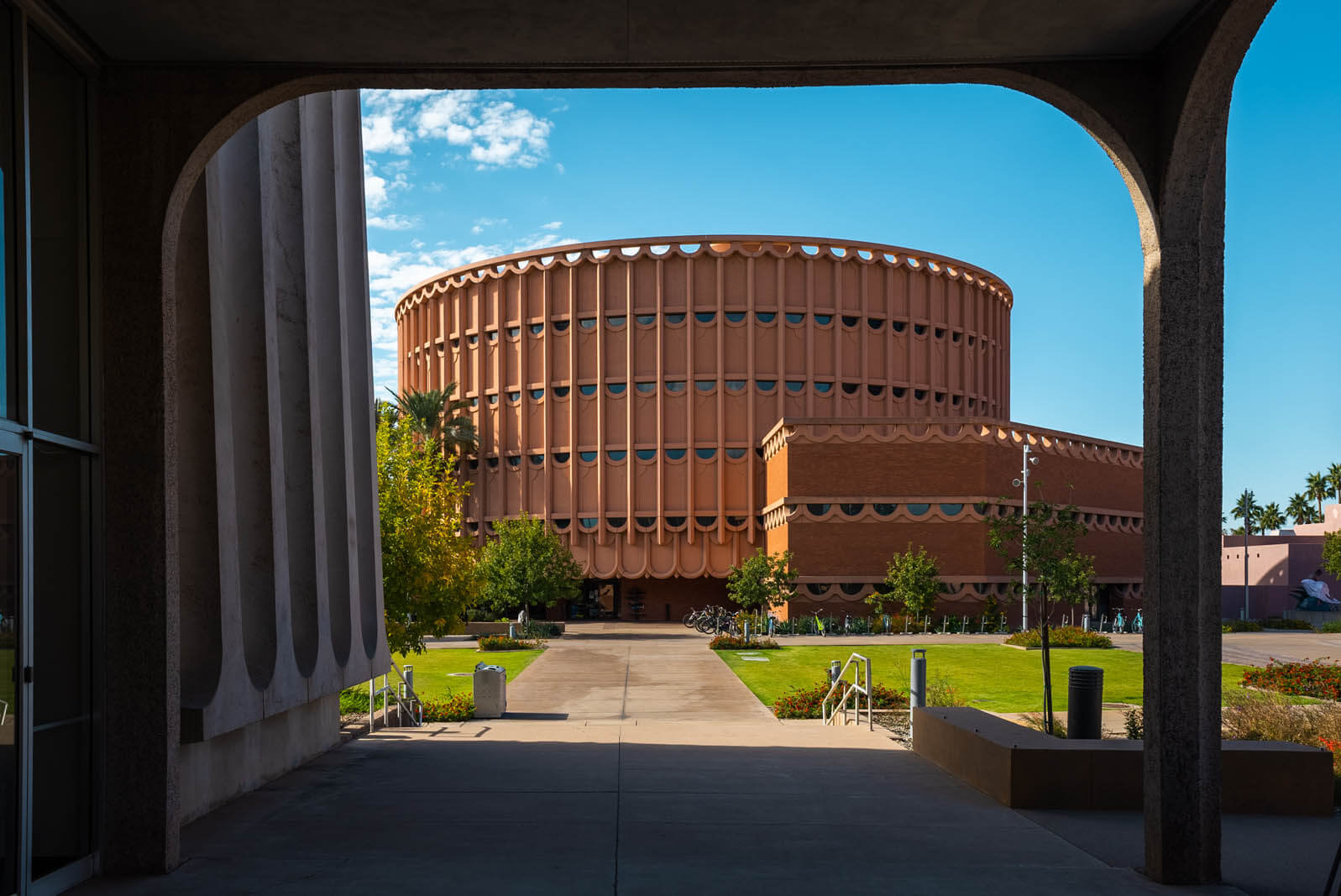 My other favorite, the stand-out building is the ASU School of Music, Dance and Theatre located next to Gammage designed by Frank Lloyd Wright's son-in-law Wesley Peters.
Right here you'll also discover the ASU Art Museum, one of our favorite places to photograph on the entire campus. The building was designed by Antoine Predock in 1989 inspired by the history of desert architecture and modern architecture. Be sure to walk around the building, it's especially cool to come midday when the sun is directly above casting shadows from the design of the building.
Don't miss checking out the inside either, during opening hours the museum is always free to the public to visit and features artwork through the lens of social justice and equity. There are also plenty of opportunities for photos once you're in the museum too including the outdoor terraces.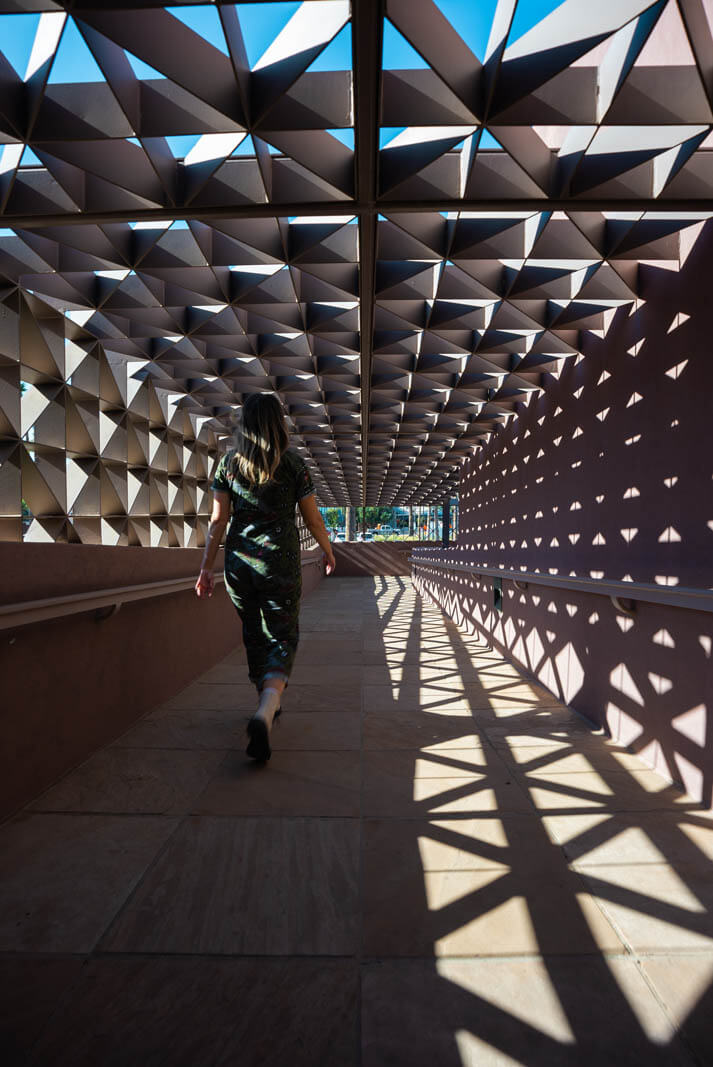 Other interesting points of interest include the Palm Walk which if you absolutely love palm trees as I do, a must-see spot and photography location! The Palm Walk connects the north and south ends of campus with a paved walkway lined with neatly manicured 100 date palm trees.
Old Main is the oldest standing building on campus dedicated in 1898 and on the National Register of Historic Places. Historic events even took place here including President Theodore Roosevelt dedicating the Roosevelt Dam on the front steps in 1911. Also, another random fact, this was the first building in Tempe to use wired electricity.
Take note of the Kachina Fountain at the front of the building. The fountain, surrounded by four Kachinas are considered to be the guardian of well-being in the Hopi culture and traditional beliefs.
If you're in for a bit of a hidden gem within the campus try to find the Secret Garden! This hidden, quiet space is hidden in plain sight within the Dixie Gammage Hall. Whether you're looking for a quiet place to read a book, eat your take out, or just take a peep you'll want to keep an eye out for a ramp that goes to a little door on the side of the building, this leads right into the Secret Garden.
If you find yourself scratching your head and can't find it, there are people that walk around the campus, usually wearing a vest, who help visitors. You can ask them to point you in the right direction if you are having a hard time finding the Secret Garden!
Snakes and Lattes Boardgame Bar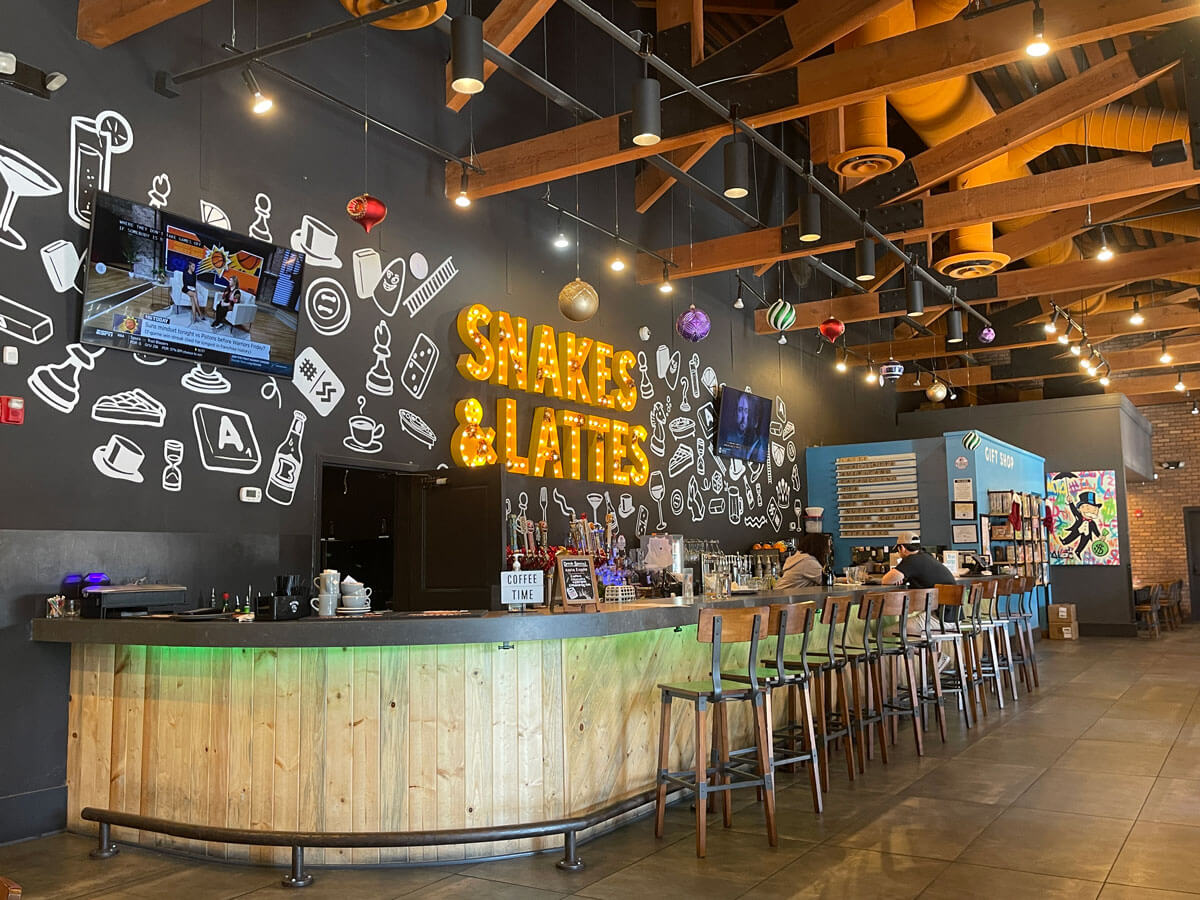 20 W 6th St
One of the most fun things to do in Tempe if you need a break from the sun, bite to eat, drink, looking for something fun to do, or all of those things is stop by Snakes and Lattes, a boardgame bar/cafe/restaurant.
There are thousands of board games and card games to choose from plus ample seating, including an outdoor patio plus a full-service restaurant, bar, and cafe!
There is a good selection of classic games, strategy games, and games we've never even heard of. We tried a few new games and loved how they had the games organized by type of game. We wanted a few quick games since we were only coming to have a drink and play for a little while, but if you wanted to spend hours here playing a strategy game, this is the perfect place to do it.
Hit up the Cafes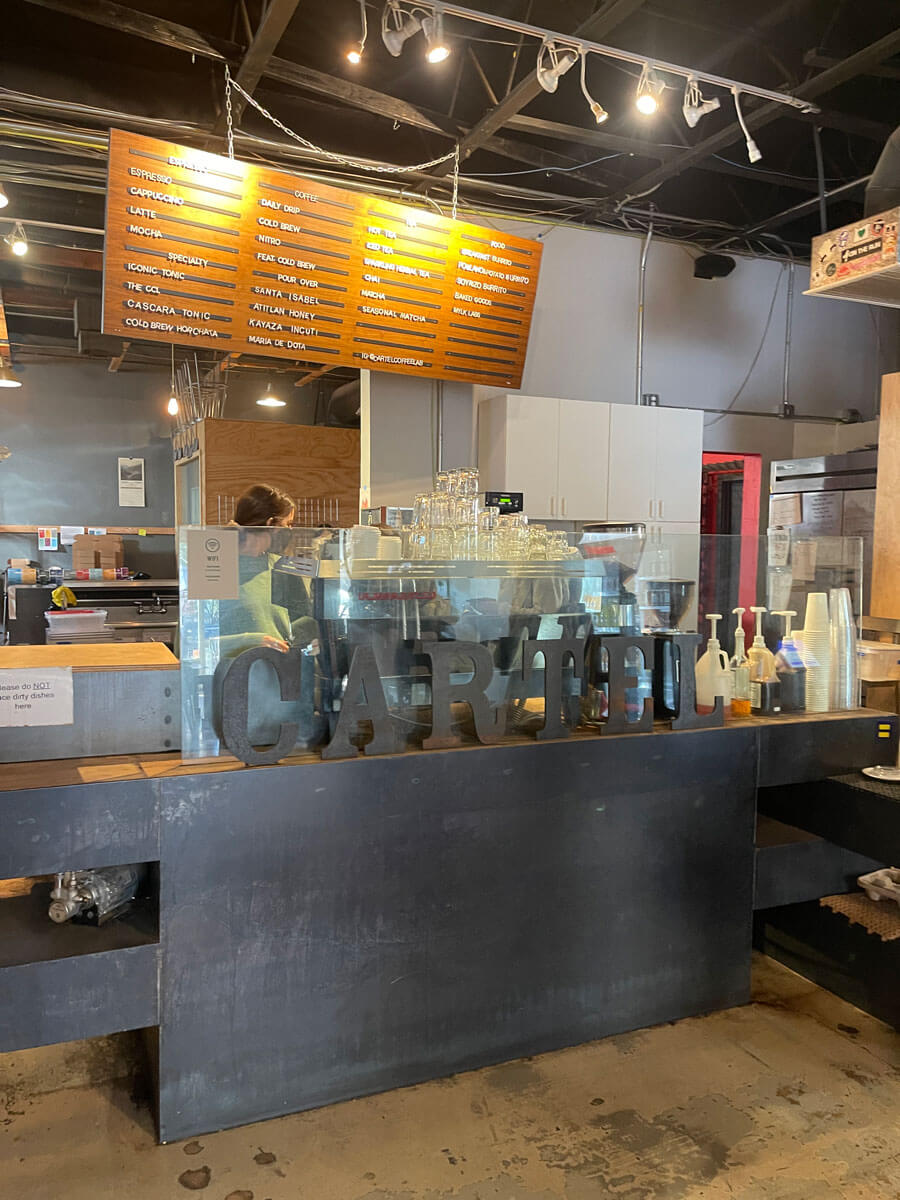 Tempe, Arizona has no shortage of cafes and great places to grab a quality cup of joe which we both can appreciate! If you're looking for some great spots, check out these below.
Cartel Coffee Lab (810 S Ash Ave) has a cool rustic-garage style setting, great brews from their freshly roasted beans plus small bites if you're looking for a light bite or snack.
King Coffee (1020 S Mill Ave) is another cozy coffee shop in Tempe right by campus serving up a variety of espresso-based coffee drinks, cold brew, and light bites.
Another ASU campus hotspot, Cafetal Coffee (777 S College Ave #101) sources their beans directly from their family farm in Columbia with the option to pair alongside small plates made in-house.
Located close to Tempe Town Lake, Press Coffee Roasters – Skywater (601 W Rio Salado Pkwy #103) serves up quality coffee drinks from carefully selected coffee beans from around the world. If you're a fan of the beans they use you can sign up for their coffee subscription to keep the good cups of coffee coming even at home.
Go on an E-Bike Adventure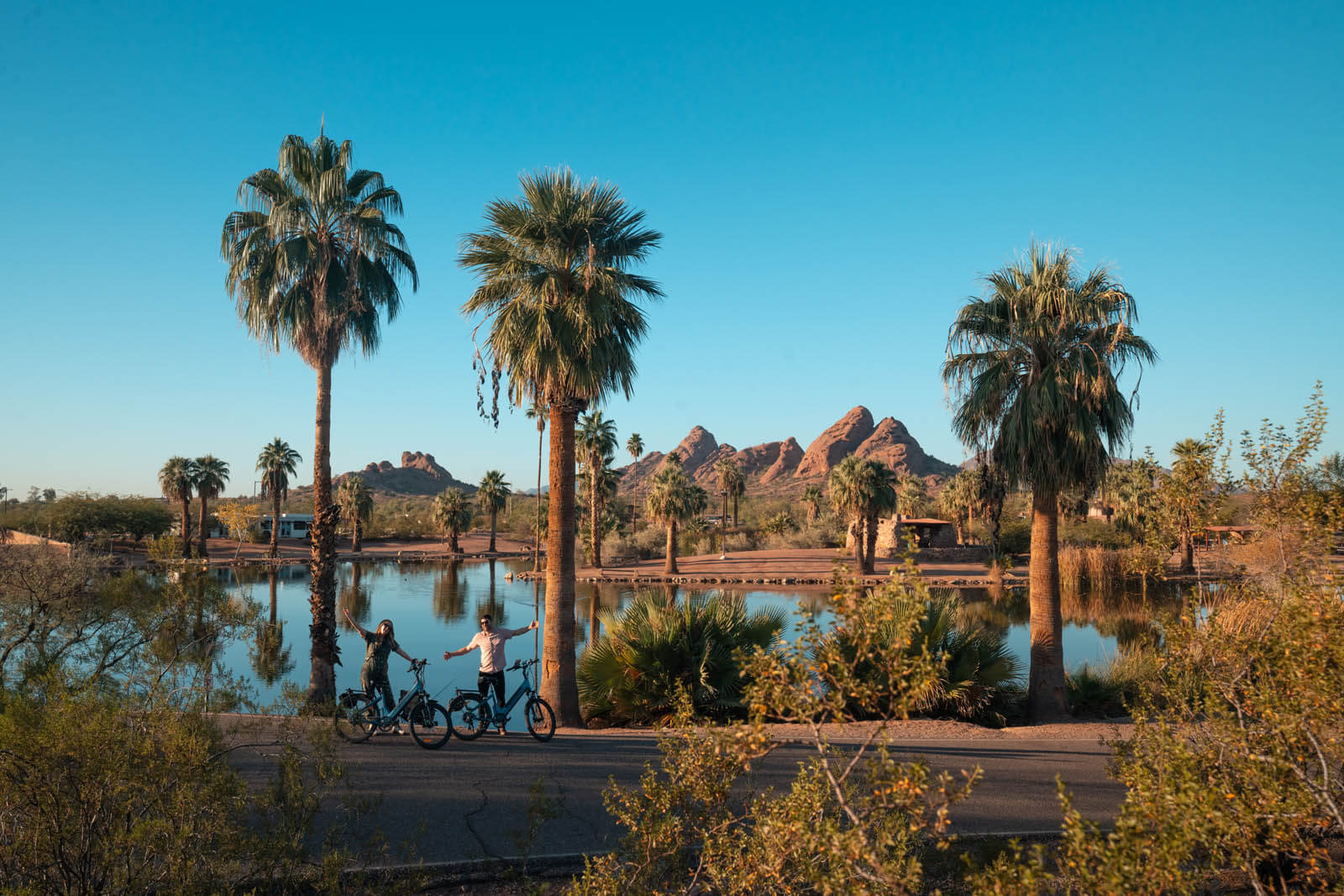 One of the best ways to get around some of the best things to do in Tempe that are a little bit on the outskirts of the downtown area like Papago Park is to do it by bicycle, better yet, an e-bike!
When you're just trying to relax, it's so nice to have an option like an electric bike so you don't have to work too hard or get all sweaty while trying to enjoy the great outdoors.
Northshore WaterSport Rentals (555 N College Ave #1030) offers e-bike rentals along with kayak, stand up paddleboard, and boat rentals right here in Tempe on the north side of Tempe Town Lake.
We highly recommend reserving your e-bikes in advance and if you're wanting to go to Papago Park do at least a 2-hour rental. We were able to explore quite a bit in that time, but we also returned to Papago Park on a second visit to do the Hole in the Rock hike at sunrise.
There are 218 miles of bike paths around the Tempe area including bike lanes on city streets and desert trails. If you go to Papago Park, we suggest setting up your Google Maps to Hole in the Rock. The bikes have a place to put your phone securely so you can use it to see your driving directions while you bike.
They also provide helmets and locks if you need them. In our two hours, we basically rode to Papago Park, took photos around the lagoons, and biked up to Hunt's Tomb before taking a slow, comfortable journey back.
Fun Tempe Events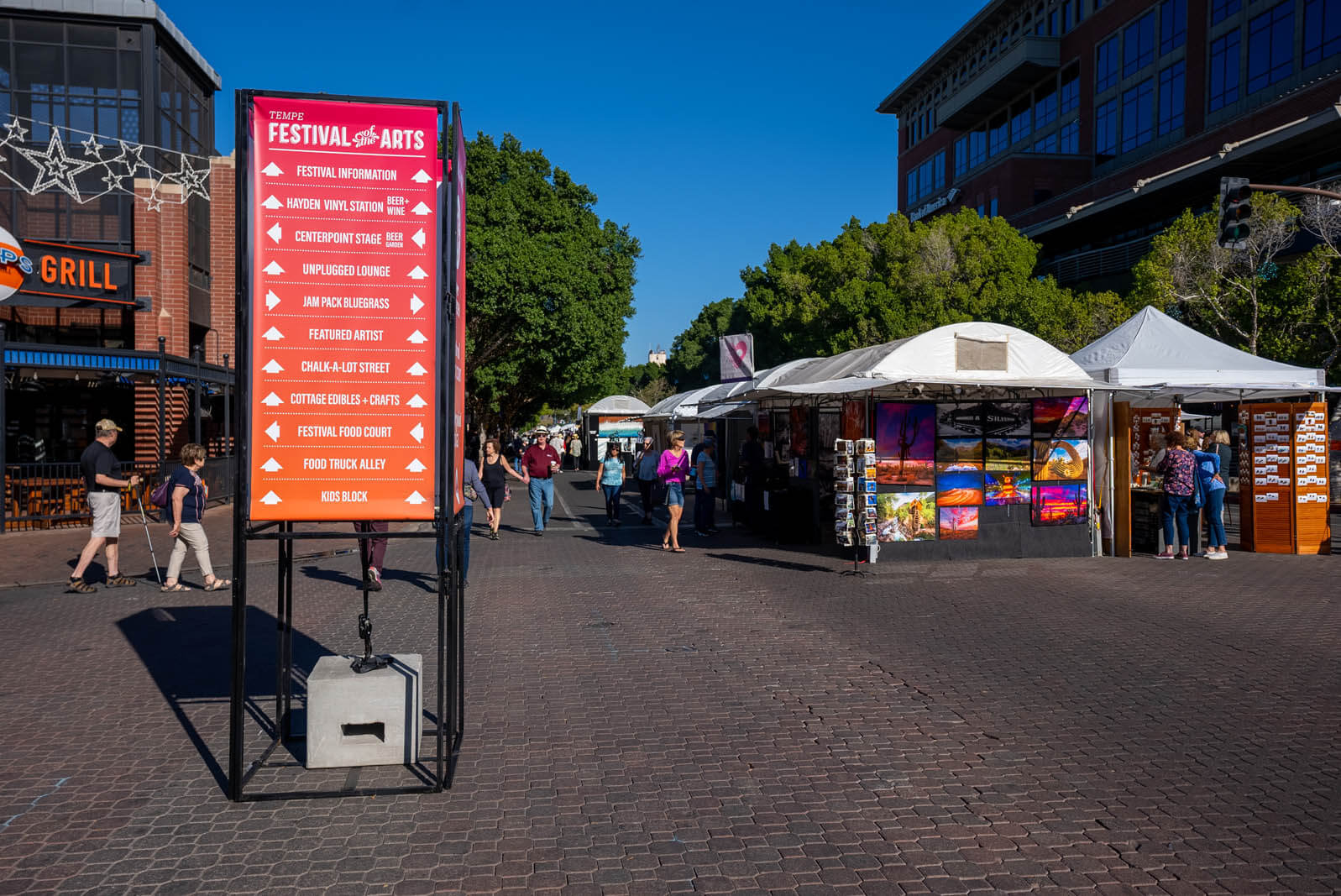 Something that's really cool about visiting Tempe, Arizona is that they have events happening all year long. From festivals that happen along Tempe Town Lake to holiday events already mentioned earlier in this guide like Las Noches de Las Luminarias at the Desert Botanical Garden in December during the holidays to Phoenix ZooLights from the end of November through early-mid January.
The most famous and well-known event and best things to do in Tempe is to plan your visit around the Tempe Festival of the Arts, one of the Top 20 art festivals in the United States that won several awards.
Downtown transforms to streets full of artists from all over the country that apply and are hand-selected to participate in this celebration of arts open to the public right in Downtown Tempe!
There are 18 different categories and different sections of the Tempe Festival of the Arts ranging from photography, glass art, ceramics, woodwork, jewelry, and more in over 300 booths with Mill Avenue being the main vein of the festival.
The surrounding streets also have a lot to offer including plenty of places to grab a drink or snack not to mention the many restaurants and shops permanently residing along the streets you can check out too.
The Tempe Festival of Arts takes place in early December and late March each year, visit their website to see their latest events and news to plan during your visit.
Check out the event website for additional details like where to park and current safety protocols.
Another recurring event that takes place in Tempe, Arizona is Second Sundays on Mill.
This market features art, local makers, baked goods, all kinds of gifts, and performances on the second Sunday of every month from 10:00 am to 3:00 pm.
And if you're a baseball fan, you can use Tempe as your base for Spring Training season! That's not really our cup of tea, but we know it is a huge deal for baseball fans out there. Check the Tempe Tourism website for all the information you need to know about Spring Training and what you need to know about planning your trip at this time.
Suggested 3 Days in Tempe Itinerary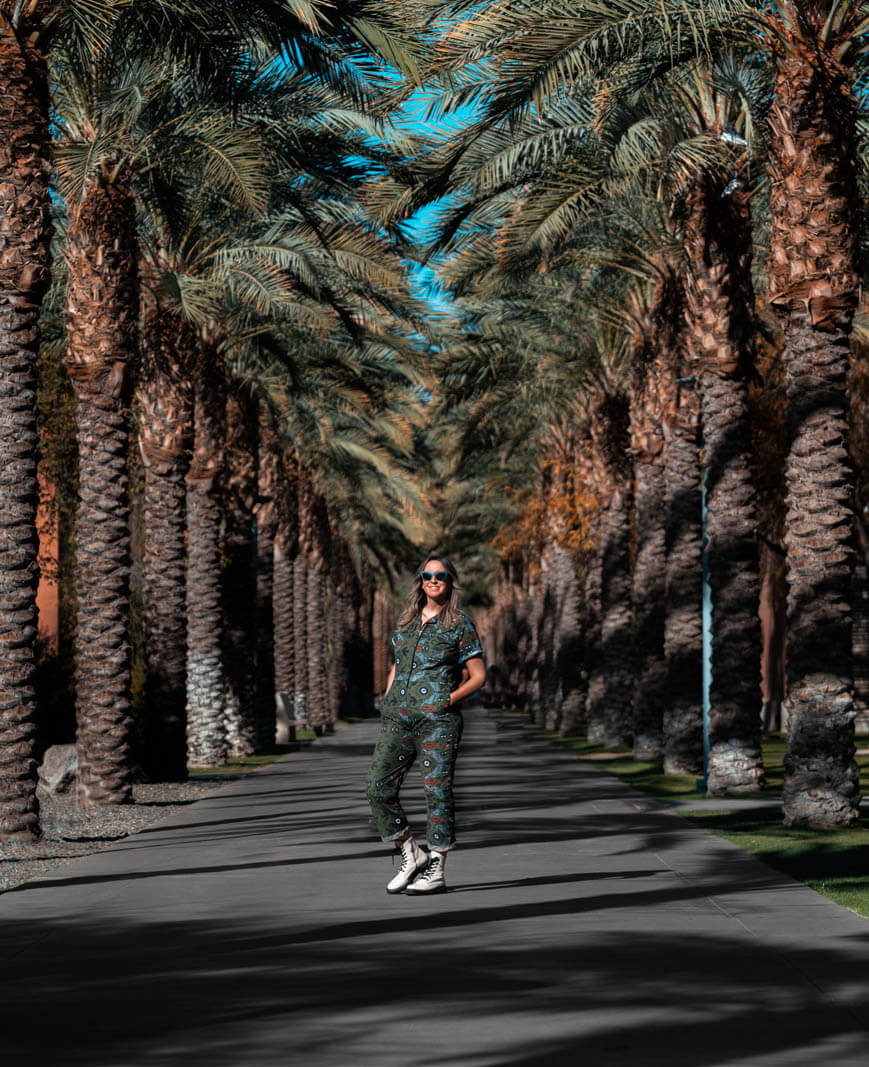 Use our guide to the best things to do in Tempe itinerary to build your own or customize your itinerary. Below is how we did our trip and recommend following if you're not sure where to start!
Day 1: Tempe itinerary
Depending on when you arrive to Tempe, this could dictate what you have time for. We recommend getting your bearings by walking downtown in Tempe and grabbing a meal and or a drink.
Check out to see if there are any events or special programming happening during your visit! If not, check out Four Peaks Brewing and join one of their guided brewery tours complete with tastings. Tours are available on Saturdays only and require tickets in advance.
Before sundown, rent an animal paddle boat on Tempe Town Lake before grabbing sunset drinks at Skysill Rooftop Lounge for unforgettable views of the scenery.
Day 2: Tempe itinerary
We recommend having breakfast, heading to Papago Park to explore around whether you go by e-bike or by car. Don't miss hiking to the Hole in the Rock, checking out the lagoons, and Hunt's Tomb.
Afterward, we recommend grabbing lunch then making your way to Desert Botanical Garden or the other activities around Papago Park like the Phoenix Zoo.
We did the Papago Park experience in multiple visits splitting up our time and eating our meals back in the Downtown Tempe area.
Day 3: Tempe itinerary
Get up first thing in the morning and hike up "A" Mountain! Watch the sunrise and make your way back down for a nice breakfast with coffee.
After you've freshened up, we recommend making your way to explore all the cool things to check out on the ASU Tempe Campus and having lunch downtown. Be sure not to miss the ASU Art Museum too – admission is free!
If you have extra time, check out some of our suggestions below.
Extra Time on Your 3 Days in Tempe Itinerary?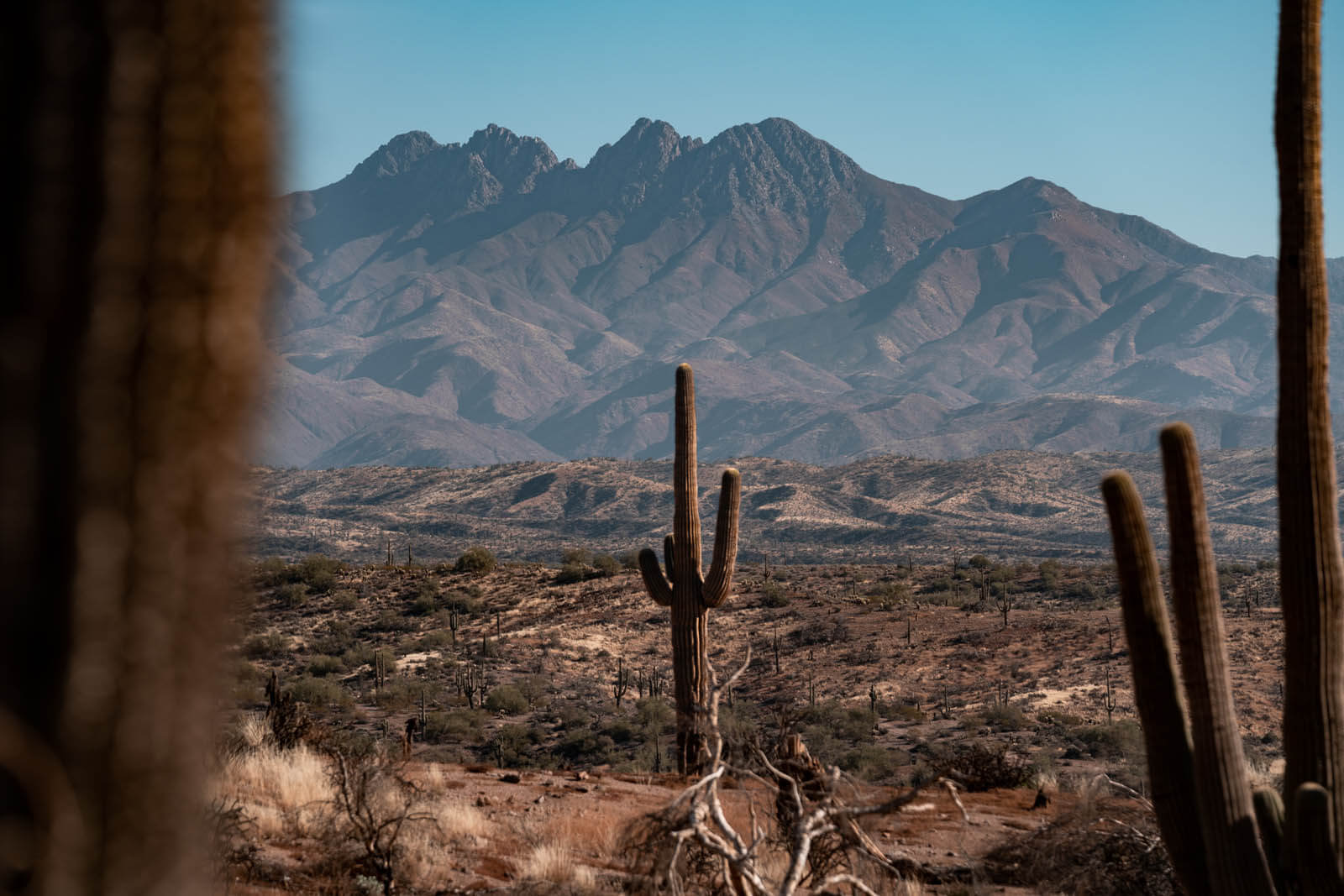 Most of the things to do in Tempe mentioned in this guide and suggested 3 days in Tempe itinerary are easy to do without a car in case you're coming on a weekend getaway right from PHX airport with the exception of a few activities that are easy to get to by a rideshare app.
If you have extra time, check out some of these other Tempe attractions, and/or if you happen to have a car already you can easily add these to your 3 days in Tempe itinerary that are fun to do in the area.
Since you're in the greater Phoenix area, there are plenty of other amazing places to check out too or spend a day checking out all the best things to do in Scottsdale, another place you can easily spend a whole day, weekend, or vacation around as well!
Phoenix Zoo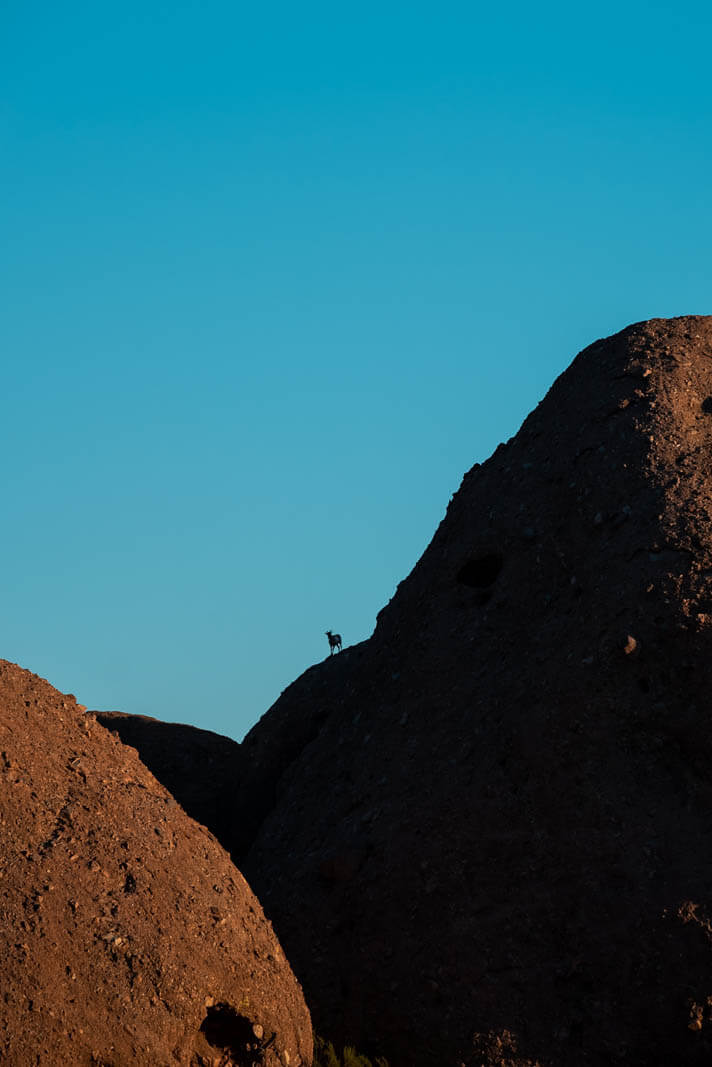 Another awesome activity to enjoy if you have extra time during your 3 days in Tempe is visit the Phoenix Zoo, also located in Papago Park, in fact some of the buttes you see from Papago Park are actually a part of the zoo. During our visit to Hunt's Tomb we saw a little goat-like creature and thought it was in the wild, only to discover it was actually a part of the zoo.
This is the largest, privately-owned non-profit zoo in the United States that's been in operation since 1962 started by a member of the Maytag home appliance family. There are walking trails to take you around the zoo which hosts 1,400 animals along the four different trails.
The zoo focuses on conservation and is even responsible for helping reintroduce the almost extinct Arabian oryx back into the wild, the initiative was called Operation Oryx and is one of the points of pride for this zoo.
Throughout the year there are special events too like at the holidays they deck out the zoo with holiday light displays as a part of their Zoolights exhibit. Book your tickets in advance here.
Roosevelt Row in Downtown Phoenix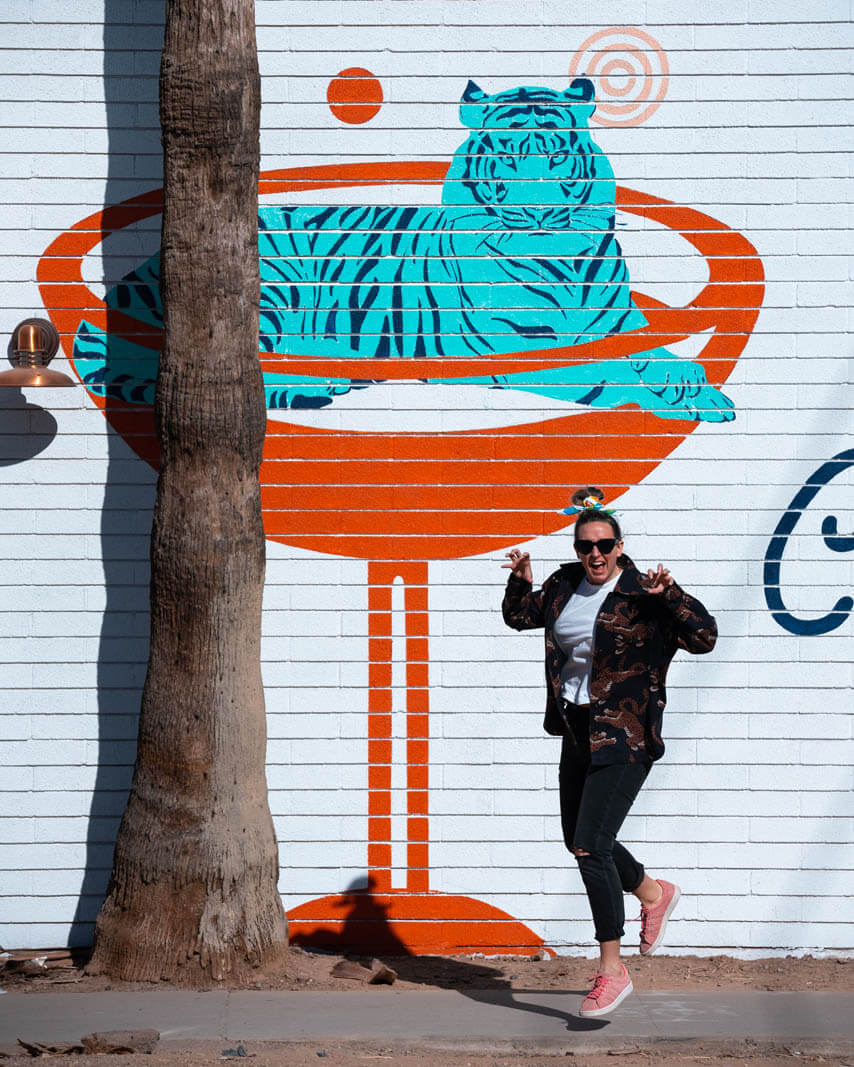 Our local friend brought us here and oh my goodness this area of Downtown Phoenix is really fun! Check out this arts district that is full of art galleries, restaurants, bars, and cool boutiques plus colorful murals galore.
The Churchill (901 N 1st St) has little eateries, a bar, and fun shops to check out. Check out the murals along Roosevelt Street on your way to the Found:RE Phoenix (1100 N Central Ave), a hotel with a public gallery you can walk through on the ground floor plus a bar and restaurant if you need a bite to eat.
Find the original set of Roosevelt Row houses that are adorned with street art and murals at the corner of E Roosevelt St and N Fifth St, and if you're thirsty pop into Greenwood Brewing (922 N 5th St) for a drink!
Vintage Shopping in Mesa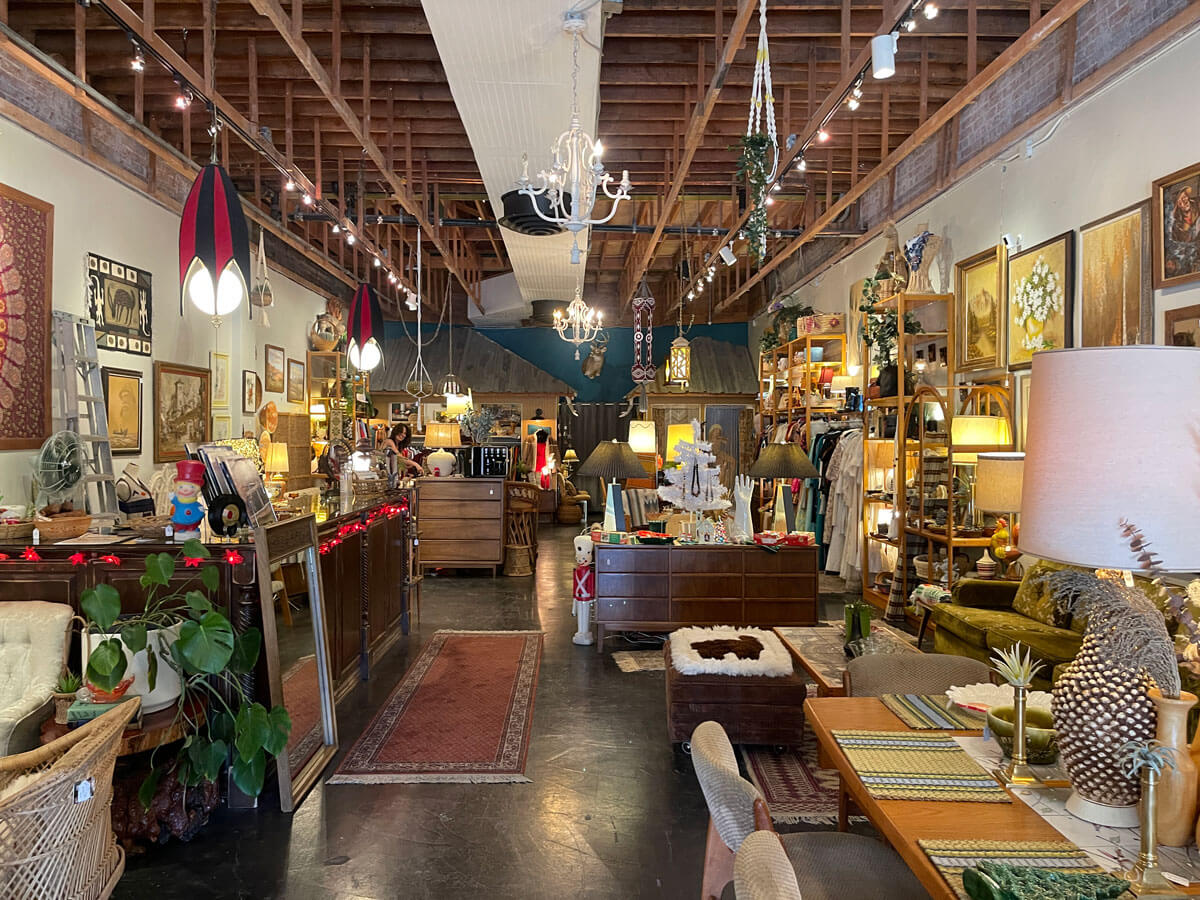 We were lucky, our friend Jess lives in Mesa and showed us her home on our extra day during our Tempe itinerary. I am going to focus on my favorite part about Mesa, all the vintage stores you can find along Main Street!
We were in vintage heaven! Check out the cluster of at least 10 vintage shops within three blocks of downtown Mesa (there are even more on the outskirts of Main Street too).
We felt like there was a vintage shop to represent each decade/era here plus full-on antique malls.
Hot Air Balloon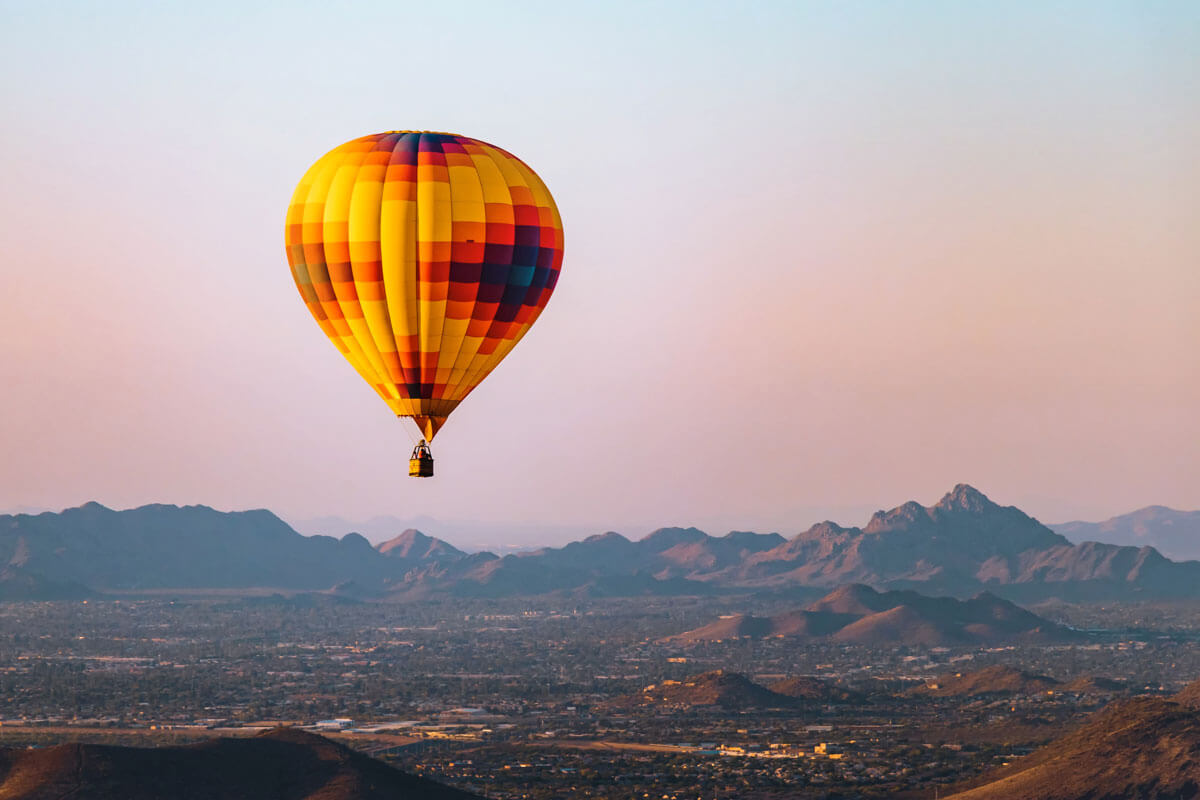 Because of the local climate and conditions, one of the best things to do near Tempe, Arizona is taking a hot air balloon ride! Enjoy a picturesque desert view of sunrise or sunset with Rainbow Ryders.
Your hot air balloon ride will last 45 minutes to 60 minutes, but you'll want to budget around 3 hours of your time total for this incredible experience.
We didn't get to do this on our trip, but this is high on our list for what to do on our next trip to Tempe!
Where to Stay in Tempe, Arizona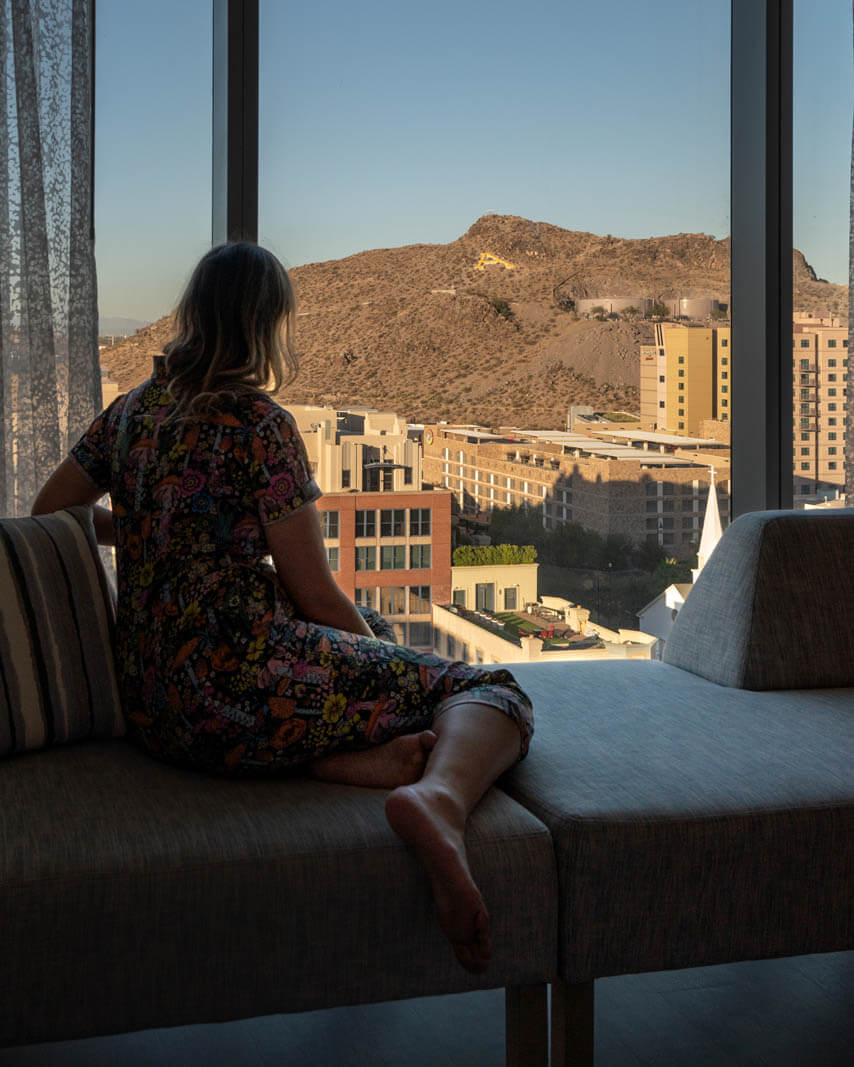 During our Tempe, Arizona getaway we stayed at the Westin Tempe in the heart of Downtown. We were walking distance away from all the best things to do in Tempe and also had the convenience of the gorgeous rooftop views and bar at Skysill Rooftop Lounge and the incredible food at Terra Tempe Kitchen & Spirits on location.
The hotel rooms are modern and extremely comfortable, better yet many have views! Our room had a gorgeous view of "A" Mountain that we could enjoy right from bed, which was especially gorgeous in the morning.
Oh did I forget to mention there's a rooftop pool too? Book here.
---
Enjoyed this guide to the best things to do in Tempe, Arizona, and 3 days in Tempe itinerary? Bookmark for later to help you plan your next visit!
Also, if you find yourself wanting to explore more of Arizona check out our Southwest Road Trip itinerary!