Looking for the best things to do in Venice Beach, California? We've got you covered. This incredibly cool spot on the coast of Southern California in Los Angeles is known for its free-spirited residents, famous boardwalk, funky stores, incredible people-watching, murals, man-made canals, and of course the famed Muscle Beach and outdoor gym.
Located on the south side of Santa Monica, along the famous PCH or Pacific Coast Highway 1, this neighborhood got its Italian name, Venice, after the interesting millionaire Abbot Kinney designed the area in 1905 to be a mini replica of Venice, Italy complete with piazzas, canals, and pedestrian bridges dotted with adorable beachside cottages along Dell Avenue which became known as the Venice Canal Historic District. 
You'll find all of that today along with the funky crowd that gathers here from street performers to all kinds of creatives, and beachside recreational activities from the bodybuilding outdoor gym on the beach, skatepark, basketball courts, and biking and walking lanes along the oceanfront.
There are plenty of reasons to visit Venice Beach, California, and all its cool, quirky, funky, and eclectic vibe and people that should be a must on your visit to Los Angeles or Southern California road trip. Not to mention, due to its location, it's easy to also explore all the best things to do in Santa Monica too!
Check out some of the best things to do in Venice Beach, California in this go-to getaway guide for your Los Angeles itinerary!
Must-See Venice Beach Attractions
1. Venice Beach Boardwalk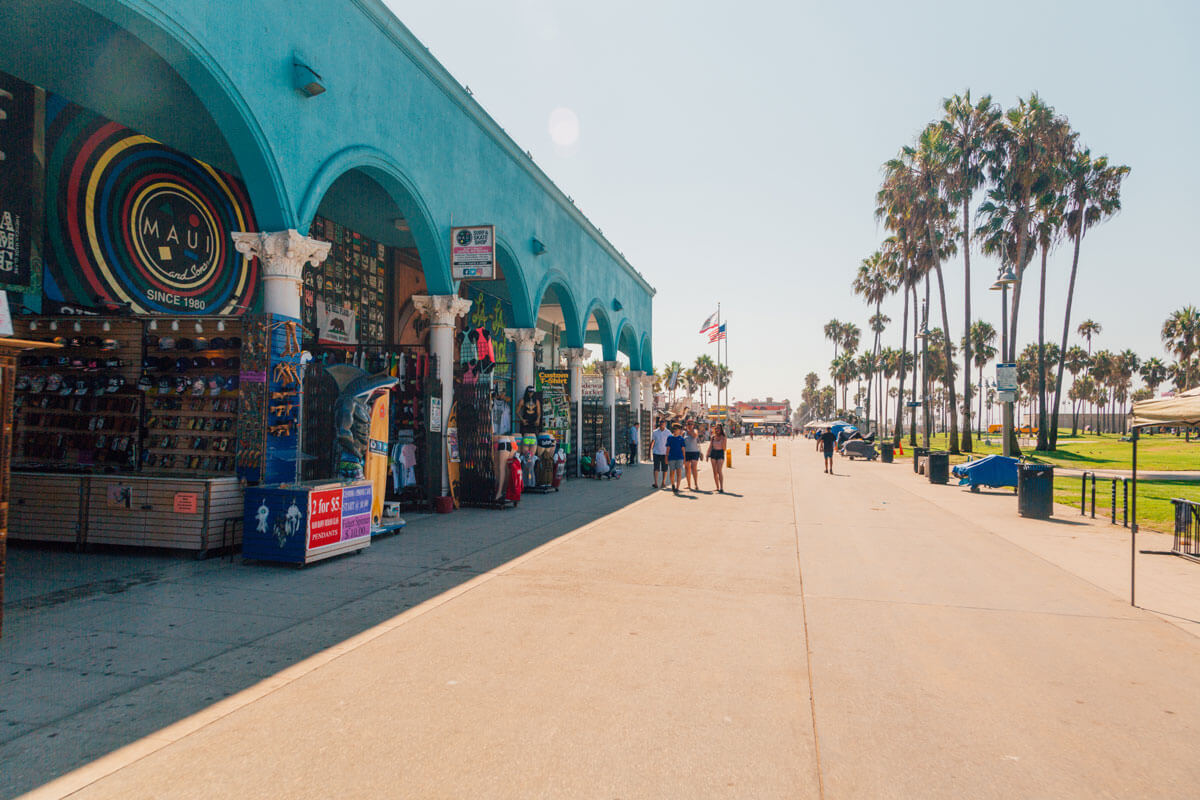 This is almost certainly the most well-known and iconic of Venice Beach attractions. The Venice Boardwalk has just about everything; street performers, t-shirt stands, an eclectic array of shops, and a beautiful ocean front walk. Not to mention this is the perfect spot for people-watching stretching just over 2 miles in length.
There is a walkway for pedestrians, as well as a bike path, so you'll be surrounded by people getting around in different ways whether it be by roller skate, rollerblading, bicycles, unicycles, or types of bicycles you've never seen before – you name it!
The Venice Beach Boardwalk is the heart of this area and passes by other attractions on this list (see Muscle Beach and Venice Skate Park), so this will be a staple on your list of things to do in Venice Beach, California.
The most popular stretch of the boardwalk is from North Venice Boulevard to Park Avenue and is where you can find the largest concentration of shops and places to eat. There are more bars and shops scattered a bit more up to Rose Avenue as well.
2. Rent A Bike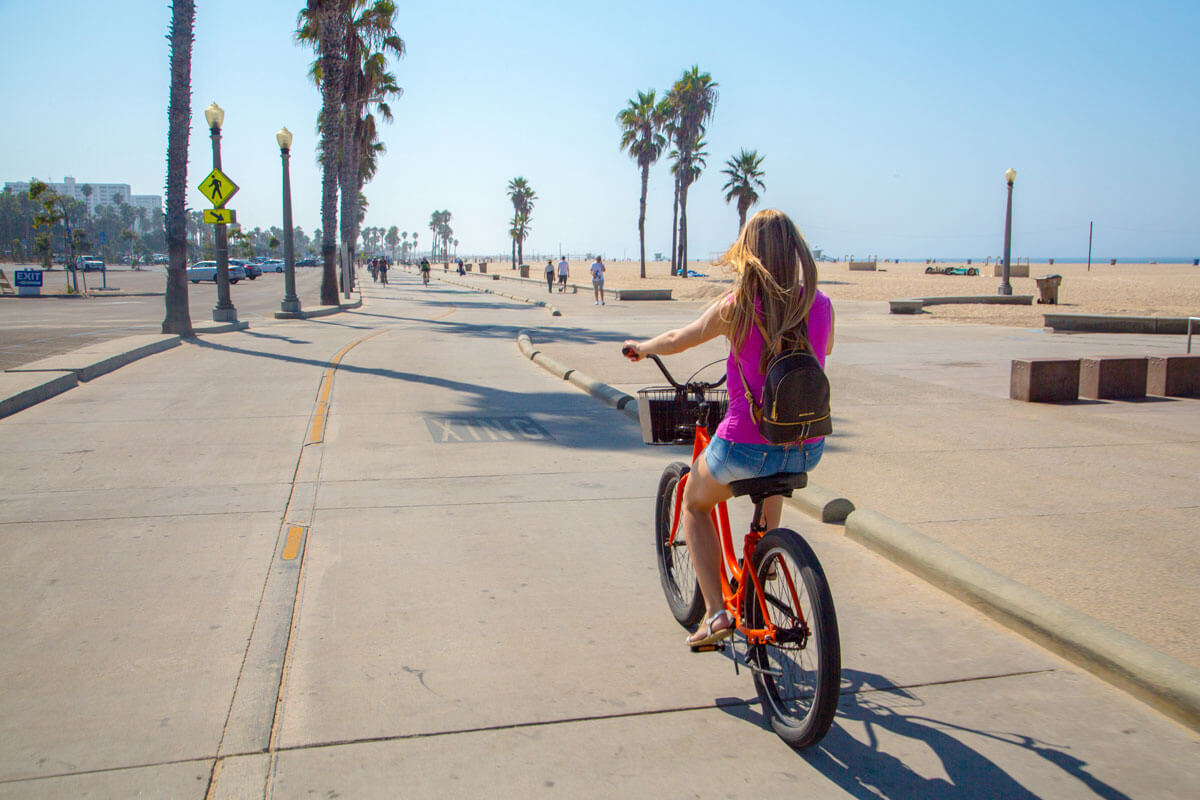 One of the great things about Venice Beach, California is that the bike path directly connects to its neighbor to the north, Santa Monica.
So if you're looking to get some exercise, fresh air, and covering a lot of ground in a very time-efficient way, biking from Venice Beach to Santa Monica is the activity you'll want to do!
If you don't have your own beach cruiser, you can rent a bike and get from Venice Beach to Santa Monica in about 15 minutes using the 3-mile bike path. There are quite a few places to rent a bike here including Ride! Venice and Jay's Rentals.
Another cool option and one of the most fun things to do in Venice Beach is joining a 3-hour guided bicycle tour that covers both Santa Monica and Venice Beach with fun stops along the way. All tours are small groups so the tour will be more intimate with stops at some of the coolest Venice Beach attractions like Muscle Beach, Venice Canals, and of course nearby spots like the Santa Monica Pier. Book your tour in advance here.
3. Hang Out At The Beach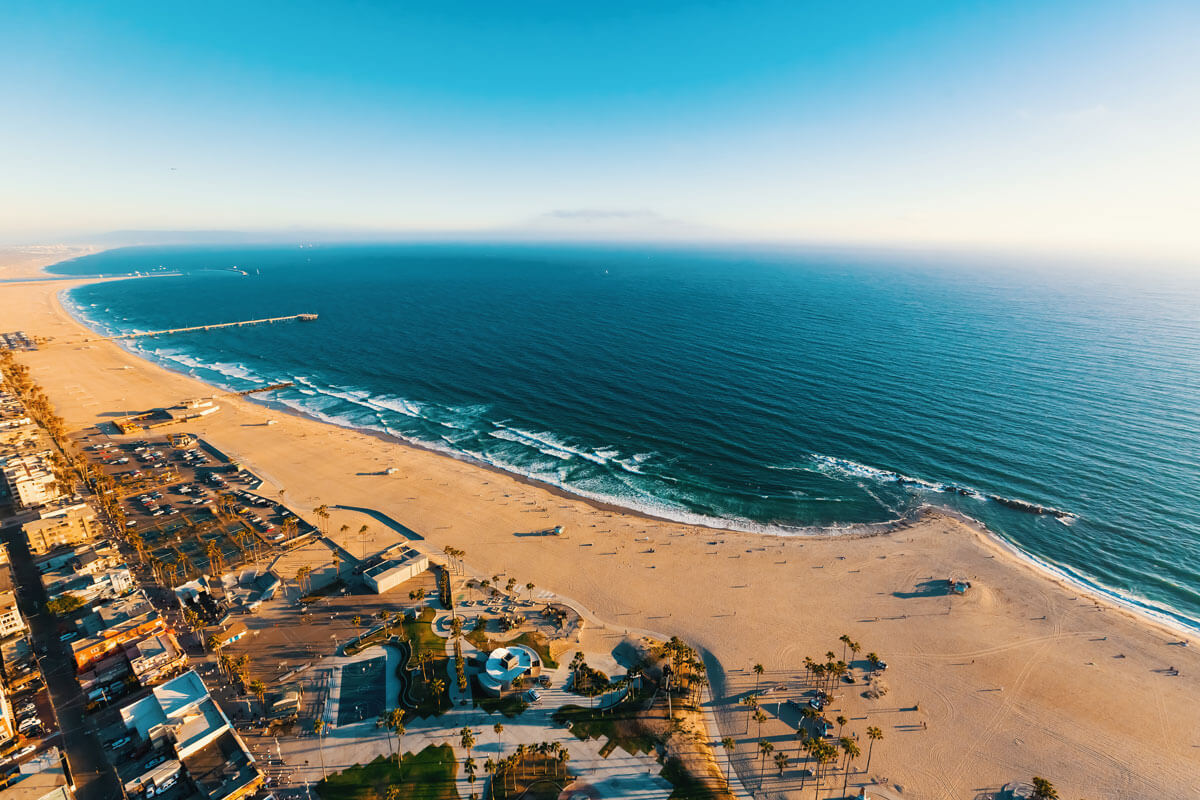 One of the best things to do in Venice Beach, California is enjoying the 'beach' of Venice Beach.
Considered one of the best beaches in Southern California, Venice Beach stretches over 3 miles! Take a dip in the ocean to cool off in the chilly and refreshing Pacific Ocean water and enjoy a swim, try surfing, or hang out and enjoy all the oceanfront and beach activities like basking in the sun, beach volleyball, or go try to do some pull-ups at Muscle Beach.
This is the perfect fit for what to do in Venice Beach if you're not someone who likes to stay and hang out on the beach all day since there are so many great restaurants, bars, and things to do in Venice Beach if you need an actual beach break. This is awesome for us, because Scott gets a bit stir crazy sitting at the beach too long!
Another one of the more popular things to do in Venice Beach, California for surfers is check out the popular local surf spot, referred to as the Venice Breakwater. This is where you can watch surfers catch some waves or even try it yourself!
4. Take a Surf Lesson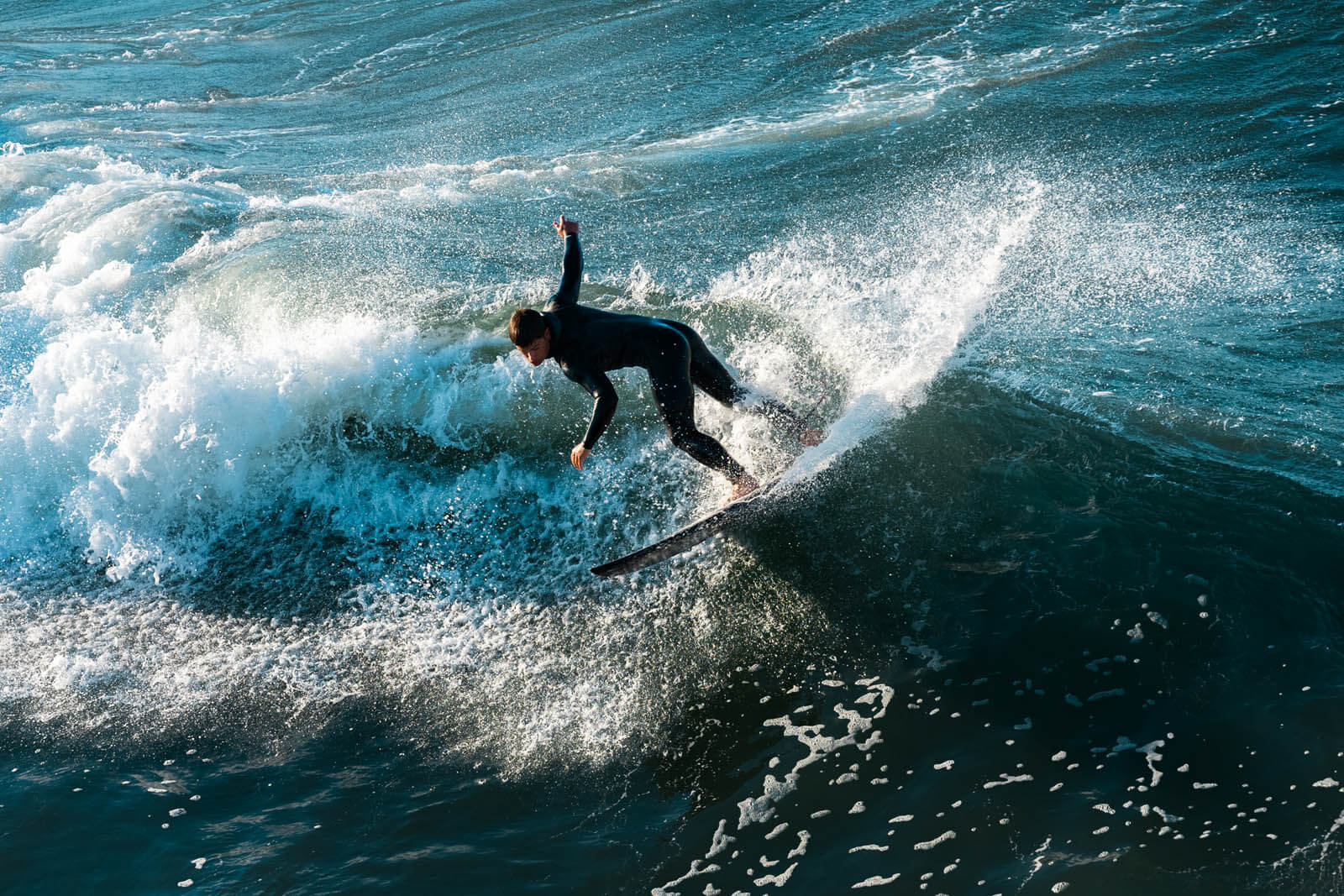 As mentioned, one of the best things to do in Venice Beach, California is to hang out at the beach. If you're not already an avid surfer then this option might not seem possible for you. But THERE IS A WAY! 
Venice Beach, California is one of the best places in LA to learn how to surf! You can either join a group surfing lesson or book a private 2-hour surfing lesson to learn the ropes and ways at this popular west coast water sport!
Both lesson options are suitable for any level of surfing you've had, even if that's none, meaning this Venice Beach activity is friendly for first-timers up to people who are more advanced and just want to add some finesse to their form from an expert.
Wetsuits (making this a year-round friendly activity) and surfboards are provided with your lesson. They ask that you only sign up if you already know how to swim though.
Book your small-group surf lesson here or book your private surf lesson here.
5. Small World Books
Calling all book lovers you'll love this fun thing to do in Venice Beach! Look for the red and white striped awning off the Venice Beach boardwalk, and you'll find one of the best Venice Beach activities, Small World Books.
This is actually a bookstore and restaurant combo, so you can grab a bite to eat and browse a great selection of books when you need a bit of a break. They proudly showcase local authors, which adds a charming touch to this Venice Beach attraction.
If the bookstore/restaurant combo wasn't enough of a reason to be lured here, they have another PURRRRFECT reason to visit, they have a resident kitty cat that will help you find your next read.
Since being established in this location over 40 years ago, Small World Books has become a mainstay in the area and is an essential Venice Beach activity.
6. Hit Up A Rooftop Bar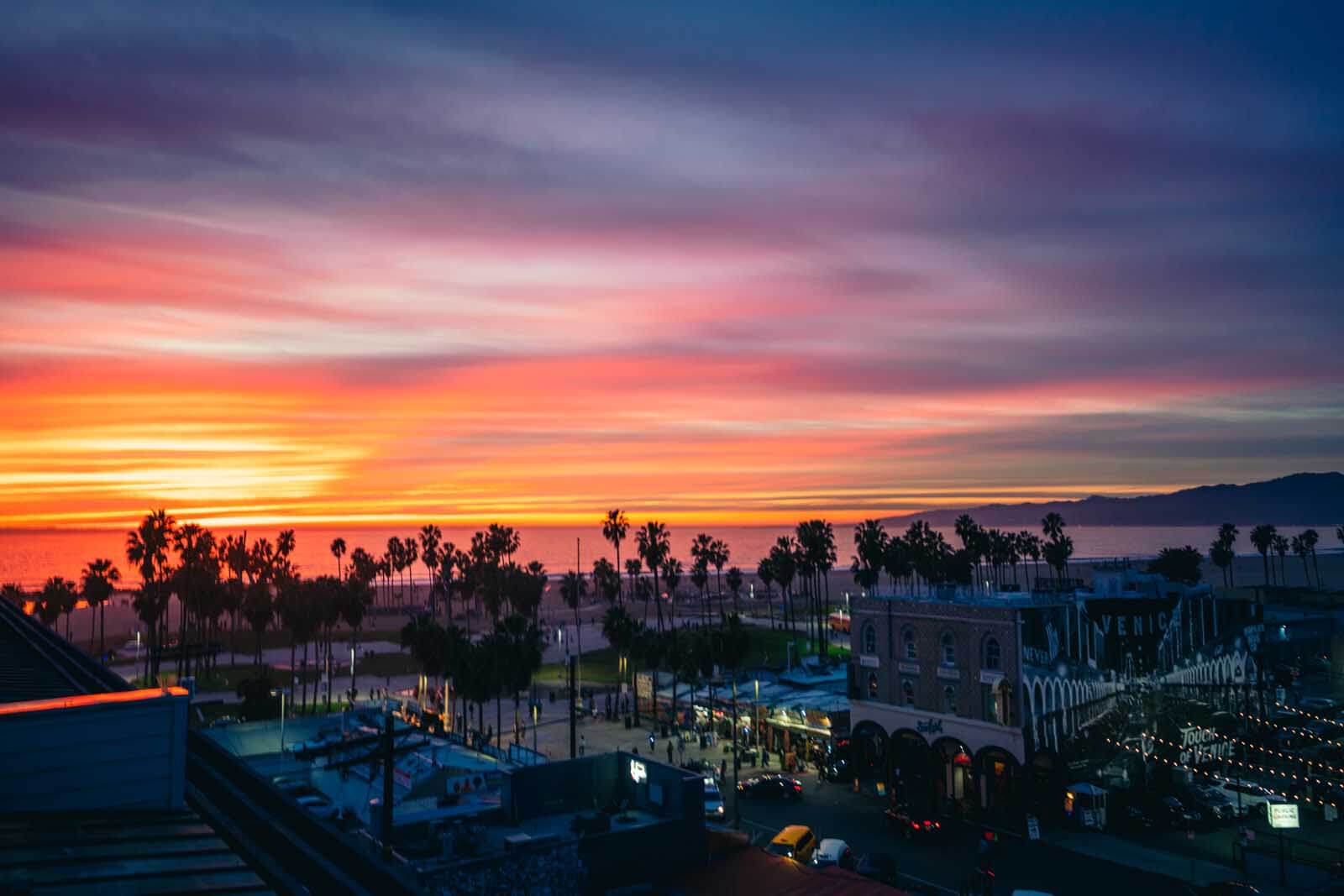 Planning around all the amazing things to do in Venice Beach, going to a rooftop bar should be in your top five, without question, especially at sunset, there's nothing like a winter sunset along the Southern California coast too by the way (they're pretty all year long, but somehow in the winter they are better).
Having dinner and drinks with a view of the coastline, palm trees, and Venice below? Sold! Now, where to go? First, check out High Rooftop Lounge, which is located in Hotel Erwin. They offer burgers, pizza slices, and specialty cocktails, which you can indulge in while watching the sunset over Venice Beach.
Another rooftop option, albeit not as elevated as High Rooftop Lounge, but still special and worthy of checking out is The Venice Whaler, which has been around since 1944, and this is the Venice Beach attraction to go to for some fish tacos, refreshing margaritas, and of course a view from their rooftop.
7. Venice Canals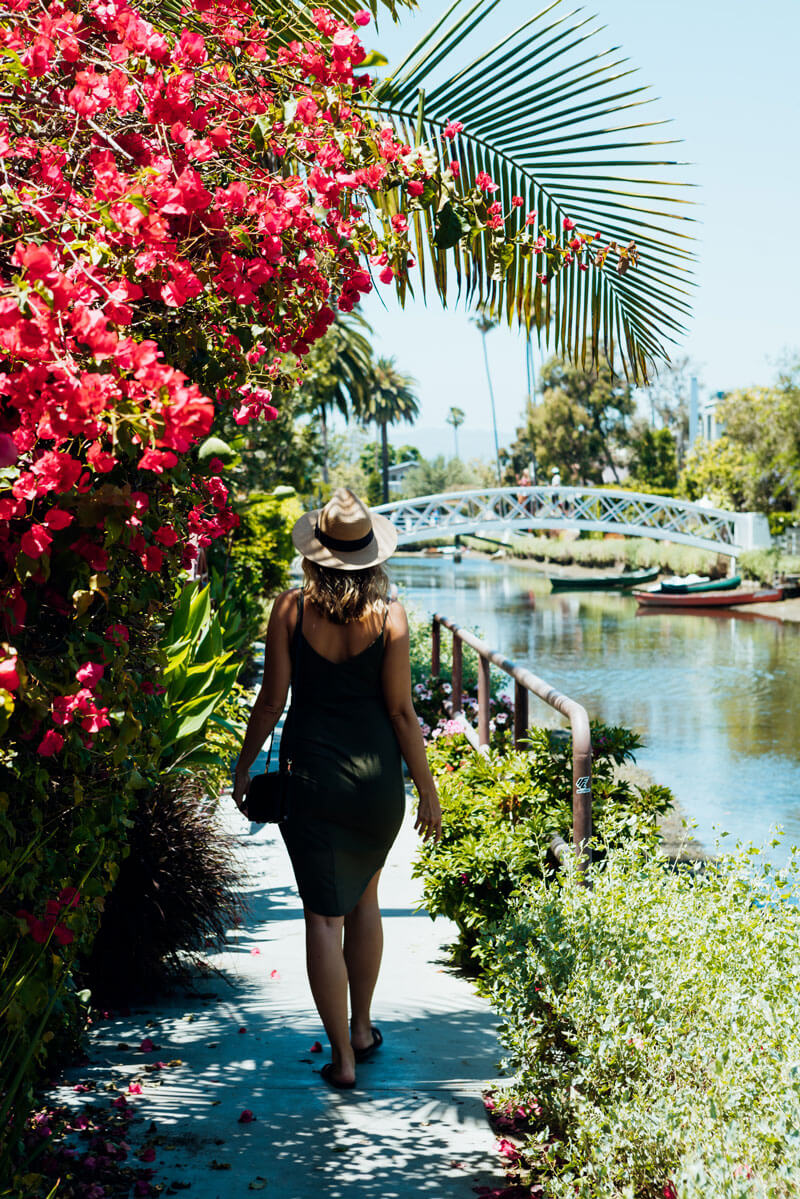 A truly unique Venice Beach activity you won't want to miss is strolling the gorgeous and charming Venice Canals. These were created over a hundred years ago to resemble the famed canals in Venice, Italy by that eccentric billionaire, Abbot Kinney we mentioned earlier.
After some time, many of the original manmade canals were filled in and paved to build streets, but a handful remain to this day. They are a short walk from Venice Beach, specifically located by 25th Street in Venice Beach, stretching three blocks along Dell Avenue.
If you are driving, you can park in the nearby lot at the end of Venice Boulevard, and you enter the canals using the ramp, also at Venice Boulevard. This is a peaceful and calm thing to do in Venice Beach, away from the hustle and bustle of the oceanfront, and you can take in the picturesque and tranquil scenery of these historic and scenic canals right here in Los Angeles.
The canals here are officially the Venice Canal Historic District which acknowledges Kinney's Venice in America project. It's nice to just aimlessly wander the canals, and it's adorable footbridges, and admire the beautiful homes that line the canals (and some of their boats!).
8. Muscle Beach
One of the most iconic things to do in Venice Beach is visit Muscle Beach. Iconic, as in Arnold Schwarzenegger used to work out here before he became famous as The Terminator, Dr. Alex Hesse in Junior, and of course the Kindergarten Cop before going on to be what some consider a very successful Governor of California from 2003 to 2011.
Muscle Beach is an outdoor weight room and gym that is meant for people to watch those who are using the equipment. For decades, Muscle Beach has been a hotspot for bodybuilders to come and show off, and it has earned the nickname "Home of Bodybuilding".
In addition to Arnold, Franco Columbu, Lou Ferrigno, and Frank Zane have all worked out at Muscle Beach. This is a fun thing to do in Venice Beach, and if you're lucky, you might be able to snag a pic with one of the bodybuilders.
If you want to workout at Muscle Beach, you'll have to buy a day pass or a week pass if you plan on going during your whole stay at Venice Beach.
9. Venice Skate Park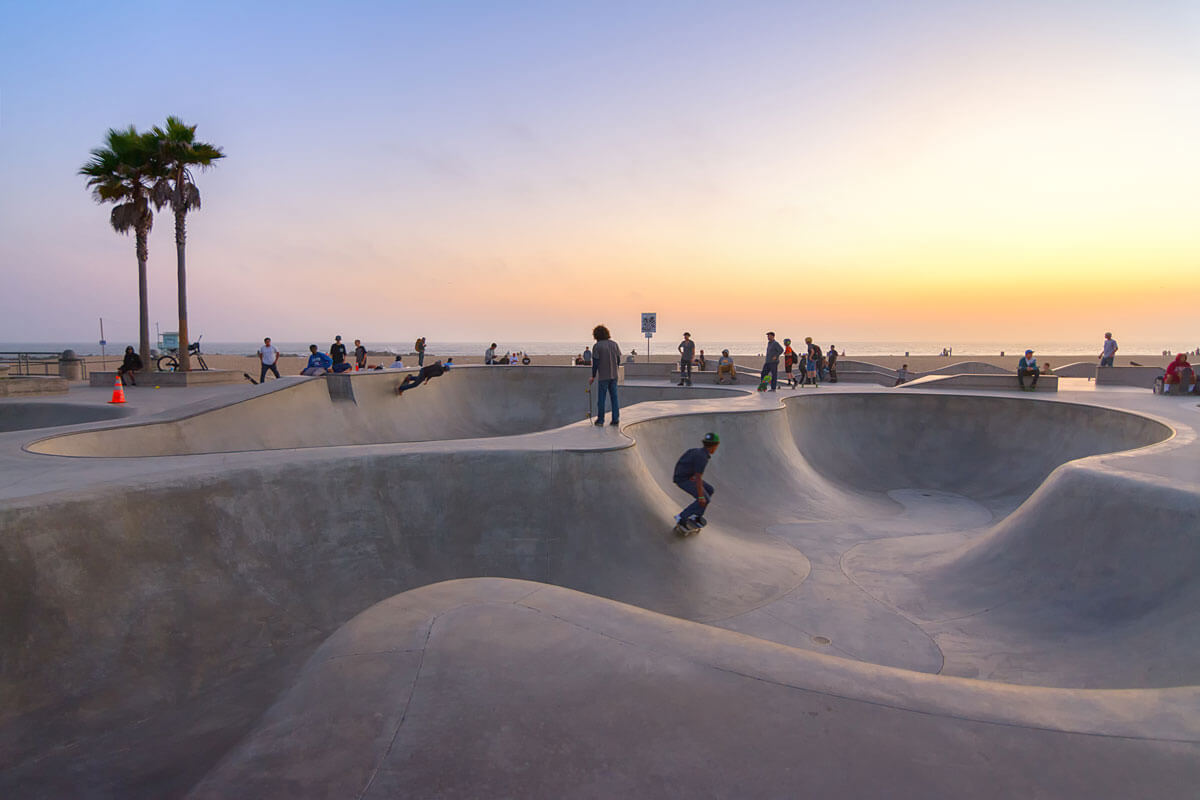 If you skateboard, or if you like to watch skateboarders, you should scope out the Venice Skate Park. The bowls comprising the skate park are located next to the beach, which means you get to take in the salty air and hear the waves as you watch the skaters do their thing.
This is one activity in Venice Beach, California that you can quickly check out, and you'll be glad you did! The talent that practices here is insane, Scott grew up skateboarding (he's pretty darn good if you ask me) and even he is blown away by the level of skaters that put on a little free show for spectators here.
10. Mosaic Tile House
The two words that immediately come to mind to describe the Mosaic Tile House are colorful and vibrant. True to its name, this is a house with countless tiles carefully placed to create a vivid mosaic landscape.
The creators of this home, husband and wife duo Gonzalo Duran and Cheri Pann, have their paintings displayed around this artistic dwelling. So when you visit, you will get to see their artwork in addition to the house, which is a piece of art all in of itself.
Since the Mosaic Tile House will obviously be on your list of things to do in Venice Beach, you'll want to check when it is open, as they keep quite limited hours and plan your visit accordingly. Currently, they are only open on Saturdays from noon until 3:00 PM, reservations are required, and there are admission fees. 
11. Abbot Kinney Boulevard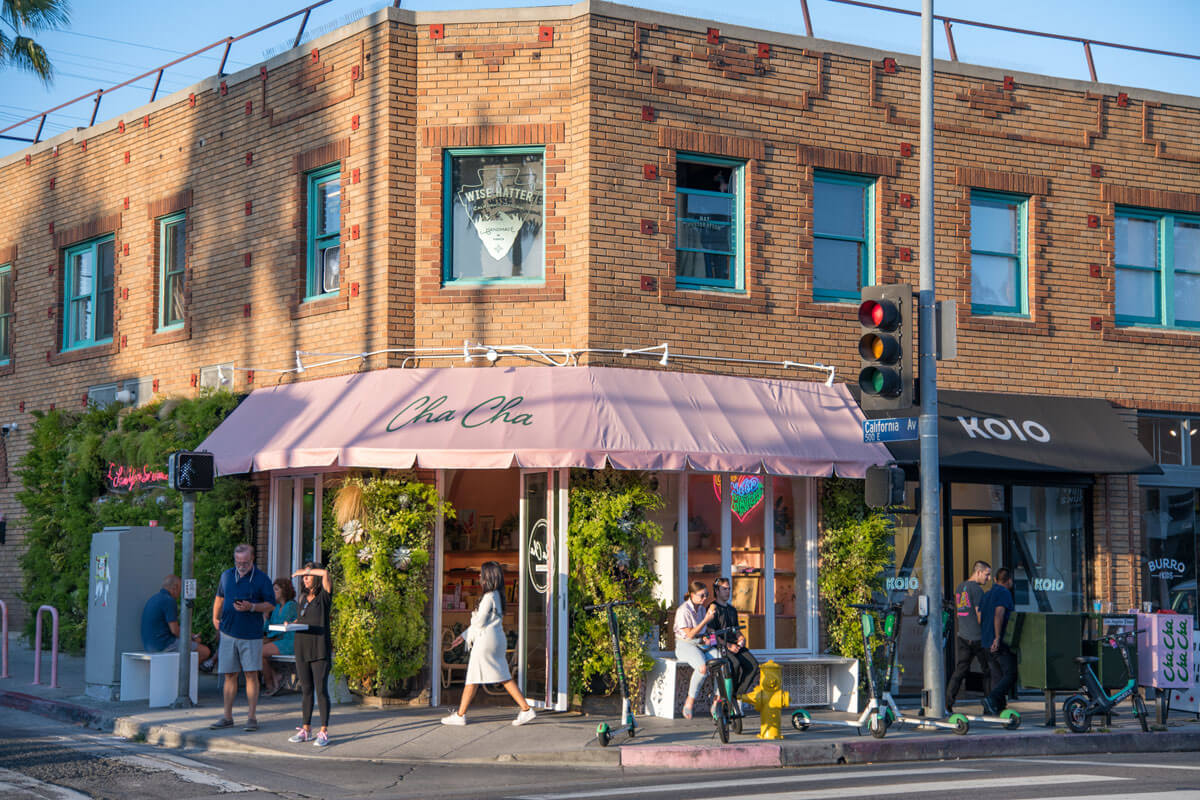 When you're ready for a break from the beach, head on over to Abbot Kinney. You can walk this mile-long boulevard and browse a variety of shops, restaurants, and galleries that encapsulate the cool and artistic style of Venice Beach, California.
You'll be greeted with tall and slender palm trees, charming bungalows, and colorful street art. There are many clothing and accessories shops from both local and national retailers, as well as several cafes offering delicious California cuisine.
You can grab a coffee at Blue Bottle, and a donut at Blue Star Donuts, then get some new shoes at Dr. Martens, followed by some new sunglasses at Illesteva, and finish with some ice cream at Salt & Straw. This is a great Venice Beach activity to add to your itinerary.
Don't miss Hinano Cafe, a Venice Beach institution since 1962 where you can grab a draft brew and burger for lunch. This was Jim Morrison's (from the Doors) favorite Venice haunt.
Don't miss First Fridays at Abbot Kinney either! You can find food trucks, live music, and other great shops and things to do during this fun, monthly neighborhood gathering.
12. Beyond Baroque
Nestled in a tranquil, Mediterranean-style white building is Beyond Baroque, which is a prominent independent literary and art center in the United States. A fun fact about the building is that it used to be the original Venice City Hall building.
Beyond Baroque was initially created as an experimental literary magazine in 1968, and today you can attend workshops, readings, and browse their bookstore and exhibits. This is a great thing to do in Venice Beach, California that's a bit off the beaten path and unique to here!
13. Check Out The Public Art
Venice Beach is home to some really cool street art, architecture, and public art to seek out. The Binoculars Building, which was designed by Frank Gehry, looks like an actual pair of binoculars. You literally can't miss it when walking down Main Street.
While on Main Street, head to the corner of Rose Ave., where you can find the odd and giant Ballerina Clown. This giant sculpture, that's a nightmare for those who fear clowns, was built in 1988 by Johnathan Borofsky to 'capture the essence of street performers in Venice'  and today marks the entrance to a drugstore and is one of the more unique things to see in Venice Beach!
If you love street art and murals, checking out the Venice Art Walls is what to do in Venice Beach for you! They can be found on the Venice Beach boardwalk between the skate park and basketball courts. The Venice Art Walls showcase various forms of street art from murals to graffiti.
14. Try a Tour of Venice Beach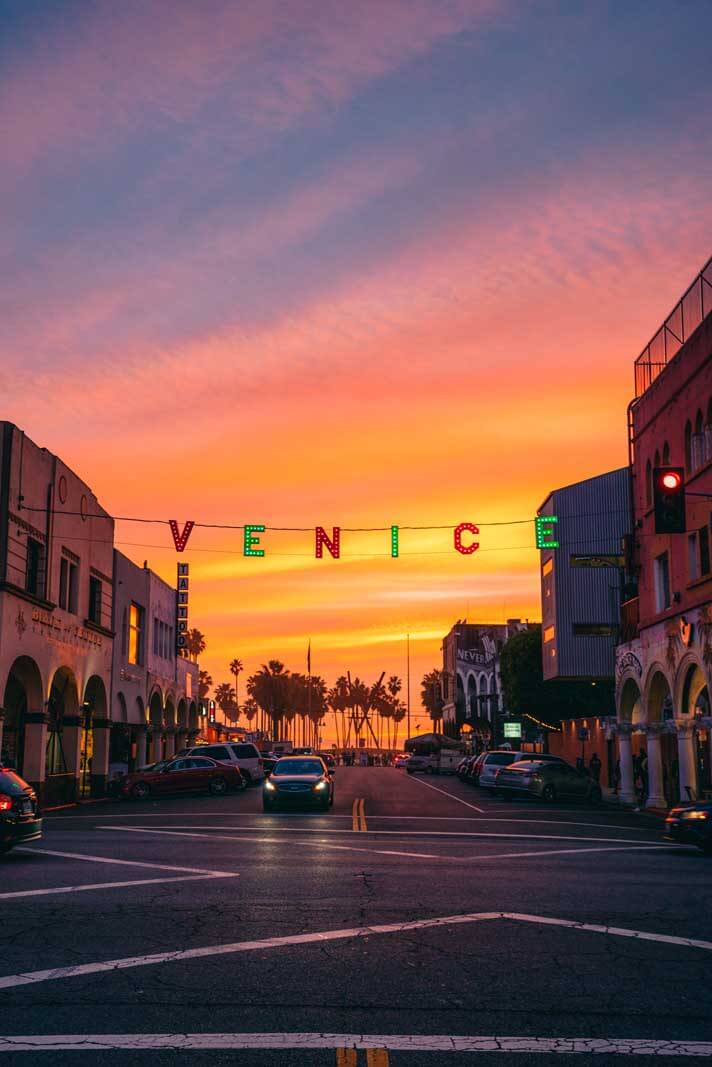 Maybe you want to check out all the best things to do in the area without having to plan much all while getting local information and learning about the cool stories that are tied to this bohemian subculture mecca. That's where joining a guided tour comes in handy!
You can join a 3-hour private guided walking tour of Venice beach where you will learn about the old and the new, stroll some of the most iconic Venice Beach attractions like the canals and the boardwalk, and end your tour at one of the best ice cream spots in Los Angeles.
This is a great option if you're hoping to learn a bit more and since it's a private tour, you can ask as many questions as you want as well as have the opportunity to customize your tour a bit if there are any specific things you want to spend more time at or learn more about. Book your private Venice Beach walking tour here.
And if you're feeling a bit more sporty try this Venice Beach segway tour! This two-hour tour includes a helmet, segway to zoom around, and of course, an experienced guide who will take you along the boardwalk to learn all about the coolest Venice Beach activities and attractions!
Where to Stay in Venice Beach, California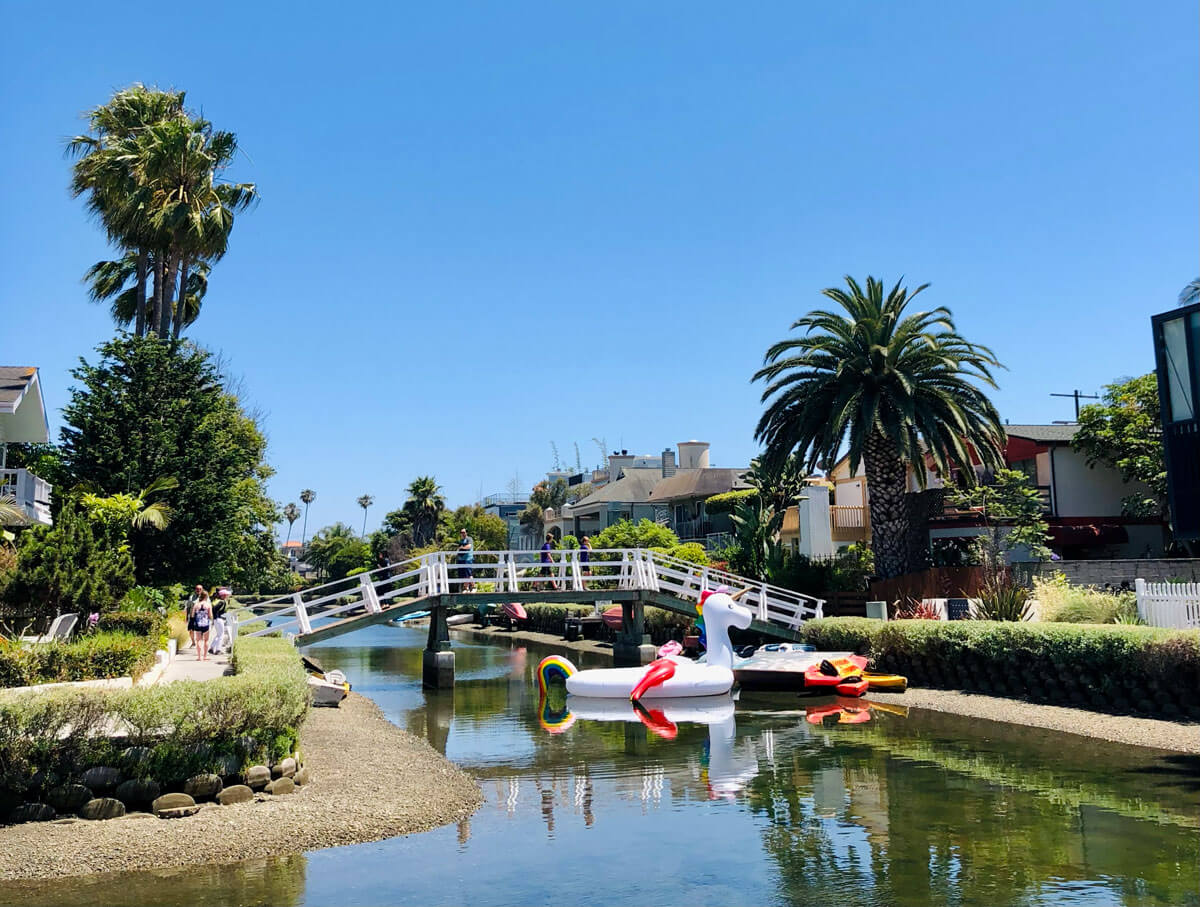 With so many Venice Beach activities to enjoy and being one of the best beach locations in the Los Angeles area, this is a great base for exploring Southern California. Here are a few awesome spots to stay at and base your California getaway at here in Venice!
The Kinney Venice Beach – this contemporary hotel has everything you need including a cool outdoor pool and, bar funky room decor, and a really great location. They do have a self-park parking lot for guests for an additional $20 a day. Book here.
Hotel Erwin – this beautiful, oceanfront boutique hotel happens to also be the venue of the best rooftop bar in Venice Beach not to mention it has an incredible location walking distance to all the cool Venice attractions. The contemporary rooms have their own terraces plus they have fun amenities for guests like coolers you can borrow for a beach day. Book here.
Venice V Hotel – Located along the beach next to the skatepark, this gorgeous oceanfront not only has a great location but is pet-friendly, rooms with ocean views, offer great amenities like rental moke cars, bikes and surfboards, complimentary loaner beach towels,  and cool local artwork in the rooms. Book here.
---
What to do in Venice Beach, California Summary:
Venice Beach Boardwalk
Rent a Bike
Hang Out at the Beach
Take a Surf Lesson
Small World Books
Hit Up a Rooftop Bar
Venice Canals
Muscle Beach
Venice Skate Park
Mosaic Tile House
Abbot Kinney Boulevard
Beyond Baroque
Check out the Public Art of Venice Beach
Join a Tour of Venice Beach
---
Is Venice Beach in Los Angeles worth visiting?
Venice Beach in Los Angeles is definitely worth visiting if you're visiting Southern California from the beaches, dining scene, shopping, and visiting iconic Los Angeles landmarks like Muscle Beach and the Venice Beach Boardwalk.
What's Venice Beach famous for?
Venice Beach, California is famous for being a counter-culture community known for its beautiful beaches, eclectic personalities that fill the boardwalk, the historic Venice canals, surfing, and the famous Muscle Beach, an outdoor gym on the beach.
How long do you need in Venice Beach?
You need at least 3 hours in Venice Beach to see some of the highlights including the Venice Beach Boardwalk, Muscle Beach, the Venice canals, and checking out Abbot Kinney Boulevard. Venice Beach is also a great base for exploring Los Angeles too with great ocean front hotel options.
Is Venice Beach walkable?
Most of the best things to do in Venice Beach are within walking distance making Venice Beach a very walkable destination in Los Angeles.
Enjoyed this guide to the best Venice Beach attractions and what to do in Venice Beach, California? Use this guide to book your Los Angeles getaway and have fun in sunny and beautiful Southern California! If you found this guide helpful, consider bookmarking for later or sharing the love below on Pinterest!