As you'll see from this list of things to do in Luang Prabang, this place is unlike any other place in Laos. A UNESCO World Heritage Site since 1995, its history is seen through its blending of traditional Lao temples and French Colonial buildings. The result is something incredible and easily one of the cutest places to visit in Laos.
The architecture is charming and you can't help thinking to yourself how darling this town is. While some travelers may find the town to be unauthentic, we didn't. After a month traveling this magnificent country, it broke up our trip nicely. Plus, we enjoy finding some comforts from home. It's easy to feel comfortable here with cozy restaurants, cafes, and guesthouses all in a beautiful riverside community.
Charming Things to Do in Laos
Like most of Laos, the town is nestled inside some spectacular mountains making for a surreal surrounding. It's no wonder why so many travelers fall in love with this delightful city. Here are our reccommendations on what to do in Laos!
Stroll or Bicycle Through the Streets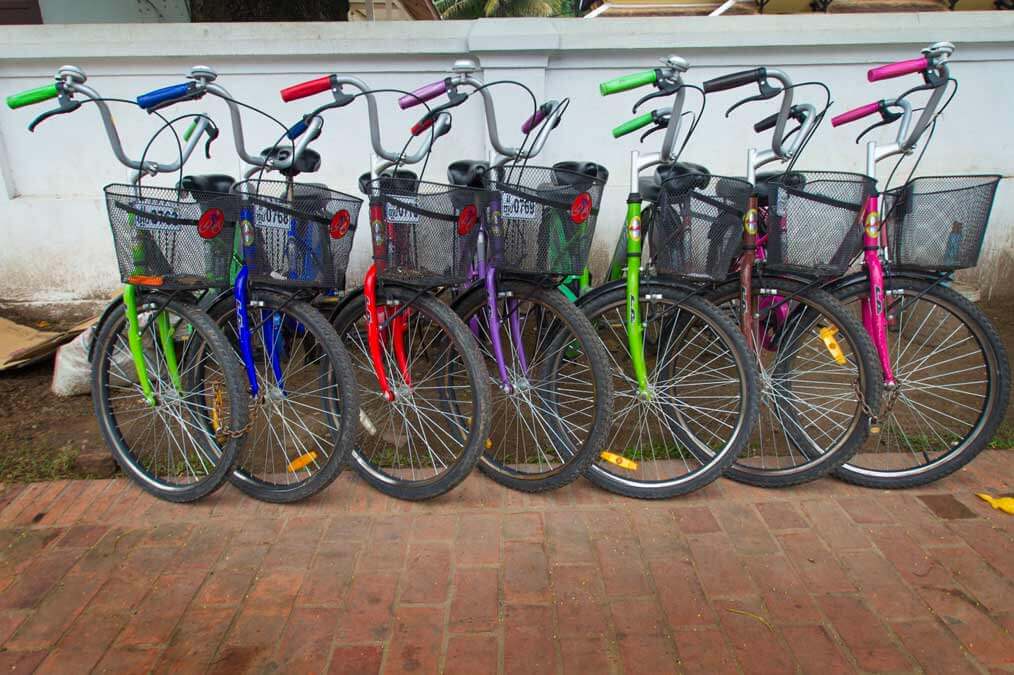 Give yourself a morning or afternoon just to wander the streets of Luang Prabang. You can rent bicycles for cheap or just walk the city by foot. You will find restaurants, shops, Wats, and cafes all tucked away in the side streets and along the river.
If you'd rather go with a tour, try these:
Hike Up Mount Phou Si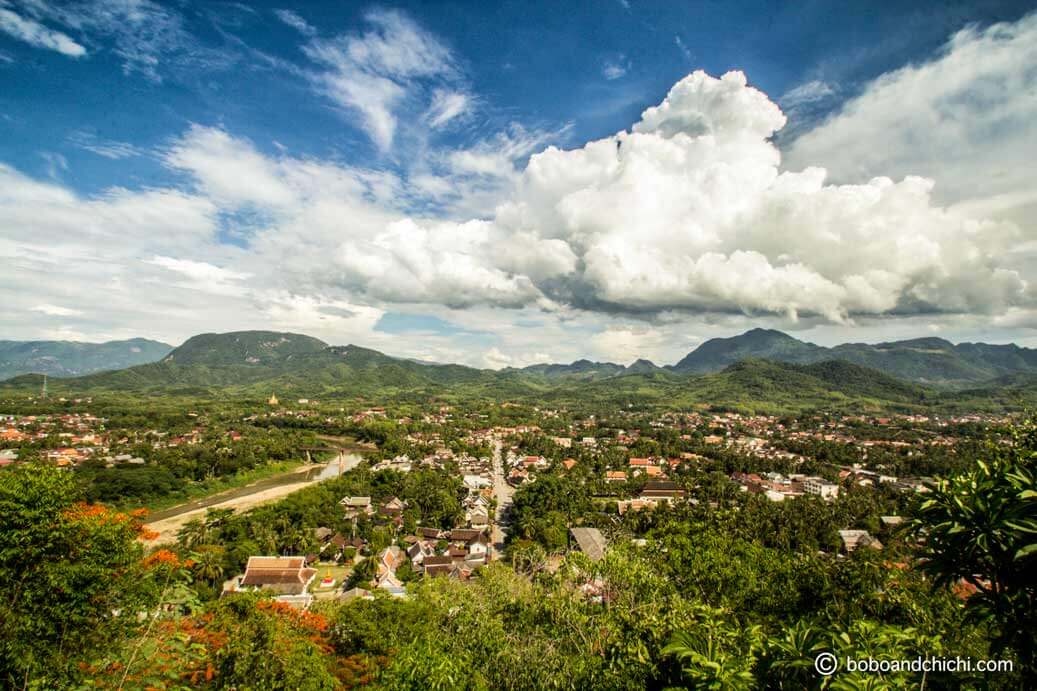 Sweat your way up the 300+ stairs up to Mount Phou Si (or Phu Si) right in the center of Luang Prabang. From here you can get great panoramic views of the city and mountains. There are several Buddhist shrines around Phou Si. You'll see Wat Tham Phou Si about halfway up the mountain, and then at the summit, you can't miss the golden stupa of Wat Chom Si.
Make sure you walk around and see the view from all angles. This is a popular place at sunset, that being said, it's too crowded at this time. We enjoyed visiting an hour or so before sunset to have the spectacular views to ourselves.
Cross the Bamboo Bridge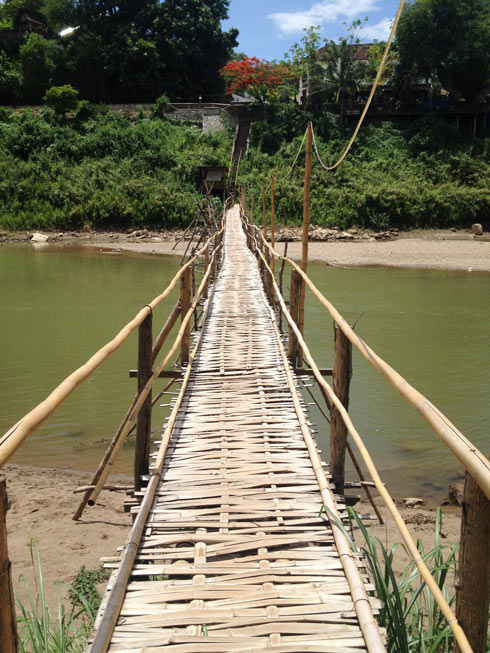 This little bamboo bridge on the Nam Kahn River is an iconic little spot — and it's only up for 6 months of the year as they remove it during rainy season. The only downside is they charge you 5,000 KIP to cross it.
It's a great way to escape the city center for a little bit and check out more shops, restaurants, and even some small farms. You can also walk a little bit out of the way and use the larger bridge down the river to see the other side if you can't bring yourself to pay the toll troll to cross the bamboo bridge.
Spend the whole day out of the city center and see more of the countryside. You can do this bike tour, which will also take you to Ban Hat Hien Village, Ban Pick Yai, Nam Pa riverbank, and Ban Xang Kohng. For more details check here
Experience Morning Alms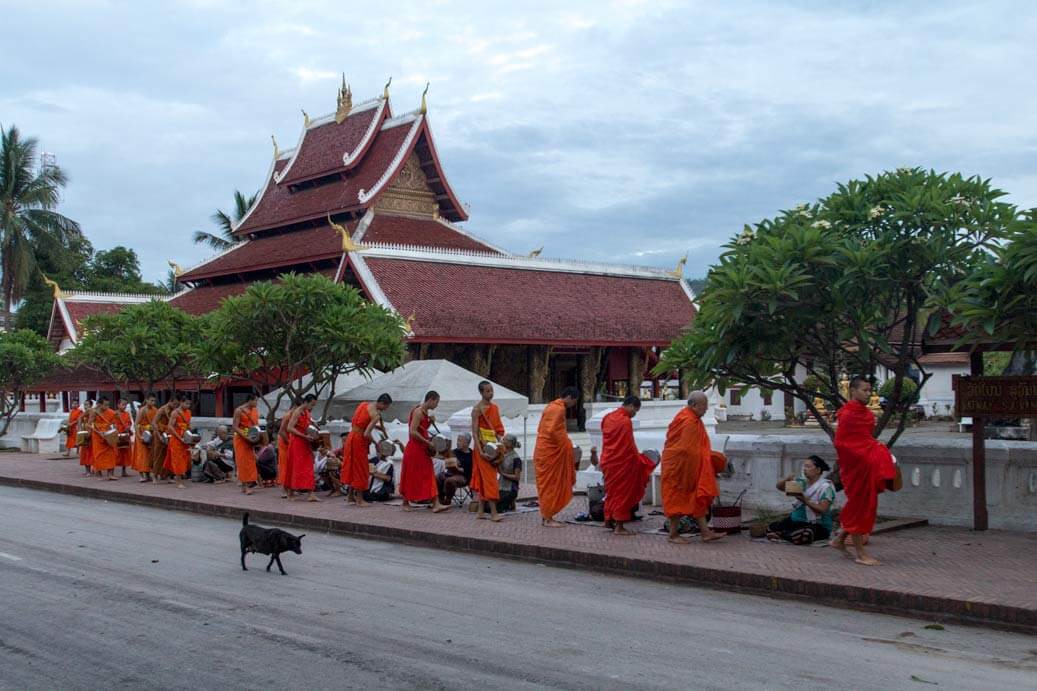 This is one of the most common and popular things to do in Luang Prabang and Laos. Every morning at around 5:30 am the monks and young novices walk the streets and collect offerings for their daily meal. People gather around and spectate this traditional Lao ritual.
The ceremony is not only for locals, tourists can join too as long as they read up and follow the local guidelines on how to properly participate. And don't limit yourself only doing this in Luang Prabang, this tradition is all over the country of Laos.
You can also book a tour for the morning alms. Just check here for more details.
Explore Kuang Si Waterfall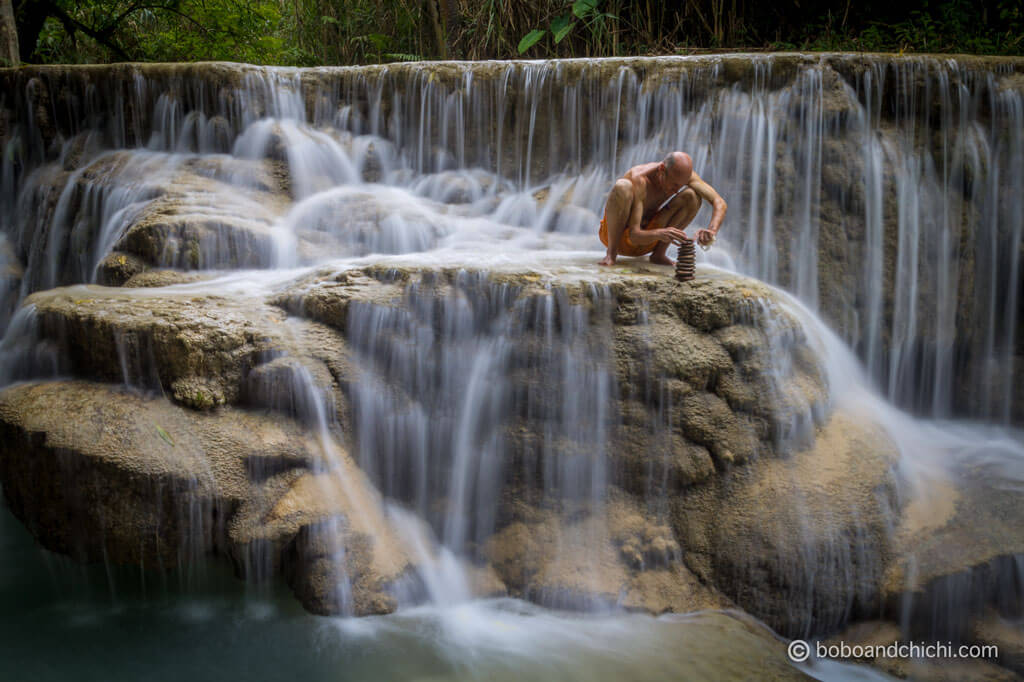 This waterfall has to be one of the most beautiful falls we have ever seen, and we've seen plenty of stunning waterfalls in Laos alone (like the ones around Bolaven Plateau). What makes these falls special is the cascading, turquoise water that continue to fall and flow like a river in the surrounding green, lush jungle.
There are plenty of refreshingly cool swimming spots home to the famous Dr. Fish fishies that will nibble the dead skin away on your toes. Talk about a sweet bonus.
Make sure you continue following the smaller cascading falls up to the larger falls as there are three levels in all. The largest one has a 200ft drop. You can hike up along the right side of the larger falls to the top and swim in a pool in the jungle as well.
We preferred the lower pools due to their stunning turquoise color. The lower falls are so gentle you can literally sit underneath them and feel straight out of a scene in a Disney film.
Getting to the Falls
This is a must see if you are visiting Luang Prabang. You can hire a tuk tuk (find more people to share the cost), book a round-trip mini bus ticket, or rent a motorbike like us. The motorbike offers a bit more freedom in terms of time. Don't miss the sun bear rescue center on the way in either.
You could also do a tour like these ones:
See all our photos for Kuang Si Falls here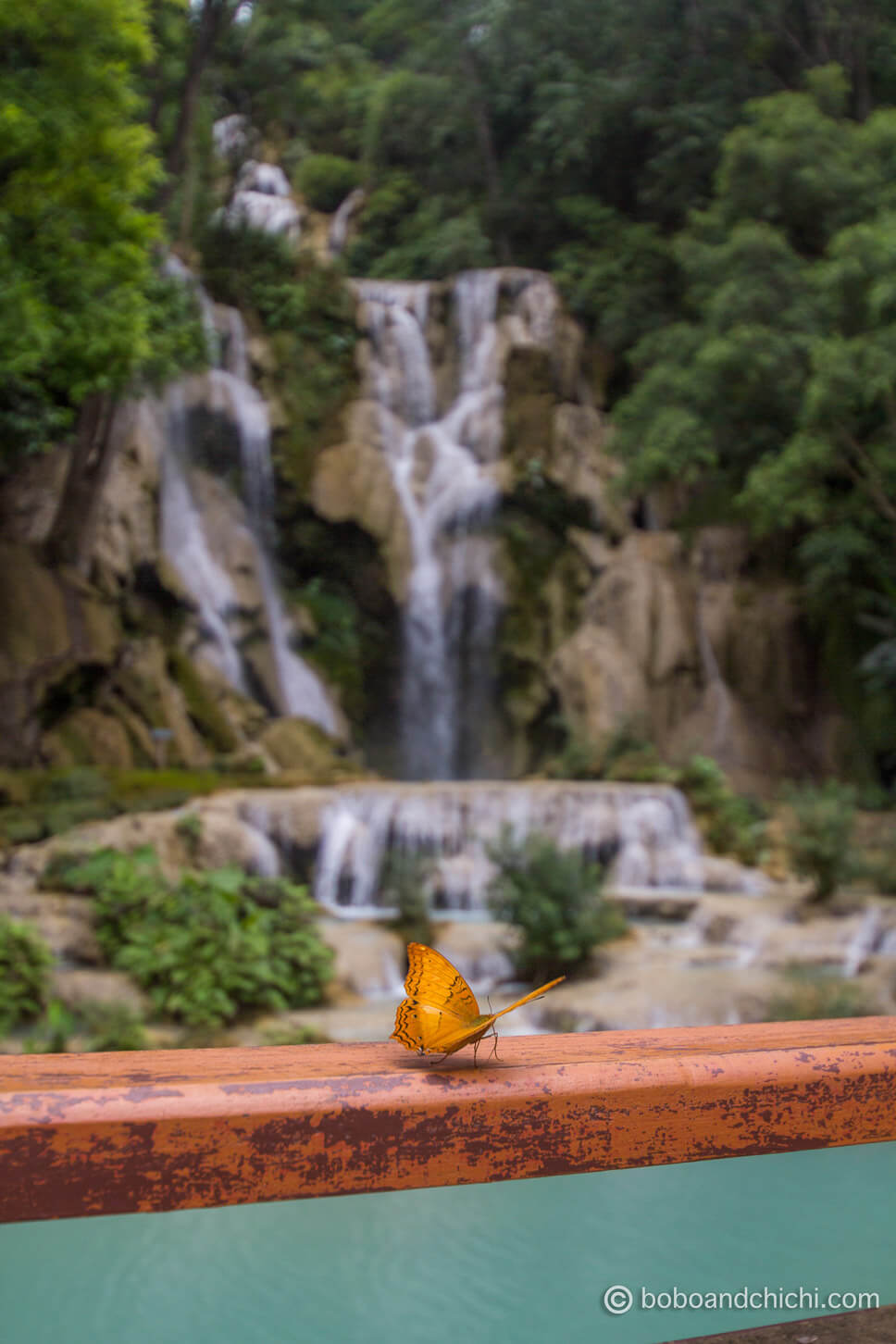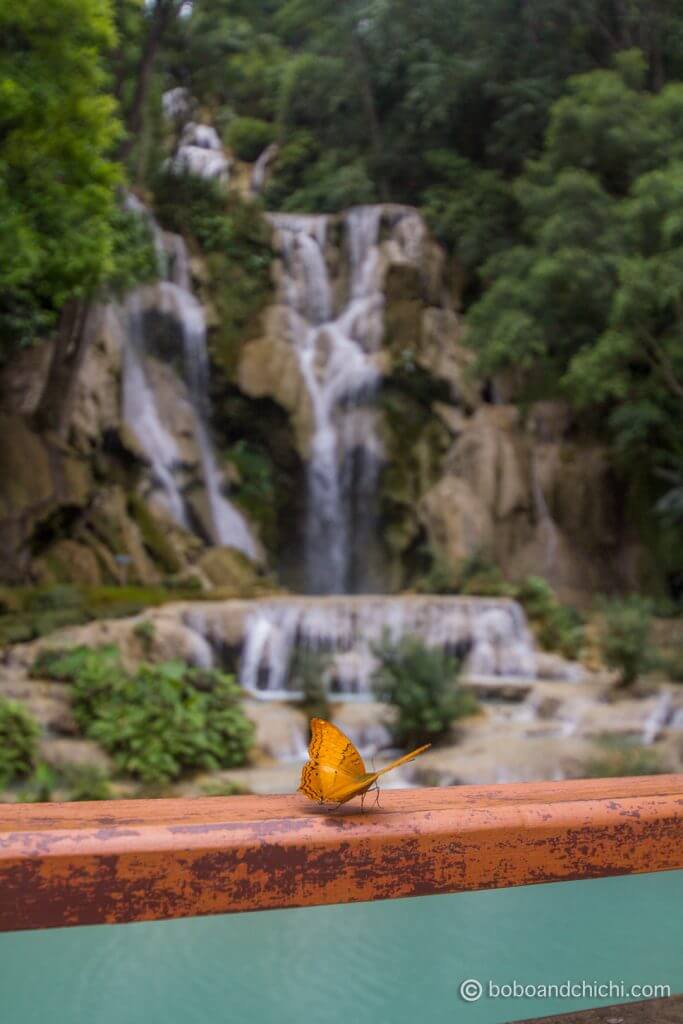 See Tad Sae Waterfall
Yet another beautiful, turquoise, cascading waterfall to see. Tad Sae is less crowded, closer to town, and offers a zip lining course nearby. Sounds like a fun day!
Tad Sae does lack the larger waterfall that nearby Kuang Si waterfall has. It's pointless to visit unless you are here during the heart of the rainy season and a few weeks after as they dry up. We visited in May, the very beginning of rainy season, which meant we sadly did not get to see these falls. Just another reason to come back to Luang Prabang!
Try seeing the falls with this bike & kayaking tour
(Maybe) Explore the Pak Ou Caves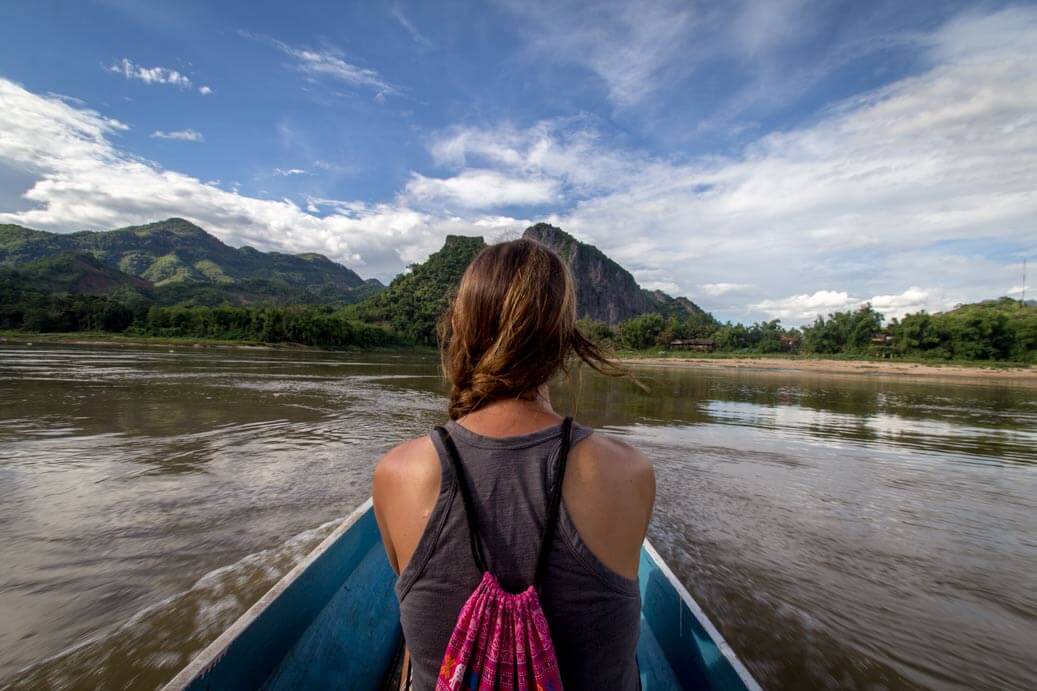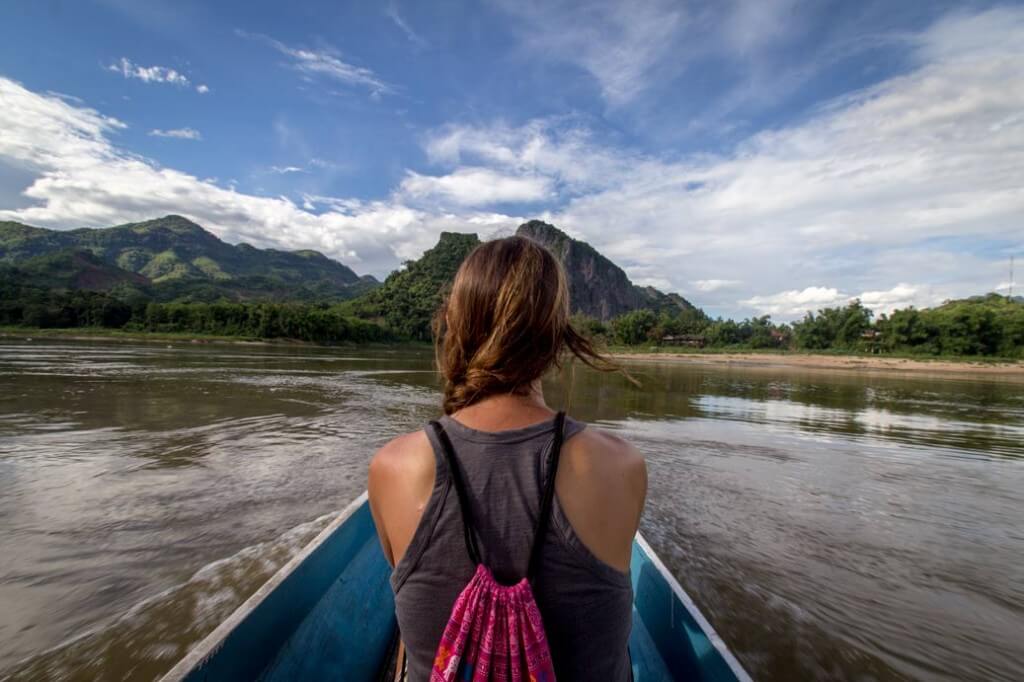 This attraction is more about the journey than about the destination. You can hire a boat to take you up the river on a day tour where you can stop at the caves, or you can motorbike yourself like we did. These were probably the most disappointing caves we have ever seen.
However, the landscape surrounding the caves were absolutely gorgeous. We were a bit salty about how many tickets we had to buy to see such mediocre caves. Parking was 5,000 KIP, the boat ride was 13,000 KIP/person, and the entrance was 20,000 KIP/ person. And all we really saw were some small Buddha statues 2-seconds across the river by boat.
Considering we had an epic journey through Kong Lo Cave in central Laos where $13 got you a personal guide, boat, head torches, and a 3 hour roundtrip journey through a large, magnificent cave, this was disappointing.
We recommend skipping this unless it is already part of a tour, like this one that combines a Luang Prabang city tour with the caves.
Go on a river cruise
This has to be a highlight of Luang Prabang as it's along the Mekong River. You can take day trips or even overnight trips upstream or downstream, we recommend checking out a sunset Mekong River Cruise.
Day trips include seeing a whiskey village and the Pak Ou caves. Although the destinations may not be thrilling, the beauty of the surrounding landscape is what makes these day trips worth it.
You also have options of overnight tours where you dock and stay in different villages overnight. T
Go shopping!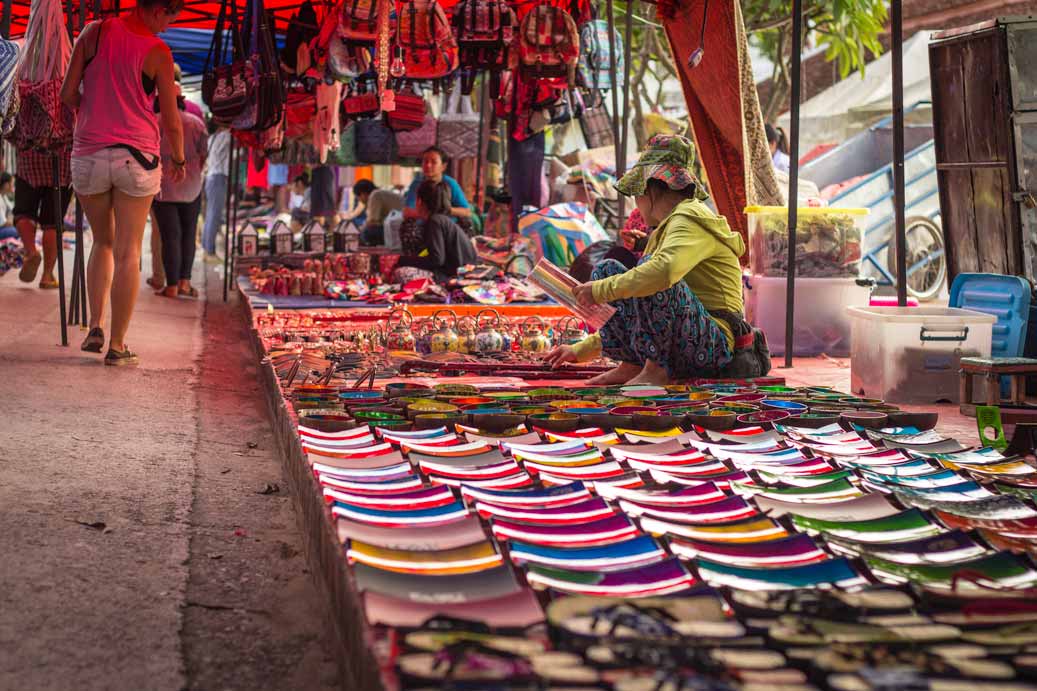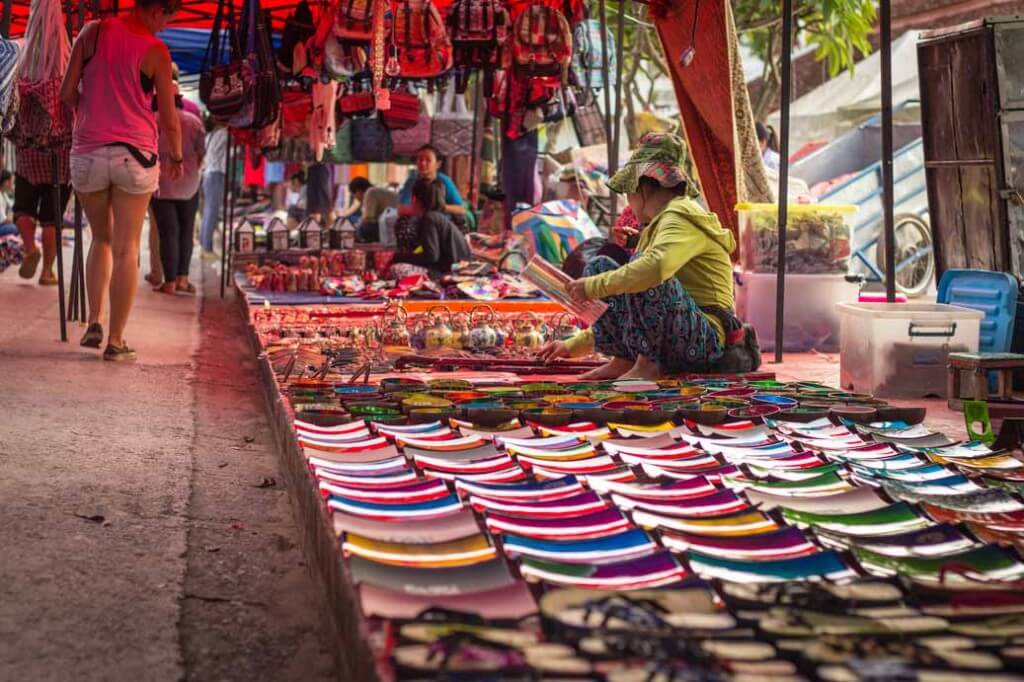 Luang Prabang has some great jewelry, clothing, and home décor boutiques. All of which come with a little bit higher price tags than what you are used to in the rest of SE Asia. The shops are filled with beautiful, and some unique items and a great place to buy a special gift.
For those on a little more of a budget, you can shop the night market. Open every night, vendors line up under tents along Sisavangvong Road. You can find jewelry, local rice wines and whiskey, clothing, bags, and other handmade trinkets from the locals. We noticed their prices here were a bit high compared to other markets we have been to. Try to politely talk them down and you may get your asking price.
Experience a Night Buffet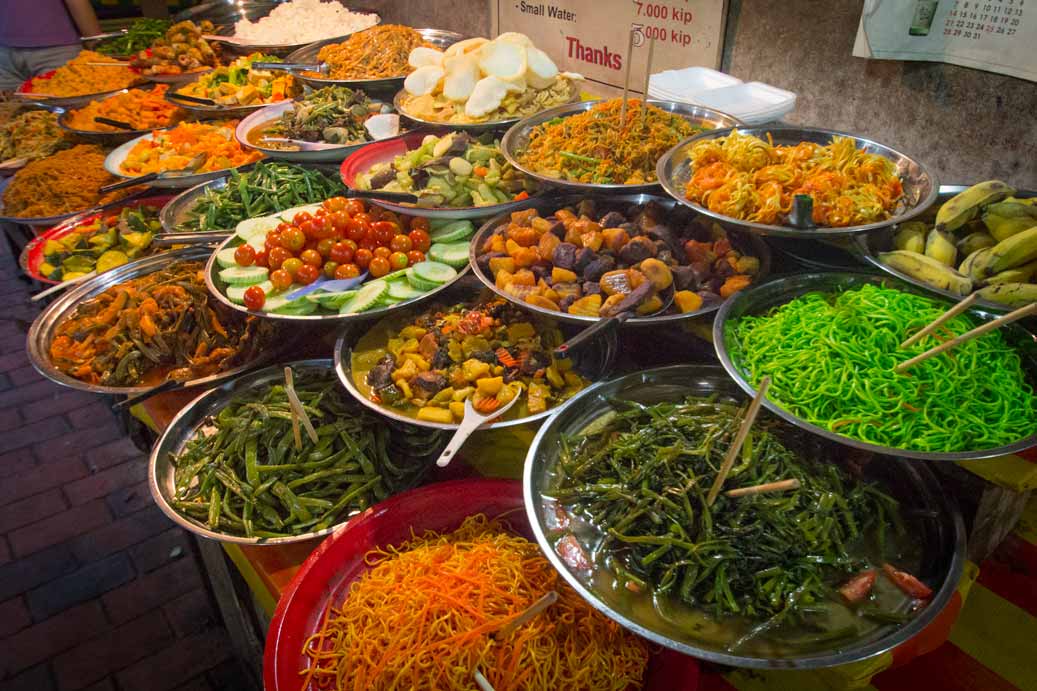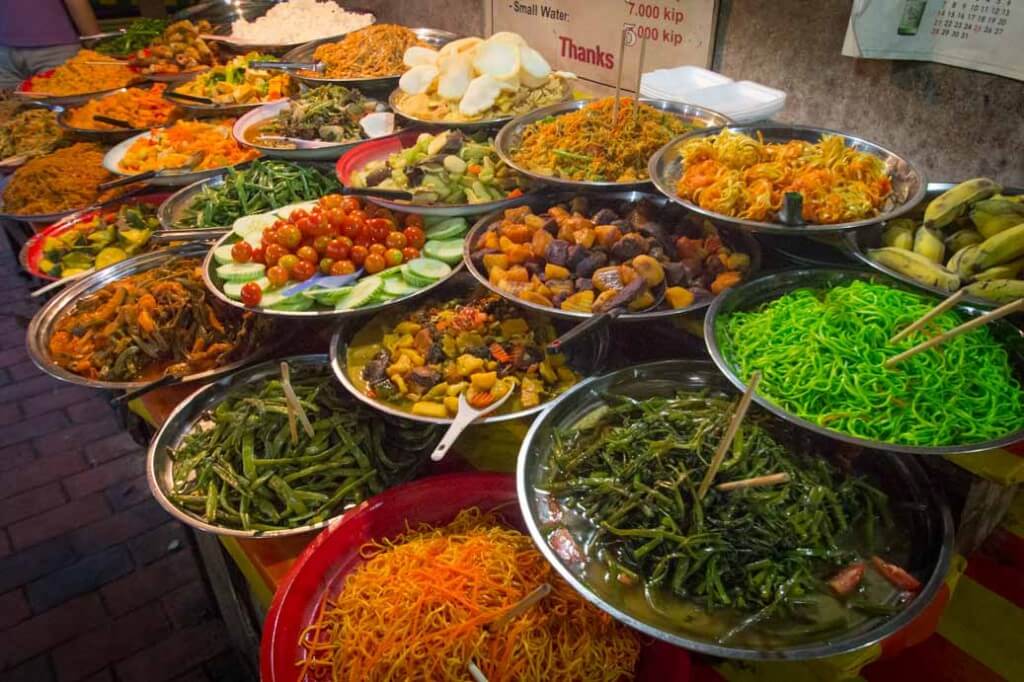 Just down a side alley from the Night Market is a street full of vegetarian buffets. Each food stall has at least a dozen dishes to choose from including rice, noodles, vegetables, fruit, and spring rolls.
You get a good sized empty bowl for 10,000-15,000 kip depending on what stall you go to and can fill it up with all the goodies you want. They may even heat it back up for you in a skillet. For extra, you can buy BBQ meat.
We ended up eating here every night in Luang Prabang. We loved the vegetable medley with rice (we split 1 bowl) and each got our own bbq chicken breast for 10,000 kip each. The both of us stuffed our bellies for $3.75, and it was delicious. There are also dessert and more meat options if you look around. This spot has become very popular with budget travelers like us. You have to try it at least once when visiting.
Have a Drink Along the Nam Kahn River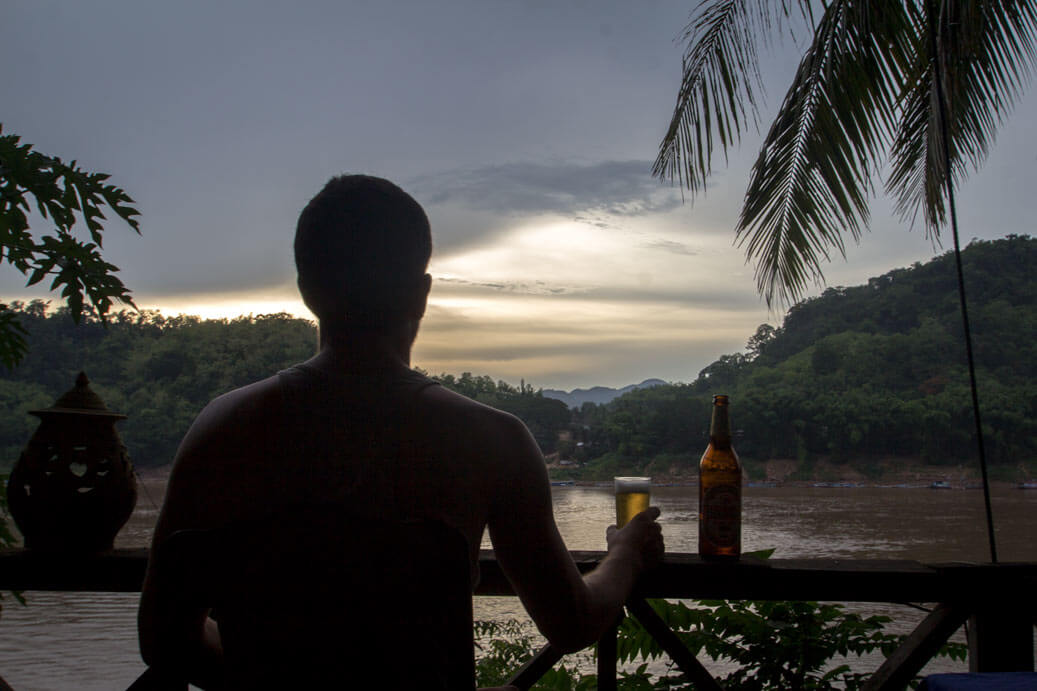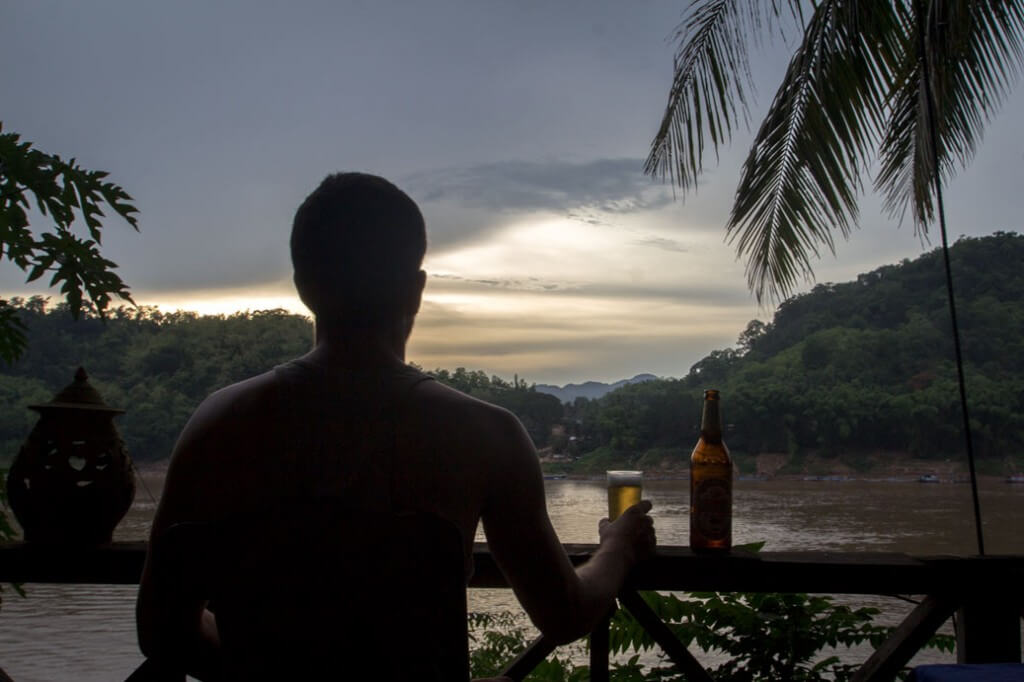 There are plenty of tiny little riverside bars and restaurants to enjoy a cold drink along the Nam Kahn River. These places are adorably cute and offer a pretty view. We even saw a cooking class being conducted along one of these riverside bars.
You can also find your way down to the famous hangout Utopia that offers food, drinks, and sunrise & sunset yoga along the river. This is the perfect place to hang out on the floor cushions and unwind after a day of exploring the city.
Check out Luang Prabang's Bakeries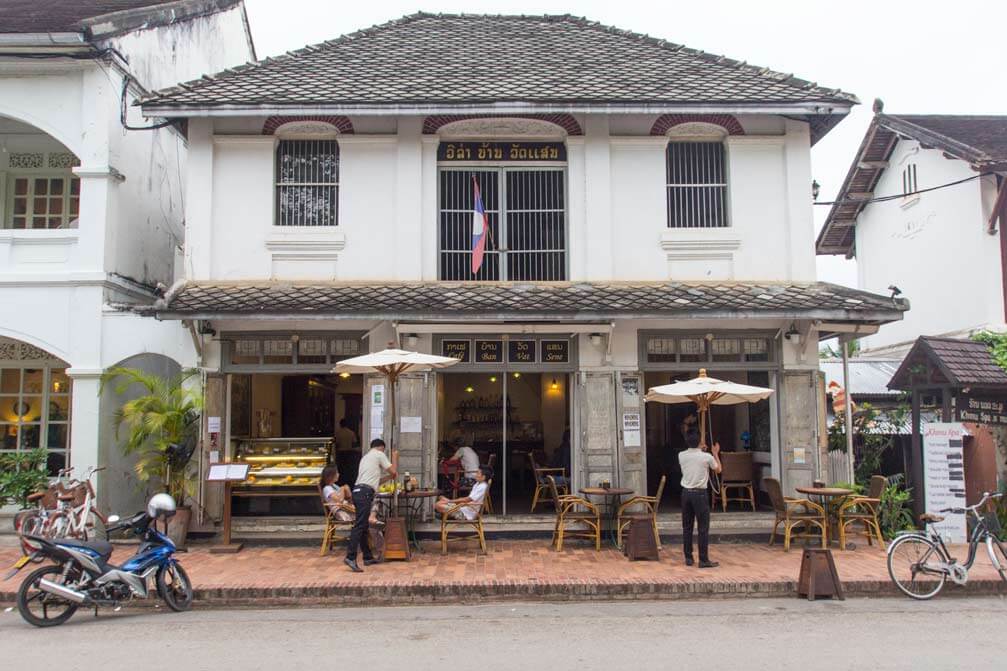 You can find so many little cafes and bakeries scattered throughout the interior of the city, which is why we think it's one of the best things to do in Luang Prabang! These are perfect resting places after walking all afternoon while enjoying a delicious snack and a cup of coffee. They are also a great place to grab breakfast early in the morning after witnessing the alms ceremony.
We preferred the popular hangout Joma (both locations) because they had a great wifi connection, good coffee with free refills, free cold water, and delicious cookies and food! We are also internet snobs since we work from the road, so if there's good wifi we bump a café to the top of our list.
Where to Stay in Luang Prabang
Check out where to stay in Luang Prabang on the map below:
$ Padichith Guesthouse Luang Prabang – This guesthouse can get as low as $3/night and features air conditioning, free WiFi, and even free parking. It's within walking distance to a lot of things to do in Luang Prabang like the National Museum and a few of the temples. Check prices here
$$ Villa Rattanakon – This villa is only about 3-minutes from Vatthatnoy Temple and features ensuite bathrooms, balconies, and free Wifi. It's also only 5-minutes from the Night Market! Ask about their free airport shuttle and breakfast. Check prices here
$$$ Satri House Secret Retreats – For something more luxurious, Satri House was once the residence of Prince Souphanouvon! This retreat has all that you'd expect from a 5-star hotel — beautiful interiors, pools, spa services, onsite restaurants and more — all for the price you'd probably pay for a Holiday Inn in the US! Check here for more details
For more hotels in Luang Prabang, check out the map below:
Like most travelers that visit this UNESCO World Heritage city, we enjoyed our time in Luang Prabang. Our favorite place had to be Kuang Si Waterfall. We also loved hanging out in riverside cafes while catching up on work.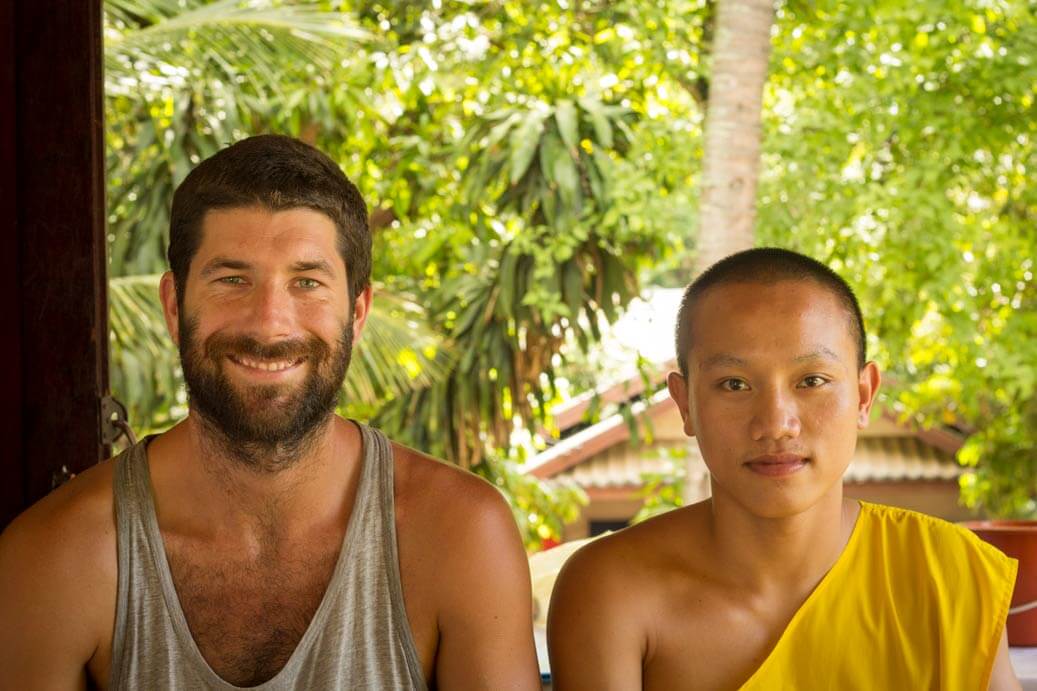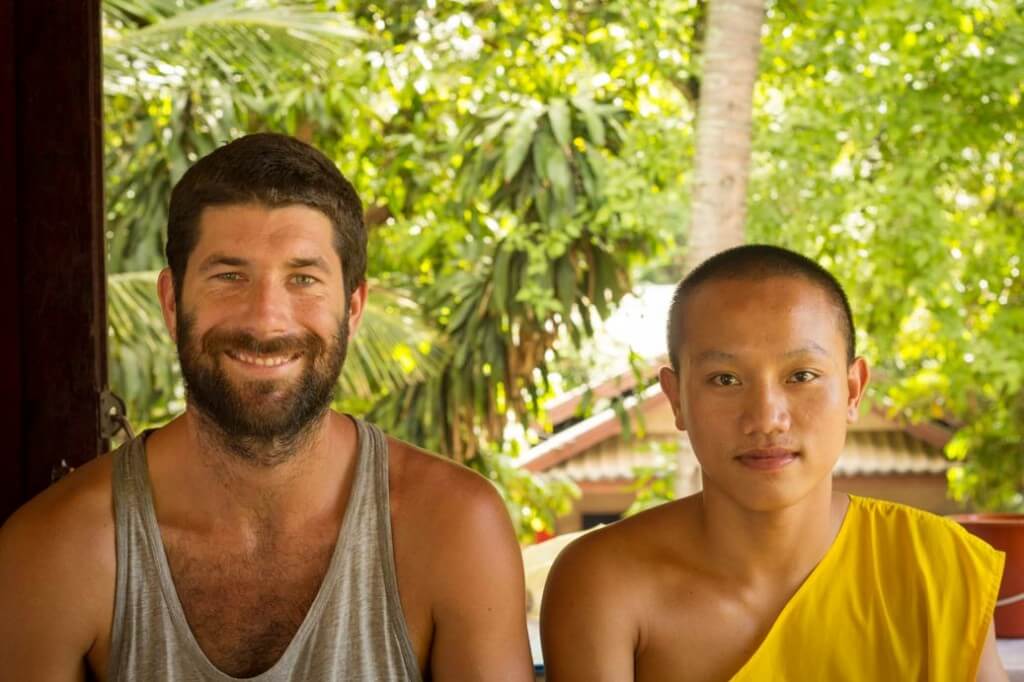 The highlight of our stay though would have to be getting caught in rain at a temple and befriending a 17-year old novice monk who wanted to practice English and have us help him proof read a letter he had written. Not only was this unexpected but we shared wonderful conversation and learned a lot about Lao Buddhism traditions. Our time in Luang Prabang was one great memory after another.
What do you think are some of the best things to do in Luang Prabang?
Pin for later!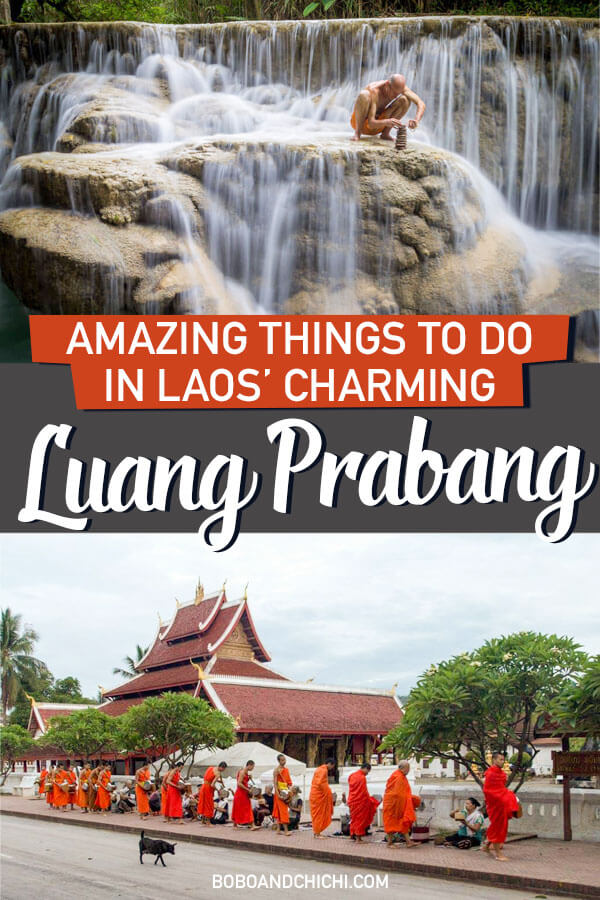 *Please remember all photos on this website are copyrighted and property of Bobo&ChiChi. Please do not use them without our permission. If you want to use one of them please contact us to ask first because we'd be absolutely flattered and would love to share. Thanks!