Looking for the best towns in the Berkshires to visit? You're in luck! We are breaking down the best places to visit in the Berkshires, the gorgeous region in Western Massachusetts bordering the state of New York.
Famous for its performing arts scene, Gilded Age mansions, sprawling landscape, and outdoor recreation, not to mention the beauty that's inspired creatives for generations, as well as a place for peace and retreat from the chaos of New York City dwellers.
There are many incredible things to do in the Berkshires that make this an ideal getaway, including the incredible towns in the Berkshires dotted along Route 7. For the purposes of this guide, we will focus primarily on the best-known towns in the Berkshires along Route 7.
We will also recommend some of the best attractions and things to do in each of these towns that make these destinations some of the best places to visit in the Berkshires!
To get your bearings, the town of Pittsfield, Massachusetts is a good central point for the region. Anything north of Pittsfield is considered 'North County' and anything south is considered 'South County'.
There are plenty of incredible places to stay and visit in the Berkshires, but if you're looking for where to base yourself for exploring the entire region, this is a great central point and we will give our hotel recommendation at the end of this guide.
Disclaimer: this post contains affiliate links.
Towns in the Berkshires to Visit
Sheffield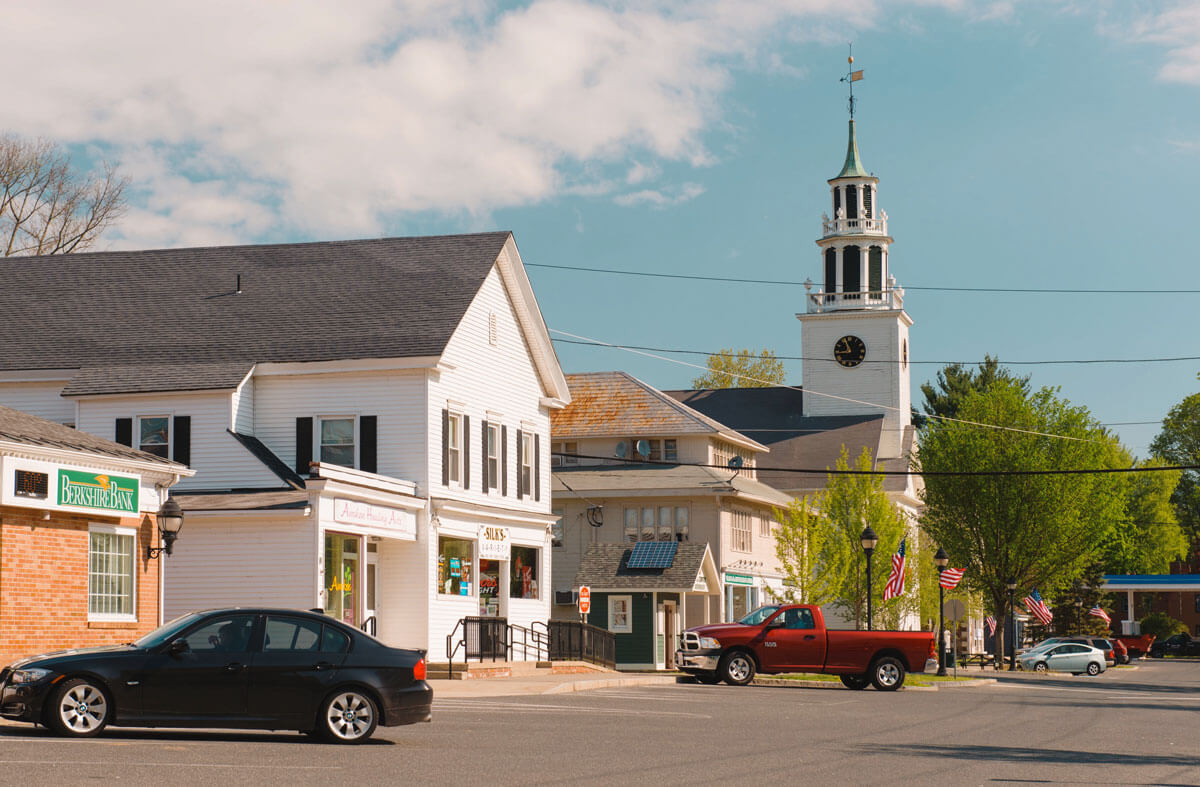 On the southern end of Route 7, you'll find Sheffield. It's the oldest town in Berkshires, incorporated in 1733. It's set on the lush banks of the Housatonic River and its many offshoots. The town includes the Village of Ashley Falls to the south before you reach the Connecticut/Massachusetts border.
Route 7 runs through the middle of the entire town, and if you drive along the length of it, you'll find a variety of different things to do. It's one of the best places to visit in the Berkshires if you are interested in antique shops, which you can find all along the highway!
Art fans will want to check out the seasonal Butler Sculpture Park and its modern metal sculptures. The artist, Robert Butler, owns the land and if he's around he'll happily show you around the property.
Or if you're interested in the unexplainable, there's the fascinating Thom Reed UFO Monument Park off Cook Road. It's the only UFO incident site that's been recognized by multiple departments of the US government!
There are also a few historic sites, like Shay's Rebellion Memorial Monument on Sheffield-Egremont Road. The site is also along the portion of the Appalachian Trail that runs through South County.
And further south in Ashley Falls is Ashley House, the oldest home in South County. It was built in 1735 for Colonel John Ashley House, who was largely responsible for settling the region. Today it's a museum you can visit.
Adjacent to the house is Bartholomew's Cobble, a nature preserve. If you are a fan of local fauna and flora, this is the place to come to in South County. It's a unique bio-reserve full of plants and animals that you don't normally find in the same region! You'll find nature trails and moderate hiking trails that are especially great if you come in the fall.
Great Barrington
Heading north on Route 7 the next Berkshires town to check out is Great Barrington. This is definitely the happening scene for South County! The town has a few claims to fame. Its Main Street was the first in the US to have electric lights! And the Civil Rights activist W.E.B. Du Bois was born here. You can visit The Homesite which commemorates his life and accomplishments.
The downtown area is really what makes this one of the best towns in the Berkshires. Great Barrington's Main Street merges with Route 7 through Great Barrington for about 4 miles of great shops, restaurants, art spaces, and more.
Check the lineup at the Mahwaie Performing Arts Center. It's a gorgeous century-old theater that hosts concerts, theatrical performances, comedians, and even cultural events.
Or there are several art galleries like the Bernay Fine Art Gallery. They do an impressive job of showcasing contemporary artists across many different mediums.
If you have the shopping bug, there are tons of fun shops downtown! You'll find vintage clothing stores like The Boho Exchange, so many women's boutiques, and designer home goods stores like Sett. It's also a great food scene with pubs, ice cream shops, and restaurants.
The Prairie Whale is famous for its elevated American food and you should definitely reserve a table for dinner! If you're looking for something more casual, check out Barrington Brewery & Restaurant, they make some great beers!
Downtown is home to the Housatonic River Walk, which is a nice half-mile natural trail along the water with informational and historic plaques about the area. And if you're willing to drive a few miles out, The Egremont Barn is a must. It's a great bar with a fun atmosphere and excellent drinks.
Just north of Great Barrington is Monument Mountain where you can enjoy easy-to-follow hiking trails that are color coded for difficulty. You'll see interesting quartzite formations and great views of the Housatonic Valley.
And for more outdoorsy attractions, there's also East Mountain State Forest where Butternut Ski Area offers different activities every season.
Stockbridge
If you're looking for places to visit in the Berkshires to get away from it all, consider Stockbridge. It's home to the Kripalu Center for Yoga and Health, which is the yoga mecca for the US. People come here on retreats, for workshops, or even to receive professional training. You can plan a whole vacation here or just a day visit.
Fans of Norman Rockwell will want to take a walk along Main Street in Stockbridge. It almost feels like you're stepping back in time with 19th-century storefronts and American flags. If it feels like a Norman Rockwell painting, that's because it was! Rockwell had his home and studio here until he passed away. You can visit the Norman Rockwell Museum and see where he worked.
Those interested in Gilded Age Mansions will not be disappointed when visiting the Berkshires. In Stockbridge, there's Naumkeag and Chesterwood, both of which you can tour and see the mansions and gardens. Or take a drive to the Berkshire Botanical Gardens with its themed gardens and contemporary art gallery.
A really cool place to stay in Stockbridge is the Red Lion Inn. It's a gorgeous New England-ambiance hotel offering elegant rooms that feels frozen in time and is one of the best places to stay in the Berkshires! The Widow Bingham's Tavern at the hotel dates back to 1773! This is actually one of the oldest continuously operated hotels in the country that's hosted numerous notable figures throughout its long history, including presidents, authors, and artists.
And if you want to see a classic Berkshire theatrical performance, check out the Unicorn Theater on East Street or the Fitzpatrick Main Stage on East Main.
West Stockbridge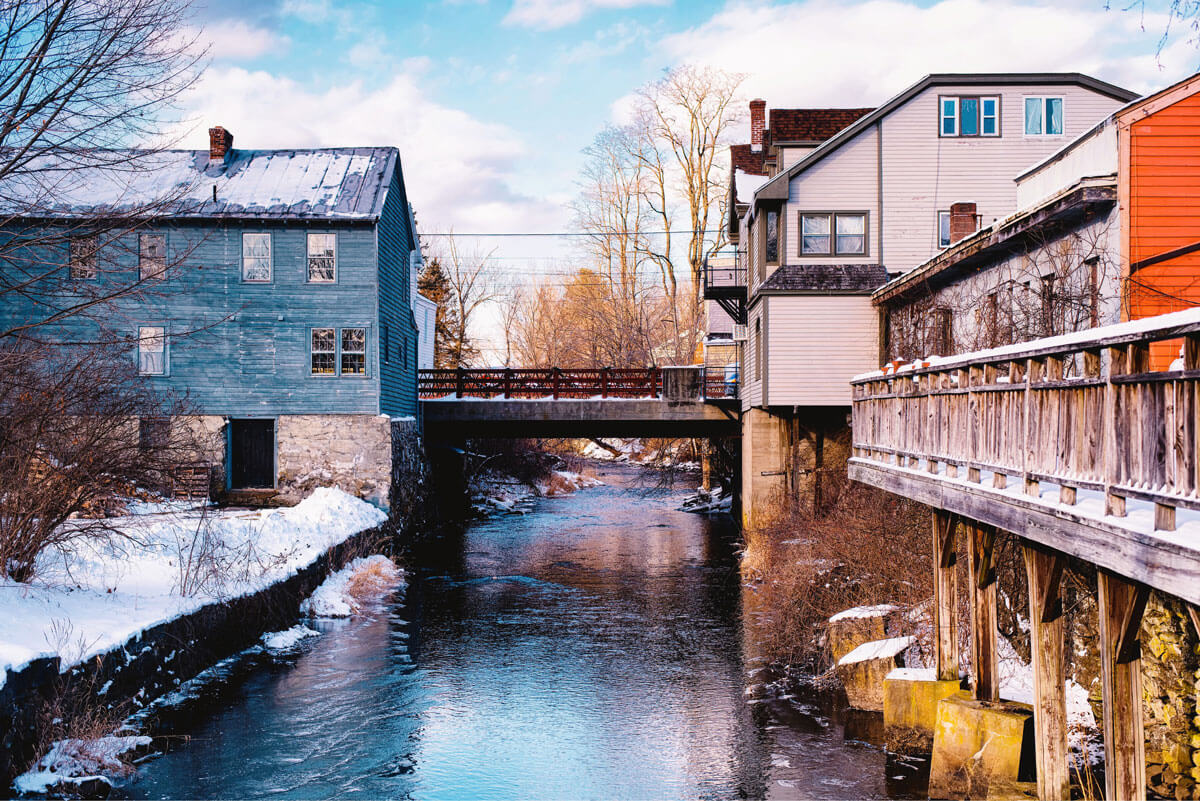 West Stockbridge is a small town along the Massachusetts Turnpike between Route 7 and the New York/Massachusetts border. It's the perfect rustic Berkshire town with green pastures, rivers, ponds, and forests surrounding it.
And small as it is, the town has made a name for itself with unique art attractions, not to mention you're just a few minutes' drive to all the great attractions in Stockbridge too.
Downtown there are a handful of art galleries, and then there's the TurnPark Art Space. This is a cool sculpture park with an art museum. The presentation is stunning with sleek, modern sculptures positioned among the textures of nature.
Or if you prefer historic sites, check out Shaker Mill Books on Depot Street. Locals call the 170-year-old grist mill The Barn. Today it's a beautiful setting for a unique bookstore!
Graham Farmhouse Winery in West Stockbridge is just one of the many amazing wineries in the Berkshires. They sell honey-based wine at the local farmers market and at their tasting room on Woodruff Road and W Center Street (by appointment only).
Or if you want to try Charles Baldwin & Sons' famous extracts, head downtown. You'll find the historic storefront that dates back to 1888! Stop in and peruse all the unique extracts, syrups, souvenirs, and more. They are most famous for their vanilla extract, so this is a great souvenir or gift to pick up while you're in town!
If you want to get outdoors, Olivia's Overlook is a nature reserve less than 3 miles from town. There, you can explore 6 miles worth of trails that include homestead ruins. And Stevens Glen nearby is a hidden gem of West Stockbridge! There's a moderate 45-minute trail in a stunning ecosystem full of waterfalls, hemlocks, mushrooms, spring salamanders, and more.
We think the perfect end to a day in West Stockbridge is an evening at The Foundry. It's a cozy, intimate performance art space with indoor and outdoor spaces.
Lenox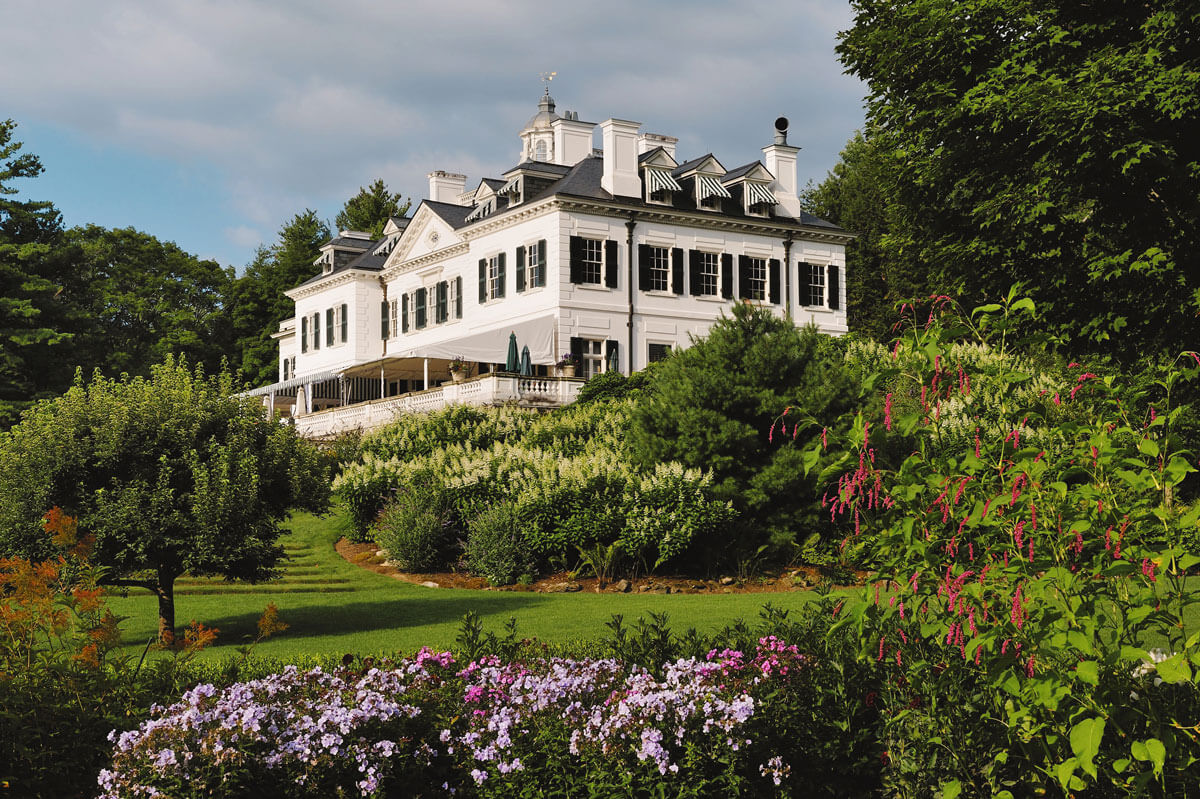 One of the most gorgeous places to visit in the Berkshires is Lenox. Back on Route 7, it's just a few minutes from West Stockbridge! It's the fanciest of the Western Massachusetts towns, with a cluster of Gilded Age Mansions and luxury resorts.
Take a tour of The Mount, the circa-1902 mansion owned by writer Edith Wharton. Or study the beautiful brownstone architecture of the 19th-century Ventfort Hall.
And if you've ever wanted to know what it feels like to live in a Gilded Age Mansion, you're in luck! One reason why Lenox is one of the best towns to visit in the Berkshires are the number of resorts, hotels, and wellness retreats are set in their historic manors and mansions!
Blantyre is stunning with sprawling grounds, tennis courts, and ivy-covered buildings. This was built in 1902 as a summer retreat for Robert W. Paterson and has since been meticulously restored to preserve its original grandeur, showcasing the Gilded Age charm and architectural splendor of the era.
Wheatleigh is a stunning ivory Italian-style mansion that's famous for Portico, its super exclusive French gastronomy restaurant. This is where you can enjoy Old World elegance (with modern amenities of course) at this refined, luxury hotel that was built in 1893 as a summer cottage for the daughter of a wealthy New York financier.
There's also the holistic retreat at Eastover that offers different kinds of retreats, the estate dates back to 1910 and was the summer mansion for a prominent New York attorney at the time.
And massive, luxury Canyon Ranch Lenox contains the Bellefontaine Gilded Age Mansion.
Most people associate the Berkshires with the prestigious Tanglewood, which is located in Lenox. It's the summer home of the Boston Symphony Orchestra but the institute hosts events all year round across multiple venues, it's actually considered one of the top attractions in the region.
And a huge attraction in Lenox itself is the Shakespeare & Company program. They have a popular summer season, but host actor workshops and performances the rest of the year!
Enjoy the beauty of nature around Lenox by visiting the Pleasant Valley Wildlife Sanctuary. You can go on easy to strenuous hikes and see forests, wetlands, and fields of wildflowers. Many beavers make the sanctuary their home and you can see their dams and read educational markers to learn more about the animals!
Or book a ride on a train at the Lenox Station Museum. You can choose between modern or vintage train cars, book a fall foliage train in the fall (which actually departs from the town of Adams, not Lenox), or visit the seasonal museum during the summer.
Lee
Lee is a very small town in the Berkshires that's really close to Stockbridge and Lenox along the east end of Route 7 along the Massachusetts Turnpike. Today, it's known as "the gateway to the Berkshires," because of the area's rivers, streams, forests, and reserves. There are several inns, cute bed and breakfasts, and resorts in and around Lee that would make for a great launch pad for your Berkshire adventures!
You'll find the October Mountain State Forest on the northeast side of Lee. This massive state park is the perfect place for hikers and cyclists of all skill levels. You can go camping in a tent, RV, or even a yurt! And the forest is also the starting point for many taking the Appalachian Trail, which runs north and south through the center of the park.
Back in Lee, you'll find several cute shops, cafés, and restaurants along Main Street. Joe's Diner is a super charming spot to grab a bite to eat. And a lot of people go to the Lee Premium Outlets while they're here.
Or you can also visit the South Lee Historic District, a mile-long stretch of Pleasant Street along the Housatonic River. You'll see white picket fences, 19th-century inns, taverns, churches, and a centuries-old paper mill.
While you're in the area, make sure to drive south about 4 miles to Santarella Gardens. Also called "The Gingerbread House," it was built in 1920 by the English sculptor Sir Henry Hudson Kitson. It features the Arts and Crafts style that was popular at the time. The entire property and all of its buildings look like something out of a fairytale!
While Santarella Gardens is a private event venue that's not open to the public, you can see it from the road when you drive by or stay at their other building on the property from their Airbnb listing.
Pittsfield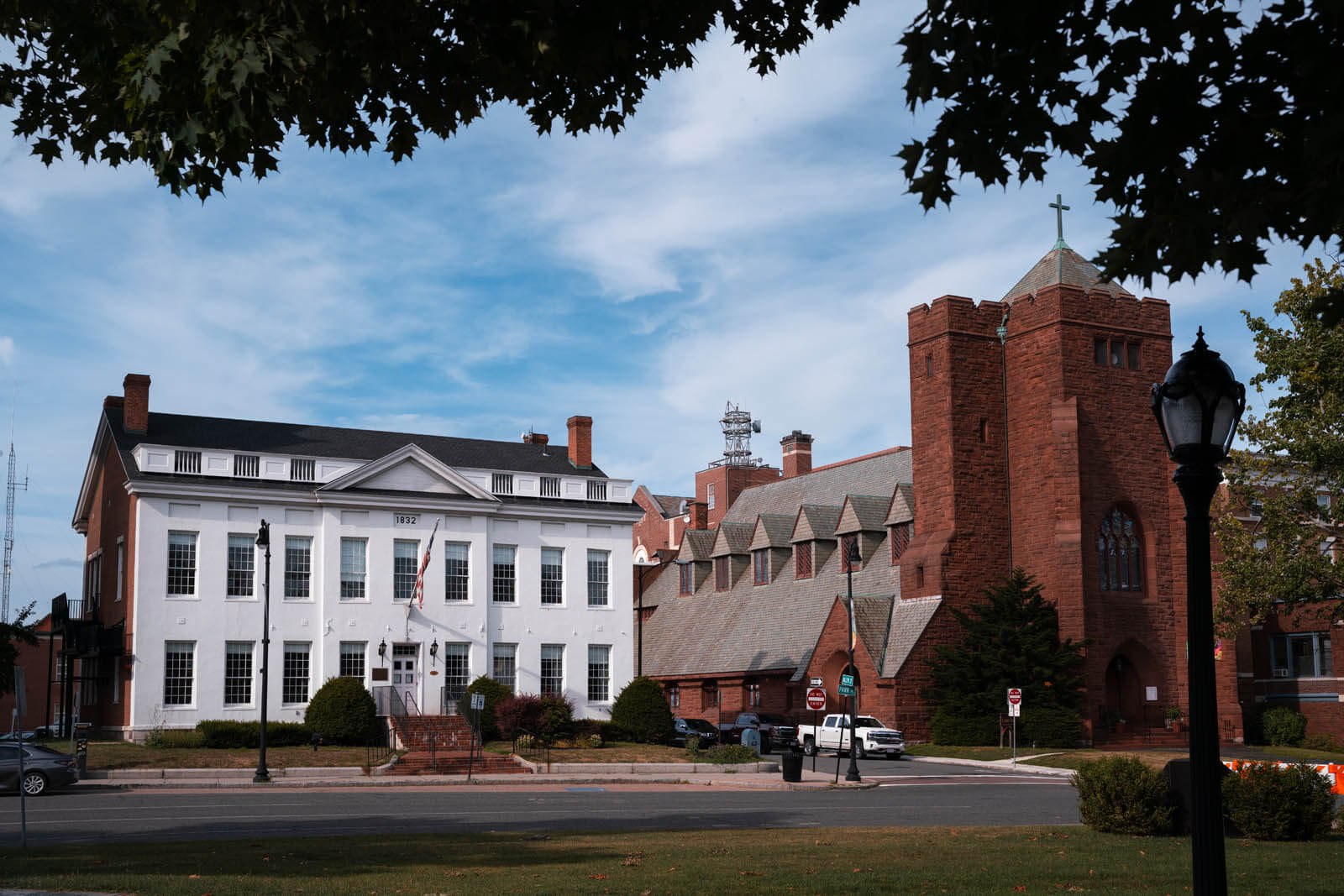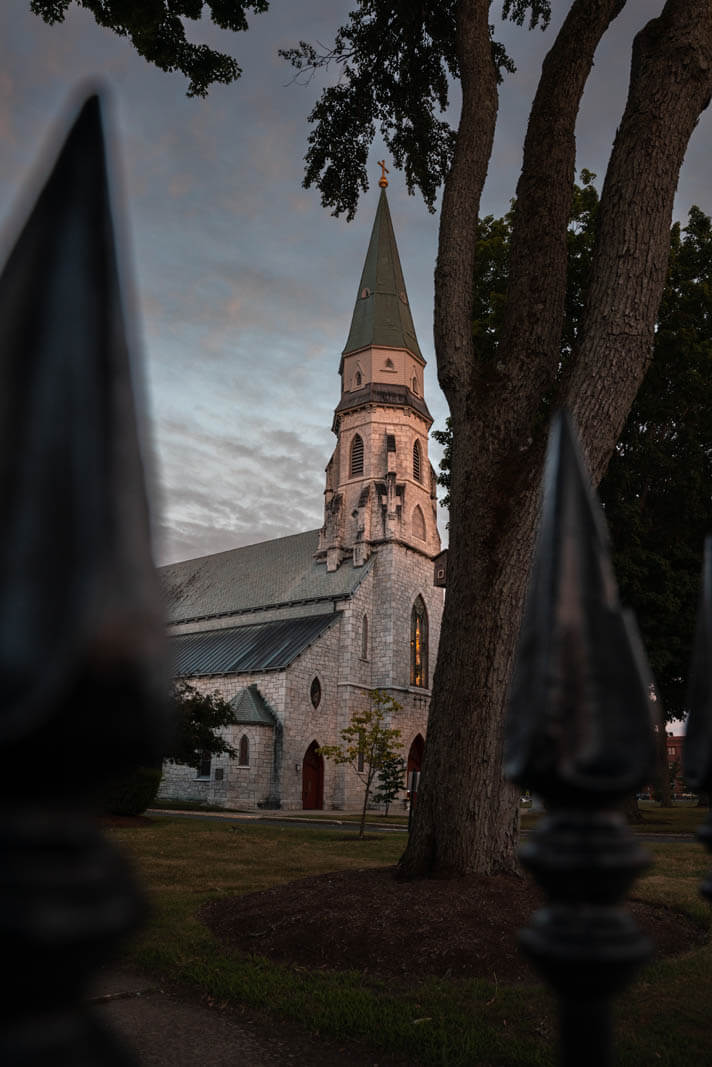 Pittsfield is the center point of western Massachusetts and our this was our first introduction to small towns in the Berkshires! When you're planning places to visit in the Berkshires, this is a great central area to stay and use as your base since it's smack dab in the middle of the region. Plus, there are tons of great things to do in Pittsfield worth checking out!
Downtown you can visit the small but impressive Berkshire Museum. Or just take a stroll in the area between North Street and First Street. There are so many beautiful churches, old storefronts, and a great foodie scene.
You might not know that Pittsfield is also where baseball was first mentioned. This is a relatively recent discovery. A historian came across a law dating back to 1791 referencing baseball in Pittsfield. This predates previously known baseball references by almost 50 years! Plus, the first college baseball game was historically played in Pittsfield between the locals Amherst and Williams College in 1859.
There are also many historic sites in Pittsfield, which attracted creatives for centuries with their natural beauty. Fans of Herman Melville can visit his home, Arrowhead, where he wrote Moby Dick and other famous works!
Or you can see how Shakers lived over 150 years ago at the Hancock Shaker Village, a living museum with an active agricultural community just a short drive away.
Snow bunnies can hit the slopes at the small but historic Bousquet Ski Area. Or you can enjoy scenic views and miles of trails at Pittsfield State Forest.
In the summer, there's swimming and canoeing on Onata Lake. And just north, Pontoosuc Lake is a stunning place to go boating. There's also The Proprietor's Lodge restaurant where you can dine with great views of the lake.
Adams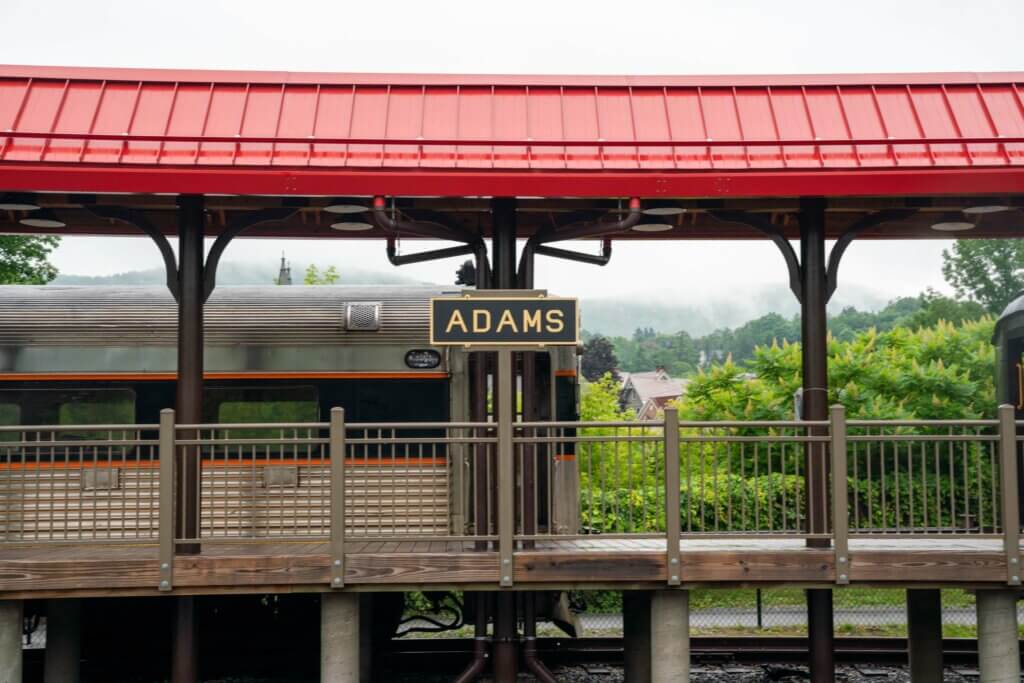 Another one of the best towns in the Berkshires to explore moving further up to North County is the town of Adams. This town is historically known for its industrial past, specifically its role in the manufacturing of textiles and paper.
This Berkshires town is nestled between the picturesque Mount Greylock State Reservation and Savoy Mountain State Forest and offers beautiful landscapes and views along with a charming New England countryside ambiance.
Adams boasts several attractions and historic points of interest, including the Susan B. Anthony Birthplace Museum, which showcases the life and achievements of the prominent suffragist.
Another notable landmark is the Adams Free Library, an architecturally stunning building that houses a collection of books and artifacts.
Adams is also located near Mount Greylock, the highest peak in Massachusetts, providing opportunities for outdoor activities like hiking and scenic views with a very scenic drive to the top.
And one of our favorite things we did in Adams was take the a scenic Hoosac Valley train ride. The Berkshire Scenic Railway Museum (whose museum location is in Lenox) offers seasonal scenic train rides along the Ashuwillticook Rail Trail on a historic train and is not to be missed! We enjoyed our ride in the summer, but the fall is stunning with all the foliage!
And speaking of the Ashuwillticook Rail Trail, you can enjoy a scenic walk along the old railway line that runs 12.7 miles in total! There's a paved path next to the train tracks and this is an especially scenic walk any time of the year.
North Adams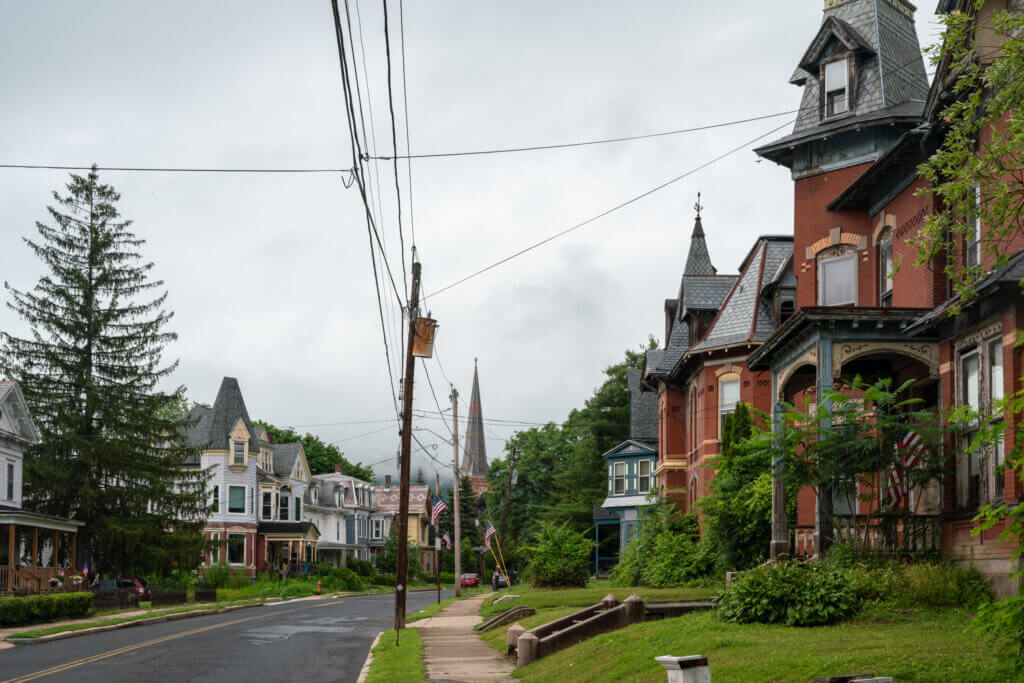 From Pittsfield, continue north on Route 7 and turn west on Route 2. Known as "The Town of Steeples and Peaks," you'll enjoy the iconic views as you arrive in North Adams, Massachusetts.
It's truly one of the best Berkshire towns offering a beautiful downtown and it's a great base for the North County ski resorts. North Adams is also mere miles from Williamstown, another great Berkshire town.
Along Route 2 as you enter downtown, you'll love the rolling foothills of the Hoosac Mountain Range. There are red brick New England buildings and 19th-century storefronts downtown and the striking MASS MoCA, the enormous and impressive contemporary art museum housed in an old factory complex. We spent 3 hours here and it wasn't enough and we wish we had more time!
A block south along Main Street are more quaint historic buildings, shops, churches, and restaurants. From here, if you turn south on Church Street, it'll take you to the Massachusetts College of Liberal Arts which was established in 1894.
Natural Bridge State Park is a must-do, with its stunning white marble formations, interesting hiking trails, gorgeous waterfalls, and cool bridges!
And while you're in North Adams, it's the perfect time to visit the famous Mount Greylock, Massachusetts' highest peak. There's an incredible scenic drive with hairpin turns as you make your way to the top, this is where you'll find the Veterans War Memorial Tower and scenic vantage points.
Plus, if you want to hike a small part of the Appalachian Trail, there's a trailhead in North Adams that takes you across the peak of Mount Greylock! But be ready for a challenging hike!
Williamstown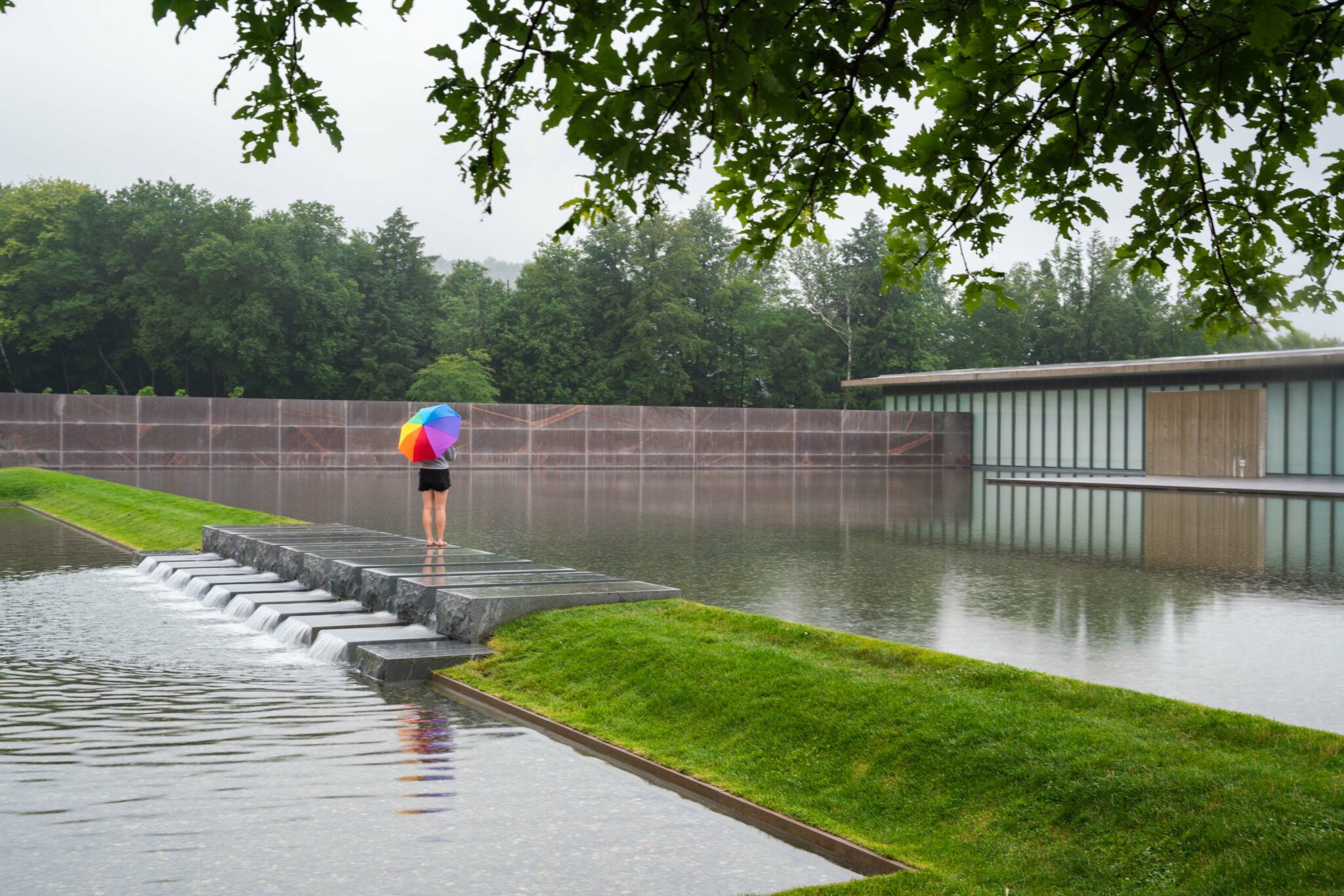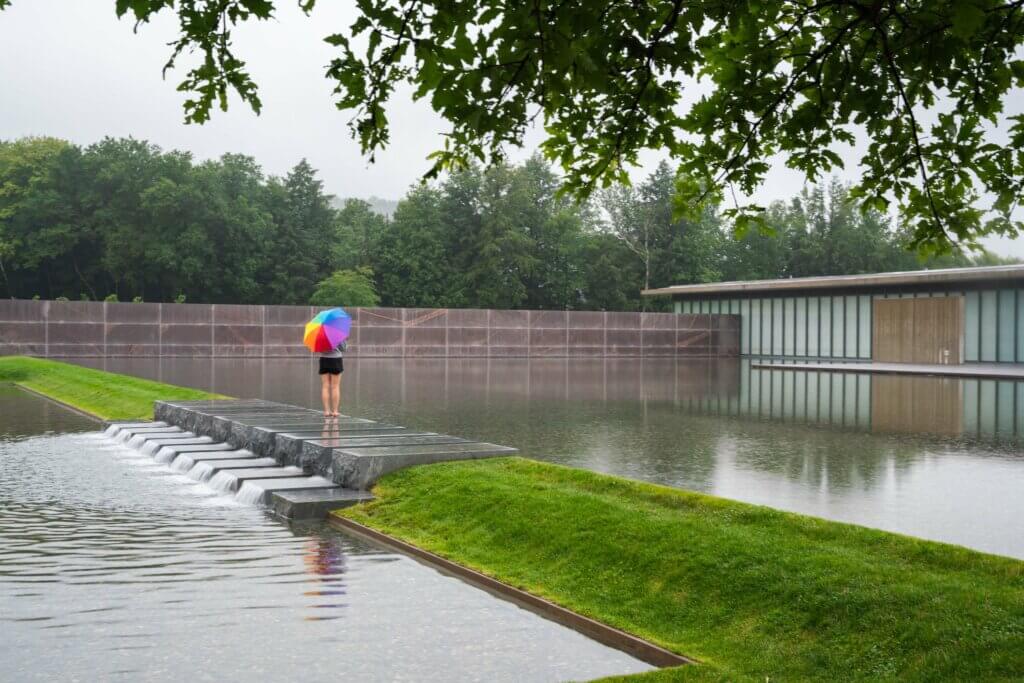 Next to North Adams in North County is Williamstown. Like North Adams, it's a great base for the North County ski resorts, like Berkshire East Mountain Ski Resort. Or closer to Williamstown is Jiminy Peak Mountain Resort. These are actually really close to the Southern Vermont border, which also has great ski resorts too!
There's a huge cultural arts scene in this small town, despite looking like a sleepy Berkshire village! That's probably because Williamstown is most famous for being home to Williams College, a liberal arts college that dates back to 1793. They make Williamstown one of the top places to visit in the Berkshires for art education, not to mention the campus is stunning.
Visit the Williams College Museum of Art for tours and exhibits across genres and eras. And the Clark Art Institute is another incredible museum and gallery to visit featuring a beautifully curated collection of European and American artworks spanning from the Renaissance through the early 20th century, featuring masterpieces by artists such as Renoir, Monet, Degas, Turner, and Winslow Homer.
If books are more to your liking, stop by the Chapin Library on campus. It's famous for its huge collection of rare books and original manuscripts. You can even see original copies of famous writings like the Bill of Rights and the Articles of Confederation.
And if you're in the Berkshires during the summer, make sure to attend the Williamstown Theatre Festival. This is a Tony Award-winning theatre fest with performances and events held across July and August.
Where to Stay in the Berkshires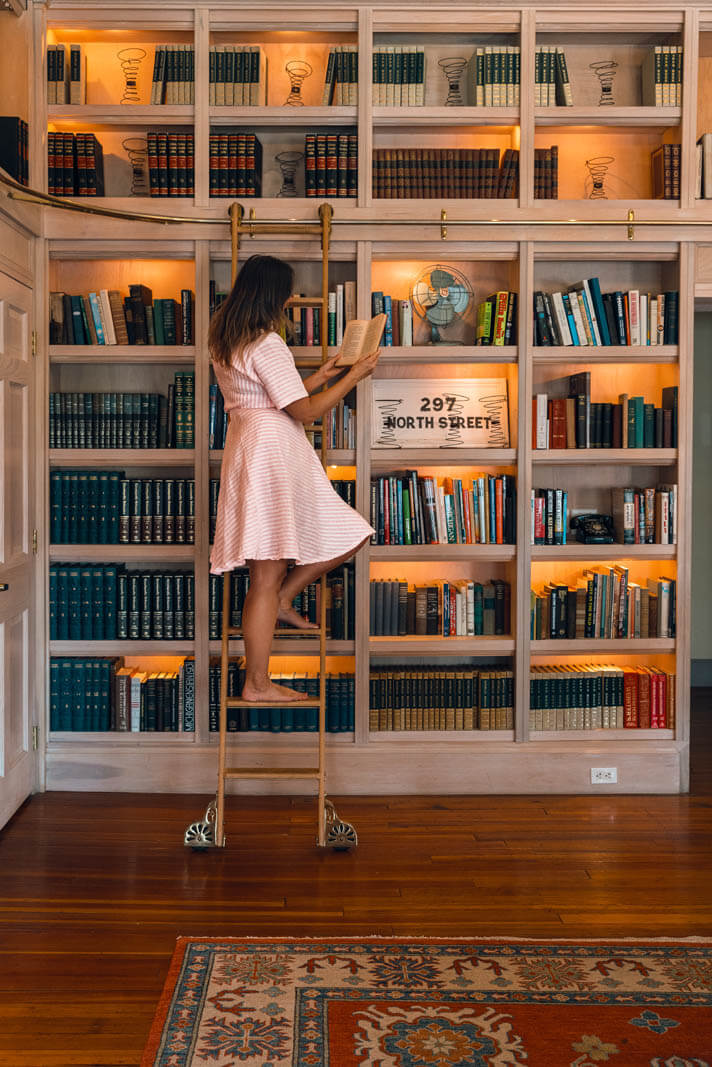 There are so many amazing towns in the Berkshires to visit, if you're looking for a centrally located base, we recommend staying in Pittsfield. We stayed at Hotel on North, a local boutique hotel that really honors its small town roots through its design and is a really great stay.
Local owners David and Laurie Tierney have done an outstanding job restoring and preserving the original architectural details and curating individually designed rooms featuring works by local artists in the historic building. Speaking of that art, if you LOVE the art you see on display, you can purchase it!
Choose from a range of standard and premier rooms, as well as suites. If you want a truly unique experience, see if the Library Suite is available during your stay. This room is surrounded by books and looks like a library!
All of the rooms feature impeccable interior design with early American elements combined with modern textures and shapes. Our room had a great clawfoot tub which was really nice to soak in after all of the fun things we did during our weekend in Pittsfield.
During your stay, enjoy The Gallery. It's a small, curated art museum inside the hotel! There's also a fitness center, as well as The Atrium, a sun-filled private lounge on the upper floors. Hotel on North also hosts a restaurant and is a pet-friendly hotel. Book Hotel on North here.
And if you're looking to stay in one of the North County Berkshire towns, check out Hotel Downstreet in North Adams. This is the only hotel in North Adams on Main Street and you're only steps away from some of the amazing things to do in this town.
The location is great and they offer spacious rooms with an art focus. Since you're in such a culturally rich region of the United States, it's only fitting that there are also galleries located on the first floor of the hotel too. There's also an indoor pool and hot tub on the lower level, which has a fun mural painted down there.
We stayed here on our second visit to the Berkshires and really enjoyed the location as we were such a short distance away to soo many cultural institutions and Berkshires attractions. Book Hotel Downstreet here.
---
Best Towns & Places to Visit in the Berkshires (Post Summary):
Sheffield
Great Barrington
Stockbridge
West Stockbridge
Lenox
Lee
Pittsfield
Adams
North Adams
Williamstown
---
What is the largest town in the Berkshires?
Pittsfield is the largest town in the Berkshires, known for its vibrant arts scene, historic architecture, outdoor recreational opportunities, and cultural attractions such as the Berkshire Museum and Barrington Stage Company.
What is the best town to stay in the Berkshires?
The best town to stay in the Berkshires to explore the region is Pittsfield since it's in the center of the Berkshires. Another popular town to stay in is Lenox, which is famous for its hotels and resorts in Gilded Age Mansions. North Adams is also an excellent choice and pick for best towns to stay in the Berkshires as it's one of the most charming downtowns.
Where did the RHONY stay in the Berkshires?
The Real Housewives of New York stayed at the Blue Stone Manor in the Berkshires town of Great Barrington.
Why are the Berkshires famous?
The Berkshires are famous for their stunning natural beauty, cultural institutions like Tanglewood and Jacob's Pillow, thriving arts scene, historic sites, and as a popular destination for outdoor activities and scenic drives.
What is the best time of year to visit the Berkshires?
The best time of year to visit the Berkshires is from June to August when there's pleasant weather for outdoor activities as well as when many of the performing arts festivals and programs take place. Fall is also considered the best time to visit the Berkshires due to the gorgeous New England fall foliage lanscapes.
---
Enjoy visiting the best places to visit in the Berkshires and best towns in the Berkshires?! Bookmark for later or share the love below on Pinterest!