Visiting Gyeongbokgung Palace? You may recognize the iconic image of Seoul directly outside the palace. The road that leads to the palace has statues of two iconic Korean figures King Sejong and Admiral Ti Sun-Shin.
Both are beloved by all of South Korean people as being national heroes. The best part is underground below the statues are free museums great for spending an hour to kill time or take your family even if you only have one day in Seoul.
The Story of King Sejong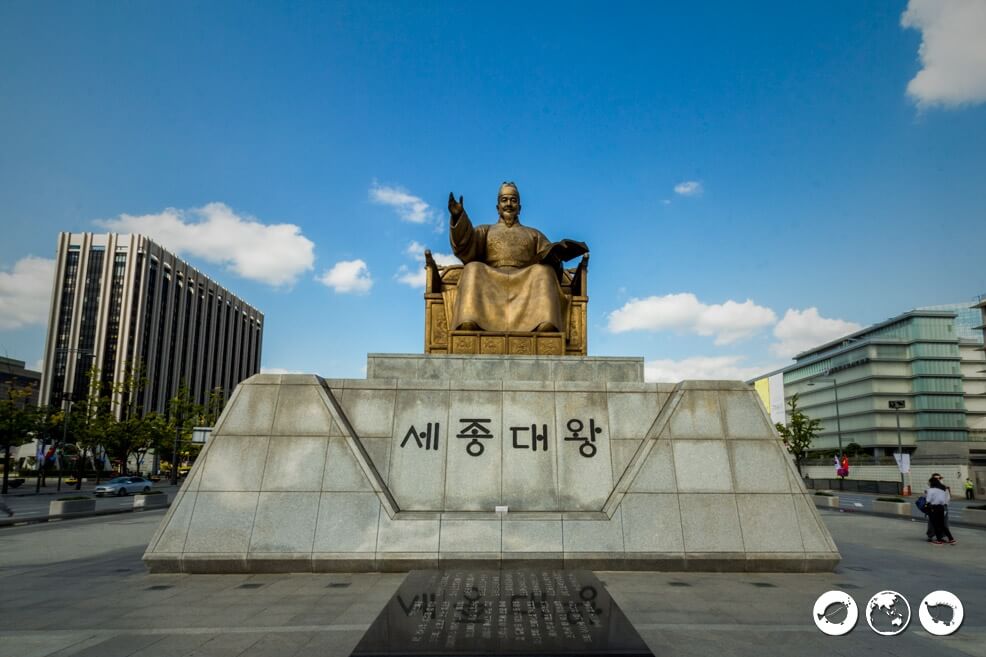 ---
The entrance to this museum is actually at the base of the seated statue of King Sejong. King Sejong from the famed Joseon Dynasty is known for creating the modern Korean alphabet known as Hangeul. King Sejong is also noted in history for his political, cultural, and scientific influences.
This museum has English translations and even headsets that can narrate for you around the museum. There is a small movie room where you can watch a video as well. We did not spend a lot of time here, but it is also connected to the museum of Admiral Yi Sun-Shin.
Read Next: Best Things to do in Seoul
Admiral Yi Sun-Shin Museum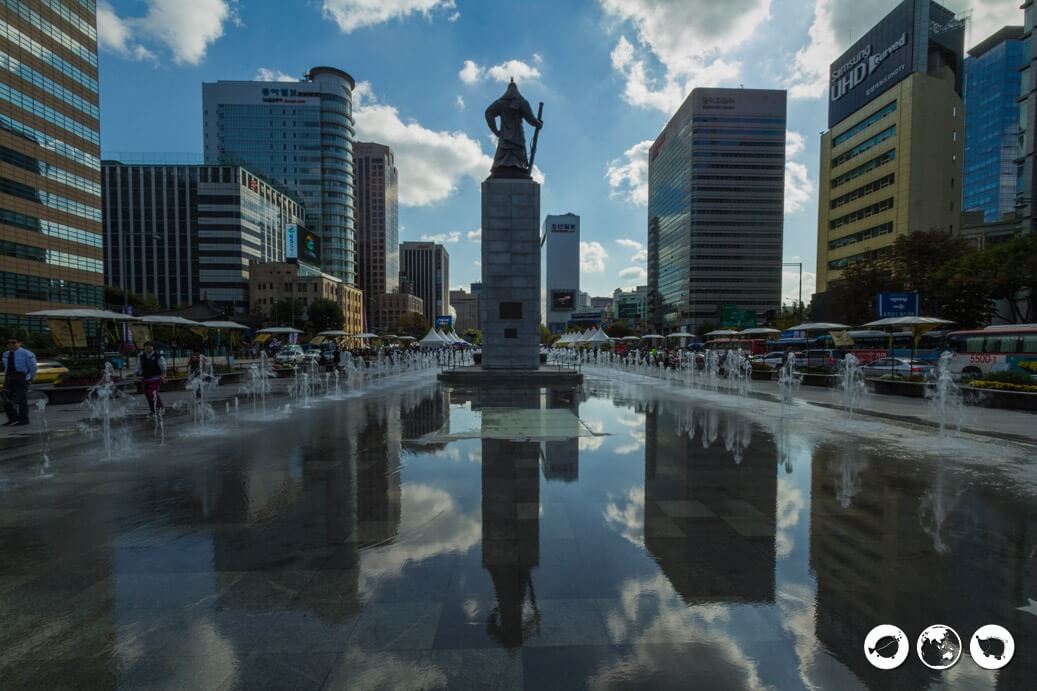 You may recognize photos of the standing warrior statue of Admiral Yi Sun-Shin. This free museum telling the heroic story of the admiral is also connected to the story of King Sejong.
Admiral Yi Sun-Shin is famous for being a courageous naval commander during the seven-year battle with the Japanese in the late 1590s. He is famed for defeating the Japanese with the famed turtle ship that helped win the war.
In our opinion, this museum is a lot more interactive and fun! This exhibit is great for kids and adults.
There is a replica of a turtle ship you can walk into plus a multi screen movie of how Admiral Yi Sun-Shin led his men into victory during a few of the battles. The movie is interesting and you will actually learn about Korean history. The best part has to be the interactive video game you can play and pretend you are shooting a cannon or gun at moving Japanese boats.
Read Next: Things to do in Hongdae
---
Both museums are free and a great place to stroll around in between visiting the palace and exploring the rest of the area. You will not need more than 45 minutes unless you are interested in reading everything the museum has to offer.
We have seeked shelter here during the rain and snow before. There is also a rest area and cafe if you just need to rest your legs for a few. Other great rainy day activities include checking out the best cafes in Seoul!
Directions by Subway
Jonggak Station Exit 1, walk towards Gwanghwamun
Gyeongbokgung Palace Station Exit 6, walk towards Sejong-ro (straight outside the main entrance of the palace.)
Gwanghwamun Station Exit2, direct access from the station.
If you're planning a trip to Seoul we recommend checking out our comprehensive guide for where to stay in Seoul by neighborhood, budget, and attractions in Seoul to help making your planning as easy as possible! Let us do the research for you!