The second-largest city in Japan is a popular stop for travelers and rightfully so. Osaka is a beautiful city where the ancient meets the new and modern. Don't let the size of the city fool you, you can easily see the best of Osaka in a short period of time in our two day Osaka itinerary.
Based on our wonderful experience we have put together a two day Osaka itinerary for travelers who have a short period of time or who are headed to Kyoto.
The Best Osaka Itinerary for 2 Days
Day 1 of 2 days in Osaka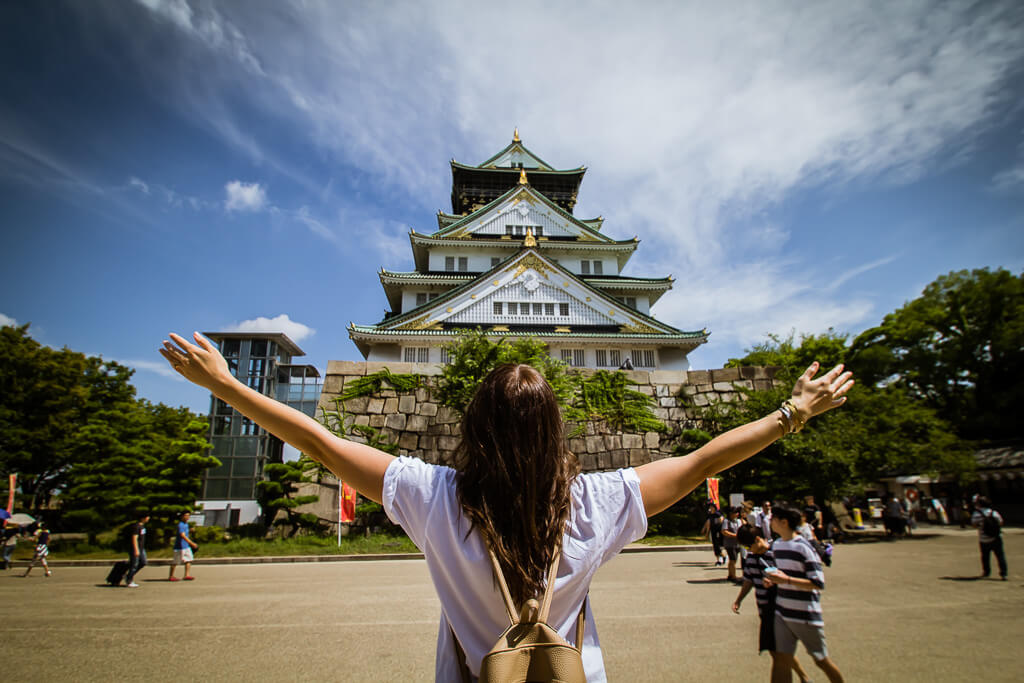 Osaka Castle
Start your morning with one of the best things to do in Osaka — checking out its famous castle. The castle opens it's doors at 9 am and the park surrounding the park is open all to the public at all times.
We really enjoyed the views from the park and spent most of our time here getting photographs and enjoying the scenery. To go inside the castle it will cost you 600 yen. The inside has been transformed into a multilevel museum that can get quite crowded in the afternoon.
The highlight of going inside the castle includes the view of Osaka from the top floor. If you are short on time, skip going inside the castle. We really were only impressed with the view. The rest of the museum just felt too crowded.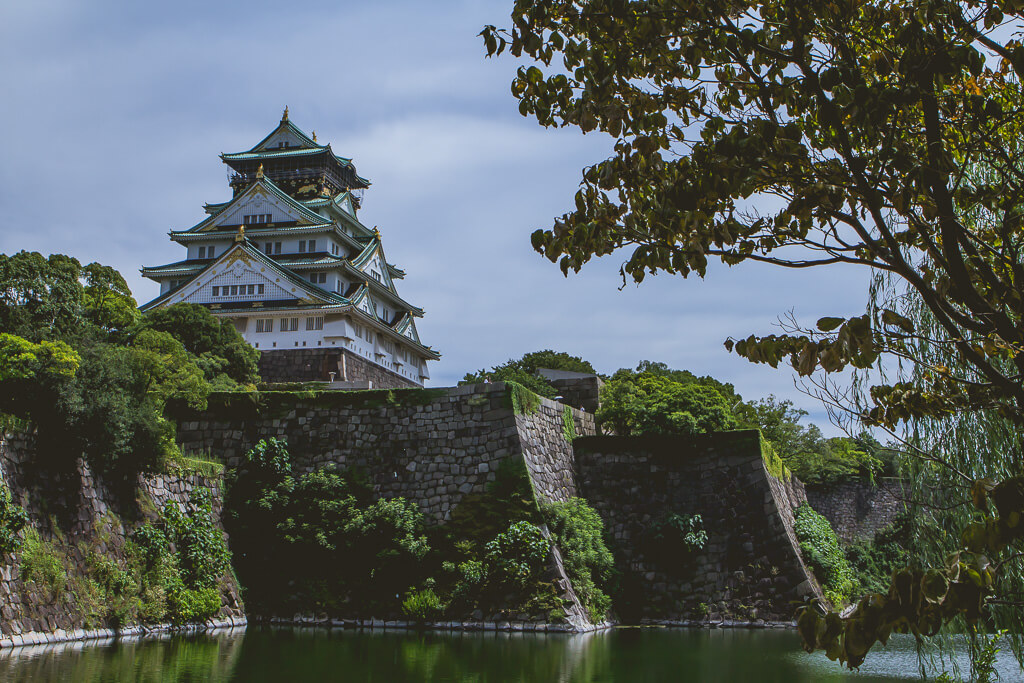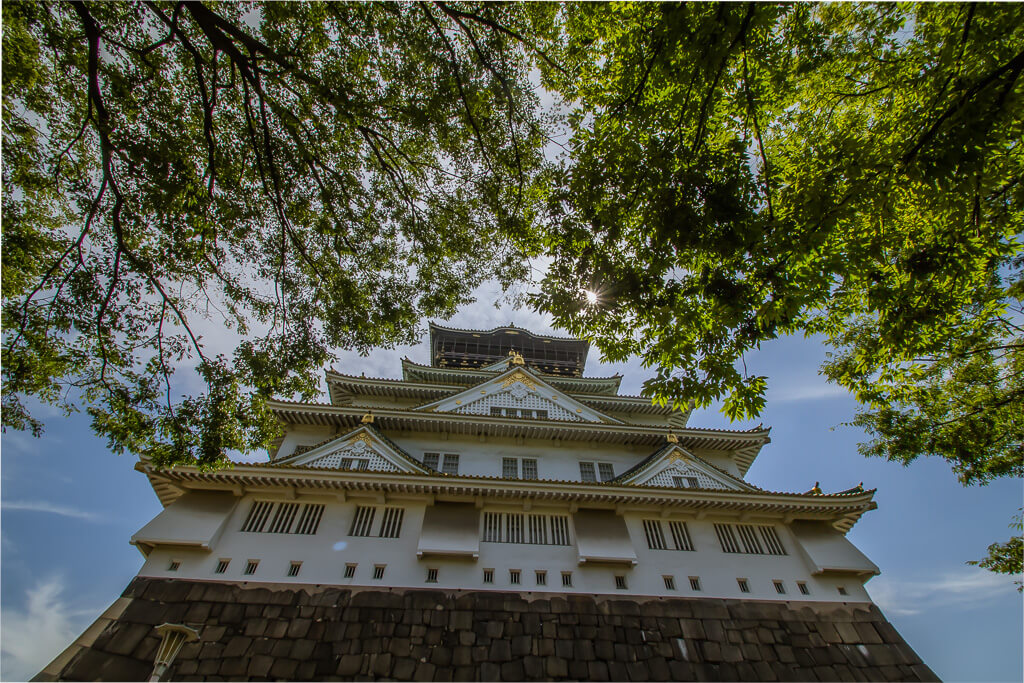 1-1 Osakajo, Chuo Ward, Osaka, Osaka
9 am – 5 pm, 600 yen entrance fee to castle
If you want to see more photos and find out more information check our visit to Osaka Castle.
Grab lunch at Shinsekai
The area of Shinsekai is a great area to explore around lunch time. This old neighborhood has a shopping arcade full of shops, street vendors, restaurants, and the centerpiece, Tsutenkaku Tower. It's quite a cool things to do in Osaka.
The area itself was inspired both by New York City and Paris and is full of energy. We especially loved the decorative store fronts and lanterns.
Tsutenkaku is an Osaka attraction that can't be missed. This tower is in the center of the area and is famous for being in a lot of local films. Take a peek from the observation deck, and if you're feeling adventurous try some blowfish for lunch from one of the many restaurants serving fugu.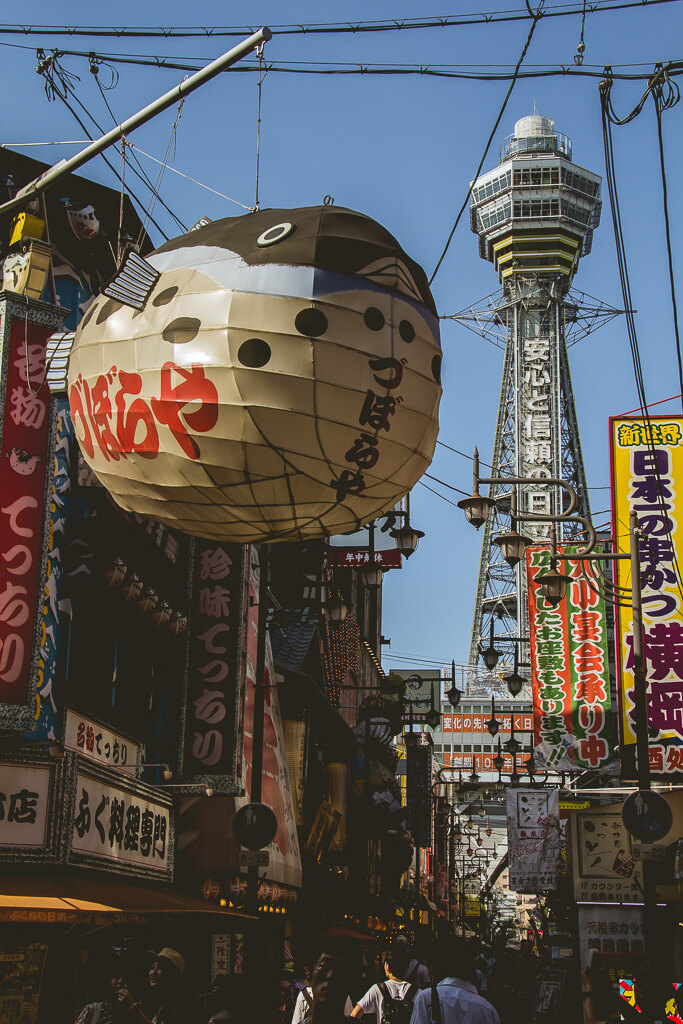 Ebisu-higashi, Naniwa-ku, Osaka, Osaka
Tsutenkaku's obersvation deck is open 9 am- 9 pm, admission fee is 600 yen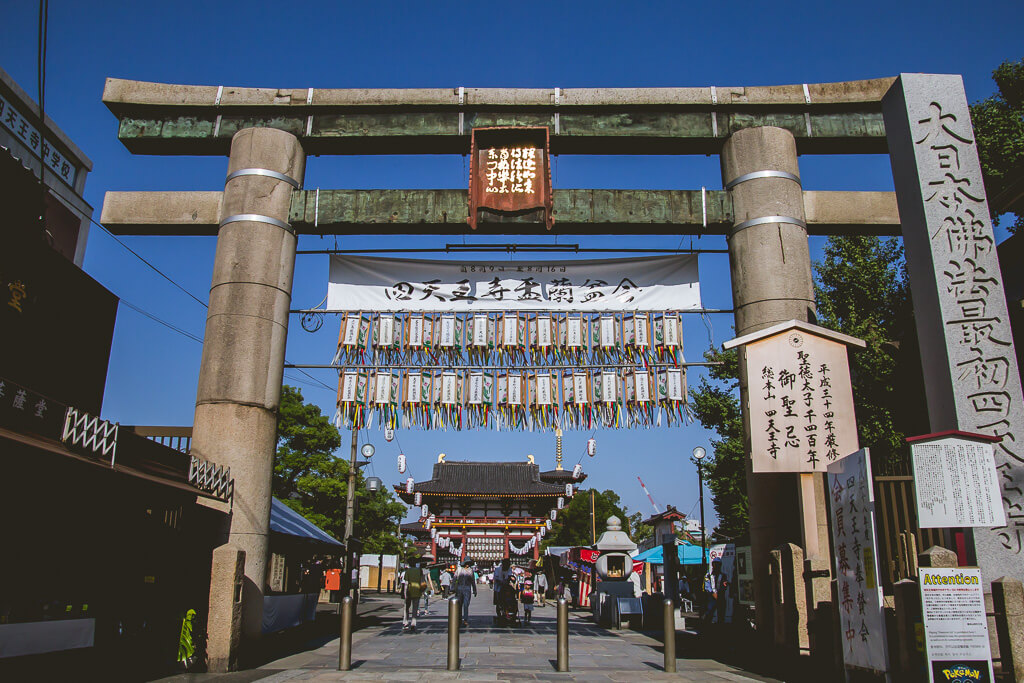 Visit Shitenno-ji in the afternoon
Shitenno-ji is Japan's oldest Buddhist temple dating back to 593 AD and, of course, one of the oldest Osaka attractions. Although the temple itself has been rebuilt several times, it's still an important spiritual place for locals and visitors.
The most appealing spot for us inside Shitenno-ji would be the towering 5 story pagoda.
You only need about 15-20 minutes to explore the temple unless you plan on taking photos or participating in prayer.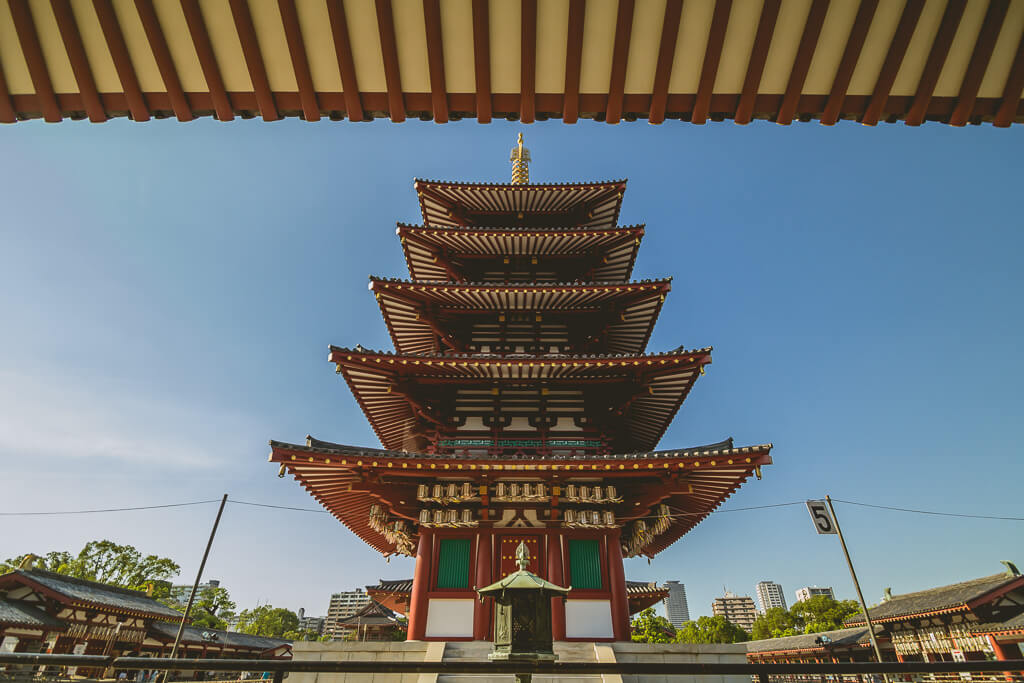 1-11-18 Shitennoji, Tennoji Ward, Osaka
free admission
Spend the Evening at Dotonbori Street & Shinsaibashi Shopping Area
End your evening by sampling all kinds of local delicacies on Dotonbori Street. Dotonbori is a foodie paradise and is worth walking through even if you're not hungry.
There is an energy to this area that we found very appealing. Enjoy the 3D signs on the restaurants like the infamous moving crab. Taste the famous local street eats like okonimiyaki and takoyaki.
After your belly is full cross the river where the famous Glico running man sign is over to Shinsaibashi shopping area. Here you will find a HUGE shopping arcade full of fun knick-knacks and clothing.
Expect the area to be crowded, as this area is a favorite for nightlife things to do in Osaka.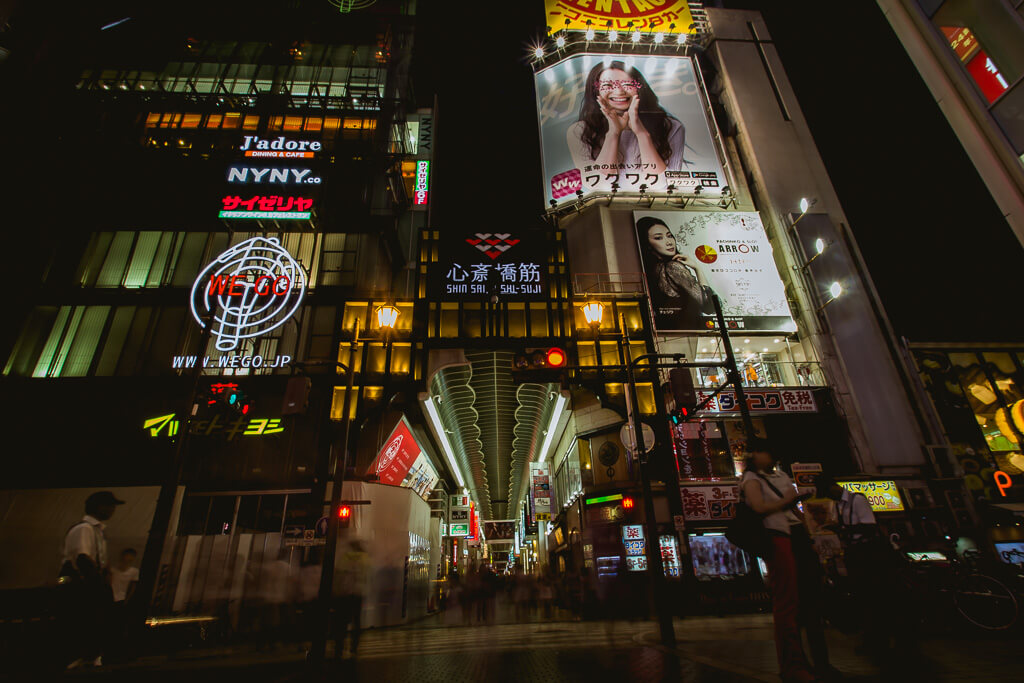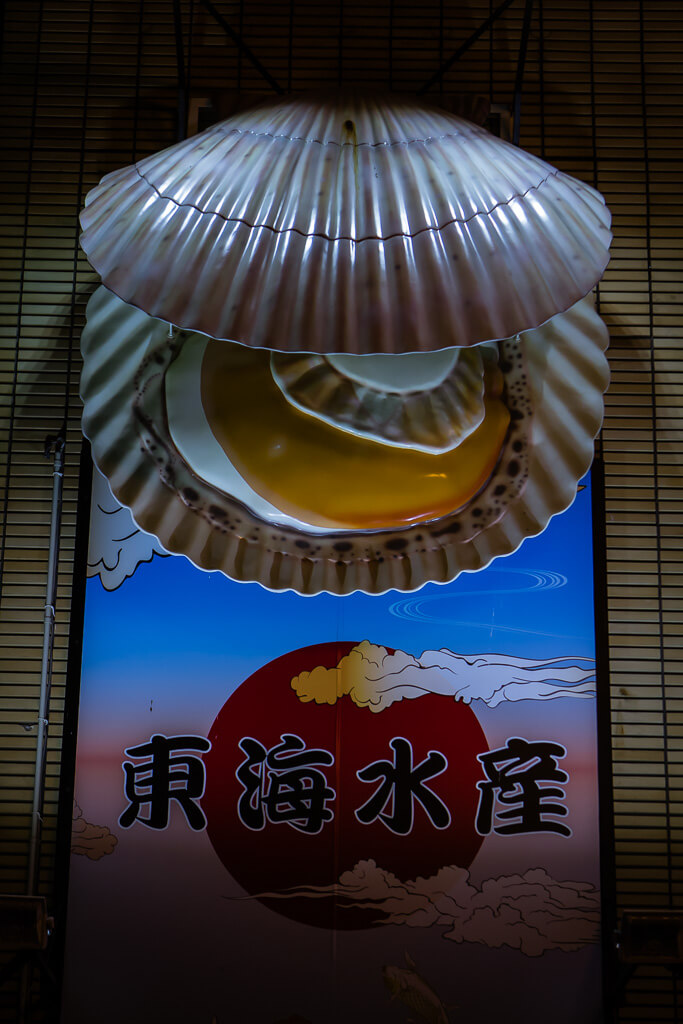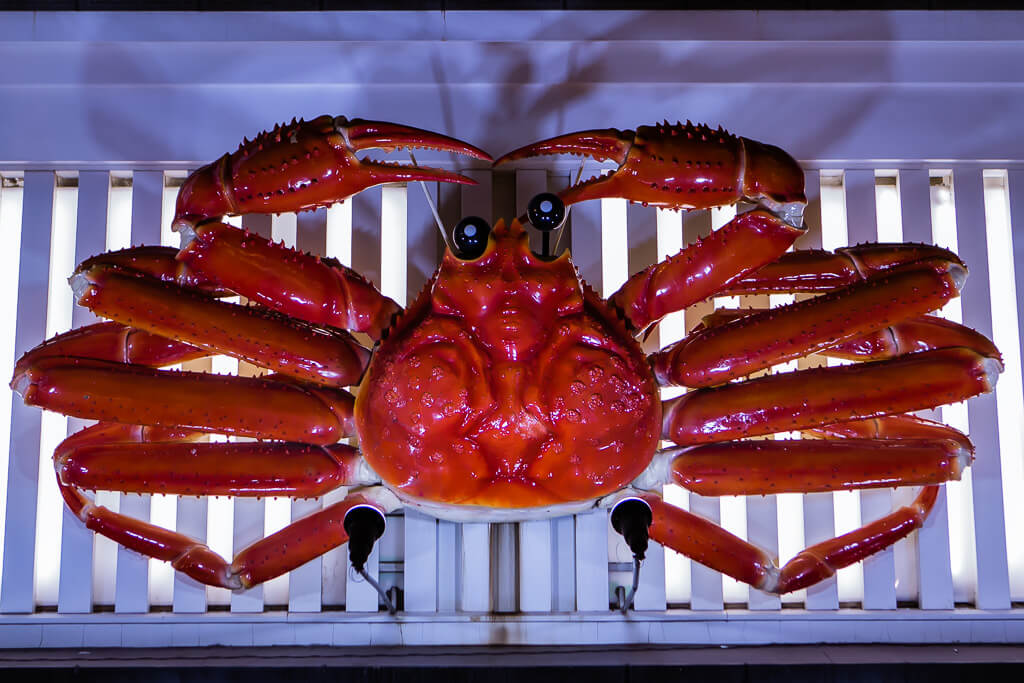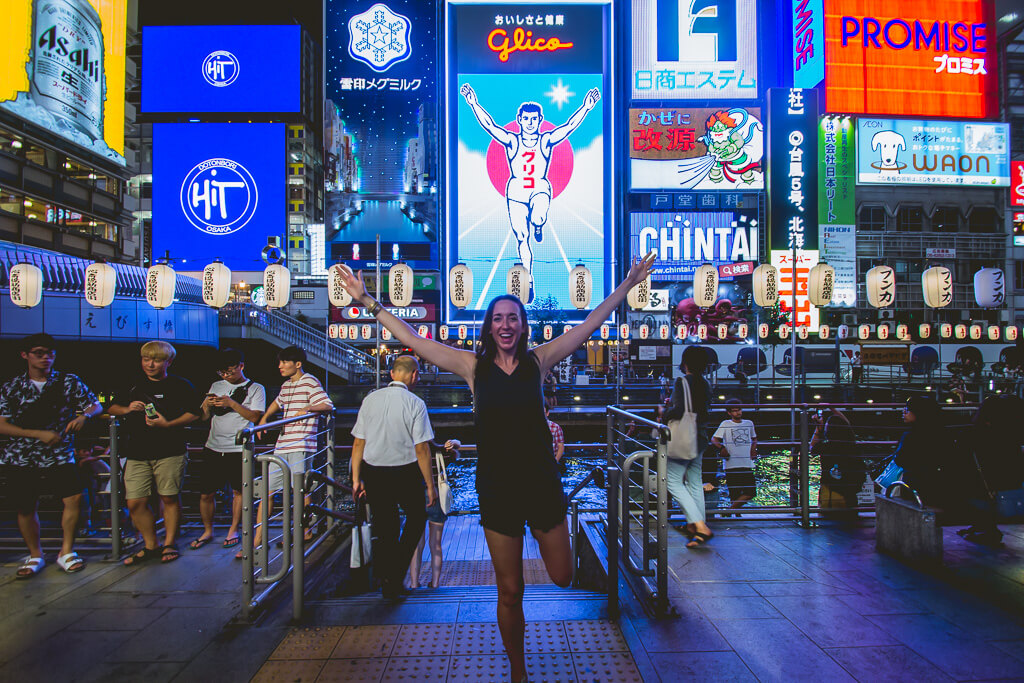 1 Chome Dotonbori, Chuo Ward, Osaka
Want to see what visiting and eating your way through Dotonbori looks like? Check out our vlog from one fun filled night at Dotonbori.
Day 2 of 2 Days in Osaka
Asahi Suita Beer Tour
If you're a beer lover like us then you will have a great time touring Asahi brewery. Yes, it's a great way to start day 2 of your Osaka itinerary! Asahi Suita happens to be Asahi's original brewery in Japan.
Join the free 30 minute guided tour and enjoy a free tasting and snack at the end. Even if you're not a beer drinker or you have kids you can still enjoy this tour as they also serve their non alcoholic soft drinks during the tasting.
Be sure to take the train otherwise you will not be able to enjoy the suds at the end of the tour!
While waiting for your tour time, or after you have a little buzz going on, be sure to check out the nearby shrines! Across from Asahi is the Katayama shrine. There's also an Asahi shrine and Gyokurinji temple, although both were closed off when we were visiting.
We were lucky to walk up to the brewery and get on the next tour, some are not so lucky. Be sure to call ahead or visit Asahi's website to make an appointment to make sure you get that tour! You can also book this tour, which also includes fruit-picking and Osaka Castle.
1-45 Nishinoshocho, Suita, Osaka
open 9 am – 5 pm, admission free!
Check out how much fun we had at Asahi Suita brewery in our vlog!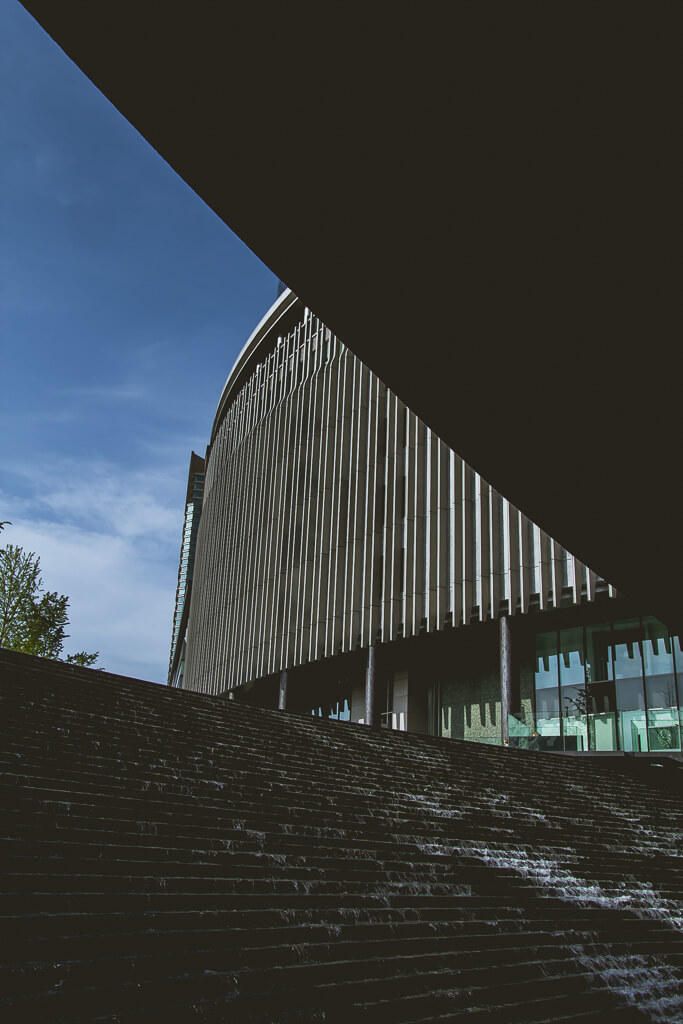 Grand Front Osaka
Enjoy some lunch and afternoon of strolling around Grand Front Osaka's shops and restaurants! This bustling part of town also is home to a Panasonic showroom where visitors can check out Panasonic's latest technological products and things that aren't even available to the public yet!
Make sure you keep an eye on the shops on the street as well, we found a wacky novelty cat store here like nothing we've seen before!
3-1 Ofukacho, Kita Ward, Osaka
Sunset at Umeda Sky Building
Finish off your day with breathtaking views from the top of Umeda Sky Building across from Grand Front Osaka. This unique looking building is one of Osaka's most iconic attractions and impressive to say the least.
You can really capture some beautiful photos here even with phone. Make sure you go to the top and enjoy the 360 views of Osaka.
We recommend getting in line about 45 min to an hour before the sun is supposed to set to make sure you're up at the top for this magical time of the day. Even the escalator ride up to the top is cool, so make Umeda Sky Building a priority on your Osaka itinerary!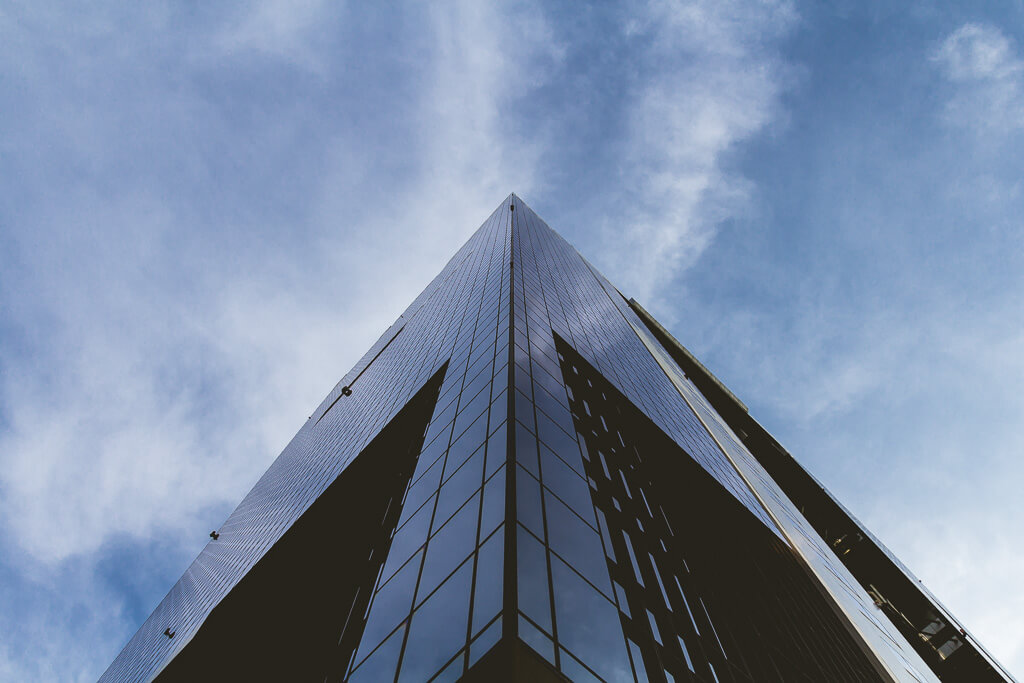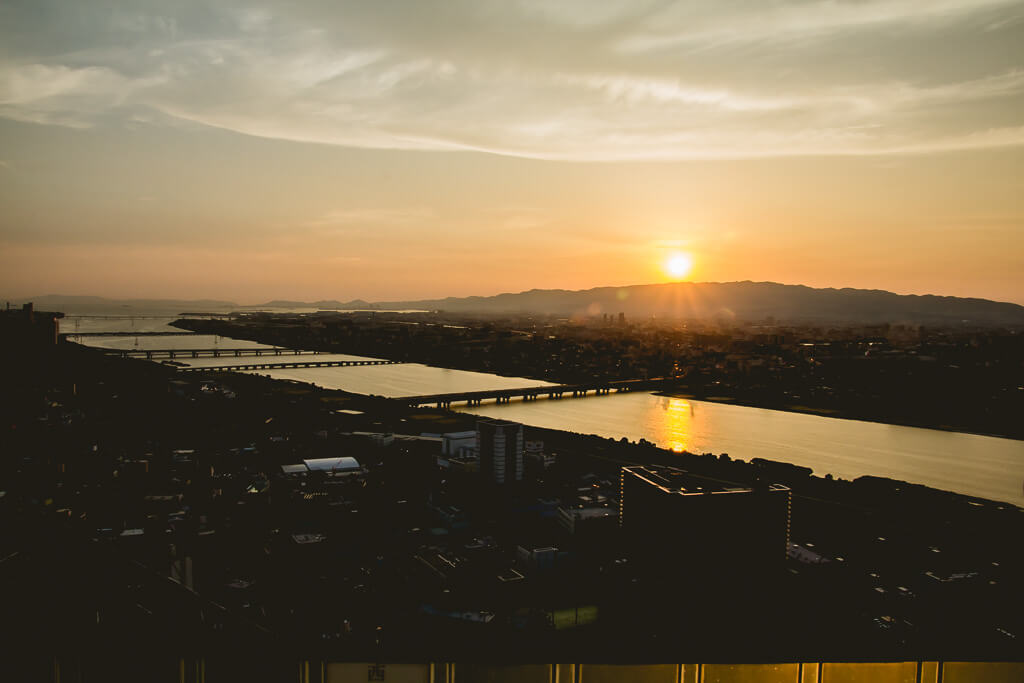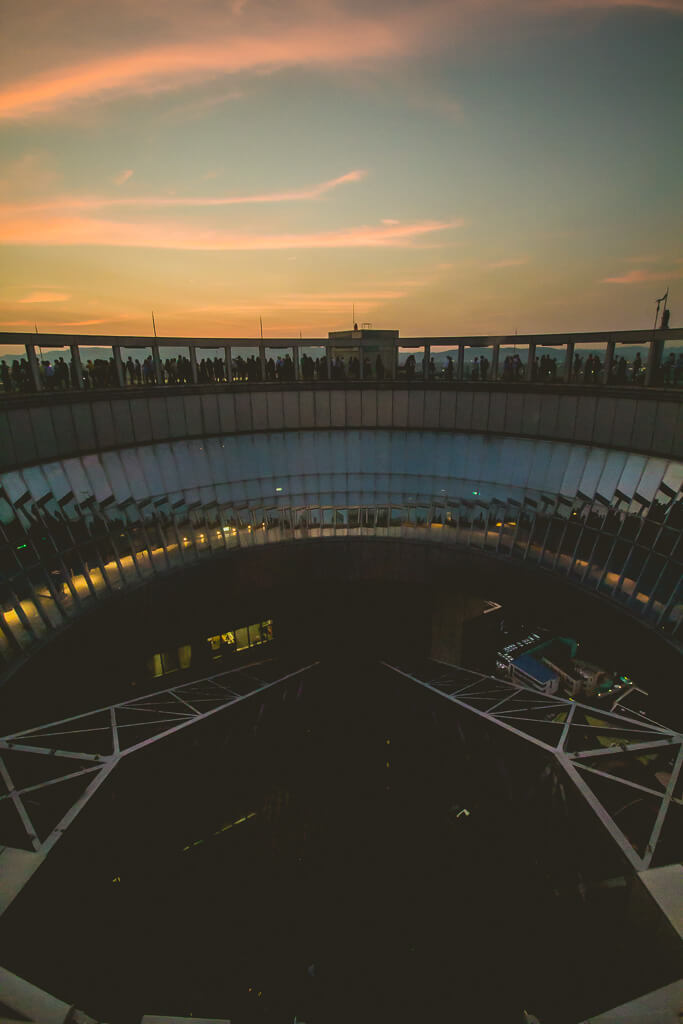 Check out our post if you want to see more photos from the gorgeous sunset we witnessed from on top of Umeda Sky Building!
1-1-88 Ooyodonaka, Kita-ku, Osaka-shi, Osaka
10 am – 10:30 pm, admission 1000 Yen
If you still want something more guided, you may want to hit the ground running on day one with this walking tour.
Where to Stay in Osaka
Osaka is such an amazing city and easy to see in a short period of time or on your way to Kyoto. If you want a convenient location to stay during your visit in Osaka, then check out Hotel Sunroute Osaka Namba. It's hotel rooms are clean, affordable, and centrally located to our favorite spots in Osaka! Book now
$ – Nine Hours Shin Osaka Station – Even though it's budget-friendly, Nine Hours has plenty of great features like hair dryers, continental breakfasts, free WiFi, ir conditioning, and more. Book Now
$$ – Feel Osaka Yu – Only a minute from Shinsaibashi Station, Feel Osaka Yu has private rooms and dorms, free WiFi, a shared kitchen, and more. Book now
$$$ – Osaka Marriott Miyako Hotel – This luxury hotel is located in the Abeno Haruks building and is right near Tennoji Station. Enjoy views of Osaka and all the typical luxuries found with a 5-star hotel. Book Now
For more places to stay in Osaka, check this map below:

Osaka Tours
---
We thought two days was enough to sufficiently explore and enjoy Osaka. If you're nearby, don't miss all the fun things to do in Kyoto. You may also want to check out the things to do in Fukuoka as well. Traveling around the country a bit? Check out this Japan Itinerary to get some helpful ideas. Need help getting around? Check out this info on the Japan Rail Pass! If you have more time check out 50 things to do in Osaka by Tsunagu Japan!
Found this 2 days in Osaka itinerary helpful? Bookmark for later or share it on Pinterest below!