Looking for the best places to visit in Upstate New York in the fall? We got you. From the gorgeous mountainous regions of the Adirondacks to the Catskills and our beautiful waterfall-filled areas like Niagara and the Finger Lakes region, we have picked the best things to do in Upstate New York in the fall plus tips for what to see and do at each place.
If you're looking to do some fall foliage leaf peeping, keep in mind that the Adirondacks tend to experience fall foliage first followed by the Catskills and the further south you are, the later the season is for when fall foliage is at its peak. New York City tends to be the last, but since this is focusing on Upstate if you want to catch the gorgeous changing of the leaves we recommend checking I Love New York's Fall Foliage Report they put out each year so you can plan accordingly.
Even if you are at the tail end of the 'peak' fall foliage window you'll still catch the beautiful shades of fall on the trees! So don't sweat it if you're a few days off! Without a doubt, this is a gorgeous state full of many natural attractions including the fall foliage, so without further ado, here are the most gorgeous places to visit in Upstate New York in the fall season!
Disclaimer: This post contains commissionable links.
Things to do in Fall in Upstate New York
Lake Placid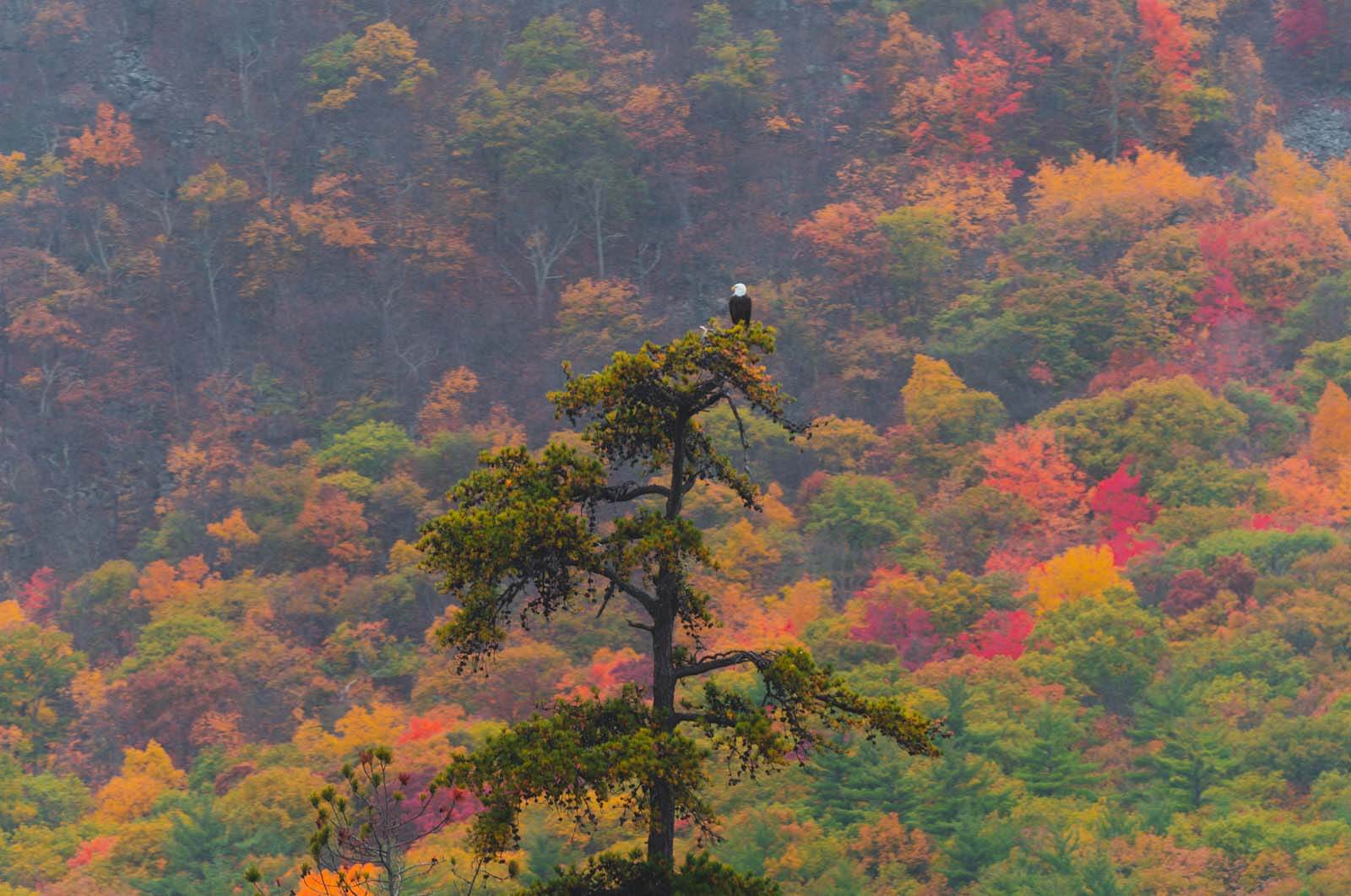 Located in the Adirondack Mountains, the resort town of Lake Placid is known for hosting both the 1932 and 1980 Winter Olympics! One of our favorite things to do here was visiting the Olympic Center Museum. You can take guided tours or walk through exhibits covering both winter Olympic games.
And if you're in for a thrill, there's the Cliffside Coaster on Mt. Van Hovenberg. This is the longest mountain roller coaster in North America, and it's located at one of the Olympic sites.
If you're heading to Upstate New York in the fall take the opportunity to enjoy the fall foliage around Lake Placid by going for a hike. For an easy hike, try the Heaven Hill Orchard Loop for great fall peeping.
Or for stunning mountaintop views from Mt. Van Hovenberg, though it's a little more intermediate of a climb. And while fall foliage in the Adirondacks usually peaks by the first week of October, you can monitor its progress with the foliage report.
Another great fall activity in Lake Placid is walking the accessible High Falls Gorge. It's a 30-minute hike a short drive away from Lake Placid in Wilmington. We love it because it's more of a nature walk with 3 different waterfalls! Or you can take a boat onto Mirror Lake for a different view. The lake is a popular place for locals and visitors alike all year-round, and we recommend using Captain Marney's Boat Rentals.
Consider staying at Mirror Lake Inn where you can book a room with a balcony overlooking the mountains and Mirror Lake and end your nights by a crackling fireplace. This AAA Four-Diamond hotel and member of the Small Luxury Hotels of the World located in Lake Placid, and a great base for exploring the Adirondacks. Book here.
Lake George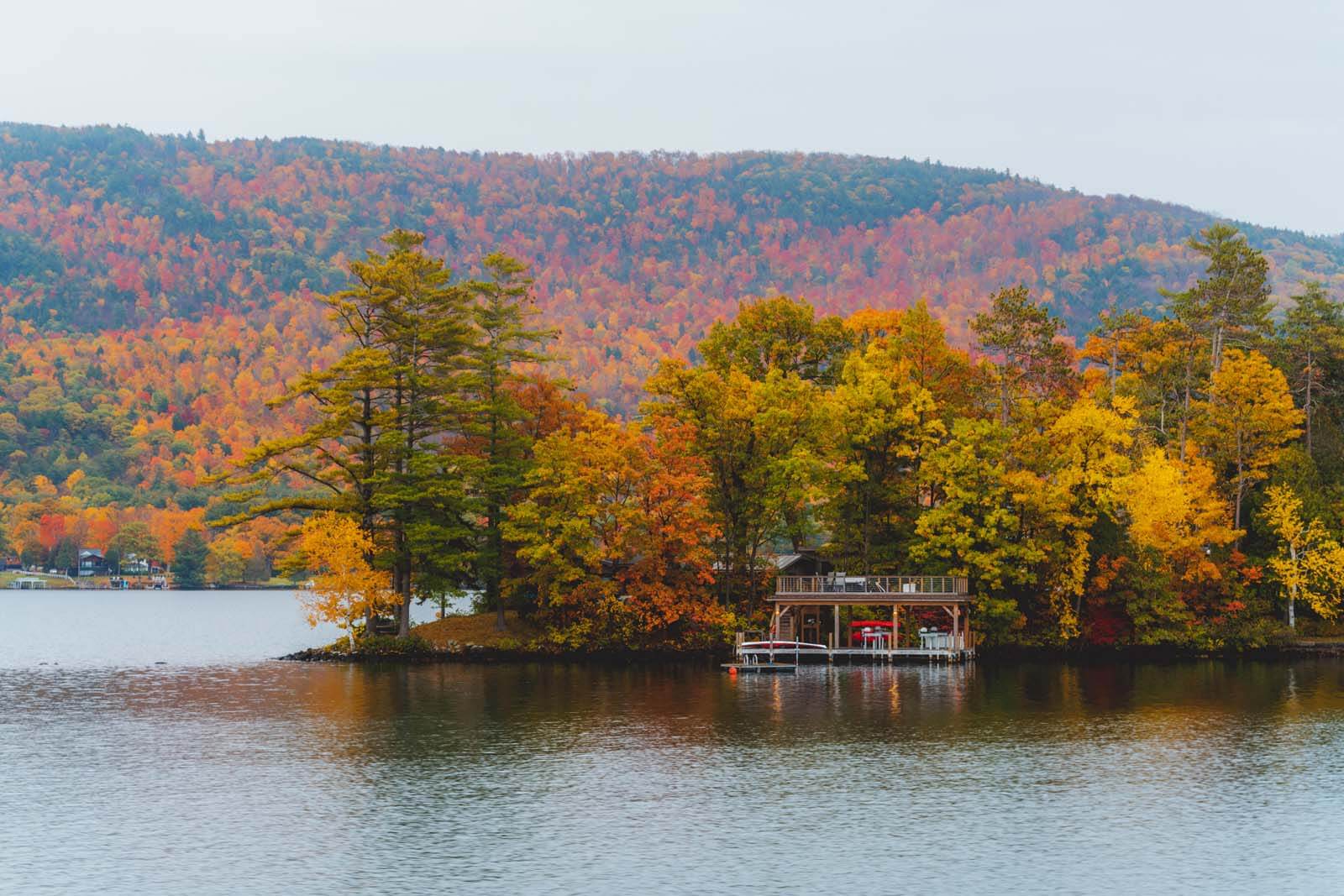 There's nothing quite like fall in Upstate New York. Use the town of Lake George as a launch base for all kinds of fall things. We went in October, and we found that some things had already closed at the end of the summer. But fall is a great time to go if you're looking for a little quiet and fewer crowds. Plus, you'll find fall events going on, and amazing fall foliage as well!
Through the fall, you can take a boat tour on one of Lake George's historic steamboats. Enjoy uninterrupted 360-degree scenery of the old-growth forests around the lake, as well as animals busy getting ready for the winter. Or there are a handful of rental companies where you can rent your own boat. You can take out everything from pontoons and deck boats to canoes and kayaks.
Through mid-October, there's also Lake George's West Mountain. Before the ski season begins, you can book tickets for all kinds of activities like scenic chairlift rides, mountaintop yoga, fall foliage hikes, and more. Or Prospect Mountain conveniently has a trailhead that starts in Lake George that's 3-miles out and back.
It's also super popular to camp at Lake George and there are dozens of amazing campsites all around the village as well as around the lake. Just reserve your spot in advance because they fill up fast.
Consider staying at the luxurious accommodation option, The Sagamore is hands down one of the most romantic getaways in Upstate New York. Located right on the lake on Green Island, this premier destination and property was named by Architectural Digest as being one of the most beautiful hotels in the Adirondacks as well as being an official AAA Four Diamond recipient.
This hotel dates back to the 1880s and is designated as a National Register of Historic Places. Stay in one of their condos, standard rooms, luxury suites, or a private lodge overlooking the gorgeous Lake George.
Letchworth State Park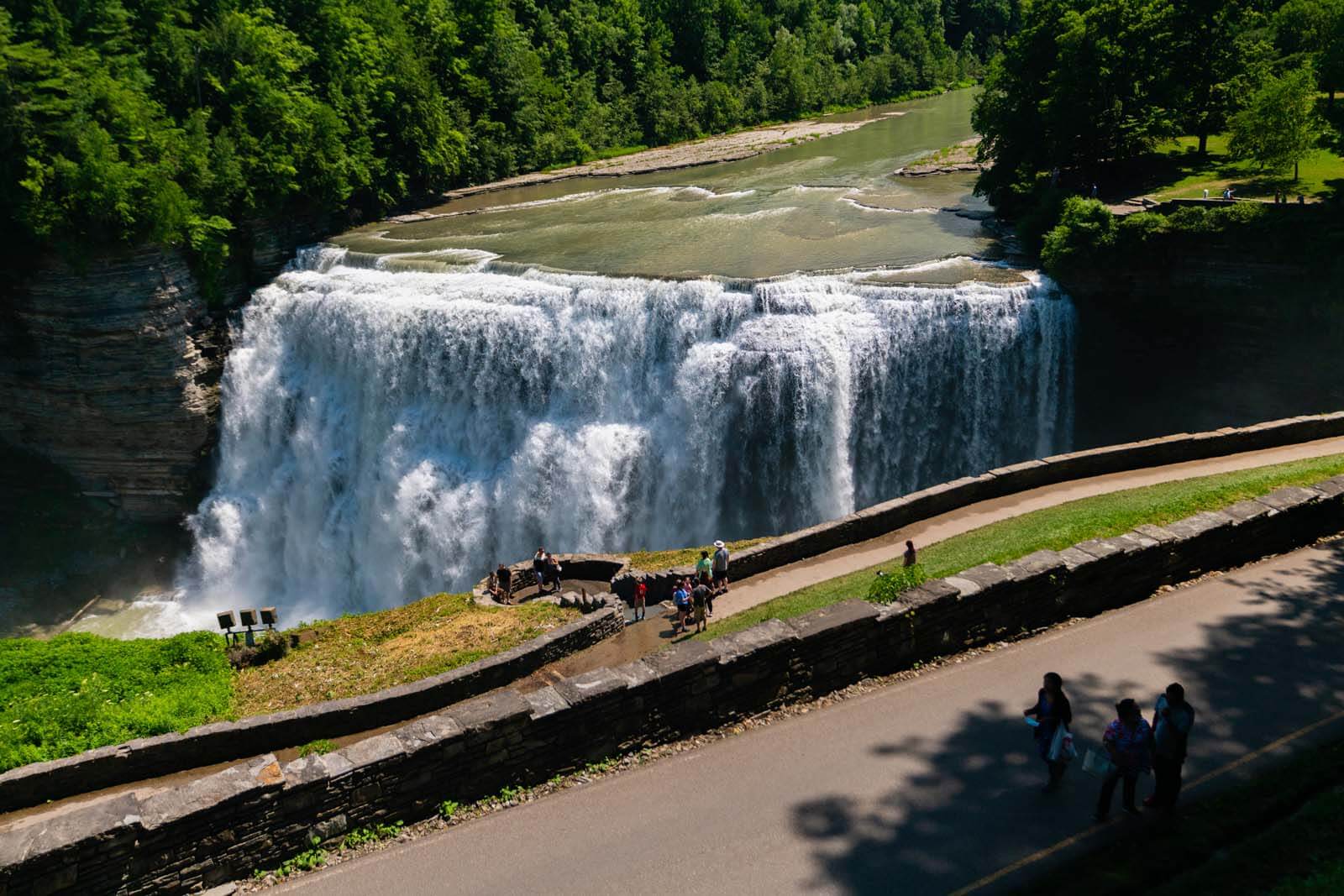 Letchworth State Park in western New York is a must-see this time of year. The Finger Lakes region is all about the waterfalls, and Letchworth is a big part of that. The roughly 18-mile-long park is home to around 50 big and small falls, many along the Genesee River.
If you just want to go for a scenic drive, there are several overlooks along the river where you can stop for epic scenic views. The most popular one is Inspiration Point which has an unbelievable viewpoint of one of the large falls.
Or come by the first week of October to see the explosion of reds, oranges, and yellows of fall against the rocky gorges. There are 66 miles worth of trails with trailheads just off the main roadway. But that's just the beginning of what there is to do at the "Grand Canyon of the East!" There are cabins and campgrounds for camping, and pavilions for picnicking if you're just spending the day.
Consider staying at Allegiance Bed and Breakfast in Mount Morris just outside of Letchworth State Park for a beautiful bed and breakfast experience in this historic 1838 mansion. All of the rooms have their own individual character and design and it will fee like your home away from home and is especially cozy in fall in upstate New York!
Ithaca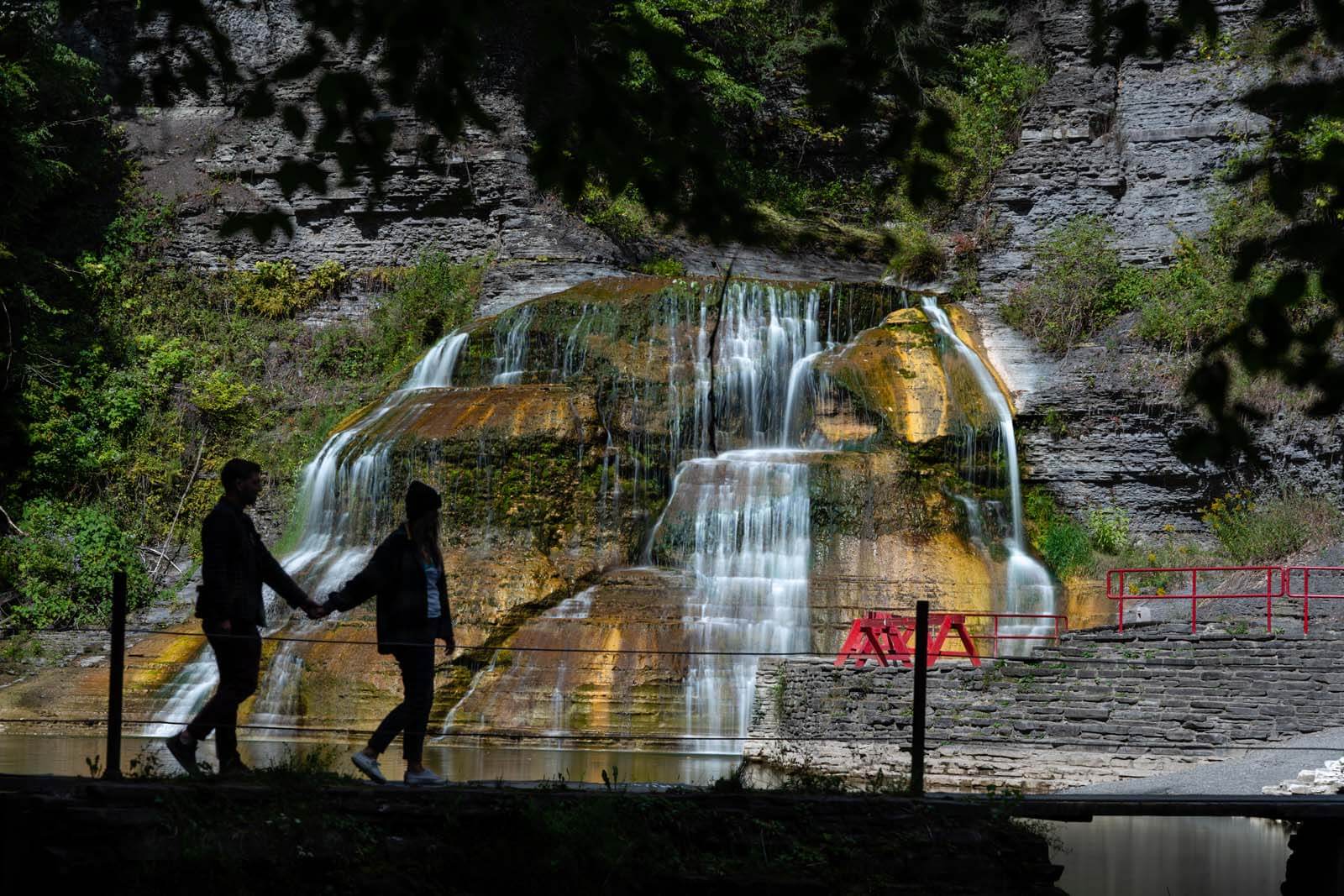 Ithaca's slogan is "Ithaca is GORGES" because of its gorgeous gorges and waterfalls! You'll find over 150 waterfalls here in just a 10-mile radius. A lot of them are easy to get to in the many state parks all around Ithaca.
You can go on a hunt for them all throughout the area, but some of the best Ithaca waterfalls can be found without leaving the city. We loved hiking the Cascadilla Gorge Trail on the grounds of Cornell University. The trailhead at Treman Triangle Park. It's super easy to get to, and it's less than a mile long and passes 8 cascading waterfalls. Or in downtown Ithaca, there's the showstopping Ithaca Falls that's 150-foot tall!
On a nice cool day, take some time to walk the super cool downtown area where you can find quite a few cool things to do in Ithaca. There were so many streets and shops we loved here. Make sure to take in the historic architecture of this old town and stop in some of the fun and quirky shops. And you have to check out Ithaca Commons, a pedestrians-only street in the heart of the city.
When you're looking for things to do in Upstate New York in the fall, Ithaca won't leave you hanging! Nearby there are farms with fall festivals. Stop by the local wineries and vineyards or do a wine trail all around Cayuga Lake. There are also some great breweries, like Ithaca Beer Co. or South Hill Cider, and we already mentioned the multiple state parks just a few minutes from downtown.
The Firelight Camps glamping experience at the La Tourelle Resort is one of the best glamping options in the state of New York and an excellent option during fall in upstate New York. The tents are breathtaking and offer views of the forest while also being cozy and comfortable, we seriously love glamping. Or if you prefer a traditional but upscale hotel, check out La Tourelle's beautiful rooms with sweeping views of the region.
Watkins Glen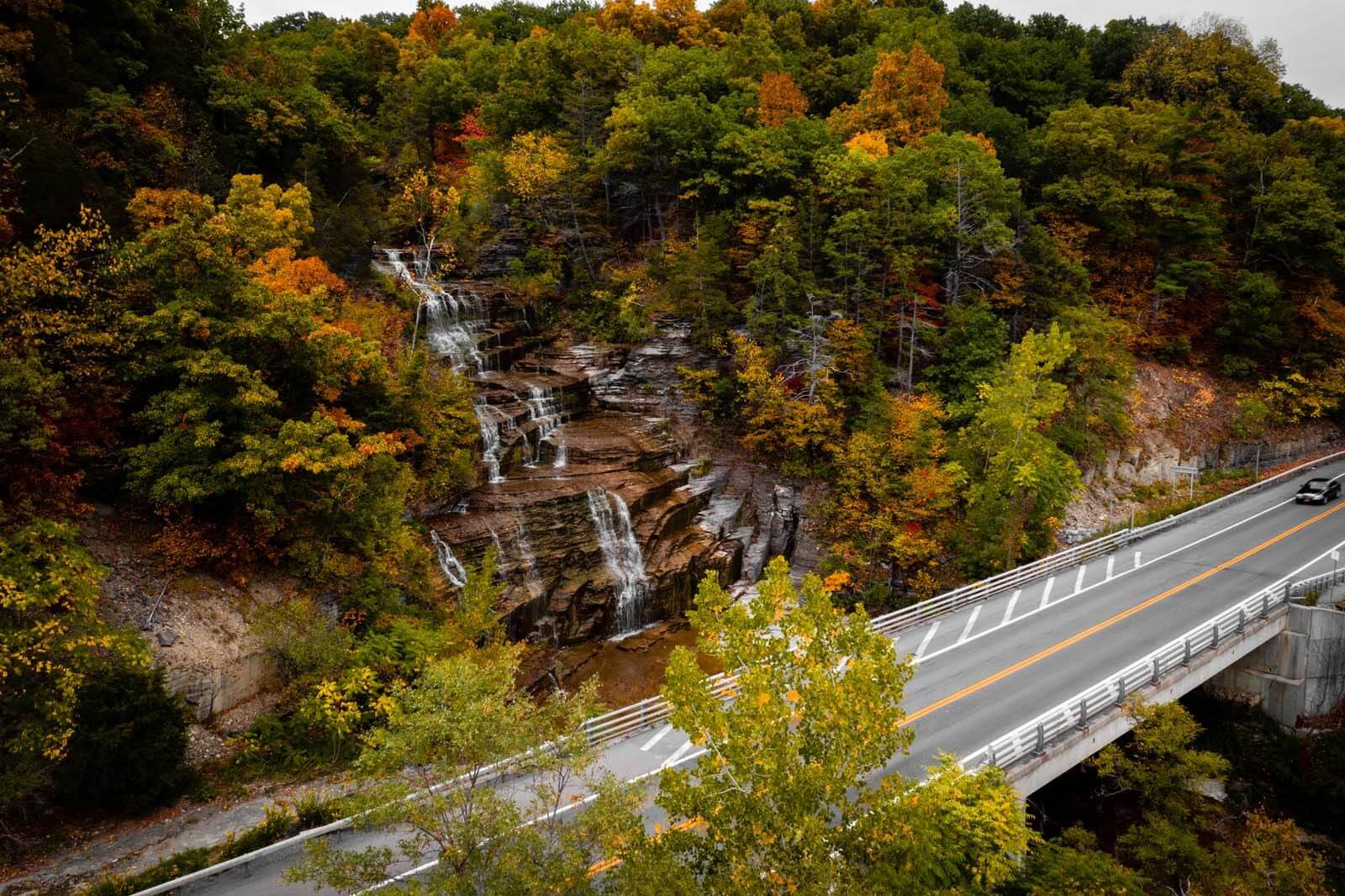 One of our absolute favorite Finger Lakes small towns is Watkins Glen. It's located at the southern end of Seneca Lake and has so much charm. A fall visit is a must! Take a drive along the Seneca Lake Scenic Byway and visit fruit and dairy farm stores or go on a wine tasting, one of the many amazing things to at Seneca Lake.
If you're looking for the best waterfalls in New York, you'll find many of them here. Walk along the scenic Gorge Trail in Watkins Glen State Park where you'll pass several cascading waterfalls along one of the most beautiful walking trails we've ever been on with stone bridges and moss covered rocks. Before turning around, make sure you make it all the way to Rainbow Falls which feels like a scene out of a fantasy film!
Or drive 5-minutes away to Montour Falls and along the way also see She-Qua-Ga Falls, Aunt Sarah Falls, and Eagle Cliff Falls! All of these can be seen from your car (with the exception of Eagle Cliff Falls, it requires a short walk). And on Route 414 you can see another cool roadside waterfall called Hector Falls.
For the best fall foliage in Watkins Glen, take a scenic boat ride on Seneca Lake with Captain Bill's Cruises or drive to Finger Lakes National Forest. You can go hiking, driving on dirt roads, or camping.
Be sure to stay at the Watkins Glen Harbor Hotel, which is the perfect place to stay to not only explore wine country and around Seneca Lake, but it's also right on the water. The rooms are beautiful and upscale, plus you can request a room with a balcony overlooking Seneca Lake. There are firepits down by the lake and you can easily take a walk along the beautiful waterfront and pier.
Sleepy Hollow & Tarrytown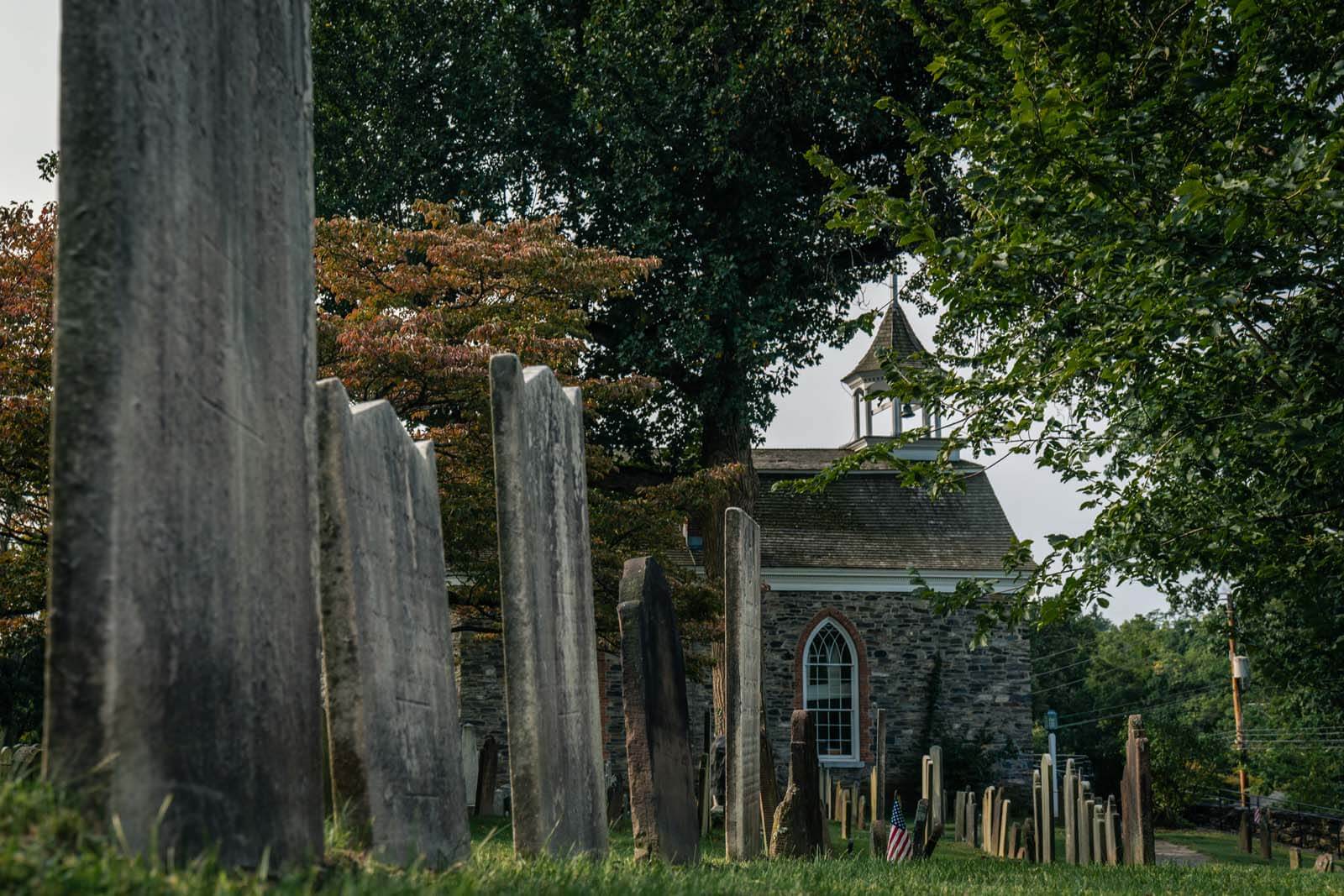 If you're looking for fall day trips from NYC, head to Tarrytown and Sleepy Hollow. They're only about a 30-minute drive from Manhattan, and they're especially fun to visit in the fall and around Halloween!
Yes, this is the Sleepy Hollow that inspired Washington Irving's famous short story, The Legend of Sleepy Hollow. In fact, Irving had an estate in Tarrytown and you can visit it today. There are so many things to do that center around the folklore of the Headless Horseman that feel especially spooky on a cool fall day.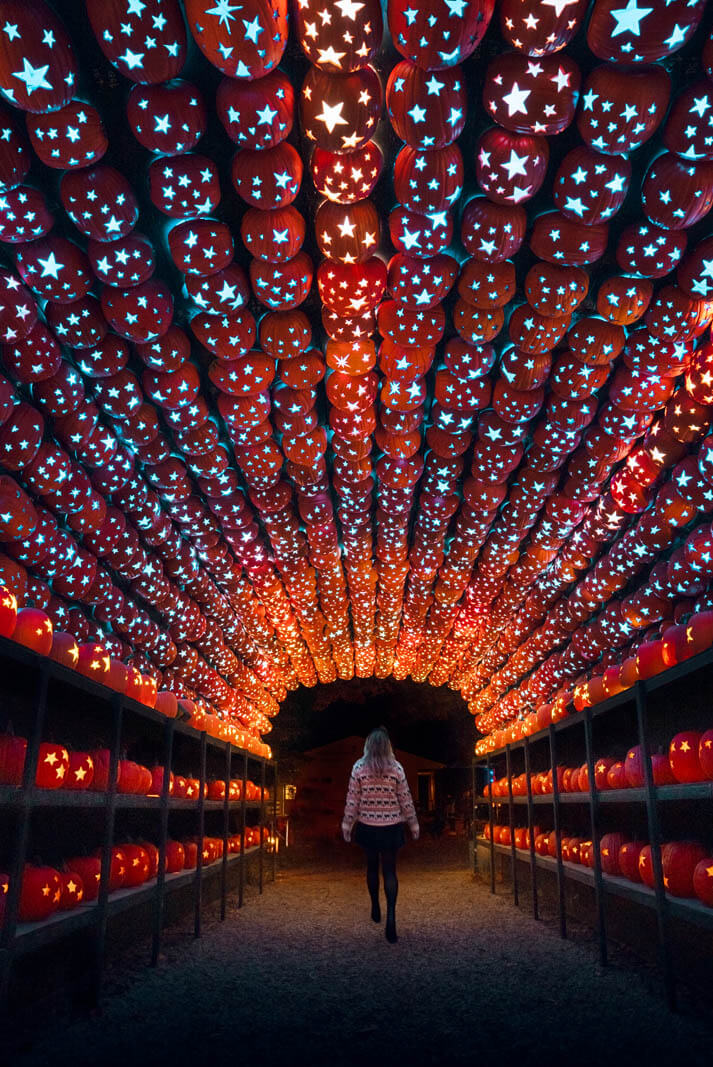 But the towns truly come alive in the fall with festive events. The Great Jack O'Lantern Blaze is one of the most beautiful events and places to visit in the Hudson Valley. It's held at Van Cortlandt Manor and features over 7,000 blazing hand-carved pumpkins illuminating the night. And there are different fun activities around the pumpkin theme, like a Pumpkin Carousel. (this is about a 30-minute drive north).
You can go on cemetery tours in Sleepy Hollow or visit local historic mansions that may or may not be haunted. There's also Lyndhurst After Dark where you can learn about the dark spiritual past of Tarrytown's Lyndhurst Mansion and the Victorian era.
And with all the grand homes up here, you can stay in one too! Built as a private summer estate in the early 1800s, Tarrytown House Estate has had many lives as it passed through the hands of some big movers and shakers in the United States! There's even one of the best restaurants in the Hudson Valley located on site in one of the historic buildings known as Goosefeather, a Cantonese restaurant bringing the flavors of Hong Kong to New York with an exceptional weekend brunch.
The entire estate is absolutely gorgeous with a mix of traditional and contemporary design. Choose from over 200 top-notch rooms and suites, some with views of the Hudson River and the fall foliage from your balcony.
Speaking of weekends, be sure to use our guide to how to have a perfect weekend getaway to Sleepy Hollow at Halloween time! And it's worth spending a long weekend as there are so many charming towns in the Hudson Valley nearby to check out.
Niagara Falls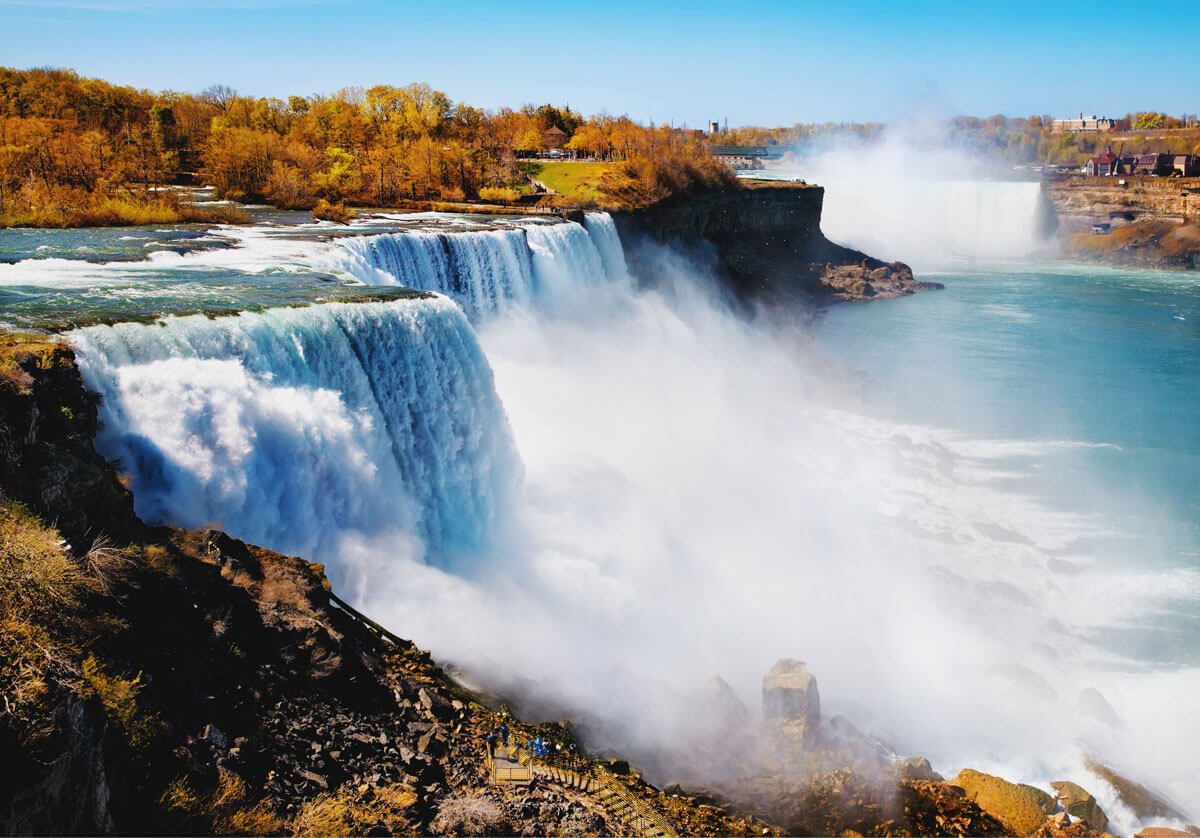 We think that Niagara Falls is one of the best places to visit in upstate New York in fall! While most people focus on the Canadian side, the New York side is an outdoor lover's dream, especially in this season.
Fall is a shoulder season for the area, so you might have the park all to yourself. Before winter rolls in, take the chance to still go on the Maid of the Mist Boat Tour. Or walk out onto the Observation Tower for ultimate leaf peeping with amazing waterfall views. Niagara Falls also has great hiking trails in the park or on Goat Island.
In the town of Niagara Falls, visit one of the many local wineries or attend a fall festival at a local farm and go apple picking. And there's always holiday shopping at the Niagara Falls Fashion Outlets.
For an unbelievable stay with views of Niagara Falls, consider staying at one of the rooms with falls views at Hilton Niagara Falls, which is actually on the Canadian side of the falls.
Tannersville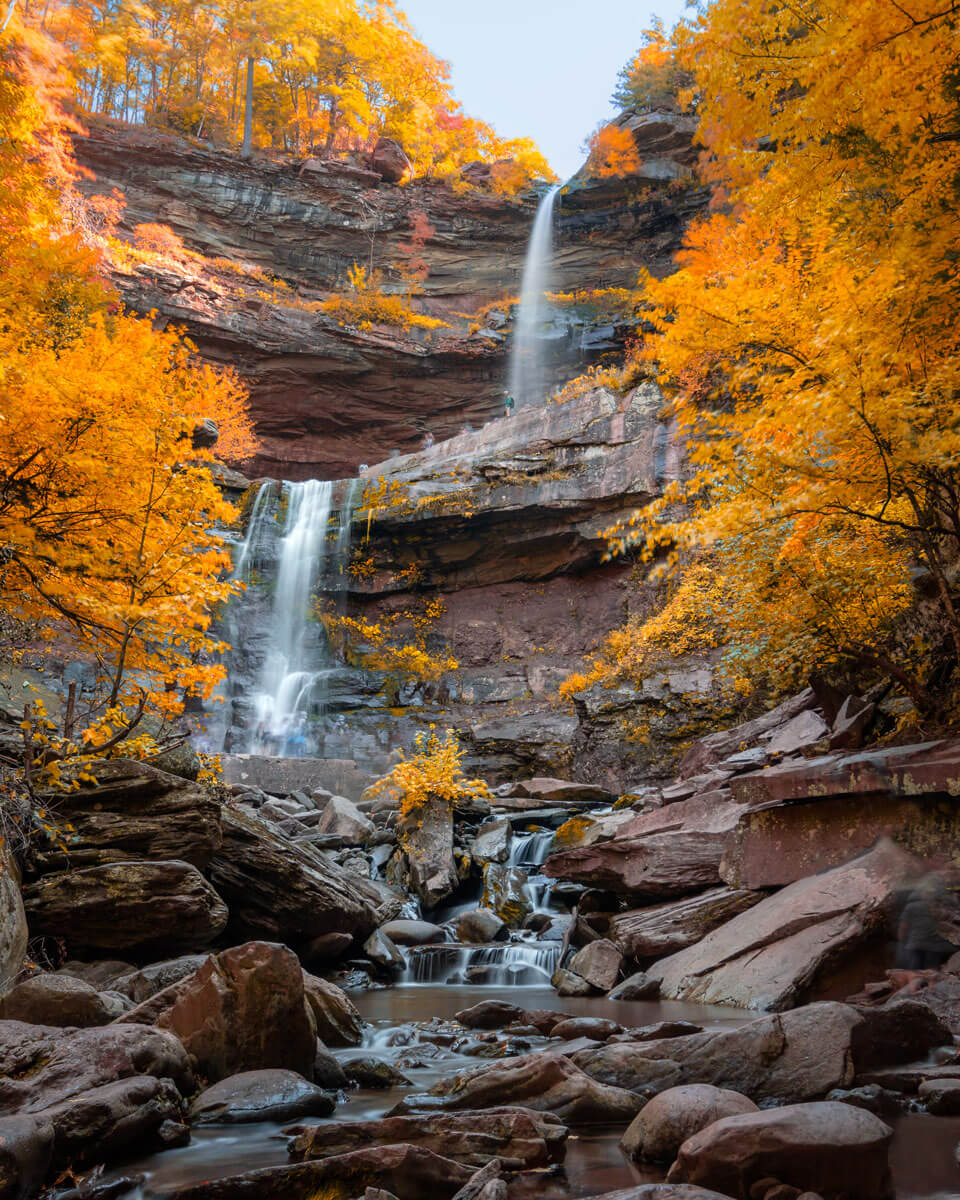 If you're looking for a place with tons of personality, you'll love Tannersville. It's one of the more quirky towns in the Catskills full of colorful 19th-century buildings and antique stores. And it's close to different natural areas.
Go on a gorgeous fall hike at nearby Kaaterskill Wild Forest to Kaaterskill Falls the highest cascading waterfall in the state and you can walk behind the falls. You can enjoy an easy leaf-peeping hike that passes other waterfalls, amazing rock formations, and stunning leaves turning for the season.
Also, close to Tannersville is the town of Hunter. A lot of people think Tannersville and Hunter are the same towns because they're so close together. Hunter is home to Hunter Mountain and the ski resort found there. Before the first snow, there are all kinds of trails, ziplines, and other outdoor adventures to be found there.
And while you're here, it's worth taking a scenic drive through the area and checking out some of the unique things to do in the Catskills along the way!
There are so many great places to stay in the Catskills, but one of the best spots near this area is Scribner's Catskill Lodge. Be sure to take advantage of their perfect outdoor sauna with mountain views at this gorgeous, luxury lodge. Choose between stylish cabin rooms, bungalows, and suites at this sophisticated lodge retreat.
Kingston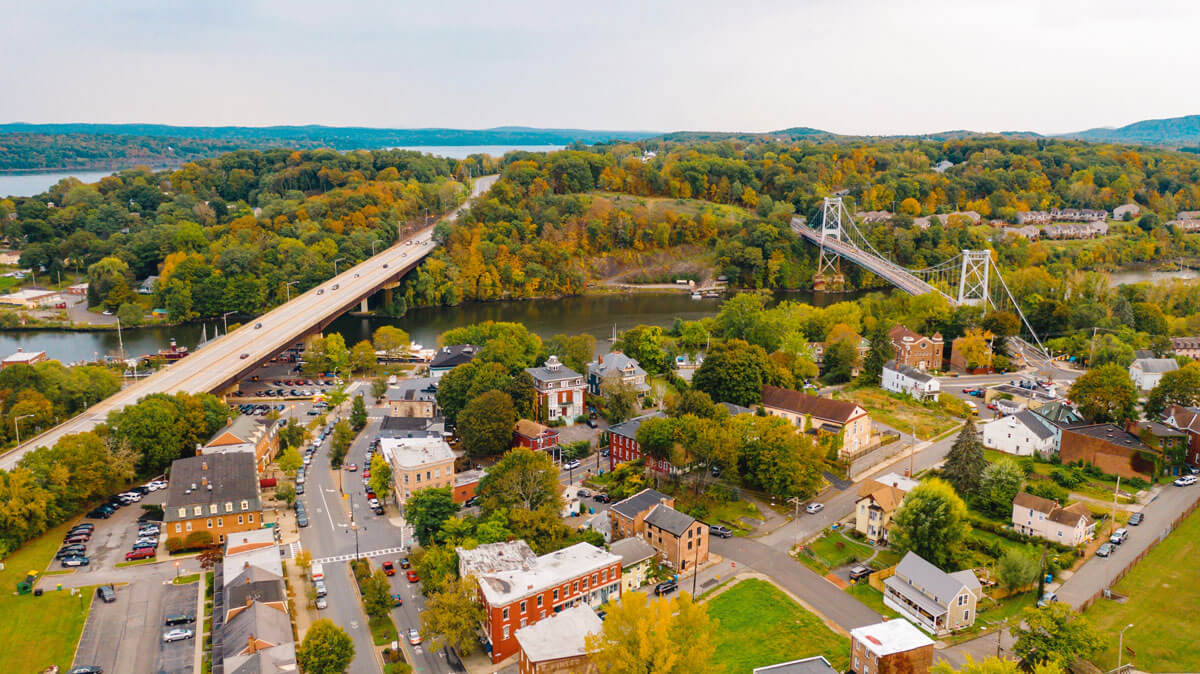 The town of Kingston sits on the western bank of the Hudson River in the Hudson Valley. It's also another place to add to the list of fall day trips from NYC since it's only 90 miles north of Manhattan.
It's an adorable small town with roots going back past the American Revolution for Independence. You can walk through town and down to the century-old Roundout Lighthouse on the Hudson River. It's a nice way to enjoy a sleepy fall day and enjoy the autumn colors all along the water.
For more vintage fun, visit the Trolley Museum of New York and take a ride in an old-fashioned trolley through town! Or head to the Catskill Mountain Railroad for their fall foliage train that runs a handful of days in October.
Be sure to stay at Hutton Brickyards Retreat and Spa for the ultimate stay during your trip in the fall in Upstate New York. Located right on the Hudson River, this resort has gorgeous rooms, a spa on site, and has put thought into every detail making this an ultimate retreat.
Naples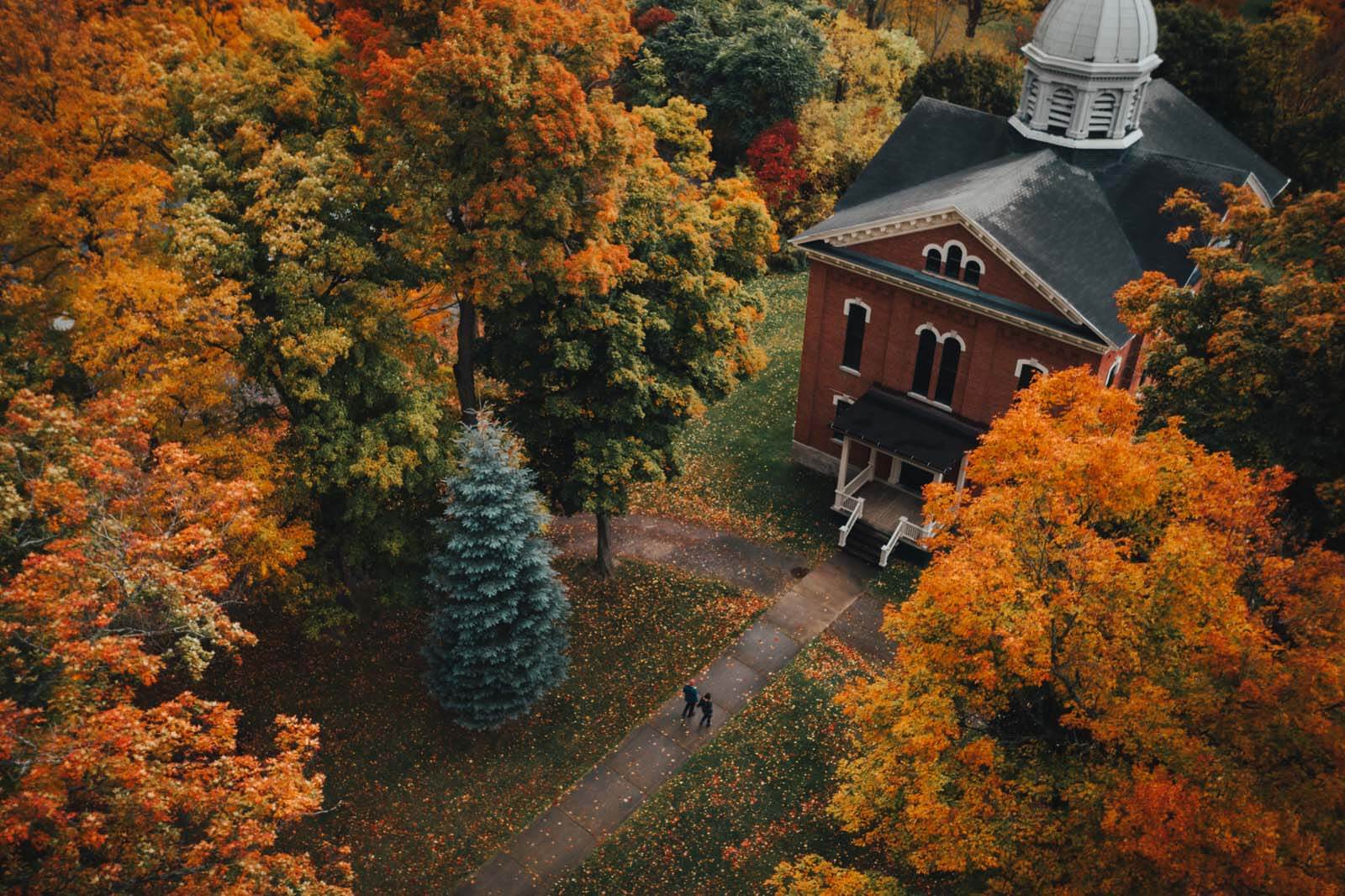 Back in the Finger Lakes is Naples, an absolutely charming town with so much fun to be had nearby! There are amazing eateries and shops. And fun fact: Naples is the grape pie capital of the world. You can find it everywhere, from pie shops to farmers' market stands, and you should definitely try it!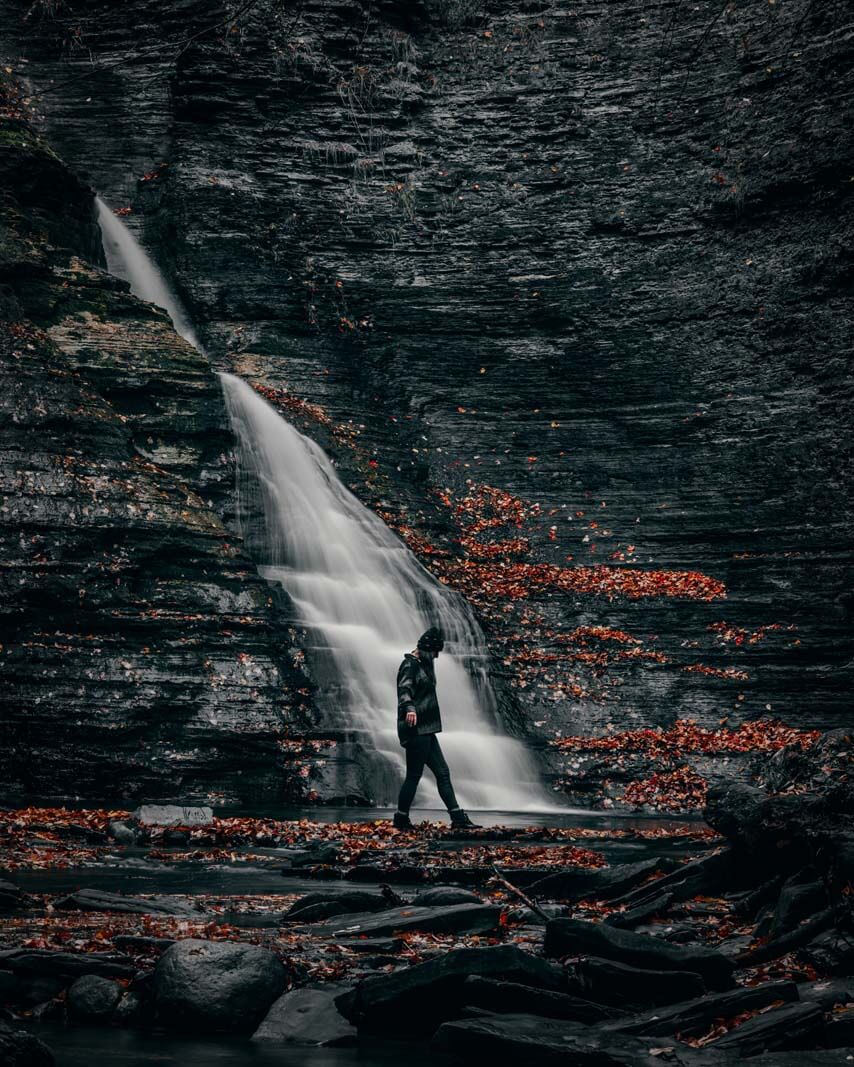 When it comes to Upstate New York in the fall, Naples shines. Nearby is Grimes Glen Park. It's open year-round, but the waterfall hike is breathtaking in the fall with all the fall foliage against the rock of the glen. Take a hike along Grimes Creek with different stunning waterfalls. Just beware that the hike is pretty strenuous with slick spots and you'll want to wear waterproof shoes. But the experience is worth it if you're up for a challenge for one of the best hidden gems when it comes to waterfalls in the Finger Lakes.
Naples is also near Canandaigua Lake, one of the Finger Lakes. Don't miss out on the opportunity to take a scenic drive here. There are parks along the lake where you can take in the beautiful scenery with shades of bronze and gold covering the hills around the lake.
If you're hungry, there are restaurants along the road and wineries and breweries. And at the southern end is Tannery Creek with its many waterfalls that you can explore.
Stay nearby at 1840 Inn on Main a gorgeous bed and breakfast in Canandaigua. This is a perfect pick if you're looking for an authentic bed and breakfast in a turn-of-the-century Victorian house. You're just steps away from restaurants and shops in downtown Canandaigua from your quaint and comfy room. There are 6 different themed rooms to choose from that all include continental breakfast.
Ausable Chasm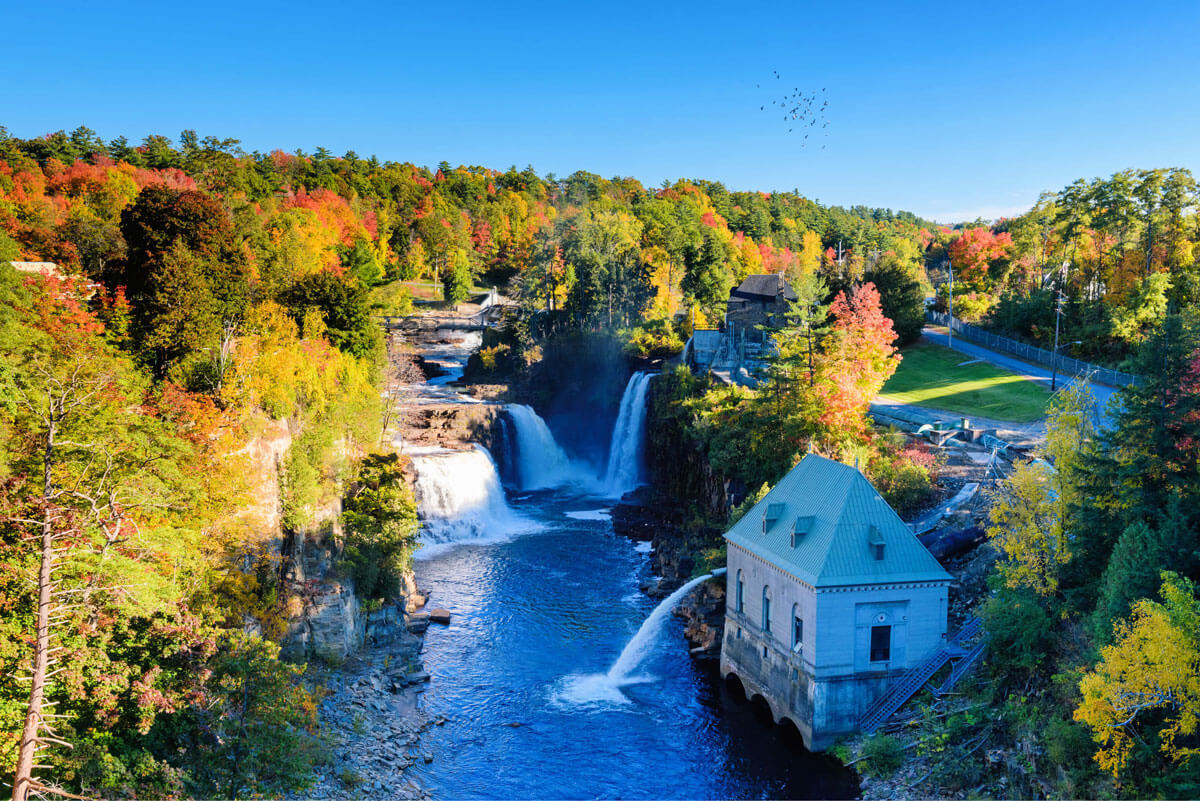 Head north to see Ausable Chasm near Lake Champlain on the New York-Vermont border. It's a sandstone canyon that cradles the winding Ausable River for about 2 miles. It's been compared to the Grand Canyon, and it's a special sight to behold.
The Chasm has been a functioning park for over 150 years. There are so many self-guided and guided things you can do here! We suggest starting at the Visitors Center. Check out maps and find out about tours. You try a variety of easy, intermediate, and difficult hiking trails, most of which run close to the chasm. The adventure trail is unbelievable with ropes and suspension bridges and only for the bravest outdoorsman!
One of the biggest reasons visitors come to Ausable Chasm is the waterfalls. You can enjoy chasm waterfalls all along the river, but the biggest draw is Rainbow Falls at the southern end. You can also book white water rapid floats and guided river walks through early October. Or there's rappelling, rock climbing, and more. If you want to go camping, there are tent sites or you can rent a cabin in the park.
One of the best ways to experience the Adirondacks is to enjoy a cabin rental. Nearby in Jay, New York there are some great cabin rentals just a short drive away from the beautiful Jay Covered Bridge. We recommend this secluded, rustic 3-bedroom cabin or the Wildwood in the Pines luxury cabin stay.
Cooperstown
One of the best places to experience fall in Upstate New York is Cooperstown on Otsego Lake in the Catskills. This town is known for the National Baseball Hall of Fame. This is a really cool museum with interactive exhibits and even baseball games. But there's also so much history in Cooperstown with historic homes, the Farmers' Museum, and Fenimore Art Museum.
You can enjoy this iconic American town with manicured parks, beautiful buildings, and fun fall events. Around town, there are several wineries and breweries, one of my favorites being Ommengang which creates Belgium-style beer and cider. Together they make up what's called the Cooperstown Beverage Trail!
And there are a few ways to go leaf peeping around Otsego Lake. You can just walk from downtown and enjoy the fall foliage from Lakefront Park or Counsel Rock Park. Or you can take the Glimmerglass Queen Tour Boat from Lakefront Park for a look at the foliage from the water!
And stay in a charming bed and breakfast at the Inn at Cooperstown just steps away from Otsego Lake where you can take a scenic stroll enjoying all the fall foliage and steps away from all the attractions downtown.
Minnewaska State Park & New Paltz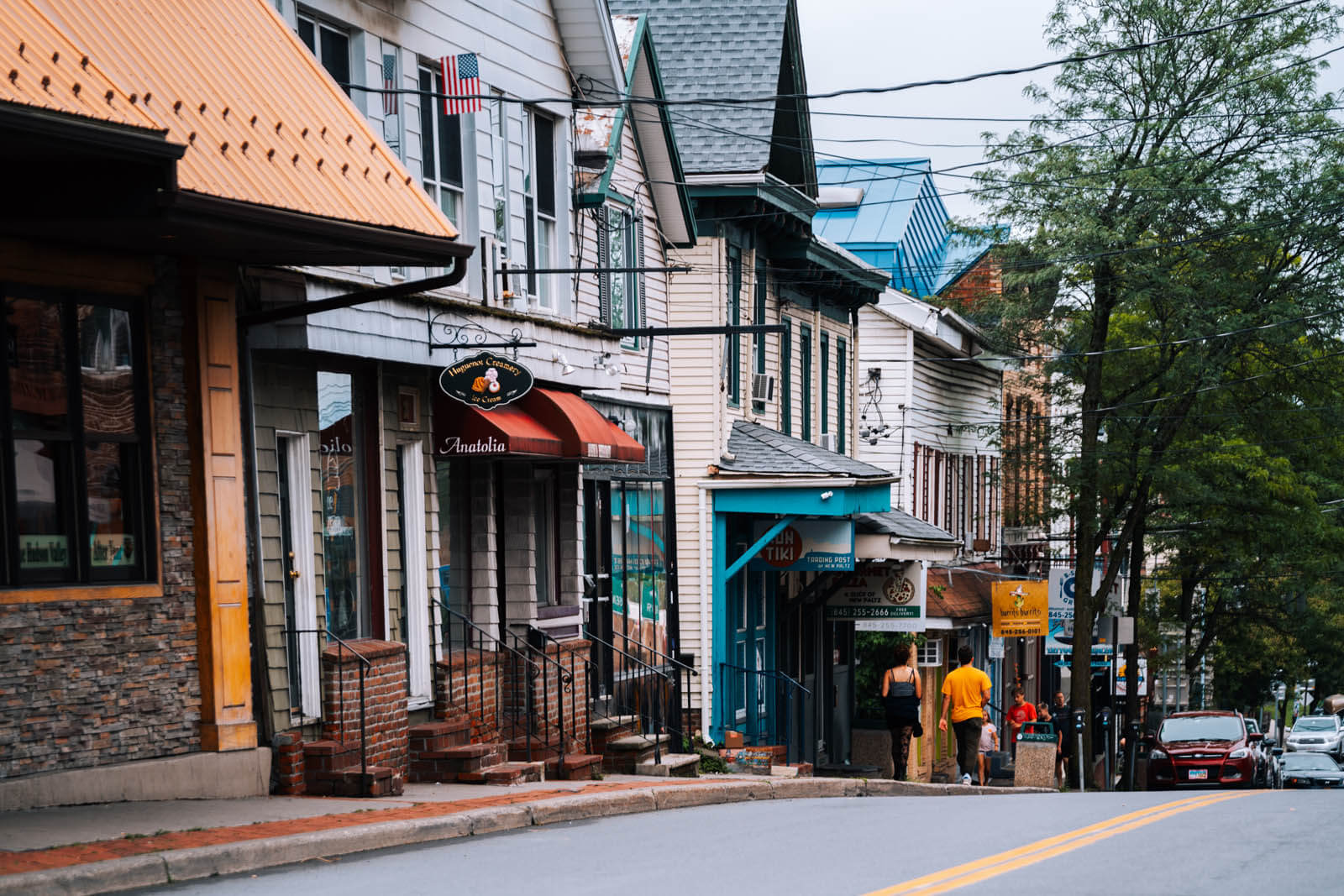 For historic towns and beautiful fall foliage consider checking out New Paltz, New York. New Paltz is over 300 years old and was settled in by French Huguenots. The city feels historic with its collection of buildings from different eras.
Take a walk downtown for cool shops, art galleries and museums, and restaurants. It's all very walkable and it's fun to see the old buildings! There's also the historic Huguenot Street featuring 7 preserved stone houses as a kind of living museum.
The town follows the Wallkill River and you can enjoy a fall hike along the Wallkill Valley Rail Trail. It's a beautiful hike if you're in upstate New York in the Fall. It's mostly made up of old railroad tracks and will be part of the Empire State Trail Initiative that runs all the way to Canada when the initiative is complete.
If you need somewhere to stay nearby, consider the gorgeous Mohonk Mountain House that sits on a ridge overlooking the Mohonk Preserve and is one of the best historic lodges in the state. Together with the Minnewaska State Park, they make up over 10,000 acres of natural land with lots of fall hiking opportunities!
Alexandria Bay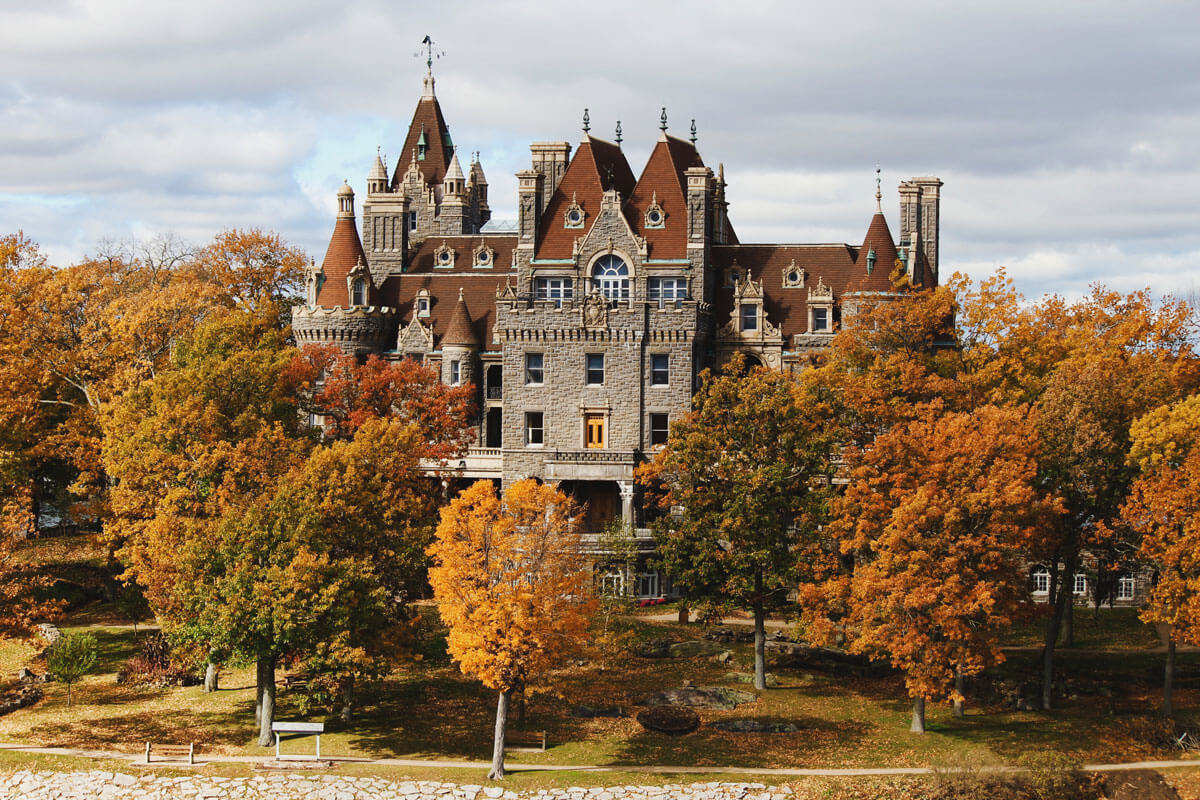 Located in the very northern Thousand Island Region of New York along the Canada-United States Border is the village of Alexandria Bay. Because of its position so far north, we suggest visiting earlier in the fall, no later than mid-October. This way you'll be able to get the most out of your autumnal adventures!
The best way to enjoy the beauty of Alexandria Bay in the fall is to take a boat tour of the islands. In the 19th and 20th centuries, the area was a booming resort community with extravagant structures built all over. Today, you can see several of these fascinating resorts and second homes built right up to the edge of many of the tiny bay islands! You'll see luxurious stone castles surrounded by fall colors, all reflecting off the water, Boldt Castle should not be missed!
Before you head out, check the village's fall events lineup. You'll find autumn walks, fall festivals, and ghost tours. There are also a lot of wine festivals and Oktoberfest events at local wineries and breweries all around the area. They're definitely worth a visit!
If you're looking for fall hiking near Alexandria, the challenge will be simply picking which one to choose! There are thousands of acres of land preserves all around. One of the best is on Wellesley Island in Alexandria Bay. There's the Wellesley Island State Park and the Minna Anthony Common Nature Center. Both offer historic sites, as well as great trails. You'll love the scenic views of the bay while you hike in the woods, and there's a good chance you'll see swans, ducks, geese, and other water birds.
Stay at The Ledges Resort and Marina for a waterfront location right on the Saint Lawrence River overlooking Boldt Castle!
Chautauqua Lake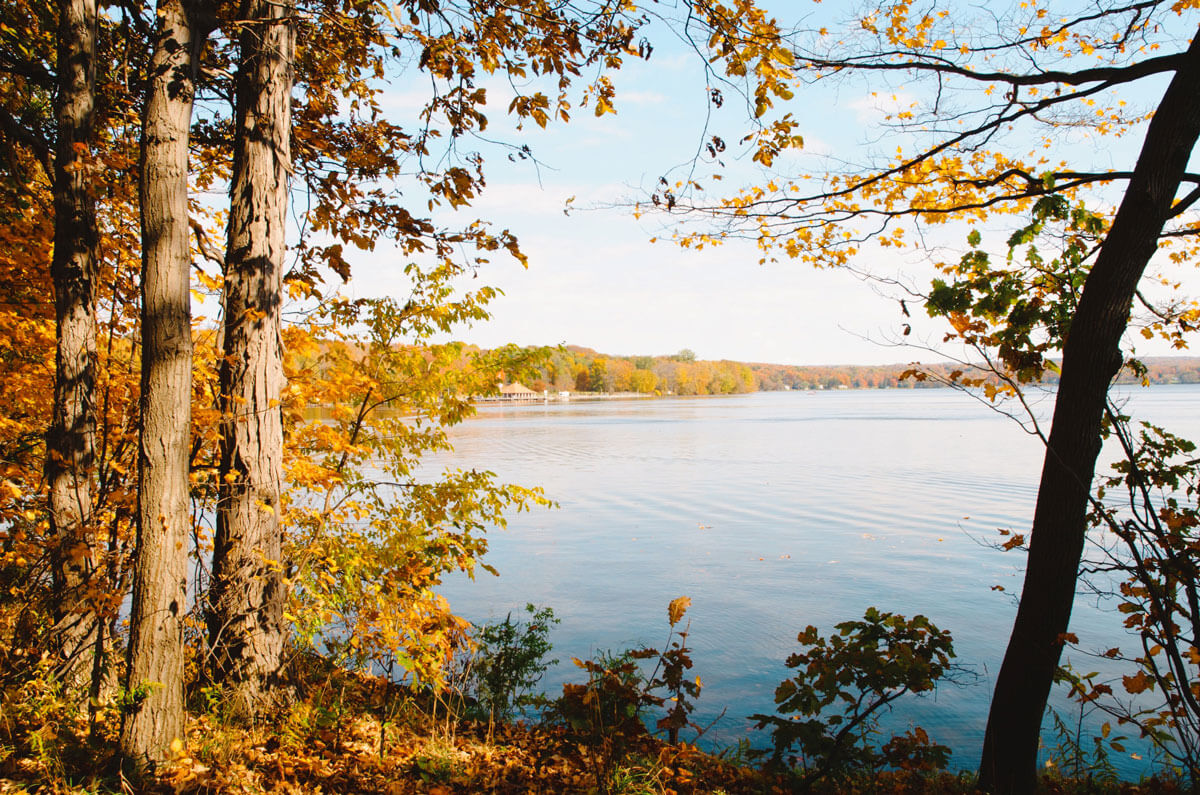 Chautauqua Lake is a perfect fall getaway because of its location less than 15-minutes from Lake Erie west of the Finger Lakes region, while a die-hard New Yorker would say this isn't 'upstate New York' as it's in Western New York, we are including it!
There are small towns to explore all along the lake. They're full of charming 19th-century buildings and pretty parks. There's the city of Jamestown at the southern end of the island, but we love spending most of our time on the northern end of the island!
One of the most popular things to do on the lake is going on boat rides. Most people love to ride the Chautauqua Belle, a historic steamboat that offers narrated tours about the history of the area. Their fall tours are excellent with beautiful colors! There are also several boat rental companies on the southern half of the lake if you want to go kayaking or book a charter to go fishing.
Something unique to the area is the Chautauqua Trails to Rails. This is about 28 miles worth of old train tracks that have been turned into great hiking trails on the north side of the lake. The trails are also a popular place for bird watchers and cyclists and make for great leaf-peeping hikes.
And while you're on the lake in the fall, don't miss out on the chance to go on the Chautauqua Wine Trail. The trail boasts 23 wineries all along the coast of Lake Erie, and many of them have special festivals and fall events this time of year.
You'll want to stay at a scenic spot overlooking Chautauqua Lake. We recommend the Maple Springs Lakeside Inn, a stately B&B on a sprawling property with a private dock near Long Point State Park.
Seneca Falls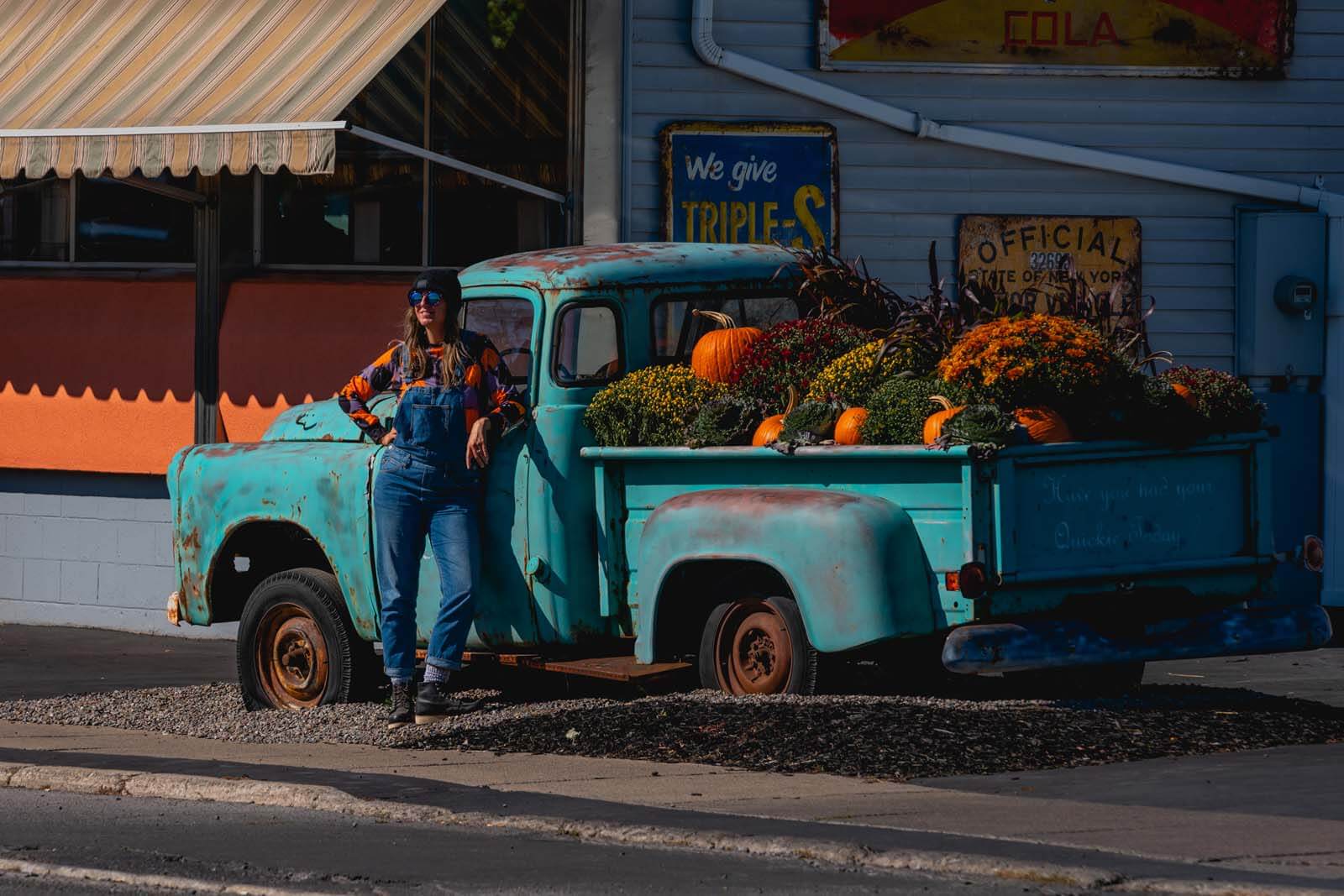 If you love history and are heading to upstate New York in fall, make sure to visit Seneca Falls. This beautiful old town is located near Cayuga Lake in the Finger Lakes and has a few claims to fame!
Seneca Falls is most famous for being the birthplace of Women's Rights. Enjoy a gorgeous fall day and visit the Women's Rights National Historical Park. They actually offer different tours or you can walk the grounds. See the Wesleyan Chapel where the First Women's Rights Convention was held in 1848. Many people recognize this as the beginning of the suffragette movement. The Visitors Center has educational exhibits, and you can find out about visiting historic homes of key people in the Women's Rights Movement.
For movie lovers, you should know that Seneca Falls was the inspiration for Bedford Falls in Frank Capra's It's a Wonderful Life! In fact, it's the location of the It's a Wonderful Life Bridge (on Bridge Street). And a few blocks east, there's also the It's a Wonderful Life Museum. In the fall they're only open on Sundays from 10 AM to 3 PM.
The town is also famous for its location on the Seneca River. As part of the Erie Canal project, you'll find a lot of different tours of the river. In town, you can choose from tours with paddle boats, kayaks, and canoes. Or if you're willing to drive out a few hours, you can take a scenic Erie Canal cruise with Erie Canal Cruise company in Herkimer, New York.
For something truly unique, stay at the Belhurst Castle and Winery nearby on Seneca Lake. The 19th-century stone castle is not only a gorgeous stay but you can also go wine tasting here, explore Geneva and the wineries in the area, plus you're just a short drive to Seneca Falls.
Rochester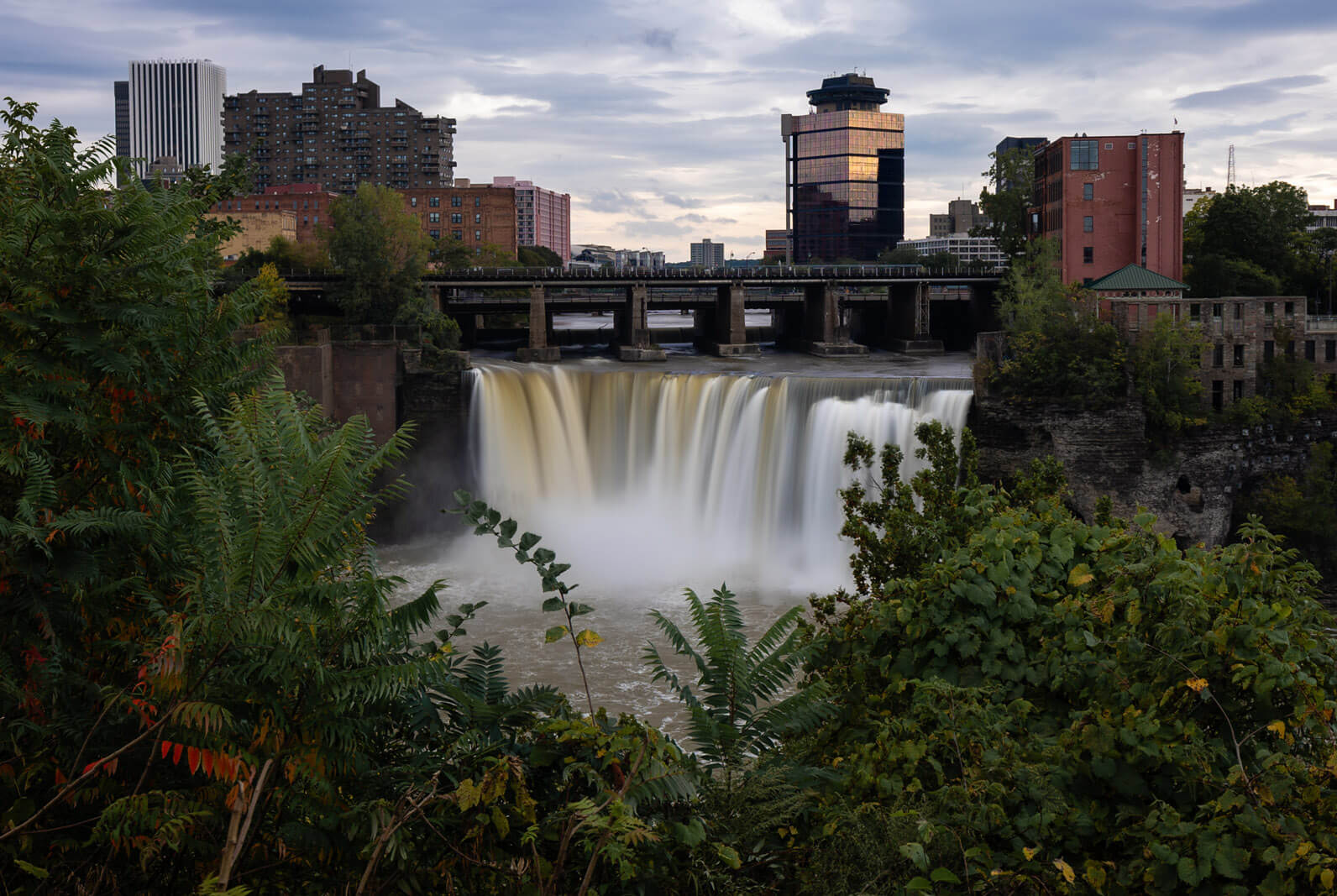 You don't want to miss out on Rochester, New York in the fall! Besides being an absolutely beautiful city on the banks of Lake Ontario, this city is packed with culture, amazing places to eat, and the gorgeous Genesee River. A must-do if you're in Rochester in September is Fringe Festival. It's an extravagant event inspired by the festival in Edinburgh. There are all kinds of great events over 12 days.
We loved seeing the majestic High Falls in the heart of Rochester. It's breathtaking in the fall, surrounded by old industrial brick buildings and trees in varying phases of fall foliage. High Falls is actually in the middle of Rochester's historic district, and you can take a self-guided walking tour of the area. Learn about Rochester's past as an industrial city around flour production and see what's left of buildings from the past.
And Highland Park is a great place to visit all year round, but you'll love it covered in fall foliage! You can walk paths around the Highland Park Reservoir, visit a 19th-century Warner Castle, or see all the beautiful botanical gardens. Make sure to check out the historic art nouveau-style glass greenhouse in the middle of the conservatory.
In Rochester, you'll want to stay at the Courtyard by Marriot in Rochester Downtown. Located on East Avenue, you're just a short walk to many of the main Rochester attractions, bars, and restaurants as well as a short walk to the George Eastman Museum.
---
Where is the fall foliage in Upstate New York?
You can experience stunning fall foliage in Upstate New York throughout the region, including the Adirondack Mountains, Catskill Mountains, Finger Lakes, Hudson Valley, and the Thousand Islands-Seaway area. Each offers its unique autumn beauty.
When is fall foliage in Upstate New York?
Fall foliage in Upstate New York typically peaks in late September to mid-October, varying by location and weather conditions. It's a beautiful time to visit for vibrant autumn colors.
Where is the most beautiful place to see fall foliage in Upstate New York?
The Adirondack Mountains in Upstate New York are renowned for their breathtaking fall foliage, with Lake Placid and the High Peaks region offering some of the most stunning and picturesque autumn landscapes in the state.
Best Things to do in Upstate New York in Fall (Post Summary):
Lake Placid
Lake George
Letchworth State Park
Ithaca
Watkins Glen
Sleepy Hollow & Tarrytown
Niagara Falls
Tannersville
Kingston
Naples
Ausable Chasm
Cooperstown
Minnewaska State Park & New Paltz
Alexandria Bay
Chautauqua Lake
Seneca Falls
Rochester
---
Enjoyed this guide to the best places to visit in Upstate New York in fall and things to do in Upstate New York in fall? Bookmark for later or share the love below on Pinterest!