Looking to plan an escape or weekend in Tuolumne County, California? We got you covered! Home to California's Gold Country, the High Sierras, and Yosemite National Park, Tuolumne County (pronounced like 'follow me') is one of our favorite California getaways with everything there is to love about a destination from charming towns, the great outdoors, historic landmarks, and of course, being able to visit one of the most popular national parks in the country.
What's even better is that Tuolumne County, California is truly a perfect getaway any time of the year offering something special each season, which is why we keep coming back and continue to!
Summer provides an ample amount of outdoor activities and is the most popular time of year to visit Yosemite National Park.
Autumn invites visitors to experience the magic of fall foliage. Winter offers beauty like no other season when there's a blanket of snow plus winter outdoor activities like snowshoeing, hitting the slopes, and tubing! In fact, we went in the winter the first time which was a really incredible experience enjoying the best of the wintery landscapes and outdoor activities.
And spring offers rushing waterfalls from the snow melt and beautiful wildflower season.
Our most recent visit was during late spring/early summer, so we were able to enjoy the best of both the wildflowers, rushing waterfalls, and summer activities! To see what our trip was like in the winter plus more suggestions of what to do in Tuolumne County, check out our guide to all the best things to do near Yosemite National Park.
Here's everything you can do for a romantic, relaxing, and beautiful weekend getaway in Tuolumne County, California.
Disclaimer: This was done in collaboration with Visit Tuolumne, as always all opinions are our own.
Amazing Things to do in Tuolumne County, California on a Weekend Getaway
Visit Sonora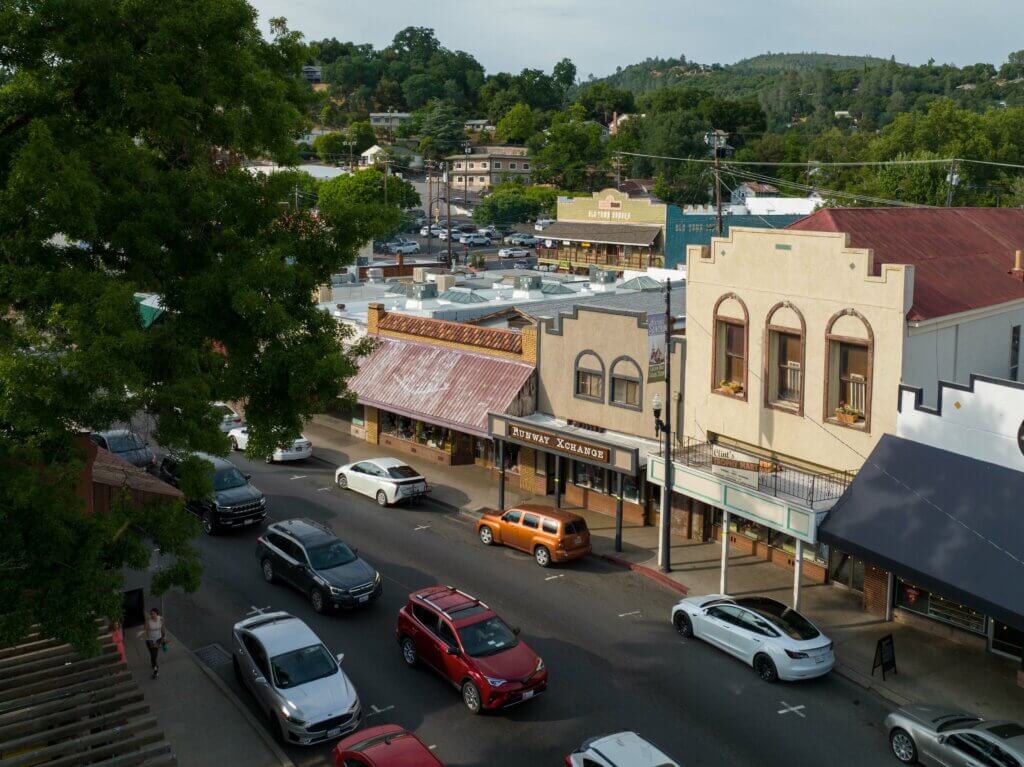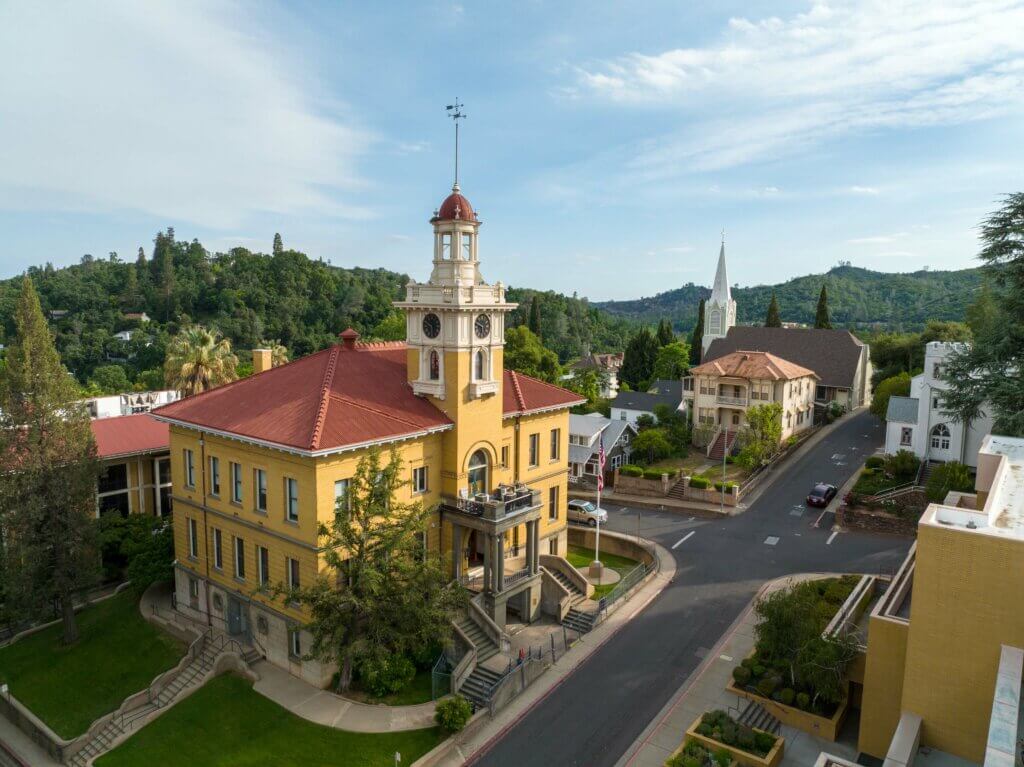 One of the most picturesque towns in Tuolumne County, California is Sonora. With its well-preserved Washington Street, Sonora offers a nostalgic glimpse into the Gold Rush era, featuring historic buildings, boutique shops, and plenty of places to enjoy a meal.
In fact, like many towns in Tuolumne County, Sonora played a significant role during the California Gold Rush in the mid-19th century being close to the heart of the Mother Lode region. Sonora served as a vital supply center for gold miners and was not only a place where gold rush seekers were settling but passing through making it a bustling hub and town with saloons and hotels to cater to the needs of miners and settlers connecting it forever as an essential destination during California's gold rush history.
Today, you'll find traces of their rich history and connections to the gold rush throughout historic establishments and even goods being sold in the cute, independent boutiques and shops downtown. Not to mention, the downtown looks like something out of a Western film.
The Red Church, St. James Episcopal Church, on the top of the hill overlooking the town is a photographic gem of Sonora. Along Washington Street is where you'll find plenty of shops to browse and places to grab a drink.
We recommend grabbing a tea and get a relaxing foot soak at Amala Detox, shop for cool gifts at Local Collective (I was able to find a cool Yosemite and Tuolumne shirt here), and Mountain Home Gifts for home goods perfect for a cabin or woodsy home.
There are also a few great places to have a drink, check out Sonora Brewing Co. for locally made craft beer, The Armory has a huge space with both indoor and outdoor seating complete with games like cornhole including The Bourbon Barrel bar with specialty cocktails and bourbon tastings. And for a classic Western saloon, check out Servente's, the oldest bar in Sonora in an iconic 1856 building!
And if you're looking for something a little whimsical, check out Pinnochio's restaurant just outside of town for a meal. This Italian restaurant leaned into their surname and themed the entire restaurant around the beloved wooden character! You'll find Pinnochio memorabilia from floor to ceiling and even menu items named after characters including their most famous sandwich, the Cricket.
Take a Scenic Hike Along the West Side Trail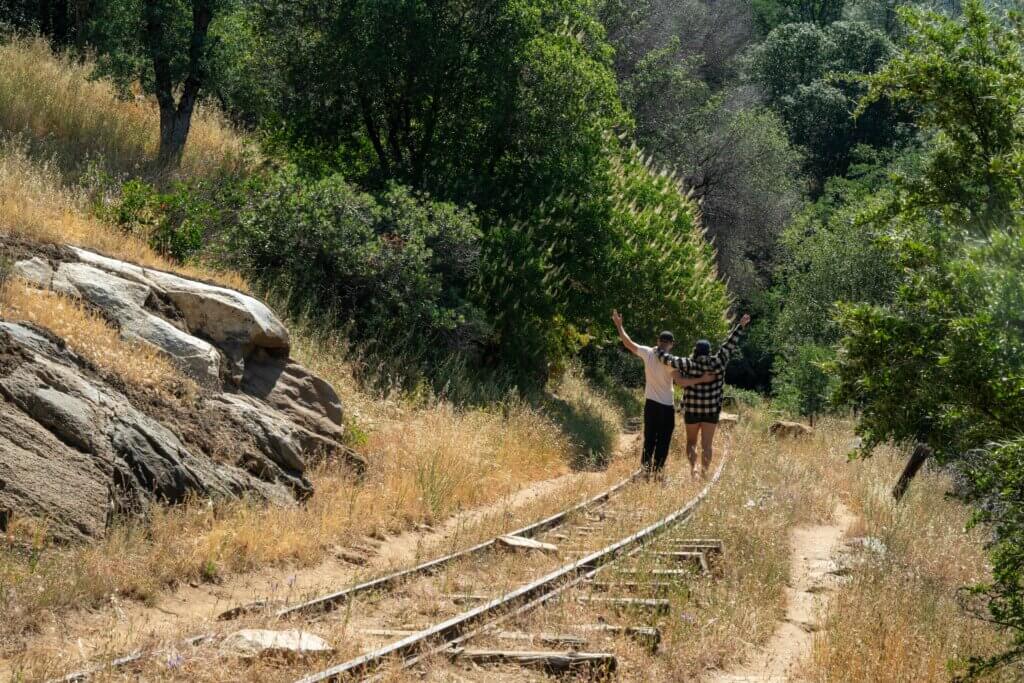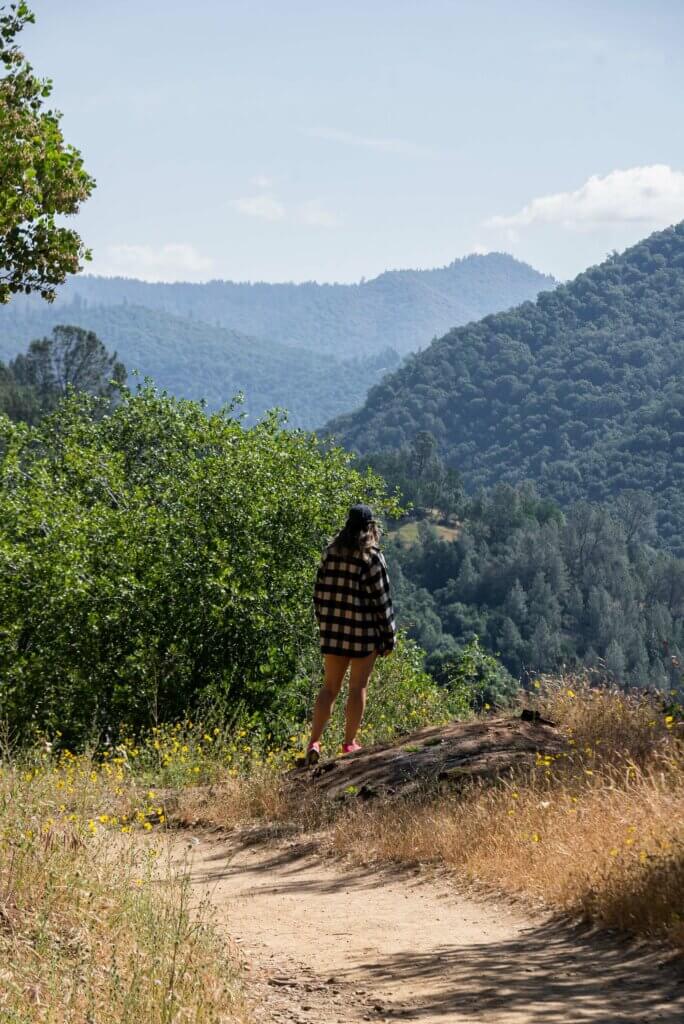 Take a scenic hike along a former logging industry railway that was once operated by the West Side Flume & Lumber Company that now serves as an out-and-back flat trail for hikers. The West Side Trail is 10.6 miles total (including the out and back) and is great for all levels of hikers, and even dogs too as long as they are on leash.
We only did a section of the trail as we wanted to enjoy multiple things to do on our weekend in Tuolumne County. We visited the first weekend in June and were rewarded with wildflowers, butterflies, bird watching, and gorgeous views of the mountains and river below us in the valley.
With the exception of the beginning of the trail, you'll be walking along the actual railroad tracks that were used to haul lumber in and out of the forest from 1898 until its last run in 1961.
We enjoyed the relaxing nature of this hike, as it is at a higher elevation the trail was flat to walk along and you really don't have to complete the entire length of the trail to take in all the beauty and views along the way!
Check Out The Gold Rush Town of Jamestown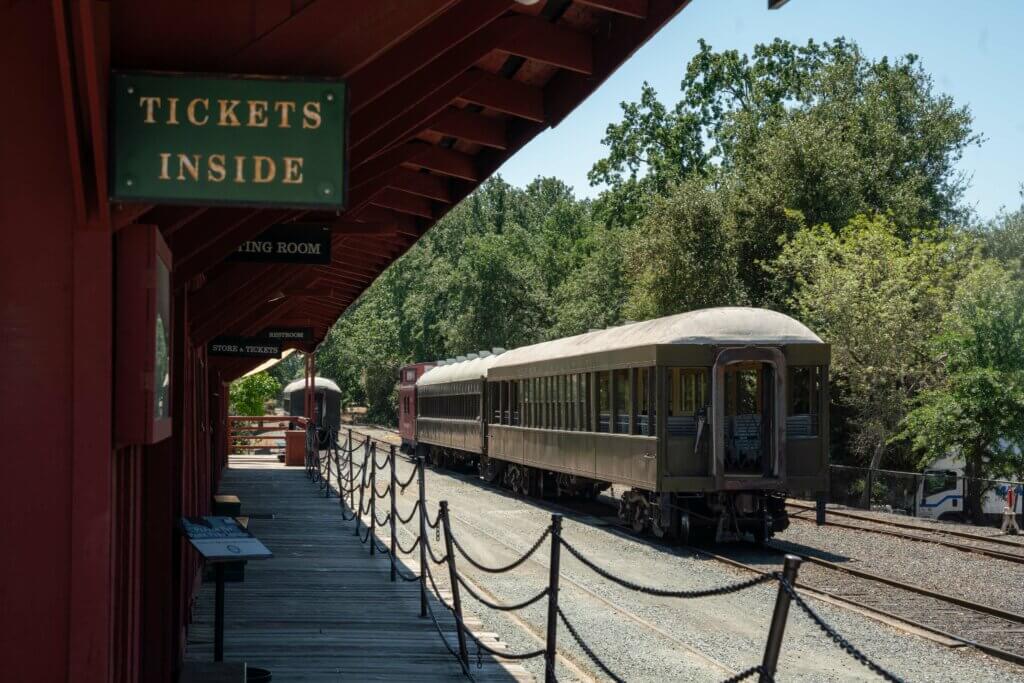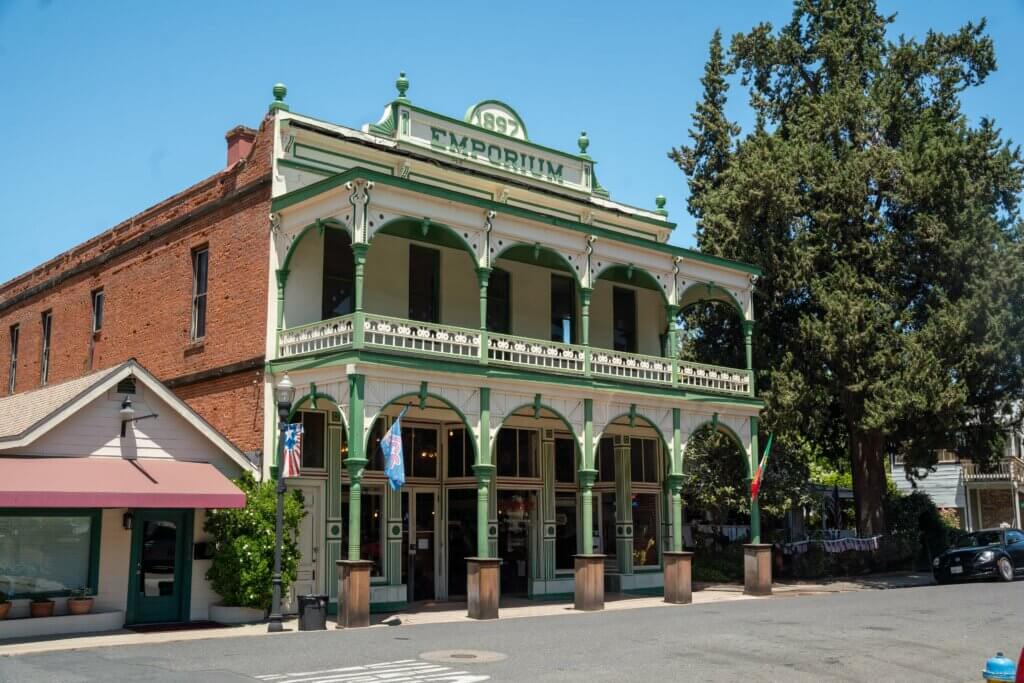 Another great California gold rush town to visit during your weekend in Tuolumne County is Jamestown. Whether you're just swinging by for some antique shopping and great coffee at The Emporium, set in a classic Western-style building from 1897 or you're train and locomotive lover hitting up the Railtown 1897 State Historic Park to take a scenic train ride or see all the historic locomotives they have and learn about the history and importance railways have had to the county.
In fact, the train used in the Back to the Future Part III film can be seen in Railtown 1897 State Historic Park! This vintage steam locomotive is known as Sierra No. 3 and has been nicknamed the "movie star locomotive" first used by the Westside Lumber Company (the same company mentioned above).
During our visit, the locomotive was under restoration, but it typically is operational and they offer historic train rides on this very train!
Speaking of film buffs and movie lovers, Jamestown has been used as a filming location in Hollywood for decades, especially in old western movies. Shows and movies like Green Acres, Petticoat Junction, Gun Smoke, High Noon, Wild Wild West, and Hidalgo as well as scenes of Little House on the Prairie have all been filmed here to name a few.
When you're downtown, you can look for the sign that indicates the 'Walk of Fame' in Jamestown indicating some famous projects that have been filmed here!
Another cool historic site to check out while in Jamestown is the old Jamestown Branch Jailhouse in Rocca Park. Dating back to 1898, this jailhouse was built for the second gold rush in the region. This small jailhouse served as an active holding facility until 1945. It was sold and sent to a theme park until it was returned to its original location in Jamestown in 2008 for historic preservation.
Visit Kennedy Meadows Resort & Pack Station Along the Sonora Pass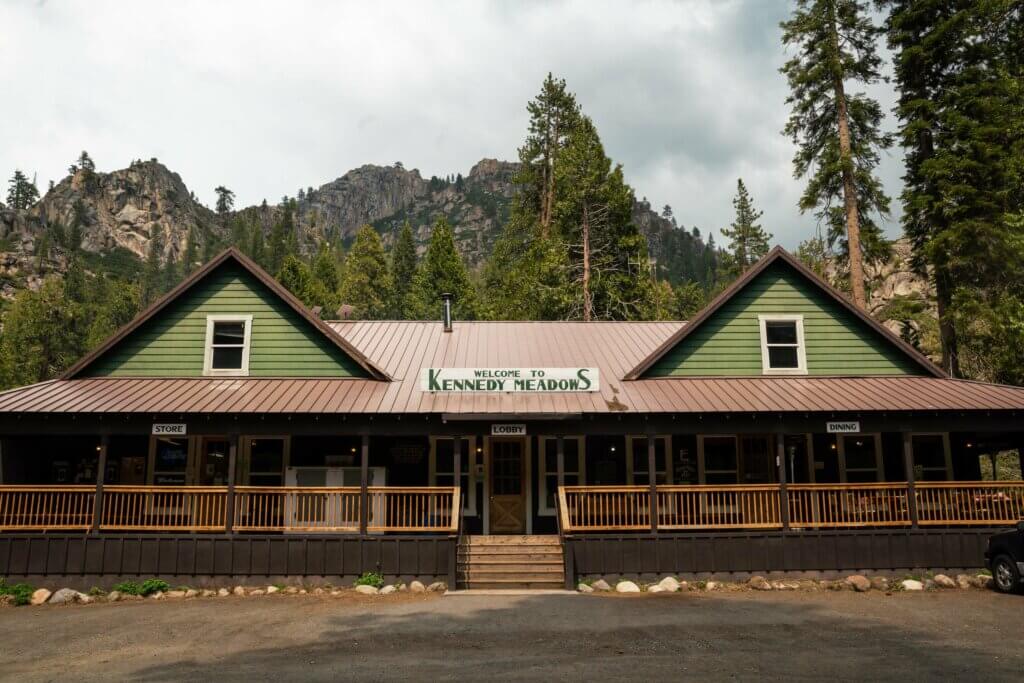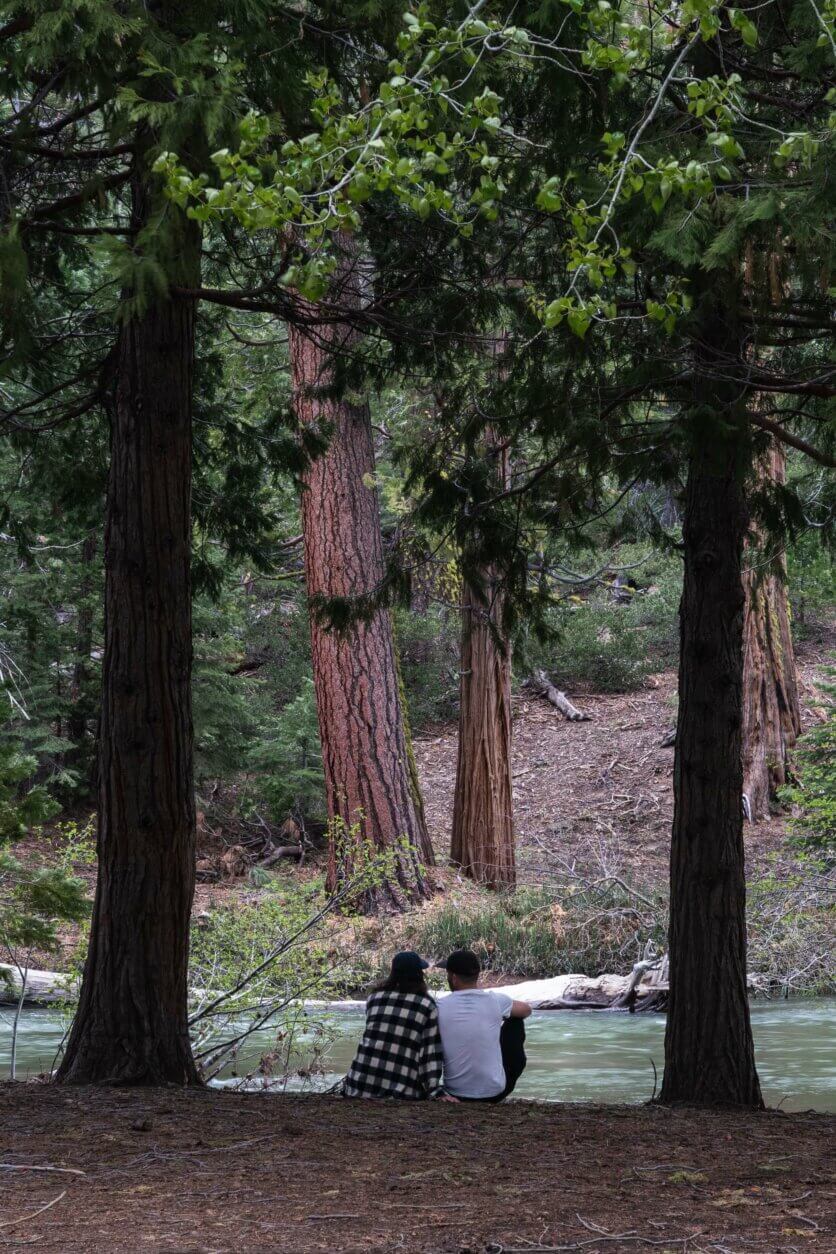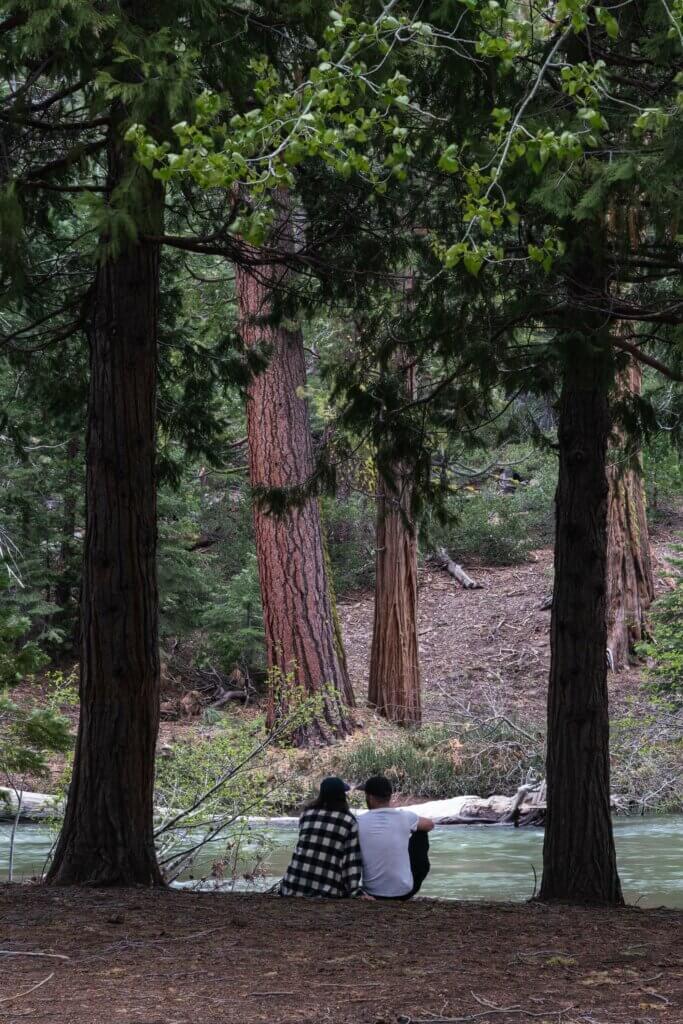 Another incredible and relaxing experience to add to your weekend in Tuolumne County, California is driving along the Sonora Pass (Highway 108) to the Kennedy Meadows Resort & Pack Station.
During our visit, this was actually the last stop that you were able to visit on Highway 108 as the Sonora Pass was still being cleared from the heavy snowfall from winter. And being located about 10 miles west from the Pacific Crest Trail where it meets Highway 108, this is also a popular resupply and rest stop for PCT hikers!
At Kennedy Meadows Resort & Pack Station you can find a general store, camp site, cabins, old-time saloon, and horseback riding. This resort holds historic significance to the area as a pack station that played a role in supporting the early mining days in the Sierra Nevada Mountains dating back to the late 1800s.
This spot served as a hub for transporting supplies and goods to remote mining camps through pack animals with their wranglers that had to have alot of grit to do this challenging job of supplying and transporting goods to remote mining camps.
Today, you can enjoy guided horseback riding through the area, camp, stay in one of their rustic cabins, or visit like we did for a scenic picnic along the Stanislaus River and check out the old-school saloon here that dates back to the 1890s!
This is a seasonal stop, so be sure to check to see if you can access this section of Highway 108/Sonora Pass and that Kennedy Meadows is open before planning your visit.
Re-Fuel in Twain Harte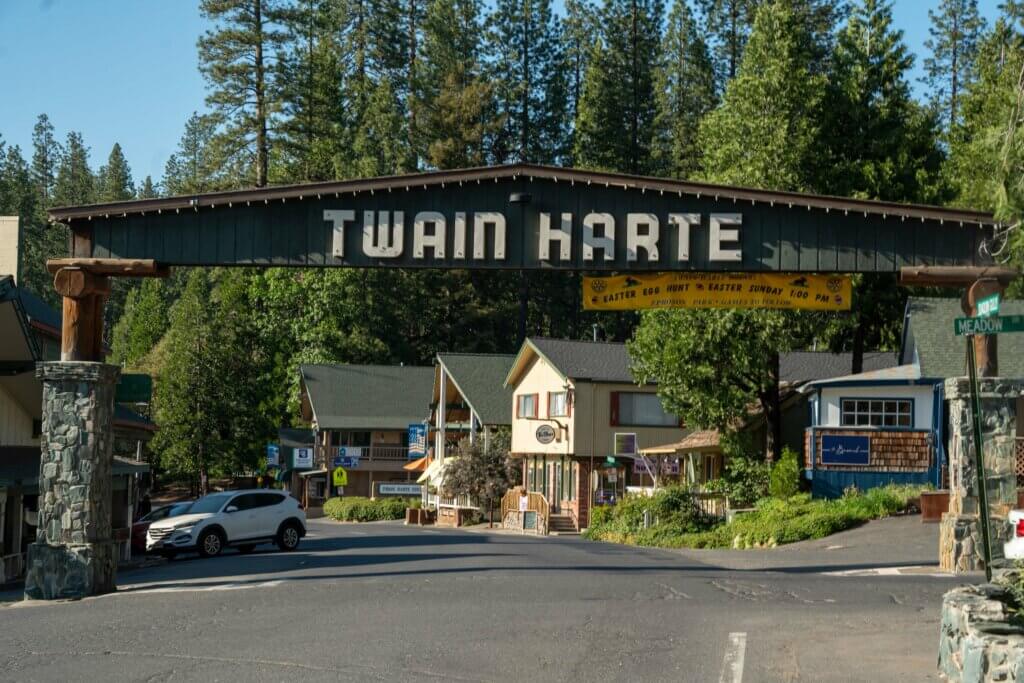 When you are in need for a bite to eat or a drink, head to the small town of Twain Harte. Named after two famous authors, Bret Harte, and Mark Twain, this town has a deep history tied to the logging industry and boom of the late 1800s.
Check out the dining options here like The Sugar Shack for breakfast and lunch or The Eproson House for a great sit-down dinner. Sierra Cellars offers wine tasting and a selection of wines (along with some cute cats that hang out outside).
Don't miss the giant root beer mug too if you're into road side attractions, I believe it was used to promote an old business and is still here for nostalgic reasons that make a fun and quick photo stop!
If you're looking for additional activities in Twain Harte, check out the Dragoon Gulch Trail and scenic views along Pinecrest Lake.
Visit a Lesser-Known Side of Yosemite National Park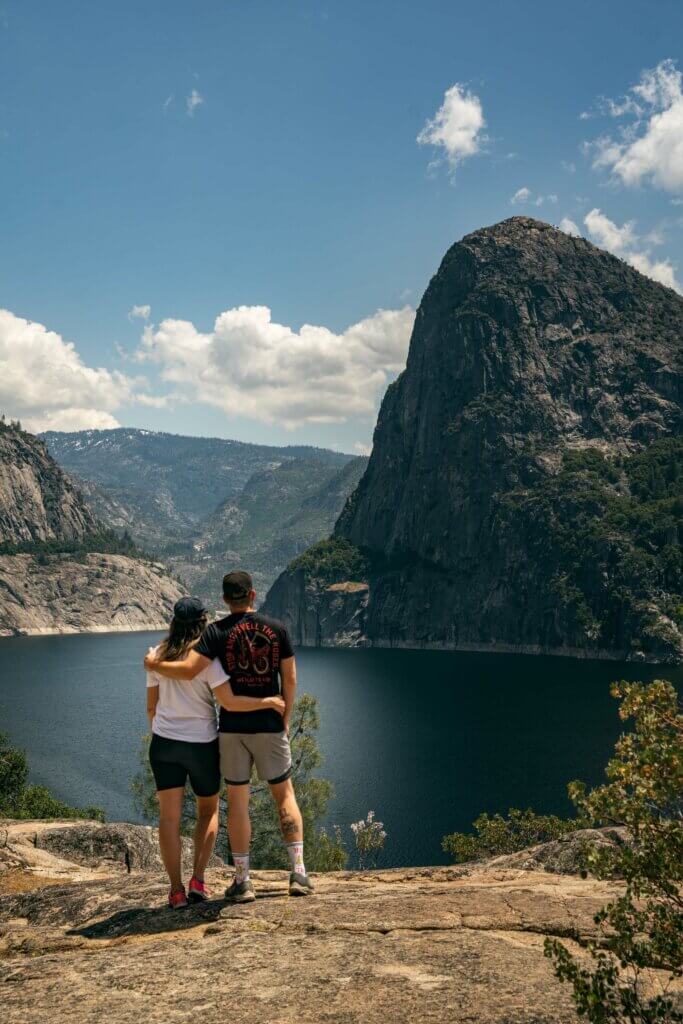 One of our favorite things we did during our weekend in Tuolumne County, California was visit a side of Yosemite National Park we had never been to! While Yosemite Valley is the most famous part of this popular national park and easy to visit when the Big Oak Flat entrance is open from Tuolumne, we highly recommend visiting areas of the park that don't get the crowds and are just as stunning!
Both times we've been to Tuolumne County, we joined Echo Adventure Cooperative for a private guided hike in areas of Yosemite National Park we never knew existed!
During our first winter visit, we did a snowshoeing adventure through Tuolumne Grove Pass along the former and original 120 route used to access the park. This route hasn't been open to cars since the 1990s but now provides gorgeous hiking trails through giant sequoia trees and even a sequoia tree that had a tunnel carved through it to let cars pass.
On this visit, we enjoyed a hike to Wapama Falls at Hetch Hetchy Valley, the less popular valley in Yosemite National Park. While this valley may not be as popular as THE Yosemite Valley, we found it to be just as breathtaking with many similar traits from the dramatic granite cliffs, jaw-dropping waterfalls, and great hikes all minus the crowds.
The big difference is that this valley was flooded with a dam to use as a water supply for the city of San Francisco. So you'll see the many similar characteristics you'll see in Yosemite Valley along with a giant, pristine lake of water.
The Wapama Falls hike is relatively easy racking in just under 5 miles out and back. First, you'll cross the top of the dam by foot and walk through a tunnel before reaching the trail that leads you to both Tueeulala Falls and Wapama Falls. The views on this trail are unbelievable and it was really hard to believe that we were in Yosemite National Park in the summer without the crowds as this part of the park is less frequented by visitors.
Because of the heavy snowfall this past winter, the waterfalls and snowmelt were at a much larger volume. In fact, several roads throughout the Sierra Nevada Mountains were still not open yet and there was so much water that we couldn't actually make it all the way to Wapama Falls, instead just stopping before it where the water was rushing over the trail, another incredible sight to see!
If we were to pick our favorite activity we enjoyed during our weekend in Tuolumne County, this would be it. 
Be sure to also check out our full guide to the best things to see in Yosemite National Park, since you're so close it would be a shame to not take advantage of seeing as much as you can.
Recharge at The Spa at Rush Creek Lodge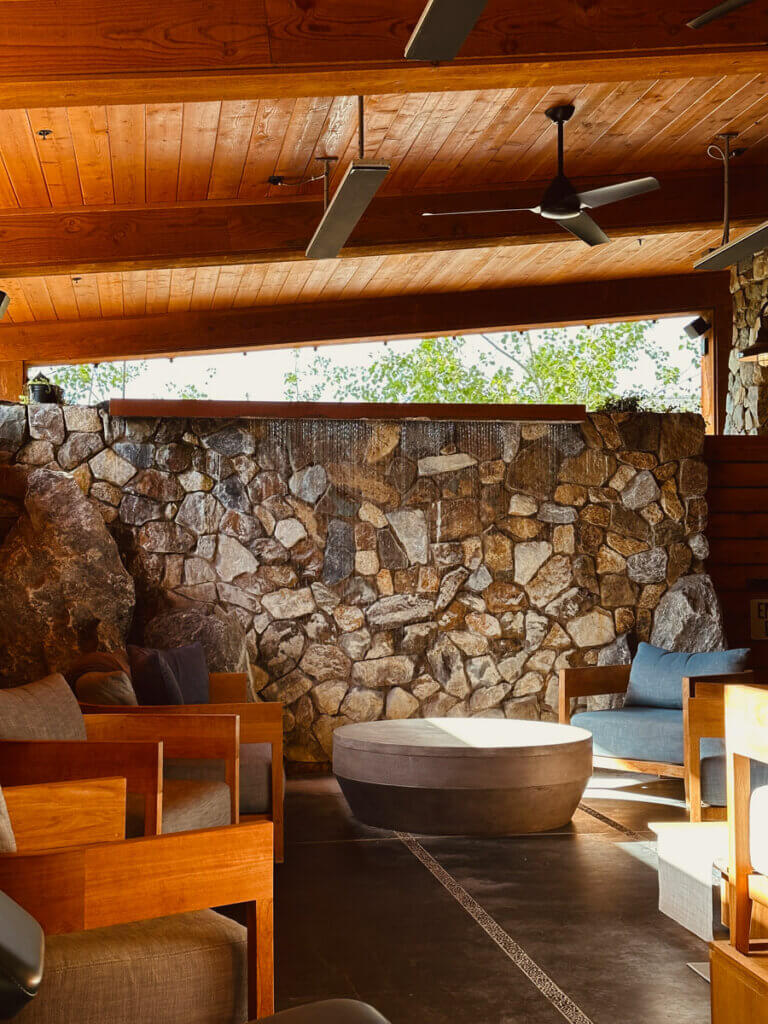 If you're looking for a great place to stay during your weekend in Tuolumne County, Rush Creek Lodge is an excellent choice. We spent a total of three nights in the area and spent our final night at Rush Creek Lodge and took full advantage of their spa, which allows visitors and guests to get a day pass to the spa for a little rest and relaxation on your getaway.
The Spa at Rush Creek Lodge features both indoor and outdoor areas with an aromatic steam room, a Himalayan salt block sauna, cold showers, hot showers, heated chairs, and relaxation areas, an outdoor spa, massages, and treatments available to add on to your spa day, and our favorite was the most unique feature in the spa, the sensory room!
Guests are invited to order food items from the kitchen as well or treat themselves to a mimosa. After a full morning of hiking, we treated our tired muscles to nearly three hours at the spa.
Pay a Visit to Groveland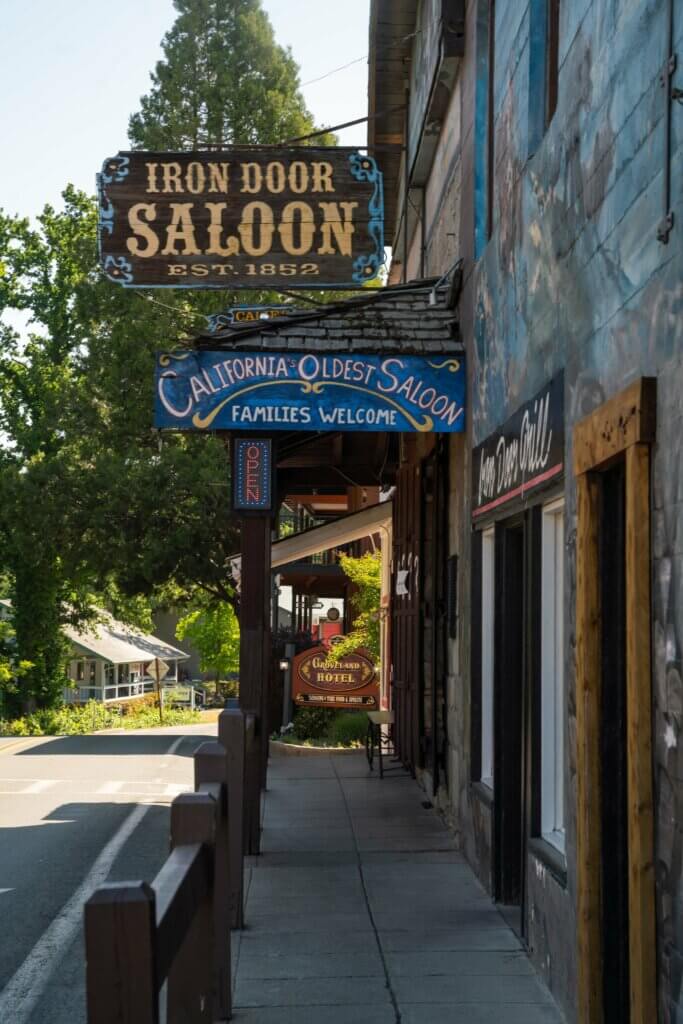 Another great Gold Rush-era town to visit in Tuolumne County, California is Groveland, which served as a crucial supply point and stopover for gold miners. Offering visitors today a well-preserved Main Street and a great stop near the Big Oak Flat Entrance to Yosemite National Park.
If you're visiting in the morning or early afternoon, you'll want to pay a visit to Top of the Trail Tea & Coffee for some caffeine! This was our favorite coffee stop on our weekend in Tuolumne County! Not only did we get great espresso-based coffee drinks, but the barista was also a jolly character who made the stop extra worthwhile.
Visiting in the afternoon or evening requires a visit to the oldest continuously operating saloon in California at The Iron Door Saloon next door!
A few other great stops in Groveland and the vicinity include Around the Horn Brewery, The Grove Mercantile for their homemade ice cream, and for those driving through check out Rim of the World Lookout for views of the Stanislaus National Forest.
Where to Stay in Tuolumne County
You're in for a treat during your getaway and weekend in Tuolumne County as there are plenty of amazing options for lodging whether you're on a little romantic escape like we were or traveling with friends or family.
McCaffrey House B&B Inn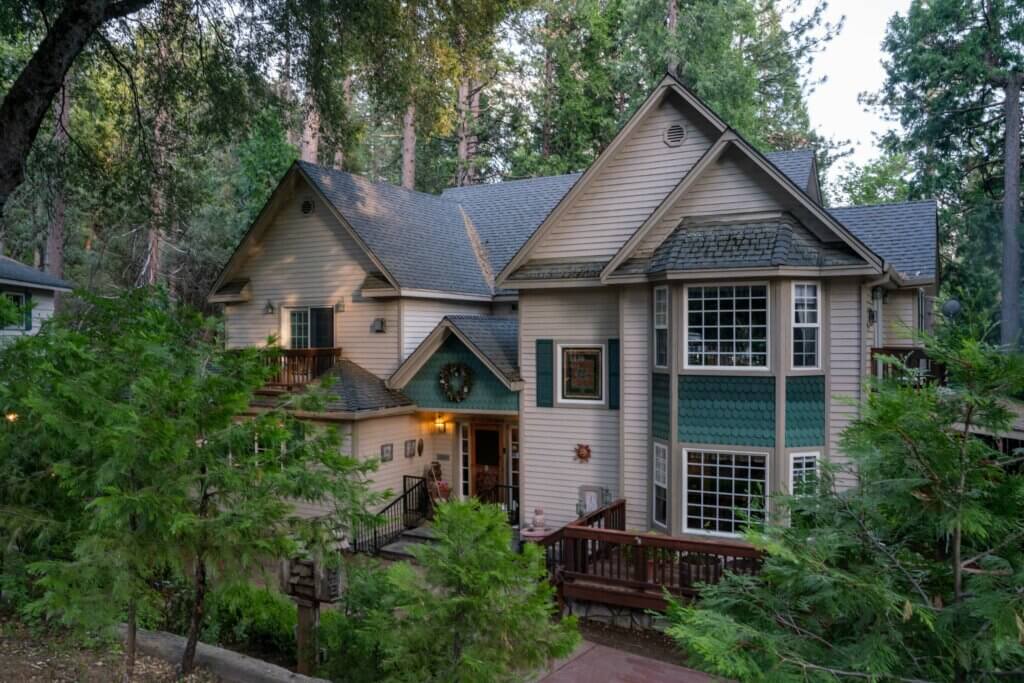 If you are a huge fan of bed and breakfasts and hospitality, check out McCaffrey House B&B Inn just outside the town of Twain Harte. This charming bed and breakfast/inn is set in the forest and is the perfect base for exploring gold rush towns, Stanislaus National Forest, and the best of Tuolumne County.
Our room had beautiful views of the towering trees and we loved the coziness of our spacious room with a private bathroom and balcony. You feel like you're at home away from home as the hospitality is that good here! Also, don't miss the delicious homemade breakfast in the mornings served in the dining room!
Rush Creek Lodge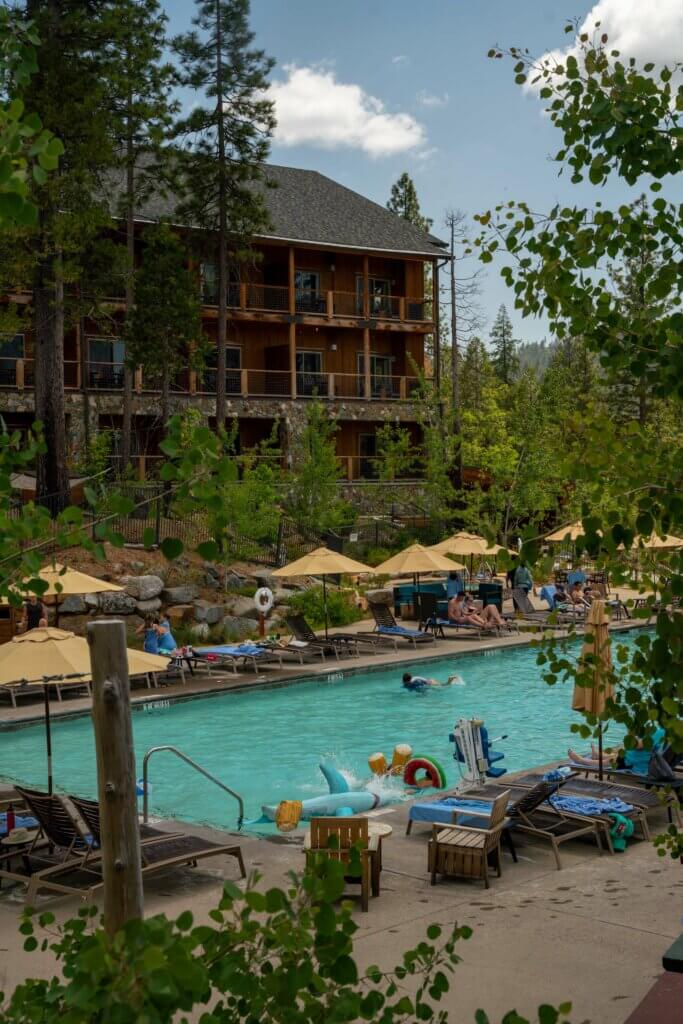 If you're looking for a more luxury stay near the Big Flat Oak Entrance of Yosemite National Park you'll want to check out Rush Creek Lodge in Groveland. This gorgeous resort is very family-friendly with activities and areas suited for children of all ages. As a child-free couple, we didn't find the resort to be overrun by children either!
Take advantage of all the great amenities on-site too from the great restaurant and bar, outdoor heated pool open year-round, evening s'mores, and fire pits, and be sure to take full advantage of The Spa at Rush Creek here too.
We stayed in a forest villa and loved our room. Our bed faced a balcony overlooking the property and forest and the rooms had such thoughtful design details and touches plus eco-friendly toiletry products.
Yosemite Pines RV Resort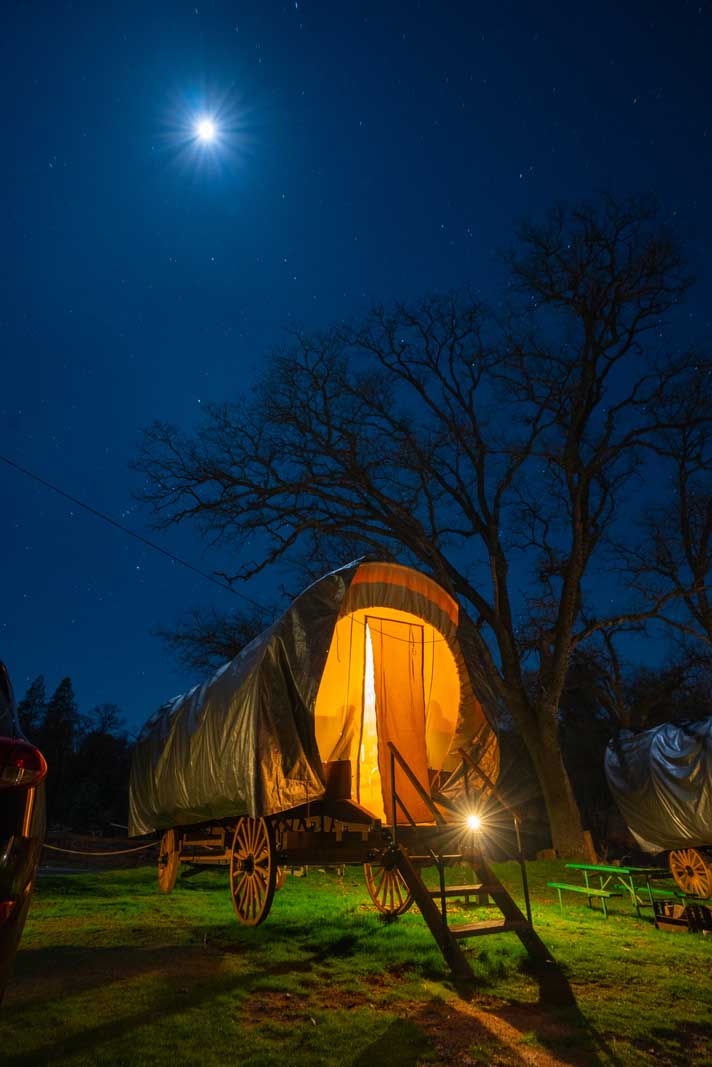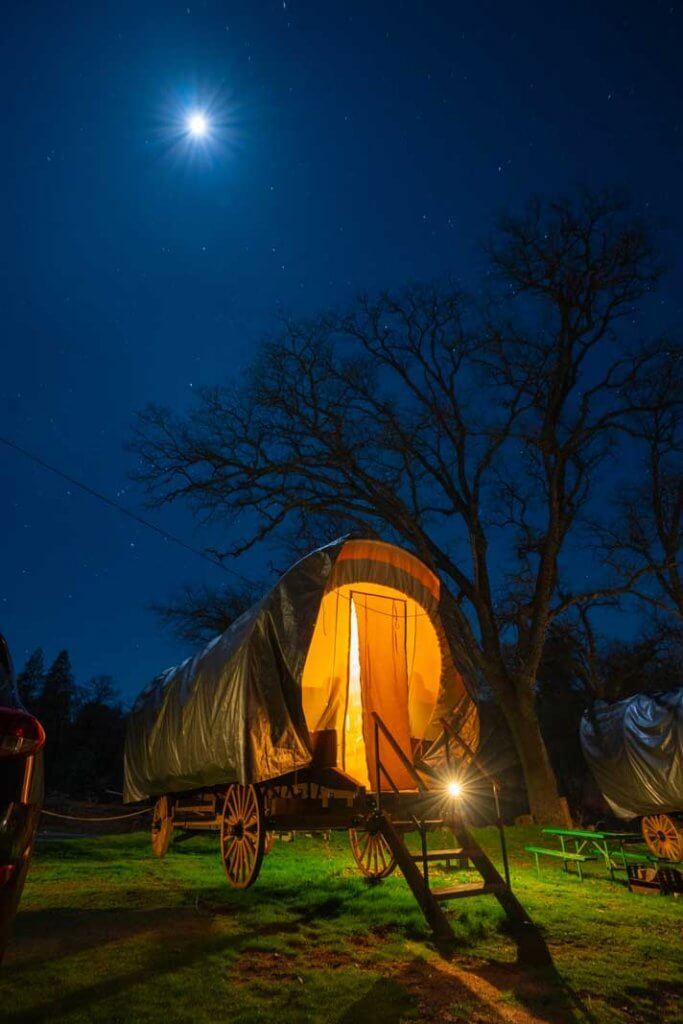 This is where we stayed our first time visiting Tuolumne County, California and it's worth mentioning again because it was so fun! Yosemite Pines RV Resort is not only a campsite and RV park, but they offer unique stays including cabins, yurts, and decked-out covered wagons near the Big Oak Flat Entrance of Yosemite National Park.
We stayed in the covered wagons, which are far from the covered wagon experience used by travelers out west in the past! These are luxury and this was one of the most comfortable beds we've slept on! And yes, they are heated in the winter and offer AC in the summer months.
---
Enjoyed this guide to how to enjoy a perfect weekend in Tuolumne County, California? Bookmark for later or share the love below on Pinterest.
Looking for more California travel inspiration? Check out all our favorite stops on the Los Angeles to Yosemite drive!