Looking for what to pack for Universal Studios or what to wear to Universal Studios on your upcoming trip? We've got you covered to make your trip unforgettable and memorable without any hiccups!
Universal Studios is a world-famous theme park visited by millions of people every year who want to experience the Wizarding World of Harry Potter, The Simpsons Springfield, and other Hollywood cult classic characters like Transformers, Men in Black, Dr. Suess, and more!
While there is lots of fun to be had, you also need to know what to take along when you are going over. Here is what to pack and what to wear when going to Universal Studios.
Also, check out our tricks and tips for Universal Studios Orlando!
What to Pack for Universal Studios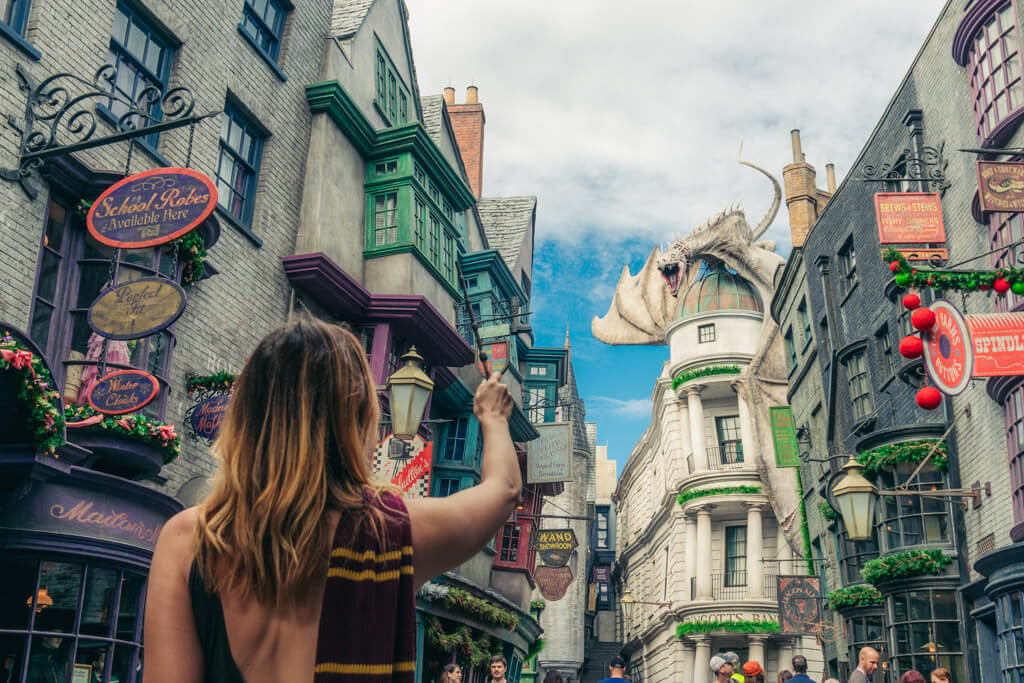 Backpack/Day pack
In considering what to pack for Universal Studios, one thing you definitely want to pack is a small backpack or day pack.
Having a backpack makes it easier to carry extra items and those essential things you'll need at a day around the theme park, like your camera, some extra pieces of clothing, as well as some of your own snacks and drinks so you can save some money.
Some of the rides may not permit you to carry personal belongings and require you to place your backpack in a locker. Universal Studios has lockers all over the park and outside each ride that requires you to leave everything behind.
The small lockers are free to use for one hour or under, anything longer than that you have to pay a small fee. Universal Studios gives enough time to wait in line, enjoy the ride, and get your belongings before you have to pay unless there's an absurdly long queue.
The lockers are small, so we recommend carrying a small backpack. If your backpack is too large you might have to empty it to fit all the items in the small locker then fit your bag in. Save yourself the trouble and shop the styles below!
Refillable water bottle
Our next essential for what to pack for Universal Studios is a good refillable water bottle. Universal Studios is a fun theme park, but it is also pricey. You will have enough costs to cover after sorting out your transportation, accommodation, entry, and meals.
You definitely do not want to add the deceptively expensive cost of buying bottles of water once you're inside the theme park.
Get a refillable water bottle and make use of any of the many drinking fountains around the park and besides most restrooms.
Plus, it's better for the environment as it reduces unnecessary single-use plastic.
Also, since Hydroflask bottles are the rage you can accessorize your favorite bottle with these fun Harry Potter stickers to be on theme with Universal Studios Wizarding World of Harry Potter!
Power bank
Another essential item for what to pack for Universal Studios is a power bank to charge your electronic devices on the go. Visiting a theme park usually means you will spend time waiting in line – unless of course, you pay extra for VIP treatment with Universal Express where you get to cut the line.
All that time spent in line is usually spent on your cell phone, and there will be nowhere around for you to charge it.
If you want to avoid having a dead phone in a theme park when you are with your friends or family, make sure you pack a power bank to charge your smartphone!
Motion Sickness Medicine
Theme parks are known for their wild rides and rollercoasters that go up to dazzling heights and move in unpredictable directions. For some people, this fast and confusing motion can trigger a bout of motion sickness, leading to serious vomiting.
For anyone prone to any motion sickness at all we recommend bringing motion sickness medicine or ginger chews to combat feeling ill on your fun holiday.
Universal Studios has a lot of 3D simulator rides and they all made me sick, as I am slightly sensitive to motion sickness. For whatever reason, the 3D screens and moving ride was just too much for my body to handle and after this experience, I've heard I'm not alone.
To avoid motion sickness, add a pack of motion sickness to your list of what to pack for Universal Studios. Even if you don't think you'll need it, we recommend having it just in case! Or you could always save someone else's day in need!
Bandages or First Aid Kit
One of the easiest things to happen when you're walking around a theme park all-day, even if they are shoes you've worn before, is get blisters.
There are something magical about theme parks and feet and that is annoying rubbing on your feet, ankles, heel, or toes that never happened before.
That is why we recommend as our next essential for what to pack for Universal Studios is a basic first aid kit or a pack of waterproof and active bandages.
You never know when a blister might pop up or even a small cut or scrape. Instead of being extra uncomfortable put blister bandages on your list of what to pack for universal studios. It will save lots of discomfort and pain.
Note: I do NOT recommend getting Compeed blister plasters, every time I've ever used these they make the blister worse by somehow moving in my sock or shoe and sticking to the blister. Save yourself the hassle and get regular old bandages.
Extra snacks
If you are wondering for ways to save money inside Universal Studios, then this essential tip for what to pack for universal studios will you save money and keep you from feeling hungry or hangry during your trip!
Packing your own food also means that you are able to choose healthy eating options and that you can simply enjoy your day and not wait in line for food.
We aren't suggesting you neglect yourself from all the fun theme park food, but we do recommend bringing a few easy to pack snacks like high protein nuts or granola bars for example.
Rain Poncho
Another great essential for what to pack for Universal Studios is a rain poncho! Perhaps you've planned your trip months in advance and see that there's rain in the forecast just days before. Don't let the rain on your parade stop you from having fun, we recommend getting a great packable rain poncho so you can still enjoy the fun even when it's wet.
Universal Studios has a few water rides that you will appreciate. However, you do not want to end up with soaked clothes as a reward for going on them.
To keep your clothes dry while you enjoy a water ride, buy and pack along some rain-proof ponchos.
Sunscreen
No matter when your visit is, one essential item for what to pack to Universal Studios is always going to be sunscreen!
Walking around the park definitely means you will be in the sun a lot. If you spend a lot of time in the sun with no shade or protection, your skin is at risk of getting sunburnt and damage.
Make sure you pack some SPF for your trip to not only save your skin from the long term effects of skin damage and sunburn but also to avoid any discomfort for the rest of your trip!
We love this 3 pack of sunscreen by ThinkSport, not only is it free of biologically harmful chemicals but it applies well (unlike other healthy sunscreens) but is also reef safe in case you end up doing any water activities on the same trip!
Hand Sanitizer
When you spend alot of time in places where there are thousands of children and adults daily you're bound to touch things that have been touched by, well TONS of people. Ew.
Picking up germs that can be transmitted into food and onwards into your body in public places is not fun to think about, so instead combat this by bringing yourself some hand sanitizer.
You may not always have time to find a wash hand basin, so this is a great essential for what to pack to Universal Studios!
What to Wear to Universal Studios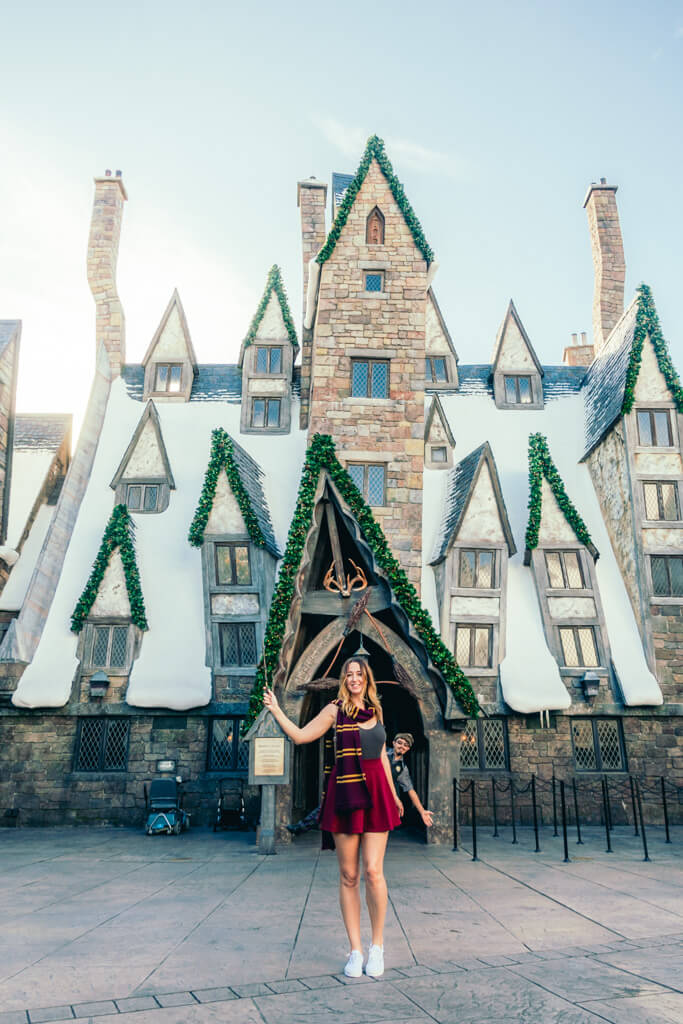 Comfortable shoes
This is a must for what to pack for Universal Studios as well as exploring all the best things to do in Orlando! Comfortable walking shoes for women and comfortable walking shoes for men are 100% necessary for a fun vacation at any theme park or place you'll be on your feet all day.
Remember that you are going to spend most of your day walking around, standing in line, if its warm you'll be sweaty, and just on your feet all day. The last thing you want is to spend the day walking around in shoes that are terribly uncomfortable.
Even if you wear shoes that are normally okay, don't be fooled! I've had shoes act up at a theme park for some reason. So make sure you also pack bandages just in case.
We highly recommend bringing a pair of sneakers or tennis shoes as your go to shoes all day. Not only do they give you back support and cushion, but you'll want comfortable shoes that can keep you going all day.
If you have room, pack an extra pair of sandals, while these aren't great for wearing all day sometimes it's nice to be able to switch out your shoes especially if it rains.
Hat for Sun Protection
In addition to sunscreen, one of our best things we recommend for what to wear at Universal Studios is a hat for sun protection. Walking outside all day, the part of your body that is most exposed to its UV rays is your head and face.
If you want to keep your cheeks and nose from getting rosy, we recommend to a hat for what to wear at Universal Studios.
Also, this is a great alternative to sunglasses which you can lose easily (if you're like me). Hats will double down keeping your skin and eyes protected from harmful rays.

Sunglasses
After your face, the next part of your body that's very sensitive to sunlight are your eyes. Avoid sun damage to your eyes by protecting them with sunglasses during your trip.
Make your sunglasses a definite addition for what to wear to Universal Studios. Get even extra protection by getting polarized sunglasses as well, we love the timeless Classic polarized Rayban Wayfarers.
Also, if you're scared you'll lose your sunglasses consider getting a sunglasses strap so when they fall they just fall to your neck still attached to you!
Extra Shoes
As mentioned earlier, there are many great reasons to take an extra pair of shoes when deciding what to wear to Universal Studios as well as what to pack.
Your regular shoes could get wet after a water ride, there's a sudden downpour, or your feet might be hurting after walking around the theme park all day and just need a little switch up.
Pack along a pair of flip flops or sandals to find comfort when you need it.
Lightweight Clothing
One of our top tips for what to wear to Universal Studios, especially in Orlando is lightweight clothing and have an option to add layers. Florida is hot and humid outside and inside you'll be in air conditioning, so having a lightweight sweatshirt is ideal for waiting inside in lines as well as in the evenings.
Even if you're visiting one of the other Universal Studios locations we also recommend bringing a lightweight jacket or sweatshirt to keep in your backpack from transitioning indoors to outdoors and the evenings.
BYOHPG Bring Your Own Harry Potter Gear
Last, one of the best things to wear in Universal Studios is your own Harry Potter gear! Trust us, you can save a ton of money by bringing some of your own wizarding world accessories by shopping in advance.
I kept saying I won't buy anything in the Wizarding World of Harry Potter, then when I went in I fell head over heels in love with the whimsy of the place and wanted to be full Harry Potter mode.
I would have bought it all, and I can imagine how hard it would be for parents with children seeing all the amazing Harry Potter merchandise and all the other kids wearing their favorite Hogwarts house gear around the park and how difficult it would be to say no.
I was that child and Scott was my parent, except I'm in my 30s. I wanted ALL the Wizarding World of Harry Potter gear and accessories. I ended up with a wand and a scarf which ran almost $100. That's a lot.
If you add up what it costs to go to Universal Studios, eating, transportation, and hotels that is ALOT to ask for. Especially if you have multiple kids, or if you're like me, adults who want all that great wizard gear.
And what's worse is there are so many other amazing things you'll want to spend money on in the Wizarding World of Harry Potter from candy, capes, and of course butter beer.
So to save yourself some money, get some of your Harry Potter gear in advance so you won't be as tempted to buy in the park and spending a small fortune on cosplay because honestly when you're in the park you want to be a part of the Wizarding World.
You may want to get the interactive wands in the park that let you cast spells at certain locations inside the park!
Be sure to click on the Amazon links to see the different options. Not all of the items are only for Gryffindor, the other houses are available to.
---
Found this guide for what to pack for Universal Studios and what to wear to Universal Studios helpful? Bookmark for later or share the love below on Pinterest!