Korea was recently named the country with the most cafes in the world! WOW! If you spend 10 minutes here you can easily see why as there are so many incredible cafes in Seoul worth checking out!
As a matter of fact, there are cafes stacked on cafes, cafes facing cafes, cafes bumpin butts with cafes, basically you can't walk a block without seeing one of the many cafes in Seoul! That's a lot of coffee and one of our picks for best things to do in Seoul.
With so many places to choose from you can imagine it's not hard to wonder where shall I grab a coffee from? Some cafes stand out above the rest, including crazy themed cafes. We are pretty much coffee addicts and make it our personal goal to try and have a cup of joe everywhere we go. So we wanna help you on your java journey and make sure you end up in a café that's right for you?
See our guide to cafes in Seoul to find out which cafe you might want to check out from animal cafes in Seoul, cute cafes in Seoul, Instagrammable cafes in Seoul, to the best coffee in Seoul! We have the top picks below!
Travel Tip: Surprisingly cafes in Seoul do not open at the crack of dawn as you'll see below. If you're looking for that morning jolt you will want to head to a traditional, non-themed cafe or a Western chain like Starbucks who open earlier between 7-8 AM depending on location.
Read Next: One Day in Seoul Itinerary
Best Cafes in Seoul
Cafes in Seoul For Cat Lovers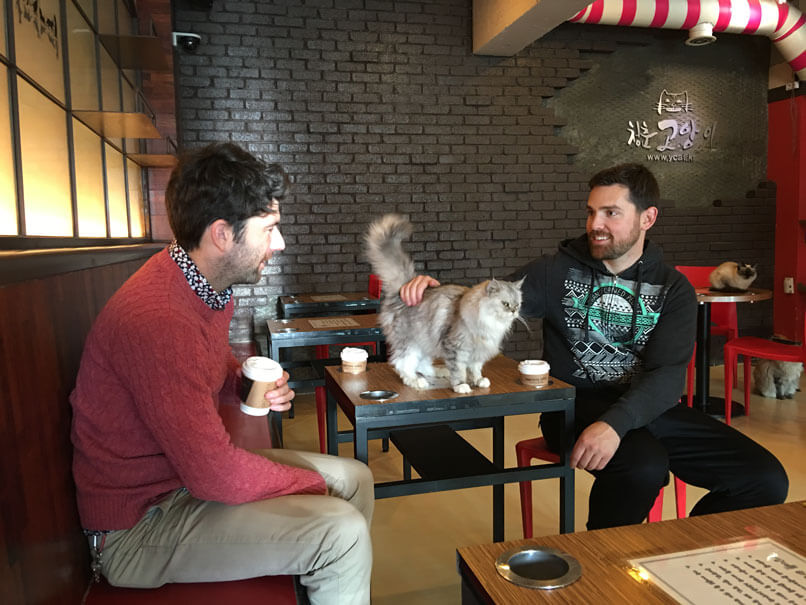 Try out a cat cafe in Seoul, which is exactly what it sounds like, a cafe full of cats! Spend a few hours sipping on a cup of joe surrounded by all kinds of kitties is the purrrrrfect way to spend your day.
We suggest going when they first open when it's not crowded and you have all the kitties all to yourself for a purrrfect time!
Be sure to check out our video at a cat cafe in Korea!
Here are the top cat cafes in Seoul to check out:
Godabang Cat Cafe – 8 5 Myeongdong 8-gil, Myeongdong 2(i)-ga, opens at 1PM
Cat Cafe – 9 Seocho-daero 77-gil, Seocho 4(sa)-dong, opens at 1 PM
Table A Cat Cafe – 162-17 Wausan-ro, Donggyo-dong, opens at 12 PM
Cat's Playground – 37-14 Myeongdong 8-gil, Chungmuro 2(i)-ga, opens at 12 PM
Cafes in Seoul For Dog Lovers
For people who are allergic to cats or just really prefer dogs, you can still enjoy petting animals in dog cafes in Seoul! Dog cafes are full of spunky pups who like to run around and play around you while you drink a coffee.
It's basically the same as a cat cafe, but with a barky bunch instead! The same rule goes for dog cafes in Seoul, if you want to avoid crowds try to get to the cafe when it first opens, plus the animals will be excited to see you as they will just be ready for people to play with when the doors open!
Here are the top dog cafes in Seoul to check out:
Bau House – 64 Yanghwa-ro, Seogyo-dong, opens at 1:30 PM
Dog Cafe – 21 Wausan-ro 27-gil, Seogyo-dong, opens at 11 AM
Sunny's Dog Cafe – South Korea, Seoul, Mapo-gu, Donggyo-dong, 169-29 3층, opens at 10 AM
Bong Brothers Dog Cafe – Jinheung Building 39, Gangnam-daero 118-gil
Read Next: Best Things to do in Hongdae
Seoul Cafes for Zoo Lovers

Everyone loves animals at least a little bit. But not everyone wants cats or dogs running around them while they are sipping the foam off their latte or maybe you just love zoo animals!
Get wild at any of the Zoo Coffee locations all around Seoul! Each of these cafes in Seoul are Zoo and wild animal themed without any actual animals!
They are filled with safari and jungle décor including large stuffed animals from giraffes to gorillas. Some of these large stuffed animals are even placed to sit with you at a table incase you don't have anyone to talk to!
Plus their cups and other items are also safari themed!
Hello Kitty Cafes in Seoul
If you love pink girly things or Hello Kitty then the Hello Kitty Cafe is right for you. Surround yourself in a room full of pink and cutesy Hello Kitty décor from the couches to tiny details around the store.
Make sure you sit down and stay for your drink so you can enjoy looking at your latte art of a Hello Kitty head in the foam of your drink! If you didn't have enough HK for the day, then you can continue shopping at the gift store inside the shop!
This is definitely one of the most popular cafes in Seoul, so if you want to avoid crowds we recommend getting there right when they open at 10 AM if you're seeking to get a cute Instagram photo!
28 Myeongdong 4-gil, Myeong-dong, Jung-gu, Seoul, South Korea
Cafes in Seoul for the Connoisseur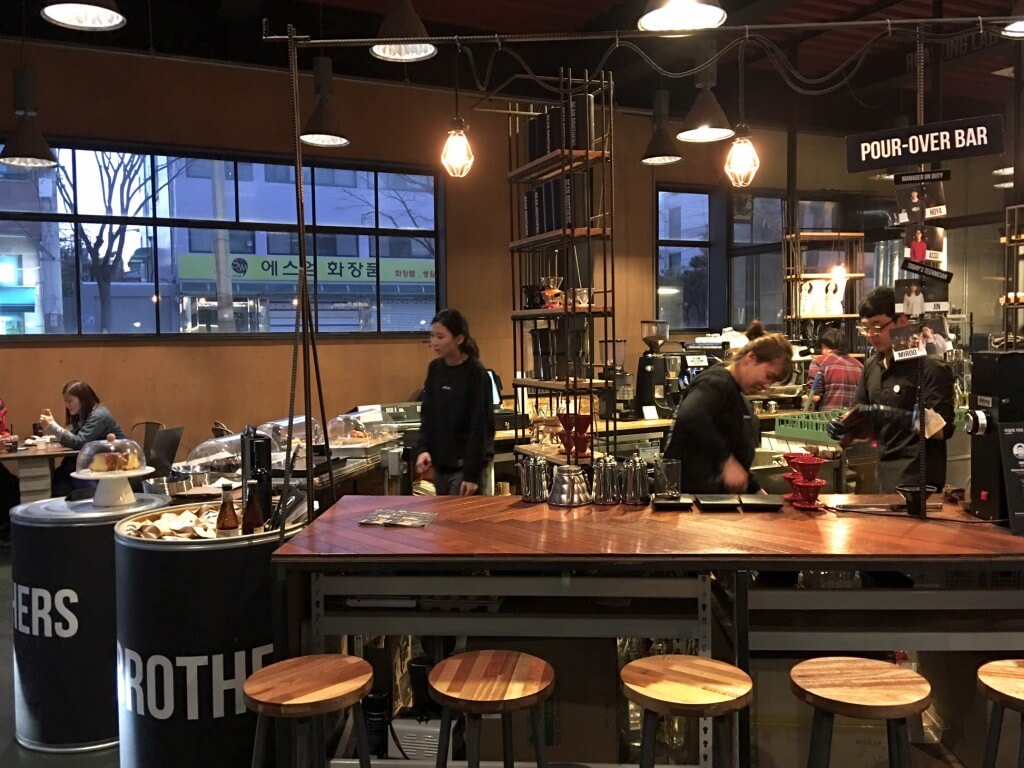 If you're not really into the themed cafes in Seoul and are looking for more of a really great cup of coffee with the finest beans we recommend checking out these cafes in Seoul that are perfect and up to standards for the coffee connoisseur.
One of our favorite cafes in Seoul for this is Beans Brothers in Hapjeong. If your ideal café includes hanging out with cool people in a lofty garage sipping on hand dripped coffee with unlimited refills, then Beans Brothers is just for you too!
Beans Brothers has a few locations scattered around Seoul and is a popular hangout spot. We enjoyed their main location near Hapjeong where Scott, the coffeeaholic, got to enjoy 5 cups of premium hand dripped coffee. He was in seventh heaven!
Other top notch cafes in Seoul for the coffee connoisseur include:
Blue Bottle – With two locations in Seoul, this might be not only one of our favorite cafes in Seoul, but the world! From Northern California, this cafe serves up some seriously good cups of coffee.
Anthracite Coffee Roasters – Another great cafe in Seoul for coffee snobs, okay that's not nice – coffee connoisseurs is Anthracite! Located in Hapjeong, this is for serious coffee drinkers!
Fritz Coffee Company – Another great cafe in Seoul with a quality cup of coffee using the finest beans and has a cool vibe.
BIROSO COFFEE – A cafe in Seoul that puts passion and pride in each cup of coffee they serve!
Cafes in Seoul with a great view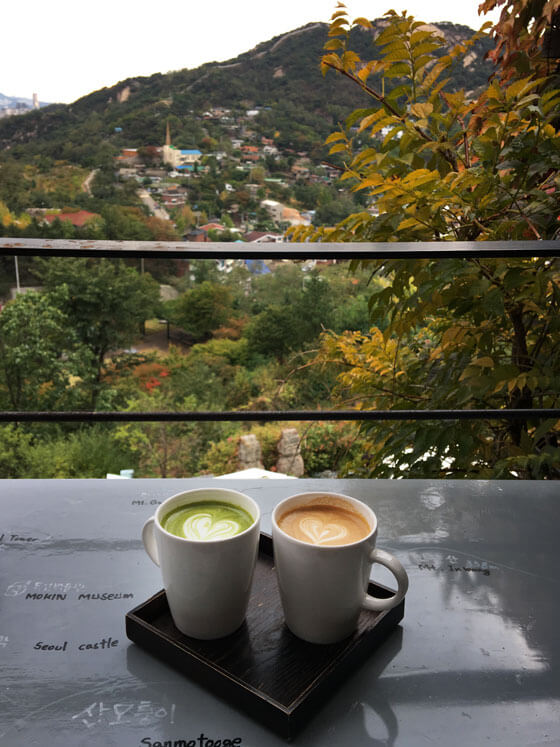 One of our favorite cafes in Seoul also has a stellar view! Perhaps you want to look at something beautiful while you're enjoying an afternoon pick me up.
We don't blame you! When we want a view with our coffee we head over to Buamdong to visit Sanmotoonge café where we have views of Inwangsan Mountain, the Seoul fortress wall, and Seoul.
Not only does Sanmotoonge offer plenty of patio seating with a view, but it is also a famous K-Drama filming spot with some quirky interior decorations.
153 Baekseokdong-gil, Buam-dong, Jongno-gu, Seoul, South Korea, opens 11 AM
Other cafes in Seoul with amazing views:
Seoulism – This is another one of the more popular cafes in Seoul because of the epic view of Lotte World Tower, one of the tallest buildings in the world and the newest addition to Seoul's skyline. This is one of the best cafes in Seoul on a great weather day for the outdoor terrace/view. 48-7 Songpa-dong, Songpa-gu, opens 11 AM
Instagrammable Cafes in Seoul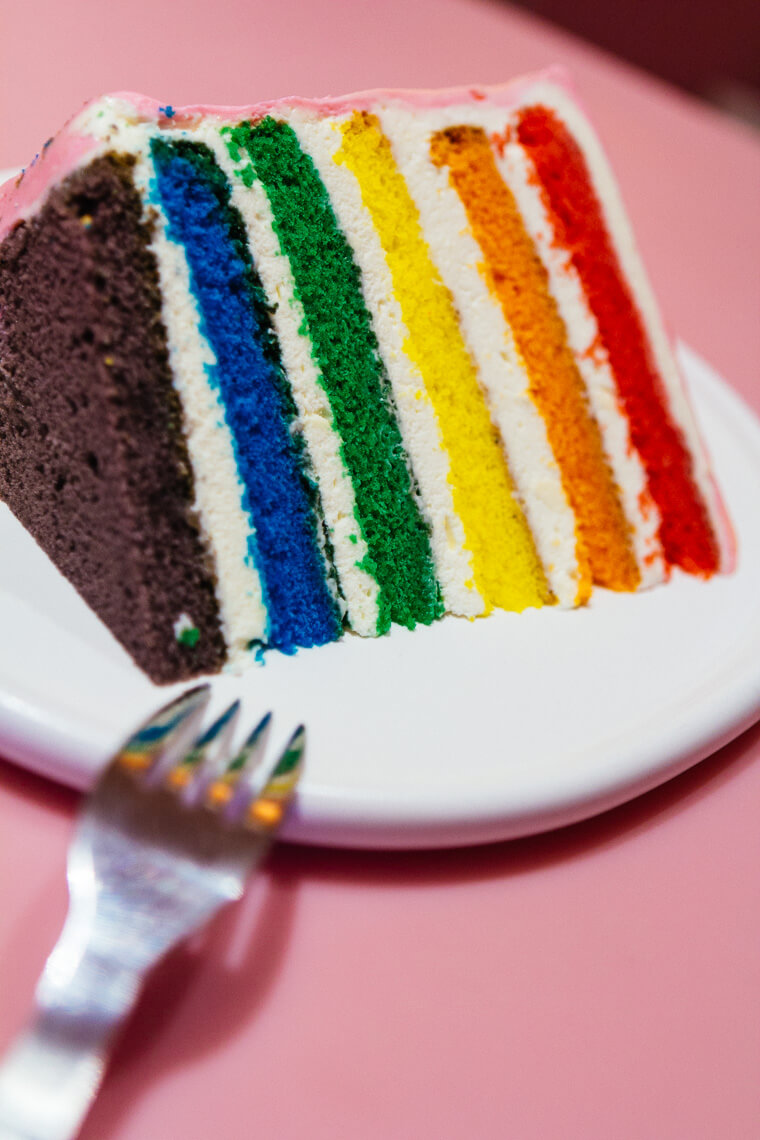 Let's be honest, if it weren't for the cool ambiance in some of these coffee joints you'd just go to a chain coffee shop with little personality. One thing that cafes in Seoul have on lockdown is cool decor and it's instagrammability factor (if there is such a thing).
Here are our picks for the best Instagrammable cafes in Seoul:
Dore Dore – Dore Dore in Sinsa is one of the best things to do in Garosugil and is full of pink decor, drool worthy rainbow layer cakes, photogenic lattes, and a cool place to hang out! 40 Dosan-daero 15-gil, Sinsa-dong, opens 10 AM
Kings Cross Cafe – This Harry Potter themed cafe in Seoul is perfect for the wizard or muggle in you! Located near Hongdae and is one of the most Instagram friendly cafes in Seoul to get your coffee on at! 417 Seogyo-dong, Mapo-gu, opens 11:30 AM
Hello Kitty Cafe – Already mentioned, but worth mentioning again as one of the most instagrammable cafes is the lovely pink and adorable Hello Kitty Cafe in Seoul. 28 Myeongdong 4-gil, Myeong-dong, opens 10 AM
Style Nanda Pink Pool Cafe – This adorable and cutesy spot is the perfect instagrammable cafe in Seoul with a pink pool theme in popular trendy retailer Style Nanda's store in Hongdae. 23 Wausan-ro 29da-gil, Seogyo-dong
Yeonnam 223 – This is easily one of the most popular and instagrammable cafes in Seoul because the entire cafe is decked out to make it look like everything is in 2D or you're living straight in a naked coloring book. The color though comes from you and their fun colorful drinks, and make sure you wear something fun and bright too! 223-103 Yeonnam-dong, Mapo-gu, Seoul
Space Shinseon – This cafe is super cool and easily one of the most instagrammable cafes in Seoul. The space is a design lovers dream and literally looks like a modern art gallery. 256 Itaewon-ro Yongsan-gu, opens 11 AM
Arriate la Maison de Fleur – This instagrammable cafe in Seoul is actually a tea house (more on that next) but we felt like it belonged in this category as it's so beautifully covered with flowers and feminine that it deserved to be in this category instead! Fall in love with the flowers from floor to ceiling and their colorful, flirty drinks! 520 Nonhyeon-ro, Yeoksam-dong, opens 9 AM
C. Through Cafe – This is another one of the most instagrammable cafes in Seoul because their coffee here are truly works of art! They take latte art to a whole new level with Van Gogh, cherry blossoms, and more. 403-3, Itaewon-dong, Yongsan-gu, opens 12 PM
Cafe Tape – This is another amazing instagrammable cafe in Seoul because of their amazing galaxy artwork on their desserts! Yongsan-gu, Itaewon-dong, 63-5, 2층, opens 12 PM
Tea Cafes in Seoul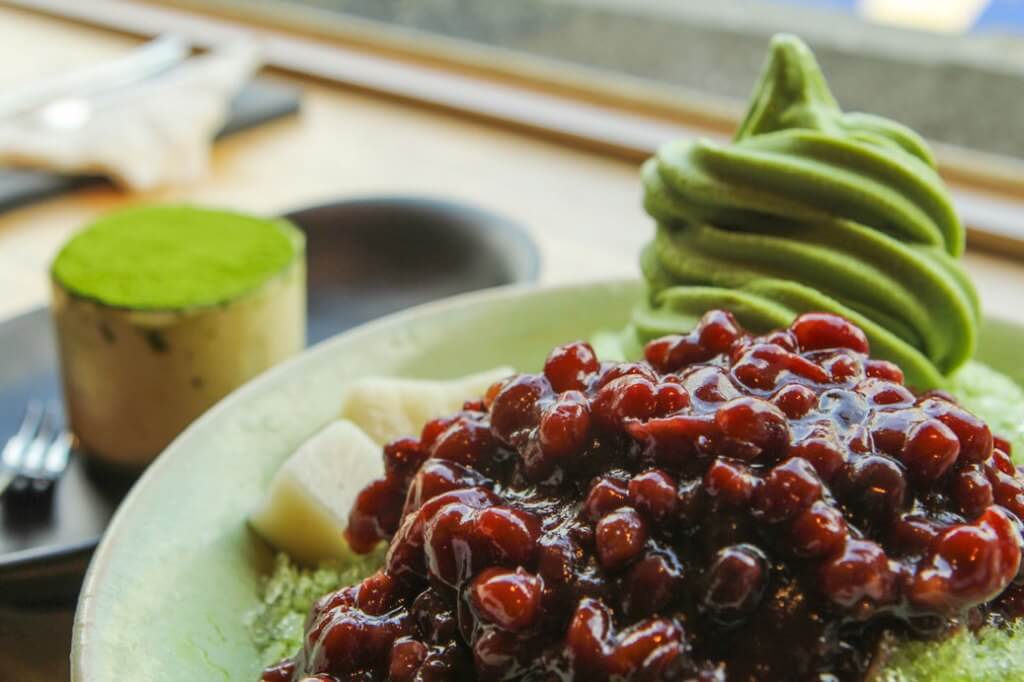 Not everyone enjoys drinking coffee when they go to a café. Good thing Osulloc tea houses are available throughout Seoul! Featuring tea and focusing on green tea made from Korea's own Jeju island, which is famous and world-renowned green tea!
This tea house is a must try when visiting Korea. They also have green tea desserts! We enjoyed the green tea bingsu during our visit! There's also a gift shop to pick up some tea to take home as gifts or for yourself!
Other great traditional Korean tea houses in Seoul include:
Shin Old Tea House – 47-8 Insadong-gil, Gwanhun-dong
Tteuran – 17-35 Supyo-ro 28-gil, Ikseon-dong, Jongno-gu
Suyeon Sanbang Tea House – 8 Seongbuk-ro 26-gil, Seongbuk-dong, Seongbuk-gu
Cha-teul – 26 Bukchon-ro 11na-gil, Samcheong-dong
Dawon Tea Garden – 11-4 Insadong 10-gil, Gwanhun-dong, Jongno-gu
Most Quirky Cafes in Seoul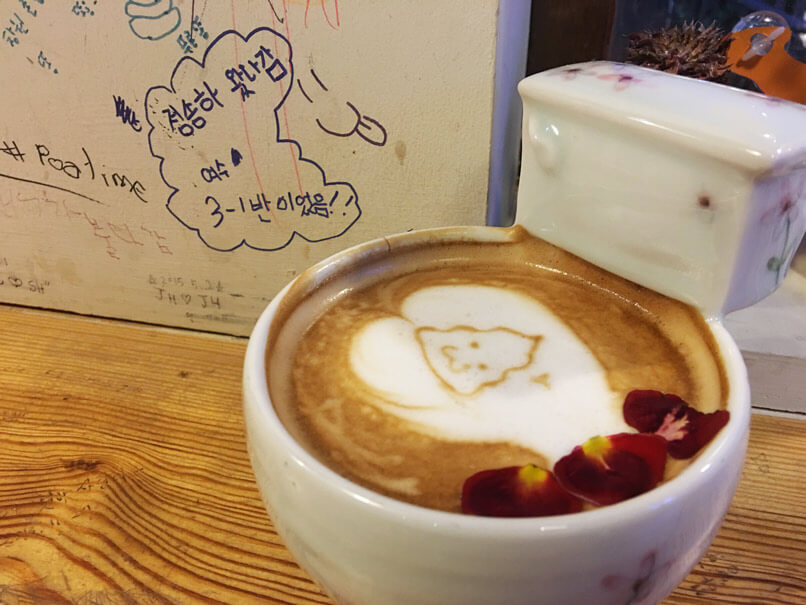 Easily the most quirky cafe in Seoul is the Poop Cafe in Insadong! If you're looking for a crappy cup of coffee, haha you see what I did there? Then head over to the Poop Cafe where you can have coffee in a setting themed around poop.
This might be the cafe in Seoul no one really asked for, but here it is in all its glory! And honestly, it's quite popular! Your lattes are served in a toilet, there are poop shaped cakes, and all sorts of other quirky and odd things that make for a fun conversation starter when you get home from your trip.
You can find the Poop Cafe on the top floor of the Ssamziegil shopping plaza in Insadong.
Other quirky cafes in Seoul include:
CaFace- Get a latte with your face printed on it! It sounds crazy, but this cafe is the latest craze in Seoul! Located inside the Trick Eye Museum – 20, Hongik-ro 3-gil, Mapo-gu, Seoul
Zapangi Cafe – This cafes in Seoul literally translates to "vending machine" for its funky pink vending machine entrance! This one is definitely for those with a sweet tooth. 79, World Cup-ro 13-gil, Mangwon-dong, Mapo-gu, Seoul
Kakao & Friends Store and Cafe – If you're not familiar with Korea you might not be aware of the cute and adorable Kakao friends and Kakoa messaging app! Don't worry though, visiting this cafe and enjoying it in all its cuteness and quirkiness doesn't require you to download a new app, but you might want to once you see their characters and mascots for the app in their store and themed cafe in Seoul! 162 Yanghwa-ro, Seogyo-dong, Mapo-gu, opens 10:30 AM
Random Animal Cafes in Seoul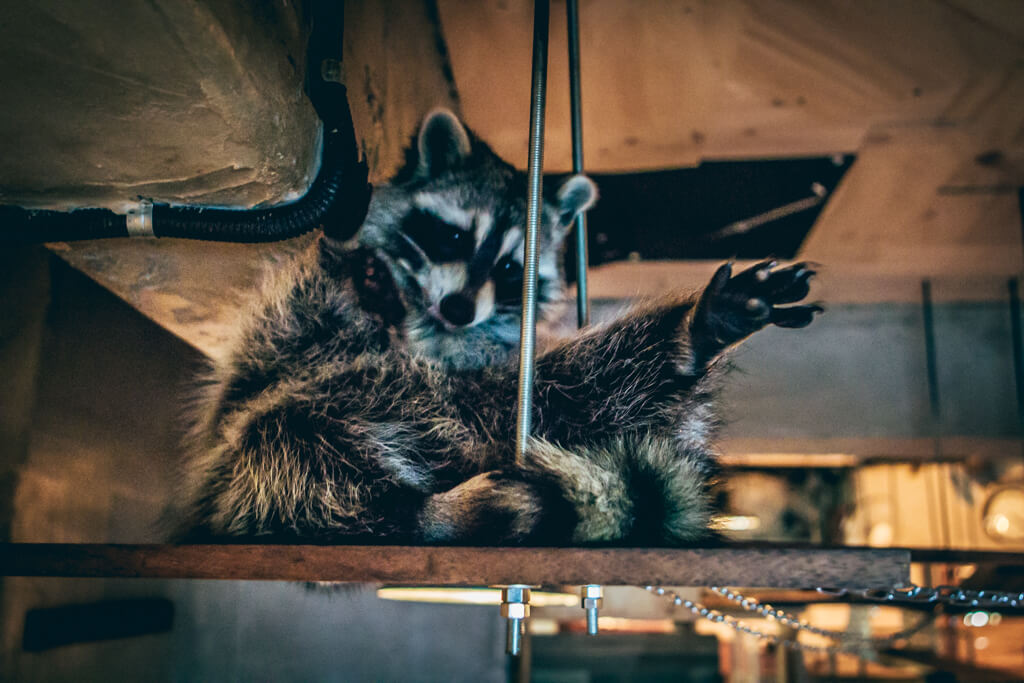 Move over cats and dogs, there are other animals who have their own cafes in Seoul. Here are some of the most famous.
While we have been to the Raccoon Cafe, we do realize that some animal rights groups feel that these cafes in Seoul are controversial. The animals are well cared for, but some believe that any animal tourism is not okay. We can assure that there are rules in place for each of these cafes to make sure that people are respectful of the animals.
In some cases, like the Raccoon Cafe, you're not allowed to go out of your way to pet the animal, if they come close to you you're allowed to pet them. We know this is a sticky and somewhat controversial subject, so if you're on the fence morally, be sure to look into each of the cafes in Seoul with animals to make sure they align with your beliefs.
Meerkat Friends – I could barely believe it when I heard there was a Meerkat Cafe in Seoul where you could hang out with Meerkats as you sip on coffee. 364-3 서교동, Mapo-gu, opens at 12 PM
Raccoon Cafe – Believe it or not, there is more than one Racoon Cafe in Seoul! There is the Raccoon Cafe, which we went to, and Blind Alley where you can hang out with little trash pandas as they climb all over their jungle gyms as you sip on your cup of coffee. 358-2 Seogyo-dong, Mapo-gu, opens 12:30 PM (directions in our link above)
Thanks Nature Cafe – This is a bit of a quirky cafe in Seoul but has been popular over the years! Thanks Nature Cafe has sheep in the middle of the cafe that you can pet! The owners do take great care of the sheep as they just graze around while you sip on your latte. 10 Hongik-ro, Seogyo-dong, Mapo-gu, opens 11 AM
Coffee in Seoul for a Shoestring Budget
Let's face it, cafes in Seoul aren't cheap if you're a budget traveler. Some of the fancier coffee drinks in cafes around Seoul can cost up to $6 which isn't ideal if you need that morning boost and want to spend your money elsewhere.
Lucky for you in any convenience store around Seoul you can find a huge selection of premade coffee drinks. There's always a wide variety of hot and cold canned coffees and usually a place to sit inside or outside. You don't have to be fancy or rich to enjoy the perks of caffeine.
---
Planning the perfect trip to Seoul? Be sure to check out our complete guide for where to stay in Seoul by neighborhood, budget, and the best attractions to make planning your trip easy breezy!
Also, if you're craving a cup of coffee that took the world by storm thanks to a Korean YouTuber! Try your own whipped Dalgona coffee at home using this recipe!
Did we miss any of the best cafes in Seoul? Share any special spots to grab a cup of joe in the comments below!