T
he lovely mountain town of Pai is located in Northern Thailand and home to one of the best backpacking places in SouthEast Asia. People flock to Pai because there is slice of Pai for everyone here with a bonus of a stunning backdrop tucked away in the mountains far away from any big city. If you are the type of person who likes to party then you can find DJ's, bars, drugs, dancing, and anything you like to have a good time.
If you are seeking peace then Pai has meditation retreats, natural hot springs to soak in, and amazing sunsets. If you are an adventure seeker then you can go on hill tribe treks, explore the wateralls, motorbike through the mountains, white water rafting, wander around through Pai Canyon, and check out Tham Lot Cave.
Like we said, there is something for everyone and you can make a trip to Pai to be anything you want it to be. Check out our list of recommended things to do for your life in Pai as well as other tips and ideas for things to do in Pai by other travel experts.
Motorbiking in and around Pai
Whether you arrived to Pai on a motorbike or by bus, you should definitely have a set of wheels to explore this beautiful mountainous area. There are places in downtown Pai that offer rentals on automatic or manual scooters and motorbikes. There's a lot to see just a few kilometers away from town and what better way to see it than on a motorbike. An extra bonus would be the wind blowing in your face and cooling you off on a hot, humid day! Be careful not to go too fast down the curvy roads!
Pai Canyon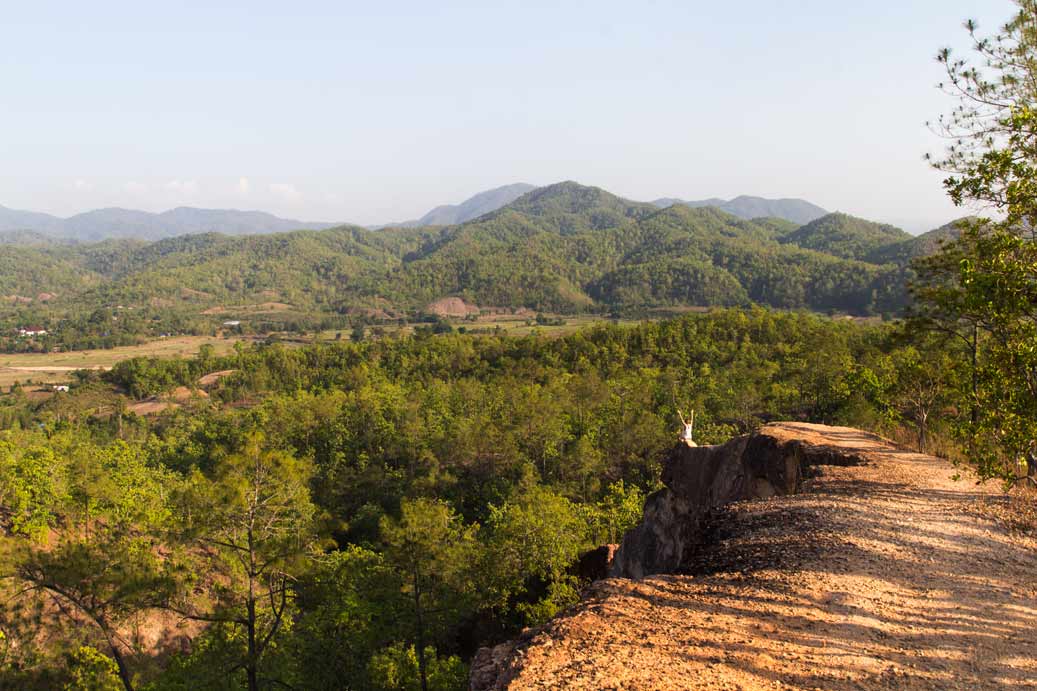 Located just 8 km away from downtown Pai is breathtaking, especially at sunset. Pai canyon offers great panoramic views of the mountains and steep, narrow ridges you can walk along. Make sure you wear decent shoes here because if you want to adventure along some of the ridges it can be slippery and dangerous. Flip flops are not recommended here. Check out our "walk with us" in Pai Canyon!
---
Tham Lot Cave
Tham Lot Cave is about an hour motorbike trip away from Pai towards Mae Hong Son. You can either bike yourself or organize a tour in town. We opted for the motorbike ride with just the two of us. The drive is beautiful and windy through the mountains. Once you reach the cave you have to hire a local guide who will take you through the river in the cave on a bamboo raft. Tham Lot is no Konglor Cave, but it was still a great experience. There will be bats and birds dive bombing near your head, tons of fish swimming along your bamboo raft, and a walk through the cave with your guide. He showed us the coffin caves at the end which were long, skinny wooden coffins about 3 meters long! Apparently these tombs are referred to as Pee Man, which is indeed no man at all, but translates to spirit cave.
Downtown Pai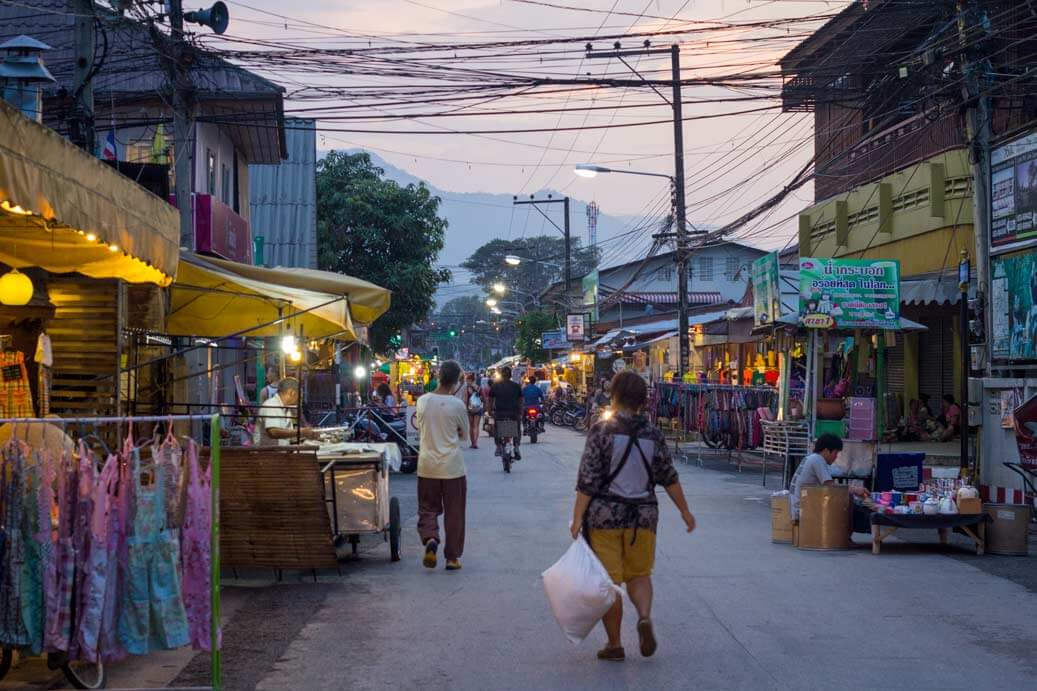 Downtown Pai offers a great walking street in the evenings. Here you can find street food, fruit shakes, and vendors selling knick knacks and trinkets. There are also a number of restaurants and shops lined up along the streets and many host live musicians in the evenings. Some places even offer open mic nights for those who are gifted with a talent. There are also some great places to stay in town!
Waterfalls of Pai
There are a few waterfalls a short drive from Pai. Some require up to a 4 hour hike (Mae Yen Waterfall) and some you can drive right up to. We visited during May and the waterfalls were more like water stains and all dried up. At Mo Paeng Waterfall you can slide down the rocks and swim.
Land Crack
A local farmer found a giant, deep crack smack dab in the middle of his land one day and no longer can farm on it. So now it is a tourist attraction and worth a looksee loo. The farmer is a really friendly guy who makes homemade Rosella juice and alcohol and offers it to visitors for free along with tons of his home grown snacks. What's crazy is that its all free! He has a donation box, so please leave him something for being so kind and bringing you such delicious and refreshing snacks and drinks!
Hot Springs
Just a few kilometers outside of Pai are natural hot springs. Be prepared to pay about 200 baht to get in, but get ready to relax in nature's hot tub! We visited during the hottest month of the year and did not get to enjoy the hot springs. We would love to come back when it's cooler to check them out.
Good Food in Pai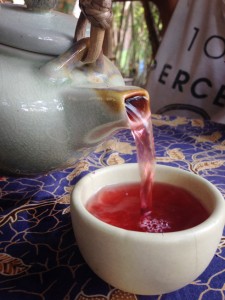 We loved the selection of healthy food in Pai. We checked out Fat Cat and Earth Tone's selection of homemade foods and health drinks and loved it! We loved the Kombucha & Rosella teas. They are a must try when you visit Pai. We also didn't have a bad meal from Charlie & Lek either. We wished we were staying longer just to enjoy more meals here. See what we recommend below.
Charlie & Lek: Any of the curries
Earth Tone: Rosella & Hibiscus Tea, Homemade Pesto dishes
Fat Cat: Kombucha Tea, Chicken, Avocado, & homemade feta cheese sandwich, Homemade yogurt with nuts & honey
Meditation in Pai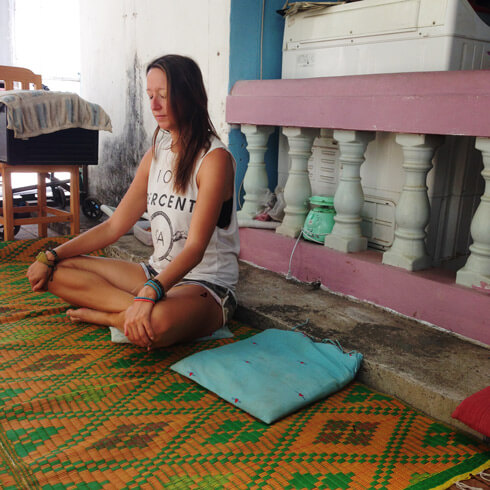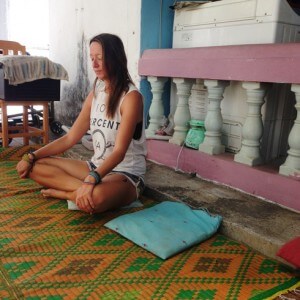 You have an option to do a meditation retreat just outside of Pai in the mountains at the Open Mind Center. Or if you can't commit or afford to do a retreat then Good Life in downtain Pai offers free guided meditation on Mondays, Wednesdays, and Fridays at 11:00 am. We were able to attend one session and loved it. It's definitely worth a try!
---
Santichon Yunnan Village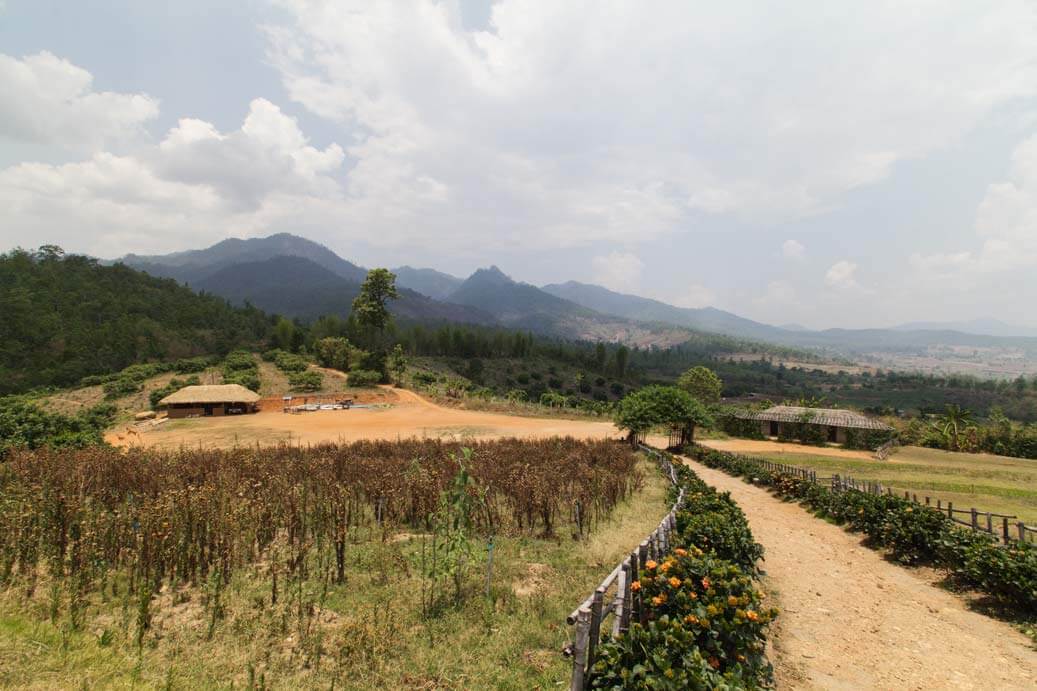 Another short drive from downtown Pai is this charming Chinese Village. The people who settle here are from the Yunnan Province of China. Here you can try traditional Yunnan food, explore the shops in the mud & straw homes, or drive up to the viewpoint and enjoy a pot of tea. We felt like we had the town to ourselves when we visited and had a great time strolling through this cultural village.
Big White Buddha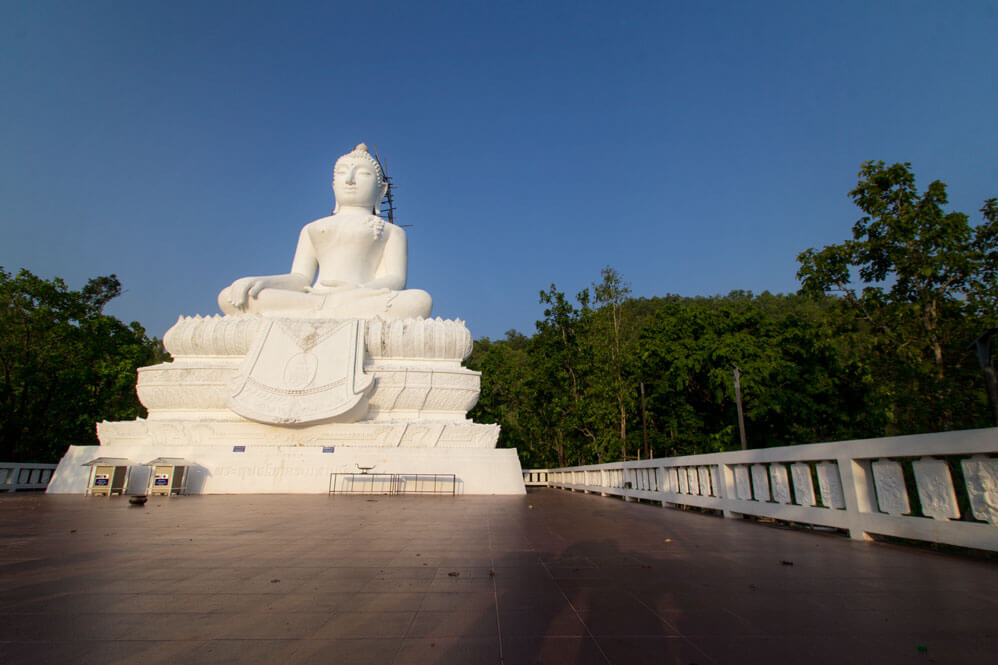 You won't be able to miss the giant sitting, white Buddha in the mountainside near Pai. You can visit the Buddhist temple and climb the steps all the way up to the seated Buddha. This is a great place to witness the sun setting behind the mountains.
We fell in love with the charm that Pai offers. We ended up extending our trip an extra day to enjoy what this place had to offer and have heard other people we met saying the same thing. Once you've been here its easy to see why so many people flock to this gorgeous area.
If you liked this post and want to see more like it, consider liking our page on facebook, following us on twitter, or seeing our latest photos on instagram.
*Please remember all photos on this website are copyrighted and property of Bobo&ChiChi. Please do not use them without our permission. If you want to use one of them please contact us to ask first because we'd be absolutely flattered and would love to share. Thanks!